Peak Design Travel Duffel 35L Review
The Peak Design Travel Duffel is a 35-liter bag that combines the simplicity of a traditional duffel with smart carry features and organization.
Our Verdict
Unlock the Pro Summary
Save time. Get access to brief summaries of our reviews so you can browse and make decisions more efficiently.
Pros
Well-thought-out design features and great details
Multiple carry modes add versatility
Great organization inside, especially for a duffel
Cons
Magnets can be a little weak in some areas
Luggage ID area is hard to find
Backpack carry mode isn't ideal
Recent Pack Hacker Video
Technical Details
Capacity

35l

Weight (lb)

2 lb (0.9 kg)

Denier

400D

Denier

900D

Bottom fabric

Dimensions

22 in x 14 in x 10 in (55.9 x 35.6 x 25.4 cm)

Notable Materials

Nylon, Polyester, Aluminum, YKK Zippers, Zoom Zippers, Hypalon®, Leather

Manufacturing Country

Vietnam

Warranty Information
Full Review
Get up to 10% off Peak Design • Join Pack Hacker Pro
Is there room for improvement on the humble duffel? According to Peak Design, there is.
Although to be fair, we're pretty sure the folks over at Peak Design will never be satisfied with any travel or photography gear—including their own. They've become a favorite amongst photographers and travelers alike with their unique, functional, and highly-innovative gear which includes everything from camera straps to messenger bags to tripods and full-blown travel packs. If there's any brand we'd trust with taking the humble duffel into the 21st (or 22nd, or 23rd) century, it's Peak Design.
Which brings us to the 35-liter Travel Duffel. This is one of two Travel Duffels available from Peak Design, the other being the 65-liter Travel Duffelpack, which is more of a duffel-backpack-hybrid. In this review, we're focusing only on the 35-liter Travel Duffel.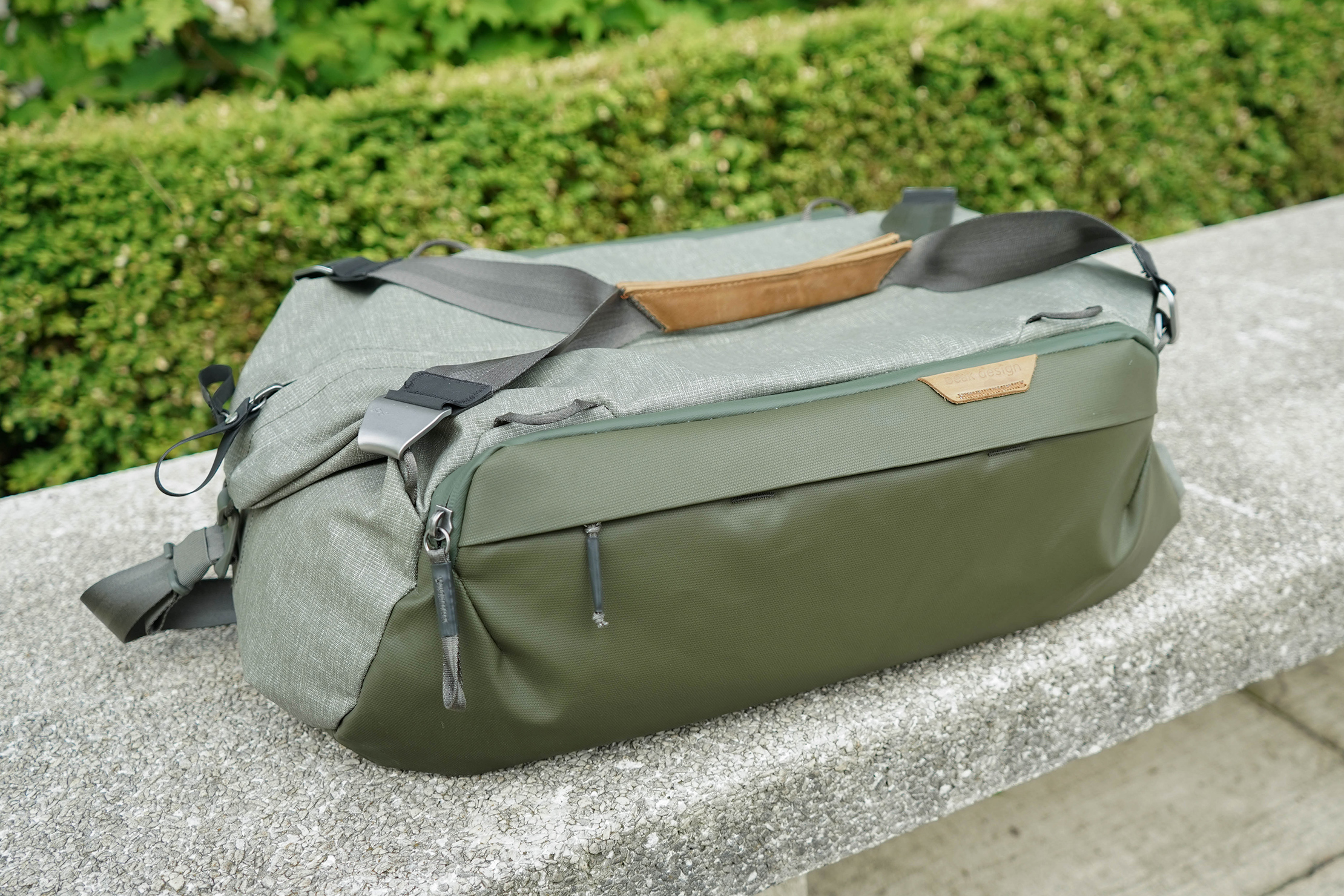 We've been putting this duffel to the test over the past two weeks, so let's jump right in and see if it truly is the duffel of the future.
Materials & Aesthetic
At the time of this review, the Peak Design Travel Duffel comes in two colors: Black and Sage Green. While we would normally opt for black here at Pack Hacker—especially to match the Peak Design Travel Backpack we recently reviewed—we wanted to switch it up this time and go with the Sage Green.
This option comes with leather accents, which are located on the handles and tags. These accents nicely complement the Sage Green look, which we think actually looks like more of a heathered gray/heathered green. And just to note, the Black version has Hypalon accents instead of leather, meaning it is totally free of animal products.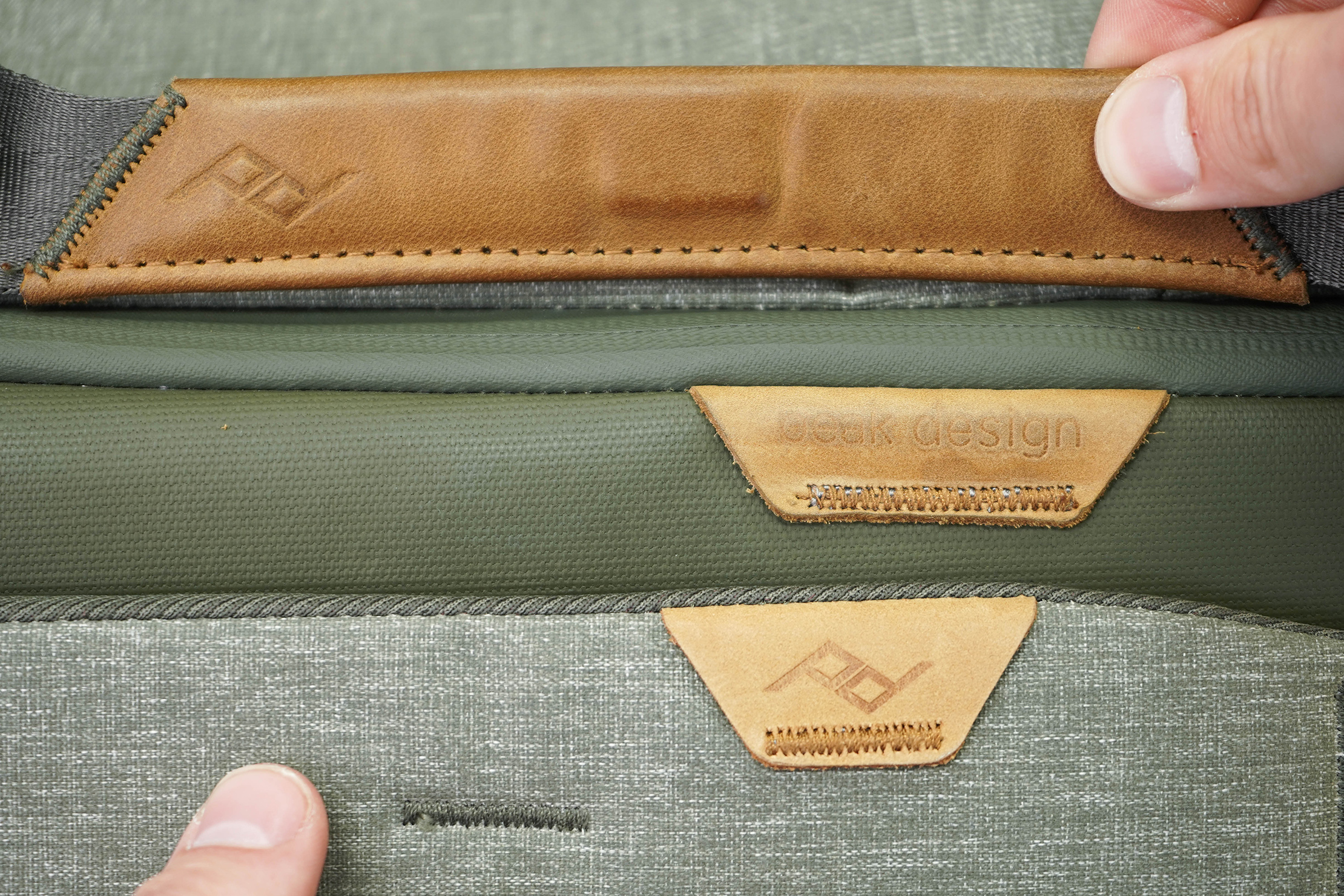 The main fabric on this bag is a 400D Heathered Nylon Canvas, which pulls everything together nicely and feels very robust. This is the same material we've seen on the Everyday Backpack, which has held up well for us in testing. The only difference is that, in this case, it's made with 100% recycled materials. Overall, we really like the look of this bag (and our Instagram audience did, too).
From a branding perspective, there are several Peak Design and "PD" logos found on the duffel, and we think they're all quite tasteful—nothing too loud.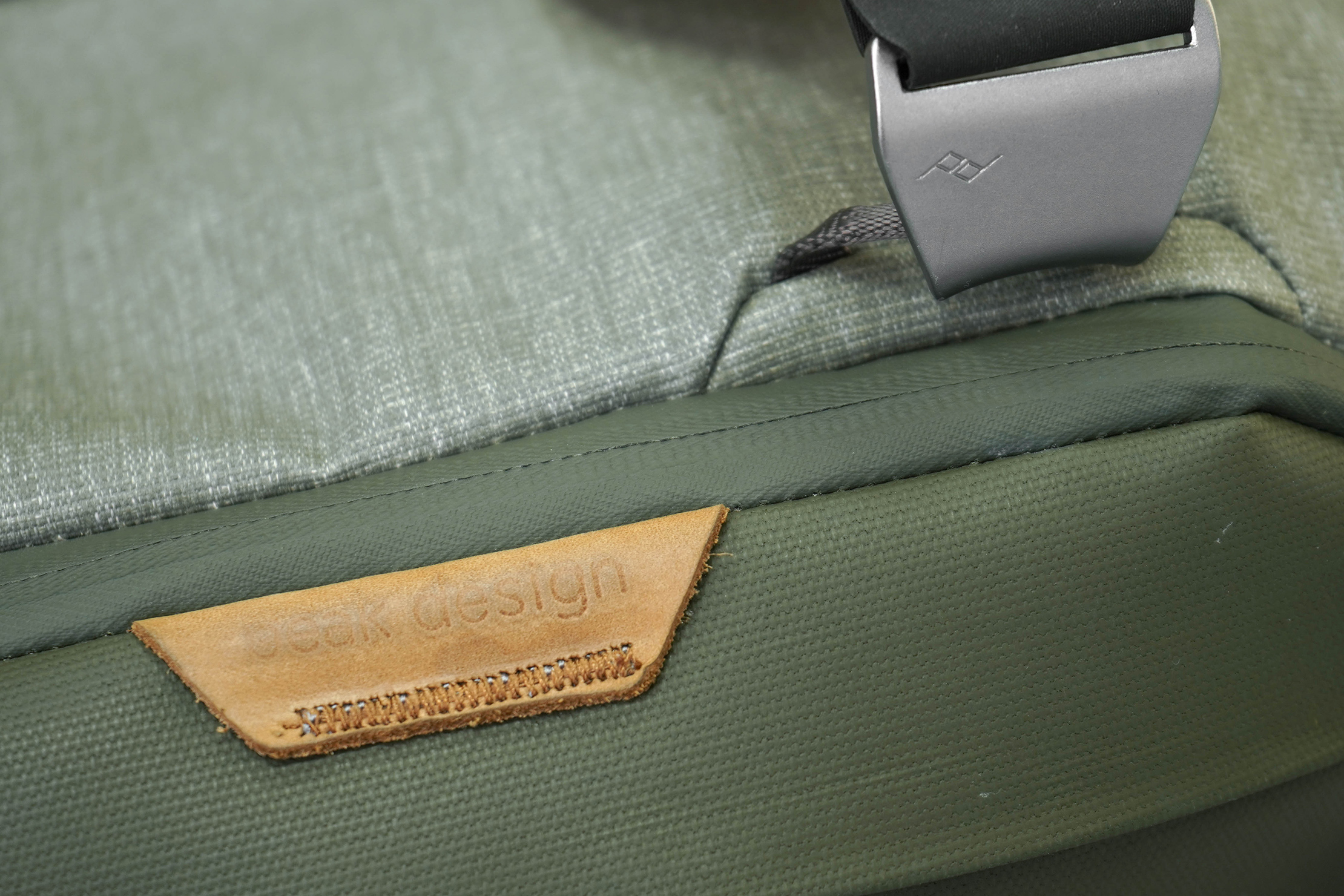 Peak Design has gone for a #10 Zoom zipper for the main compartment, which comes with some nice weather resistance, and then YKK zippers throughout the rest of the duffel. There was a bit of controversy on our Peak Design Travel Backpack review over the use of a large Zoom zipper compared to YKK for the main zipper, but for a duffel, we're less concerned about this choice. If it does fail, it's still mostly operational (which, of course, isn't the case on a clamshell backpack).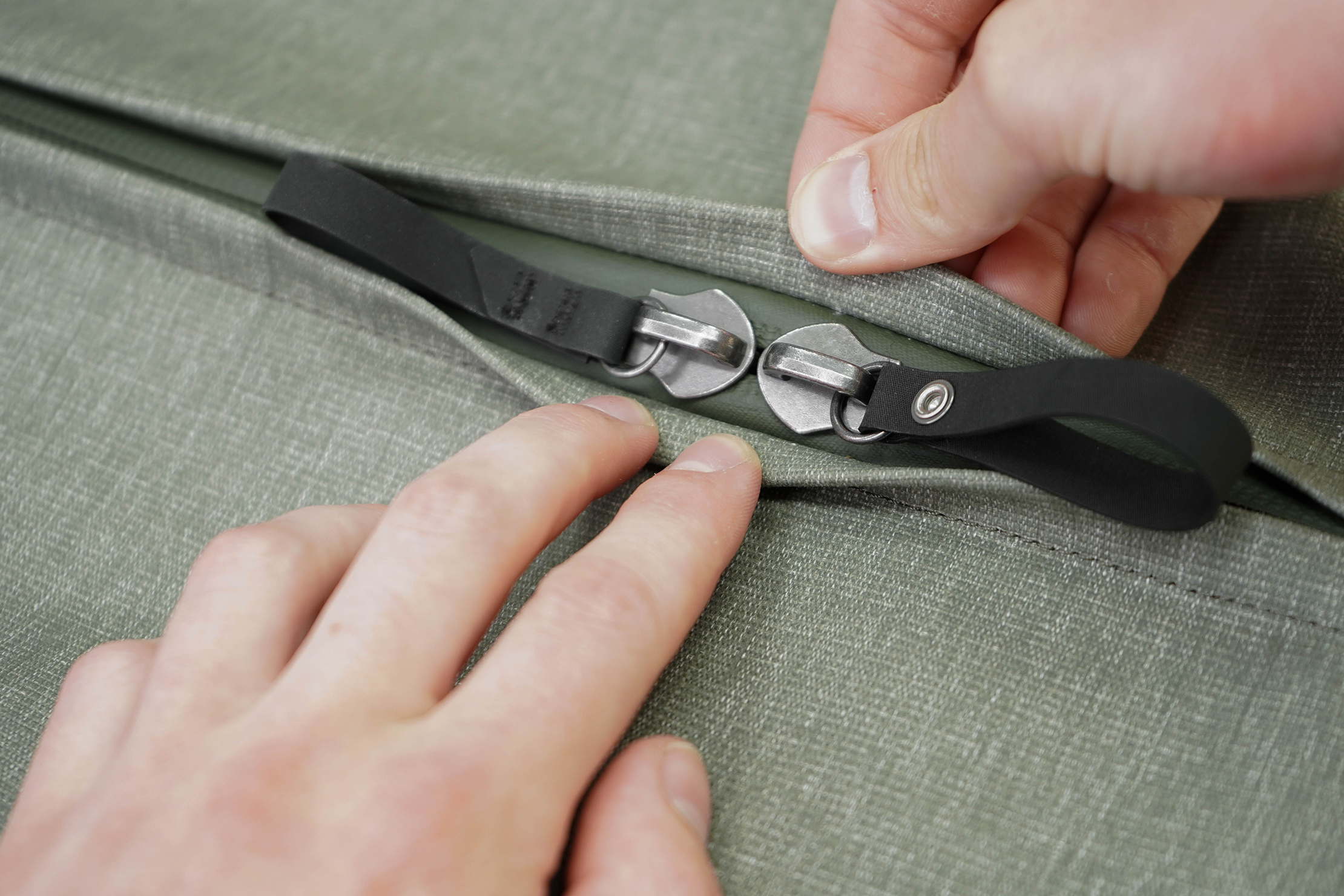 There is also a 900D liner with a rubbery feel at the bottom of the bag, which adds some durability for when you set the bag down or toss it around. And you may have noticed by now that there is some metal on this thing—all of the strap attachment point have aluminum buckles on them, which we'll get into later. We always love to see metal in favor of plastic, and we think this is a nice touch from Peak Design that adds to the high-quality feel of this duffel.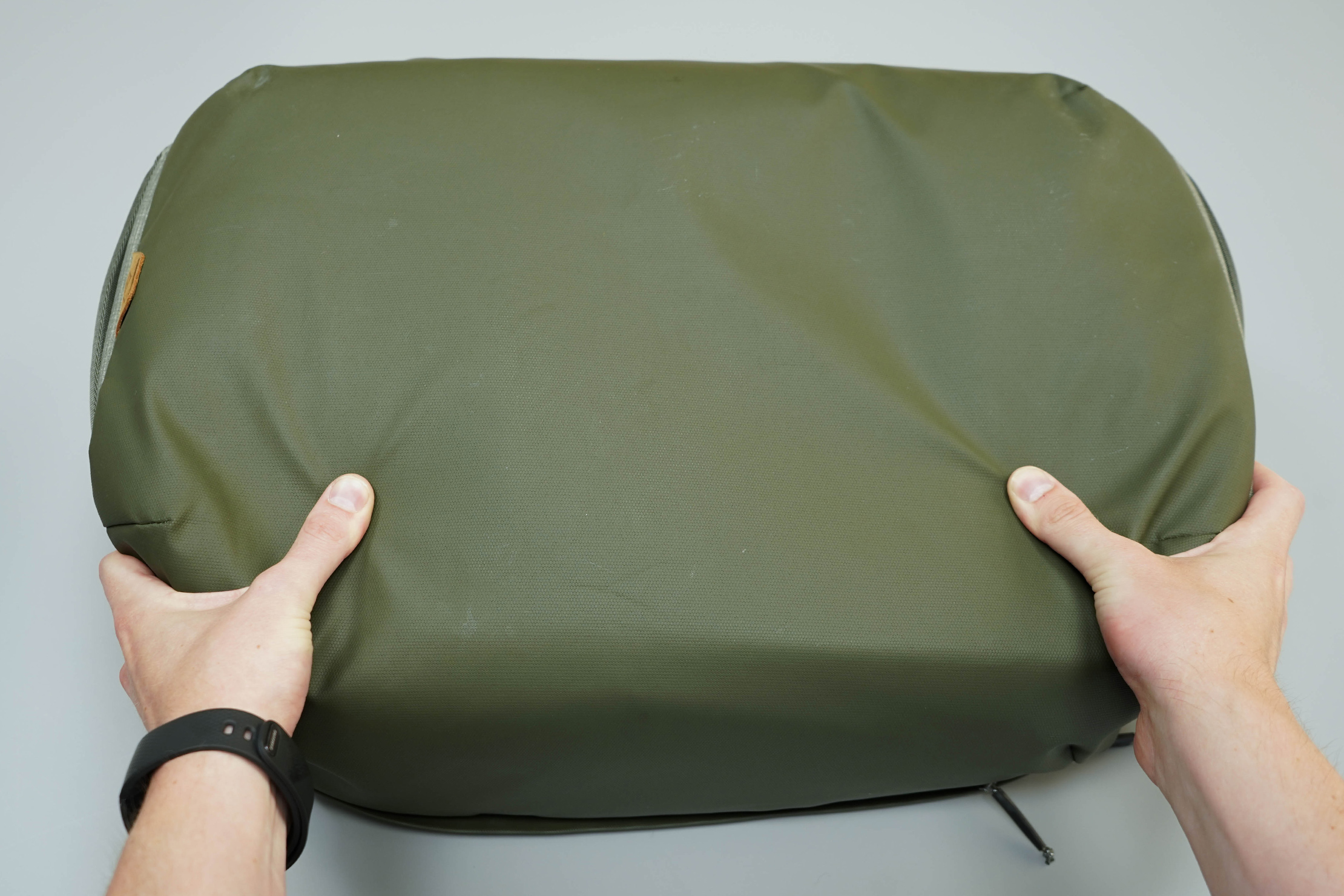 Finally, there is some Hypalon in a few places throughout the bag—not as much as on the black version, but it's included on the touchpoints to add a somewhat rubbery feel and help you grip the attachment points more easily.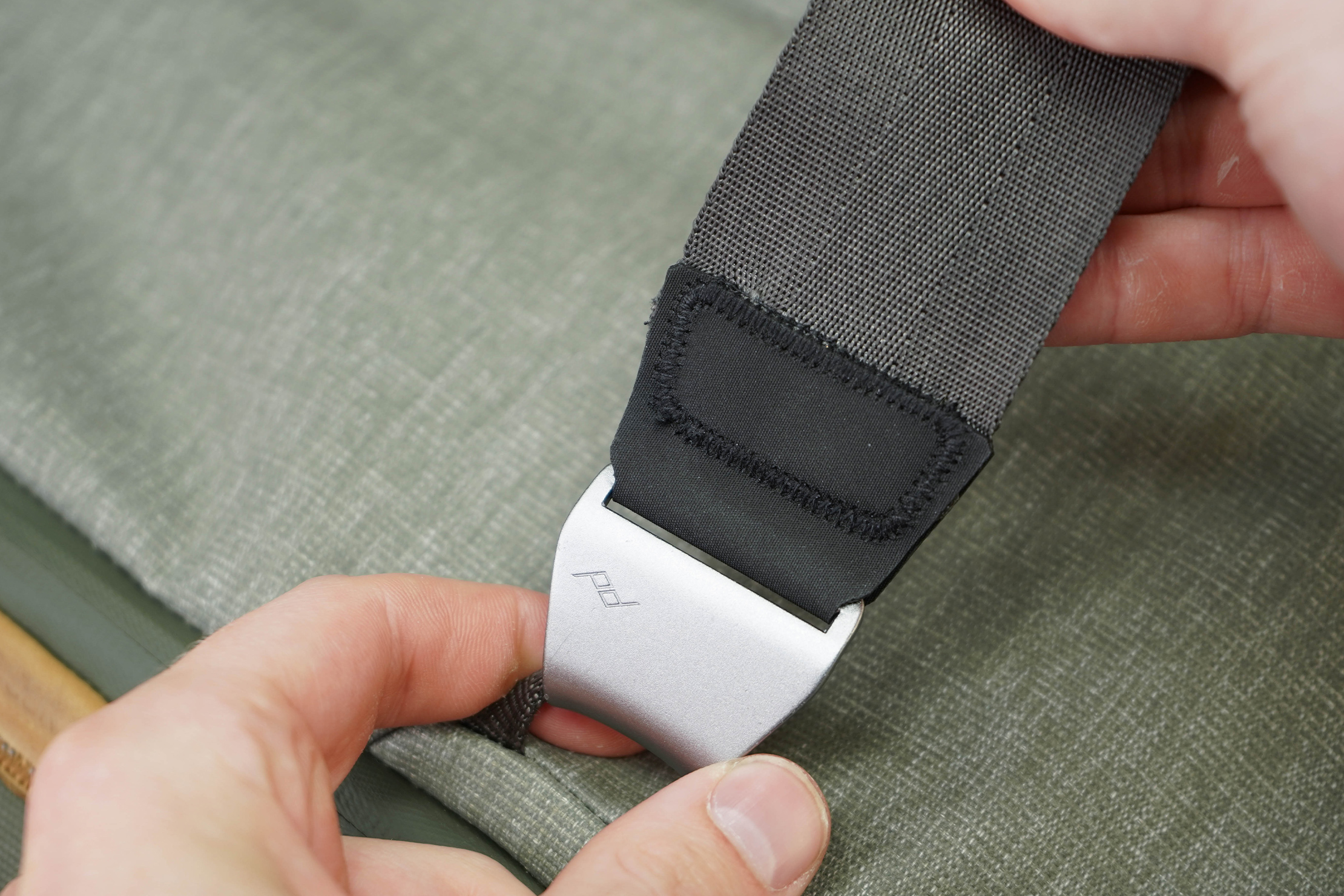 External Components
A key feature of the Peak Design Travel Duffel is that it has four different carry styles to choose from. Yes, you read that right—four.
As you might suspect, some work better than others. Starting with the hand carry, this simply involves putting the two straps together and attaching them with a magnet. The magnets aren't the strongest ever, but your hand will be holding the straps together most of the time so it's not a huge deal. This is a pretty functional way to carry the bag, and the magnets do make the process of lashing those straps together a bit easier.

Another option is the sling carry, which uses the shoulder strap. This strap is attached to the nylon loops on either side of the duffel, using those aluminum buckles we mentioned earlier. With this carry mode, you'll want to keep the straps a little looser, as you want to sling it across your body.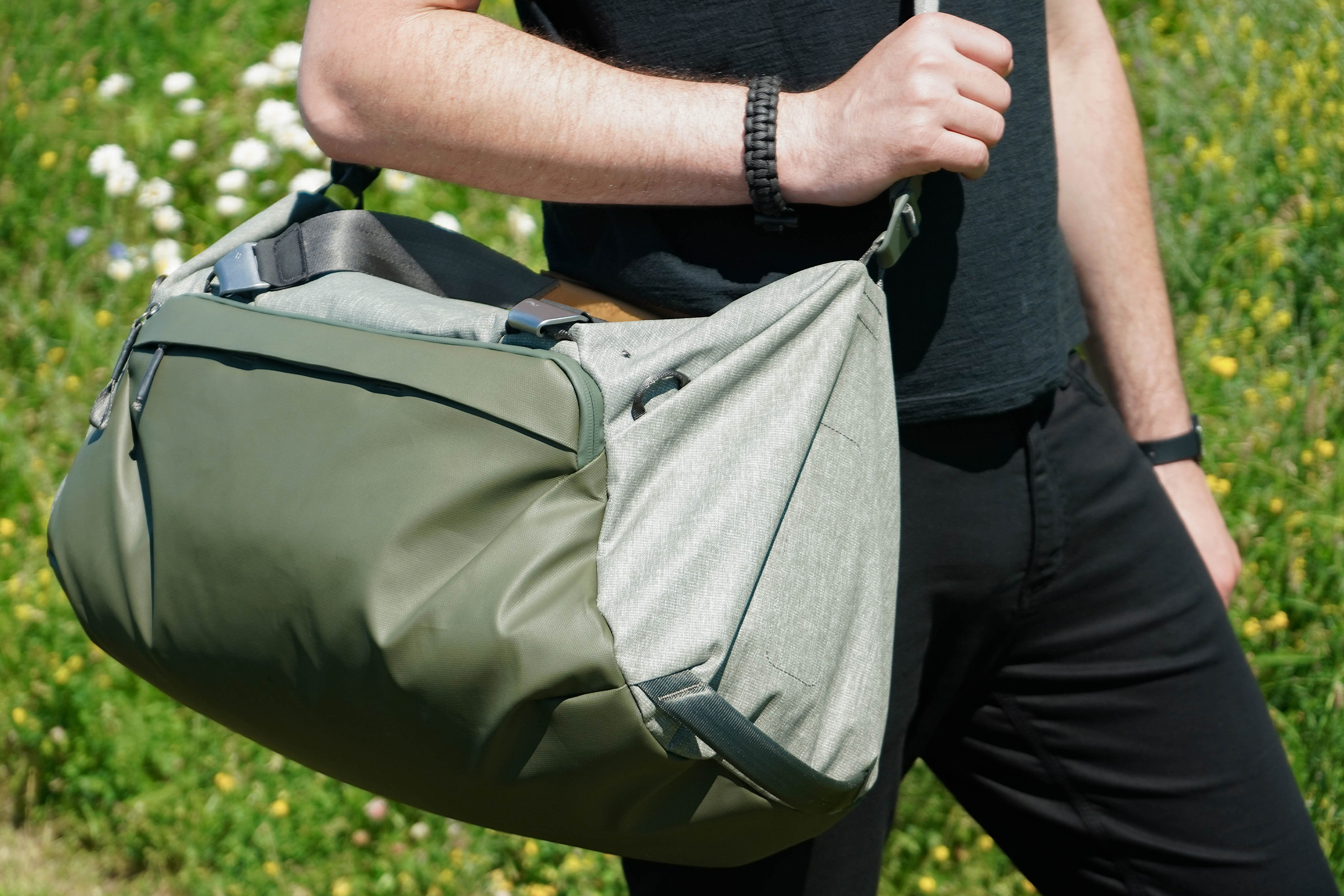 The shoulder carry is basically the same thing as the sling carry, but you're just popping the strap onto one shoulder instead of over your body. You'll probably want to tighten the strap a bit more than you would in sling mode, so the bag carries higher on your body.
While you're in either sling or shoulder carry mode, you can easily take the other straps off and stow them away. It did take us some time to get the hang of this, but the more we used the duffel, the easier it became.
The aluminum buckles on the straps—which are really more of a large hook than a buckle—allow you to quickly and easily attach the straps to the various attachment points on the bag. At first, we were a bit skeptical seeing as these straps kind of just "hook" onto the attachment points, but they actually do stay put quite nicely thanks to a large divot in the aluminum that prevents them from detaching on their own.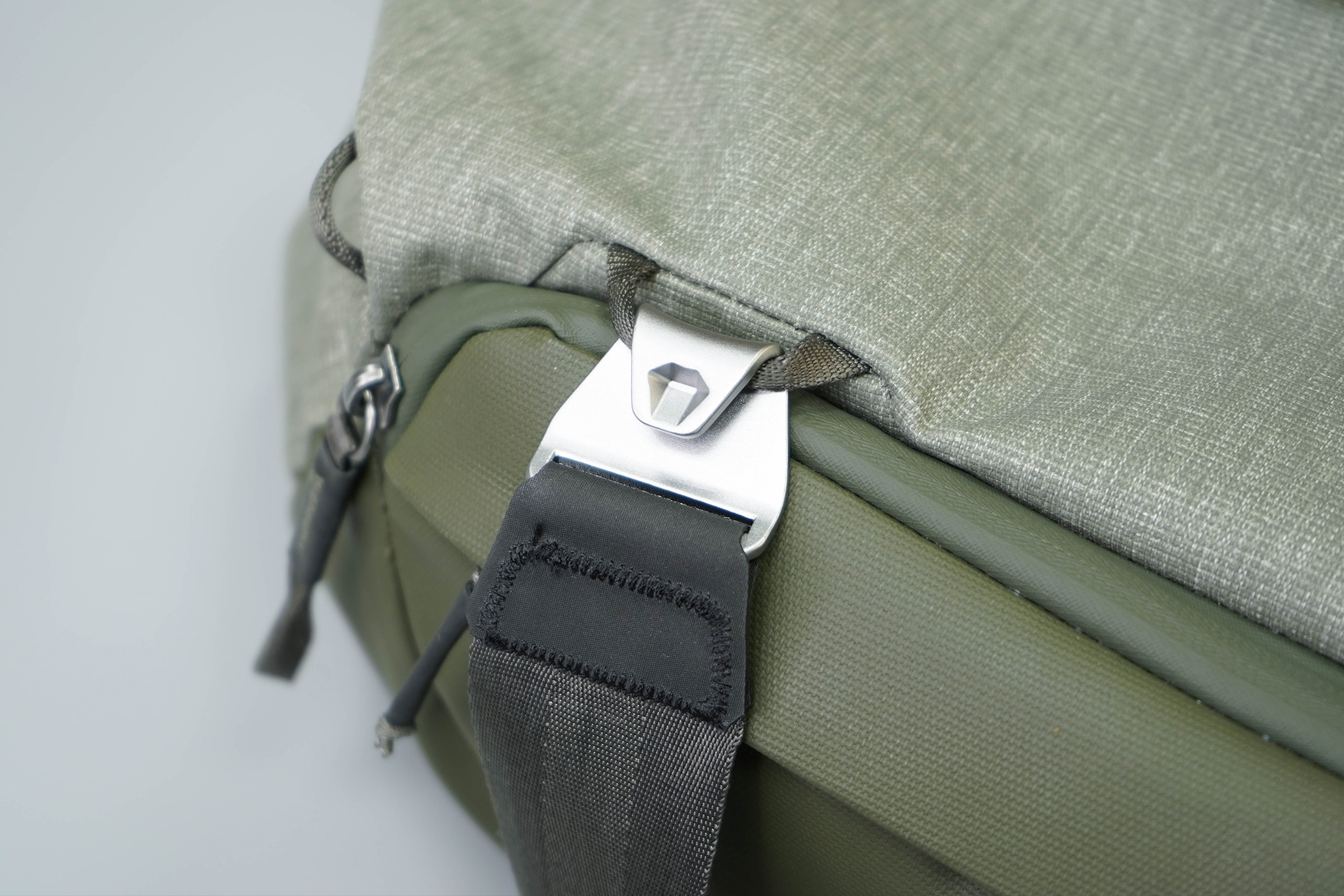 The backpack mode can be accessed by adjusting the straps so they're anchored on the attachment points furthest towards the top and bottom of the bag. There are also some magnets on either end of the duffel that allow you to fold in the corners of the bag, which make for a more streamlined look and feel when in backpack mode or carry mode. It also means that you won't have the top corner of the duffel rubbing against your neck, which is always good.
Now, we're not going to sugarcoat it—the backpack mode is not an ideal way to carry this duffel. The straps aren't very comfortable, but it works in a pinch if you need to cover a short distance and your hands are full.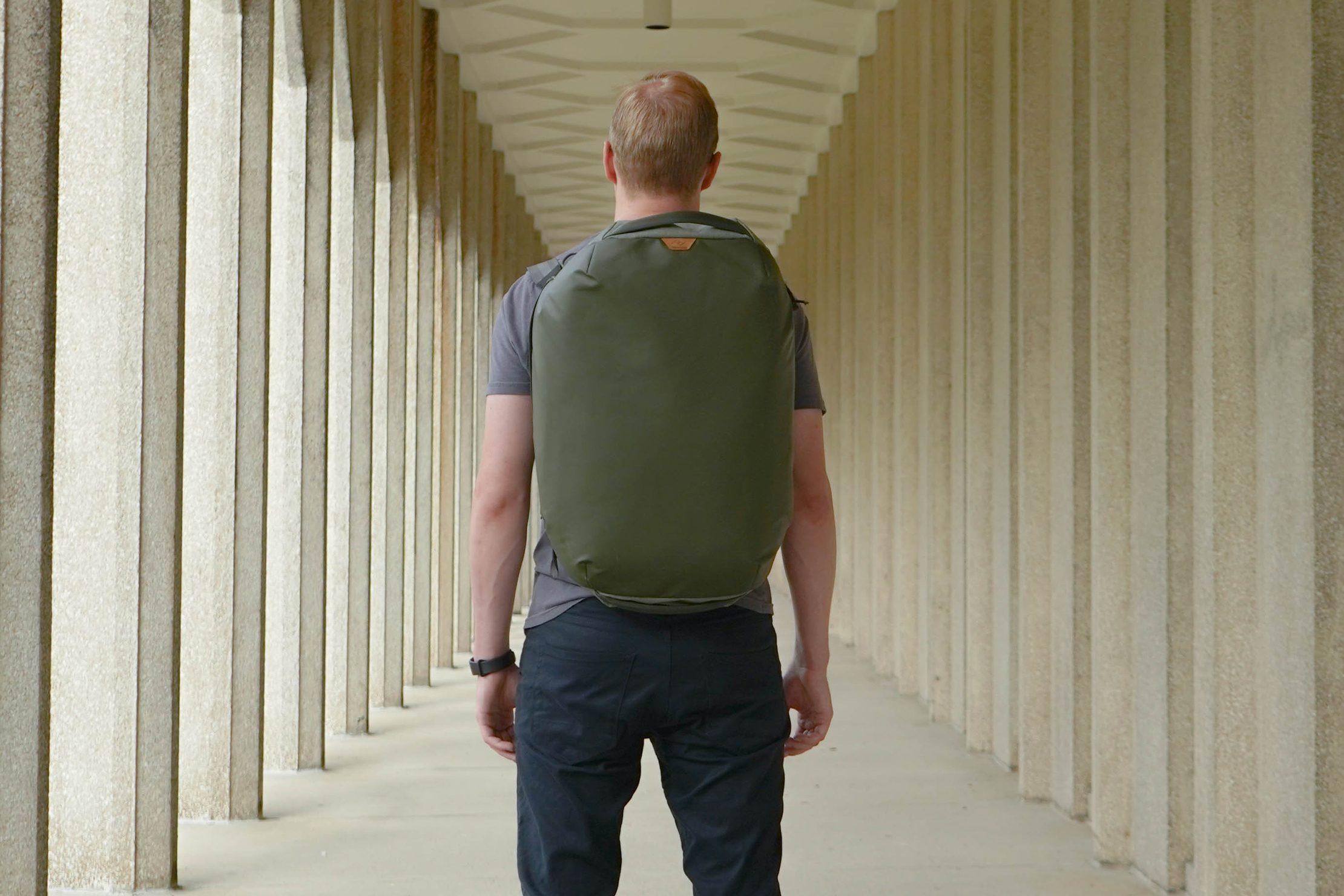 One interesting note about this bag is that there's no real "top," and the logo follows suit—it looks the same whether it's worn upside down or right side up in backpack mode, which is nice. That means you can carry it whichever way you want, depending on how your gear is oriented inside. These are the types of small details that we think really set Peak Design apart from other companies—the magnets, logos, aluminum buckles, and Hypalon touchpoints really come together to create a unique and highly-functional carry system.
We'll also point out that the 65-liter version of this duffel seems to offer a more robust backpack strap system. We're assuming that Peak Design decided against more robust backpack straps with this version since it's not quite as necessary at 35 liters.
As we mentioned above, we do think the first three carry modes work best for this duffel. We don't love the backpack mode quite as much, and we think that's okay. This is primarily a duffel bag, after all, and it works well…as a duffel bag! It is nice to have the option of converting to backpack mode in specific situations, but we didn't find ourselves using it all that much.
We also like that the shoulder strap offers a nice amount of padding and that the padding goes pretty far across the strap. This is a clear improvement over what we've seen in some other shoulder straps in the past.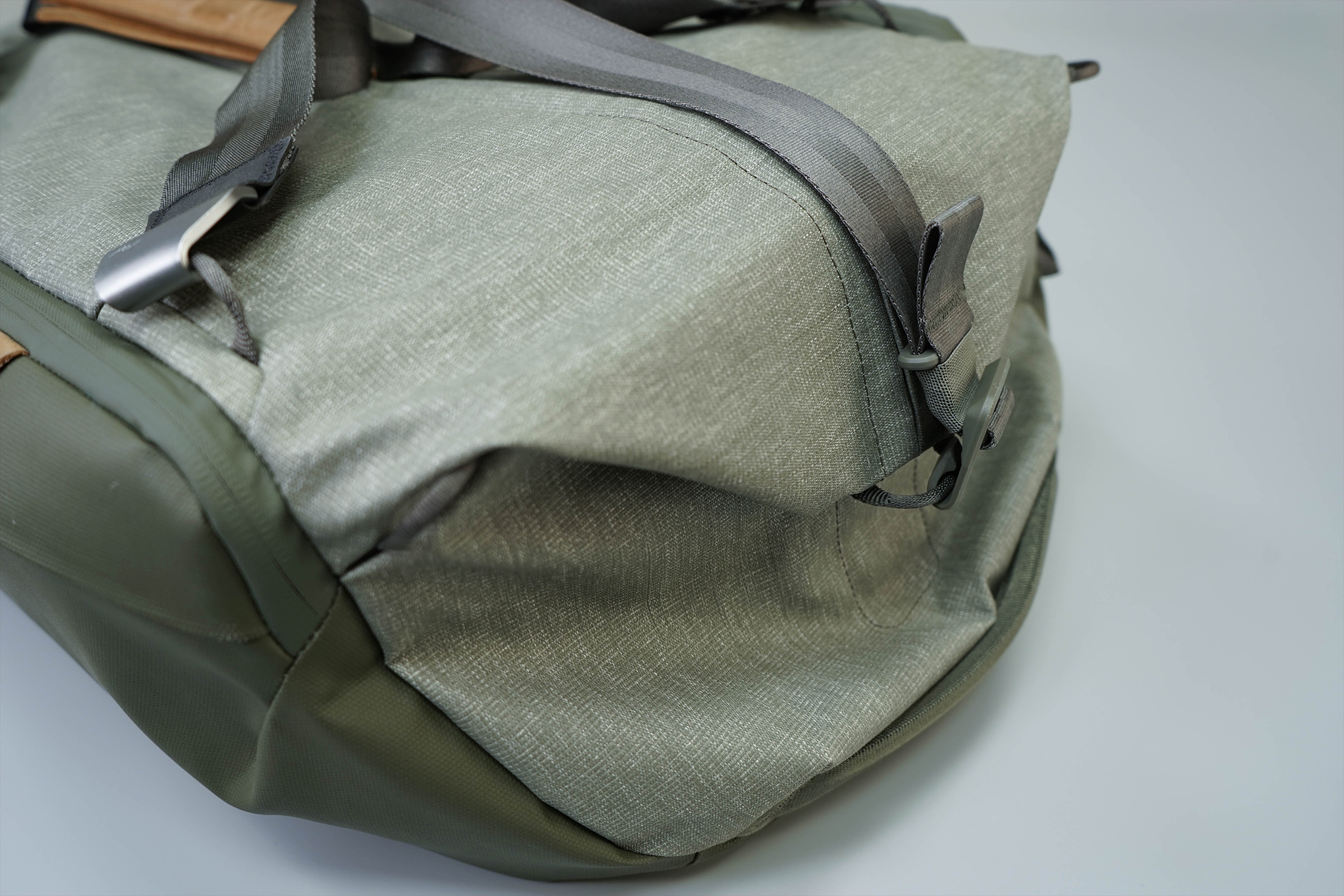 Overall, we did find the magnets throughout the bag to be slightly weak—not only those on the carry handles, but the ones on the side flaps as well. When this duffel gets really full, sometimes those side-flap magnets can come undone by accident. It's not a deal-breaker by any means, just something we noticed in testing. A little more security would have been helpful here.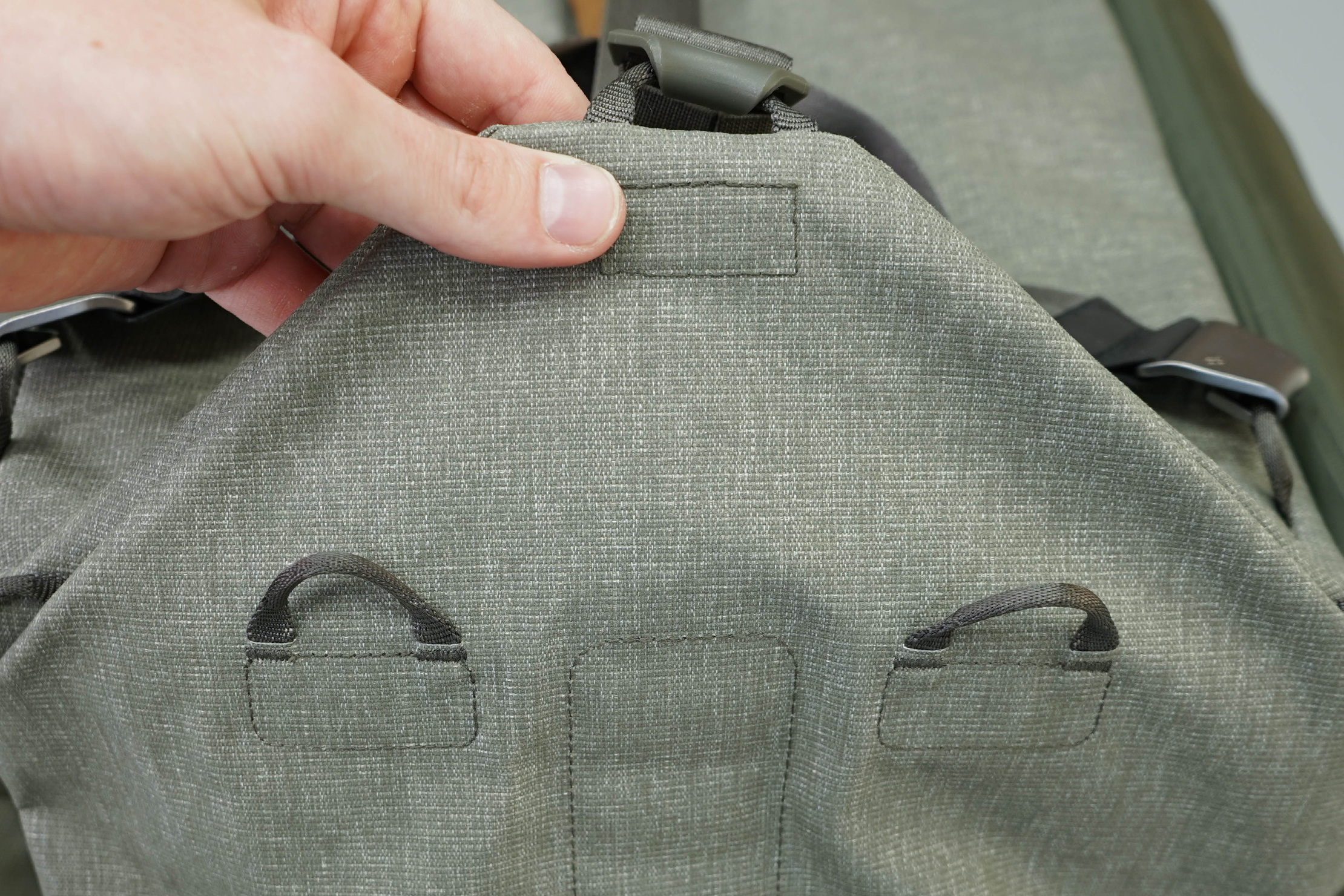 And lastly, there are two solid grab handles on either end of the duffel that are streamlined and barely noticeable when not in use. They're nicely padded and offer a quick way to grab this duffel from whatever angle you may need.
Inside the Pack
The great thing about duffels is that they usually open up to one massive compartment, and the Peak Design Travel Duffel is no exception.
It's at this time that we'd usually give our packing cubes PSA, although with the Travel Duffel we do have one clarification to make. This bag is optimized for Peak Design's packing tools and can fit three "units" of tools in them, meaning those specific cubes will fit perfectly in here and utilize the full space. If you have those cubes, great. If not, you'll be fine with whatever cubes you do have—you'll just need to do some tinkering to get everything to fit correctly.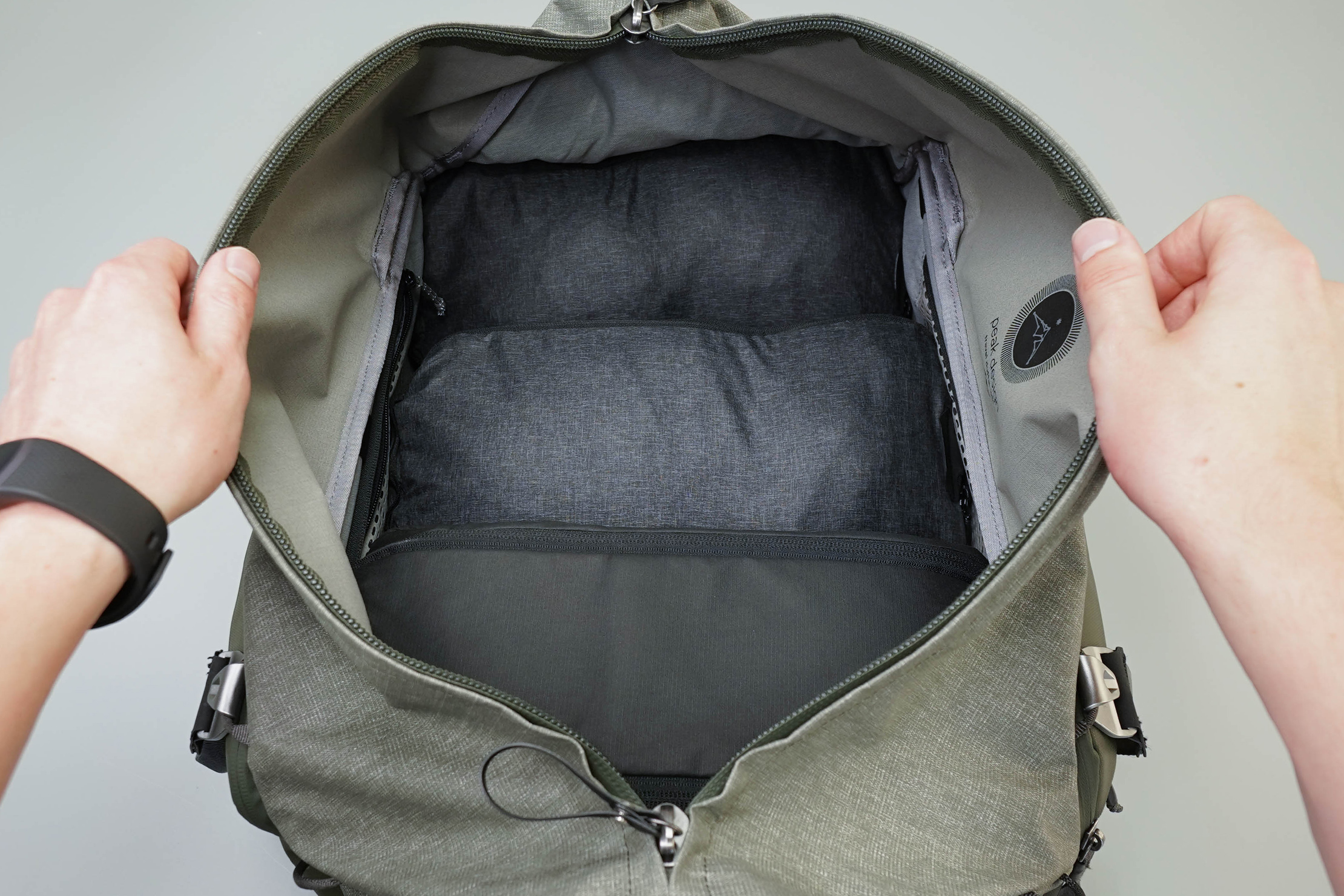 Inside the main compartment, that giant bucket space does have some zippered pockets on the side. These feature Peak Design's rubbery mesh, allowing you to see what's inside while still keeping things secure.
We like that this bag has locking zippers, letting you have a locked-up and completely secure duffel that won't unzip easily. There's also a bit of rigidity on the side of the zippers in the main compartment, which helps the bag keep its shape.
Moving on to the side pockets, there are two larger horseshoe-style pockets on each side which have aluminum stays to help them keep their shape. The zippers can be locked down in this area, too, if you want to secure the side pockets.
The first pocket on the side opens up to reveal three rubbery mesh pockets. During our testing, we used these pockets for a passport, a small pair of ROAV sunglasses, and an Anker battery bank. Extra space is available for stuffing a jacket inside or for other free-floating items.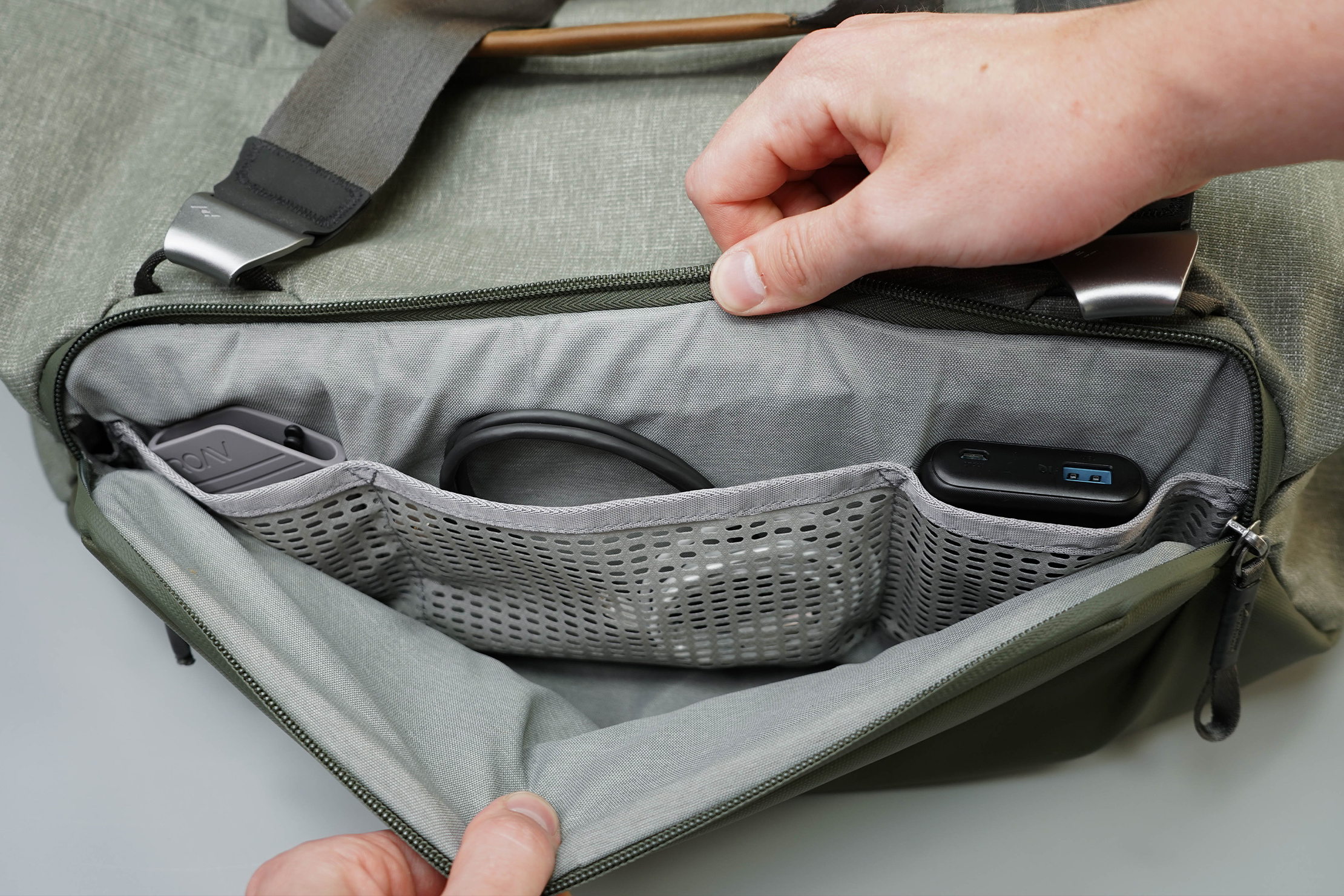 In the front of this section, there is another zippered pocket which is pretty large and has no additional organization inside.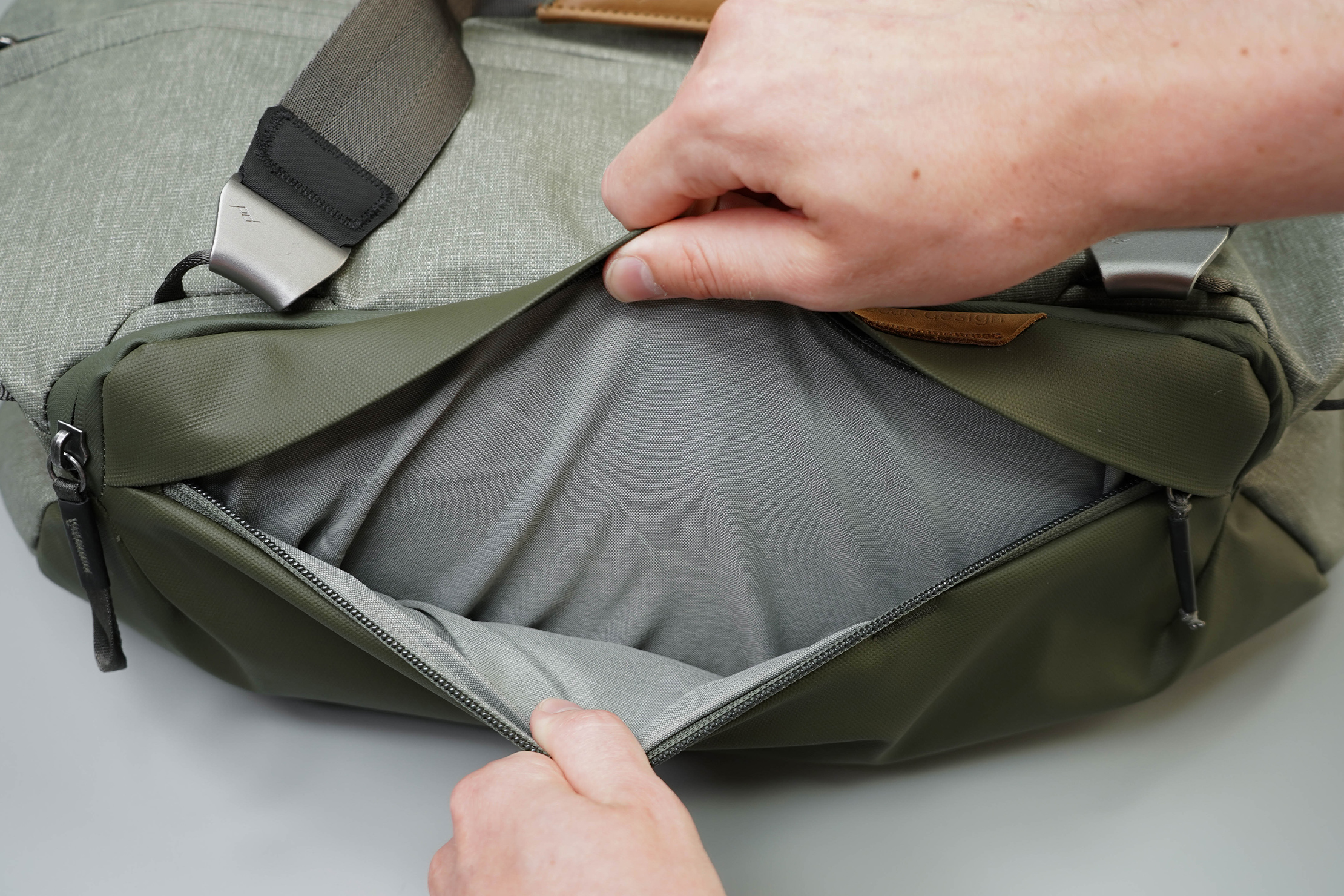 Flipping it around to the other side, the second horseshoe pocket has those rubbery mesh pockets again, except this side just has two divisions inside.
This side also has a small nylon loop, which could be used to attach a keychain or some additional Peak Design accessories. A luggage ID is also found in this area, though we don't think this is exactly the best place for a luggage ID as it's not in an obvious location.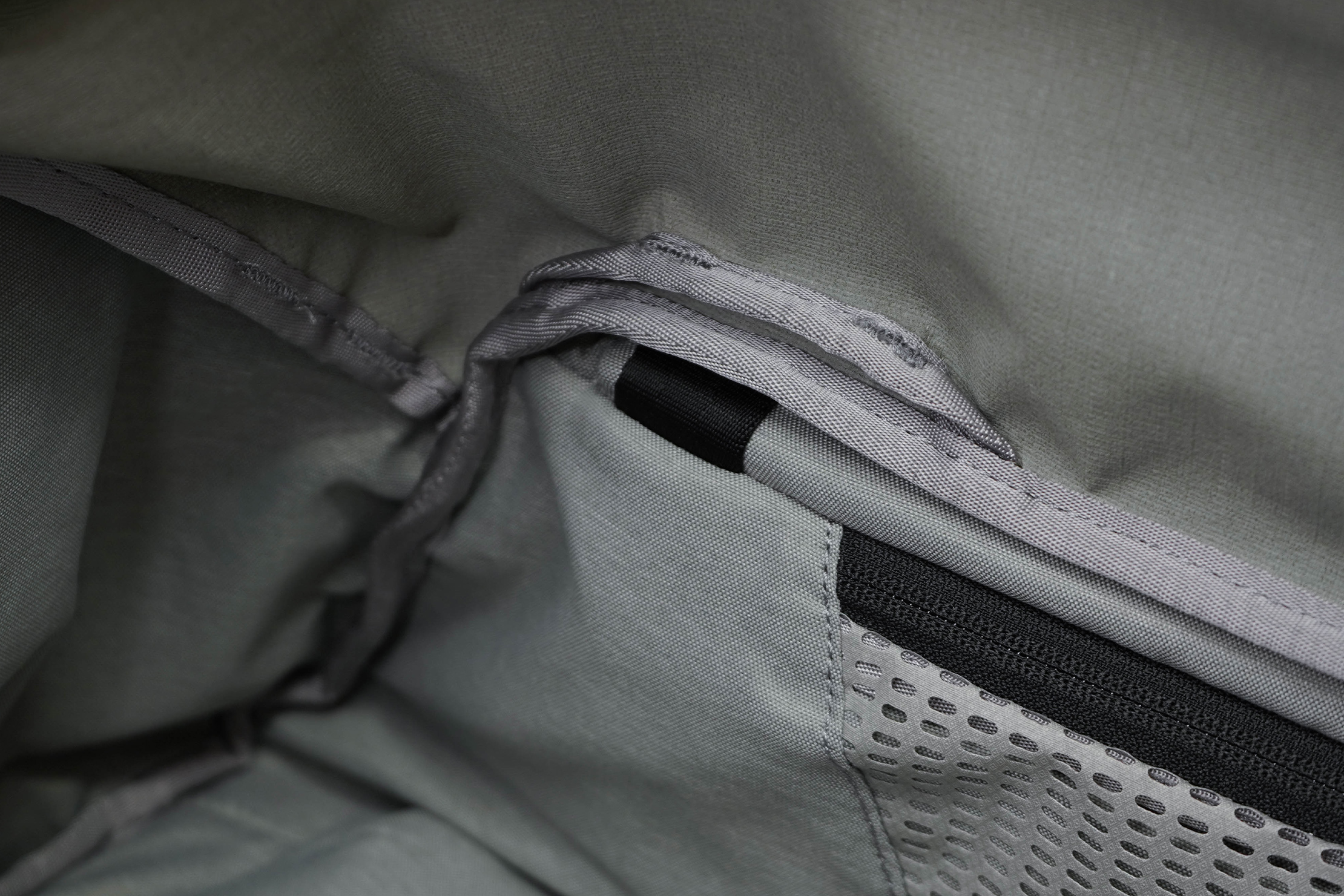 Testing and Durability
At the time of this review, we've been testing the Peak Design 35-liter Travel Duffel over the course of two weeks in Detroit and Chicago. Overall, we're digging the simplistic style and multiple carry options offered on this bag.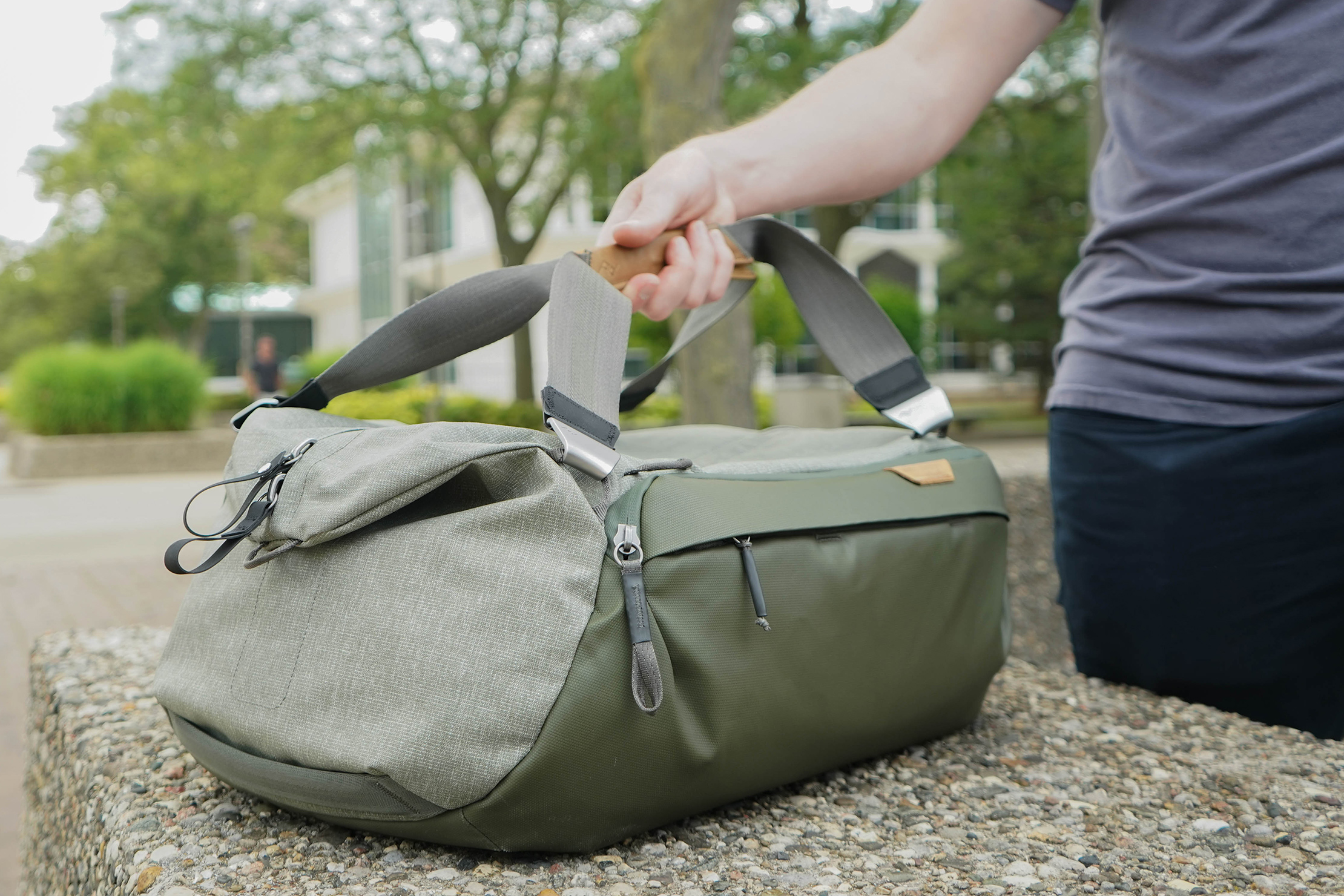 It's a solid "so far, so good" on the aesthetic and durability fronts and we haven't noticed any wear-and-tear issues so far. The bottom is marked up a bit, of course, but that's to be expected since it's been tossed around in cars and trains. Other than that, it's holding up very well and we have no durability concerns at this point.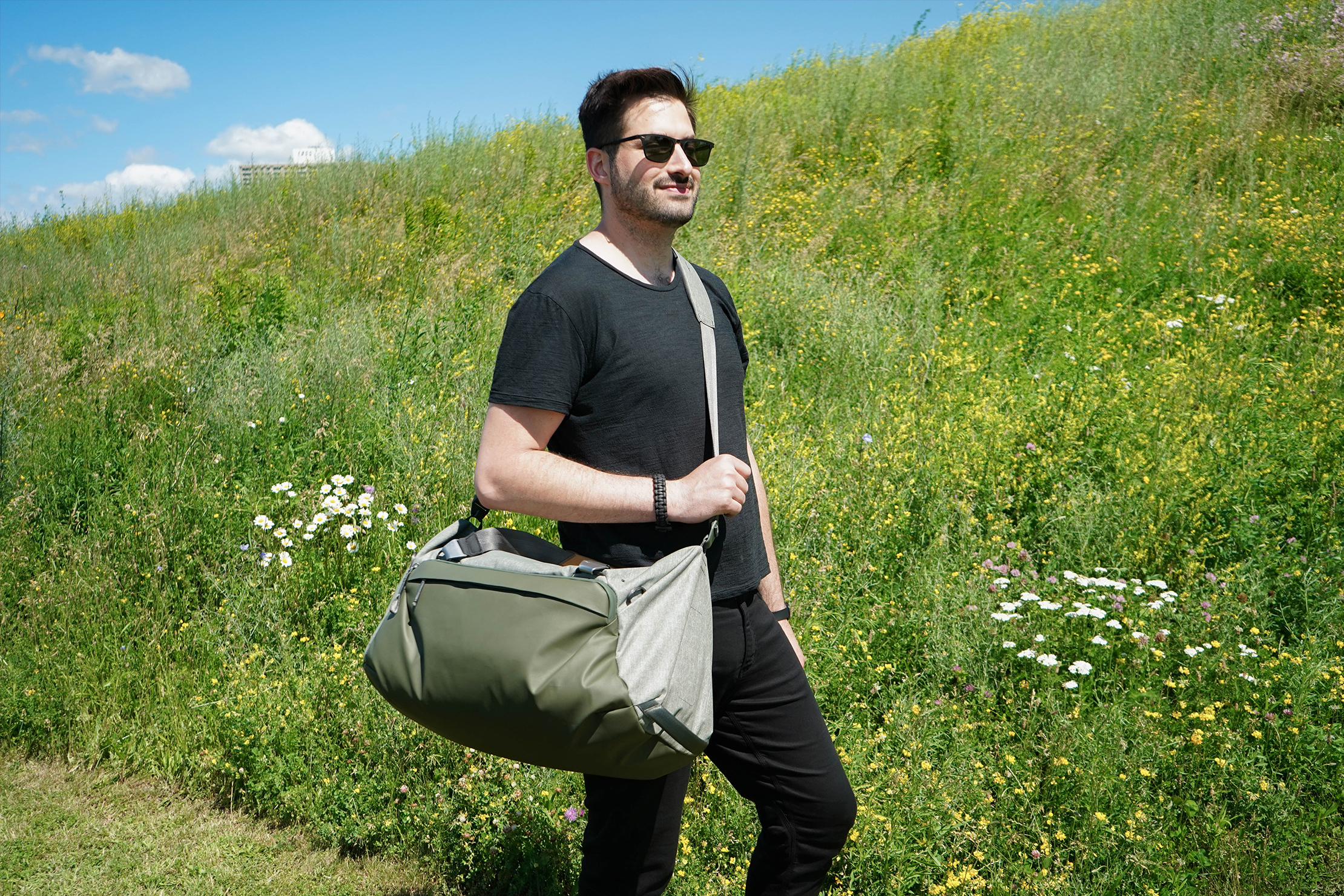 We think this duffel could be a great companion to a larger one-bag travel backpack. And while duffels tend to fall short when it comes to carrying things like laptops, the Peak Design Travel Duffel does offer some solid organization and just the right amount of balance for holding everything you want while still having a couple organized areas. It won't handle a laptop very well, though, to be clear.
Usage Timeline
Initial Usage
Condition: Excellent
Cord loop system allows it to be carried as a duffel, messenger bag, and backpack
Magnetic components all over this duffel keep it low profile no matter which way it is carried
Almost no internal organization, works well with Peak Design packing cubes
2 Weeks of Use
Condition: Excellent
Magnets can be weak at times and the backpack carry isn't ideal.
Access the Pro Community Discussion
Get your questions about the Peak Design Travel Duffel 35L answered from our team and the Pro Community right here on the page. Plus, join discussions with other members about gear, guides, and more.
Other Bags & Luggage Reviews