Away The Carry-On Review
The Away The Carry-On has a sleek aesthetic, clever interior layout, and handy battery bank. However, we're not sure if it's worth all the hype.
Our Verdict
Unlock the Pro Summary
Save time. Get access to brief summaries of our reviews so you can browse and make decisions more efficiently.
Pros
Sleek, stylish exterior (with plenty of colorways available)
Luxurious handle is comfortable to hold
Digging the interior lay-out
Cons
Battery bank doesn't feel secure
Wheels aren't great for rolling long distances on sidewalks, roads, or uneven stone walkways
The carry handles are slim and can be difficult to grab
Recent Pack Hacker Video
Technical Details
Capacity

39.8l

Weight (lb)

7.1 lb (3.2 kg)

Dimensions

21.7 in x 13.7 in x 9 in (55.1 x 34.8 x 22.9 cm)

Including wheels

Notable Materials

Polycarbonate, Leather, Plastic, YKK Zippers

Manufacturing Country

China

Warranty Information
Full Review
There's a lot of hype surrounding the Away The Carry-On. Influencers, celebrities, and seemingly everyone else on the internet shower love upon this rolling luggage designed to fit perfectly inside the overhead bin on planes.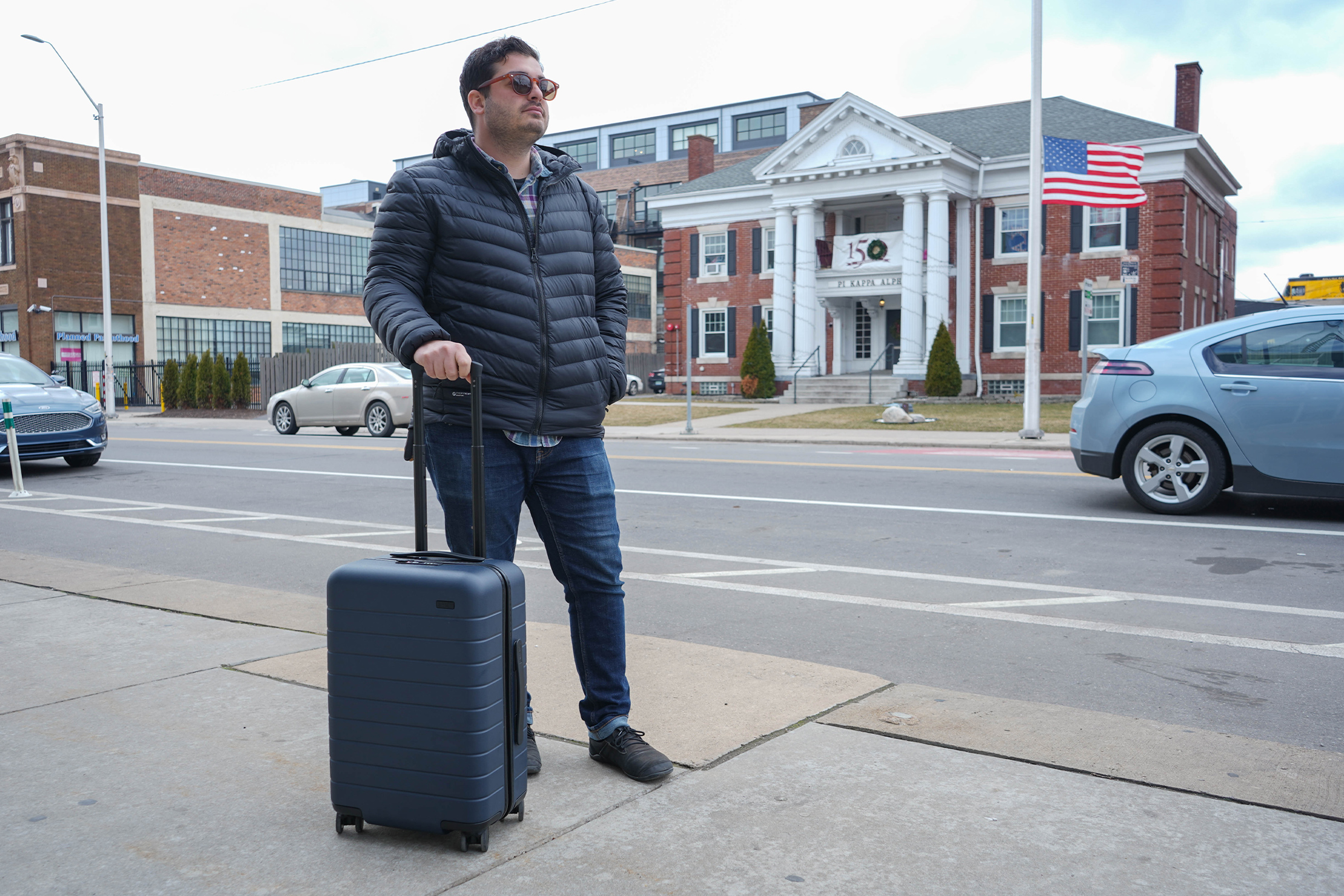 As gear-testers, we've been excited to get our hands on this suitcase and determine if this hype is justified or…not. To find out, we bought the Away The Carry-On and have been testing it for two weeks, including on a week-long trip to Mexico.
So what have we concluded? Read on.
Materials & Aesthetic
The Away the Carry-On hasn't dominated your social media feed because it's ugly. No, this suitcase is sleek and modern. And the leather detailing adds just the right amount of old-fashioned elegance.
At the time of this review, it's available in nine colorways with an offering of eight more limited edition colorways. While the lighter colors available look really nice and classy, remember that they will show scratches/blemishes better than their counterparts. We've been testing the Navy, which seems to be a popular choice (based on how many we saw during our travels, we don't actually have stats on this).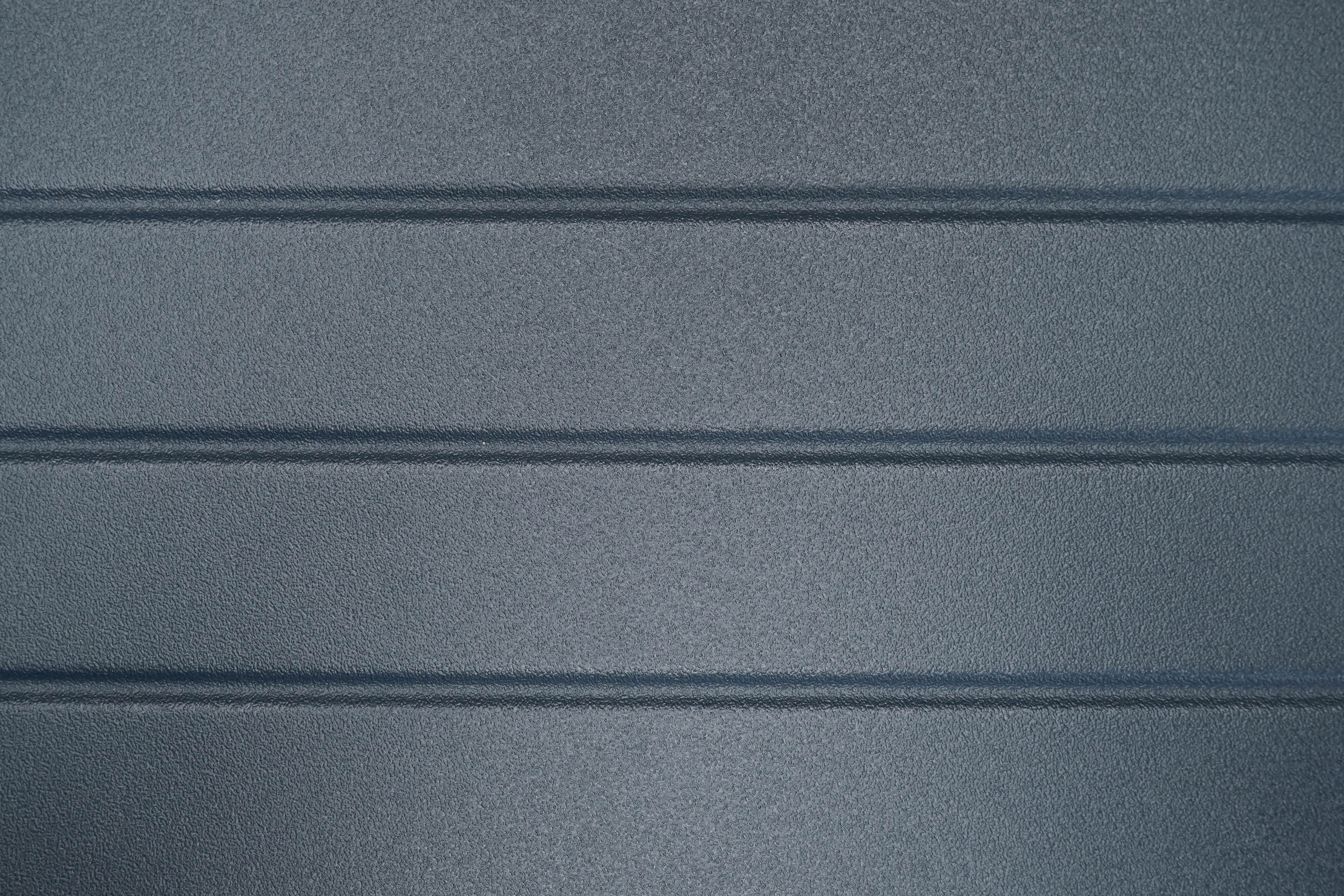 The Away The Carry-On is made from polycarbonate. The hard sides are structured and sturdy—but the zipper down the middle adds a lot of movement and flexibility…and not in a good way. The zipper feels floppy in the middle—almost like the two rigid panels are floating on the zipper. It's hard to explain, but it's not the best feeling.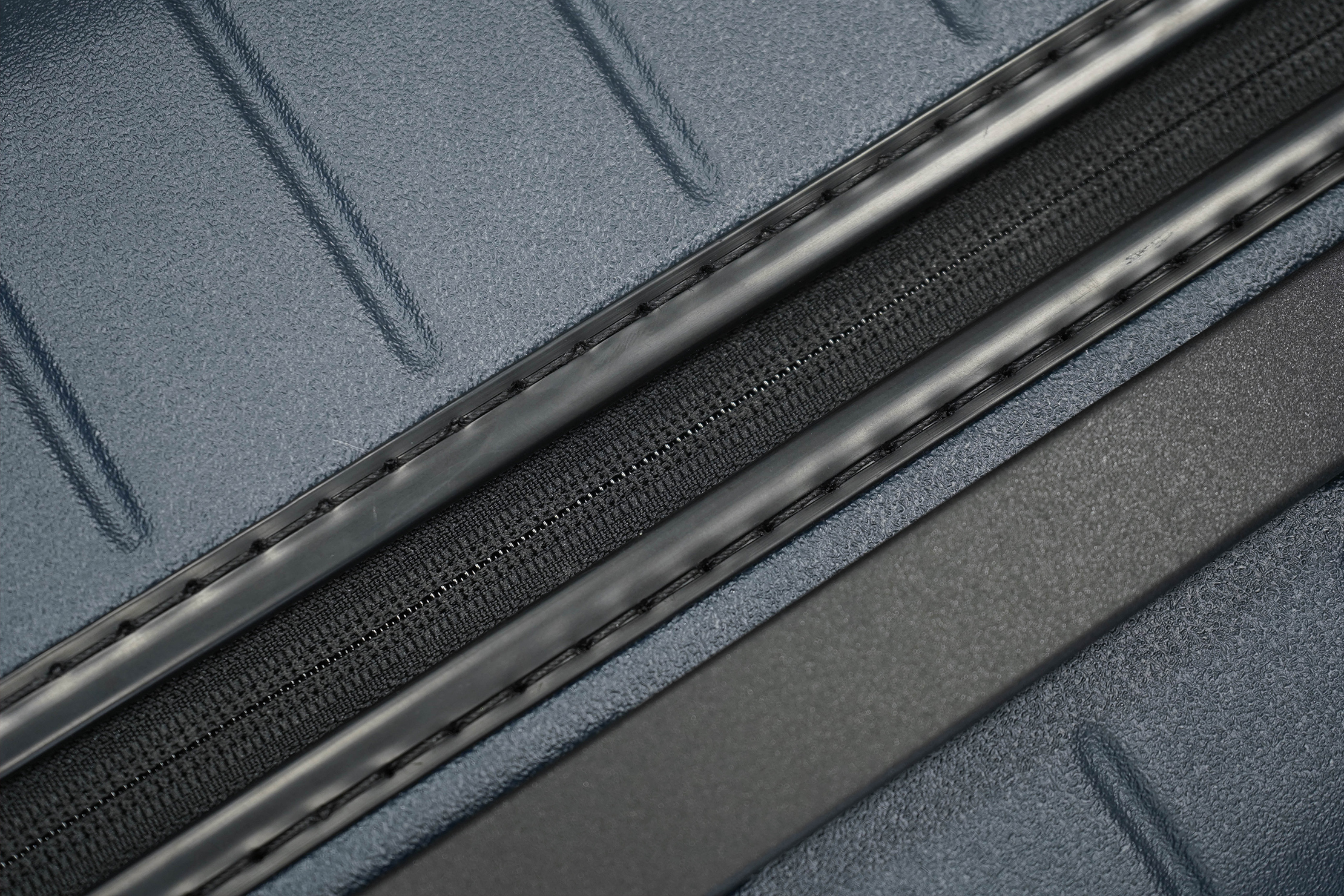 That said, this is less of a note specifically about the Away The Carry-On and more a note about hard-sided luggage in general. If you typically travel with backpacks, like we do here at Pack Hacker, you'll definitely notice this strange floating/floppy structure.
But the zipper itself—in fact, all of the zippers in this suitcase—are from the trusted brand, YKK. We've mostly had good experiences with YKK in all of our testing, so we don't foresee any problems popping up with these.
We also want to note that there are leather accents on this suitcase, which may be a deal-breaker for you. It'd be nice for Away to offer a vegan version of the Carry-On, especially because the leather accents are purely for aesthetic purposes.
External Components
You probably don't spend too much time thinking about it, but the telescopic handle on hard-sided luggage is likely the thing you'll interact with the most while traveling. And the handle on the Away The Carry-On is—in a word—luxurious. It's sort of soft and grippy, which makes it comfortable to hold as you roll along through the airport or from your taxi to your hotel. It's way nicer to use than the traditional slick hard plastic handles of yesteryear.
You can also lock it into two different positions—all the way up and approximately 2/3s of the way up. (And all the way down, of course.) We like the two options as it means the suitcase will work for several body types and situations.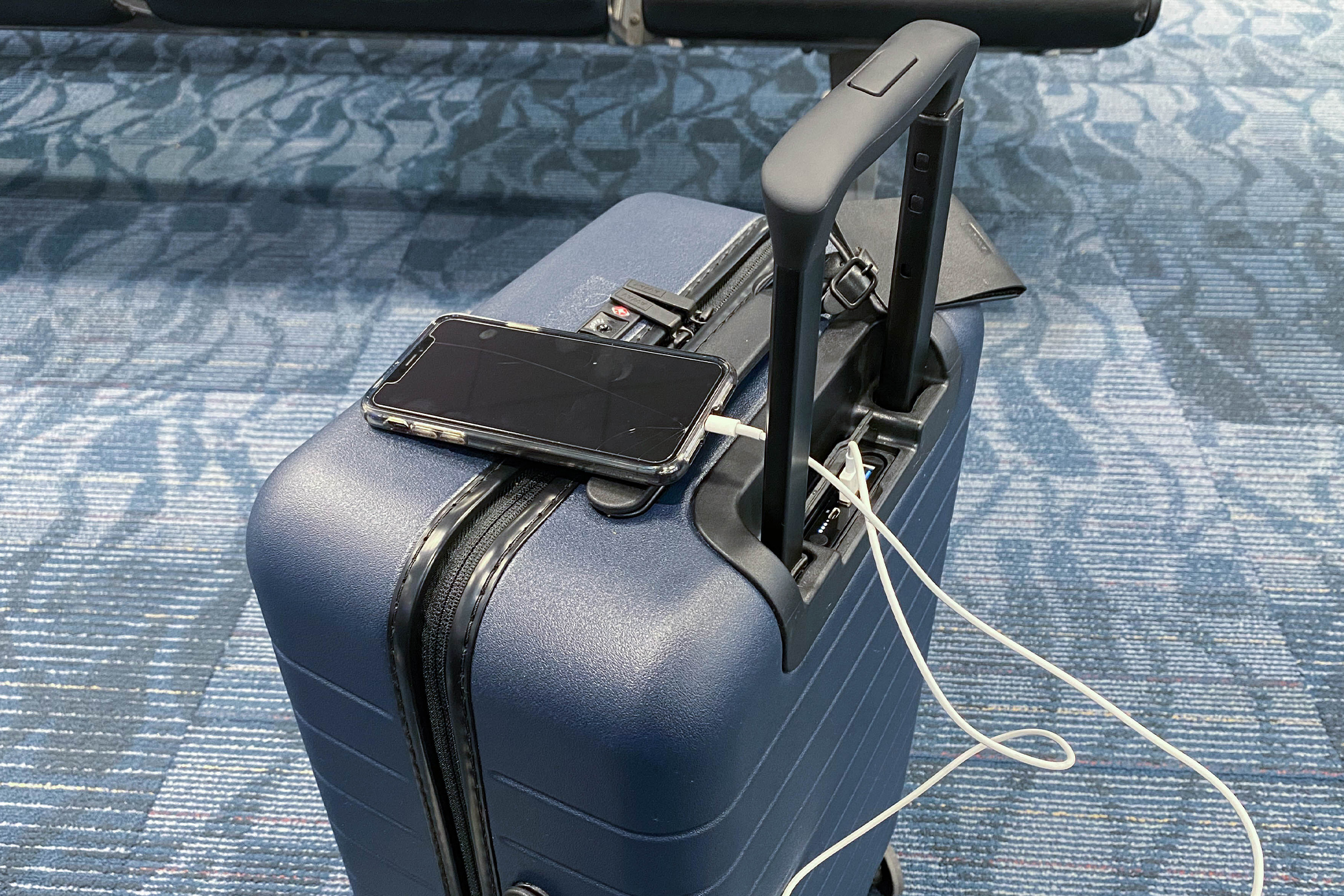 Beneath the handle is the removable 10,000 mAh battery that comes with the Away the Carry-On if you opt for the "Battery" version (the Carry-On is also available in a Standard version that doesn't come with a battery). We've been testing the battery version because a battery bank is super handy to have on the road. Let's be real, travel days are a lot less fun with a dead phone.
We almost always travel with a battery bank, so we appreciate the inclusion of this one, which has a home built into the suitcase and doesn't take up any precious packing space inside of it. The battery itself has also performed well during testing.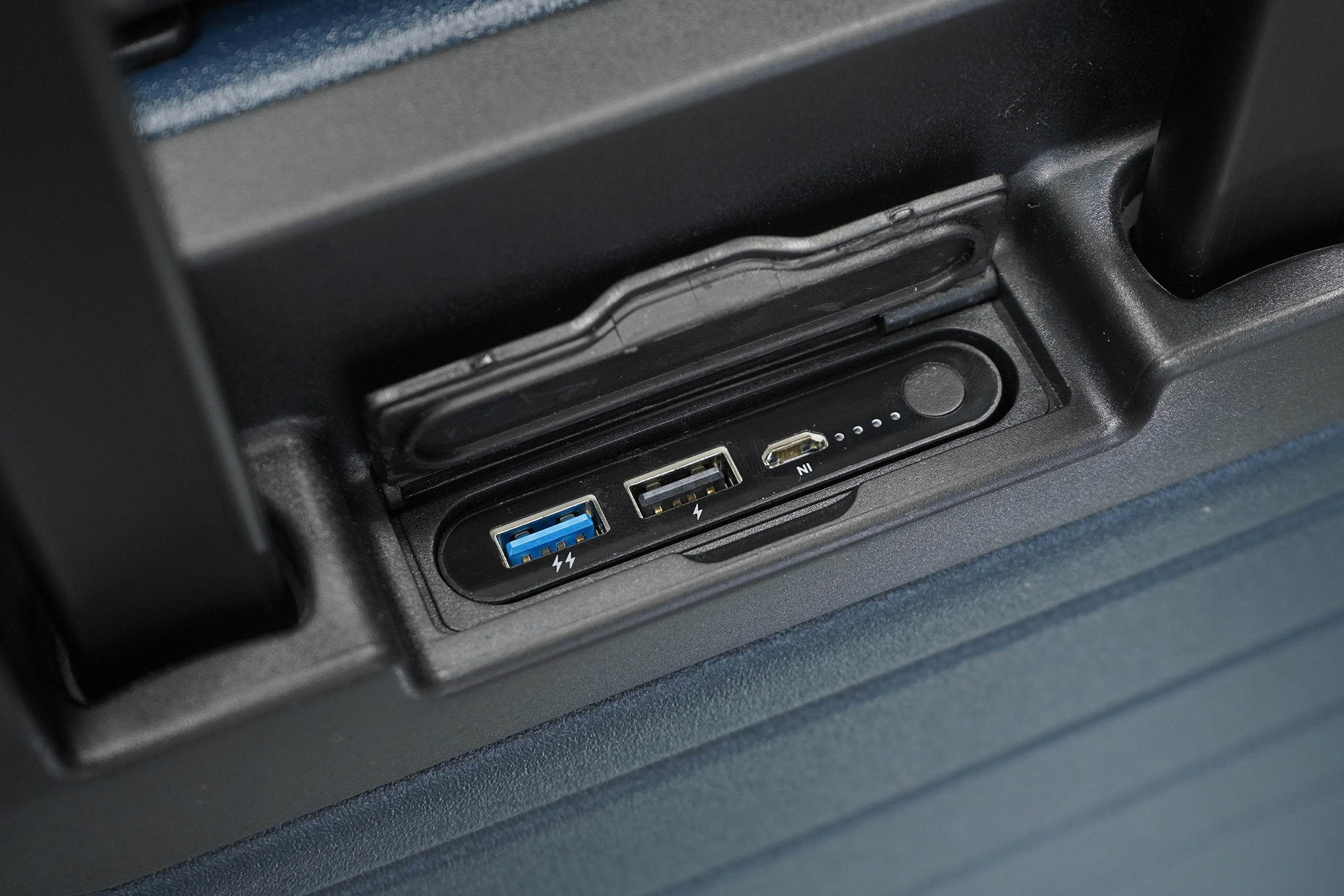 The battery is covered by a door. It's also easy to remove—simply push down on the battery and it'll pop right out. This is actually a relatively new-ish feature by the company based on complaints from customers who said it took too long to take the battery out with the old design. And you will have to take it out if you check this suitcase.
The battery version also comes with a charger and options of international plugs, which is a nice touch. You can easily pack all of the international plugs if you'll be country hopping or only take what you need if you'll be staying in one place for a while.
Unfortunately, the battery does not feel very secure. It wiggles around inside of its slot and the door has randomly opened due to the standard jostling of traveling (without us having touched it).
A few times, the battery disengaged and popped up (still sitting in the slot, but not locked in). Yeah, not great. A battery bank won't do you any good if it's lost in the overhead bin or on the floor near gate G16.
To be clear, the battery bank hasn't completely fallen out…yet. But it's been worrisome during testing.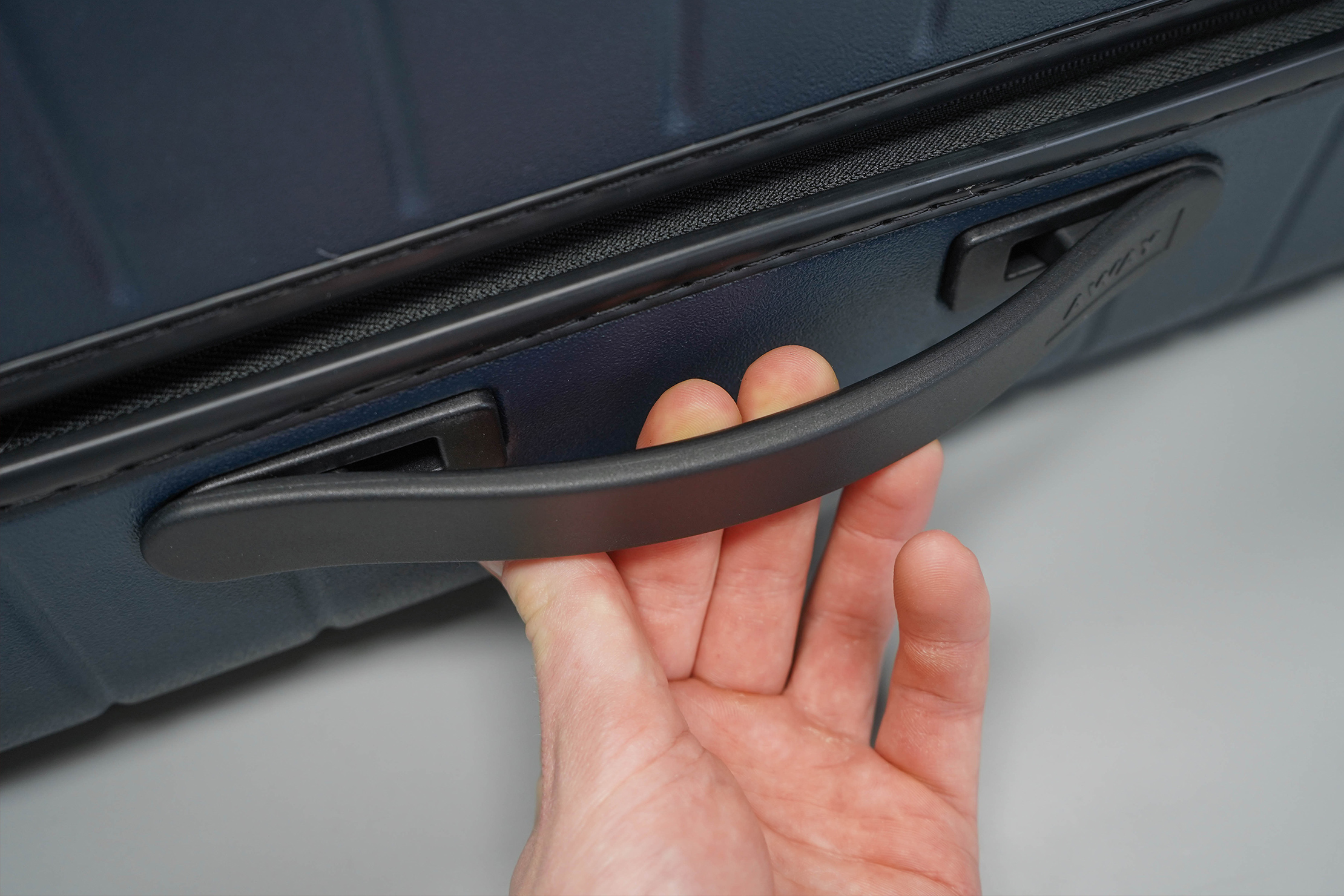 The suitcase also features two grab handles—one on the side and one on the top, which are pretty standard for rolling luggage. Both handles are slim and tight to the suitcase, so it can be tough to get your hands under them. However, when you do, they expand some and are pretty comfortable to hold over short distances (like on and off the plane or up a flight of stairs). They are also quite handy for tugging the suitcase in and out of the overhead bin or trunk of a taxi/Lyft.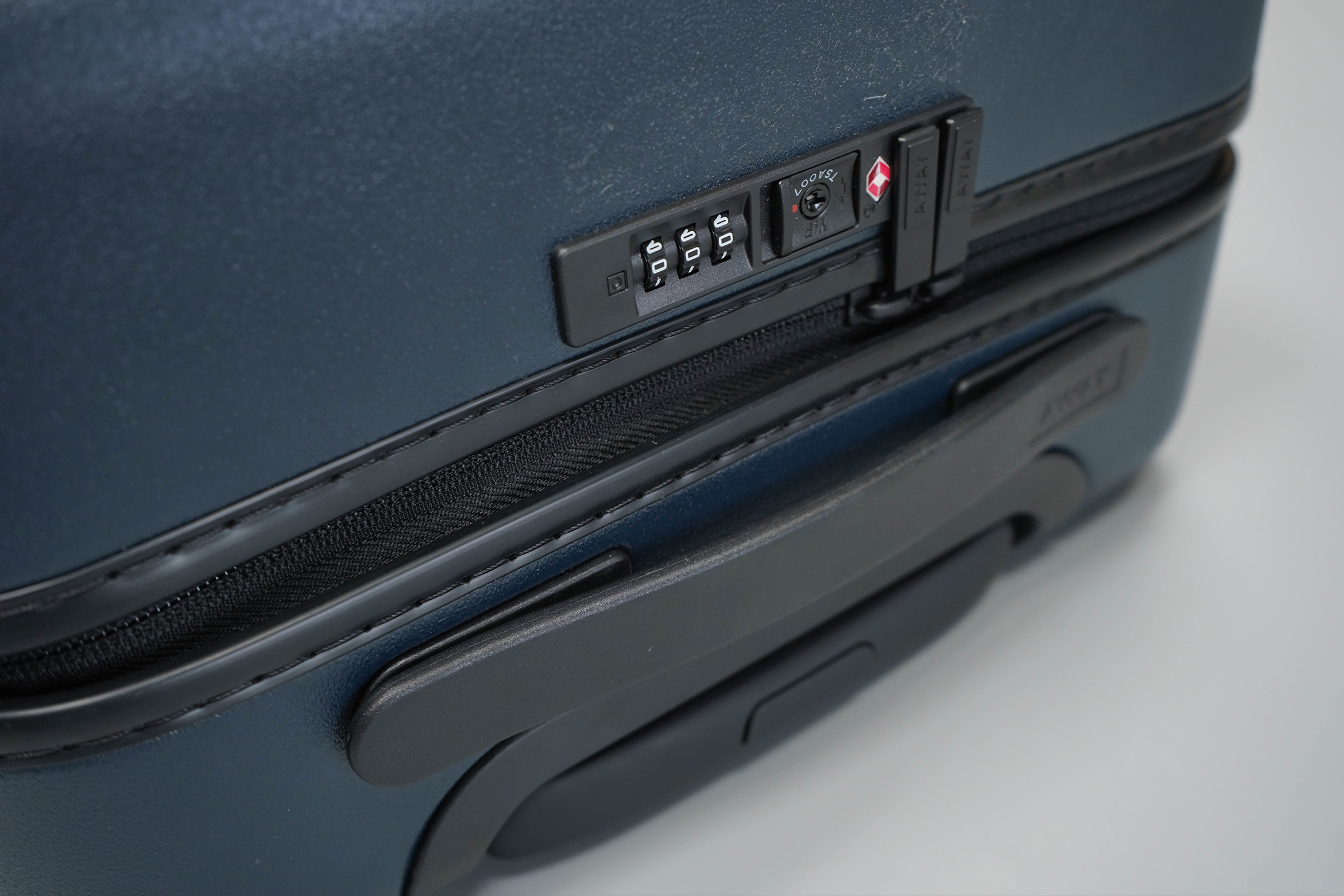 The zippers are lockable with TSA-friendly locks, which is nice to have for peace-of-mind. They're also easy to use—slide both of the zippers to the top and pop them in the lock. To unlock them, enter your 3-digit code, slide the mechanism, and boom—the zippers will pop right out. Easy, peasy.
The Away The Carry-On also comes with a leather luggage tag, so you are more likely to get your luggage returned to you if things go awry.

And last, but definitely not least, there are the four wheels. The wheels spin 360 degrees, meaning you don't have to roll the suitcase behind you. You can roll it next to you, swing it between your legs, spin it around your body, or do a bunch of other fun tricks. They also roll pretty smoothly, but only if you're on smooth ground.
Rolling through the airport is no problem, but we've found that longer distances on sidewalks or roads (or uneven stone walkways) to be tough. This more of an issue with roller luggage as a whole (which is one of the reasons we love backpacks) but some other suitcases or rolling duffle bags use larger wheels that may handle rougher terrain better. To be frank, these wheels weren't even that great on carpet or over those metal strips/groves on airport floors.
Inside the Suitcase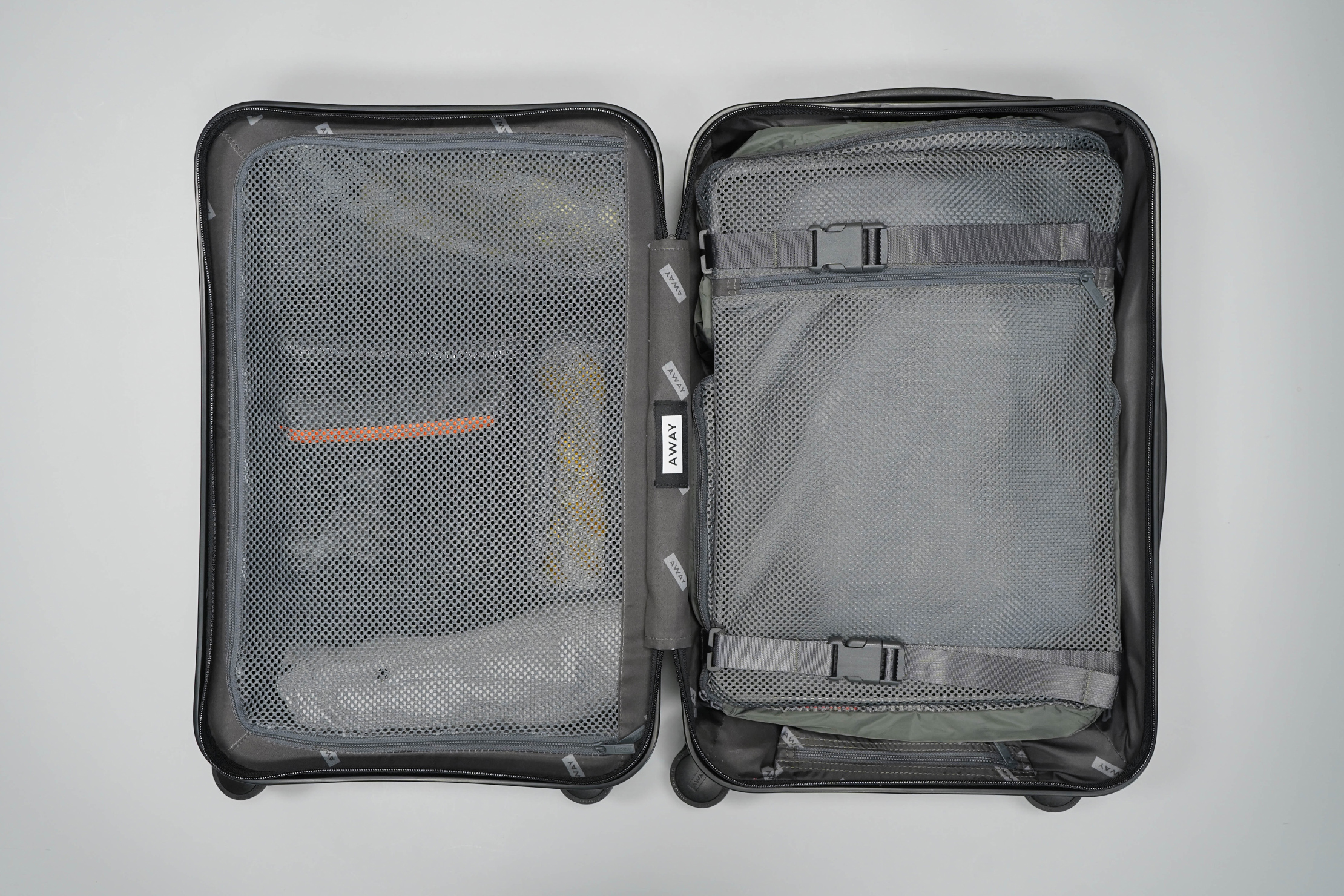 Alright, let's open this sucker up. It opens like a traditional suitcase—clamshell-style. This is super convenient as it allows you to pack and access your stuff from a variety of different angles and, of course, means you can see all of your gear and organize it. That said, you have to splay it all the way open to get to your stuff. There are no quick-grab pockets on this suitcase (if this is a deal-breaker for you, Away does offer the Carry-On with pocket, which has a front quick-grab pocket).
On the right side, you'll see two compression straps. These straps are excellent—they're smooth to adjust and keep everything tidy and compressed. There's also a zippered compression pad. Because the pad is a little stiff (it has a frame), it helps compress your clothes even more. On it, there's a zippered mesh pocket that works well for flatter items—socks, undergarments, notebooks, paperback books, etc. We put the battery charging cable here. so we always know where it is.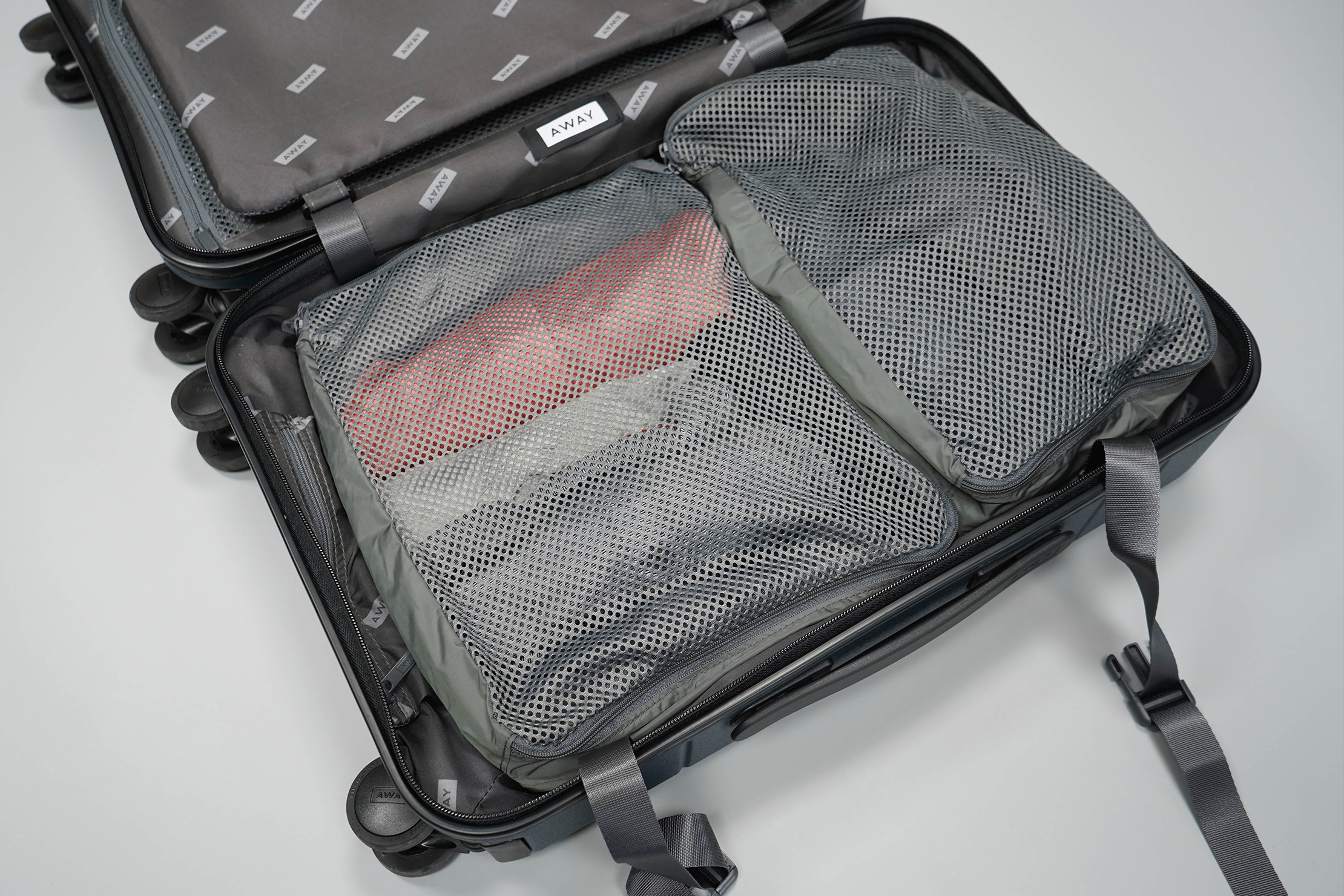 The rest of the right side is an open bucket. We tested this suitcase with the Away Packing Cubes, which—no surprise—fit perfectly. But any packing cubes will help you to maximize the available space (and keep your clothes from descending into a chaotic jumble). On this side, we used the Medium Wide and Large Slim sizes of the Away Packing Cubes to organize shirts and bottoms/pants respectively.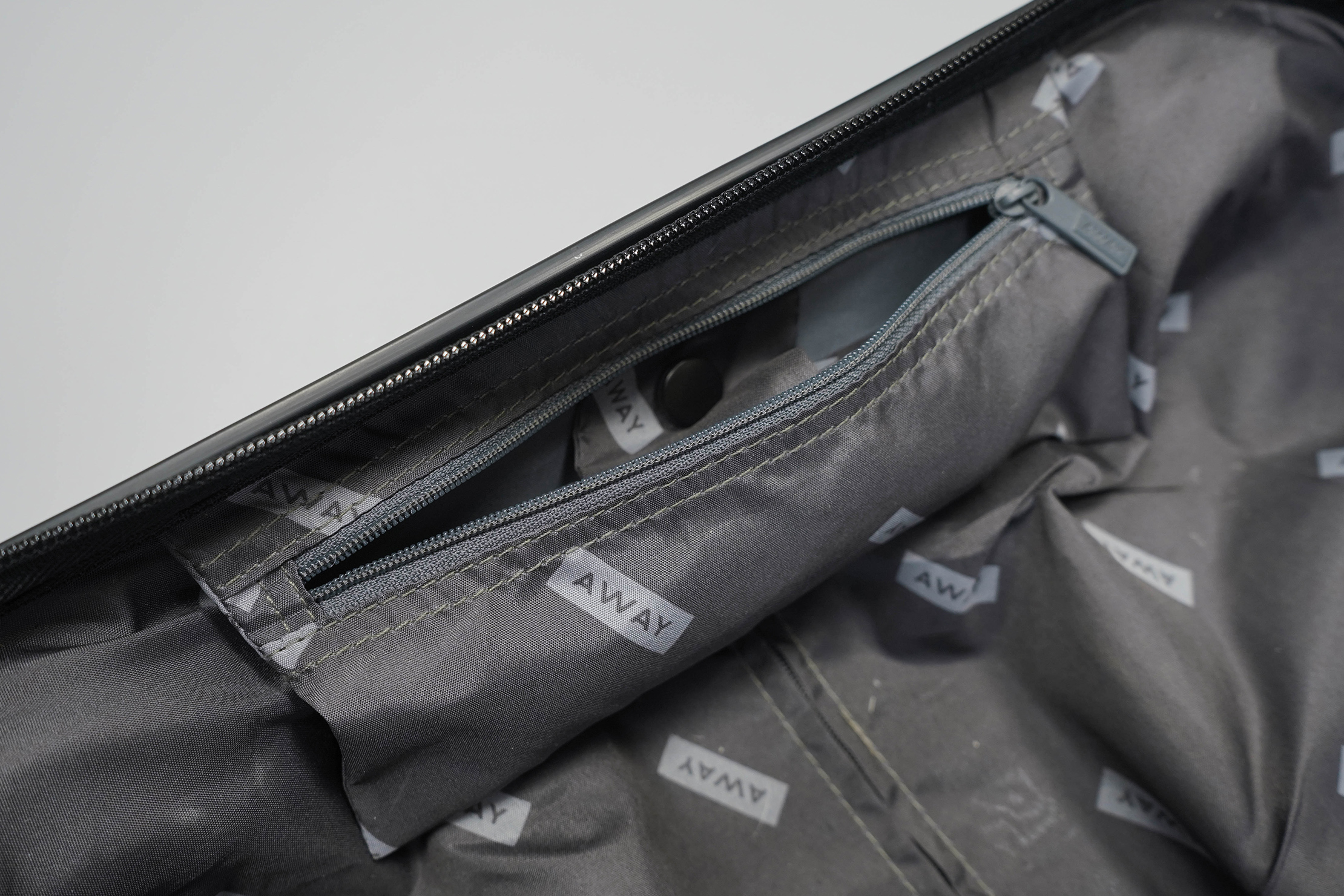 Also on this side, you'll find a zippered pocket. Folded inside, there's a shoe bag/laundry bag/whatever-you-want-to-use-it-for bag. It holds quite a bit of stuff—you'll likely be able to fit multiple pairs of shoes (depending on the size of your feet) and a lot of dirty laundry. It's connected to the zippered pocket via a snap button, so it's easy to remove if you want to take it out.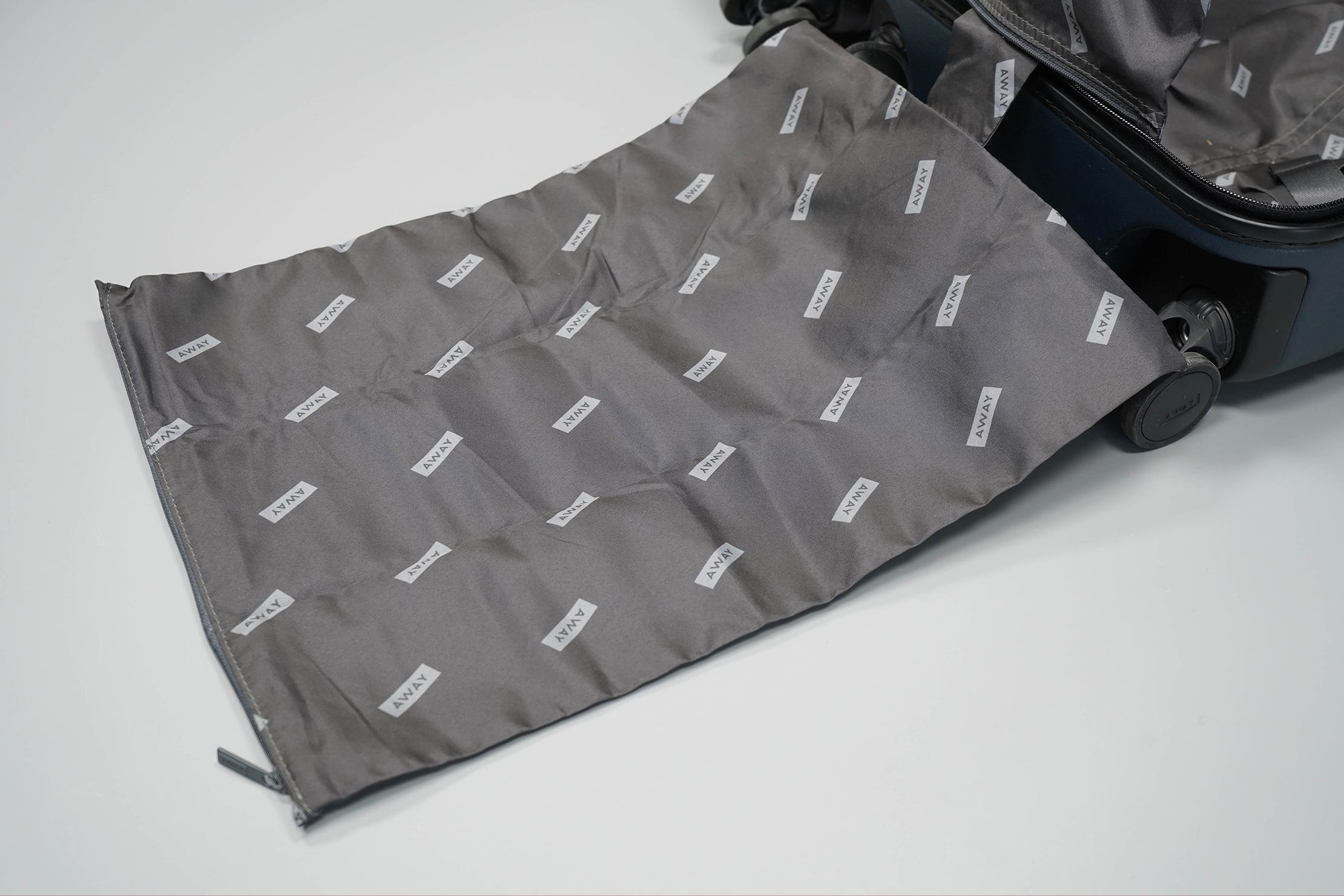 The left side of the suitcase is also a big bucket of space secured with a zippered mesh divider, essentially creating a giant pseudo packing cube. The divider keeps your stuff from falling out. This is where we've kept our smaller items—a Gravel Explorer Toiletry Bag, packable rain jacket (cause you never know), a Merino Wool Kerchief, a small Away Packing Cube with miscellaneous bits, etc.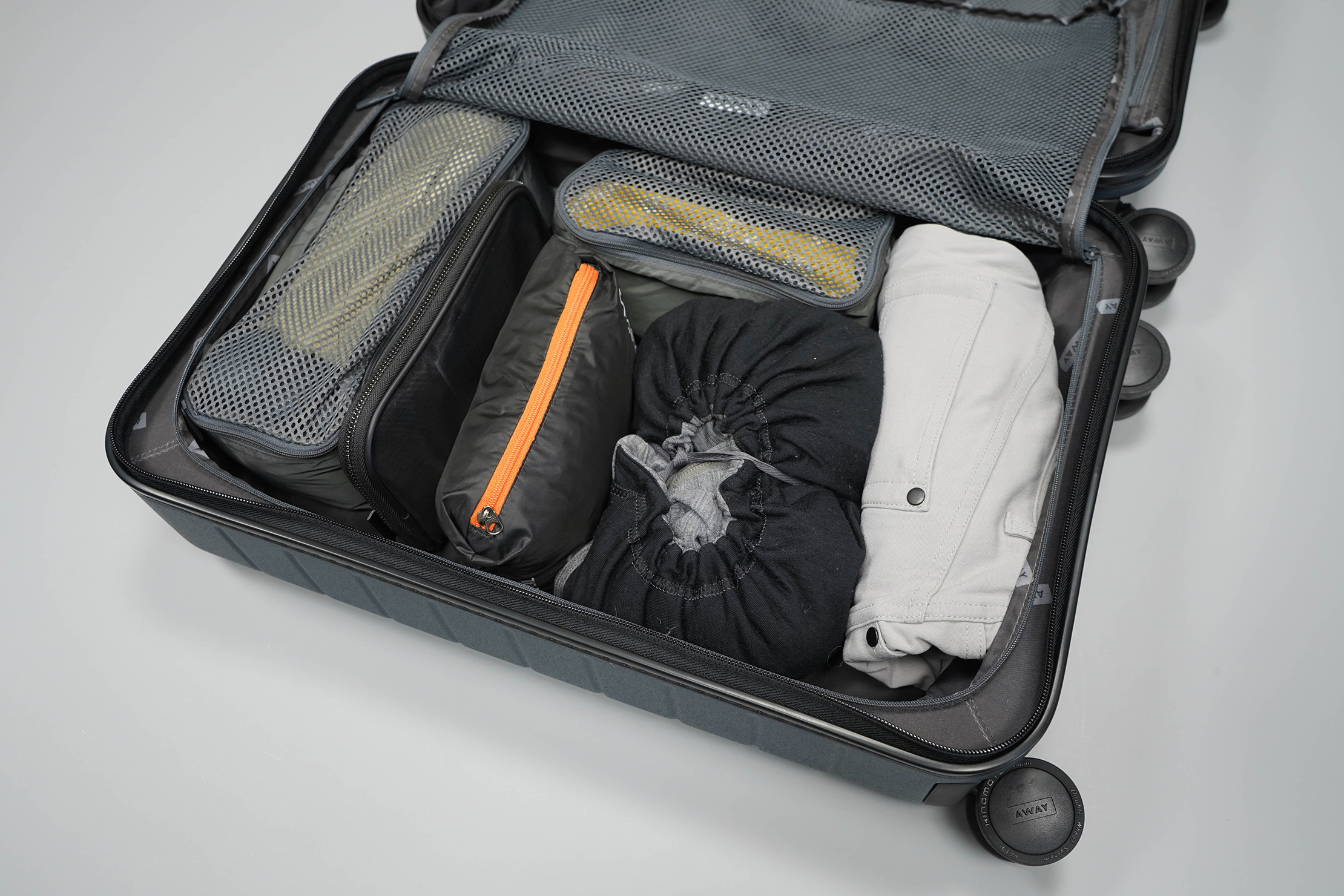 Overall, there is plenty of space for short trips or long-term travel, if you're packing minimally (we fit everything needed for a week-long vacation to Mexico and had plenty of room to spare). But if you could do with a little bit more room, Away does offer The Bigger Carry-On, which as the name suggests, is bigger. The Bigger Carry-On will fit in the overhead bins on most U.S. airlines, but likely have to be gate checked on smaller planes.
Durability & Testing
As we mentioned at the beginning of this review, we've been testing the Away The Carry-On for two weeks, including a trip from Detroit to Cabo San Lucas, Mexico with several layovers along the way.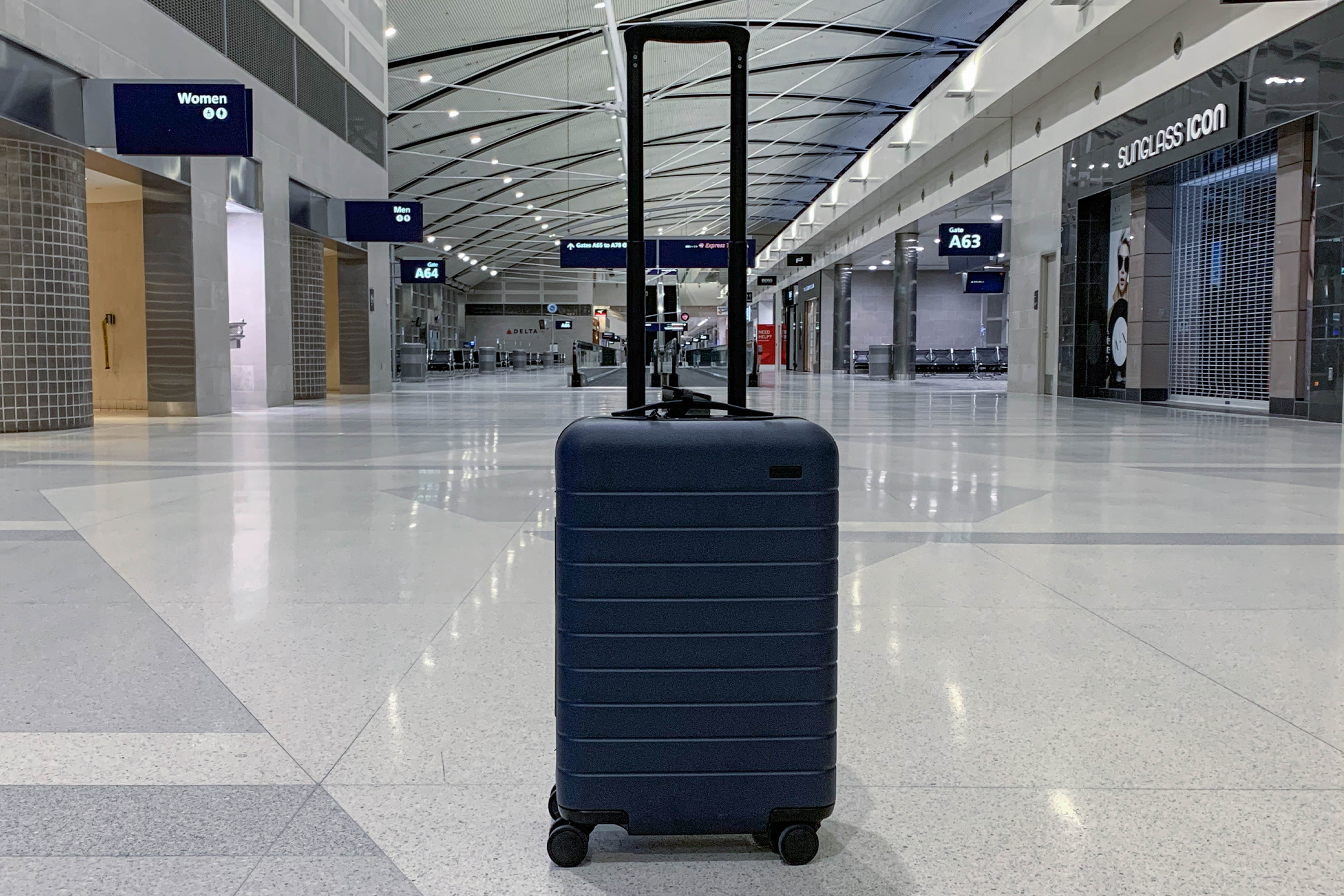 Overall, it's a solid piece of roller luggage. It's well-constructed and has plenty of features that are nice to have while traveling. So that brings us to the question that kicked off the review. Is the Away the Carry-On worth all the praise? Maybe. We know that's not the most satisfying answer, but it's the truth. If you're looking for stylish rolling luggage that you plan to use for short excursions, and you don't plan to walk with it much, then you'll probably love this thing. If you have a more adventurous travel style that involves navigating uneven terrain then this suitcase is likely not for you.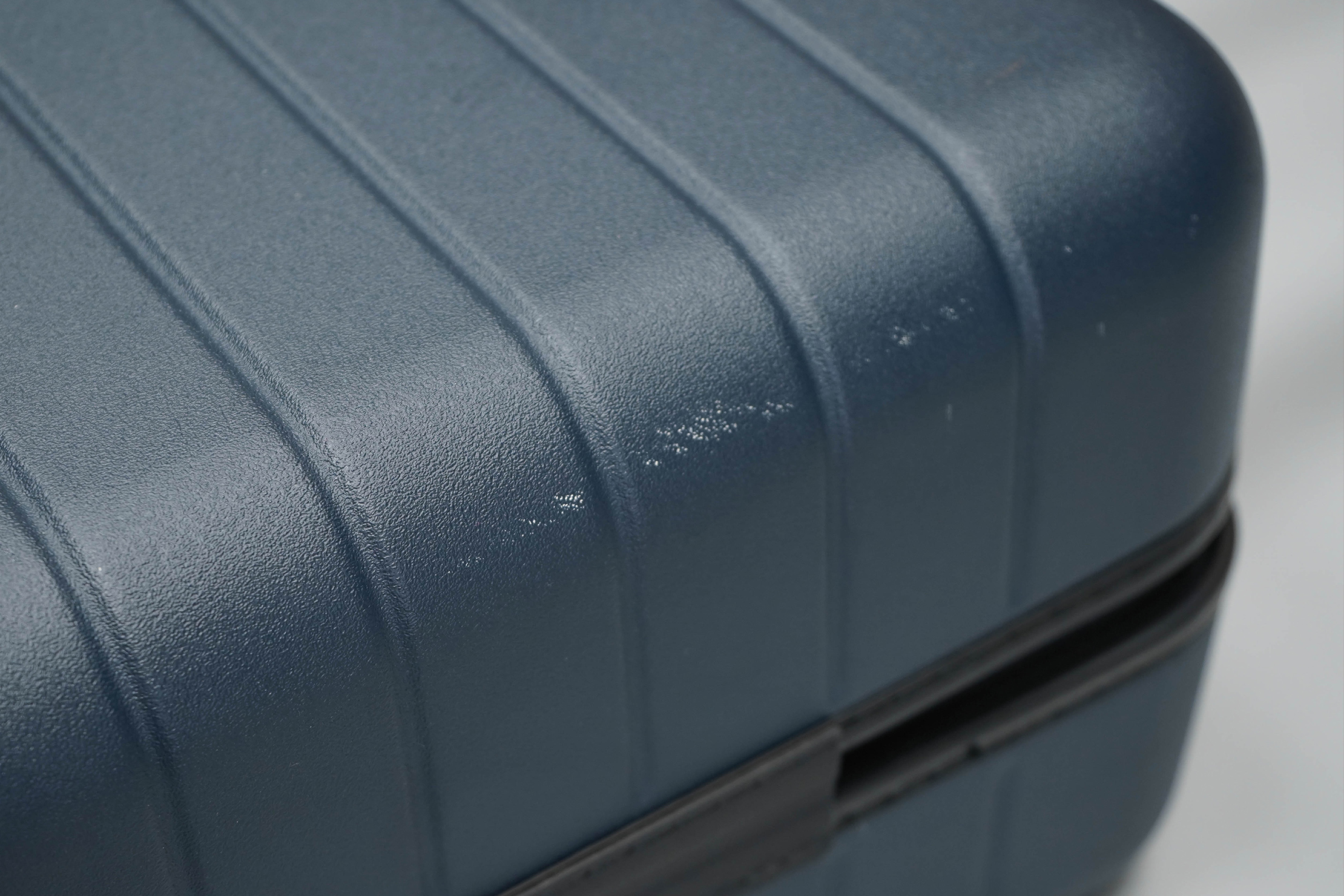 As far as durability is concerned, everything is holding up pretty well. We have noticed a few scratches, but nothing that's disappointing or, to be frank, unexpected for hard-sided luggage (which tends to scuff up faster than soft-sided luggage).
And Away luggage is protected by a limited lifetime warranty, which covers any damage that impacts functionality (note that the battery is only covered for two years). We haven't tested this warranty ourselves—we haven't needed to yet—but we've heard good things from trusted sources.
Usage Timeline
Initial Usage
Condition: Excellent
Two compartments, one that packs and compresses your clothes and a mesh side for bulkier items like shoes
Wheels spin 360 degrees for smooth and easy rolling
Zippers secure into the lock for added security
2 Weeks of Use
Condition: Excellent
There's more than enough room to pack all our gear (minus a laptop and tech) for a trip to Cabo San Lucas, Mexico (before the current travel restrictions)—there's even extra space leftover
The handle is soft and grippy, which may sound small but it's something that you'll interact with a lot, so we appreciate the detail
We've found the battery can disengage from the slot if jostled in transit. It happened to us a few times, but we haven't lost the battery yet (it's a bit worrisome)
Access the Pro Community Discussion
Get your questions about the Away The Carry-On answered from our team and the Pro Community right here on the page. Plus, join discussions with other members about gear, guides, and more.
Other Bags & Luggage Reviews