Away The Insider Packing Cubes Review
The Away Insider Packing Cubes are a great choice to pair with Away luggage since they fit inside perfectly. Otherwise, there are better cubes out there.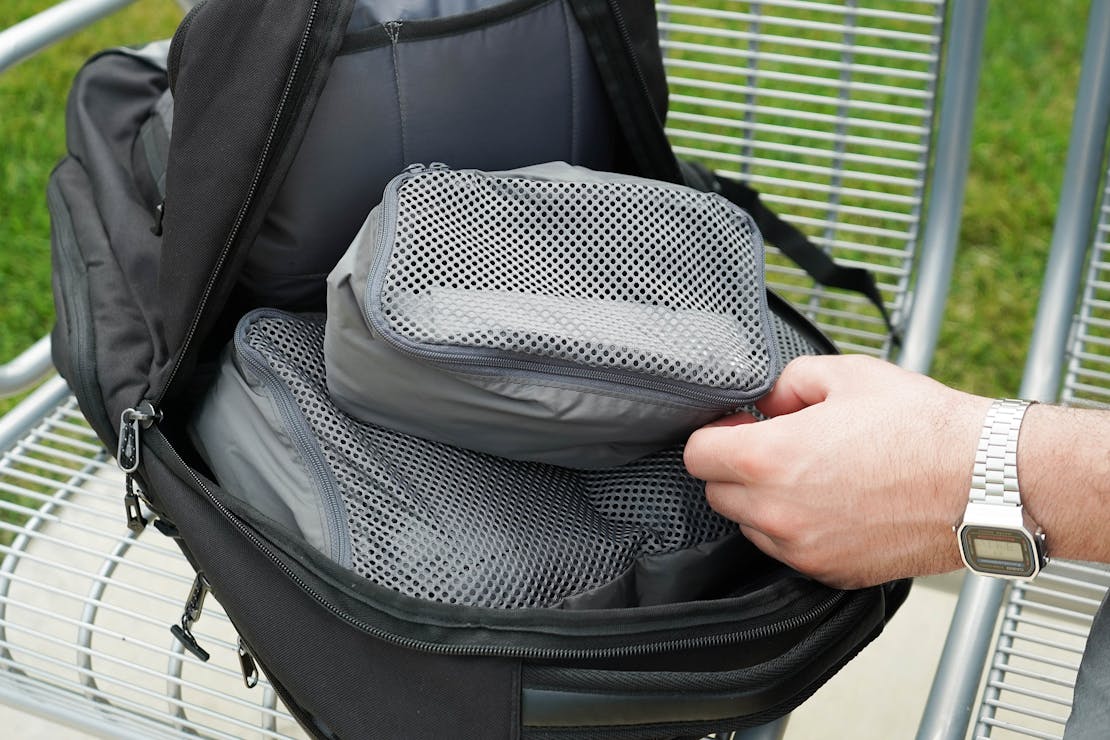 Our Verdict
Unlock the Pro Summary
Save time. Get access to brief summaries of our reviews so you can browse and make decisions more efficiently.
Pros
Fits perfectly inside Away luggage
Sizes are nice for a wide variety of clothing
Lightweight and easy to store
Cons
Concerns regarding long-term durability
Largest packing cube is way too large
Unable to color code
Recent Pack Hacker Video
Technical Details
Weight (oz)

11.2 oz (317.5 g)

Notable Materials

Nylon

Manufacturing Country

China

Warranty Information
Full Review
It's no secret that we're big fans of packing cubes here at Pack Hacker. We recommend using them anytime you have a pack that opens in a clamshell-style—or even in cases you don't—and you'd be hard-pressed to find a member of our team anywhere in the world without a packing cube or two in our bags.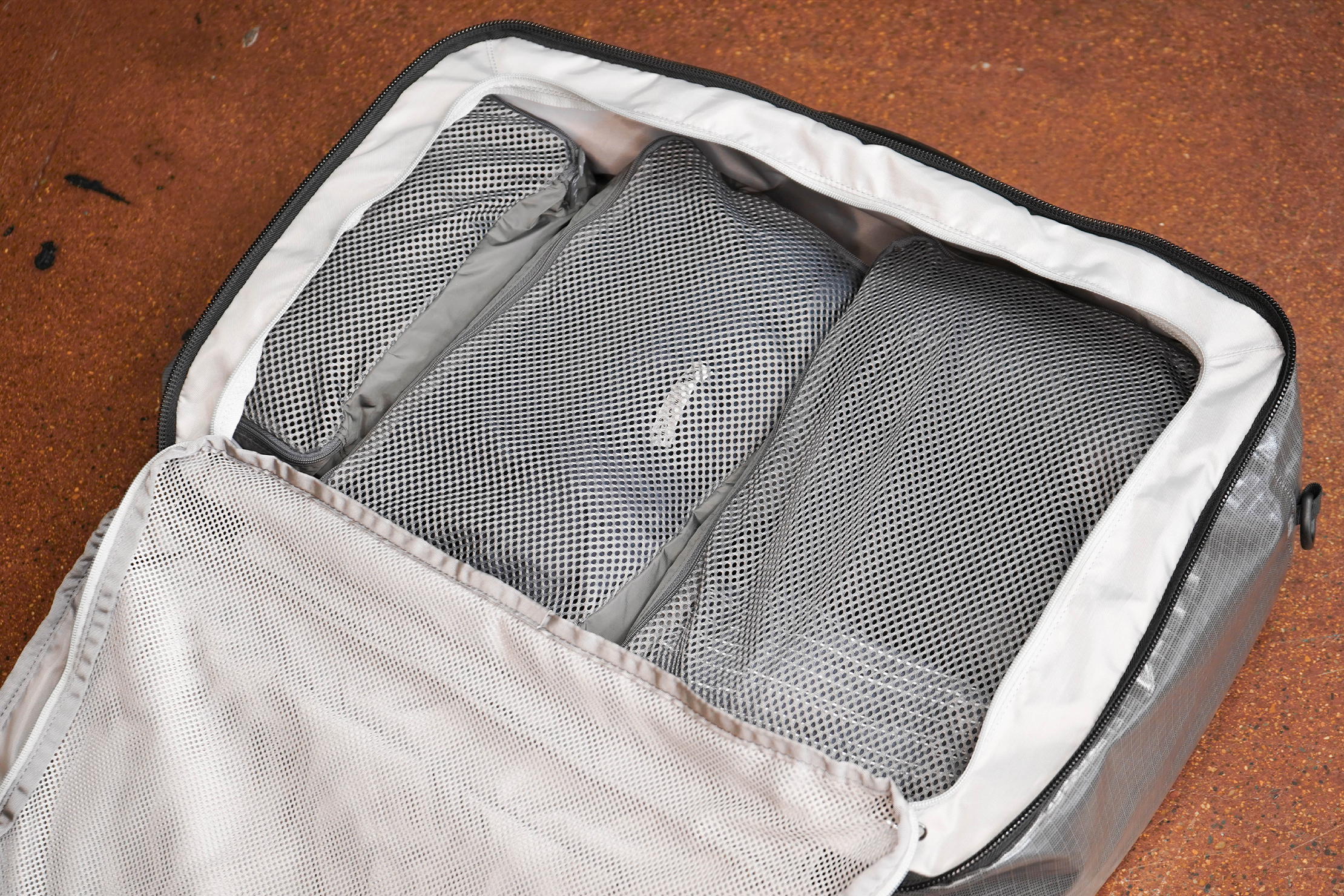 Essentially, packing cubes help keep your clothes organized, secure, wrinkle-free (in some cases), and they prevent a jumble of stuff from conglomerating at the bottom of your pack. Seriously, once you go packing cubes, you'll never go back (probably).
We're not planning on stopping our packing cube obsession anytime soon. So that said, let's meet the Away the Insider Packing Cubes.
Materials & Aesthetic
We've been testing the set of six, which is made for Away's checked suitcases, but you can also buy a four pack if you only plan to travel with their Carry-On luggage (or if you have less stuff). The sizes in the six pack are
– Small Slim (6.9″ x 4.1″ x 4.3″)
– Small Wide (10″ x 4.1″ x 8.25″)
– Medium Slim (10″ x 4.1″ x 4.3″)
– Medium Wide (13″ x 4.1″ x 10″)
– Large Slim (13″ x 4.1″ x 6.9″)
– Large Wide (17″ x 4.1″ x 12.8").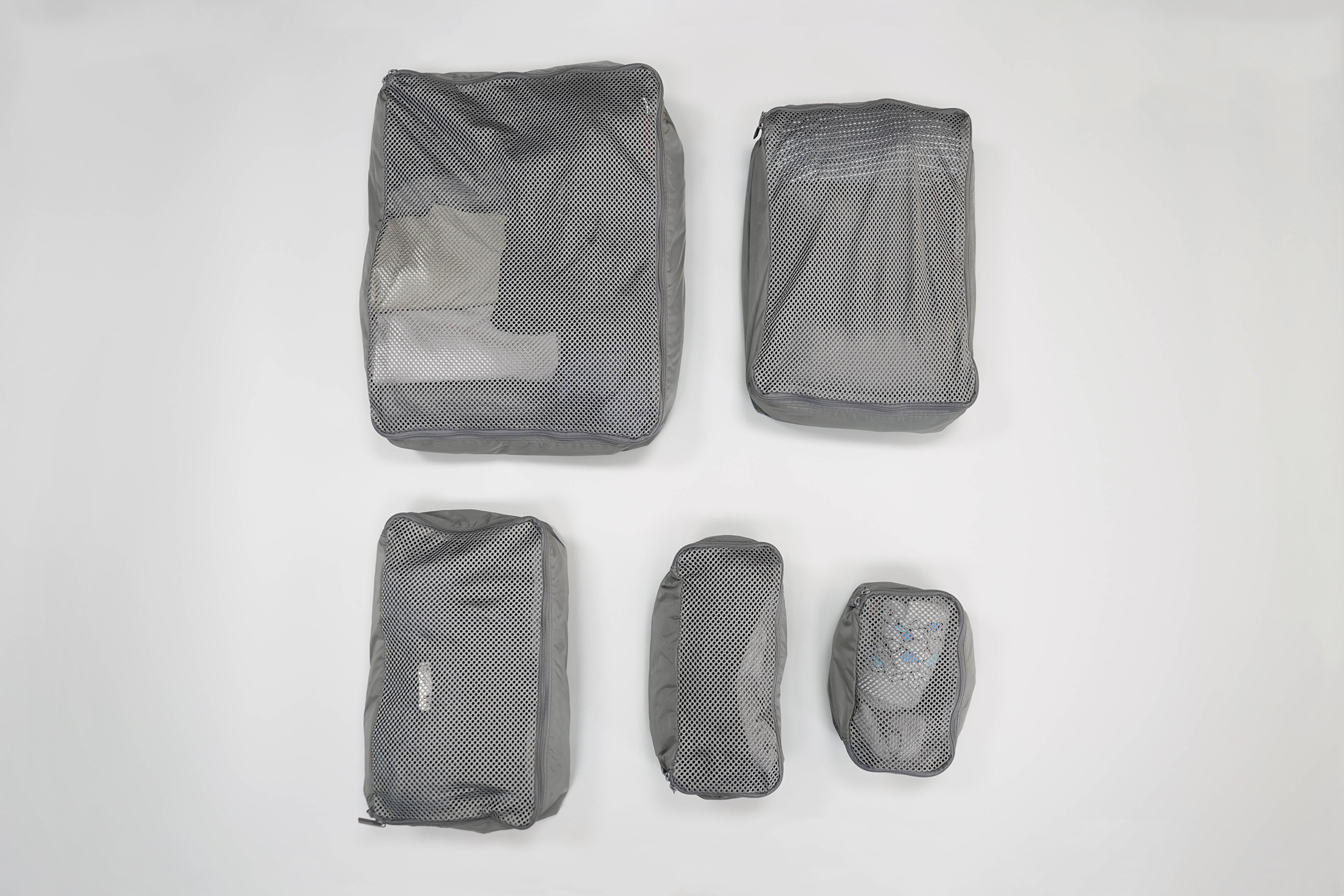 The packing cubes are available in nine colorways and, wouldn't you know it, their luggage is available in those same nine colorways so you can be extra matchy-matchy if you want. It's almost like they planned it that way or something.
Unfortunately, there's no mixing and matching colors within a set, so you won't be able to color code. Color coding isn't necessary, but it's a nice way to easily see (and remember) where you've stored specific items of clothing. We won't ding Away too much for this—since most companies sell sets of only one color—but we'd love to see them offer multi-colored sets in the future.
The cubes are all lightweight, clocking in at about 1.15 pounds for the set of six, which we love since airports can be stingy about weight restrictions. Plus, you won't have to carry as much weight around or be that person who can't lift their bag into the overhead compartment.

The bodies of the cubes are made with nylon, while the tops are mesh. Mesh is nice because you can easily see what's inside each cube and it helps air out your clothes. But mesh can easily snag and rip and means these cubes aren't waterproof or even fully water-resistant. Again, most packing cubes on the market aren't, so it's not a major downside, but it could be an issue, depending on where you're headed.
Nylon is a good choice for the body as nylon is soft, durable, and generally tear-resistant. In this particular case, the nylon body is also water-resistant. Water does roll off the fabric, but, eventually the fabric will soak through (so maybe don't leave it out in a rainstorm?). But, as we said, the mesh isn't water-resistant—so it doesn't matter either way.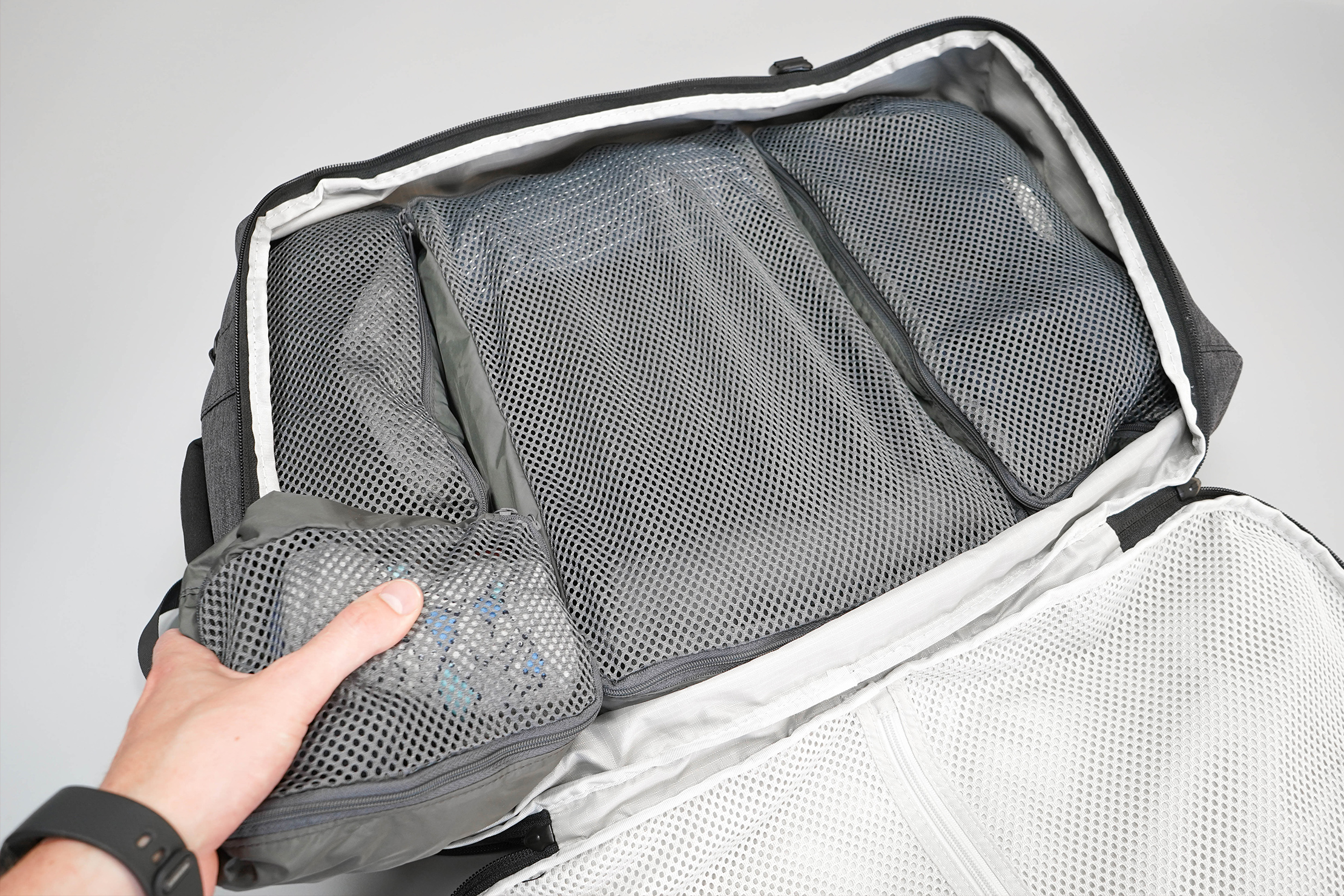 Still, the water-resistance is a nice touch. You can store damp clothes in the cubes to dry without worrying about them getting the rest of your stuff wet, and you'll be fine if the bottoms come in contact with a small amount of water.
However, we're disappointed that the nylon isn't reinforced with ripstop. If a rip occurs, ripstop, well, stops it (good name, right?). With regular nylon, if you accidentally tear a small hole or rip in the body, it'll spread until the cube becomes useless—definitely not ideal unless you're a fan of buying new packing cubes all the time.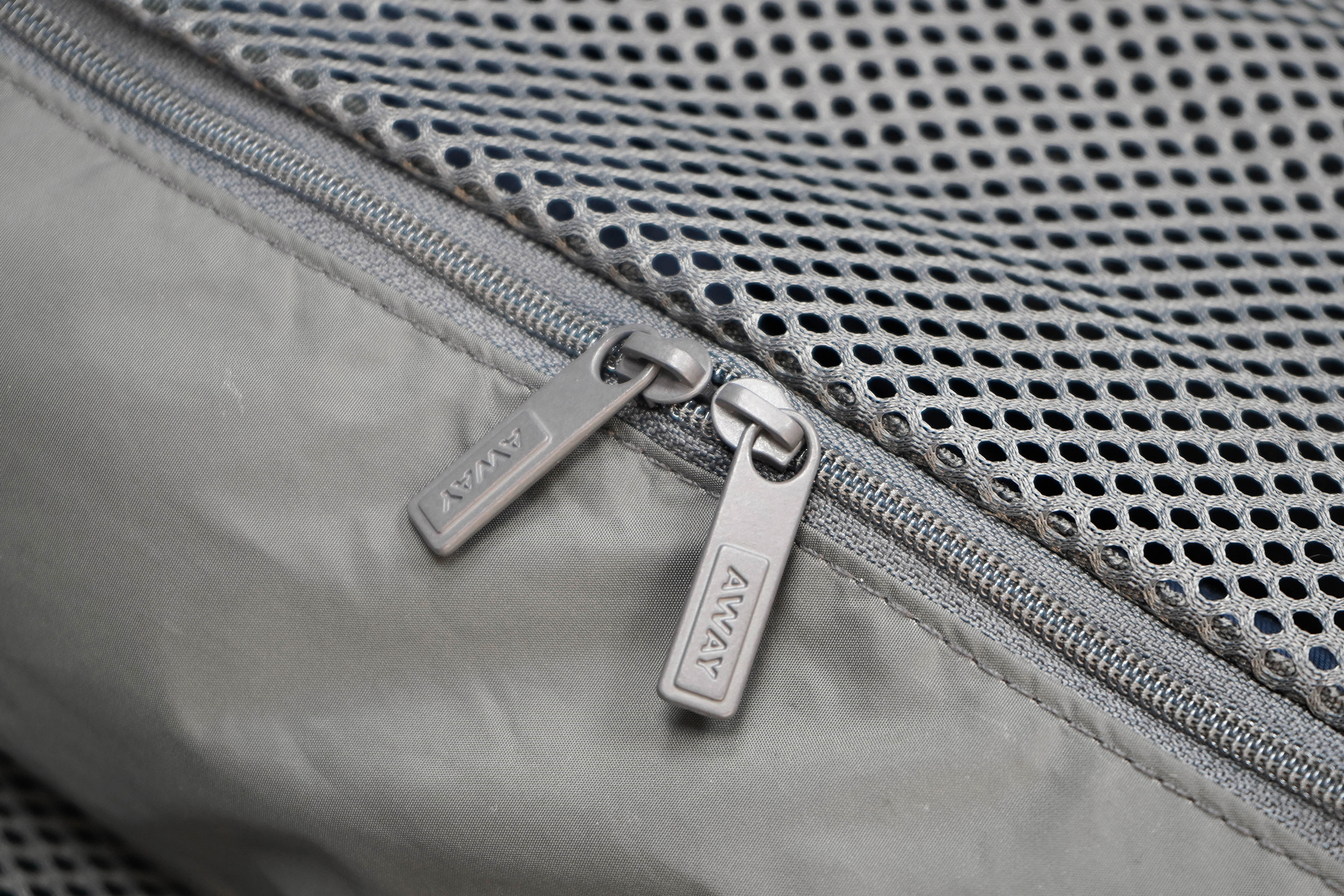 At least we're pretty confident in the zippers, which are YKK #3C. YKK is known to make quality products, and while these zippers feel a bit dainty, they should last you a while.
Packing Cube Sizes
The six packing cubes within the set are all different sizes, which we really like. With the large variety of sizes, you can find a place for all of your clothes and easily arrange the cubes within the suitcase (a fun game for all those Tetris fans out there).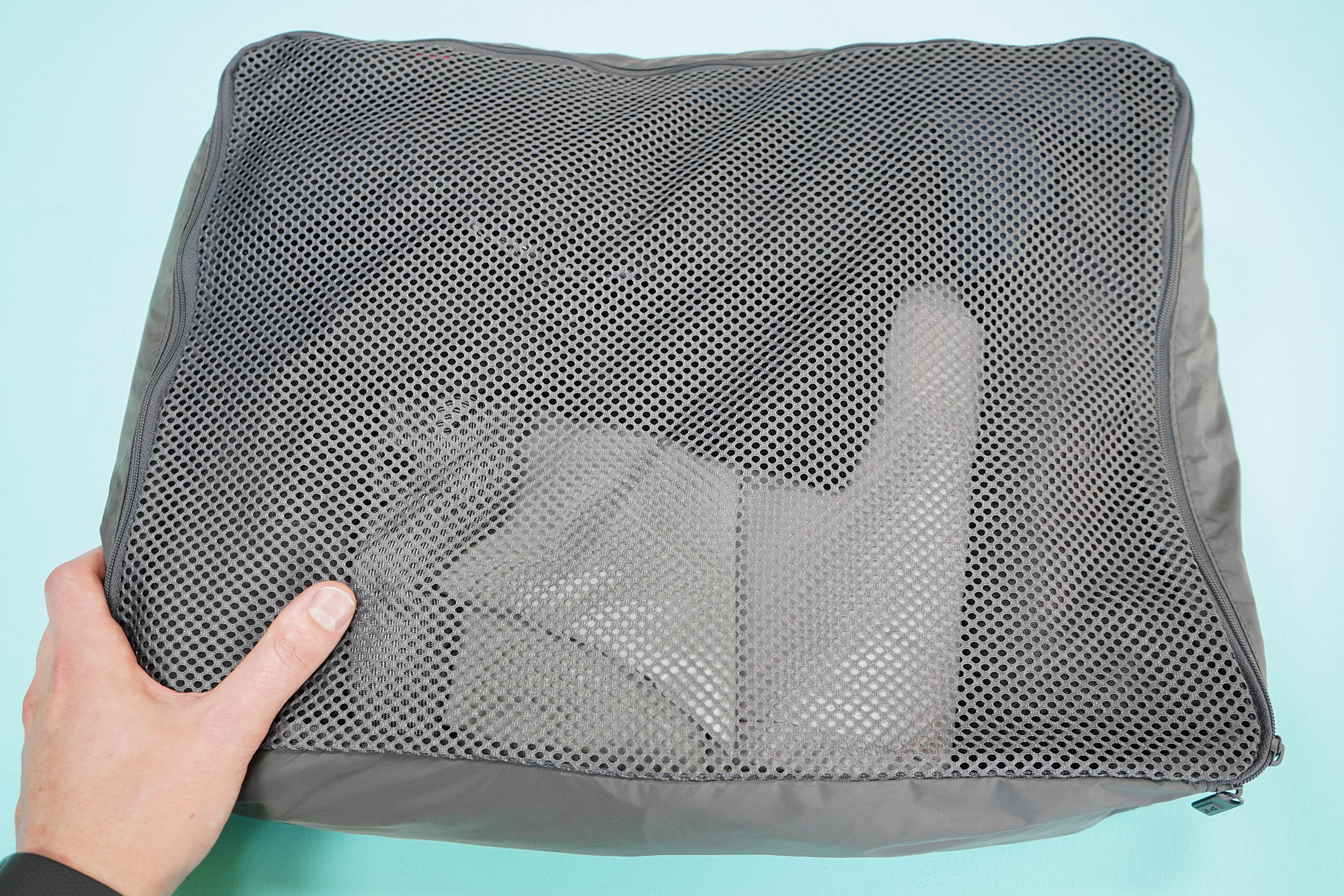 But we're not impressed with the largest cube, which measures at 17″ x 4.1″ x 12.8″. Yeah, it's gigantic—you might as well just put your clothes in the suitcase sans cube. We usually suggest rolling your clothes inside packing cubes, but unless you have a ton of bulky sweaters and jeans, you'll likely have too much extra space leftover. And if the cube isn't full, the clothes will shift, unroll, and conglomerate in that messy jumble you were hoping to avoid in the first place. So stacking folded clothes works better here.
The rest of the sizes are much more reasonable. You can pack socks, undergarments, and loungewear in the smaller ones, while bottoms and tops will fit nicely in the medium and large-slim sizes.
Durability & Testing
We've been testing the Away Insider Packing Cubes for two weeks now in Detroit, Michigan and Porto, Portugal. While everything looks okay so far—we've only spotted a couple of loose threads—we are worried about how they'll hold up over time. We've been liking how lightweight they are and how easy they are to store when not in use, but those same attributes can be achieved without sacrificing durability (just look at the Eagle Creek Pack-It Specter Cubes).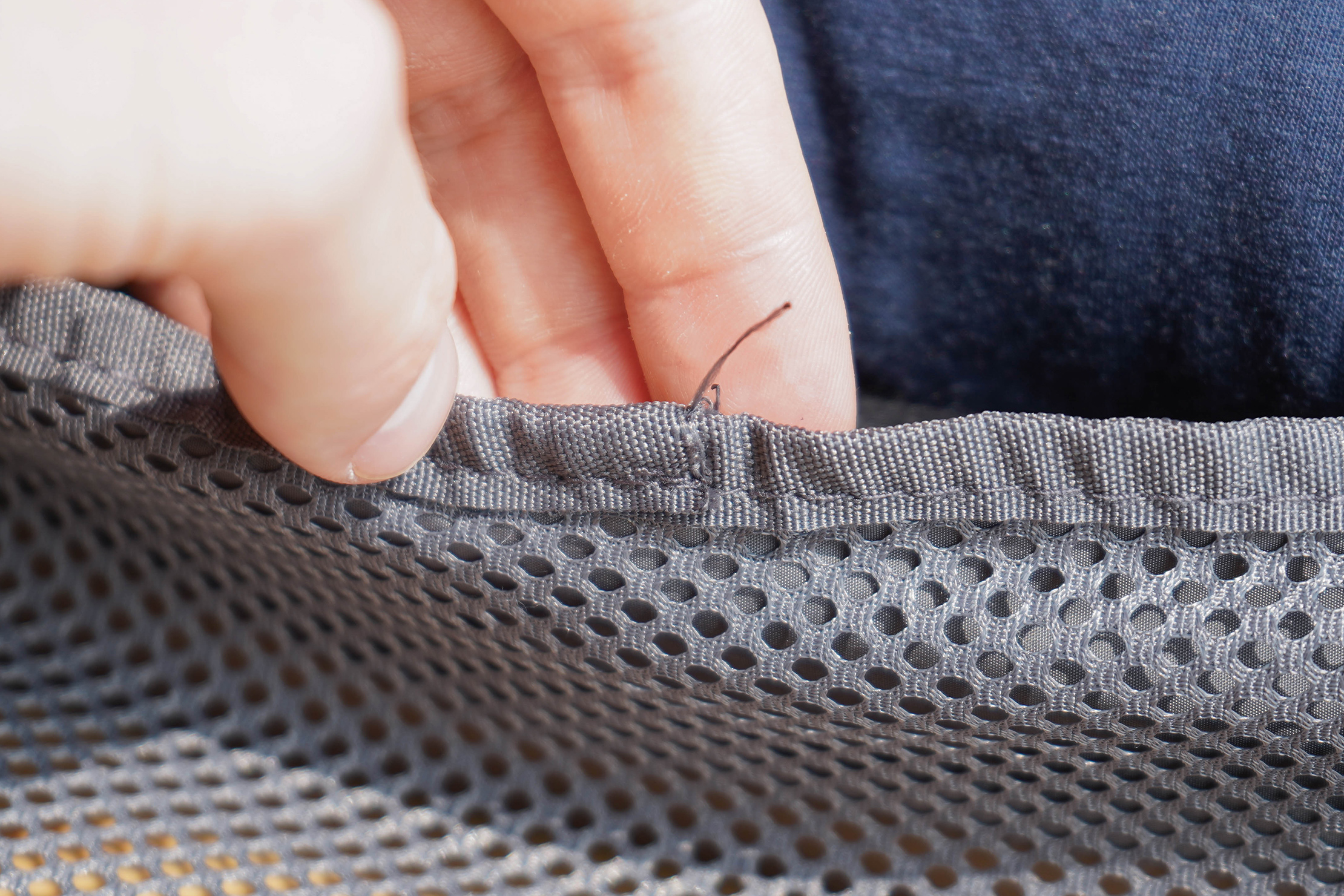 If you're using Away luggage, the Insider Packing Cubes are a solid choice because they do fit nicely inside the suitcases and they'll get the job done. Otherwise, there are better packing cubes out there.
Usage Timeline
Initial Usage
Condition: Excellent
The mesh on top helps with visibility so you can see what's inside your pack
Away describes the nylon as waterproof, interested to see if it's actually more like water resistant. Plus the mesh on top makes having anything else waterproof pretty useless
A good range of sizes, so you can separate items and arrange them to fit in your pack
2 Weeks of Use
Condition: Good
We've spotted a couple of loose threads
Access the Pro Community Discussion
Get your questions about the Away The Insider Packing Cubes answered from our team and the Pro Community right here on the page. Plus, join discussions with other members about gear, guides, and more.
Other Organizers & Pouches Reviews