Nanobag Reusable Shopping Bag Review
The Nanobag Reusable Shopping Bag comes in four styles that fit into the palm of your hand when packed, but they can be uncomfortable to use when full.
Our Verdict
Unlock the Pro Summary
Save time. Get access to brief summaries of our reviews so you can browse and make decisions more efficiently.
Pros
Extremely lightweight materials
All four fit into the palm of your hand when packed
Water-resistant coating is surprisingly capable
Cons
A few loose threads here and there
The Mini bag doesn't offer much over the standard bag
Lack of padding can be uncomfortable
Recent Pack Hacker Video
Technical Details
Capacity

19l

Standard Nanobag; 15L Mini; 14L Pack; 19L Sling

Weight (oz)

.8 oz (22.7 g)

Notable Materials

Ripstop Nylon

Manufacturing Country

China

Warranty Information
Full Review
At the time of this review, The Nanobag Reusable Shopping Bag comes in two standard grocery bag styles, one that you can wear across your body, and a drawstring bag style. Each offer their own unique usage options, from trips to the market to all day adventures across a new city. That's great on paper, but can the ultralight fabric hold up its end of the bargain, or will it tear as easily as the plastic bags it aims to replace? Let's find out!
Materials & Aesthetic
All the bags come in Black, Blue, and Grey colorways at the time of writing. The Black and Grey models are sleek and minimalistic, with a small logo on one side that doesn't attract much attention. The Blue model is much more vibrant, but the logo is still just as subdued.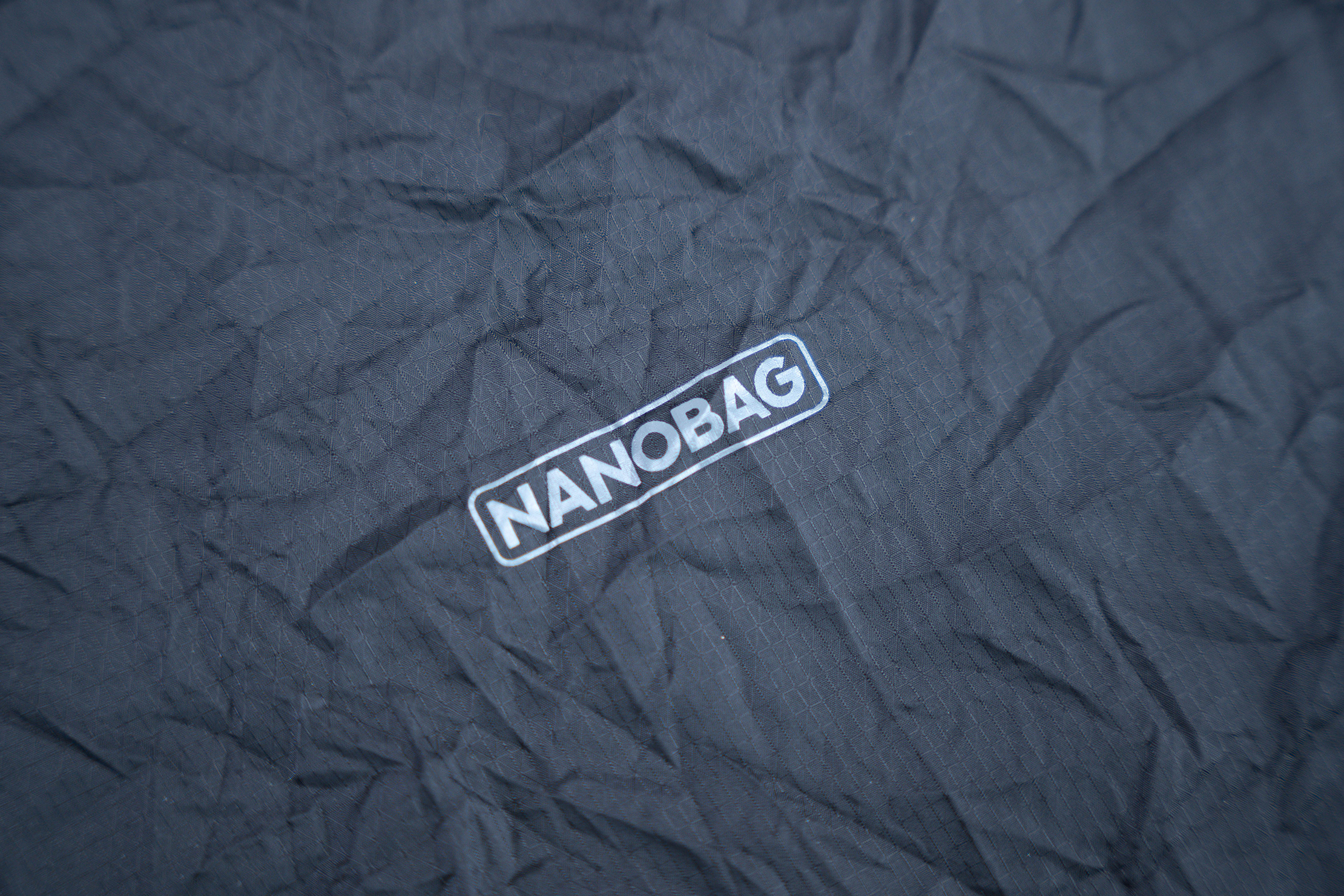 The standard 19L Nanobag comes in a bunch of different colorways. Some of our favorite designs are Leopard, Leaf, Caticorn (yes, that's a cat unicorn), and Astronaut, which is perfect for quick lunar landings when you don't want to bring your entire spacesuit. We opt for the black because it's more muted for daily use.
All four Nanobags are crafted from 100% nylon diamond ripstop fabric. It's extremely thin, so it doesn't have the same crunch some diamond ripstop can have and is soft to the touch. The texture can be hard to see when the bags are wrinkled, but it's visible if you examine them closely.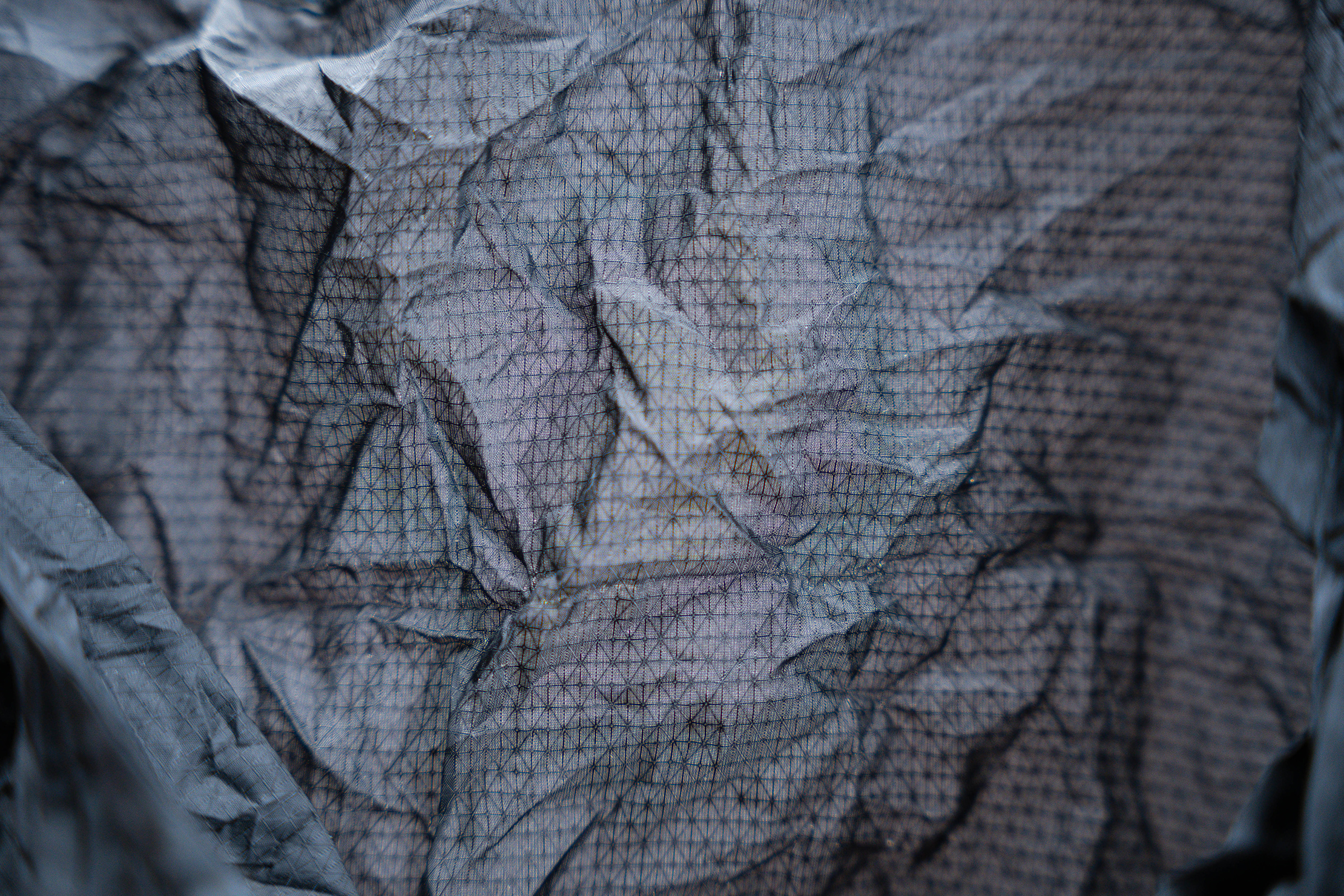 The diamond ripstop is strong and abrasion-resistant. The fabric hasn't punctured in testing, but we're wary of sharp corners, metal objects, and hard plastic items that could put a hole in the ultralight material. The diamond ripstop pattern should stop any punctures from tearing further if they do occur, though.
When unpacked, the material is very wrinkly. Some of the wrinkles smooth out over time, but they don't fully go away. Even after being fully submerged, they're still there. We can combat this slightly by stuffing it full with a pillow or clothes and hanging it up for a day, but even then, it still has quite a few wrinkles.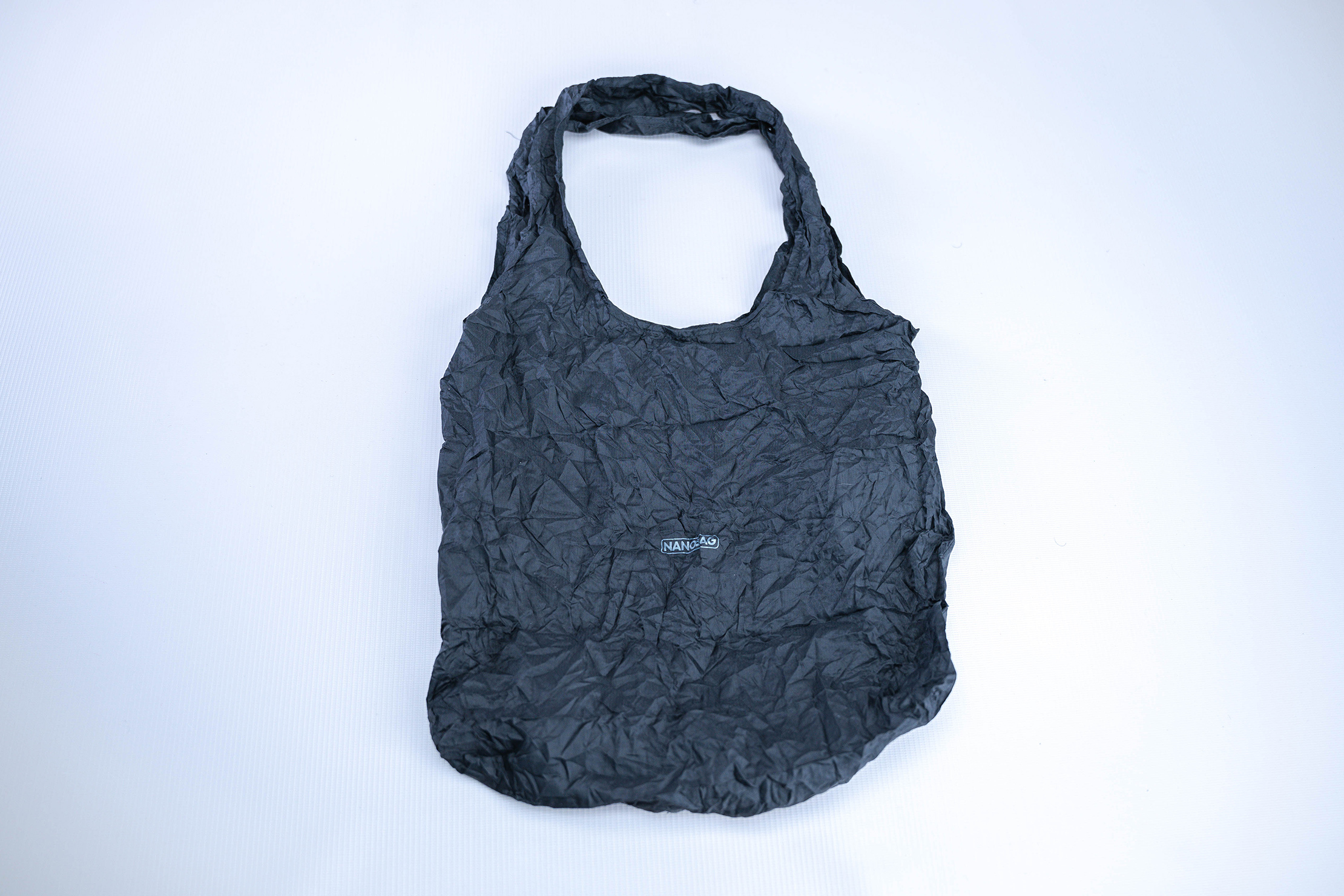 The material has a water-resistant coating that works surprisingly well. After 30 seconds of non-stop water pressure from the sink faucet, the interior is just a tiny bit damp. In light rain, everything is dry apart from the water that's able to slide in through the top entry point.
To get a better idea of how the material interacts with moisture, we put it to the test. After wetting the pack's exterior and wiping away the excess water with a towel, the material was completely dry within a couple of minutes. After being submerged in water for 15 minutes, the bag took a little over an hour to dry. It's worth keeping a carabiner like the Heroclip Hybrid Carabiner Clip with you to hang them up when they do get wet. We believe we could have manipulated it to dry quicker, but we just let it hang for the sake of testing. It's just like the old adage says, 'like watching your wet Nanobag dry.'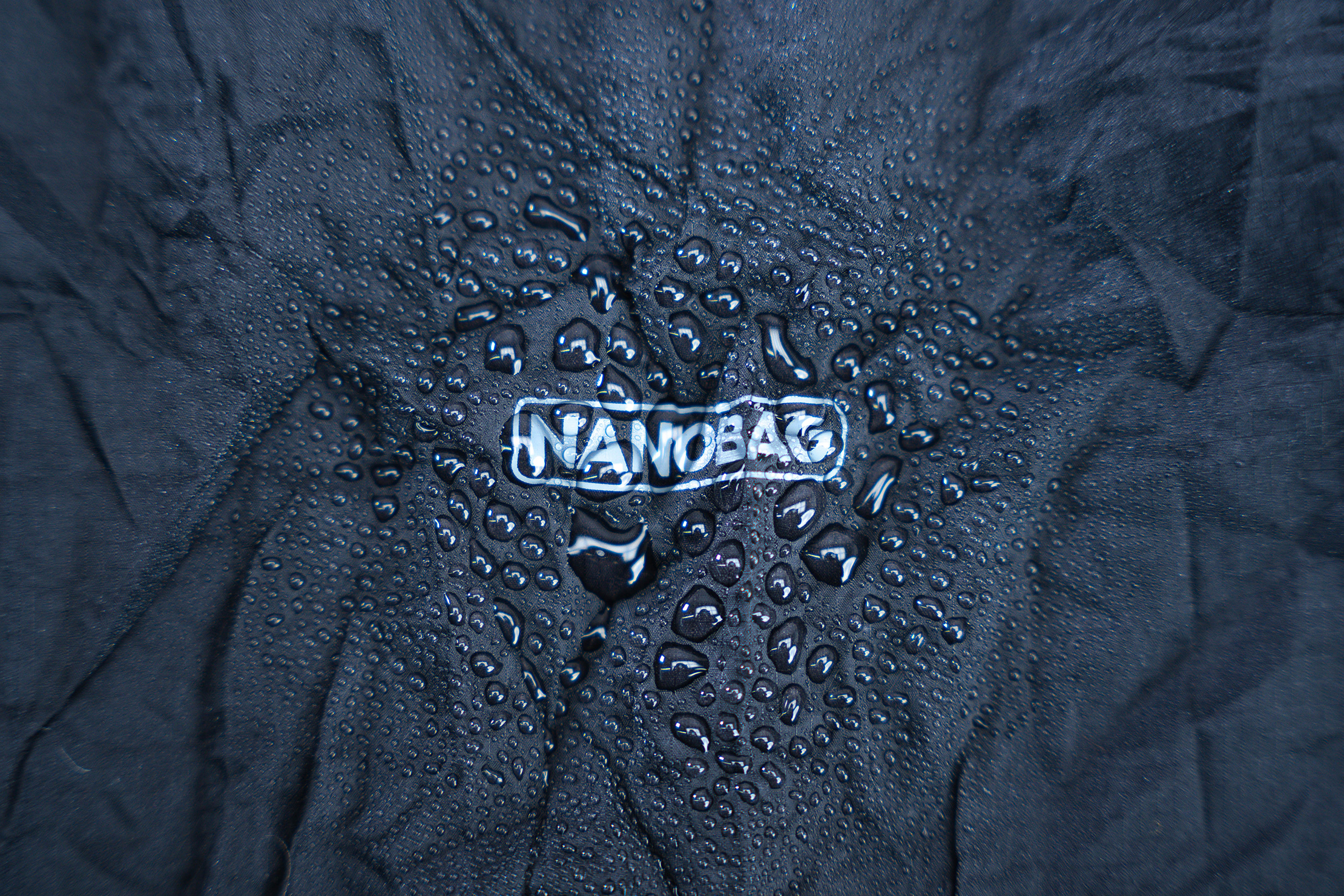 The bags are listed as mold & mildew resistant, but apart from our experience with their quick-drying materials, we cannot attest to that. We'll keep you updated in the usage timeline below if that changes.
When stowed, a small piece of nylon tightens around the stuff sack to keep everything locked away. A small tab of rubbery plastic holds it together, but it starts to come loose over time. This is especially true when the bags are left bouncing around in a daypack or sling. Sometimes the bag will poke out of the stuff sack when this happens, but it won't come out much more than that.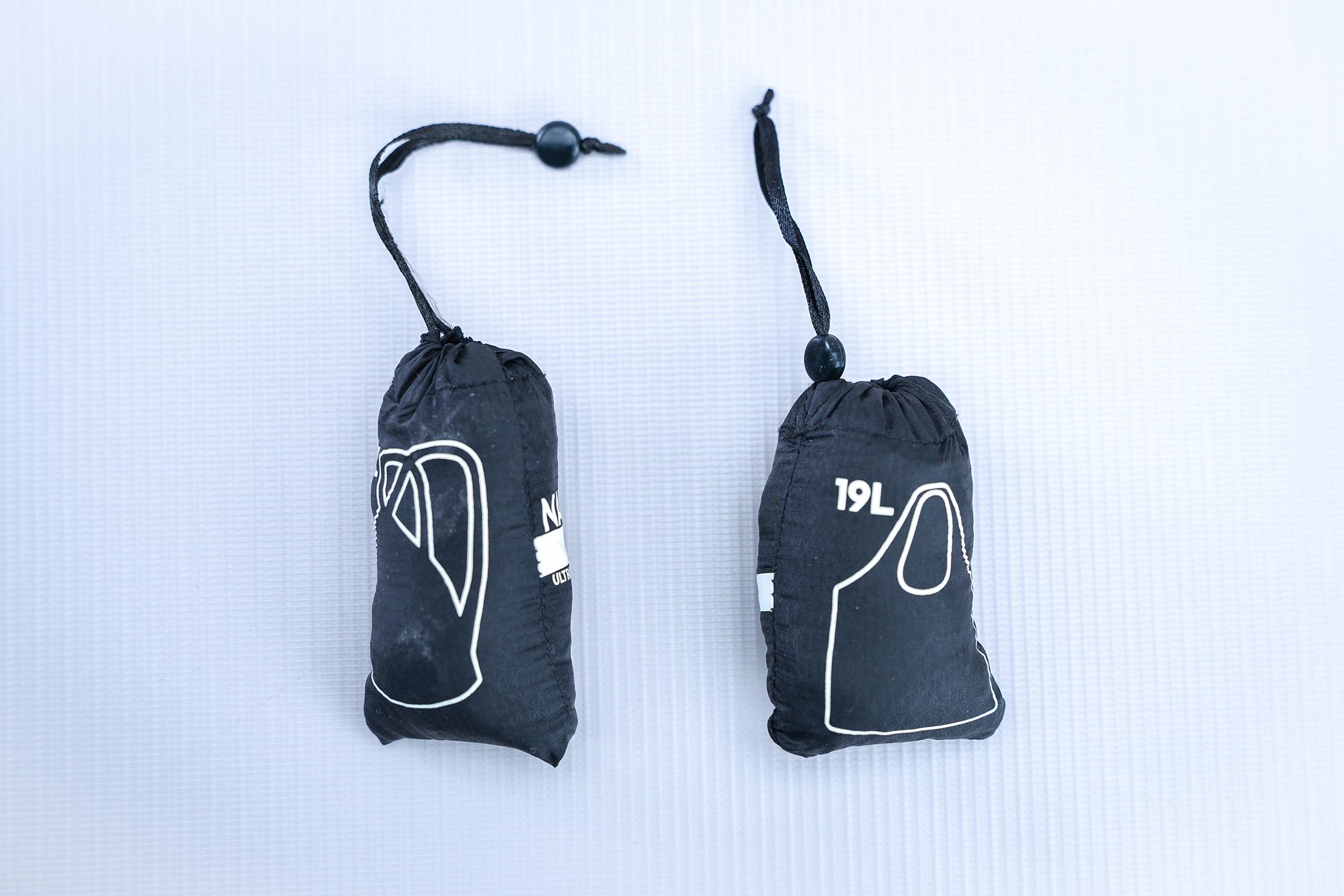 The handles are said to be reinforced, but we can't find any other reinforcement apart from extra stitching every few inches. The straps were more than adequate in daily use at the market and across the city and haven't shown any signs of wear.
Over time we have noticed a few loose threads on the stitching, but they're so small that we can't tell if we caused them in use or whether they were there from the start. They don't appear to be fatal towards the bag's integrity, but they could become an issue over time.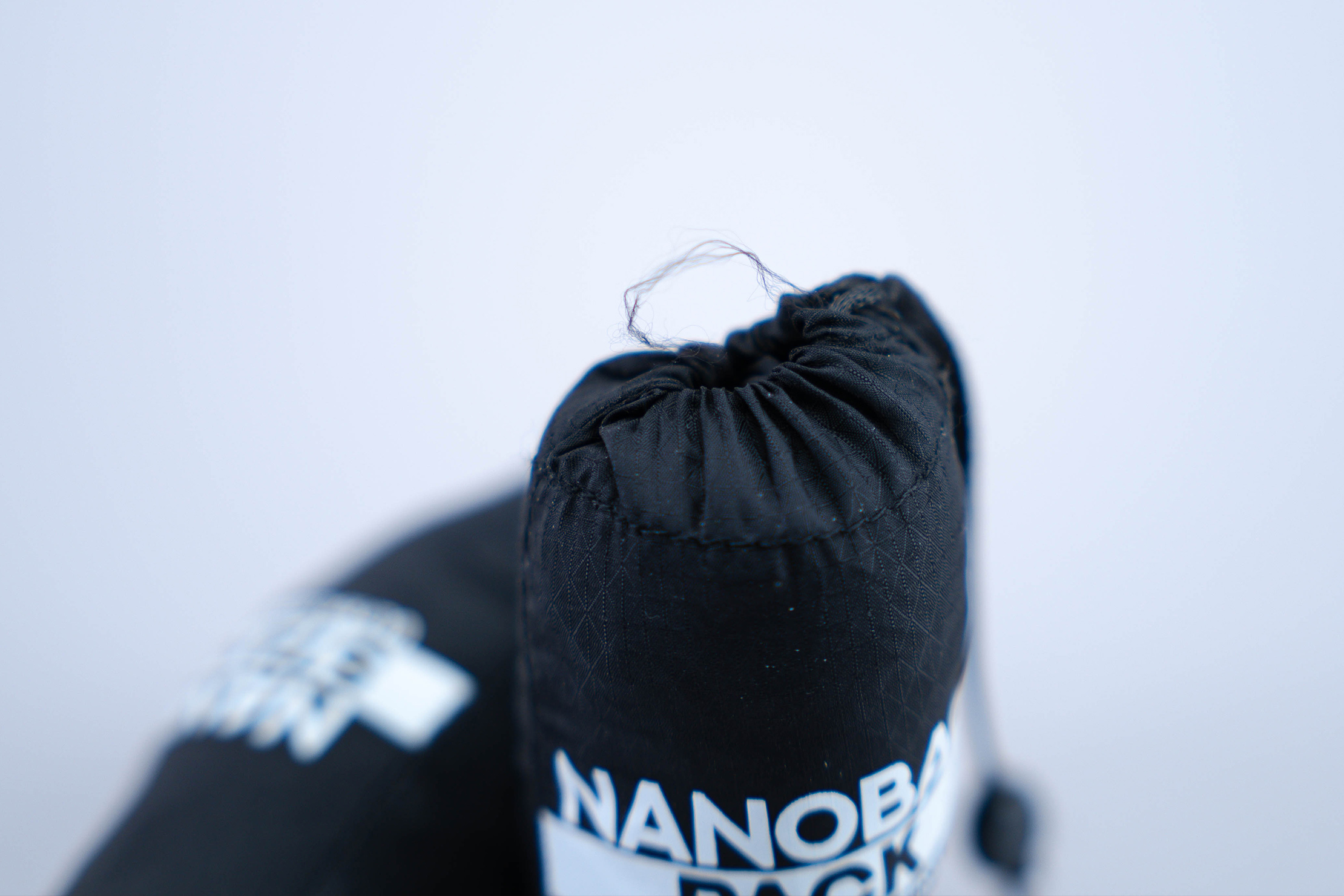 The stuff-sack is made of the same nylon material and is attached to each bag so you can't lose it, which is excellent. It can get caught when you pull things in and out of the bag, but it stays out of the way for the most part.
Nanobag Standard 19L Ultralight Shopping Bag
The standard Nanobag comes in at 19L and weighs 0.8 ounces (22.7 grams). It resembles a single-use plastic grocery bag but is larger and has longer handles. The handles aren't padded, but they are comfortable enough, especially when using both of them.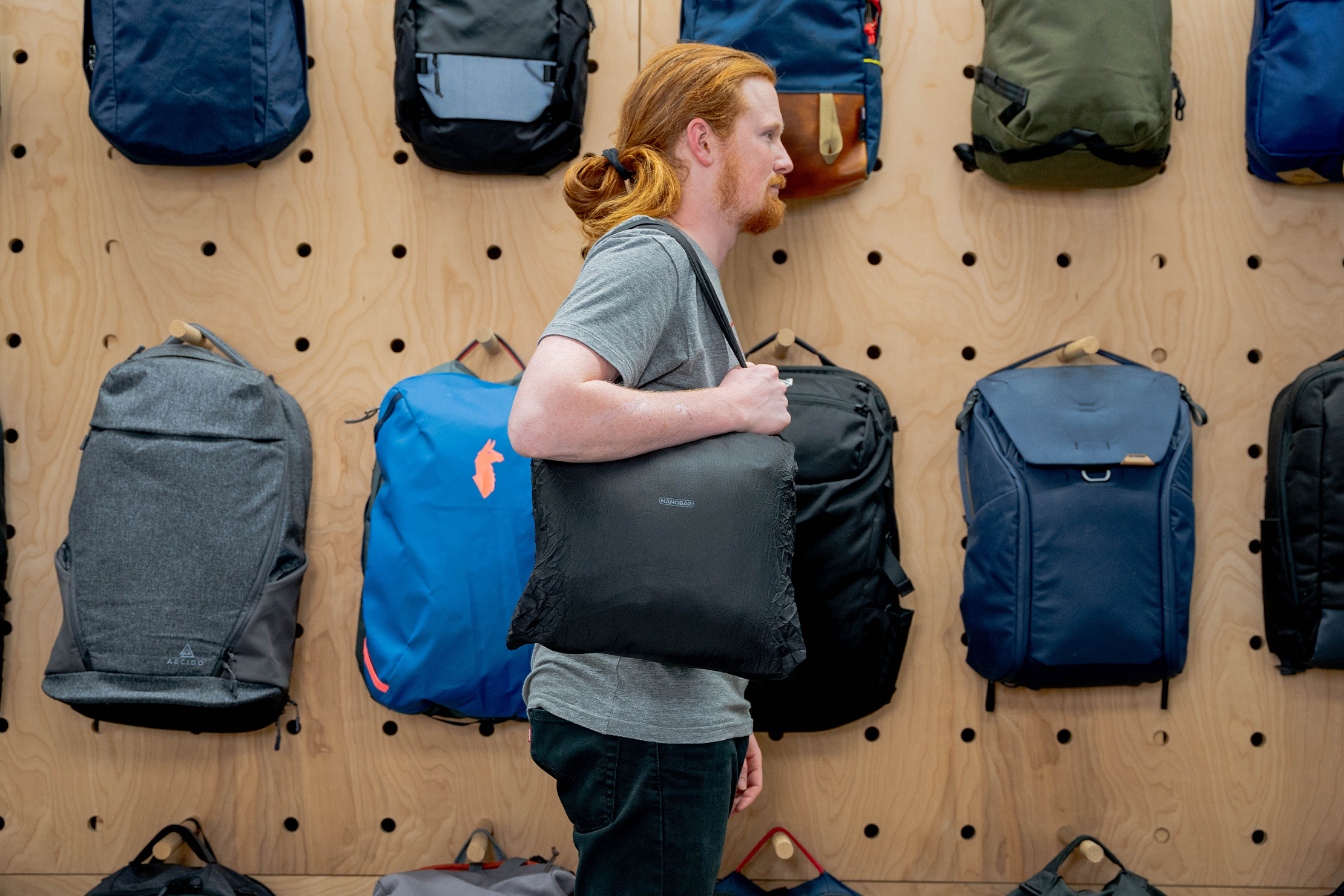 We found this bag is perfect for trips to local farmer's markets for produce, which will enable you to stay healthy while traveling. We also like it as a storage container for dirty clothes in a hotel room or Airbnb. Simply unpack the Nanobag, hang it somewhere out of the way, and load your dirty clothes into it as they accumulate. Then, you can bring the entire bag when it's time to head to the laundromat, wash it in the sink while your clothes are spinning, and use it to carry them back again. If you brought just enough clothes for your trip, load the dirty laundry bag into your suitcase to be washed when you get home.
The loops underneath the handles are large enough to put your arm through and hang on your shoulder, but when the bag is stuffed full, this can be a little awkward because you can't put your arm down properly.
Nanobag Mini 15L Ultralight Shopping Bag
The mini Nanobag is 15L and weighs 0.7 ounces (19.8 grams). It shares the same design as the standard bag but has a smaller footprint. Although the capacity is smaller, the handles are roughly the same size and thickness.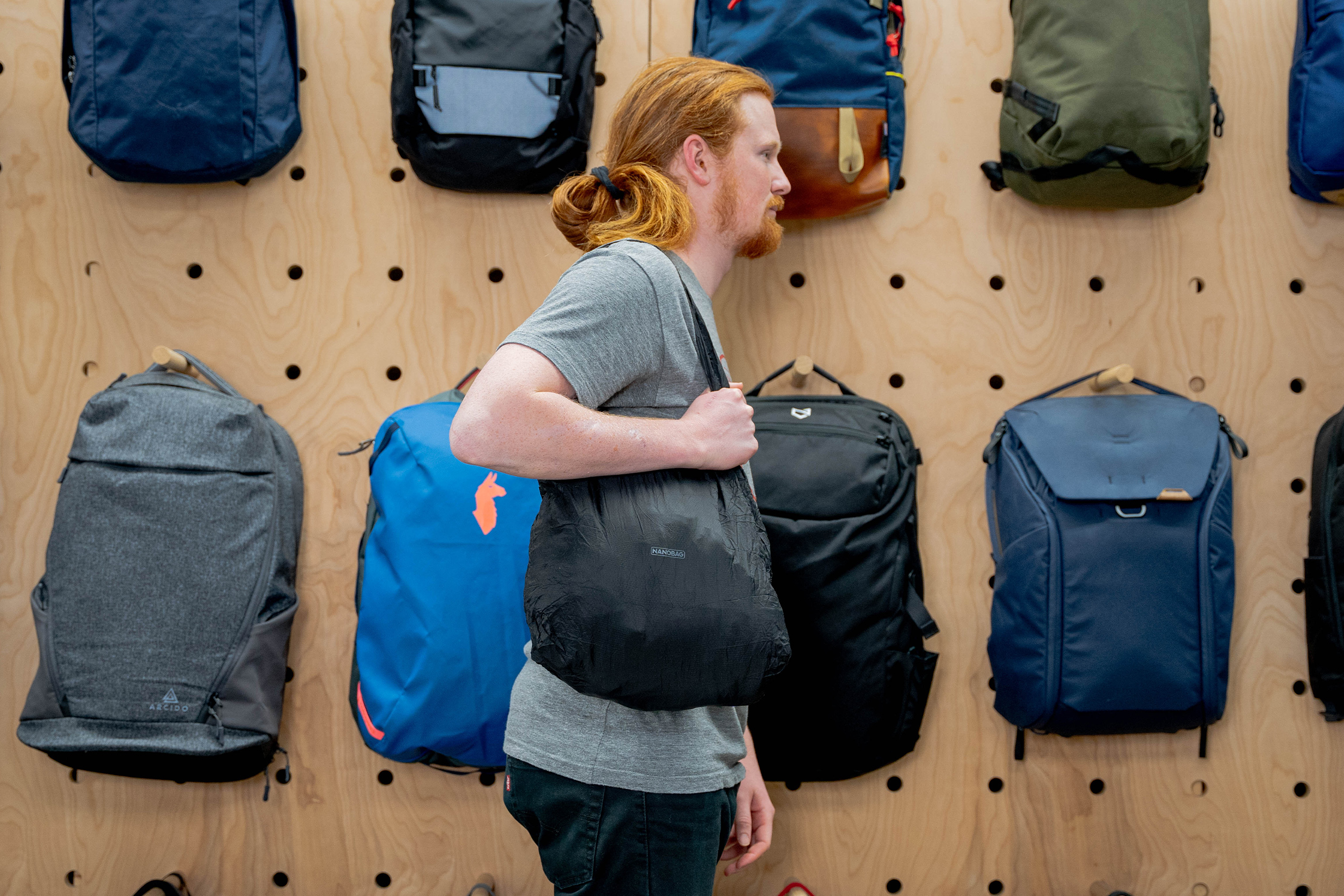 We can still fit our arm through the loop and onto our shoulder; there's just less extra space for loading the bag because it's smaller. Having the option if your hand gets tired is a nice bonus, though.
Overall, we don't use this bag nearly as much as the standard size. It only weighs 0.1 oz (2.8 grams) less, but at the cost of four liters capacity. Their sizes are comparable when packed, so it doesn't save space to bring the Mini bag. Unless you have a more petite frame and the standard is a bit too large, the mini feels a little irrelevant.
Nanobag Sling 19L Ultralight Crossbody Sling
The sling Nanobag is 19L and weighs 0.8 OZ (22.7 grams). Instead of two straps like the standard, it features one long strap that can be worn across your body. The strap is a little thicker, which spreads the weight across its surface area. This creates a more comfortable carry, even when bringing heavier items along.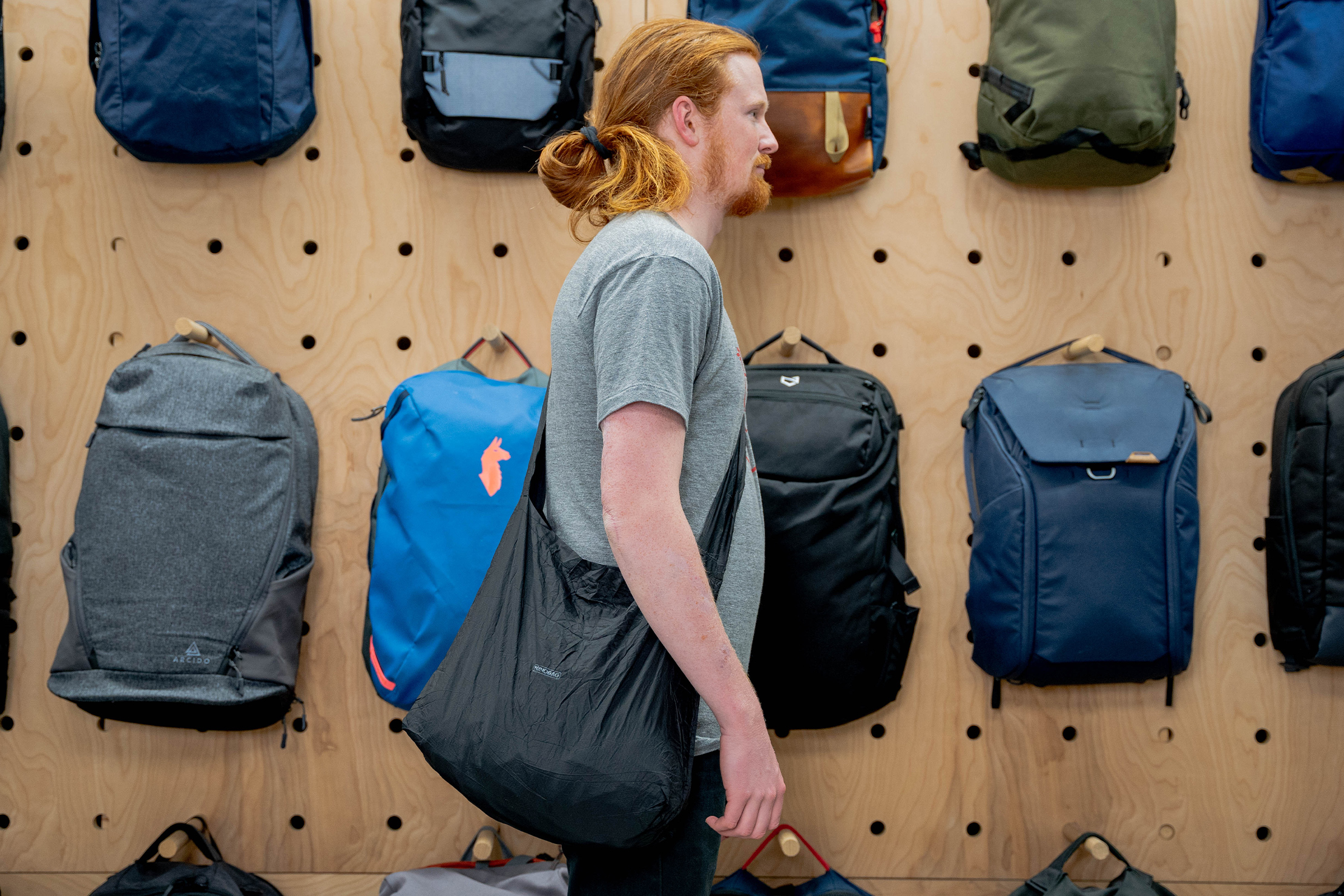 Like the standard bag, the sling is great for trips to the market and for laundry while traveling. The added strap comfort and the ability to use it hands-free is a great bonus, making it more friendly for longer walks. Meander around a street fair, sprawling market, or stow towels for a walk down to the beach.
The sling goes more comfortably wherever the standard bag can go, but it isn't always the best choice. In the rain, it's hard to ensure water doesn't get into the sling as it only has one handle. With the standard, you can tangle the handles to keep water out.
Nanobag Pack 14L Ultralight Drawstring Pack
The drawstring Nanobag is the smallest pack at 14L but weighs the most at 0.9 OZ (25.5 grams). The black sheep of the family, this bag is the only one that actually closes.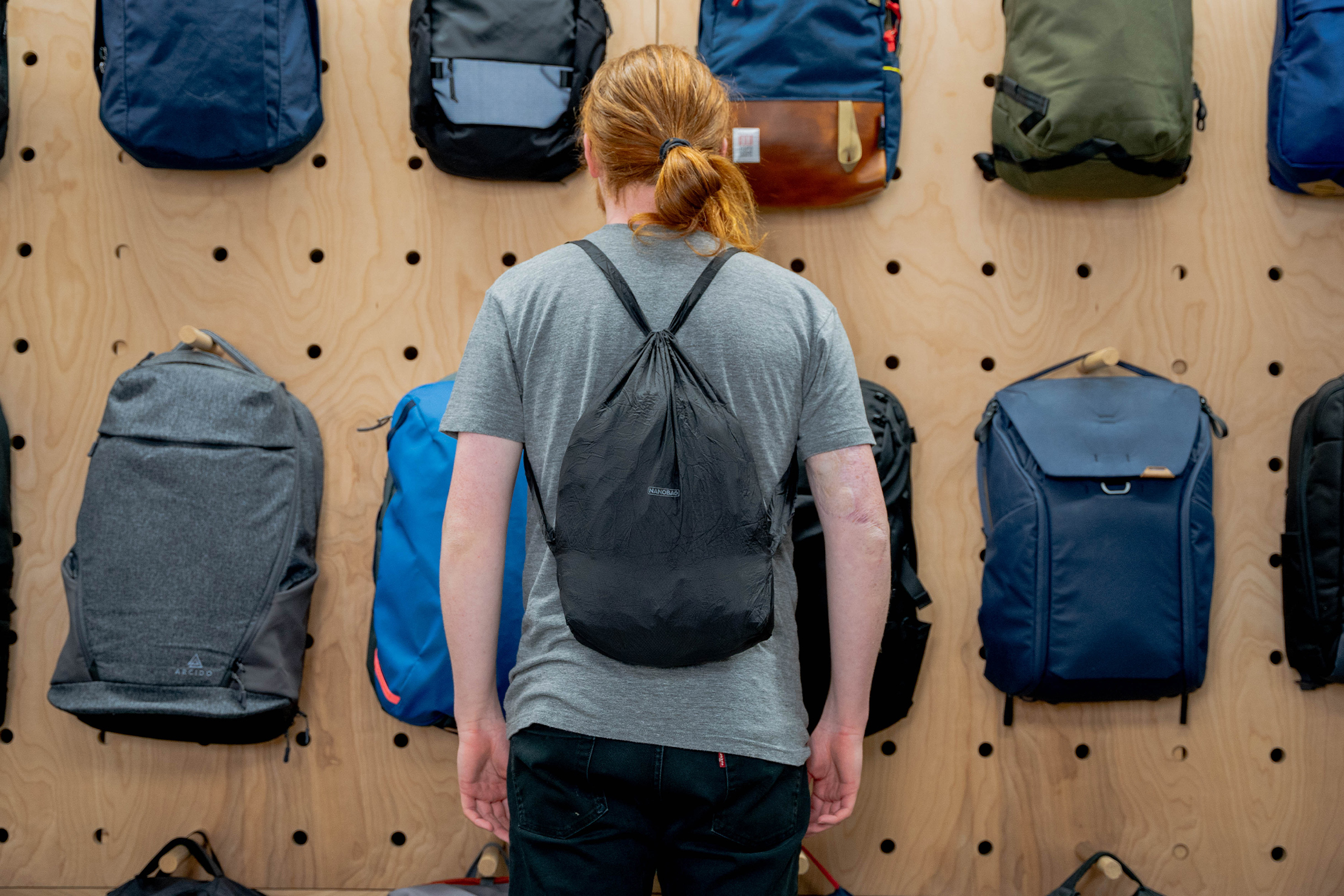 The shoulder straps are nylon diamond ripstop. They don't have any padding and are much thinner than the handles on the other bags. They are comfortable with a light pack, but once you start to fill it up, they begin digging into your shoulder and chest.
Each shoulder strap has two thin pieces of nylon, which is nice from a comfort standpoint but can be confusing when putting the bag on. Sometimes we'd accidentally put an arm through one of them and oddly tighten the bag and have to awkwardly swim for the last strap.
The drawstring bag offers a little more security than the other Nanobags, which is nice for visiting congested areas of the city without worry. It doesn't fit as much gear, but knowing that it will be much harder for a stranger to get a hand on your stuff is a good tradeoff, we think.
Usage & Features
The Nanobag Reusable Shopping Bag adds a ton of dynamic uses to your repertoire while traveling. When packed, all four fit into the palm of your hand. Unpacked, you've got 67 liters of bag space to work with to make your travels a little easier.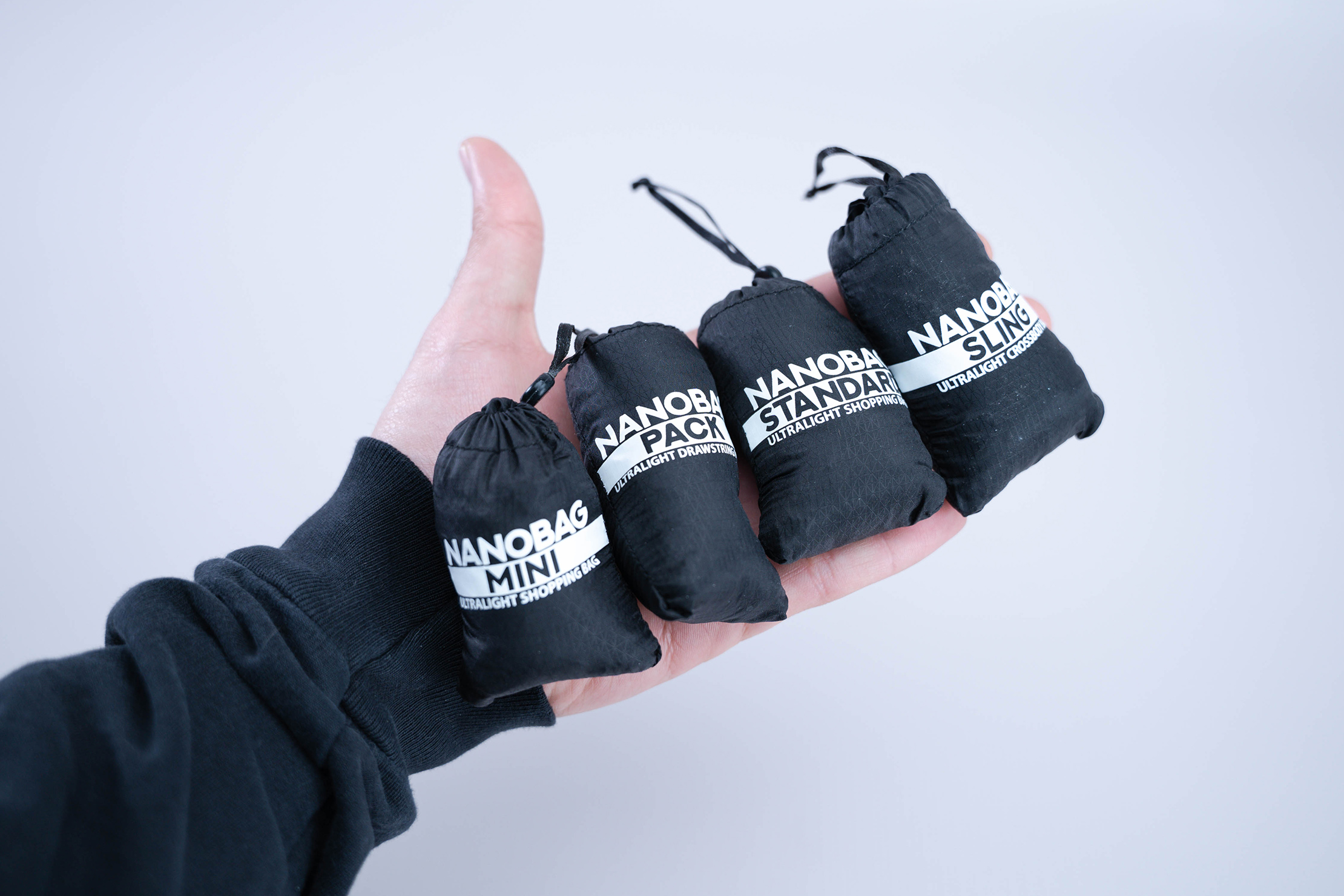 Our favorite use for these nifty little bags is when we don't know whether we're going to need a bag or not. We love buying little knick-knacks as much as the next person, but carrying them around for hours afterward isn't a good look. The Nanobags fit into your pocket when you don't need them and hold a surprising amount of stuff when you do.
If you're the type of traveler who worries about having enough room to buy souvenirs when you explore a new place with just a sling or daypack, bringing along a Nanopack is perfect for you. A 7 liter sling quickly turns into 26 liters of storage space, and you won't have to worry about it.
With the good comes the bad, but there's a lot more positives than negatives, we think. The loose strings aren't ideal, and even if they don't affect the bag's structure, they look unprofessional. The packs are immortally wrinkled, even after weeks of use. When you load the bags up, they can dig into your shoulder, chest, and back, which is uncomfortable. However, the slight discomfort is worth their tiny size, dynamic use, and budget price tag.
Usage Timeline
Initial Usage
Condition: Excellent
Comes in four types: Micro, Mini, Standard, Pack, Sling, and XL
Very lightweight, but can support up to 66 lbs. worth of gear
Really small when compressed; easily pocketable
2 Weeks of Use
Condition: Excellent
A few loose threads, but nothing is coming unraveled
Nylon has stayed clean and tear-free
The tightening loop feels a little worn out
1 Month of Use
Condition: Excellent
Still in great shape, no changes to report
Access the Pro Community Discussion
Get your questions about the Nanobag Reusable Shopping Bag answered from our team and the Pro Community right here on the page. Plus, join discussions with other members about gear, guides, and more.
Other Bags & Luggage Reviews