Peak Design Packable Tote Review
The Peak Design Packable Tote adds compressibility to the versatile tote bag design and works well as a secondary bag without taking up too much space.
Our Verdict
Unlock the Pro Summary
Save time. Get access to brief summaries of our reviews so you can browse and make decisions more efficiently.
Pros
Self-healing nylon is durable and repairs easily
Zipper secures gear inside and adds further weatherproofing
Good capacity as an overnight or grocery bag
Cons
Light fabric has no structure or liner
Minimal organization
Lightly padded tote handles can impact carry comfort
Recent Pack Hacker Video
Technical Details
Capacity

12l

Weight (oz)

2.82 oz (79.9 g)

Denier

70D

Dimensions

16.5 in x 16.1 in x 4.7 in (41.9 x 40.9 x 11.9 cm)

Unpacked | Packed: 5.9 in x 3.5 in x 1.6 in

Notable Materials

Ripstop Nylon, DWR Coating, Microfiber, Polyester

Manufacturing Country

Vietnam

Warranty Information
Full Review
Get up to 10% off Peak Design • Join Pack Hacker Pro
Tote bags are some of the simpler forms of bags out there. They have a pair of handles and enough space to carry clothes, gear, groceries, or really anything you want to put inside that will fit. In a nutshell, they're the trucks of the bag world. So much so that Tom Bihn even calls theirs the Truckasana.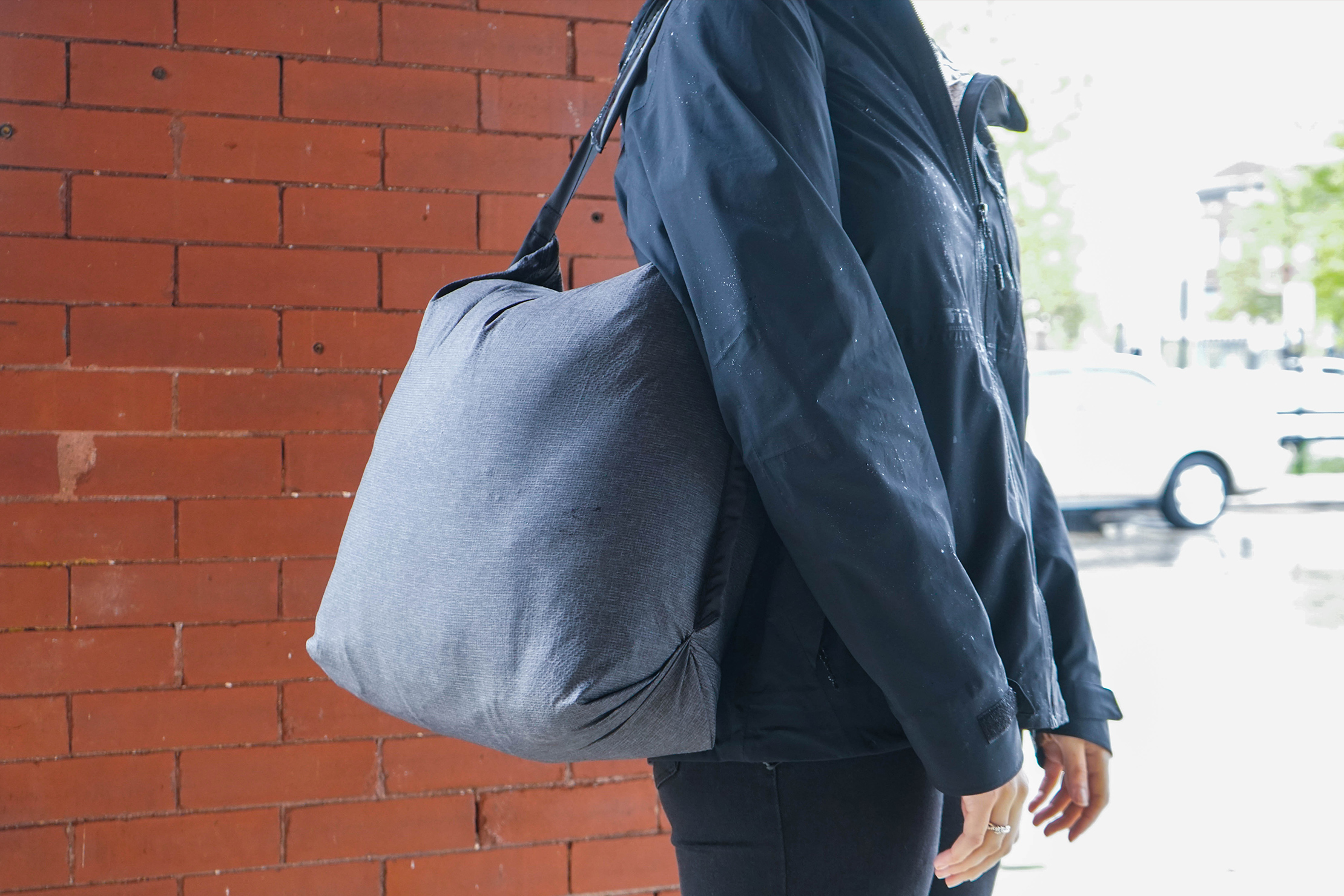 The jack-of-all-trades tote bag is by no means perfect, though, so Peak Design instead highlights the form's strengths with their Packable Tote. It maintains the simplicity of a tote bag, with added features such as self-healing nylon and quick compressibility. Yes, it's a packable bag, so you get the usual caveats of minimal structure and protection. Nevertheless, it has its use cases, which we'll take a look at in this review.
Materials & Aesthetic
As with most packable gear, it's all about hitting that sweet spot between lightness and durability. You want something that's easily compressible but won't fall apart the moment mother nature decides it's time for a light shower. It can be a tricky balancing act, with packable gear coming as light as IKEA's SKYNKE Shopping Bag or something like the WaterField Designs Packable Backpack, which disguises its packable nature rather well.

We think that Peak Design lands somewhere in the middle with the Packable Tote. To be fair, typical tote bags look very compressible, to begin with, but Peak Design's attempt is quite stylish. This Charcoal colorway makes this tote look something out of the distant future, where everything comes in shades of sharp gray. Mind you, the Packable Tote doesn't shake away its tote-like form, but this is a refreshing coat of paint nonetheless.
The overall design is quite minimal, with the fabric providing most of the styling. Front or back, the Packable Tote doesn't have much in the way of stand-out stylistic features. The Charcoal-colored fabric is surrounded on both sides by black trim that also forms the handles. To the right, there's a small brown patch; that's the Peak Design logo tab, and it's in leather.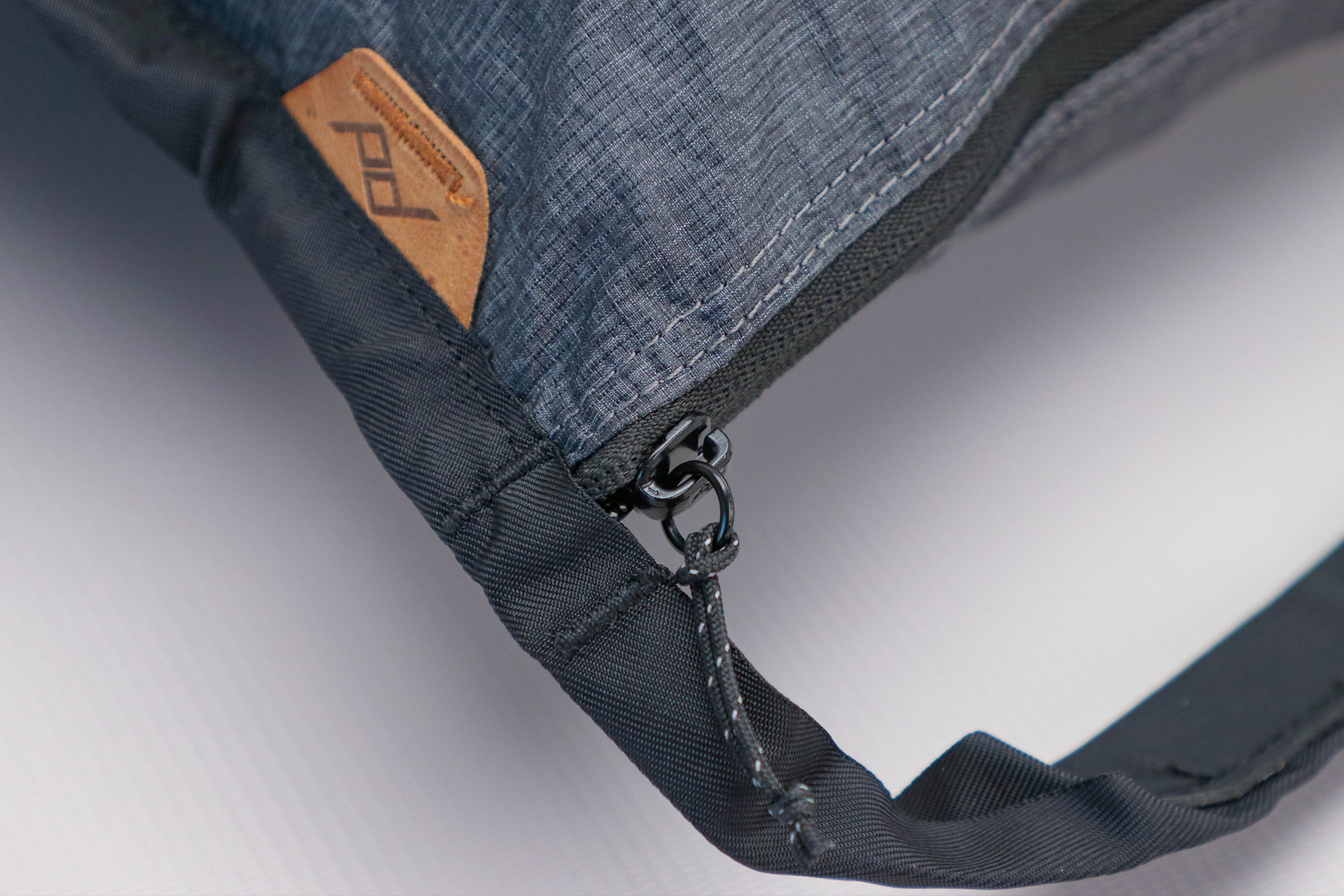 The material is actually quite futuristic as well, and prepare yourself because it's got quite the resume. Ready? Ehem. This humble tote is made from a single sheet of 100% recycled self-healing Ripstop 70D nylon with a water-resistant coating. Breathe Yes, you've read the middle part of that right. No, "self-healing" doesn't mean it's able to survive being torn to shreds by a wild animal. We're not quite there yet, but this self-healing nylon can survive very light damage. The bad news is since we're always extra careful with our gear, we haven't had the chance to put this to the test yet. However, it's worth noting that no rips or tears after two weeks of testing is inherently a good thing.
Fortunately, we've seen self-healing nylon in action with Peak Design's Shoe Pouch. Spoiler alert: it works, and it works rather well. The short explanation is that molecules in the nylon fabric are engineered so that they can bond together after breaking, so minor tears and loose threads are patched up neatly—nice!
Usage & Features
Tote bags are very good as multi-purpose bags since they can fit a variety of bulky items. Like we've said, they're like the trucks of the bag world; not the most comfortable or the best handling, but they get the job done. So how well did the Packable Tote fare in tote duty?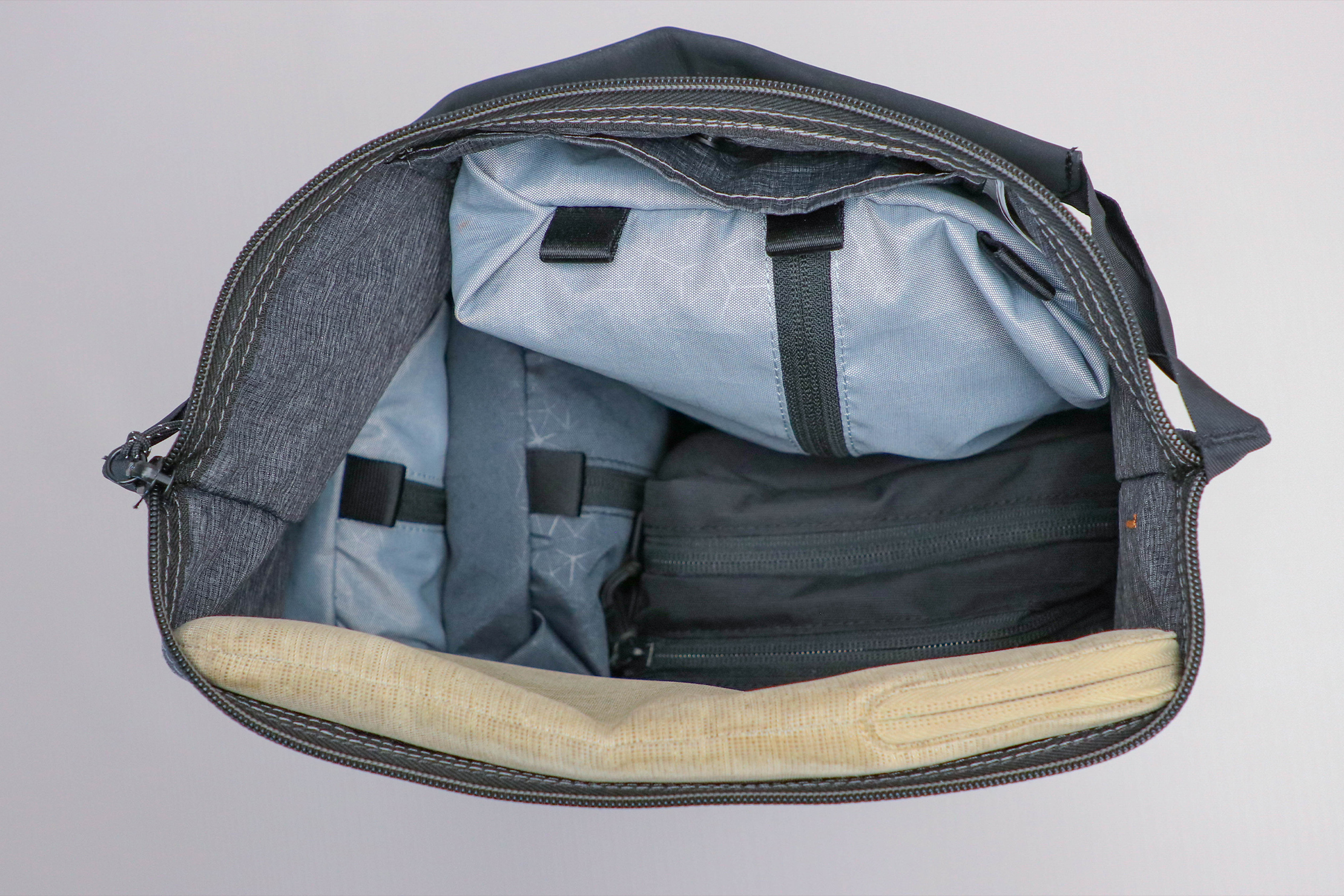 It just so happens that we needed an overnight bag for a quick stay-over within the city. We had our usual change of clothes, our trusty Dopp kit for freshening up, and our laptop if we wanted to get some work done while we were there. This is where packable bags show their first weakness: lack of structure. We kept our laptop inside a separate protective laptop sleeve. However, once it's inside the Packable Tote, the laptop provides a solid structure, like a very expensive frame sheet.
While the self-healing nylon is reasonably durable, it's also relatively lightweight. In fact, whereas some packable bags have interior liners, the Packable Tote forgoes one. Between your stuff inside and the outside elements, it's just the self-healing nylon in between. However, the material feels sturdy even when the tote is packed to the brim, and we were surprised at how it expands to fit larger or awkwardly shaped gear.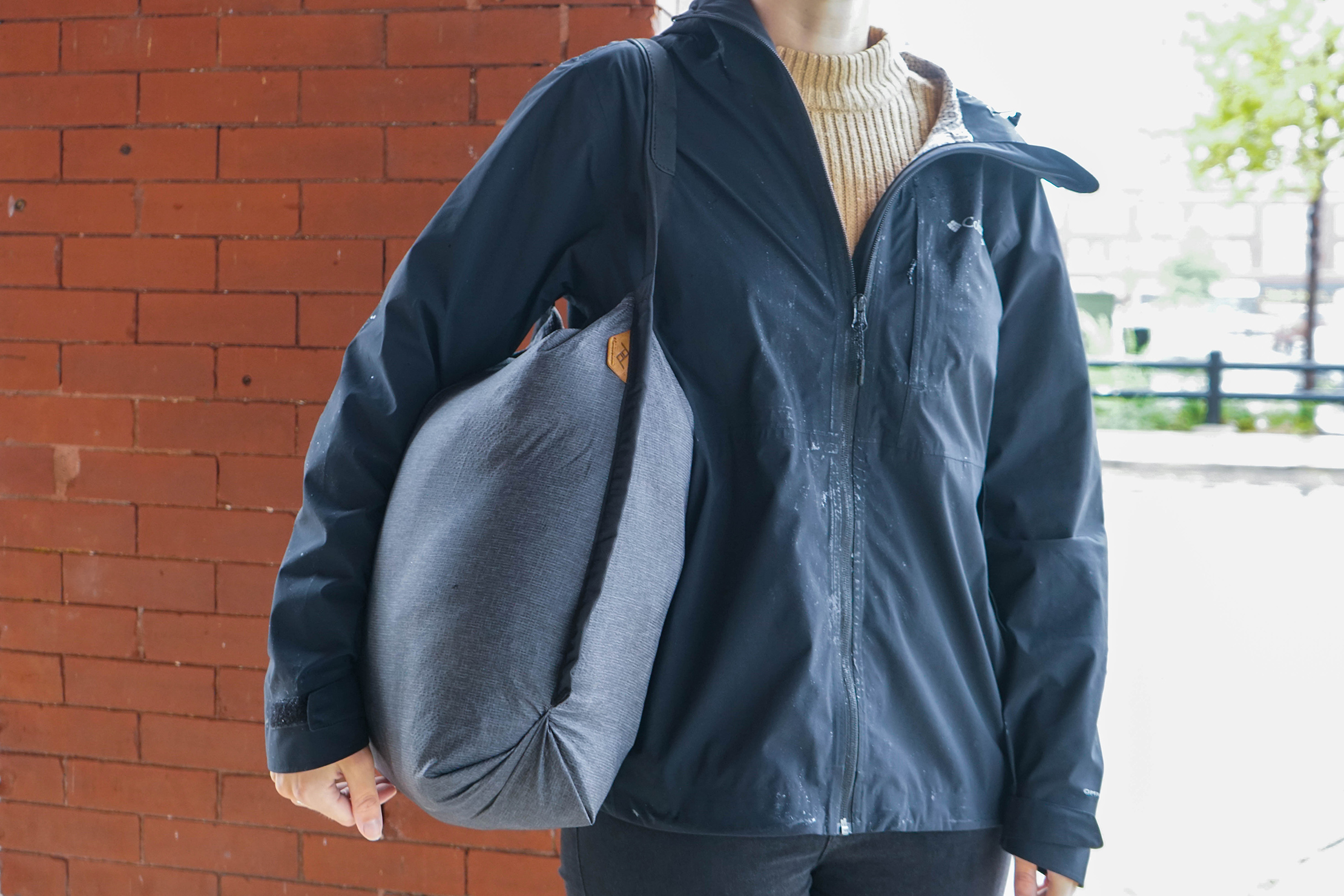 As far as totes go, the Packable Tote's handles are fairly minimal as well. You won't find anything fancy like the padded shoulder strap of the Timbuk2 Tech Tote, nor are the handles as beefy as the ones on the Bellroy Classic Tote. But relative to the Packable Tote's size—and the amount of gear we put inside—the minimal padding in the microfiber handles is enough to carry it comfortably, with a few switches between shoulders or hands after a lengthy time.
It's not the most ideal in terms of comfort if you're considering the Packable Tote as a stand-alone bag. But, as a secondary bag which you can use for quick trips around the place you're staying, it's more than enough. For example, maybe you're at a resort, and you want to bring some food and towels to the beachfront—the handles should serve you comfortably for the walk between your room to the sand bar.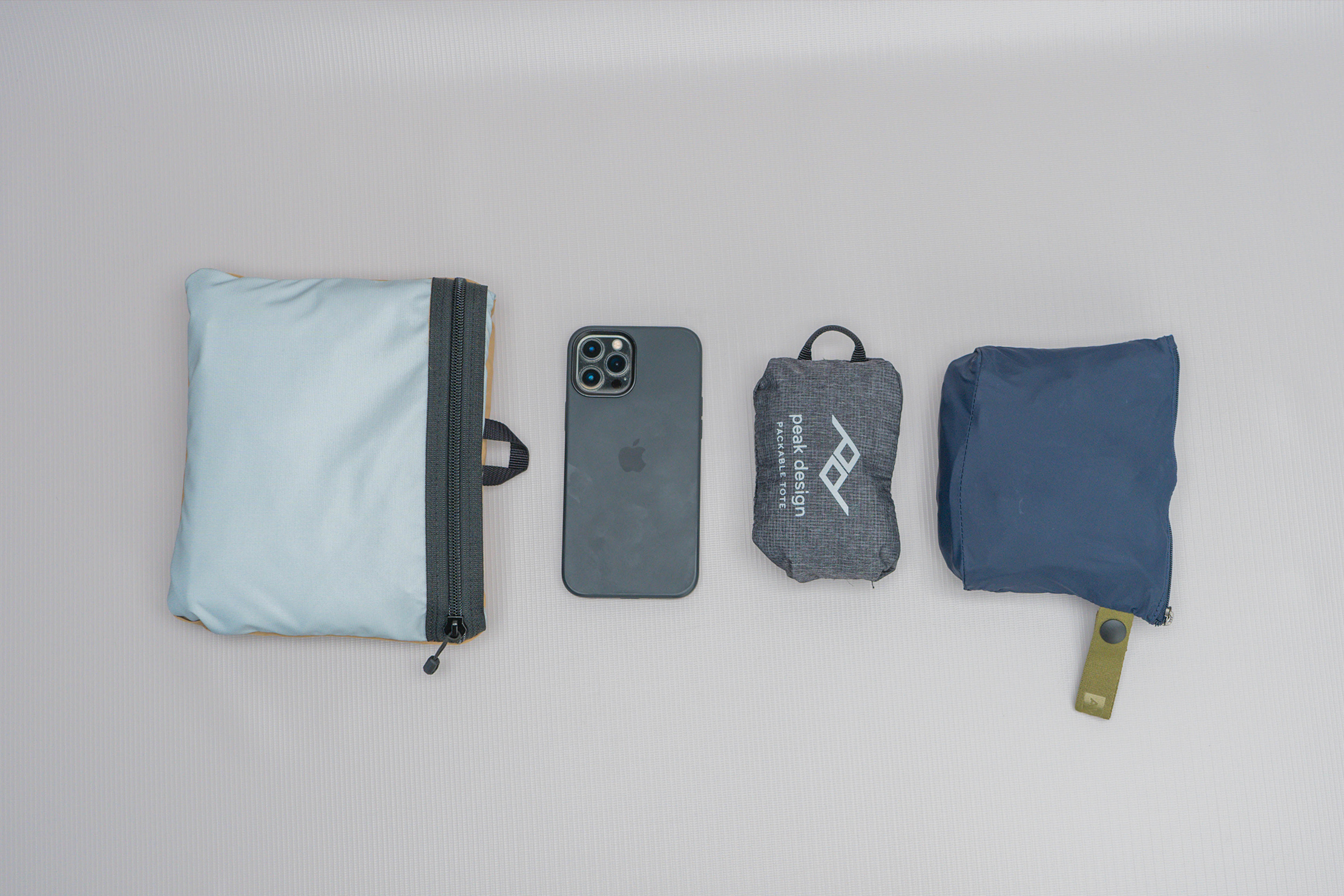 So what can you pack inside the Packable Tote? You wouldn't guess "a lot" going by the Packable Tote's compressed form. For context, here it is next to an iPhone 12 Pro Max and some other packable bags, including the WaterField Designs Packable Backpack and Away Packable Backpack. Needless to say, it's very small.
Once it's uncompressed, though, the Packable Tote is very spacious, with a capacity of 12 liters. Unzip the top, and you're afforded wide access to a big empty tub where you can stuff a few packing cubes, pouches, and, yes, even a laptop. You can also freestyle it and forgo the cubes and pouches altogether. But since there is no means of organization inside, you'll run the risk of everything getting jumbled up inside. Either way, items inside are fairly well-protected from the elements by the #5 Ultra Zip zipper. Also, it's worth noting that if you're going with this Charcoal colorway, the interior can be a bit dark depending on how well lit your surroundings are.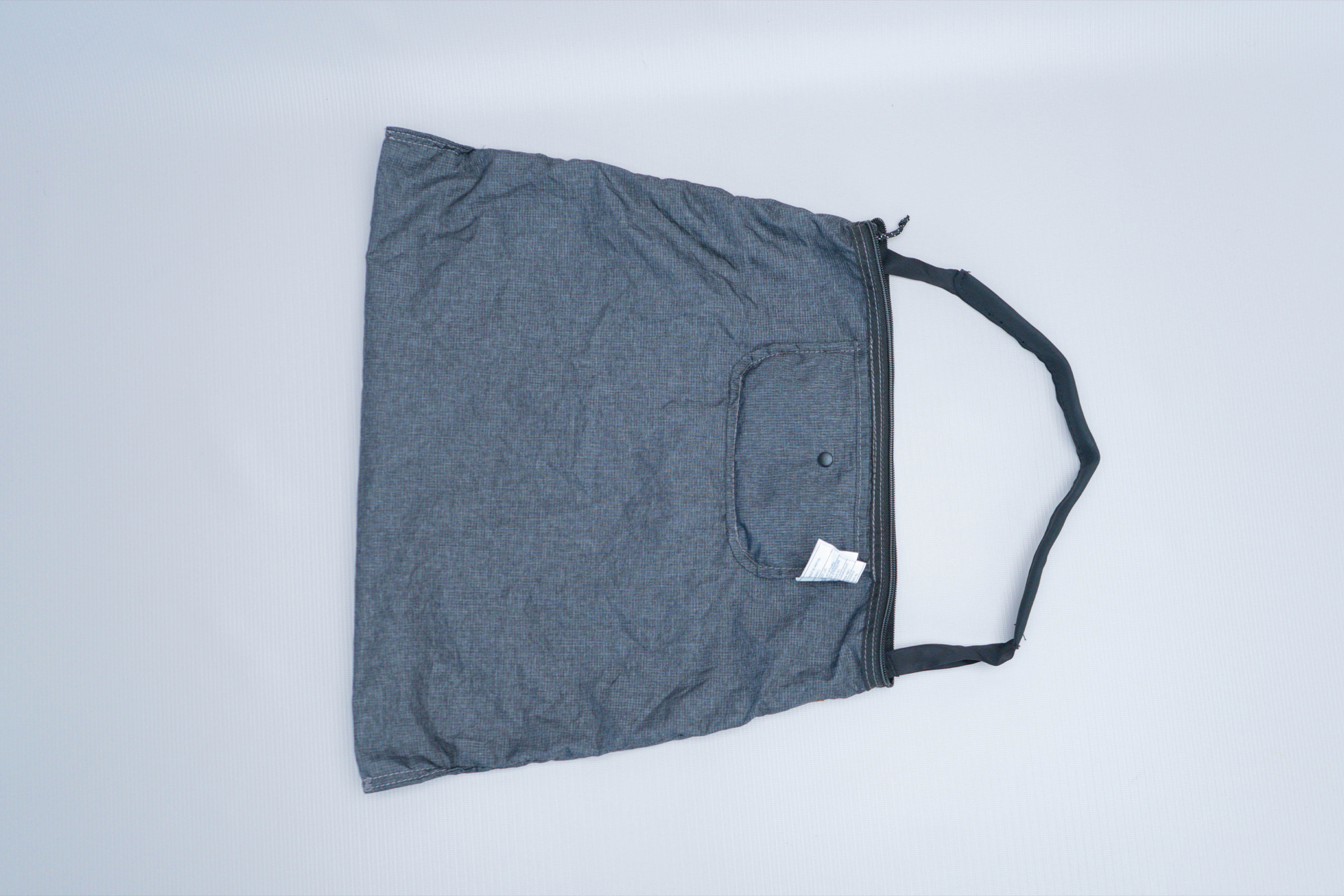 There is a small built-in liner pocket inside the Packable Tote that acts as the carry pouch for the tote when it's compressed, which we'll get into shortly. However, this is a very small pocket that only fits keys (which you can hook onto the tiny loop inside) plus a few other everyday carry items. To put things in perspective, an iPhone 12 fits in this pocket, while an iPhone 12 Pro Max (like in the photo above) doesn't. We also don't recommend hooking keys using a key ring; instead, we use a small carabiner because the loop is quite small.
Once it's time to pack up and go home, we're happy to report that the Packable Tote is easy to compress—something that's easy to take for granted, right up until the day you're running late for a flight. Thankfully, the process is simple for the Packable Tote. Hold the small pocket open with your thumbs, then simply push in the rest of the bag from the outside until you've stuffed everything into that pocket. There's a small snap fastener to hold everything together, and it's secure enough that you won't have to worry about it suddenly unraveling in your luggage.
As we mentioned earlier, we dig that tote bags are these sort of jack-of-all-trades in the world of bags, and the Packable Tote is no exception. The simple ones have always been compressible to some degree, and Peak Design's compact take on a classic design is a nice upgrade for those who want a capable tote to take on a vacation or a trip.
Usage Timeline
Initial Usage
Condition: Excellent
Compresses into a really small pouch that fits in the hand
Microfiber tote handles feel sturdy but still fairly minimal
Fabric is durable Ripstop and is also self-healing
2 Weeks of Use
Condition: Excellent
Carry handle is pretty comfortably padded for being on the thinner side
Shell is durable and expands well when the tote is packed full with odd shapes
Great for carrying everyday items and is large enough to act as an overnight bag as well
Zipper is smooth and does well stretching to close when the tote is full
Access the Pro Community Discussion
Get your questions about the Peak Design Packable Tote answered from our team and the Pro Community right here on the page. Plus, join discussions with other members about gear, guides, and more.
Other Bags & Luggage Reviews