Away Packable Backpack Review
The Away Packable Backpack compresses to a small size for easy transport and wears comfortably when full, though main compartment accessibility can be slow.
Our Verdict
Unlock the Pro Summary
Save time. Get access to brief summaries of our reviews so you can browse and make decisions more efficiently.
Pros
Packable design is easy to transport
Buckles and cinched opening security
Top has room to expand
Cons
Slow to access main compartment
Long cinch cord requires slack management
Front pocket doesn't close or seal
Recent Pack Hacker Video
Technical Details
Capacity

19l

Weight (oz)

8 oz (226.8 g)

with pouch | 7.2 oz without pouch

Dimensions

18.1 in x 11 in x 5.9 in (46 x 27.9 x 15 cm)

Pouch: 4.7 in x 7.1 in x 2.4 in

Notable Materials

Recycled Nylon, Duraflex Hardware, YKK Zippers

Manufacturing Country

Cambodia

Warranty Information
Full Review
Having an ace up your sleeve can be a challenge in and of itself. Some part of us always feels we're one nudge away from spilling the beans that we have a neat trick to show everyone. That's the sort of feeling we sometimes get with packable bags as well. You don't really get to use them half the time because they're extra bags meant to complement your main bag.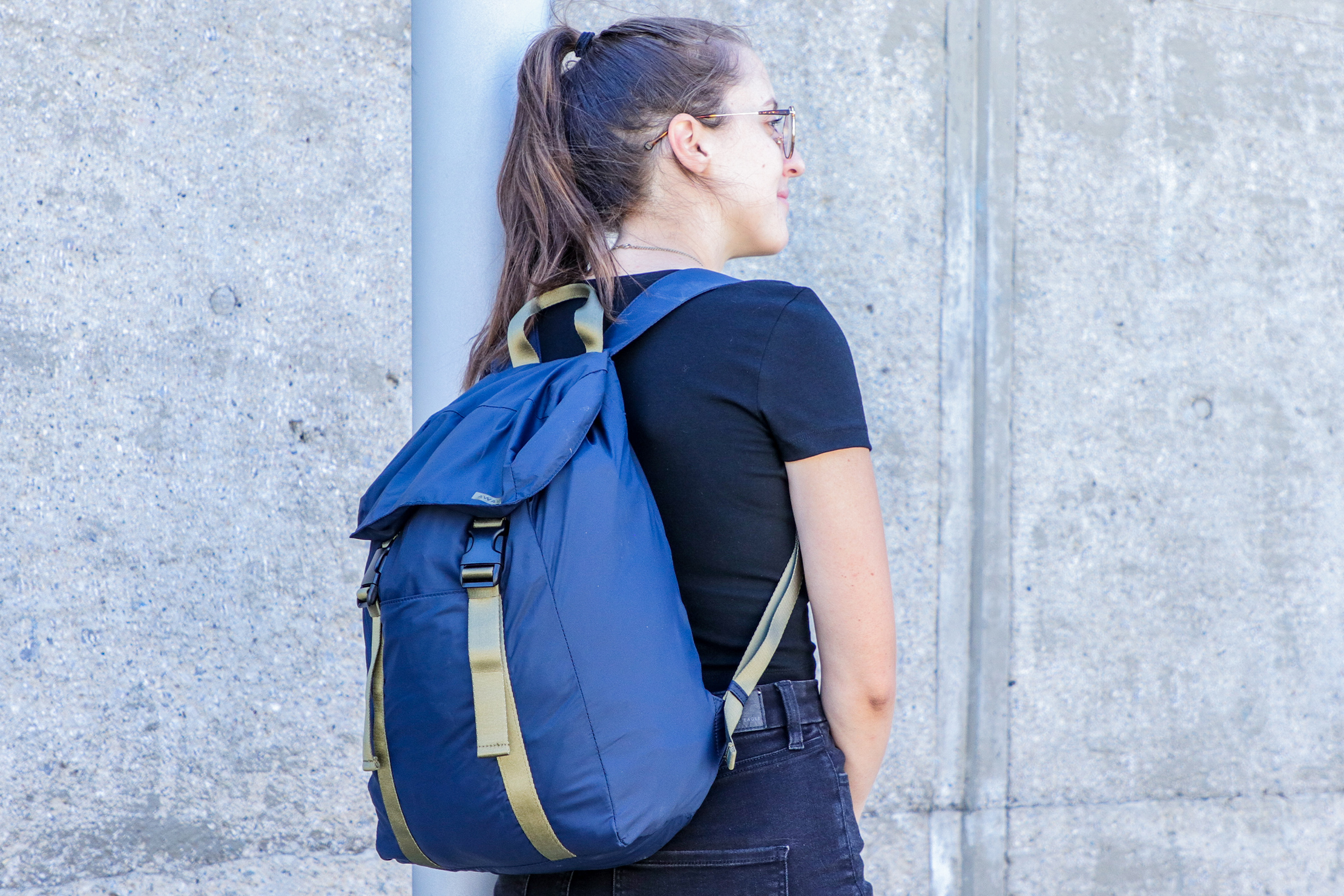 Away is a brand we've come to know for stylish yet equally clever gear. We've looked at some of their products already, such as the Small Zip Backpack and Small Toiletry Bag, both of which we generally liked. Their Packable Backpack doesn't feature as many bells and whistles as those two, though it's still a capable packable backpack, with just a few caveats to keep in mind.
Materials & Aesthetic
Brands that join the foray into packable backpacks try their hand at giving it personality while balancing compressibility. The attempts vary in terms of success, though styling is always in the eyes of the beholder—which is okay because we believe there's a style that fits everyone's taste. Away has gone for a heritage knapsack-style backpack, which we find charming in a way. Something about classic designs just hits the right spot for us.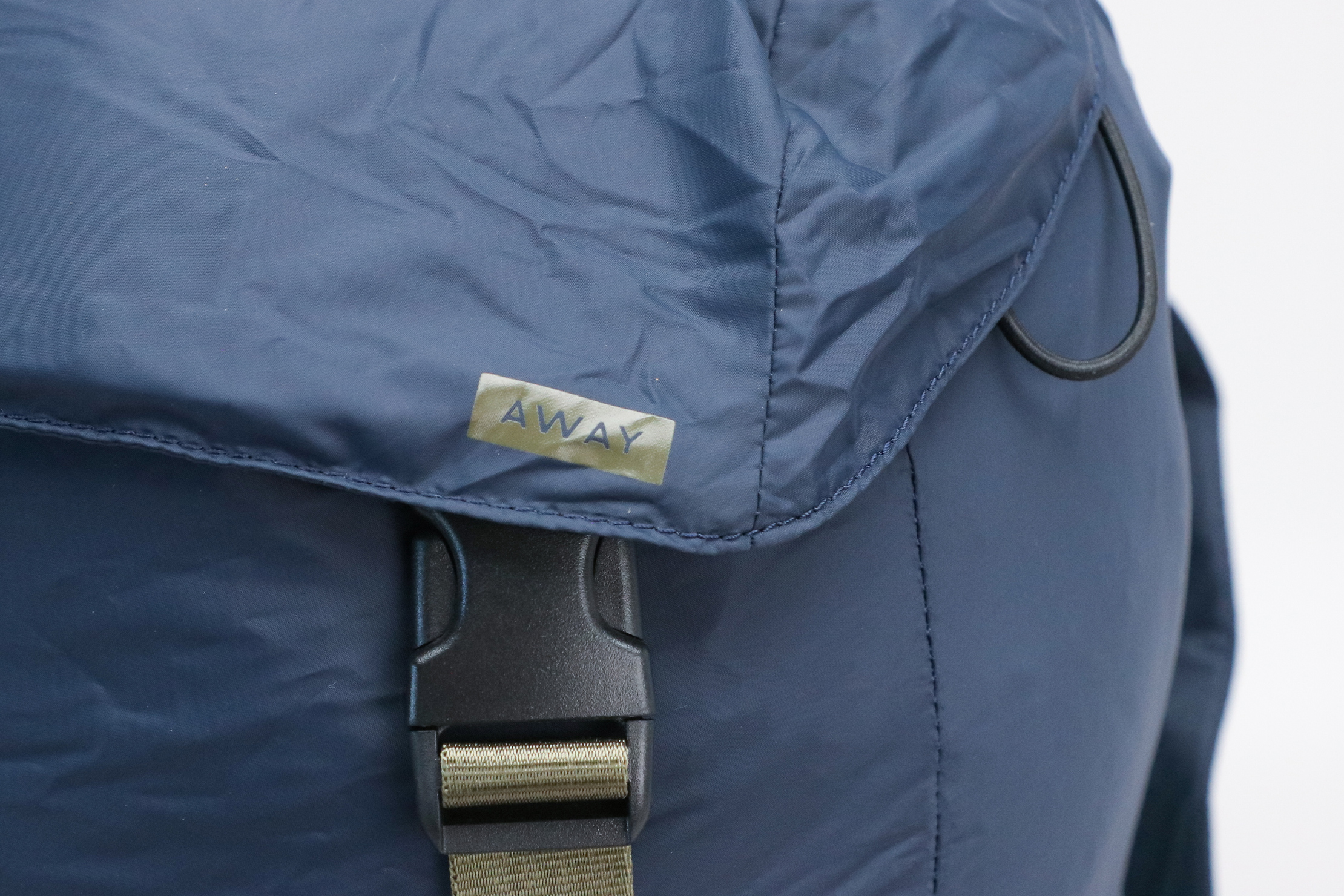 In this review, the colorway we're sampling is a Navy with olive green straps that act as trim pieces. There's also a Black colorway available at the time of this review—similar in style, just in a different shade. Apart from the knapsack style, the Packable Backpack gets by with a minimal design. There's only a small Away logo on the bottom right corner of the flap that matches the color of the straps. All in all, if you like rockin' the heritage look, this one is right up your alley.
Regarding the more practical aspects of the bag, Away uses 100% recycled nylon for the outer shell—which we're sure mother earth will appreciate (and you, if you're into sustainable gear). Touching the fabric really gives you the impression that it's a packable bag. It's light and soft, meanwhile giving the bag a slick look. It's also weather-resistant, so it's not completely helpless in the event of an unforeseen downpour—we'd still rush for the nearest roof, though. The zippers and buckles are from familiar names: the ever-reliable YKK and Duraflex.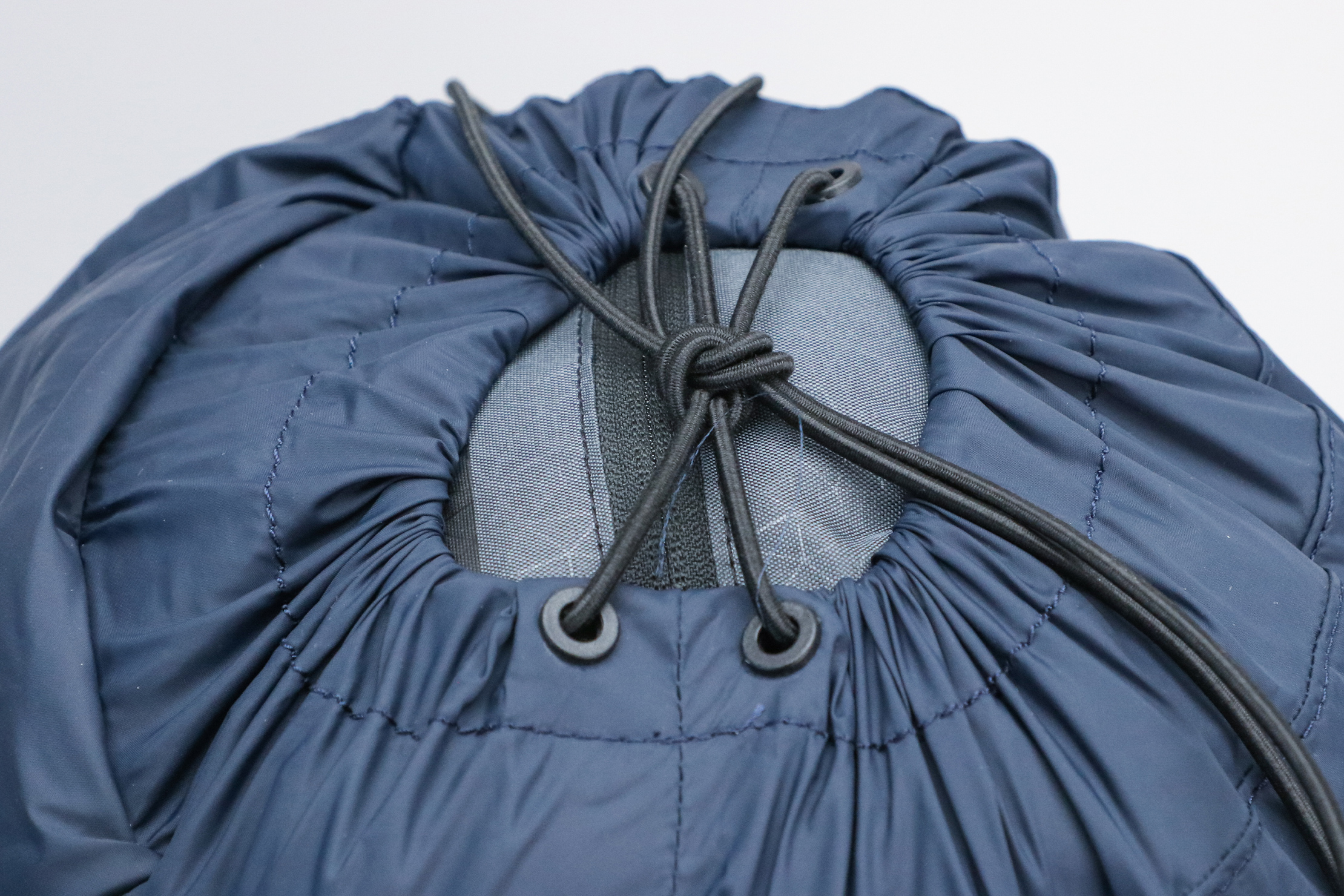 The overall quality is great. It may not be immediately obvious because of the lack of structure (it's a packable bag, after all), but the robustness is definitely there. We were one hundred percent confident with the bag's stitching, for example. However, we did recently discover a loose thread coming from within the rim of the main opening. It's not a huge deal in the grand scheme of things and nothing a quick snip can't take care of.
External Components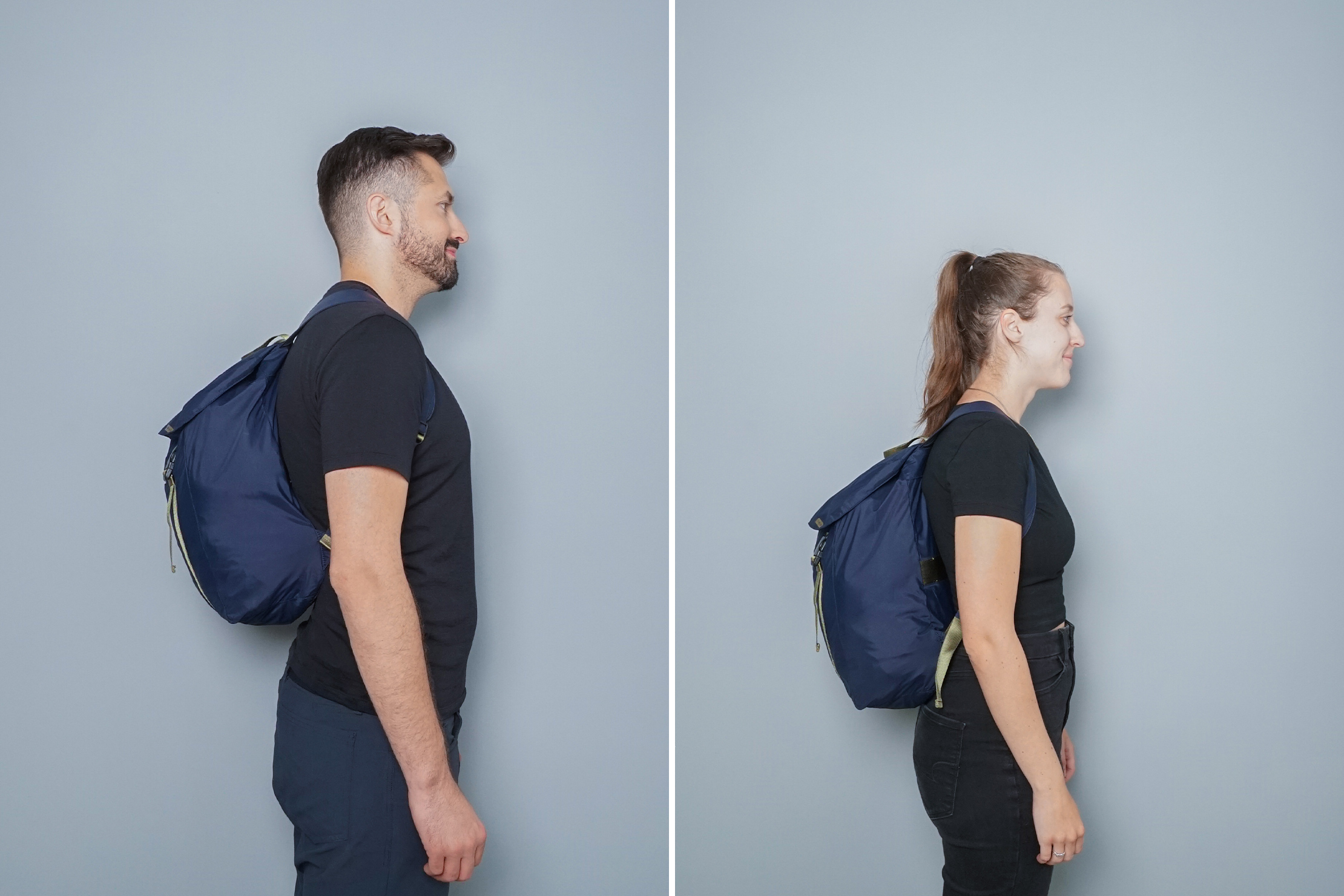 As usual with packable backpacks, the harness system is one of the key areas where the downsizing begins. That's not necessarily bad, though; it's just a matter of striking a good balance between carrying comfort and compactness. Unlike on regular daypacks, there's little to no padding on the Packable Backpack's shoulder straps. Fortunately, carrying the bag still feels comfortable, even at a relatively sizable 19 liters.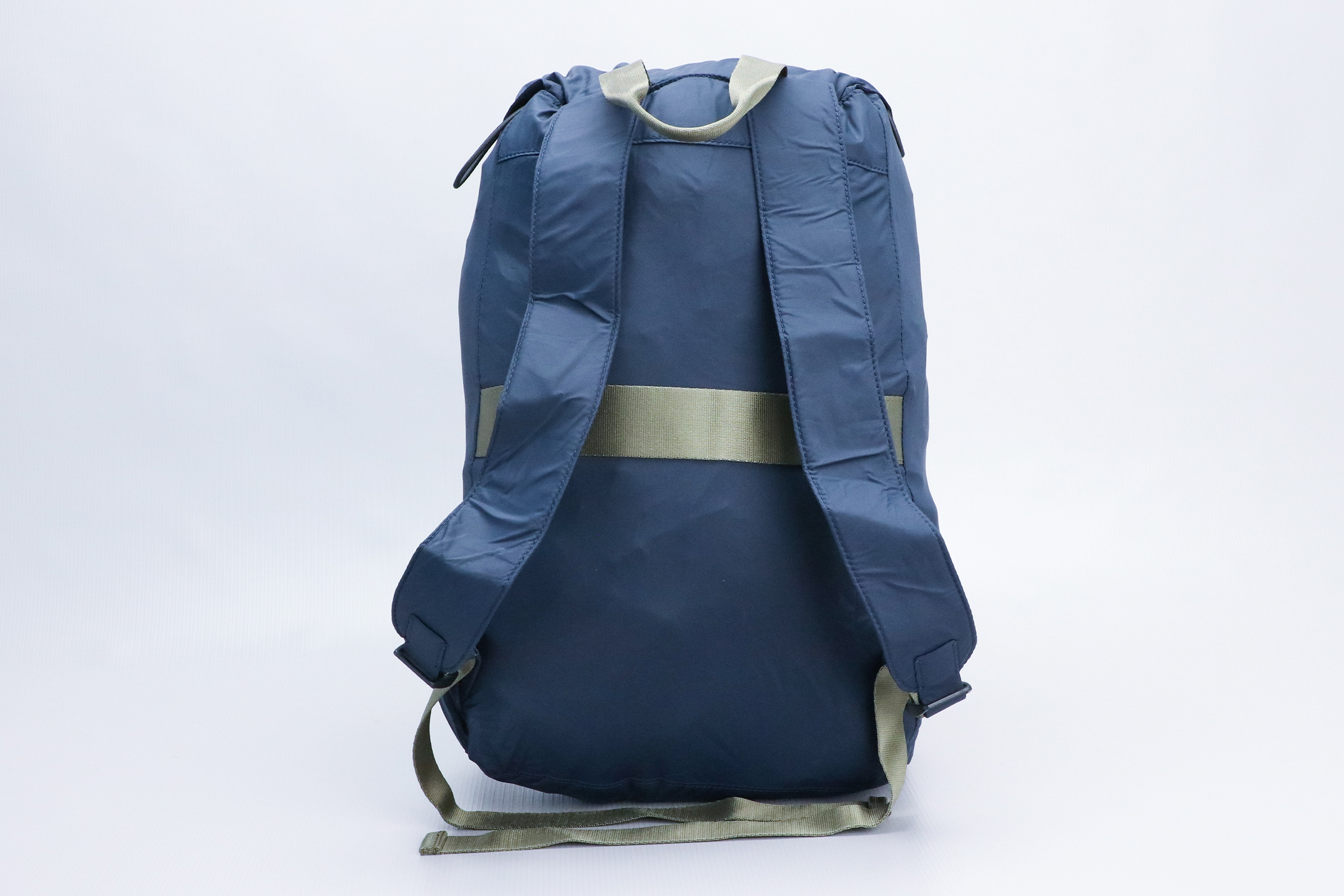 Apart from a simple nylon loon at the top, there's really not much else to the Packable Backpack's harness system—which is another way of saying that it's simple yet effective. One nice little touch is the built-in strap keepers that tie the extra slack away neatly.
Packable bags are typically meant to compress and stay inside a bigger bag until they're needed, usually for short trips around the place you're visiting. But that hasn't stopped Away from equipping the Packable Backpack with a simple nylon luggage pass-through. So, not only is it useful during the vacation, but you can also use it as an extra bag at the airport while attached to your rolling luggage.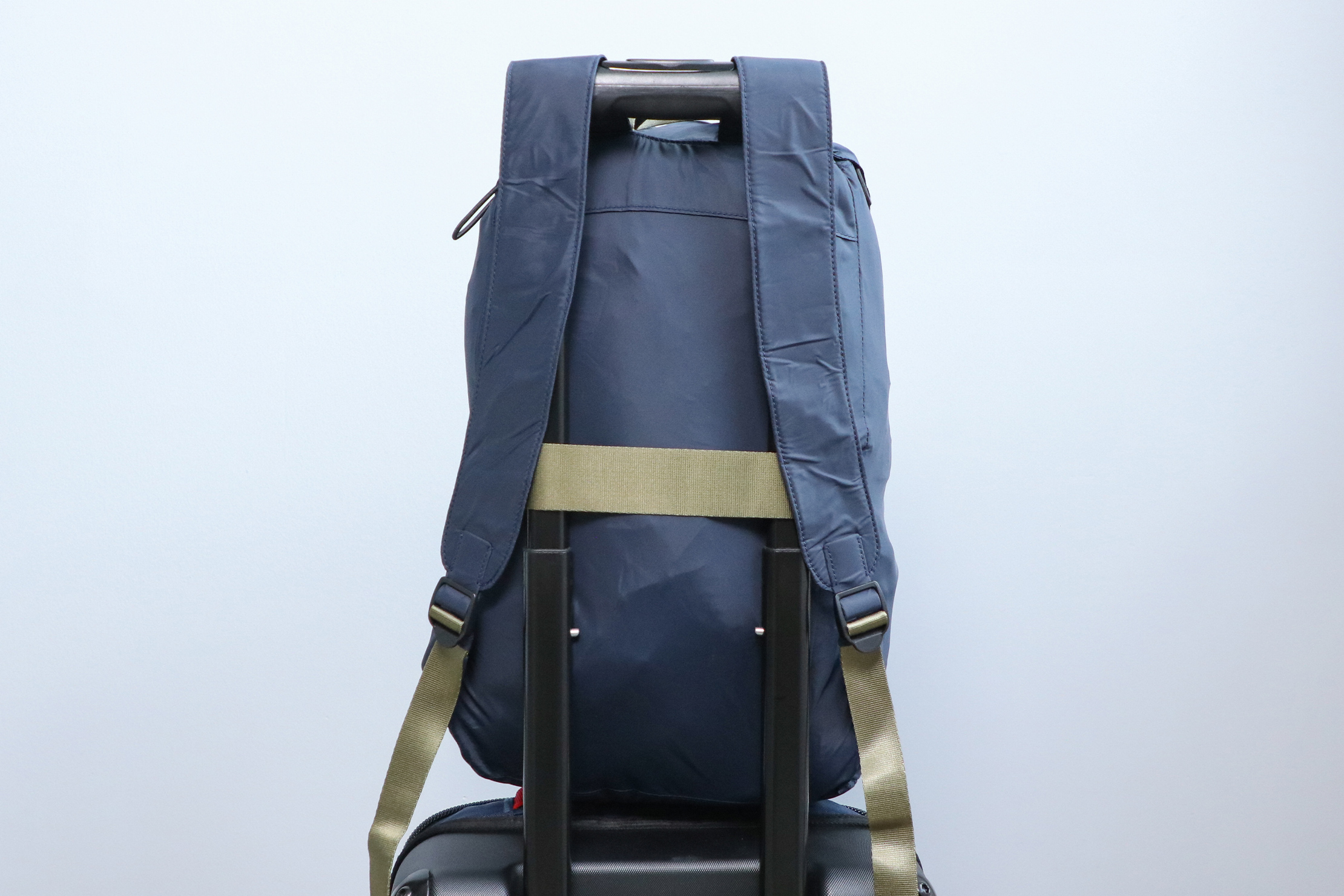 This being a knapsack-style backpack, two straps keep the flap secure. They also keep the bag effectively compressed. Like with the shoulder straps, these front ones also come with strap keepers, though they're positioned near the top where they can't keep most of the slack down. We often leave these strap keepers unused because they get in the way of adjusting the length of the straps.
Inside The Backpack
We'll first show you how it compresses before we get into the pockets and compartments. Unlike packable bags like the Matador On-Grid Packable Backpack or the Sandqvist Erland Packable Ziptop Backpack, Away's Packable Backpack has a separate pouch for storage. Other than that, the process is as simple as emptying the bag, folding it into thirds, rolling it up, then stashing it into the pouch.
In its compressed state, the Packable Backpack is approximately the size of a grapefruit, which is about average for a packable backpack in terms of size. For context, here it is next to the WaterField Designs Packable Backpack and Matador On-Grid Packable Backpack.
You can decide for yourself whether the separate pouch is a deal-breaker or not, but we prefer packable bags that stuff into their own pockets. Having a separate pouch means another piece of gear with the potential to get lost. Other packable backpacks like the WaterField Designs Packable Backpack handle this better by stuffing directly into an inner pocket rather than a separate pouch. The good thing about Away's solution, though, is that it has a small tab for looping onto the corner of the bag's inner pocket, so you're less likely to lose it.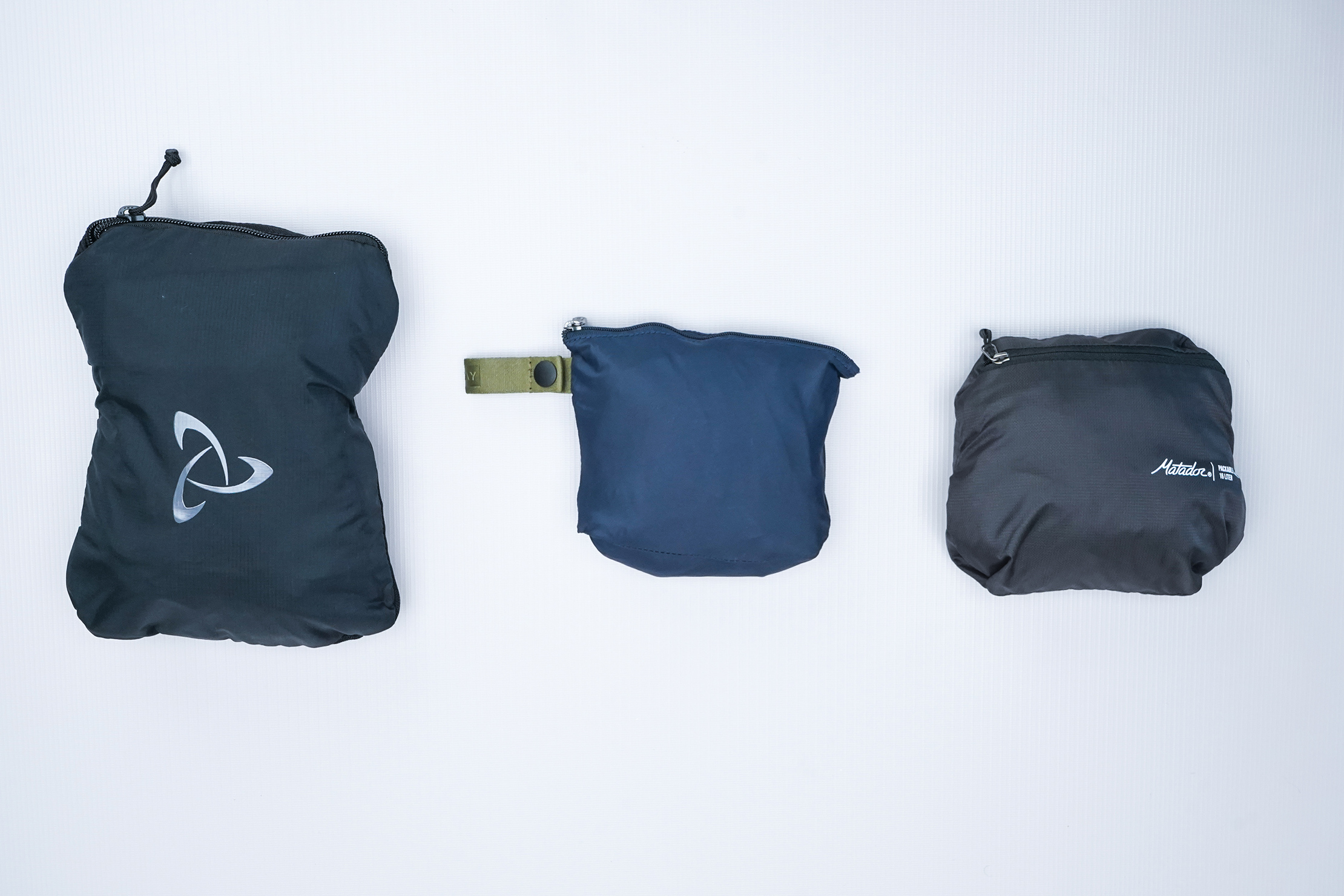 It's easy to miss at first, but the Packable Backpack does have a front quick grab pocket. It's the fairly narrow slot in between the knapsack straps. The narrow size means you won't be stuffing a lot of items inside, nor would you want to store very tiny accessories like earrings or dongles. However, it is a convenient slot for smartphones and wallets. Just be mindful that it's an unsealed pocket, so it's relatively insecure.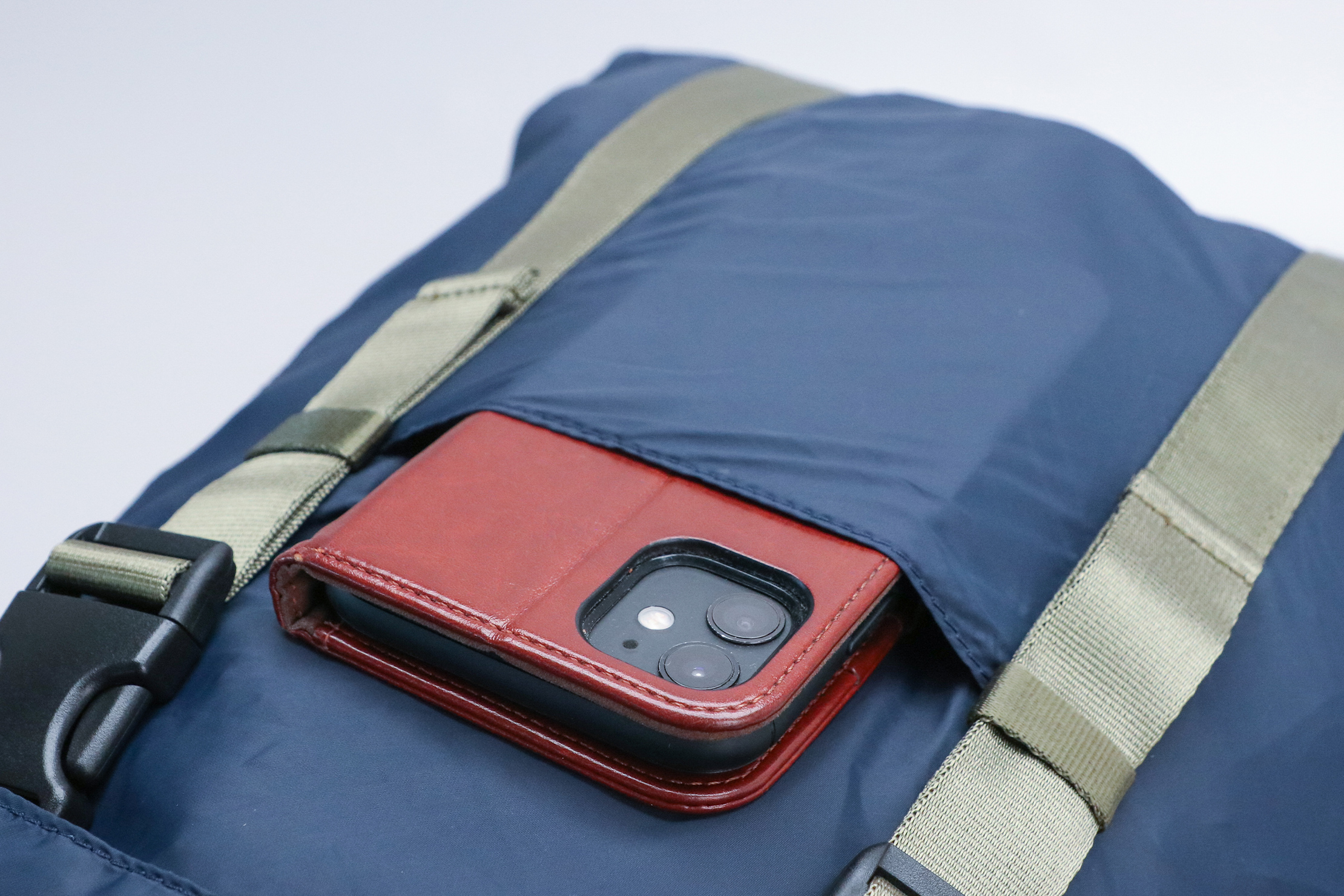 The main compartment is accessible after undoing the twin buckles at the front holding the top flap down. Underneath that flap is a cinched opening, and the cord has a lot of extra slack once it's tightened down. We like getting creative with long cords, tying them up in braids and/or knots to keep things tidy. For Away's Packable Backpack, however, making a knot just adds another layer to get through once you need to access something inside. To summarize, that's two buckles, an optional knot, and the cinched opening itself—not the most quickly accessible main compartment. But on the flip side, it's quite secure.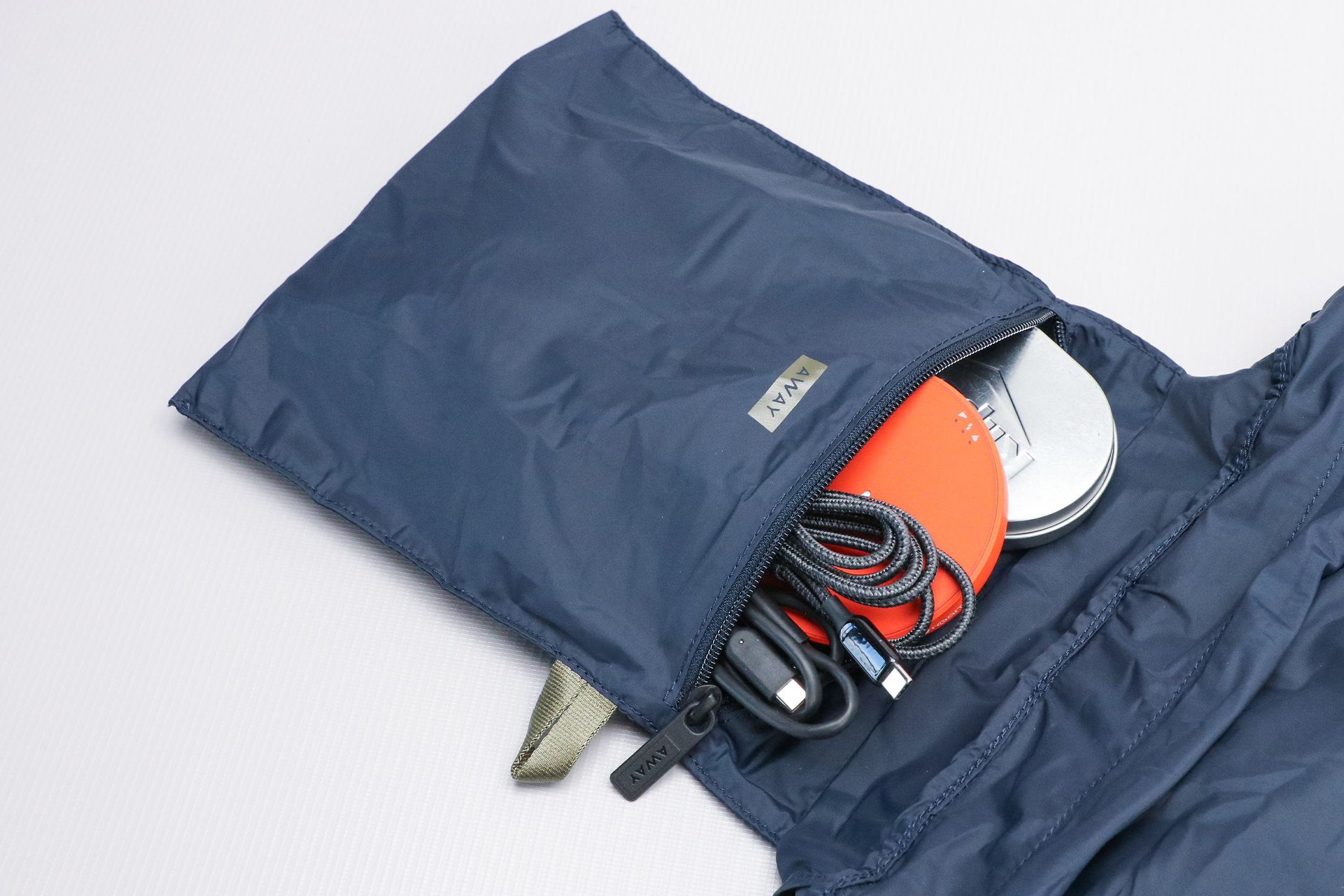 Inside the main compartment itself, there's a rear zippered pocket for storing important items like tickets or cash. As mentioned earlier, there's also a loop at the corner to attach the included pouch. This sole pocket takes care of small-item organization, though you can also use the detachable pouch to really make the most out of it.
The dark fabric doesn't make for great visibility inside. Fortunately, the cinched opening expands relatively wide if you need to get inside and fish something out. As always, we're preaching the use of packing cubes and pouches here as a means of organizing items and managing bulk. The lack of structure means bulkiness easily manifests, and you can really feel this in extreme cases. We're sure some can relate to packing a square box from the gift shop only for it to poke out uncomfortably against a bag's soft fabric.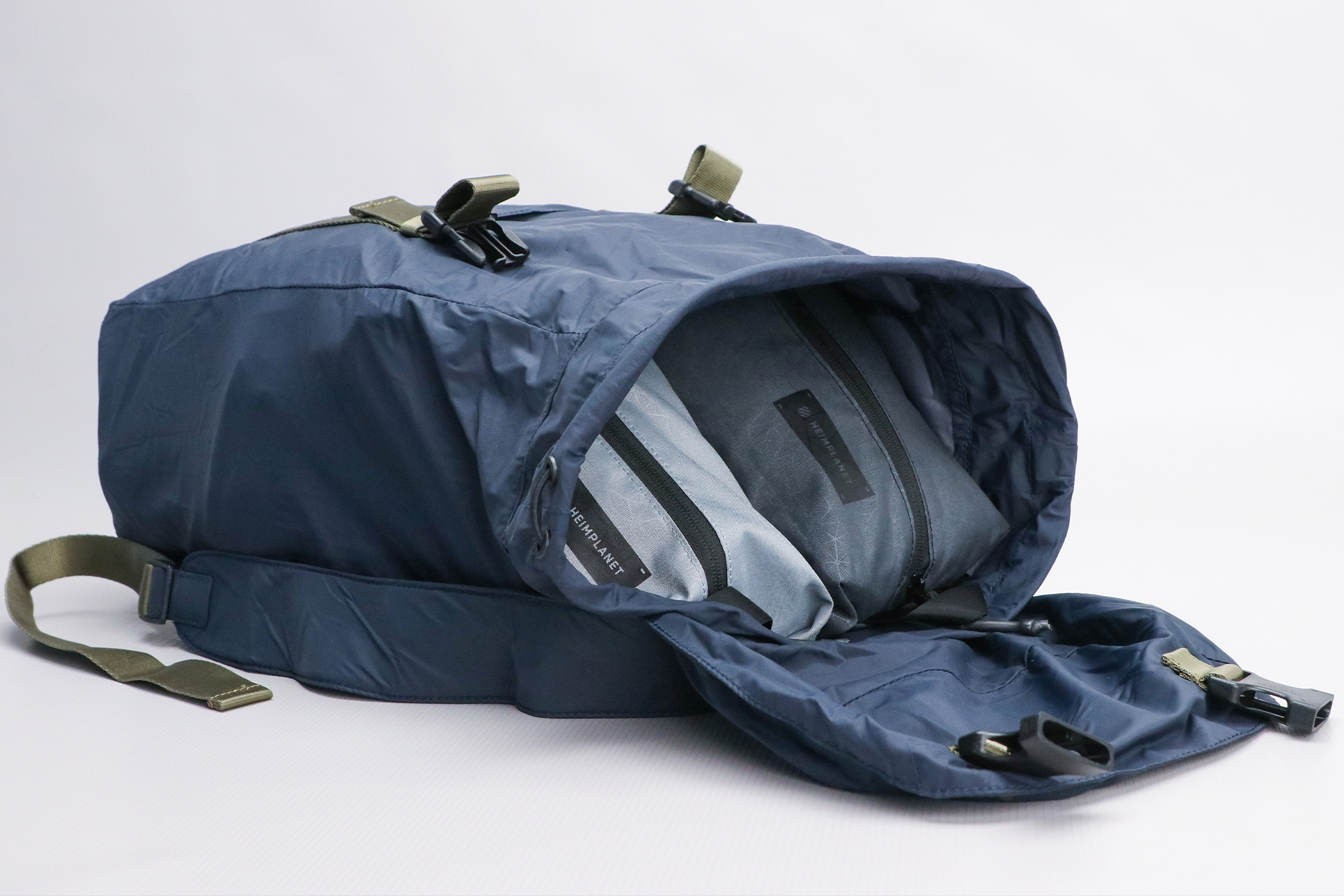 Accessibility is the biggest gripe we have with Away's Packable Backpack. There's a bit too much fiddling around for our liking, especially in contrast to how simplified the rest of the backpack is. But as mentioned, it does make it quite secure. Furthermore, the cinched opening and adjustable straps give you some leeway for extra space at the top in case you need it. Overall, it's still a good, packable backpack, as long as you don't mind putting extra effort into accessibility.
Usage Timeline
Initial Usage
Condition: Excellent
Packs into a separate pouch which, in turn, can be attached to the backpack
Top loader-style opening with an elastic drawstring underneath the flap
Has a built-in luggage pass-through
2 Weeks of Use
Condition: Excellent
Recycled nylon shell is soft to the touch and stitching is secure
Buckle and elastic cinch make quick access to the main compartment difficult
Bag can get lumpy depending on what you pack inside
Shoulder straps feature light padding and are comfortable to wear
Access the Pro Community Discussion
Get your questions about the Away Packable Backpack answered from our team and the Pro Community right here on the page. Plus, join discussions with other members about gear, guides, and more.
Other Bags & Luggage Reviews