Sandqvist Erland Packable Ziptop Backpack (12L) Review
The Sandqvist Erland Packable Ziptop Backpack behaves more like a regular daypack than a packable one, but the thin, ripstop material is still tear-prone.
Our Verdict
Unlock the Pro Summary
Save time. Get access to brief summaries of our reviews so you can browse and make decisions more efficiently.
Pros
Shoulder straps are comfortable for a packable bag
Packs into itself—doesn't need a separate compression sack
Styled well despite its focus on compressibility
Cons
Compression can be tricky
The thin materials are strong but much more prone to damage
The lone front mesh pocket lacks privacy (though we dig it)
Technical Details
Capacity

12l

Dimensions

16.5 in x 11 in x 5.5 in (41.9 x 27.9 x 14 cm)

Notable Materials

Ripstop Nylon, Woojin Hardware, YKK Zippers

Laptop Compartment Size

13"

Warranty Information
Full Review
Mental picture: 3 – 2 – 1 – *whoosh*! You're in a faraway city across the continent, immersing yourself in a different culture and ambiance. You love it! The city has a different sheen and glamor, especially at night. You just wish you hadn't stuffed your pockets full with a water bottle, your wallet, bulky hotel keys, your smartphone, wireless earbuds, spare change, etc. "I'm gonna need more pockets," you tell yourself, admitting defeat.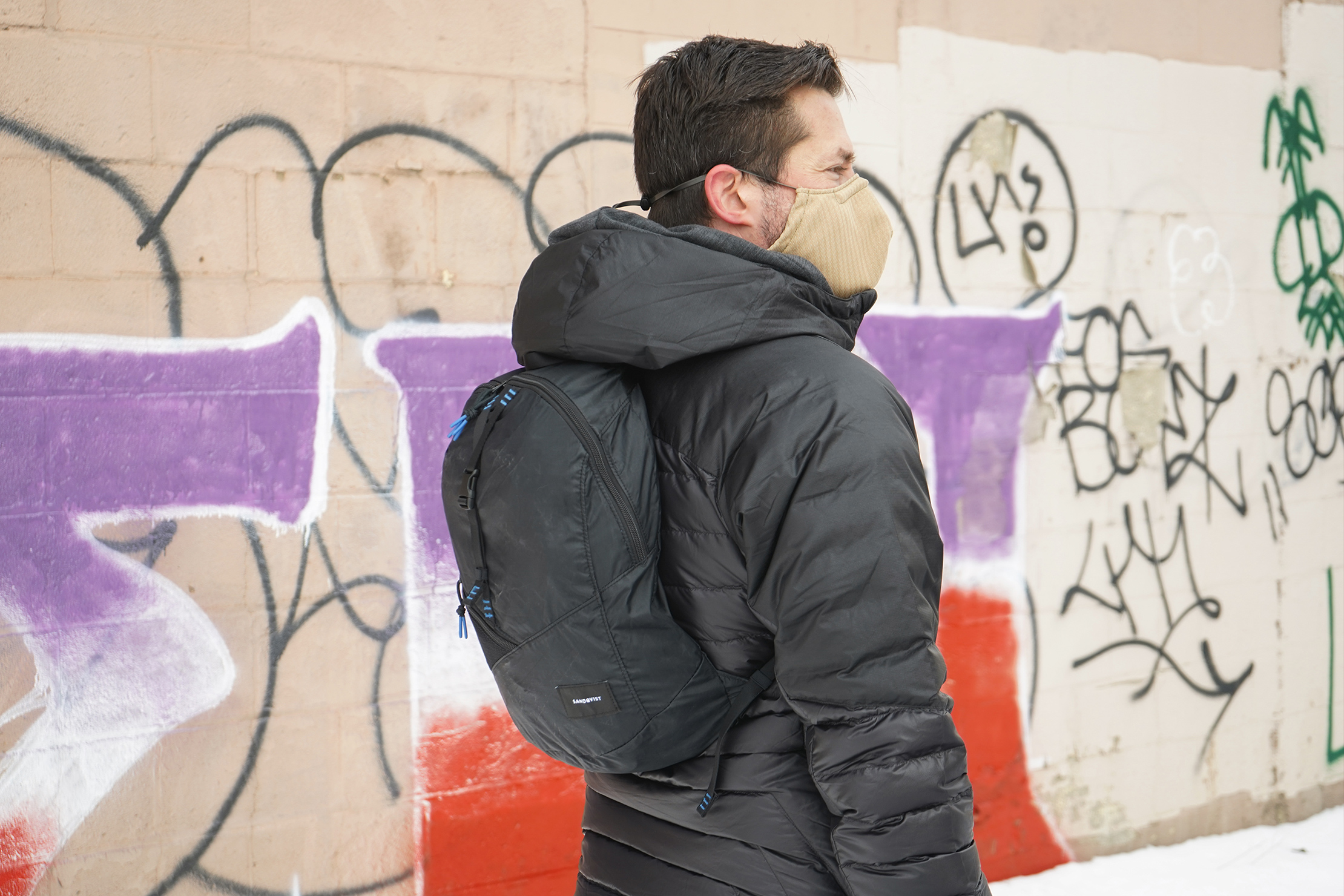 It's not uncommon to bring along just rolling luggage or a large travel bag on lengthy trips. Who would want to lug around an extra bag when everything fits into a suitcase and all the carry-on items you need fit in your pockets? Fortunately, packable daypacks are a practical alternative, and it's a complete step up from cargo pants.
In this review, we'll be taking a look at the Sandqvist Erland Packable Ziptop Backpack (12L). Quite the mouthful to say. But rest assured that the length is inversely proportional to just how portable and convenient it is to bring along.
Materials & Aesthetic
First and foremost, packable bags like this need to shave off as much fat as possible. With that in mind, you won't find any material here that can be described as "thick." Relatively thin and light Ripstop Nylon covers the outside, while polyester lines the inside, so there are at least two layers between your stuff and the elements. The Woojin hardware and YKK zippers aren't the chunkiest you'll find on a daypack either, but they're as good as one would expect coming from such reputable names.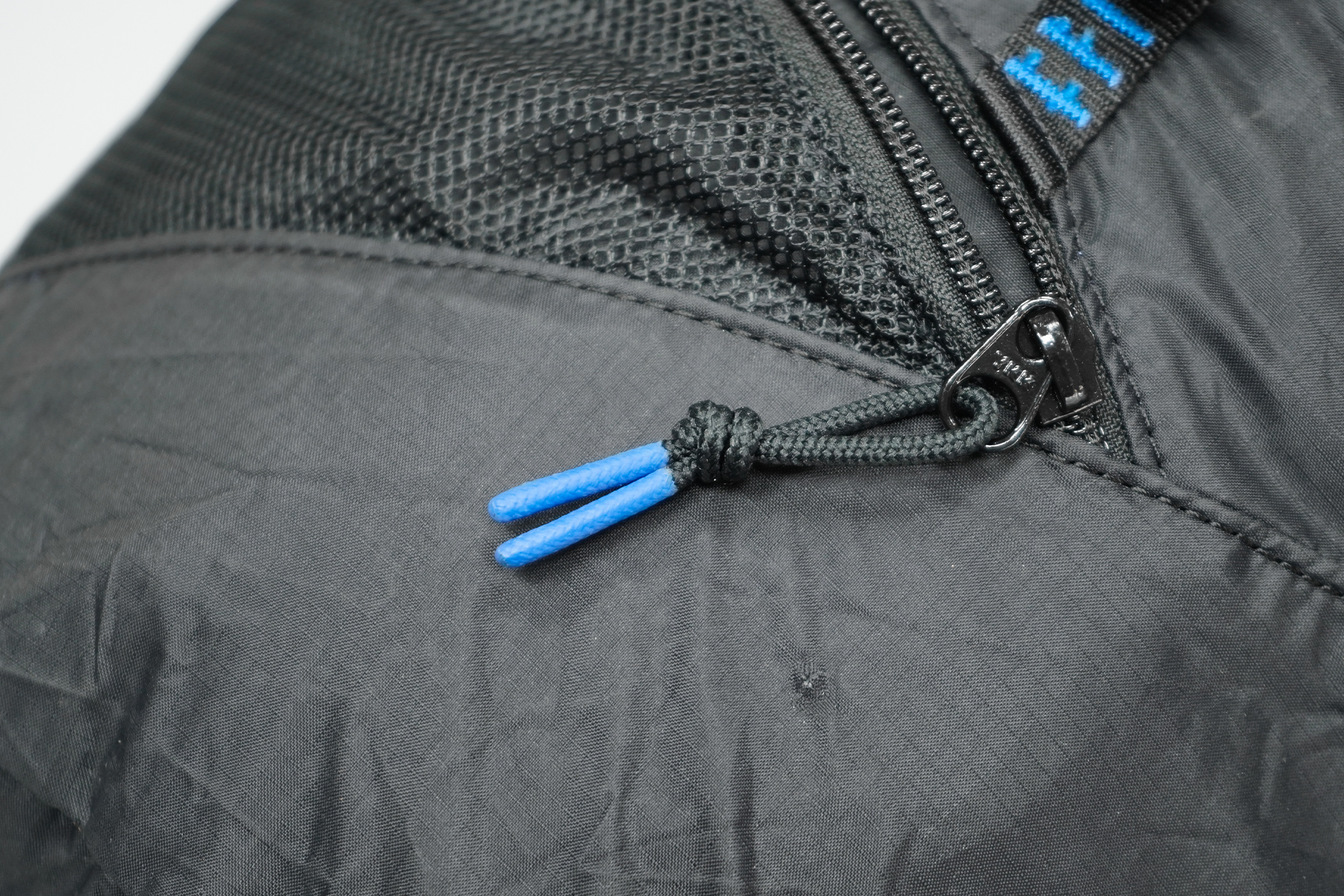 After a month of use, our sample here developed a puncture at the front. The liner fabric is totally fine inside, so we think that something external caused this. Regardless, the fabric isn't called "Ripstop Nylon" for nothing, and the hole has not deteriorated any further. Other than that, the Erland took everything our daily routine threw at it like a champ. Oh, and did we mention that the fabrics used are all 100% recycled? Always a plus in our book.
Despite the packable nature of the Erland, this daypack isn't without style. In its fully-expanded form, you'd be forgiven for thinking that this is just a regular day-to-day backpack. Check out how small it packs down to—it's condensed backpacking in a pouch.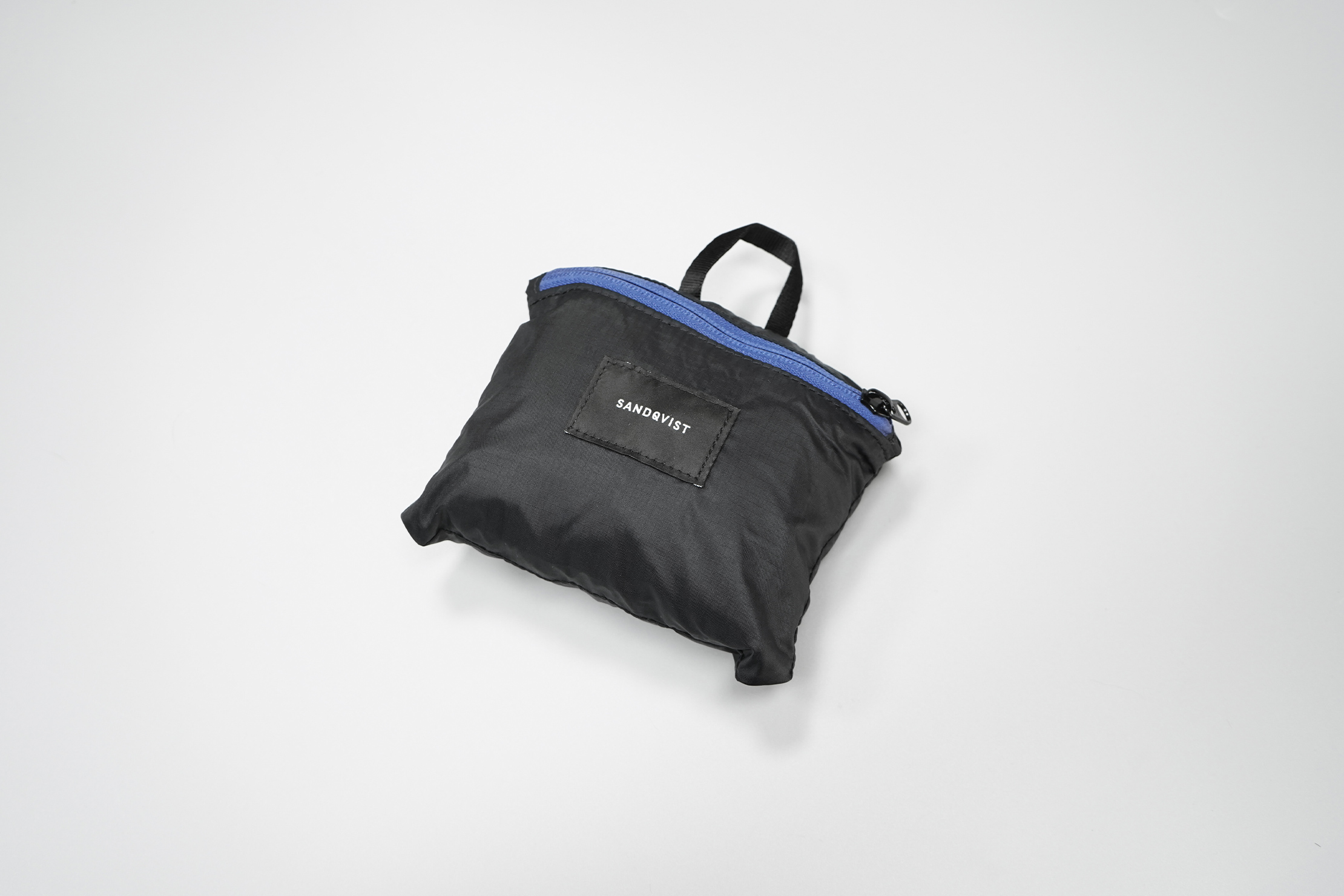 You wouldn't think there was a capable backpack hiding inside that small package. But open it up, and you'll see considerable styling as well. The slanted lines at the front, the blue accents on the zipper cords and straps, a tasteful Sandqvist badge, and textured exterior fabric—they're all contemporary styling cues. Just because you have to save on space doesn't have to mean you have to sacrifice style. And for that, you gotta give props to Sandqvist.
External Components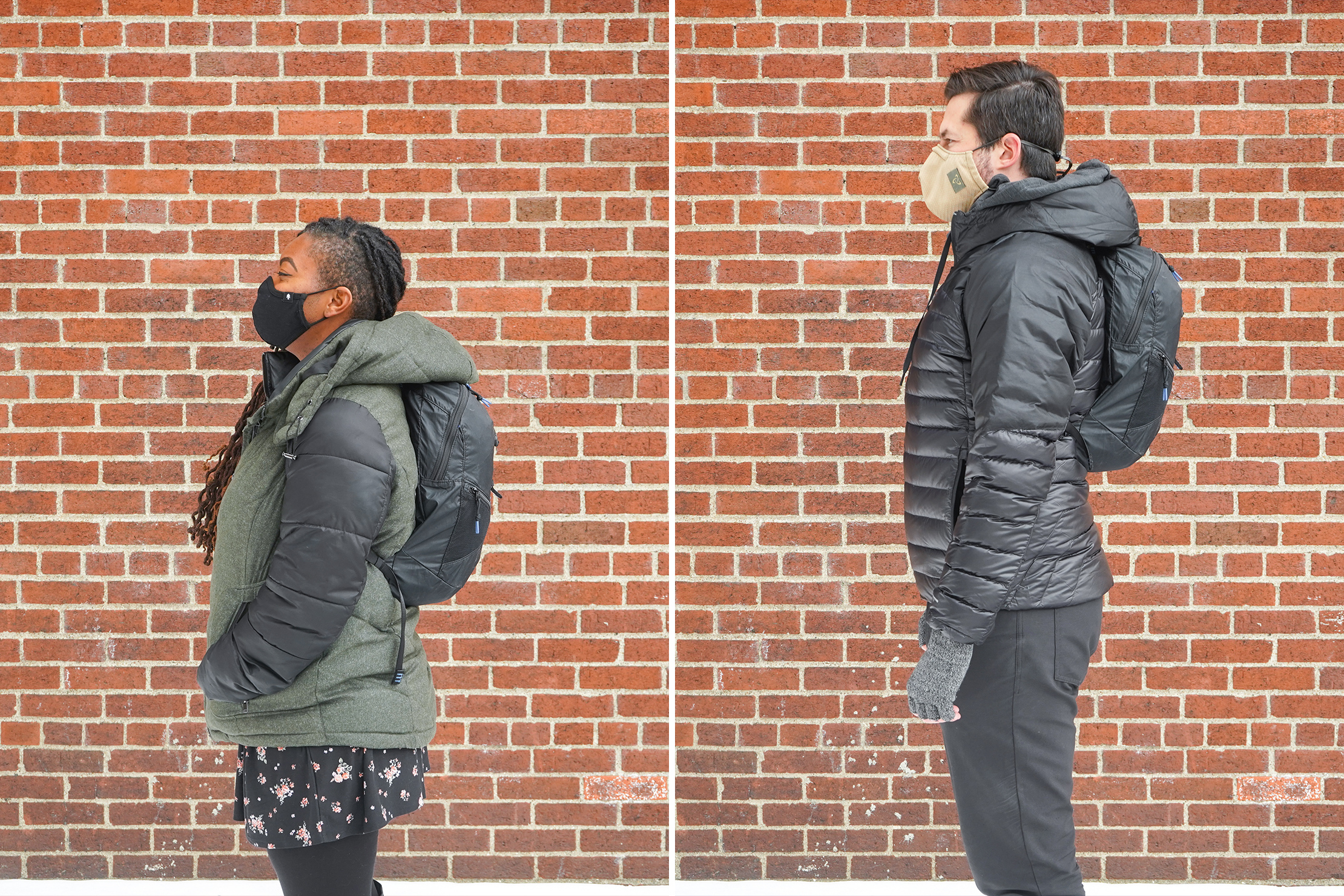 The first thing that struck us when we first opened up the Erland Lightweight is the harness system. There's no sternum strap, no hip belt, and no load lifters. Nothing fancy going on, though the obligatory top handle for hooking behind bathroom stall doors is thankfully retained. But it's not what you won't find that's remarkable; it's what you do: padded shoulder straps.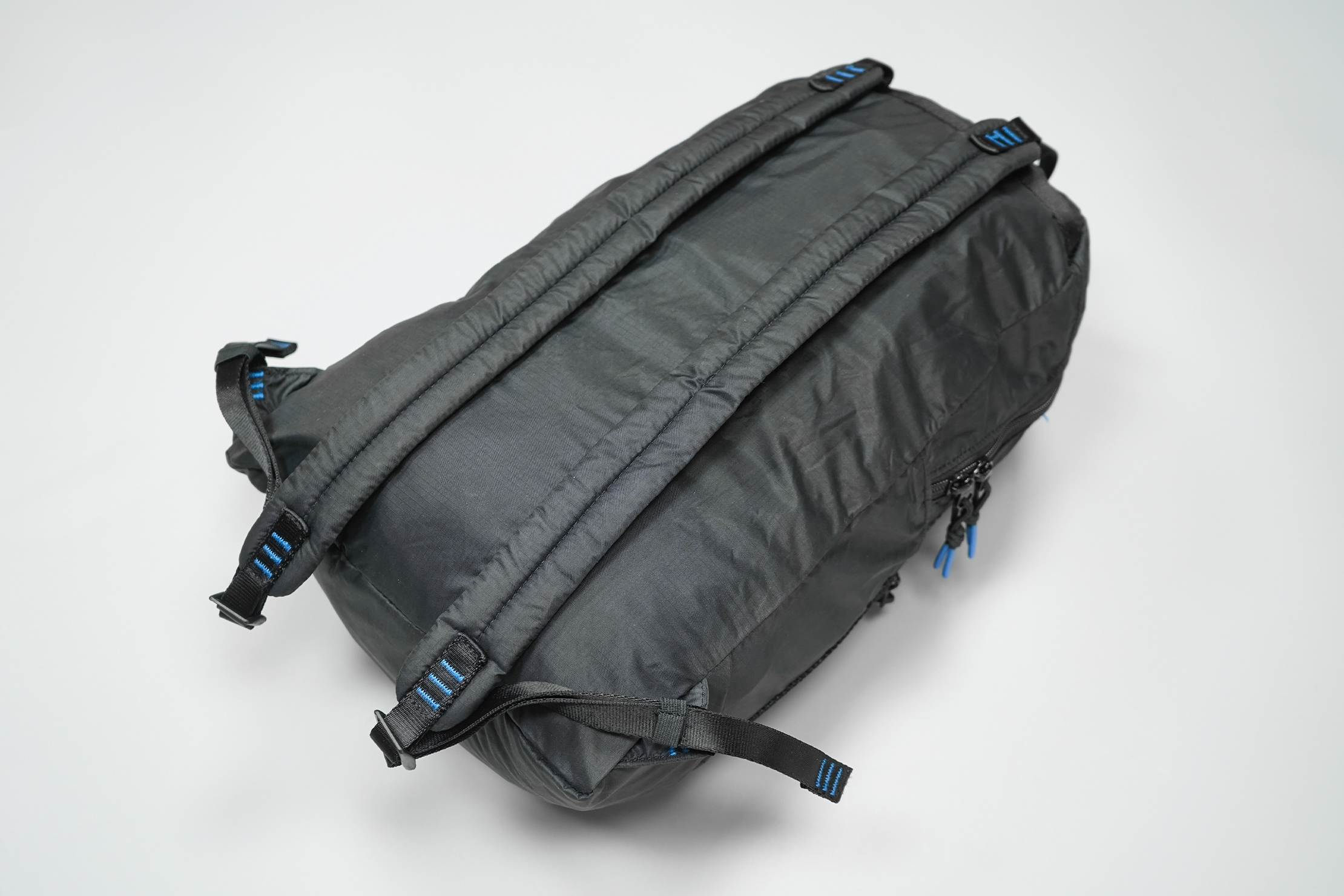 One of the thickest parts of a backpack are the shoulder straps; therefore, it wouldn't be surprising if those were the first things to slim down in a compressible daypack. But Sandqvist elected to have a decent amount of padding to make the carrying experience a bit closer to what you'd expect from a full-sized daypack. These are by no means the meatiest shoulder straps, but they're far from drawstrings.
What is missing is a back panel. You'd typically find some form of a rigid panel insert on the rear side of a backpack for extra comfort and structural support. That's not gonna fly for most packable bags, so it didn't make the cut. However, if you bring your laptop and laptop sleeve with you and place it inside, that can help structure it a bit, though it's not ideal since you'd be using an expensive gadget as a back panel.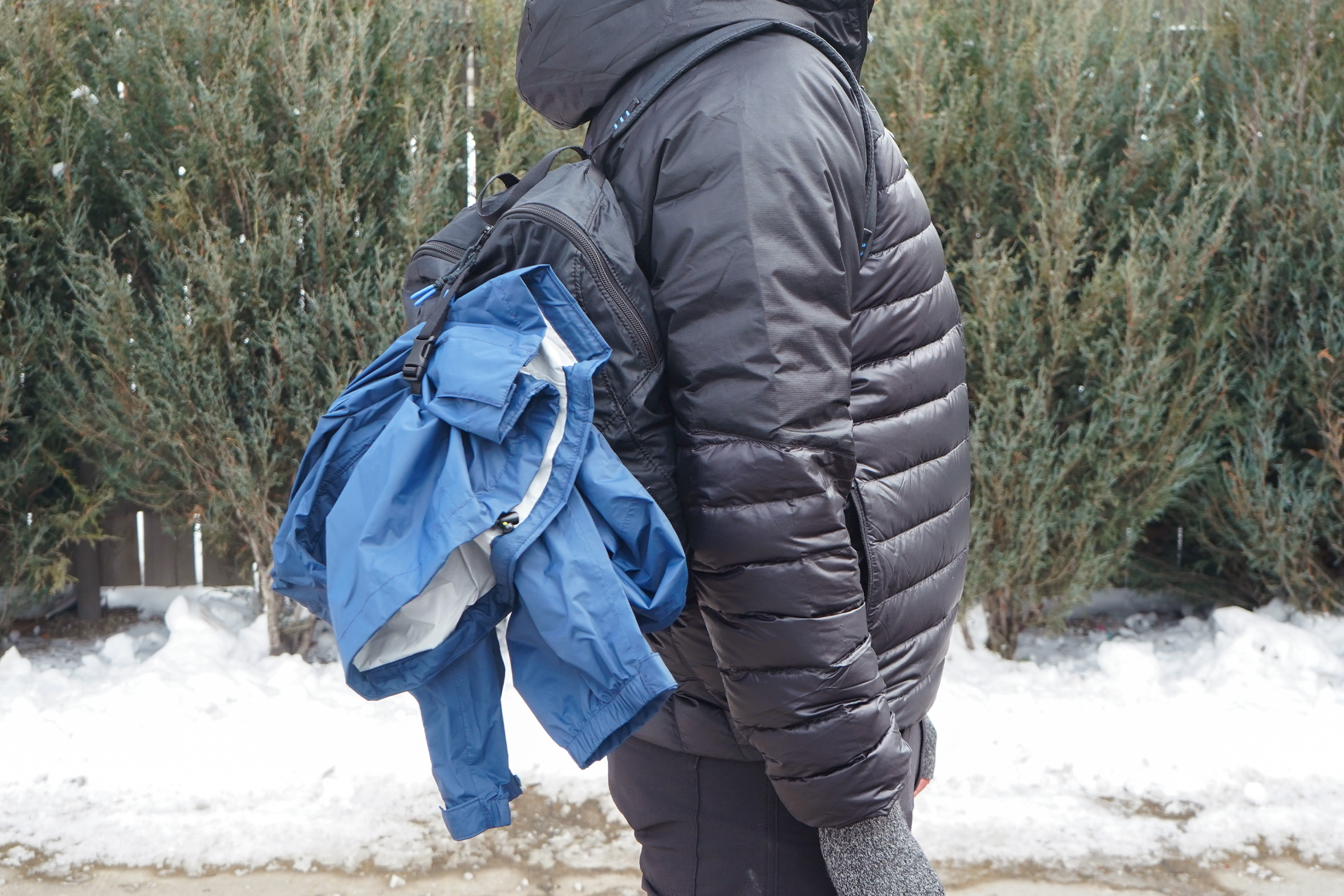 On the front is a Y compression strap that runs about half the height of the bag. You can use it to keep things tight when you don't have the bag fully packed. The Y anchor at the top ensures that the force is somewhat distributed along the top evenly, so you won't end up with a bowed look. There's a side release buckle in the middle, which gave us the idea of using it to hang stuff off the strap. We used the strap to hang our light-weight Helly Hansen Loke Jacket outside the backpack. Just make sure to tighten it down well to avoid losing your precious jacket.
Side note: there's just something satisfying about pairing our compressible jacket with an equally compressible daypack. Anyone else feel the same? No? Just us?
Inside The Pack
Among the other things that did make the cut is this triangular front mesh pocket. It's an odd shape for a pocket, but it certainly adds to the aesthetic appeal. There's not a ton of space inside, given its shape, nor is it as secure as a regular pocket because it's see-through, but that also means you can easily find what you're looking for inside.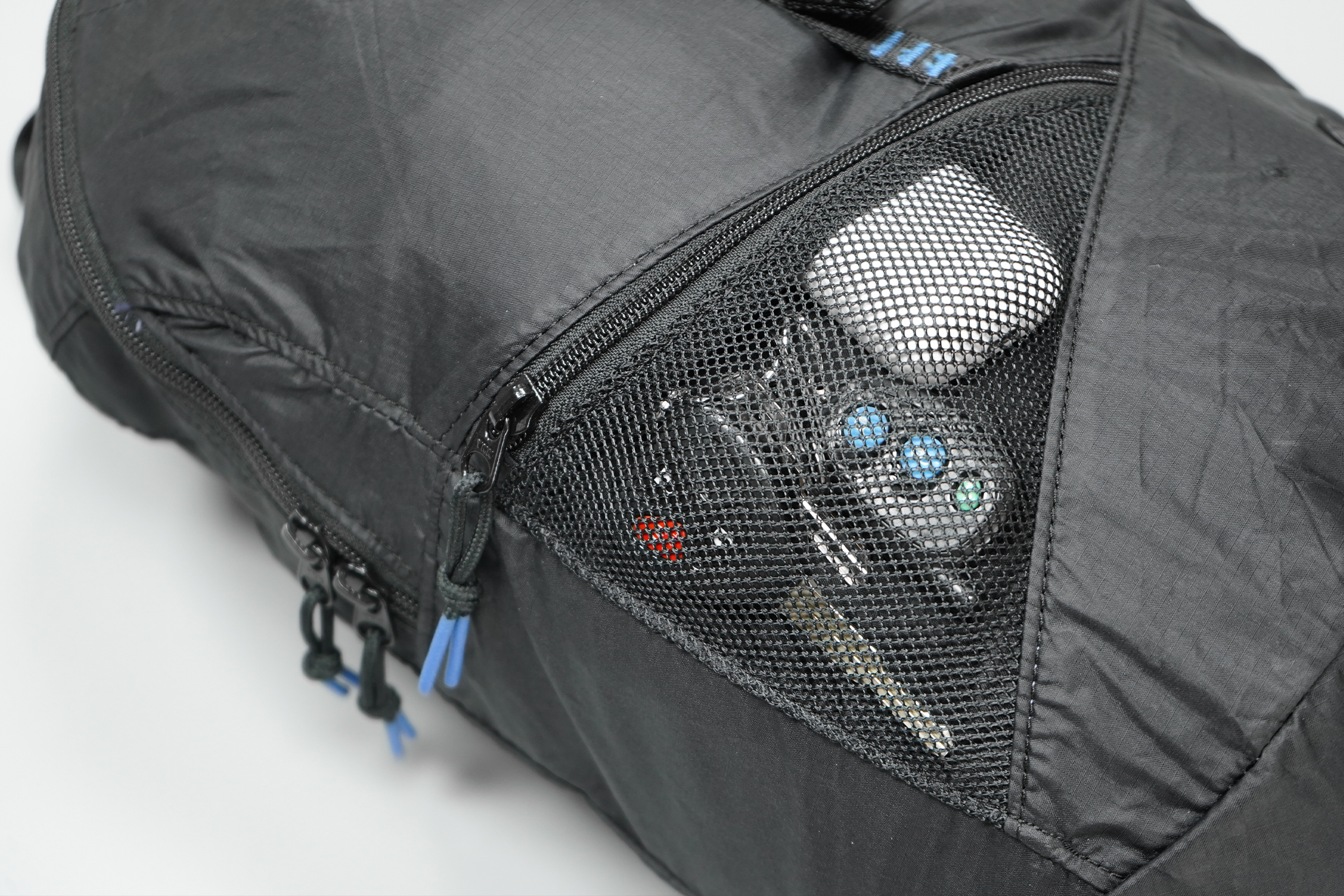 The main compartment opens up horse shoe-style, and the zippers go about a third of the way down the sides. The Erland isn't a very big bag, even by daypack standards, so the opening this big is sufficient to access the interior efficiently.
The first thing to greet you once inside is the top zippered pocket, just big enough for a couple of small items like a wireless earbuds case, a small bottle of hand sanitizer, and your hotel/house keys.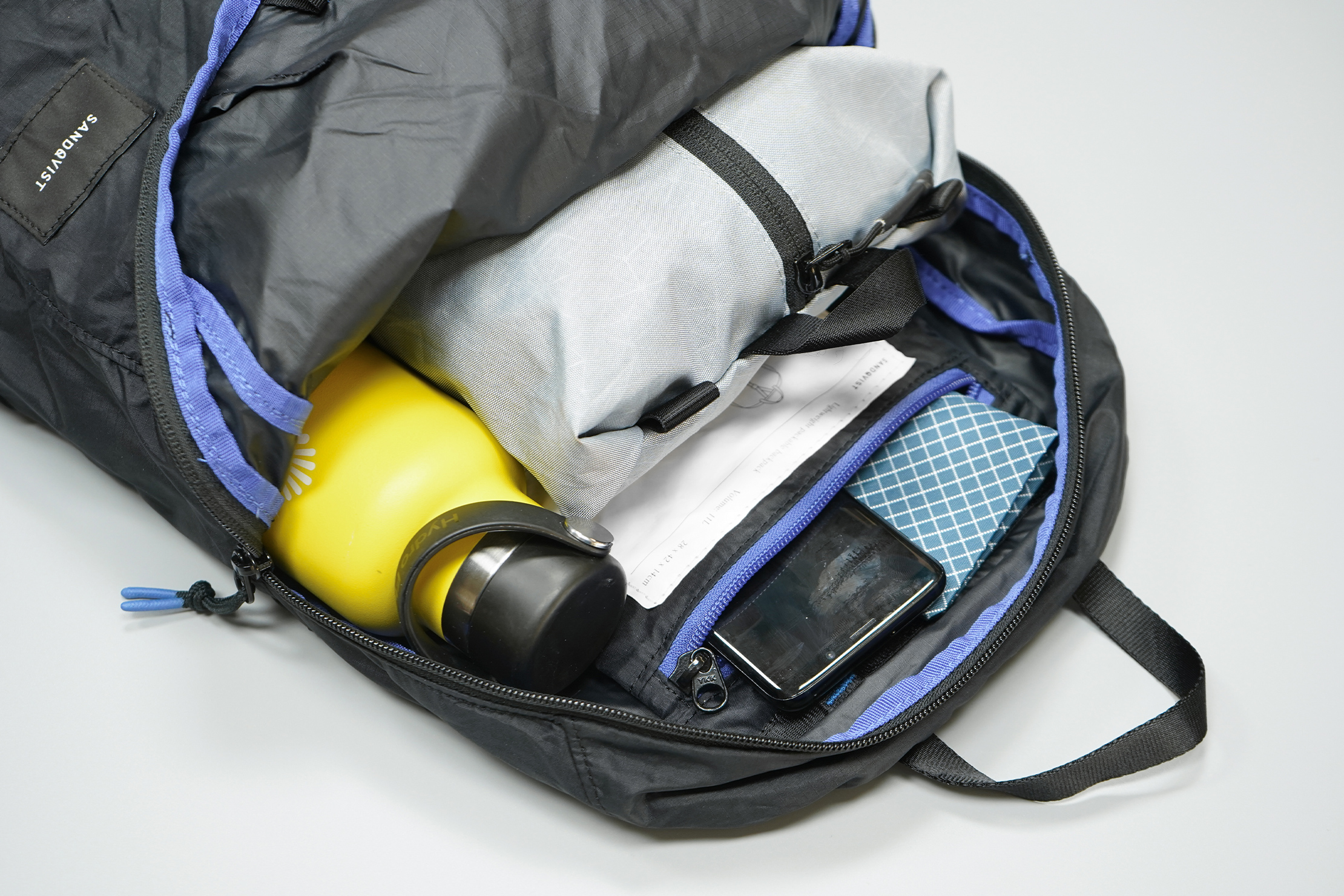 The front of the pocket bears instructions on how to compress the backpack into itself. The process is simple enough: Simply stuff the bag into this pocket, though carefully, as the shoulder straps' extra thickness will have to be taken into account.
As for the main compartment itself, it's as spacious as one would expect at 12 liters, though it feels much more compact than that thanks to the thin materials used, which—and we apologize if we keep stressing this—maximizes the space available. For 12 liters, it's quite impressive because we were able to get our 15-inch MacBook Pro in there—with a sleeve—though just barely. Stuff you would want to take on a city tour fits in nicely, like an extra shirt or two, a towelette, a tumbler, a decent-sized packed lunch. But remember that the lack of rigid materials means that you will more or less feel the bulk of what's inside against your back. Just pack smartly so that the back panel remains flat.
Wrap Up
You can think of a packable daypack in two different ways: it's either a stripped-down backpack or a bag built from scratch with only the basics. They sound the same, but when we look at the Sandqvist Erland, it's clearly the former.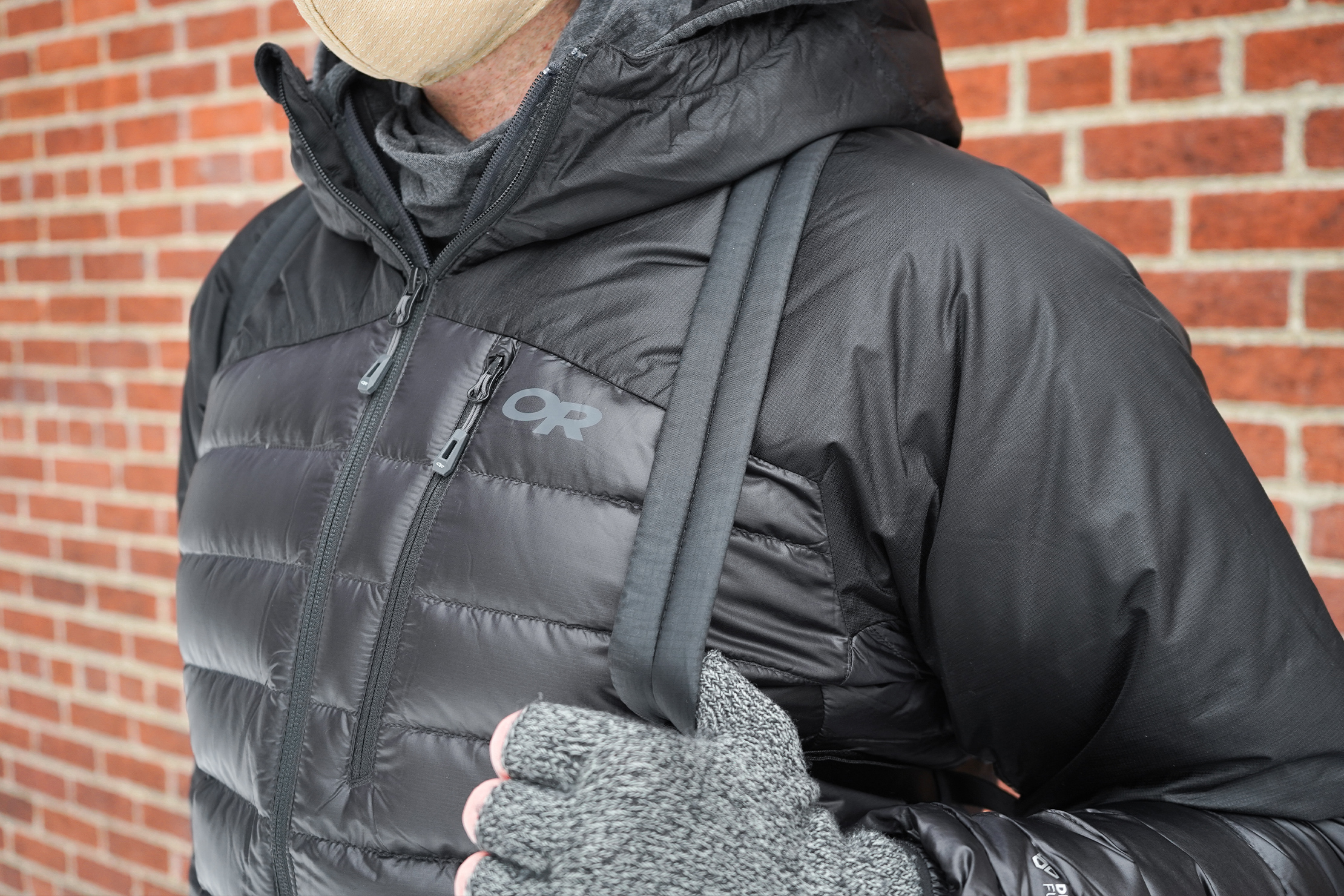 It looks like a regular daypack with its blue accents and contemporary styling. Plus, it handles like one too, thanks to the padded shoulder straps. It's not until you feel the lack of structure and see the instructions for compressing it that you realize that this, indeed, is a packable daypack.
There's no escaping the caveats of using thinner, lighter materials, nor can you find the same level of organization and versatility of a full-fledged daypack in Sandqvist's Erland. But by minimizing the compromises and delivering a familiar carry experience, it certainly earns our attention.
Usage Timeline
Initial Usage
Condition: Excellent
Great size for EDC and daily gear
Packs down into its own pocket
2 Weeks of Use
Condition: Excellent
Padded straps help this thing wear a little bit more like a daypack and less like a packable one
Digging the blue accents—adds some personality to the bag
Internal pocket flap can get in the way if you're trying to put a laptop inside the back of it (as a note, a 15″ MacBook Pro with a laptop sleeve on fits snugly)
The accessory strap on the outside is nice for things like jackets, though something like the Helly Hansen Loke Jacket is pretty thin and only fits tightly if the main compartment is full
Liking the look and functionality of the small mesh pocket on the outside
1 Month of Use
Condition: Good
Noticed a small hole developing in the exterior, but the ripstop nylon helps prevent it from getting larger. It's not great to have a hole so early, but this type of lightweight ripstop nylon can be prone to small holes and tears—it's not necessarily an issue with Sandqvist.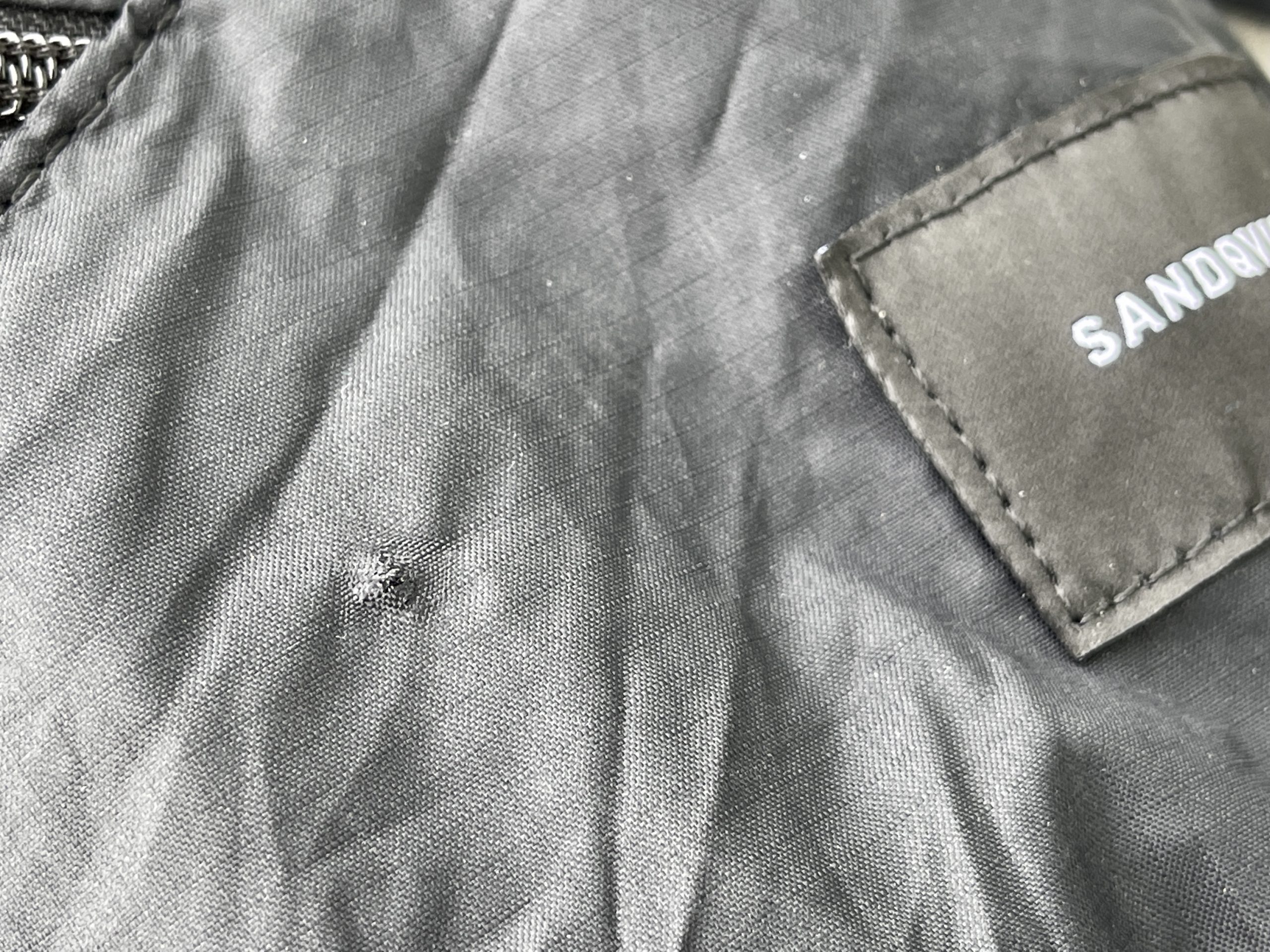 Access the Pro Community Discussion
Get your questions about the Sandqvist Erland Packable Ziptop Backpack (12L) answered from our team and the Pro Community right here on the page. Plus, join discussions with other members about gear, guides, and more.
Other Bags & Luggage Reviews