Matador On-Grid Packable Backpack Review
While it packs larger than previous iterations, the Matador On-Grid Packable Backpack offers durable materials in a tidy, packable package.
Our Verdict
Unlock the Pro Summary
Save time. Get access to brief summaries of our reviews so you can browse and make decisions more efficiently.
Pros
Easy to compress & pack away
Lightweight, water-resistant fabric
Top pocket offers convenient segmentation
Cons
Loose threads after 2 weeks of use
Overloading top pocket can cause the bag to fold over
Packs larger than previous Matador packable bags
Recent Pack Hacker Video
Technical Details
Capacity

16l

Weight (oz)

7.27 oz (206.1 g)

Denier

100D

Dimensions

17.5 in x 10.5 in x 8.5 in (44.5 x 26.7 x 21.6 cm)

Deployed

Notable Materials

ROBIC®, Nylon, Polyurethane, YKK Zippers

Manufacturing Country

Vietnam

Laptop Compartment Size

15"

Warranty Information
Full Review
Get up to 20% off Matador • Join Pack Hacker Pro
One of the things Matador products are known for is packability—and the Matador On-Grid Packable Backpack is no exception.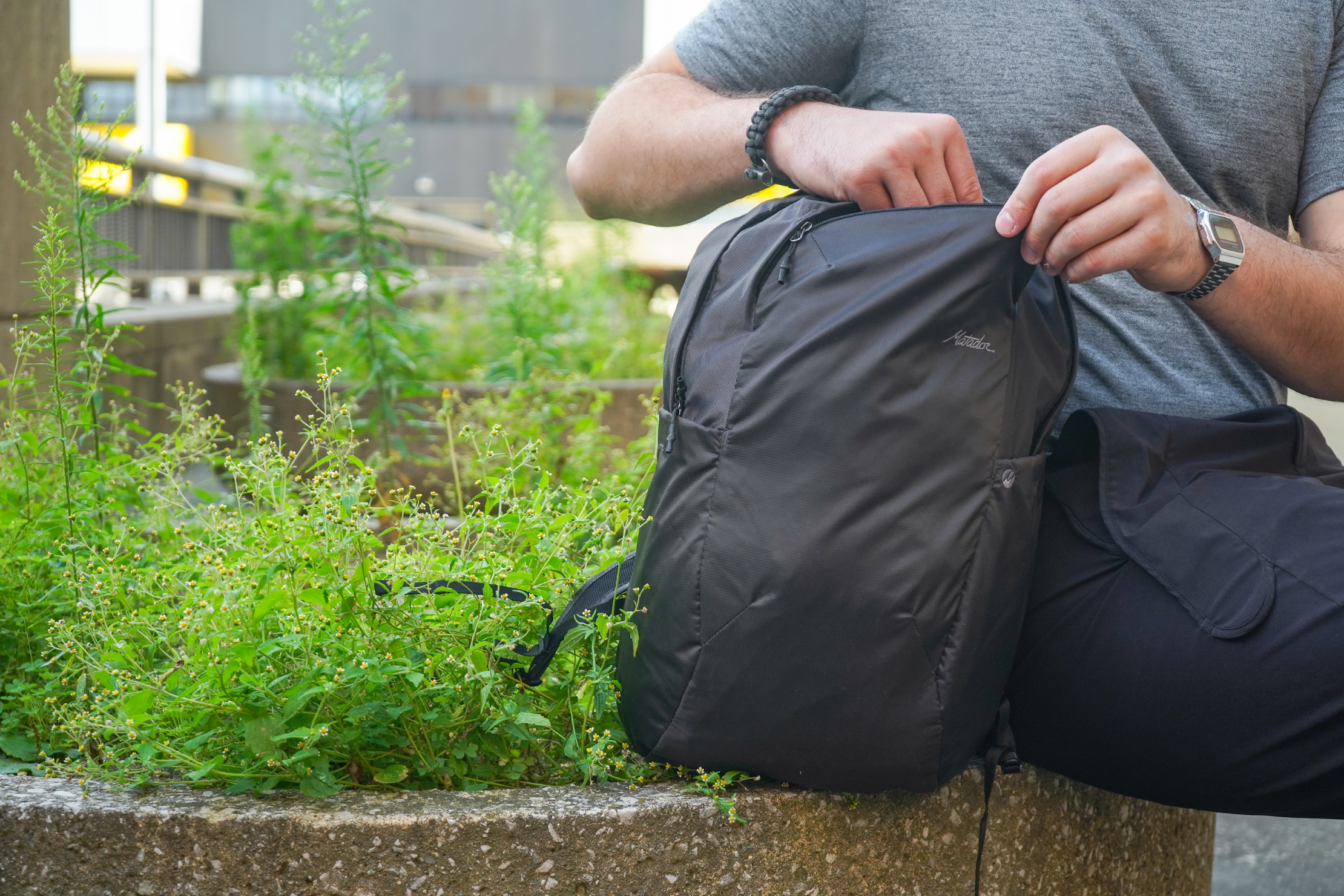 This daypack is lightweight, weather-resistant, and easily packs inside of itself when you need to store it away for later use. It also has that just-right amount of space for your everyday gear and a few upgrades from previous iterations that we'll touch on later.
We've been testing this bag around Detroit for two weeks now, so let's dive into the review.
Materials & Aesthetic
This pack is the definition of minimal. Its lack of structure allows you to compress this thing to fit almost in the palm of your hand. And when worn on the back, it keeps a low-profile, which we appreciate. Our Instagram poll on the looks came in at a 73% approval rating. We agree—it just looks nice for a packable backpack.
The On-Grid Packable Backpack is only available in Black at the time of this review, so if you were hoping for something brighter, you won't find it here. Though, we think this colorway helps the bag keep its muted aesthetic, so you don't stand out—especially if you're carrying expensive tech around.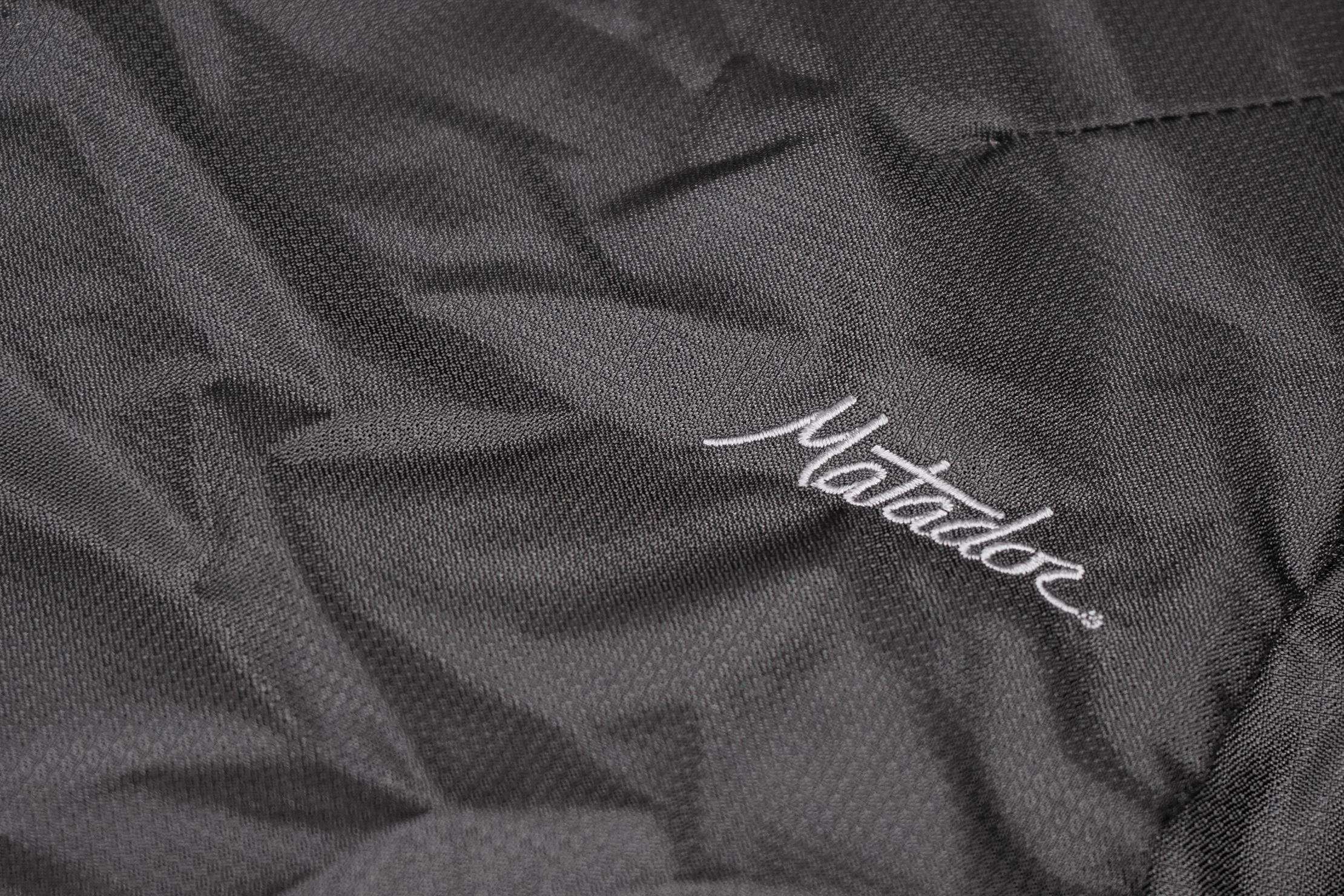 Matador kept branding to a minimum as usual, which we appreciate. You'll find their wordmark on the front of the bag and on one of the shoulder straps, as well as their "M" logo on one of the water bottle pockets—all of which are small and subtle.
If you're wondering what this bag is made of, how does 100D ROBIC nylon with UTS coating strike you? We appreciate the added water-resistance this fabric and coating offer and think it's an improvement over other Matador bags we've tested. The fabric feels a little thicker and more robust in the hand than the similar Matador Freefly16 and Matador DL16 Packable Daypacks.
That said, we have noticed some threads coming loose after two weeks of testing, which is something to note. Other than that, though, it's held up pretty well so far.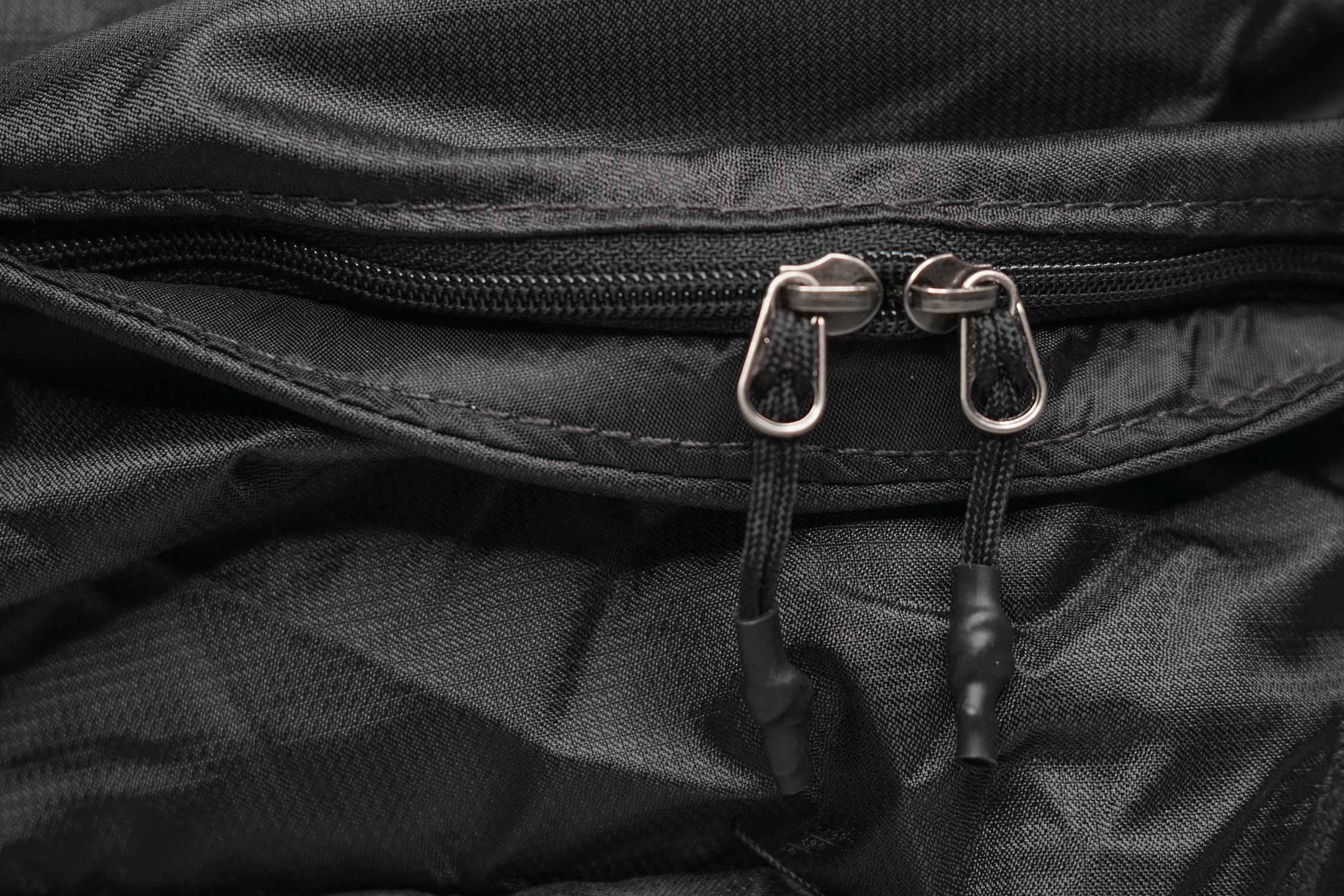 We're really happy to see YKK zippers on this bag. On similar, previous iterations of this pack, Matador used small SBS zippers. They were more weatherproof, but didn't feel as durable and streamlined as the updated model. We're also digging the paracord heat shrink pulls that are easy to grab—they're a nice touch.
You'll also find some ITW plastic hardware on this pack. We've had some positive experiences with this brand in the past, and everything has been working as it should be during testing—no complaints here.
External Components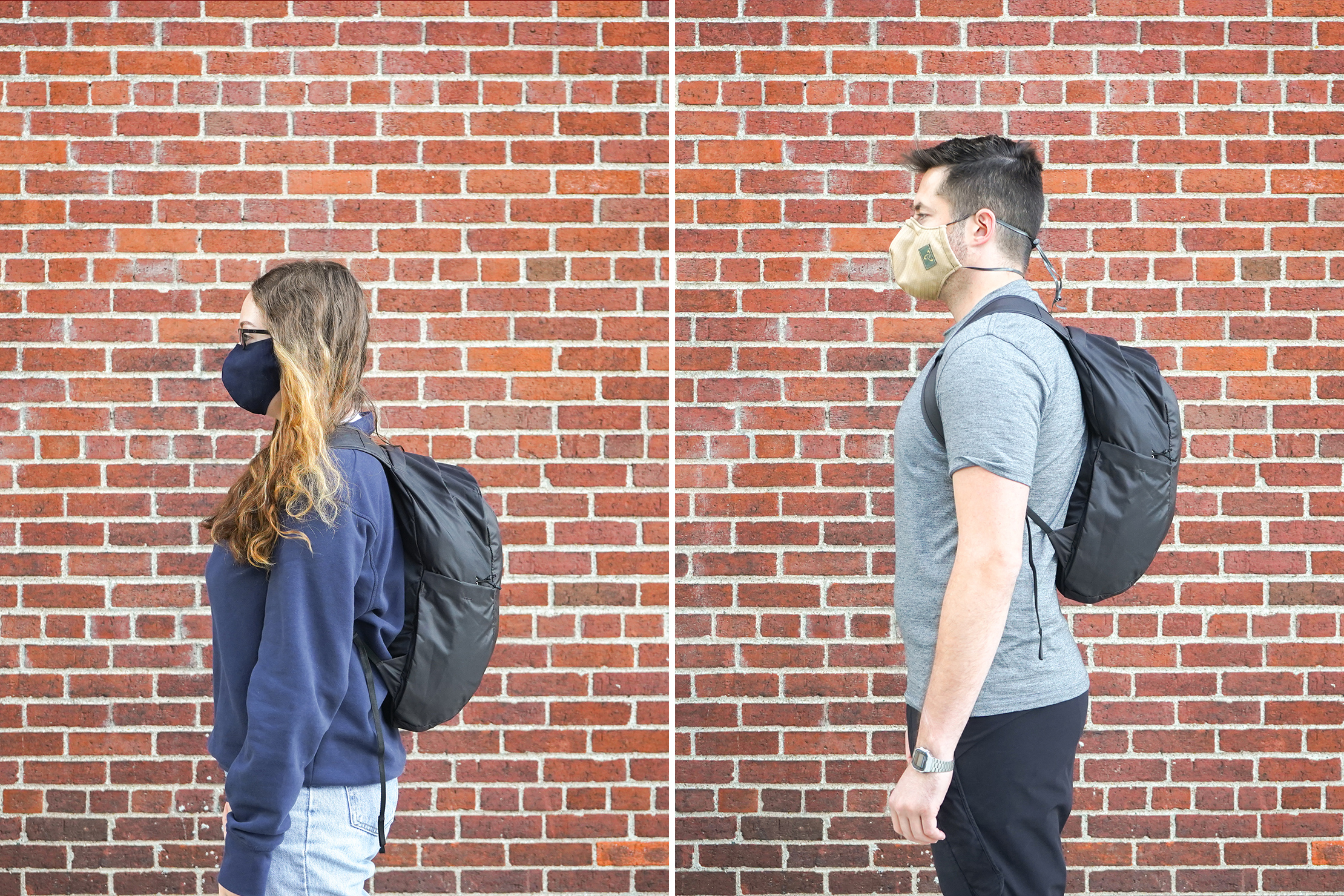 Let's talk about the harness system. It's simple and on par for a packable daypack of this size. This simplicity is part of what helps the bag compress into its own pocket so easily.
The shoulder straps are thin overall, but do have some light mesh for some minor padding and added breathability that we appreciate. There's also a Hypalon attachment point if you want to clip on a carabiner for easy access, and not to mention some bar tack stitching to reinforce these straps' own attachment to the bag. Plus, they have the cutest little elastic keepers you ever did see, to help keep excess strap managed—and your experience, #DangleFree.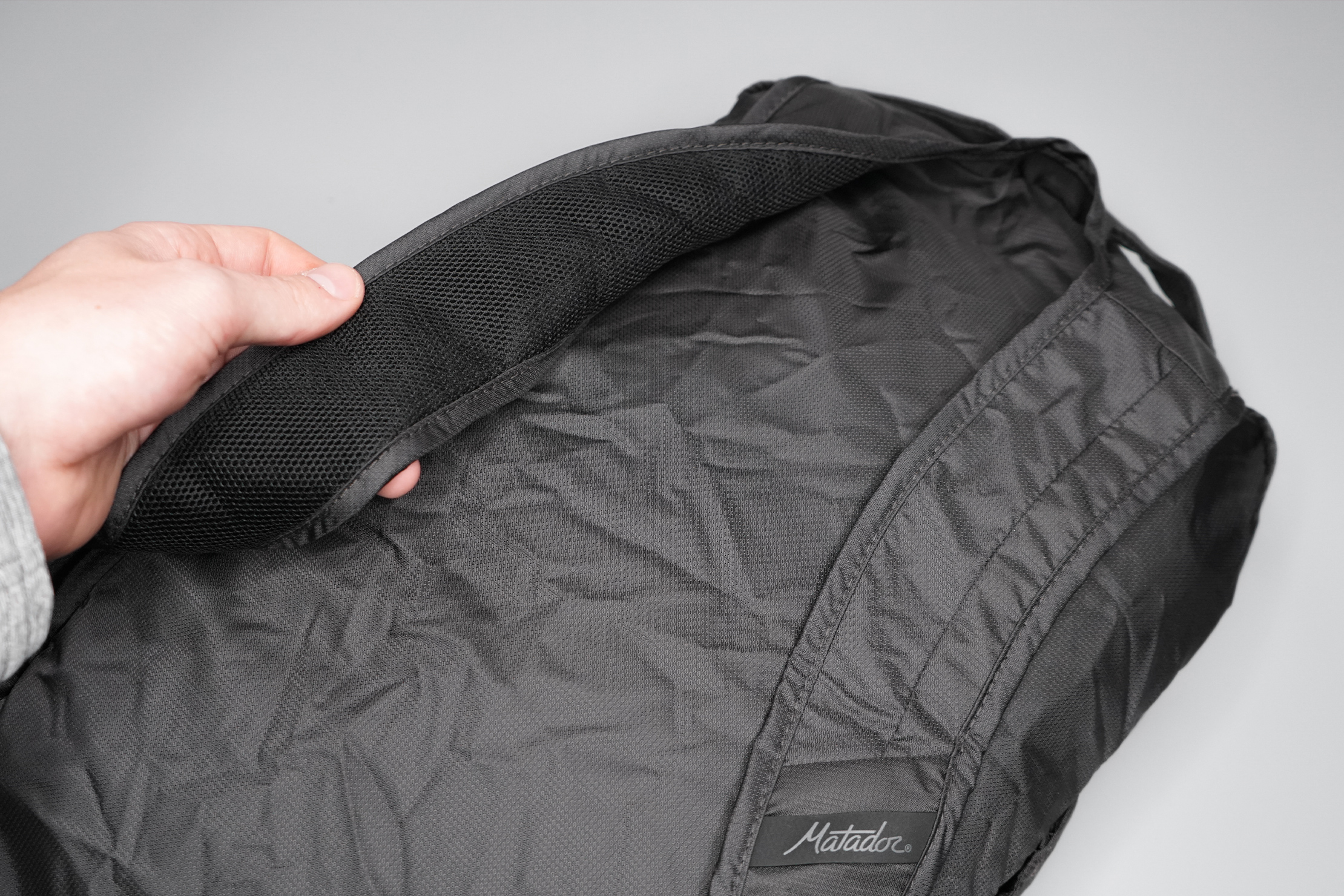 You don't have a sternum strap or hip belt on this pack, and no spot to attach them either. This hasn't been a big deal during testing, as they're not necessities on a pack this size. However, your mileage may vary—you might prefer the extra stability these features offer.
Like the shoulder straps, the back panel is pretty simple. There's no real dense padding or mesh lining to speak of. You don't have a frame sheet inside either, so this pack really doesn't have much built-in structure—pretty obvious for a packable pack but we'll mention it. Keeping a laptop inside—within its own separate, padded sleeve for protection—helps keep the bag structured.
We've found a lot of use out of these types of packable bags while working remotely—especially on the road. We empty out our larger backpacks, uncompress a packable daypack, load it up, then we're good to go for a day at the coffee shop or coworking space.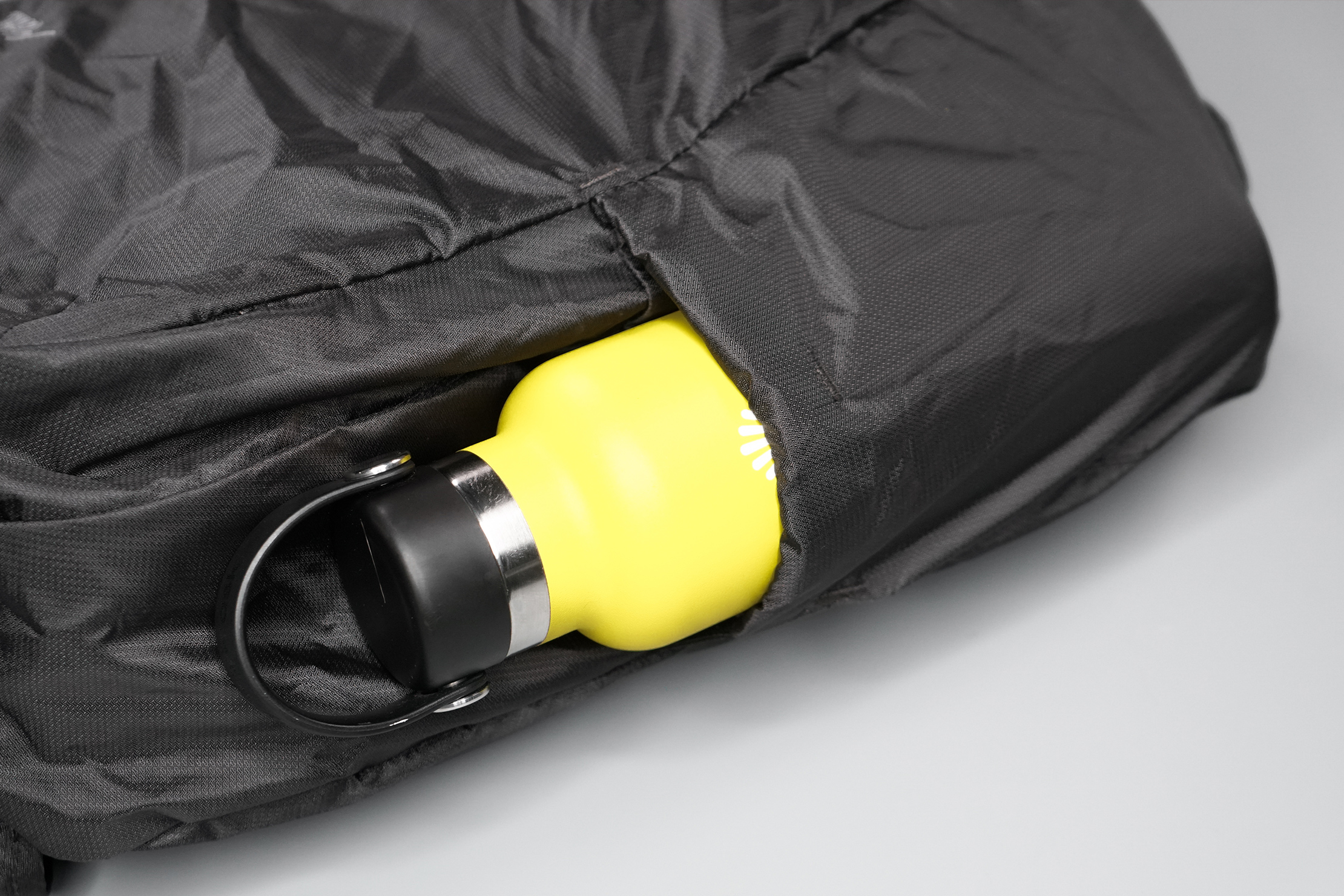 There's also a handle at the very top. There's not much padding here, though it does have some surprisingly nice structure to it—it feels almost as if there's a thin, flexible stay inside. This handle is convenient for grabbing or hanging the bag when needed, and stays close to the bag when not in use, keeping it nice and minimal.
The last thing you'll find on the exterior is a set of water bottle pockets—one on each side of this pack. They have gusseted sides that allow the pockets to flex to your bottle, so you can keep ones of all different sizes inside. The stretchy material at the top keeps the bottle in place some, but there's not too much grab as the structure of the bag doesn't really allow it. We've been able to slide the Hydro Flask 32 oz Wide Mouth Water Bottle in these no problem.
Inside The Pack
At 16L, this pack has space to store your everyday essentials for your everyday commutes. Its storage is split into two spots—a roomy front pocket, and the main compartment.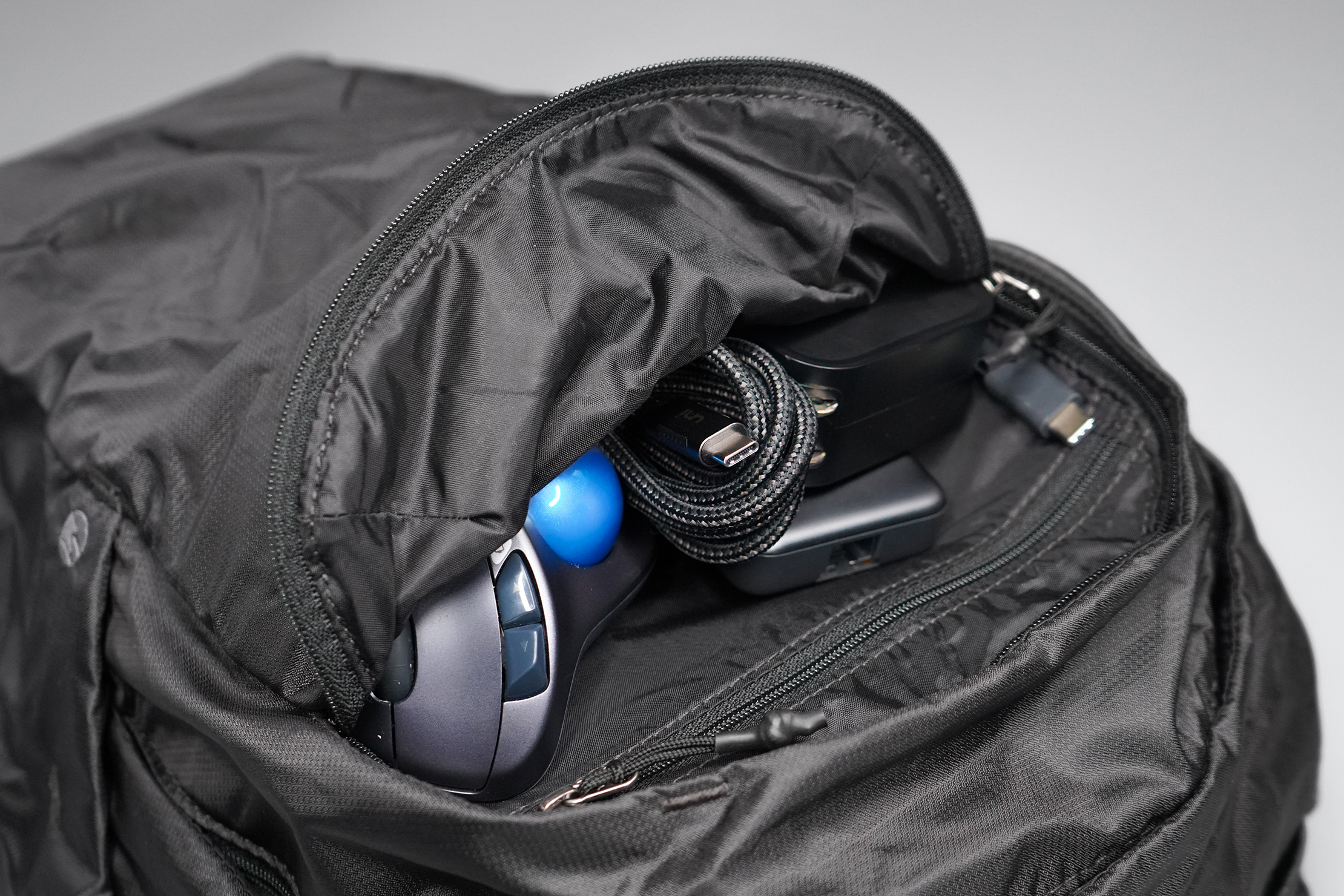 First up is the front pocket. It opens up horseshoe-style, and the zippers go about a fourth of the way down. We've been using this pocket as a spot to dump our tech accessories—cords, dongles, an Apple Magic Mouse, and things of that nature. We like this smaller pocket up top more than other packable Matador bags that favored having these pockets go all the way to the bottom of the bag.
Note that if you don't have anything in the main compartment and you pack out only this pocket, the bag will fold into itself, which isn't a good look. You'll want to pack your gear as evenly as possible to prevent this—even stuffing a hoodie into the bottom of the bag will give it enough structure to wear comfortably.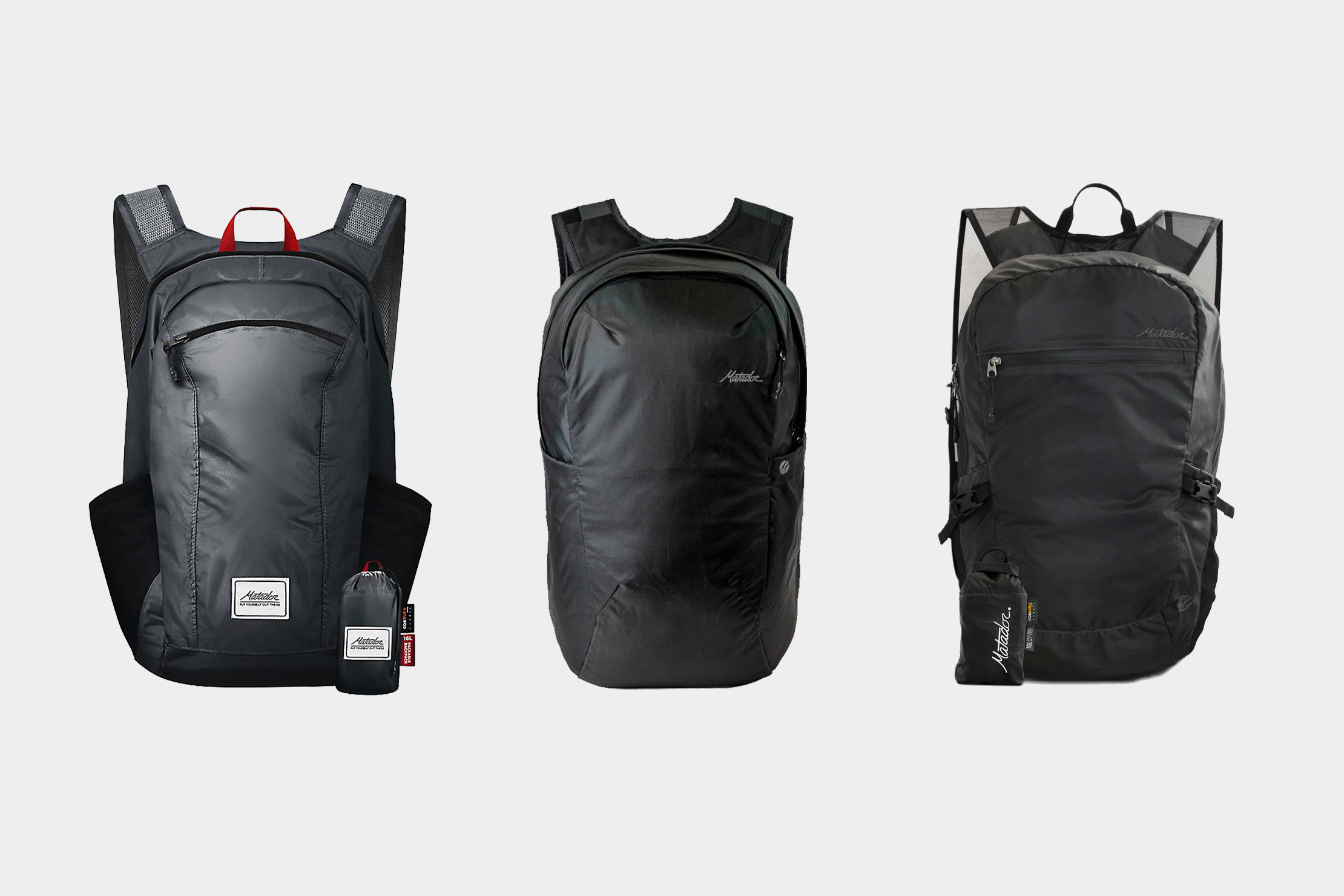 There's also a pocket within this pocket against the back, that we've been using to segment cables and other items. This pocket has another purpose, though, and that's storing the bag when it's compressed. When you need to pack it away, you can easily unzip the dual-sided zipper and fold the bag inside itself—then zip it right back up and voila, pack in a pocket.
We like this design better than other compressible Matador bags, as those have separate compression bags for storage that are easily misplaced. Here, you have everything you need in one tidy package and don't have to keep track of an extra piece. It does pack larger than previous iterations of the same type, but we still prefer this pack's materials and compression process.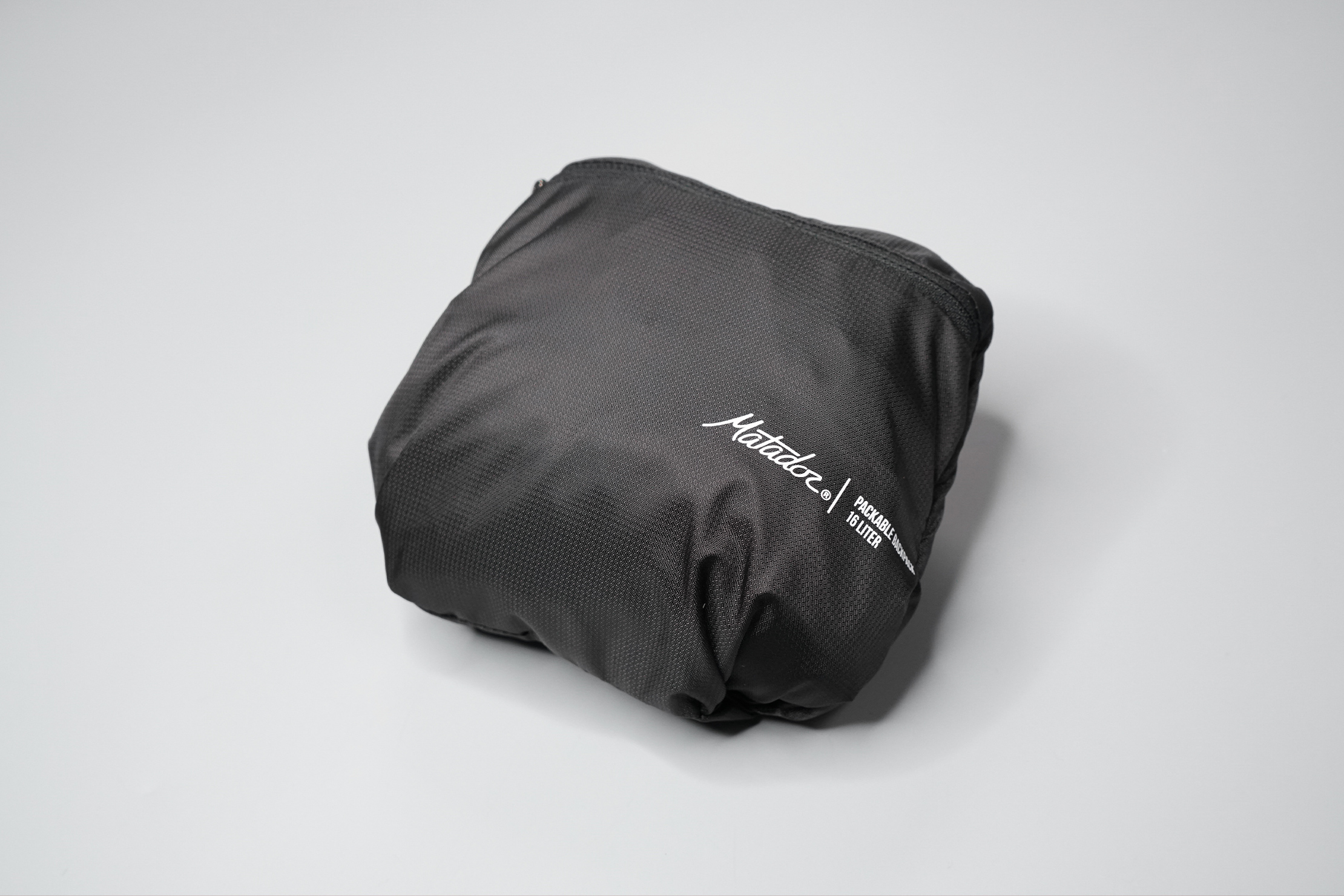 Then, we have the main compartment. It opens up in a similar horseshoe-style fashion as the front pocket, so it doesn't offer the same ease of access that a clamshell opening would, but we've still been able to get our stuff in and out without any issues.
This compartment is mostly open space, so you can fill it up with larger gear or supplement with pouches or packing cubes to add some organization. We've been keeping a keyboard in a Roost Minimalist Keyboard Sleeve inside, along with a Moleskine Classic Large Soft Cover Dot Grid Notebook. We've also been stashing a sweatshirt at the bottom in case the weather turns, and we've found that it helps give the bag some added structure.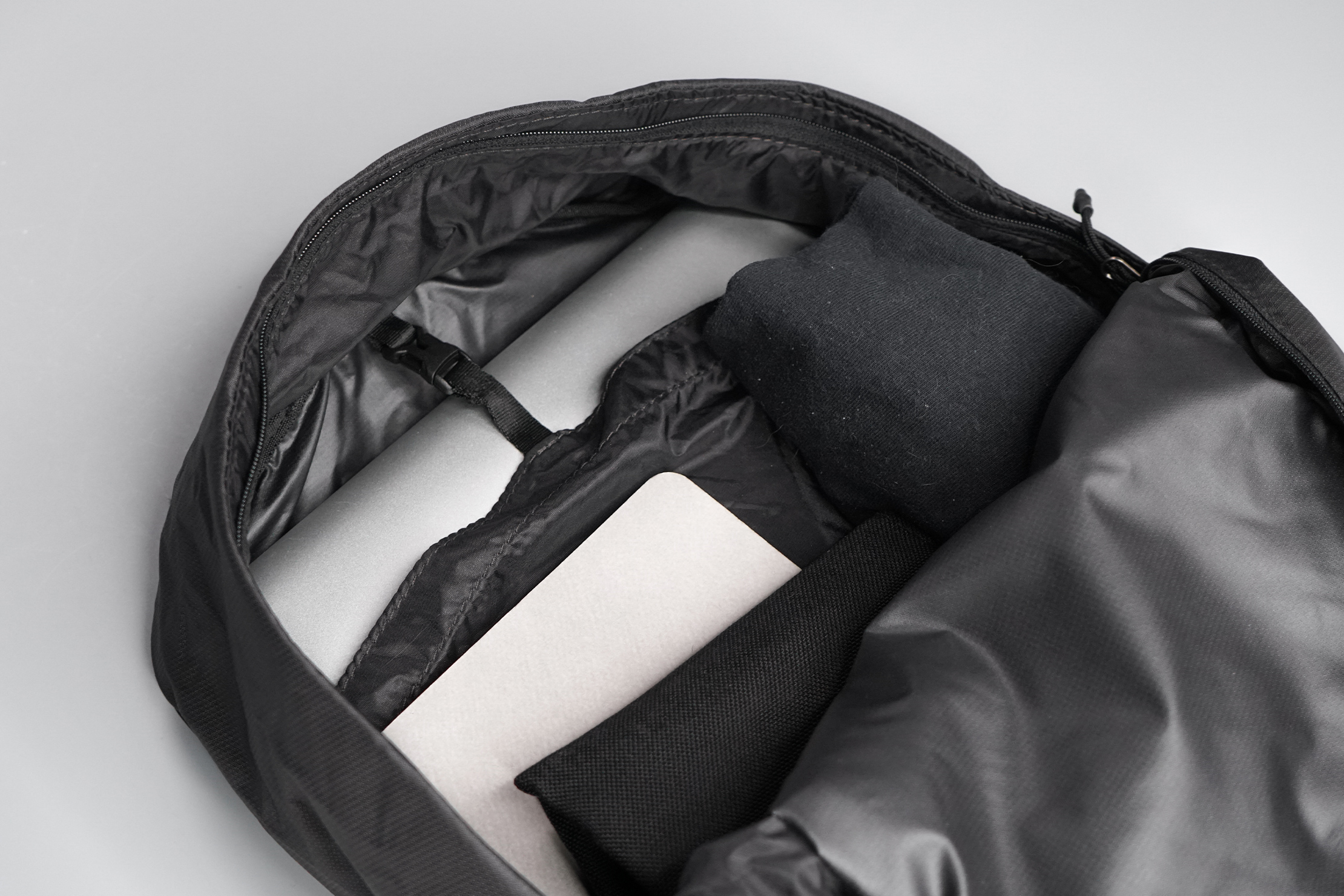 You also have a dedicated laptop sleeve against the back panel. It's secured by a small ITW buckle that helps keep your tech from slipping out. We've been able to keep a 15" MacBook Pro inside a protective case in here, though it's a tight fit. We recommend using a case as we did since this bag doesn't have a lot of protection for delicate tech. That, and the case gives the bag some added structure when you're wearing it.
Usage Timeline
Initial Usage
Condition: Excellent
Packs down to 6.5″ x 6″ x 2.5″
Material is lightweight, but also durable and water-resistant
Organization includes a water-bottle pocket and laptop compartment
2 Weeks of Use
Condition: Excellent
Digging the sturdy materials and YKK zippers—so far, it seems more durable than their previous packable offerings
Packing the bag into itself as opposed to a separate compression sack (like Matador's previous packable offerings) has been great—plus, there are no additional pieces to keep track of
We found 2 small loose threads after 2 weeks of testing
The top pocket organization has been handy for segmenting tech and everyday carry items
Access the Pro Community Discussion
Get your questions about the Matador On-Grid Packable Backpack answered from our team and the Pro Community right here on the page. Plus, join discussions with other members about gear, guides, and more.
Other Bags & Luggage Reviews