Matador DL16 Packable Daypack (Daylite) Review
The Matador Daylite16 is an ultralight, ultra-compressible daypack that can hold a laptop and more. It may just be the perfect companion to your larger travel bag.
Our Verdict
Unlock the Pro Summary
Save time. Get access to brief summaries of our reviews so you can browse and make decisions more efficiently.
Pros
Worth the weight
Excellent size for stowing into a larger one bag travel pack
Considered aesthetic
Cons
Repacking takes some practice
Sloppy stitching
Front pocket is a bit large
Recent Pack Hacker Video
Technical Details
Capacity

16l

Denier

30D

Weight (oz)

4.6 oz (130.4 g)

Dimensions

4.6 in x 2.5 in x 2.5 in (11.7 x 6.4 x 6.4 cm)

Compressed Dimensions

Notable Materials

Ripstop Nylon, Paracord, SBS Zippers, CORDURA® Nylon

Manufacturing Country

China

Warranty Information
Full Review
Get up to 20% off Matador • Join Pack Hacker Pro
Matador has released an updated version of this bag—the Freefly16.
Have you ever been caught in the one bag dilemma? You're leaving your hotel for the day and looking down at your virtually empty 35L travel pack, weighing the pros and cons between taking that monstrosity to the coffee shop or just grabbing a to-go bag from the restaurant downstairs…
There must be a better way, right?
In this review, we are checking out the Matador Daylite16—a compressible daypack that just might be the perfect companion for your one bag travel pack. It's got a 16 liter capacity, yet you can toss it into a compression sack and throw it inside your larger pack. Hell, you could throw this thing in your jacket pocket if you want.
Let's take a look.
Materials & Aesthetic
The Matador is a slick looking pack that comes in two different colors—gray and indigo. We've been testing out the gray one, and while it does have a bit of that "outdoorsy" look, it's got some clean, minimalistic lines that we really like.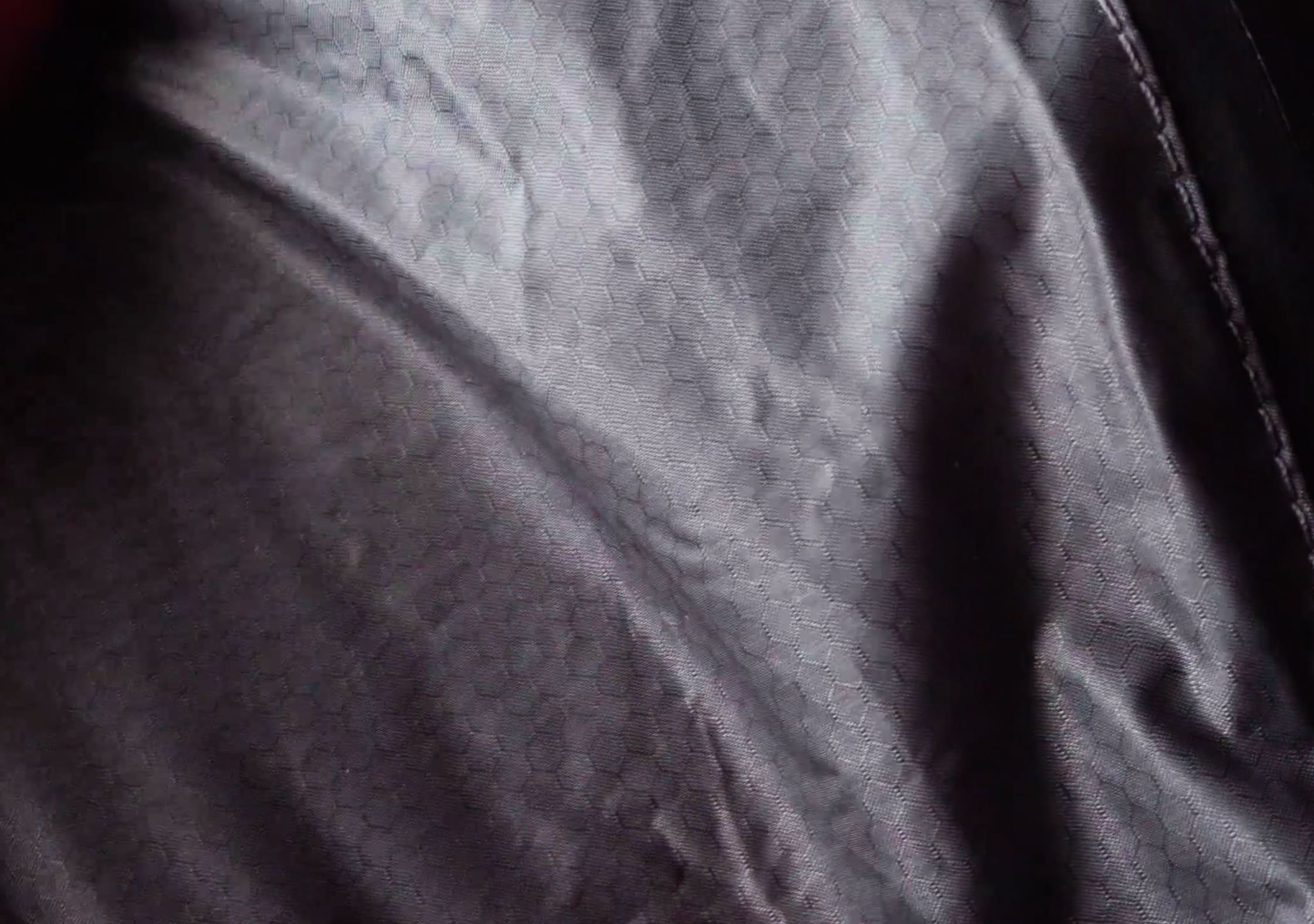 As far as materials go, the big player here is a 30D siliconized CORDURA® ripstop nylon. And if you're not up to date on your fabric lingo, that just means it is a lightweight, strong fabric. If you take a close look at the fabric you'll notice a hexagonal pattern—this is where the ripstop comes in. If the fabric gets ripped, those little hexagons will stop it from getting any bigger.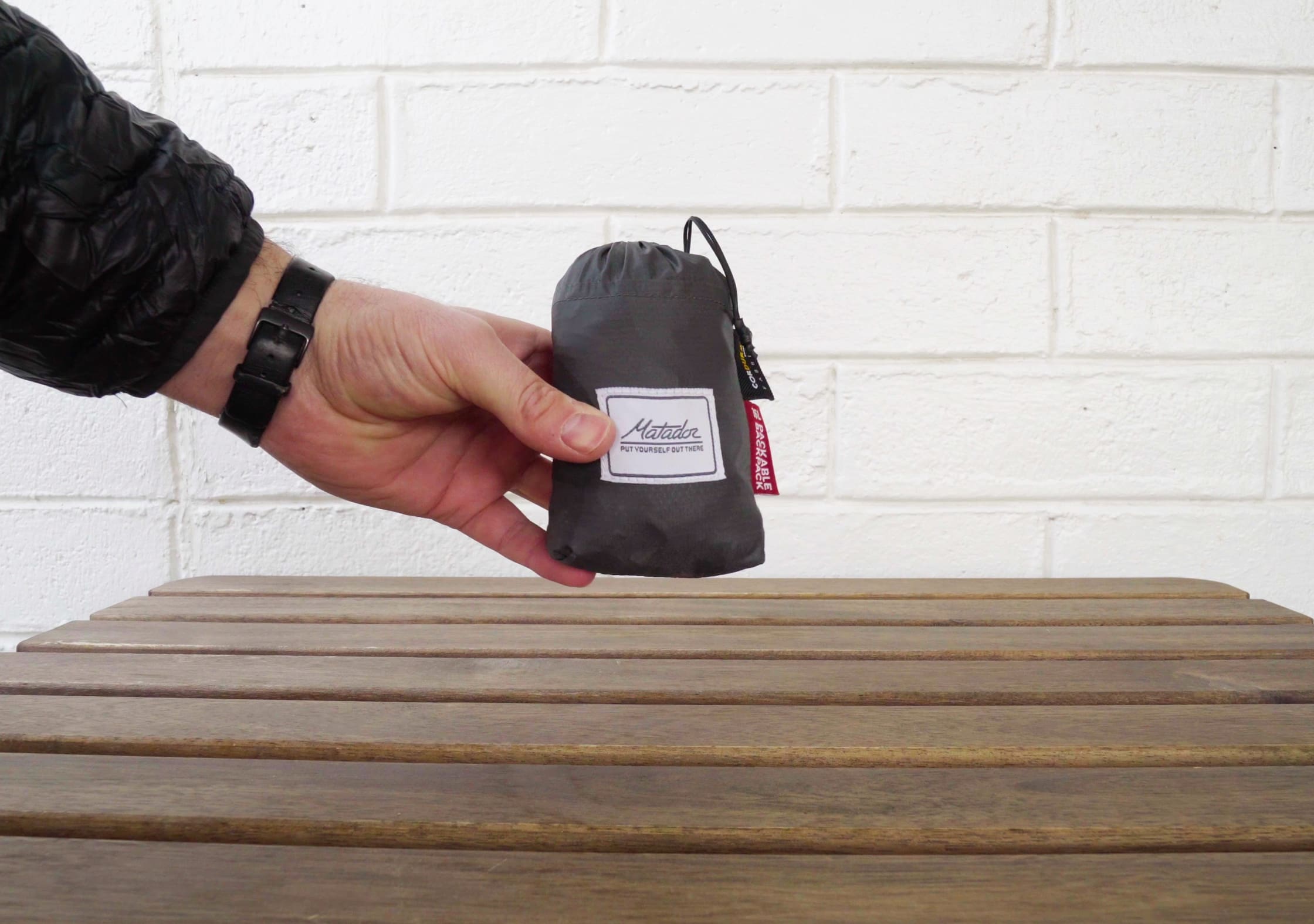 The bag itself is 4.1 oz in weight, and when compressed it is 4.6" long x 2.5" round. We were pretty impressed with how ridiculously lightweight this thing is, considering the capacity when unpacked.
External Components

As far as external components go, there's not too much to get into here. On either side of the bag are some standard, open mesh pockets for holding a water bottle or some smaller items.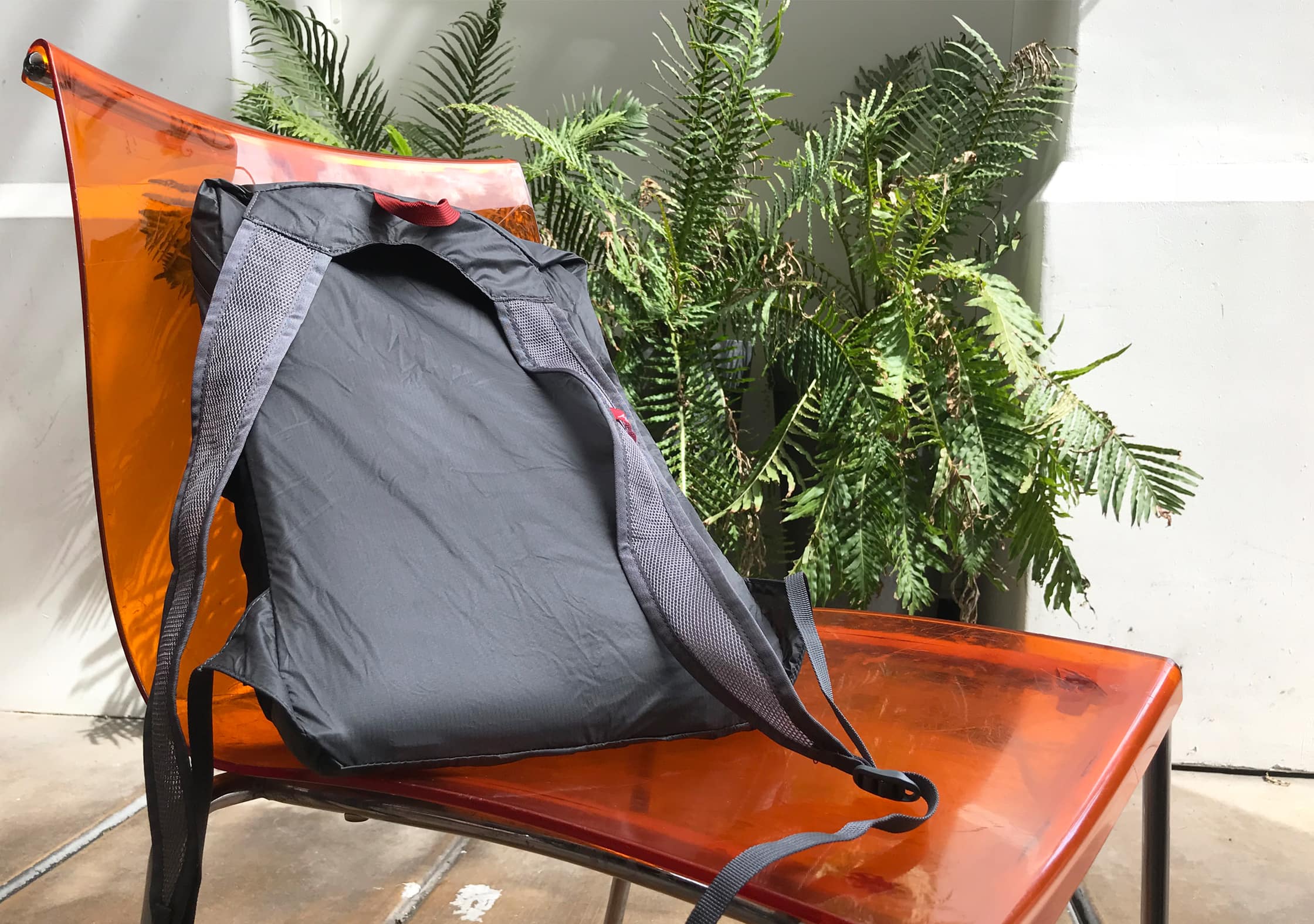 The shoulder straps are very basic—just a thin, mesh strap—but provide some awesome airflow. You're definitely not going to get overly sweaty wearing this thing, although we have to say they're not the most comfortable straps in the world. There's no padding on them, but all in all it's not a huge downside. You're most likely going to be carrying a few light-ish items around for a couple hours, so no biggie. There are also some plastic adjuster loops at the bottom of the straps so you can adjust them based on your body size or how much weight you're carrying.
The biggest problem we've found with this harness system is that the straps can get twisted up when you're putting the pack on. It's not a huge problem, but you're definitely going to want to readjust them once you get the pack on, especially if you've got some weight in there. Twisted straps are most definitely not comfy.
The last feature on here is the top handle. Outside of its eye-catching red color, there's not too much to report here. It's not super comfortable, but it doesn't really need to be. It's a strap. You can use it to hold the bag or hang it up. No frills and it gets the job done.
And that's all she wrote! Outside of these couple features, the rest of the bag is basically a CORDURA® sack. Which we're not mad about!
Inside the Pack
We have to start off this section by talking about the compression sack. While using the bag, the sack is attached to the inside of the pack with some webbing that appears to made out of the same CORDURA® fabric that the rest of the bag is made of. You can kind of tuck this thing away while the bag is in use—no need to worry about it taking up extra space, it's super minimal.
Compressing the bag into this sack can be a bit of a challenge at first, but you'll get used to it relatively quickly. If you've ever packed a sleeping bag or tent, it's a very similar process. We wish we could give more instruction than that, but you really just have to give it a go yourself.
Once compressed, this thing is really tiny. As we mentioned before, it is 4.6" long x 2.5" round—it will fit in your larger pack with no problems and you could even toss this in a jacket pocket if needed. Heading out on the town for a day of shopping? Throw this in your pocket and pop it open as you acquire some bigger items! There is also a small loop on the outside that you can use to hook to the inside of your larger pack or… something else. We don't really know what else, to be honest.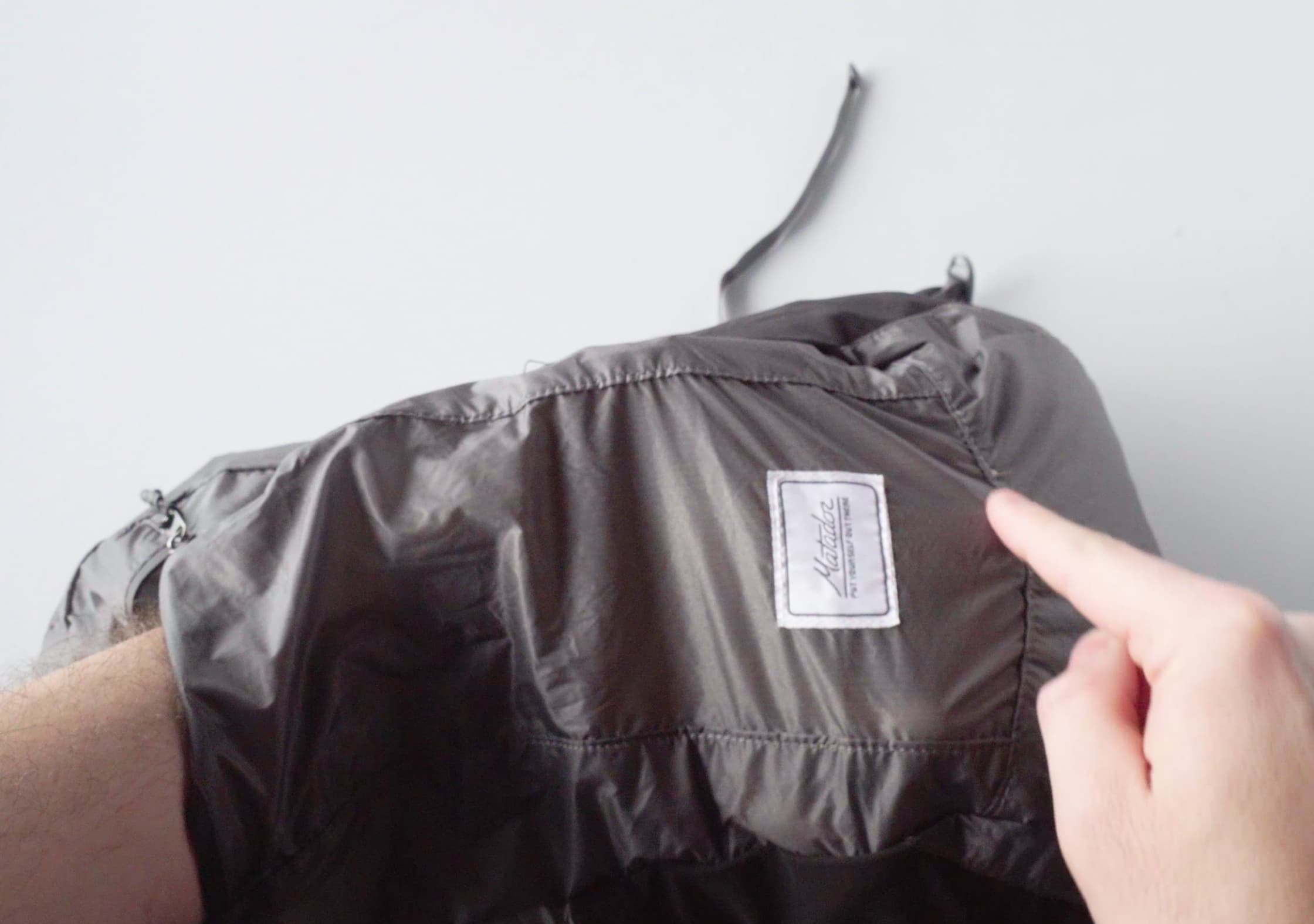 On the outside of the pack there is one long pocket that goes down the length of the bag. While it might sound nice to have a large pocket here, we actually thought it was a bit too large. This is normally a great spot to throw your keys or some quick-grab items, but because it's sooo deep it can be kind of a hassle to grab stuff out of it.
But hey, if you've got some bigger items to throw in here you'll be all set.
Moving on to the main clamshell pocket, you'll find that it is deceivingly roomy. It's 16 liters, in fact—so it may actually be half the size of your one bag travel pack. The good thing about this is that it will still keep a pretty slim profile when you don't have much in it. We can confirm that this pocket will fit a 15" laptop, although there is no dedicated laptop sleeve—you're just going to be tossing it in with everything else.
We've been using a couple small packing cubes in here to keep things organized, but it's also just super convenient. If you have packing cubes in your larger bag, you can just grab a couple and toss them in the Matador. You may want to keep this in mind when you pack up your travel bag—just keep one cube with all your daily essentials and you're good go! We've found the Magpul DAKA Pouch to be a good option here.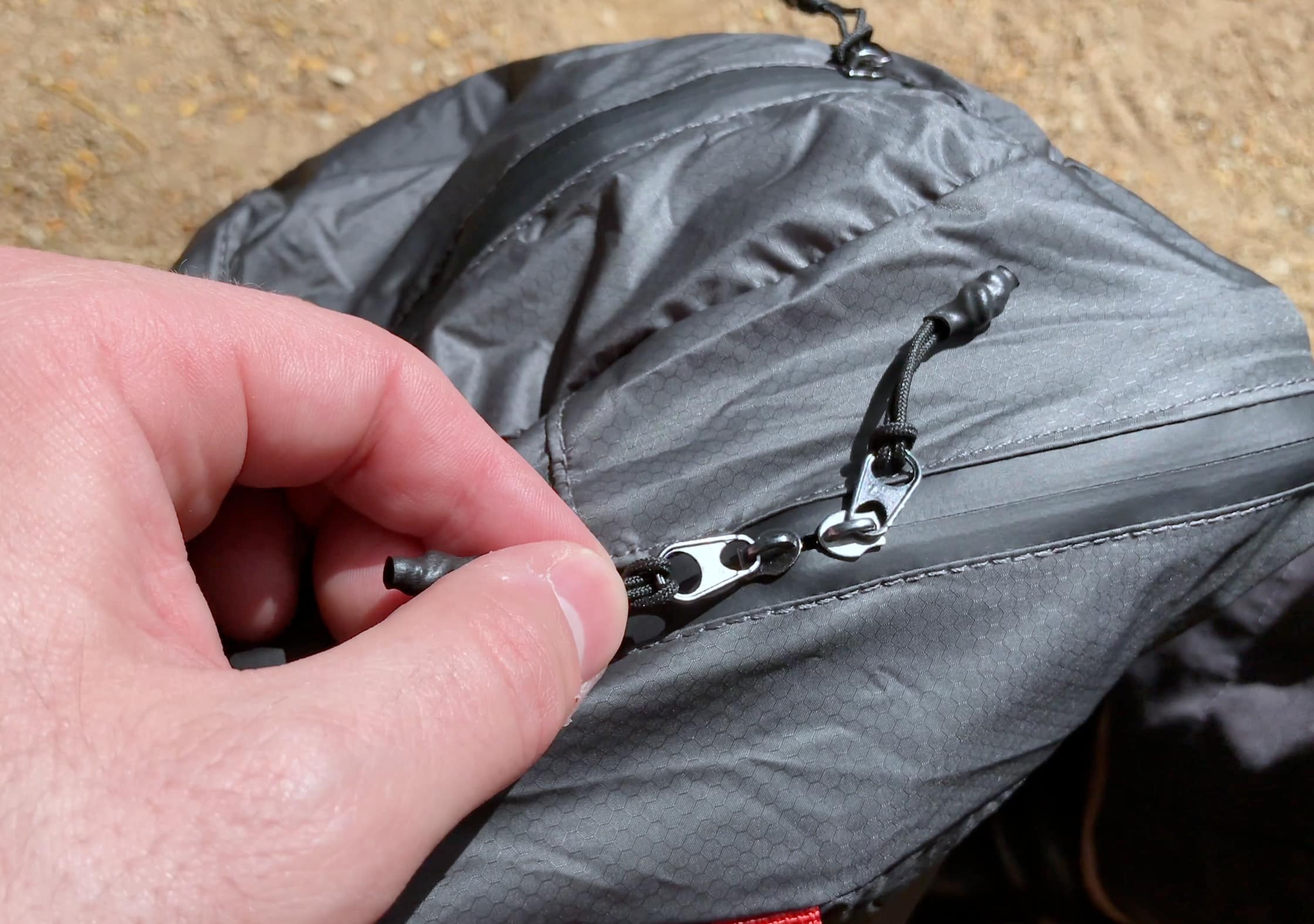 Both pockets have some tapered zippers—they've got that band of rubber-ish material around them—which adds some weatherproofing. Please keep in mind that this thing is most definitely not waterproof, however we can say that it's decently weatherproof. If you're caught in the rain with your laptop inside you should be fine. Monsoon season in Southern Asia? That might be a different story.
The zippers are SBS brand and while they feel a bit flimsy, we've heard good things about the brand and are curious to see how they hold up. SBS is a Chinese zipper company that has been popular in China for the past 30 years but is just now gaining some international presence and starting to compete with the YKK giant.
The zips have been working well for the past couple months, but you can keep an eye on our usage timeline at the bottom of this review to see how they hold up over time. They have a nice paracord zipper pull, which we like!
One thing we must point out is that there is very little padding on this backpack. Well, actually there's NO padding—just straight-up 30D fabric across the board. You will definitely want to use a padded laptop sleeve for your laptop and some sort of padded bag for any other fragile items.
Not only do you want to keep your stuff protected, but the lack of padding also means that any harder items you have in here are just going to be sticking right into your back and kind of whacking you as you move around. We've been using the GR2 Field Pocket from GORUCK to keep our stuff—and our back—safe.
While we do like to see some padding on our packs, it doesn't seem possible to have a padded pack that could compress as much as this thing does. We're totally fine with sacrificing padding for packability here.
Durability & Testing
At the time of this review, we've been using the Matador almost daily for two months and it has held up well.
While we are slightly concerned about the zippers and the drawstring on the compression sack, we are still super impressed with how this bag turned out. We can't really fault Matador for designing the bag this way, as it is clearly made to be an ultralight, ultra-compressible daypack—which means making a few sacrifices to the almighty gods of weight. While we always like to see beefy zippers and padded back panels, that just isn't compatible with a daypack that compresses to the size of a small sandwich and weighs 4.1 ounces. … At least for now. Maybe ten years from now we'll be reviewing the latest and greatest compressible pack with foam paneling and carbon fiber zippers! For the time being, we're pretty happy with what we've got.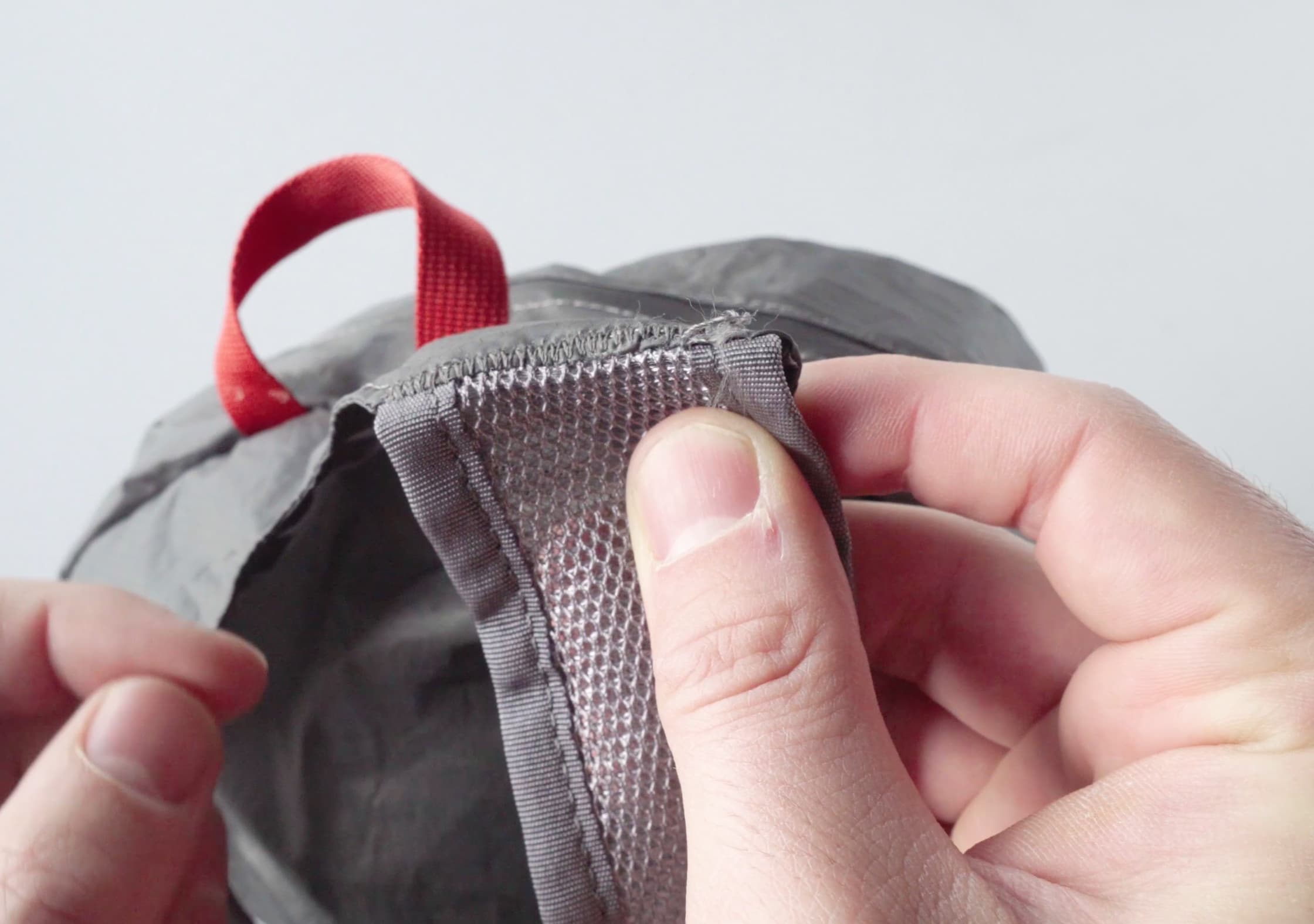 Our only other complaint was some fraying around the outside of the pack, mainly on the straps and those mesh side pockets. Overall, the bag has a great design but it does seem like the craftsmanship isn't quite at that top-notch level that we like to see. Has it affected our use of the bag? No, not really—but it might at some point in the future.
Durability aside, this thing is definitely worth the weight in your larger travel pack and could even be useful in scenarios outside of one bag travel. We definitely think the few cons and minor durability issues are outweighed by the awesome functionality.
Usage Timeline
Initial Usage
Condition: Excellent
Looks good, great functionality. Using the compression sack is a bit tricky, but you can't beat the size and weight of this thing.
1 Month of Use
Condition: Excellent
Still going strong with daily use, getting better with the compression sack.
2 Months of Use
Condition: Good
Starting to see a bit of fraying around the exterior of the pack, but other than that it's holding up well.
Access the Pro Community Discussion
Get your questions about the Matador DL16 Packable Daypack (Daylite) answered from our team and the Pro Community right here on the page. Plus, join discussions with other members about gear, guides, and more.
Other Bags & Luggage Reviews