Matador Freefly16 Review
We've been loving the Matador Freefly16 for its form factor and compressibility, but the compression sack is already splitting at the seams—which is concerning.
Our Verdict
Unlock the Pro Summary
Save time. Get access to brief summaries of our reviews so you can browse and make decisions more efficiently.
Pros
Very packable and pairs well with a one bag travel pack
Highly weather-resistant and quick-drying
Great functionality in a small package
Cons
The compression sack has started to rip
The main zippers are small and could be stronger
The front pocket isn't ideal for quick grab items
Recent Pack Hacker Video
Technical Details
Capacity

16l

Denier

30D

Weight (oz)

4.8 oz (136.1 g)

Dimensions

17 in x 11 in x 8 in (43.2 x 27.9 x 20.3 cm)

Packed: 4.75in x 2.75in diameter

Notable Materials

SBS Zippers, YKK Zippers, Duraflex Hardware, CORDURA® Ripstop Nylon

Manufacturing Country

China

Warranty Information
Buying Options

$80.00

$80.00
Full Review
Get up to 20% off Matador • Join Pack Hacker Pro
When most people hear the word "Matador" they probably think of a Spaniard donning a flamboyant costume, facing off against a one-ton beast in front of a roaring crowd. But not at Pack Hacker.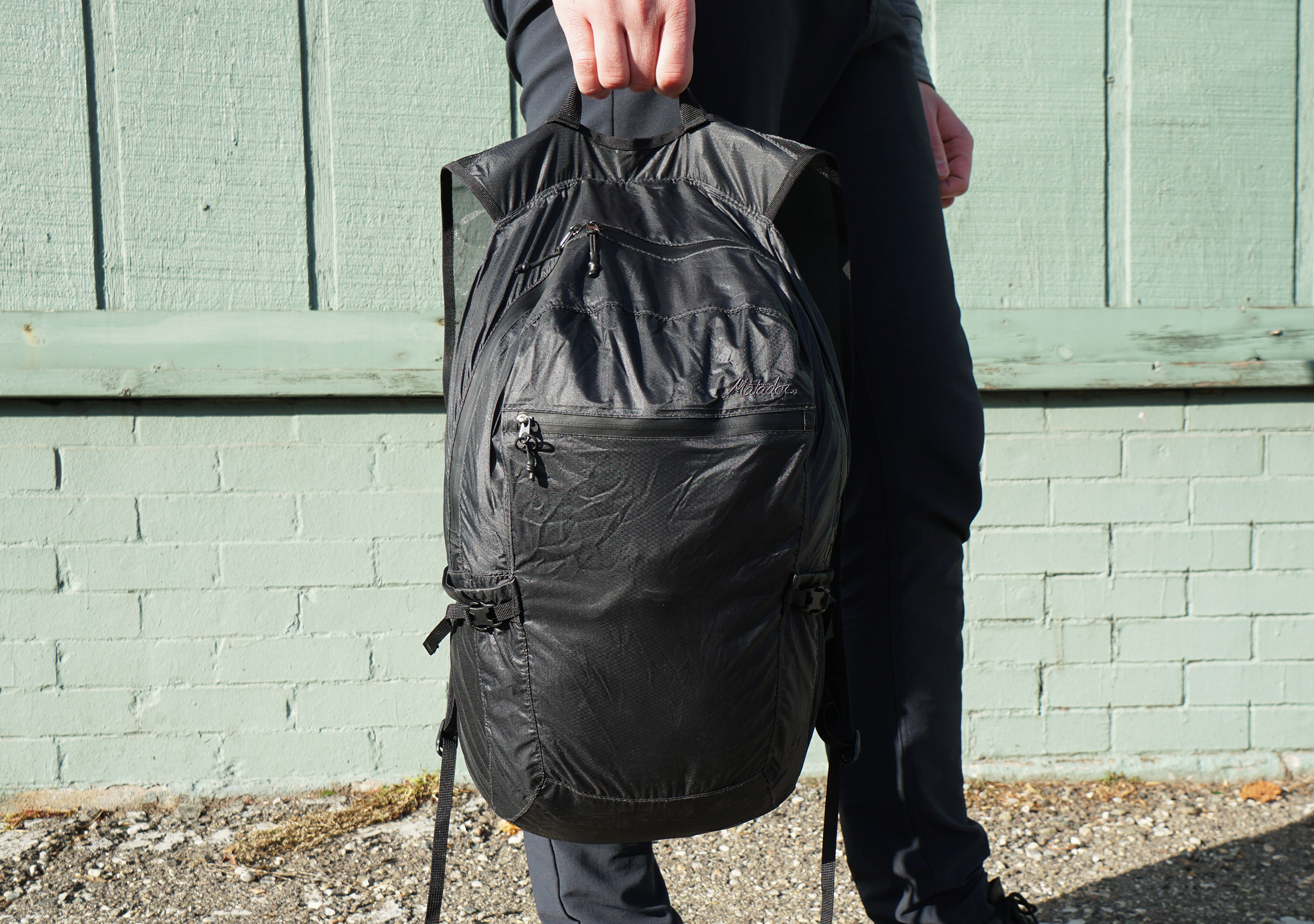 No, it's quite different around here. When we hear the word "Matador," bullfighting is not the topic of discussion. When we hear that word, we immediately think packable, compressible, and ultralight. That is because our minds are immediately drawn to Matador the brand—a travel gear manufacturer that has been dominating the "packable" niche for some time now, creating everything from daypacks to duffels to totes, dry bags, towels and more. All of which are packable, compressible, and lightweight.
(You can see where our priorities lie.)
And that brings us to this review, where we are taking a look at the Matador Freefly16. It is yet another packable daypack from Matador, and we are not saying that in a bad way. Quite the opposite, in fact—we've been excited to get our hands on this new pack to compare it to some of the other packable daypacks we've tested to date and see if it outclasses Matador's previous bags.
Spoiler alert: we like it pretty darn well, although we do have some fairly serious gripes. But you came here for more than that hot take, so let's get into the nitty-gritty.
PSA: This is just one product out of Matador's Advanced Series. They've also got the Freerain24 2.0, Transit30 2.0, Flatpak Soap Bar Case, and the Flatpak Toiletry Bottle. If you're interested in adding some compressible gear to your travel loadout, we'd highly recommend checking out the full series.
Materials & Aesthetic
Our initial impression of the Freefly16 is that it feels like the next iteration of the Daylite16, even though Matador says they are mutually exclusive. It's got a similar look, it has the same capacity, and it has some new and improved features.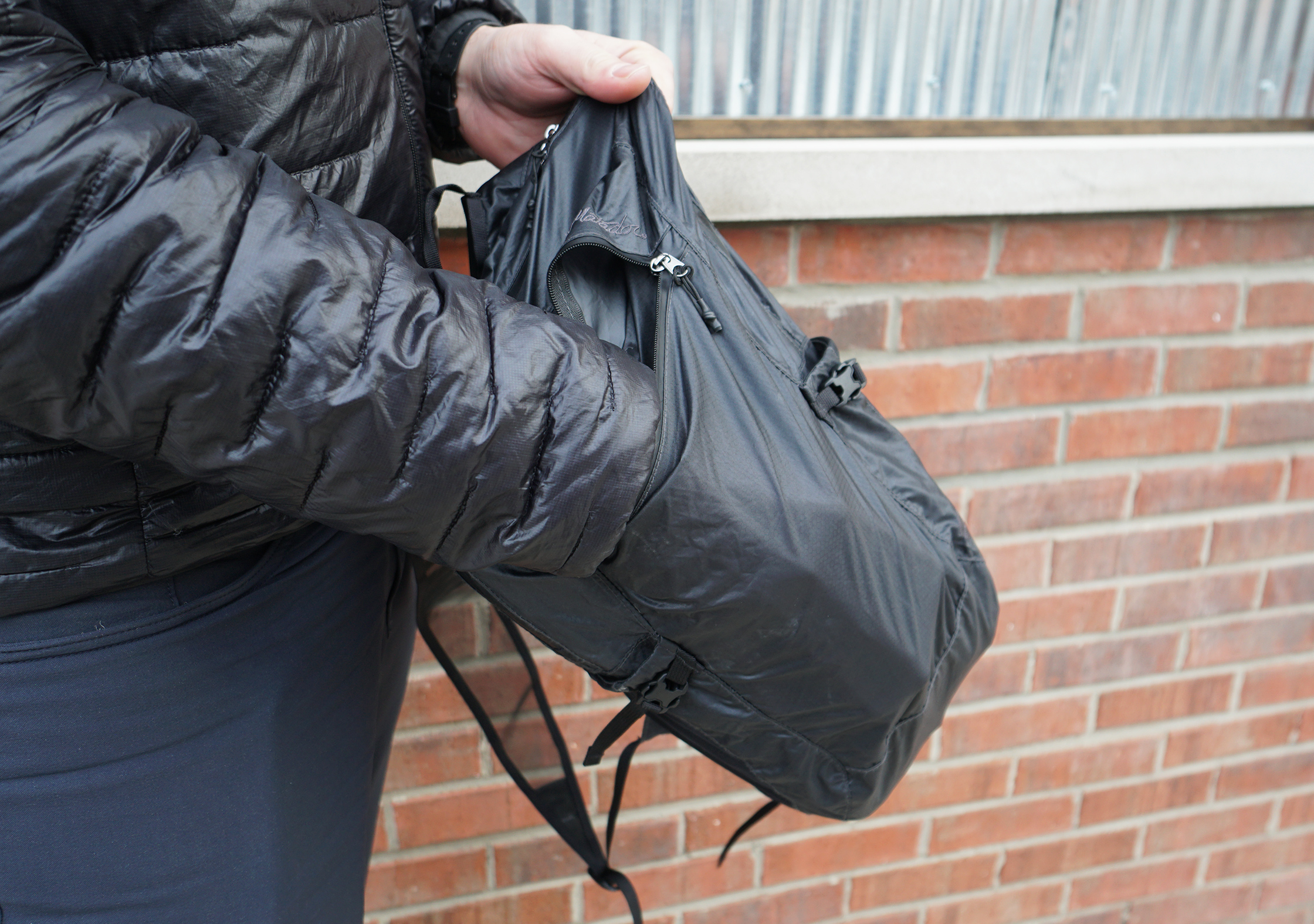 From an aesthetic perspective, the Freefly16 is offered in charcoal gray—which is basically black—and that's it. In comparison, the Daylite16 was offered in indigo and a lighter gray color, but we have to say that the dark gray/black on the Freefly gives it a nice, polished look.
In our now-classic Pack Hacker Instagram Aesthetic poll, 54% of our audience gave it the thumbs-up. Which tells us basically nothing—some people like it, some people don't. We like the look pretty well, but we'll leave it up to you.
From a branding perspective, there is a subtle gray-on-black logo on the exterior of the pack, an "M" (for Matador) logo at the bottom front, a white-on-black logo on the compression pouch, and another small "M" logo at that base of the straps.
As far as materials go, this pack features 30D siliconized ripstop CORDURA® nylon that is sealed at the edges for additional weatherproofing. Basically, it's thin, lightweight, and stronger than you might think.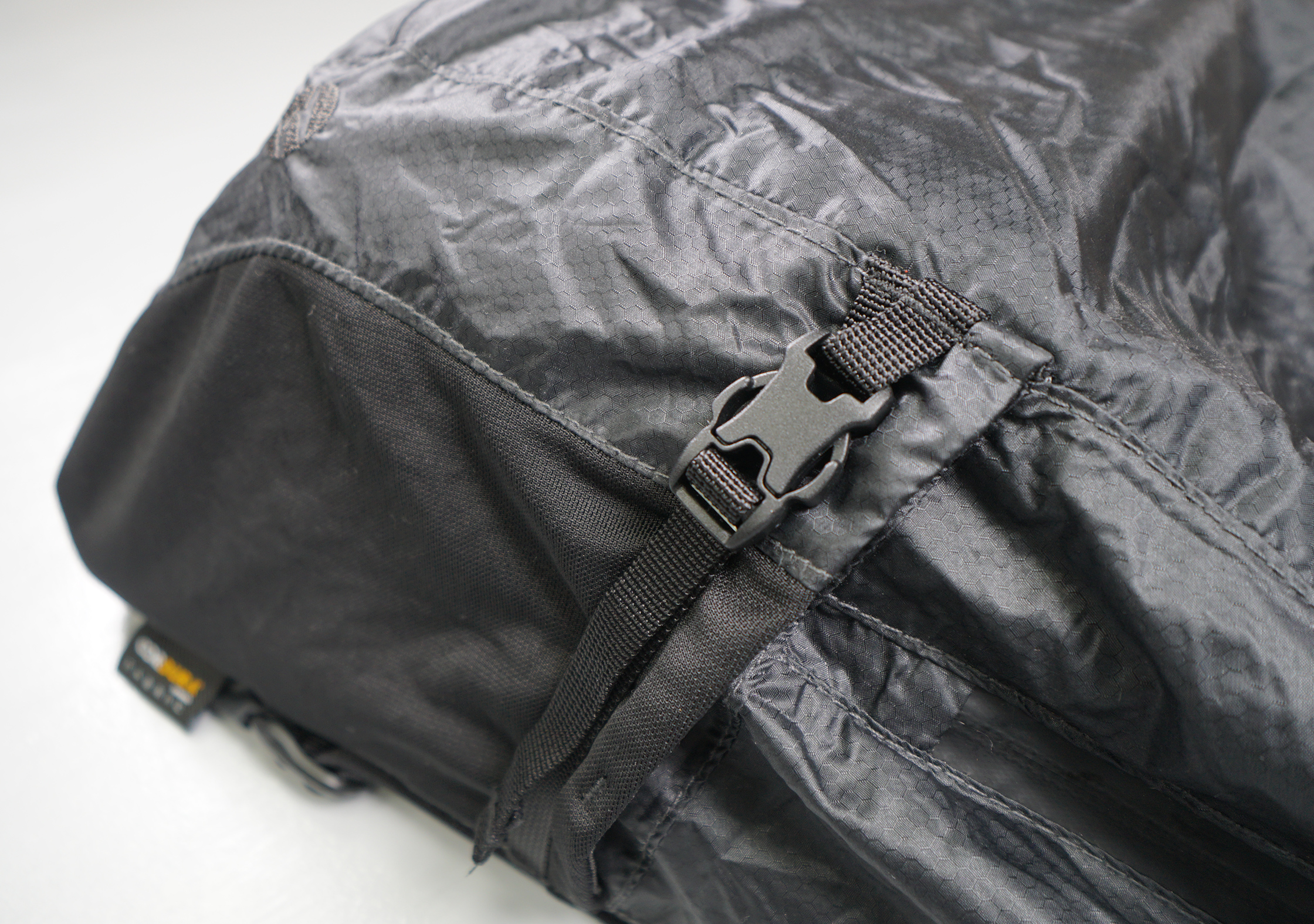 There are some YKK buckles—which is a Japanese manufacturer that usually makes world-class zippers but also makes pretty solid plastic hardware—and some Duraflex hardware for the strap adjusters.
The "non-absorbing" shoulder straps are made of "non-absorbent" mesh material, which is vague but accurate. And lastly, we have some seriously tiny SVS zippers. Honestly, we're a bit surprised at just how small these things are. We have our reservations and, according to the internet, we've been pretty accurate with our assumptions—we've seen a couple reports of zippers breaking after only minimal use, which is definitely not ideal.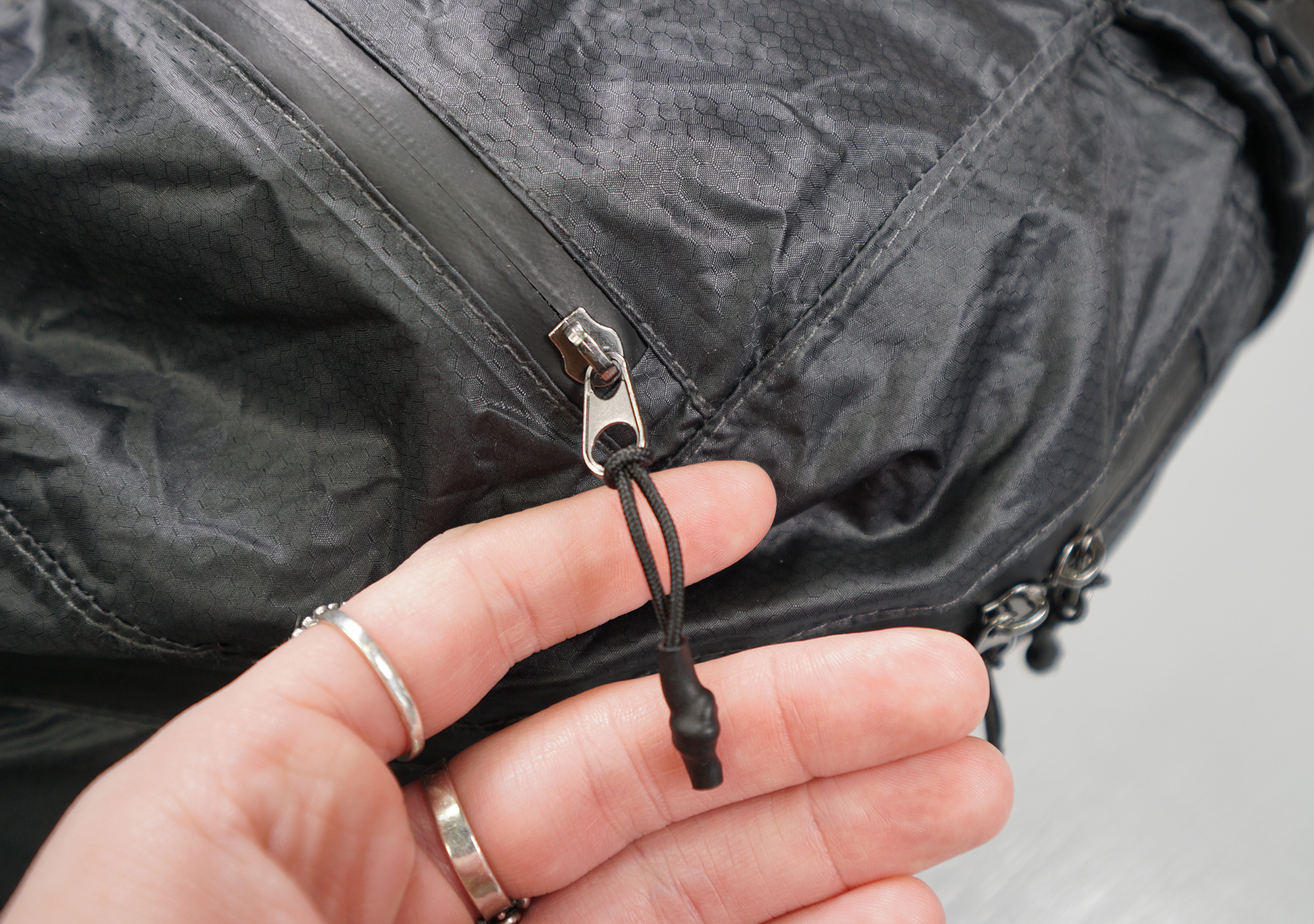 To compare, these zippers are the same size as those found on the interior of the Fjallraven passport wallet. Not the outside zipper, we're talking about the little pocket inside the wallet that holds coins. So yeah, this pack is held together with the same zippers used on a coin pouch. Just some food for thought.
And one final point we always feel the need to make is that Matador says they use waterproof materials on this bag and, while that statement does hold some truth, it's a bit misleading. The materials themselves are waterproof, yes, but the bag as a whole is most definitely not. There is a big difference between a material that won't let water pass through and a backpack that can actually be submerged in water.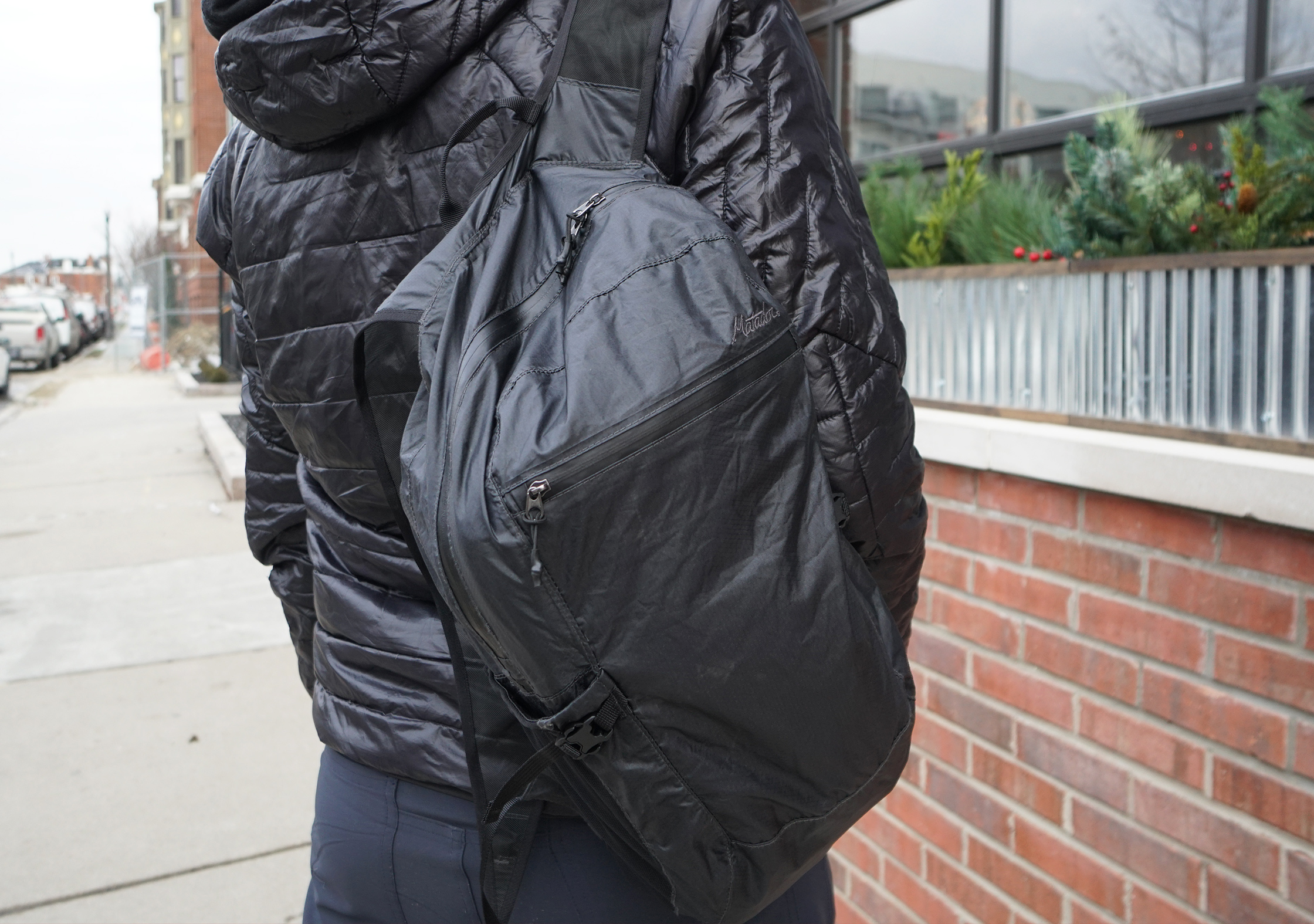 Although the materials are waterproof, thanks to the zippers and overall construction of this bag, the entire package is not waterproof. We can say, however, that it is highly weather-resistant.
Long story short: you'll be good to go in most rainstorms, but you would not want to take this thing swimming with you. (Although, who swims with a backpack anyway?)
If you are looking for something that can truly withstand the elements, you may want to check out their Freerain24 2.0. That pack is even more weather-resistant than the Freefly and has a couple improvements over the previous 1.0 version.
External Components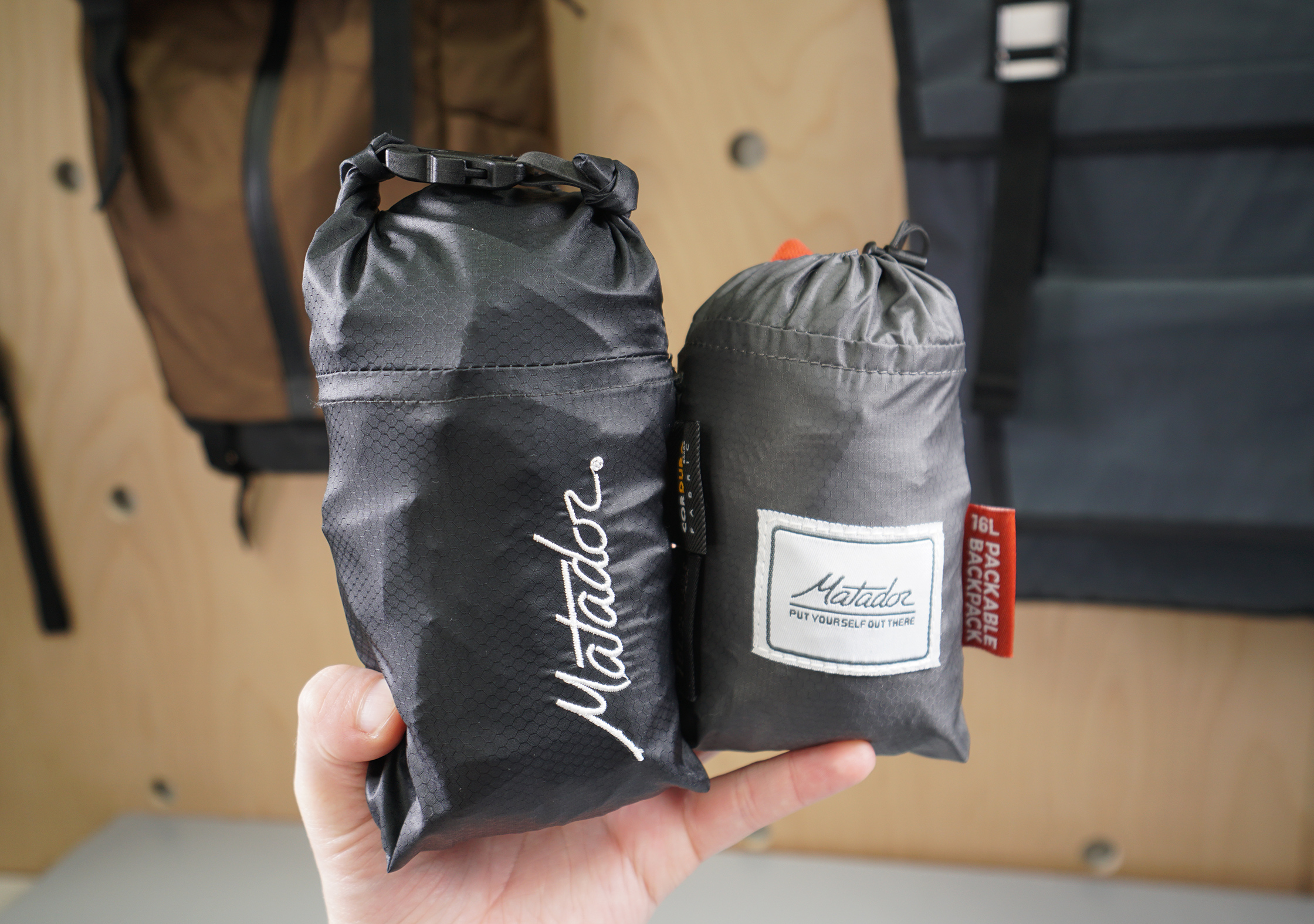 Let's start by looking at this bag when compressed. In its compression pouch, the Freefly16 is pretty damn small, but it's still a bit larger than the Daylite16. Also, the mechanism by which the compression happens is a little bit different than what we saw on the Daylite16. The Freefly uses a compression roll system, similar to what you'd find on waterproof dry bags, while the Daylite uses a simple drawstring method.
Overall, we think the drawstring method works better for an item of this size. It's a bit easier to deal with, takes up less space, and the rolltop just seems like overkill—this little compression pouch doesn't need to be waterproof, after all.
That being said, we do like the loop on this compression pouch—it's useful for hanging the pack up or attaching it to a carabiner—and we also like how the compression bag can be removed from the interior of the pack when not in use. On the Daylite, the pouch was attached but you couldn't remove it, which meant it could get in the way during use. Also, being able to remove it means you can use that little pouch for storing other items in your pack. Versatility! (Although it's not ideal for this.)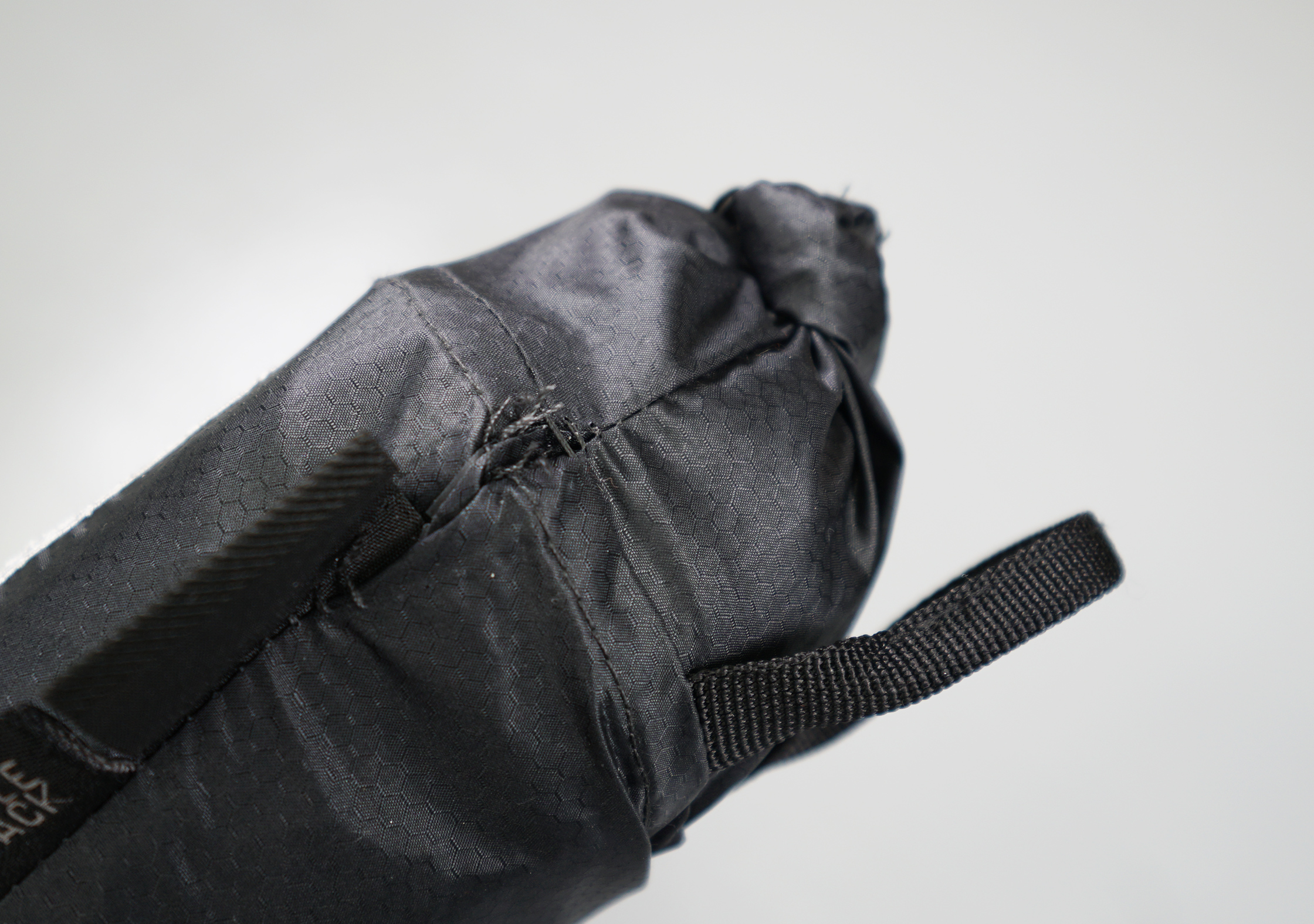 Remember when we said we had some serious gripes with this pack? Well, there is one glaring production issue on the compression sack that we absolutely have to point out. After only two months of use, it's already starting to fray and split at the seams. Compression pouches definitely undergo a lot of stress—that's kind of par for the course when you're stuffing an entire backpack into a pouch the size of a dinner roll—but it seems like Matador should have tested this out a bit more and reinforced the seams a bit further. We've seen plenty of other packable daypacks with heavily reinforced compression pouches—including previous Matador packs—so this is a bit surprising.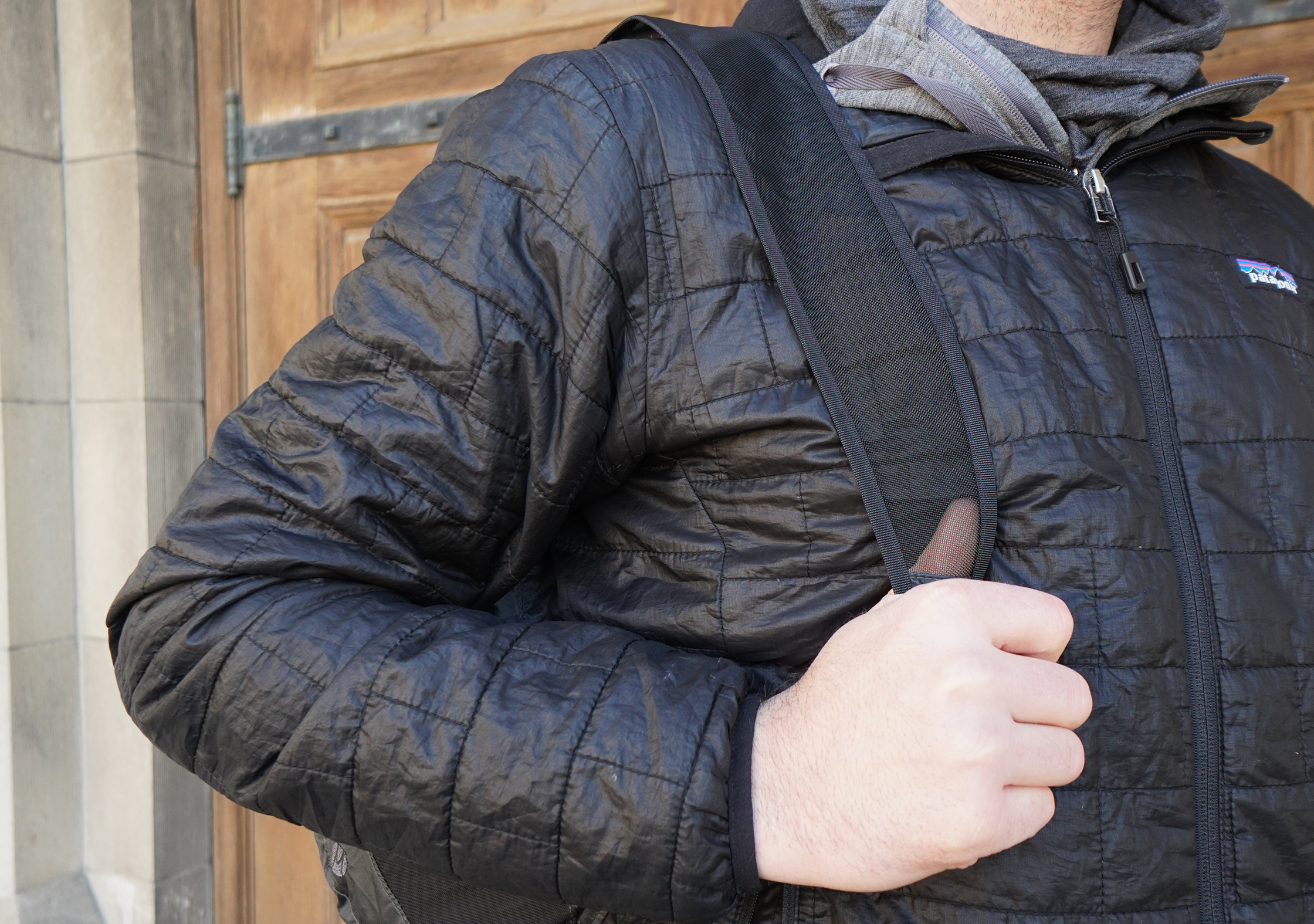 Moving on, let's check out the harness system. The shoulder straps are incredibly thin and non-absorbing, which makes them ideal for inclement weather and they're not going to soak up sweat as you're wearing the pack, which is great. We were a little skeptical of these straps at first—especially considering we had some problems with the Daylite16 straps, which wrapped around themselves constantly—but we have to say, they've been working out quite nicely. They were a bit crinkly and stiff right off the bat, but we got used to them pretty quickly. These straps are also adjustable via the Duraflex buckles on the bottom.
Above the harness system, there is a folded and sewn hook which is just great for hanging the pack up in your hotel or Airbnb, especially if you need to air it out after a storm or something. (And speaking of which, this material is very quick-drying!) Each side of the pack also features a water bottle pocket, which is a big improvement on the Daylite16 for a couple reasons.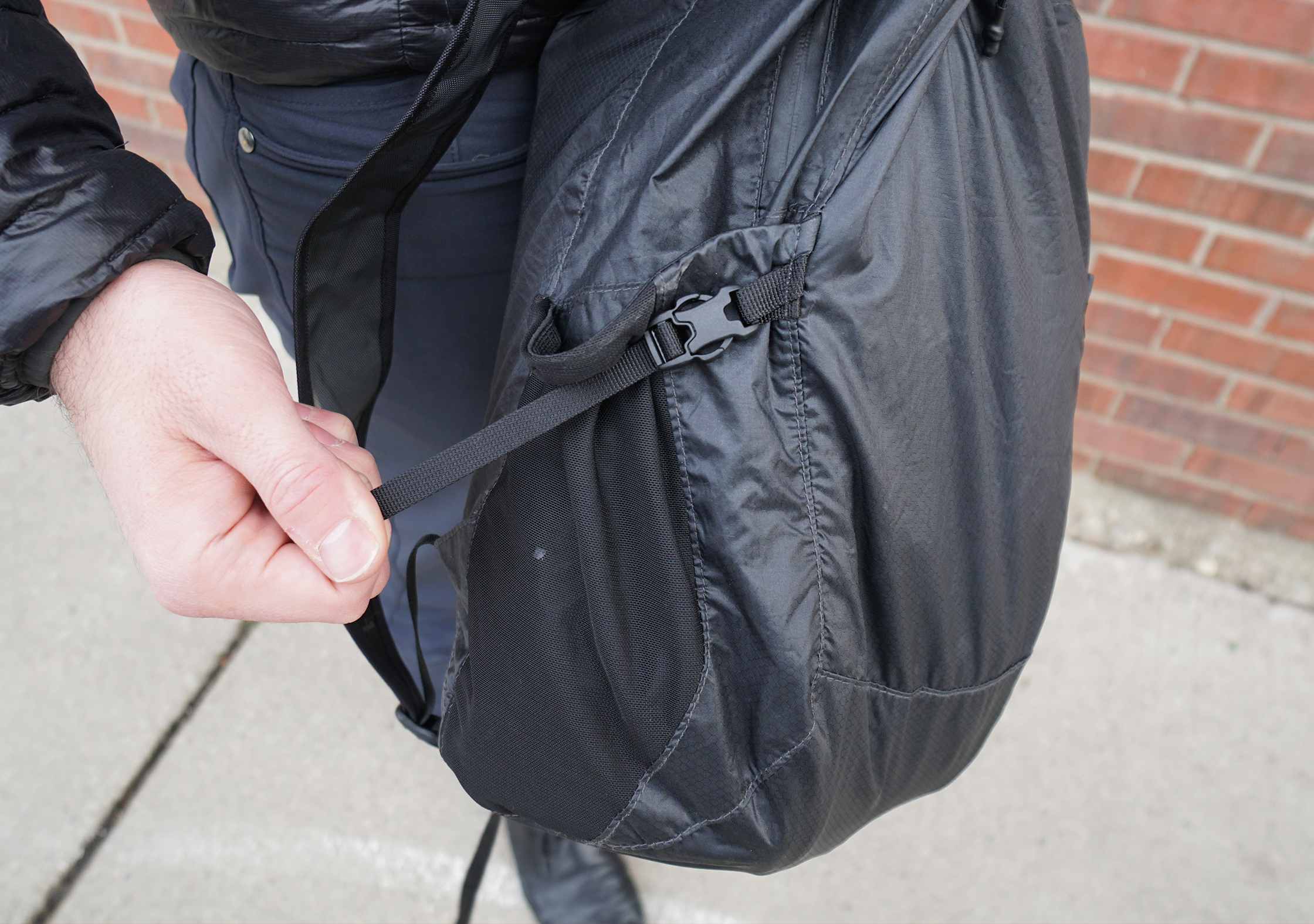 First, the elastic on top is thicker, stronger, and stretchier than what we've seen previously. It's not quite as hardcore as what we've seen on the Mystery Ranch In And Out Packable Daypack, but it is getting close. And second, there isn't as much frayed stitching as we've seen on the Daylite16 after months of use.
The Freefly also features compression cinch buckles, which are great for keeping your gear compact and secure. Additionally, there is one exterior pocket on the front that can accommodate larger and longer items. The opening on this pocket is quite a bit wider than the Daylite16, which is just one more improvement we've noticed on this pack.
Inside the Pack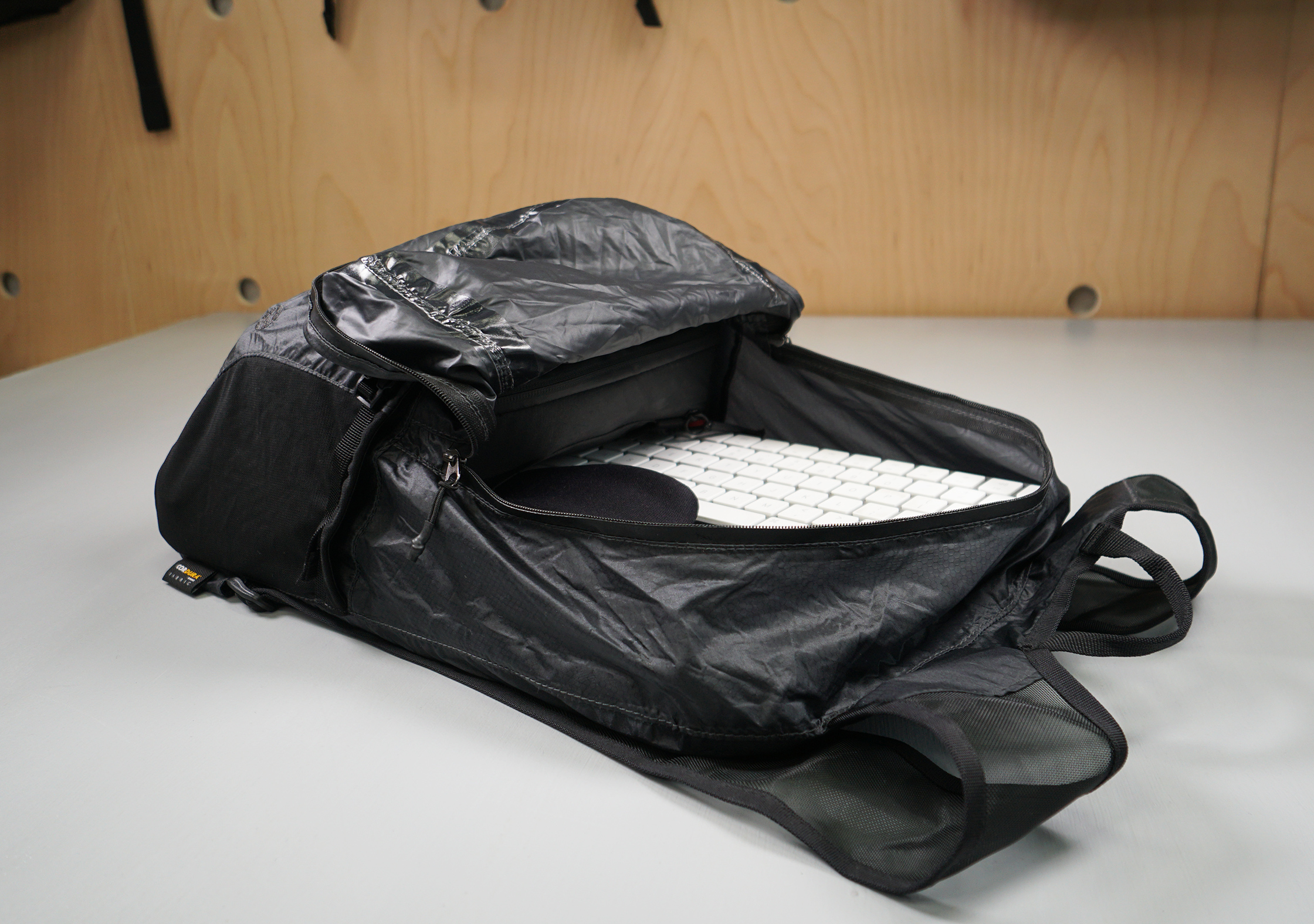 Moving on to the inside of the pack, the main compartment is essentially just a large bucket, which is quite common for a packable daypack. The zippers open up in a horseshoe style and extend down to the top of the water bottle compartment. On the interior, you can easily see where the fabric was welded together to create some additional weather resistance (checkmate, skeptics).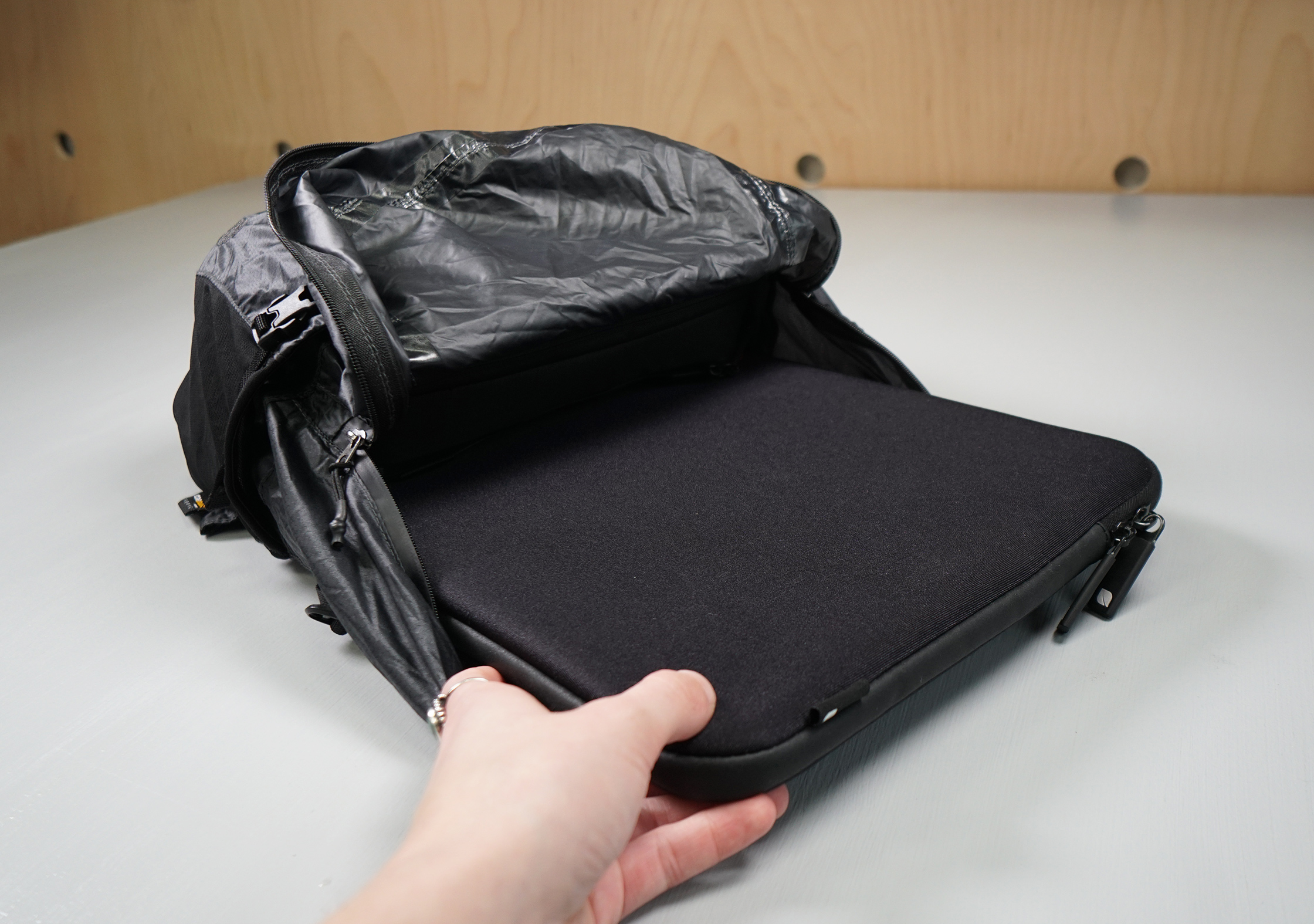 As far as packing this thing up for a day of use, we recommend using a padded laptop sleeve if you're going to be tossing a laptop in here. And because the material is so thin, we recommend placing pointier items—or lots of smaller items, if you have them—in a padded packing cube or some type of pouch so they don't stick into your back as you're carrying the pack around.
And that's pretty much it for the internal components! This thing is simple, which is what we're ultimately looking for in a packable daypack.
Durability & Testing
At the time of this review, we have been testing the Matador Freefly16 for about two months. The main benefit of a pack like this is that you can compress it down and stow it away in your larger bag for use when you need it. That's all great, but it's not going to work very well if the compression bag frays and breaks at the seams…
Other than that (major) issue, everything else on this bag has been pretty great. We've been putting it to use as a "daily driver" for trips to coworking spaces, coffee shops, and running errands around town. And although we do like both the Daylite16 and the Freefly16, this pack is becoming our favorite of the lineup. It's a solid, simple pack for popping in your laptop, a couple other items, and heading out for the day.
Usage Timeline
Initial Usage
Condition: Excellent
Light and compressible. This thing looks great, excited to try it out!
1 Month of Use
Condition: Excellent
Really liking the form factor and function of this pack, although the rolltop on the compression sack isn't quite as convenient as the drawstring from the Daylite16.
2 Months of Use
Condition: Good
The compression sack is already ripping at the seams. Not feeling great about the longevity of this pack.
Access the Pro Community Discussion
Get your questions about the Matador Freefly16 answered from our team and the Pro Community right here on the page. Plus, join discussions with other members about gear, guides, and more.
Other Bags & Luggage Reviews