Matador FlatPak Toiletry Bottle Review
The Matador FlatPak Toiletry Bottle is a fresh take on refillable liquid bottles for travel. It's easy to pack, flexible, and TSA approved—making it ideal for your carry on.
Our Verdict
Unlock the Pro Summary
Save time. Get access to brief summaries of our reviews so you can browse and make decisions more efficiently.
Pros
Size adapts to volume of the contents.
One of the more lightweight containers out there.
TSA approved at 3 ounces (90ml).
Cons
No secondary valve as a failsafe.
Flip lid connection is a little weak.
Some fraying at the welded seams.
Recent Pack Hacker Video
Technical Details
Weight (oz)

0.4 oz (11.3 g)

Dimensions

4 in x 3 in (10.2 x 7.6 cm)

Notable Materials

CORDURA® Nylon

Manufacturing Country

China

Warranty Information
Full Review
Get up to 20% off Matador • Join Pack Hacker Pro
Matador says their FlatPak Toiletry Bottle is the only travel bottle specifically designed for minimalist and ultralight adventures. We took it on the road for about a month of travel around Detroit and Barcelona to see how it performs.
We've used plenty of rigid toiletry bottles before, but this was our first time checking out a more flexible, flat-packing version. So, without further ado, let's dive into the review! Huh, that kind of has a ring to it…
Material & Aesthetic
Visually, the Matador FlatPak Toiletry Bottle has a "black on black" aesthetic going on, which is subtle and stylish. Matador has struck a good balance for branding with most of their products, and this one is no exception.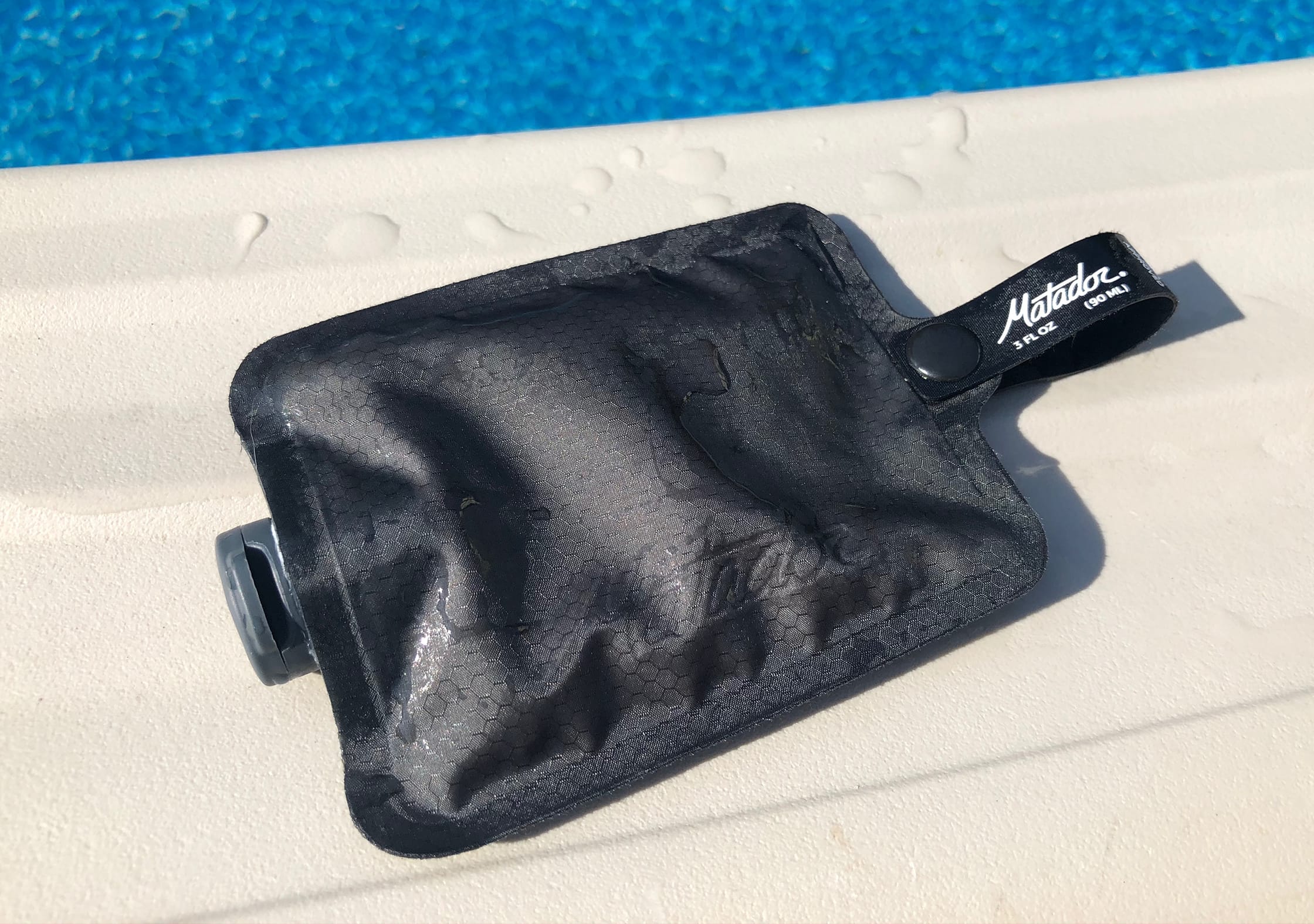 Looking at this thing from a distance you won't be overpowered by branding, but a closer look reveals the Matador logo pressed into the side of the bottle and a white on black logo on the snap loop.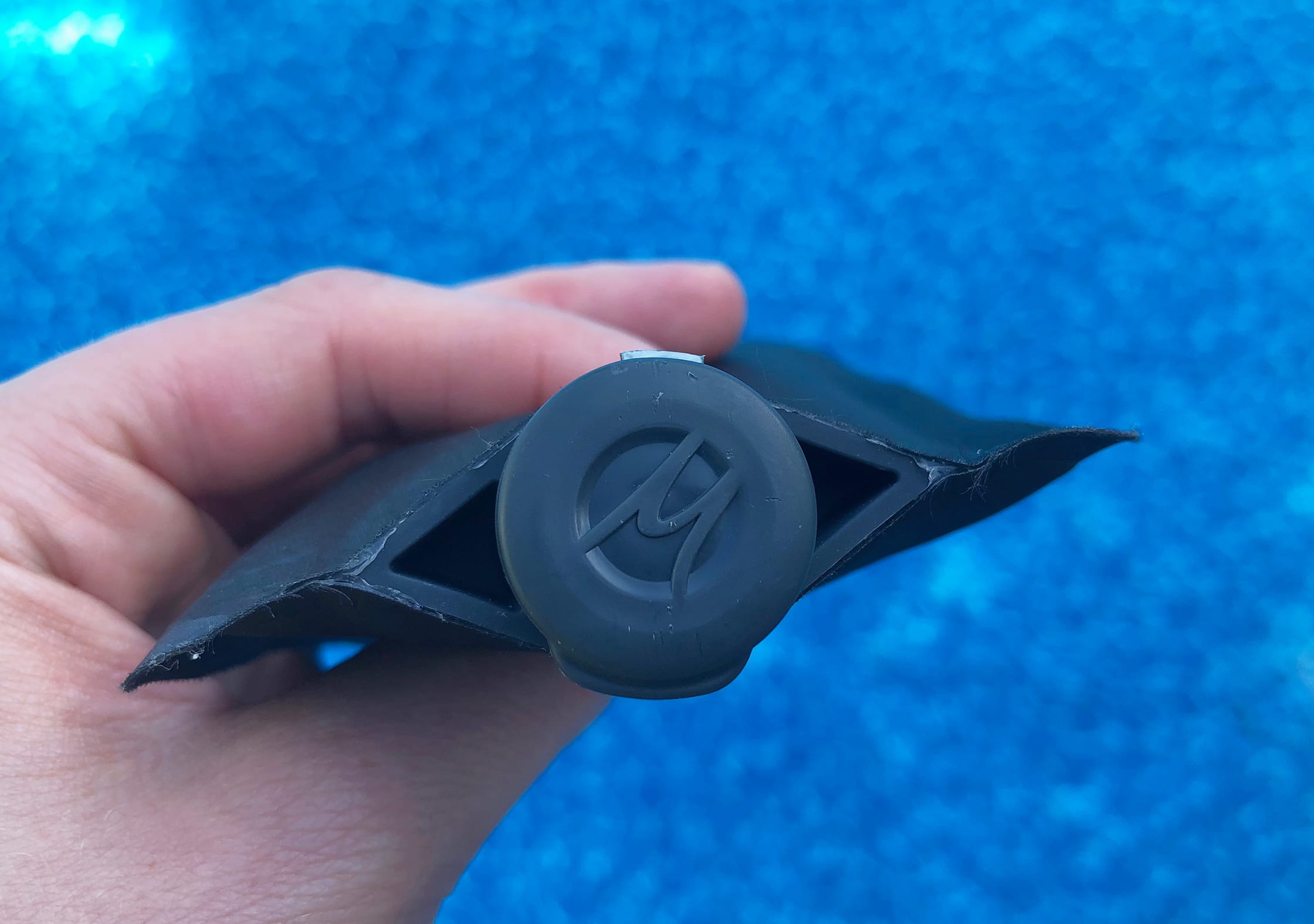 There's also a Matador "M" on the cap, which is subtle but finishes off the aesthetic nicely.
The bottle is constructed from two flat pieces of strong Cordura® fabric that have been welded together around the edges.
Aside from being tough, the fabric is waterproof—as you'd expect from a liquid container!—and flexible. The flexibility makes it compressible and easy to pack, allowing the bottle to conform to whatever nook you might need to cram it into. The less liquid you put inside, the smaller and easier to pack it becomes. Because… science, and stuff.
At 4 inches (10 cm) by 3 inches (7.5cm), the dimensions are slightly larger than a credit card, meaning it is super convenient to slip into your carry on or to take out on a day trip.
The capacity of the internal compartment is 3 ounces (90ml), and it weighs 0.4 ounces when empty. It's hard to say exactly how long the liquid will last, because it depends what you use it for. We found for sunscreen it lasted a good couple of days out before we needed a refill.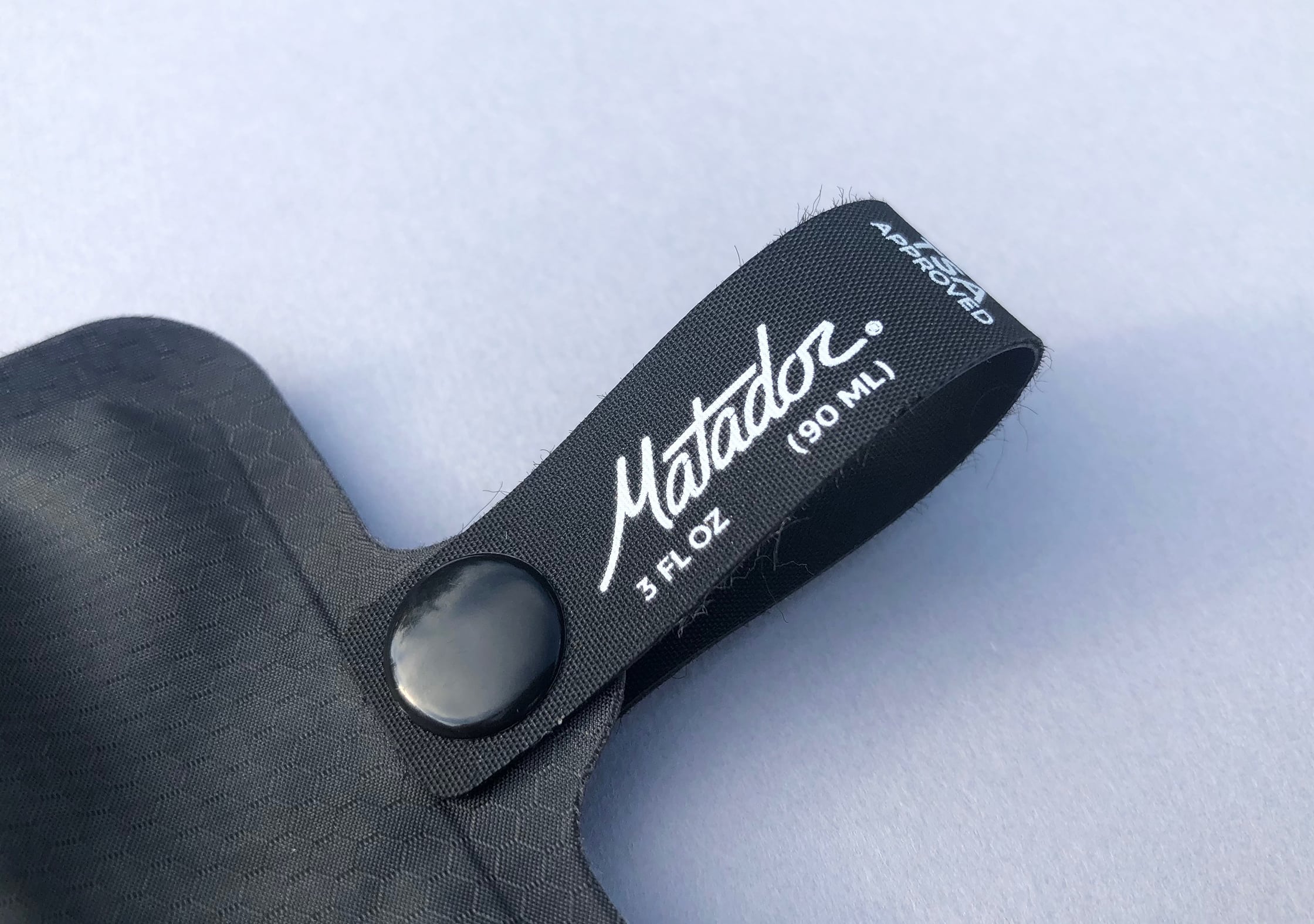 There's a snap loop at the bottom of the bottle made from a strong rubbery material.
Finally, on the snap loop there's a blank label area for you to write whatever you choose to put inside. Just because, you know, you don't want to casually start covering yourself in liquid soap on your day out at the beach…
Matador recommends using permanent marker for this label, so just make sure you're decided on what's going inside before you label it. Once it's written on there, it takes a little effort to wipe it clean and change the text.
Usage
One concern we had right off the bat was that filling this thing up would be a total PITA. We're happy to report that it is much easier to fill than we initially thought. There are two ways to open the cap—a screw mechanism and a lid that flips open. To refill with liquids, you'll want to totally unscrew the cap. Liquids are then easier to pour in than you might think.
Note: filling the bottle with higher viscosity liquids may require you to shake it a few times during filling, to make sure the liquid goes right down to the bottom.
When it comes time to grab some liquid out of here, just flip it open and you're ready to squeeze out what you need.
Matador doesn't specify any liquids that absolutely cannot be used in this bottle, however we recommend leaving out more abrasive substances such as nail polish remover or alcohol. Generally speaking, the more abrasive the liquids you put in here, the more likely the fabric will be to deteriorate, increasing the chances of a leak.
What Matador does say is to be careful with liquids that contain microbeads such as pumices and scrubbing soaps. They recommend always rinsing the lid with water before closing, as microbeads left under the lid may cause it to leak and could possibly damage the lid.
Now, we know the last thing you need is to have this cap coming loose and leaking sunblock all over the inside of your pack. There is perhaps nothing worse. But don't worry, there's no danger of that with this bottle. The screw mechanism is highly threaded so it's really locked on once you screw it tight. We noted four levels of thread so there's definitely no chance this thing is coming undone in your pack.
We did test out this flip top pretty rigorously and it never budged. We couldn't make it pop open even when squeezing it as hard as we could with our fist—which we think is more than enough reassurance that this thing won't be coming open in a packed bag. Having said that, Matador does suggest storing the bottle in a plastic zip bag, just as an extra layer of security—especially if you plan to transport it in your stowed luggage for a flight.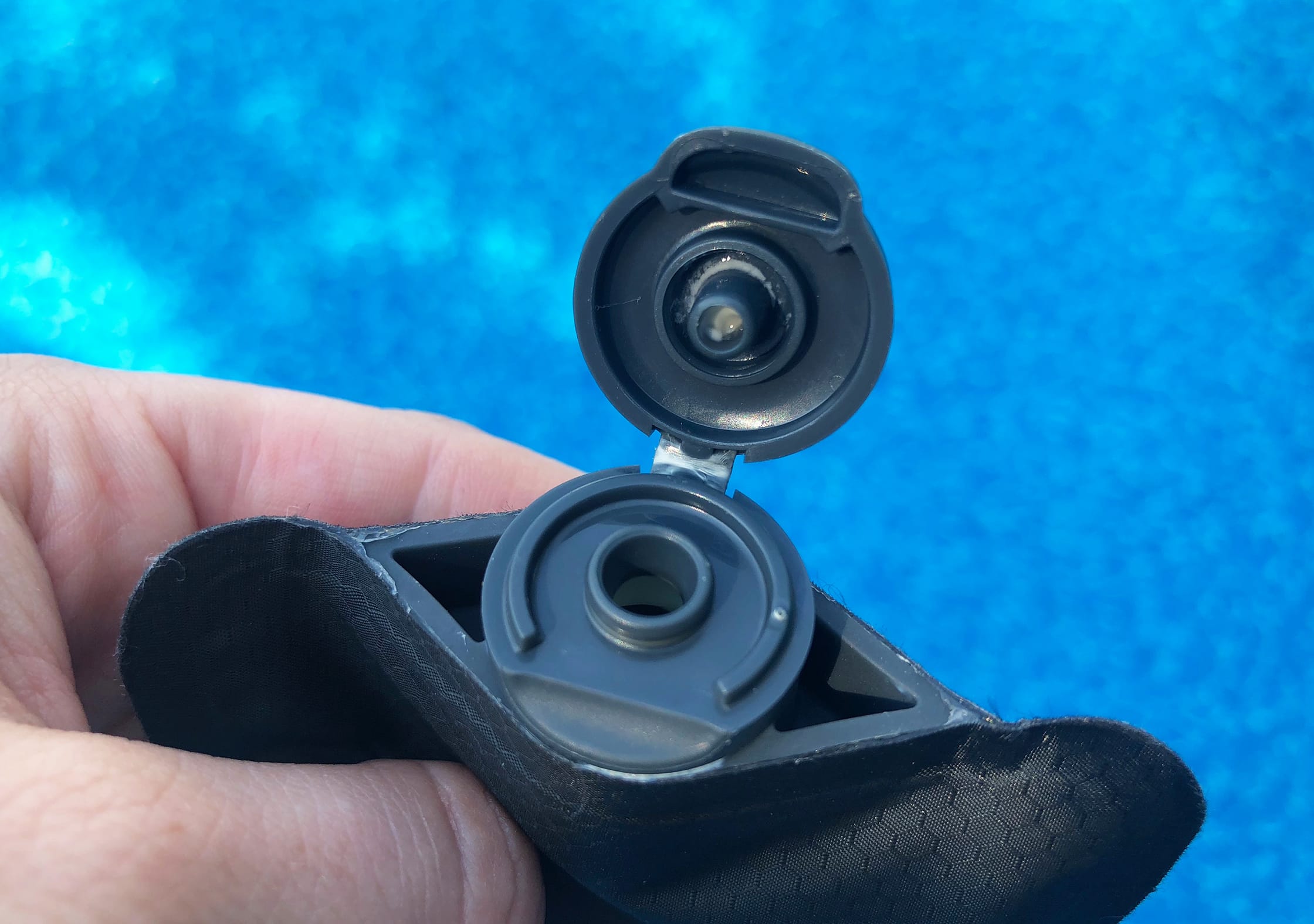 One minor issue we've found is that the connection for the flip-top cap isn't quite as reinforced as we'd like it to be. It's just one little piece of plastic, and while it hasn't failed us during our month of usage, we imagine it may not be long before weaknesses in the plastic begin to appear from repeated opening and closing.
In addition to the weak connection, we also noticed they don't actually have a valve in the hole to help regulate the rate at which the liquid comes out. We've been using thicker liquids (such as sunscreen and moisturizer) which aren't a problem, but watery liquids may leak out more easily when the lid is open. A valve would help to negate that and add an extra layer of protection against leakage.
As an example, take a look at our review of the GoToob Toiletry Bottles—specifically the GoToob+. They have a cap that flips open, and inside that there's a valve that acts as a second line of defense against leakage and also helps regulate thinner liquids. It's a bit of a shame Matador missed that feature, as it seems like it would have been an easy addition.
Having a capacity of three ounces means the bottles are definitely TSA approved for carry on travel, which is nice. However TSA will actually let you travel with 3.4 ounces, and we do wish they had made these just a little bit bigger to accommodate that extra 0.4 ounces. When you're going the one bag travel route, that little extra can make a big difference.
Matador probably made this choice so that people wouldn't get confused about the 3-1-1 rule… Which is the TSA rule for liquids, allowing 3.4 oz liquid containers in 1 quart-sized, clear, plastic, zip-top bag, in one carry-on bag per person. That is seriously a mouthful—kudos to whoever decided to call it the 3-1-1 rule! Much better. Personally, we would have preferred to see a little extra capacity!
One awesome aspect of the FlatPak Toiletry Bottle compared to other designs like the GoToob is that it's very flexible. This makes it easier to pack—you can slide it into little nooks and crannies and it re-shapes depending on what's inside and what space you are trying to push it into.
Cylindrical tubes tend to be bulky, and there's no way to re-shape them to fit the gaps in your luggage, so this is a big plus for these flexible bottles from Matador.
Rounding out the usage and features on this thing, there's a snap loop at the bottom that you can use to hang either from a carabiner, or directly onto a hook or rail. If you're in a hostel shower and don't have much space, this will come in really useful to prevent you having to put your toiletries on the floor. Just hang it up and you're good to go—you can even squeeze liquid from the bottle while it's hanging, because the snap hook is on the opposite end from the cap.
The snap loop allows you to hang the toiletry bottle on the outside of your pack for easy access to things like sunscreen. Also, if you attach it to your pants you can look like a really cool dad. We were happy to see that the design and quality of the snap loop has been greatly improved compared to the Matador NanoDry Towel that we reviewed previously. The snap loop on the towels had a weak clip that popped open really easily, but this thing stays firmly connected until you actually want to unbutton it, which is great to see.
Lastly—and this doesn't have to do much with the usage—we just wanted to mention that this thing is super satisfying to have in your hand! It's kind of like a stress ball, and it feels like a mini waterbed in your hands. Love it.
Durability & Testing
At the time of this review we've been testing the FlatPak Toiletry Bottle on the road for about a month of heavy usage.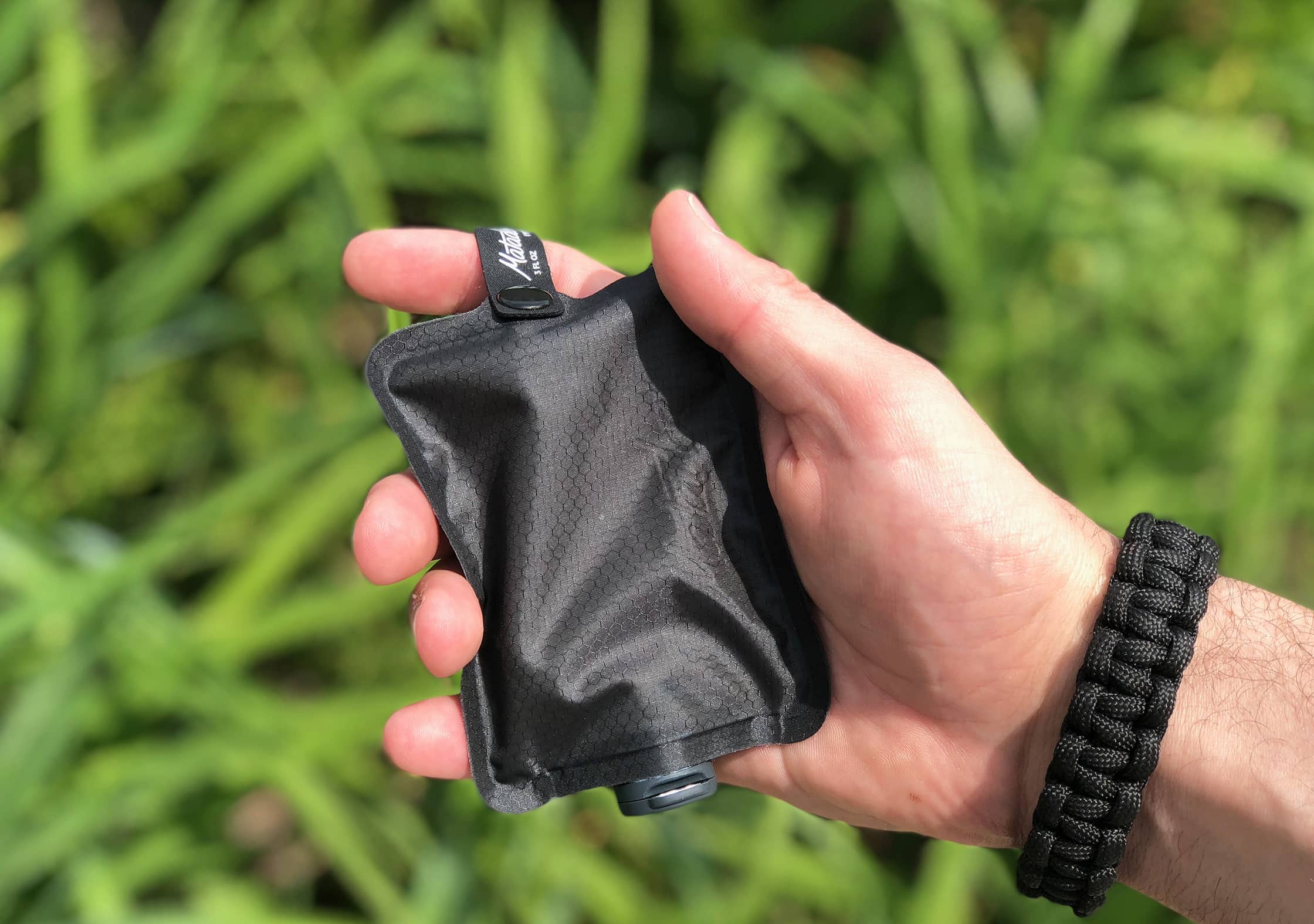 Overall, it has performed really well. The one small issue we've noticed is that there's some fraying around the edges where the two pieces of fabric have been welded together. We don't know exactly why that is, or if it has any effect on performance at all. It hasn't affected the usage for us at all, but we're curious to know how this thing will hold up as we use it for longer periods of time. We also think the flip lid could be a connected a bit better, to prevent it breaking off down the line.
Generally we've had a great experience with this little toiletry bottle. It's flexible, easy to use and slides right into your luggage without problems. The snap loop is durable and the cap is really secure—we haven't had any leaks or causes for concern, despite putting it through sustained, daily use.
Usage Timeline
Initial Usage
Condition: Excellent
Fresh out of the packaging – digging the form factor and feel.
1 Month of Use
Condition: Good
The material began to fray around the edges (which is disappointing), but the functionality was unaffected.
2 Months of Use
Condition: Good
A little more fraying on the edges, but no issues with leakage.
3 Months of Use
Condition: Good
In addition to fraying, the materials have started to show wear but no issues with leakage.
6 Months of Use
Condition: Good
Similar wear and tear, but functionality still unaffected.
1 Year of Use
Condition: Dead
A small leak appeared near the cap, allowing the contents to escape when squeezed.

Access the Pro Community Discussion
Get your questions about the Matador FlatPak Toiletry Bottle answered from our team and the Pro Community right here on the page. Plus, join discussions with other members about gear, guides, and more.
Other Organizers & Pouches Reviews