humangear GoToobs Review
Little compact containers to store all of your TSA-approved liquids, the GoToobs by HumanGear are a great travel companion for your favorite toiletries.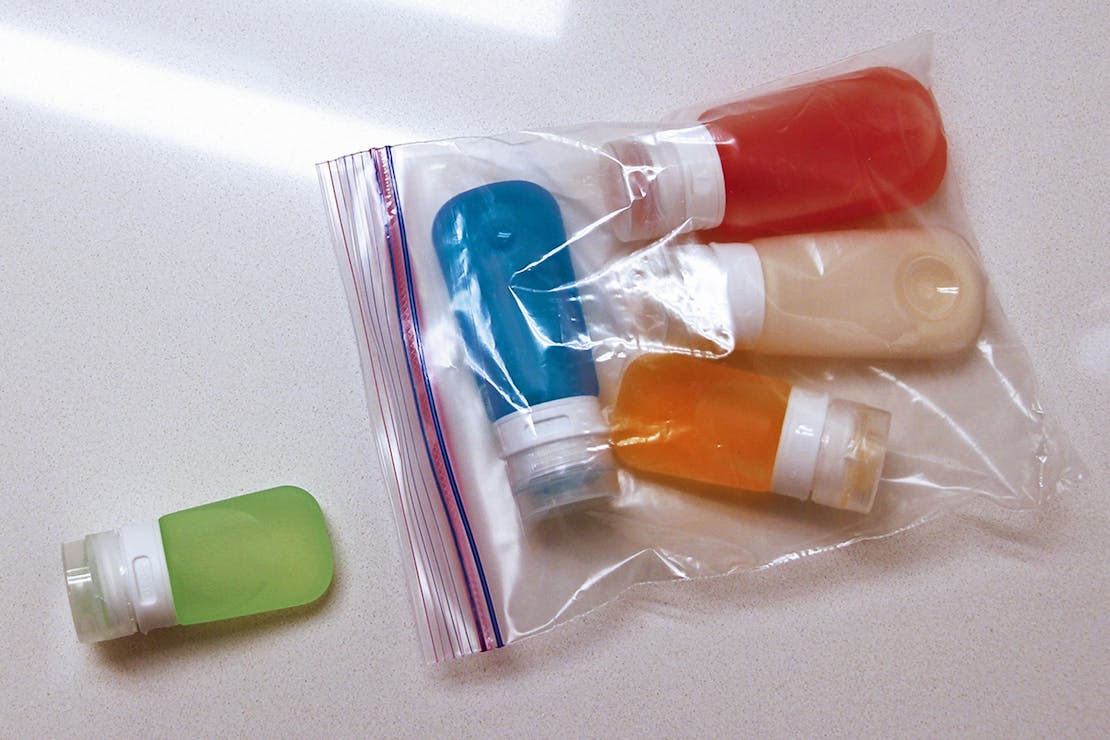 Our Verdict
Unlock the Pro Summary
Save time. Get access to brief summaries of our reviews so you can browse and make decisions more efficiently.
Pros
Compact design, fitting nicely in a quart sized baggie.
Good leak-proof design. Liquid only comes out when the Toobs are squeezed.
Labels are a nice touch, making it easy to discern which liquid is which.
Cons
Caps can break if dropped.
Labels can be hard to read, and it takes an artistic hand if you want to label your own in the small space provided.
Recent Pack Hacker Video
Technical Details
Weight (oz)

2.06 oz (58.4 g)

For the large, 3oz size (empty)

Dimensions

1.7 in x 4.5 in (4.3 x 11.4 cm)

For the large, 3oz size

Notable Materials

Silicone, Polypropylene

Warranty Information
Full Review
Get up to 35% off humangear • Join Pack Hacker Pro
Traveling with liquids is already challenging due to TSA rules. So anything that can further diminish those added leaky, bulky annoyances is a real win. We found the 3oz. Travel Bottles by GoToob to be little liquid stress savers. They're squeezable, rugged, and designed to easily fit in your toiletry bag.
These little tubes are great for bringing along a few essentials without having to buy travel sized packages. The key is that they fall under the 3-1-1 rule that the TSA has set up for liquids. Basically, this rule means that you can bring a quart-sized, sealable bag of liquids, aerosols, gels, creams, and pastes through the TSA checkpoint. These are limited to 3.4 ounces (100 milliliters) or less per item. Since the rule is 3-1-1, we've found luck with the 3 ounce tubes at the checkpoints, although they do make a 3.4oz. version if you're feeling bold—it's still within the limit.
The compact design allows for these to fit into a quart size baggie nicely with room to spare. There are other travel bottles out there, but we found these to be a good size. Plus, they don't have any unnecessary hooks on them that tend to waste more space.
The GoToobs come in a bunch of different colors, and they are all semi-transparent so you can easily see what's inside. Better yet, they come with five pre-printed labels — Conditioner, Shampoo, Sunscreen, Soap, and Lotion — so you don't have to guess which container is which. We've tested some face lotion in one, castille soap in another, and a third with sunscreen. (PSA: Always wear your sunscreen!).
You can also create a custom label with a sharpie, but there's not a ton of space, and it sort of requires an artistic hand to create a legible label. A nice feature, nonetheless – especially if you're the type of person to travel with some niche liquid products.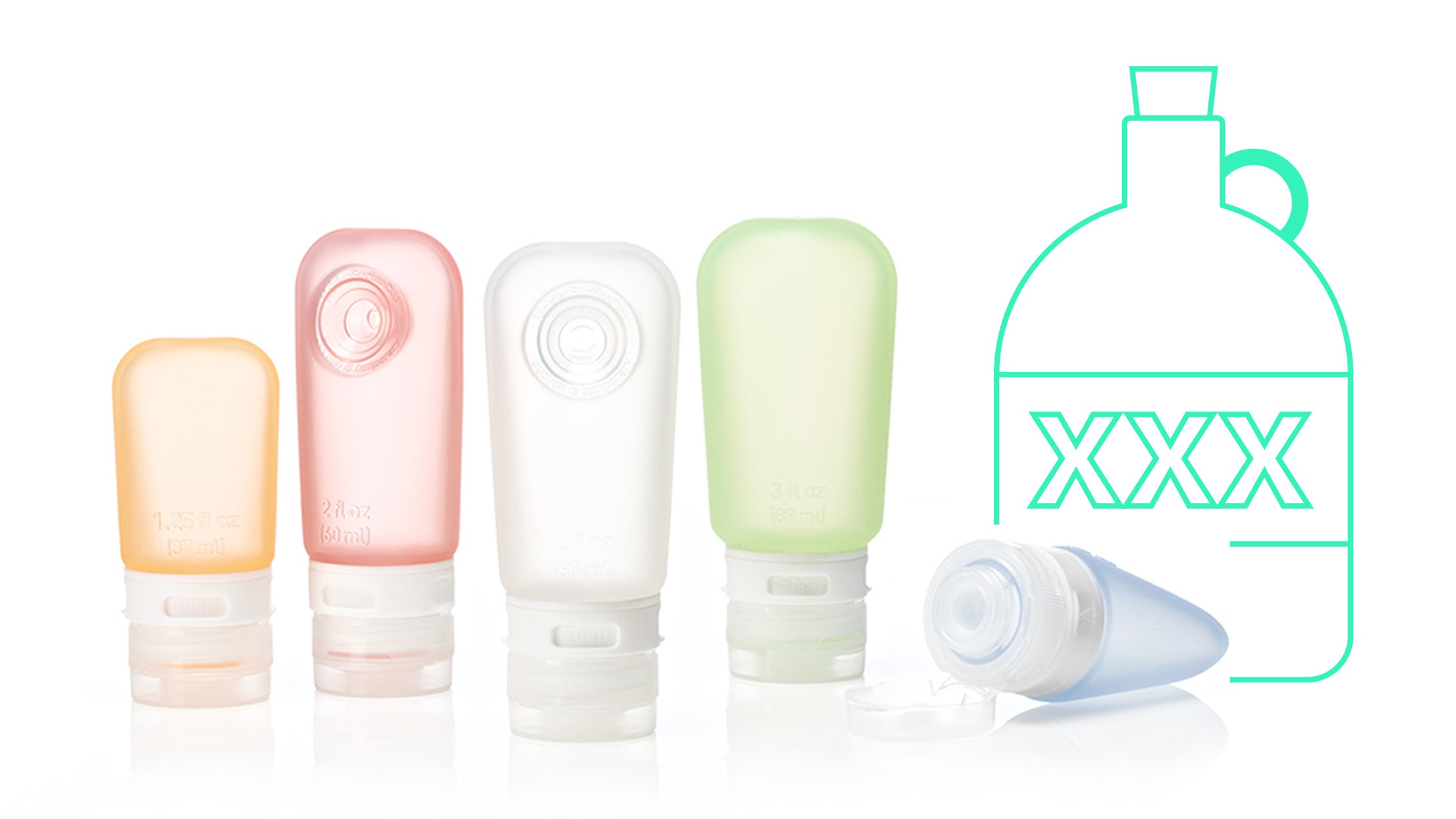 If you want to make your flight a bit more lively, these tubes can be great for storing some of your favorite adult beverages. But you didn't hear that from us … If you do decide to go this route, make sure you label correctly. Scotch does not make good face wash. Also noted, GoToob doesn't recommend storing anything alcohol-based within the tubes (mouthwash, aftershave, etc), so the containers may deteriorate quicker if storing these types of liquids within them, so, take this risk only if you like living life on the edge.
Now, the tubes themselves are made of silicone, which is great. They won't crack and the liquid doesn't come out unless you squeeze. The caps are also made to be airtight and prevent spillage in your bag — aka the last thing you want to find in your bag after a 6 hour flight. There is one problem with the caps though. They are made of hard plastic and we have seen them crack when dropped. Is it likely to happen? Not really. Unless you're type of person that likes throwing your toiletries around your hotel bathroom, in which case you might want to rethink some of your life choices. The occasional drop in the shower may crack them, but it's rare.
HumanGear has reached out to us, informing us of their lifetime warranty. It shouldn't be an issue to replace the caps if anything happens.
Thanks for the review! One more thing- a lifetime warranty. Drop us a line and we can replace that cap! support@humangear.com

— humangear inc. (@humangear_inc) June 29, 2017
One major highlight that we found was the size of the opening for filling and cleaning. It's pretty easy to fill these things up without a funnel, and without making a huge mess. There are some reports of leakage after air travel, due to the tubes swelling at altitude. We've found that the key is to avoid filling them up all the way so that there is some room for them to expand in flight without breaking the seal.
Usage Timeline
Initial Usage
Condition: Excellent
Unboxed. The GoToobs have a nice rubbery feel to them that's satisfying in an odd way.
3 Months of Use
Condition: Excellent
Still holding strong. The size is nice if you're on a longer trip or a digital nomad, as it holds a good amount of liquid.
6 Months of Use
Condition: Excellent
Still good. Noticing the rubber is a little "sticky" – pieces of dirt, and hairs can easily get stuck on the Toobs and require a quick rinse.
9 Months of Use
Condition: Excellent
Going strong. Replaced one of the Toobs with a different liquid. Was relatively easy to wash out due to the wide opening.
1 Year of Use
Condition: Excellent
No new reports. Airport security hasn't blinked an eye at these after many international and domestic flights.
1.5 Years of Use
Condition: Good
One of the caps broke after a drop! Not sure if this is due to the time it's been in use, or from the careless handling. 2/3 tubes are still in action.
Access the Pro Community Discussion
Get your questions about the humangear GoToobs answered from our team and the Pro Community right here on the page. Plus, join discussions with other members about gear, guides, and more.
Other Organizers & Pouches Reviews