Matador Transit30 2.0 Review
The Transit30 2.0 is a large packable duffel bag from Matador. It's great for adding extra capacity to your travel setup, but we think that's about it.
Our Verdict
Unlock the Pro Summary
Save time. Get access to brief summaries of our reviews so you can browse and make decisions more efficiently.
Pros
Huge capacity
Nicely executed quick-grab pocket
The button is nice for keeping the straps together
Cons
Low weight zipper for such a large bag
Not very versatile
Missed opportunity compressing into the quick-grab pocket
Recent Pack Hacker Video
Technical Details
Capacity

30l

Denier

30D

Weight (oz)

5 oz (141.7 g)

Notable Materials

CORDURA® Ripstop Nylon, Hypalon®

Manufacturing Country

China

Warranty Information
Full Review
Get up to 20% off Matador • Join Pack Hacker Pro
The Transit30 2.0 is Matador's compressible duffel, and it is a total beast. It's 30 liters and, like all of Matador's products, highly compressible. This is the second iteration of the Transit30, and we've noticed some nice improvements over version 1.0.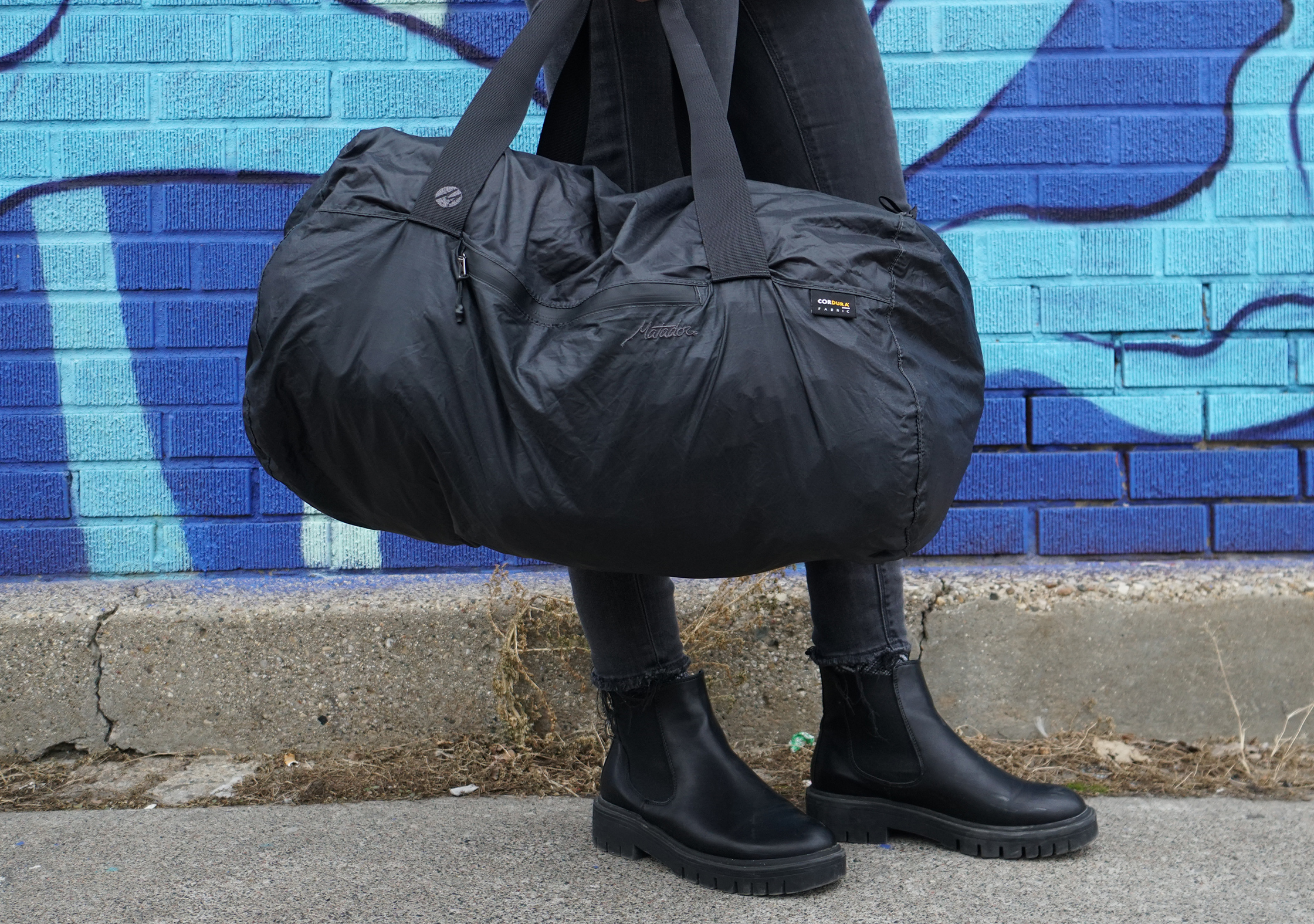 We've found this to be a great addition to your pack if you plan on acquiring more things on the road. You can toss it in your travel backpack for the trip to your destination, fill it up with souvenirs or whatever else you might want during your stay, and then bring it all back on your return flight by checking one of your bags.
PSA: This is just one product out of Matador's Advanced Series. They've also got the Freerain24 2.0, Freefly16, Flatpak Soap Bar Case, and the Flatpak Toiletry Bottle. If you're interested in adding some compressible gear to your travel loadout, we'd highly recommend checking out the full series.


The Transit30 2.0 is made with siliconized 30D CORDURA® ripstop, puncture-resistant nylon. So it's lightweight, strong, and weather-resistant.


The duffel handle is now "button-able," allowing you to attach both loops to each other. This makes it a bit easier to carry the bag and manage the straps.
There are some better loops and pull tabs on each side of the zipper.


There is now a wider opening on the front zippered compartment, which is good for quick-grab items.
For a 30-liter bag, we think the main zipper is pretty lackluster. We're not bag designers, but it seems like this thing should have a beefier zip, considering it will be carrying a large amount of gear.


This pack uses the same rolltop design on the compression pouch as the other Matador Advanced Series products—such as the Freefly16 and Freerain24 2.0. We're not huge fans, but it works.
We also think Matador may have missed an opportunity to have the bag compress into the quick-grab pocket, instead of having a separate compression pouch. The separate pouch works well on the backpacks, but in this case you're just stuffing a duffel full of gear, so it would be nice to have that out of the way.
Usage Timeline
Initial Usage
Condition: Excellent
Looking good out of the box, this thing is huge and packs down to nothing.
1 Month of Use
Condition: Excellent
Works well, although we don't find ourselves using it that often. Kind of a niche use-case.
2 Months of Use
Condition: Good
Still going strong, we have some concerns about the craftsmanship but no major issues yet.
Access the Pro Community Discussion
Get your questions about the Matador Transit30 2.0 answered from our team and the Pro Community right here on the page. Plus, join discussions with other members about gear, guides, and more.
Other Bags & Luggage Reviews