Away Small Zip Backpack Review
The sleek look and gusseted opening make the Away Small Zip Backpack great for day-to-day use, but the semi-clamshell design has a few quirks.
Our Verdict
Unlock the Pro Summary
Save time. Get access to brief summaries of our reviews so you can browse and make decisions more efficiently.
Pros
Gusseted clamshell-style opening
Good mix of internal organization styles
Wide floor maximizes 14-liter capacity
Cons
Gussets can get stuck in clamshell when zipping up
Gear is difficult to access unless bag is fully open
Key clip is long and hard to store
Recent Pack Hacker Video
Technical Details
Capacity

14l

Weight (lb)

1.8 lb (0.8 kg)

Dimensions

10.4 in x 5.9 in x 14.2 in (26.4 x 15 x 36.1 cm)

Notable Materials

Nylon, Leather

Manufacturing Country

Vietnam

Laptop Compartment Size

13"

Warranty Information
Full Review
Once in a while, we get behemoths like the Tropic Feel Shell Travel Backpack and the Salkan Backpacker—both edging over 40 liters in capacity with a features list longer than forearms. We admit, we get excited running through each feature and finding out how well they work in real-world testing. But there's also something equally satisfying when you find that "wow" factor in a smaller backpack.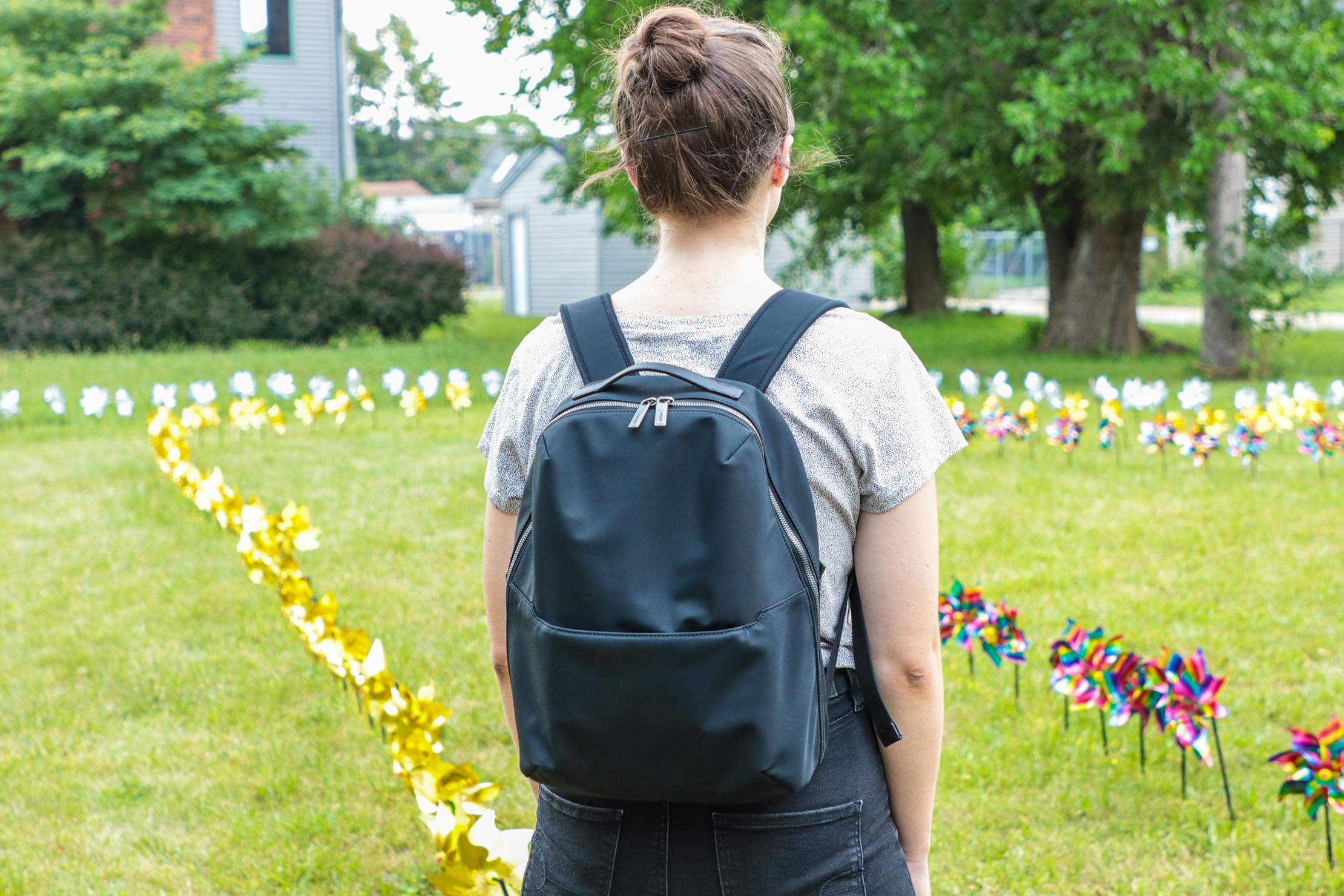 Enter the Small Zip Backpack from Away. It's not a 40-liter travel backpack like the ones we just mentioned; rather, it's a 14-liter daypack. Despite the streamlined and simplistic design on the outside, there's a lot of cleverness going on once you get it open. We enjoyed testing this backpack, and we're ready to share the results with you.
Materials & Aesthetic
A quick glance over Away's website reveals their design philosophy. They're very simple in shape, with an almost uniform emphasis on trapezoidal and squared-off profiles. There are very few creases with the designs, which keeps the shape streamlined. Even the logo is confined to a small tag on the side. At most, we could see two different colors on any given bag, and it keeps all of the styling and aesthetics minimal and classy. All of these design aspects are found on the Small Zip Backpack, resulting in a charming little 14-liter bag with an understated all-black aesthetic.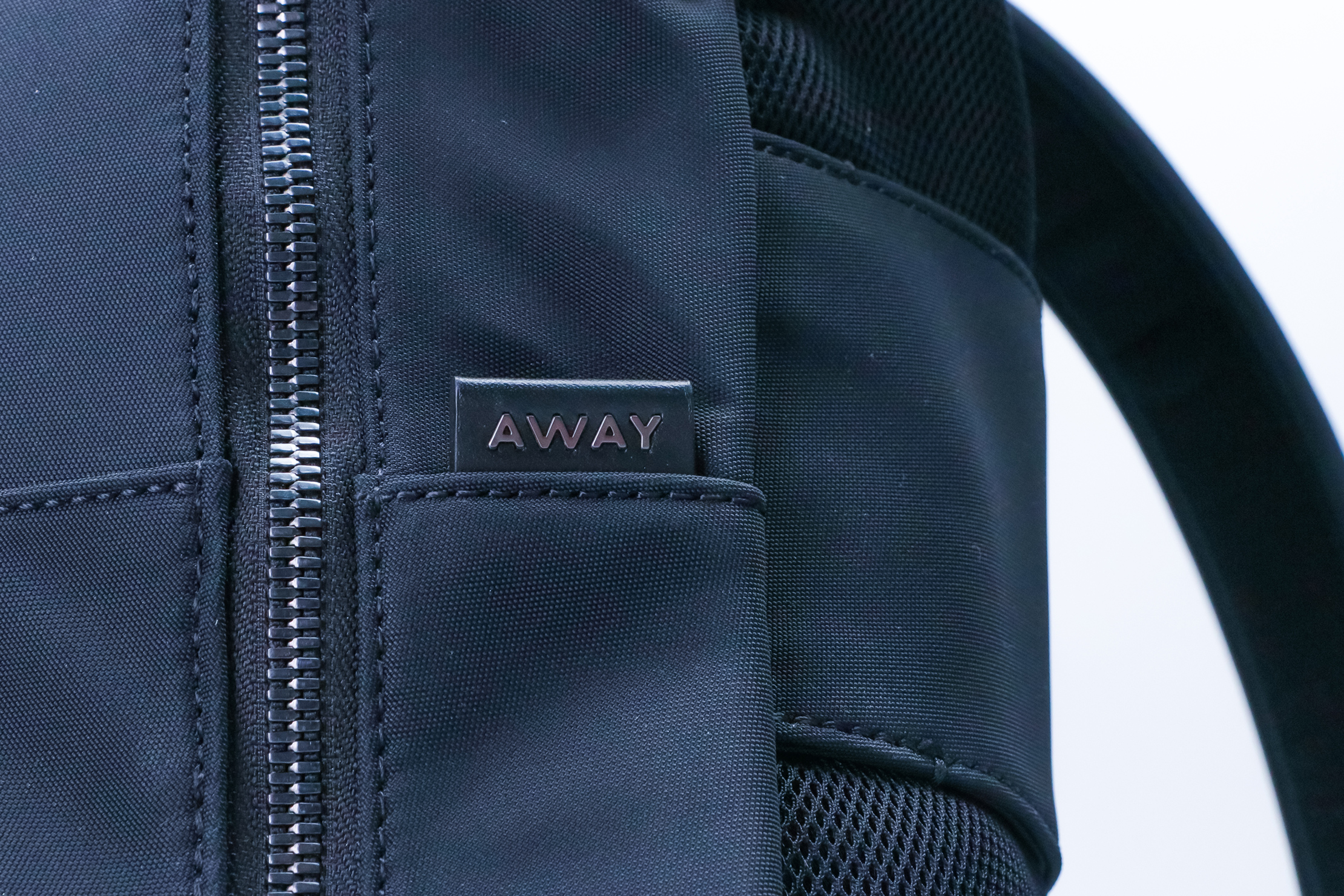 The fabric is water-resistant nylon, which did get a bit dirtied up during testing, but it was nothing a little water and cloth couldn't fix. Unfortunately, the zippers are of unknown origin, which is to say they're unbranded apart from Away's own logo. Since the zippers play a major part in the Small Zip Backpack's aesthetic, acting as the most eye-catching accent piece around the bag, we would have preferred something more familiar here. Nevertheless, these zippers and their metal pulls have proven themselves reliable throughout testing, so they get a pass from us.
Speaking of accent pieces, less noticeable are the leather top handle, leather patches on the shoulder straps, and leather key leash inside. They blend in with the black nylon fabric, but they're nice touches that make the experience feel a bit more premium.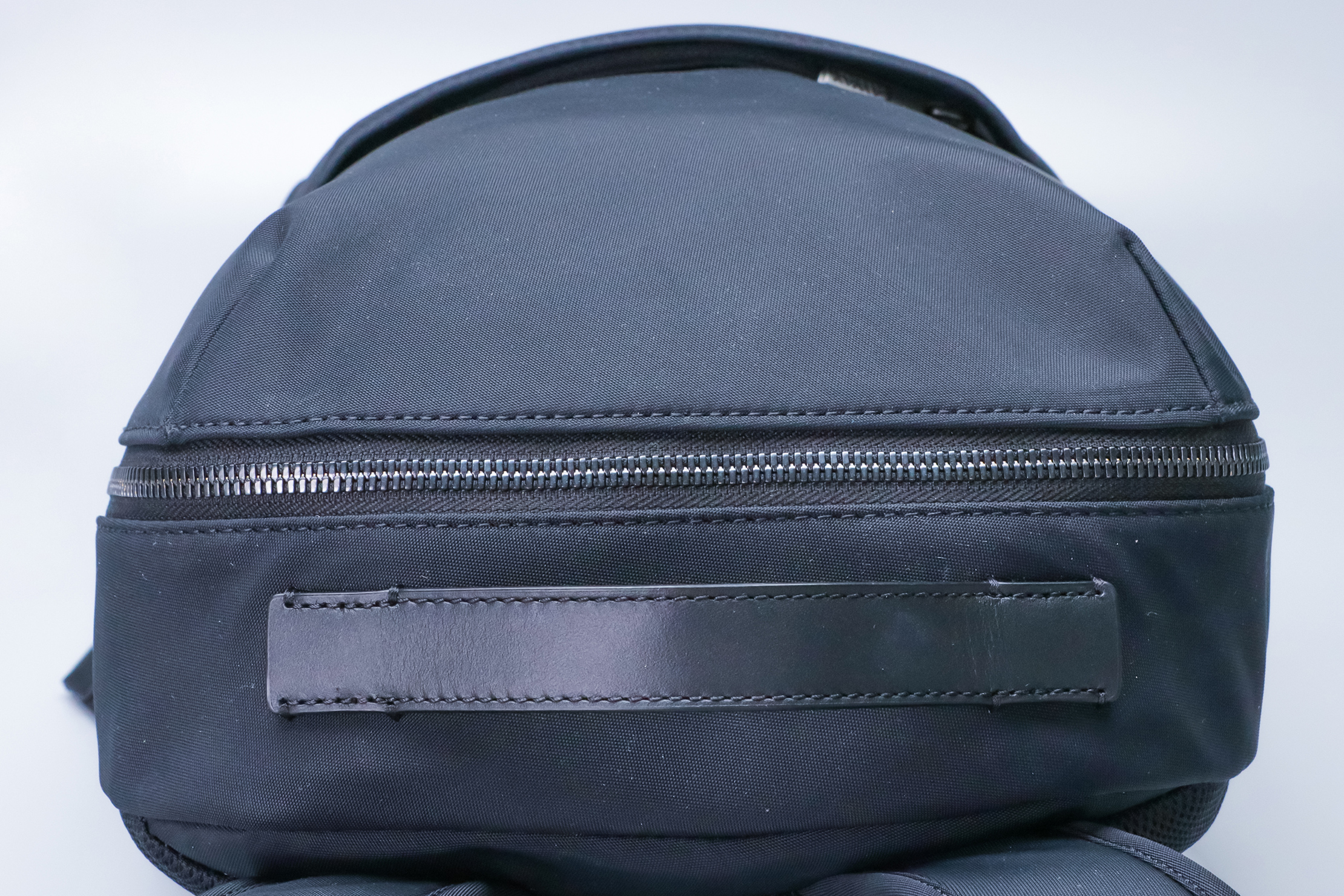 Oh, and if you do want the leather trim to stand out a bit more, there's also a Moss Nylon colorway available at the time of writing. To each their own, but we find the Black Nylon colorway we have here as the safer choice since black is easier to match with various clothes.
External Components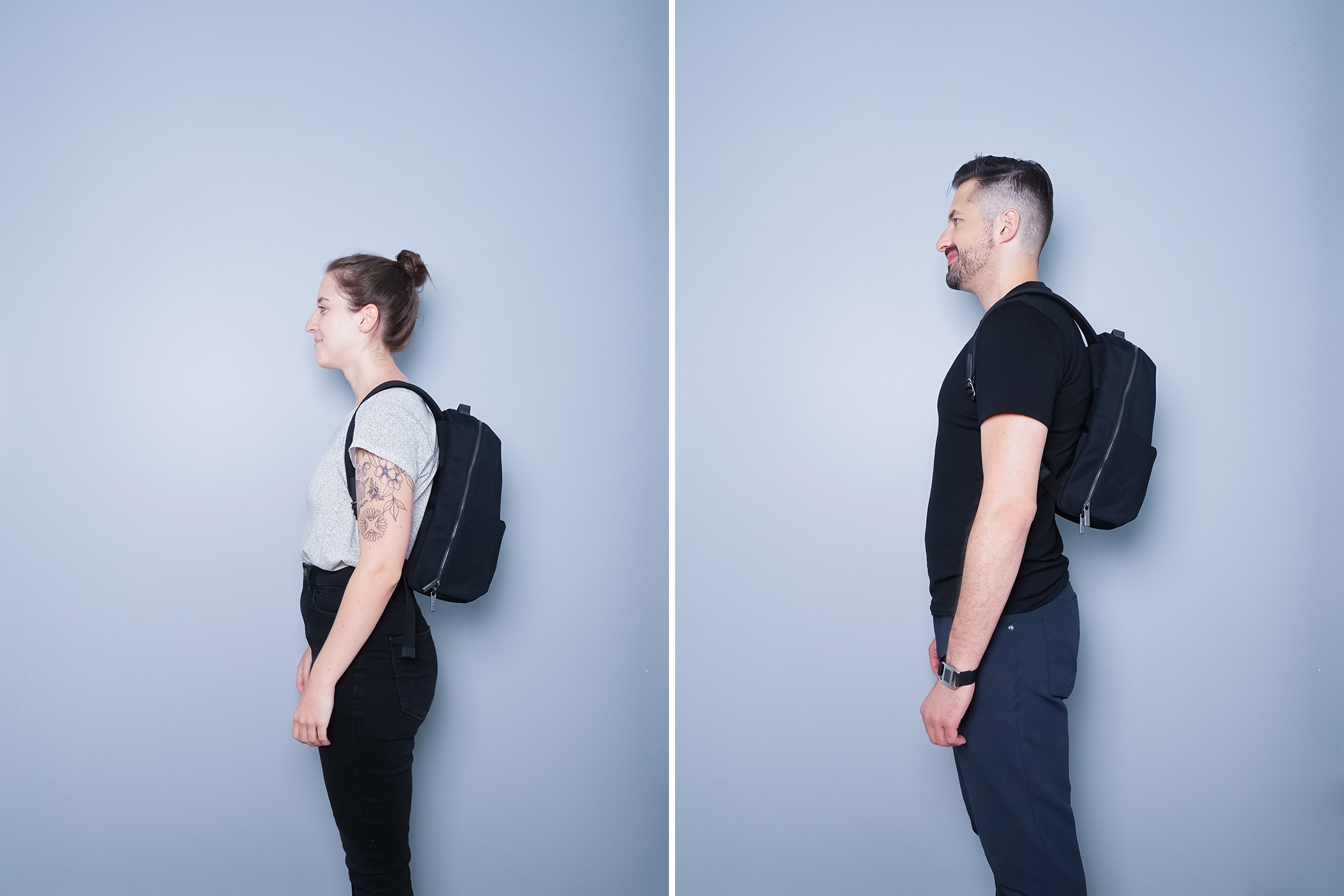 The Small Zip Backpack comes with a simple harness system consisting of adequately-sized shoulder straps, and that's it. There are no fancy load lifters, compression straps, waist straps, hip belts, or sternum straps. Standing at a whopping 14-liters, however, it's not as if you're carrying Buckingham Palace on your back. The humble shoulder straps feature a decent amount of padding and rounded edges that don't dig badly into your shoulders.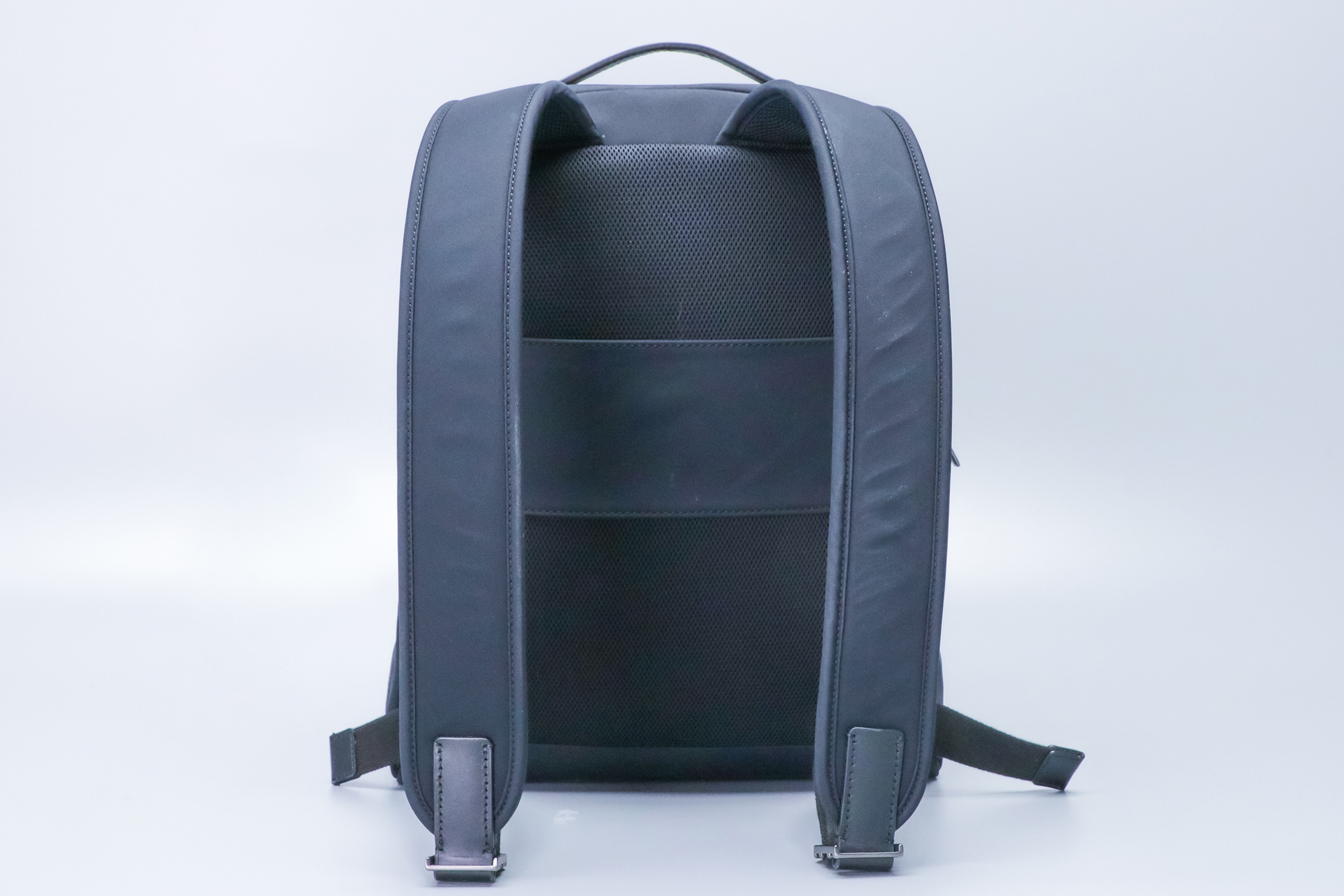 The back panel is fully covered in mesh material that keeps things cool and breathable. It's also soft and well-padded but doesn't feel lacking in structure. The small footprint of the bag gives it an advantage over bigger bags since it fits a wider range of frames, whether big or small. In short, the Small Zip Backpack is decently comfortable to carry, thanks to its appropriately designed harness system.
Apart from the harness system, the Small Zip Backpack doesn't have too much in terms of external features. The few concessions include the luggage pass-through and a leather top handle. The former is quite wide, so the bag sits flush against a rolling luggage's slender trolley handle. Admittedly, the leather handle isn't the most comfortable to hold by hand, but it's a love-it-or-hate-it thing depending on whether you dig the leather trim or not.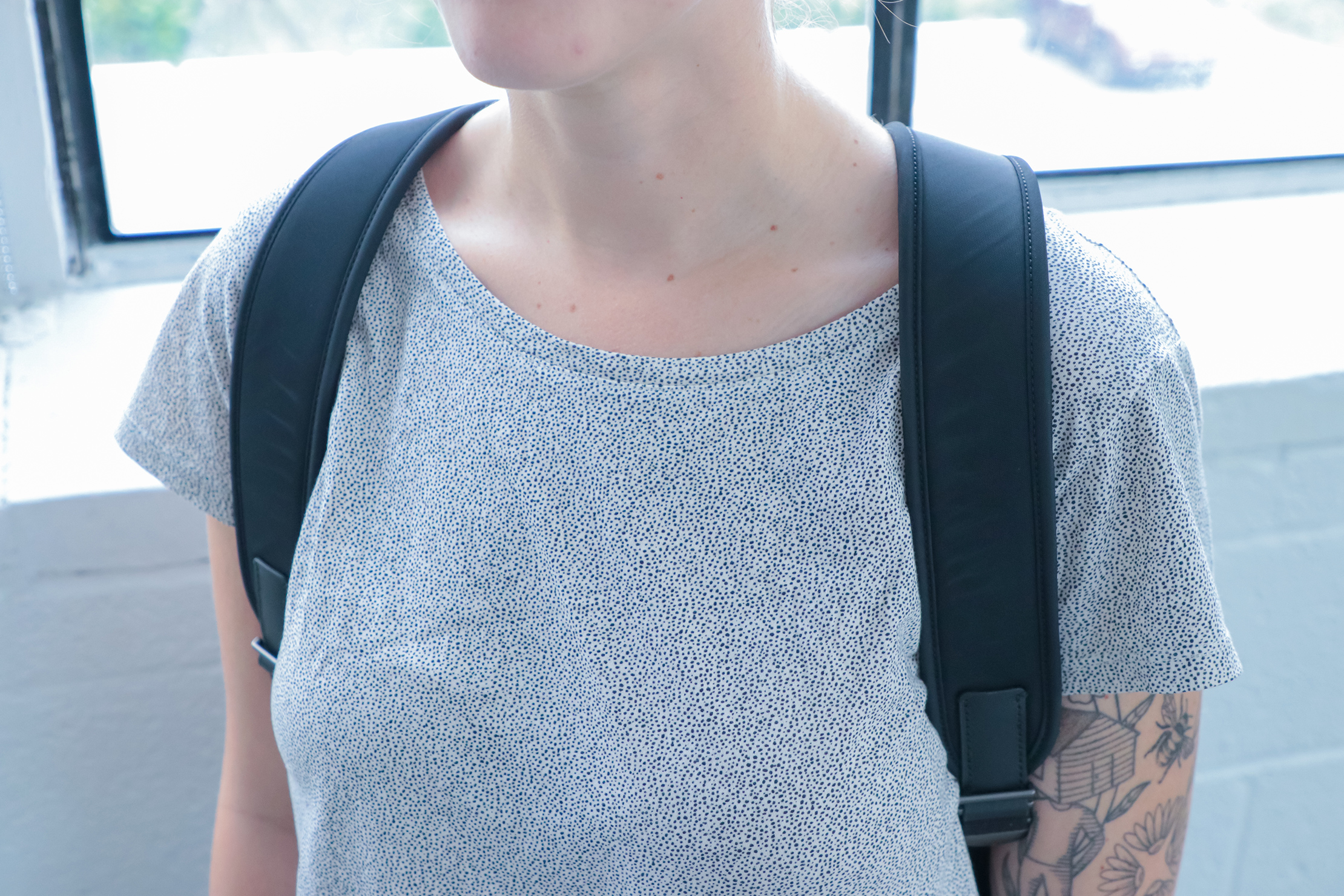 Those who need or want to carry a water bottle need not fret, however. There may not be a water bottle pocket on the left or the right, but there is one in the main compartment. In fact, whereas the Small Zip Backpack is rather bare on the outside, it's quite surprising once you get inside.
Inside The Pack
At the front of the Small Zip Backpack is a small slit running horizontally across. It's a pocket—a magnetically closed quick-grab pocket to be exact—and it's handy for storing your smartphone or spare change you want easy access to. It's a bit tight, so grabbing small items may take some feeling around.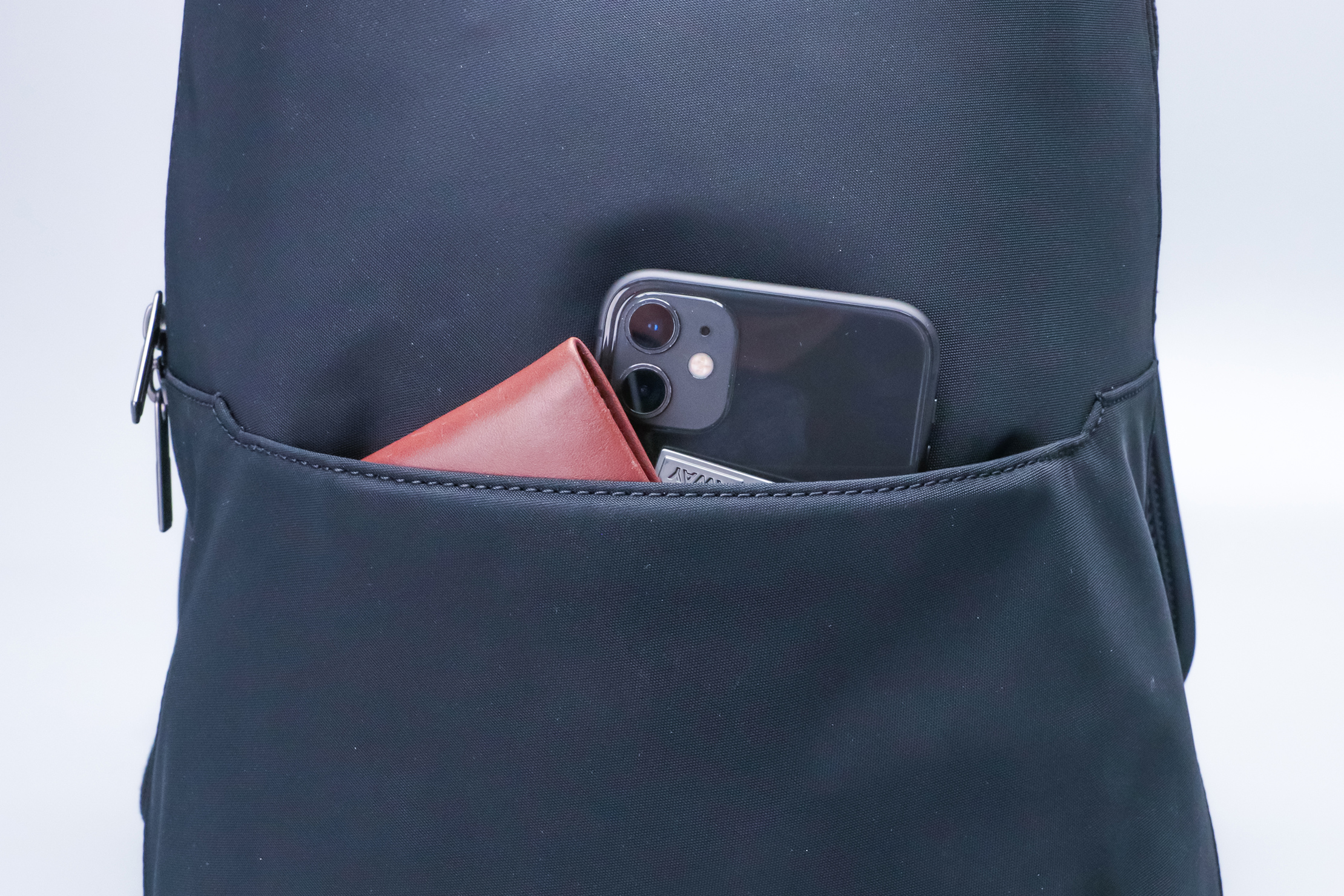 If you want a bit more security with nearly the same quick accessibility, there's also a zippered pocket on the backside. It's a good place to store wallets or identification cards. Though it's not as secure as a dedicated security pocket located on the back panel like in other daypacks, the pocket's hidden nature keeps it relatively secure from naughty pickpockets.
So far, we've established that the Small Zip Backpack has a simple, streamlined design with an adequate harness system and a secure quick-access pocket—all good stuff, but nothing too mind-blowing, all things considered. But once you open up the main compartment, things take an interesting turn.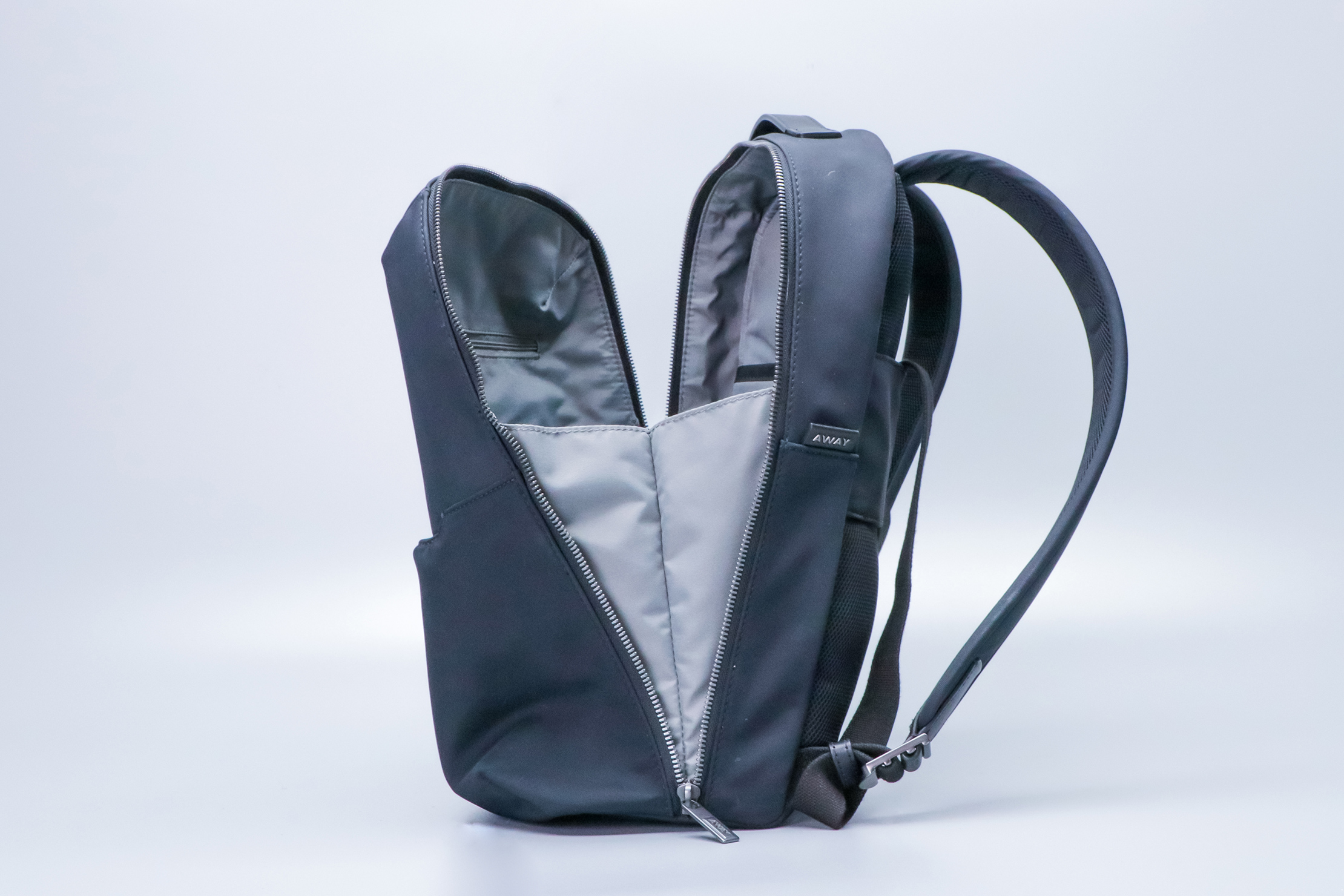 Whereas other backpacks in this size come with a horseshoe-style opening, the Small Zip Backpack's zipper goes from the bottom right all the way to the bottom left. It's a clamshell design—but unlike most clamshell backpacks, the Small Zip stops short of fully opening thanks to gussets. The result is a sort of hybrid, featuring a wider opening than a horseshoe-style design without the spread-out nature of a clamshell.
Of course, this design has its own caveats, the most notable of which is that the gussets tend to come out and get caught when closing up the bag. It's not a huge issue since it's easy to squeeze them back in as you zip along.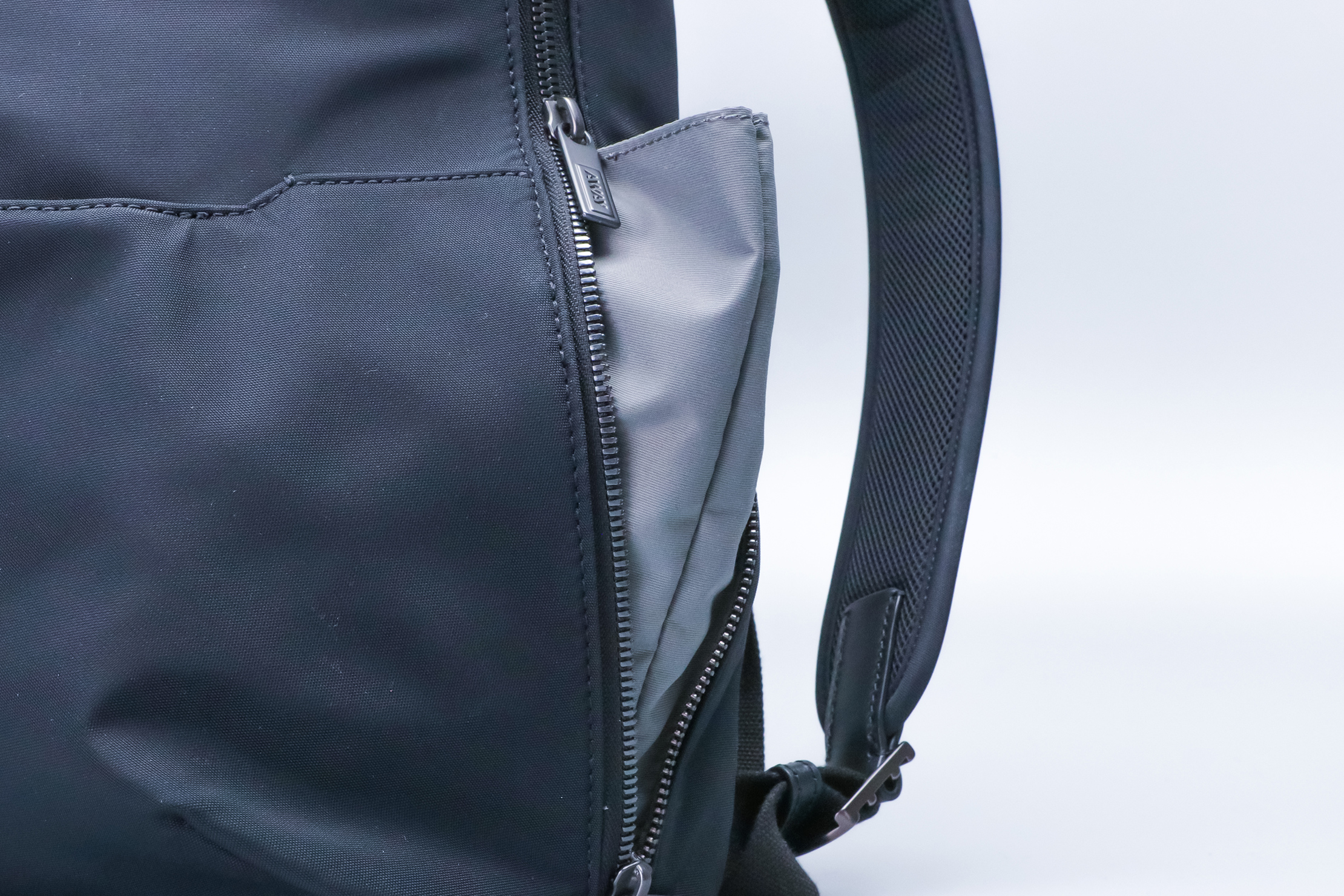 With a clever semi-clamshell opening, accessibility is great on the Small Zip Backpack. Despite the relatively small 14-liter capacity, it feels a lot more spacious than it looks, courtesy of the wide opening and the grey interior fabric. It's not all smoke and mirrors, though; the wide floor of the bag genuinely gives the bag a substantial amount of depth to fit a tech pouch, a small packing cube, a small hoodie, and even a 16-ounce water bottle.
During use, we observed that fully opening the main compartment's zippers caused the stack of items inside to collapse further down into the available space. It makes closing up harder, which is somewhat troublesome when you're opening it in on the go. One workaround is not to fully open it when you just need to grab something quickly and only open it completely at your destination. With this in mind, the semi-clamshell opening takes some trial and error to get used to.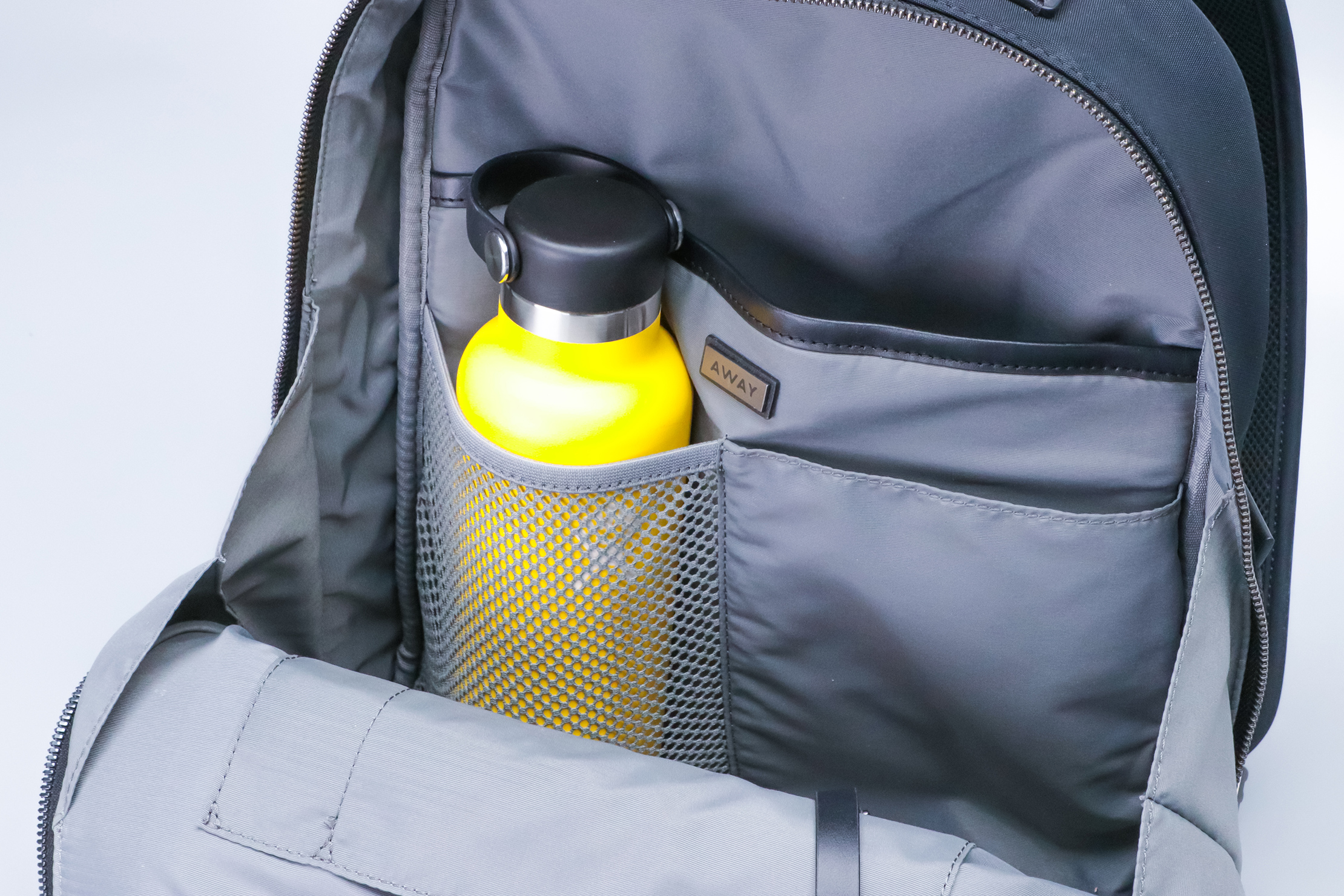 The inside features a good mix of organization options. The one pocket that stood out the most to us is the internal water bottle pocket. It features a mesh material where moisture can seep through. We recommend going with an insulated bottle—like our 18-ounce Hydro Flask— to prevent this kind of build-up of condensation inside.
Right beside the water bottle pocket is a liner pocket wide enough for an Apple Magic Keyboard. There's a liner pocket on the opposite side where we keep our pouch and a handy pen silo for, well, our pen. Behind them is a zippered pocket for everyday carry items that we didn't feel comfortable putting inside the external front pockets. Items such as a small bottle of hand sanitizer, wireless earphones case, sunglasses, and chapstick can fit in there comfortably.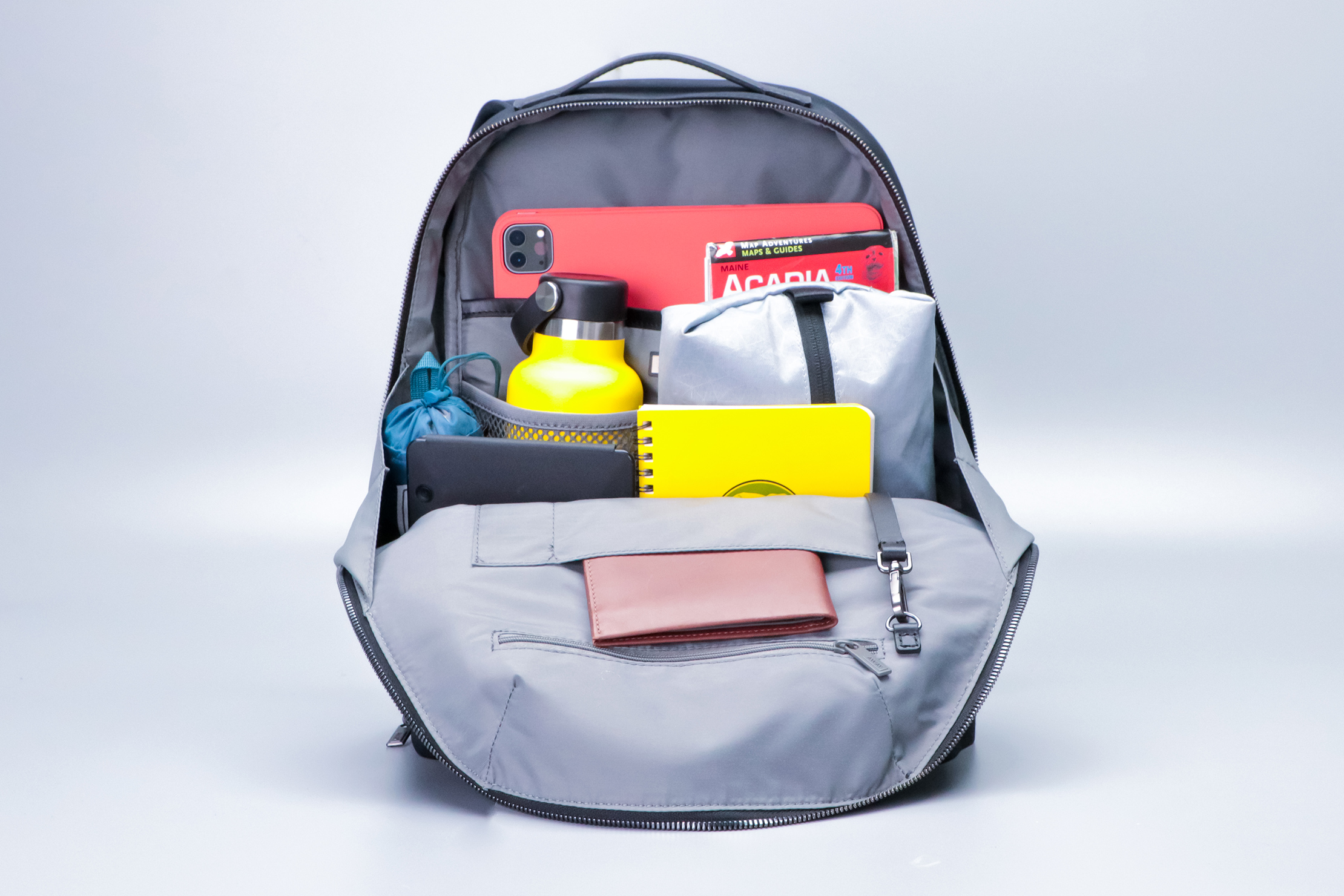 There's also a built-in key clip attached via a leather leash. The trouble is that the leash is quite long—so long in fact that our keys can sit comfortably on the floor of the bag while attached. Fortunately, the leash is removable and therefore replaceable. Otherwise, our quick tip would be to place your keys inside one of the many pockets to avoid them being buried by whatever you're going to stack inside the main compartment.
Lastly, there's the laptop compartment, big enough for a 13-inch MacBook. The one we tested with the Small Zip Backpack is a 2017 13-inch MacBook, which is a little bigger than the newer ones. While our MacBook does fit, albeit tightly, the corners stick out and touch the ceiling of the bag. There's a false bottom, but it's still a little too close for comfort for us, and it's not the most reassuring in terms of device protection. It'll fit but will require extra careful attention.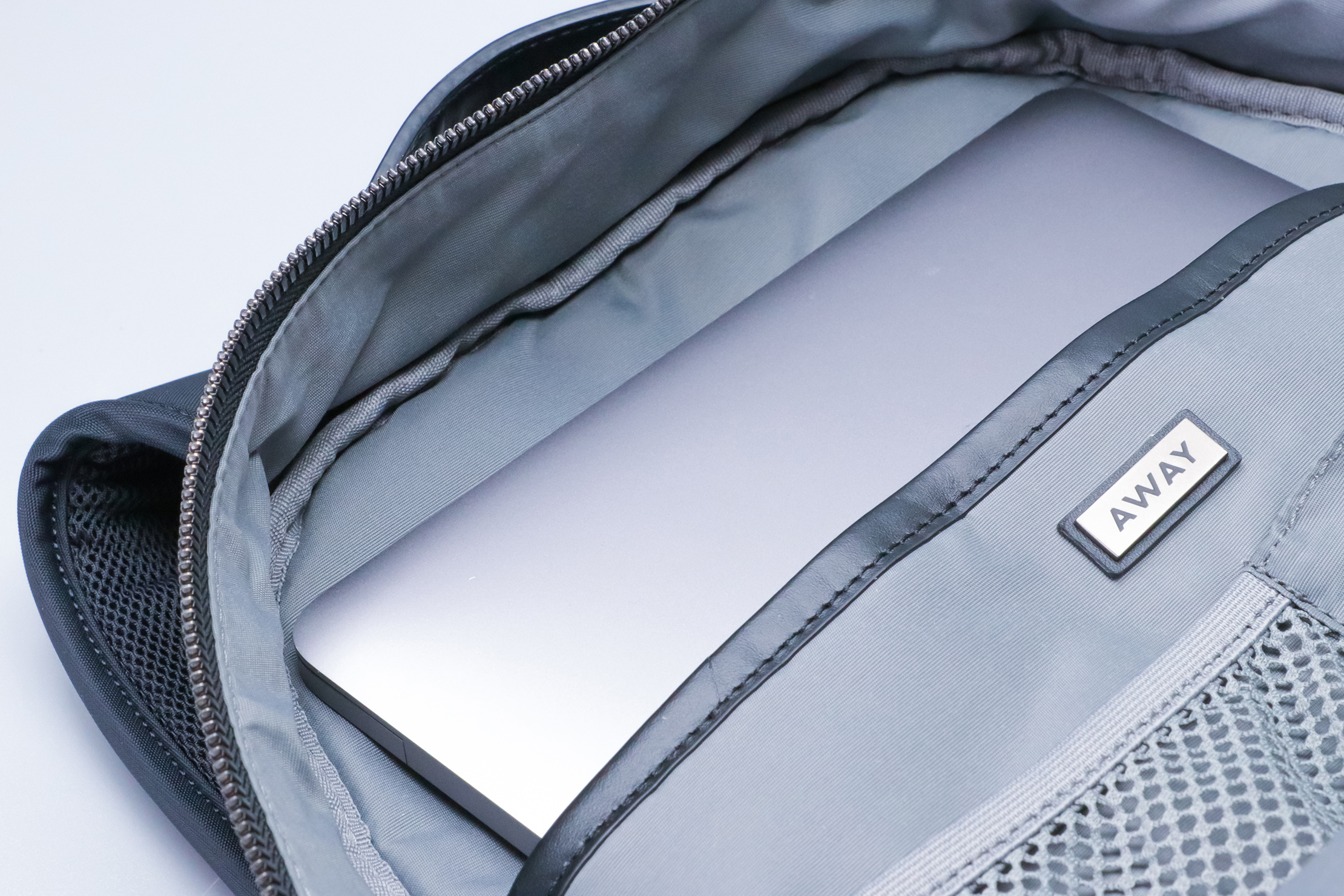 Away nails their aesthetic choices, and while we're big fans of the look, it's a subjective aspect of the Small Zip Backpack. Though it's fairly simple and streamlined on the outside, Away made the most out of the internal design, with the gusseted clamshell opening and well-balanced organization—bringing the best out of the 14-liter backpack.
Usage Timeline
Initial Usage
Condition: Excellent
Main compartment has gussets at the sides
Built-in key leash is located inside the main compartment
Zipper goes all the way down the sides, but the gussets stop it from opening fully like a clamshell
2 Weeks of Use
Condition: Excellent
Color shows dust and dirt easily, but it's easy to wipe off using a damp rag
Clamshell opening makes access easy and gussets add stability
Key strap is very long and sits awkwardly in the bag
Access the Pro Community Discussion
Get your questions about the Away Small Zip Backpack answered from our team and the Pro Community right here on the page. Plus, join discussions with other members about gear, guides, and more.
Other Bags & Luggage Reviews