Tropicfeel Shell Travel Backpack Review
The Tropicfeel Shell Backpack offers a rich ecosystem of accessories aimed squarely at those looking for a complete package—though its cohesiveness is rough around the edges.
Our Verdict
Unlock the Pro Summary
Save time. Get access to brief summaries of our reviews so you can browse and make decisions more efficiently.
Pros
It's a good all-in-one system
Wardrobe system virtually eliminates unpacking time
Generous back panel foam padding
Cons
We wish the bag had side compression straps
We've found the dopp kit to be better for tech than the actual tech pouch
Concerns with durability of non-adjustable elastic straps underneath kangaroo pouch
Recent Pack Hacker Video
Technical Details
Capacity

40l

Fully expanded, can be compressed to 22 L

Weight (lb)

3.3 lb (1.5 kg)

Dimensions

20 in x 12 in x 7.5 in (50.8 x 30.5 x 19.1 cm)

Notable Materials

Nylon, Polyester, YKK Zippers, Woojin Hardware

Laptop Compartment Size

15"

Warranty Information
Full Review
Get up to 15% off Tropicfeel • Join Pack Hacker Pro
Seasoned travelers of many years will be some of the most prepared people you'll meet. Ask them to open up their bag—very nicely—and you can bet they have a prepared 10-page treatise of what's going on inside—memorized and ready for presentation.
With the Shell Backpack, Tropicfeel tries to save those only just growing out of their basic bag all the trouble of that much research and customization. Plus, there's nothing more off-putting than sinking money into stuff that doesn't work well together.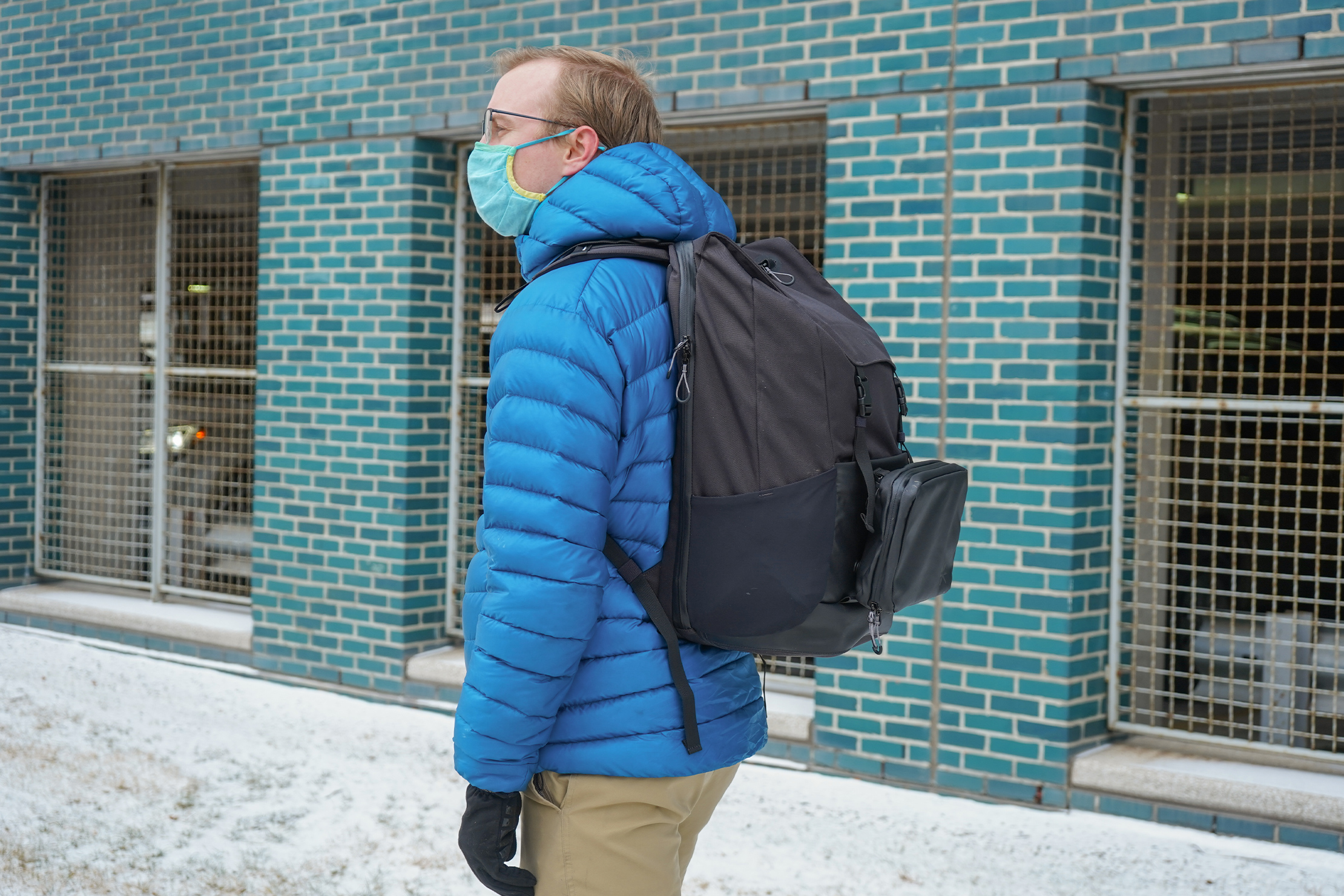 Tropicfeel arrived with the Shell Backpack and its long list of features & ambitious claims that this will be the last backpack you'll ever need. Lot's of features to tackle here, so let's get into it.
Materials & Aesthetic
Tropicfeel bills the Shell Backpack as the only backpack you'll ever need. With that in mind, you'd want this to be easy on the eyes if you're going to be living with it forever. You'll need to consider two general scenarios where you're going to want to picture yourself using this bag.

The first scenario is in the compressed form where the Shell Backpack looks strikingly reminiscent of your typical vintage school knapsack, thanks to the dual front clips used to secure the top flap. As of writing, there are three colors to choose from: red, olive green, and black.
Whichever color is chosen, there's a tiny amount of sparkle off the water-resistant polyester that might give away the bag's outdoorsy roots. Otherwise, there's really no dead giveaway that this is not just another urban-centric backpack somewhat influenced by old-school styling.
On the subject of that polyester, by the way, it's 60% recycled material and 100% recycled nylon. Tropicfeel gets a thumbs up from us for their efforts to use recycled materials, as we usually do when companies do their part in being eco-friendly.
The next scenario is in the final two forms—normal and expanded—that use the wardrobe system. This is where the Shell Backpack starts to bulk up its muscles and shows off what it can do. From an innocent-looking knapsack, the bag turns into a full-fledged, squared-off, tightly packed travel bag. In this form, the Shell Backpack goes full utilitarian. Stick on one of those magnetic Fidlock pouches, and it's like putting armored plating on a tank ready to go on an adventure.
The Shell backpack is garnished with well-regarded Woojin buckles and YKK zippers that should hold up well to wear and tear. We've encountered no issues with clipping and unclipping during the two-week test we performed, nor did we with any of the zippers.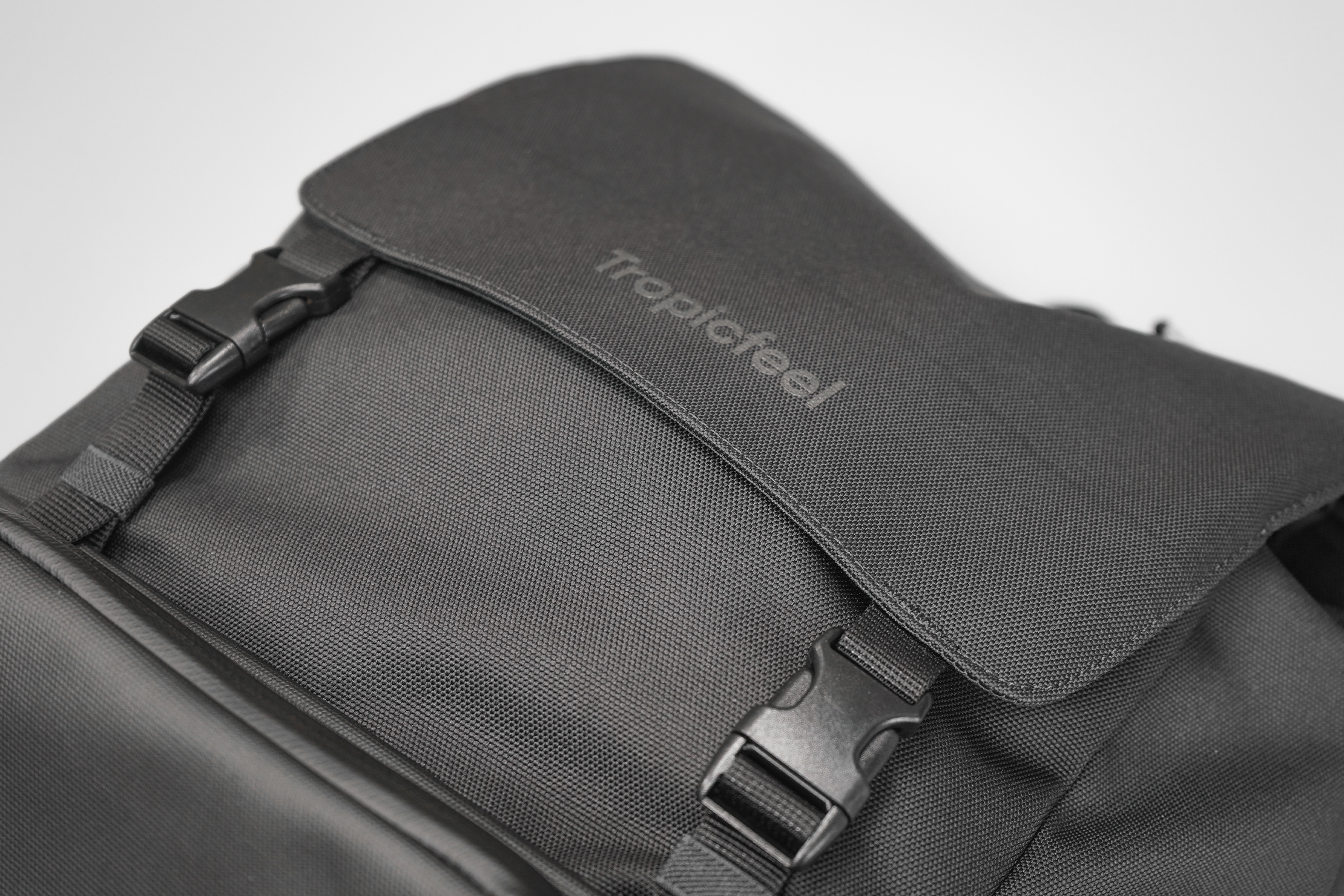 As for branding, Tropicfeel has a new logo that it wants to show off via the detachable front pouch accessories. In case you don't or won't use one of those, the previous Tropicfeel text-based logo is still present on the front flap.
External Components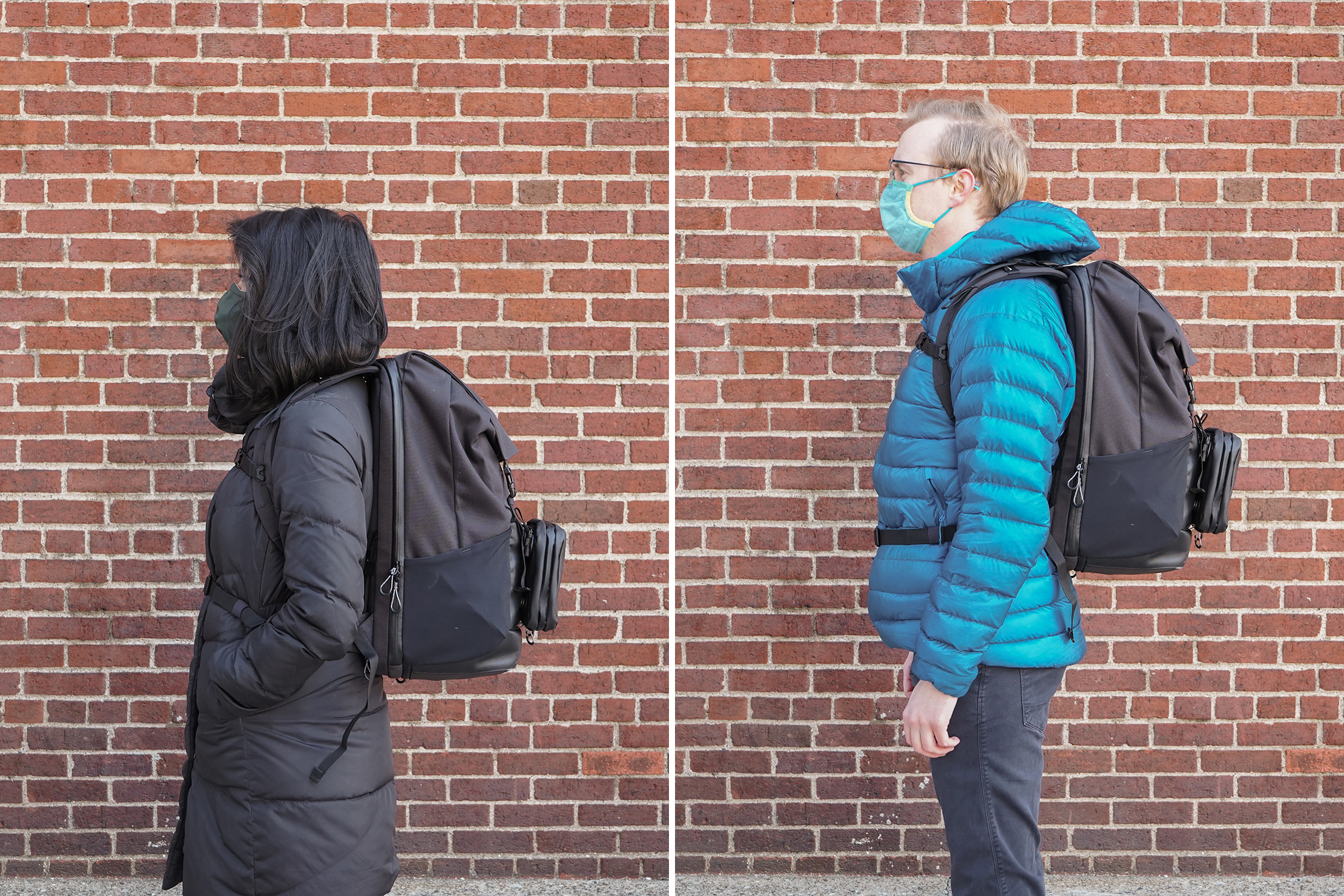 Looking at the Shell Backpack from the outside, your eyes will most likely be drawn to the four peculiar dots at the front. These are none other than magnetic Fidlock mounting points for the two optional tech and dopp kit pouches. As these are Fidlock mechanisms, there's a bit more cleverness to them than being simple magnets.
Both pouches attach magnetically when aligned to the four mounting points. Once in place, they are quite secure. We tested this by loading up a Shell Backpack and carrying it by the front pouch. Sure enough, it didn't detach, nor did any of the four points break.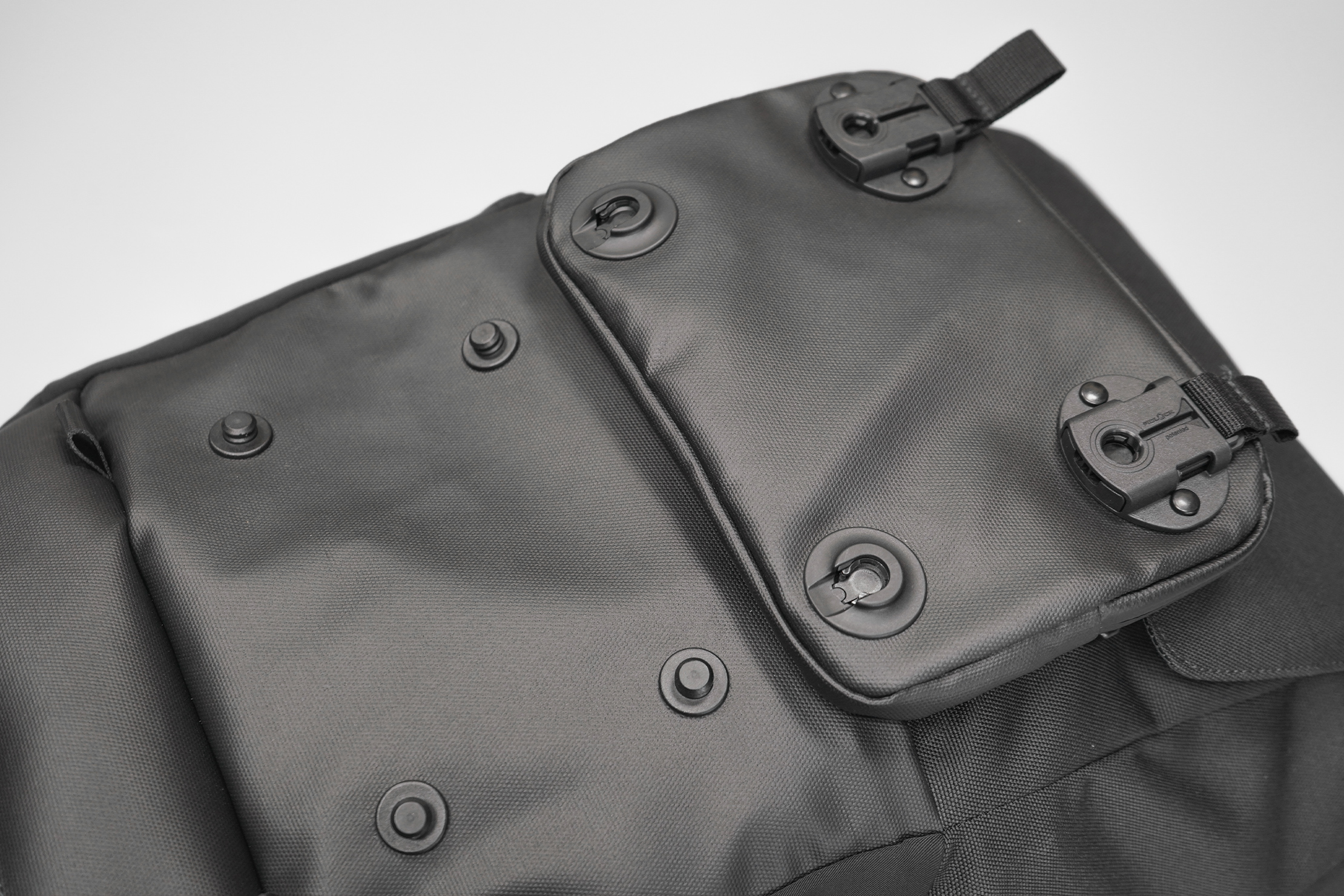 Don't worry, you're not meant to handle the Shell Backpack this way. Three handles are conveniently provided: one at the top and two at each side. These are relatively un-noteworthy handles as they are just polyester straps folded in to provide a bit of thickness. They do the job adequately, providing you with the means to move the pack around in your trunk, for example, without having to grasp the fabric.
On the sides are fairly large pockets, enough to hold 20-something ounce water bottles or very thick folding umbrellas. They are sealed and stitched along the bottom with good elasticity so you can use them to store discarded food wrappers when you're trekking along and there's no trash bin in sight. "Leave nothing but footprints" is a motto we like to live by.
Underneath the bag and hidden away by a zippered compartment is a kangaroo pocket. Sadly, there are no joeys in there, but you can use it as a completely separate container for stuff you wish to keep isolated. Muddy shoes, dirty shirts, smelly socks—all those can go in the kangaroo pocket, keeping your clean clothes pristine and untouched. It's held secure by straps and locked in by g-hooks.
The portion of the straps underneath the kangaroo pouch is elastic where you can slot in a light tripod or anything fairly light and thin. It's going to be held by elastic so we don't recommend using it for anything too valuable either.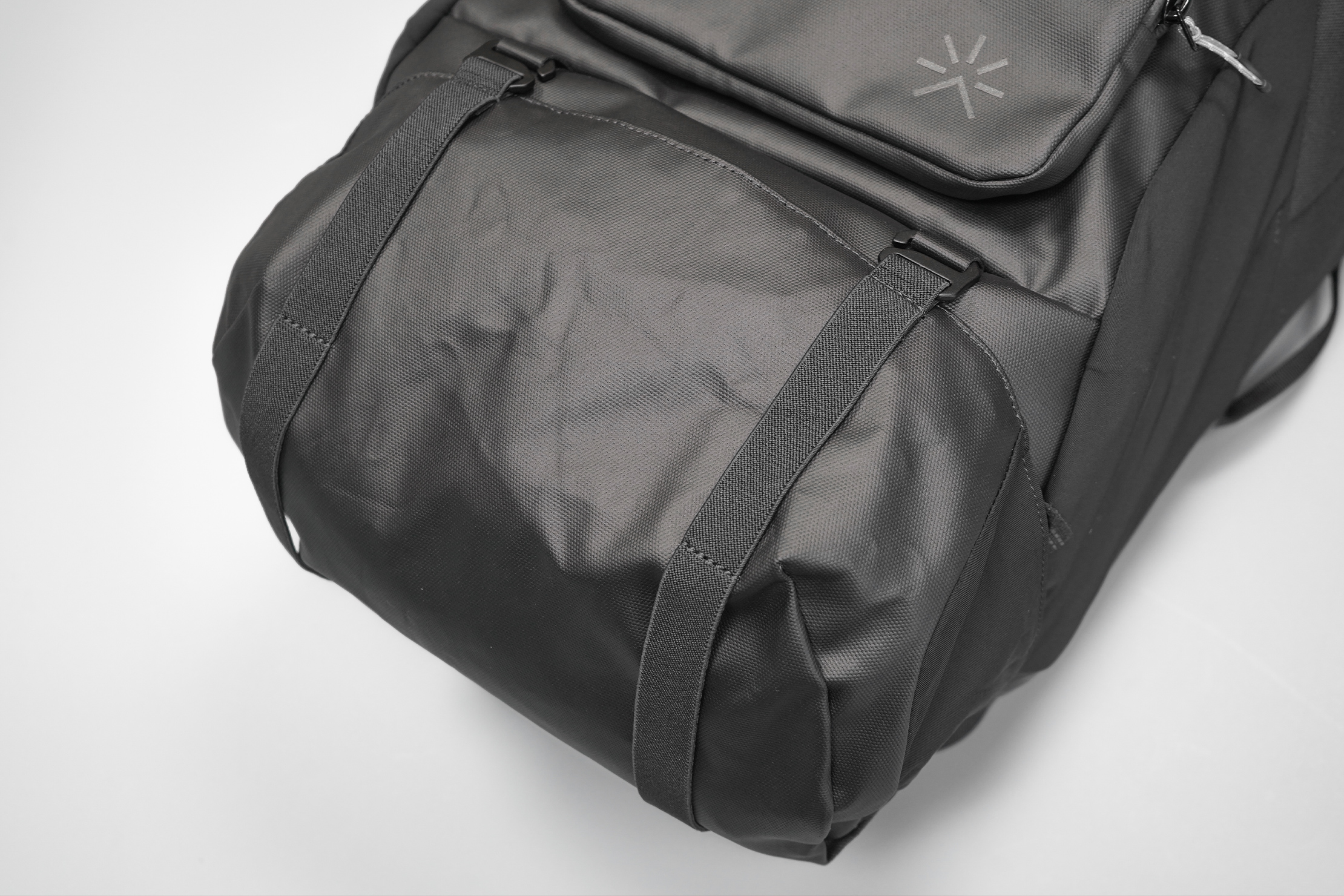 We wouldn't recommend using this when it's time to check-in at the airport because there's always the possibility of the g-hooks being shaken loose at some point during transit. Plus, the pouch doesn't actually seal around along the sides and just relies on the straps to hold it flush against the bottom.
Since you can load the Shell Backpack to the gills with clothing and gear, it's only natural to expect an exemplary system of harnesses, straps, and padding to cope with the load. In our testing, there are both good hits and missed opportunities.
Our initial impressions were generally good as we found a generous amount of foam padding on the back panel with a complimentary air channel in that kept our backs cool. We do feel that the shoulder straps, however, could use a bit more foam padding, especially if you plan to make full use of the 40 liter capacity. There's an adjustable sternum strap, easily able to reposition up and down along five mounting positions via chest strap clips. Further down below is a hip belt, tucked underneath a hidden pocket, and thoughtfully padded at the bases to prevent chafing your hips. When you don't need most of these straps dangling around, there's also an elastic hold-down strap to keep the shoulder straps in line. Needless to say, there are enough straps here to earn the Shell Backpack a membership card in the travel bag club.

Thanks to this robust system of straps and harnesses, the Shell Backpack felt easy to manage even with a fully-packed wardrobe. With the high degree of adjustments that can be made to nearly all the straps, neither the big-torsoe'd nor the small-torsoe'd among us had issues lugging the pack on our backs comfortably.
However, the same cannot be said when we took the wardrobe module out of the equation and transitioned the Shell Backpack to daypack mode. Once emptied, the weight of the contents inside the pack shakes around loosely inside what is basically a rucksack. Travel backpacks usually mitigate this problem with the use of side compression straps to keep things tight. Considering the versatility Tropicfeel is trying to achieve here, side compression straps would be a welcome addition for comfort.
Inside The Pack
At first glance, the Shell Backpack seems to have just one pocket, the one on the flap. But tucked away at the front, directly behind the magnetic Fidlock mounting points is one. It's also just a plain pocket like the one on the flap. As it's situated between the main pack and one of the accessory pouches, items that have a flat shape like a field notebook or journal are most appropriate here. The zipper is completely shrouded so you'll have peace of mind that no pickpocket will ever get their hands on your top-secret, hush-hush notes.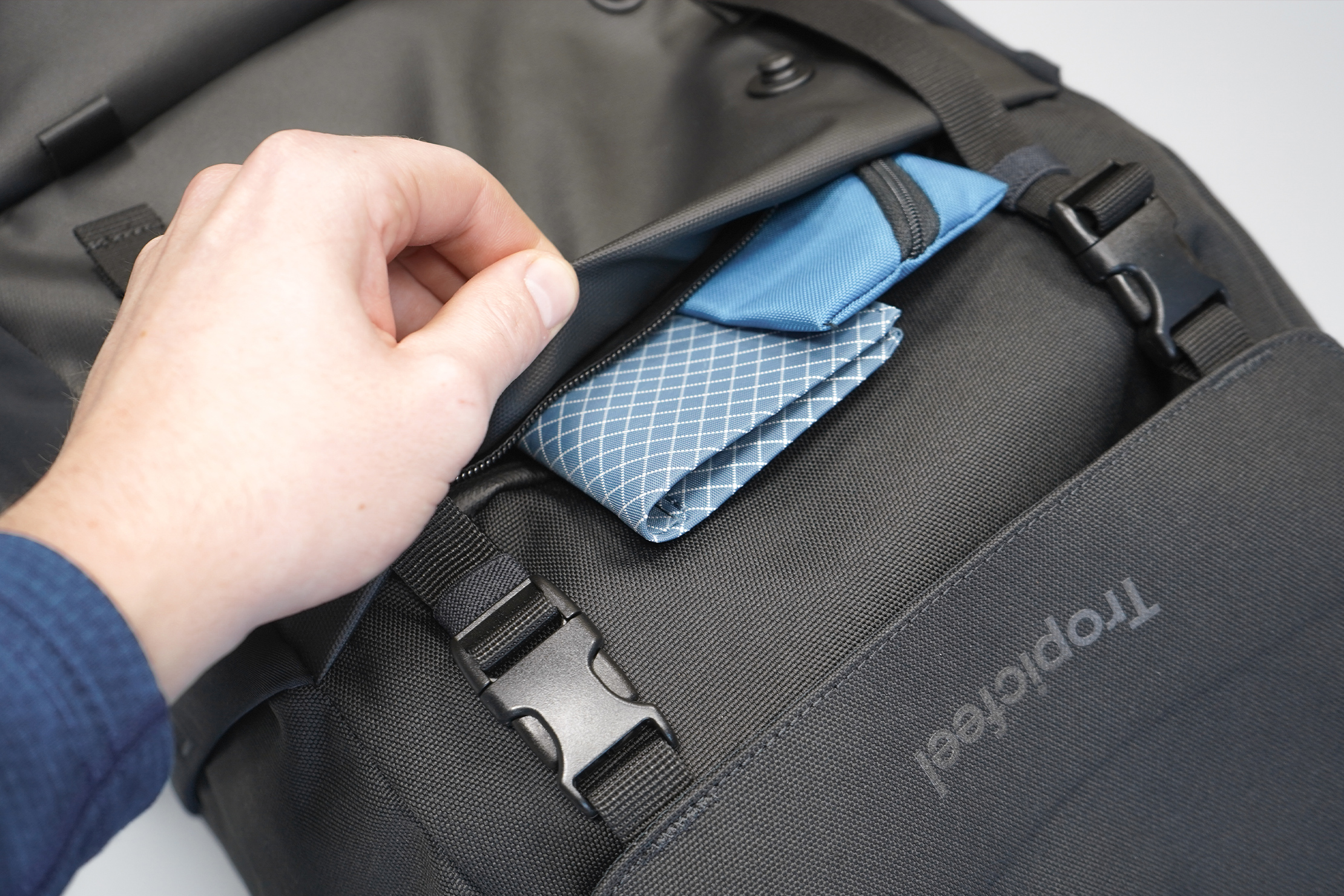 For added privacy, there's another hidden pocket in the more typical location that's directly behind the lower left hip area where you can hide your identification papers, airline tickets, wallet, or embarrassing vacation photos.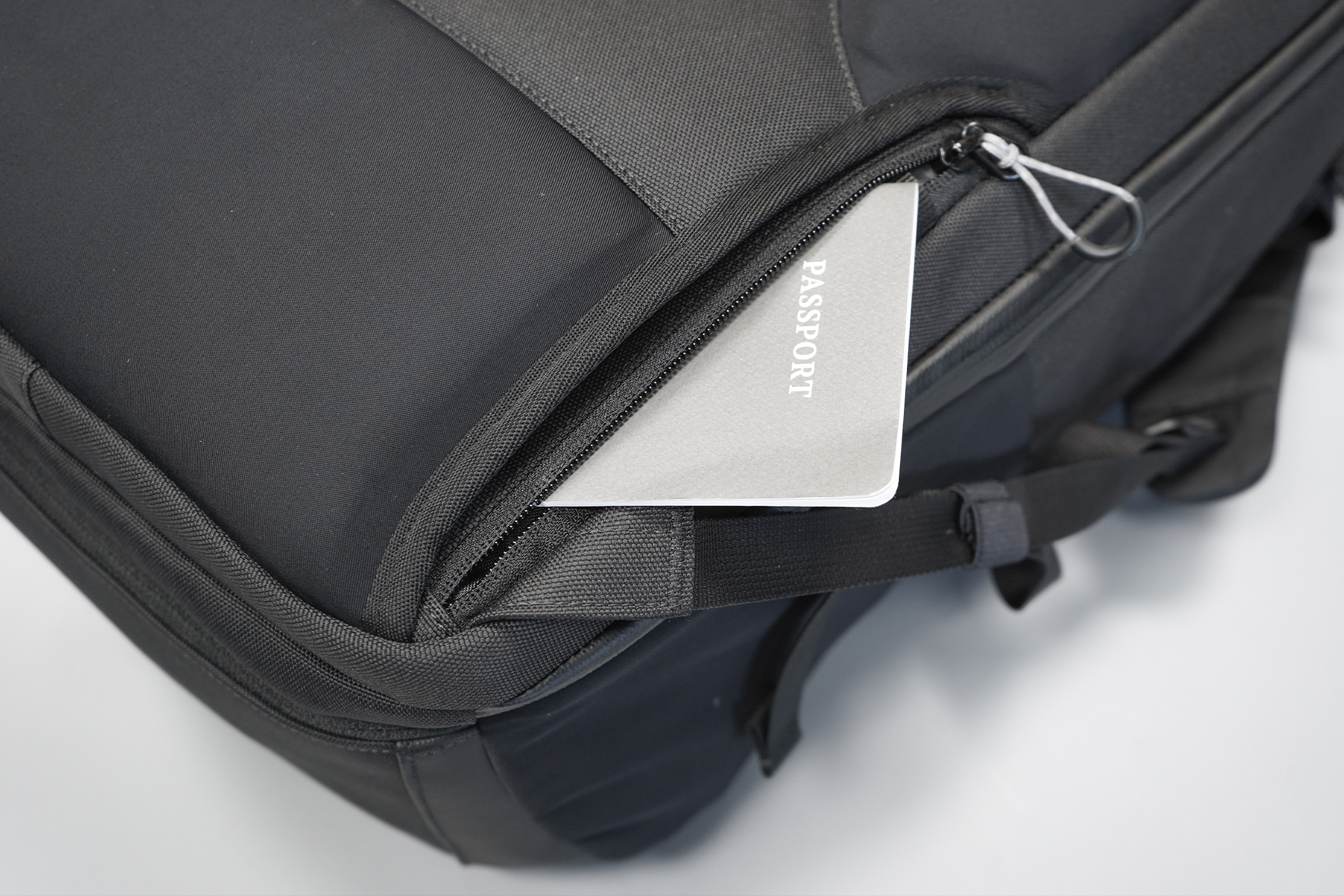 Coming back to those magnetic Fidlocks, there are currently two available pouches for it: a dopp kit and a tech pouch. Both have the same rectangle shape, but the tech pouch is thinner. The bad news is this is due to a lack of any internal dividers or pockets. Inside the tech pouch are elastic loops for cables, and that's it. Of course, you can fit in whatever you wish in the remaining space. But a divider or an inner pocket or two could have made this so much better.
In a somewhat ironic twist, we found that the dopp kit can be a better tech pouch than the actual tech pouch, thanks to its superior amount of pockets and internal organization. One side of this clamshell-style pouch is an entire zipper pocket meant for your shampoo, liquid soap, generally stuff that can potentially spill, thus the water-resistant fabric. On the other side, you'll find two liner pockets you can populate with items you need to grab easily during a shower. There's another zipper pocket behind those two in case you needed it. The whole pouch can hang off behind doors or shower curtain bars using the built-in hook.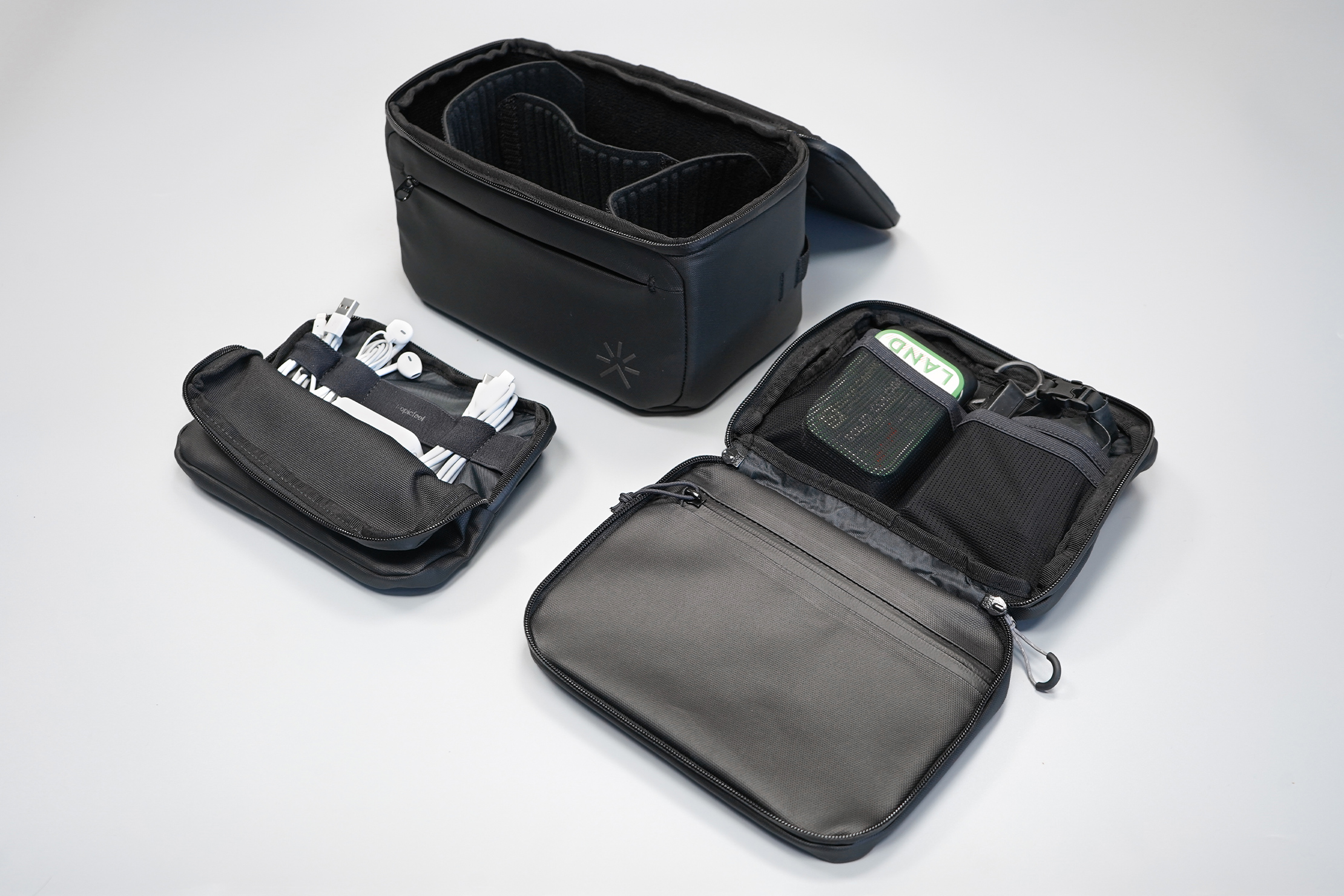 There's also an appealing camera cube accessory available for the photographers out there honing in their travel camera kit. Included are four velcro-padded dividers you can freely adjust or take out as needed. Our mirrorless camera body and lens fit perfectly here alongside a few other accessories. Elastic loops are located under the lid, as well as a velcro-ed pocket. But if you need quick and easy storage of lens caps, batteries, and hot-swap memory cards there's a zipper pocket outside too. Other than the top handle, a sling strap is also provided as a nice bonus. The cube is well padded and very easy to open even when inside the pack. The top lid opens via zippers if you access it through the top flap.
Time to get into the main pack now. Inside you'll find the floating laptop sleeve with a velcro-ed flap, able to accept anything between thin-and-light ultrabooks to even medium 17-inch gaming laptops. On top of this are two mesh pockets for cable accessories, mice, a portable mini keyboard, and other tech accessories. You're going to want to keep bulky items out of those pockets though, as the next component we're about to tackle is where the meat of the Shell Backpack truly lies.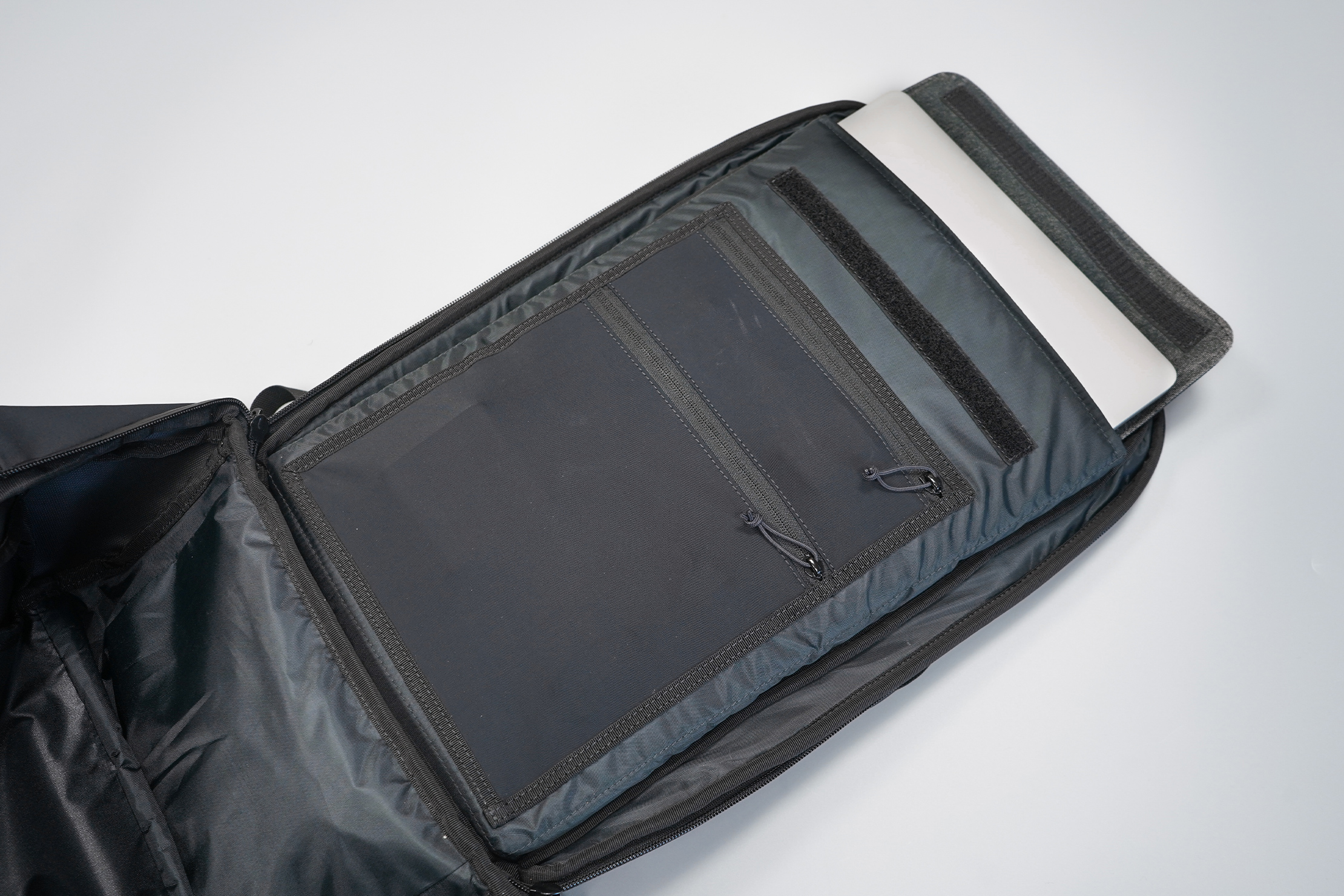 It's the star of the show: the Shell Wardrobe System. This is where we'd bet 50% of the R&D of the Shell Backpack was put into. Simply put, this wardrobe system is supposed to be your entire on-the-go closet, segmented into three parts.
Firstly, we have the bottom section, further subdivided into ten, friction-free compartments. There are two large slots in the middle flanked by three smaller slots on each side, plus two more vertical slots on the extreme ends. You're free to experiment on what articles of clothing go into which slot, but the suggested method is to roll up t-shirts into short rolls and slot them into the appropriately-sized hole.
The middle section is completely hollowed out and it's up to you how to best utilize the space. Practically speaking, pants are most suitable for this space because of their thicker fabric.
Lastly, the top section is where delicates and socks go. The section is subdivided into two main compartments, but not all the way to the mesh front cover.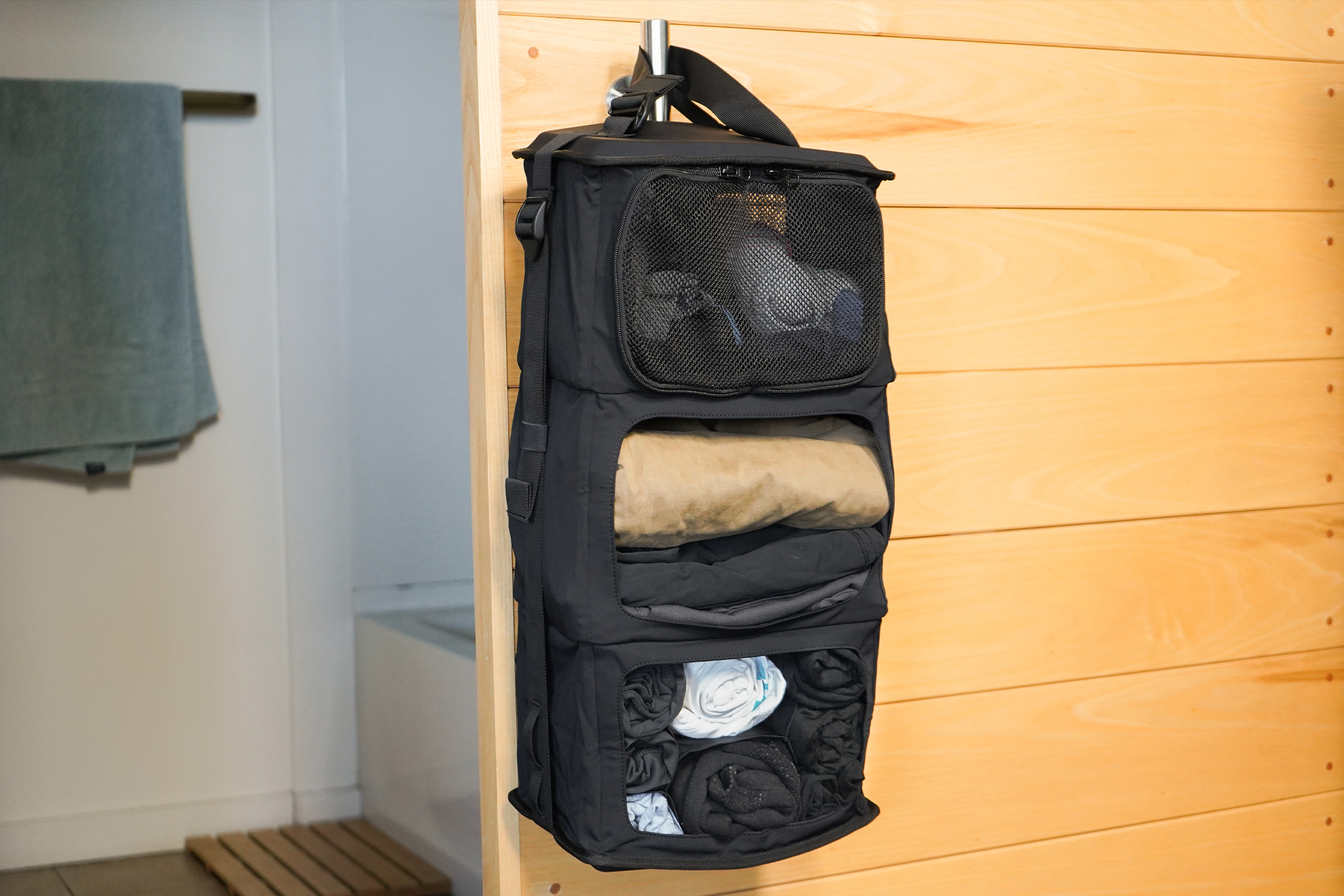 Once you've fully loaded up your mini-tower of clothes with days worth of clothing, it's time to compress it so that it goes in the pack fuss-free. This is accomplished through adjustable straps running along the side of the wardrobe. It's best to tighten each side incrementally, as we found that the whole thing is prone to hamburger-ing, where the contents bulge and/or spill out when compressed haphazardly on one side. It's worth the effort though, as this can save you tons of space if done correctly.
At this point, it's worth pointing out that while, yes, you can technically fit a fully-packed wardrobe and the camera cube in the max capacity form, we do not recommend it. Having the camera cube on top without any support on the side is not ideal, nor is having it squished underneath the wardrobe.
Like the dopp kit, you can easily hang the wardrobe on any horizontal bar you can find in a hotel room or your camping site. Once hung and uncompressed, every article of clothing you've packed is ready to go. This virtually eliminates the chore of unpacking and means more time to spend going out there and actually doing stuff instead of deciding if the hotel closet looks trustworthy.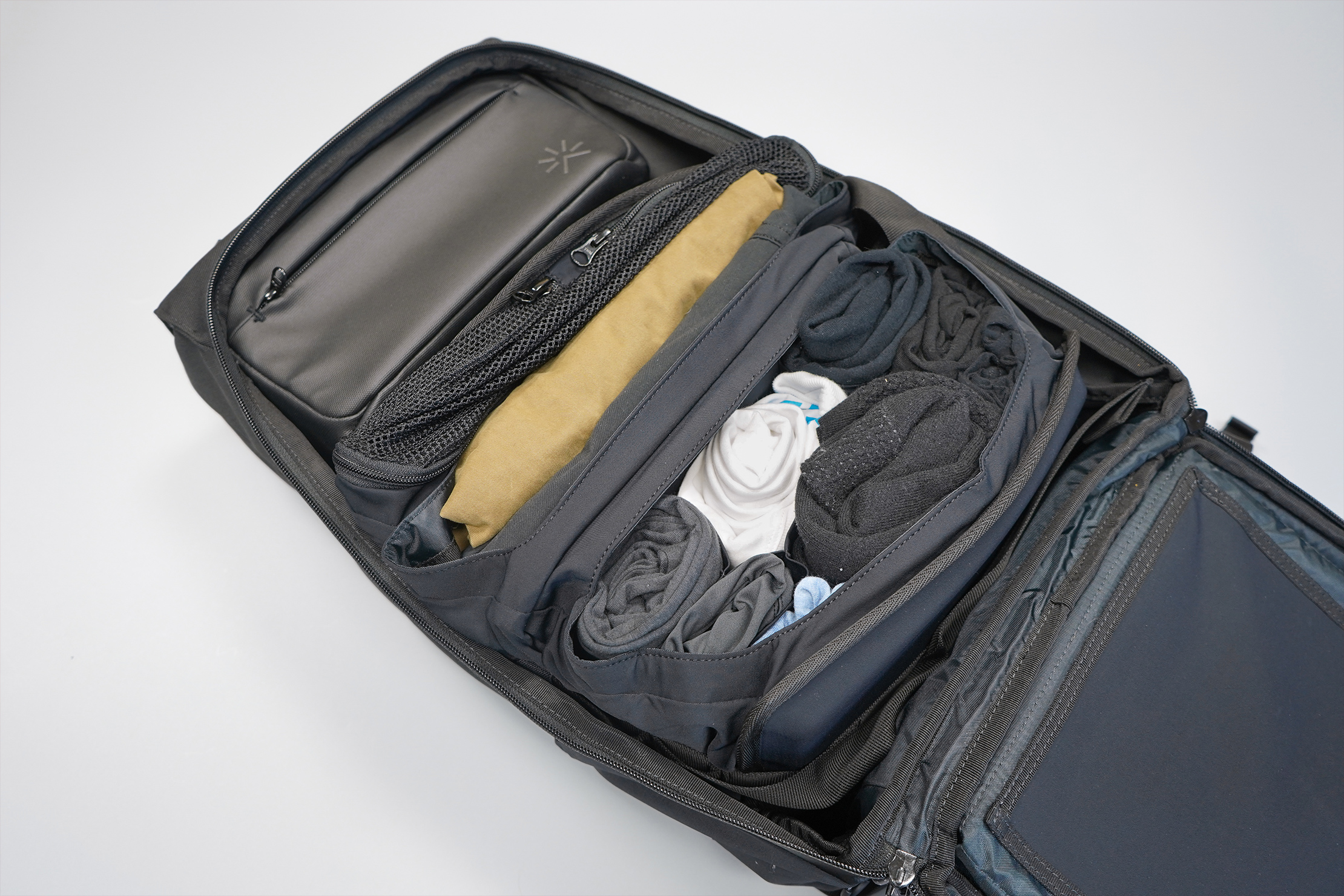 Phew! That was a LOT to go through, and it really speaks to what Tropicfeel was trying to achieve here. In a nutshell, the Shell Backpack is an all-in-one solution for those taking their first baby steps in the world of traveling.
There's still room for improvement, especially for an inevitable version 2, and we have some ideas. First are side compression straps that could make a noticeable improvement for the daypack mode in terms of managing load and keeping a lower profile. Next could be a better tech pouch that goes beyond mere elastic loops. Lastly, retention of the exact same magnetic Fidlock layout. Cross-compatibility between pouches of the current Shell Backpack and the next would be a great boon in terms of sustainability, something that Tropicfeel also feels strongly about.
For those with more experience and who have developed their own systems and routines of packing will probably not find this very appealing. It's a fully integrated solution that might undermine or interfere with what you currently use. For example, if you use your own packing cubes, you will probably only be able to use a maximum of one and will have to forgo the included camera cube.
But if you are someone who's only starting out, then there's a lot to like here. The wardrobe system makes the whole ordeal of packing and unpacking relatively headache-free. Furthermore, since the pack has a remarkably wide range of adjustable capacity, the 22L mode makes it viable to use as a daypack. It's a really good one-stop solution for those trying to dip their toes into the world of travel gear.
Usage Timeline
Initial Usage
Condition: Excellent
Extremely versatile bag that can change its size, weight, and height based on which components you use
Lots of different accessories you can add in like a wardrobe system, tech pouch, toiletry bag, and camera cube
Nicely padded back panel makes for a comfortable carry
2 Weeks of Use
Condition: Excellent
There are lots of unique, innovative features going on with this bag. There's everything you need for travel in one-stop; between the wardrobe, tech pouch, dopp kit, and camera cube, you are good to go. However, using everything at once doesn't always feel cohesive, and some features interfere with each other. The wardrobe is an interesting setup and can be a great system, but it's not definitely better than using packing cubes. When using this bag without the accessories, it operates as a large open sack. There are also no compression straps, so it can feel very bulky when using it as a daypack.
Access the Pro Community Discussion
Get your questions about the Tropicfeel Shell Travel Backpack answered from our team and the Pro Community right here on the page. Plus, join discussions with other members about gear, guides, and more.
Other Bags & Luggage Reviews