Salkan Backpacker Review
The Salkan Backpacker combines a daypack and a travel backpack into one package that's a bit overkill for some, but a great solution for the outdoor enthusiast.
Our Verdict
Unlock the Pro Summary
Save time. Get access to brief summaries of our reviews so you can browse and make decisions more efficiently.
Pros
Comprehensive two-in-one backpack solution
Well-padded harness system on the Mainpack
Both the Daypack and Mainpack have a laptop compartments
Cons
It can feel really bulky when both bags are combined
The strong velcro on the Mainpack's shoulder straps can be difficult to adjust
Mounting the Daypack to the Mainpack's shoulder straps could use more reinforcement
Recent Pack Hacker Video
Technical Details
Capacity

45l

Daypack adds 20L

Weight (lb)

5.62 lb (2.5 kg)

Daypack: 0.85 Kg

Denier

900D

Dimensions

26 in x 12.6 in x 8.7 in (66 x 32 x 22.1 cm)

Daypack: 18.9 in x 11.4 in x 7.1 in (48 x 29 x 18 cm)

Notable Materials

Nylon, YKK Zippers, Polyester

Manufacturing Country

Vietnam

Laptop Compartment Size

15"

Warranty Information
Full Review
Sometimes you just need a one-size-fits-all solution that fills in the blanks for your needs. For some of us, the more we stay in the city, the more we yearn for the great outdoors. But when we look at our daypacks, we just know it's not enough to handle everything we want to take with us.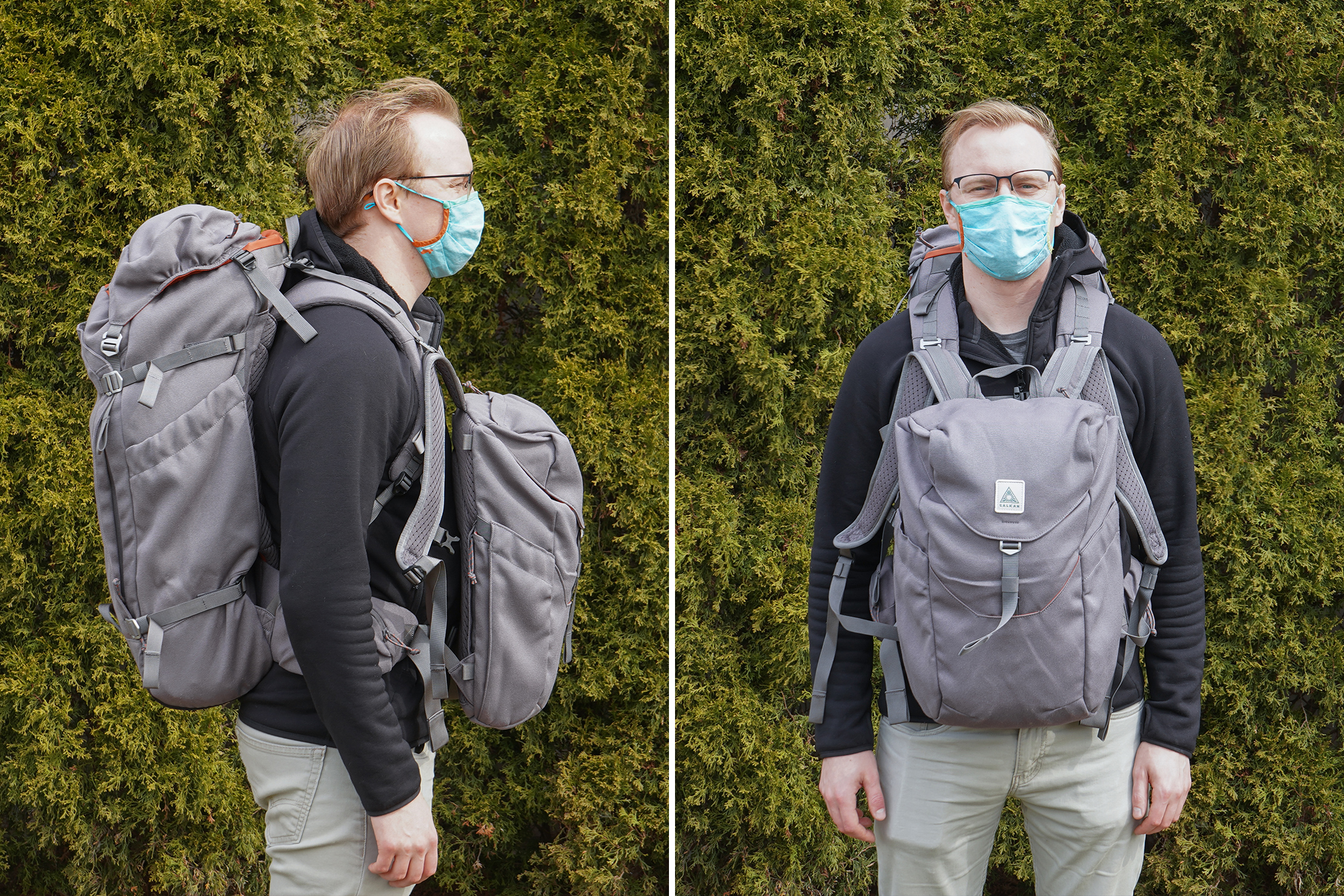 So why not have both? Salkan thinks so, so they combined a great daypack and a travel backpack into this: the Salkan Backpacker. You have two parts: the bigger Mainpack and the smaller Daypack. You pack days worth of clothes and supplies in the Backpacker, but you leave the larger Mainpack in your home-away-from-home (a.k.a. your hotel or campsite). Meanwhile, the Daypack carries enough essentials for a quick trip to the nearby lake or a day trip around the city. But does it work in practice? Let's find out.
Materials & Aesthetic
First, let's address the elephant in the room: Yes, it's a big backpack. That's an understatement, and it's the sheer presence of this two-in-one that says more than the styling. Styling, understandably, wasn't the first priority as the Mainpack looks very utilitarian with a hint of modernity. In contrast, the Daypack on its own looks great and wouldn't be out of place in a more urban scene.
Wear the Mainpack and Daypack together, and people will have no doubt that you're well-prepared for a week-long trip beyond the horizon. The Backpacker has this busy look with straps, G-hooks, and YKK zippers that just reads "adventure" on its face. A Salkan badge on both packs reinforce this sentiment and serve to tell people that the two halves of your backpack do belong together like two peas in a pod.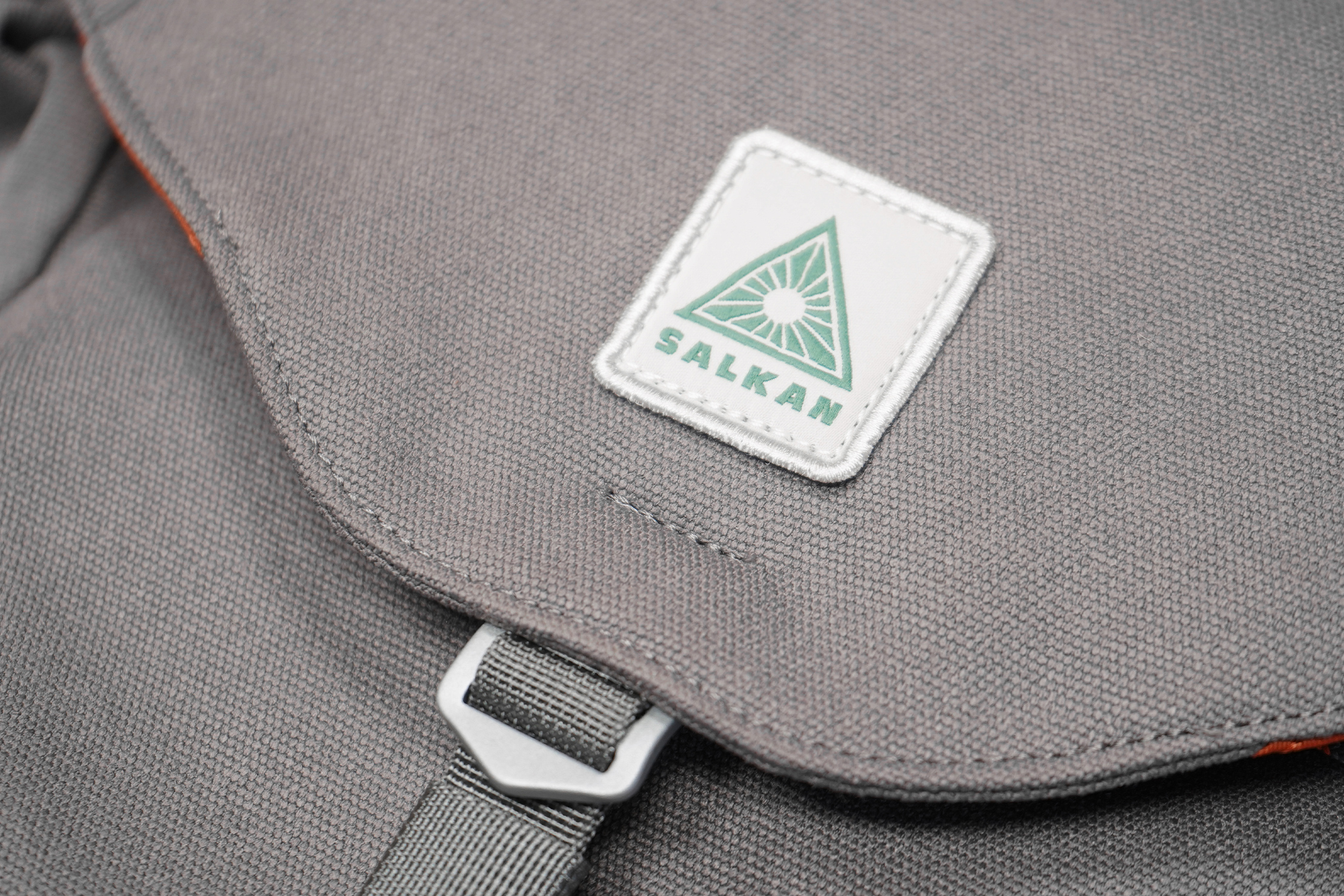 After we collected ourselves from the enormous presence of the Backpacker, we touched the exterior fabric and felt surprised at how soft the material is. It's 900D COTNA Polyester, and polyester can indeed feel very soft to the touch; hence its typical usage as interior fabric in backpacks. It works well as an exterior fabric as well, and there are no issues when it comes to durability. We did have initial reservations when it came to water resistance. So we did the reasonable thing and tested it out by splashing it with a cup of water. The wax coating held up well, and there were no signs of soaking whatsoever. It'd certainly soak through in a downpour—so you'll want to use the included Flight&Rain cover if you plan on being in the rain for long amounts of time—but generally, it gets the job done for sporadic showers.

In terms of customizability, you only have one choice of colorway, which is this grey one. But you can change the accent coloring by swapping out the straps for different colored ones. They're available as separate purchases, or you can choose your preferred color upon buying the Backpacker. Available colors include the following, with our respective translations in parenthesis: Amarillo (brown), Charcoal, Dusty Pink, Grey, Burnt Orange, Salkan Green, Andes (diamond pattern), Forest Green, and Macaw (burgundy).
External Components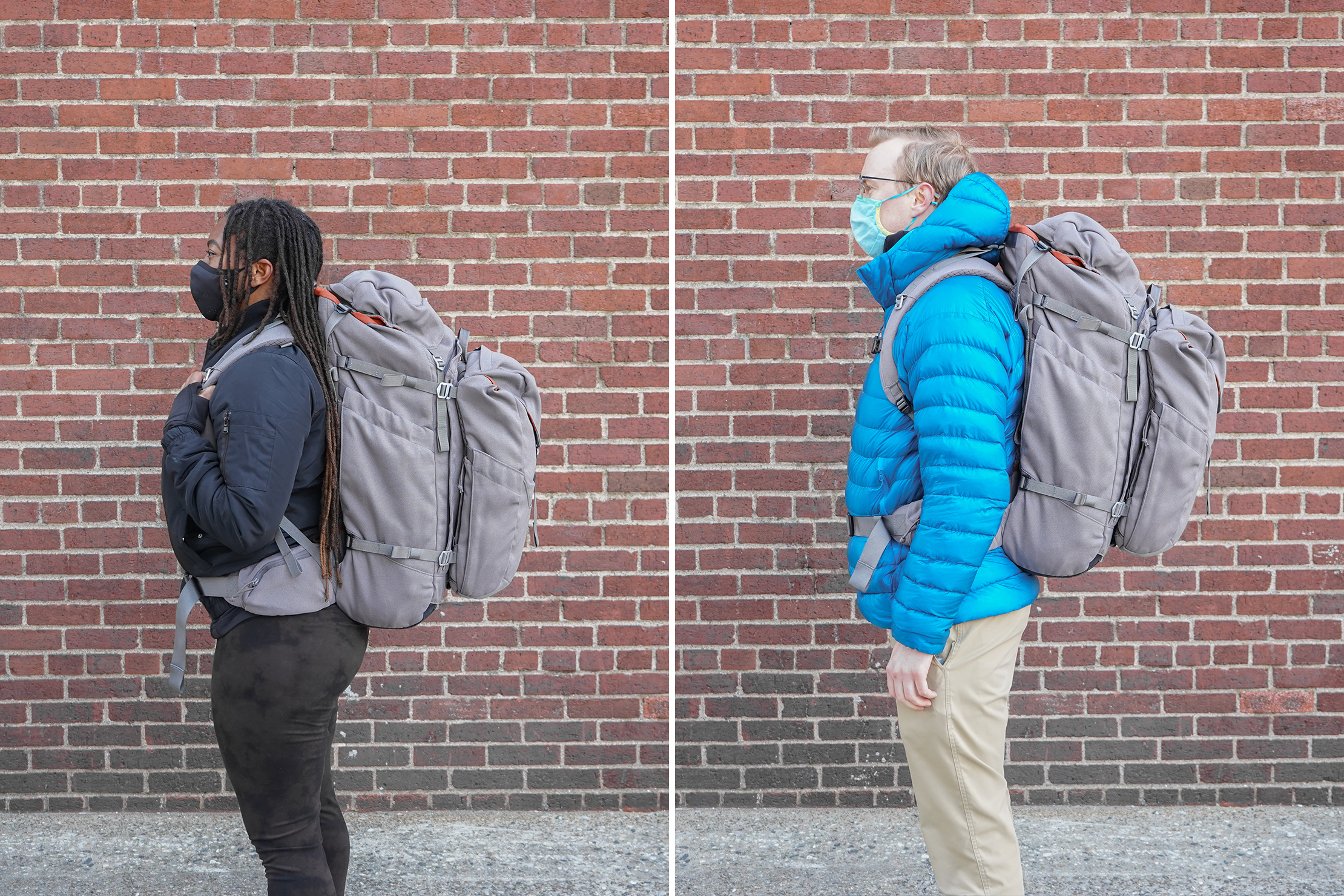 We'll start with the Daypack first. The harness system on this is much simpler with relatively thin padding on the shoulder straps, but it inherits the mesh material all over the back panel and the shoulder straps' underside. There's an included removable sternum strap with a built-in emergency whistle if you need it, and it's a good inclusion considering the outdoor nature of the Backpacker. It's very adjustable too, with different segments on the shoulder straps you can move the sternum strap to whichever height is appropriate for your body type.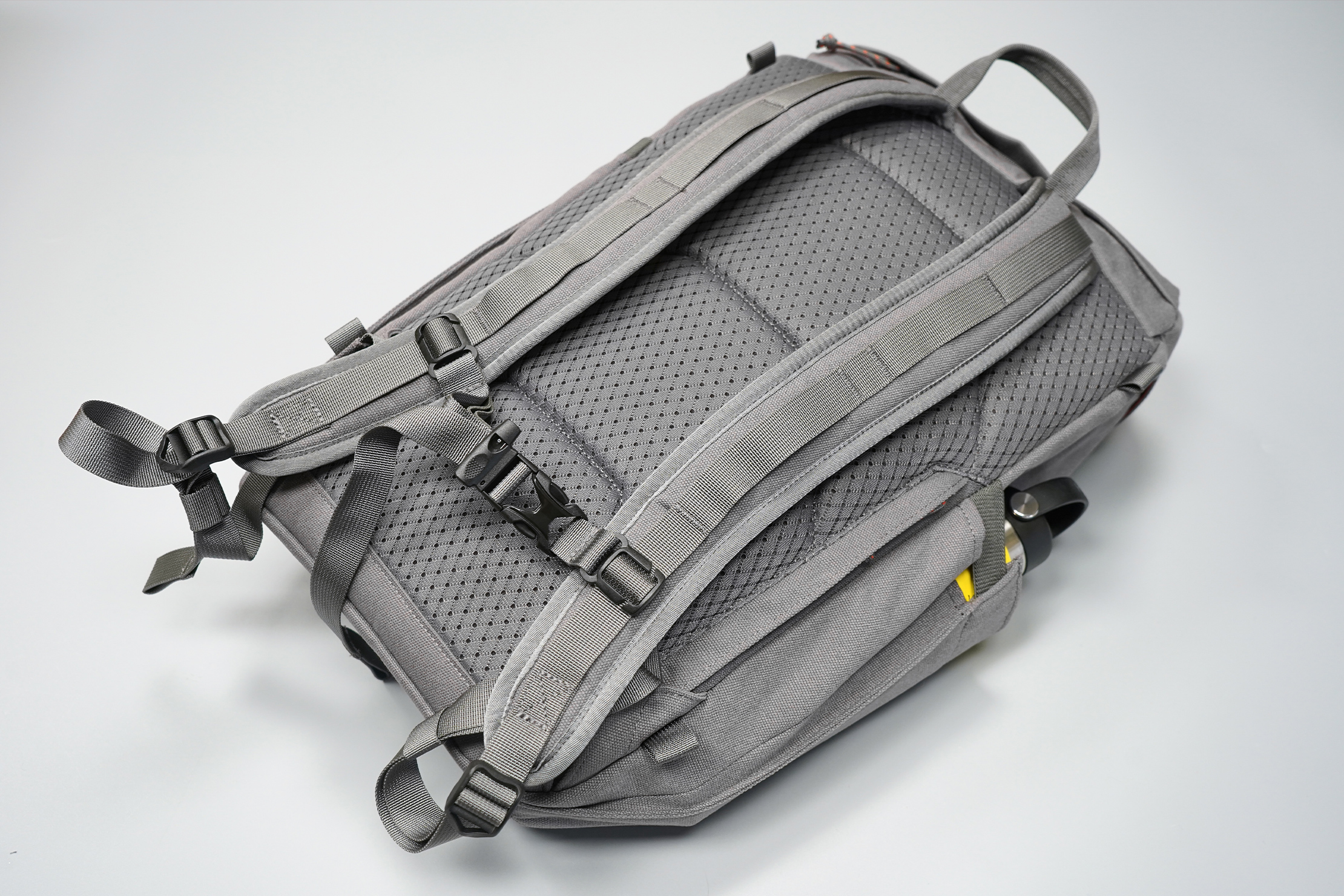 Flanking the Daypack are tall water bottle pockets, easily big enough for our 21-ounce Hydro Flask. You might be able to get in 30-something ounce bottles, but your mileage may vary depending on how wide it's shaped.
There is a folded nylon handle/loop at the top of the Daypack for when you want to hang it somewhere, like behind a restroom stall's door. It does the job, and you'll find a similar top handle on the Mainpack as well, though you'll have to be more careful where you hang that one due to how heavy it can get.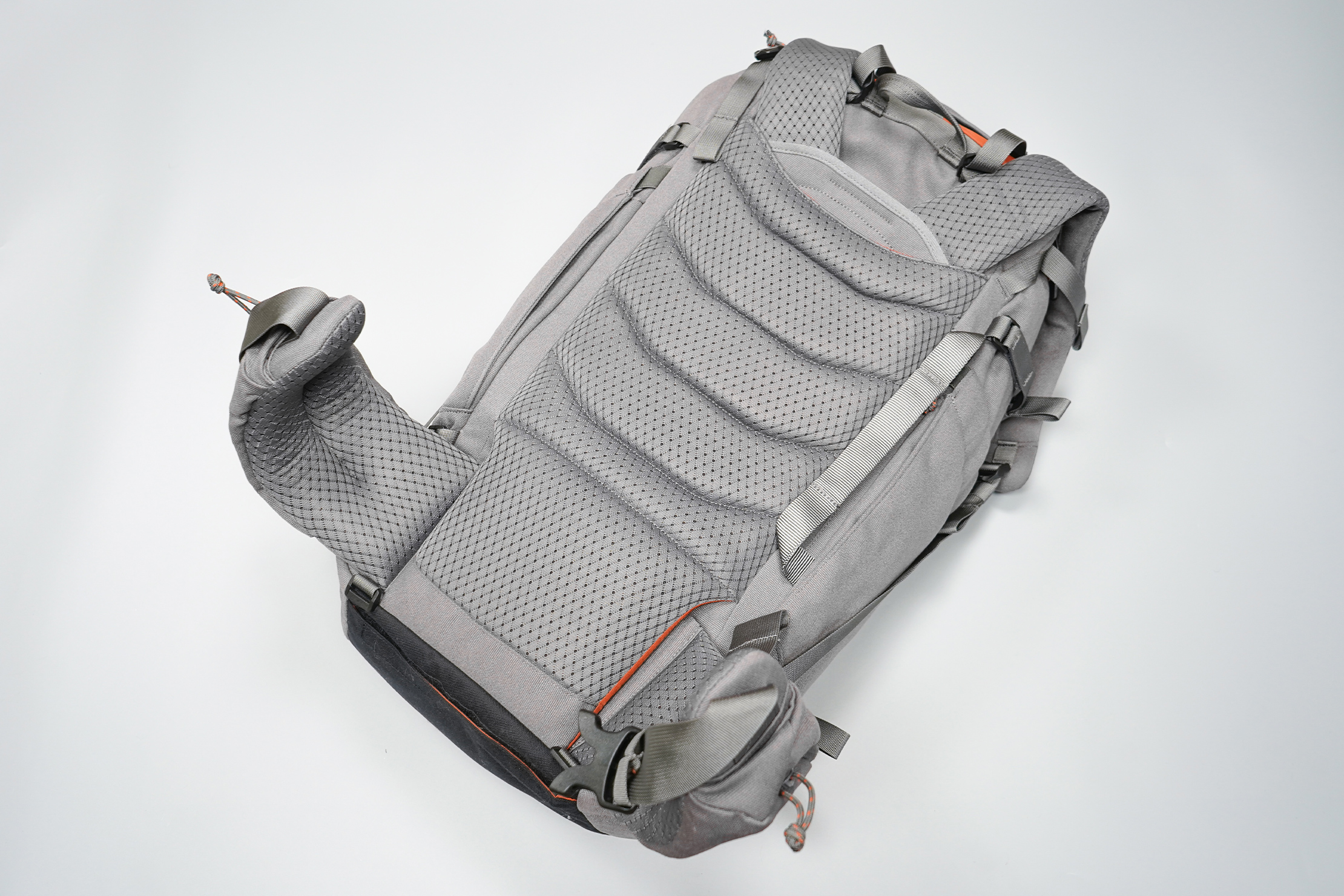 Next up is the Mainpack and let's just take a moment to admire this harness system and back panel. It looks more like a space-age car seat than it does a backpack harness system. But given the two-in-one design of the Backpacker, such a robust-looking arrangement is necessary.
The shoulder straps are generously padded with soft meshed foam and feel really comfortable in usage. There's an interesting height adjust system Salkan has put in place for these shoulder straps. The straps themselves are attached to a panel that's inserted behind the back panel and is locked in place by a wide velcro. This velcro can be hard to undo due to its wide surface area, and we suggest inserting a thin sheet of wood or cardboard while you're adjusting it to keep the velcro separated. Fortunately, you won't have to adjust it too often unless you're changing your loadout frequently or manage to have another growth spurt in your lifetime.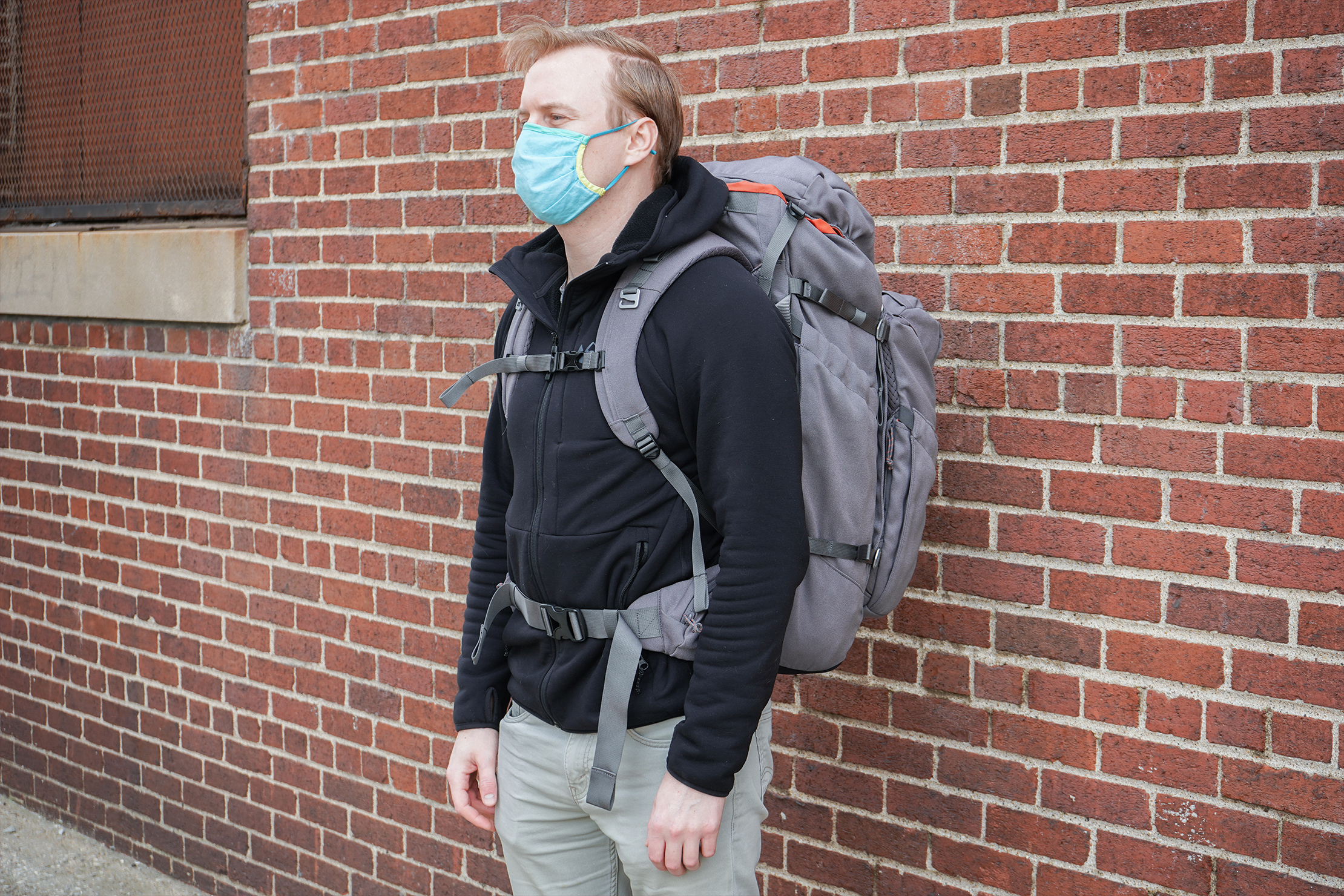 Of course, it also comes with a sternum strap with a built-in emergency whistle just like the Daypack and it slides along up and down much more easily too. At the top are load lifters to help you better shift the weight upwards to your liking.
The back panel itself is equally well-padded and covered in mesh to aid in breathability. However, due to the large surface area of the Backpacker, it can still get a bit sweaty after some time. We can't fault the Backpacker for that, as it's just expected when you're carrying this much stuff on your back. Sans the sweat, it's still a comfortable carry, all things considered, especially on the lower back where there's an extra amount of padding applied.
On the subject of lower areas, we come to the hip belt. It's a beefy hip belt that comes with pockets on both left and right parts. You know your backpack means business when the hip belt comes with pockets big enough to hold a 6-inch smartphone. We don't recommend using this for a smartphone, but it is an extra set of very convenient pockets. With a hip belt like this, it's more than a load-balancer; it actually helps take some of the weight and distributes it better across your body.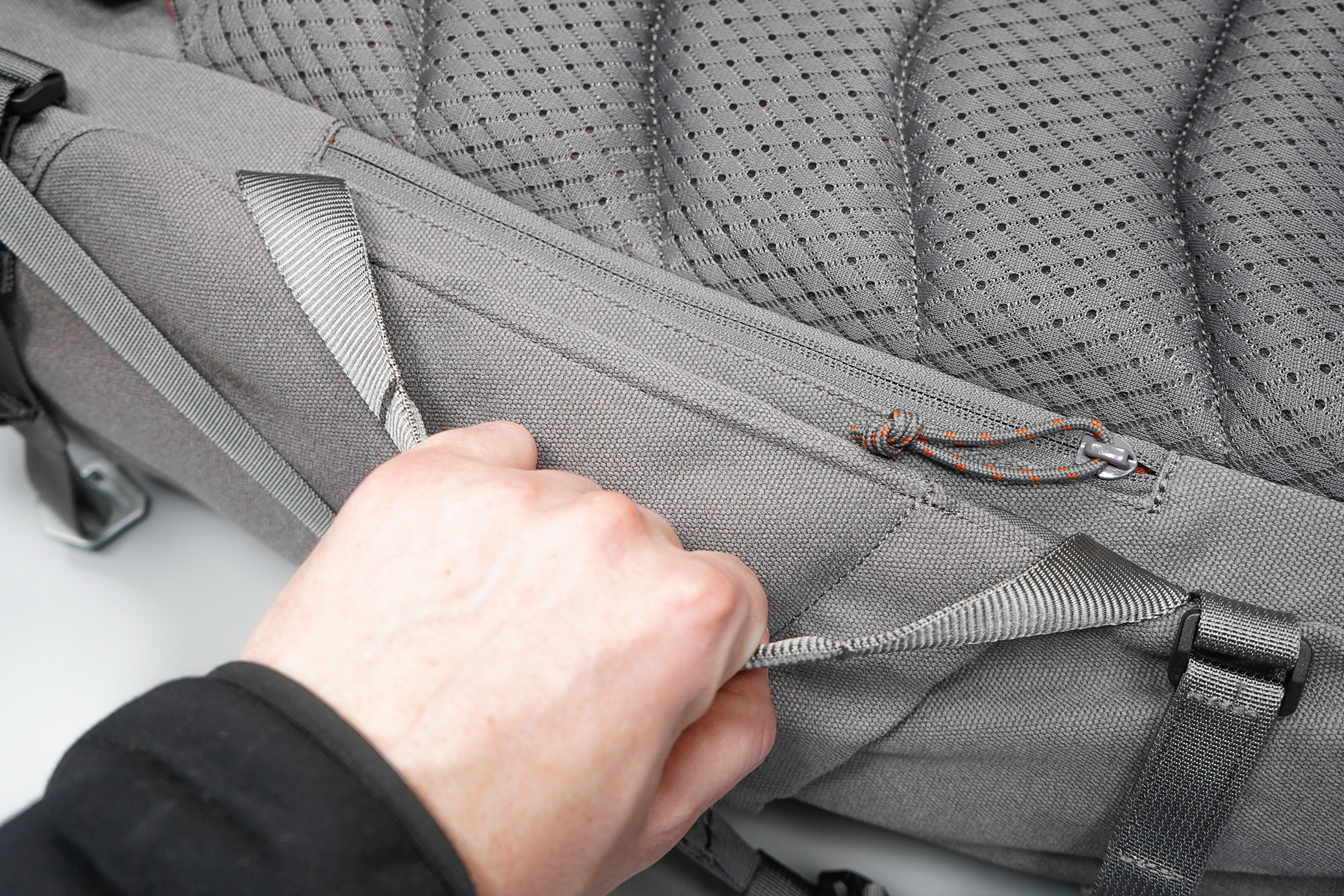 For handles, you already have the aforementioned top handle, but there's also a side handle. This one is located more towards the back panel than the middle, which causes the whole bag to tilt when carried this way. It's not a huge deal since you're not meant to carry the bag long-term in this manner anyway. Lastly, there's an extra handle towards the lower portion on the front of the Mainpack. It works as an accessory loop, but its main function is as a handle used in conjunction with the top handle for when you're sliding the pack around with the front hatch opened.
While the Daypack's side pockets easily accommodate our 21-ounce Hydro Flask, the Mainpack's just completely swallow it. Here you'll have no trouble carrying a 32-ounce water bottle. Even when you have the bottom compression straps really closed tight, there's still a fair amount of depth for your bottles to go in and be secured properly.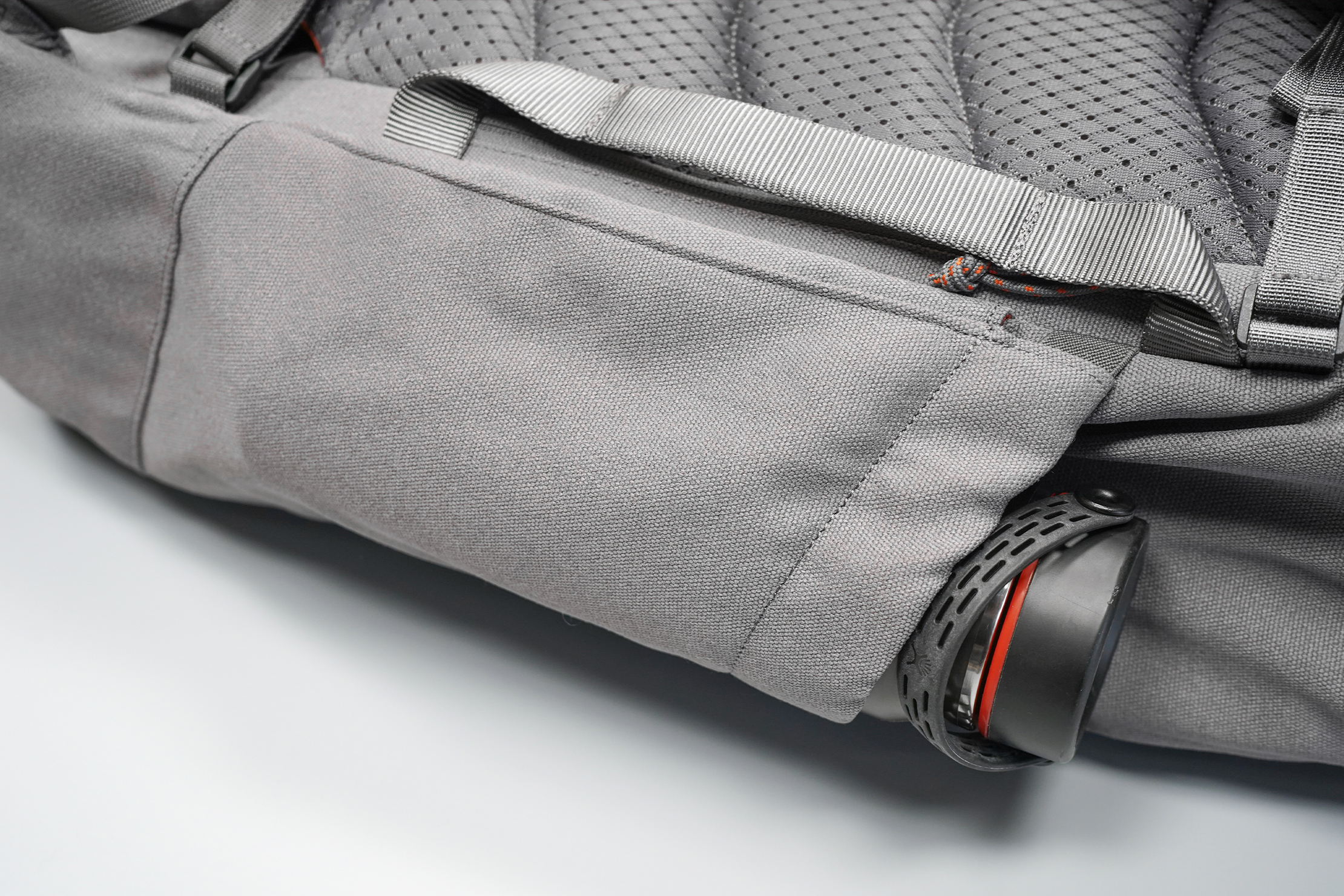 Four compression straps come included, two on each side of the Mainpack. You'll want to use these as much as possible to keep things nice and tight when you consider how much bulk you'll be carrying with the Backpacker. The Daypack attaches to the front of the Mainpack using these four compression straps too, using the G-hooks. We know what you're thinking, but rest assured that they are quite secure with these G-hooks even when we jumped and justled the combined bags around. You can also attach the Daypack to the Mainpack's shoulder straps in a sandwich formation where you are in between. You'll only need two G-hooks in this configuration—and it can feel less secure this way—but it does balance out the load better towards your front.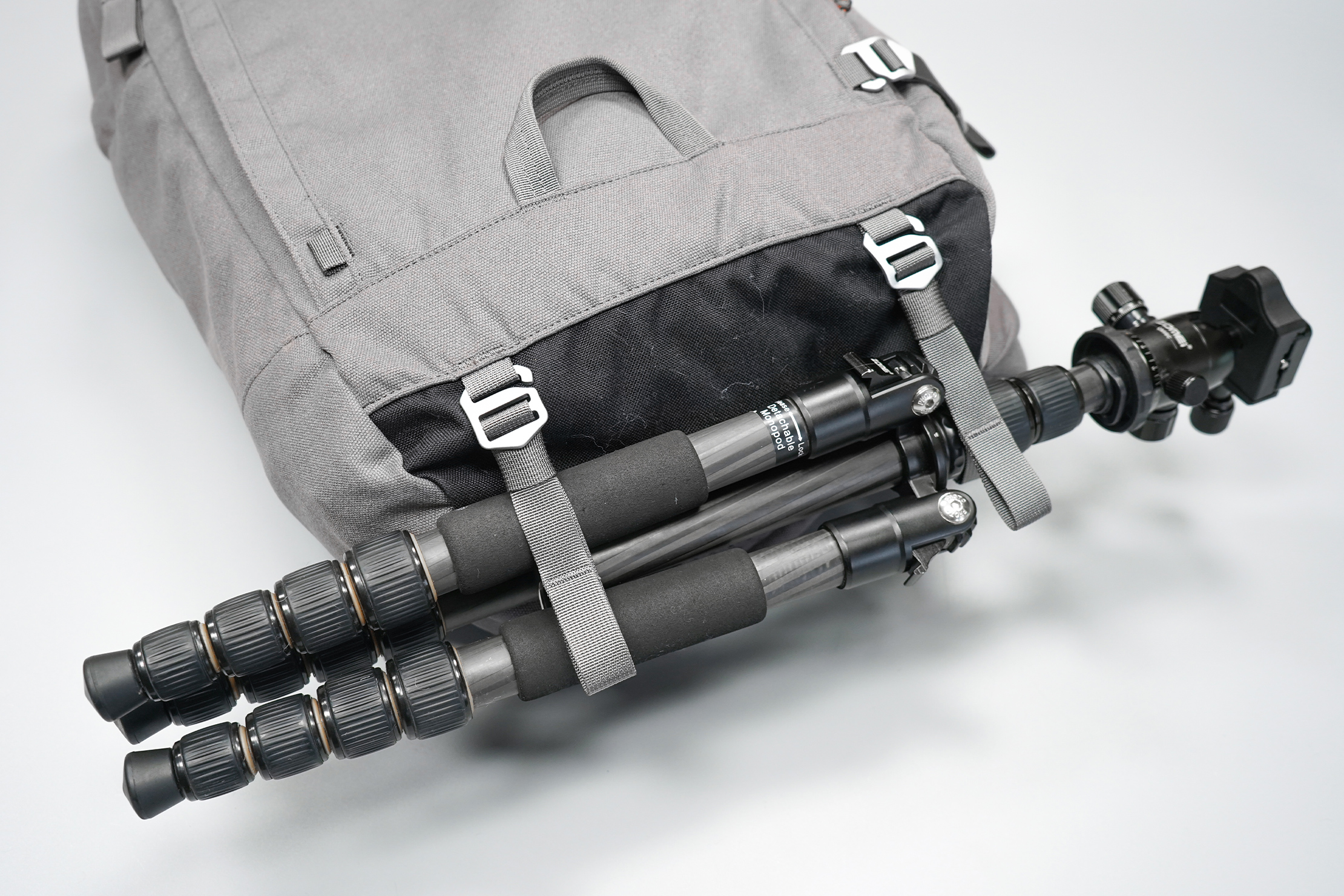 Lastly, you can also use two of these straps to attach to the bottom of the Mainpack. Here you can slot in a yoga mat, a sleeping bag, or a tripod. Also located on the bottom is a compartment for the included Flight&Rain cover.
Included rain covers like this one are always a great value add for customers, and we're happy to report that this one comes with even better features. For one thing, it's compartmentalized between a Daypack and a Mainpack section. Plus, it also has velcroed side openings for the water bottle pockets, so you always have access to a cool refreshing drink even under a downpour.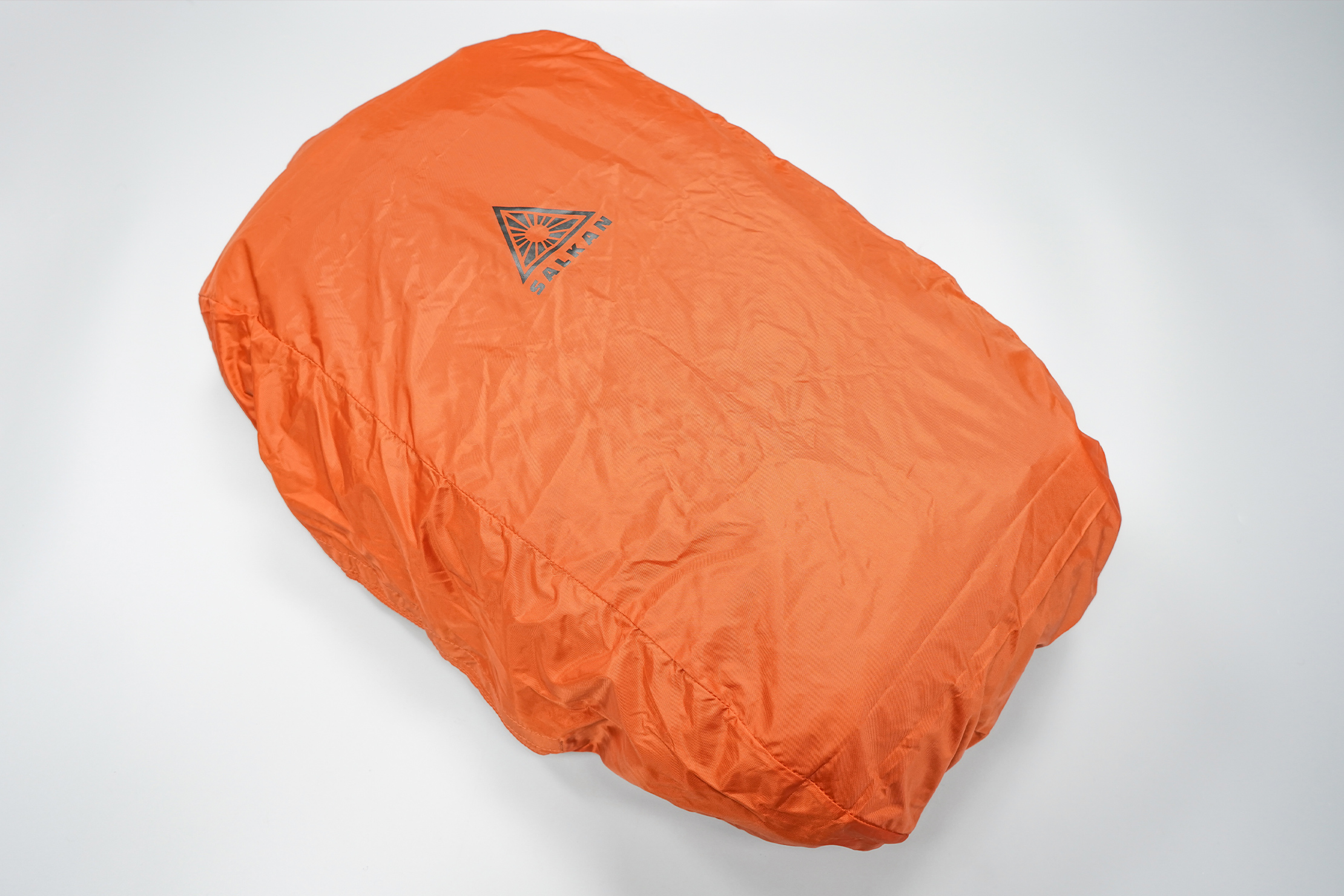 Inside the Pack
We'll start with the Daypack once more. For quick-grab items, the front compartment's flap has a top pocket with black felt liner fabric suitable for sunglasses, easily scratched items, and everyday carry items. It's quite deep, so you'll be able to put in a ton of small items in here, but we suggest using a small pouch because the interior fabric is dark black.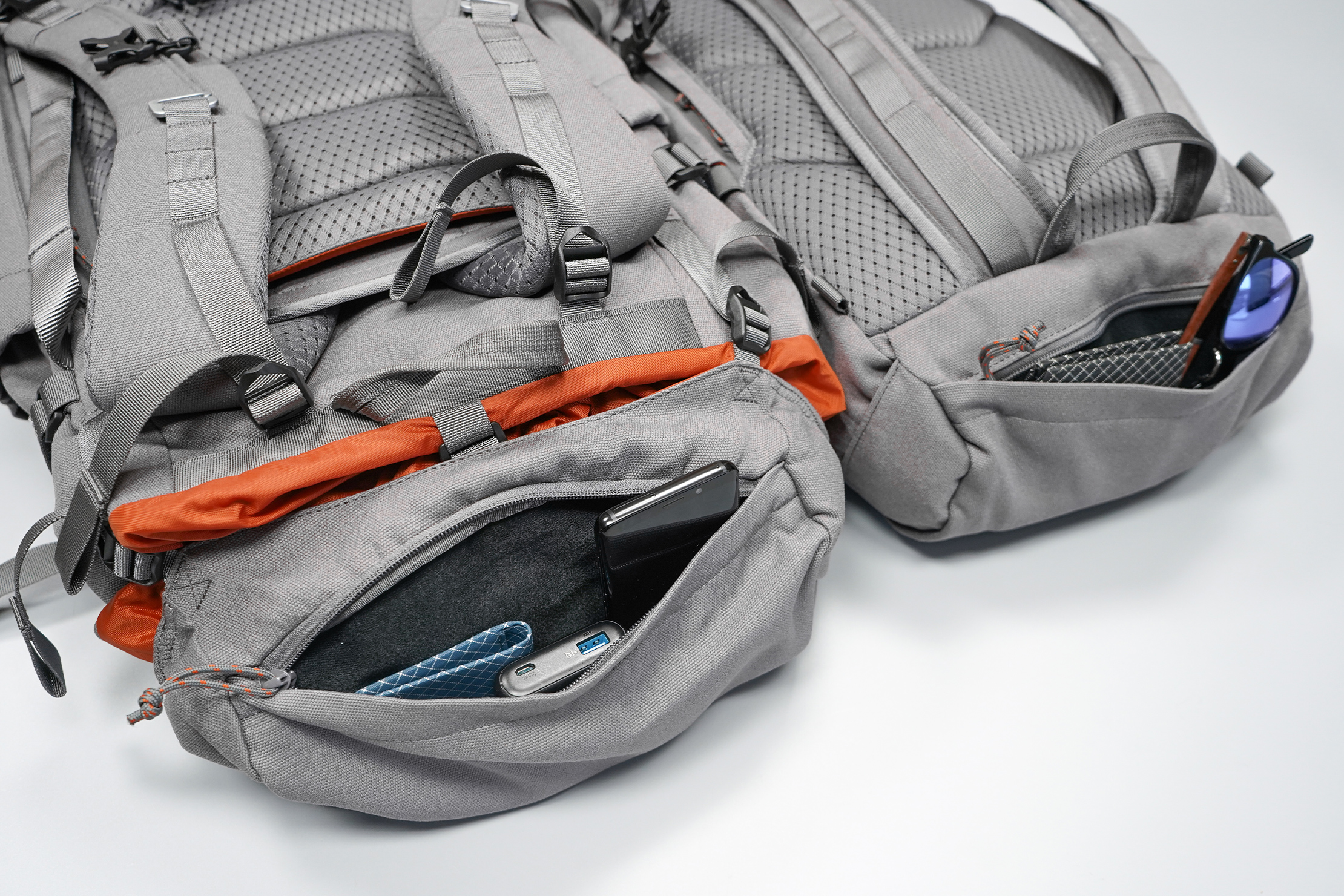 Undo the removable G-hooked strap, and you'll be greeted with orange fabric with its top closed off by a drawstring cinch closure. We'll give extra credit to Salkan because the extra slack for the top is made out of the much lighter liner fabric, making it easier to open and close using the drawstring.
Towards the front side is a pouch-style pocket for more tech organization for your adapters, thumb drives, earphones, and memory cards. On the opposite side is a laptop sleeve, and it features a velcro flap to keep your 16-inch laptop nice and secure even when things go upside down. Some backpacks omit this tiny but important device protection feature, so we're glad to see it here on a travel backpack.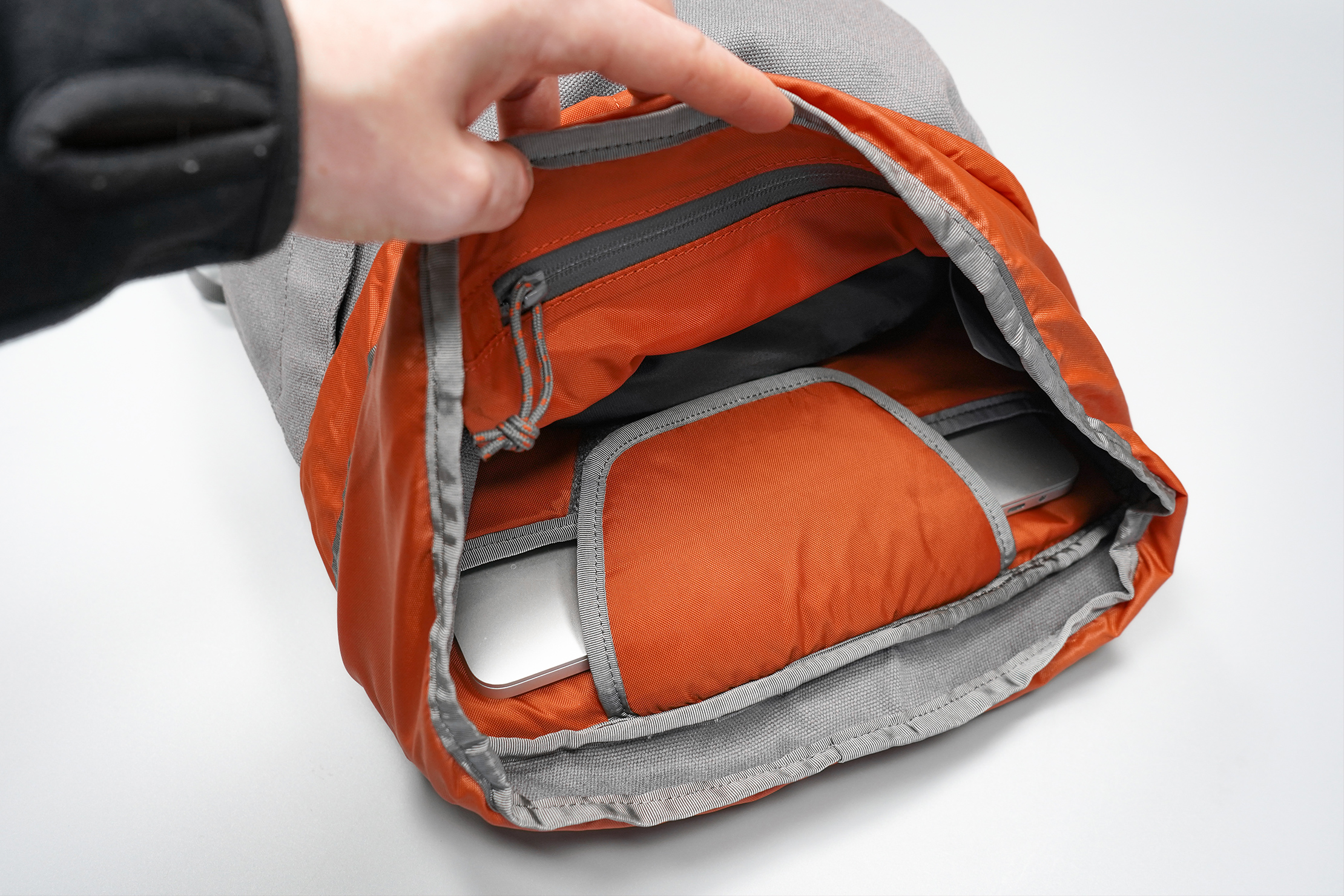 At 20 liters, it's enough for a light excursion away from the campsite. We were able to fit in a decently-sized packing cube as well as a small dopp kit, so it's just the right size for a short trek to the nearest body of water to freshen up.
As you would expect, the Mainpack supersizes everything we've seen on the Daypack. You have the same top felt-lined pocket, only bigger, and you get two front G-hook straps locking down the flap this time. In addition, the whole flap is actually attached on the back using two straps that are length adjustable. In practice, this means you can lift the whole top to increase the main compartment's capacity, but that's not to say that the interior space is lacking in space to begin with.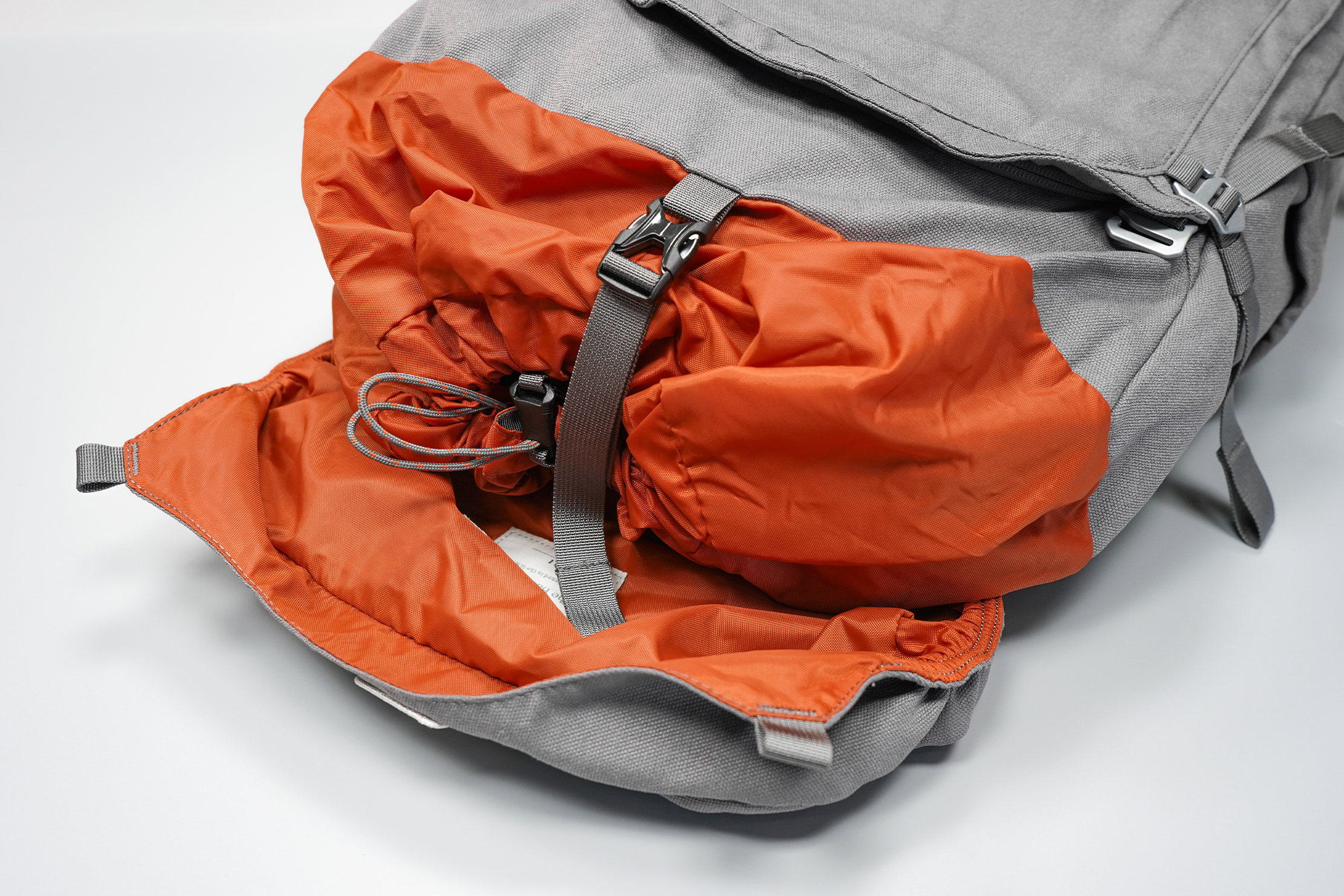 The drawstring cinch is also used here, but Salkan has added an adjustable strap and buckle just for good measure. Once you get past all of that, the first thing you'll see amidst the sea of orange is the laundry bag, also included with the package. Not to be confused with the Flight&Rain cover, this laundry bag instead attaches inside the main compartment via four toggles. It's not entirely air-tight in our testing, so make sure to wring out as much moisture out of wet clothes before putting them in here. Alternatively, you can attach the laundry bag to the underside of the Mainpack to avoid contaminating the interior altogether.
If you think the top access is a bit of a struggle, Salkan has also equipped the Backpacker with frontal access, clamshell-style. Once opened up, you'll really appreciate the bright orange interior coupled with the wide opening; everything is within sight and reach.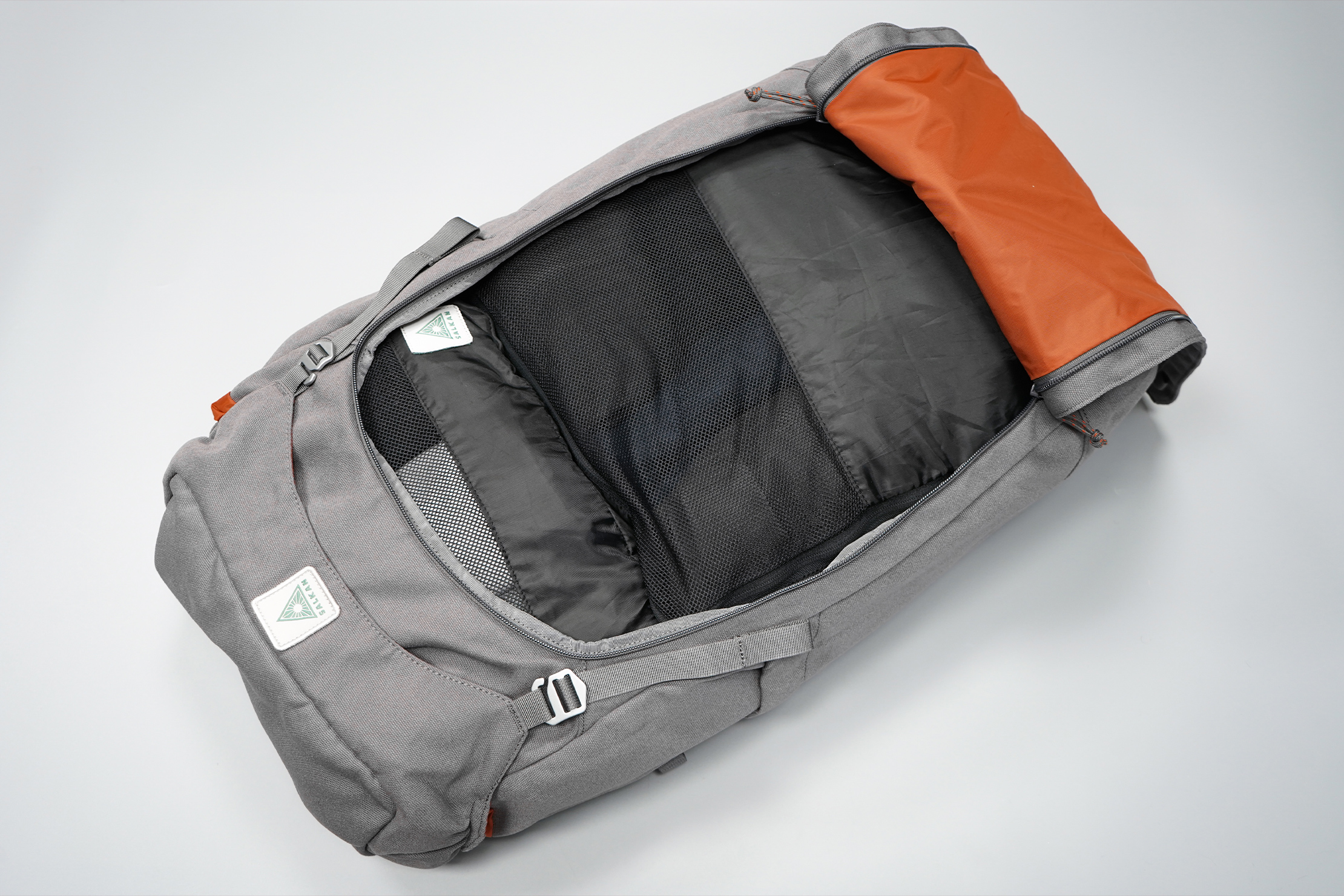 Towards the back is another laptop compartment much like the one found in the Daypack. It's really well protected too, with three inches worth of buffer at the bottom and a velcro flap at the top. With this, you can actually bring two laptops with the Backpacker, if you want to be a dual-laptop-wielding digital nomad. But more realistically, this affords you the option to carry your laptop in the much more well-padded Mainpack, then move it to the Daypack if you want to bring it along with a lighter load.
The organization does not stop there. Along the right side is a long pocket side pocket. Our first thought was that it was for compact tripods or rolled-up towels. In our testing, we found this to work best as a pouch compartment. Throw in a small dopp kit and an extra tech pouch side by side, and they'll fit in nicely.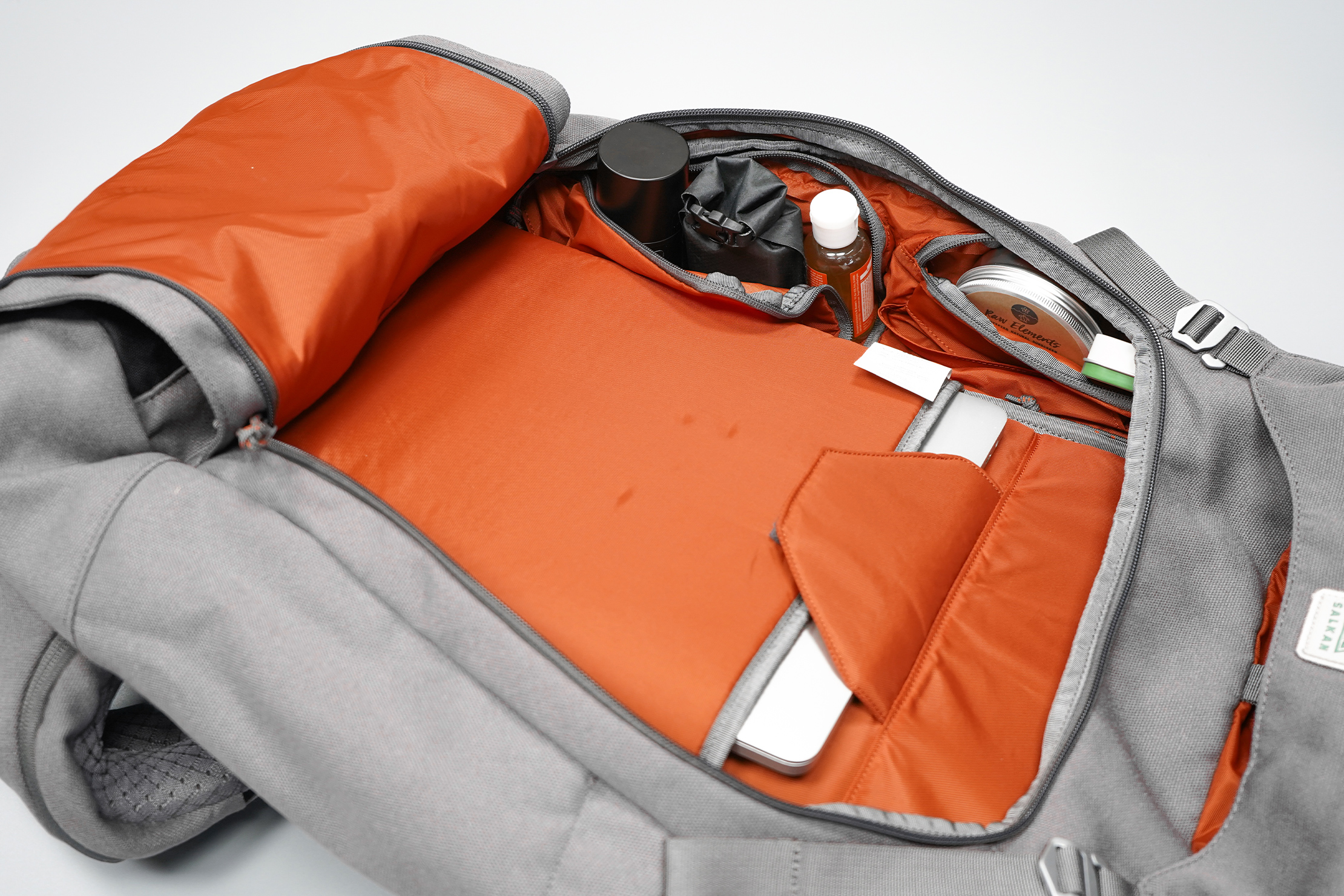 The left side has been instead split into two pockets for much smaller items like toiletries, but the top one has a built-in key leash for your house keys. They're not meant to be the most accessible pockets on the Backpacker, so the built-in key leash just serves as a secure purpose-built fixture for your house keys so you won't misplace it among the many other pockets. Another interesting feature for these pockets are the double zippers that can open either from the side or from the top, depending on if you're accessing the pockets from the drawstring cinch or from the front access hatch.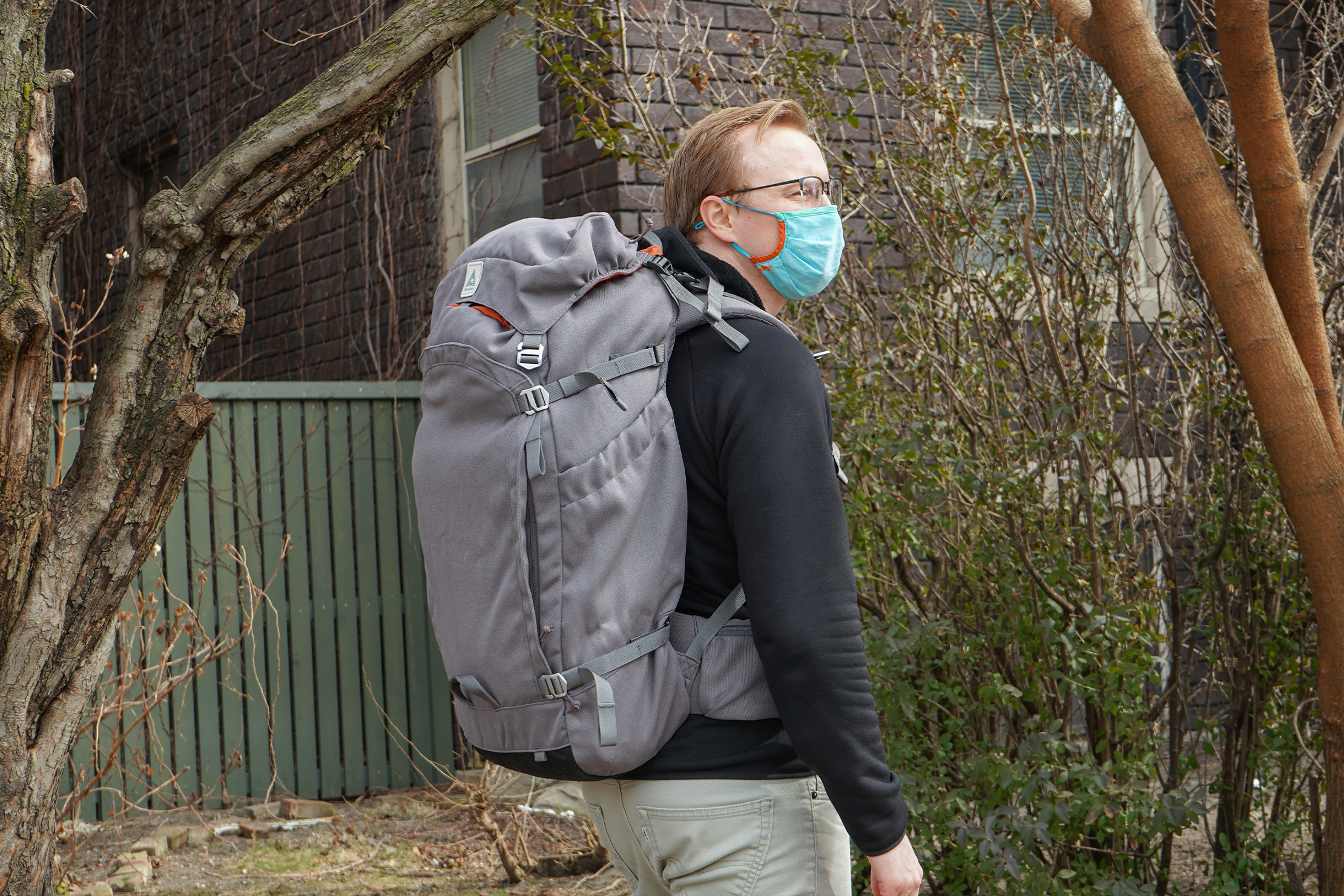 Standing at 45 liters, the Mainpack on its own has a ton of volume and easily dwarfs our biggest packing cube. The front opening can make it feel more like a suitcase during packing and makes it really convenient to fill up as opposed to a pure top-loader backpack. It's overall a pleasant packing experience with tons of organization, especially between the Daypack and the Mainpack.
Wrap Up
Phew! That was a lot to unpack, and we won't hold it against you if you're still catching your breath. The Salkan Backpacker is really two great backpacks that fuse into one package. Granted, it's not the cleanest looking solution, but it works, and we can see no issues when it comes to quality.
Functionally, the harness system, organization, and device protection are the most commendable aspects of the Backpacker. At a combined capacity of a whopping 65 liters, the harness system does a good job coping, there are plenty of pockets to go around, and you can carry two laptops with the peace of mind that they're well protected, well-padded floating laptop sleeves.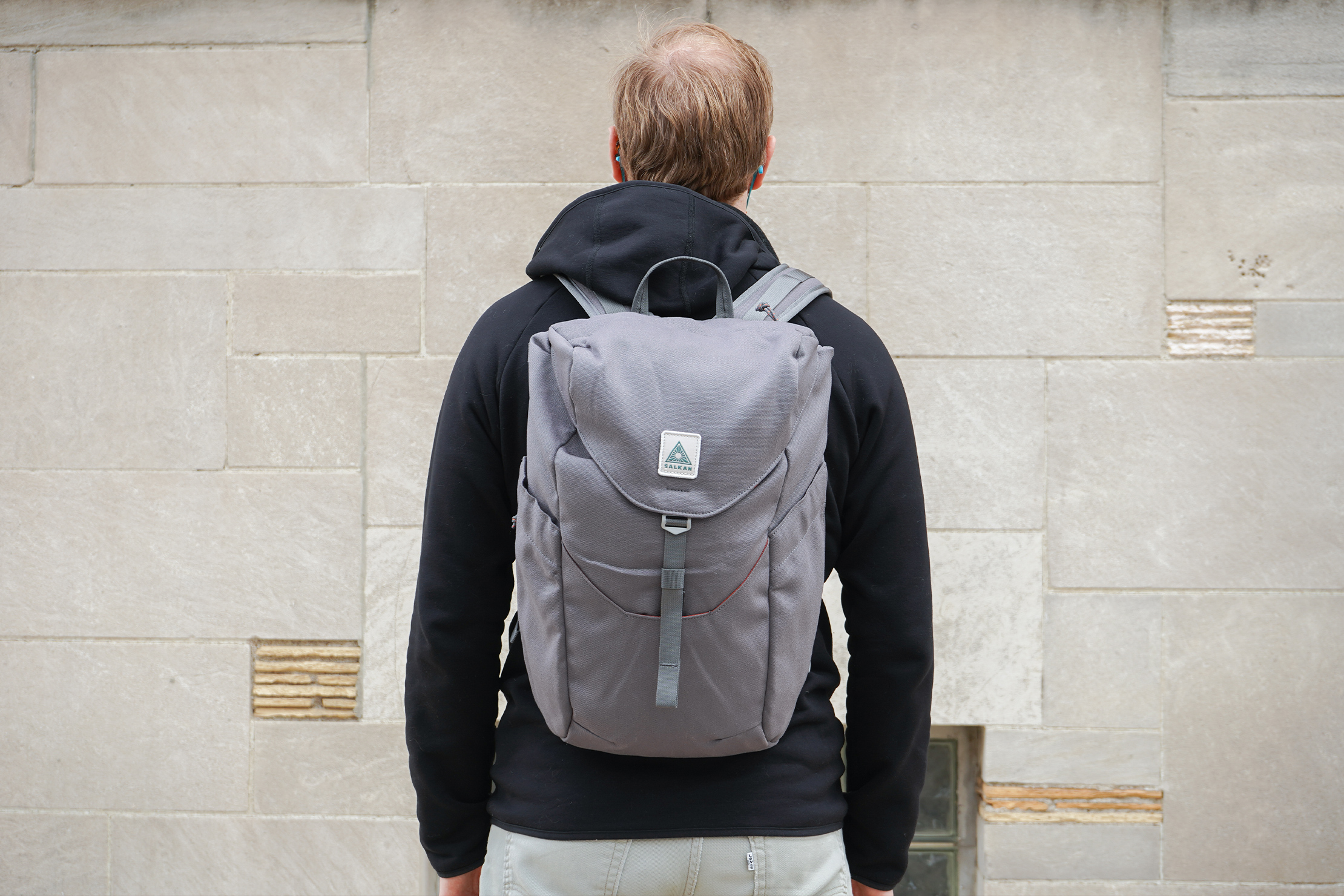 The Salkan Backpacker is aimed squarely at those looking for a two-in-one solution that covers urban daypack and outdoor travel backpack. So if you're only looking for one of those, this might be an overkill proposition. Otherwise, it's a comprehensive system for those wanting a complete package.
Usage Timeline
Initial Usage
Condition: Excellent
The modular day pack is convenient when you don't need to bring main pack
The amount of straps and mounting points looks like it makes balancing out your gear load easy
2 Weeks of Use
Condition: Excellent
Carrying the backpacking backpack with the daypack attached to the outside is a little cumbersome but individually these bags work great. The material is soft to the touch and feels nice in the hand. At first, we were worried that this would absorb water but the coating on both these bags repels water to a genuinely impressive degree. The harness systems are more than adequate for their respective sizes and the hip belt on the larger pack does a great job distributing weight for a very comfortable carry. The organization overall is pretty minimal but that's not a complaint. There is just enough to keep a few things organized without losing the large main compartments of both these packs. From the outside, these bags don't look like much but top to bottom we were pleasantly surprised by the quality, comfortability, and functionality of these packs.
Access the Pro Community Discussion
Get your questions about the Salkan Backpacker answered from our team and the Pro Community right here on the page. Plus, join discussions with other members about gear, guides, and more.
Other Bags & Luggage Reviews