Timbuk2 Tech Tote Review
The Timbuk2 Tech Tote's flexibility allows users to get creative with pouches and accessories, but a few loose threads keep us cautious.
Our Verdict
Unlock the Pro Summary
Save time. Get access to brief summaries of our reviews so you can browse and make decisions more efficiently.
Pros
Packing cube and pouch-friendly main compartment
Can be accessorized via plenty of daisy chains
Tall profile helps to keep a more balanced carry
Cons
Loose threads connecting the otherwise durable materials
Tote handles could use some padding
Laptop pocket doesn't have a false bottom
Recent Pack Hacker Video
Technical Details
Capacity

19l

Weight (lb)

1.5 lb (0.7 kg)

Dimensions

15.4 in x 16.9 in x 5.91 in (39.1 x 42.9 x 15 cm)

Notable Materials

Nylon, YKK Zippers, Duraflex Hardware

Manufacturing Country

Indonesia

Laptop Compartment Size

15"

Warranty Information
Full Review
When you just need a bag with a free-form interior that you can take full advantage of, there's Timbuk2's Tech Tote. The "Tech" designation doesn't make it a bag for just the tech crowd, and you'd be surprised at what it has to offer those just looking for a fairly versatile tote bag.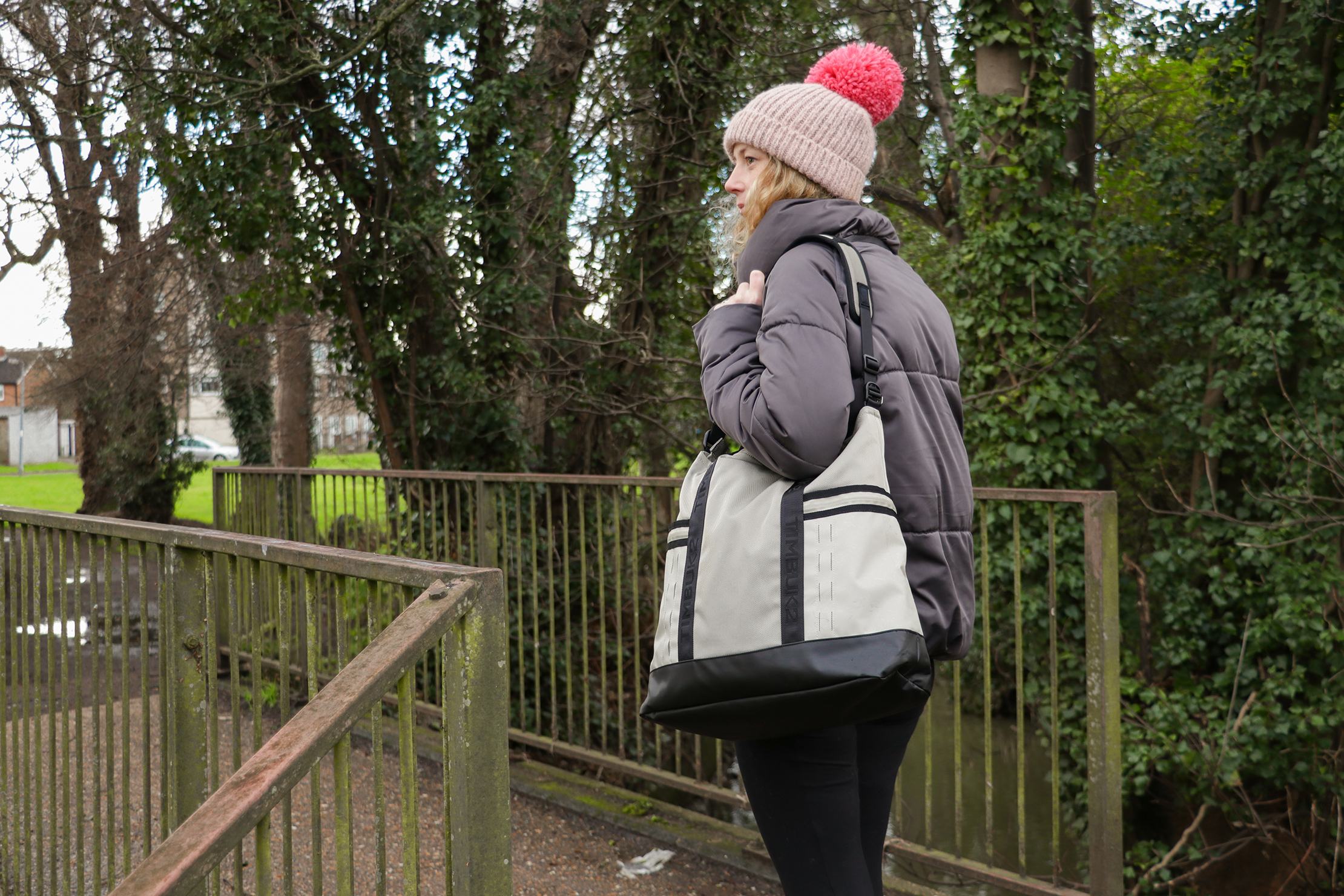 There are pockets on pockets with daisy chains on the outside coupled with a cavernous main compartment—all wrapped in water-resistant material that's very reassuring if you're ever caught in a downpour (we've all been there, right?). There are some issues to take into account, however; ones worth discussing over a thorough review. Let's jump in and see what the Tech Tote has to offer.
Materials & Aesthetic
Timbuk2 touts the Tech Tote as a bag that will help you in your day-to-day urban life, and it certainly looks the part. It comes in this cream-like colorway that accentuates the black trim and straps that line the tote's facets. It's got a classic, retro vibe going on with this style; however, the lightly colored fabric did pick up some marks, which we could not wipe off. There is a black colorway also available if you want to hide scuffs and marks like this one, and it gives the Tech Tote an overall more sleek and discreet look.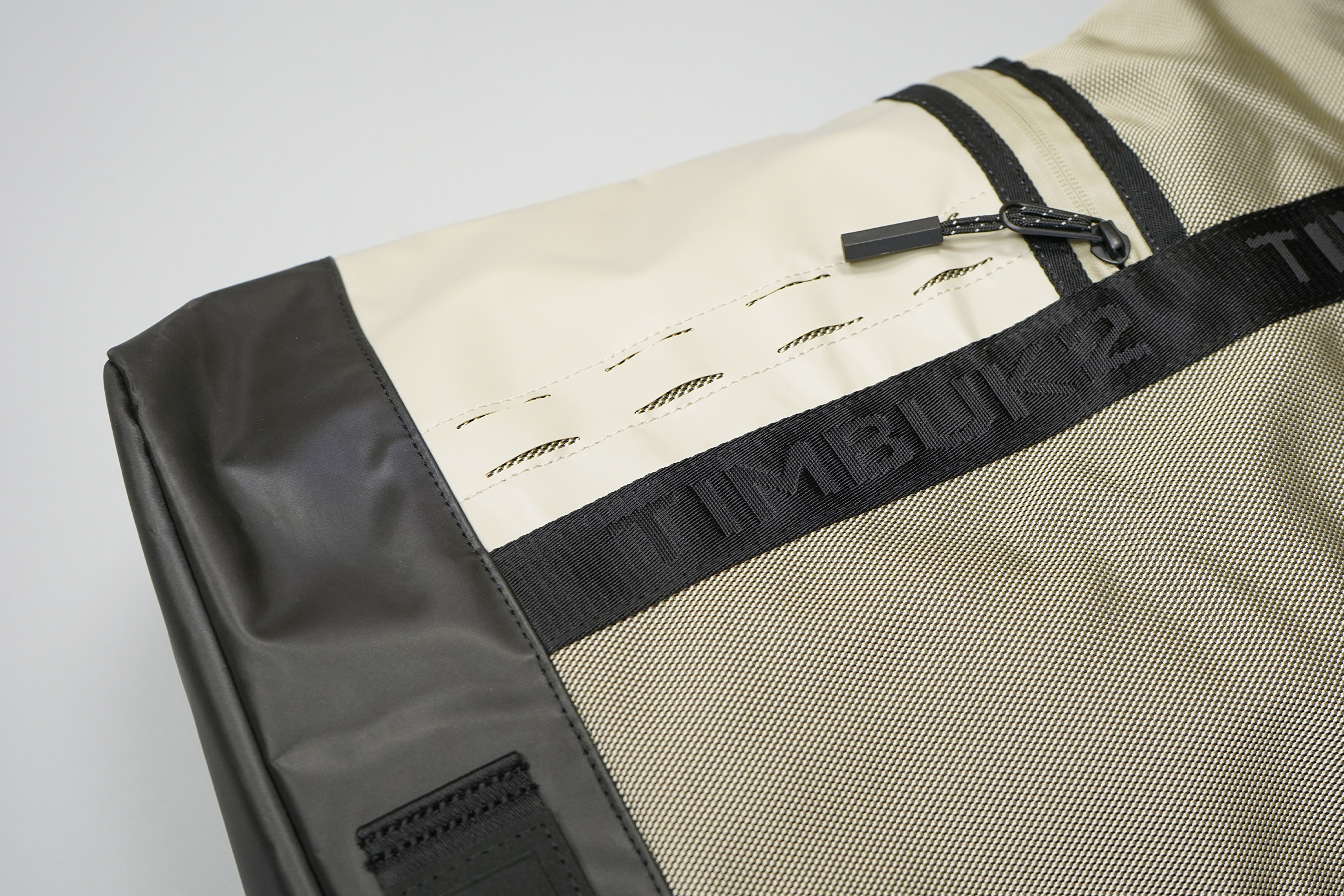 Extending down the body of the Tech Tote are the straps of the tote handles. They bear the Timbuk2 branding in a repeating pattern, but it's not too in-your-face because of how well it jives with the black color of the straps. They're still noticeable, especially when the light hits at the right angle, though they do work well to complete the Tech Tote's busy aesthetic.
Tons of stuff going on in terms of visuals, and there's substance backing it all up. Timbuk2 doesn't specify what brand of nylon they're using. Nonetheless, it feels sturdy in hand and water-resistant, especially the bottom portion that's thicker than the rest of the body—always an advantage when you need to set a bag down on rough ground. The Duraflex hardware and YKK zippers are also water-resistant, the latter giving your gadgets inside the Tech Tote superb protection from the elements.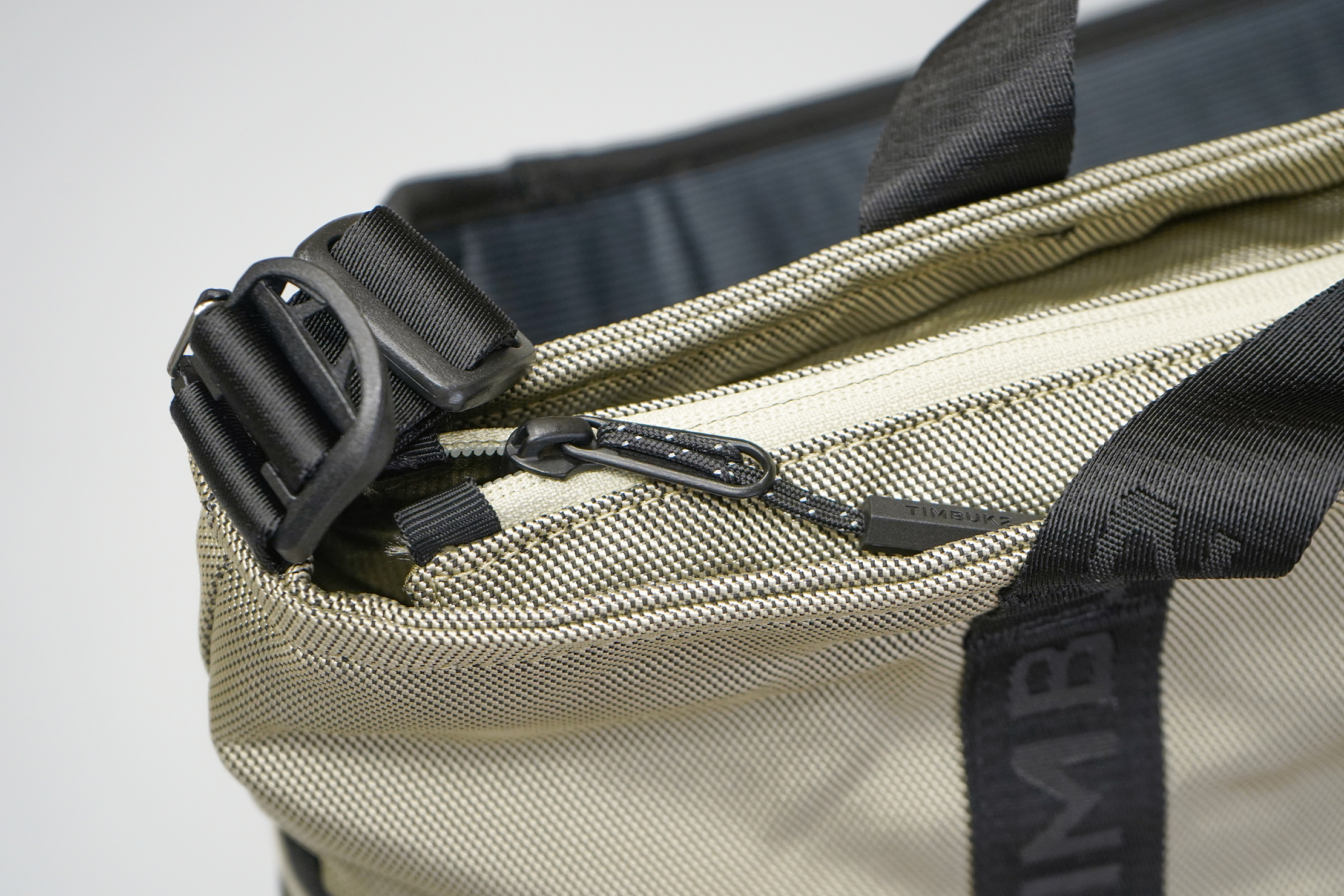 That said, we did find some loose threads around some parts of the tote. These developed after our initial usage, and it was cause for concern. However, the Tech Tote did manage to make it through our lengthy testing without significant deterioration, and the damage remained mostly cosmetic.
External Components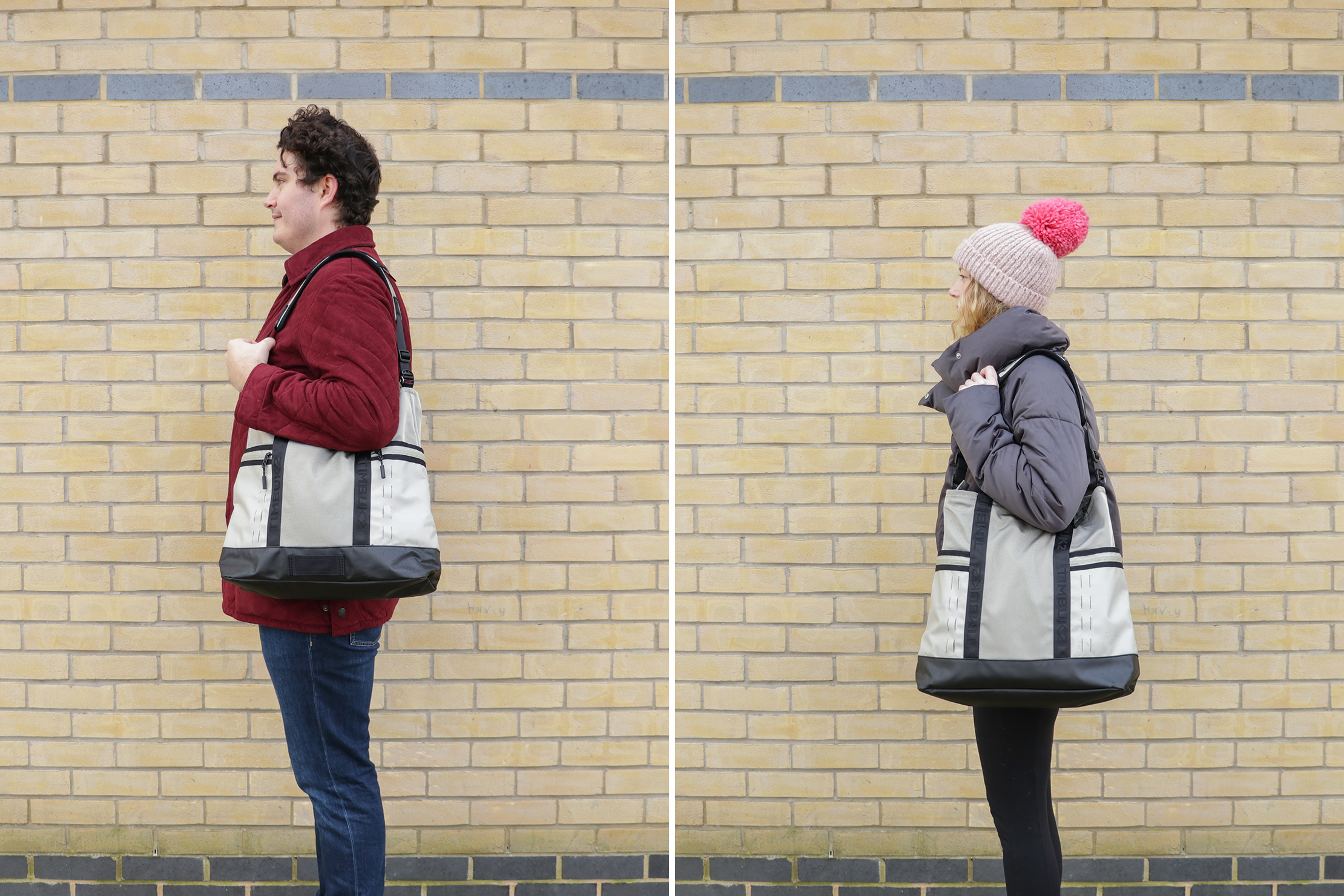 The black trim does give the outside a touch of personality, but they also denote purpose. Towards the sides are black lines that are the openings of the side pockets. The top ones are open-style pockets where umbrellas, water bottles, or compact tripods can go in. Below those are zippered pockets that you can use for items of convenience like tissues or hand sanitizer.
Timbuk2 has an interesting design for these four pockets in that they curve around the edges of the tote. When the tote's fully-packed, the stuff inside these pockets can get squeezed and pushed to either the tote's front or backside, so these pockets work best for slimmer items. You'll have to be careful with stiff but fragile items like smartphones or granola bars, though—the latter can get really crumbly and messy if you mush them up by accident.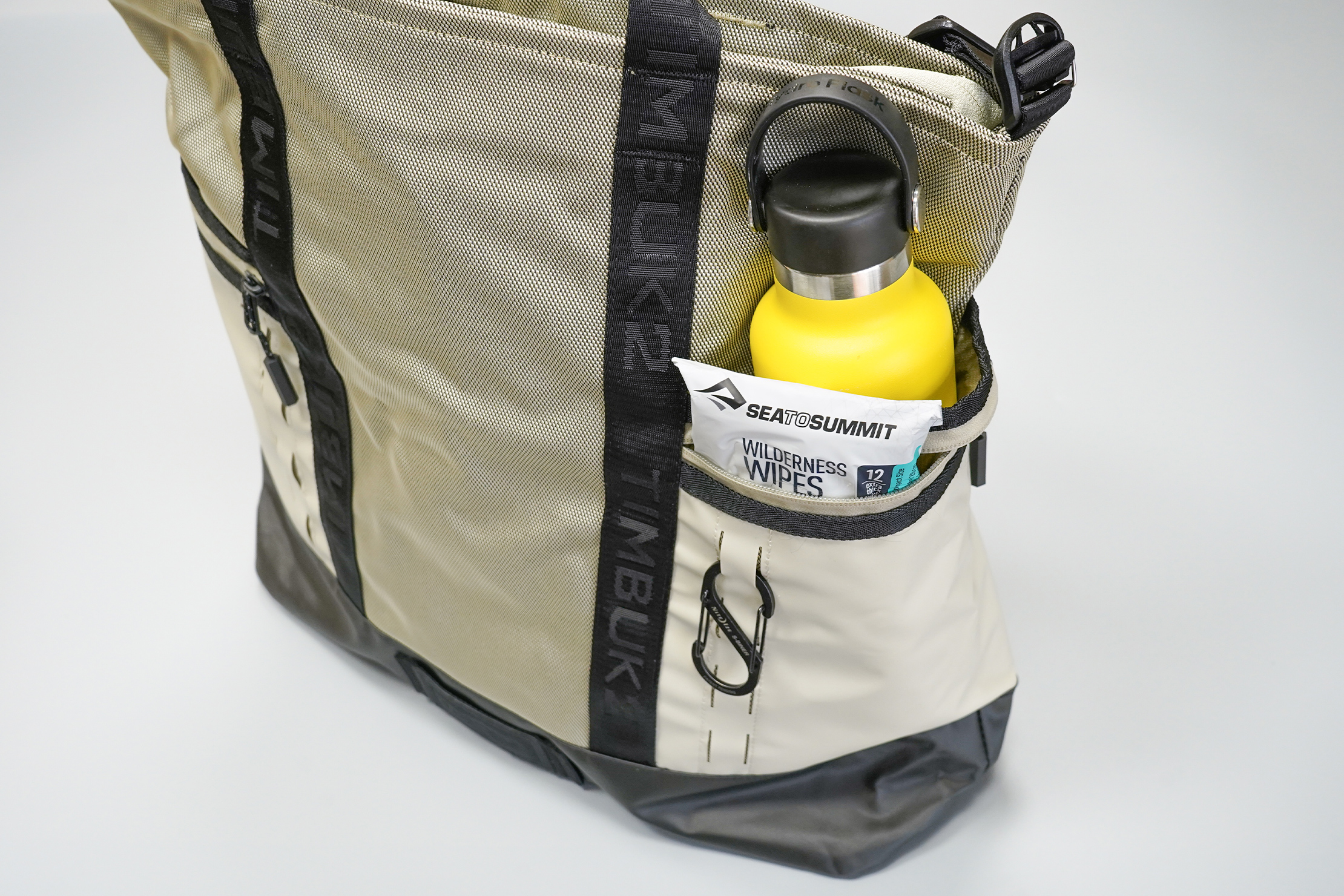 On the plus side, these pockets are relatively spacious. If you don't have the inside of the Tech Tote fully-packed, these side pockets are comfortably large enough for tons of everyday carry items. Consequently, the water bottles or other bulky items inside of these pockets will carve out space from the main compartment, so do bear that in mind.
Below the openings of these pockets are daisy chains, four loops on the left and right side, with an additional four plus four at the back for a grand total of sixteen loops. In case you have sixteen different accessories and carabiners you would like to have on your tote, Timbuk2's got you well-covered in this regard.

At the end of the Timbuk2-laden nylon straps are tote handles. They're not folded and stitched in, so they're as thin as straps, making them not the most comfortable way to carry the tote. It's a big tote, standing at 19 liters, so you'll want to use the shoulder strap most of the time.
The shoulder strap comes included and features a fair amount of padding spanning most of the strap's length. The underside can feel a little slippery, further exacerbated if you're also wearing something smooth like silk or with DWR coating like Uniqlo's Ultra Light Down Jacket. Otherwise, the shoulder strap does a good enough job, and it even comes with a handy bottle opener that also acts as another accessory mounting point for something like the Orbitkey Clip (V2), so you can have house keys front and center when you need them.
Inside The Pack
It's easy to appreciate just how cavernous a 19-liter tote like this one can be. We'll attribute this to the Tech Tote's tall profile, which contrasts something like the DSPTCH Utility Tote that features a wider stance. It plays nicely to how well the Tech Tote handles in day-to-day use. The taller profile means it rests well against your body and helps prevent forwards and backwards wobble—a common occurrence on wide duffle, tote, or messenger bags.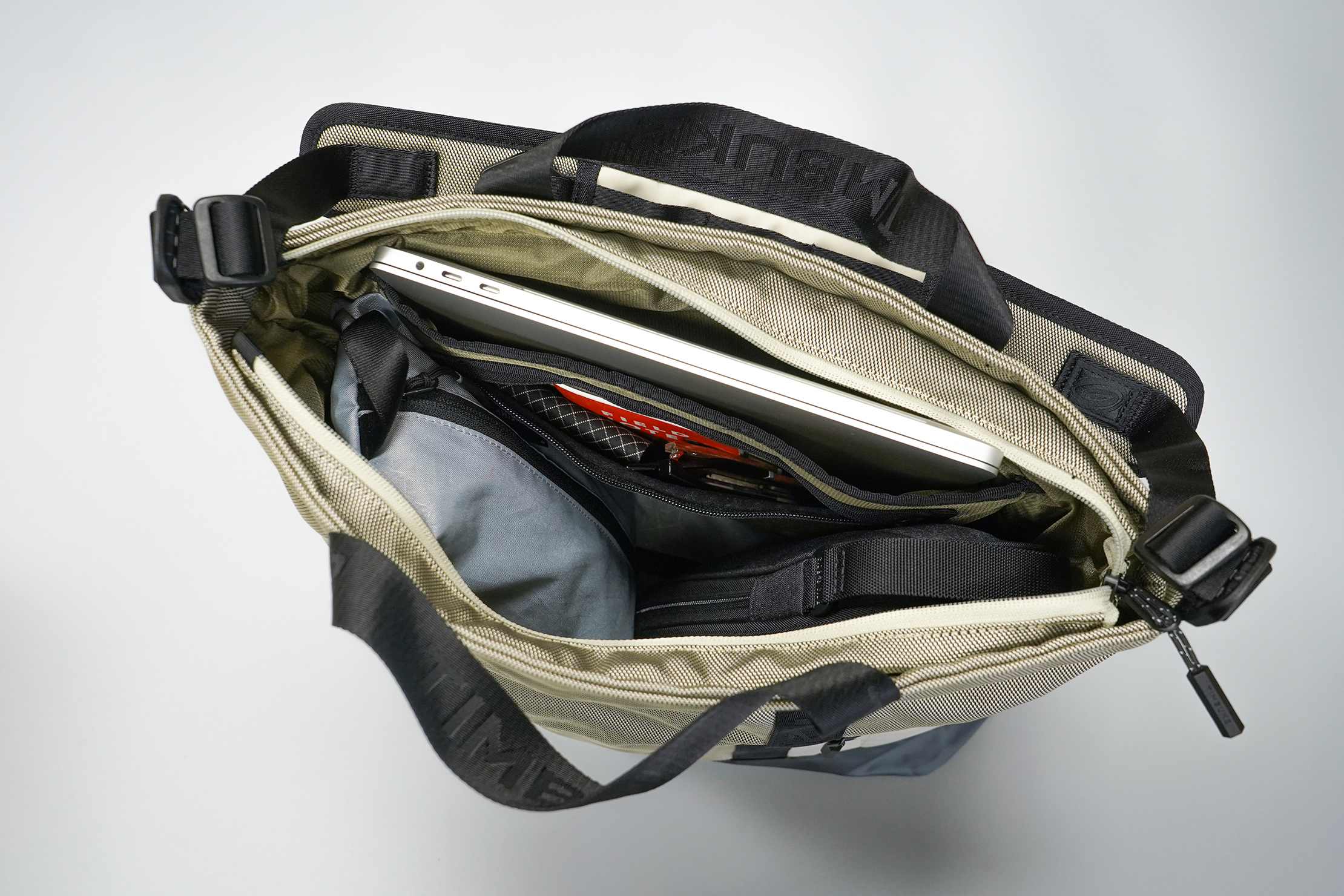 But going back to the Tech Tote's spaciousness, the inside acts as a huge sack with minimal organization. This is where ol' reliable packing cubes and tech pouches come into play. It's called the Tech Tote, but it will be up to you to divvy it up between packing cubes of clothes vs. pouches of tech and gear with this much open space. For reference, we were able to get in two medium-sized packing cubes plus two tech pouches and our 15-inch laptop inside. Whatever you pack inside, the Tech Tote does not have much structure in place and will generally conform to what's inside. Translation: Just make sure nothing sharp juts out, lest it pokes out uncomfortably on your body.
Your laptop does get its separate pocket. This laptop pocket is a tad loose, and there's a fair bit of wiggle room even when we had our 15-inch MacBook Pro inside. There's no false bottom, and our MacBook was a little bit too close to the top zipper for our liking. The sides are padded, so there's less worry when it comes to side-to-side bumps, though the top and bottom sides could use a bit more protection. We'd recommend using a separate laptop sleeve just to be on the safe side.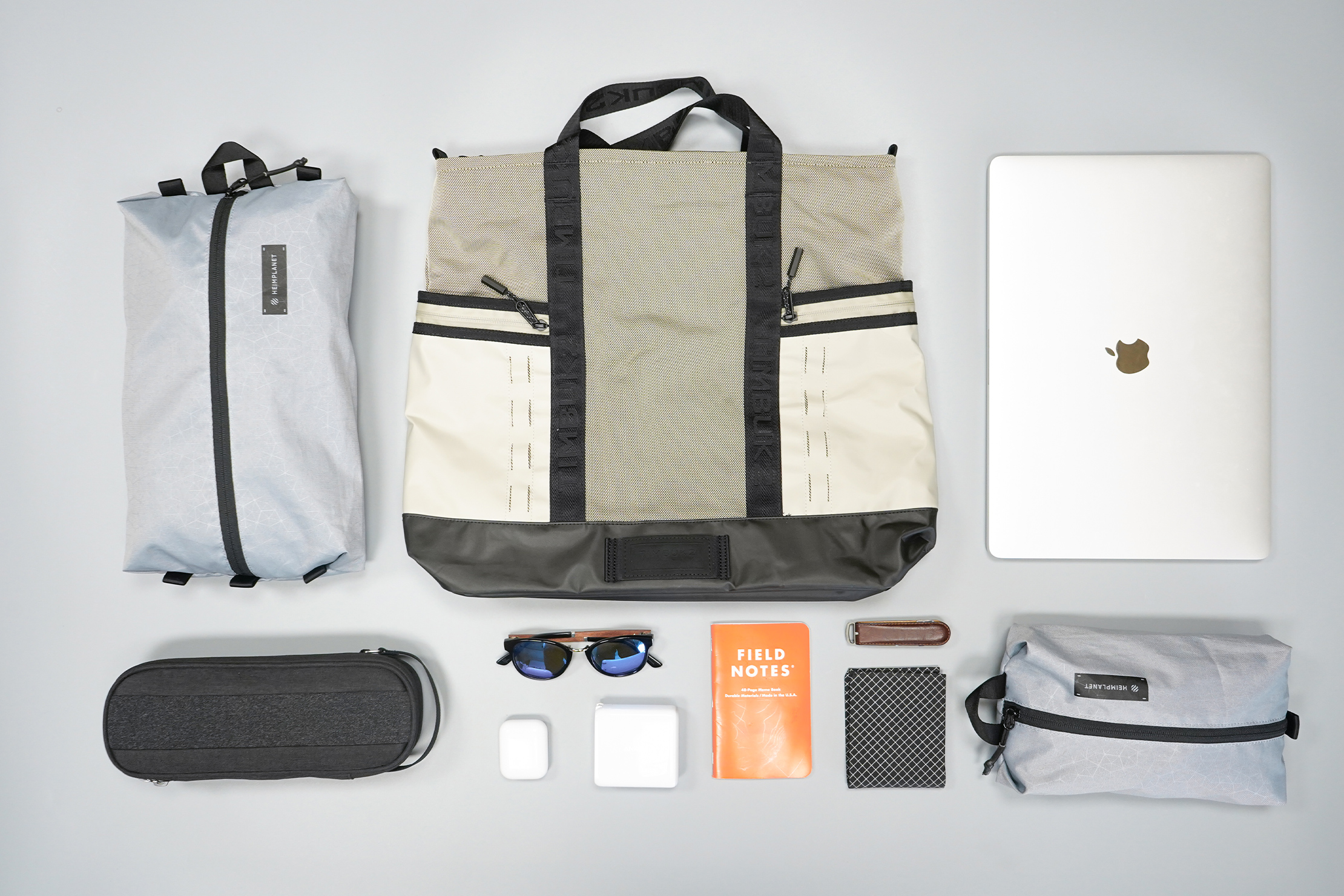 Finally, there's also a zippered pocket in front of the laptop divider. It's handy as a semi-quick-access pocket for stuff you'd want to be more secure, like a wallet or a smartphone. Do note that the main compartment —including this pocket—is lined with glossy brown fabric. It's not the brightest interior fabric we've come across, but it's also not the darkest, and it bounces just enough light during the day that internal visibility isn't too bad.
Wrap Up
Overall, we're digging Timbuk2's Tech Tote for its spaciousness and flexibility. We were impressed with the number of mounting points for accessories, and we dig having that kind of customization. The open space inside is kind of a double-edged sword in that there's minimal organization, but it also allows users to use the space as they see fit. On the flip side, the exterior pockets do pick up some of the slack to give you more options for storage.
Other concerns include somewhat cosmetic issues (i.e., loose threads and mark-ups), but our biggest gripe would be the laptop pocket's deficiency in protection. But if you already have a separate laptop sleeve handy, then it's a non-issue. In which case, the Tech Tote serves well as a spacious bag for lugging gear around, tech or otherwise.
Usage Timeline
Initial Usage
Condition: Excellent
Main compartment is bucket style with only a laptop sleeve and flat mesh pocket for organization
Water-resistant bottom and sides for extra protection
Material has some black marks on the outside, but only aesthetic damage

Timbuk2 Tech Tote Marks
2 Weeks of Use
Condition: Good
There are quite a few loose threads around this pack already
With the side pockets curving around the edge of the bag we found them difficult to access and tricky to find items that will fit inside them, as any smaller items dropped to the bottom
The main compartment is like a huge bucket and is easy to pack due to the wide opening at the top
The material isn't structured so the tote can look lumpy if not packed well
The tote handles didn't have any padding, which was fine when this bag was light, but when fully packed it wasn't very comfortable
The laptop compartment lacks padding and a false bottom so we found ourselves needing extra protection for our laptop when using this bag
When not carrying a laptop, the laptop sleeve came in very handy as a divider to keep the items you wanted to access more often separate from everything else inside
Access the Pro Community Discussion
Get your questions about the Timbuk2 Tech Tote answered from our team and the Pro Community right here on the page. Plus, join discussions with other members about gear, guides, and more.
Other Bags & Luggage Reviews