DSPTCH Utility Tote Review
The DSPTCH Utility Tote doesn't overcome a tote's inherent flaws, but the build quality and thoughtful organization put it head and shoulders above most.
Our Verdict
Unlock the Pro Summary
Save time. Get access to brief summaries of our reviews so you can browse and make decisions more efficiently.
Pros
Roomier than expected for a 17L tote
DWR coating comes standard across all variants
Internal bottle pocket keeps a clean look and good center of gravity
Cons
The shoulder pad does not come included
The internal bottle holder's mesh is thick—though that's DSPTCH's thing
Long handles and shoulder straps can become tangled easily
Recent Pack Hacker Video
Technical Details
Capacity

17l

Weight (lb)

2.69 lb (1.2 kg)

Denier

1680D

Dimensions

15 in x 14 in x 6 in (38.1 x 35.6 x 15.2 cm)

Notable Materials

Ballistic Nylon, DWR Coating, YKK Zippers, Woojin Hardware, Duraflex Hardware

Manufacturing Country

United States

Laptop Compartment Size

16"

Warranty Information
Full Review
Take a quick gander at the DSPTCH website, and you'll see the words "Design & Manufacturing" in small text. In this context, "Design" has less to do with styling and more to do with two of DSPTCH's favorite words: durability and functionality. It's something we've come to expect from the brand based on experience.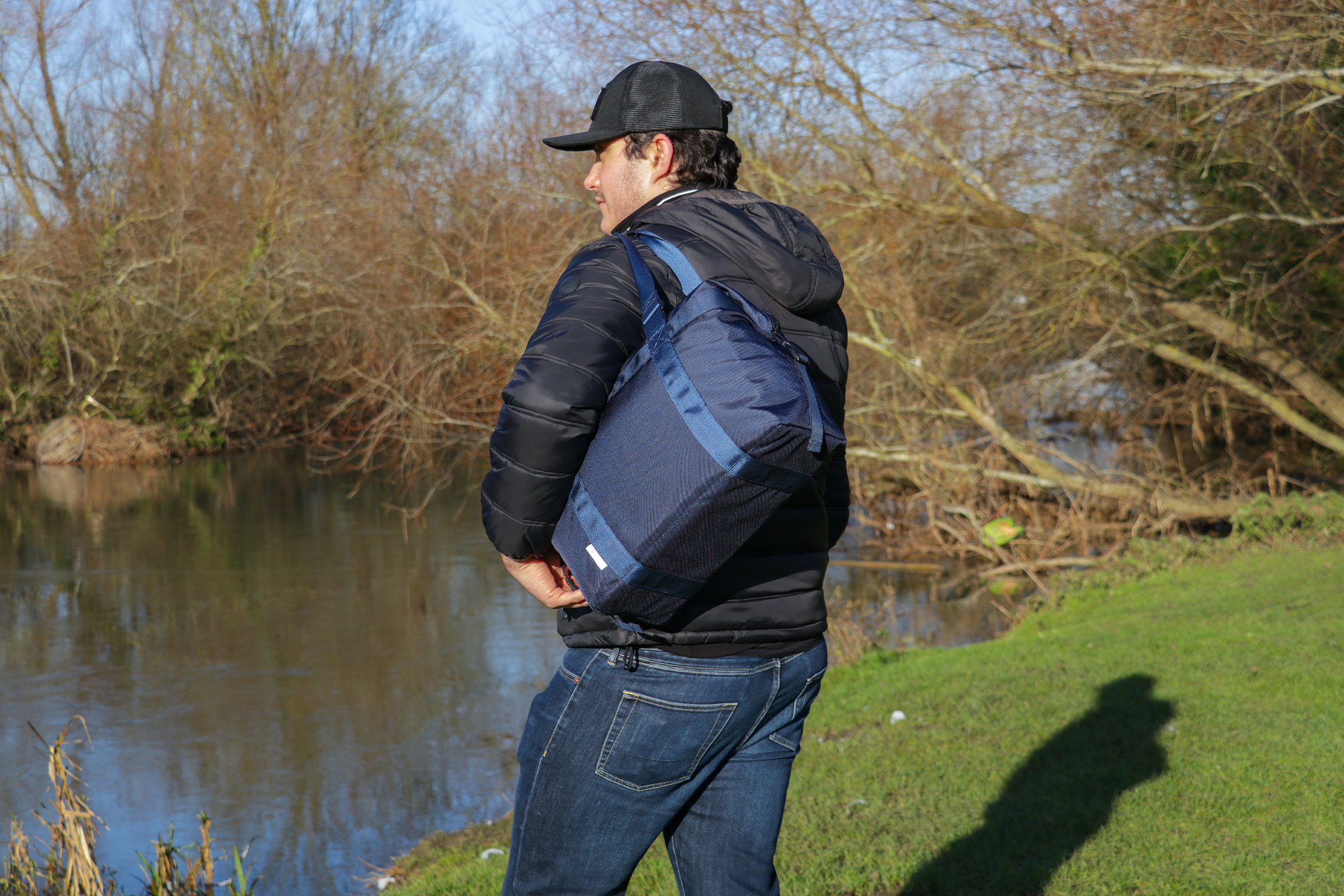 Today's Utility Tote is no exception. We call it a tote, DSPTCH calls it a tote, and the versatility we've unearthed here straddles the line between a gym duffle and a very capable daily carry bag. While we don't think the looks are anything special, stick with us and see if this tote can win you over in other ways.
Materials & Aesthetic
Much to our pleasure, the version we tested came in the Navy Ballistic colorway that easily blends in a gym locker room or a city park. Unfortunately, only 16% of those who took part in our Instagram poll liked the Utility Tote's looks. Perhaps it's the blue-ness of the Ballistic Nylon that you found to, potentially, draw too much attention in a more corporate environment.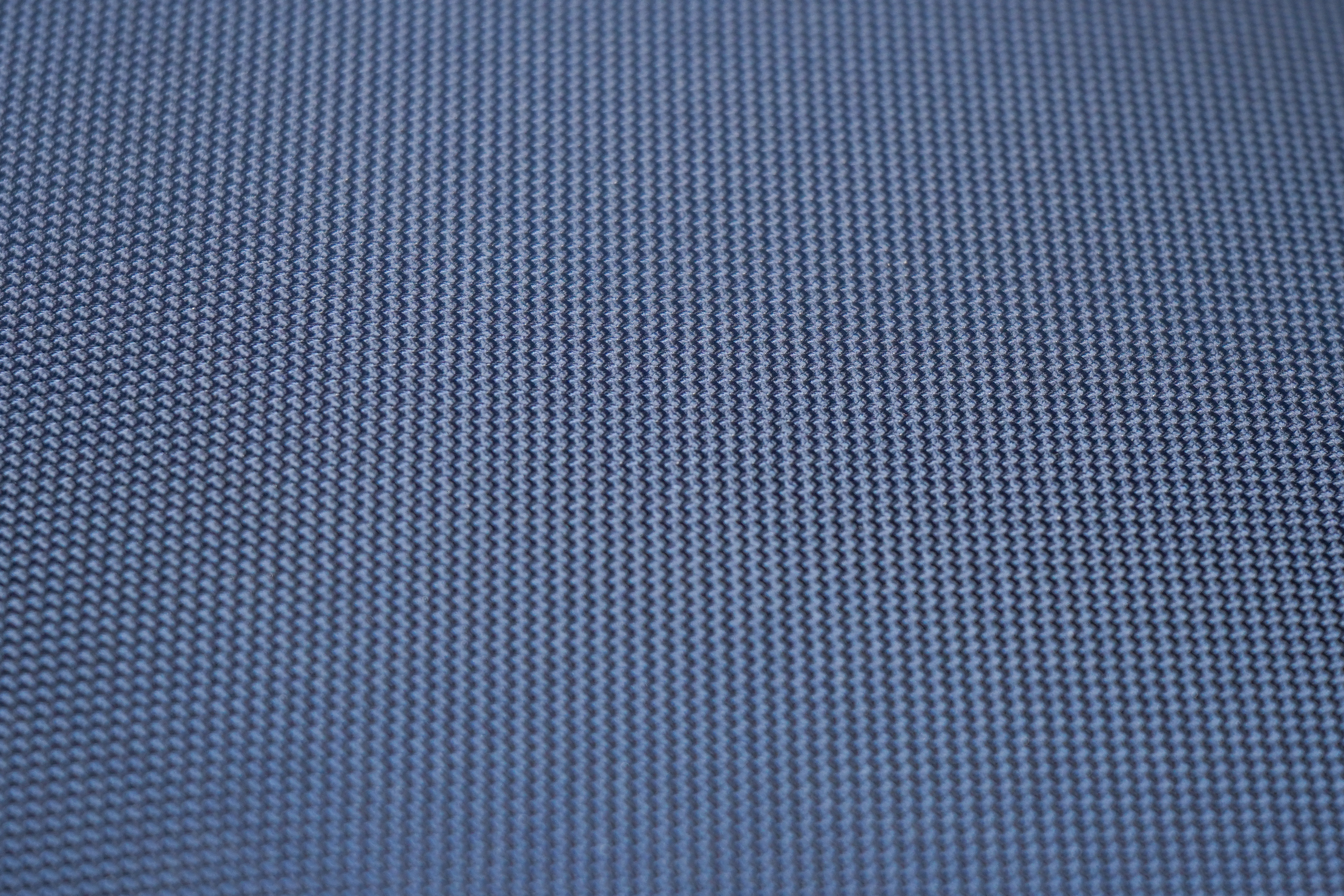 In case you do hit the weights immediately after work—or before, if you're just that committed—there are four grays you can choose from: Black Ballistic, Grey Ballistic, Speckled Grey Twill, and Charcoal Speckled Twill. Those two latter colors can remind us of the gray noise a TV makes when it completely loses signal. That's not a jab at the colors, and we honestly think that those two look more professional and classy than the others.
There's also the Navy Ballistic we've tested (which is blue), Moss Balistic (which is olive green), and Black Multicam CORDURA. We're digging the rugged look of the Multicam too.
As you may have surmised, there are three types of fabric depending on what colorway you choose. It's 1680D Ballistic Nylon for the "Ballistic" colorways, 380D Polyester-Nylon Blend for the "Twill" ones, and 410D Nylon Packcloth for the Multicam—all with DWR coating. We can't speak for the other types, but the 1680D Ballistic Nylon on our sample held up extremely well during our standard two-week test. Bigger numbers don't always necessarily mean better, but not when we're talking about deniers at 1680.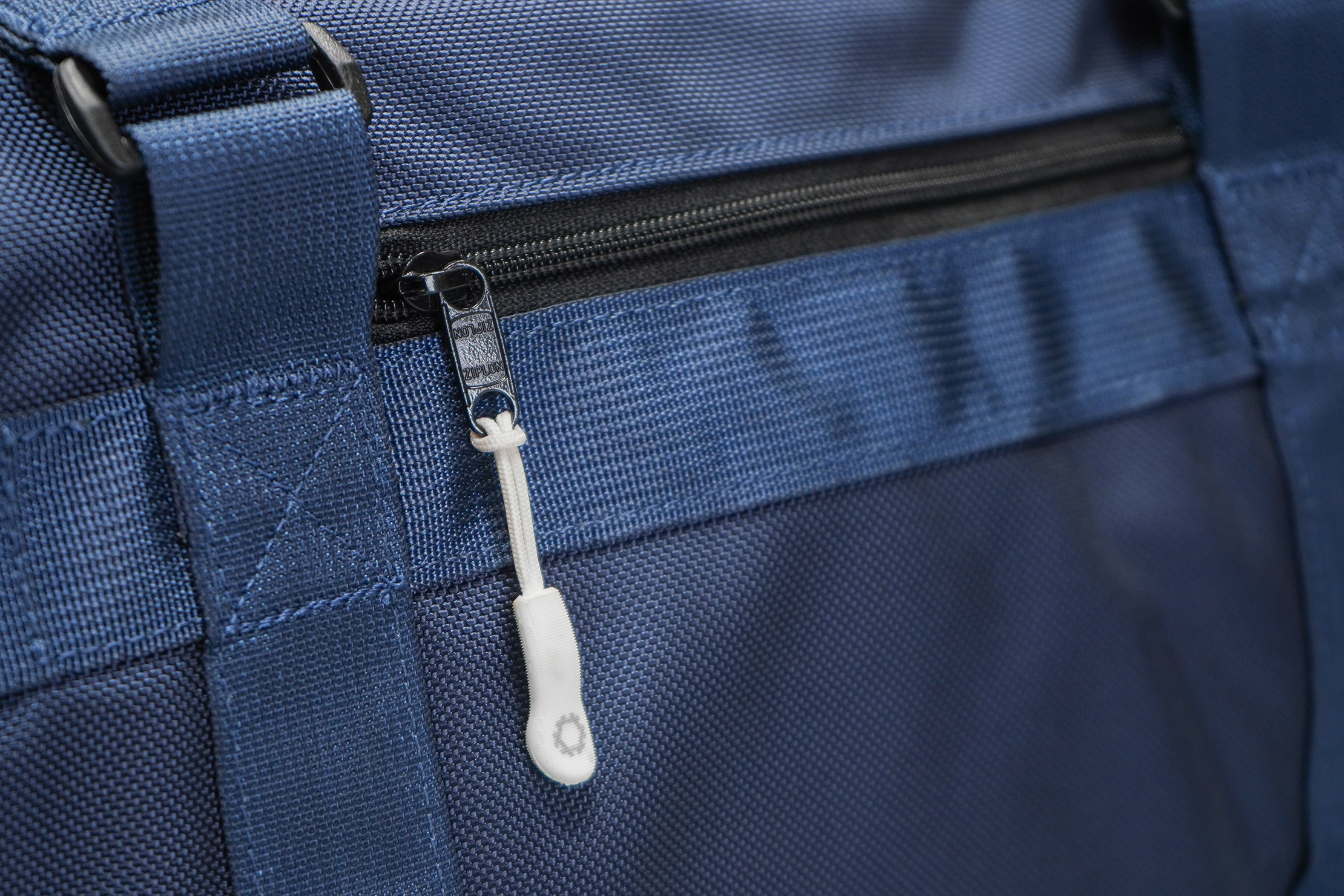 No noticeable branding exists anywhere except for the small tag on the front and a small DSPTCH logo on the zipper pulls. The lack of branding isn't uncharacteristic of the company and its products. You can even find the words "minimal" and "unbranded" explicitly stated on their website. If anyone asks, it's pronounced "dispatch," but in all-caps without the I and the As. You have to respect a company's dedication to cutting off things deemed unnecessary—including vowels.
DSPTCH has employed the usual trio of YKK zippers, Woojin, and Duraflex hardware for the rest of the materials—all choices we highly approve. Interestingly, DSPTCH subtly included an additional amount of flavor and personality to the Utility Tote by using a different colored zipper bungee for the quick access pocket. For example, this blue we've tested comes with a white one. It's a tiny bit of white contrasted against a canvas of blue. Like a cruise ship at sea, perhaps?
External Components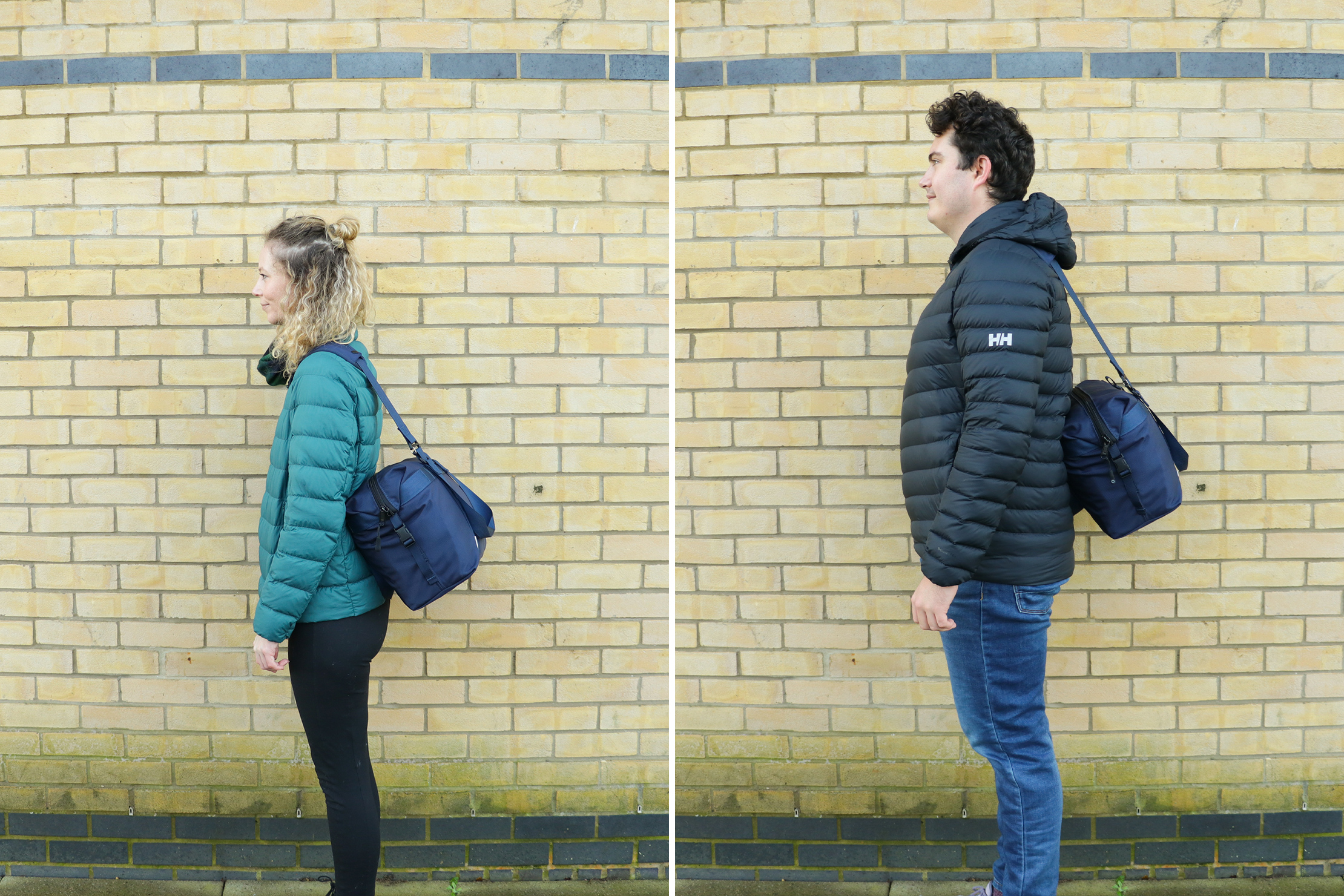 First up are the bread 'n butter of tote bags—the long handles. The material used on the Utility Tote for these handles is simple nylon, with the center folded and wrapped in some Hypalon for added comfort and grip. We did not use these handles as much as we expected to, and you'll soon find out why.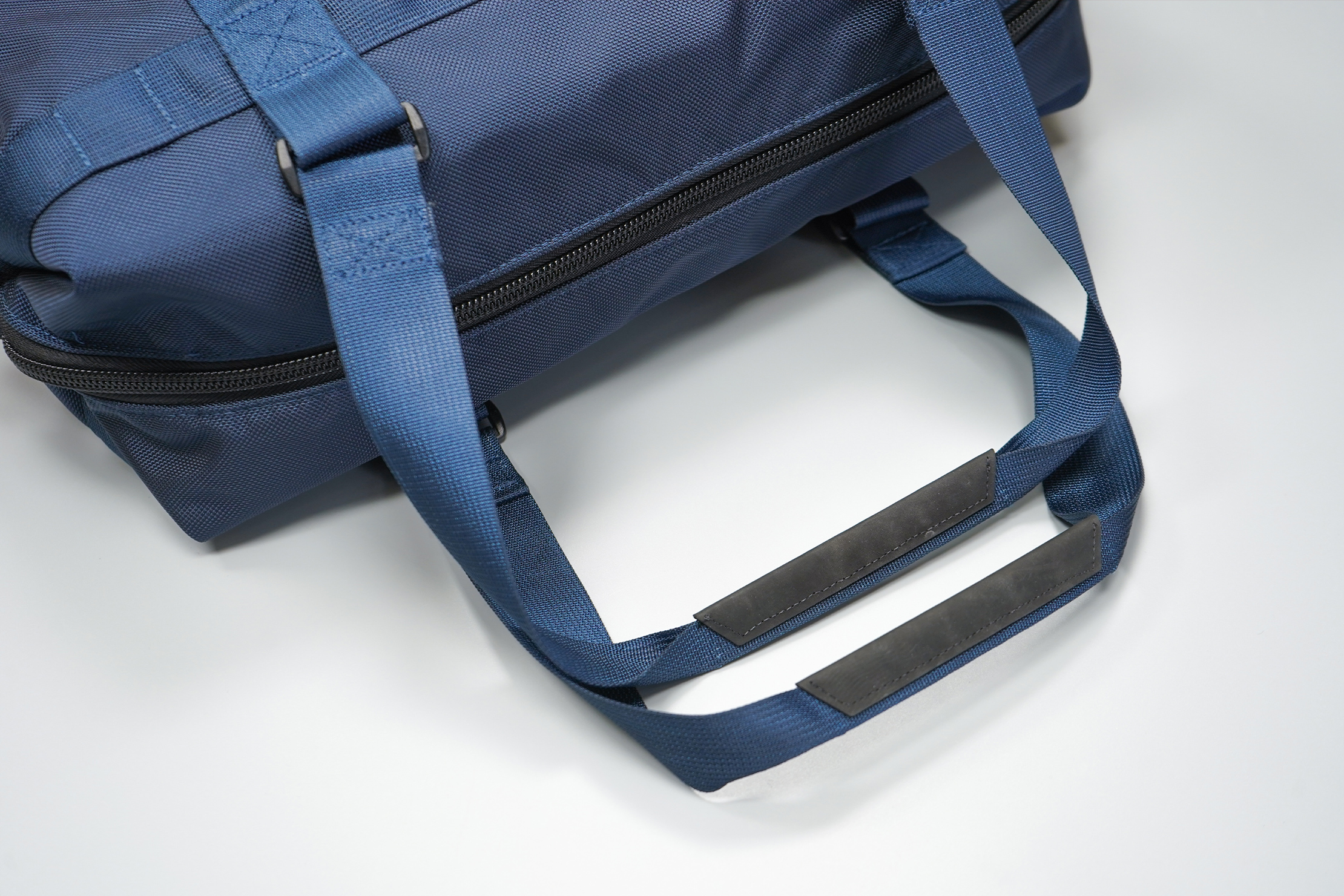 There's also a shoulder strap that can attach to four mounting points around the tote's top mid-section. The gatekeeper-style clips on the shoulder strap make attaching and detaching easy if you want to adjust to a different mounting point or remove the shoulder strap entirely.
The extra shoulder strap on the Utility Tote more or less renders the handles irrelevant for shoulder carry. In practice, we only used the Utility Tote's handles for picking it up from the floor, but very rarely for actually carrying it around. We also can't help but wish that these handles were length-adjustable to prevent them from tangling with the shoulder strap.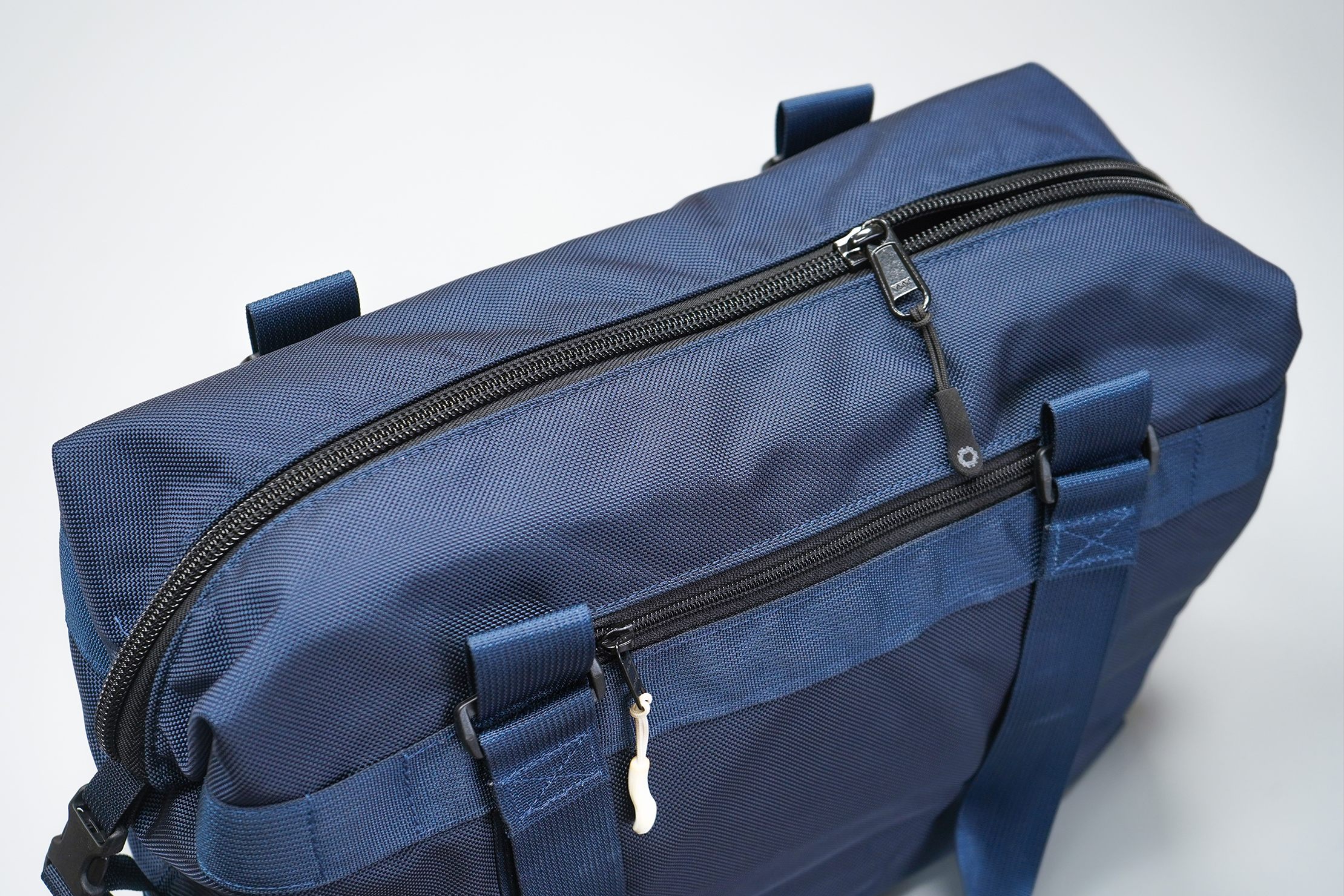 That said, while we preferred to use the shoulder strap most of the time, it did get tiring on the shoulder with a fully-packed tote. The Utility Tote comes with the said shoulder strap as standard, but the shoulder pad is a separate add-on and unfortunately doesn't help as much as we thought it would.
The Utility Tote has mostly symmetrical sides, save for the quick access pocket. By the way, this pocket is the easiest way to tell which side of the bag should be facing inward and which side should be facing outward when carried over your shoulder. The quick-access pocket's meant to rest against you, as does the internal laptop compartment, which is on the same side.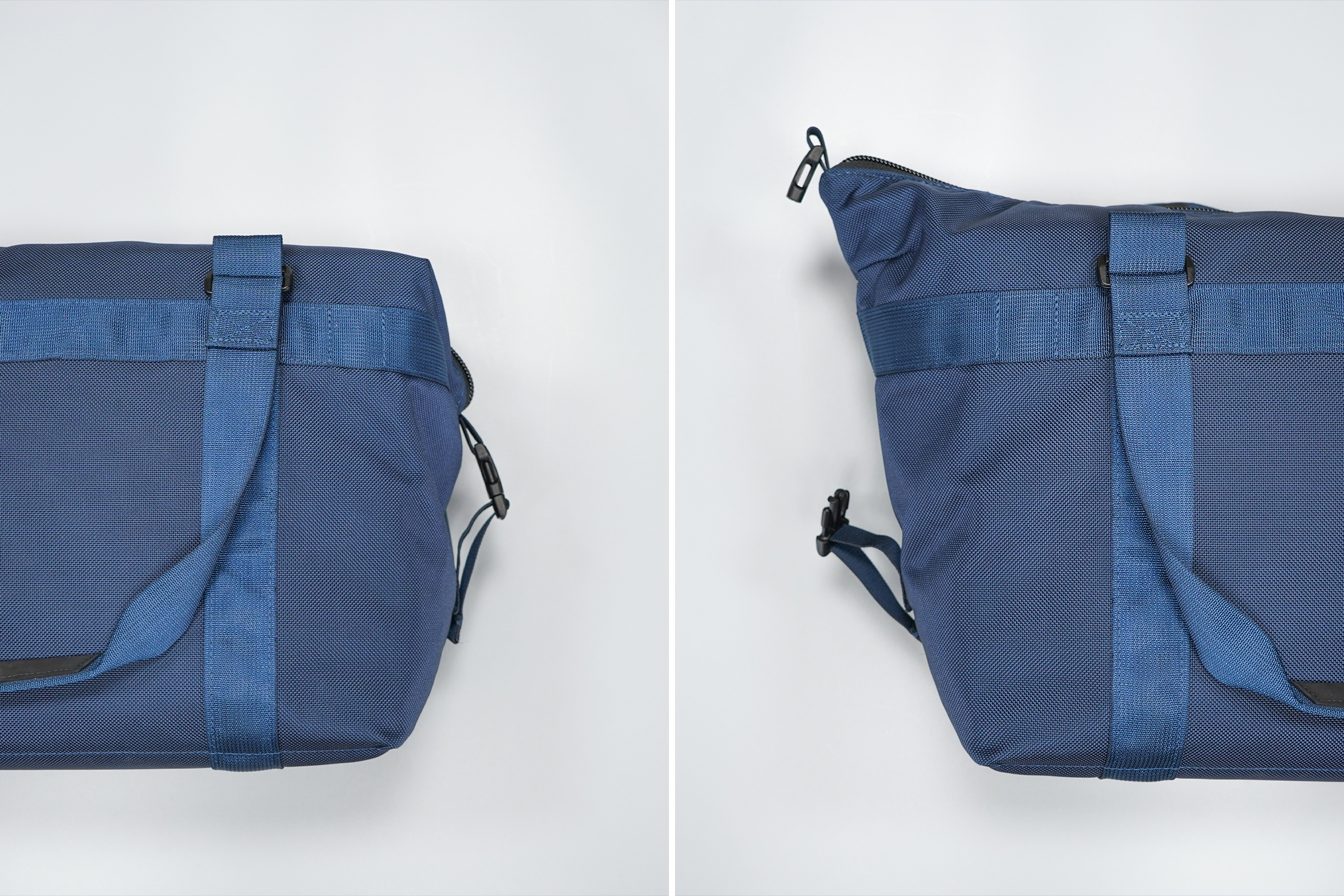 There are compression straps at each end of the tote. When undone, the sides are uncompressed, and the main compartment's mouth is fully horizontal, making access to the main compartment easier. You can also leave it in this uncompressed form for additional space and to avoid overly crumpling anything inside.
Inside The Pack
A lone external pocket acts as the sole quick access pocket for your easy to reach items like wallets, keys, and spare change. It's more spacious inside than the relatively normal length zipper opening would suggest. We've been able to fit our large capacity power bank in there when we needed to top up on our smartphone juices while on the go.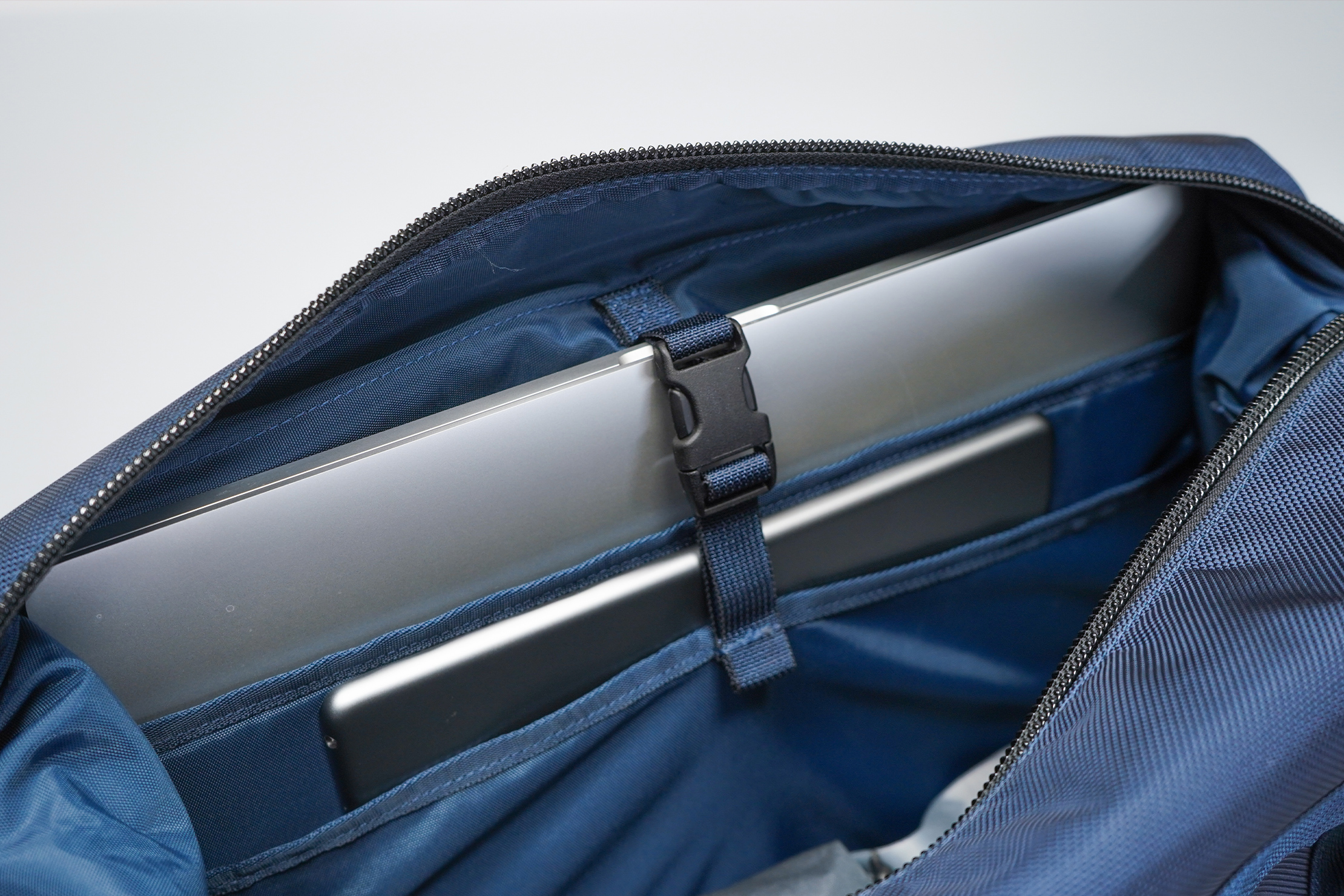 Inside the main compartment is a surprising amount of organization for a tote bag. The inner side, a.k.a. the side that rests against your body, features two device pockets: a laptop compartment and a smaller tablet pocket. Our 15-inch MacBook Pro fit in there with no problems, and the tablet pocket easily swallows an Apple wireless keyboard. It is a bit concerning that these pockets, while they do have some buffer underneath, can still bottom out under certain circumstances. The foam padding on the floor of the pack does somewhat assuage our fears, but it's worth keeping in mind when setting the tote down on a hard surface.
Across these device pockets are two wide mesh pockets that run parallel. These nicely store toiletries like wet wipes, sachets of shampoo, tubes of toothpaste, and the like. We've used it to keep charging cables and power adaptors for our devices since these pockets come with a zipper. Note that these pockets will be obstructed once you've filled up the Utility Tote. Use your better judgment when deciding whether to use these mesh pockets or the external quick-access pocket.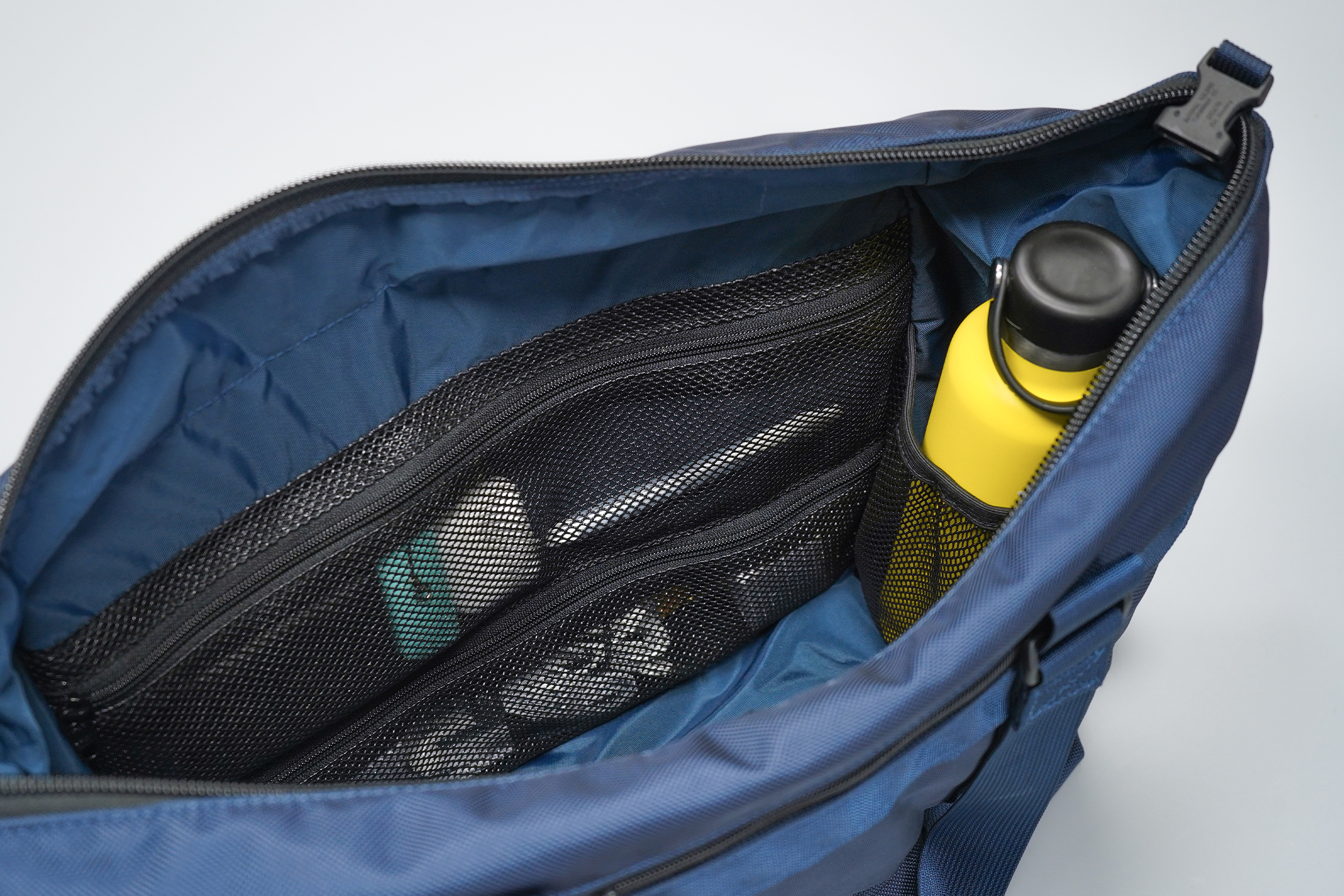 A D-ring is located on one end of the tote if you have something you want to secure using a carabiner. There's an internal water bottle pocket just sitting on the opposite end of the bag. "But aren't water bottle pockets usually external?" Yes, but the more we thought about it, the more sense it made for the Utility Tote.
WARNING: physics-related ramblings up ahead.
By design, tote bags go on one shoulder, and any imbalanced weight can quickly shift the load and make it sag forward or backward. It all becomes an uncomfortable skit centered around how a pulley works with your hapless shoulder as the fulcrum. Despite this delicate balancing act, DSPTCH wanted a water bottle holder in the Utility Tote. So to not compromise the weight distribution, they've moved it inside, thus keeping the center of mass and center of gravity close. That, and it provides a nice, clean look on the tote's exterior.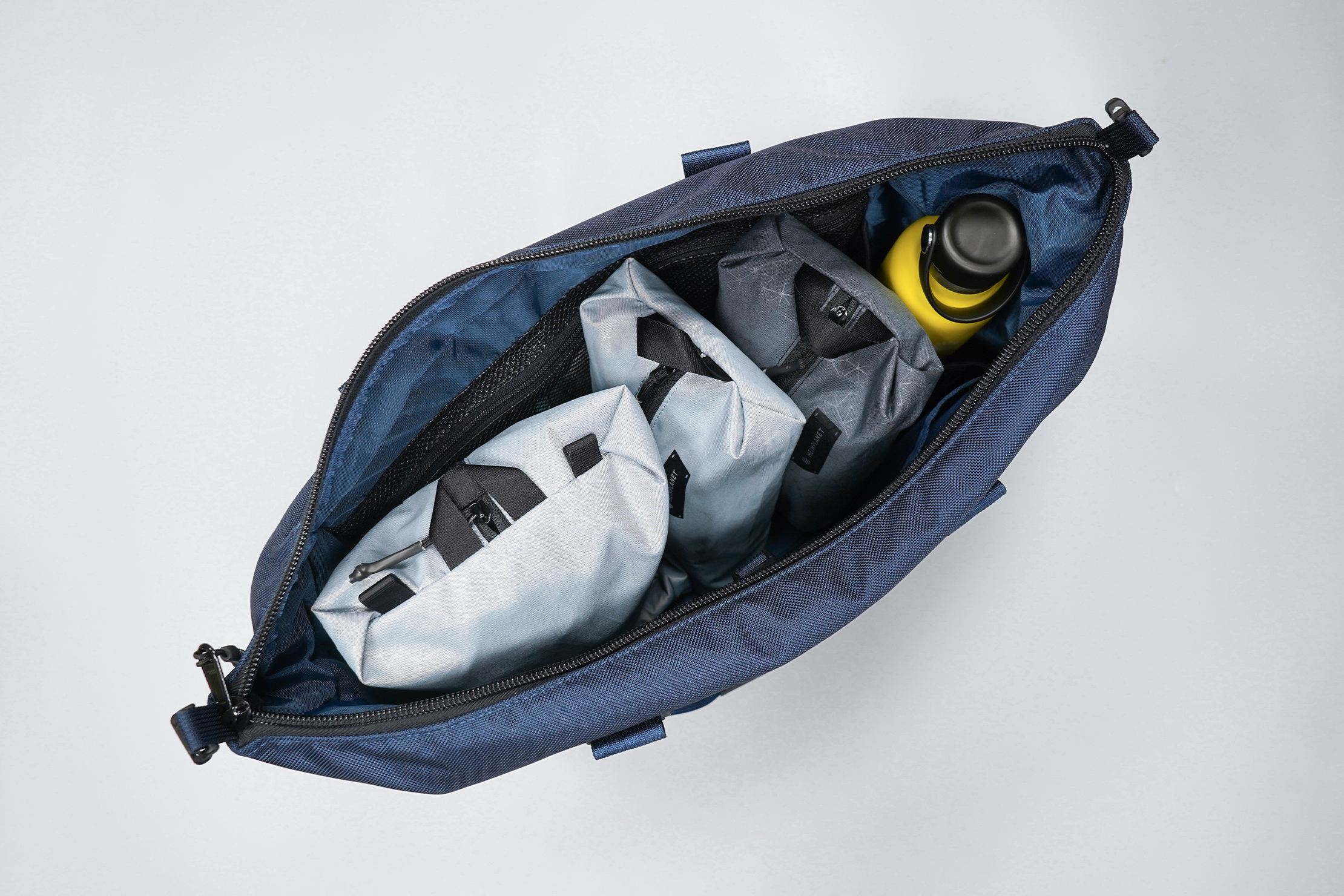 Thanks for sticking with the science babbling, here's the tl;dr: water bottle holder inside makes for a comfortable carry. One other interesting design choice on this pocket is the rather thick mesh material they've used, which we think is unnecessarily rigid. They may have been able to save a few millimeters of space by going with thinner material, but it's not a big deal by any means.
Oh, and of course, if you're using a non-insulated water bottle with a cold beverage inside, condensation will be a concern as it might get whatever's inside the main compartment wet. If your bottle has this problem, we suggest wrapping a towelette to soak up the moisture or just picking up a new bottle altogether.
At 17 liters, the Utility Tote is surprisingly more spacious than expected. The main compartment has enough room for one of our fully-loaded medium-sized Eagle Creek Pack-It Specter Cubes, and we could have easily fitted two small-sized ones as well. Keep in mind that that's with the water bottle holder, laptop compartment, tablet compartment, and mesh pockets all occupied, albeit not fully.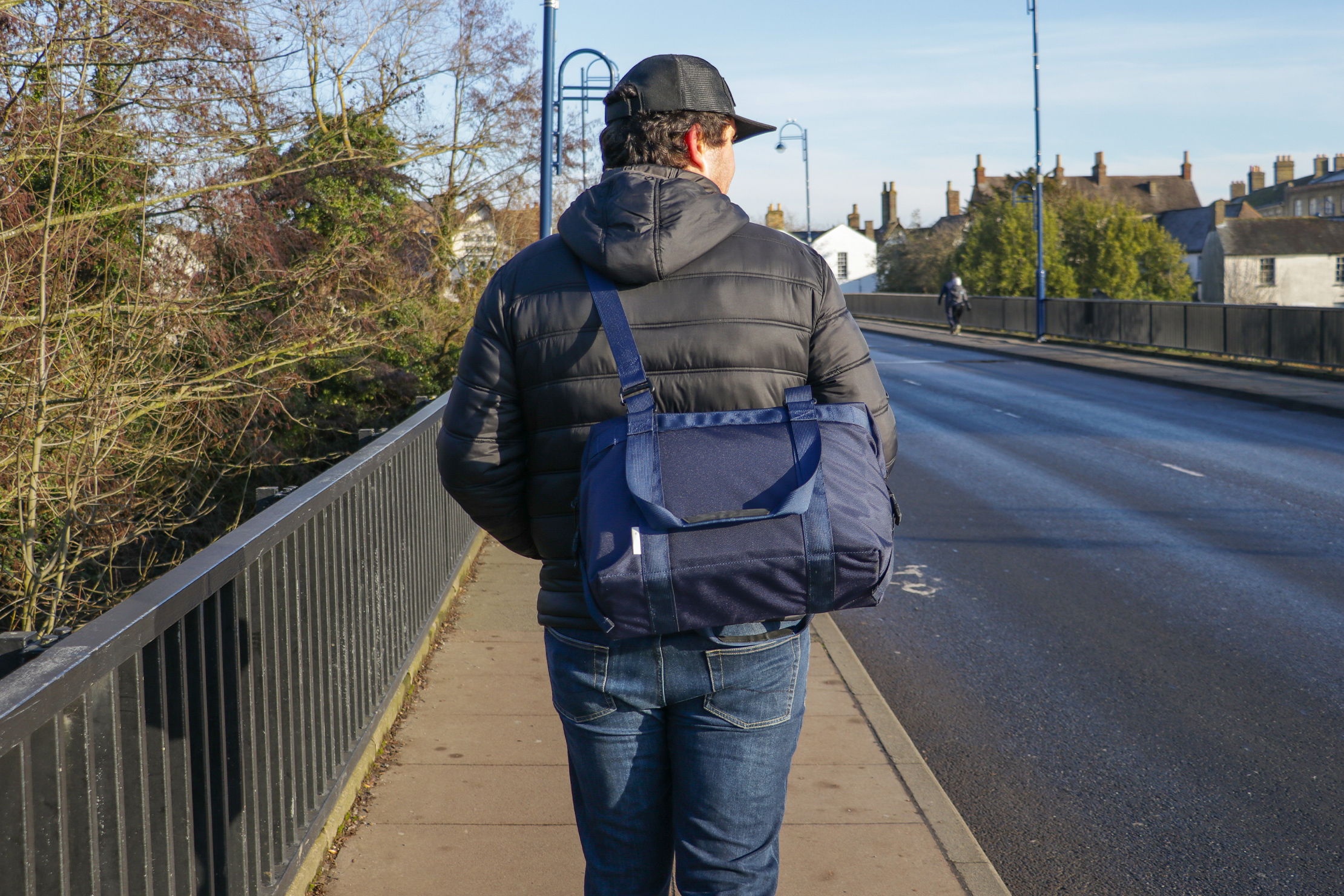 We've thoroughly enjoyed our time with the Utility Tote because of how much more versatile it is than just a tote bag thanks to its notable internal organization—something that DSPTCH knows well.
A simple glance at the Utility Tote's internal compartment will confirm this. On one side are device pockets for your work laptop and tablet, while the mesh pockets over on the opposite side are suitable for toiletries you'd use after hitting the gym. The inside is large enough for packing cubes of clothes for a weekend out of town or camera gear for an overnight stay at a photoshoot location.
We've only one real complaint, and that's the shoulder strap that can use more soft padding. While we're at it, we're sure buyers would appreciate it if the shoulder pad came included. But this comfort issue is largely an inherent problem for tote bags and their one-shoulder carry nature. Considering the amount we could pack inside the Utility Tote, we're more than inclined to give it a pass in this regard.
The Utility Tote is just another example of DSPTCH's commitment to putting durability and functionality at the forefront. It boasts enough versatility and utility for a tote bag to warrant serious consideration for the working professional who wants a robust bag.
Usage Timeline
Initial Usage
Condition: Excellent
Extremely durable construction and materials
Great size and organization for EDC and tech gear
Inside mesh water bottle pocket
2 Weeks of Use
Condition: Excellent
We've been digging the easy-access inside the bag due to the tote design, being able to open it up quickly and grab whatever we need via the large opening is really useful when we're at the gym or coffee shop
Having the water bottle pocket on the inside of the bag enables a much cleaner aesthetic on the outside, which we like, just make sure you trust your bottle enough not to leak
We like that the tote handles are long enough to carry over one shoulder, but this isn't a bag that's comfortable to carry for hours, even with the additional padded shoulder strap attachment
There's plenty of organization for tech, but we've also found there's enough room in the main compartment for packing cubes if you did want to use it as an overnight or weekend bag
Access the Pro Community Discussion
Get your questions about the DSPTCH Utility Tote answered from our team and the Pro Community right here on the page. Plus, join discussions with other members about gear, guides, and more.
Other Bags & Luggage Reviews