TOM BIHN Truckasana Review
The Tom Bihn Truckasana is a tote alternative to a traditional yoga mat bag. It has space for all your props but can sag underneath the weight of your mat.
Our Verdict
Unlock the Pro Summary
Save time. Get access to brief summaries of our reviews so you can browse and make decisions more efficiently.
Pros
Contoured sides and grippy padding hold a yoga mat in place
Zippered front and back pockets are suitable for small items
Versatile enough for yoga, gym, or shopping
Cons
Sags underneath the weight of a yoga mat when the tote isn't full
Straps can dig into your shoulders when tote is fully packed
Outer material attracts lint easily depending on colorway
Recent Pack Hacker Video
Technical Details
Capacity

19l

Weight (oz)

15.9 oz (450.8 g)

for 1000D CORDURA Nylon | 16.8 oz for 525D Ballistic Nylon

Denier

1000D

CORDURA Nylon | 525D Ballistic Nylon | 630D Recycled Nylon

Dimensions

12 in x 17.3 in x 11 in (30.5 x 43.9 x 27.9 cm)

Notable Materials

CORDURA® Nylon, Ballistic Nylon, Recycled Nylon, Ripstop Nylon, PORON foam, YKK Zippers

Manufacturing Country

United States

Warranty Information
Full Review
Ever wish there was a bag for your yoga mat that didn't make it look like you have a sleeping bag on your back? Or that you didn't need to carry an additional gym bag, purse, or tote for your other essentials? Honestly, no one wants to carry that many bags at once. The Tom Bihn Truckasana offers a handy one-bag solution. This tote has more than enough space for a block, strap, towel, change of clothes, and more with three roomy compartments. Fill it up, and then stick your mat right on top—the grippy pads and curved sides will keep it in place.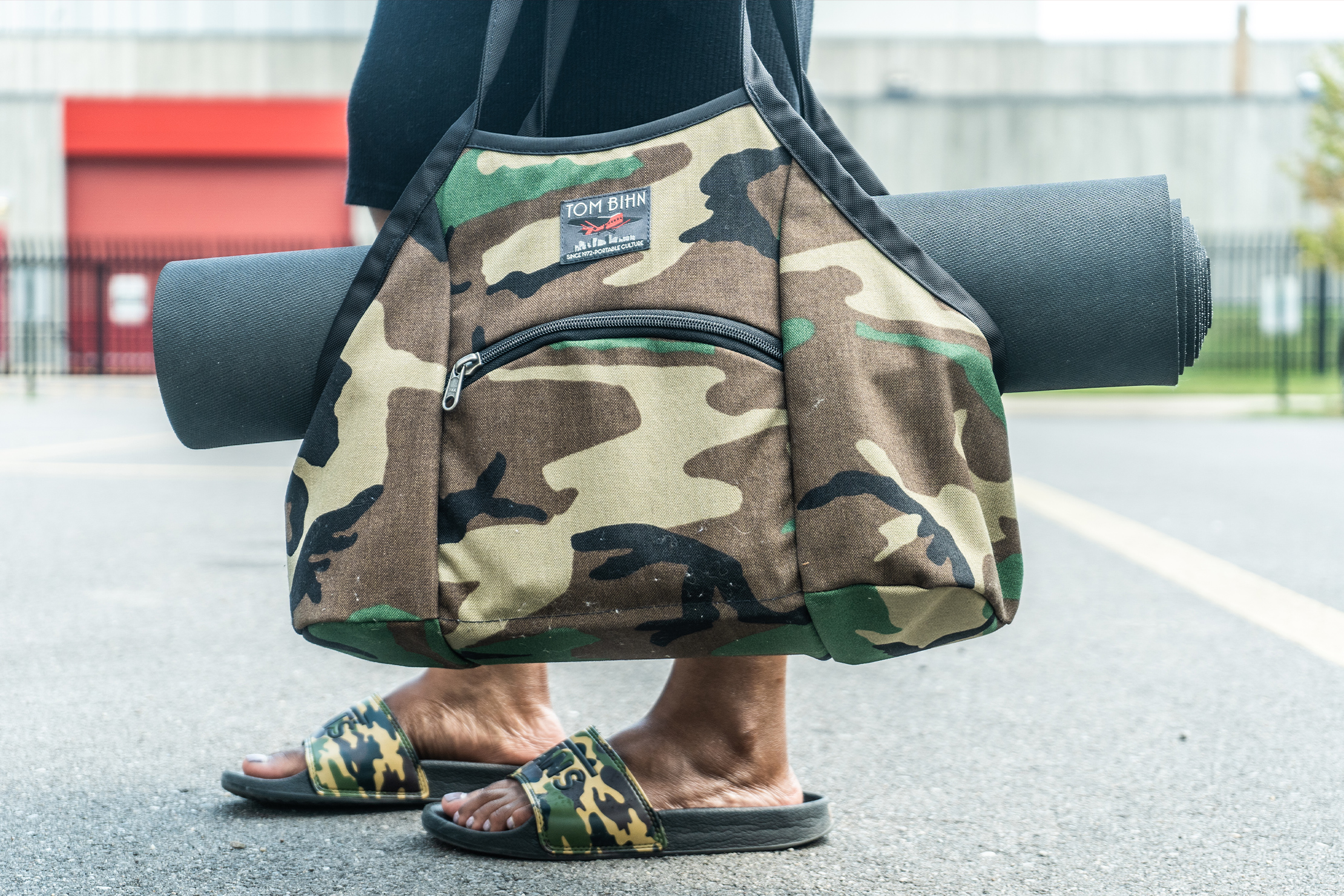 You may be wondering what's up with the name. Allow us to explain. Tom Bihn made a tote bag called The Truck, which is awesome for carrying groceries, road trip supplies, and beach essentials. Some people were using The Truck as a gym and yoga bag, so Tom Bihn took it and redesigned it so that a yoga mat could fit comfortably on top. It's a testament to how much the company pays attention to customer feedback, which we really appreciate. And if you've ever done yoga at least once in your life, you've heard the word asana before. It means "pose" in Sanskrit—as in the restorative pose that involves lying still on your back, savasana, aka "corpse pose." So here we have the Truckasana… aka "truck pose?" That doesn't actually make much sense now that we think about it, but we do love a good play on words. Or something like that.
We tested the Truckasana for two weeks as our dedicated yoga bag and backup everyday carry. It also makes a fantastic shopping tote at farmer's markets or anywhere else you want to reduce your plastic bag use. It served us incredibly well.
Materials & Aesthetic
In classic Tom Bihn fashion, the Truckasana comes in a variety of color and fabric combinations. We went with the Beaver Camo/Coyote because we really like camo. What can we say? Some of us even have camo shoes that match. The outer material is a 1000D Cordura Nylon with a 210D Ballistic Nylon liner in this color combo. The exterior of the bag is tough, with a canvas-like feel to it. It scores high for both durability and pet-hair attractability.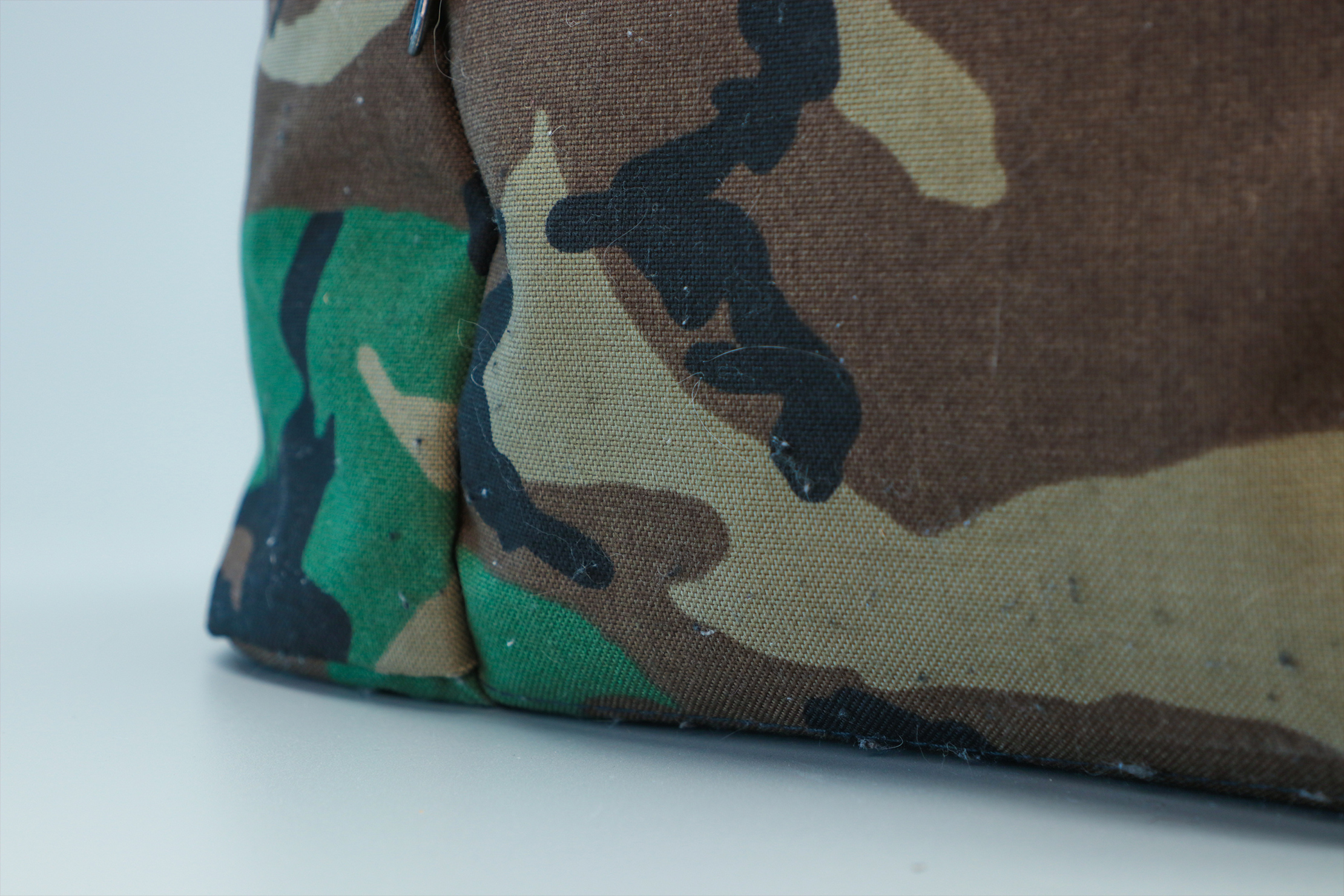 If having lint and hair stuck to the bottom of your bag is too bothersome, you can opt for one of the colorways made with a softer material like 525D High Tenacity Ballistic Nylon. This fabric is still durable, it's just less rigid and attracts less lint. The Truckasana comes in too many color combos to list them all, but some of our favorites are Seapine Green, Constellation Blue, Mars Red, and Burnt Orange. You're bound to find a color and material that works for you, and it'll probably come with a fun name to boot. We chose purely based on the color we wanted, which maybe isn't the best strategy since we ended up with the one that attracts a lot of pet hair. Tom Bihn also uses YKK zippers, which are the golden standard in the zipper world, so no worries about them breaking during use.
Totes are typically the definition of minimalist since they're just one long, thin bag. Not the Truckasana. The segmented compartments with zippered pockets on the outside kick it up a notch. Carrying this bag signals you're a yogi who's got places to go and people to see. You're getting up for morning yoga, heading to work, and hitting up the flea market afterward—maybe even meeting up with friends for a quick outdoor picnic if you have time. We like that it doesn't look like a yoga bag. Although our Instagram followers don't seem to be fans of the camo—only 37% of them said they liked the look. We can't please 'em all.
External Components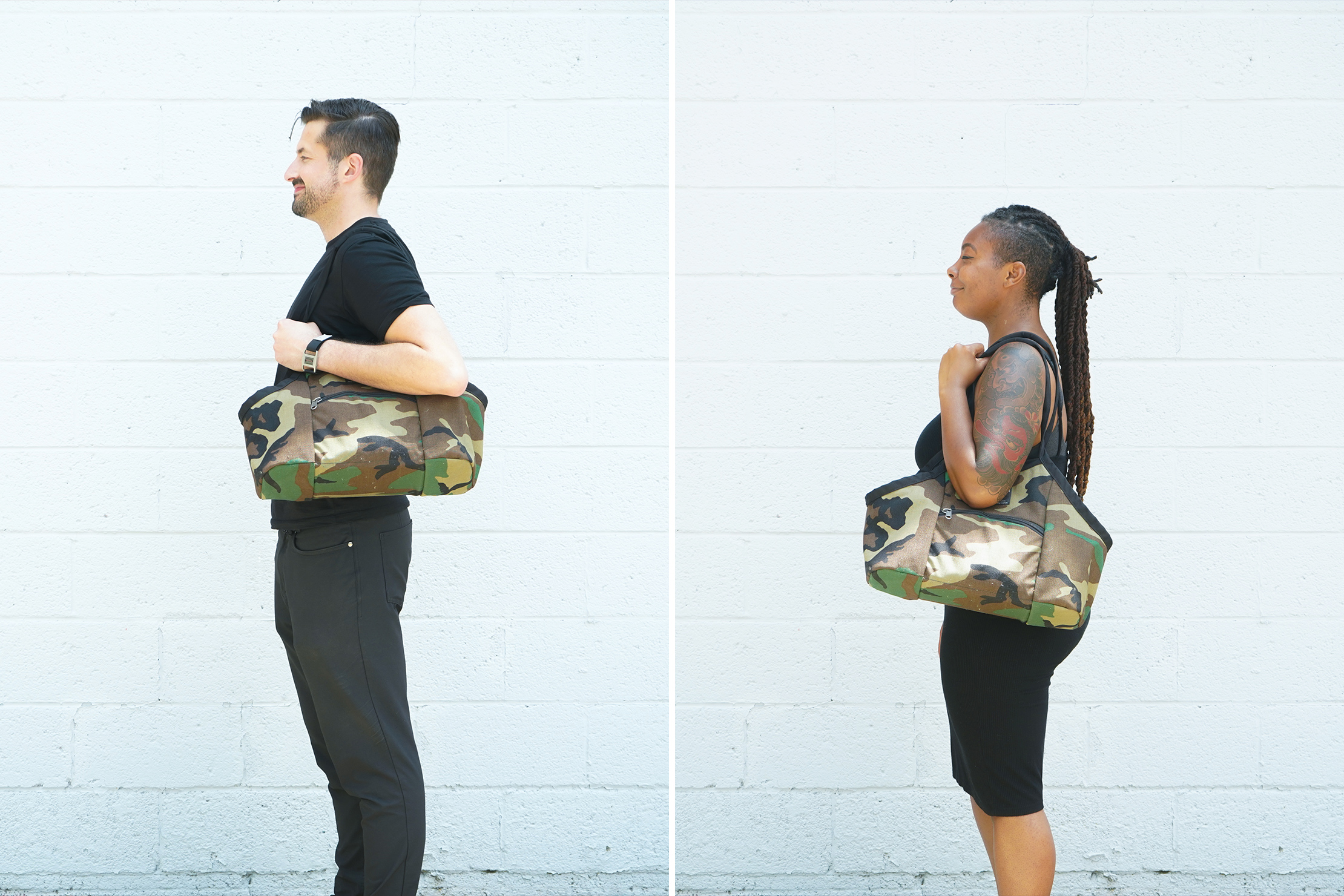 As versatile as the Truckasana is, its primary function is, in fact, a yoga bag. The feature that most supports this use case is the rubbery Toughtek pads near the opening. These are what hold your yoga mat in place. They're made from a combination of Toughtek fabric, which looks like tire tread, and foam padding. When you set your mat on top of the bag and pick it up by the handles, the pads give it a tight, grippy hug so that it doesn't slide around.
The Toughtek pads do a great job at holding your mat in place, but the shape of the bag itself is what allows you to carry one in the first place. It's kind of like if you took a standard, square-shaped tote bag and cut out the top corners. This leaves a curved and contoured top that's optimized to fit something long and round—i.e., a yoga mat, foam roller, or even an umbrella in a pinch.
One thing we noticed is that the rest of the bag can sag down under the weight of your mat, depending on how you've got it packed. When we had all the compartments filled equally, there was no problem. The issue arose when they were unevenly packed. For example, we once had a change of clothes on one side of the bag with a water bottle and shoes on the other side. The side with the water bottle and shoes held up the mat just fine, but the side with the clothes drooped down. Putting something sturdy like a yoga block in the middle of the bag helps your mat stay up better. We'll get into more details on the inside of the Truckasana in the next section, but if you're using this to carry a yoga mat, it's definitely something to be mindful of.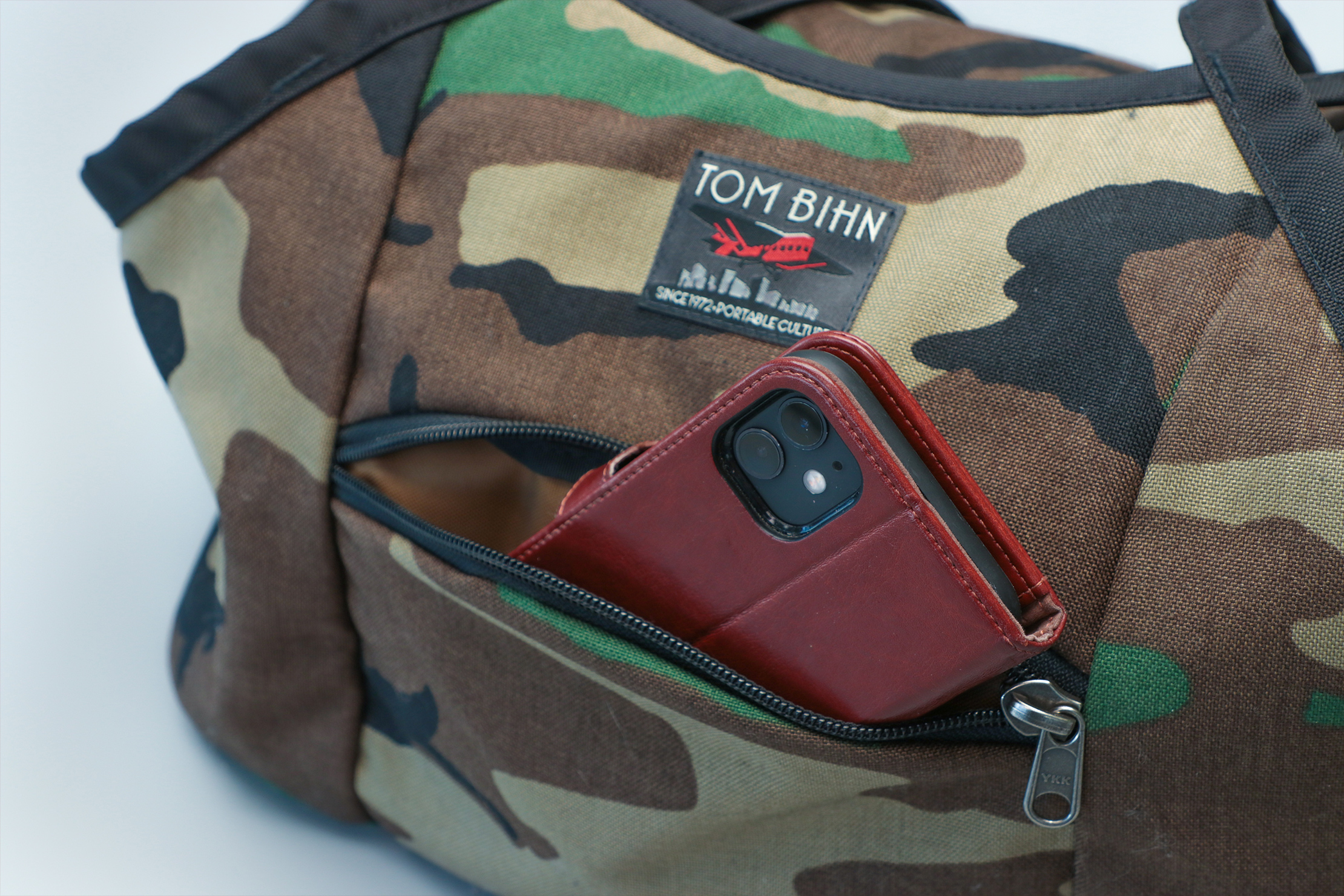 On both the front and the back of the bag, there's a small zippered pocket. In comparison, The Truck had wide, open pockets on the outside. We like the zippered pockets on the Truckasana better because it gives us a protected spot for our wallet and phone at the yoga studio. Not that we don't trust our fellow yogis, but we will never say no to added security.
The carry straps on the Truckasana have a tiny bit of Poron foam padding for comfort. It is comfortable for the most part, as long as you don't have it packed too full. With just our exercise gear, yoga mat, and a few everyday carry items in tow, the tote wasn't too heavy or unwieldy. But, stuffed with the weight of groceries, the Truckasana can start to dig into your shoulders which is never a great feeling.
Inside The Tote
The layout inside the Truckasana is the same as its older brother, The Truck. The main compartment is split into three different segments by a flexible insert. This insert helps the bag keep its shape at the bottom, though it isn't tall enough to combat the yoga mat droop we mentioned earlier.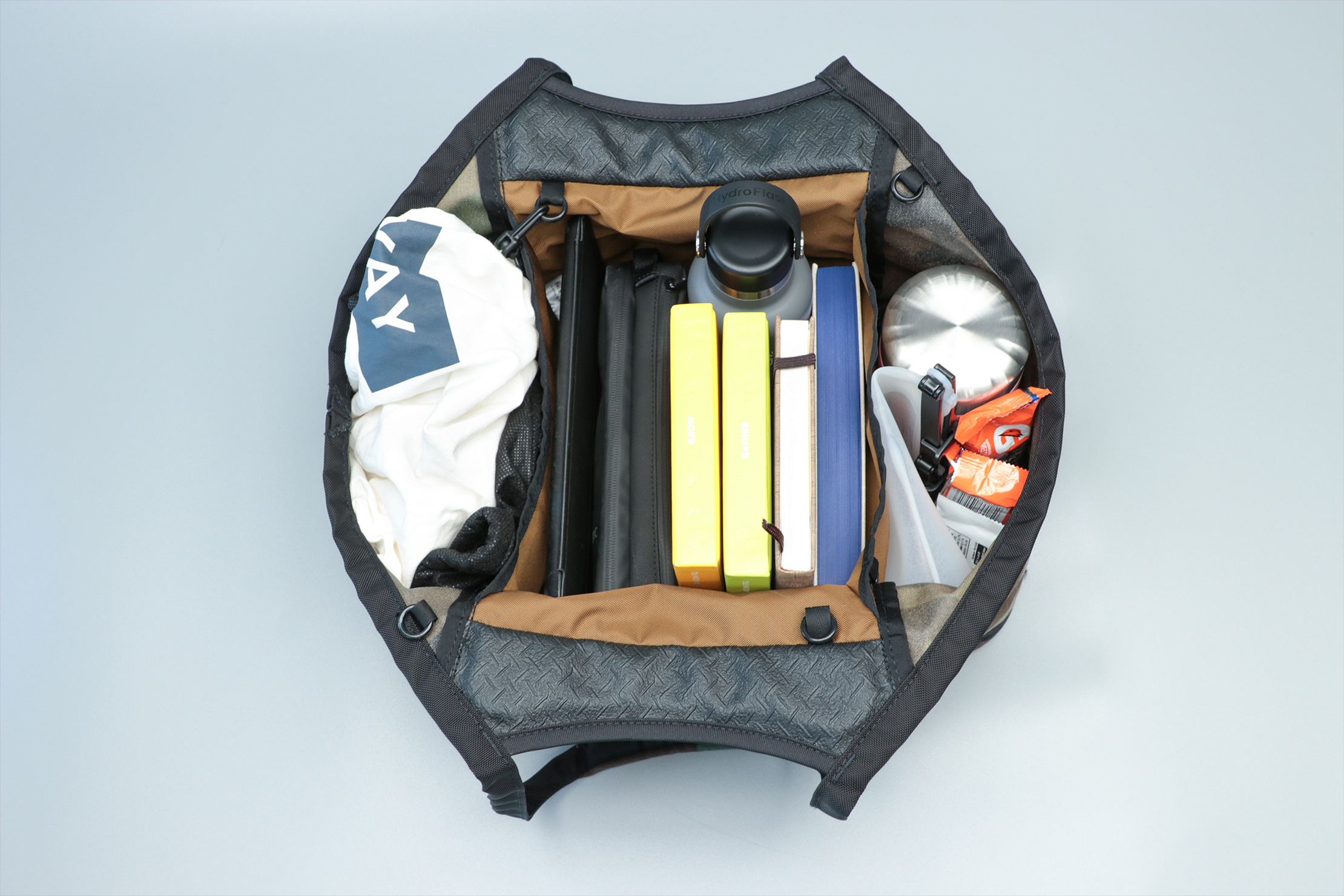 As Tom Bihn says, you can designate these as separate spaces for your "clean clothes vs. workout clothes vs. street shoes." That totally works, but the possibilities are truly endless. The combination we found best was a yoga block and sneakers in the middle compartment, which is the biggest. Then exercise bands, towels, and smaller accessories on one side, and snacks on the other. Yes, post-workout snacks are important enough to warrant their own compartment. At the farmer's market, unpackaged fruits and veggies fit perfectly in the outer compartments, with the middle section having more space for things like egg cartons and meat.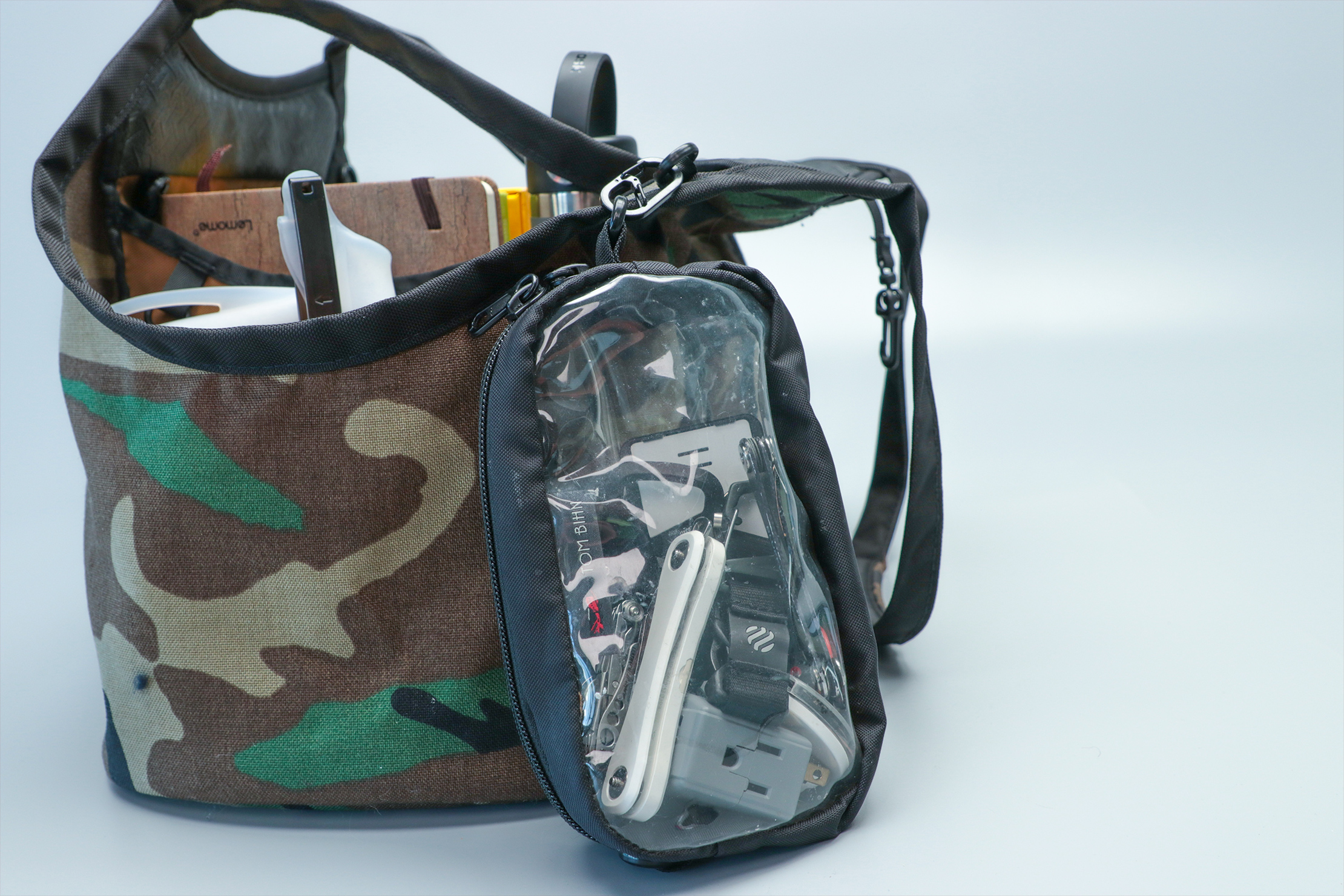 Located throughout the bag are a total of eight o-rings. One of these comes with an attached key leash, which we found incredibly useful. It's nice not to have to dig around for your keys when you've got a fully packed bag hanging off your shoulder. The other o-rings can be used to attach any small pouches or accessories that you need. Tom Bihn makes a ton of organizer pouches in various sizes that you can use here, and we like how their products form an integrated ecosystem.
You can clip on a Clear Organizer Pouch as a small change purse or Handy Little Things Pouch full of sewing supplies if you're using the Truckasana for an arts and crafts bag. Or you could literally attach eight different pouches full of whatever you need to carry, whether that's backup sunscreen and hand sanitizer or a collection of chapstick. The Truckasana is your oyster.
Overall, the Truckasana proved to be a highly functional yoga bag. We dig its versatility as it can be used for exercise gear, groceries, or even a weekend trip if you really wanted. If you're using it primarily as a yoga bag, just make sure you pack the compartments relatively even. Otherwise, it may sag just a bit underneath the weight of your yoga mat.
Usage Timeline
Initial Usage
Condition: Excellent
The sides are cut lower to accommodate a yoga mat
There's also some grippy padding at near the handles to hold a mat in place
The layout is similar to the Truck
2 Weeks of Use
Condition: Excellent
Side zip pockets are convenient for items like phones and keys
Putting a yoga mat on top can make the bag sag if it's not fully packed
Large capacity also works well for carrying groceries at the farmer's market

Tom Bihn Truckasana | Give us all the veggies.
Access the Pro Community Discussion
Get your questions about the TOM BIHN Truckasana answered from our team and the Pro Community right here on the page. Plus, join discussions with other members about gear, guides, and more.
Other Bags & Luggage Reviews