TOM BIHN Handy Little Thing Pouch Review
The Tom Bihn Handy Little Thing Pouch has a ton of clever things going on, including multiple carry options and versatile interior organization.
Our Verdict
Unlock the Pro Summary
Save time. Get access to brief summaries of our reviews so you can browse and make decisions more efficiently.
Pros
Versatile and clever organization
Designed to fit perfectly inside the Tom Bihn Synik
Can be carried as crossbody bag or waist pack
Cons
While the organization is versatile, it may be too much for some
Not great for bulky items
The front rounded zipper can be a bit awkward (it takes time to get used to)
Recent Pack Hacker Video
Technical Details
Capacity

1.4l

Size 1

Weight (oz)

4.4 oz (124.7 g)

210 Ballistic option

Denier

210D

Ballistic option

Dimensions

4.5 in x 7.3 in x 2.6 in (11.4 x 18.5 x 6.6 cm)

Size 1

Notable Materials

Ballistic Nylon, YKK Zippers

Manufacturing Country

United States

Warranty Information
Full Review
The folks at Tom Bihn did a great job naming the Handy Little Thing (H.L.T) Pouch. This accessory pouch—which can also be carried as a crossbody bag or waist pack if you buy the shoulder strap and waist strap respectively—has a ton of clever things going on, making it oh-so-handy.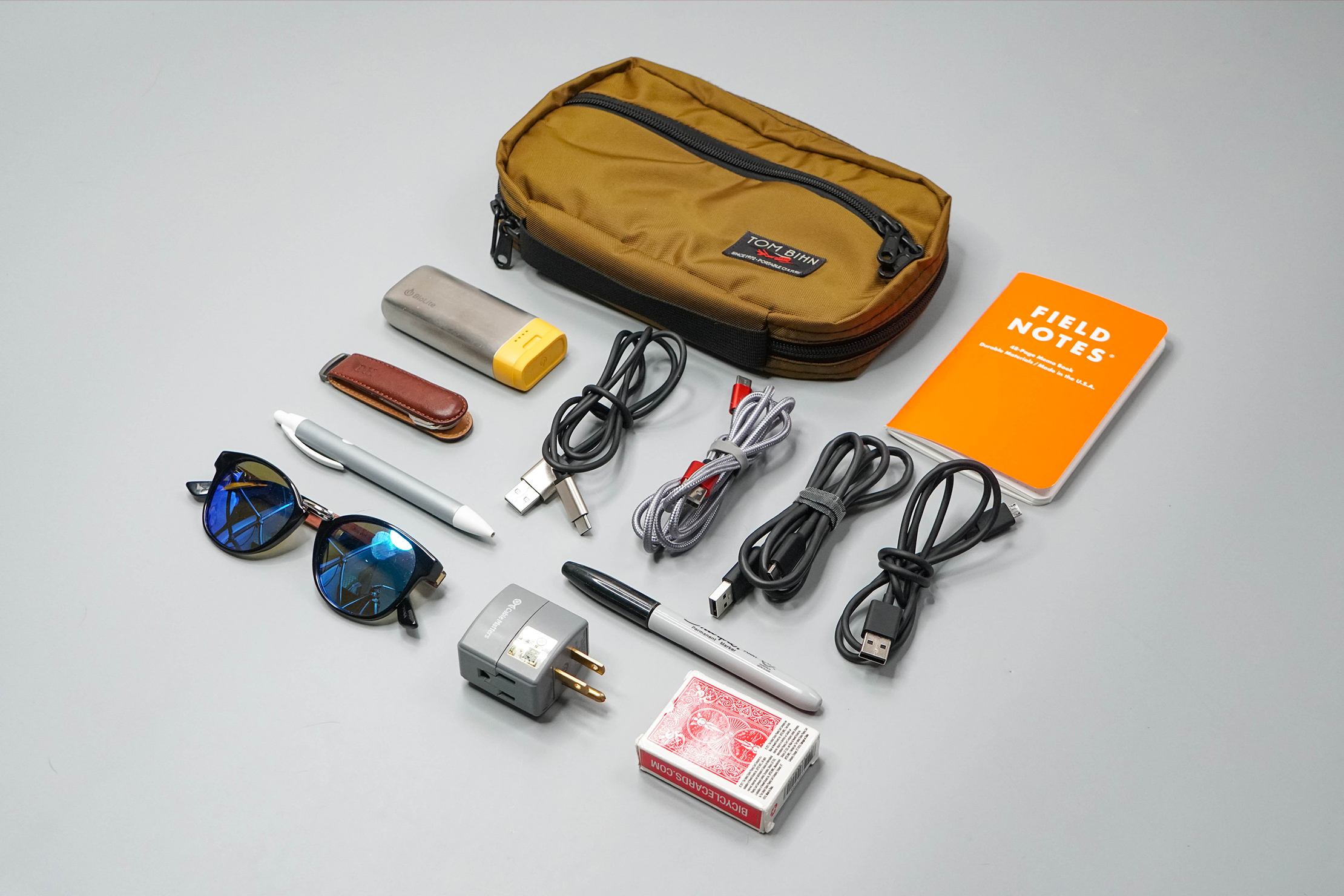 At the time of this review, it's available in two sizes—Size 1 (small) and Size 2 (large). In addition to being smaller, Size 1 has less interior and exterior webbing loops. Of course, your personal setup and use case will dictate which size you'll prefer. Note that Size 1 is a better fit for the Synik 22, while Size 2 has been designed to fit the Synik 30. (Although you can use them in any bag you'd like.)
We've been testing the Size 2 for two weeks in Detroit, Michigan, so we'll mainly be focused on that one in this review. With that said, let's dive in.
Materials & Aesthetic
As per usual with Tom Bihn, you have a few options for the exterior material of the H.L.T at the time of this review—200D Halcyon, 210D Ballistic nylon, or 630D recycled nylon. All three materials are bluesign® certified, which is something we always appreciate.
Halcyon is a lightweight, extremely tear-resistant fabric. But it's not the most suave-looking material on the market. The ripstop squares in the fabric give it a techy vibe that may or may not be your thing. And while the Halcyon is the lightest of the three options, you'll hardly notice the weight difference since this thing is a pouch (and therefore small).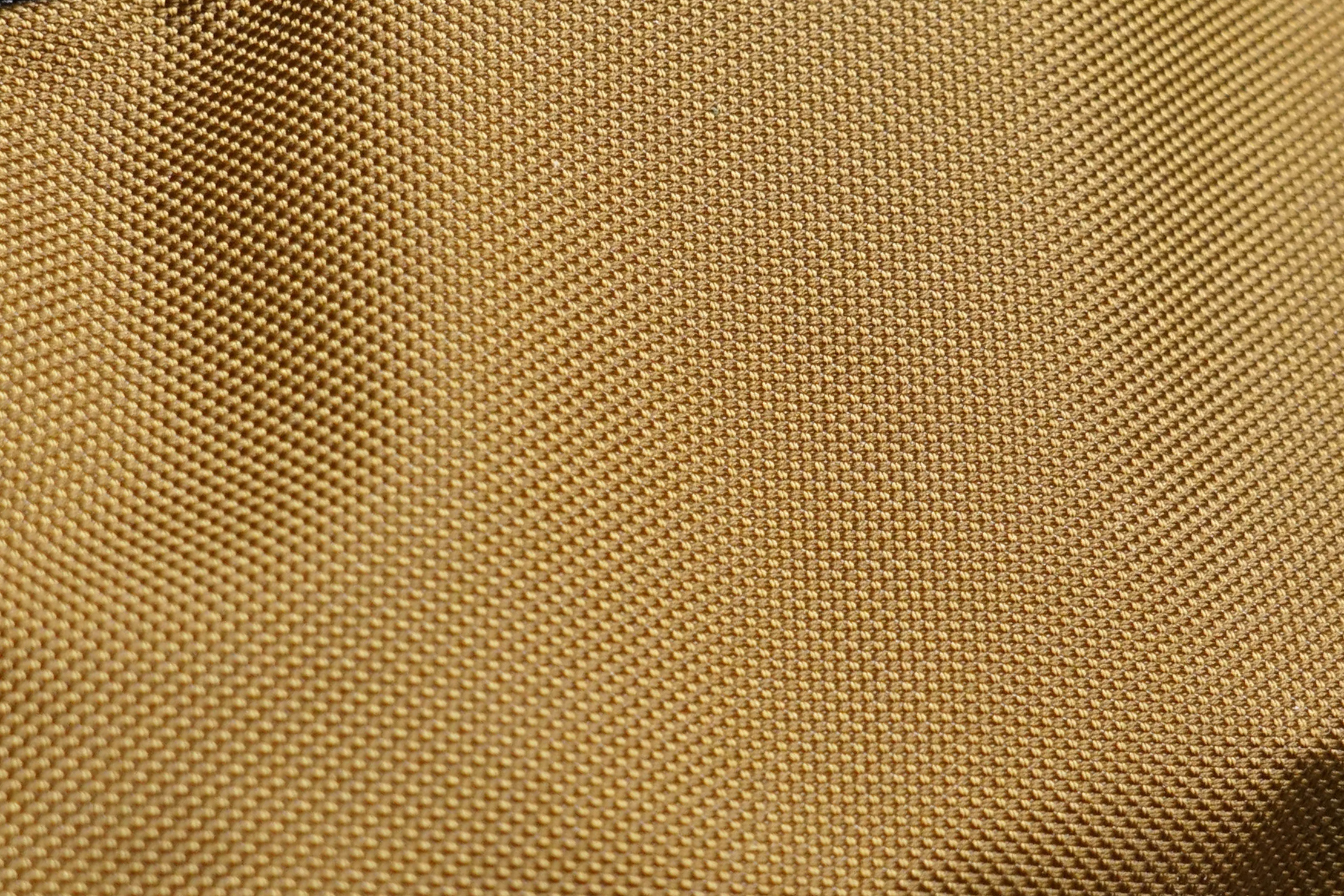 The 210D Ballistic nylon also has great abrasion-resistance and features a DWR-coating for some weather-resistance. The recycled nylon—which is made up of 50% recycled fibers—is probably the most eco-groovy of the three options (simply because of the recycled content). Plus, the nylon is durable and smooth.
All that to say, all three options should treat you well. As should the YKK zippers you'll find throughout.
As far as looks go, there's not much to say. The Tom Bihn Handy Little Thing Pouch looks like, well, a pouch from Tom Bihn. The fabric you opt for will decide the colorways available to you (or vice versa).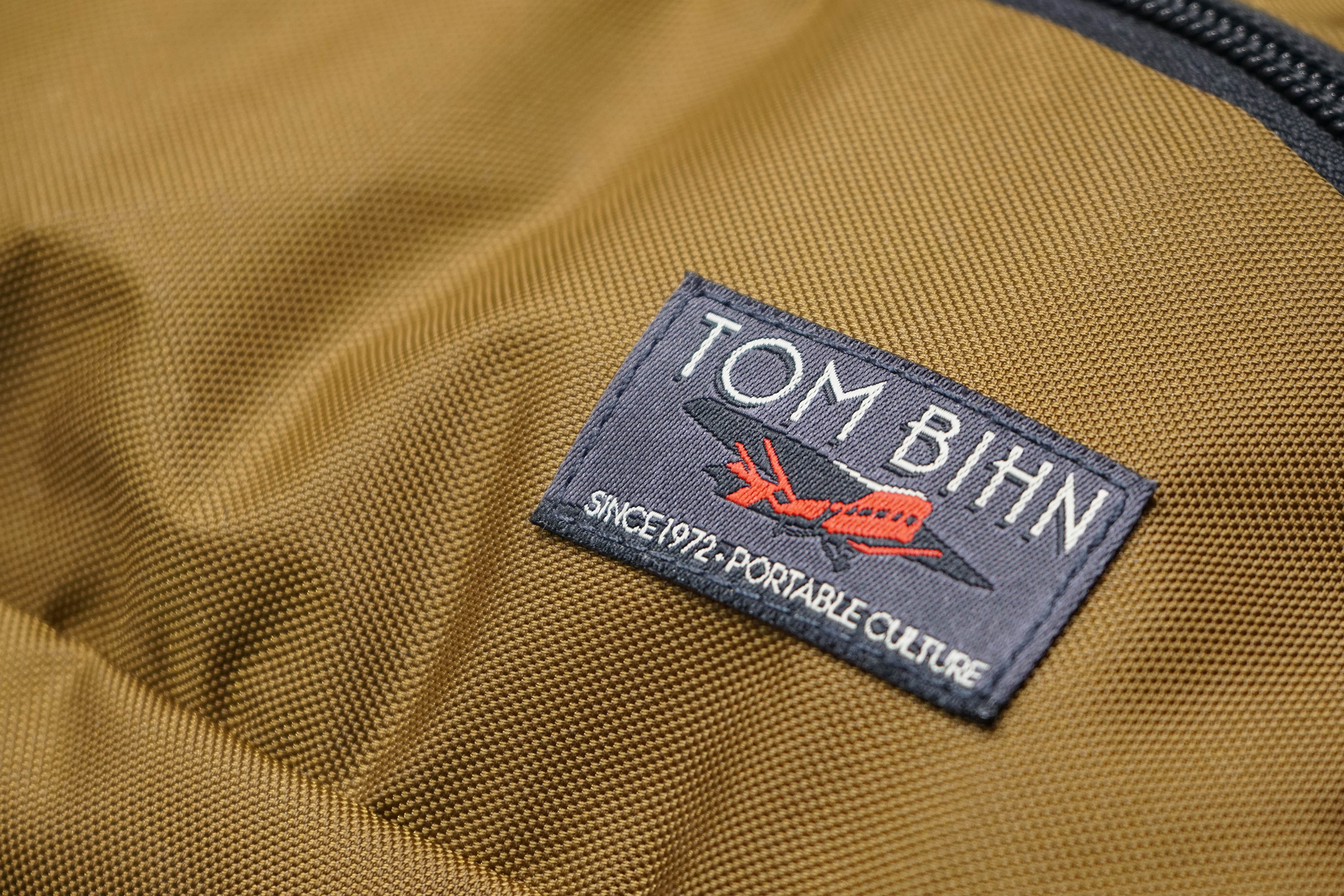 From a branding perspective, there's a Tom Bihn logo tag sewn into the front of the bag. While it's not over-the-top, people will definitely know where your pouch is from (which is actually a pretty neat thing, since friendly Tom Bihn fans will surely strike up a conversation with you).
External Components
There are more external components on the H.L.T than on most accessory pouches—although it's still an accessory pouch, so there's nothing too wild going on.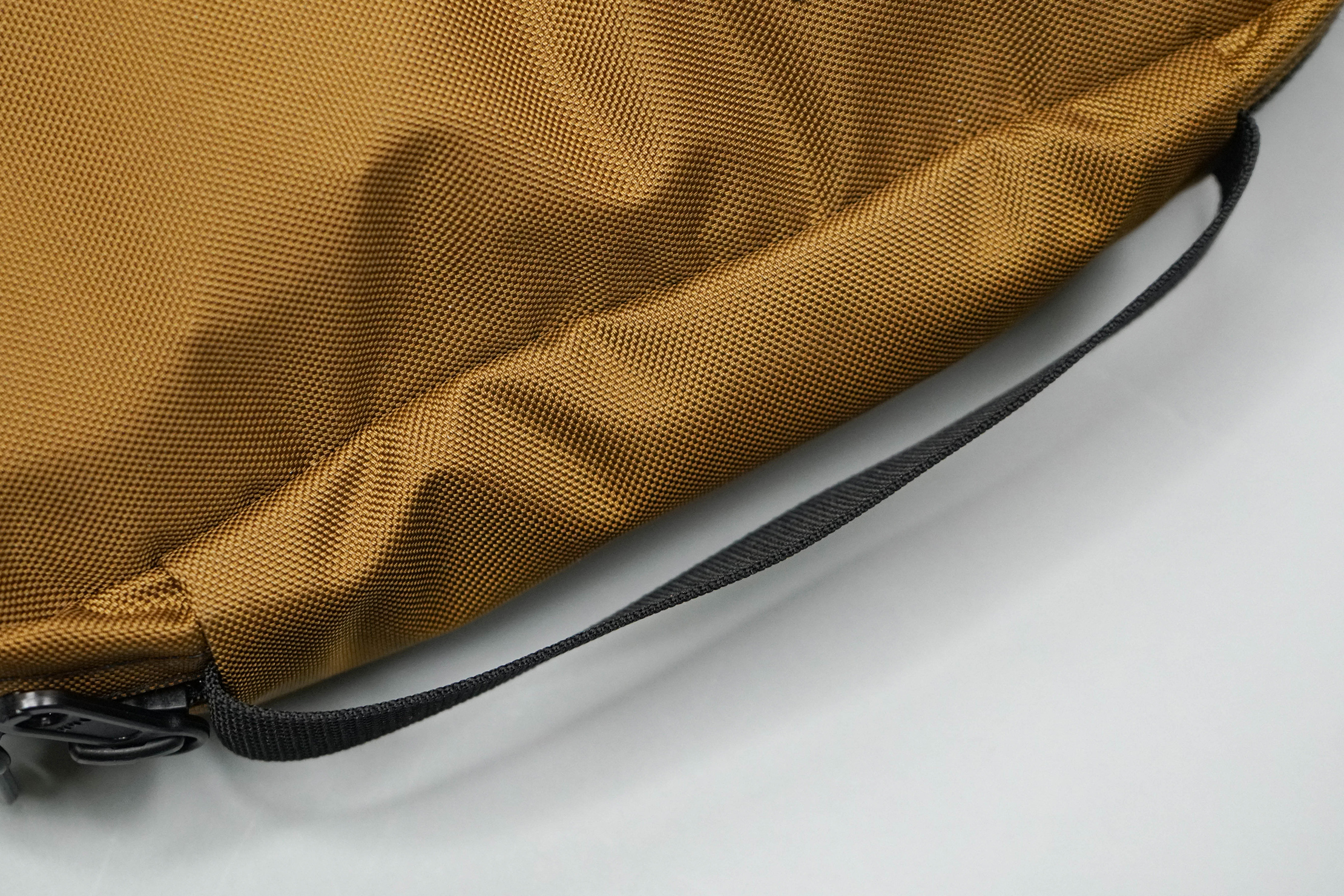 The handle works well for all of your traditional handle things—sliding this pouch out of a backpack, carrying it around, hanging it up. But it's also been designed so that you can use this pouch as a "write-in notebook holder or work-out-of tool pouch," as they say at Tom Bihn.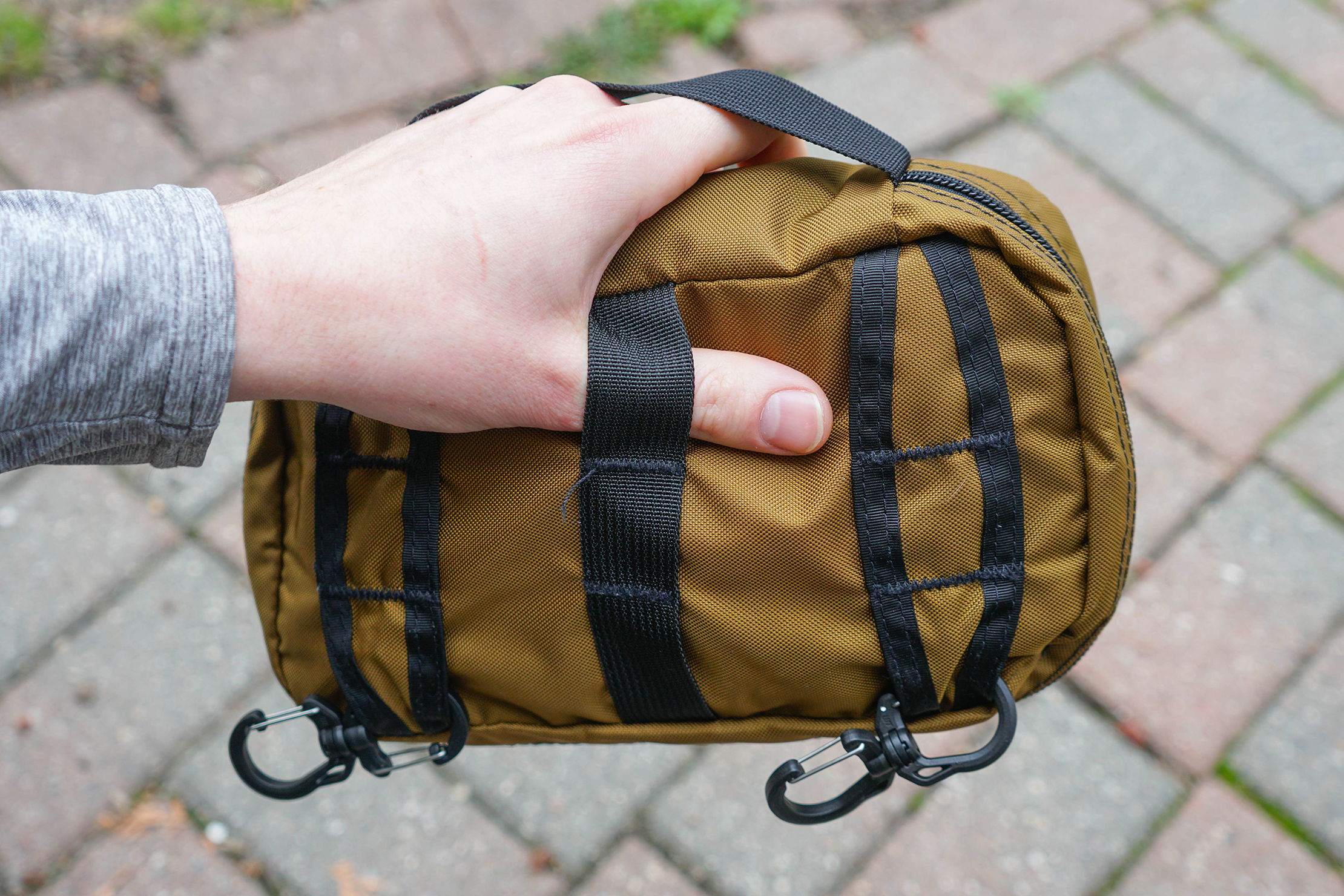 What that means is you can slide your hand through the handle and your thumb through one of the loops on the back (we'll discuss these more in a second) to create a notebook/book holder. So, you'll have the pouch in one hand, holding the notebook open, and your other hand free to write, draw, etc. It's been designed to work for both right-handed and left-handed people. We haven't used the H.L.T this way yet, but we like that it's an option if you do fieldwork or enjoy writing poetry on the fly.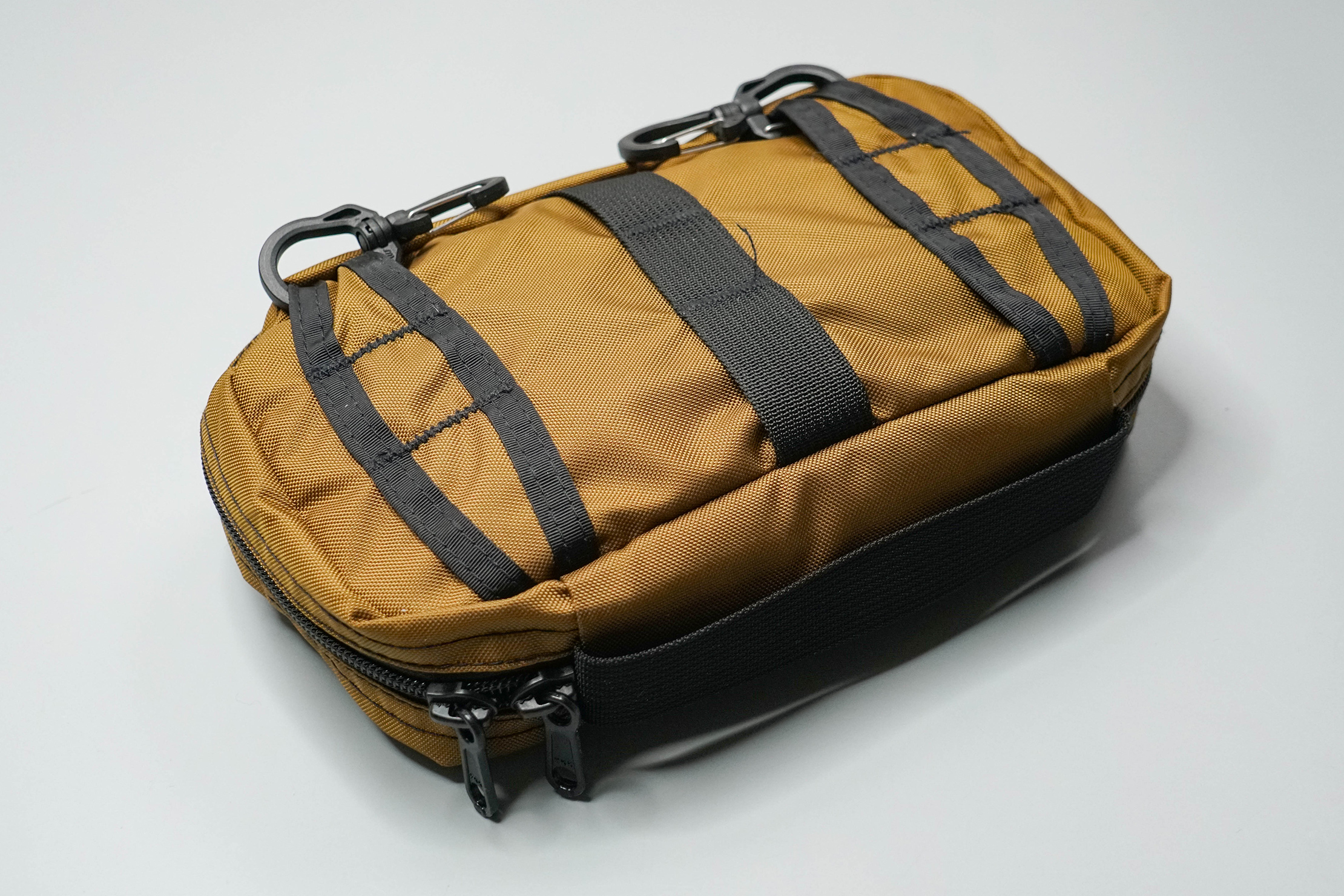 Alright, let's talk about those loops. On the back of the Size 2, you'll find three columns of webbing. (The Size 1 only has two rows.) The center column is like your traditional PALS webbing, while the columns along the sides are more stylized. You can use the webbing to attach the pouch to something, like a bag. Or attach something to the pouch, like a smaller pouch. You can also use the webbing to hold gear externally, like a pen or two.
The stylized loops have also been specifically designed as thumbholes for that aforementioned write-in notebook holder functionality.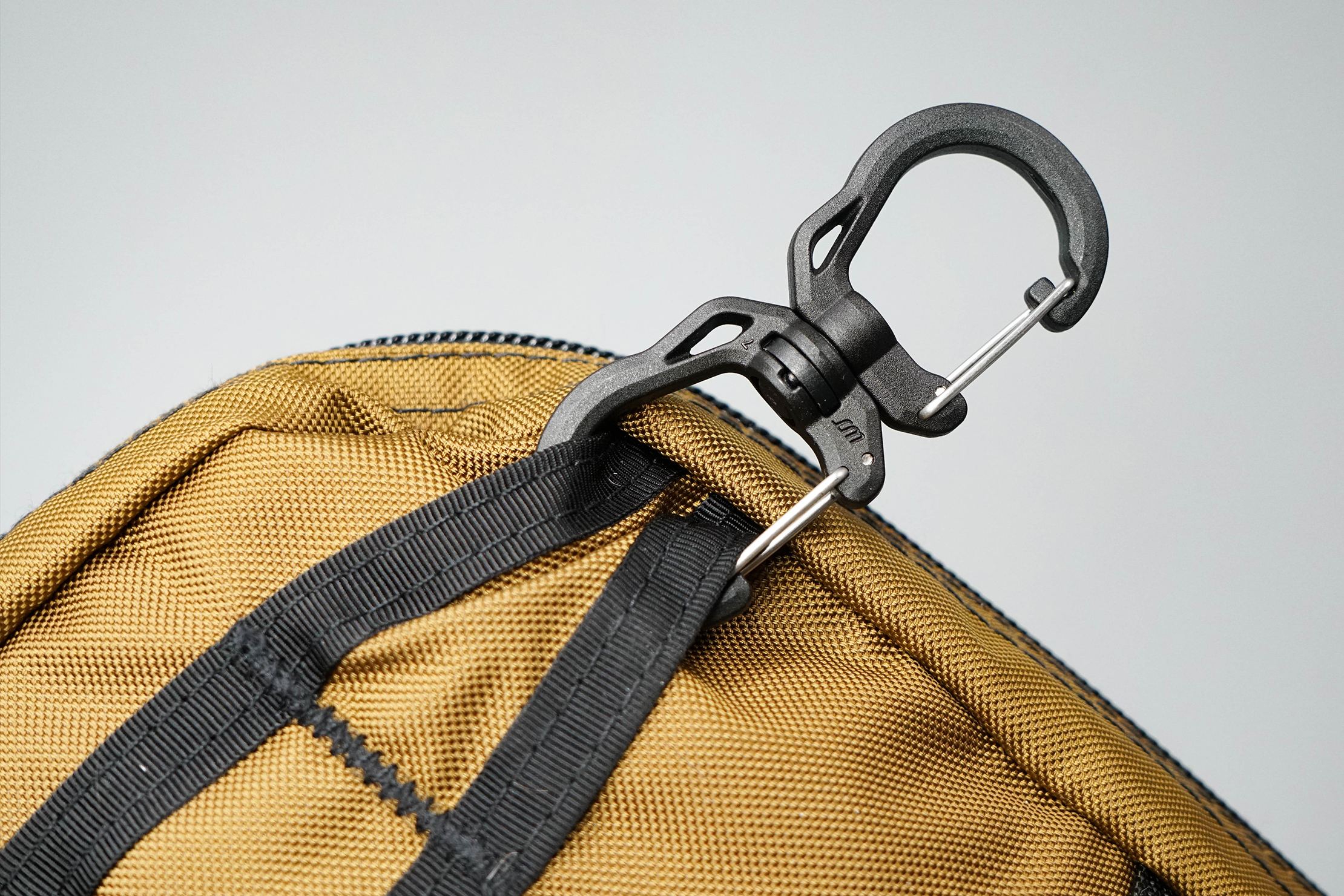 The H.L.T comes with two Swivel Double Carabiners attached to said thumb loops. The folks at Tom Bihn put them there so you can clip the H.L.T to the O-rings in the open-top pocket inside the main compartment of the Synik. They also designed these clips to be able to clip to the back seat pocket on the airplane seat in front of you.
Of course, you can also use these carabiner clips to hook the pouch into whatever bag you'd like. You can also buy the Swivel Double Carabiners separately if you want more than two (for whatever reason, it's definitely not necessary for this pouch) or aren't sold on the pouch, but want the clips. And, finally, you can take the clips off.
And, as we said at the beginning of this review, you can also pick up a shoulder strap and/or waist strap to turn this pouch into a bag.
Inside the Pouch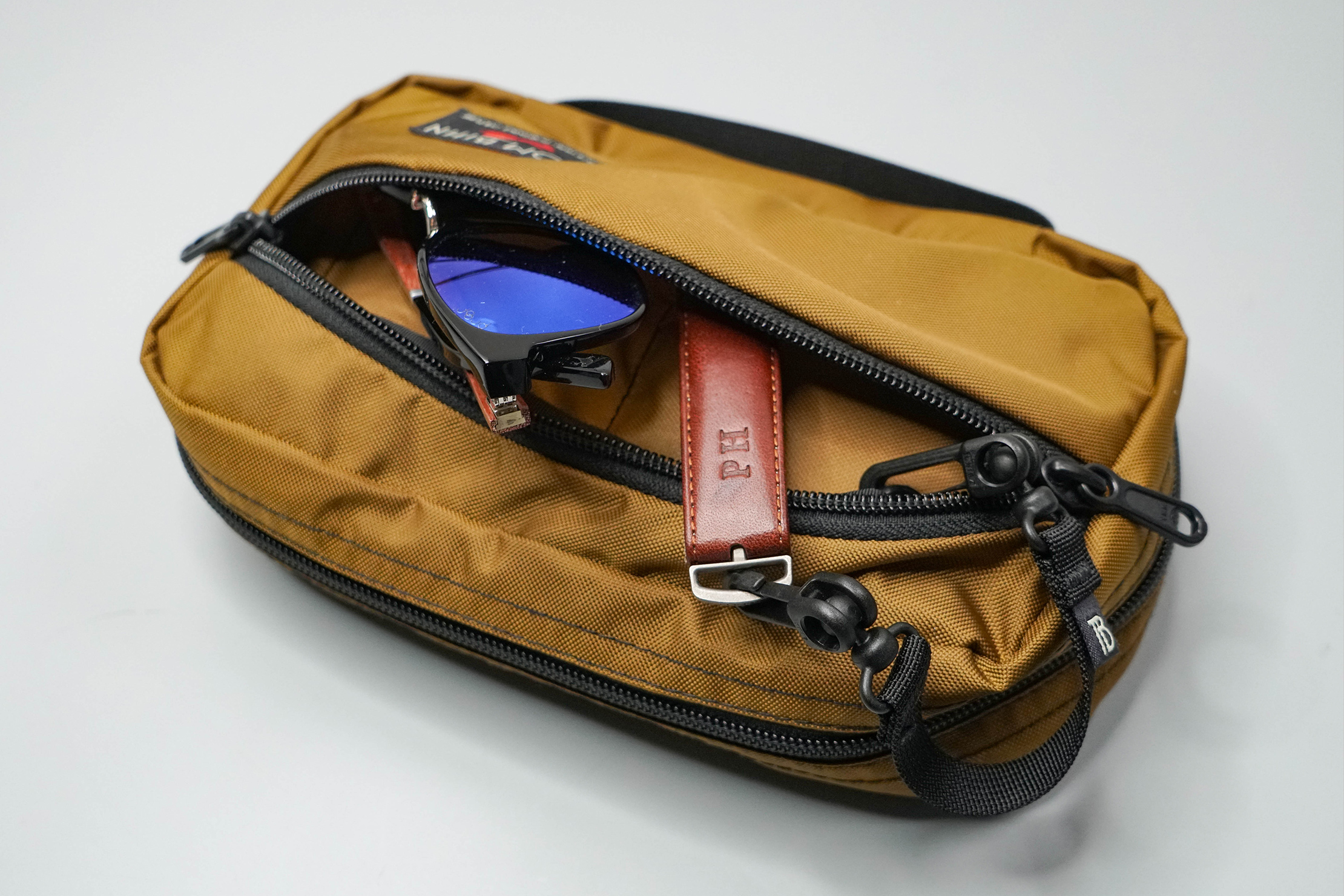 Let's start with the front pocket, shall we? It has a rounded, half-circle style of opening. And there's ample space inside for all of your quick-grab items. Say your wallet, keys, and a granola bar. It also has an O-ring with key strap attached for your keys. You may also attach several other Tom Bihn accessories to this O-ring. We're digging the fact that the pocket opens with two zippers, which can come in handy for access.
That said, the curved zipper can take some time to get used to. It's different than most accessory pouches that feature a straight-across zipper. We've grown to like it, but we have to admit that it can still be awkward to fit some items inside.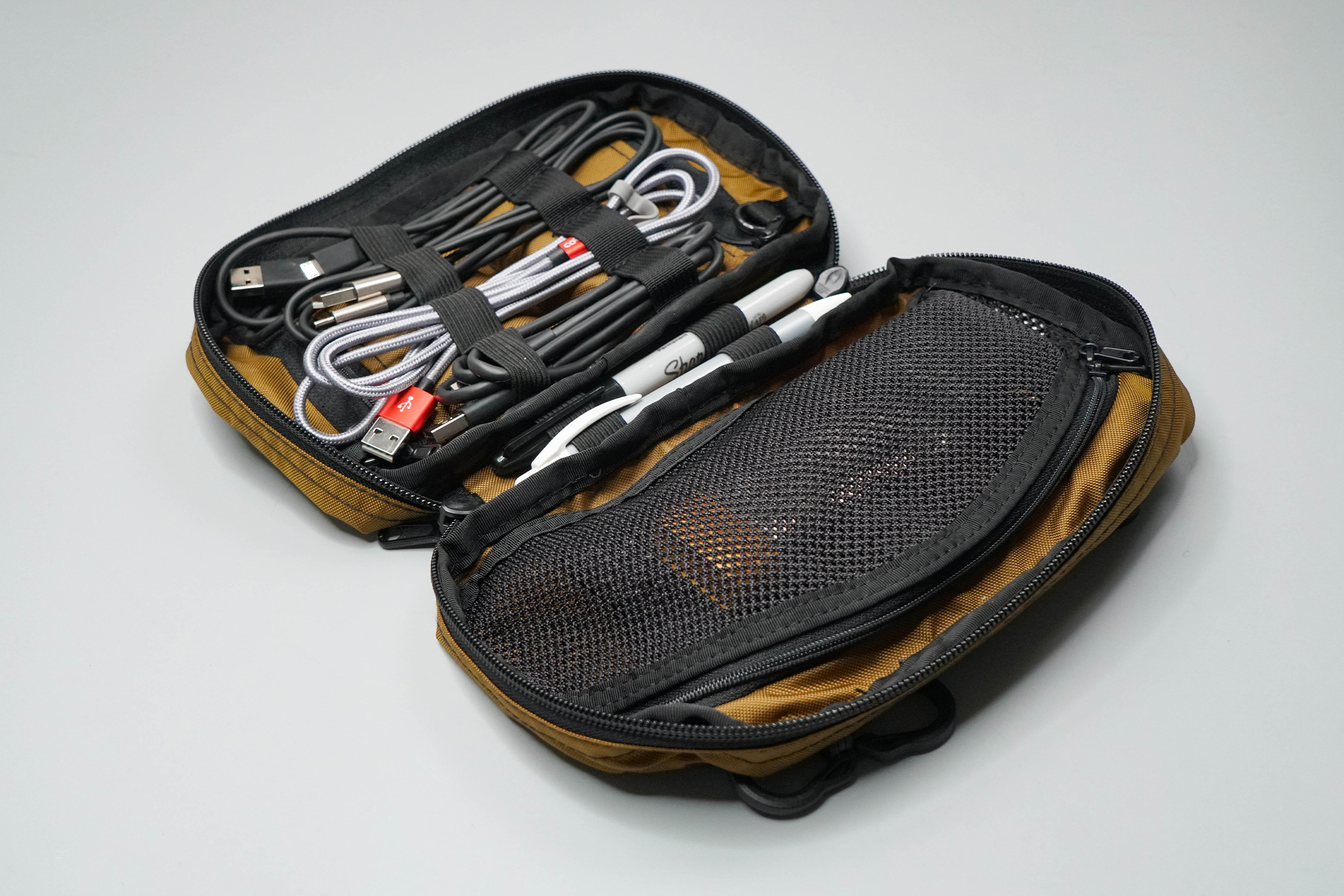 The main compartment also has two zipper pulls for great access. This compartment opens in a full clamshell-style, laying flat like a book. And there's a lot of clever stuff going on inside.
On the right, there's a mesh pocket that has the same half-circle style of opening as the front pocket. We like the mesh as it allows you to see what's going on inside. And this pocket has ample space for whatever bulky items you need to organize. By bulky, we mean things like a small accessory pouch or battery bank. This pouch hasn't worked well for our really bulky items.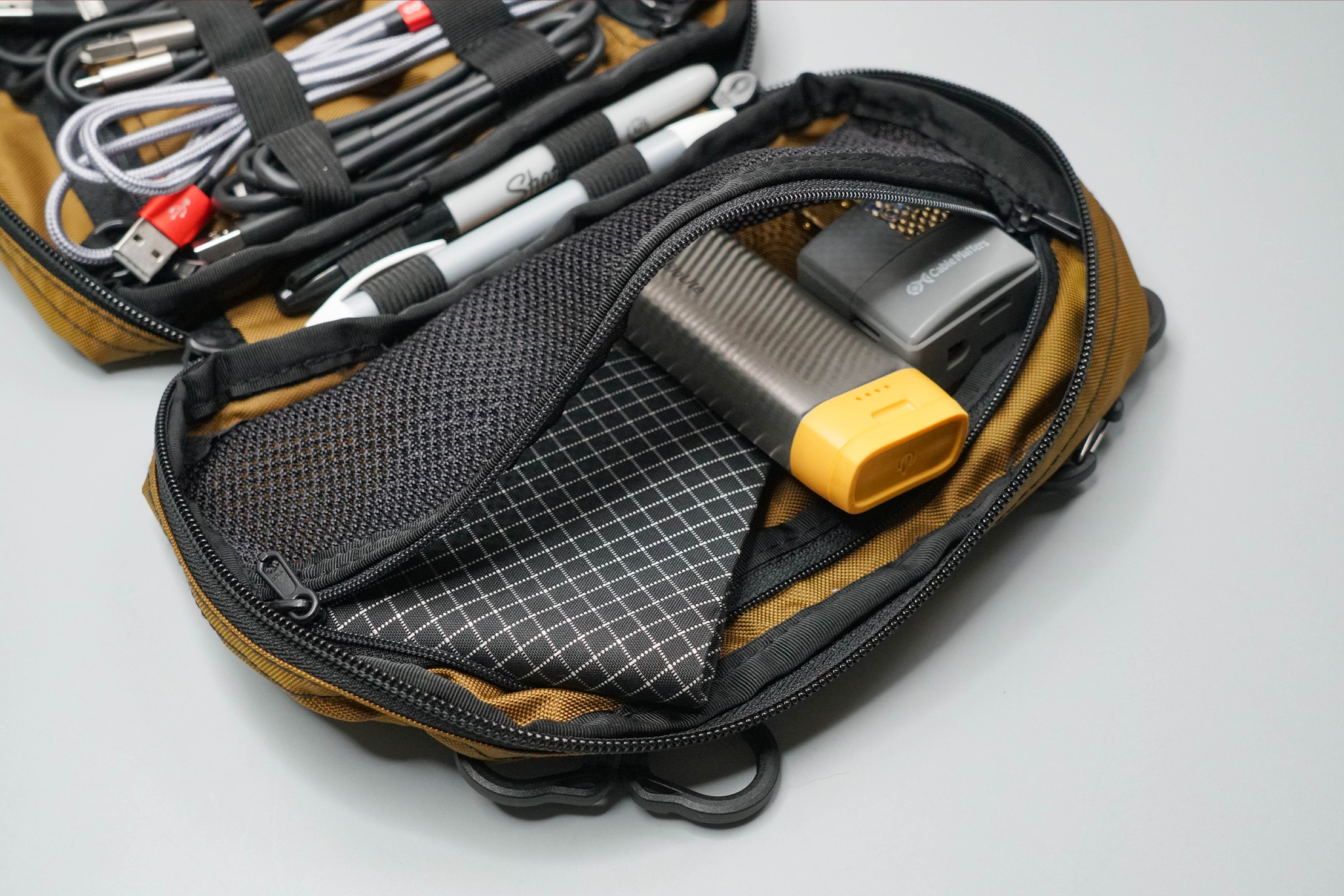 Inside the pocket, there are two O-rings, so you can attach Tom Bihn accessories like the Ghost Whale Pouch or whatever other accessories you'd like.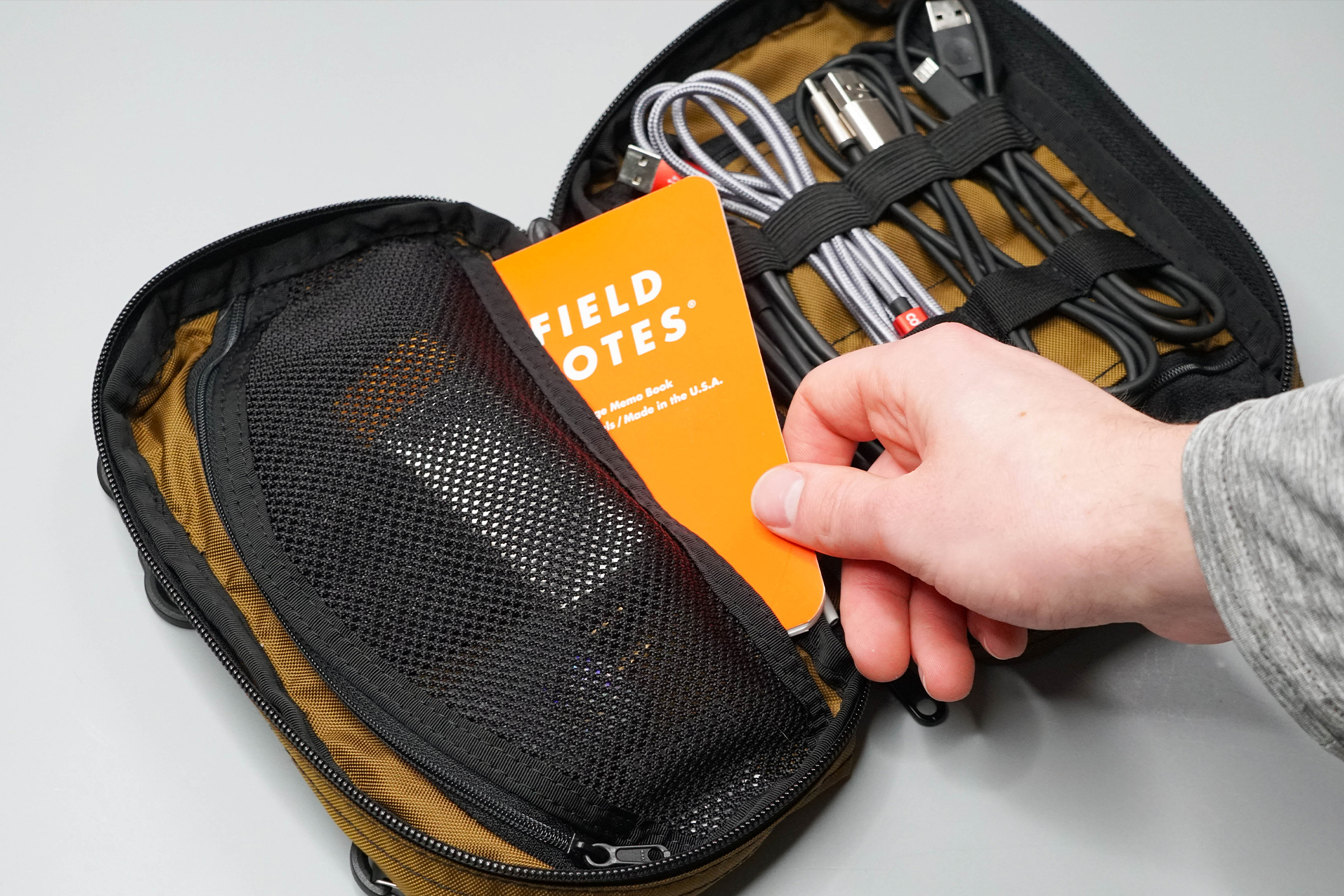 Beneath the mesh pocket is a hidden slot to tuck your notebook cover into, so you can use this pouch as that write-in notebook holder. The Size 2 of the H.L.T. will fit up to A6 notebooks, while the Size 1 fits smaller notebooks (like a Field Notes notebook).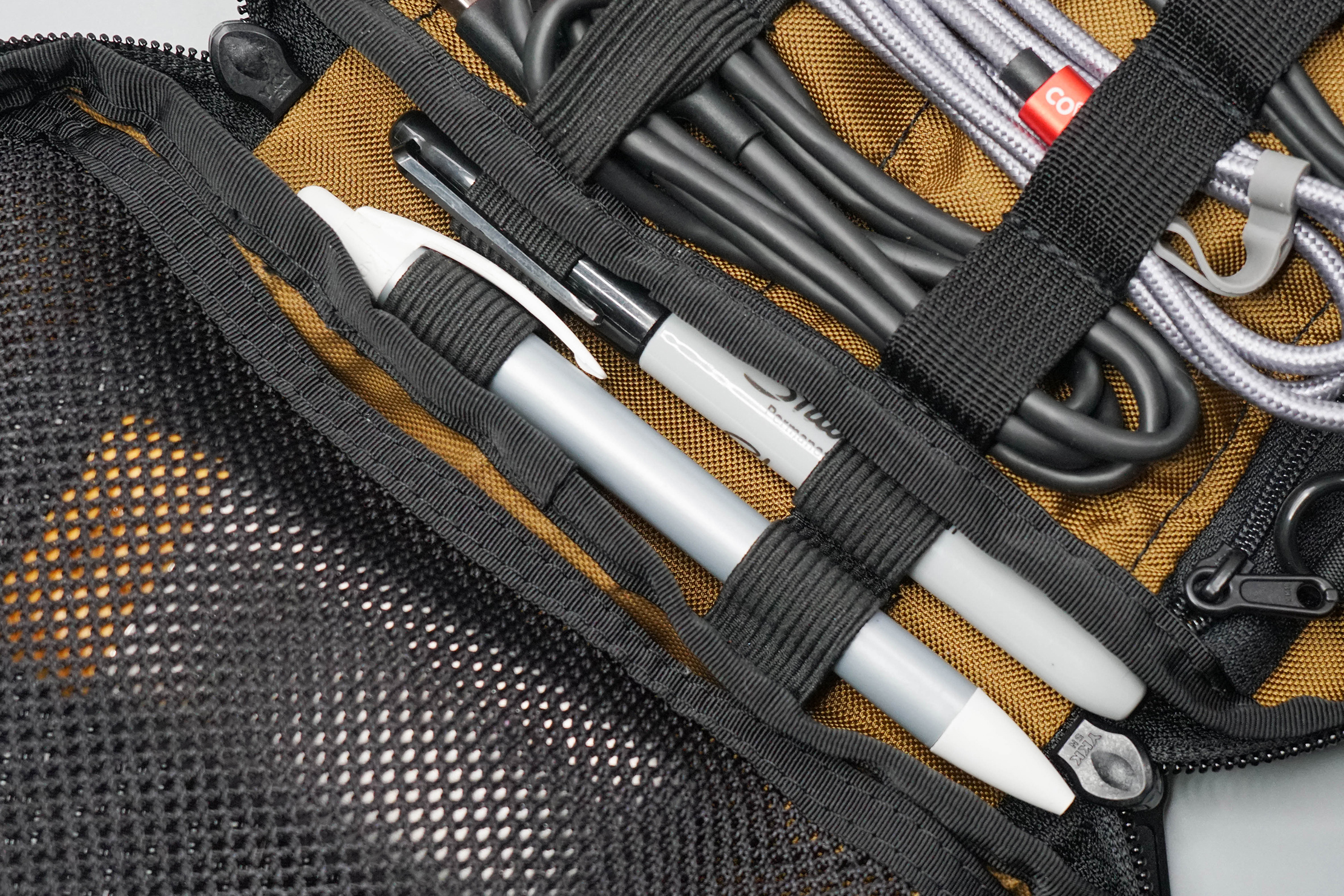 In the middle of the main compartment, there are four slices of elastic to hold a pen/marker/whatever.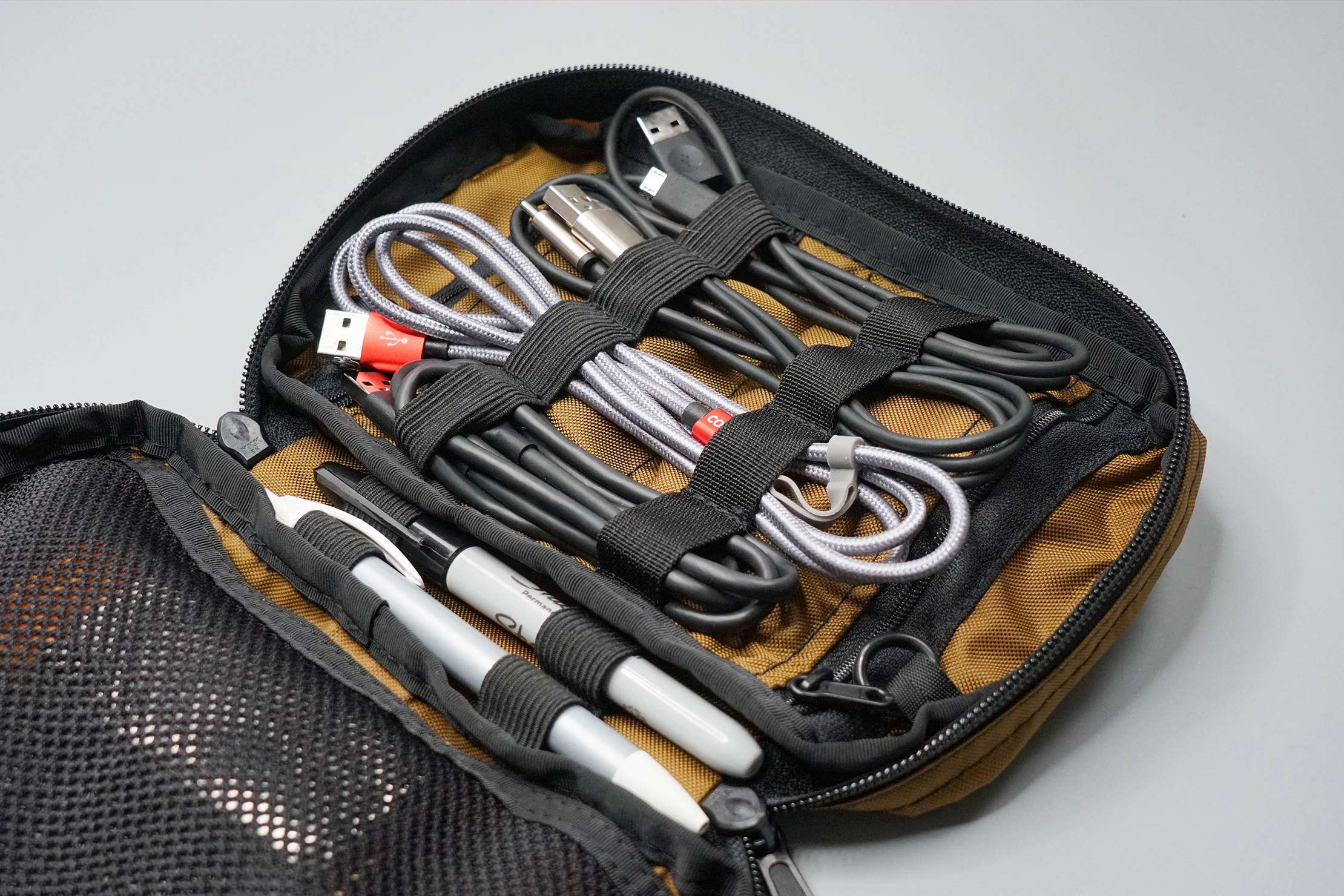 On the left side of the compartment, there are two rows of webbing. The bottom row is all elastic and stretchy, while the top row has no stretch. When we first got our hands on this thing, we didn't like this setup, thinking it wouldn't perform well. But—to our surprise—it's worked great. You can push a cord through the elastic strap, getting it nicely managed before tucking the top of the cord into the nylon webbing.
We've used these rows for a USB-C hub, lightning cable, and other miscellaneous cables. You could also use them to hold pens, markers, tools, flashlights, etc. The Size 2 pouch we've been testing has a total of fifteen interior loops (the Size 1 only has ten loops).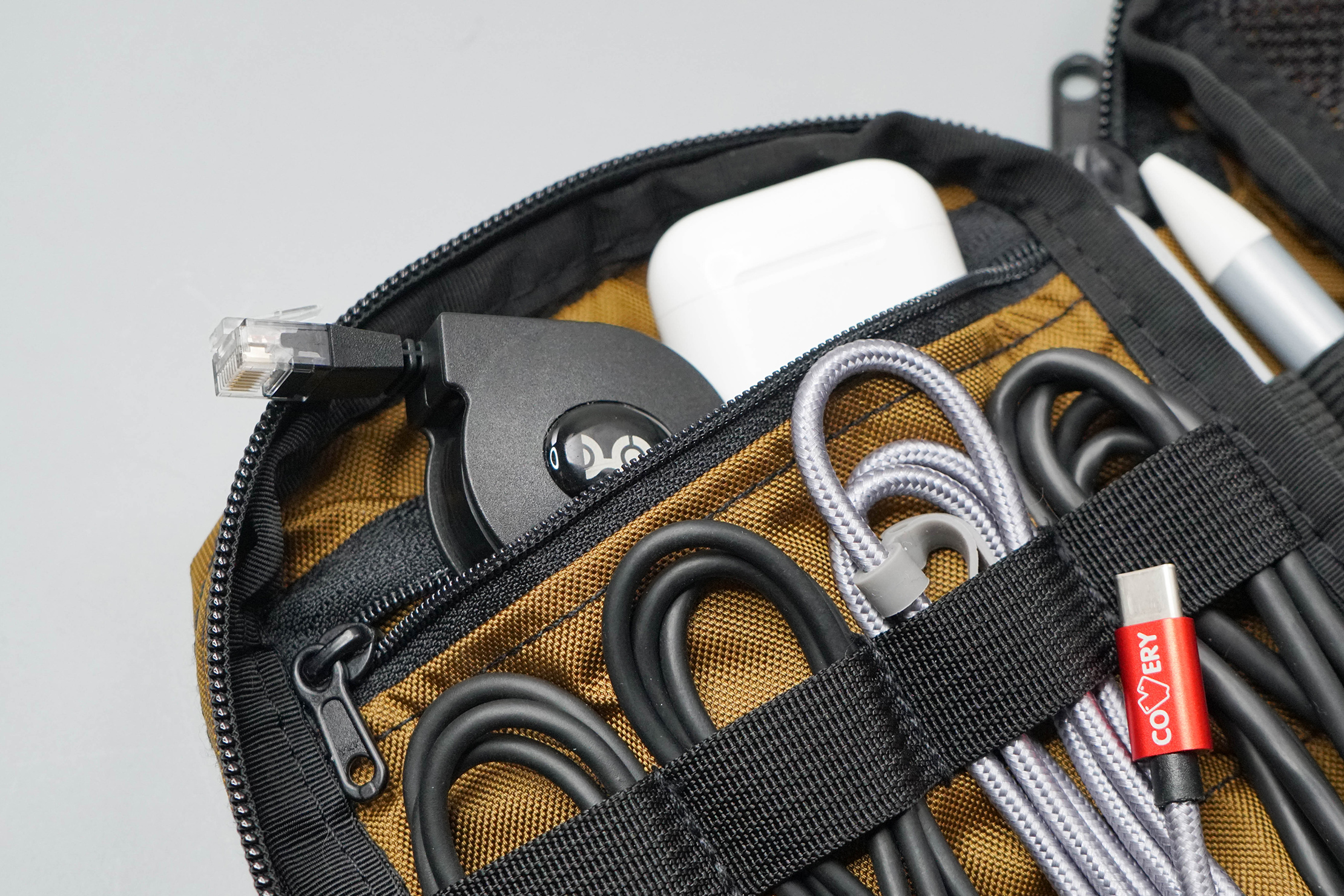 Behind the webbing, there are two zippered pockets—one on the top and one on the bottom. There's a good amount of space inside each one to organize your smaller things like wireless earbuds and more cables (So. Many. Cables.).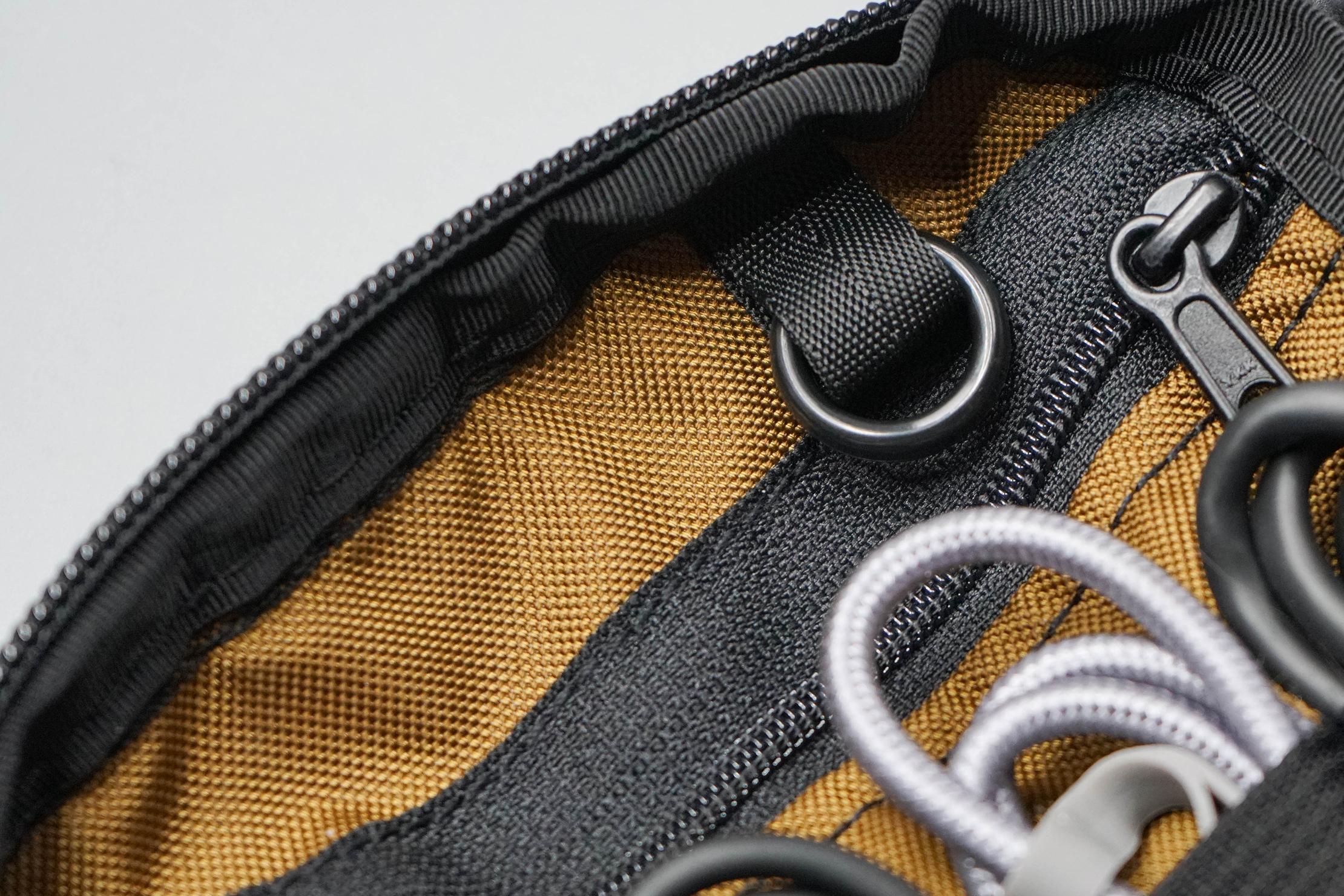 There are also two O-rings on the left side of the pouch—one on the top and one on the bottom—to attach whatever you want.
While there's a lot of organization, we like that it's versatile. You can use this pouch for a variety of setups and use cases. That said, some people like accessory pouches where you can throw all of your stuff inside, zip it up, and go. If that's you, then you'll likely feel limited by all of the organization inside of this thing.
Durability & Testing
We've been testing the Tom Bihn Handy Little Pouch for two weeks in Detroit, Michigan, using it to organize our tech gear. Overall, we're digging it. It has a ton of organization and customizability options.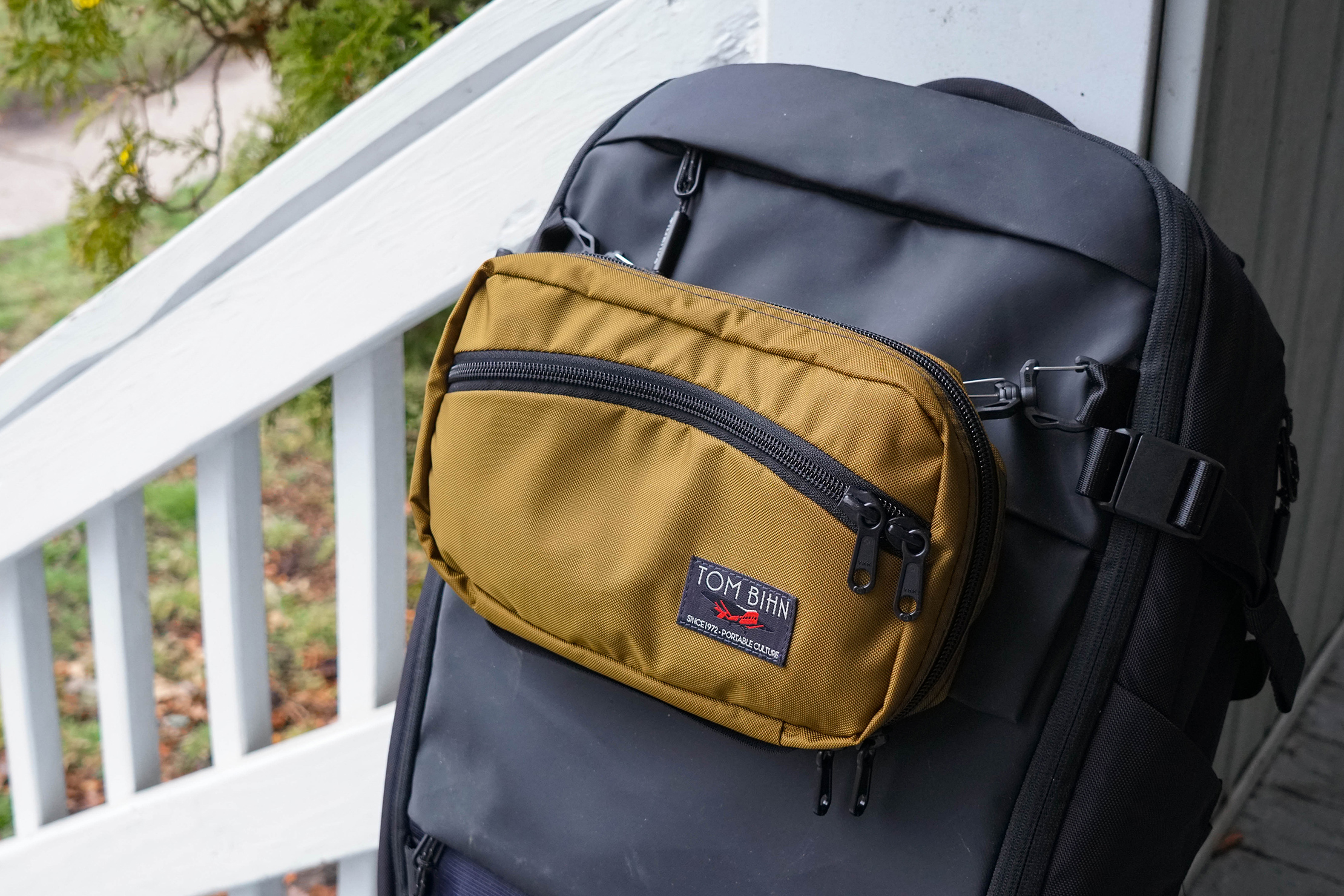 We also have no durability issues to report yet. Everything is looking as good as new.
Usage Timeline
Initial Usage
Condition: Excellent
Comes in different sizes and materials so you can pick exactly what works for you
We're digging the organization, this little pouch can pack in a lot
Can be used as a pouch in a bag, or carried on its own as a sling or waist pack (straps sold separately)
2 Weeks of Use
Condition: Excellent
Pretty much anything can be organized inside of this pouch, which we dig. There's a properly-sized zipper pocket, piece of nylon, or O-ring to secure just about anything
The versatility of wearing this as a crossbody bag or hip pack isn't something we've taken advantage of yet, but we think it's a really useful feature
The double carabiners are handy with integrations in other bags
Access the Pro Community Discussion
Get your questions about the TOM BIHN Handy Little Thing Pouch answered from our team and the Pro Community right here on the page. Plus, join discussions with other members about gear, guides, and more.
Other Organizers & Pouches Reviews