TOM BIHN Ghost Whale Organizer Pouches Review
The Tom Bihn Ghost Whale Pouches maximize access while minimizing the risk of your stuff falling out—plus there are a ton of colors and sizes available.
Our Verdict
Unlock the Pro Summary
Save time. Get access to brief summaries of our reviews so you can browse and make decisions more efficiently.
Pros
Curved zipper maximizes access
Multiple sizes are great for a wide variety of gear
Snap Hook allows you to easily attach the pouch to the interior of a Tom Bihn bag
Cons
Opening the pouches is a two-hand job
The zipper track can be a little wavy or crinkly (but it doesn't impact functionality)
Snap Hook won't fit around thick straps or loops
Recent Pack Hacker Video
Technical Details
Weight (oz)

.8 oz (22.7 g)

Small size

Dimensions

6.7 in x 3.5 in (17 x 8.9 cm)

Small Size

Notable Materials

Ballistic Nylon, YKK Zippers, Duraflex Hardware

Manufacturing Country

United States

Warranty Information
Full Review
We've tested a fair amount of Tom Bihn gear here at Pack Hacker. And we've found that not only do the folks there make products that feel good in the hands, but everything we've tested from them has been easy to use and interact with on a day-to-day basis. They're a company that nerds out about gear and fabric almost as much as we do.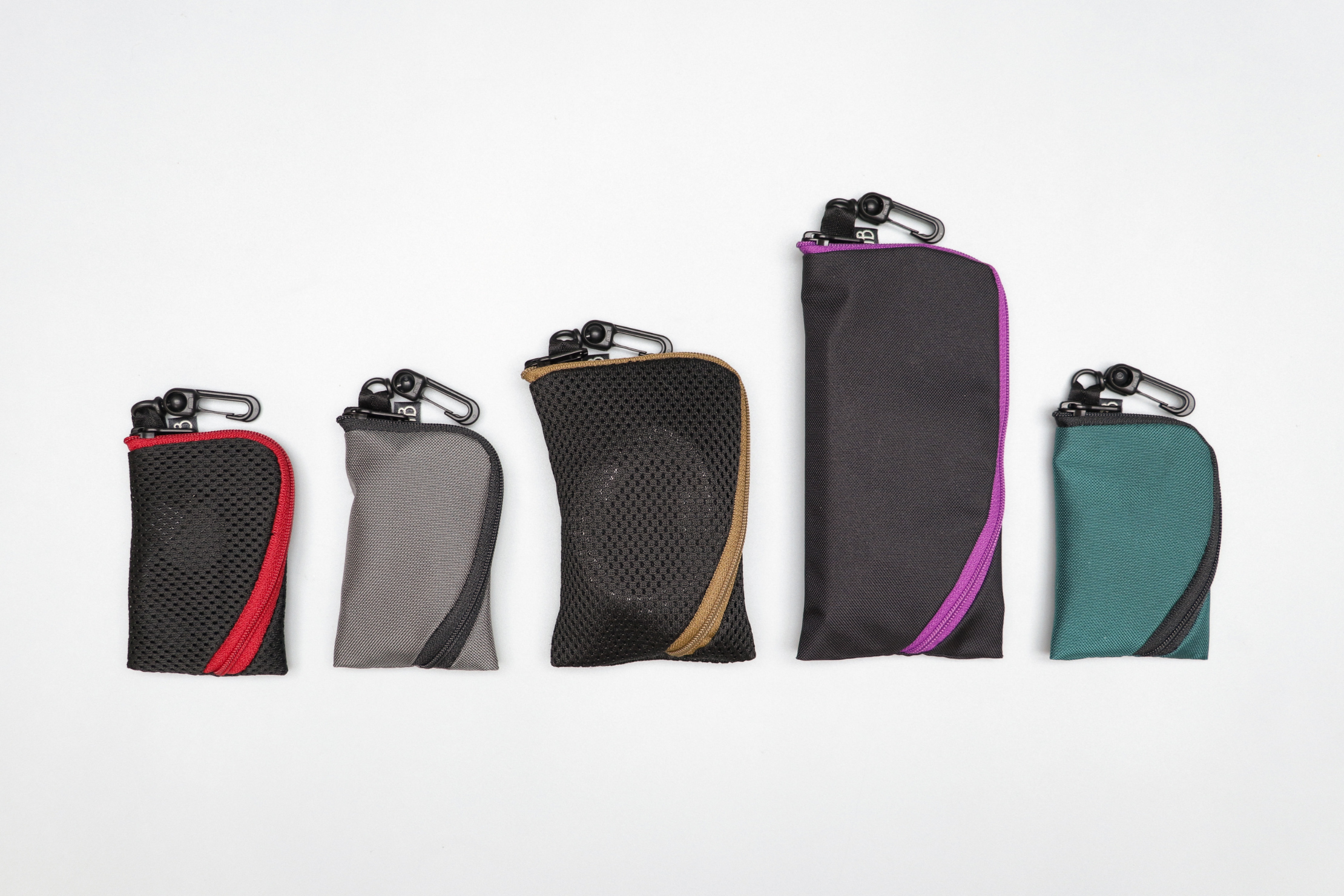 Suffice to say, we've been excited to get our hands on the Tom Bihn Ghost Whale Pouches. (And, yes, the awesome name has only heightened that excitement.) For the past few months, multiple members of the Pack Hacker team have been testing different sizes and styles of the Ghost Whale Pouches. So have they performed as well as other Tom Bihn gear? Keep reading to find out.
Materials & Aesthetic
Let's start with the elephant—whale?—in the room. What is with the name? According to Tom Bihn, Tom—yes, the Tom who started it all—thinks the pouch resembles a whale. Nik—the COO, whose name you may recognize from the Synik—thinks the pattern of the pouch resembles a ghost. Instead of fighting about it, the two compromised and voilà: Ghost Whale. (If you want our two cents—we're on #TeamWhale.)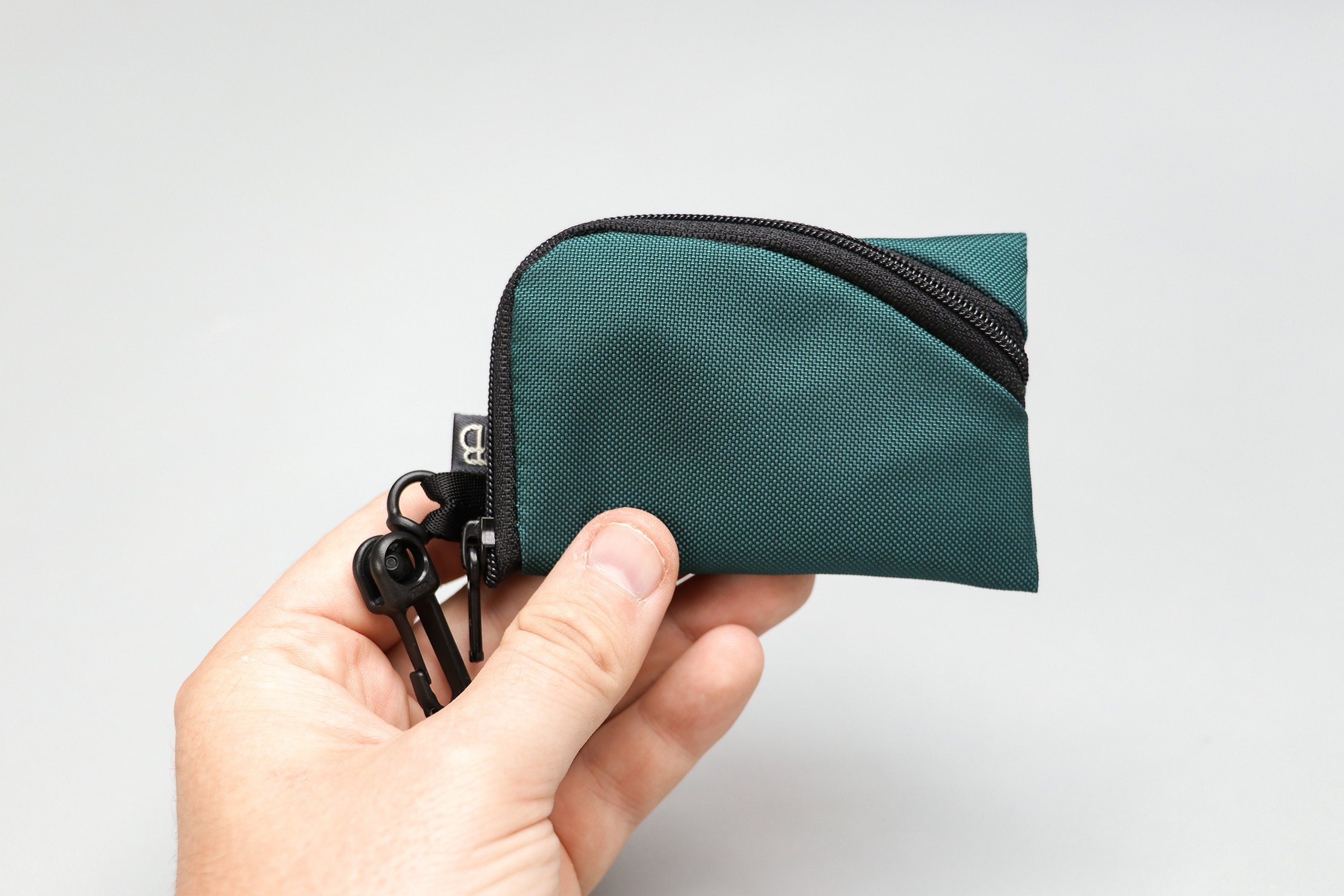 That said, not everyone on our team initially liked the way these pouches looked, while others were fans straight away. We've seemed to have gotten used to them because now everyone agrees that the overall aesthetic is solid. But that just shows how beauty is in the eye of the beholder and all that jazz.
The pouches are also available in a ton of different colorways at the time of this review. Like way too many colorways to list here, all of which depend on what fabric you choose. They're available in a few different styles and fabrics. For easy digestibility we've broken it up into bullet points:
Black scrap fabric or mesh

Tom Bihn Ghost Whale Pouches Color Zipper

So Tom Bihn is all about reducing fabric waste, which is why their pouches are (partially) assembled using the leftover fabric from the company's larger bags. But, according to Tom Bihn, black pouches are the least popular color of pouches, which has left them with way too much black fabric waste. To address this, they've offered the Ghost Whale Pouches made of black fabric scraps (either 525D ballistic nylon, 210D Ballistic nylon, 420D HT nylon, or Spacer mesh).

Tom Bihn Ghost Whale Pouches Black Mesh

To make these black pouches more appealing, they've added brightly colored zippers. That way, you can still see the pouches inside your bag and/or color code to your heart's content. To give you even more autonomy, you can have six options for the color of the zipper (at the time of this review).

50% Recycled nylon

This option is a lot more straightforward than the previous one. The pouches are made out of 630D 50% pre-consumer recycled nylon. You can pick this option up in three different colorways at the time of this review—Logic Blue, Seapine Green, and Nebulous Grey.

Other scrap fabric or mesh

Tom Bihn Ghost Whale Pouches Black Zipper

Similar to the black scrap fabric or mesh, this style of Ghost Pouches is also made using the leftover fabric from the company's larger bags. (Specifically, 525D Ballistic Nylon, 210D Ballistic nylon, 420D HT nylon, or Spacer mesh.) However, they're not black. You can pick them up in a variety of colorways.
We've been testing all of these styles, although we've had the most experience with the black scrap fabric or mesh with colored zippers. The bright zippers add a lot of great functionality, allowing you to create a primo organization system.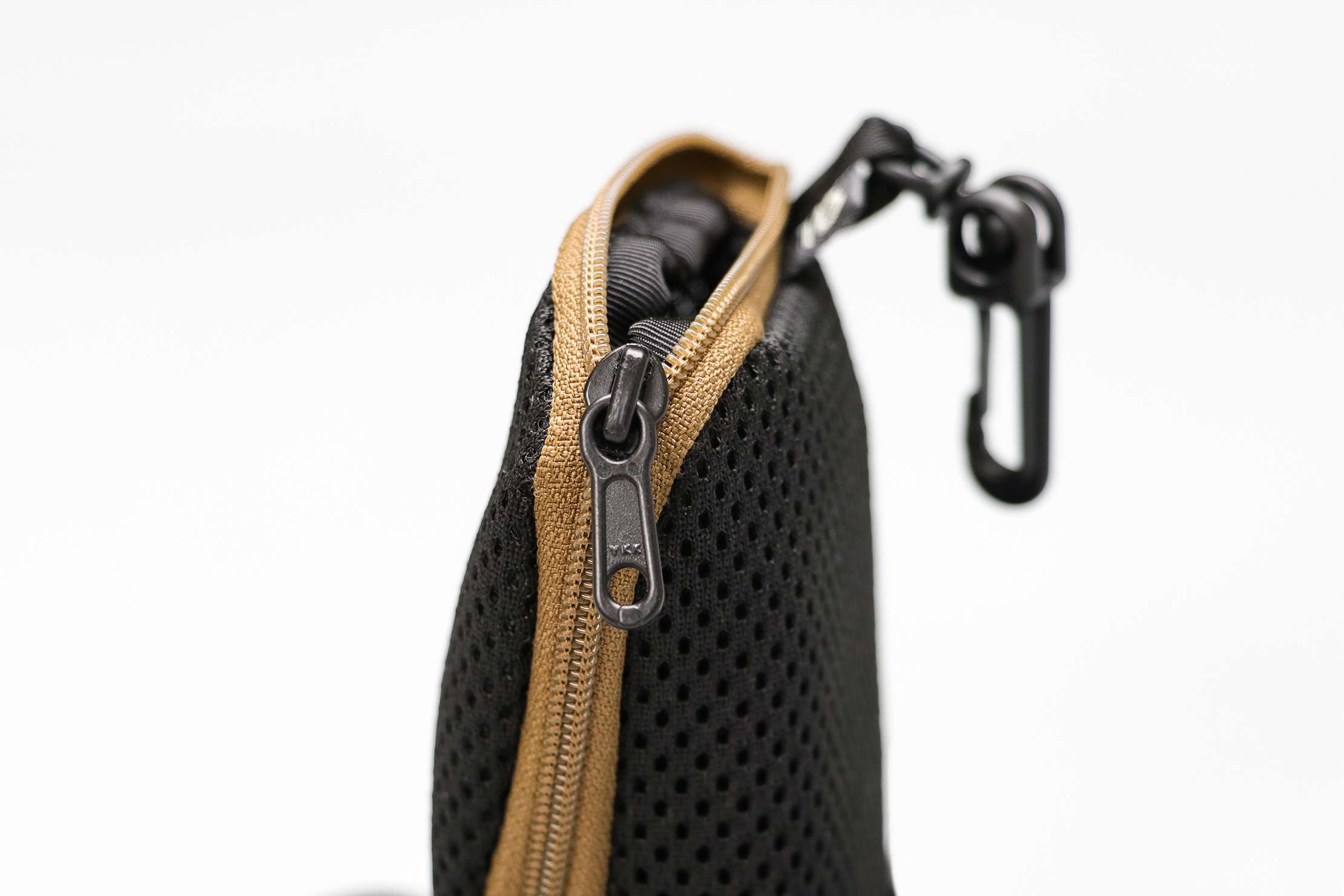 The zipper is a #3 YKK coil zipper with a plastic slider. And each pouch features a YKK 360° Snap Hook. YKK is known for their durable products, so this snap hook and zipper should keep up with whatever you throw at it (you know, to a point).
Features & Usage
There's a lot to like about these pouches. First, let's talk about sizing.
The pouches are available in four sizes at the time of this review—Super Mini, Mini, Small, and A5—all of which are quite handy to organize the random bits and bobs of your daily setup. And the variety means you will (likely) be able to find a size that suits your needs. All of the sizes have a good amount of depth to them. Seriously, we've been pleasantly surprised by the fact that you can fit some bulky items inside of them.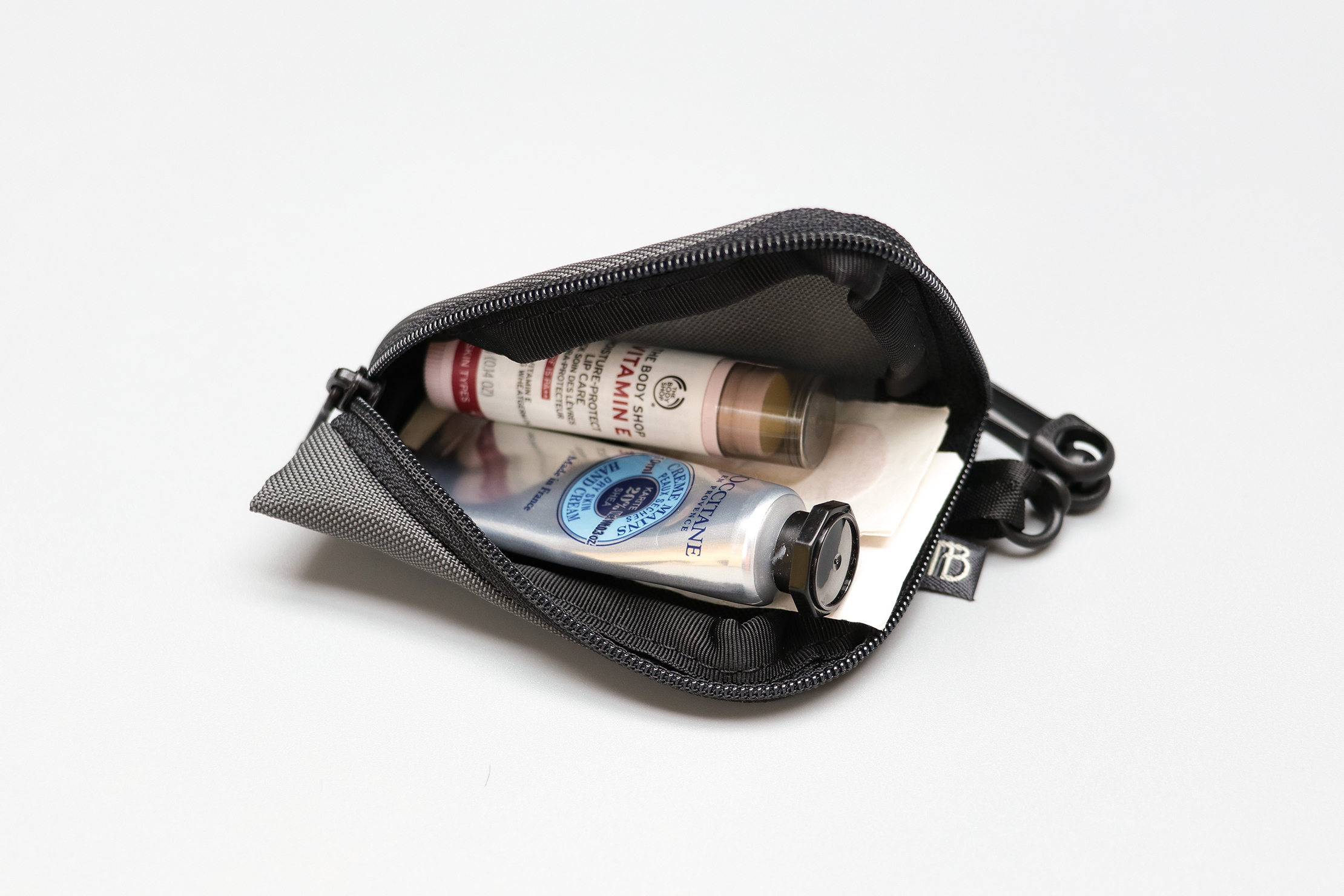 Like its name suggests, the Super Mini is super mini (mind-blowing, right?). We've primarily used them for AirPods, but small things like rings, lip balm, dongles, etc will also fit.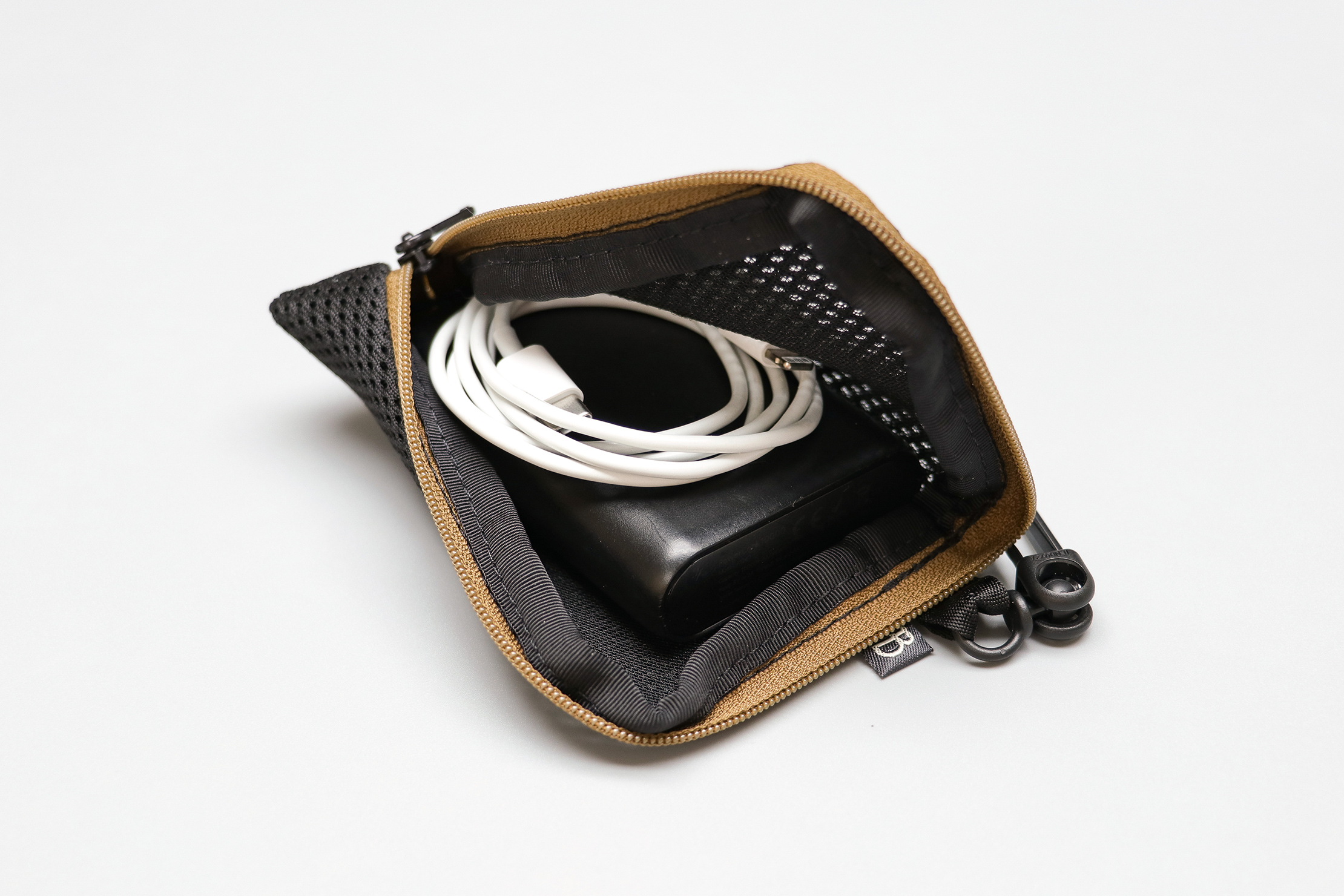 The Mini has been the most useful for our setups. It's the ideal size for chargers—we've put an iPhone charger and cable in one—or all of the other random cables we all have in the 21st century.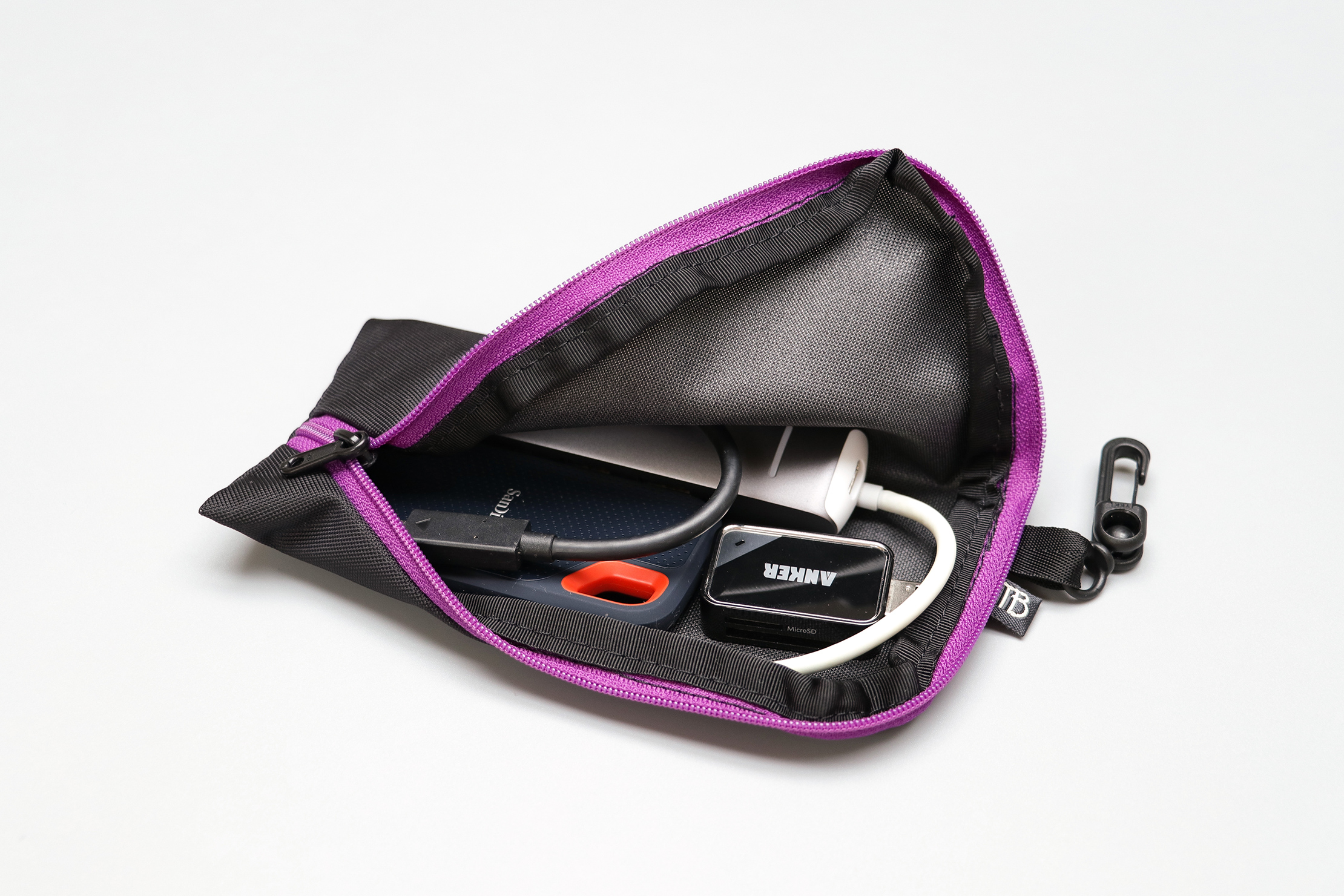 The Small fits a USB-C hub perfectly. It's also a great size for pens, pencils, the highly-useful spork, and other things of that nature.
The A5 has been specifically designed for A5 notebooks, so our hats off to the people (person?) at Tom Bihn who named this size. They were spot on. You can also fit a few pens, pencils, or markers inside because what is a notebook without a writing utensil? (We could say something poetic here about the blank pages of an unused notebook representing possibility, but we'll spare you.)
As you may have noticed, we've primarily used the Ghost Whale Pouches for tech. But you can use them for whatever you see fit. There are no rules with pouches—you do you. And the wide variety of sizes means that they're quite versatile.
That said, there isn't any further organization inside of the pouches, which we think of as a good thing. We can pop these pouches inside of other organizers, slings, or backpacks to make our own organizational system. In fact, we've done just that inside of the Tom Bihn Side Kick to great success. But if you prefer pouches with more organization, you'll be disappointed.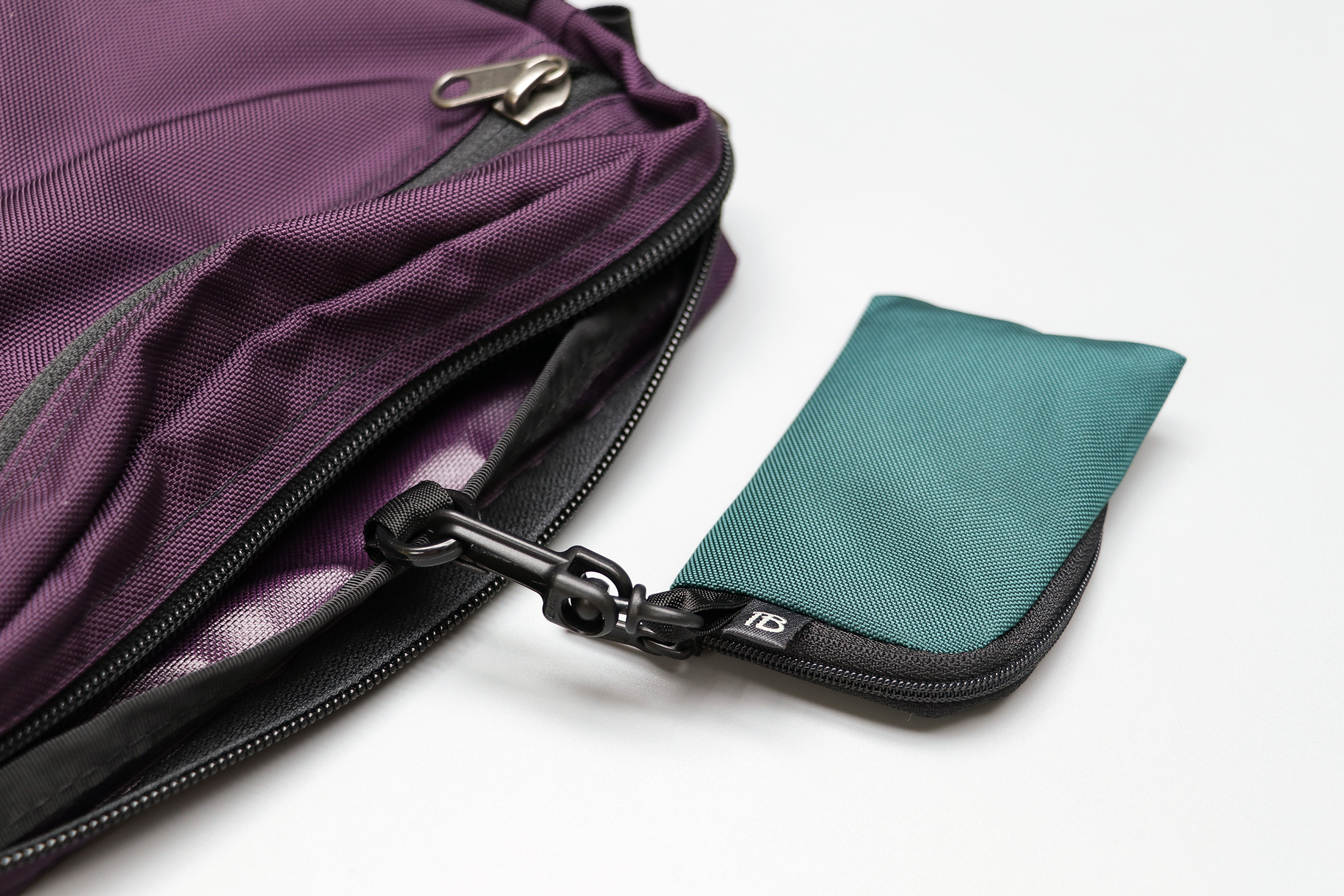 The pouches each have a 360° Snap Hook, which fits the O-rings you'll find inside most Tom Bihn bags (like the Side Kick we mentioned above or the Synik). You can attach the hook to said O-rings and create an organization system as unique as you are, especially if you mix and match a variety of Tom Bihn accessories and pouches.
Attaching the pouches to the O-rings makes it easier to quickly grab the pouches (because they're always in the same place). And, because they're attached, you're less likely to lose them.
The 360° nature of the hook helps with access since you can always swing the pouch around to face you. All of that said, the hooks won't fit on thicker straps or loops. So keep that in mind.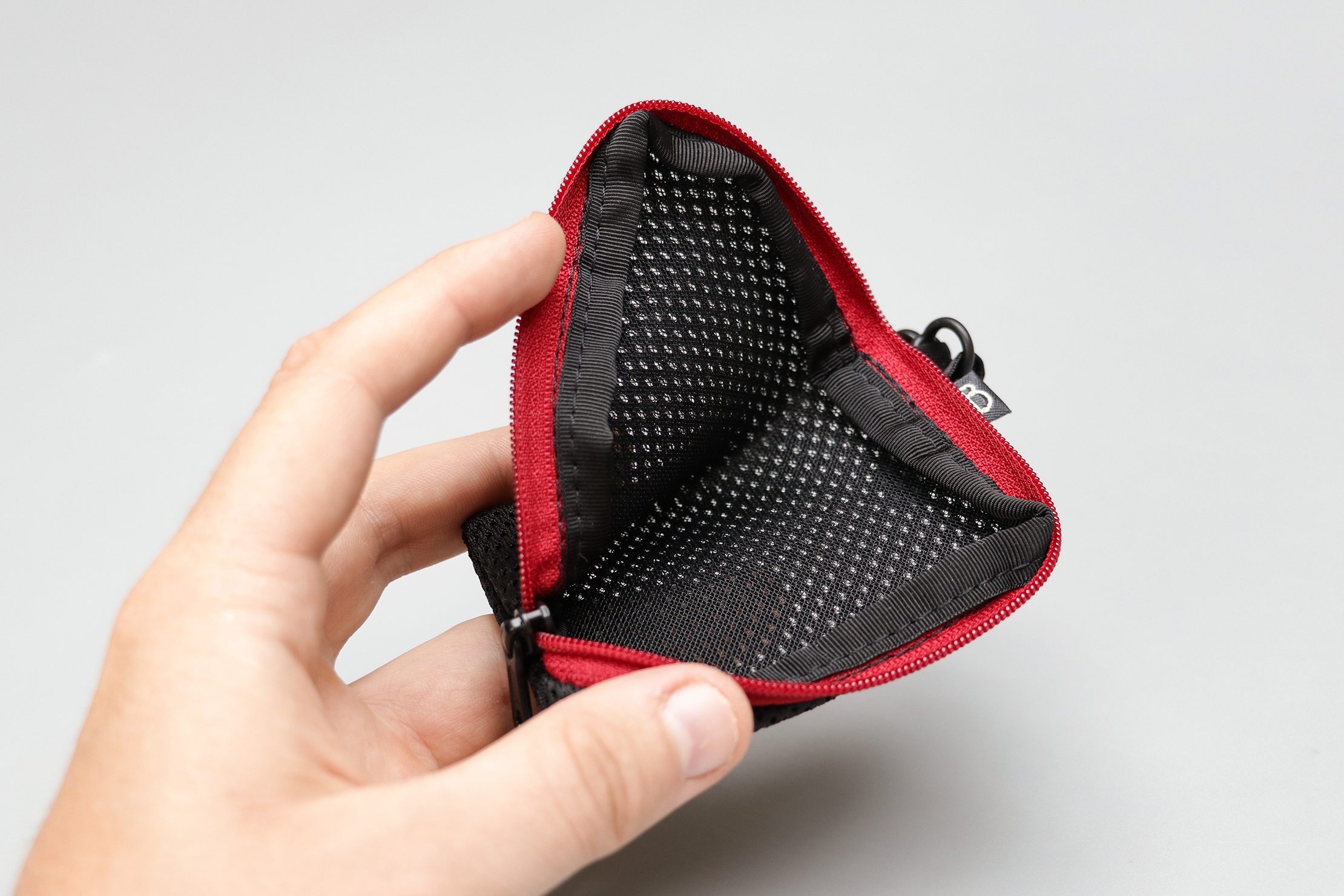 And that brings us to the zipper. The pouches have a curved L-shaped opening, which grants you solid access and visibility. You can really open these pouches up to see what's going on inside and to easily grab your stuff. They lay decently flat too—and stay open—meaning you can lay them open on your desk and have your tools of the trade ready to go.
But, unlike a full clamshell style of opening, there's not a huge risk of your stuff sliding out. (There's a lip that keeps your smaller items safely inside the pouch.)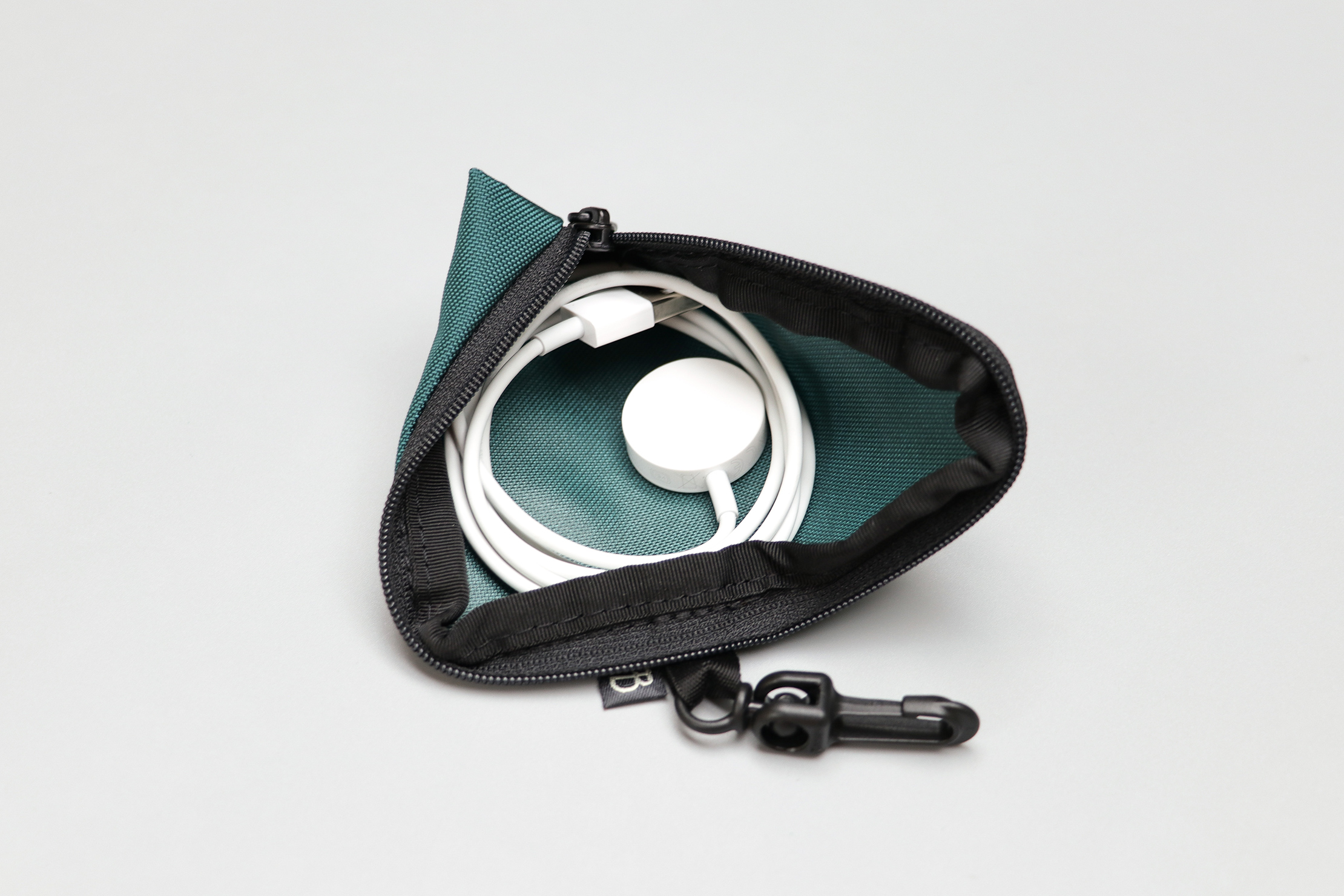 Plus—when you don't need that visibility or access—you can treat the pouches as top-loaders, only opening the zipper a small amount at the top.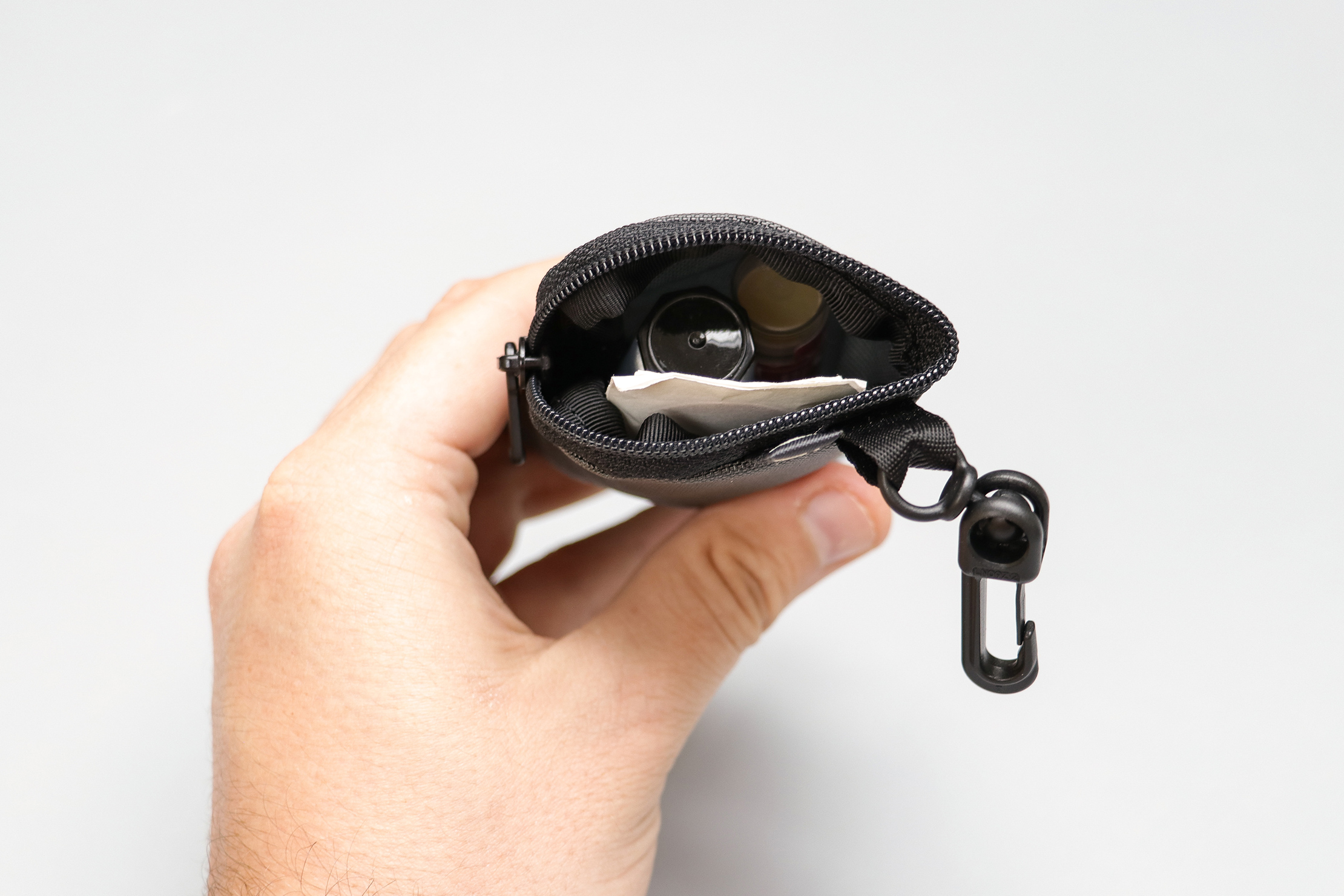 Now, we've noticed that the zipper track can be a little wavy or crinkly (we think this is due to the curved shape of the zipper track). It's not consistent and it doesn't affect functionality. It also seems to be worse on the larger A5 size that we've been testing. Of course, we're being nit-picky here, but that's our job.
We also want to note that it can be tricky to open these pouches up with one hand. Obviously, this isn't a deal-breaker, but it's come up a few times in testing, so we feel it's worth mentioning.
Durability & Testing
As we mentioned at the beginning of this review, a few Pack Hacker team members have been testing various sizes and styles of the Tom Bihn Ghost Whale Pouches for the past few months. Overall, we've been digging them. Tom Bihn has made yet another solid product. It took a little bit of time to get used to the zipper, but since then these pouches have been nothing but useful.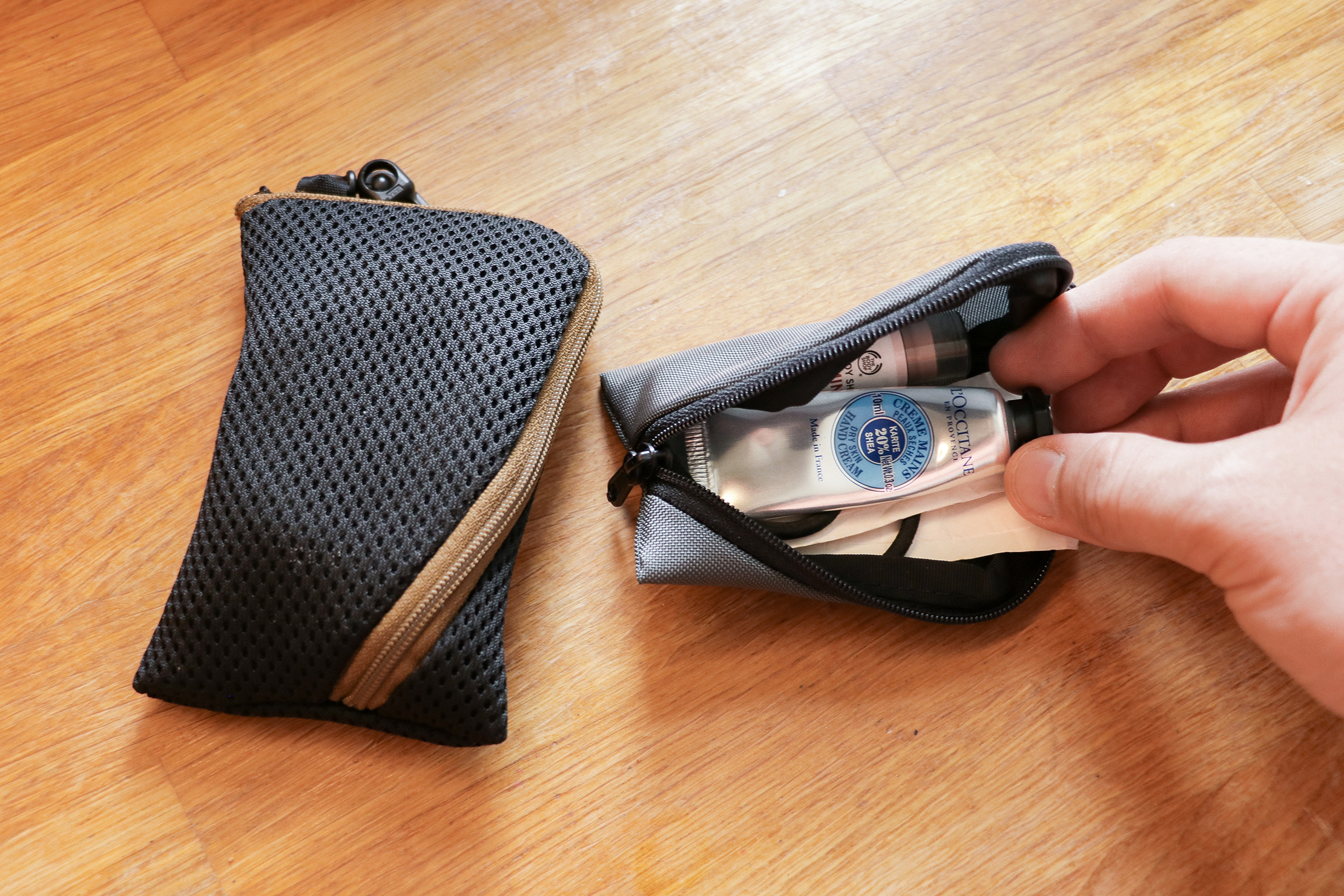 And we haven't noticed a single sign of wear or tear on any of the pouches we've been testing. We imagine they'll last us a long time to come.
Usage Timeline
Initial Usage
Condition: Excellent
Come in multiple different sizes, colors, and materials
We love the bright zipper colorways, it's easy to find one that matches your gear
The shape of the zipper takes a little getting used to
2 Weeks of Use
Condition: Excellent
We're really starting to like these things after using them for two weeks, they come in super handy when organizing smaller accessories. The O-ring attachments are great if you have other Tom Bihn gear.
1 Month of Use
Condition: Excellent
These things are still looking brand new and the Tom Bihn craftsmanship is top-notch yet again. We've also been pleasantly surprised with how much depth these pouches have, there's definitely some give when placing slightly bulkier items inside.
2 Months of Use
Condition: Excellent
We've thoroughly enjoyed testing the pouches with the Tom Bihn Side Kick. Attaching them to the O-rings inside the bag is a really nice touch, allowing for easy access.
6 Months of Use
Condition: Excellent
These things are still looking brand new, even after half a year of testing. They come into their own when used in conjunction with other Tom Bihn gear, but they've proven to be super helpful pouches regardless.

Access the Pro Community Discussion
Get your questions about the TOM BIHN Ghost Whale Organizer Pouches answered from our team and the Pro Community right here on the page. Plus, join discussions with other members about gear, guides, and more.
Other Organizers & Pouches Reviews