TOM BIHN Side Kick Review
The Tom Bihn Side Kick features clever organization, top-notch craftsmanship, and overall cohesive design—plus it can be used as an accessory pouch.
Our Verdict
Unlock the Pro Summary
Save time. Get access to brief summaries of our reviews so you can browse and make decisions more efficiently.
Pros
Top-notch craftsmanship and materials
Cohesive, clever interior organization
Five O-rings allow you to customize your organization
Cons
Handbag vibes won't be everyone's cup of tea
Noisy zipper pulls
If you want to wear it as a waist pack it will cost extra
Recent Pack Hacker Video
Technical Details
100 %
Carry-on Compliance
Capacity

3l

Weight (lb)

.8 lb (0.4 kg)

Denier

1050D

Dimensions

7.5 in x 9.6 in x 2.8 in (19.1 x 24.4 x 7.1 cm)

Notable Materials

Ballistic Nylon, Ripstop Nylon, YKK Zippers, Duraflex Hardware

Manufacturing Country

United States

Warranty Information
Full Review
The Tom Bihn Side Kick is essentially the older brother of the Tom Bihn Side Effect with more space (by 1.5L) and organization. If you've read our review of the Side Effect then you'll know how much we like that sling—it's even made our list of favorite sling bags—so the Side Kick has a lot to live up to.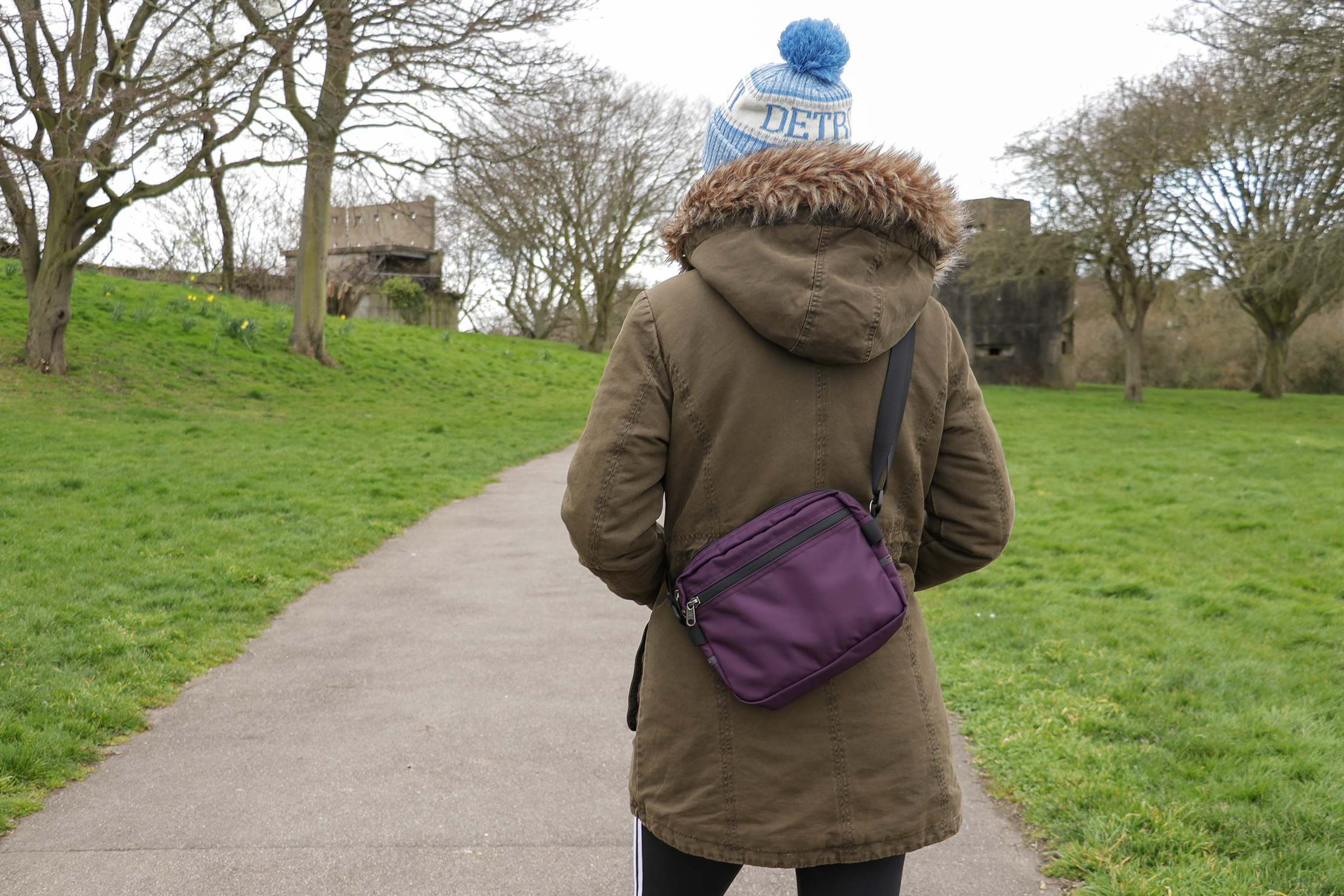 So has it?
Let's jump into the full review to find out.
Materials & Aesthetic
The Tom Bihn Side Kick has a Sacoche/handbag aesthetic similar to the CODEOFBELL Annex Liner or the Aer Sling Pouch. Unlike new wave sling bags that wear tight to your body, the Side Kick hangs loosely at your side.
Its handbag vibe makes the Side Kick somewhat polarizing, as far as aesthetics go, but we're digging it. Handbags have been used for generations because, well, they work. The rectangular shape holds a lot of stuff and it's comfortable to wear crossbody or over one shoulder.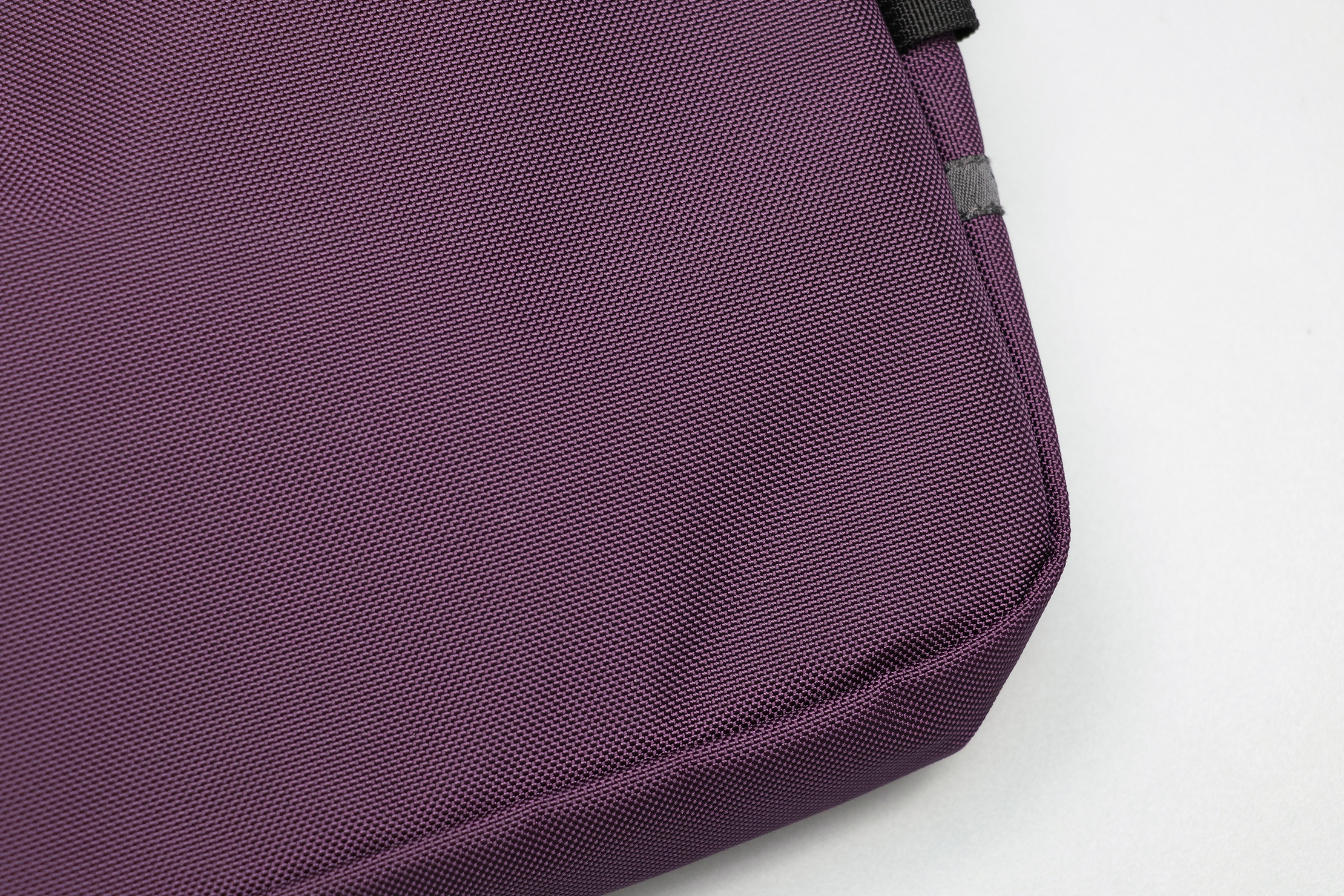 At the time of this review, the bag is available in 13 colorways with seven more in production. And, if you're familiar with Tom Bihn, you won't be surprised that you have a couple of options for exterior material—525D Ballistic Nylon and 400D Halcyon. (Note that some of the colorways, like black, are available in both fabric options, while most are only available in one or the other.)
The Halcyon has a technical aesthetic—you can see the ripstop squares in the fabric—that's as polarizing as the bag's handbag vibes. But it's also super lightweight and the ripstop stops rips in their tracks.
The Ballistic Nylon has a more refined aesthetic. It's also super durable and soft to the touch.
We've been testing the 525D Ballistic Nylon version in the color Aubergine. To be frank, it took us some time to get used to the Aubergine color, but now we like that it adds a pop of color when we're out exploring.
Frankly, you can't go wrong with either fabric choice.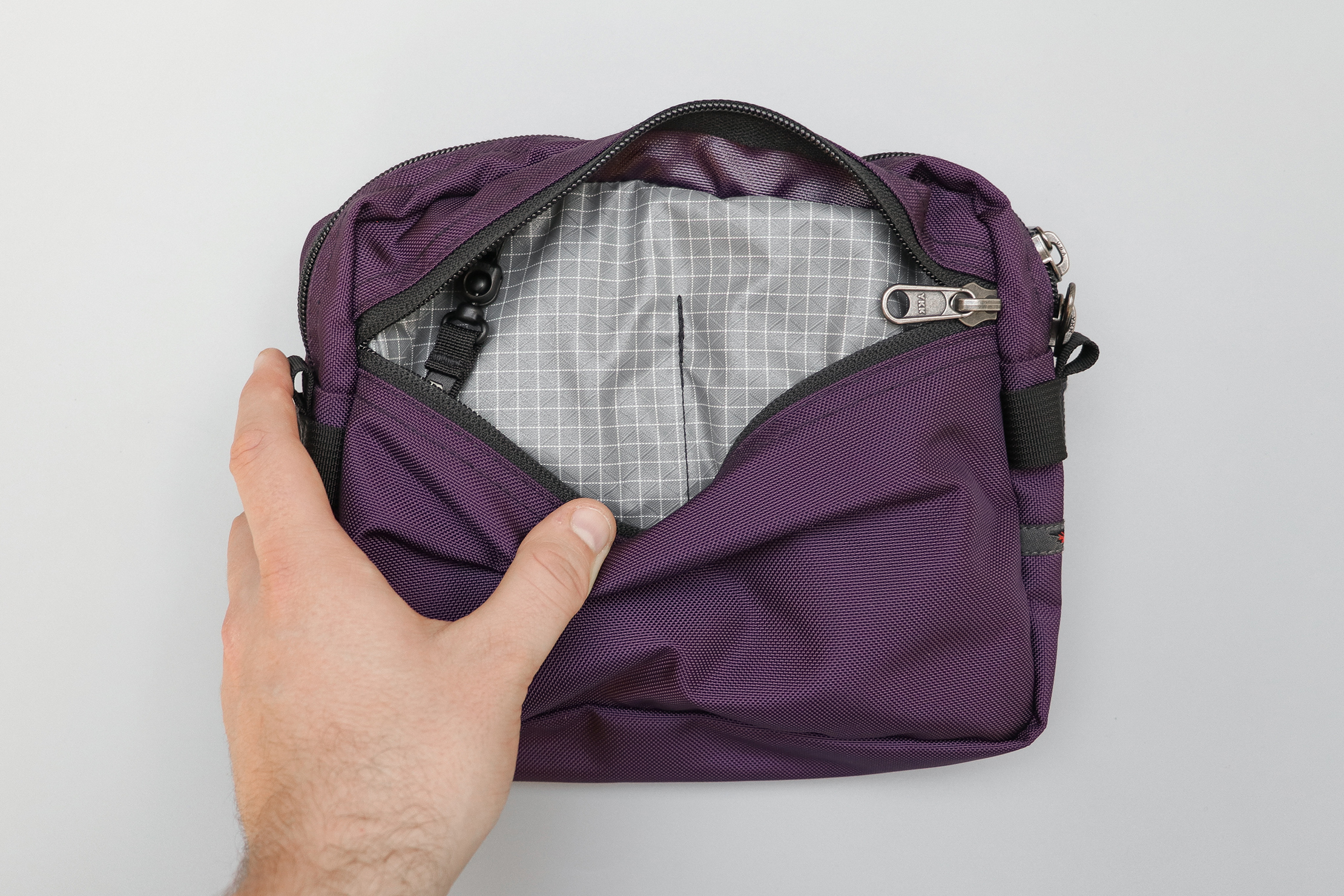 The interior of the Side Kick is always made of 200D Halcyon, you have multiple options for colorway here too. For example, at the time of this review, you can pick the Aubergine colorway we've been testing with an "Island" (blue) or "Northwest Sky" (gray) interior color. We like that the interior color is always bright and different from the exterior color, so it's easy to spot your stuff.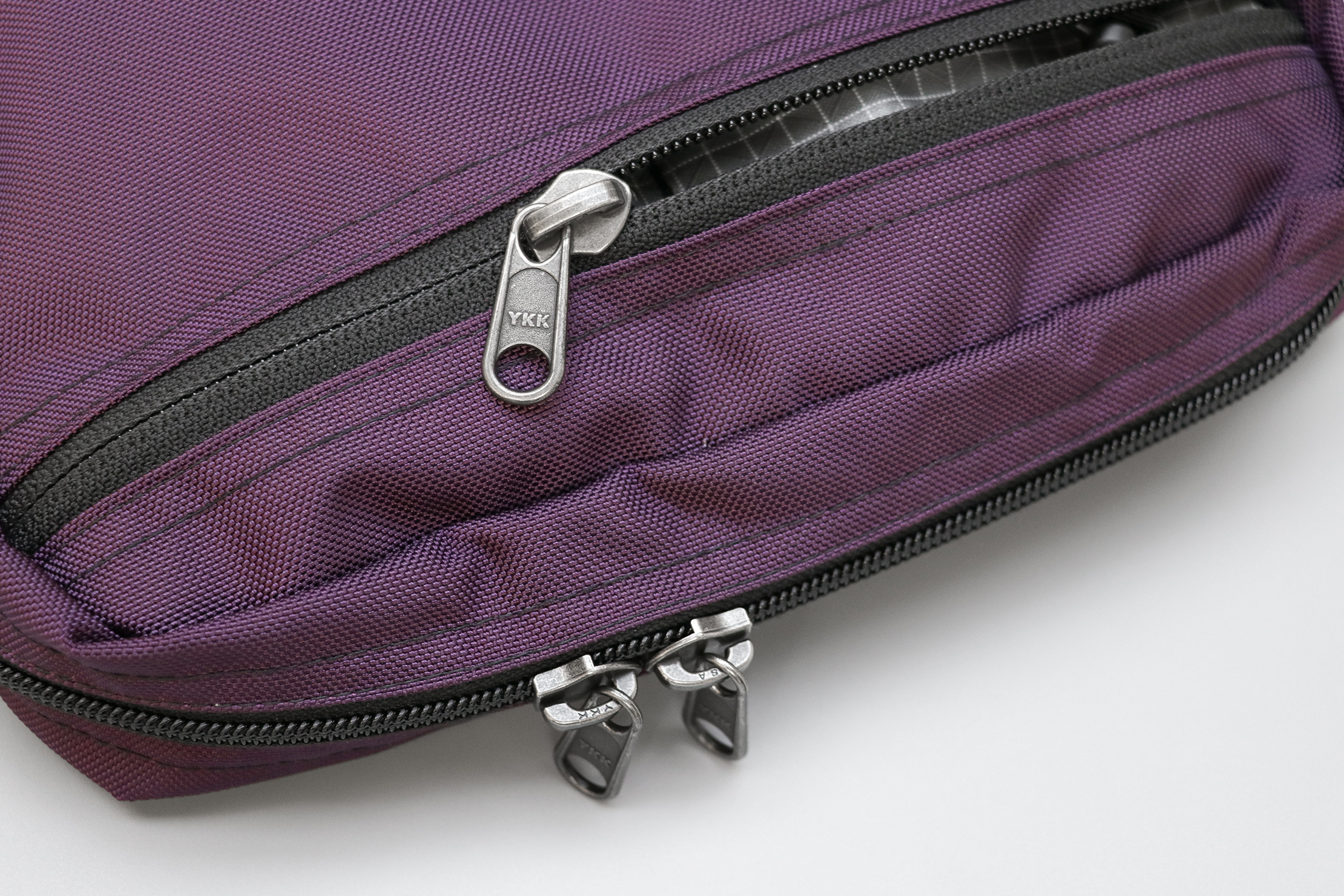 Finishing off the materials, there are beefy #8 YKK zippers that should treat you well. You'll also find durable Duraflex hardware.
External Components
Like most slings/shoulder bags, the exterior of the Tom Bihn Side Kick is quite minimal. The bag comes with a simple shoulder strap. And we mean simple. It doesn't have any padding or anything like that, which is just fine for a bag of this size. We've found it comfortable to wear while out and about.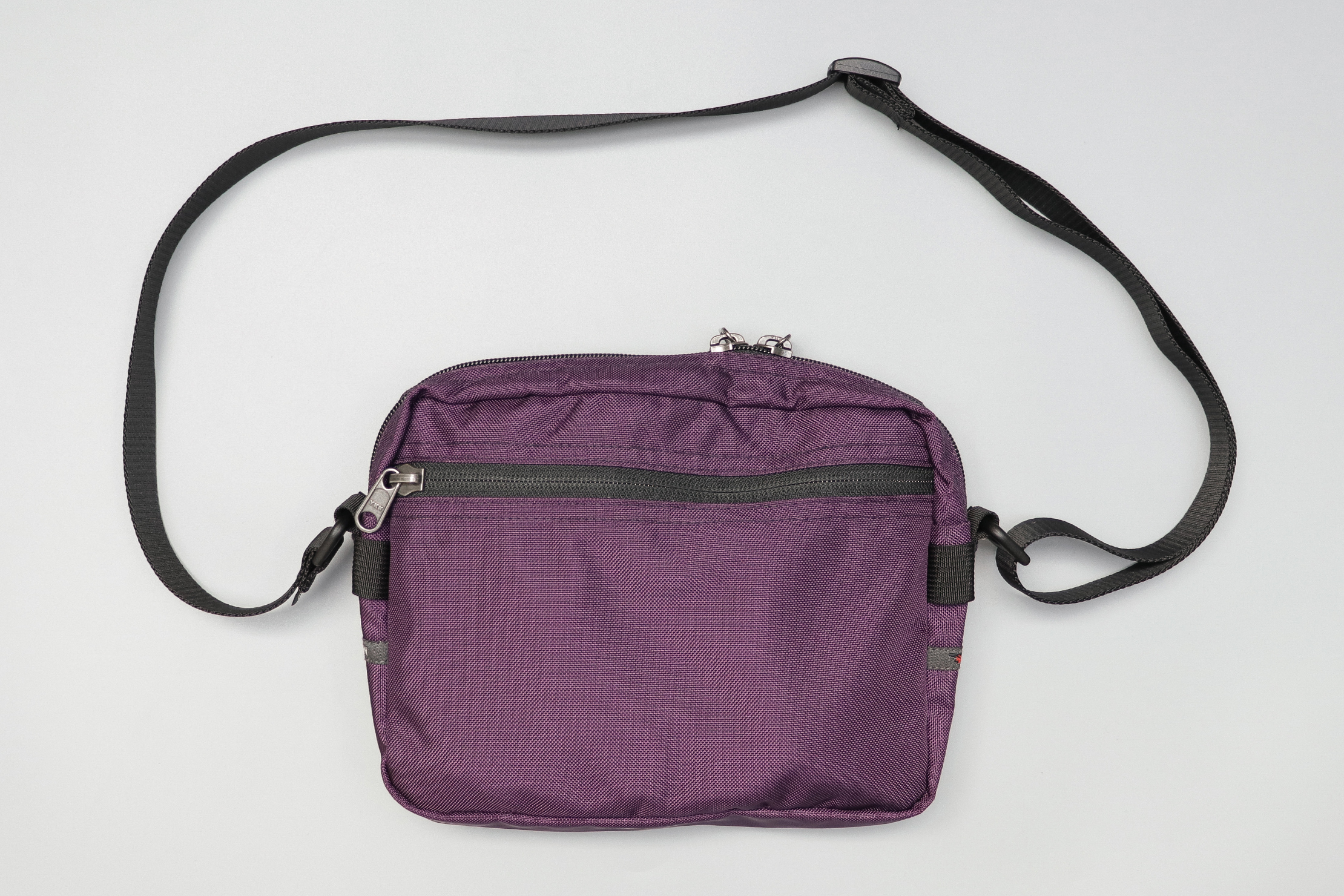 The strap detaches from the body of the bag, so you can use the Side Kick as an accessory pouch. We love this feature as it makes the bag incredibly versatile. You can use it to organize your smaller items in your travel pack and then pull it out to wear as a shoulder bag once you've reached your destination.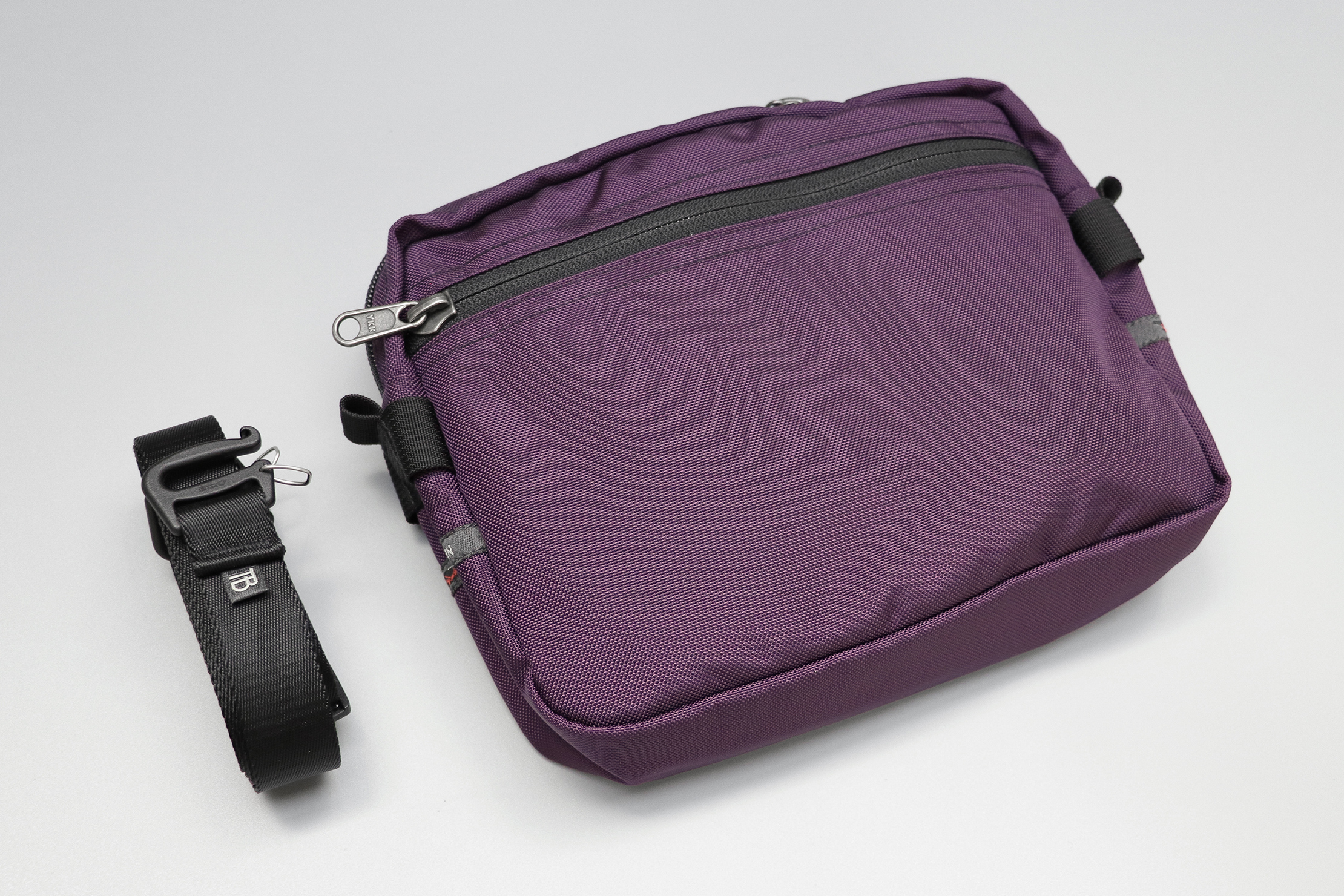 We've tested it as a tech organizer probably more than we've used it as a shoulder bag, which should tell you how well it works as an accessory pouch. And that's mostly due to its clever interior organization, which we'll discuss in a moment.
Before we do, we want to mention that you can also pick up an optional Gate Keeper Waist Strap, which allows you to wear the Side Kick as a waist pack. We haven't felt a need for it—the shoulder carry works great—but if you love waist packs then, by all means, go for it.
Inside the Bag
As aforementioned, the interior of the Tom Bihn Side Kick has a ton of clever things going on.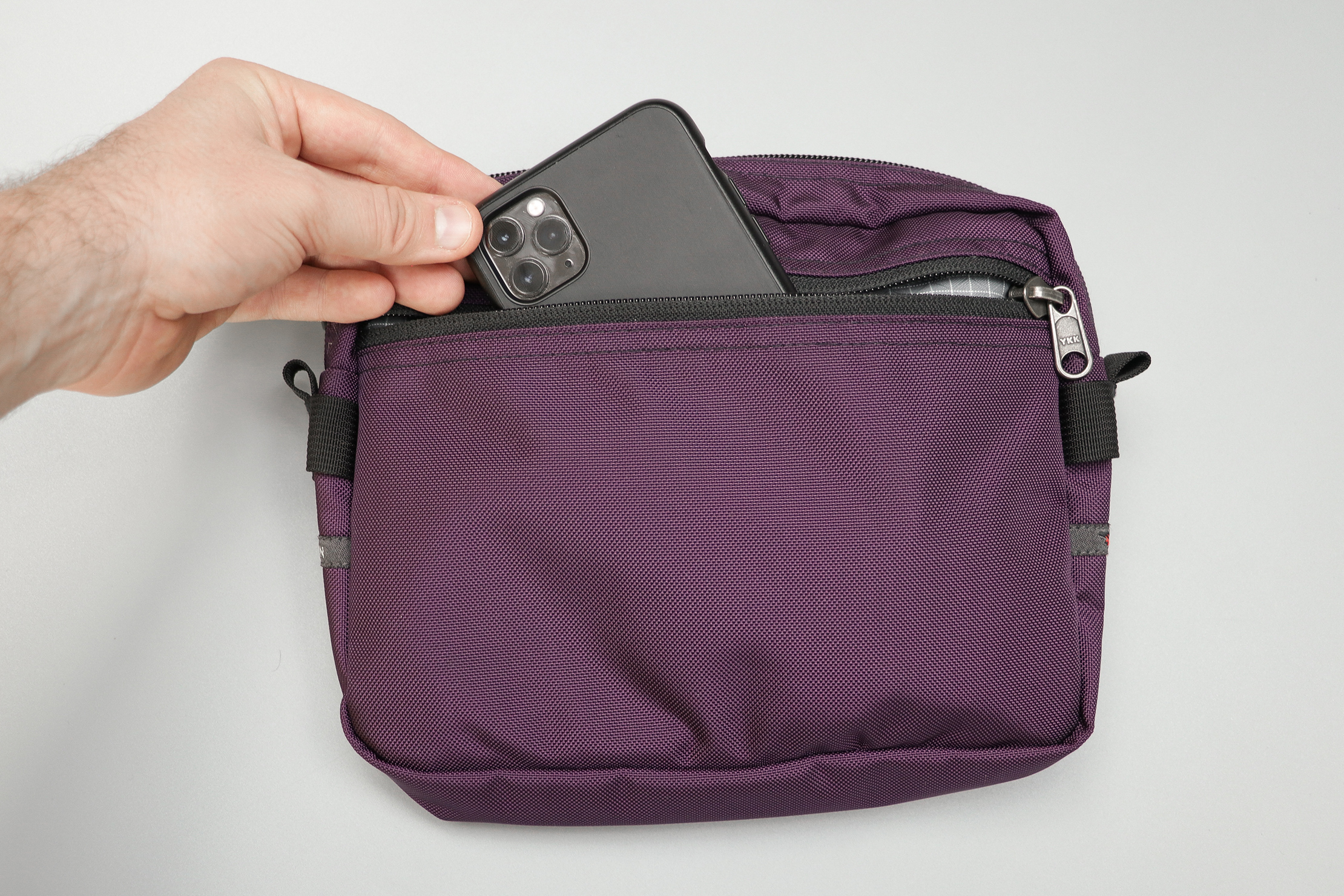 Let's start with the front pocket. It spans the bag's full width and is the perfect spot for items you want to get to quickly—say a passport, phone, notecards with icebreaker questions written on them (so you can engage strangers at bus stops, airports, etc, obviously). Inside, there's a key strap for keys, of course. You can also unclip the key strap from the O-ring if you'd like to use it for something else. This pocket doesn't have much depth, so it's best for flatter items.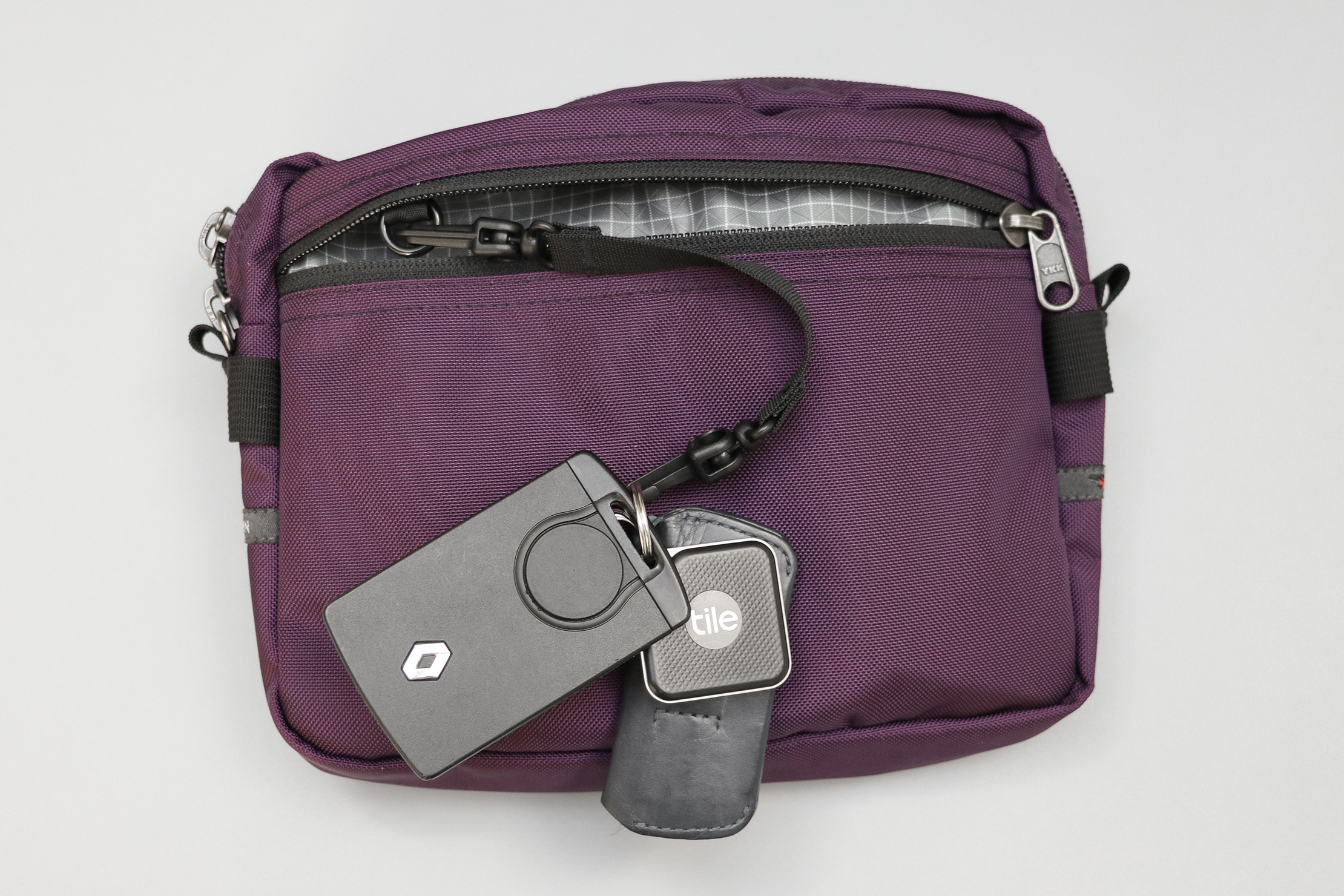 Your bulky items will find a home in the main compartment, which has plenty of open space in its center. We've put a MacBook Power Brick with a Fuse attachment here, but a notebook, small water bottle, or things like that will also fit.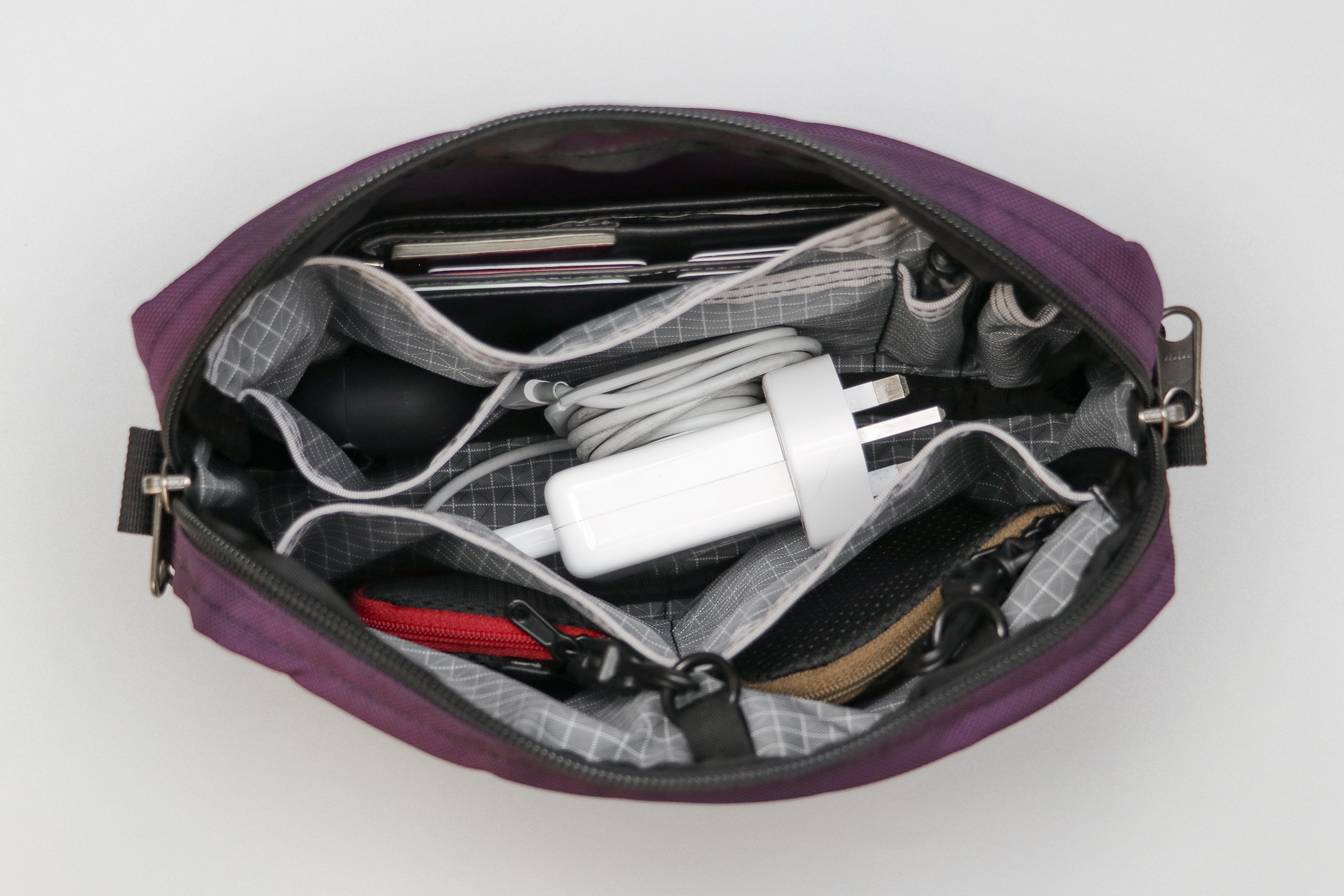 Against the back of the compartment, you'll find a divider pocket that spans the width of the compartment. Tom Bihn advertises that it'll fit 7'' to 8'' tablets. We've put the Bellroy Travel Wallet here, which is an oversized wallet that wouldn't fit in one of the smaller divider pockets.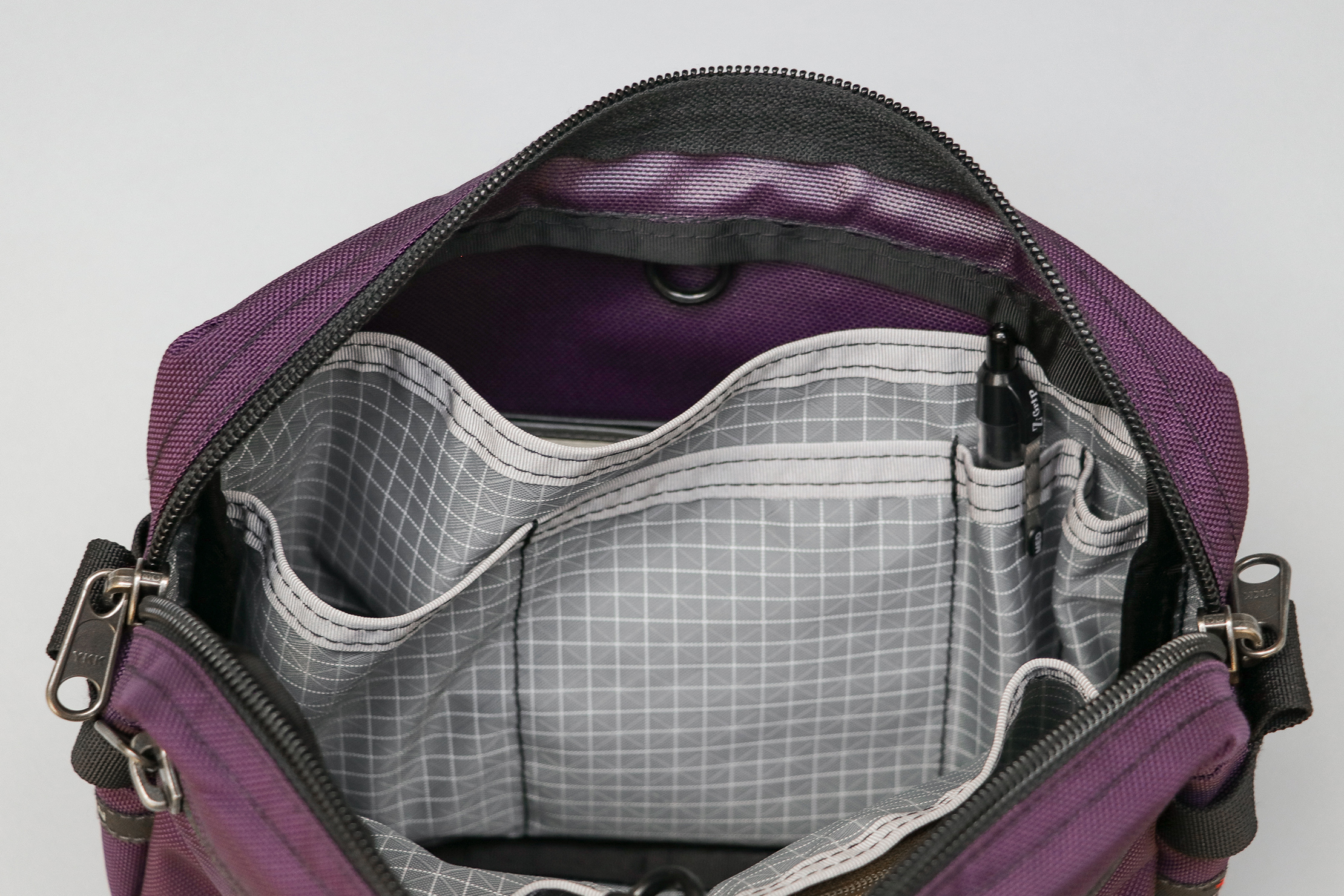 In front of that, there are two more divider pockets, which are great for AirPods, snacks, a reusable straw, or other things like that. Next to these divider pockets are two pen/stylus pockets. You never know when you're going to need a pen, so we appreciate the inclusion of these.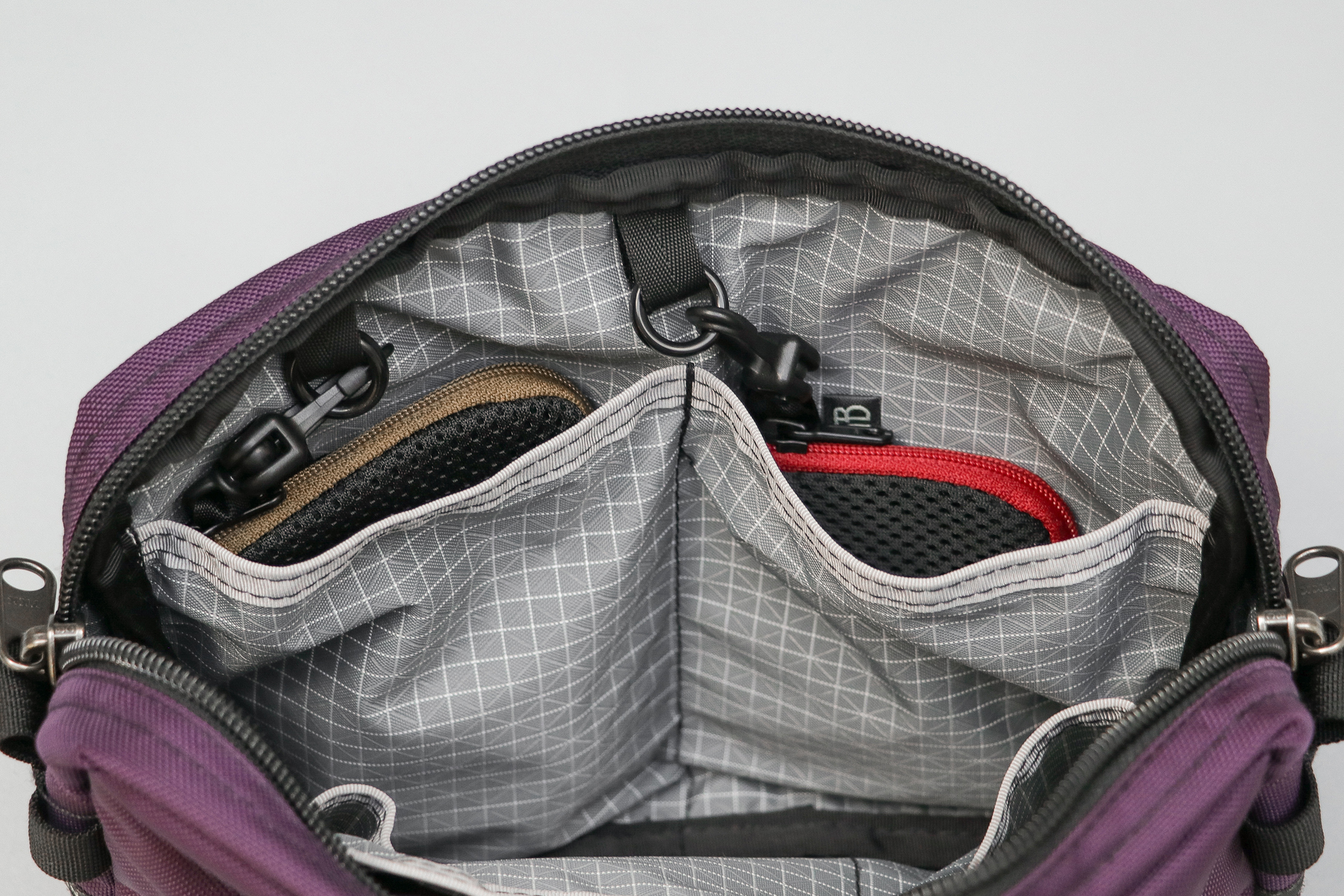 On the opposite side of the compartment, there are two large divider pockets. You can use them for a phone, wallet, or other bulkier items that you want to be compartmentalized. We've stepped up our organizational game and put two Tom Bihn Ghost Whale Pouches here (one on each side). We've stored plug-in earphones in one of the pouches (because you don't always want to go wireless) and an Apple 18W USB-C Power Adapter in the other (for speedy charging).
In typical Tom Bihn fashion, there are four O-rings inside this main compartment—two on each side—so you can trick this thing out to your liking. We haven't used the back two much, but we've clipped the Ghost Whale Pouches to the two in the front. Using the O-rings makes it easier to take the pouches out and quickly grab whatever we've got inside because they're always in the same place (so you don't have to go searching for them) and attached to the bag (so you don't have to worry about misplacing them). We really like this design and how seamless the O-rings are to use.
Durability & Testing
We've thoroughly enjoyed testing the Tom Bihn Side Kick shoulder bag for three months in Essex, England. It's been a great sidekick for daily excursions—simply pop in your essentials and go. We love how the folks at Tom Bihn have made all of the bag's simple features come together so cohesively.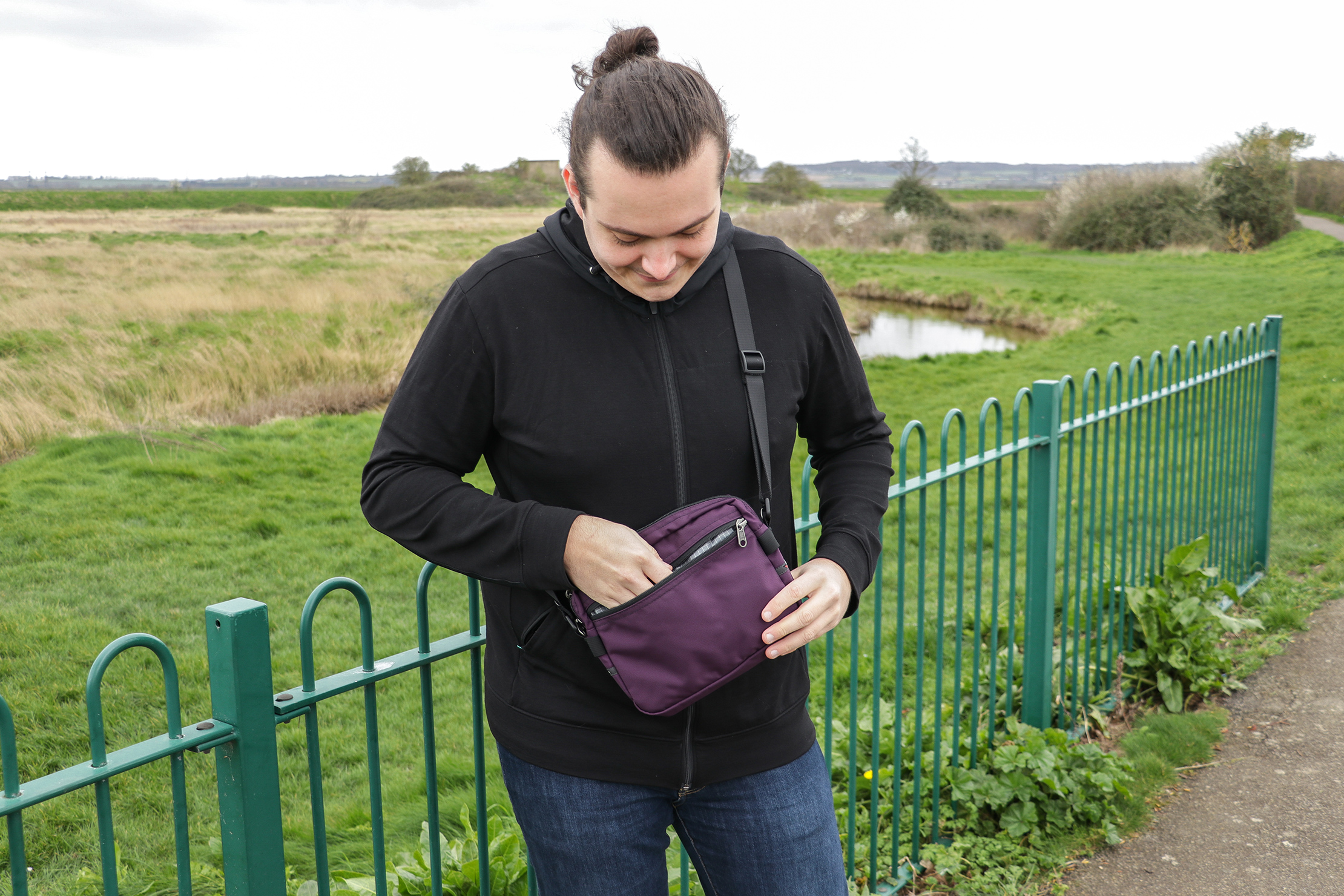 Of course, this being a Tom Bihn bag, we have no durability issues to report as of yet. The craftsmanship is top-notch and everything is holding up really well.
Usage Timeline
Initial Usage
Condition: Excellent
The sling strap can be attached/detached with Duraflex Gatekeeper buckles
Can be worn as a waist pack as well but we've found it comfortable as a sling (and you'll have to buy the waist strap separate)
We wish there were included elastic keepers on the straps to manage the excess
Rad organization—all the pockets and the layouts make a lot of sense for a small bag
2 Weeks of Use
Condition: Excellent
Even though this thing works really well as a sling, we've predominantly been using it as a tech pouch with the shoulder strap detached. It's a great size and offers solid organization
We didn't fall in love with the aubergine color straight away, but it certainly adds a nice pop of color when we're out and about
1 Month of Use
Condition: Excellent
The craftsmanship is amazing and it's holding up very well, just like other Tom Bihn products we've tested
We've been using the Tom Bihn Ghost Whale Pouches inside and really like the fact you can clip them in using the O-rings
3 Months of Use
Condition: Excellent
Nothing to update durability-wise—everything is looking good! We've been enjoying using this sling both for our daily essentials while out and about or for organizing our tech gear.
Access the Pro Community Discussion
Get your questions about the TOM BIHN Side Kick answered from our team and the Pro Community right here on the page. Plus, join discussions with other members about gear, guides, and more.
Other Bags & Luggage Reviews