Aer Sling Pouch Review
With solid internal organization and a versatile carry, the Aer Sling Pouch is a great travel companion—as long as you don't mind its handbag aesthetic.
Our Verdict
Unlock the Pro Summary
Save time. Get access to brief summaries of our reviews so you can browse and make decisions more efficiently.
Pros
Made of quality, durable materials
Simple organization that works really well
Wears comfortably
Cons
Noisy zipper pulls
Logo tag sticks out to an annoying degree
While we're digging the handbag vibes, some people won't like it
Recent Pack Hacker Video
Technical Details
100 %
Carry-on Compliance
Weight (lb)

0.5 lb (0.2 kg)

Denier

1680D

Dimensions

11 in x 7.5 in x 0.5 in (27.9 x 19.1 x 1.3 cm)

Notable Materials

CORDURA® Ballistic Nylon, YKK Zippers, Duraflex Hardware

Manufacturing Country

China

Warranty Information
Full Review
Get up to 10% off Aer • Join Pack Hacker Pro
Navigating the world of Aer's slings can get complicated. Today, we're going to take a look at the Aer Sling Pouch—not to be confused with the Aer City Sling or Aer Day Sling 2…although they all have a similar look and vibe going on.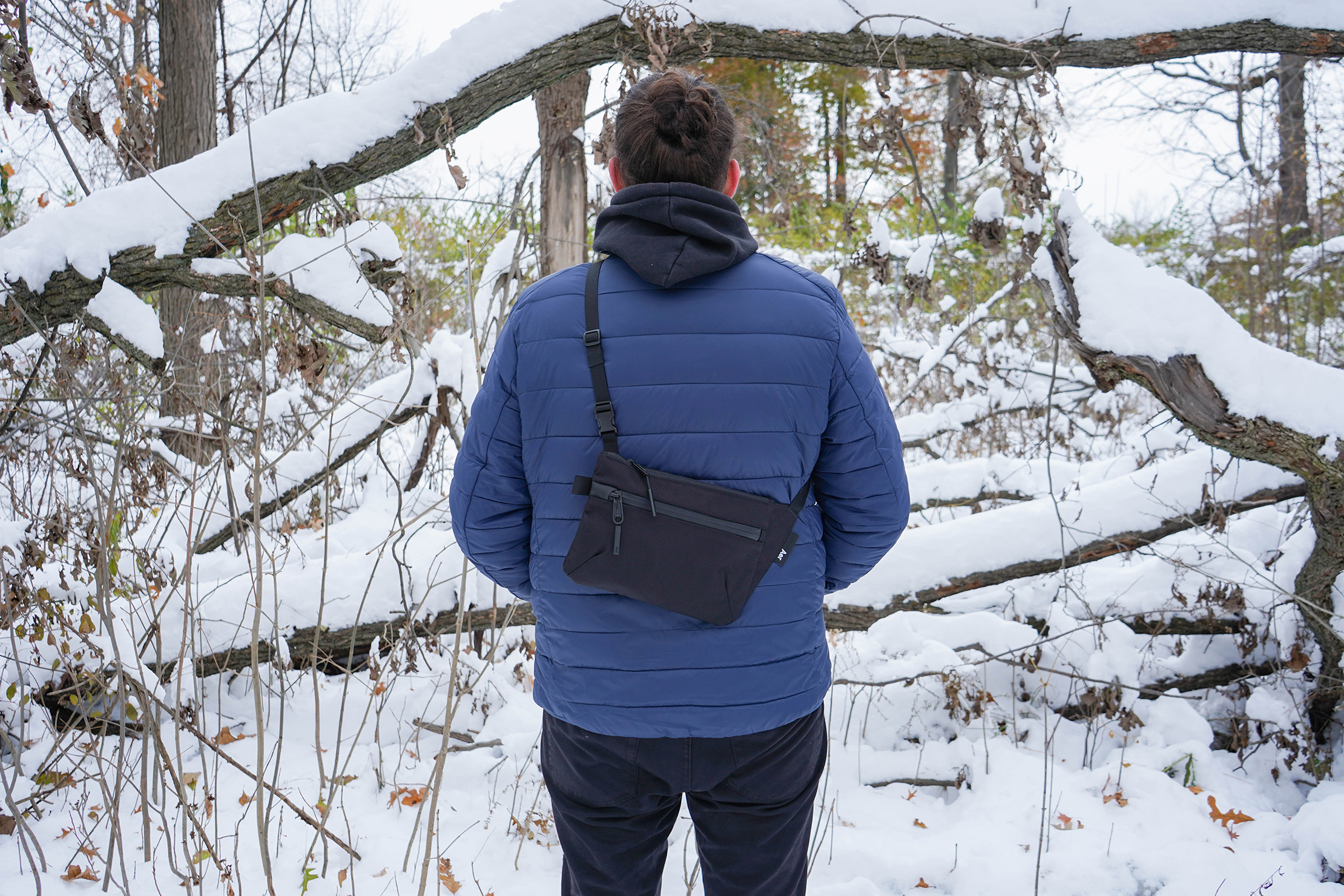 Aer describes the Sling Pouch as "Lightweight, everyday utility" as opposed to the Day Sling which is "Everyday carry on the go." Marketing jargon aside, what sets the Sling Pouch apart from the crowd is its shape.
The Sling Pouch looks more like a traditional handbag than a sling bag. And we're digging it. There's a reason handbags tend to have a similar shape—and have for decades—and that's because it works.
The Aer Sling Pouch is one of our favorite sling bags we've tested to date, which is saying something because we've tested a lot of slings. Why do we like it so much? Read on to find out.
Materials & Aesthetic
Let's be real, all of Aer's travel stuff basically looks the same. Sleek. Minimalistic. Black (or gray). And you either like it or you don't. We're squarely in the like it camp. Aer stuff is simple enough to rock with basically every outfit, yet sophisticated enough to work in a business meeting.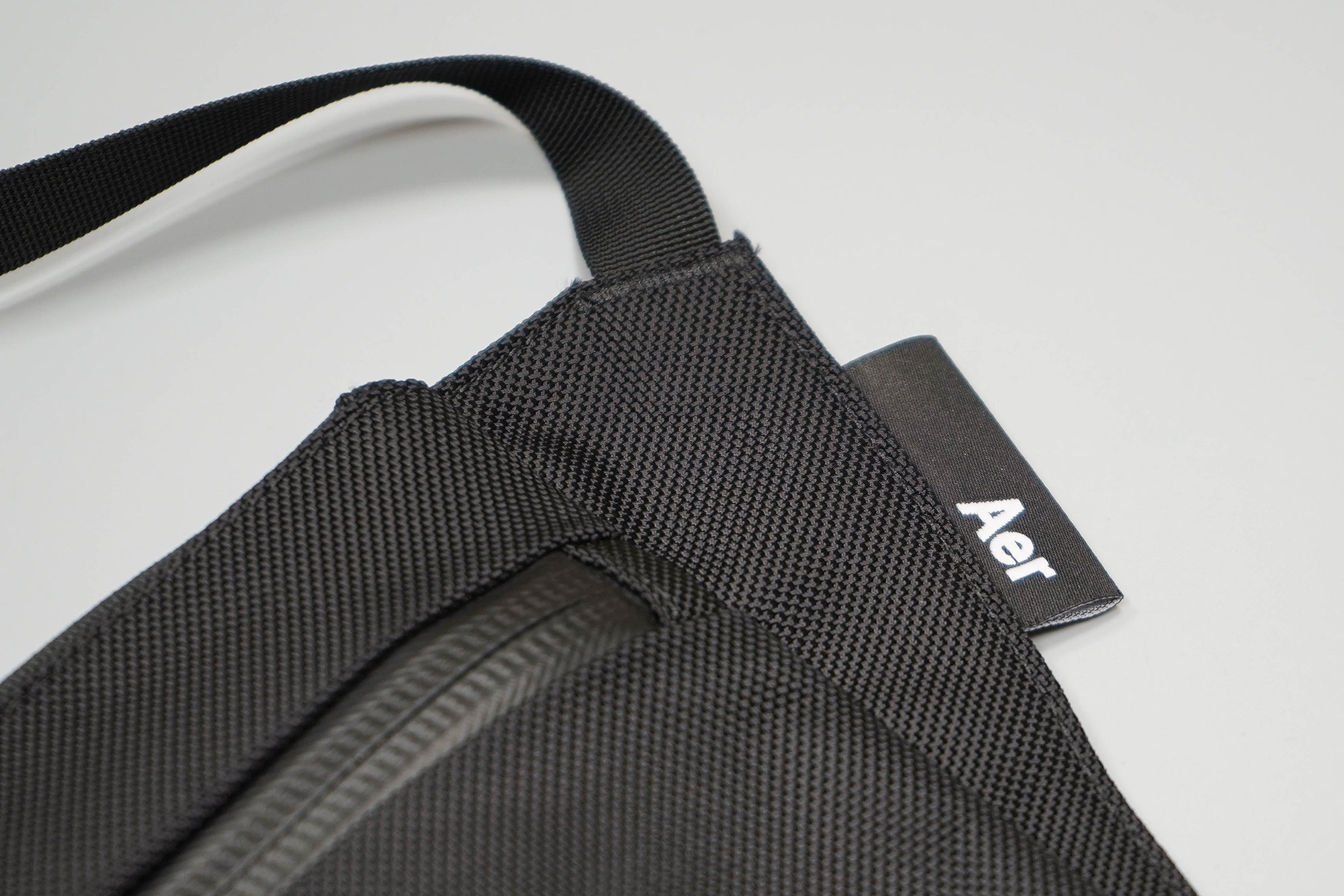 That said, we're not digging the way Aer has branded this particular pouch. There's a small logo tag on the right-hand side, which sticks out when you wear it. It's not a huge deal—you can cut it off—but it's annoying enough to point out.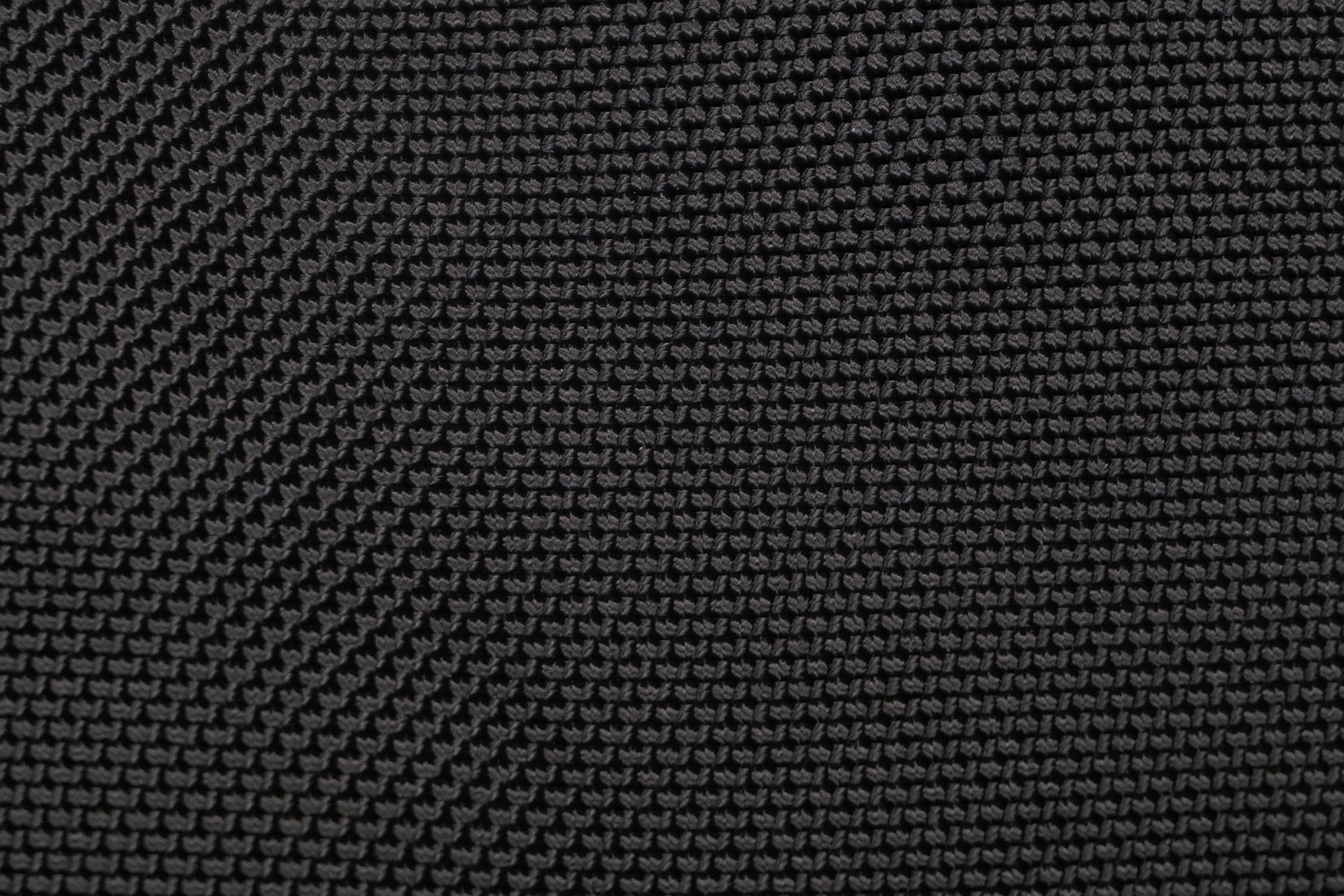 Fans of Aer won't be surprised to see 1680D Cordura® ballistic nylon, chunky YKK zippers, Duraflex buckles, and meaty zipper pulls on this thing. Sure, they're overkill. But at least you can rest easy in the fact that your pouch is ultra-durable—able to traipse the globe alongside you.

The ballistic nylon is water-resistant, as is the YKK Aquaguard® zipper on the front pocket. To be frank, it would make more sense to have an Aquaguard® zipper on the top pocket…but we have to admit it does look sleek. Either way, you won't want to take this sling with you on a tour of Atlantis, but it should protect your stuff if you get caught in the rain.
External Components
As per usual for sling bags, there's not too much going on externally.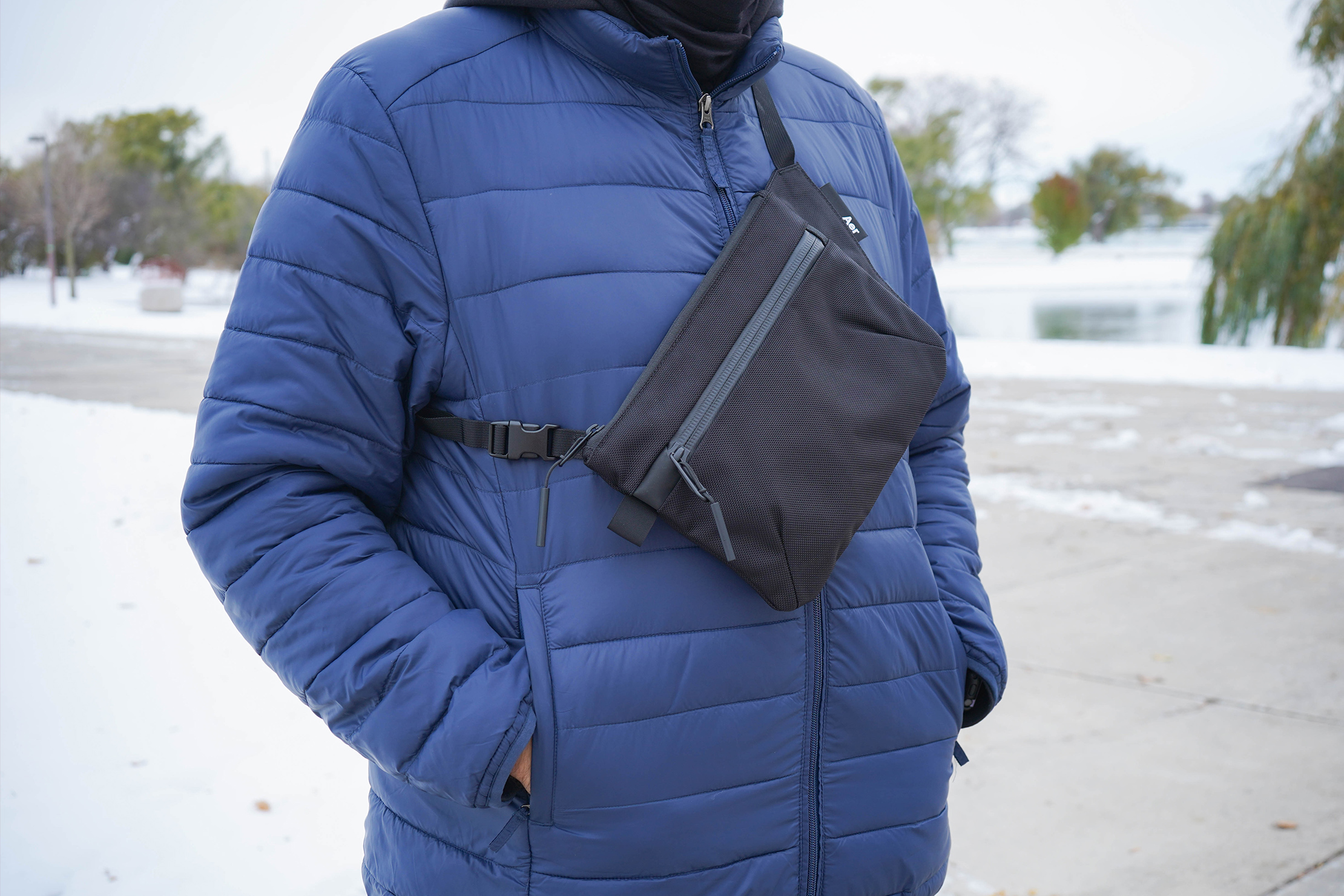 The strap is as straightforward as a strap gets. It's thin, comfortable, and easy to adjust. Now, because of the way the strap is anchored to the pouch, it can't be worn as a waist pack (hip pack, fanny pack, bum bag…whatever you want to call it). Only as a sling.
Some people like to have a bag that can be worn both ways. Luckily, there are plenty of bags out there that can do that. This is just not one of them.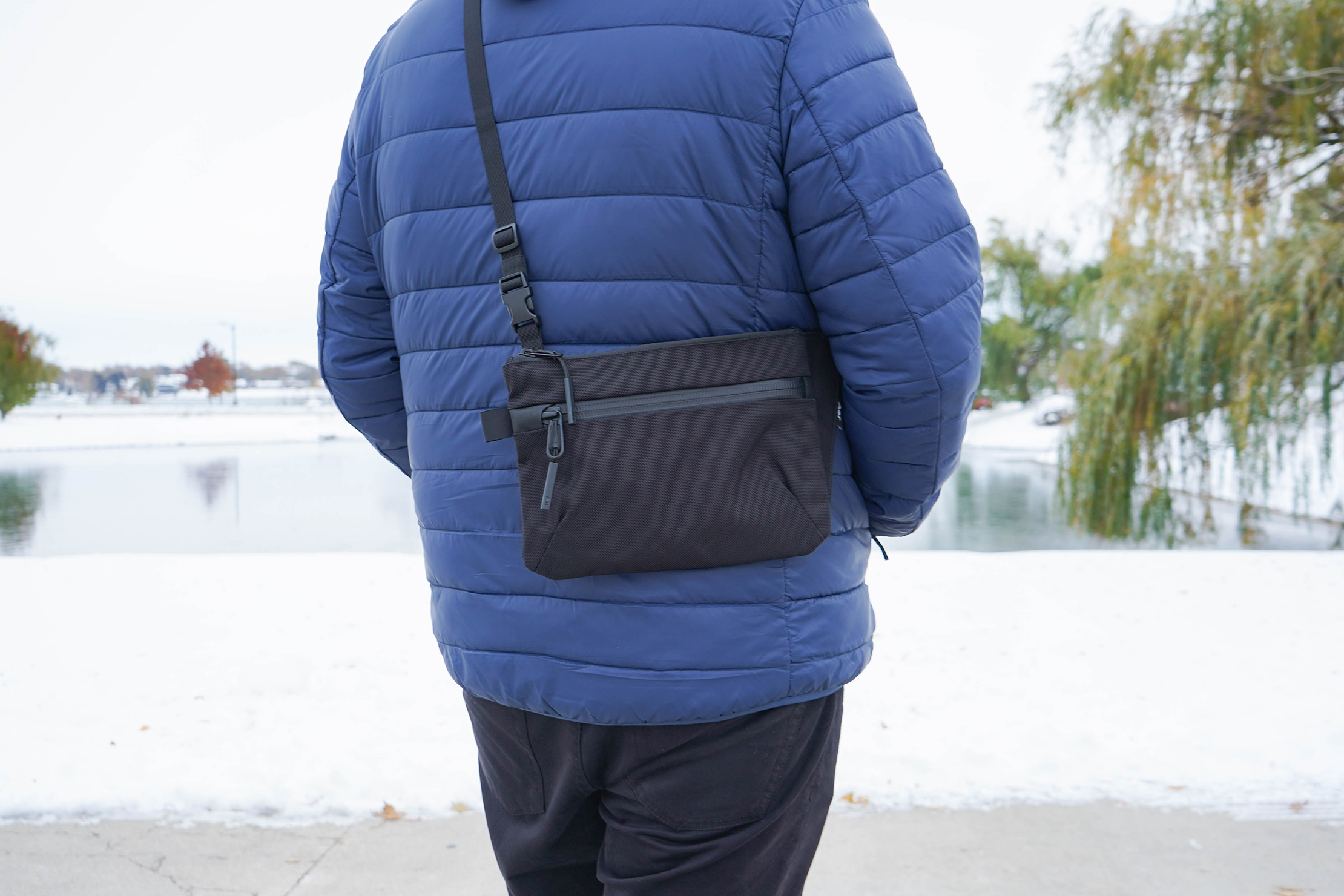 You can wear it loose—with the pouch hitting at your waist—or tightly across your chest or back. All three modes of carry work well across a variety of body types. It comes down to preference. The looser fit is more reminiscent of a purse or handbag, while the tighter fit screams sling bag.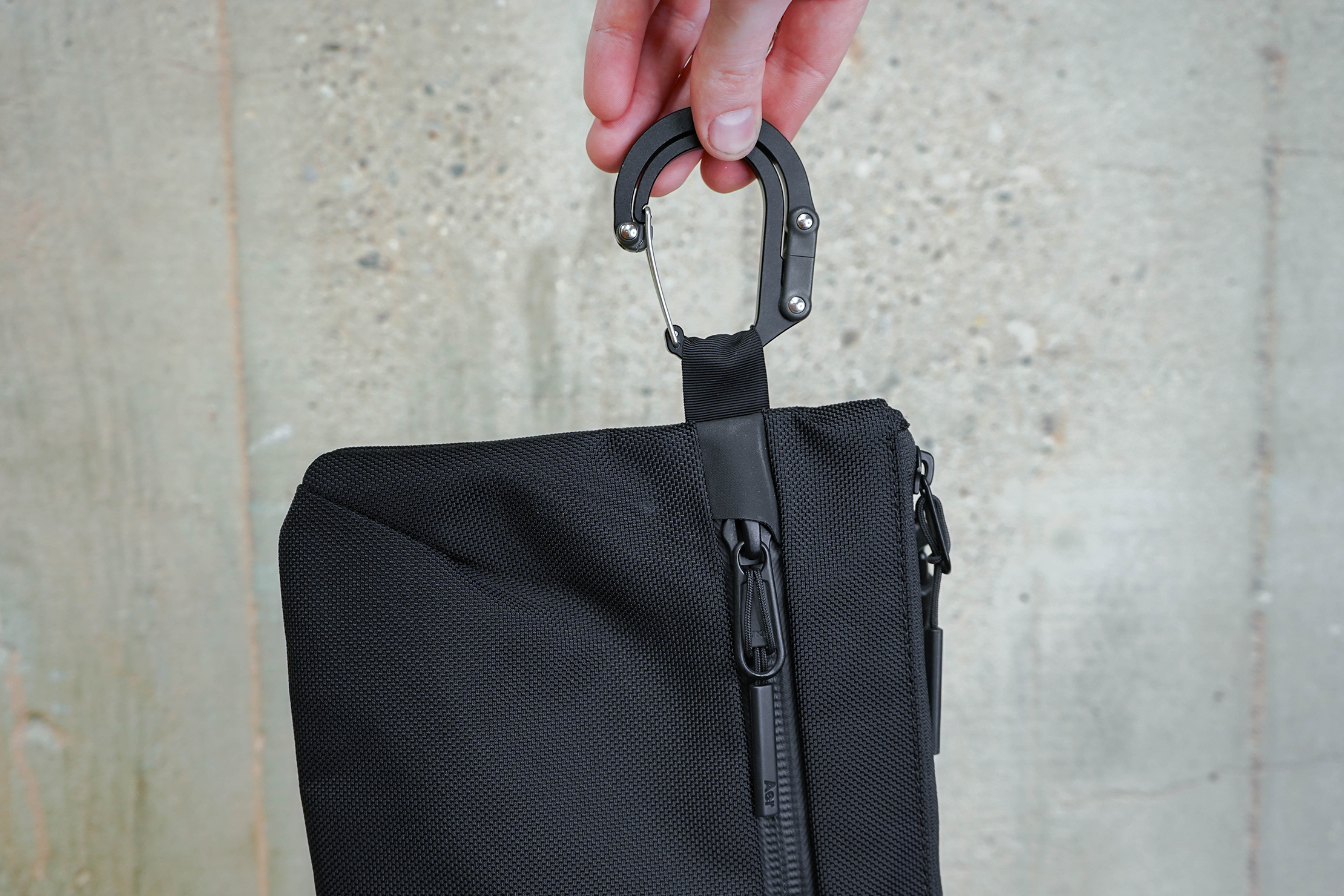 Additionally, you'll find a small loop on the left side of the pouch. During testing, we've attached a Heroclip here to hang the sling bag up in situations where we don't want to place the pouch on the floor (bars, bathrooms, less-than-clean hostels, etc.). But you can also use it to carry stuff externally—a good luck charm, a flashlight, a bear bell.
The final thing of note is the meaty zipper pulls. While we dig the look, these zipper pulls jingle, which isn't ideal. It bothers some people enough that they cut the pulls off and replace them with more silent ones. We're not that irritated by it, but we can understand how others get to that place.
Inside the Sling Pouch
The organization on the Aer Sling Pouch is one of our favorite things about it. It's minimalistic without being too simplistic.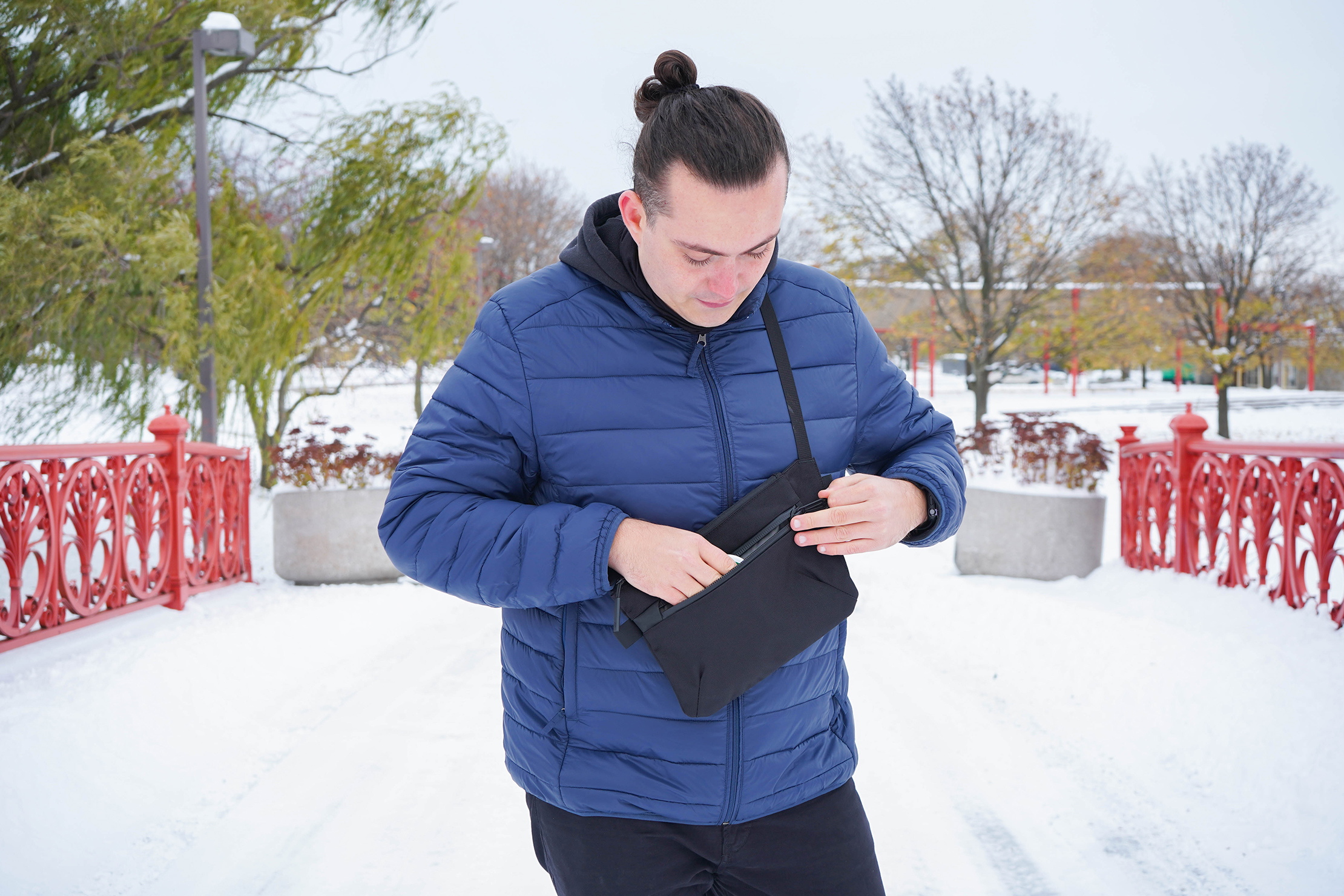 For starters, there's the quick-grab pocket on the front. As we've already mentioned, we're not huge fans of the fact that it opens and closes with a YKK Aquaguard zipper. While this zipper offers great water-resistance, it is more difficult to work.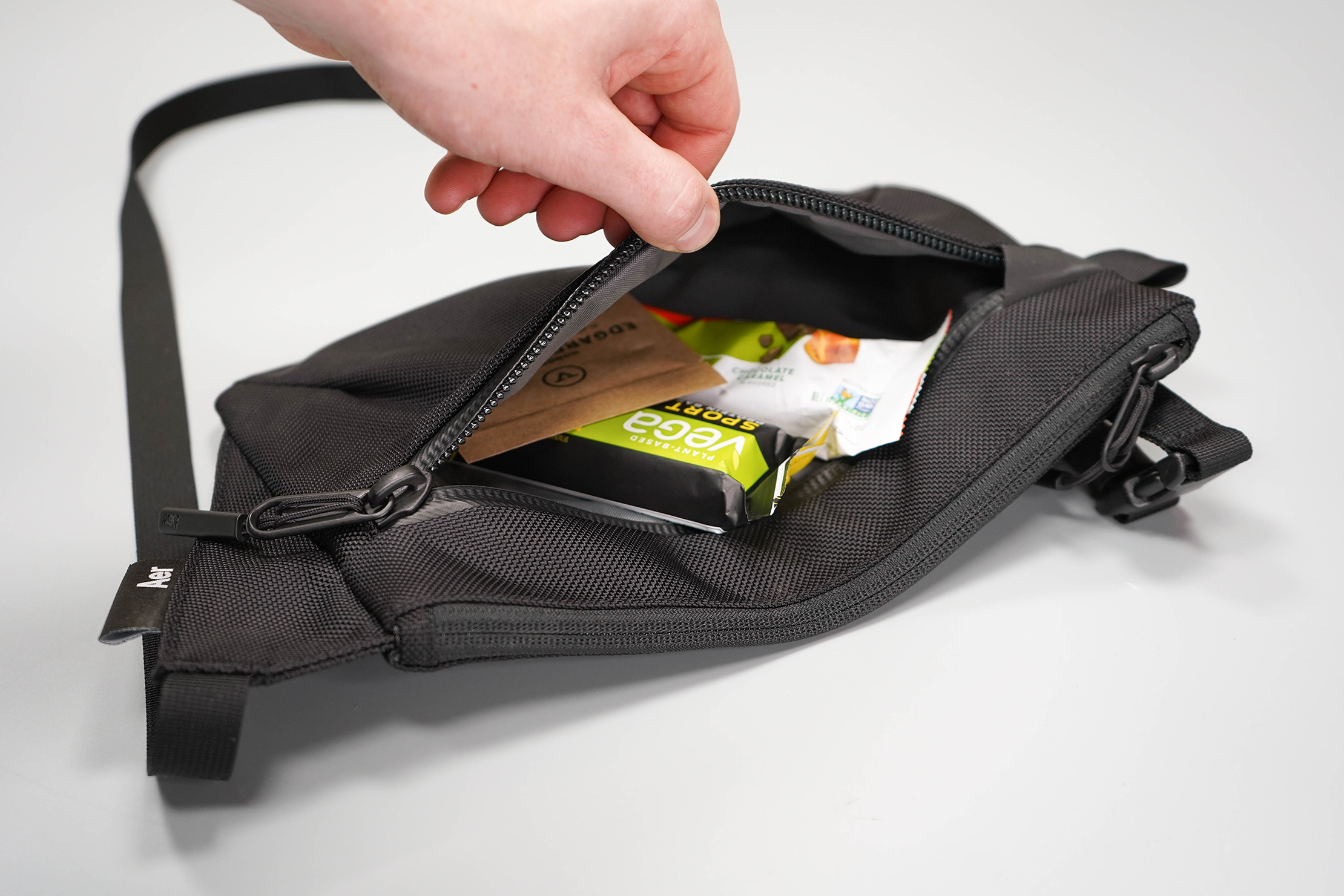 This pocket has zero internal organization, which is fine by us. It's a good spot to throw those quick-grab items: a snack to fight off impending hanger, your favorite comic strip when you just need a laugh, extra cash. Whatever you need.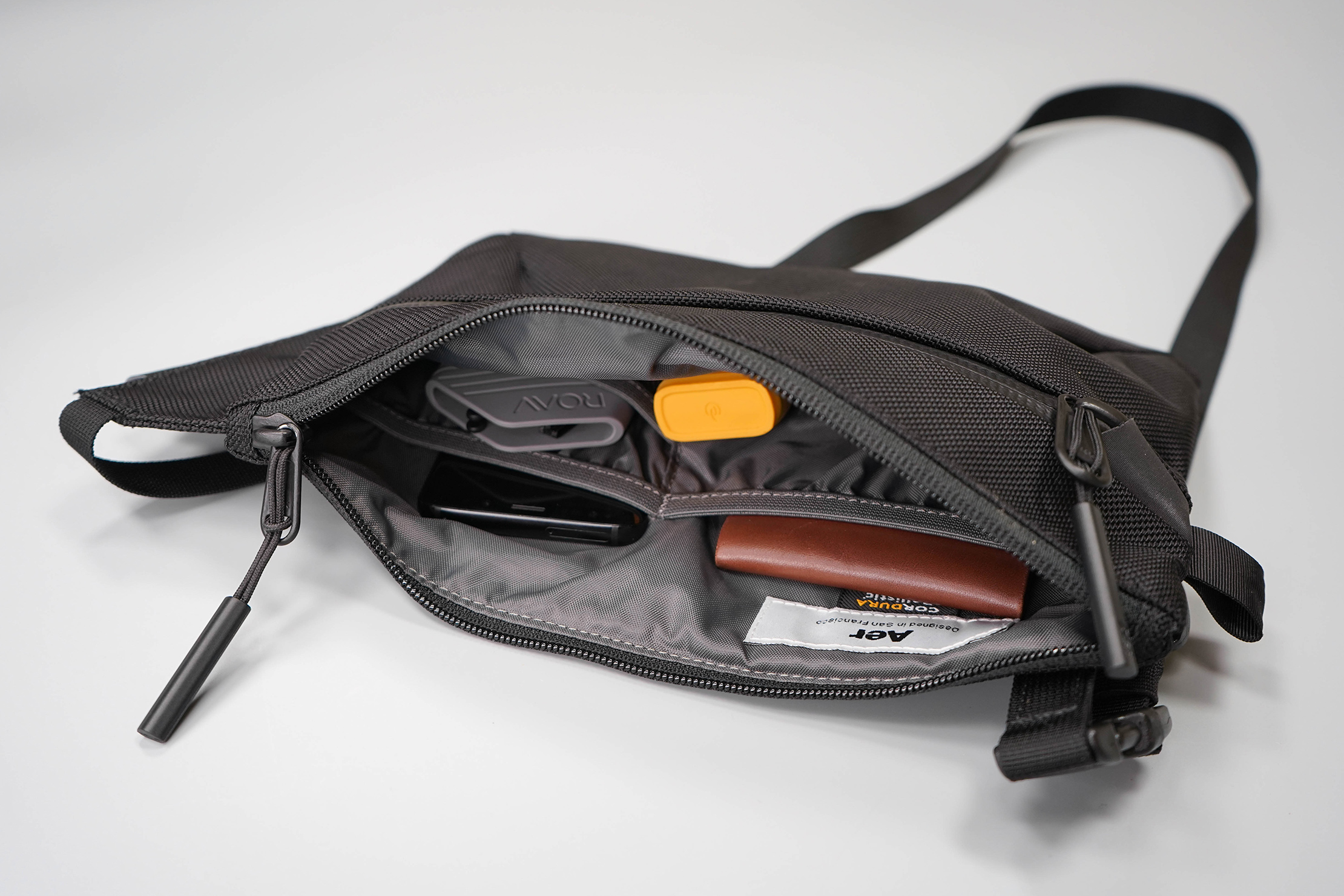 Then there's the main compartment. Inside, there are two divider pockets and one small, mesh pocket. We've put our phone in one of the divider pockets, our wallet in the other, and various things in the mesh pocket—Apple AirPods, earplugs, or coins depending on the situation.
The rest of the space in this compartment is open—great for sunglasses, a power bank, or whatever larger items you may have. The boxy shape allows you to fit a variety of stuff, making this pouch nearly as versatile as your adventures.
And that's it.
For us, this pouch has the ideal amount of organization. It just feels right, you know? Great for daily carry, as a personal item on flights, even for quick hikes or bike rides.
Durability & Testing
We've put the Aer Sling Pouch to the test for three weeks in Detroit, Michigan. And we've been digging it. It simply works. As long as you're okay rocking the handbag aesthetic, you're going to love this thing (we have, anyway).

As far as durability is concerned—this is Aer we're talking about here. The exterior is made of fabric that was developed for military body armor. So, yeah, it looks great. And we don't expect that to change anytime soon.
Usage Timeline
Initial Usage
Condition: Excellent
Premium look & feel with high-quality materials & sleek black colorway.
Sits comfortably (more so when worn on the front rather than the back of the body).
Strap adjuster is a bit sticky.
Has a purse-like aesthetic.
2 Weeks of Use
Condition: Excellent
As per usual for Aer, everything is looking as good as new.
Access the Pro Community Discussion
Get your questions about the Aer Sling Pouch answered from our team and the Pro Community right here on the page. Plus, join discussions with other members about gear, guides, and more.
Other Bags & Luggage Reviews