Aer City Sling Review
The Aer City Sling combines clever design, versatile organization, and a surprising amount of capacity—all while keeping a low profile.
Our Verdict
Unlock the Pro Summary
Save time. Get access to brief summaries of our reviews so you can browse and make decisions more efficiently.
Pros
Versatile organization in a small package
Streamlined look and intuitive feel
Excellent size and form for a sling—not too small, but not too bulky
Cons
Can be unwieldy when fully expanded and loaded to capacity
You'll hear the jingly-jangly zippers while walking around
The elastic strap keepers don't stay in place when flipping the sling from front to back
Recent Pack Hacker Video
Technical Details
Capacity

2.4l

Weight (lb)

.8 lb (0.4 kg)

Denier

1680D

Dimensions

4.5 in x 12.5 in x 3.5 in (11.4 x 31.8 x 8.9 cm)

Notable Materials

CORDURA® Ballistic Nylon, YKK Zippers, Duraflex Hardware

Manufacturing Country

China

Warranty Information
Full Review
Get up to 10% off Aer • Join Pack Hacker Pro
Whether you're new to the world of slings or a seasoned connoisseur, finding a sling that can be carried and organized just the way you like is a game-changer. Welcome the Aer City Sling. This 2.4-liter sling, which can also be worn as a waist pack, comes to us from a brand known for delivering good-looking, dependable gear designed for city travel.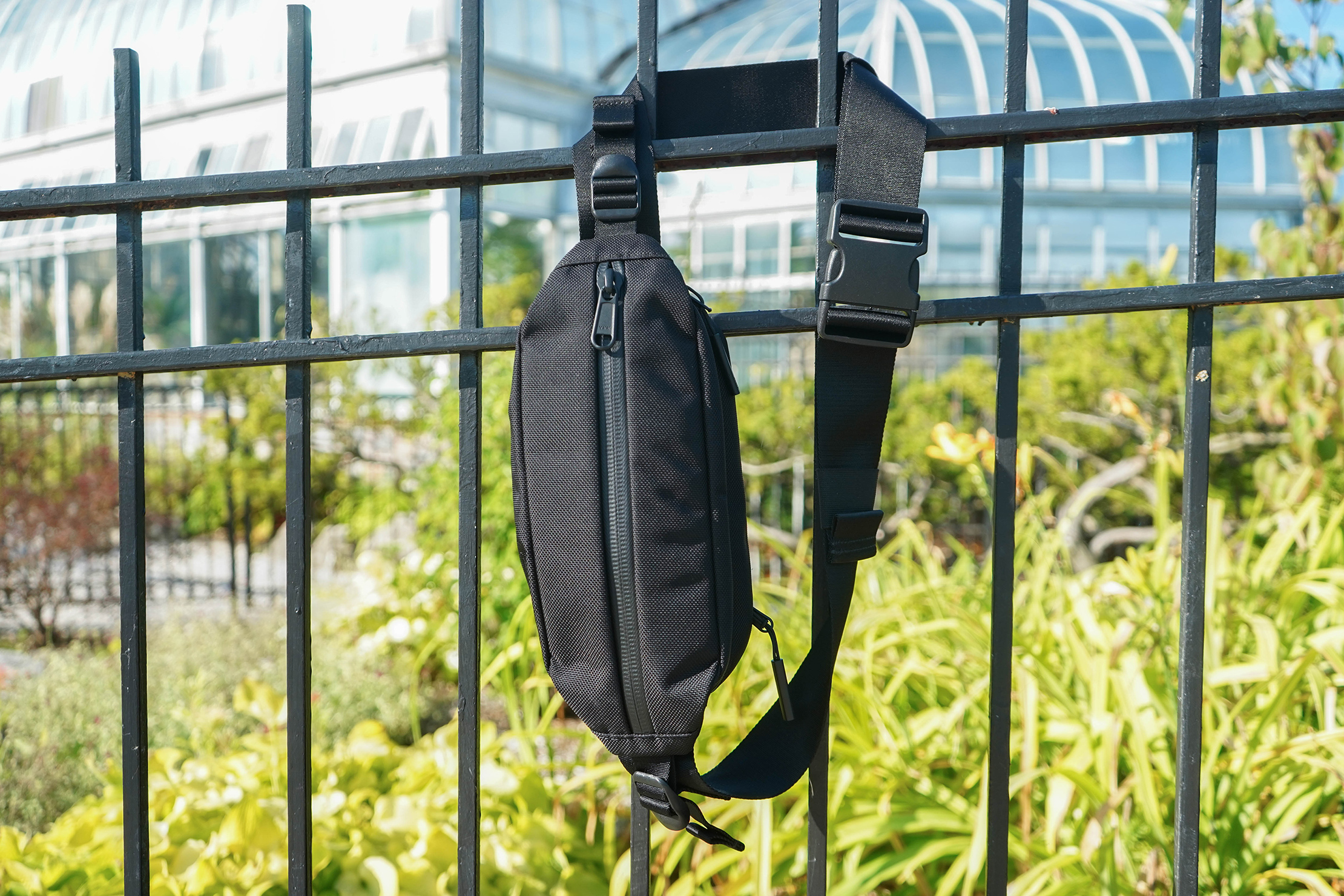 This particular sling originates from a popular collaboration Aer did with Oshman's Sporting Goods in Japan. It started as a Japan-exclusive but, fortunately for all of us, the design was so popular that Aer decided to offer it here in the U.S.
We've been testing the City Sling for about a month in Detroit, San Francisco, and Los Angeles, including four flights and the first-ever Pack Hacker meetup—shoutout to everyone who was there and saw this thing in person! It went with us between airports and cityscapes across the map, and we've been taking plenty of detailed notes along the way.
So, let's dive right in.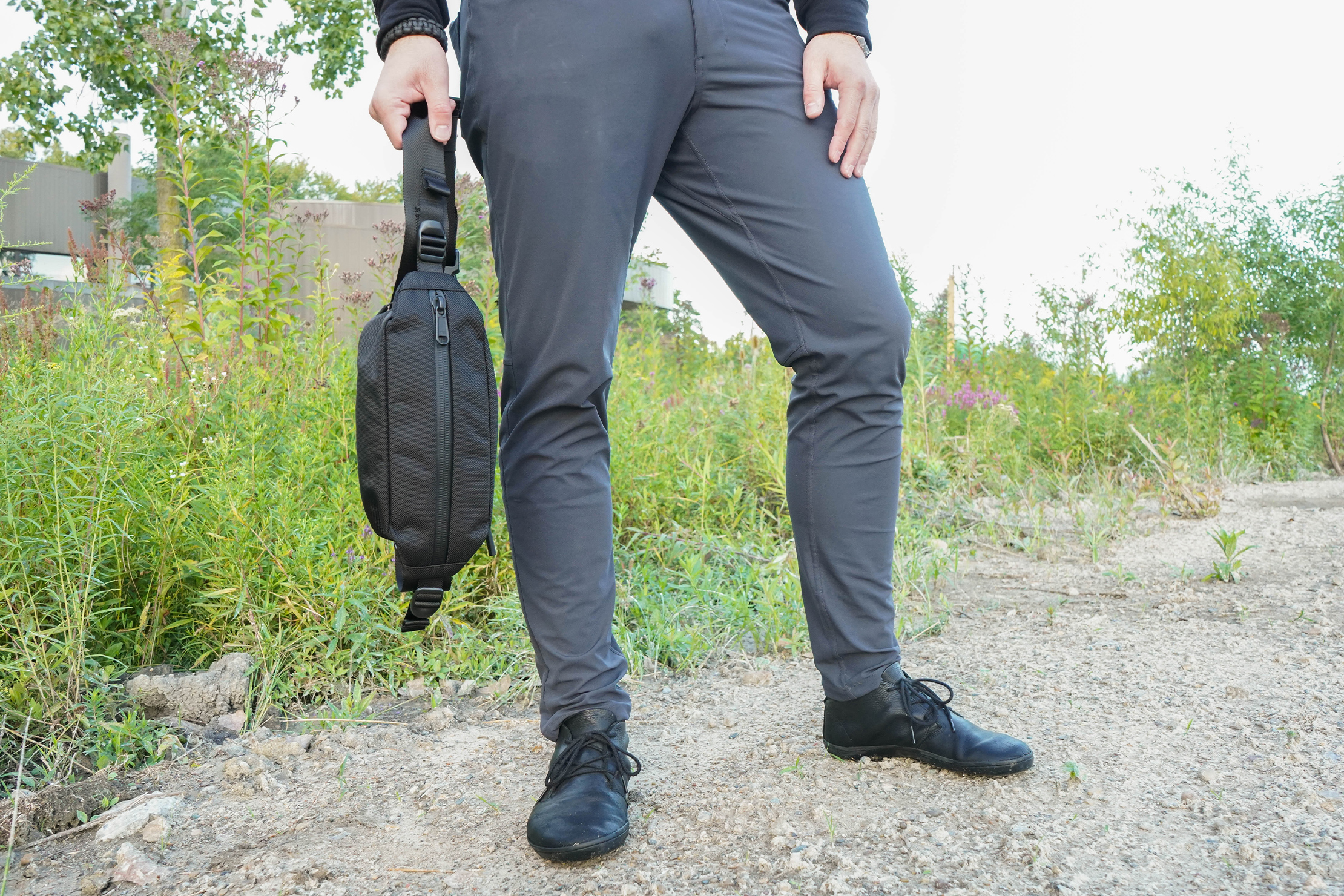 Materials & Aesthetic
We're no strangers to Aer products here at Pack Hacker—in fact, the Aer Travel Pack 2 is one of the highest-rated products we've tested—and the City Sling fits in with the rest of the brand's usual aesthetic—all black everything.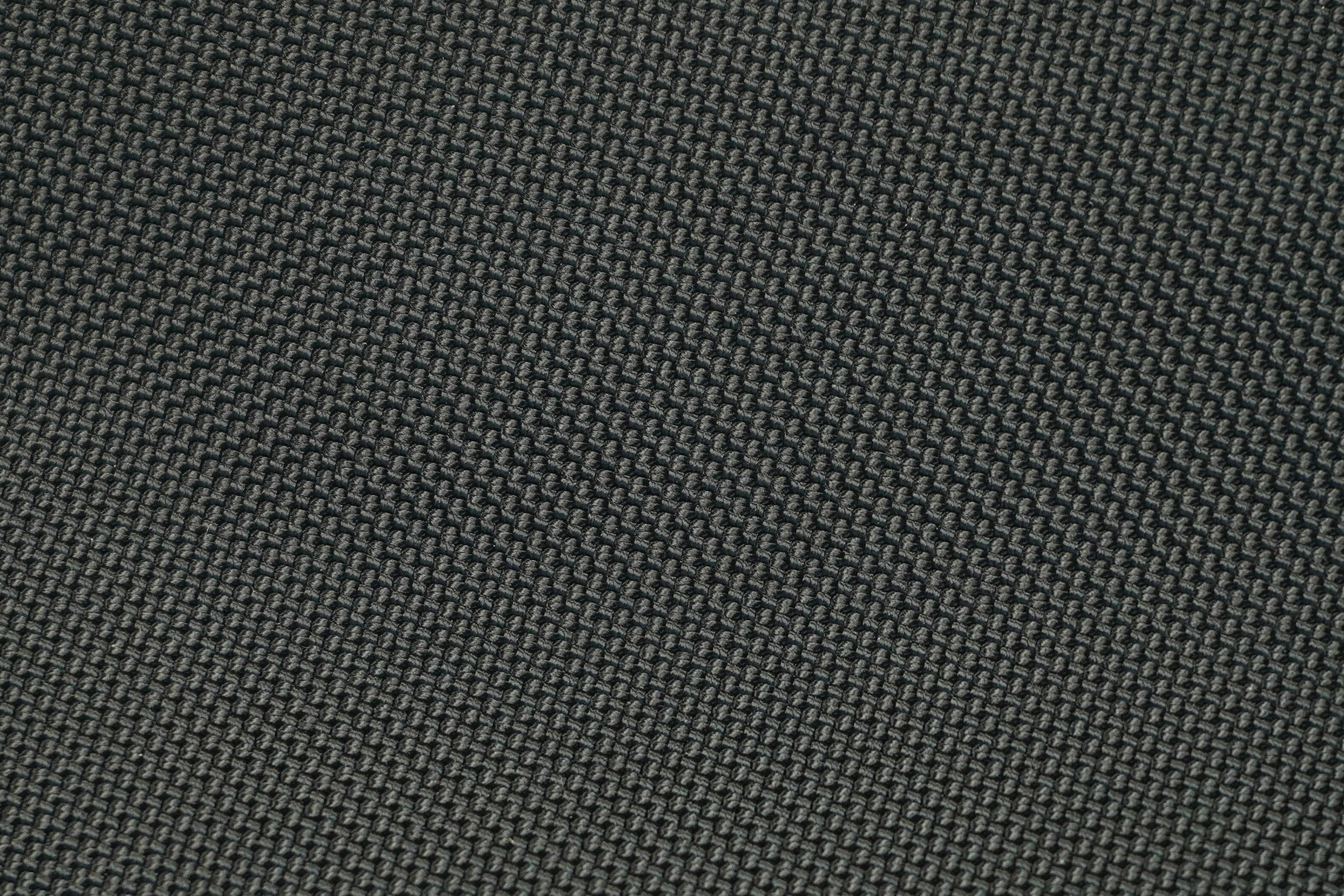 The City Sling also uses the same quality materials we've come to expect. We're talking 1680D Ballistic Nylon, Duraflex hardware, and hardy weather-resistant YKK AquaGuard zippers that are as much a design element as a functional one.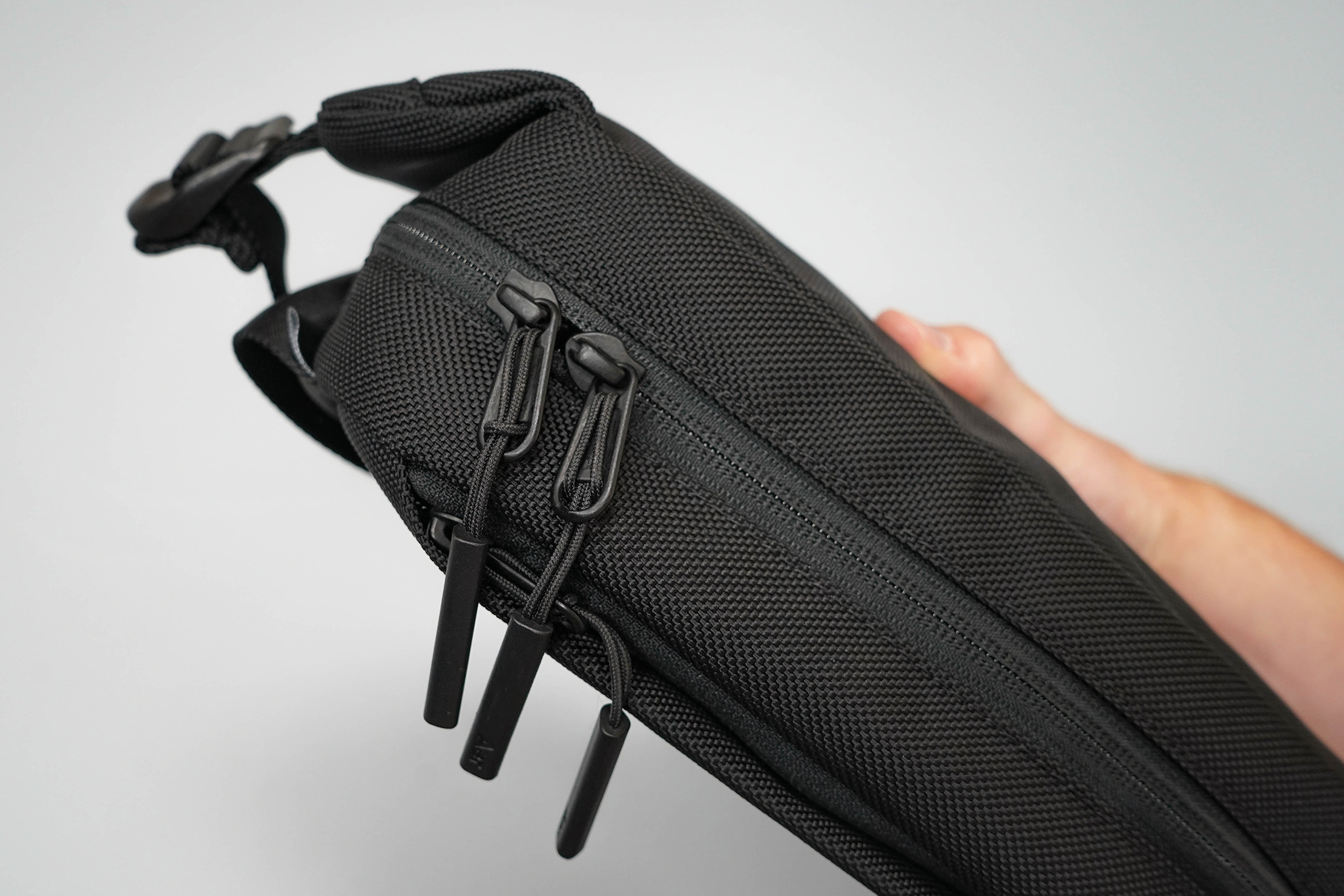 As far as the overall look of the Aer City Sling, it's safe to say we're fans. We're suckers for a sleek, minimal, black-on-black design (who isn't?), but as always, we decided to poll our Instagram audience for their thoughts, too. The results were positive, with 72 percent of respondents giving it a thumbs up—and our audience can be pretty choosy, so that's impressive.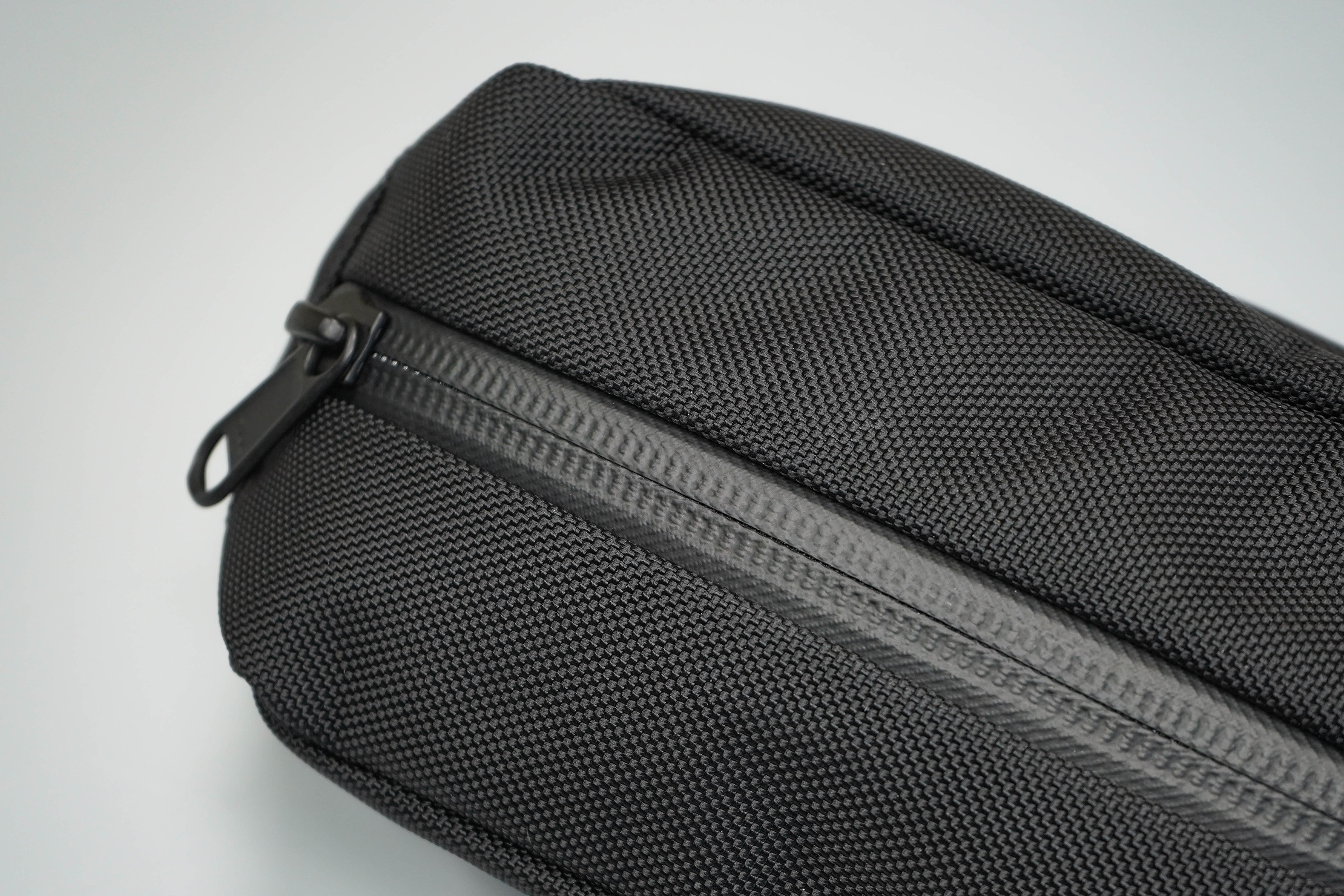 At the time of this review, the Aer City Sling comes in two different colorways: Black and Gray. Black seems to be the most popular colorway—it's currently sold out while we're writing—but the Gray is pretty sharp too.
Something to note: the material used for the Gray colorway is 900D Polyester, not 1680D Ballistic Nylon. It should be solid, but not as robust as the Ballistic Nylon—so keep that in mind.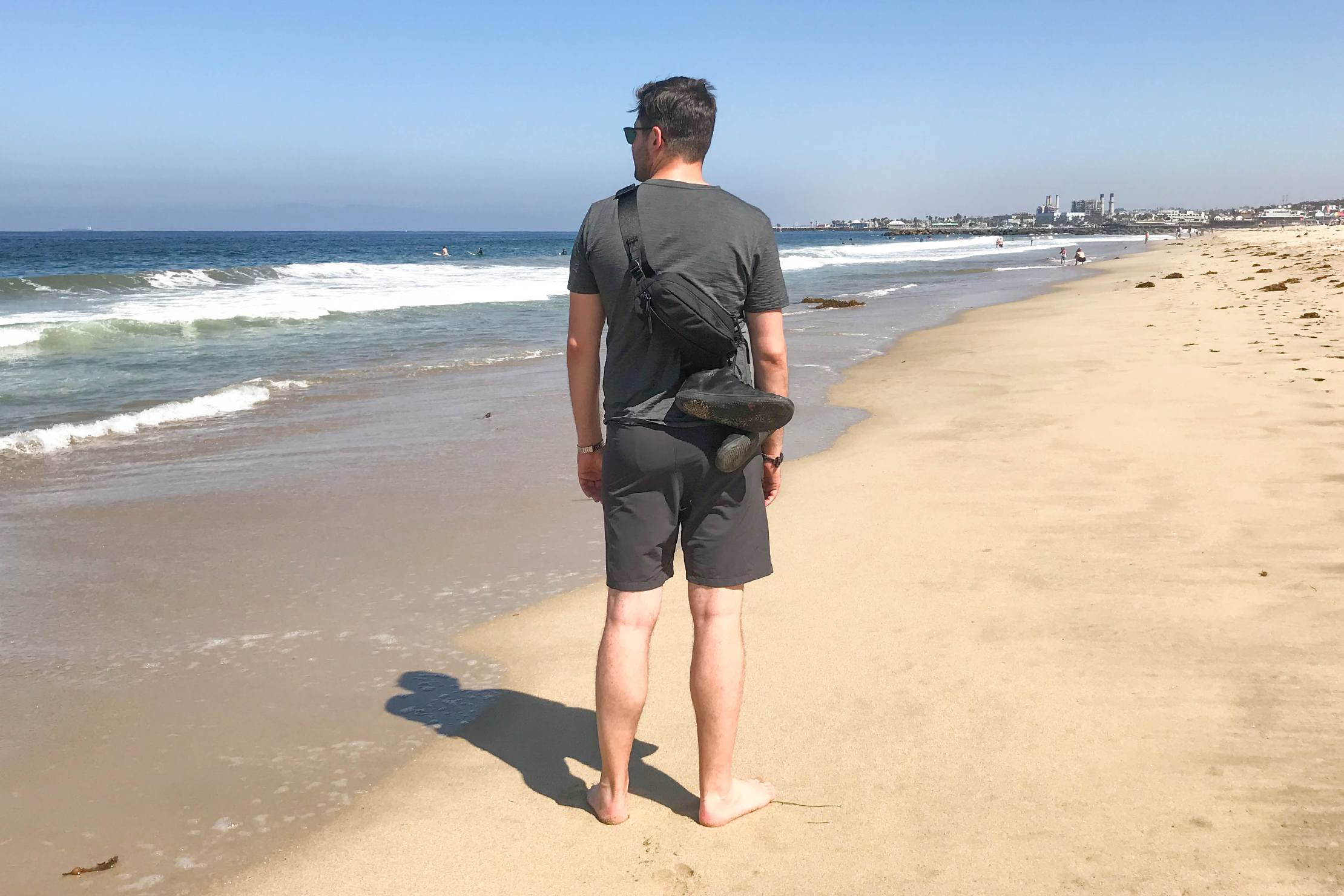 We're typically big fans of sleek minimal branding, and that's exactly what we've got here on the City Sling. There's a small Aer logo tag right below the compression strap, which is almost hidden while the bag is in use. You'll also find the logo stamped into the zipper pulls—they look clean and you'll barely notice them.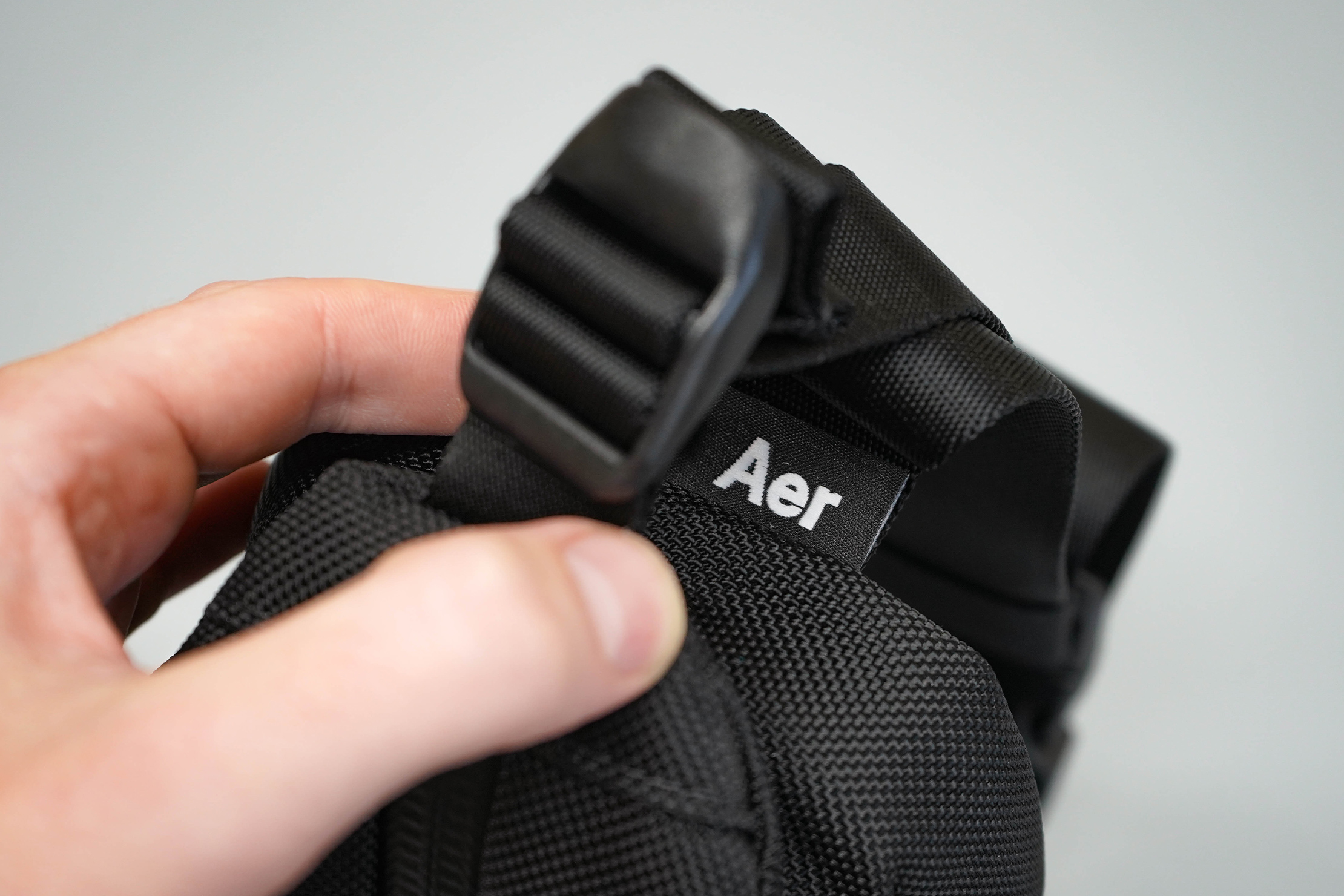 External Components
Starting with the sling strap: it's wide, comfortable, and easy to adjust. And you can't help but notice that massive Duraflex buckle on the front.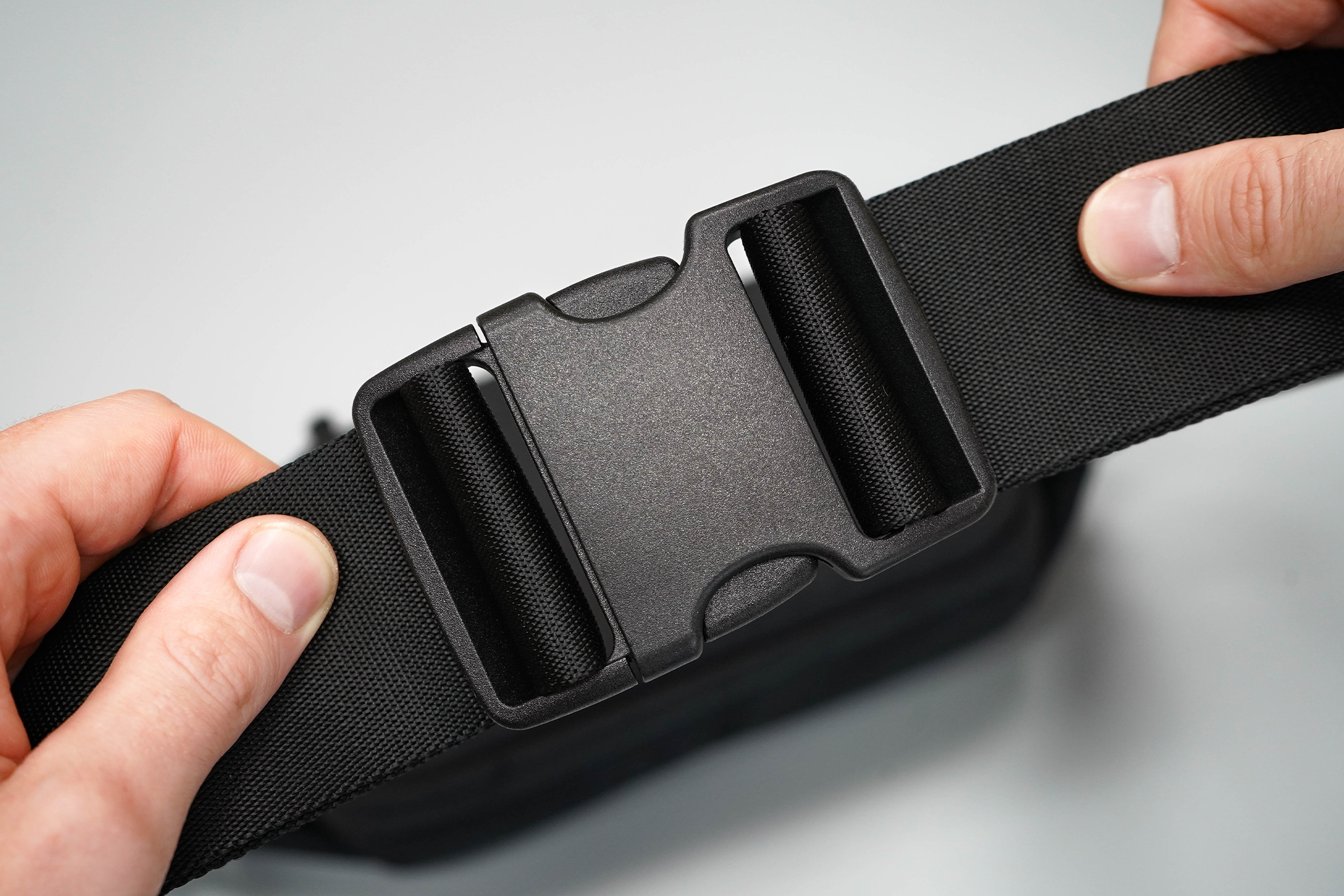 The giant buckle is easy to use but can be a little obtrusive if you're wearing the City Sling Pack Hacker style—sling in the front, travel bag on the back. (Okay, not sure if we can claim this carry as our own, but we've been digging it lately.) It's great for navigating airports or new destinations, but you'll definitely feel the buckle between your back and the bag.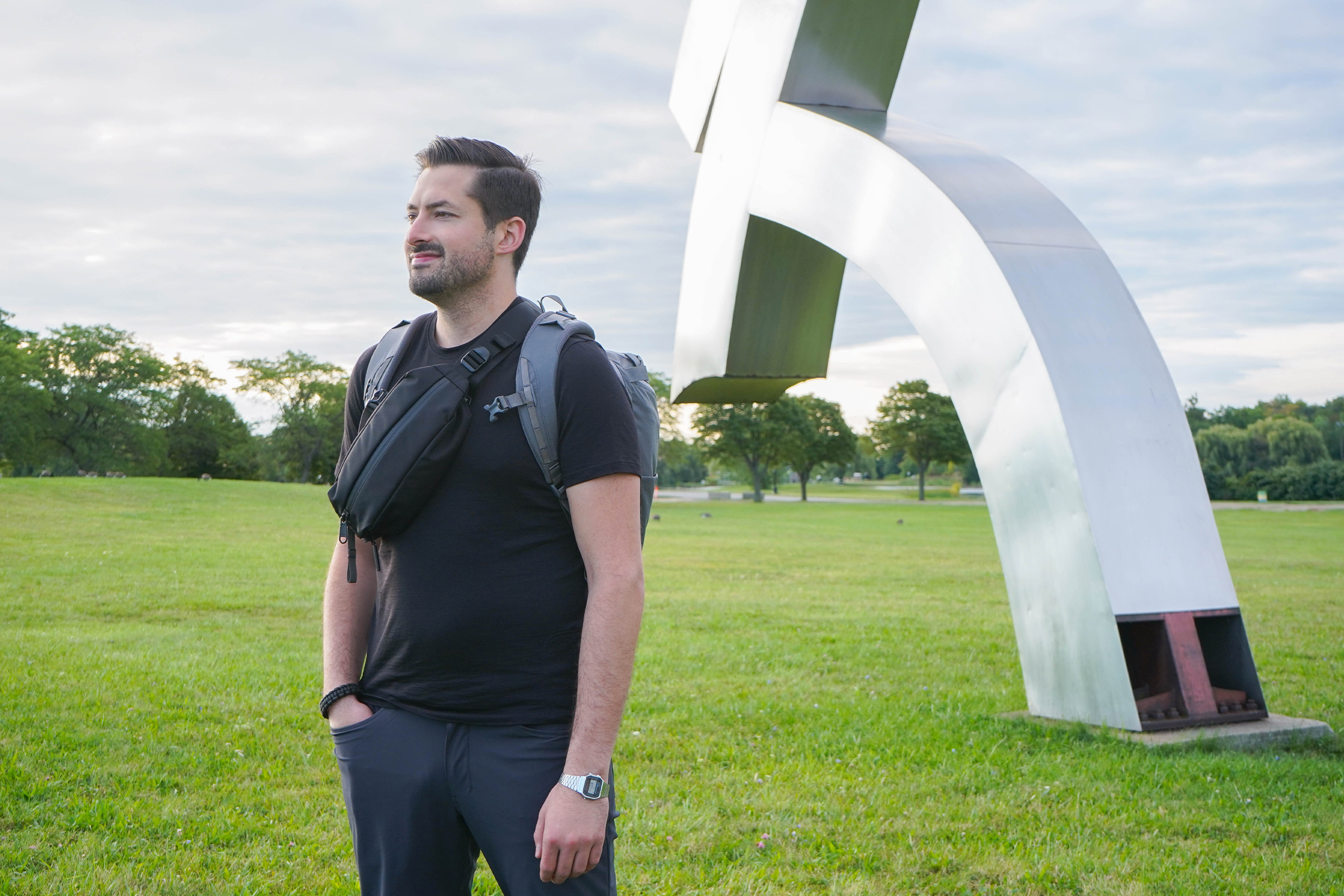 We were using a smaller (and super comfortable) bag during testing, but this could be more of an issue if you're wearing a bigger (40-liter or so) backpack. If you have a smaller frame, you can give yourself a bit more room by tightening the buckle completely to one side and leaving the other one loose. This isn't really a con, just a usage note.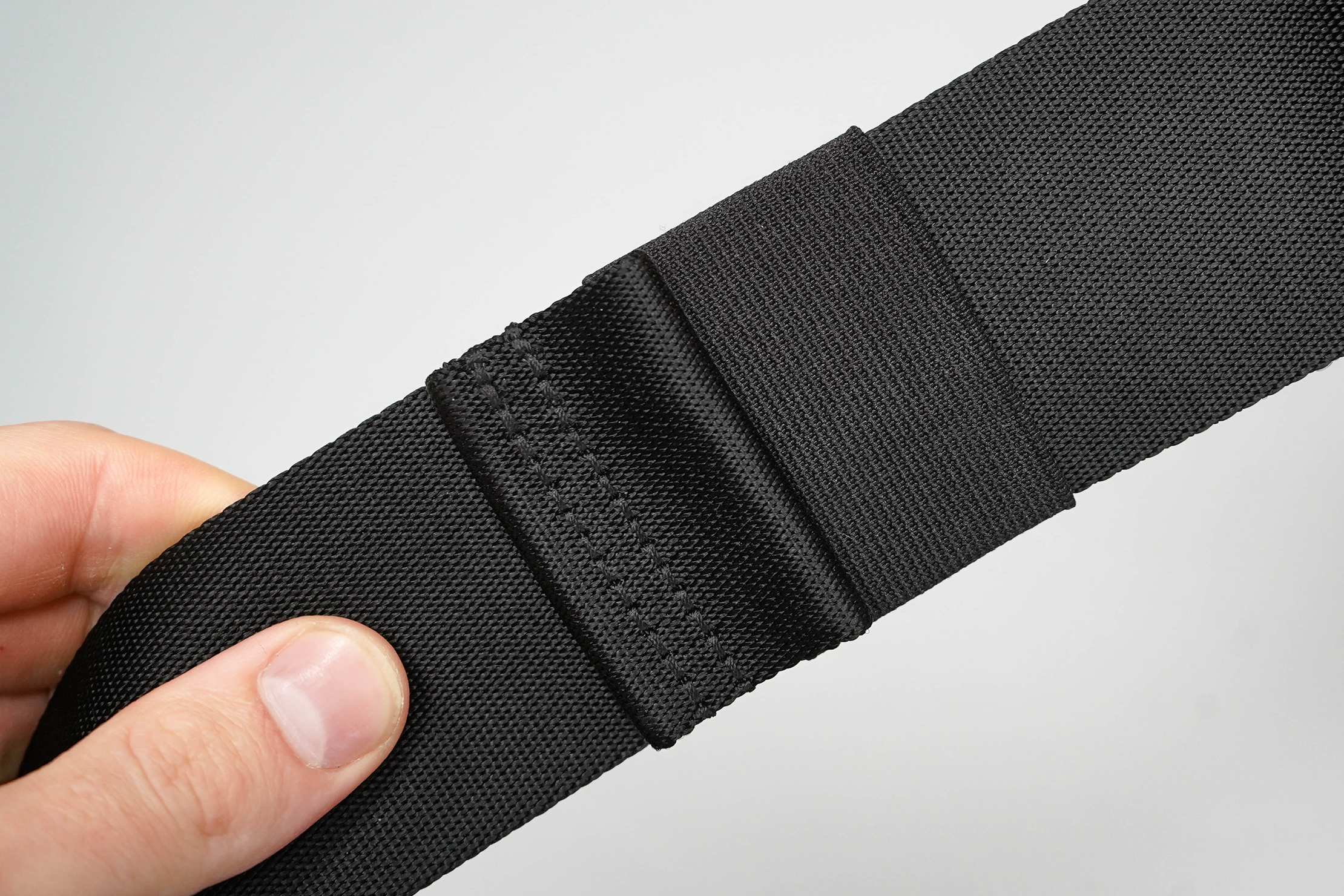 Next, you'll find strap adjusters on each side that are held down by elastic keeper—a design very similar to the CODEOFBELL X-POD. The elastic keepers are a nice touch to help keep things tidy, but they tend to slide too easily on the seatbelt-like nylon strap. If you're flipping this thing from front to back often, they'll slide out of place causing the excess strap to dangle (and you know how we feel about dangling straps).
Another benefit to this sling strap being anchored more towards the middle is that you can wear it like a waist pack (bum bag, fanny pack, whatever you want to call it).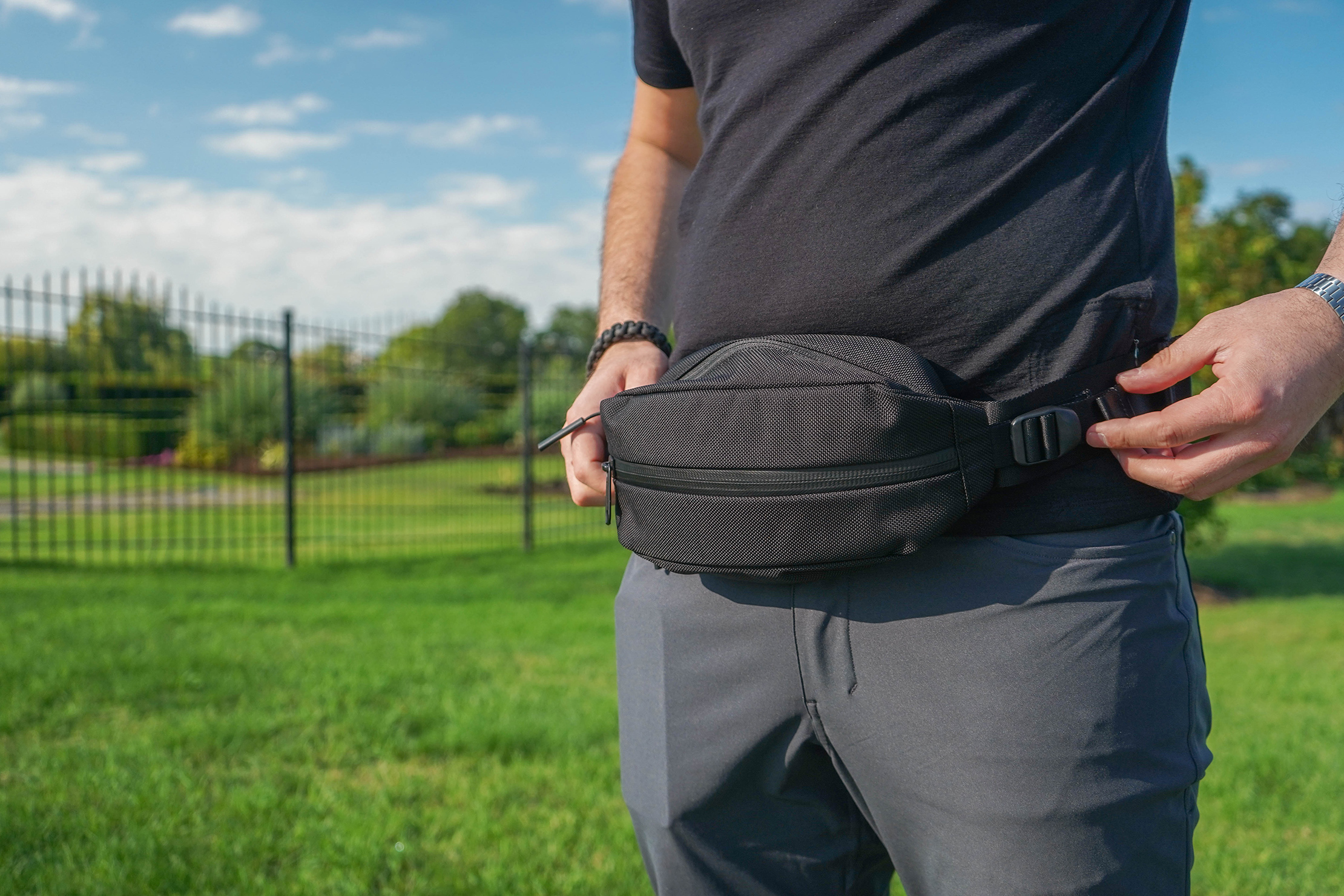 Now, we've been asked a lot to compare the Aer City Sling and the Aer Day Sling 2 (which we did a video on, so we won't get into it here). They're both great slings, but one of the main differences between them is the City Sling can be worn as a waist pack while the Day Sling is really designed to be a sling only. Since both carry options are possible with the Aer City Sling, it's a great option for those who want that versatility.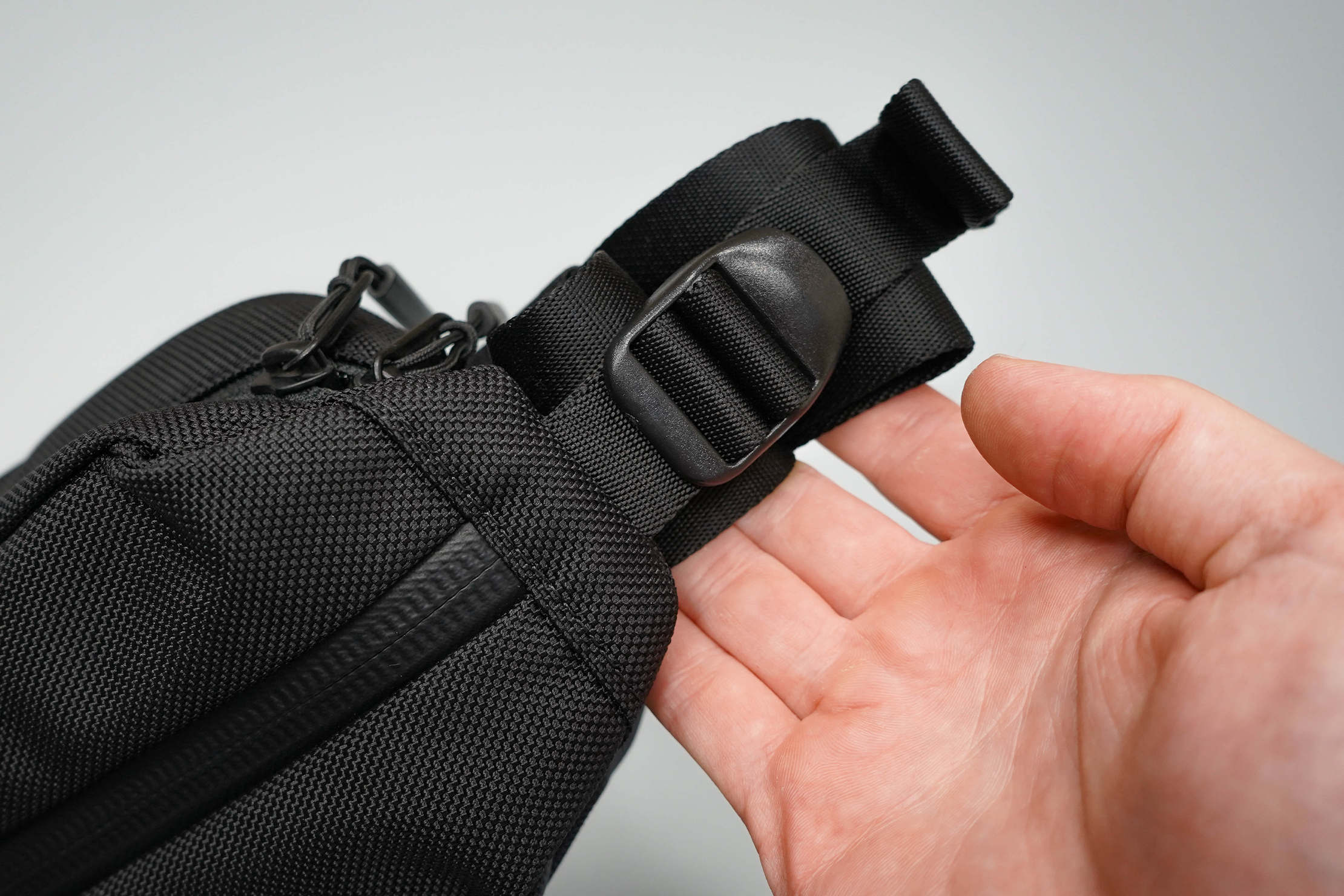 There's a compression strap at each end of this sling. These are great to adjust the size of the main compartment—leave them loose if you want to cram this thing full or tighten them down to keep a low profile.
This design works well, but we wish Aer would have included some strap management here. If you don't have the sling exactly centered on your back while you're wearing it, these straps can rub against the back of your arms as you're walking around. It's a minor gripe, but we're here for the details folks!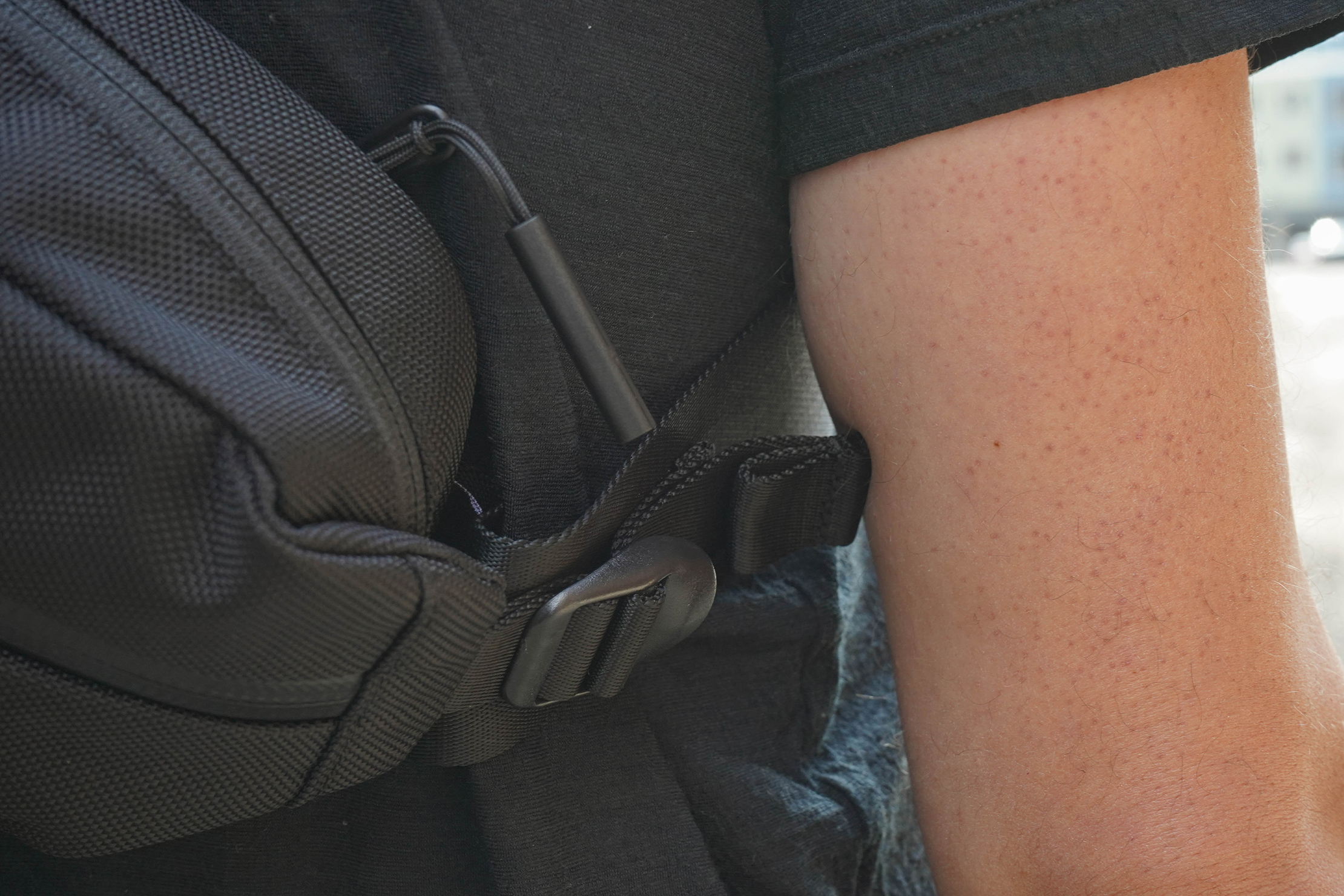 The last thing to note—the zippers are jangly. There's no way around it. Unless you want to cut off the zipper pulls and add your own silent ones, which we've seen people do. Otherwise, you'll hear these zippers jingle and jangle as you're walking around, especially if you're in a more quiet area.
Inside the Pack
The Aer City Sling has some solid pockets and organization going on.
For starters, there's a slim pocket on the back. It's a pretty secure exterior pocket since it rides against your body while in-transit. Plus, the folks at Aer opted for a smaller zipper that's somewhat hideable by the fabric welts, allowing you to tuck away the zipper and stay below the radar of those sneaky pickpockets.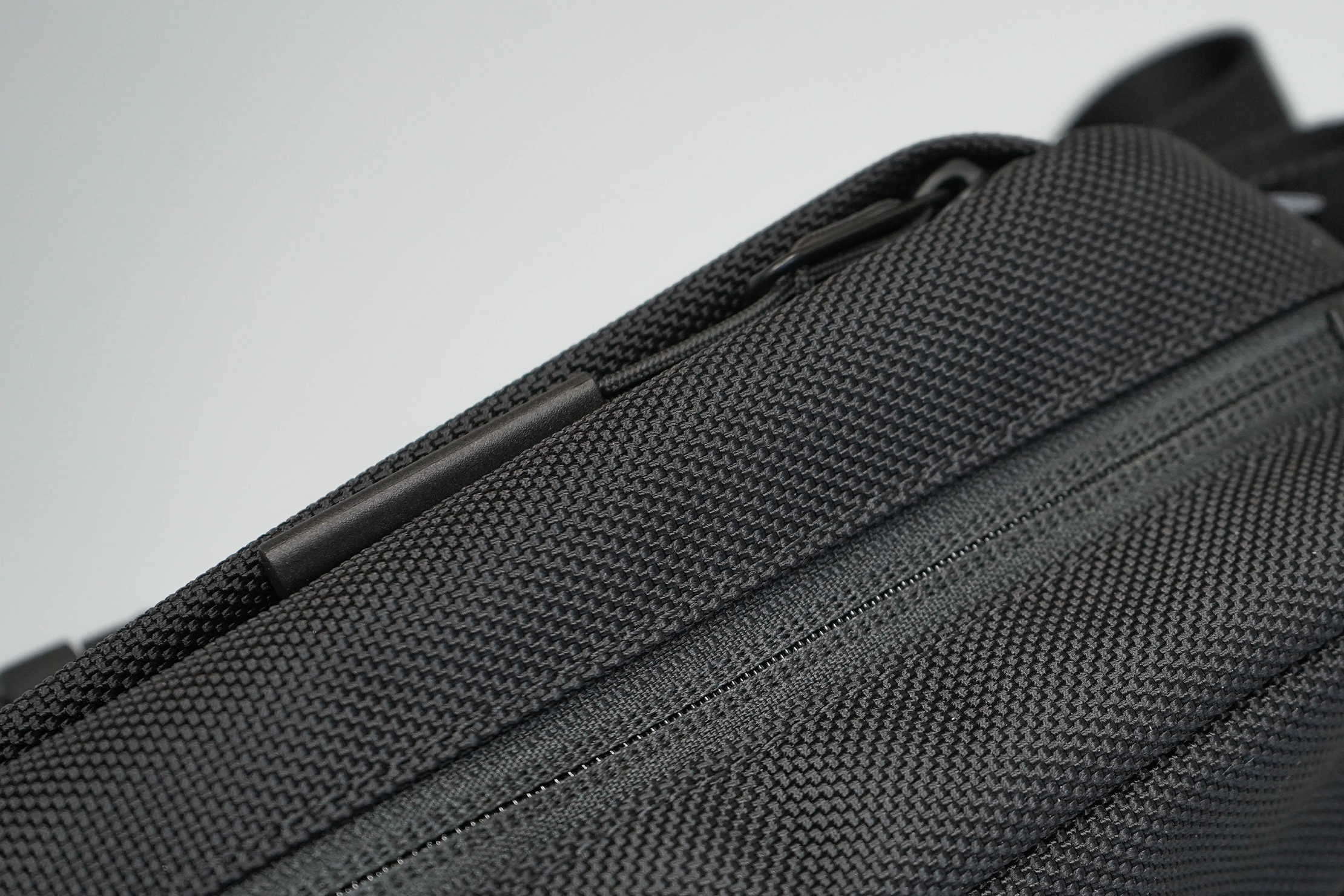 This pocket will fit a plus-sized iPhone comfortably and it's easy to take it in and out at an angle.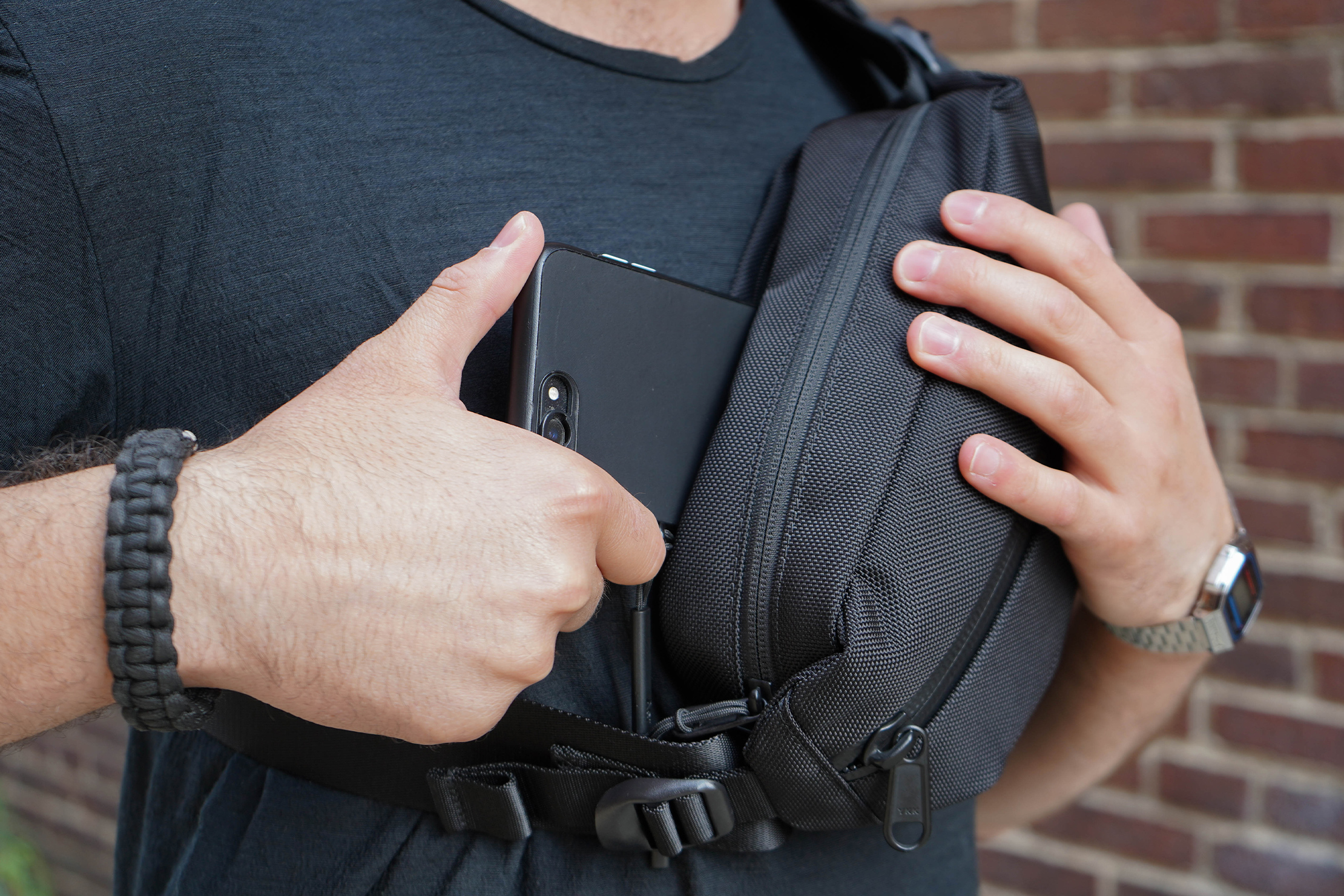 The front pocket of this sling opens up like a tiny duffle bag. We dig the way the capacity of this pocket goes all the way to the edges, even to where the fabric starts to come into the compression strap—so there's plenty of space available here.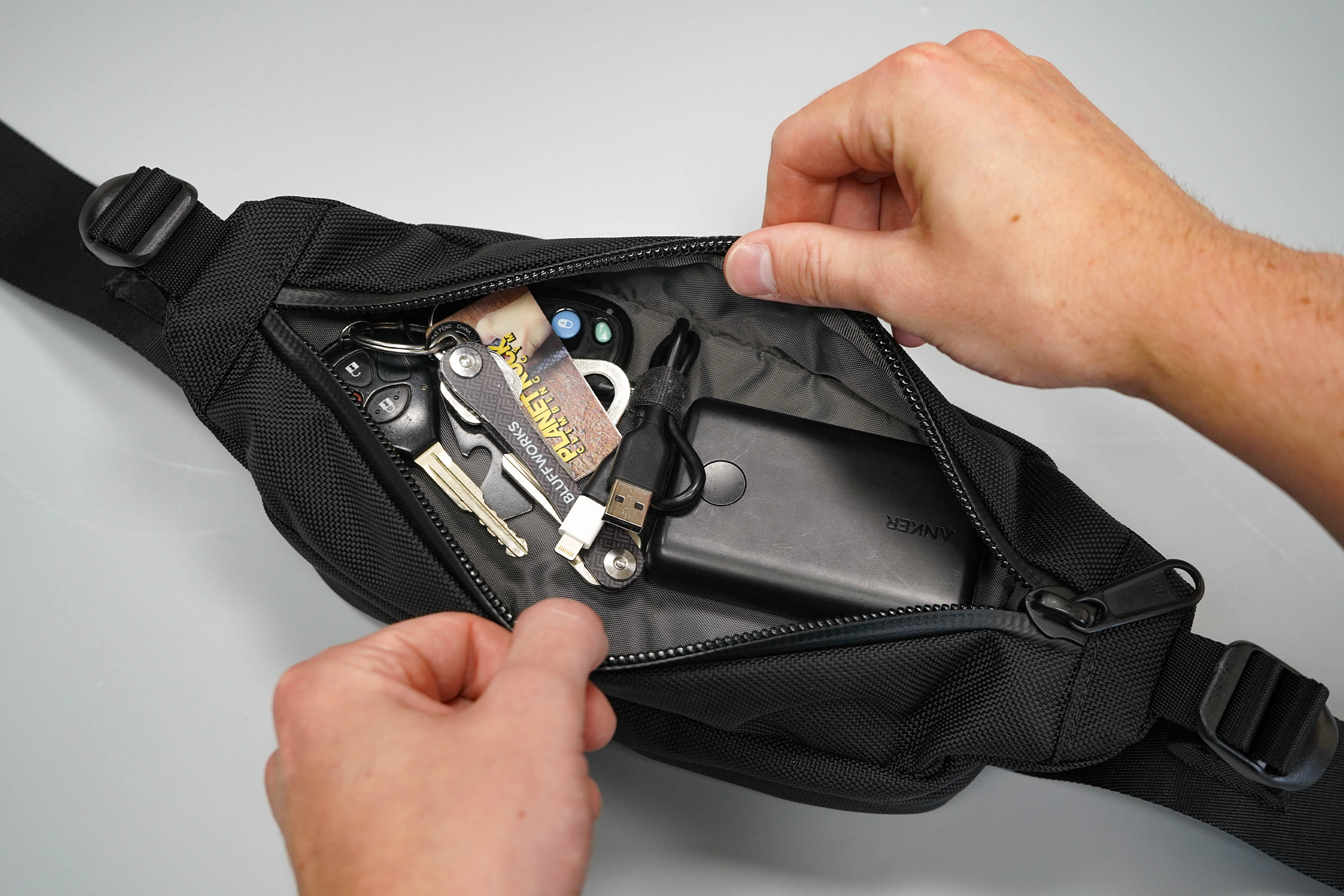 Within this front pocket is a plastic key clip to attach…you guessed it…your keys. Depending on how you have the sling configured, you could potentially unlock a door while keeping your keys attached to the sling. It might not work for you taller folks (or you may need to bend a bit) so your mileage may vary. The benefit of always leaving your keys attached? You'll always know where they are. Just grab the sling when you leave the house and you'll have everything you need.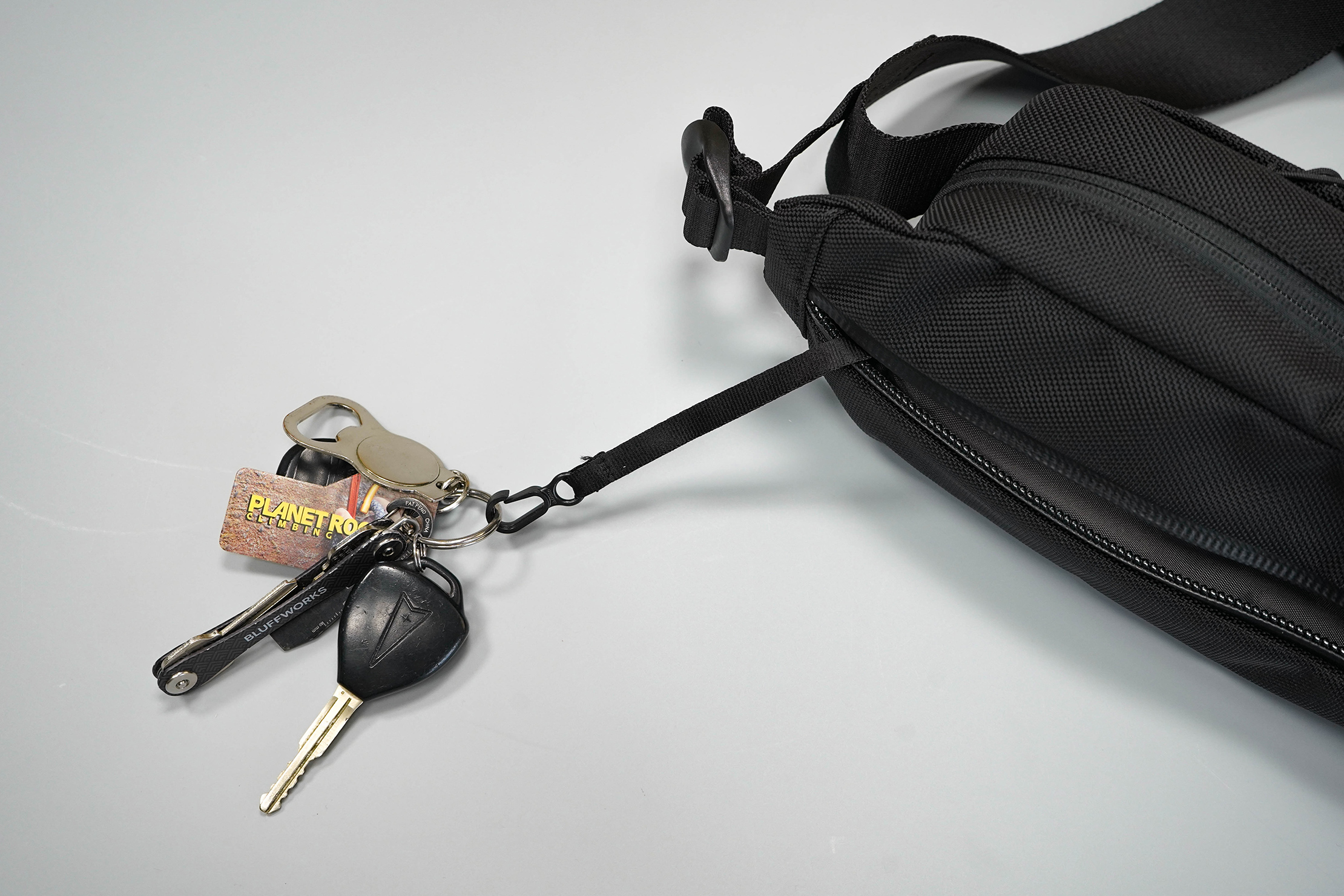 We've mostly been using this pocket to dump smaller items—a battery bank, keys, excess cords, etc.—but a lightweight compressible rain jacket can fit in here, too. You'll be maxing out the capacity, but it fits!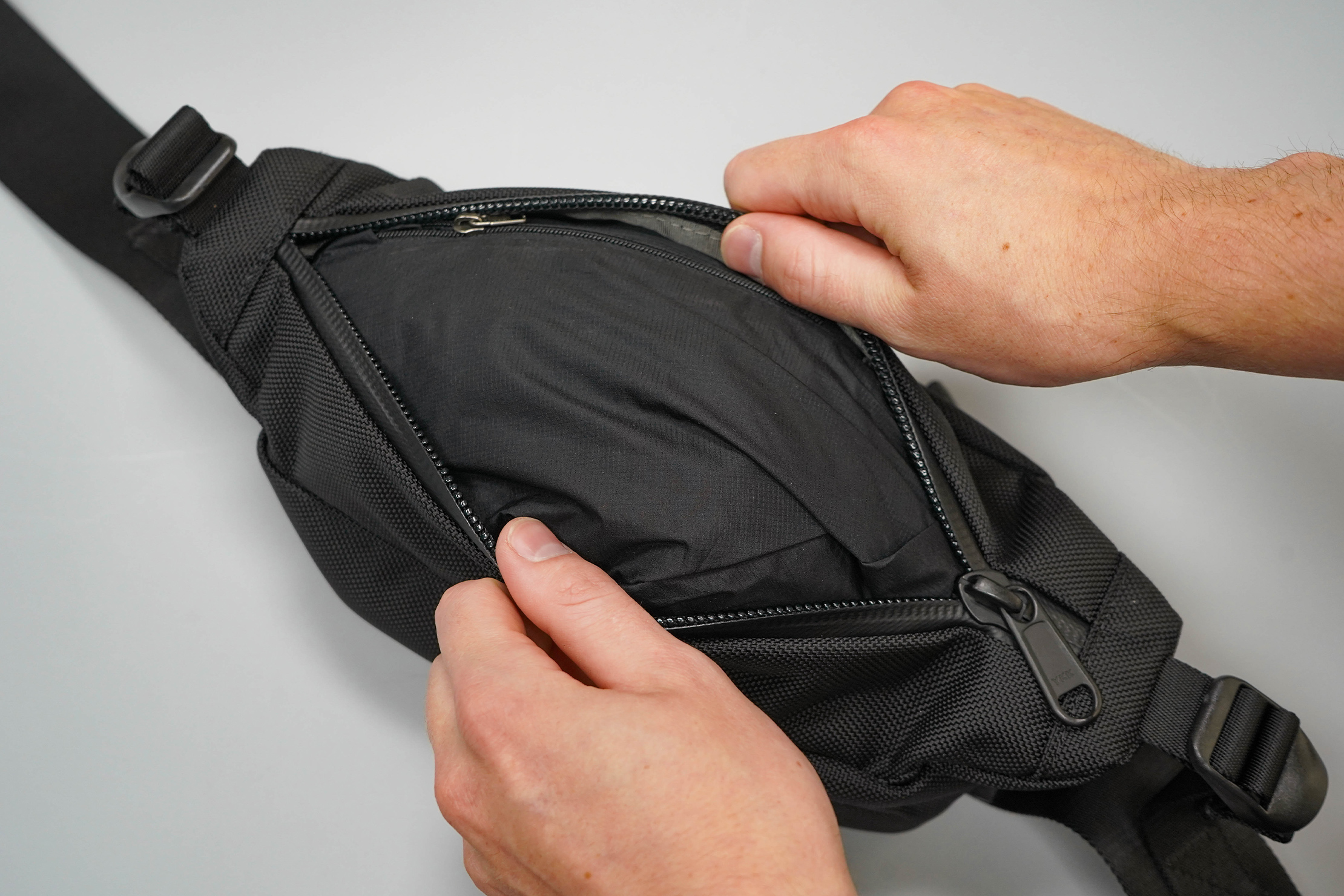 Now, on to the main compartment—the expandable part of the City Sling. You'll find generous dimension and organization, but if you don't want to use it, the compression straps keep everything tight. Plus, good news for all you gamers—a Nintendo Switch fits with no issues.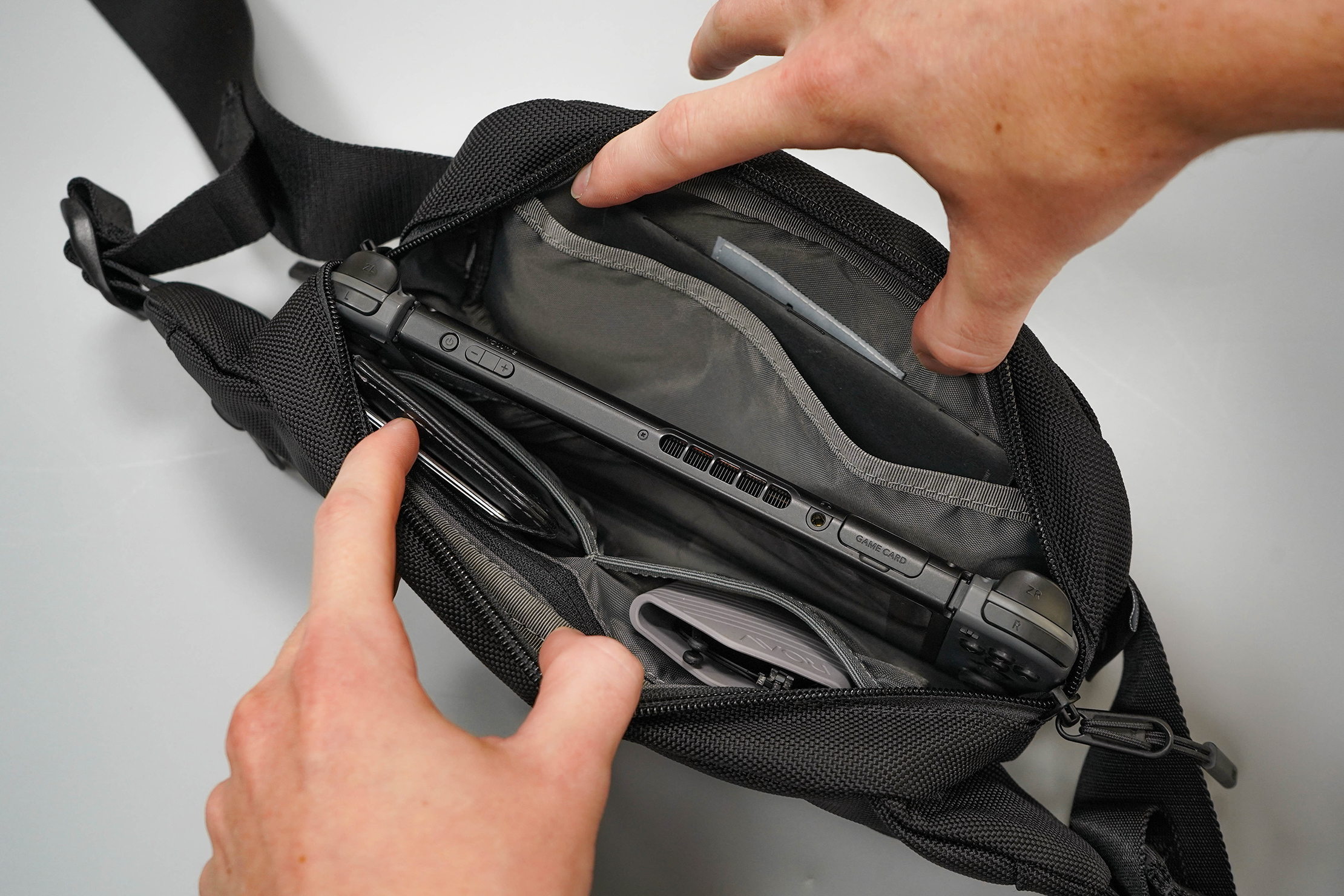 On the backside of the main compartment—the part you wear against your body—you'll find a flat open pocket that's good for a small notebook and a pen, or other small slim items.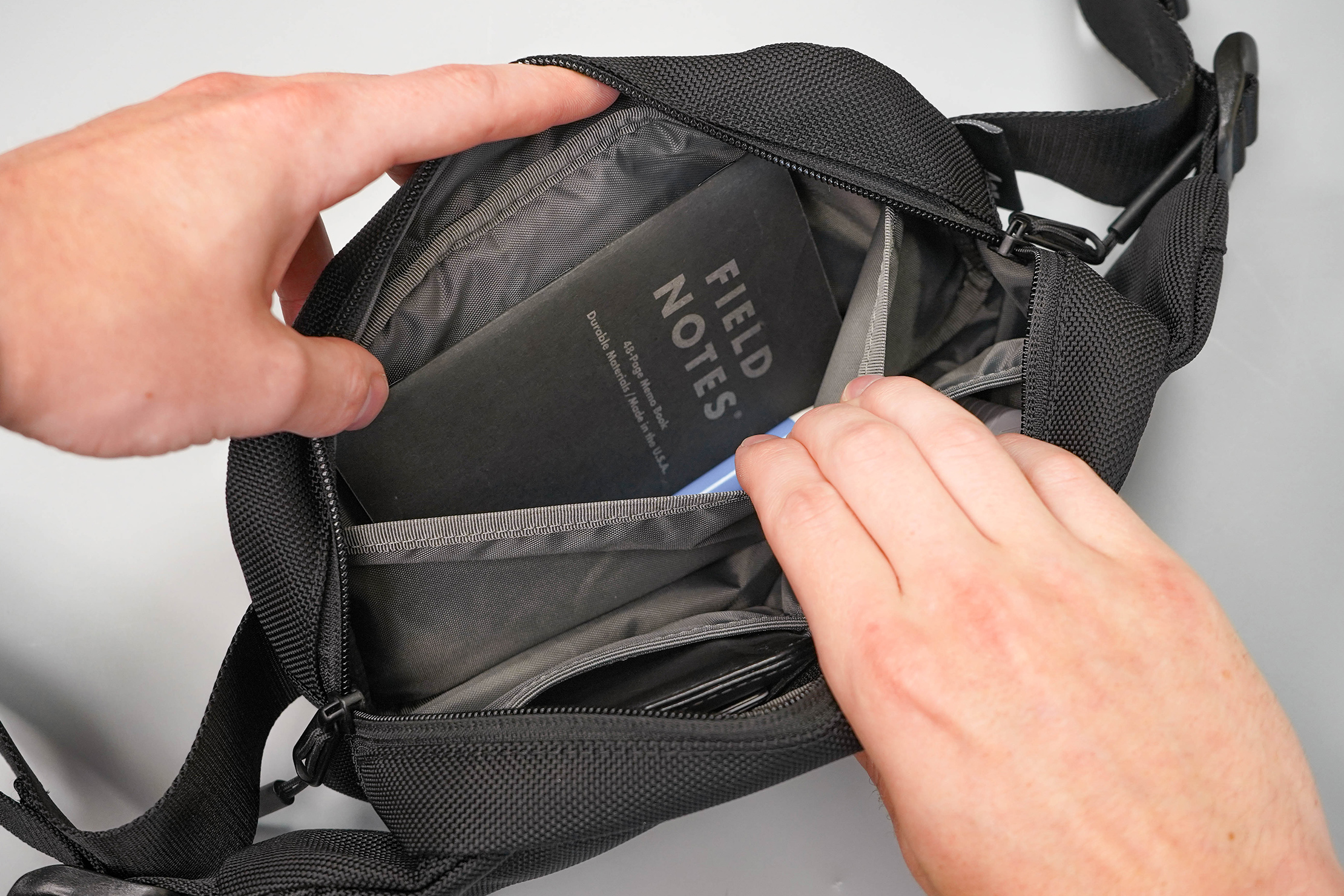 On the opposite side of the main compartment, you'll see two divider pockets with some elasticity at the top. The elastic helps keep things together, but these pockets don't hold items as securely as we've seen in some other slings.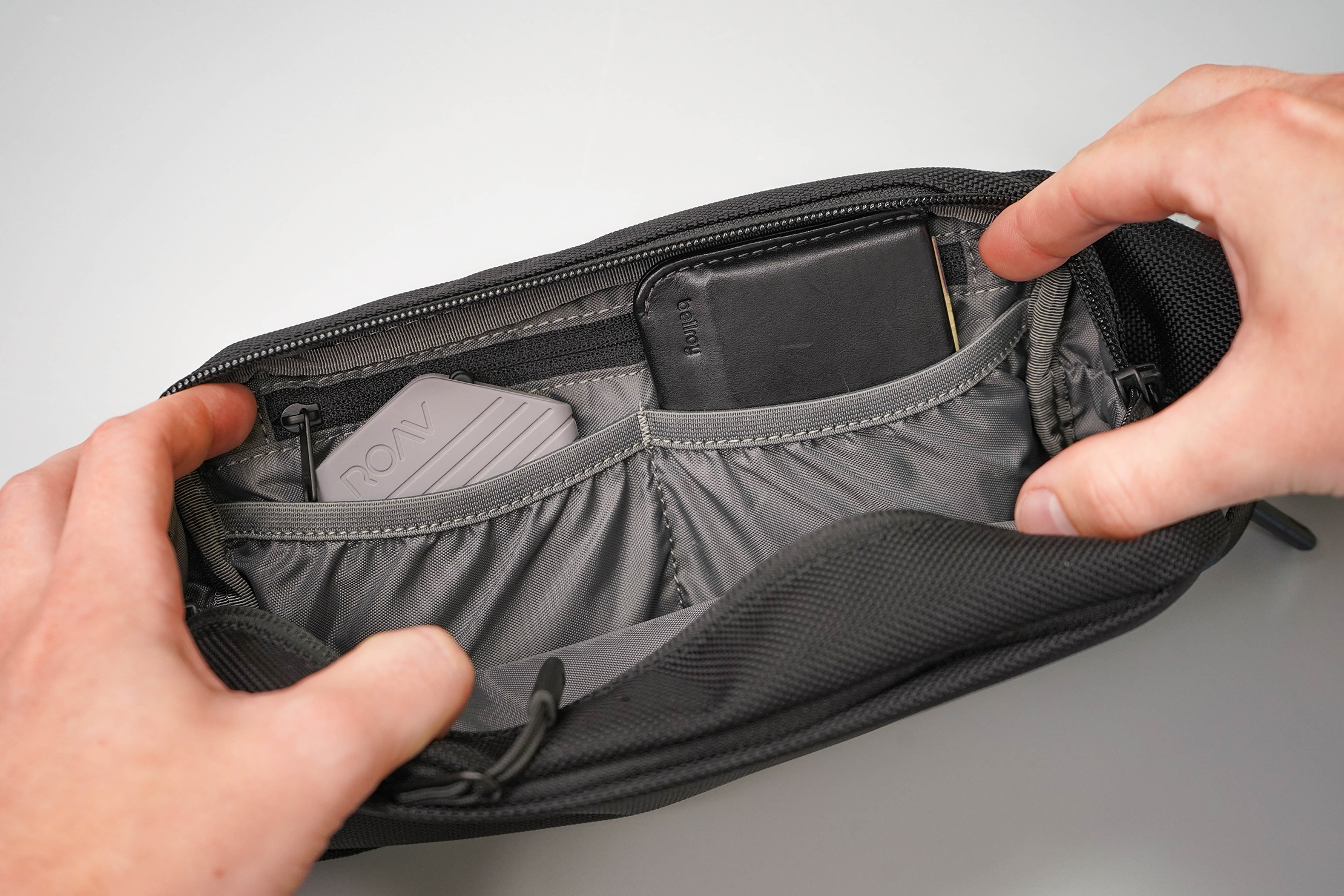 Behind those two divider pockets is a sneaky zippered pocket which is great for your passport, spare cash, or anything that you want to keep extra secure. Keep in mind that if you have taller items in those two divider pockets, it can sort of block access to the zippered compartment—which can get annoying if you're accessing the zipper frequently (or add to the security, if you're a glass-half-full kind of person).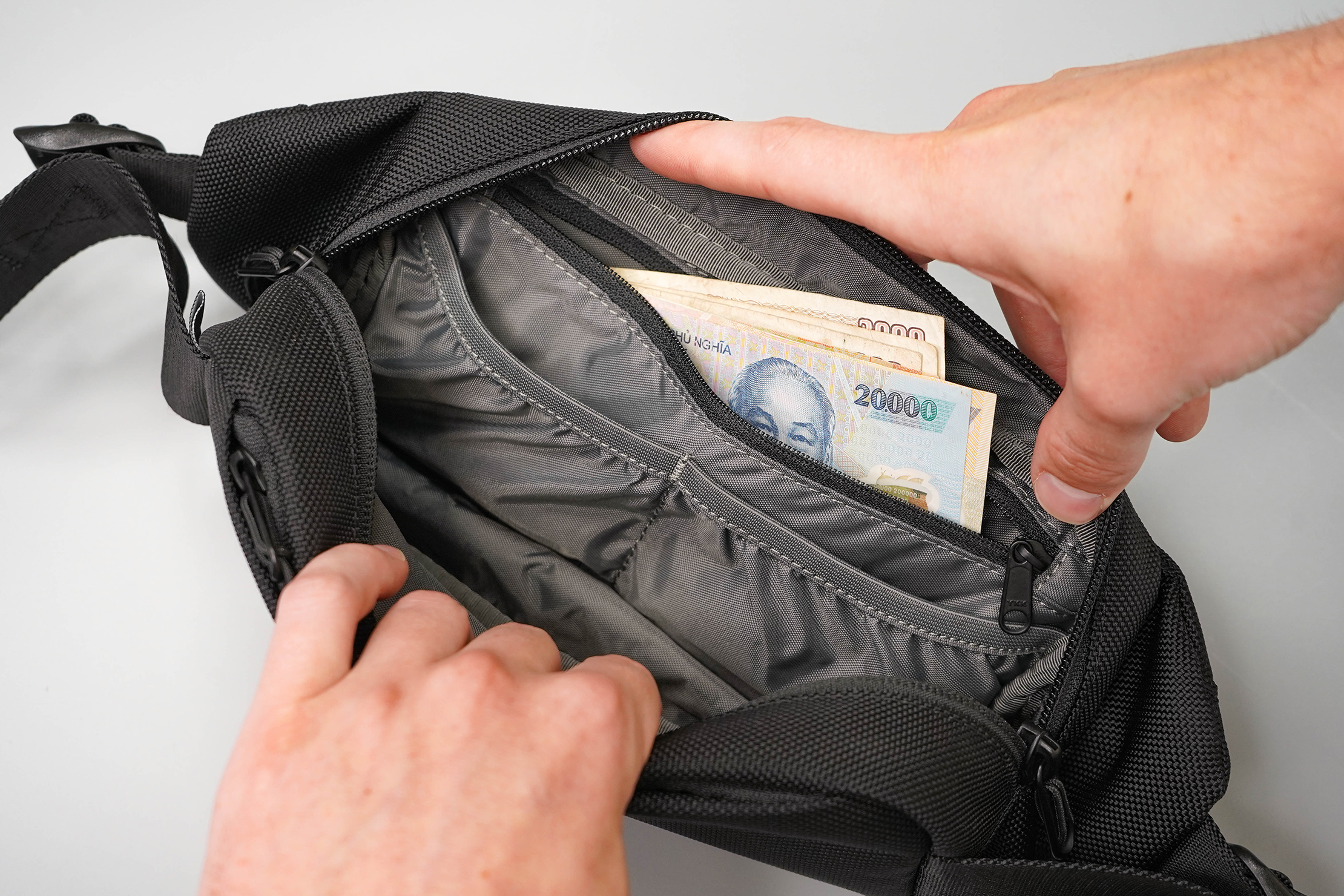 Durability & Testing
The Aer City Sling got plenty of mileage as our daily carry. Like we said earlier, we've been testing for about a month—including four flights between Detroit, Los Angeles, and San Francisco.

The versatile organization on the City Sling is great because it lets you fiddle around with the pockets to figure out what works best for whatever you're doing. We've also been digging the option to compress, or uncompress, the main capacity—it's been handier than we initially thought.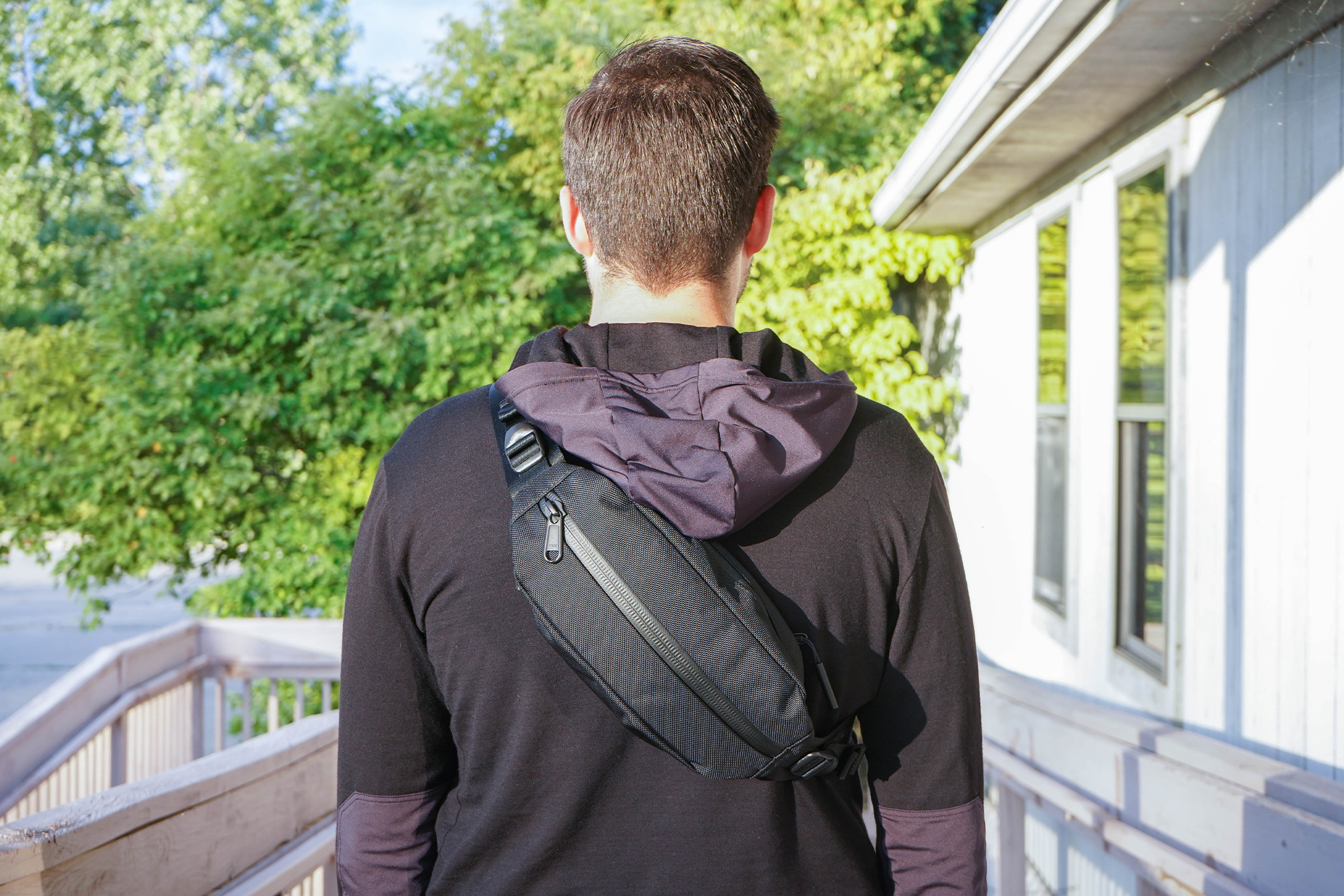 If you have this thing fully packed out and uncompressed, it can get cube-y and rectangular. When it's on your back, it can be a little tough to tell which way is up. The sling tends to twist so it's laying on its side instead of flat against your body—we've found that this issue gets worse if you fill this bag to the max with heavier or bulkier gear. It's not a dealbreaker for us, but worth keeping in mind.
Usage Timeline
Initial Usage
Condition: Excellent
We like the expandability feature
Great size to wear on the front of your body
Excellent alternative to the Aer Day Sling 2 for those that want a waist pack option
2 Weeks of Use
Condition: Excellent
Digging the compact size, especially with the option to expand
Strap management would have been helpful on the sides
1 Month of Use
Condition: Excellent
Lots of organization and customization make this sling super functional
Access the Pro Community Discussion
Get your questions about the Aer City Sling answered from our team and the Pro Community right here on the page. Plus, join discussions with other members about gear, guides, and more.
Other Bags & Luggage Reviews