CODEOFBELL X-POD Review
Despite its complex appearance, the CODEOFBELL X-POD is an intuitive and comfortable sling with a "tacticool" look.
Our Verdict
Unlock the Pro Summary
Save time. Get access to brief summaries of our reviews so you can browse and make decisions more efficiently.
Pros
Innovative design features that feel very intuitive.
Comfortable to wear on your chest.
Great organization options throughout.
Cons
The sling's complexity could be overkill for some people.
The strap management system can easily come undone.
The fully expanded state has a large profile.
Recent Pack Hacker Video
Technical Details
100 %
Carry-on Compliance
Capacity

4.5l

Expanded

Weight (oz)

15.4 oz (436.6 g)

Denier

1680D

Denier

210D

Expandable fabric

Dimensions

5 in x 10 in x 4 in (12.7 x 25.4 x 10.2 cm)

Expanded

Notable Materials

X-Pac, Polyester, YKK Zippers, ITW Hardware, Hypalon®, Ballistic Nylon, YKK Buckles, Ripstop Nylon

Manufacturing Country

United States

Warranty Information
Full Review
Get up to 10% off CODEOFBELL • Join Pack Hacker Pro
There's no doubt about it: slings are convenient, stylish, and more popular than ever. In this review, we're going to be taking a look at one of the more recent additions to the sling game, the CODEOFBELL X-POD—a 2.3- to 4.5-liter sling that has a tactical look with plenty of customization options.
Based in Los Angeles, CODEOFBELL is a brand that specializes in small, efficient gear for carrying everyday essentials. That's pretty much everything we're looking for in a sling bag, so when we heard about the X-POD, we knew we had to get our hands on it.


We've been testing the CODEOFBELL X-POD for a month in Detroit and Chicago, and we've got a lot to say about it (are you surprised?). Let's get started!
Materials & Aesthetic
The first thing you'll notice about the CODEOFBELL X-POD is that there's a lot going on with this sling. From the straps and strap keepers to the buckles, zippers, and pulls—it can seem overwhelming at first, but rest assured, everything does have a specific function and we'll fill you in on every last detail below.
When it comes to branding, CODEOFBELL has taken a simple black-on-black approach with its logo and mark on the front of the sling. There's also some branding found on the buttons, Hypalon pulls, and Hypalon zipper pulls.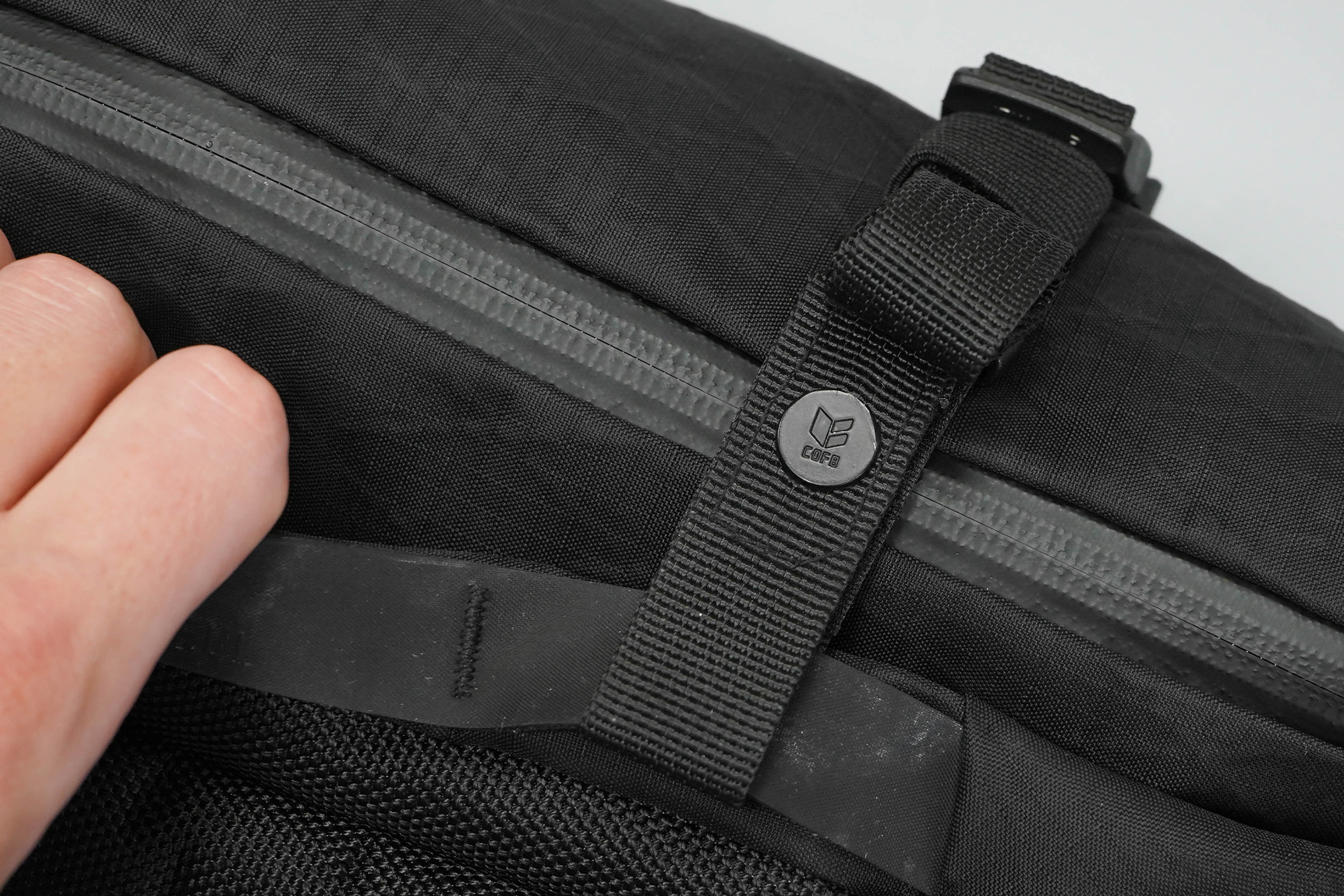 Inside the sling, there's one more logo on the interior of the front compartment that includes the brand name CODEOFBELL, "designed in Los Angeles," and its web address. All in all, it's a pretty minimal style of branding—which we like.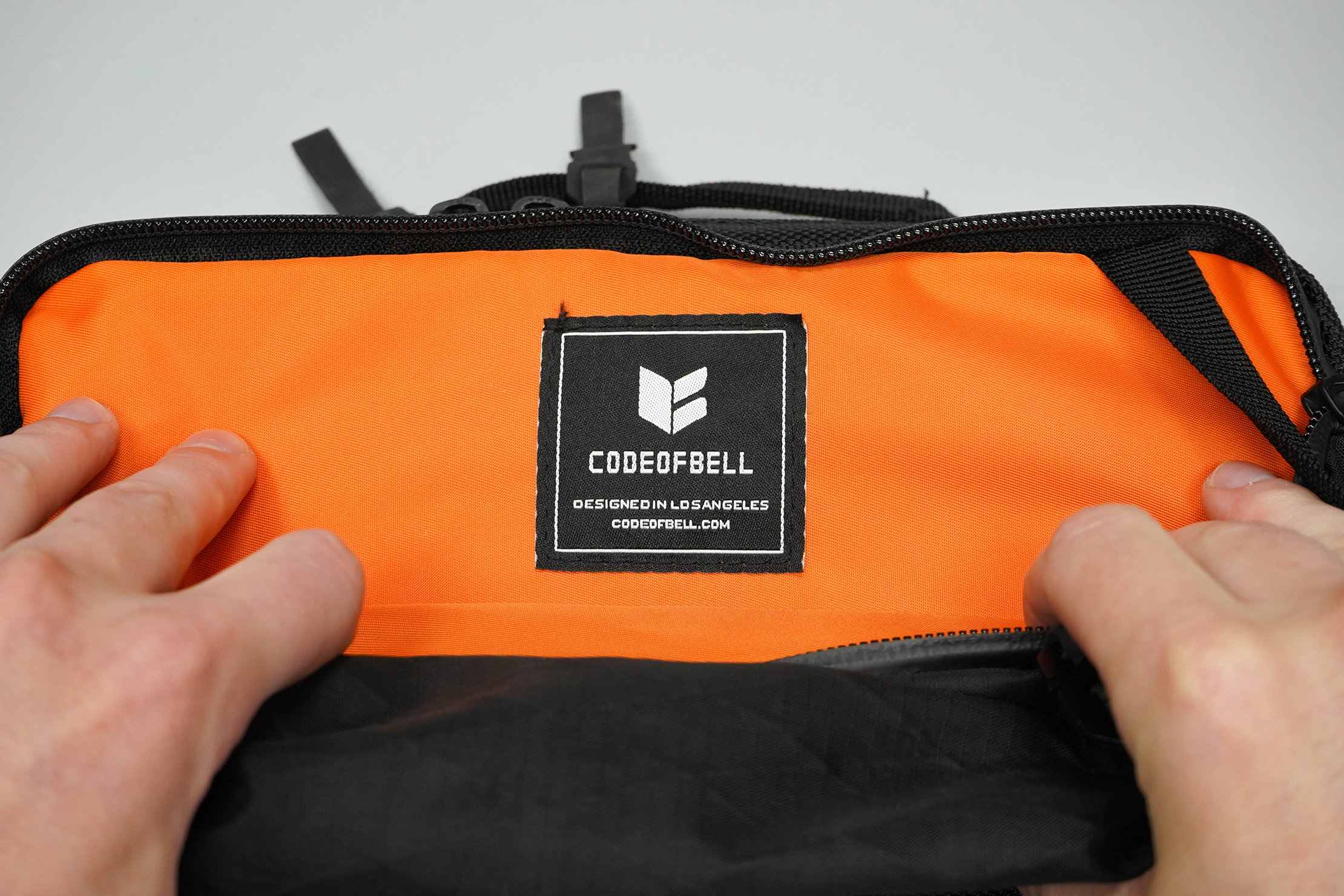 Most of the Pack Hacker team agrees this sling bag looks slick—we're suckers for a black-on-black aesthetic, and we think the tactical look is more like "tacticool," which is right up our alley. Our Instagram audience was a bit more divided, with a little over half of respondents giving the look a pass.
An important note on the overall look is that the compression straps on the front of this bag can be easily taken on or off and the expansion area (we'll get into that shortly) still functions. So, if you don't like the look of those straps, you can remove them.
The main fabric on this sling is X-Pac, which is a waterproof fabric. That doesn't mean the whole sling is waterproof, since there are some other materials and zippers to consider, but it does mean the X-POD is highly weather-resistant thanks to that X-Pac material.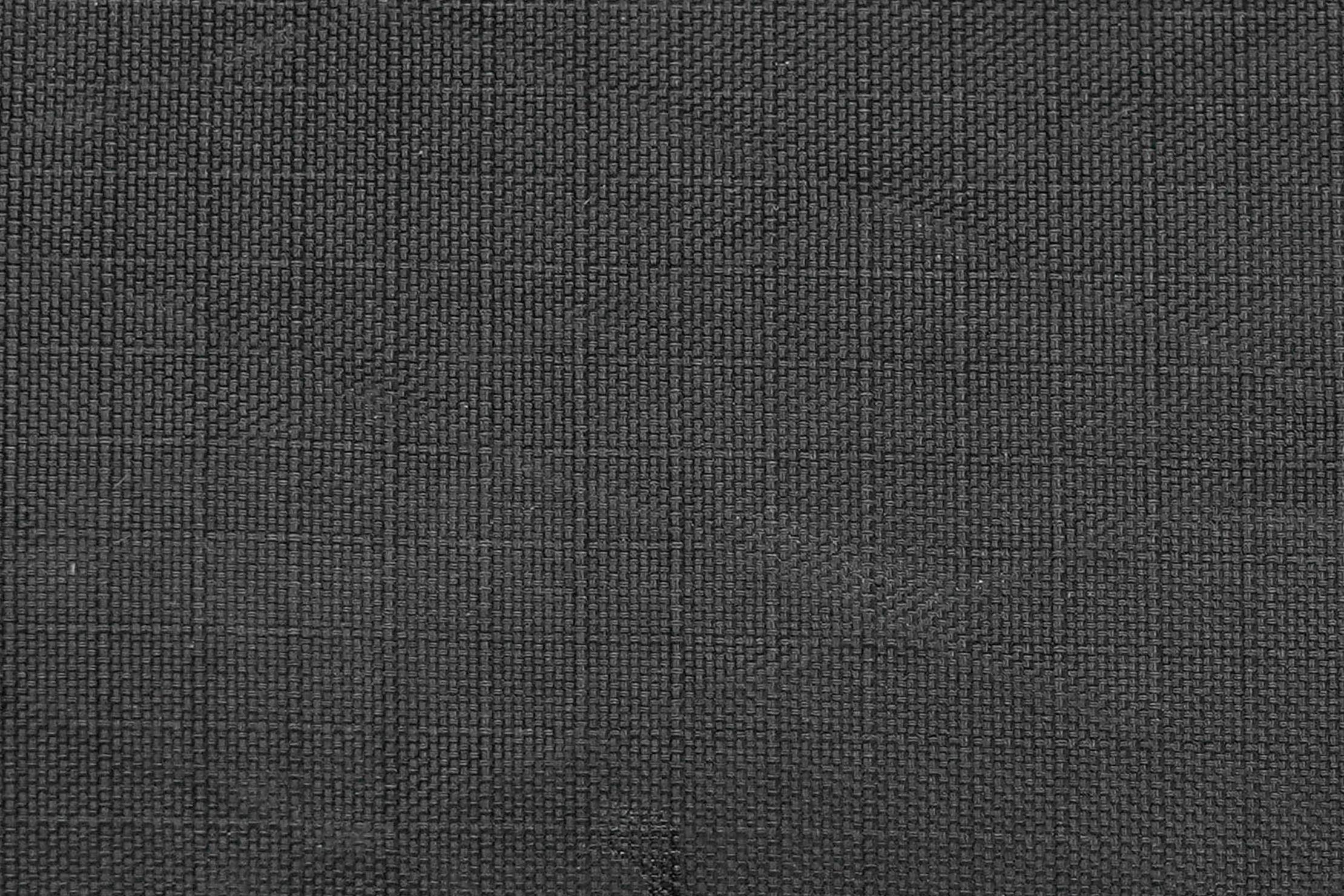 X-Pac is a lightweight and robust fabric, and our only complaint with this material is that it's slightly easier to puncture than something like a 1680D ballistic nylon. Still, if a puncture or a cut does happen, the diamond ripstop used on this sling and the square grid ripstop should, in theory, stop it from spreading.
At the time of this review, the CODEOFBELL X-POD is available in three colors: Black, Navy Blue, and Deep Moss. If you're new to the site, you'll quickly notice that we almost always choose black—but that's just us, and you really can't go wrong with any of the three color choices.

Wrapping up the rest of the materials, there is some ballistic nylon towards the back of the sling as well as some polyester and ripstop nylon liner sandwiched with the X-Pac material. The bottom of the sling and the zipper pulls contain some grippy Hypalon grab-points, offering some sticky rubber on the places you need it most.
Towards the front of the compression straps, you'll find some ITW buckles. We love the funky, almost sci-fi look these buckles add to the overall aesthetic of the pack—but that might be just us.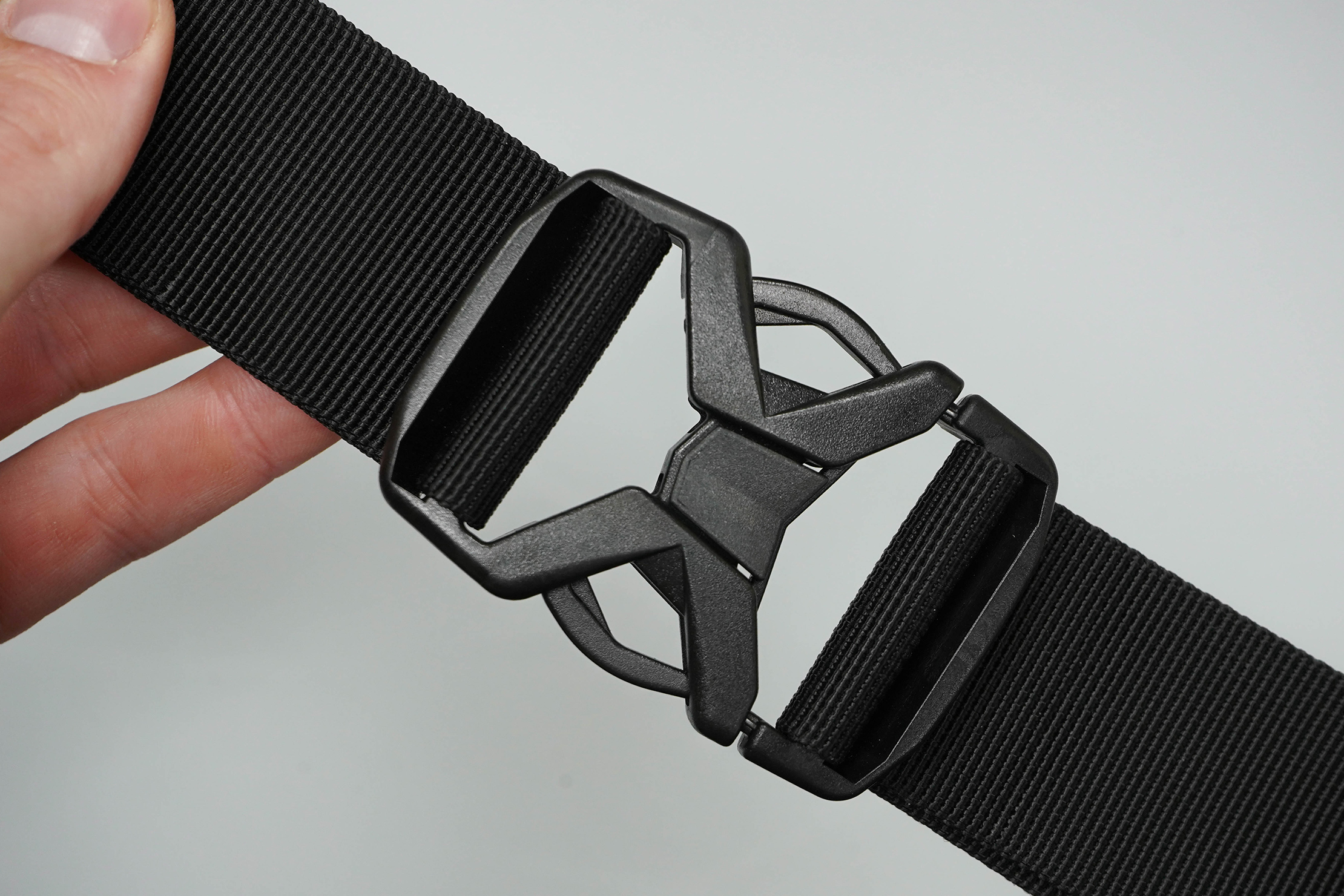 There are some YKK buckles on the side as well as some YKK Aquaguard zippers that pair nicely with the X-Pac material for additional weather resistance around the bag.
On the back, there is yet another zipper, which is a self-locking YKK zip. The "self-locking" bit means that the zipper won't move when the zipper pull is in the downward position (parallel to the zipper track). The only way to move it is to pull the zipper pull up (perpendicular to the track), which is exactly how you'd move a zipper anyway.
If you aren't quite sure what we're talking about, go test out your nearest pair of jeans—we can almost guarantee you'll find a similar zipper. (Unless your fly falls down all the time, in which case, you deserve better jeans.)
There's a lot going on with this sling as far as the components and materials, but all of these choices feel well thought out, and we think everything is pulled together in a very cohesive way. This is something we've been noticing throughout our time testing this bag—nicely done, CODEOFBELL design team. (Doesn't really roll off the tongue, does it?)
External Components
The sling strap on the CODEOFBELL X-POD is arguably the most important component of this bag (or any sling bag). It's fastened with a substantial ITW buckle, which is positioned right in the middle and makes it easy to wear this sling fanny-pack-style or sling-style.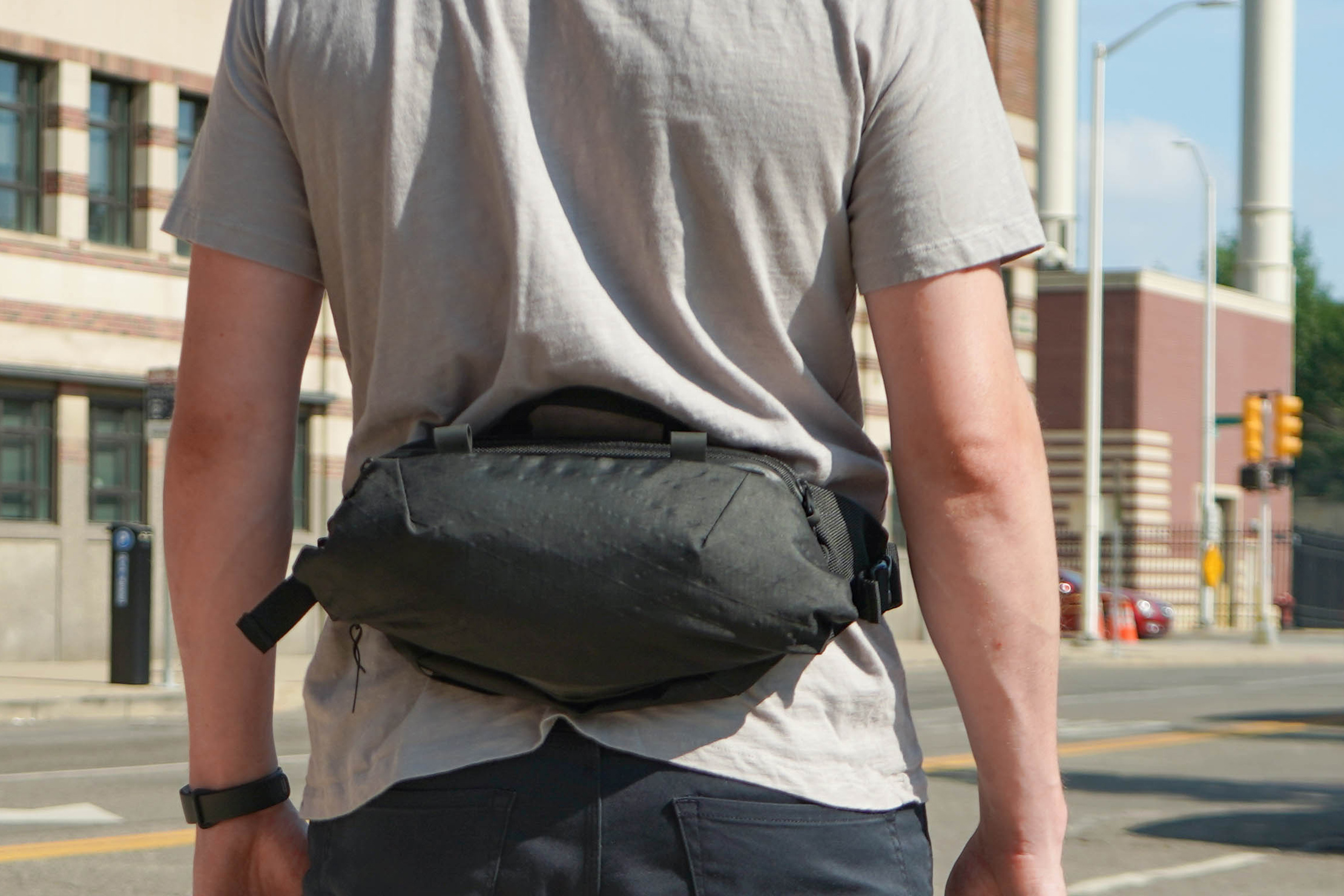 Some of the other giant buckles we've encountered on slings can get caught on your shirt, and that isn't the case with this big ITW buckle thanks to the way it's positioned on the strap.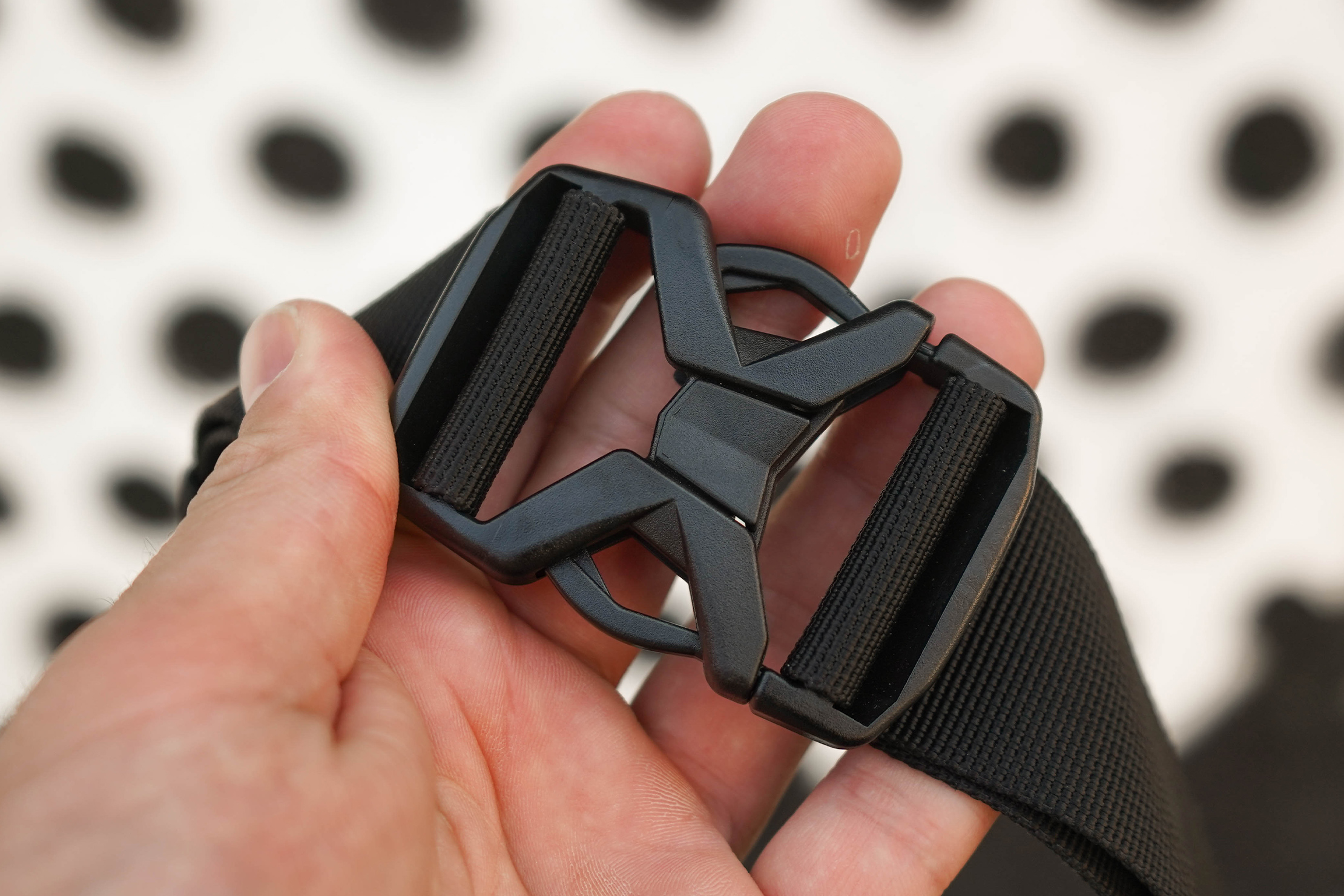 Keep in mind that if you're wearing a larger travel backpack with the X-POD sling in front, you're going to feel this buckle on your back when you put the heavier backpack on.
Some slings will forego a buckle altogether, and if you're looking in that direction, we'd suggest the Heimplanet Transit Line Sling Pocket. That one has what we like to call a "new wave" sling strap with no buckle whatsoever. Other slings, like the Aer Day Sling 2 for example, will position the buckle towards the side so it's a little more out of the way and pairs more comfortably with a larger backpack. This is more of an observation rather than a con—just something to note if you want to use it with a larger travel backpack.
Another mention about the buckle—which CODEOFBELL notes on its website—is that new X-POD stock will come standard with "self-locking magnetic buckles for the shoulder strap," so that's something to keep in mind with future iterations. The version we're reviewing, though, has the ITW buckle.
Now, strap management is important on any bag—and the X-POD handles it in a couple of different ways. First, there's an elastic loop which can be kept in the middle to avoid forming a big loop of strap. Second, there's a plastic clip that can be fastened onto the edge of the strap to keep things tidy. All of this makes for a #danglefreeexperience, which we thoroughly enjoy.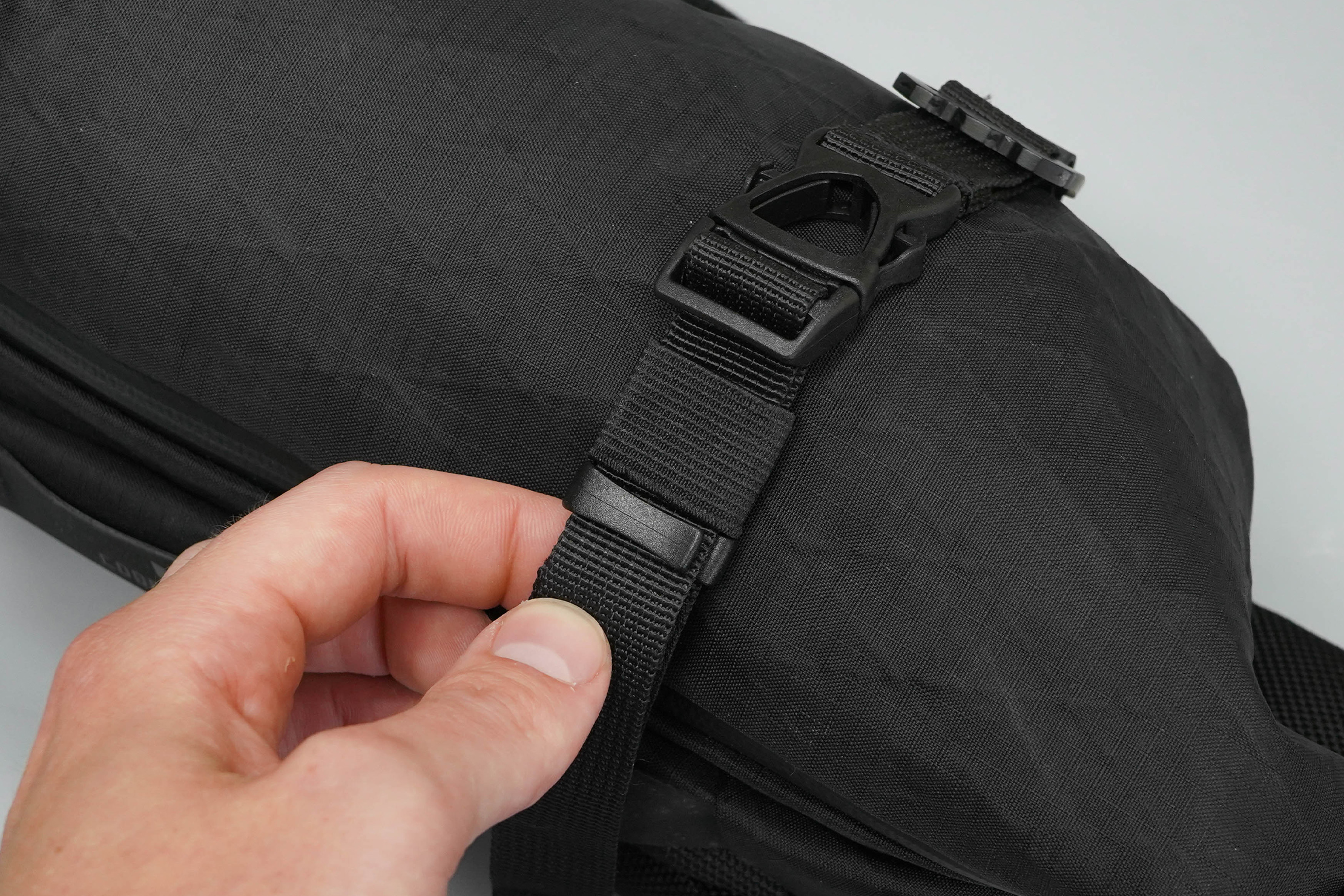 One thing we've noticed with the elastic keeper and the plastic clip is that if you're shifting this sling from your back to your front pretty often, these things can get jostled around and move a bit. If you want a sling that handles this really well, take a look at the Peak Design Everyday Sling 5L.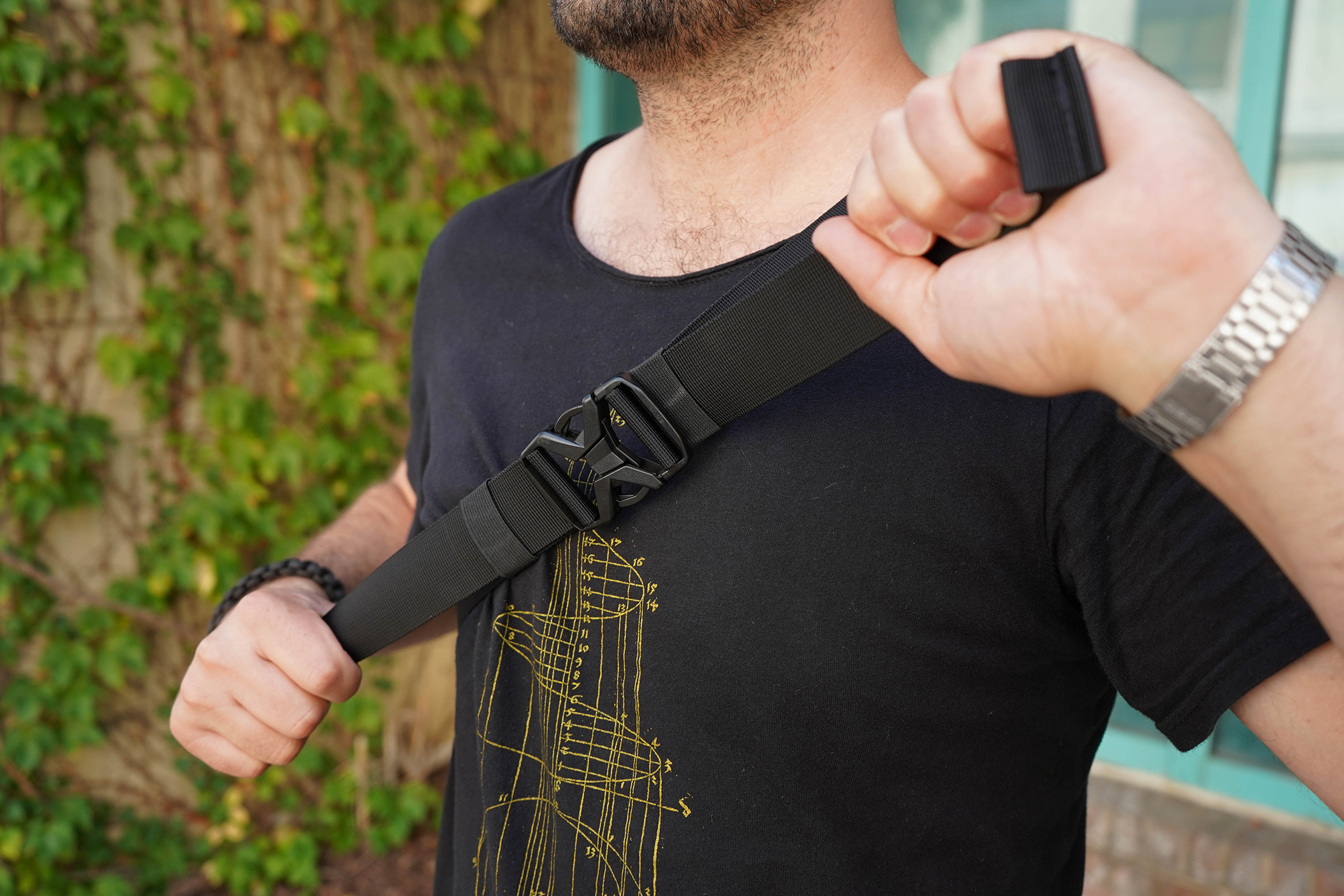 At the end of the sling strap are two small padded pieces which have hidden pockets with self-locking zippers. These are a good place for headphones or smaller items you want to keep separate from the rest of the bag.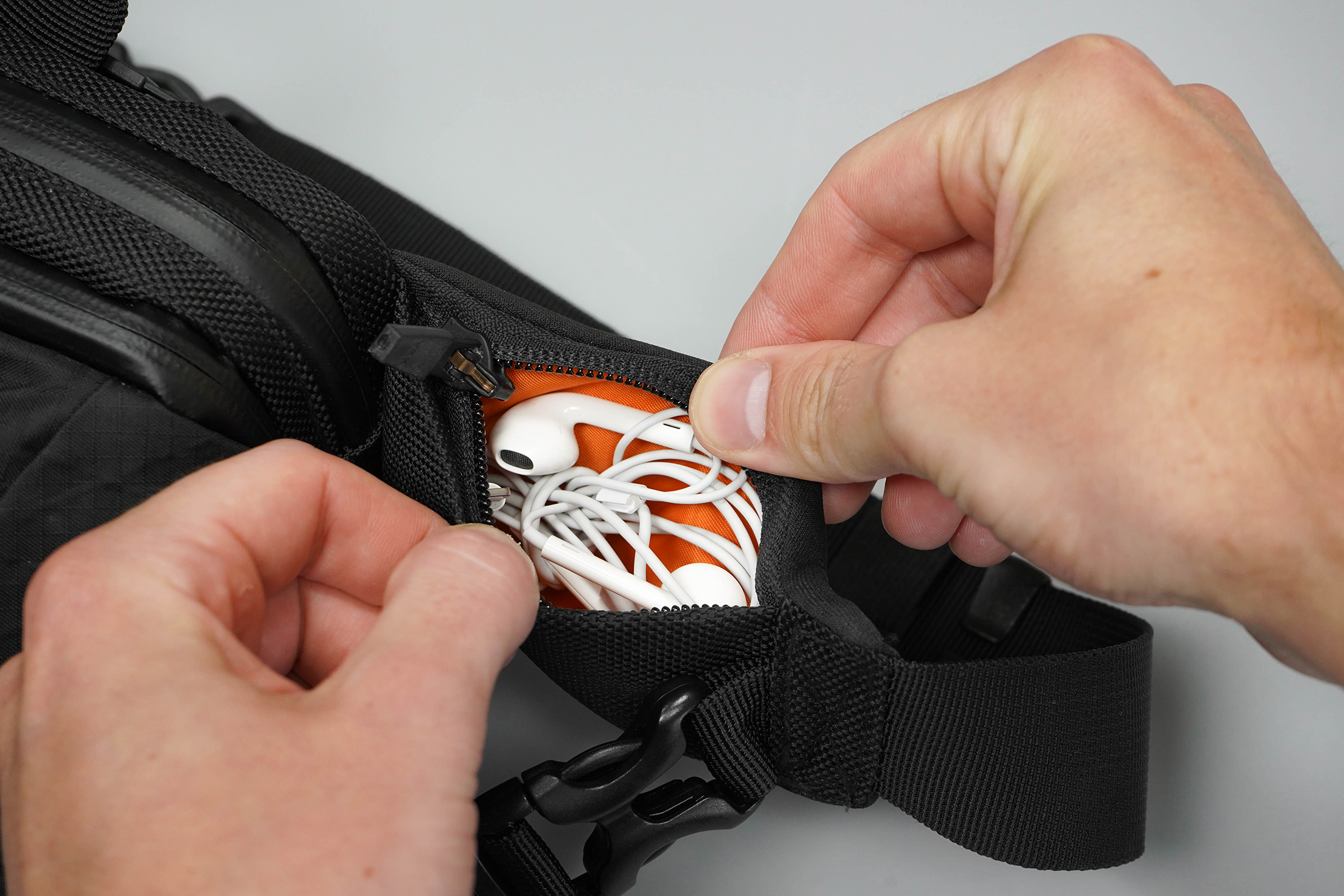 The end of the strap has some YKK buckles which help manage the compressing and decompressing (we'll get to that—we swear!) of the front part of this sling bag.
One small annoyance we've noticed during our testing of the CODEOFBELL X-POD is that you can kind of feel the straps on the backside of your arms when wearing the sling on your back. It's a minor gripe, but something you might notice as you're wearing it. This shouldn't be an issue if you get the sling positioned correctly on your back, but if it's hanging down a bit, some of the excess strap points might get in the way and rub against the back of your arm.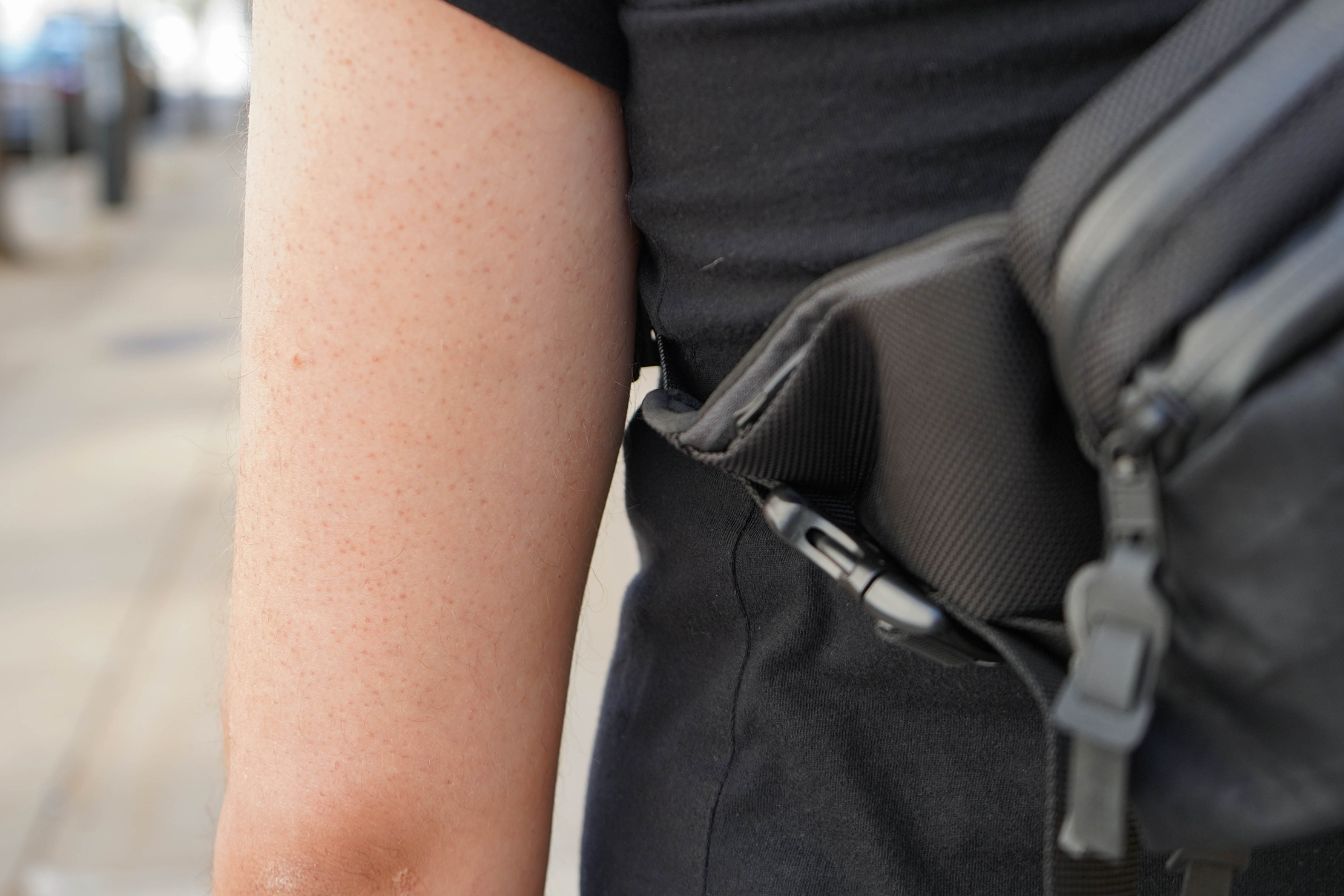 Another observation is that if the X-POD is strapped tight and you sling it around to the front of your body, you may have a bit of a "T-Rex arms" situation on your hands as you try to access what's inside. Keeping the sling loose definitely gives you easier access. We're going to assume you know what we mean when we say "T-Rex arms," and if you don't, just think about it for a second.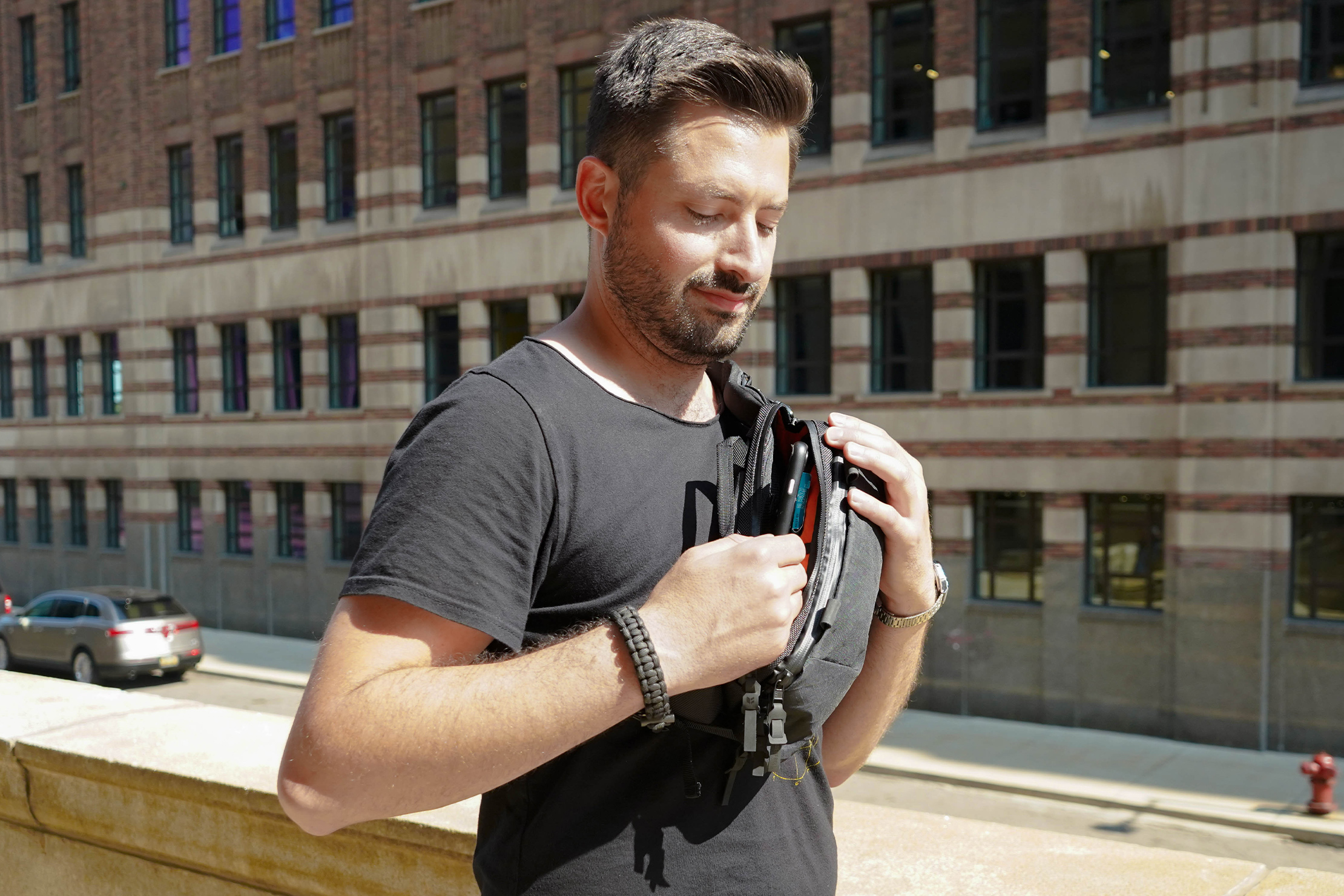 The back panel on the CODEOFBELL X-POD is nicely padded and super comfortable to wear, which is exactly what we want to see in a sling. If you have any hard or pokey items, that discomfort should be mitigated by the padding on the back panel.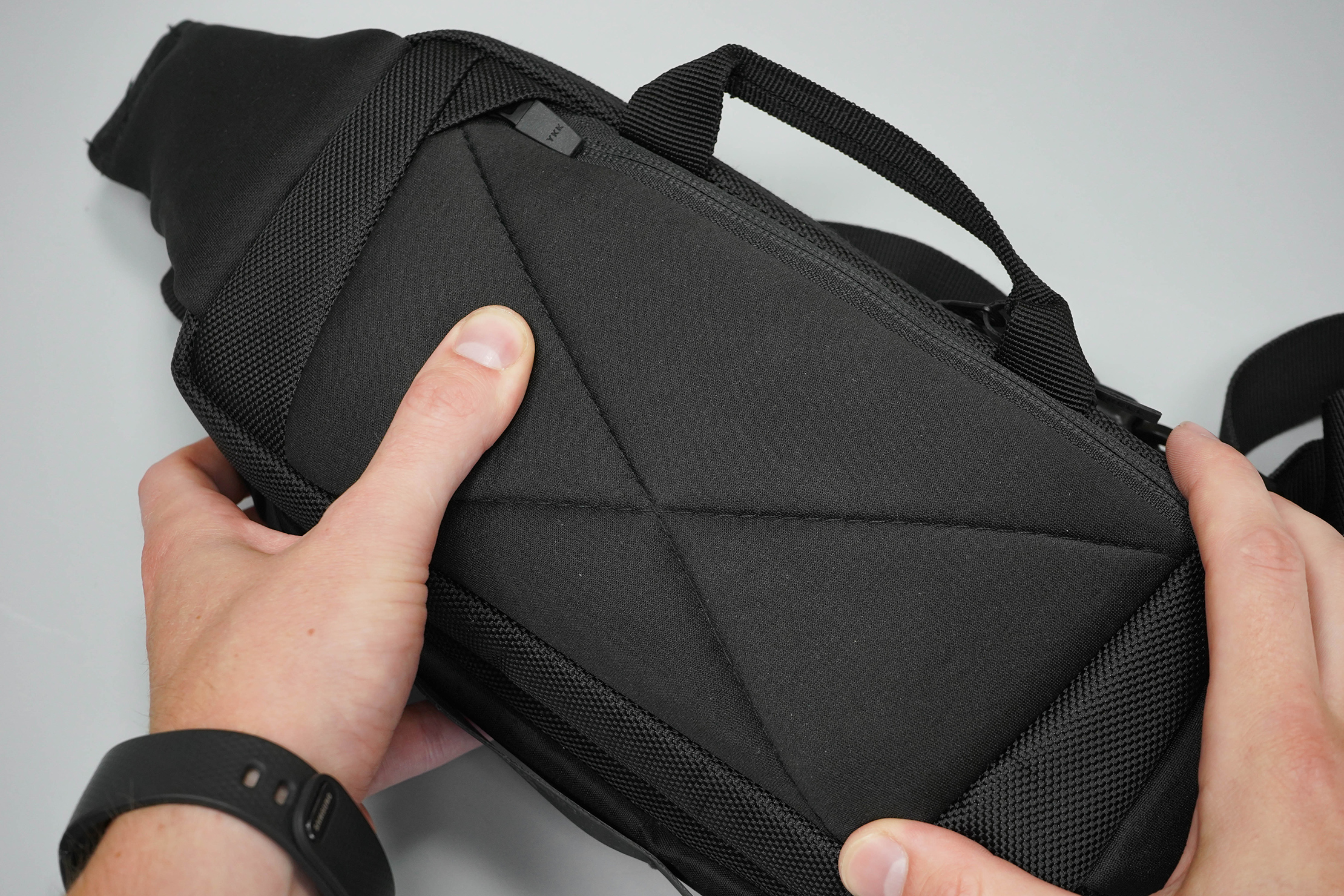 The handle at the top of the sling is made with folded nylon webbing, and if you flip the sling over, there's some Hypalon at the bottom as well. Plus, there's a Hypalon attachment point in the middle that can be used as a smaller handle if needed. There are some smaller attachment points on the sides for the compression strap as well.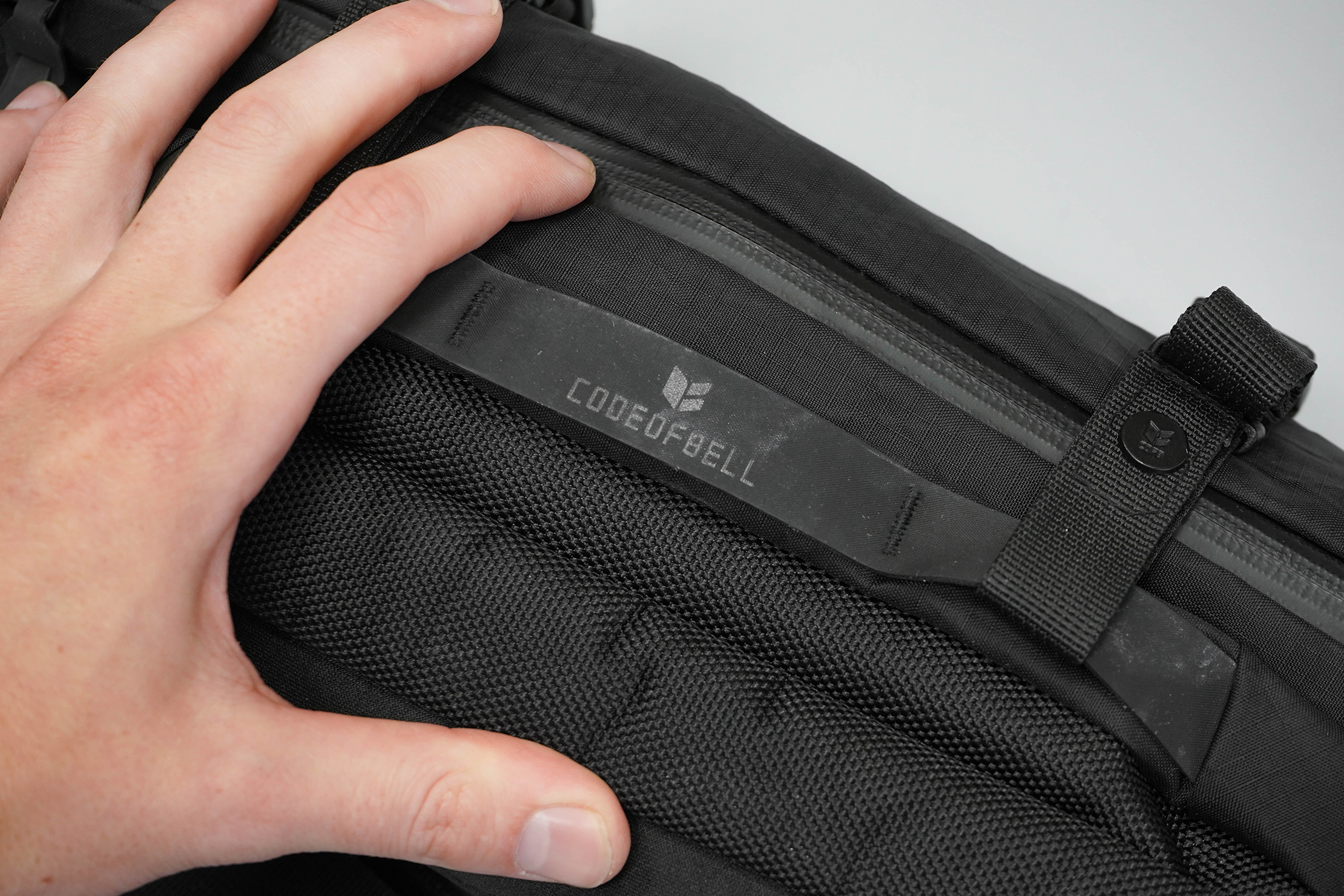 While we're on the topic of the compression straps, there's a lot going on with these on the CODEOFBELL X-POD. We honestly aren't sure we've ever encountered a compression strap quite this complicated, so buckle up (see what we did there?).
First things first: there are two Hypalon attachment points at the top where the aluminum G-hooks attach. Then there's a nylon webbing leading down to the ITW buckle (which, again, has a pretty interesting look compared to the YKK buckles).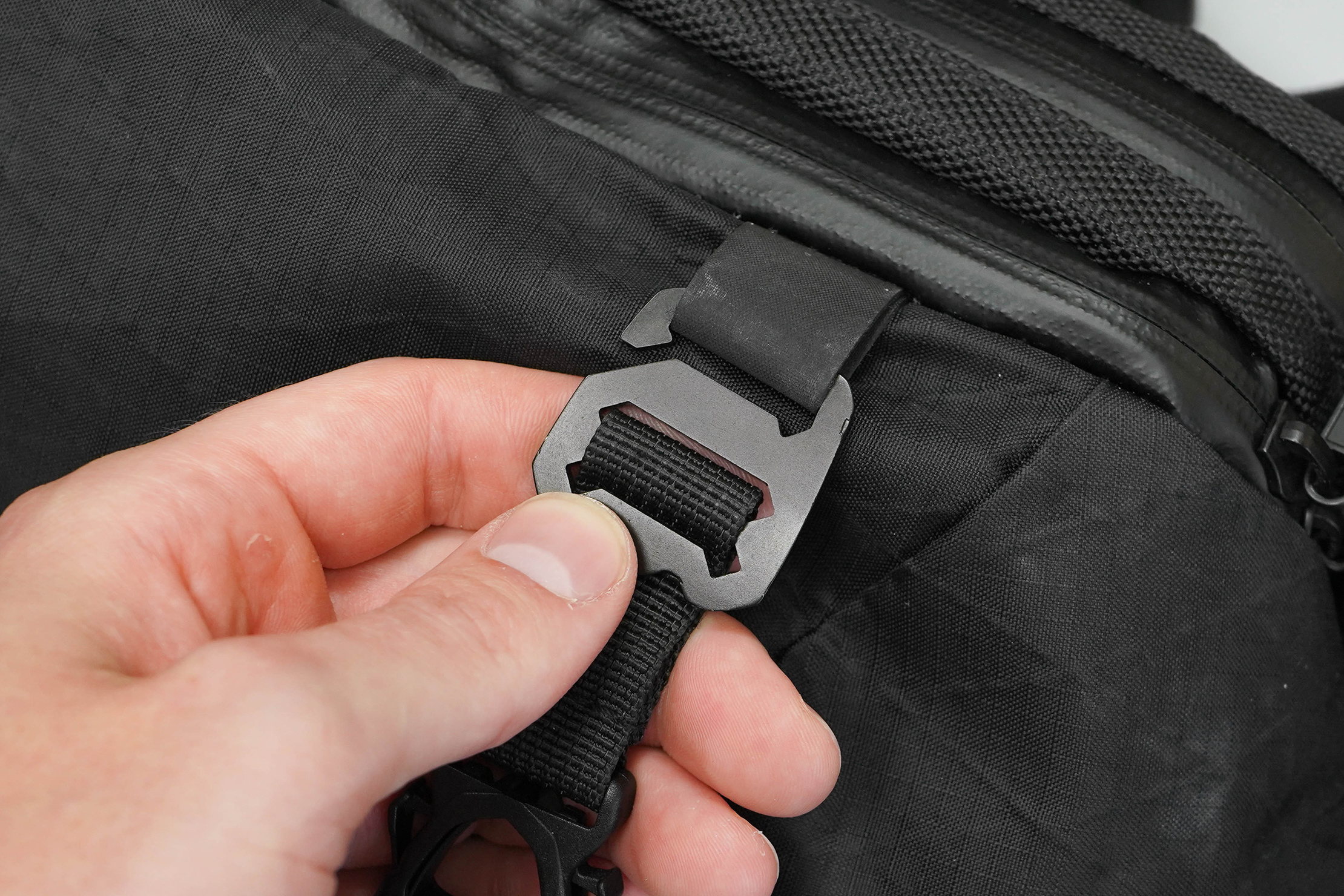 The strap management here is very similar to the front sling, with elastic keepers and a plastic clip to help keep the strap nice and clean. Moving down, you'll find more nylon webbing and the CODEOFBELL buttons. When you unbutton those, there's also some Velcro underneath.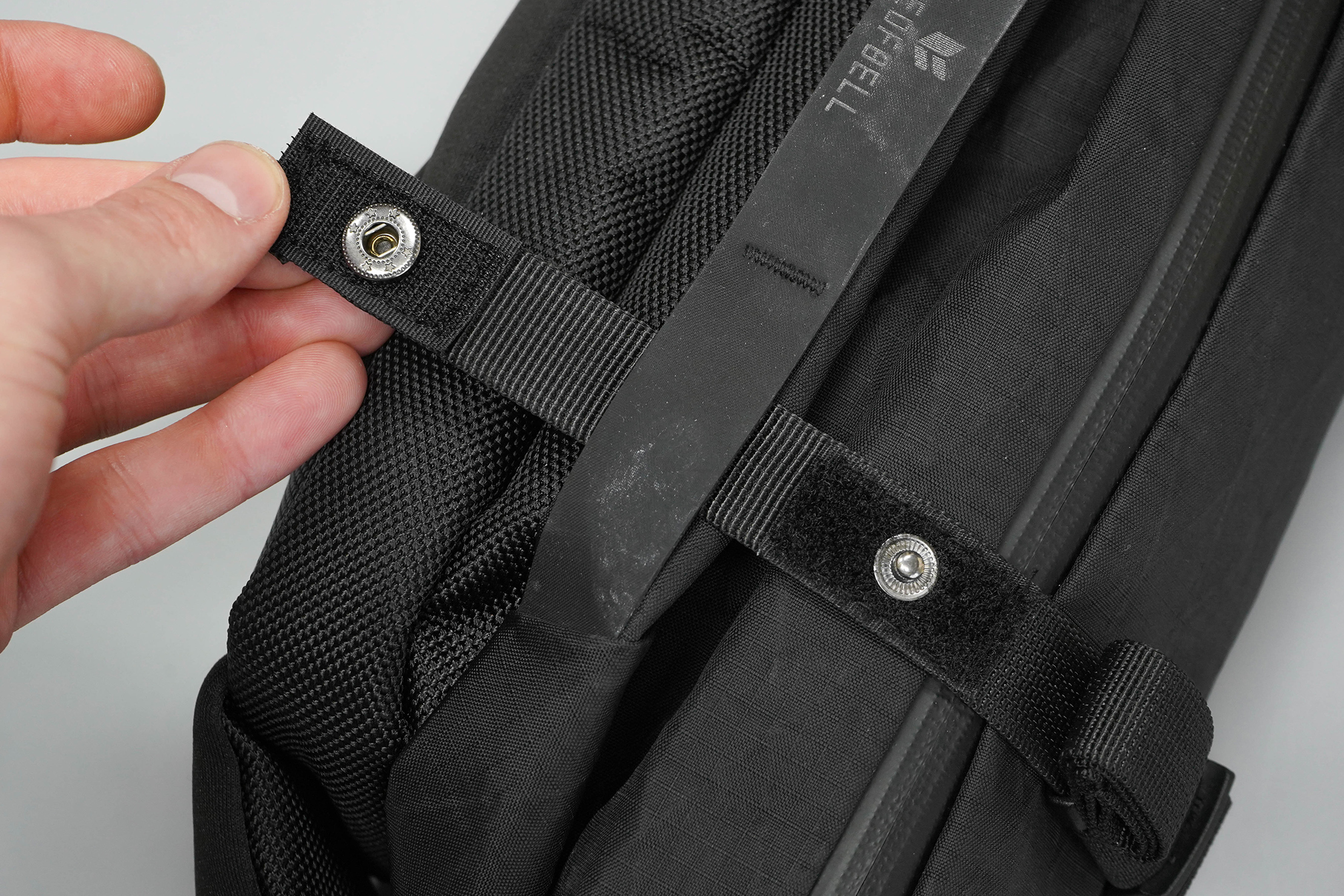 The reason for all these features, of course, is part of what sets this sling apart. The main benefit of the compression straps on the CODEOFBELL X-POD is that you can hang a towel, T-shirt, jacket or any longer item on the outside of the sling. Simply tighten it down, compress it against the sling and you're good to go.
Inside the Pack
Moving on to the interior of the CODEOFBELL X-POD, we'll start with the hidden pocket on the back. This pocket is against your back—arguably the most secure pocket on a sling—and accessed by a concealed YKK zipper. It's an ideal spot for a passport or other flatter items that you want to keep secure against your back.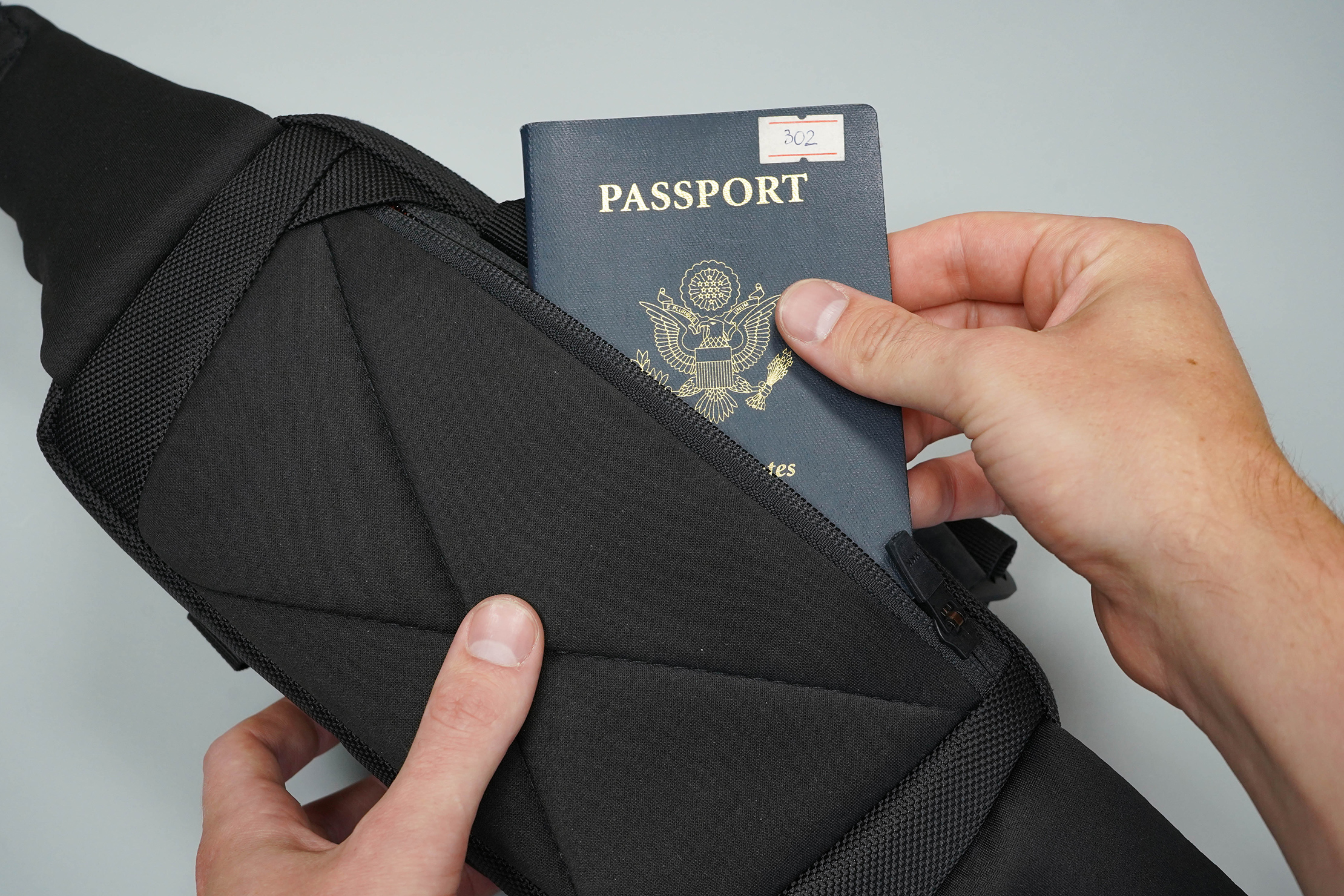 There are two ways to access the compressible compartment in the front of the X-POD: simply unzipping it from the front when it's compressed or unbuckling the straps, unrolling the fabric, and accessing the zipper at the top.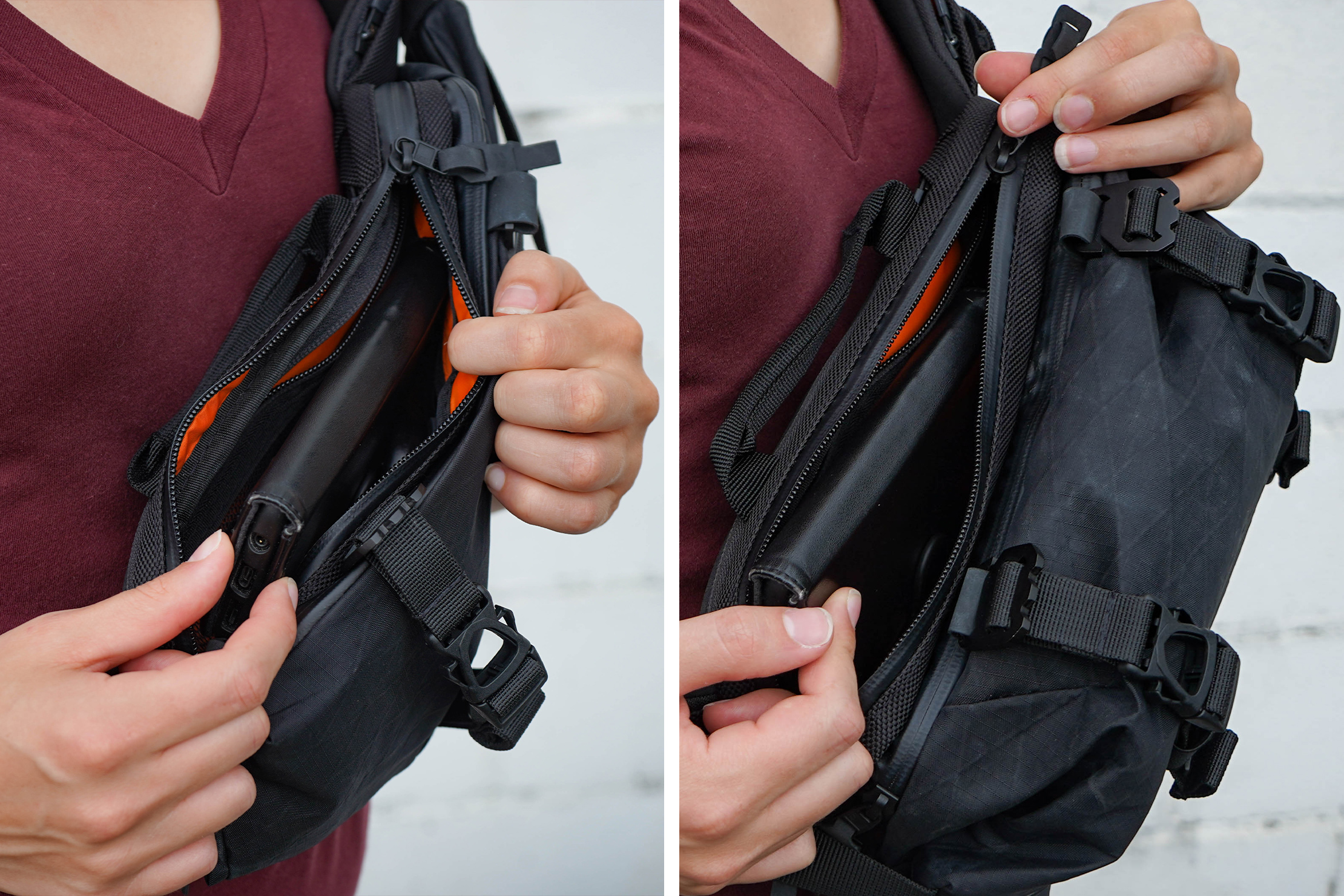 Inside the pack, you'll find a YKK hook for holding keys or other items and then a large open compartment. During our testing, we've been using this compartment for a lightweight rain shell jacket (the Patagonia Storm Racer, to be exact).
We like the orange interior in this pocket which makes it easy to see any darker gear inside and creates a nice pop of contrast (unless you've got blaze-orange gear, in which case please send us a photo…because we need to see that).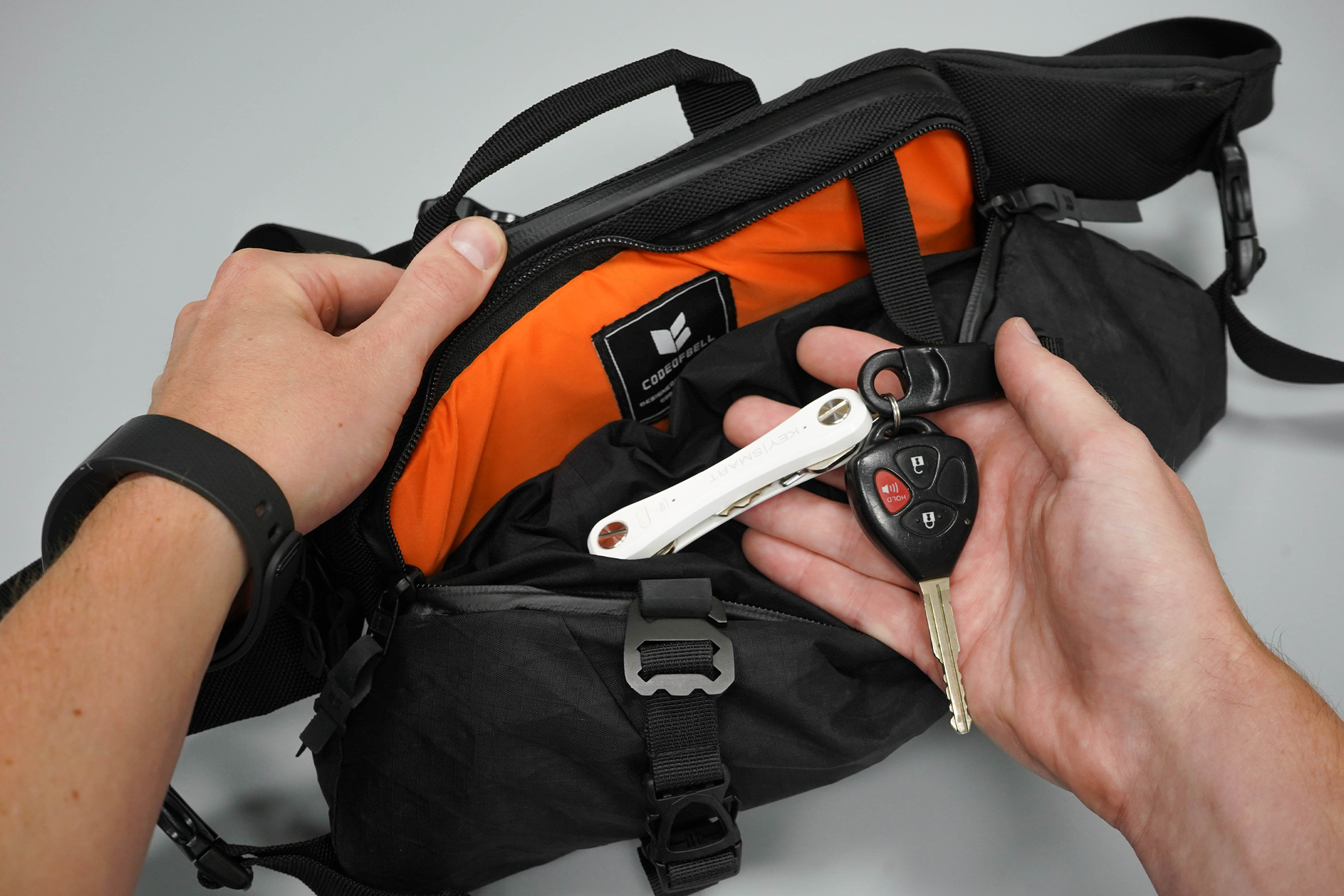 When the CODEOFBELL X-POD isn't compressed, the massive compartment inside almost doubles the liter capacity of this sling. You could put a water bottle or jacket in here and really compress it down with the straps, but it's also easy enough to zip it closed, fold and roll the fabric over, and then attach the side buckles to keep it compressed. You can tighten it down or loosen it up based on what's inside.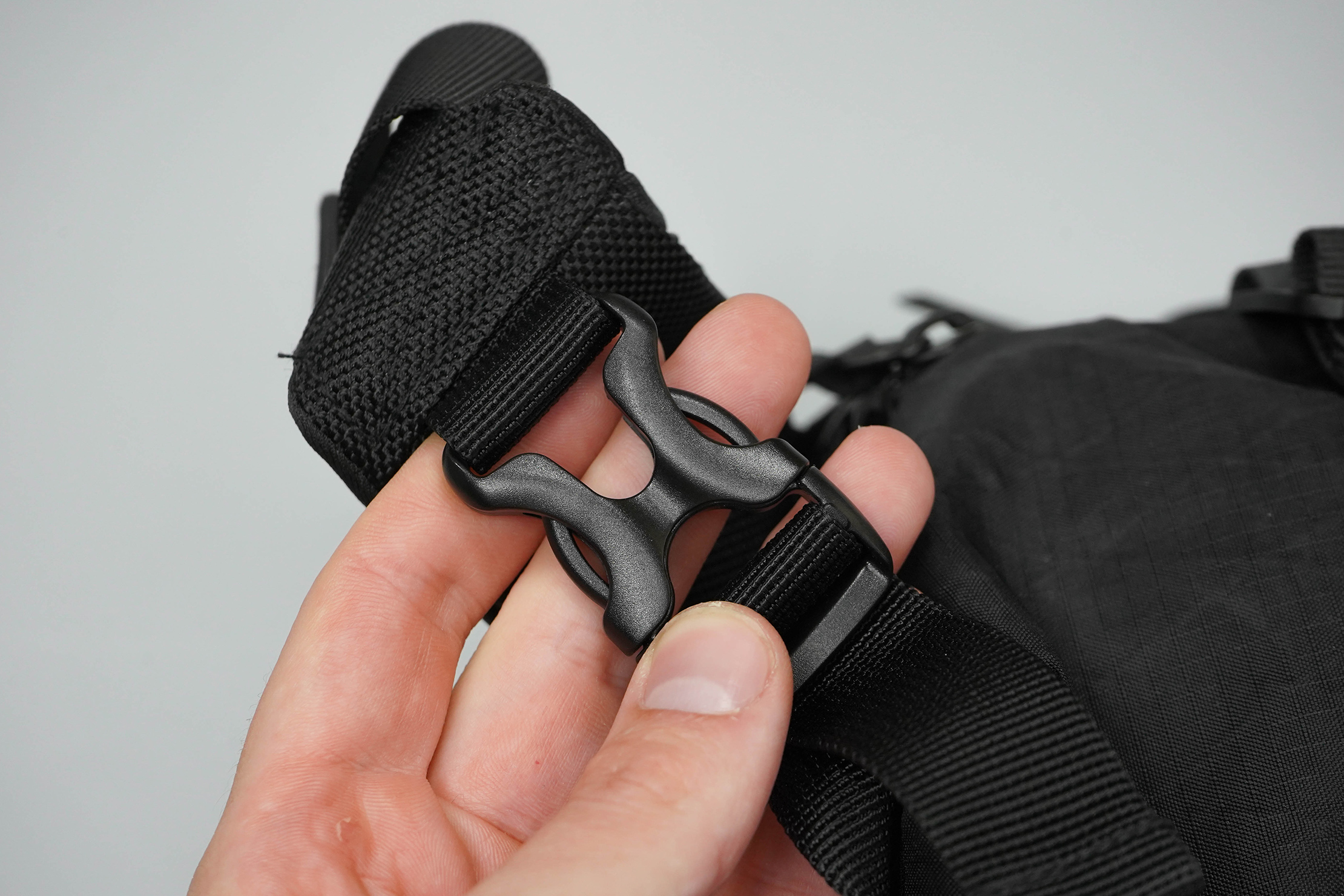 This creates what is essentially a modular pocket, which we've been loving more than we expected. When we first unboxed the sling, we were thinking, "What the hell is going on here?" But in everyday use, it's nice to have that versatility where you can load it out for your needs that day, without being constrained by a tiny liter capacity.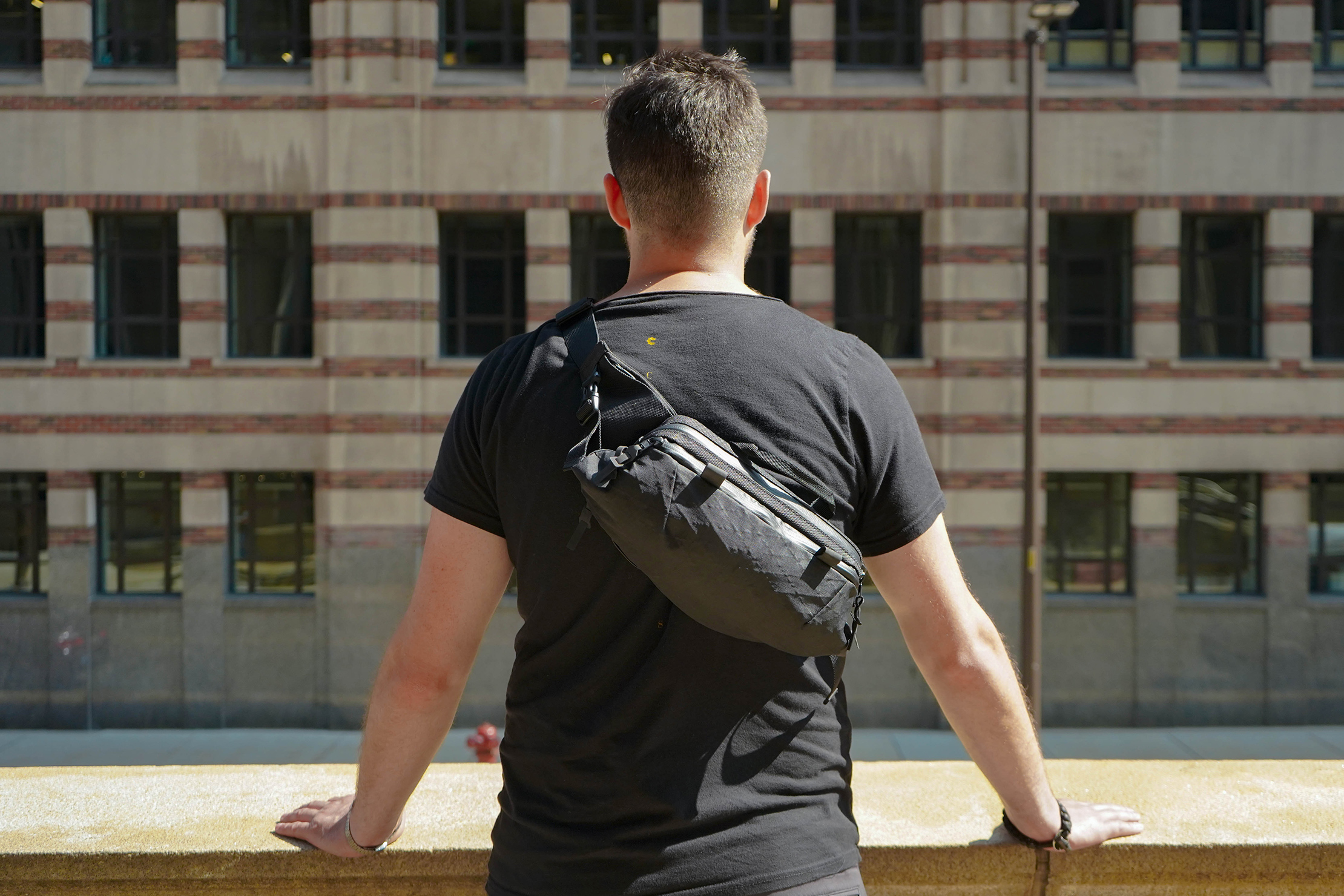 Lastly, the main compartment on this sling is accessible via the zipper next to the front compartment. Unzip this, and you'll find an open space with an orange interior. There are two zippered mesh pockets in the front and one zippered mesh pocket on the back.
We've tested this section with a couple of items, including a Nintendo Switch (yes, it fits!), but it can also fit your phone or other essentials.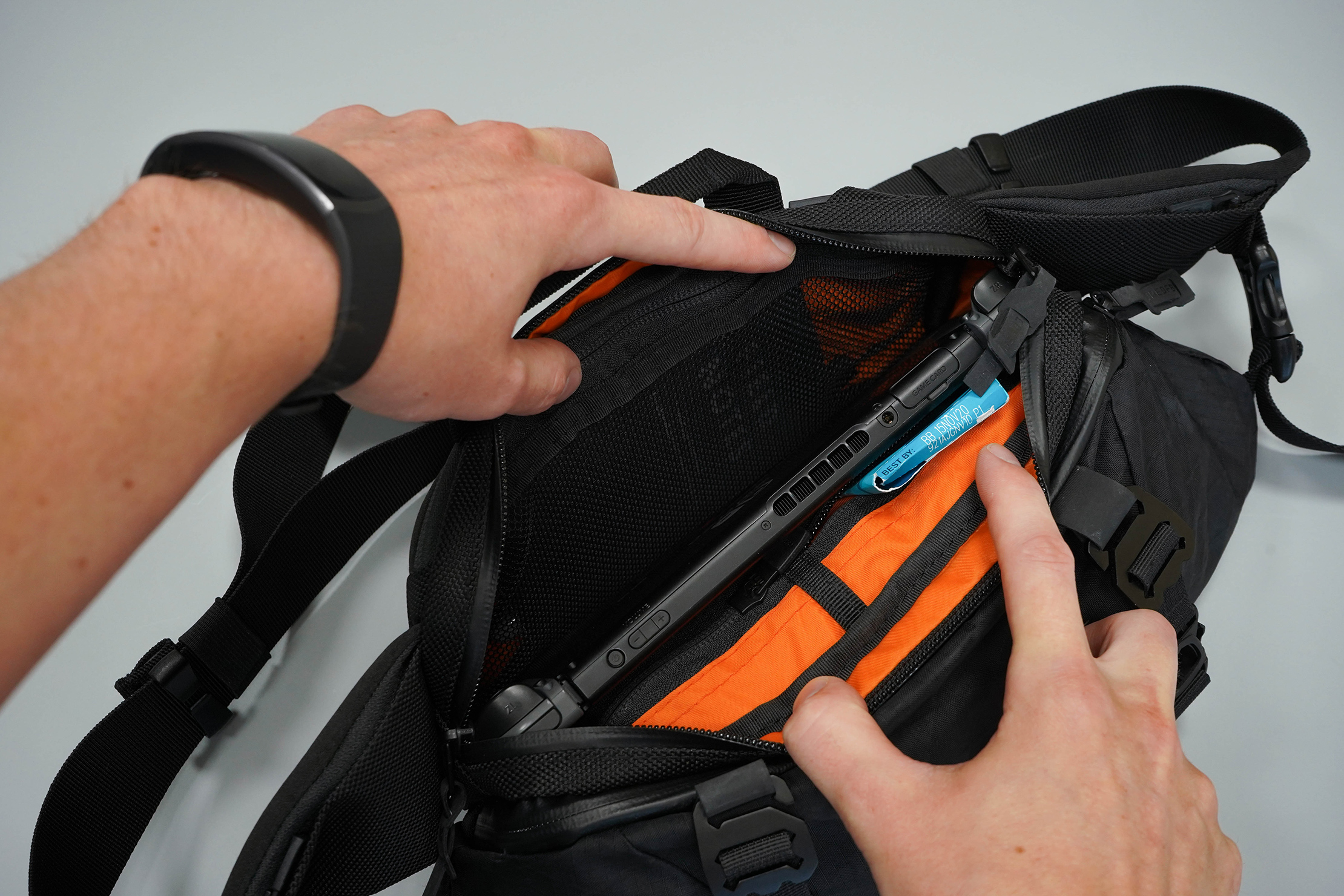 One of the things we love about the mesh pockets is that you can leave them open for taller items you'll want to access more often, or you can keep keep a low-profile by zipping them up in the front for occasional-use items like wet wipes or first aid supplies.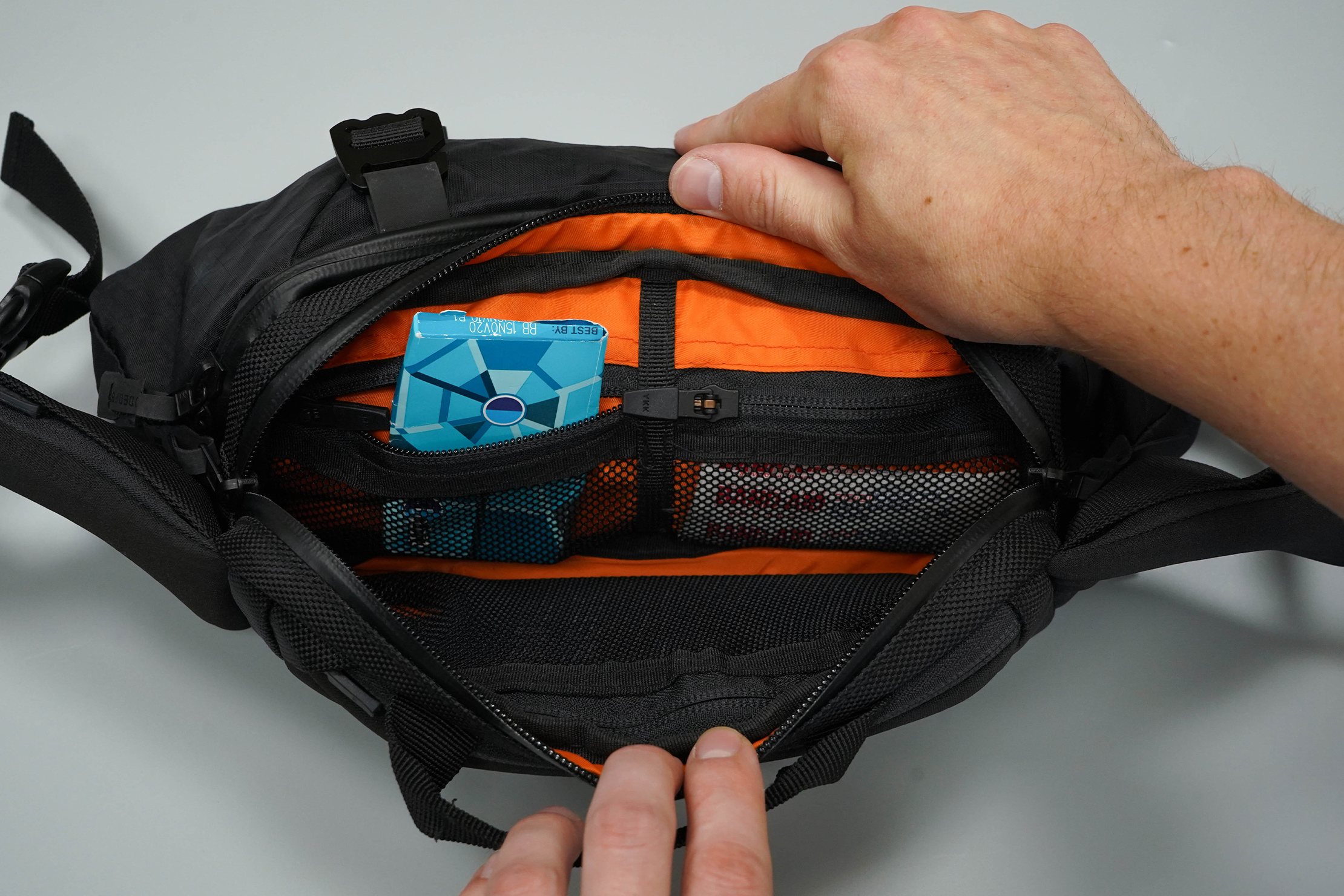 The X-POD also has a smaller mesh pocket towards the back, which we used for Field Notes and a pen (we couldn't bring you these reviews without taking some notes on the road!).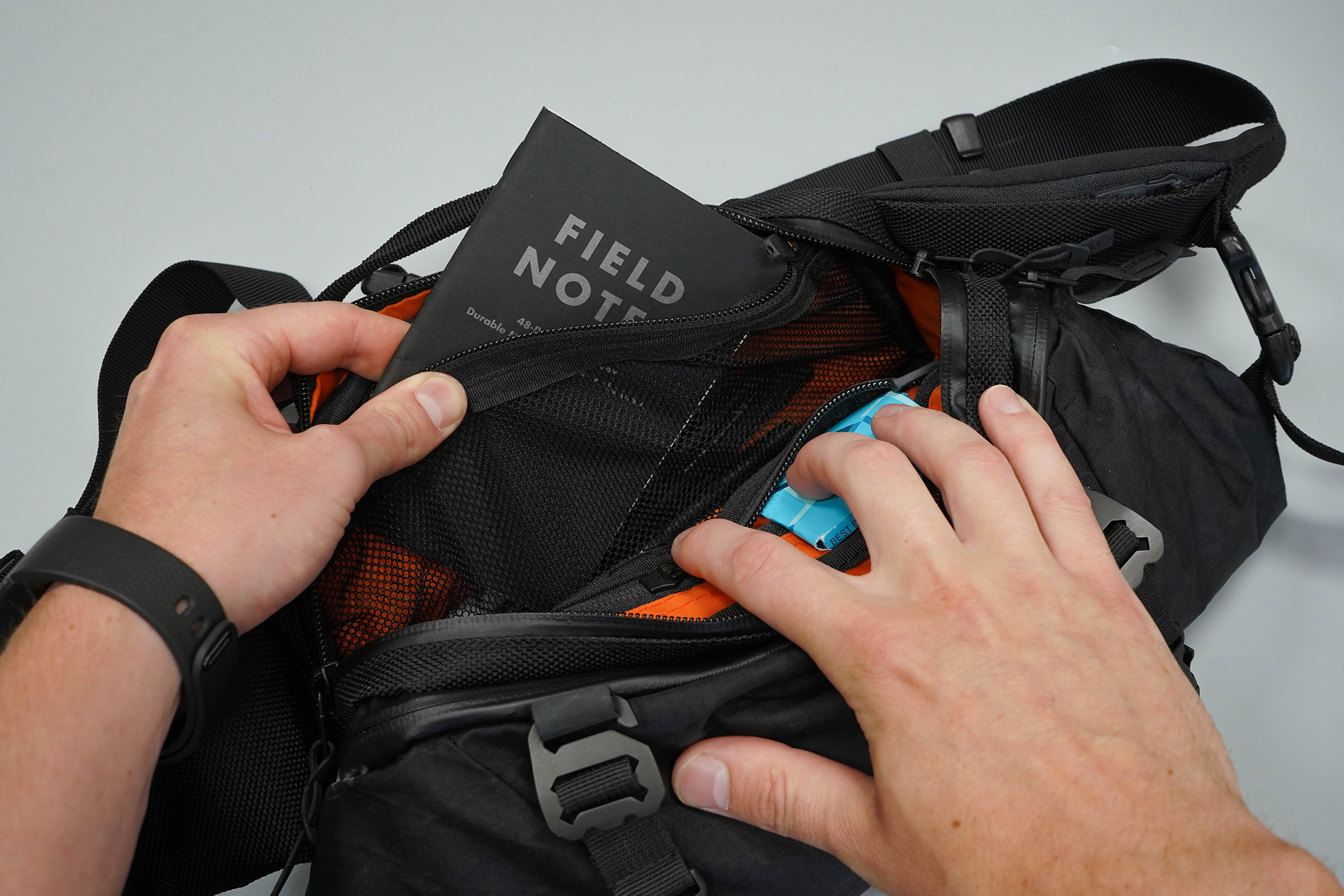 Quick pro tip on the zippers: we'd recommend placing one double set of zippers on each side—one for each compartment—to avoid having them all in the middle and getting them mixed up. There's a lot going on here and it can be tough to tell which zipper belongs to which zip. Keeping each of them on one side helps.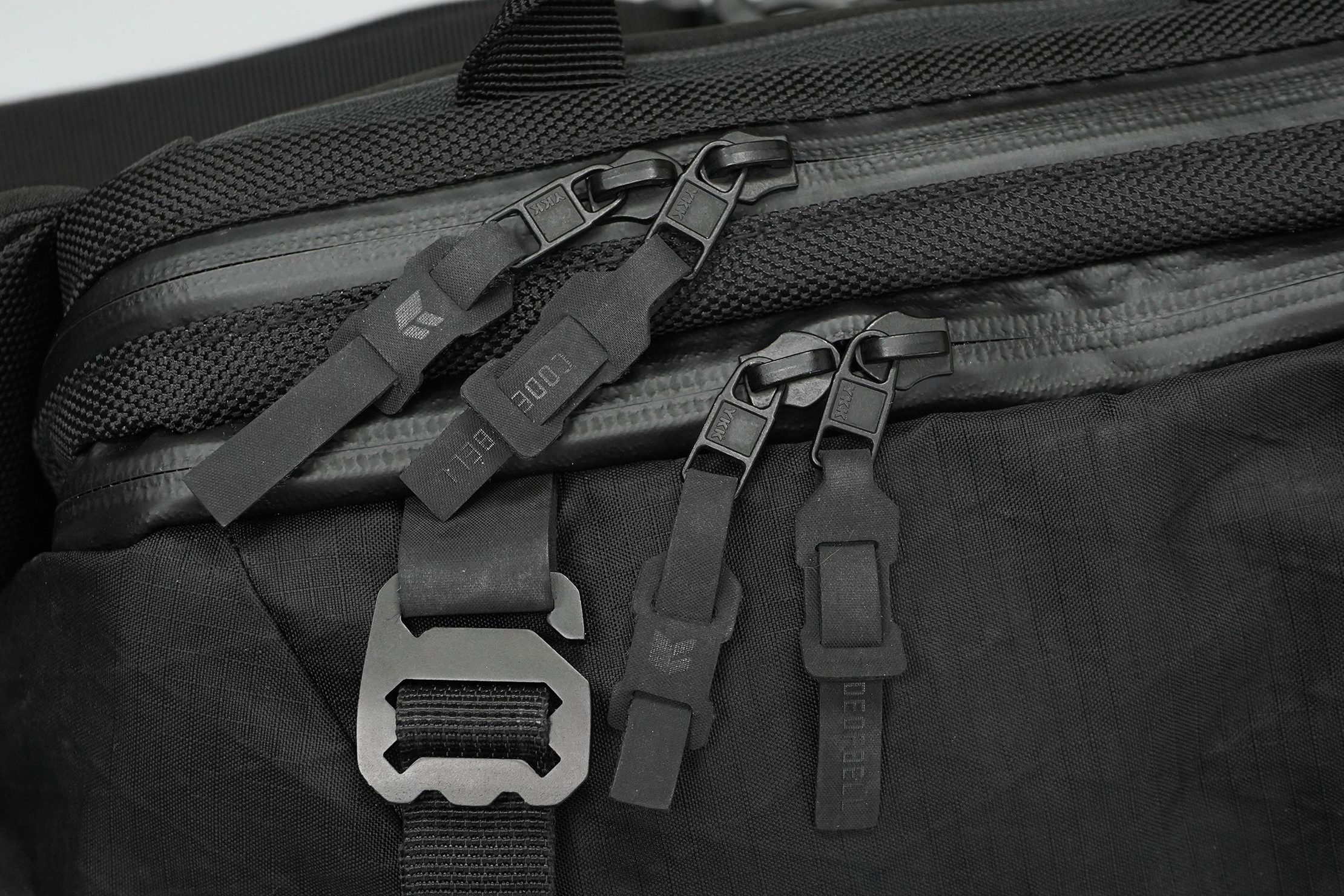 Durability & Testing
At the time of this review, we've been testing the CODEOFBELL X-POD for one month in Detroit and Chicago. Overall, we love the look and feel of this sling, its smart features, and the way you can customize it based on your specific carry needs for that day. We also love the high-quality materials found throughout.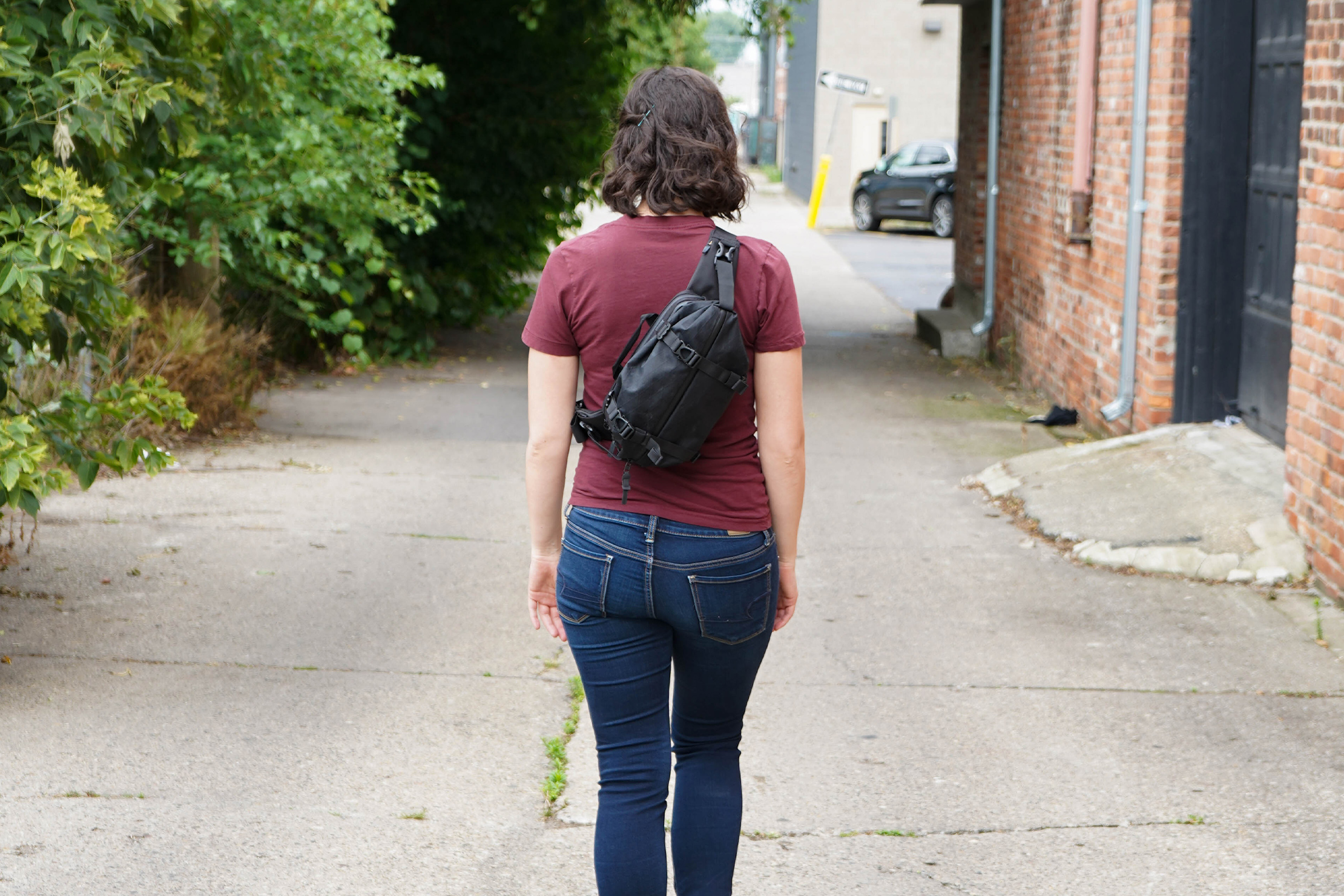 Usage Timeline
Initial Usage
Condition: Excellent
Excellent organization—a great amount of pockets and compartments for a sling.
Orange interior makes everything pretty easy to see.
Expandability if needed—we're not sure how many folks need to expand a sling.
High quality hardware with serious construction.
G-Hook attachment on the compression straps makes us nervous we'll lose them.
2 Weeks of Use
Condition: Excellent
Enjoying the high-quality hardware and construction. Noticing that the straps can rub against the back of your arm if the sling isn't positioned just right.
1 Month of Use
Condition: Excellent
A little complex, but the sling offers a nice look and feel with some great customization features.
Access the Pro Community Discussion
Get your questions about the CODEOFBELL X-POD answered from our team and the Pro Community right here on the page. Plus, join discussions with other members about gear, guides, and more.
Other Bags & Luggage Reviews