Aer Day Sling 2 Review
The Aer Day Sling 2 is a sleek and comfortable sling made with top-notch materials you can trust. We love using it for everyday essentials while out and about.
Our Verdict
Unlock the Pro Summary
Save time. Get access to brief summaries of our reviews so you can browse and make decisions more efficiently.
Pros
Sleek and minimal style
Durable materials used throughout
Large enough to hold smaller tablets or e-readers
Cons
Internal organization is all the same size
Not the lightest sling (but it's not too heavy, either)
Key clip is plastic and not very robust
Recent Pack Hacker Video
Technical Details
Capacity

4.5l

Weight (lb)

.7 lb (0.3 kg)

Denier

1680D

Dimensions

12.5 in x 6 in x 3 in (31.8 x 15.2 x 7.6 cm)

Notable Materials

CORDURA® Nylon, YKK Zippers, Duraflex Hardware

Manufacturing Country

China

Warranty Information
Full Review
Get up to 10% off Aer • Join Pack Hacker Pro
Slings aren't always the most popular item we review here at Pack Hacker. There's a bit of a "fanny pack" image some people can't get past—but fanny packs are cool again, aren't they? Whatever the case, any traveler knows certain scenarios call for a lightweight, no-hassle way to haul a few essentials while keeping you hands-free—and that's where a sling comes in.
When we first got our paws on the Aer Day Sling 2, a 4.5-liter sling designed to carry your everyday necessities, it was love at first sight. Well, the potential was there—because this sling is made with the same high-quality components as one of the Pack Hacker all-stars, the Aer Travel Pack 2.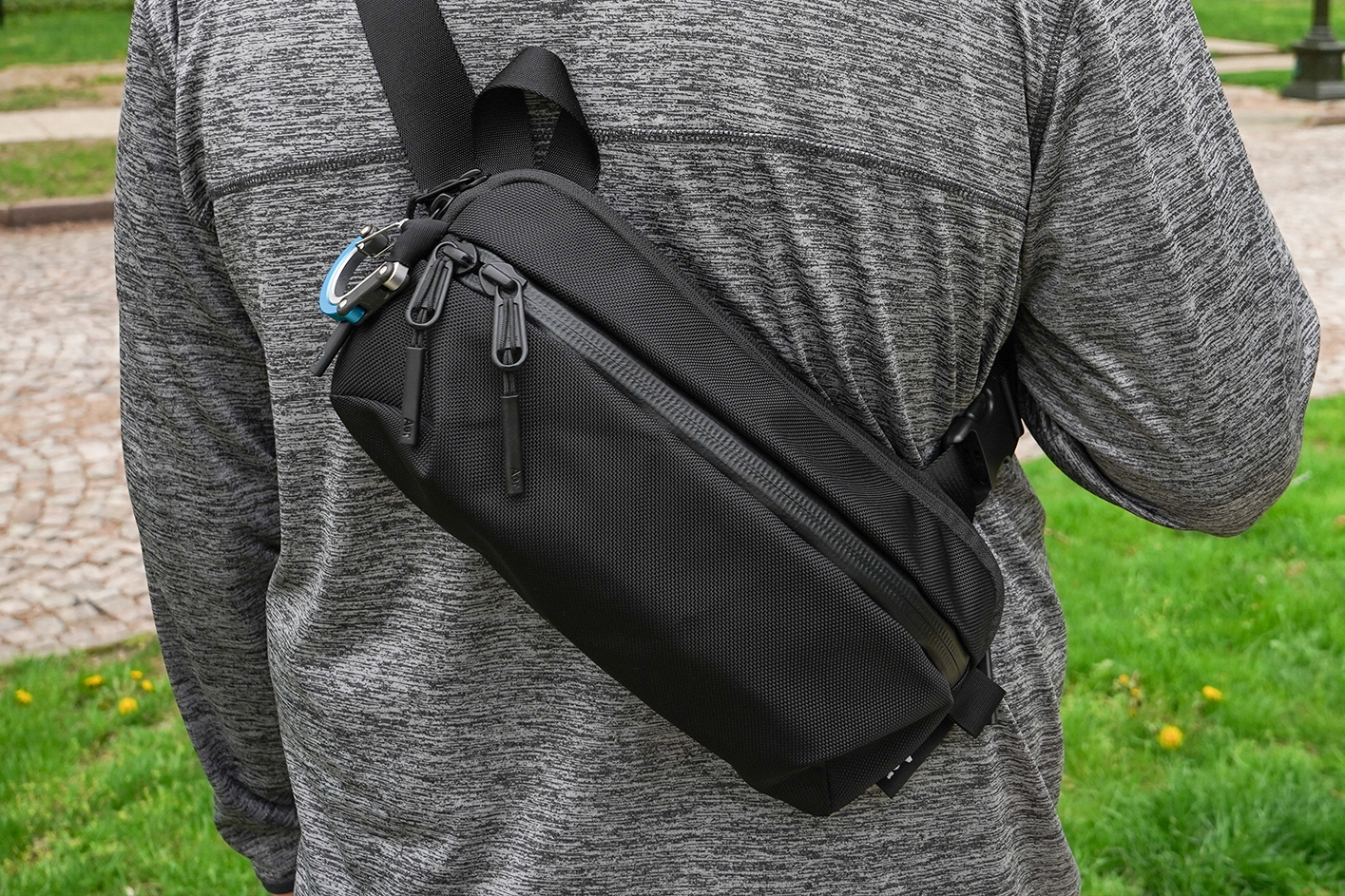 But would it live up to the standards of one of our highest-rated packs? Well, we certainly couldn't wait to start testing it and find out. Let's see what happened.
Material & Aesthetic
As we mentioned above, opinions on slings are pretty divided. There has definitely been a surge in popularity recently, though, and demand for this type of pack is on the rise. Fads aside, from our perspective you just can't beat the functionality a sling offers when you need one.

The Aer Day Sling 2 has a sleek, minimalistic and streamlined look that we really like (if you haven't noticed, that's sort of our "thing" here). 55 percent of our Instagram audience agreed, so it wasn't exactly a landslide win for the sling's aesthetics—but we're certainly not alone. (Interested in taking part in future polls? We'd love to hear from you—just head over to Instagram and follow us @packhacker.)
At this time, you can choose from black, gray, and black camo—nothing too wild, which is what we'd expect from the Aer brand. And just as you'd expect from us, we chose the black for our testing purposes.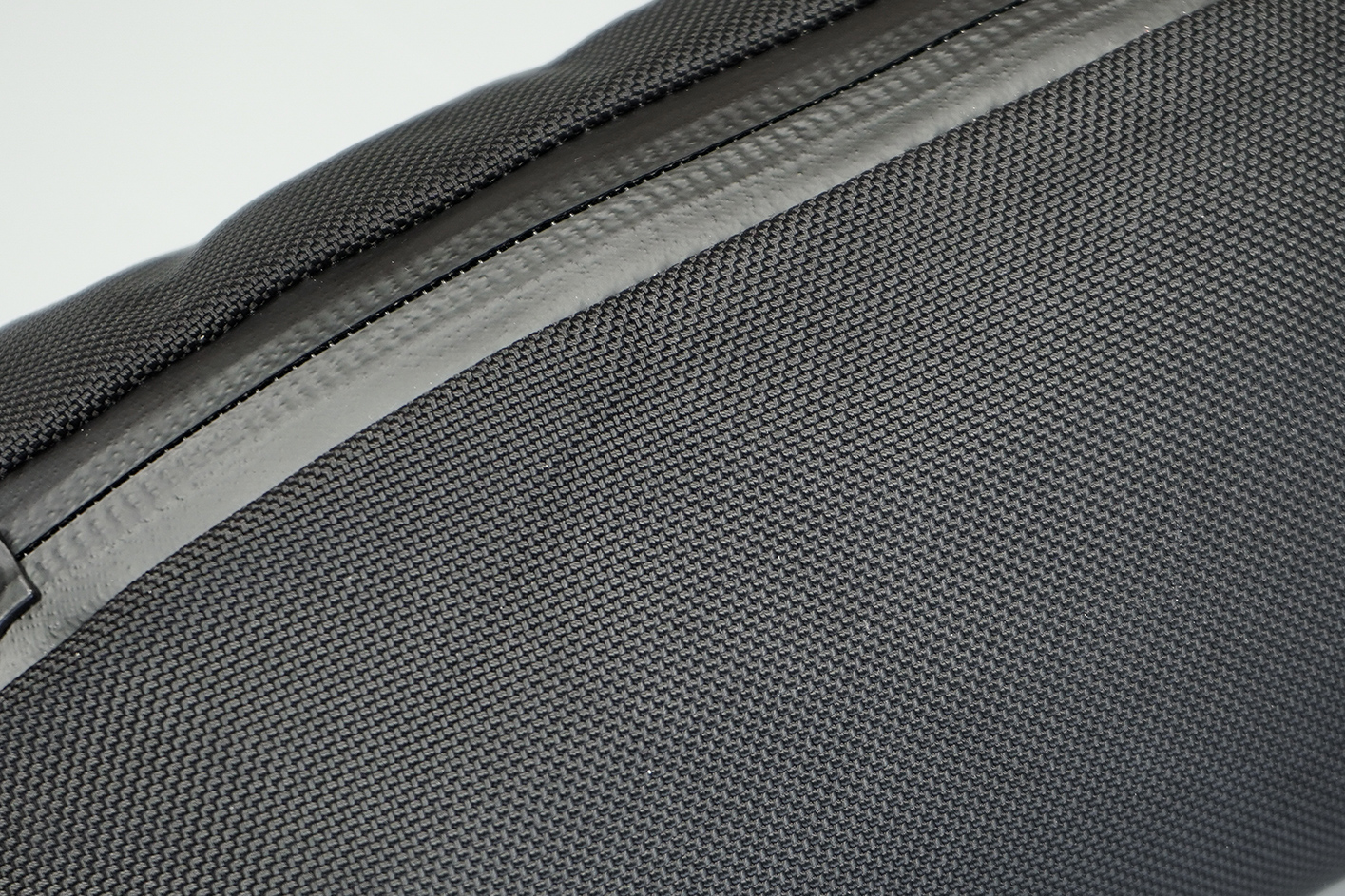 There's one slight difference between the fabrics depending on which colorway you choose. The black and gray versions are made with a 1680D CORDURA® Ballistic nylon and the black camo is made with a 1000D CORDURA® nylon. Both are solid materials that should hold up well for long-term use.
As usual, Aer has kept the branding on the outside of the Aer Day Sling 2 pretty minimal with just a logo tab on the side and a black-on-black imprint on the zipper pulls. It definitely will look good accompanying other Aer items.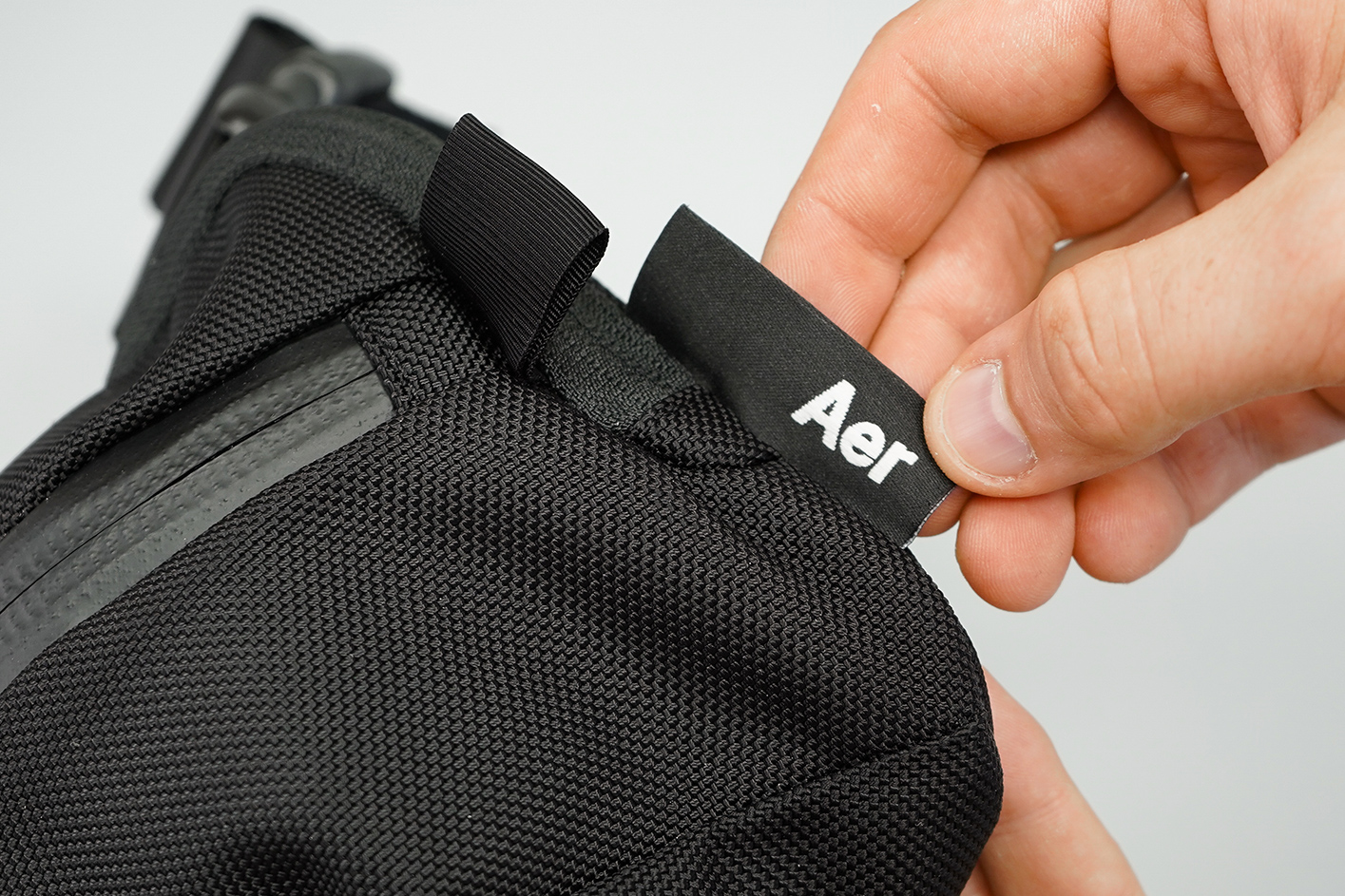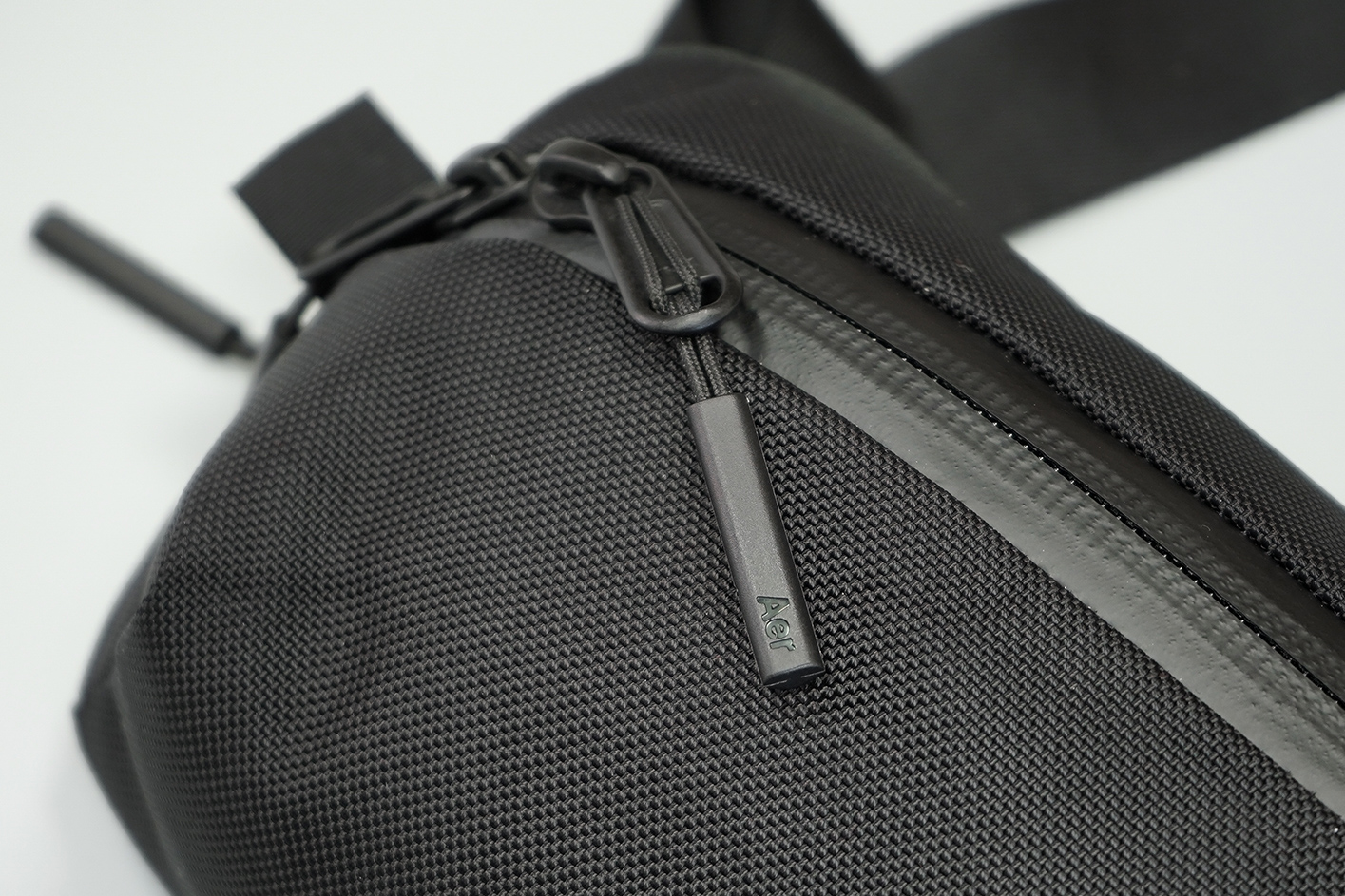 We're really happy to see the same water-resistant and durable materials—like CORDURA® nylon, YKK zippers and Duraflex buckles—used on this sling that we also saw on the Aer Travel Pack 2. We've had nothing but positive experiences with all three of these components.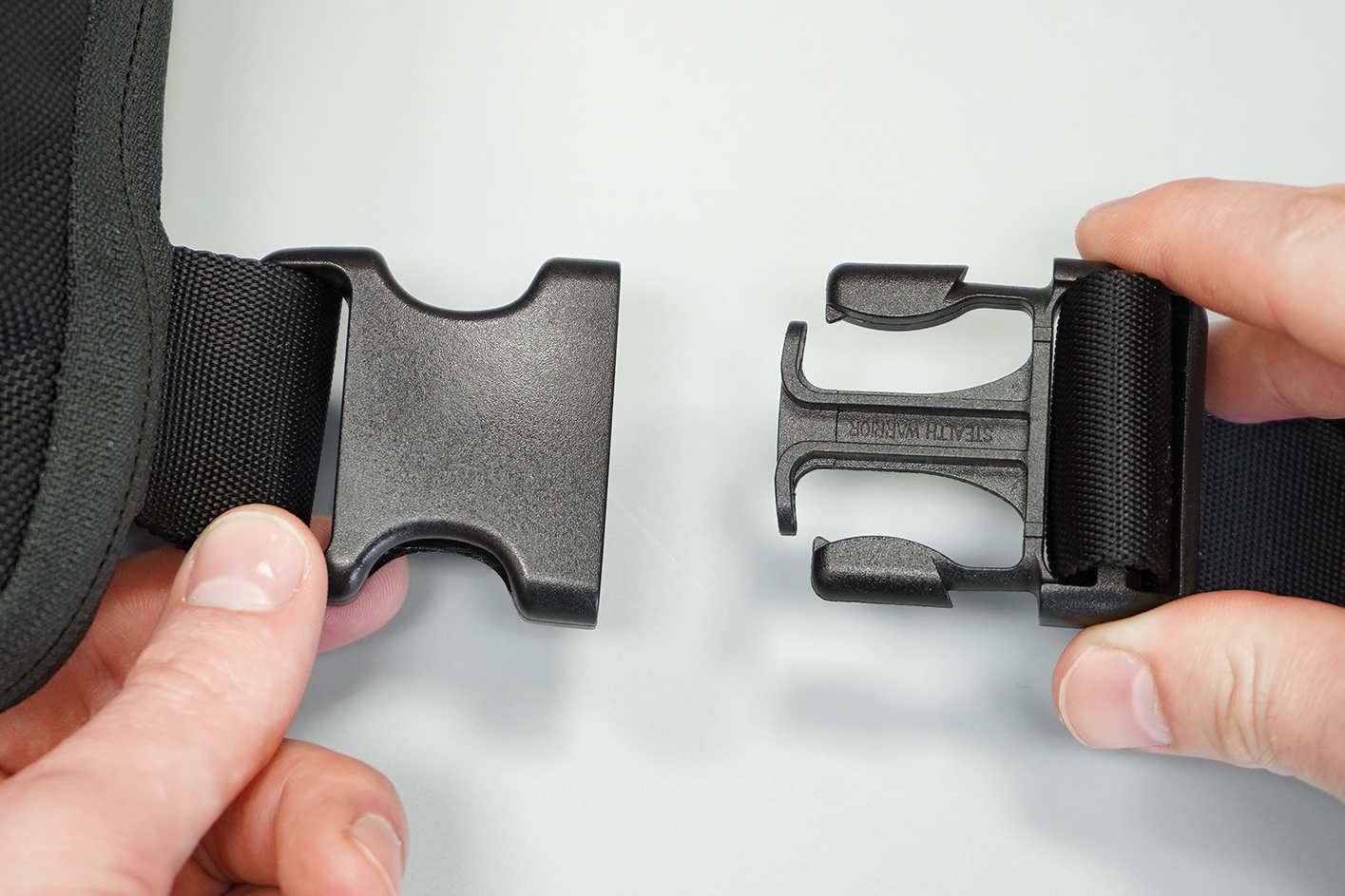 Overall, these materials just feel good in your hand and they all come together nicely in this sling.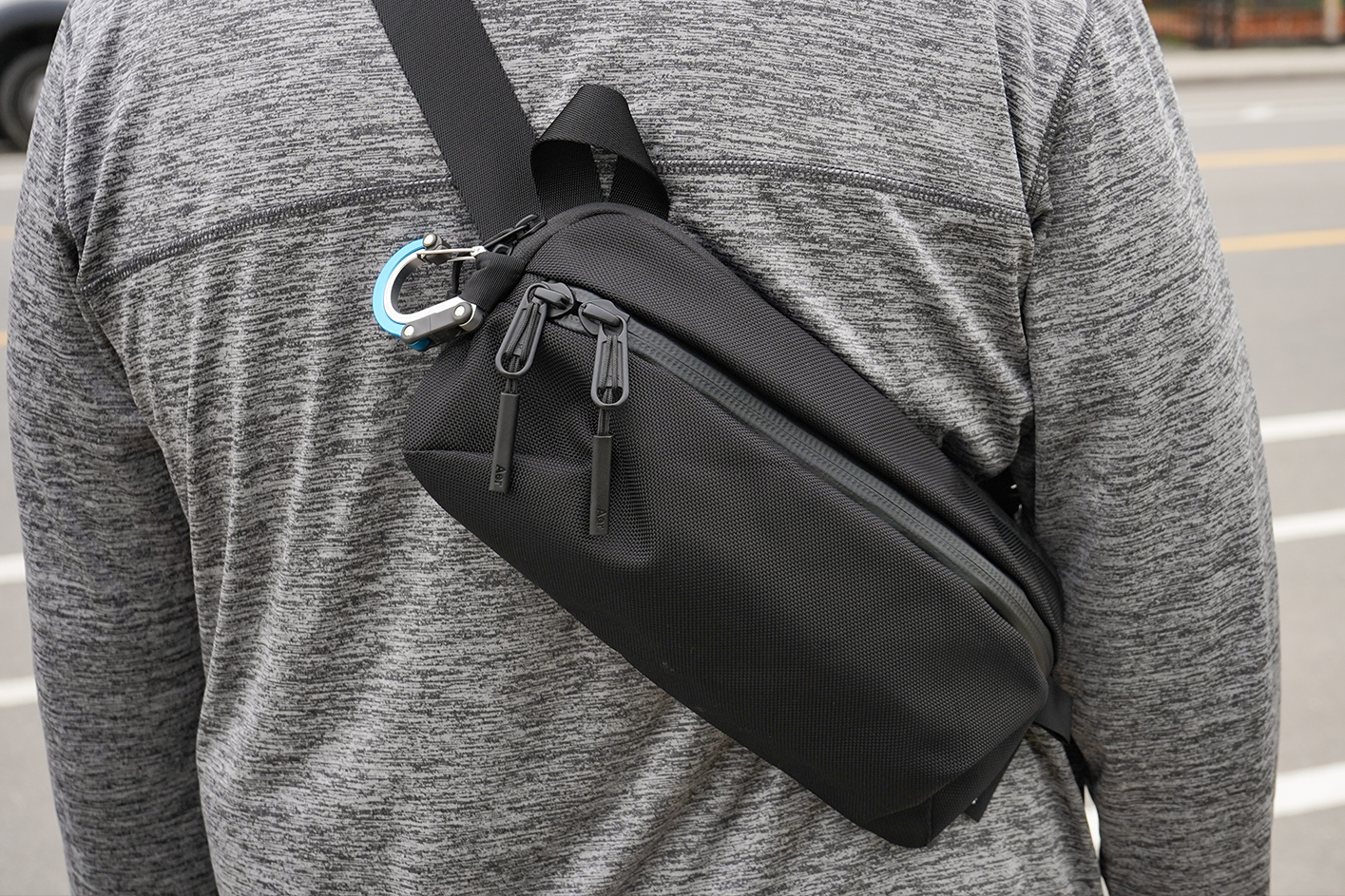 Now, these are some pretty serious materials for what some people would refer to as a glorified fanny pack. So, is this whole thing a bit over-designed for an under-5-liter sling? Some could definitely argue that the thick materials and somewhat chunky components are over the top. In our experience, though, the durability these materials bring to the table is well worth it—even for something small. You don't have to be hauling 50 pounds of gear to want something that lasts.
External Components
If you're at all unsure about how to carry the Aer Day Sling 2, we're happy to clear it up for you. As a sling, it's designed to be carried across your body, either on your back or front. It can not be worn as a hip belt and it isn't designed to be used as one. Once you've got that down, the overall carry of the Aer Day Sling 2 is comfortable and the length of the strap is easily adjustable so you can have it sitting as high or as low as you'd like.
We really like the elastic fastener on the strap, which keeps everything together to create a #danglefreeexperience.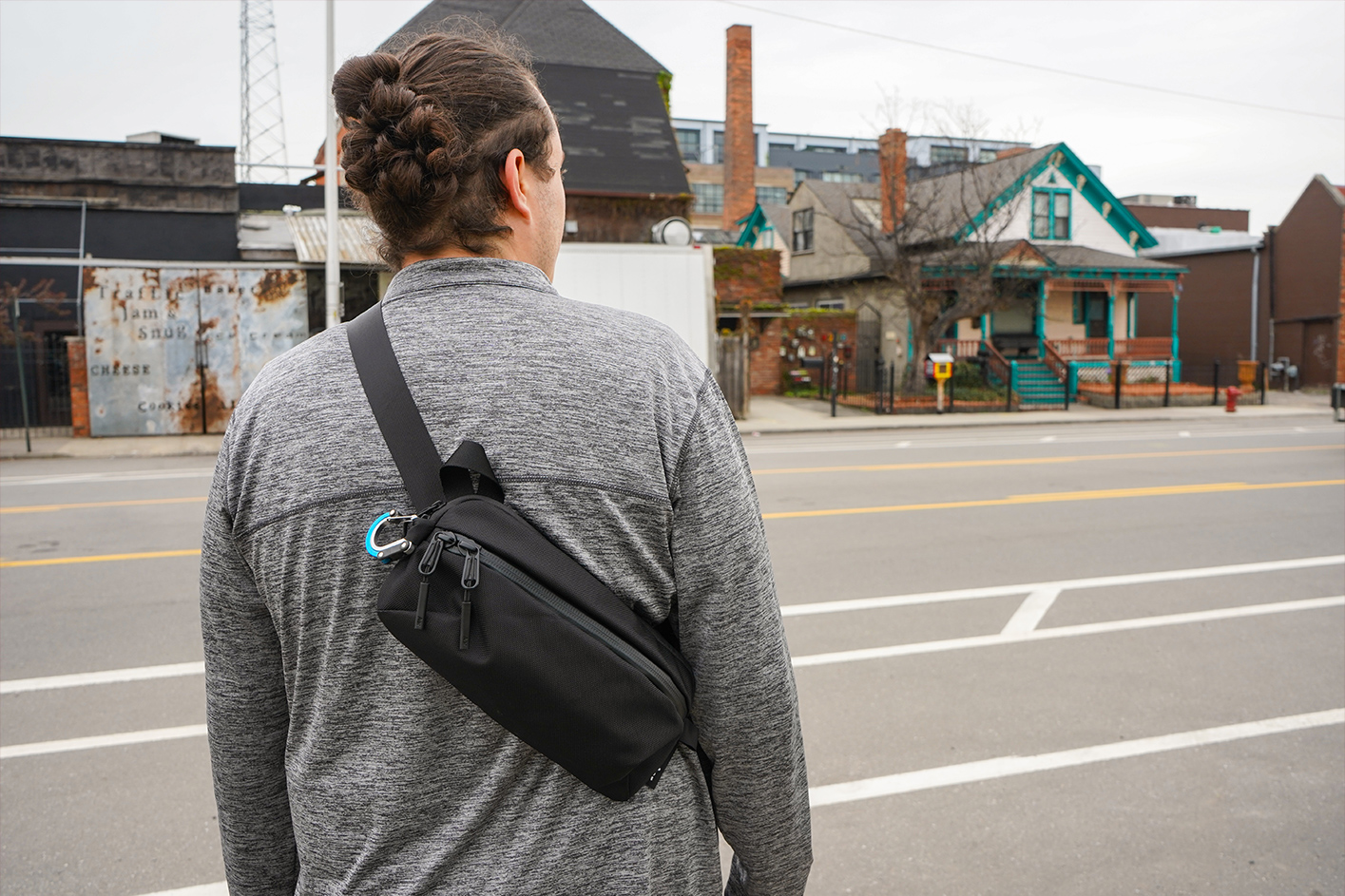 Based on our testing, the best way to wear this sling is cross-body along the wearer's back, swinging it around to your front when you need to get anything out. But if you're wearing a backpack, you can also wear this on the front and it works really well as a dual-carry option. This could be a great option for one bag travelers who would like to have a small personal item for flights.
Two lash tabs on the front of the sling allow you to clip items to it, though you'll obviously want to avoid anything large or bulky. We've found this to be a great place to attach a HEROCLIP, which lets you easily hang the pack on tabletops while you're out and about.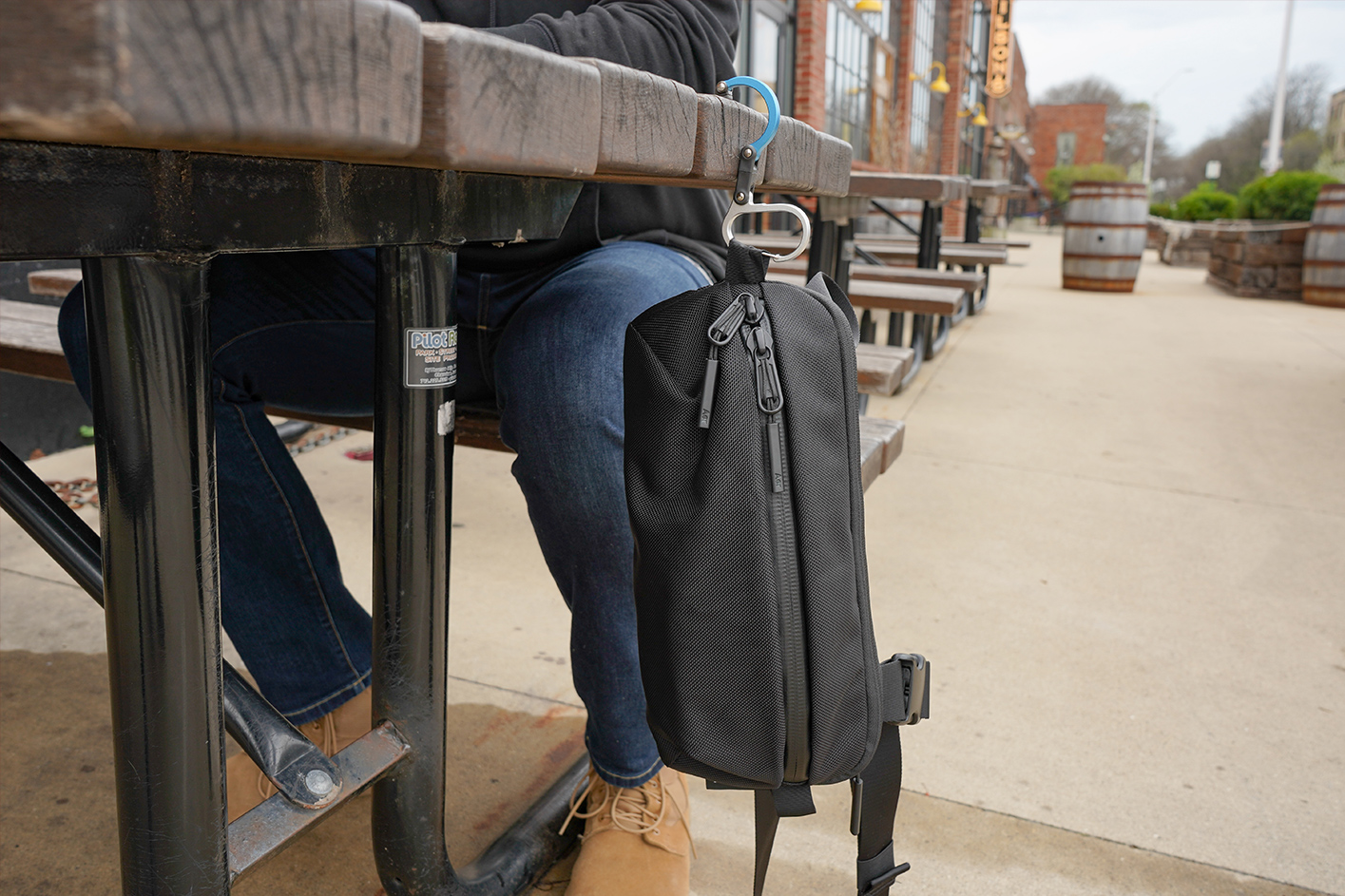 Finally, a looped handle on the top lets you hang the sling up when you don't have a HEROCLIP attached.
You can also use the looped handle to pick the sling up—but, realistically, it's slim enough that you can just grab it with your hand.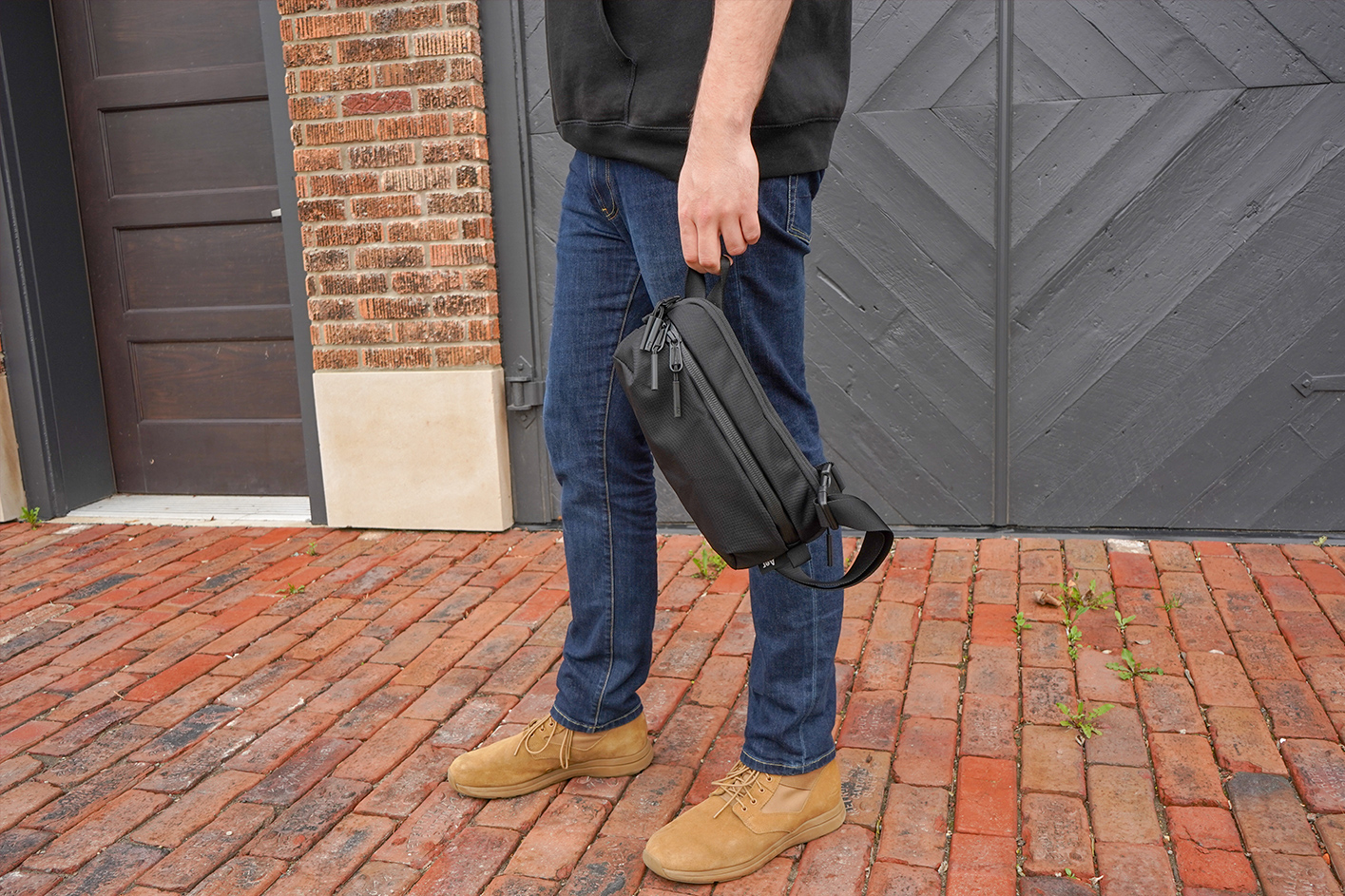 Inside the Sling
So you know we dig the look and feel of the Aer Day Sling 2, but how's the functionality and internal organization? For the most part, it doesn't disappoint.
Inside the front pocket, you'll find two stretchy divider pockets along the back with plenty of space in the front for larger items. This pocket is the easiest to access quickly so we usually toss a wallet and keys in the stretchy divider pockets and put a pair of sunglasses in the front for easy access.

The main compartment is large enough to fit a Nintendo Switch or an iPad Mini, and a large sleeve at the back of this compartment is designed to hold these items.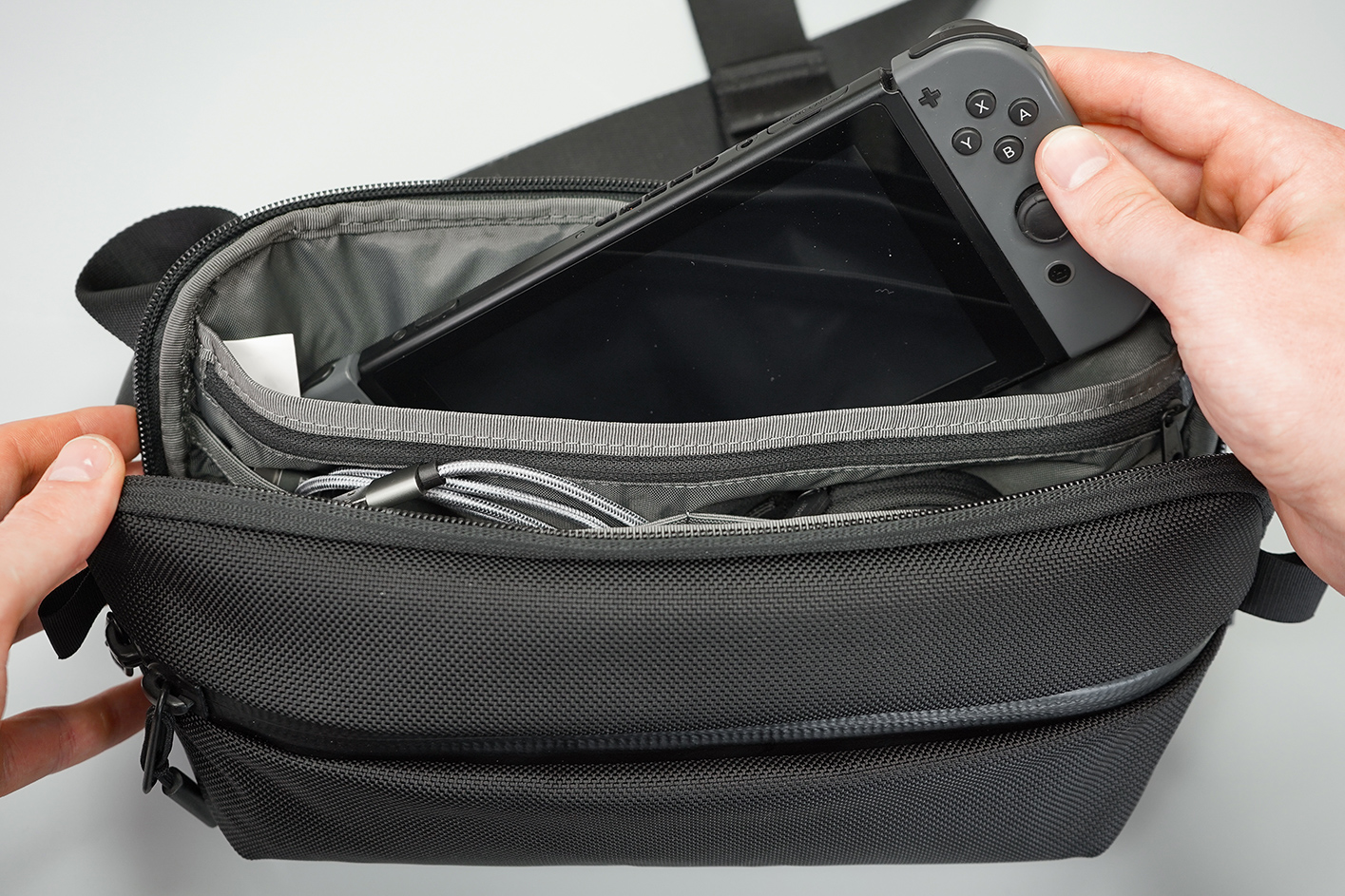 At the front of the Aer Day Sling 2's main compartment, there is a zippered pocket that is ideal for holding coins and other smaller items.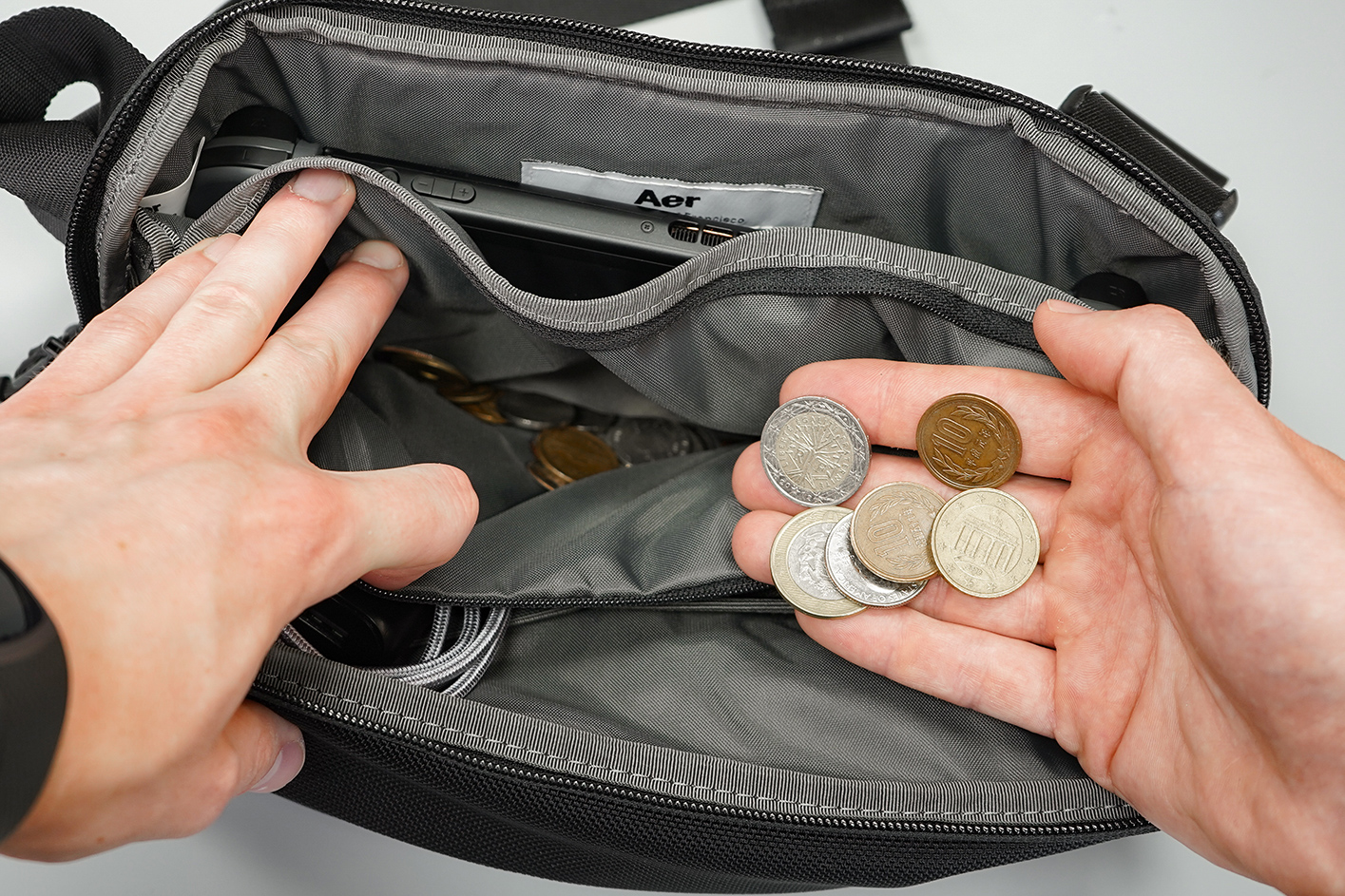 There's also a key clip here, but it's plastic—and even if it was metal, we prefer to keep our keys in the front for quick access anyway (your mileage may vary).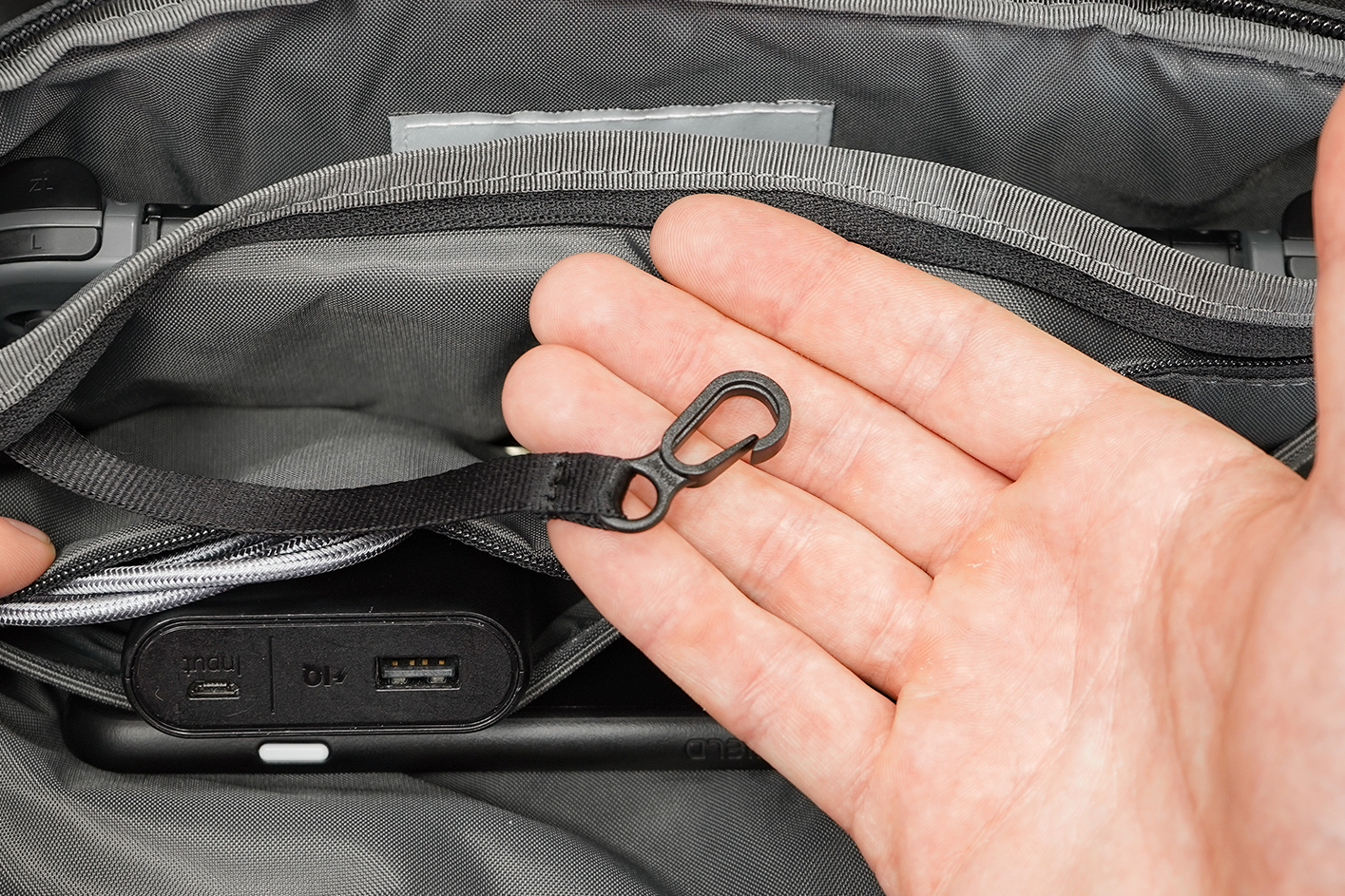 Just in front of that zippered compartment, you'll find two stretchy divider pockets identical to the ones in the front pocket. We've been using these in our testing for a power bank and some earphones.
In front of these dividers is an open space that's perfect for larger objects like your phone.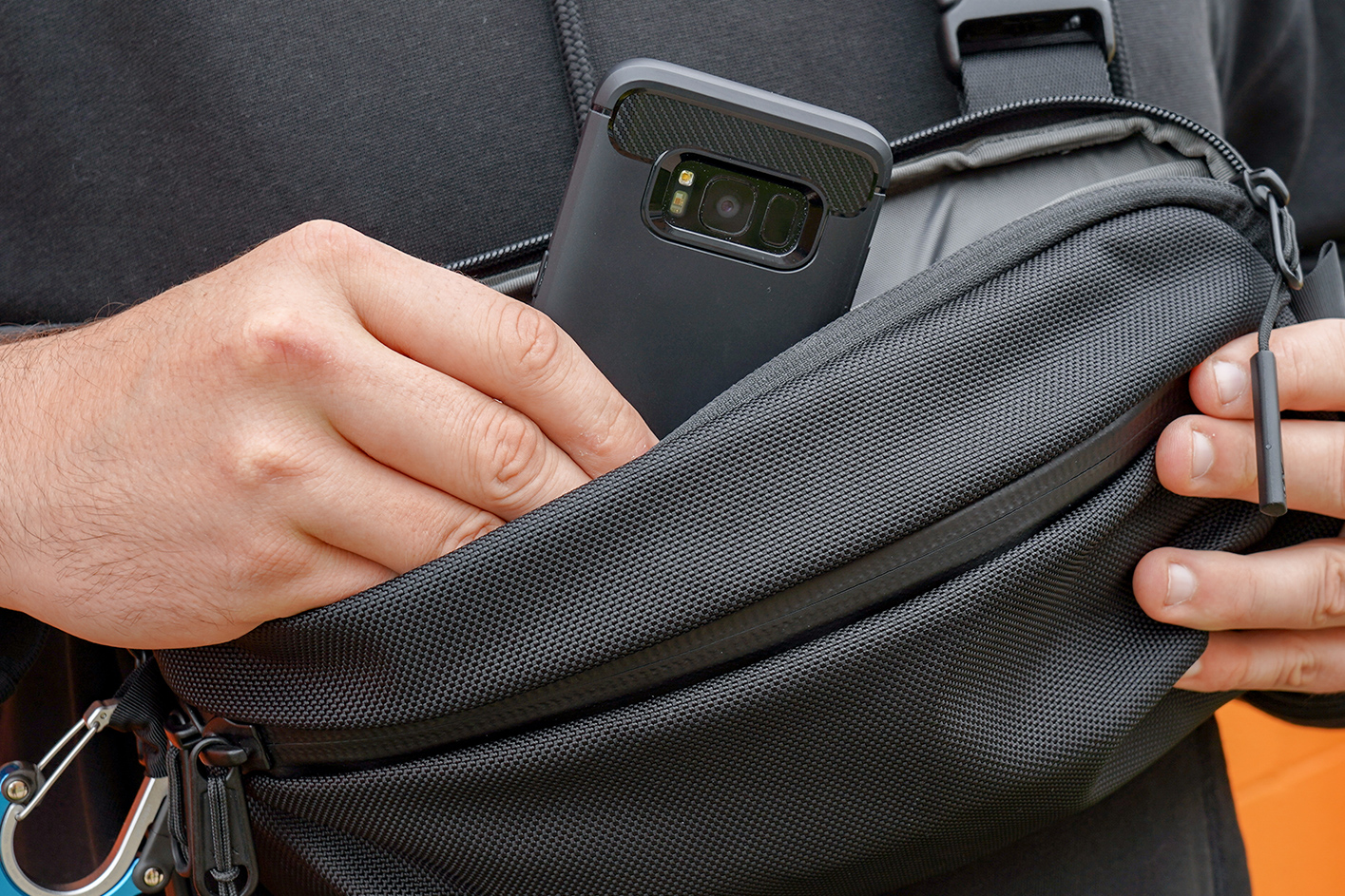 And wrapping up the internal features, there is a hidden compartment located at the back of the sling that is a great place to keep valuables, like your passport.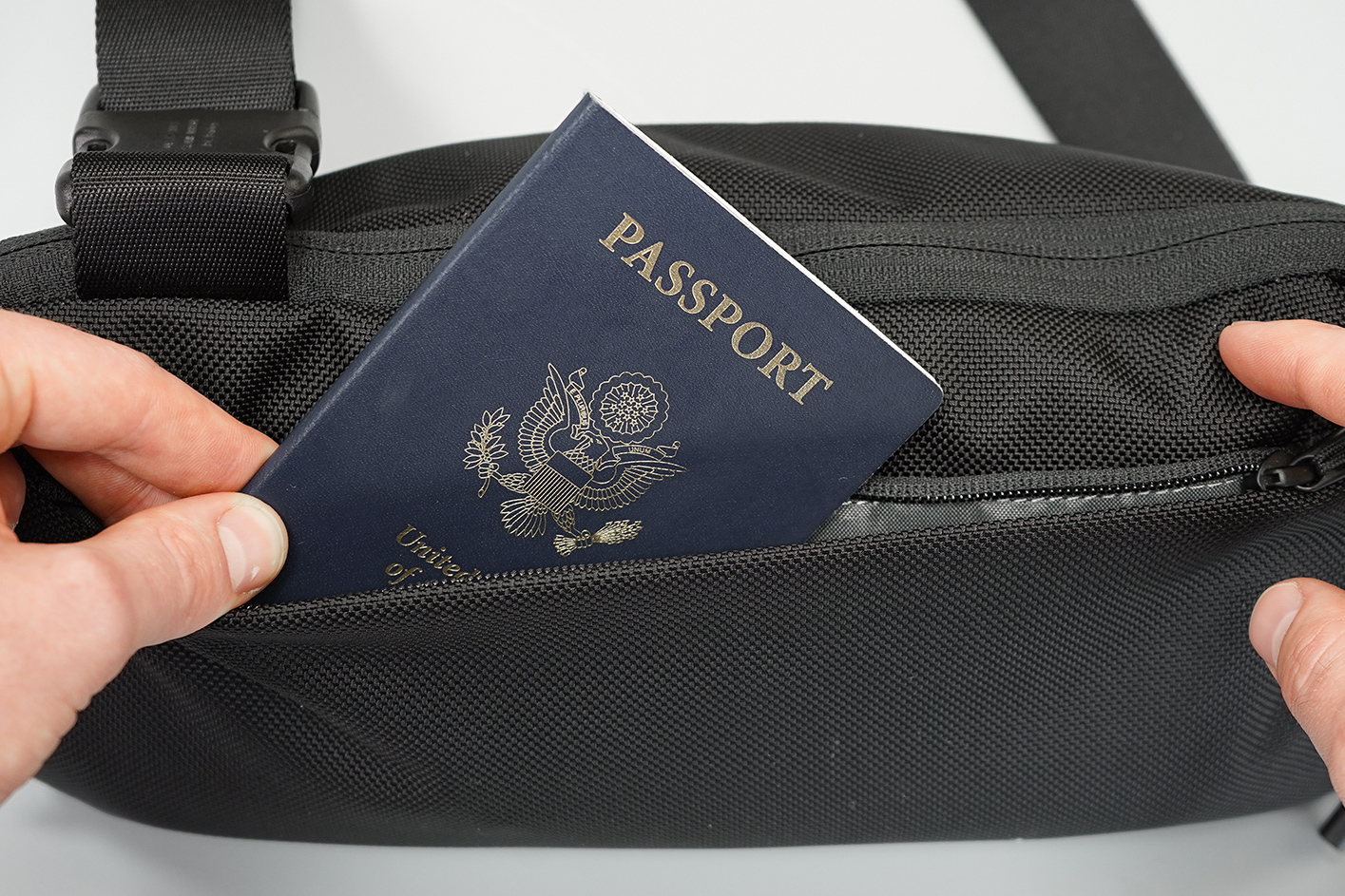 Keep in mind, though, that this hidden area has no internal organization.
Overall, there's plenty of organization offered inside the Aer Day Sling 2 with its three separate compartments and multiple divider pockets. We would have liked to see a bit more variety in the pocket sizes, though, since there are really only two size options—one type goes the full length and width of the sling while the other type goes halfway across the width. A couple smaller pockets in the compartments would help keep small items organized. It's a relatively minor complaint, but something to keep in mind.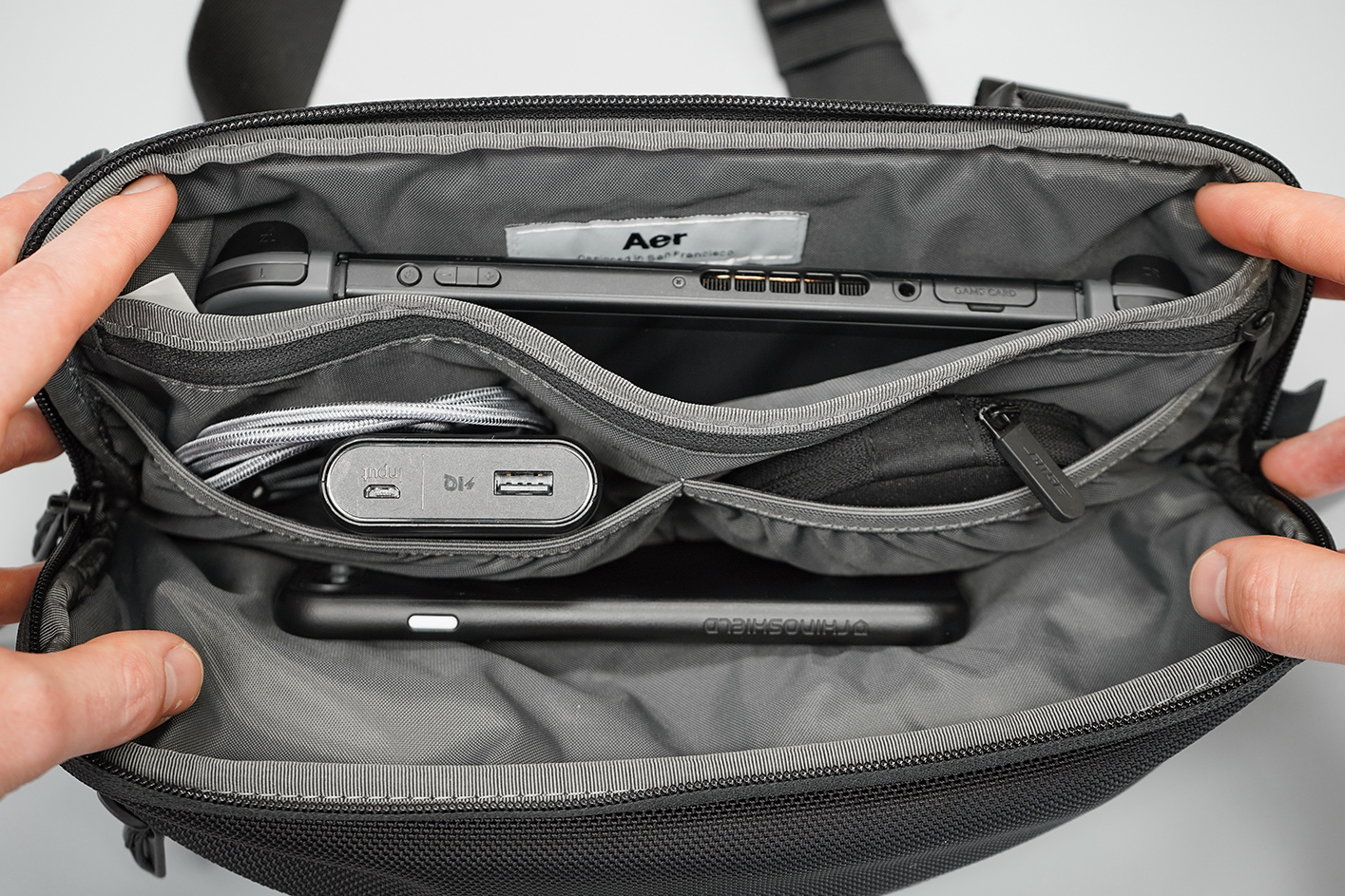 Durability & Testing
At the time of this review, we've been testing the Aer Day Sling 2 for a little over a month around Detroit, Michigan and on a day trip to Ann Arbor, Michigan. We're pleased to report that there are no signs of wear and tear as of yet.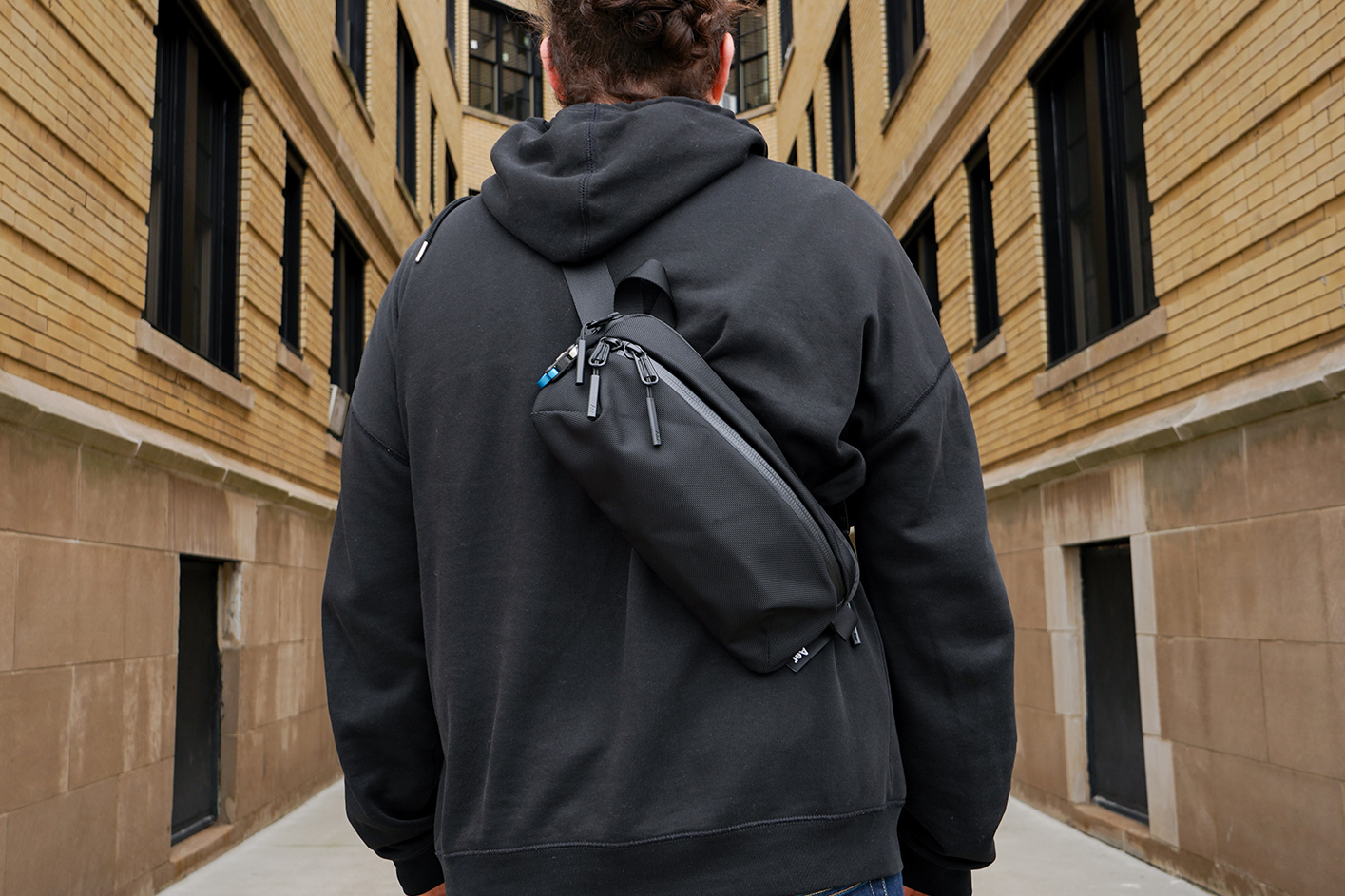 When we first started using the sling, we struggled to fill it out with just a phone, wallet and some keys inside. But after a few days of use, we found ourselves adding plenty more—like sunglasses, earphones and a power bank.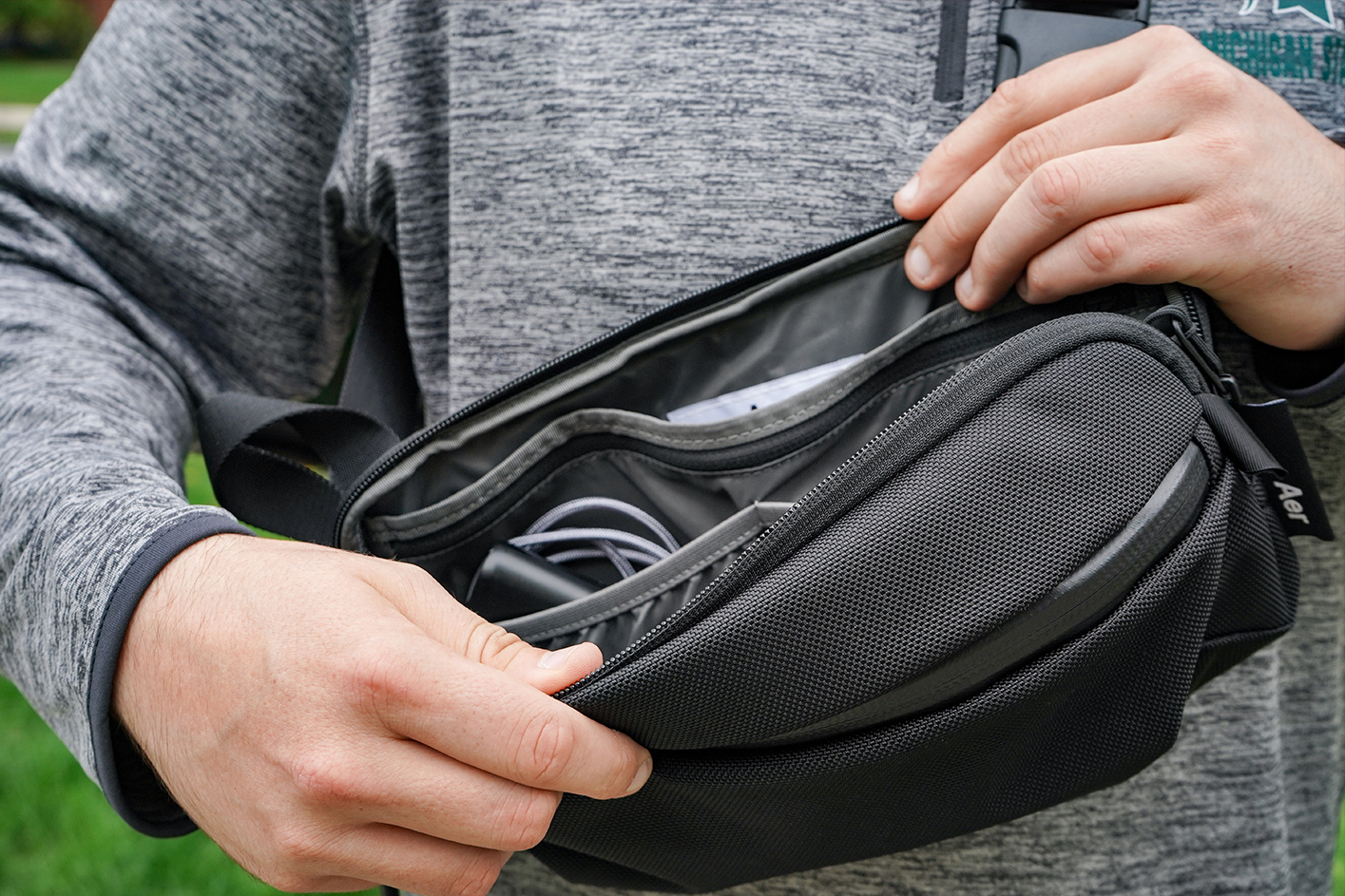 All in all, we've really enjoyed carrying our everyday essentials in this sling when a larger pack isn't necessary—which, of course, is exactly what this thing is designed to do.
With its durable materials and high-quality components, we expect the Aer Day Sling 2 to hold up for a long time, just like the other Aer products we've tested.
Usage Timeline
Initial Usage
Condition: Excellent
Durable materials and high-quality construction used throughout.
Ample space in the hidden pocket on the back side of the sling.
Zippers are a bit jangly while in motion.
Exterior zippered pocket has a #10 YKK Zipper! Provides are certain "look" but likely not needed for functionality or durability.
6 dividers inside for organizing gear on the pocket interiors (one has a zipper). Ample organization.
A tad overspec'd for the small size.
2 Weeks of Use
Condition: Excellent
Loving the durable materials and construction; provides ample space and organization.
1 Month of Use
Condition: Excellent
Holding up well, no wear and tear to be found.
Access the Pro Community Discussion
Get your questions about the Aer Day Sling 2 answered from our team and the Pro Community right here on the page. Plus, join discussions with other members about gear, guides, and more.
Other Bags & Luggage Reviews