Mystery Ranch Urban Assault 24 (UA24) Review
The Mystery Ranch Urban Assault 24, or UA24 for short, is a durable backpack with a comfortable harness system—once you get the hang of it.
Our Verdict
Unlock the Pro Summary
Save time. Get access to brief summaries of our reviews so you can browse and make decisions more efficiently.
Pros
High-quality materials and construction
Very comfortable harness system
Unique 3-Zip design for multiple ways to access
Cons
Laptop compartment can be cumbersome to access
Top handle seems unsolved
No elastic or stretchiness on interior pockets to hold items in place
Recent Pack Hacker Video
Technical Details
Capacity

24l

Weight (lb)

2.7 lb (1.2 kg)

Denier

500D

Dimensions

20 in x 11.25 in x 9 in (50.8 x 28.6 x 22.9 cm)

Notable Materials

CORDURA®, Nylon, YKK Zippers, Duraflex Hardware

Manufacturing Country

Vietnam

Laptop Compartment Size

15"

Warranty Information
Full Review
Comfort is huge when looking for a backpack that you plan on hauling around your next trip. What comes after comfort? Durability. Of course, these may not be your top priorities, but they definitely are for the Mystery Ranch Urban Assault 24—UA24 for short.
The folks at Mystery Ranch have been in the bag-making game for quite some time. They're known for creating high-quality, durable packs that can take a beating in the most extreme conditions—from forest fires to the frontlines to mountaintops. And if you're looking for comfort and durability, then the UA24 might be the bag for you (if you don't mind a slightly tactical look).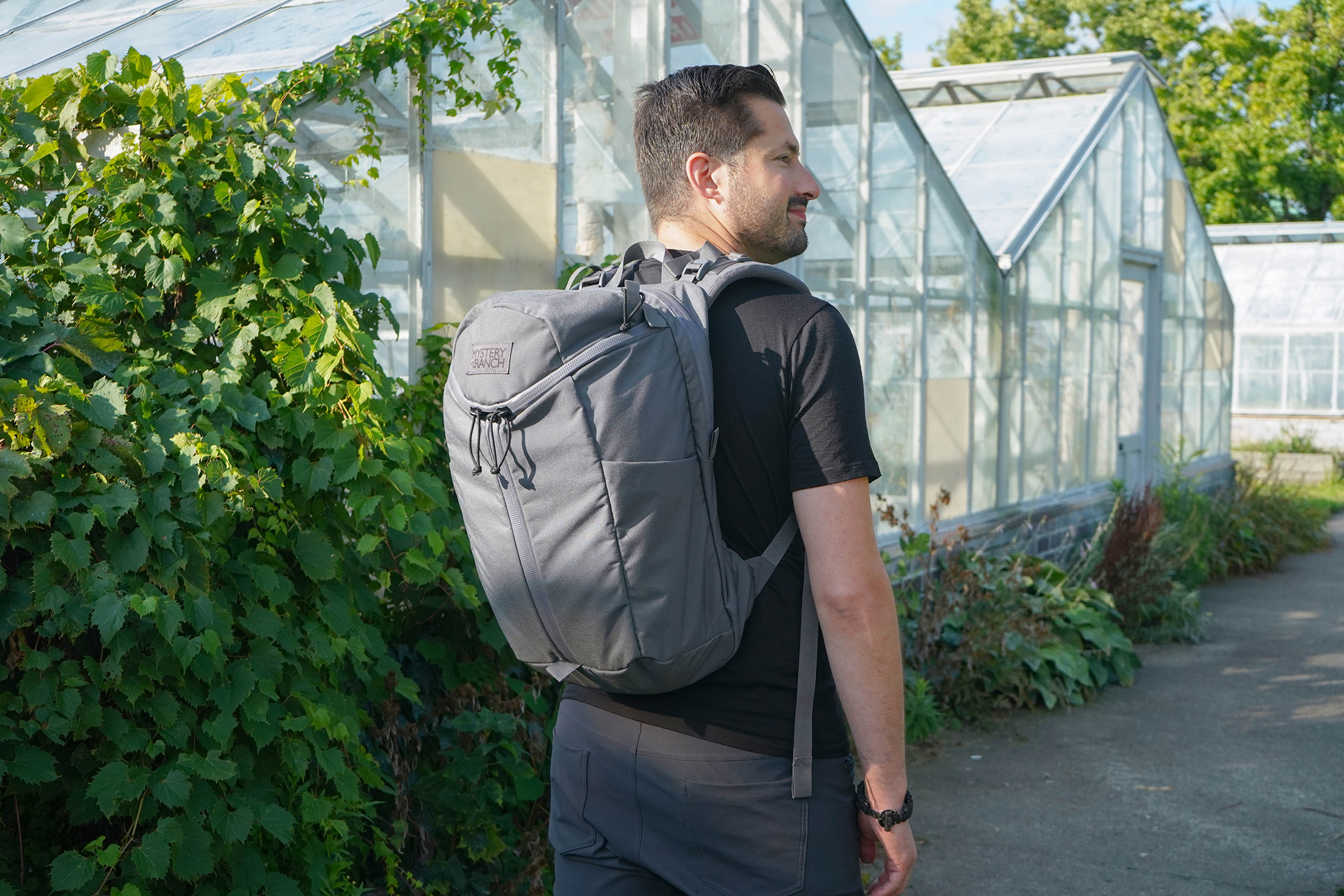 We've been testing this backpack for a little over two weeks in Detroit, Los Angeles, and San Francisco, including four flights and the first-ever Pack Hacker meetup—it's been a busy two weeks!
So let's jump right in.
Material & Aesthetic
Overall, the Mystery Ranch UA24 has a pretty streamlined look—especially when comparing it to other bags in Mystery Ranch's line-up. There's not a lot of external PALS webbing, which we like. But, if you're going for a more tactical or outdoorsy aesthetic, consider checking out the GORUCK GR1 or something else in Mystery Ranch's collection.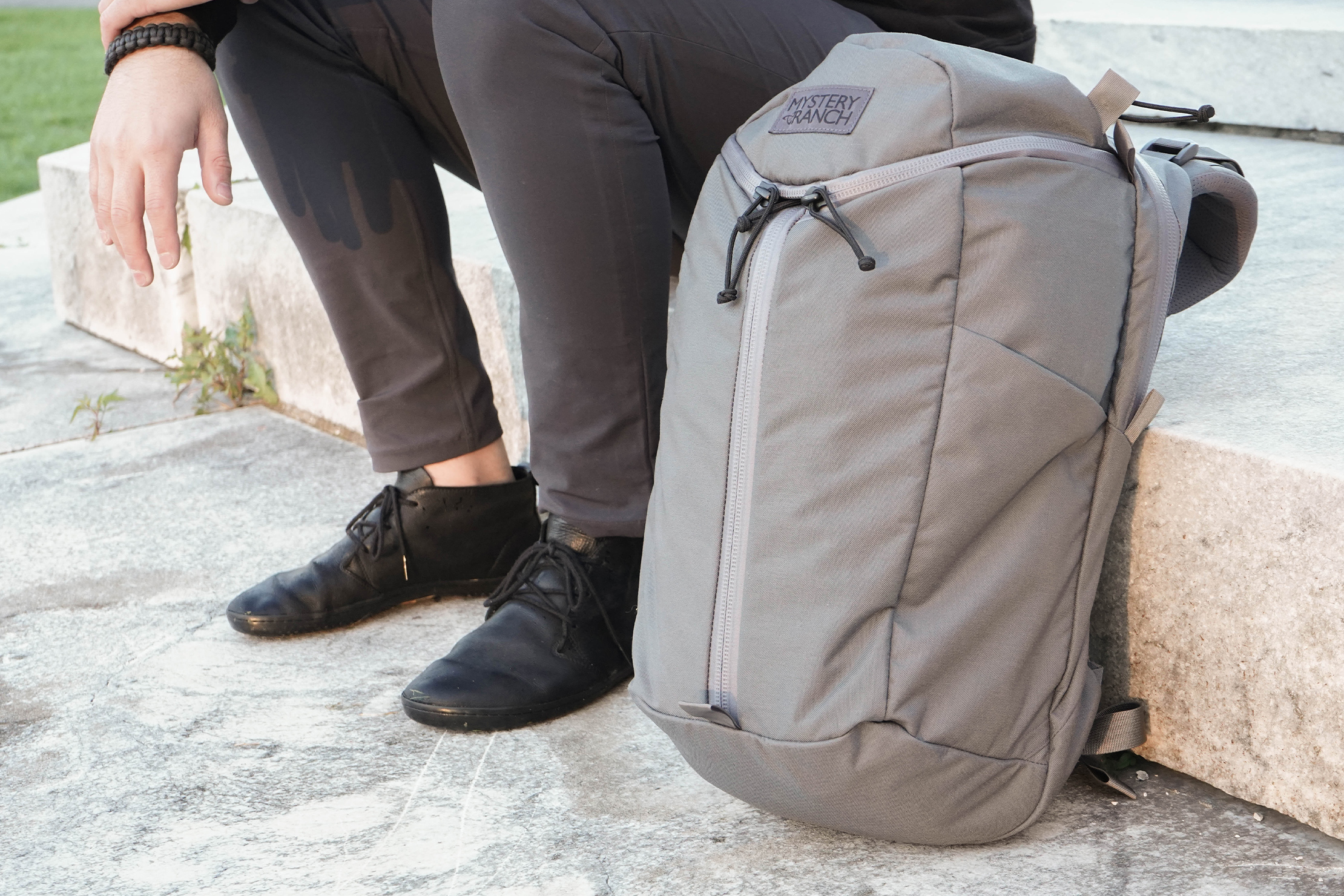 At the time of this review, the UA24 comes in four colorways: Black, Indigo, Ivy, and Shadow. We've been testing this bag in Shadow (…gray…) just to switch it up from our usual black—and we've been liking the look of this colorway.


The main material on this bag is 500D CORDURA Nylon, making it tough and durable. You'll find a Mystery Ranch logo front and center on the bag's lid. The logo is on the large side, but we like that the tag matches the color of the bag so it doesn't stick out too much.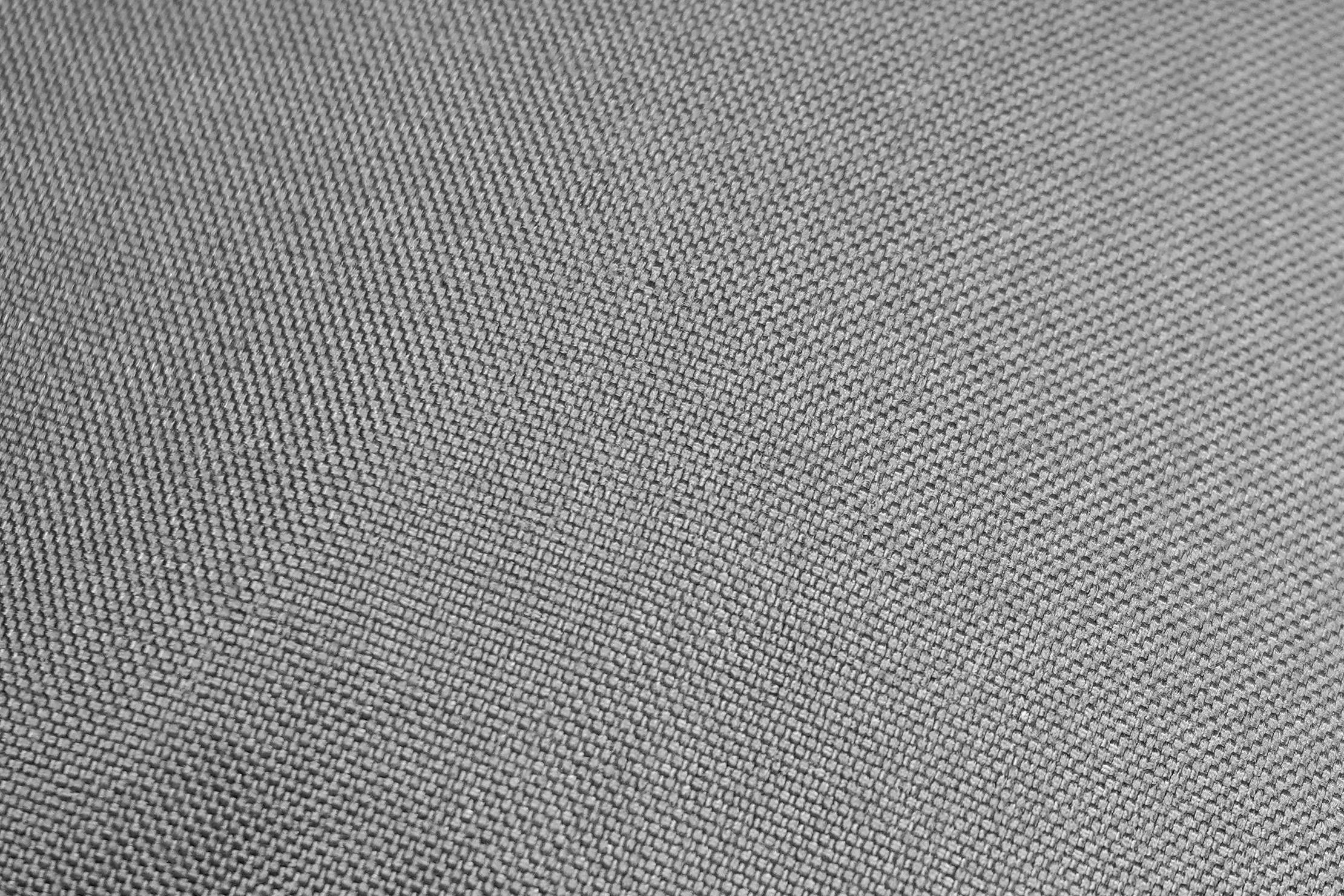 Wrapping up the materials, you'll find YKK AquaGuard zippers throughout. The YKK zippers are #10 for the main zips and #8 for the quick-grab pocket. What does this mean? It means they're big, beefy, and weather-resistant.
Speaking of zippers: this is the first Mystery Ranch bag we've tested that features their 3-ZIP closure, but more on that shortly (we promise).
The hardware is all Duraflex, which we like to see. We've always had luck with Duraflex buckles, so you shouldn't have any durability issues there. This bag is not messing around.
Overall, we think the UA24 has a pretty unique look—some folks dig it, some don't. We decided to poll our Instagram audience and found some pretty mixed reviews. (Make sure to give us a follow, @packhacker, if you want to take part in the next poll!)
External Components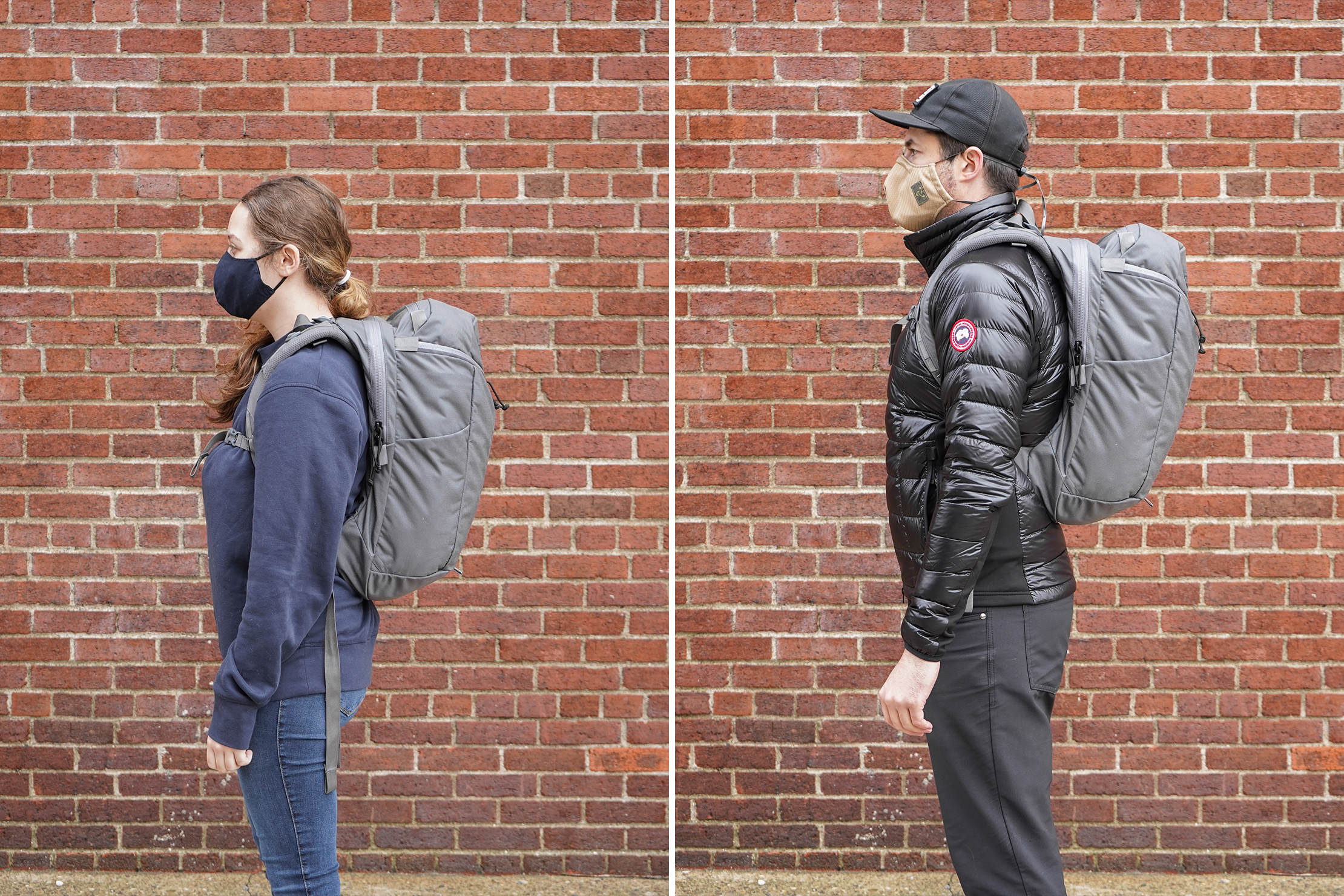 Let's start with one of our favorite parts of this bag: the harness system.
The harness system is super comfortable and super adjustable—which is great because it will work well with different body types. It also means you can get this thing to ride exactly how you want it (especially if you like bags to ride higher on your back, which this tends to do).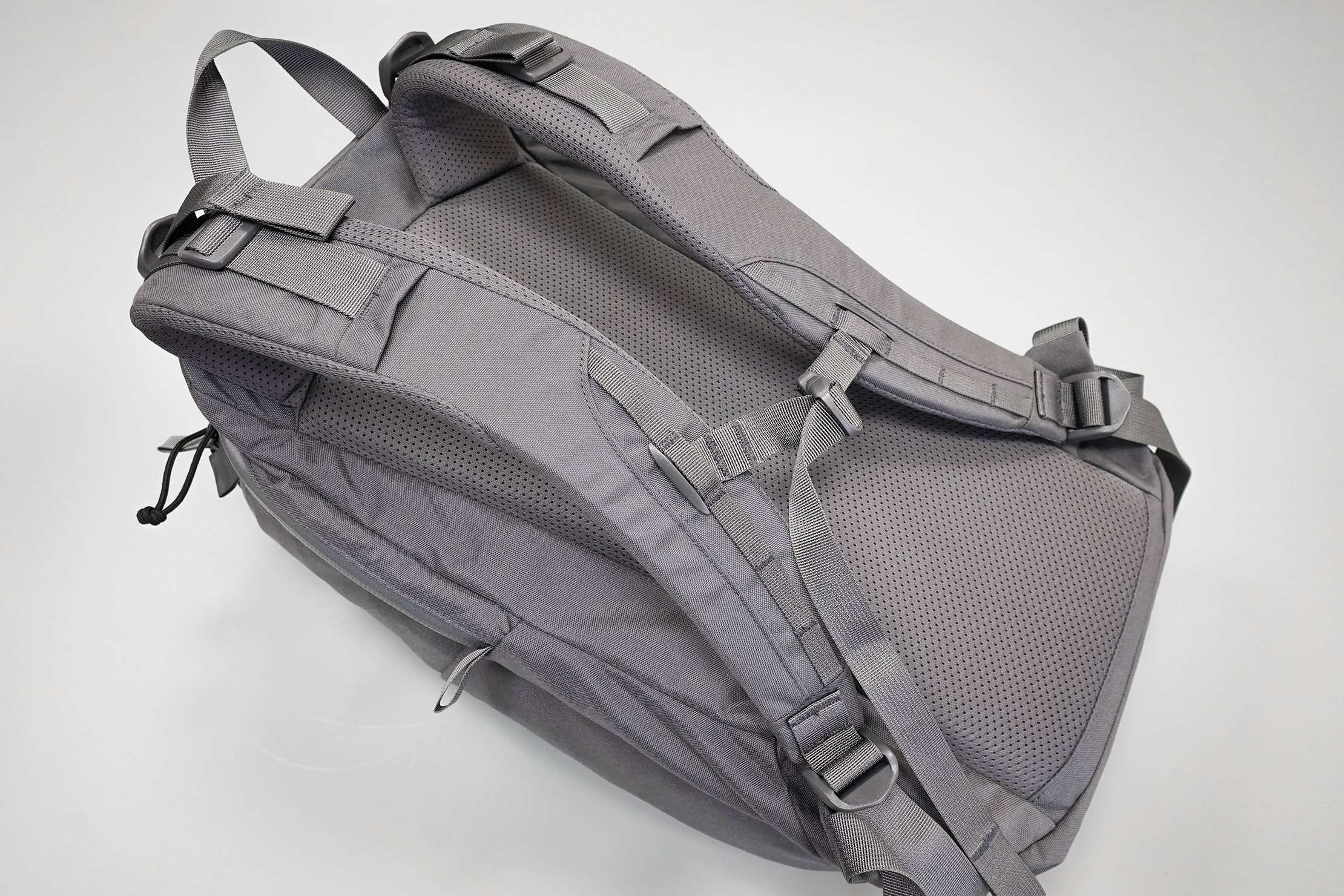 Something to note: adjusting this harness system does take a bit of getting used to (it was weird at first), but once you figure it out, you'll be traveling in comfort.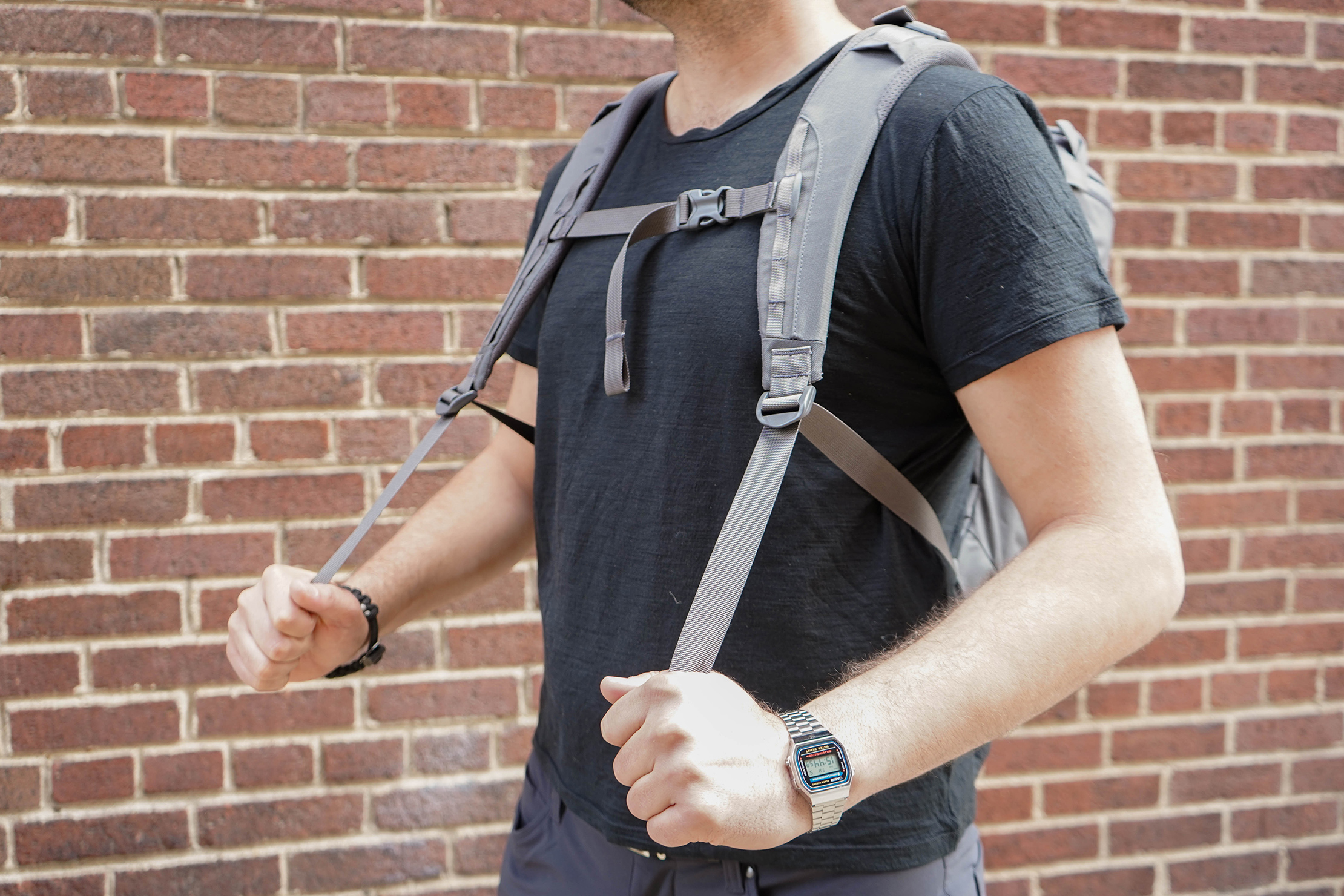 Now, let's talk straps.
There is some seriously thick, seriously dense foam in these shoulder straps—probably about half an inch thick (based on very scientific eyeball measuring).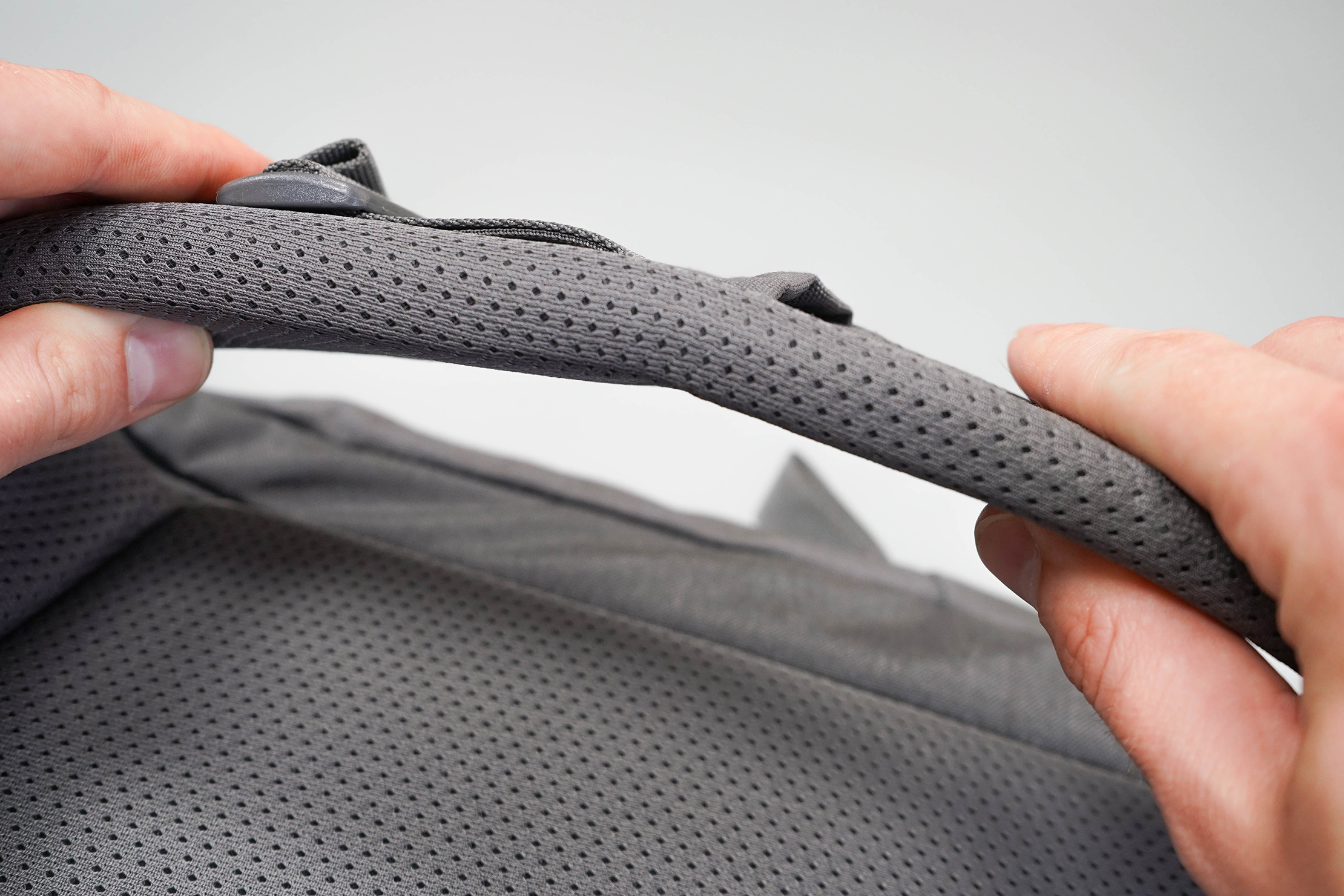 At the top of the straps, you'll find load lifters. But these aren't just any ordinary load lifters. These load lifters (how many times can we say "load lifters" in one paragraph?) are adjustable in two different places, which adds to the customizability of this harness system.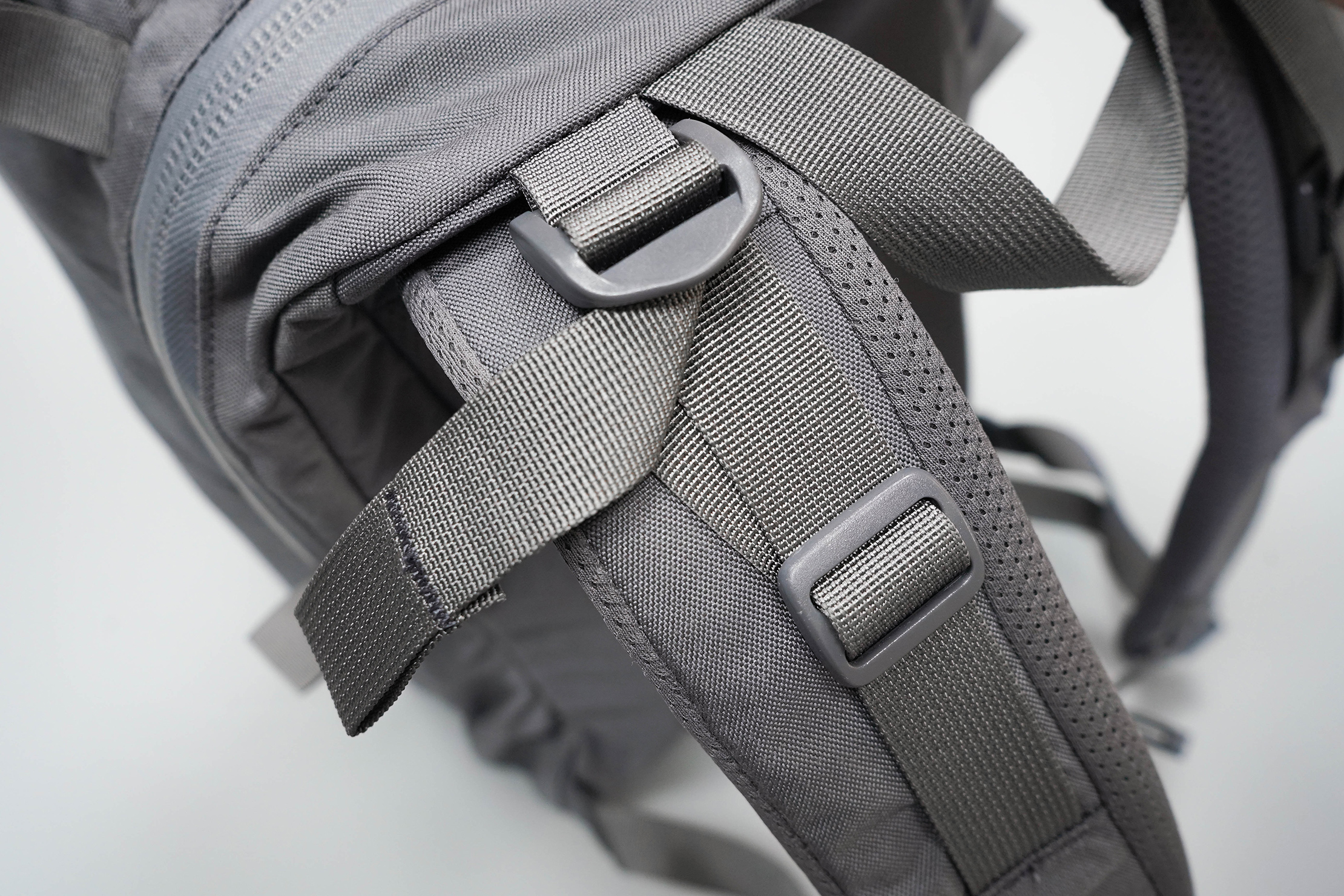 Heading down the rest of the straps, you'll find a thin row of PALS-like webbing which gives the sternum strap a few different adjustable heights. Now, as you probably know, we prefer when bags have a permanent attachment point for the sternum strap—we've had too many fall out in transit. The folks at Mystery Ranch seem to have thought about this issue and used wider hardware that feels more secure than the thinner stuff we've seen on other sternum straps of this style.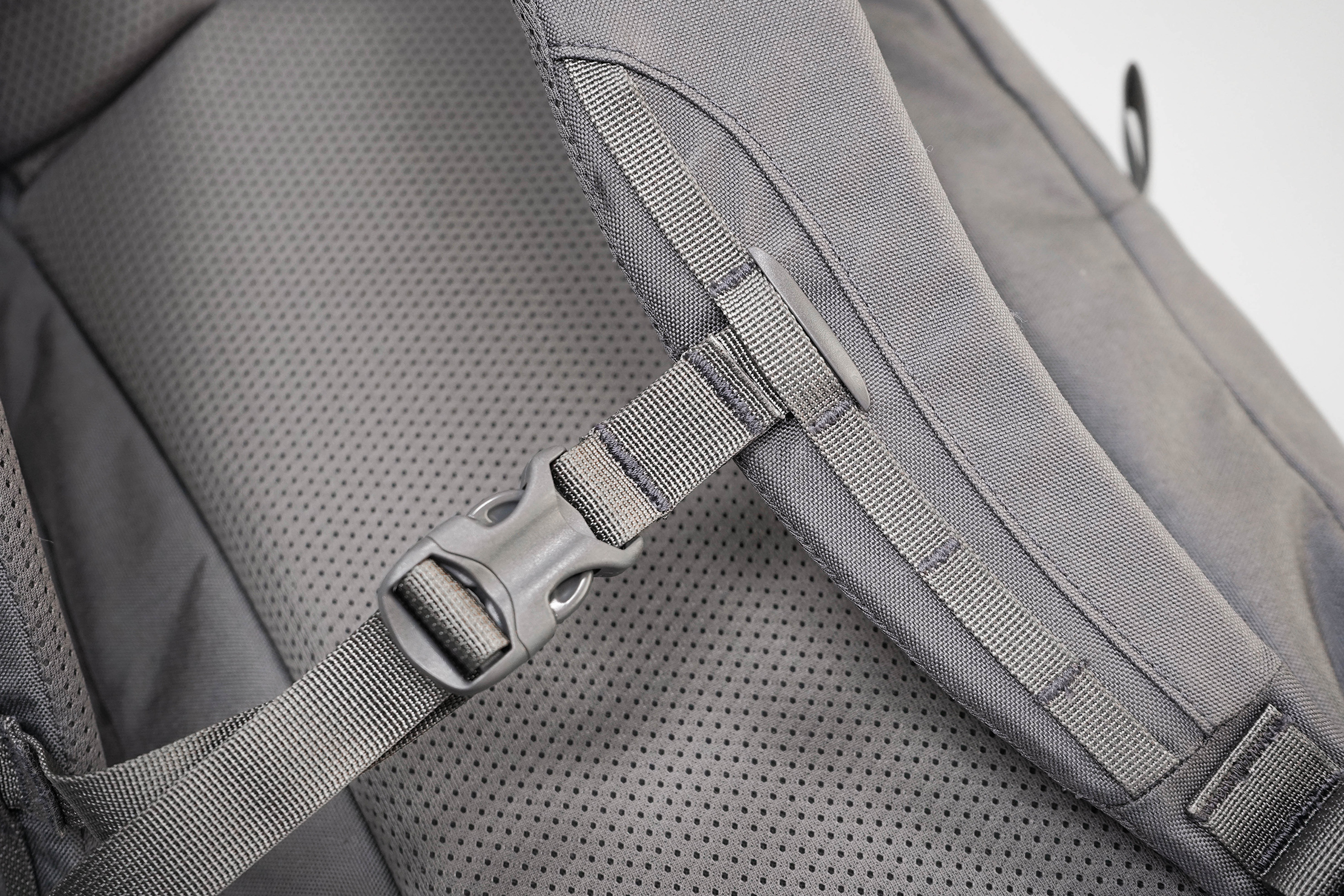 The only downside of these straps? There are no elastic keepers to tidy up the excess dangly-ness. There's also no option for a hip belt, but at 24 liters we don't think you'll need one—especially not with how comfortable this pack is, even when loaded to the max.
Wrapping up the rest of the harness system, we have a padded back panel—with about the same density foam as the shoulder straps—and mesh paneling to help with airflow.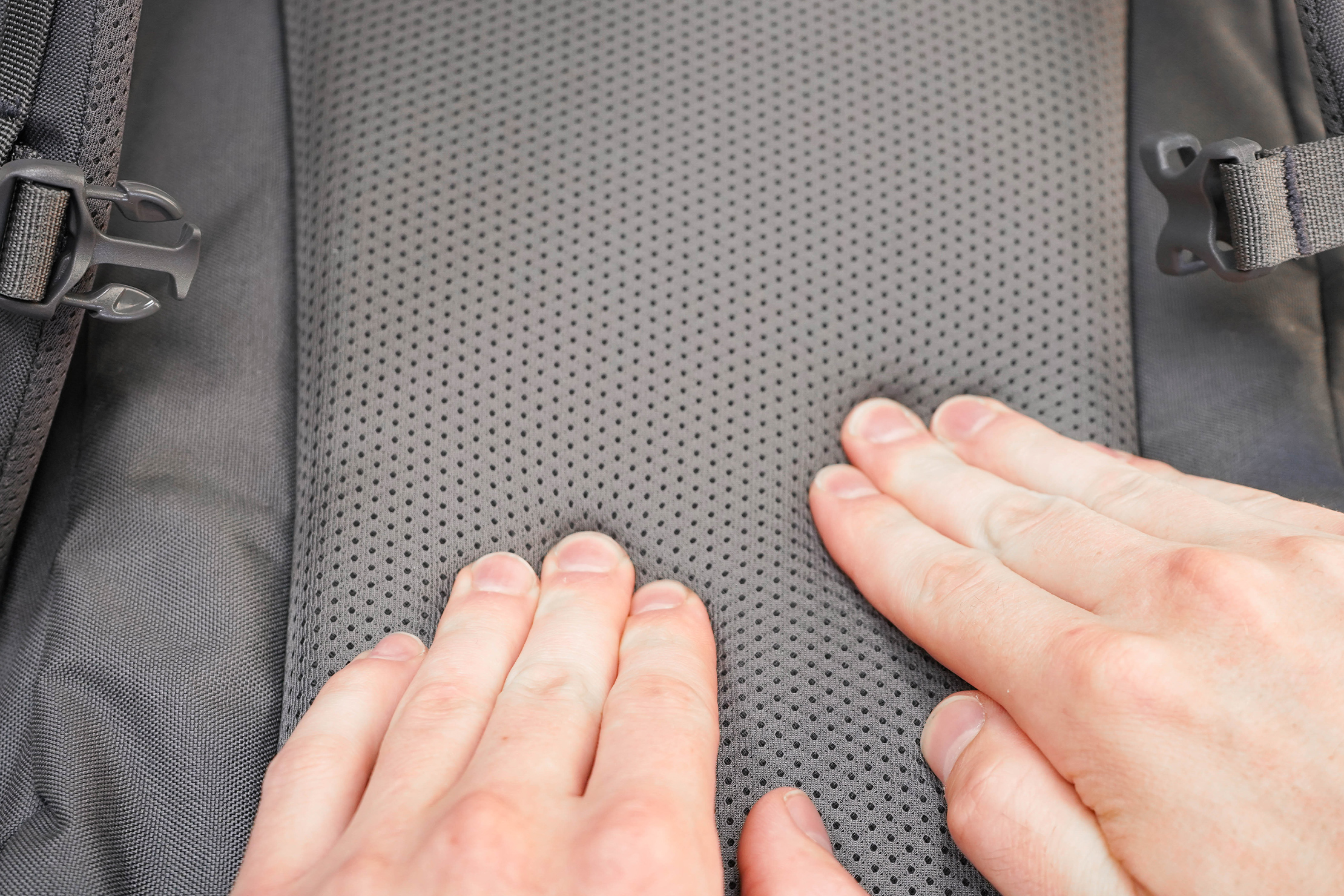 Moving on to the rest of the exterior features…unless you want us to keep talking about the shoulder straps. Yes? No? Got it.
Next to each zipper, you'll find nylon tabs that give you a place to hold while opening and closing the zipper. They're a small but thoughtful touch that really helps when yanking on these stout zips.
The UA24 has two exterior water bottle pockets—one on each side. The main thing to note with these pockets is that they don't have any stretch. This can be both good and bad. The good thing is, it keeps the bag sleek. You don't have excess material bunching up or getting snagged (like under the airplane seat). The bad thing is, if you have a bigger water bottle—like the YETI Rambler 18oz Bottle—it's going to cut into the interior capacity of the main compartment. It hasn't been a huge issue for us, but it can be a tight fit if you have the bag stuffed full.

Last, and probably least, is the top handle. It seems like an afterthought. It's a plain nylon strap with no structure or padding. Some of that dense foam from the shoulder straps (and you thought we moved on) would have been nice. Or folding the handle material in half and sewing it together—which we've seen other companies do—would at least give the illusion of padding. Alas, Mystery Ranch could not be bothered.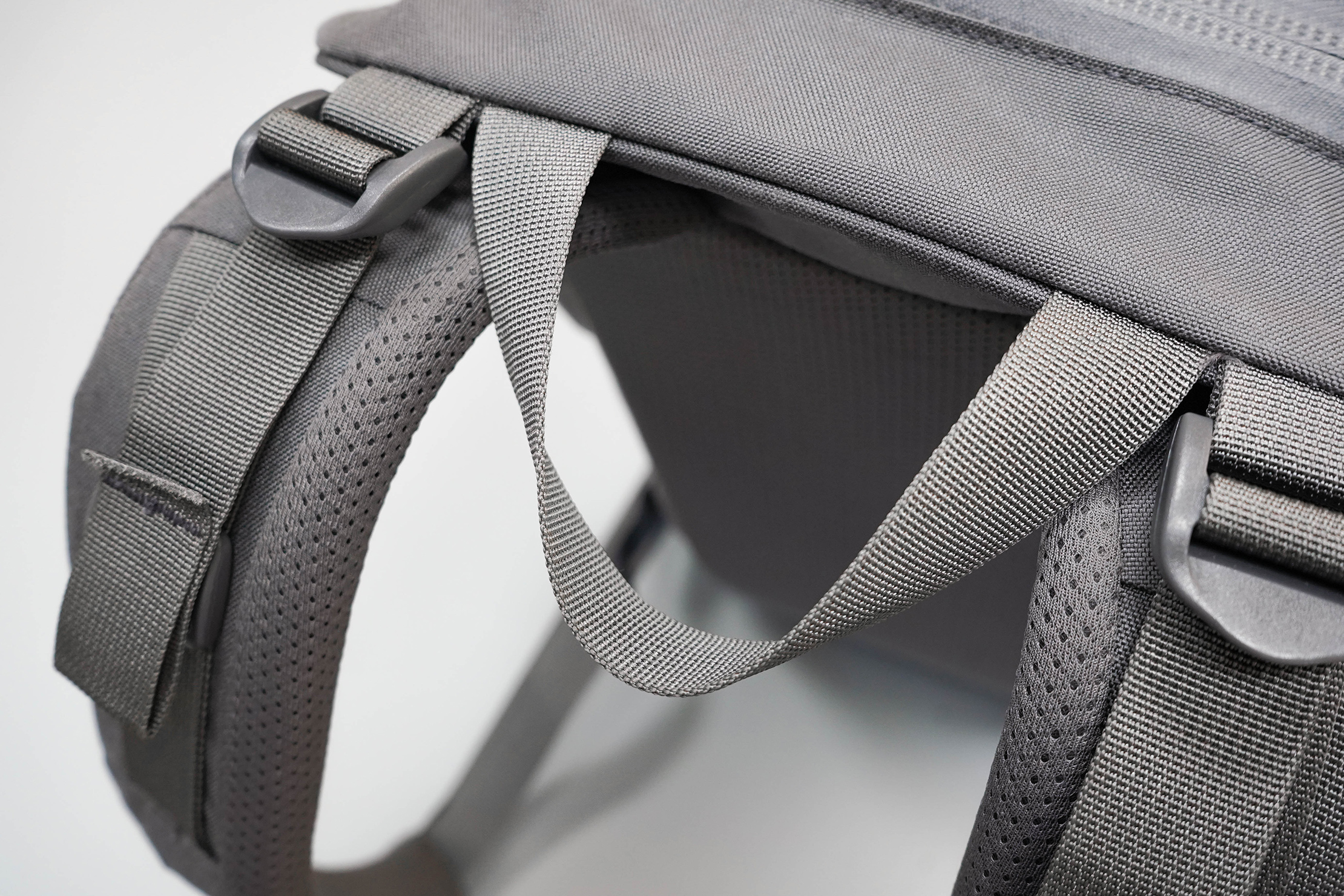 Also, the handle is sewn at the back which makes the whole bag tilt forward and flails all over the place when you pick it up. This handle will definitely get the job done, but it feels tacked on and doesn't match the quality you'll find throughout the rest of this bag. Speaking of flailing, the UA24 does not stand up on its own, even when fully packed out. The bottom is not flat, so the bag always falls forward. Not a big issue for us, but something to note.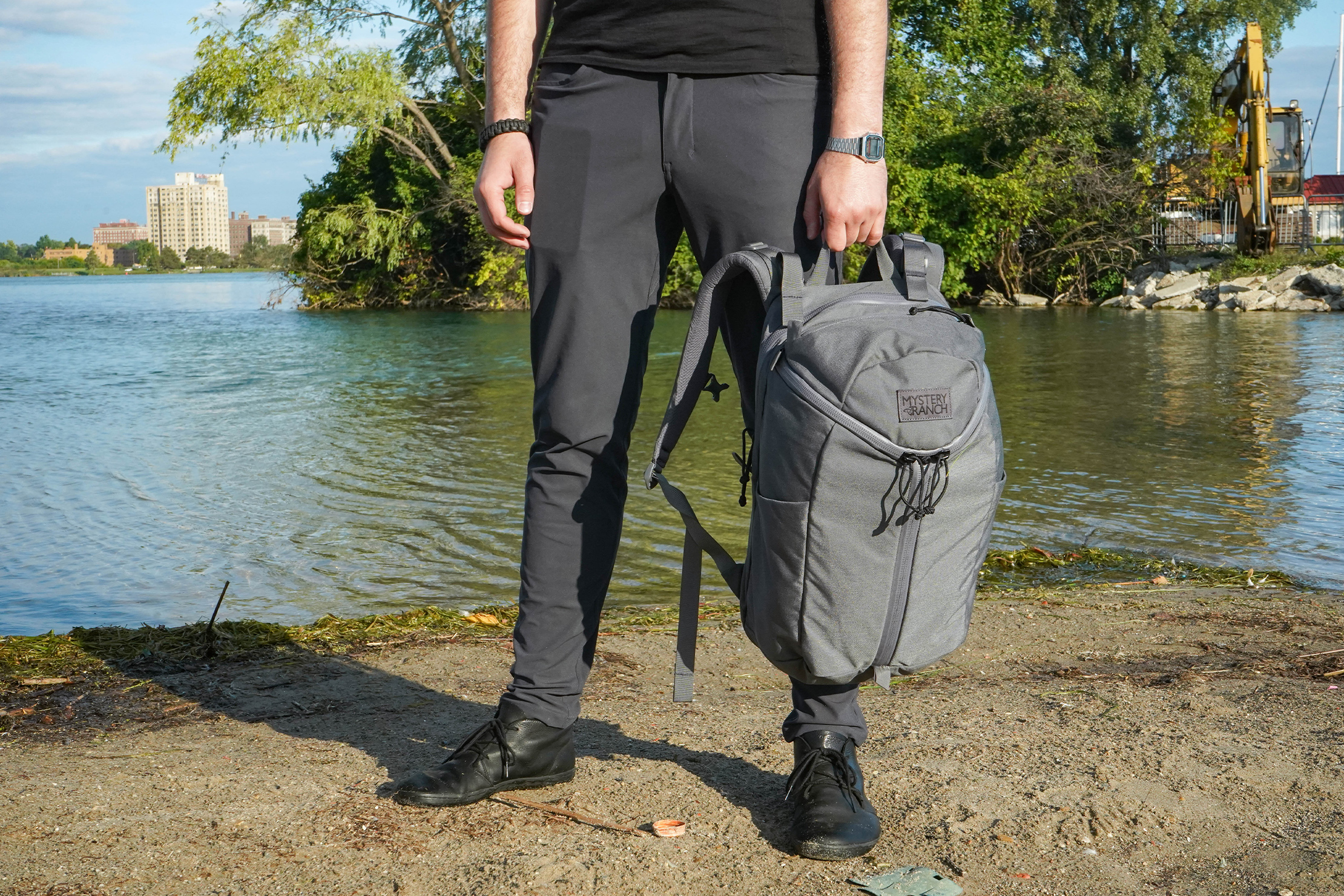 Inside The Pack
Diving into the interior of this bag, let's start with the laptop compartment.
When you open up this pocket, you'll see a laptop sleeve. On the front of the laptop sleeve, there's a smaller tablet pocket. There's also some elastic attached to the side of this whole unit which helps keep things tidy. This sleeve also has a false bottom, so if you drop your bag abruptly, your laptop won't suffer the consequences—which we love.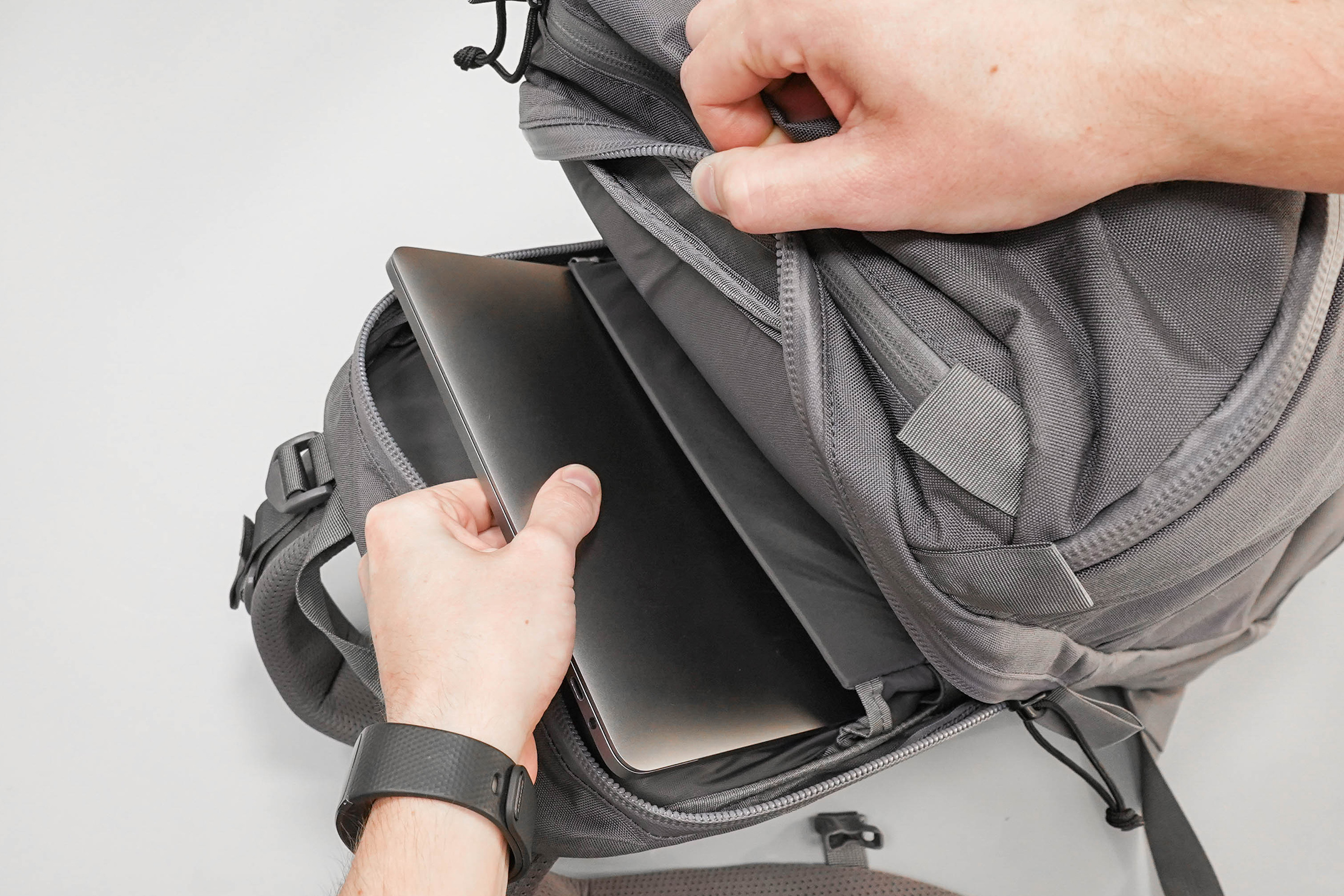 Plus, the laptop compartment is sealed with one of those YKK AquaGuard zippers we were talking about earlier. Although this compartment is not waterproof, we like the added weather-resistance for our laptop.
One thing to note in this compartment: you can really see and feel the curved frame sheet. It's flexible enough to pull out of the way when accessing your tech gear, but we have noticed that sliding a laptop in and out can feel a little cumbersome.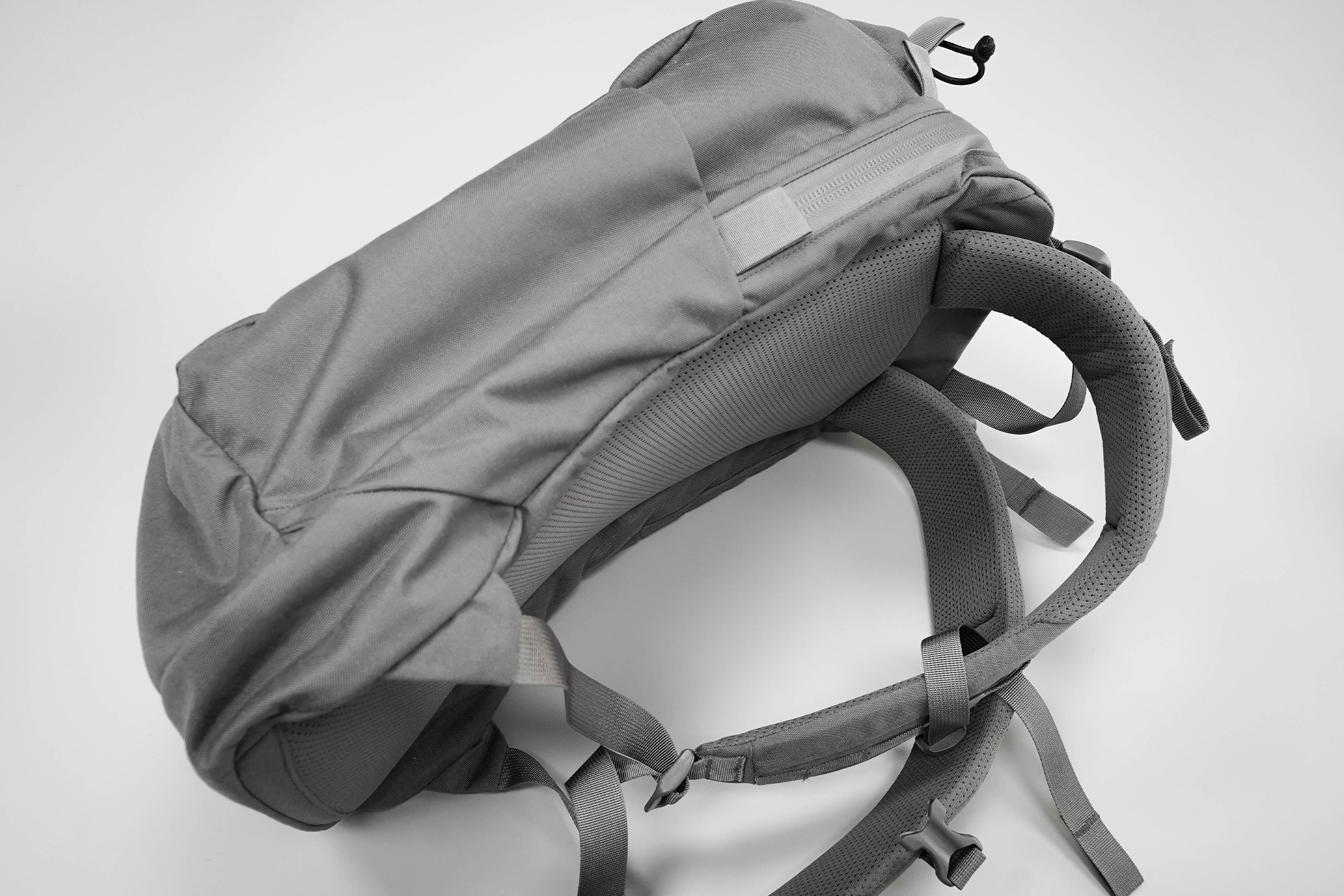 We've been hauling around a 15" laptop with no case (livin' on the edge) and have still noticed that it can be stubborn to get in and out. The sides of the laptop sleeve fold up inside, getting in the way of a smooth experience. Also, the whole sleeve seems to sit lower in the pocket than on other bags—pair that with the curved frame sheet and it could be adding to the issue. Either way, it's not a dealbreaker, but definitely worth mentioning.
Moving on to the top of the bag, there's a quick-grab pocket on the lid. This pocket has a weather-resistant zipper (sensing a theme?) and opens up to reveal a mesh bottom. There's no internal organization going on here, but it's a great size for keeping a Dopp kit, tech pouch, or anything else you need easy access to. It's also a great place to stash everything that's in your pockets while going through security.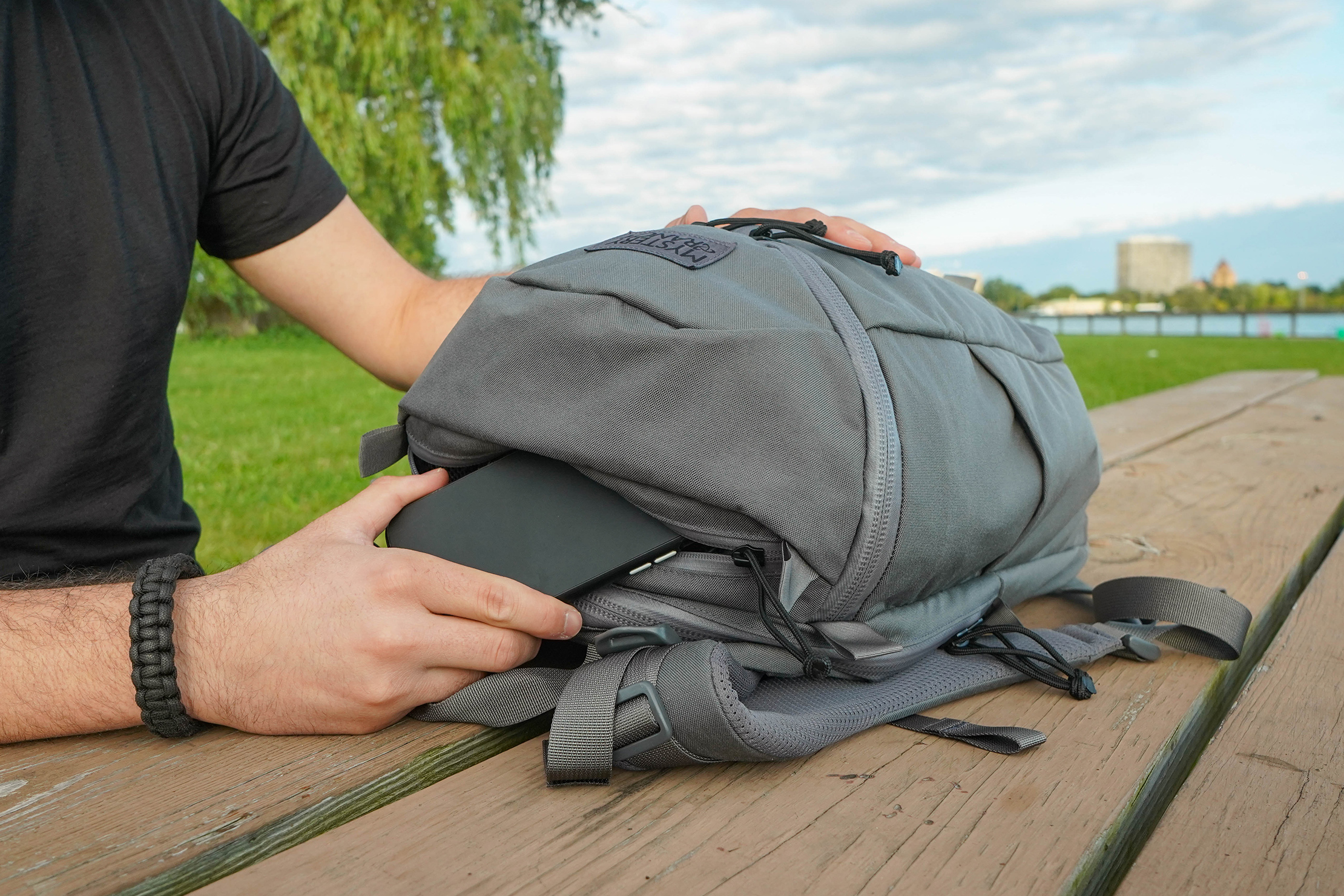 Now for the moment you've all been waiting for. Drumroll, please…The 3-ZIP!
Like we said earlier, this is the first Mystery Ranch bag we've tested with this style of pocket—and so far, we're digging it. This tri-zip design is meant to give you quick access to the inside of the pack—just grab the lid and pull it open.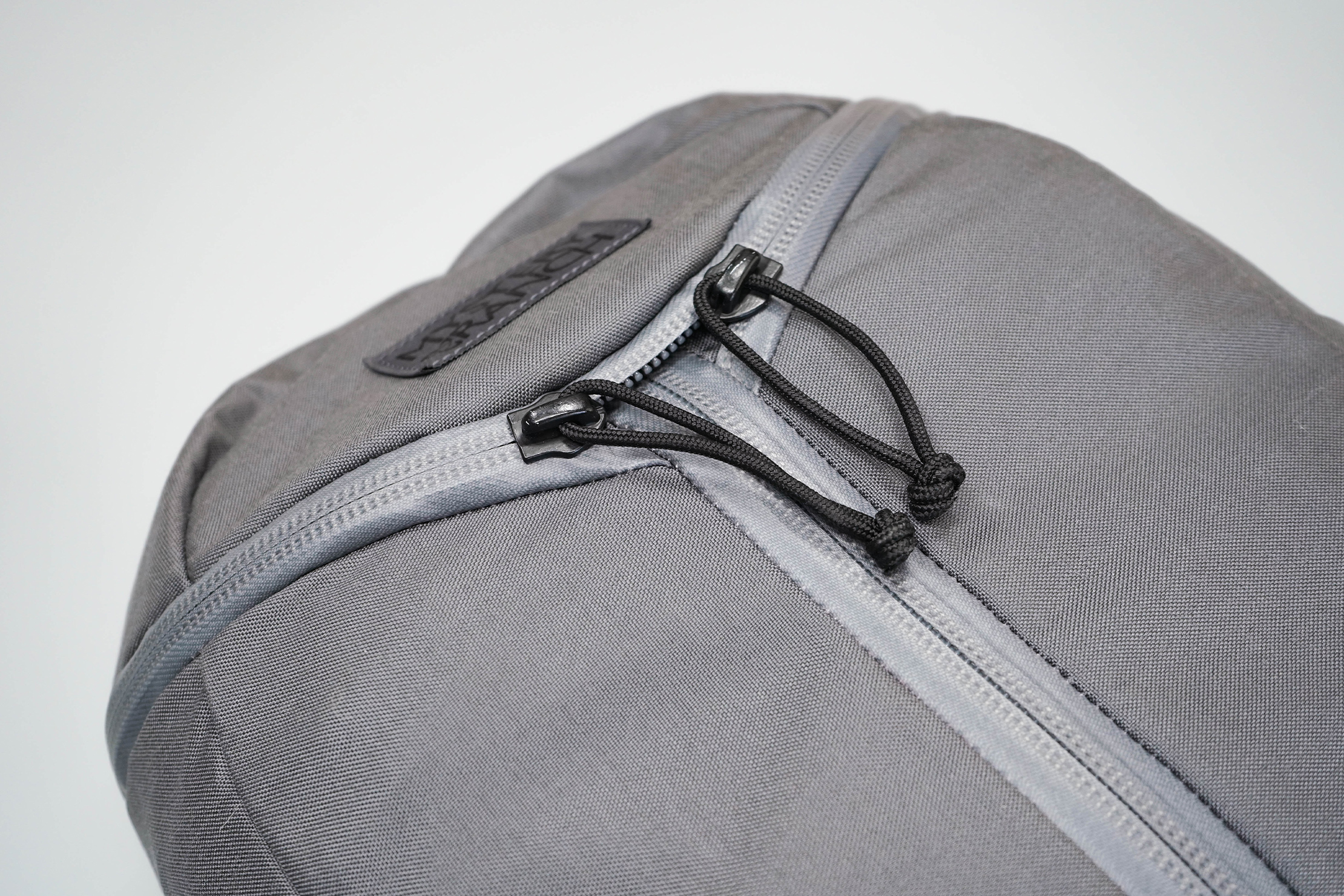 When zipped up, the vertical zipper is hidden by the lid. You could unzip the two zippers on the lid (or leave the vertical zipper down some) and open this thing up duffle-style. It doesn't give you the most access—especially if the pack is full—but it's an option.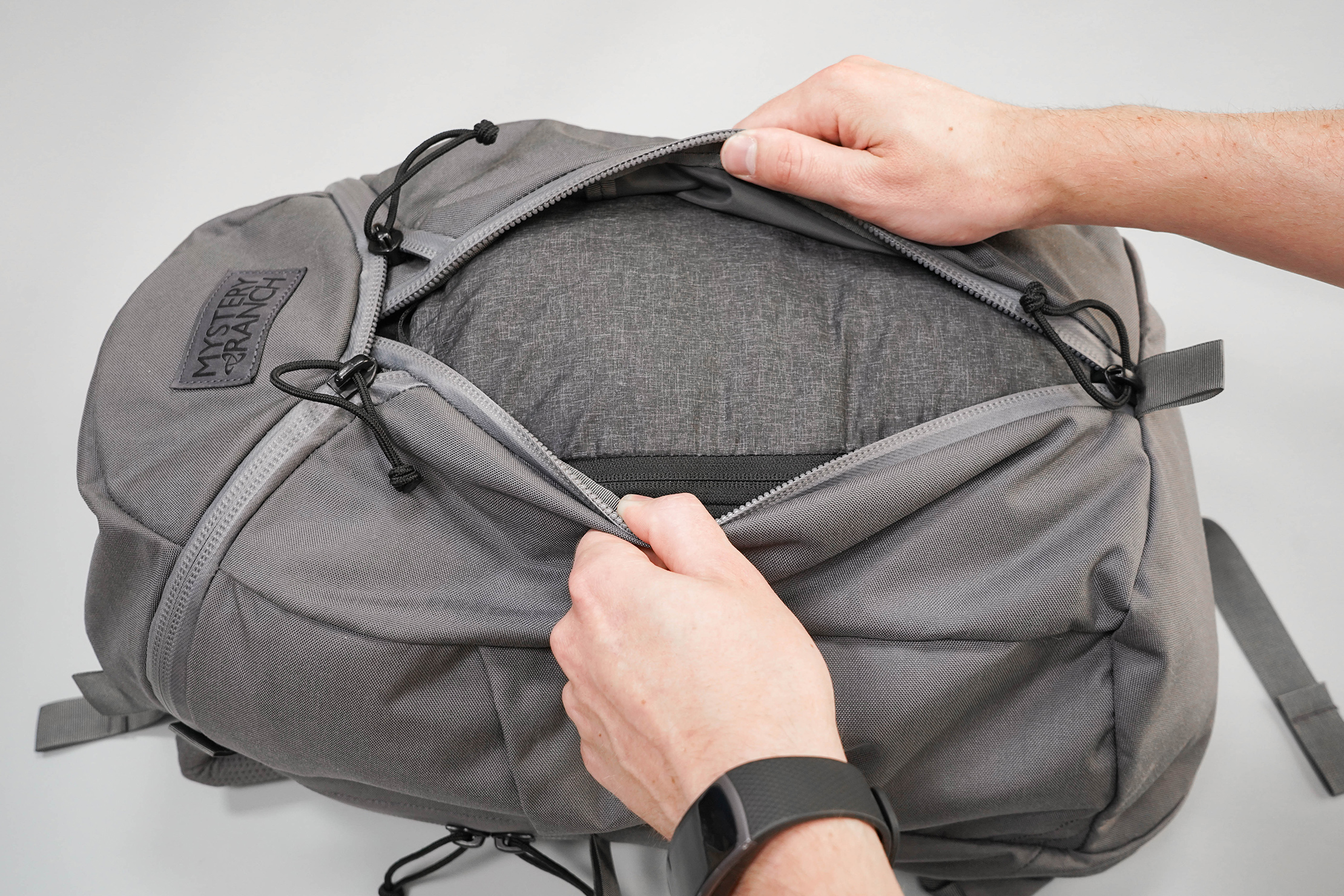 Since this vertical zipper is so brawny, it helped compress our stuff while traveling. We had the UA24 stuffed to the brim—fitting about three Peak Design Packing Cubes and the Tom Bihn 3D Organizer for toiletries. We were able to cram everything in and let the massive zipper squeeze it all shut. If you're stuffing the bag to capacity as we did, you won't be able to use all of the internal organization—which offers some solid features—but you will fit a lot of stuff.
Speaking of internal organization, let's check it out.
Undo all three zippers, filet this thing open, and you can really see what's going on inside the bag. On each of the wings, there's an internal water bottle pocket. These pockets are big enough to fit larger bottles, but there's no elastic so they're not going to hold your water bottle very tightly.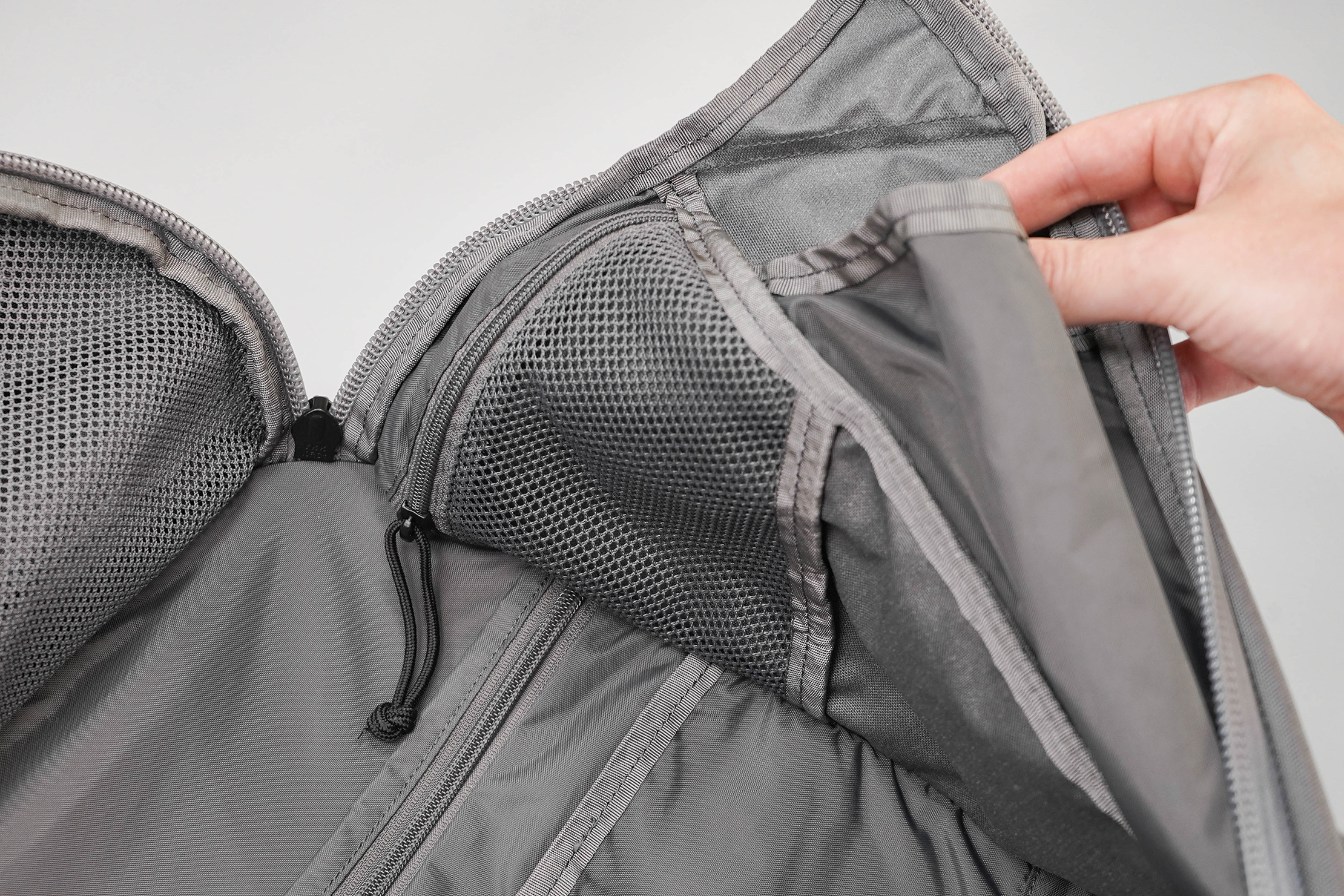 Above the water bottle pockets, each wing also has a zippered mesh pocket that has room for smaller items like cords, SD cards, travel-sized tissues, or anything else you want to keep in easy access.
On the back panel of this main compartment, you'll find a sleeve that goes about halfway down and is great for travel documents or a tablet. In front of that is a zipper compartment of roughly the same size.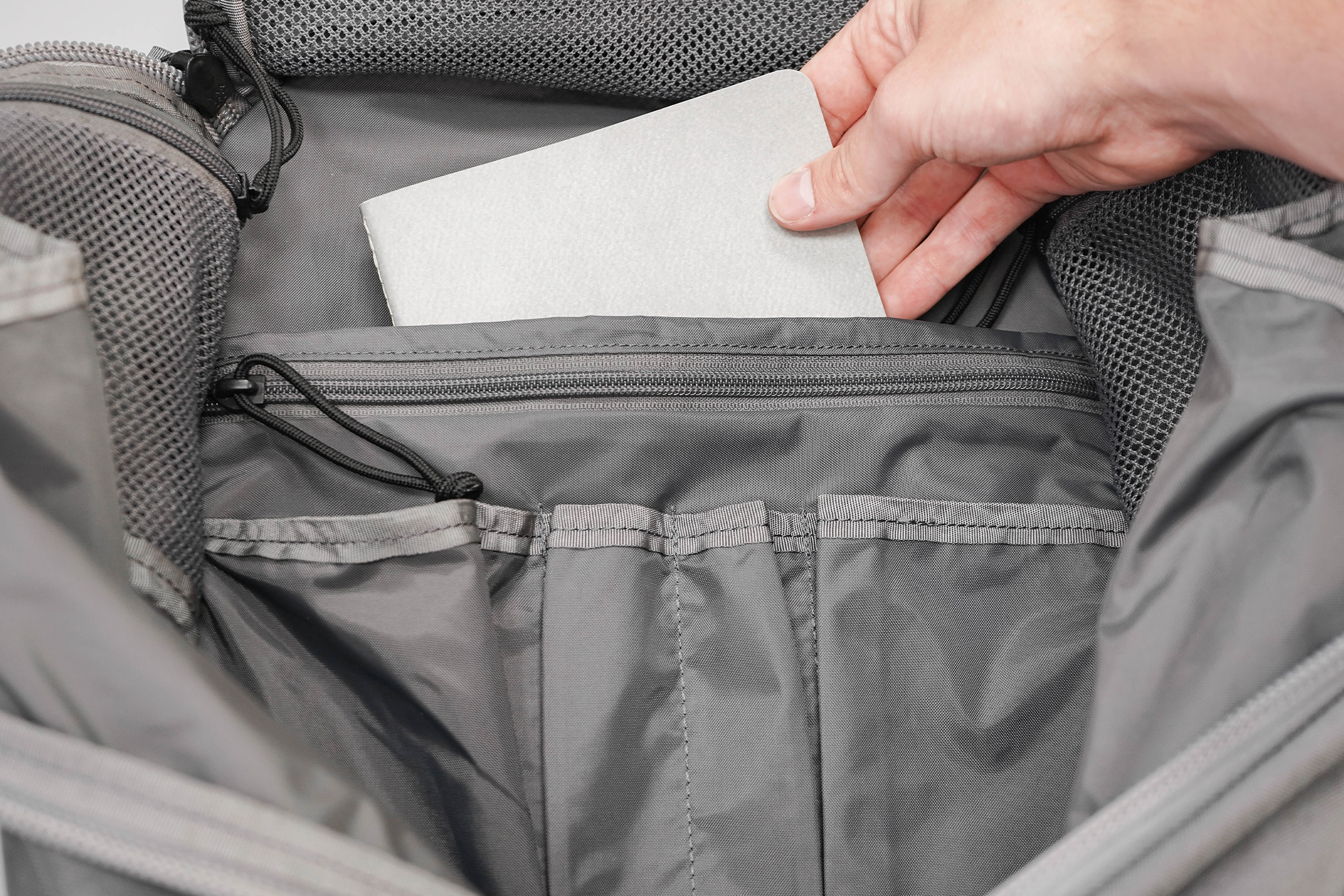 Last in terms of organization, you have two open pockets—that are the perfect size for a Tom Bihn Pouchkin—and two pockets for pens, pencils or styluses (styli?).
The best thing about all this organization? It's there when you want to use it and lays flat if you're looking to jam this thing full of packing cubes (in true Pack Hacker fashion).
Durability & Testing
We've been testing the UA24 in Detroit, Los Angeles, and San Francisco, including four flights.
There's no way around it—this bag is comfortable. The super-adjustable harness system lets you customize your carry, regardless of body type. It feels like Mystery Ranch gave a lot of thought into how this bag rides over long stretches.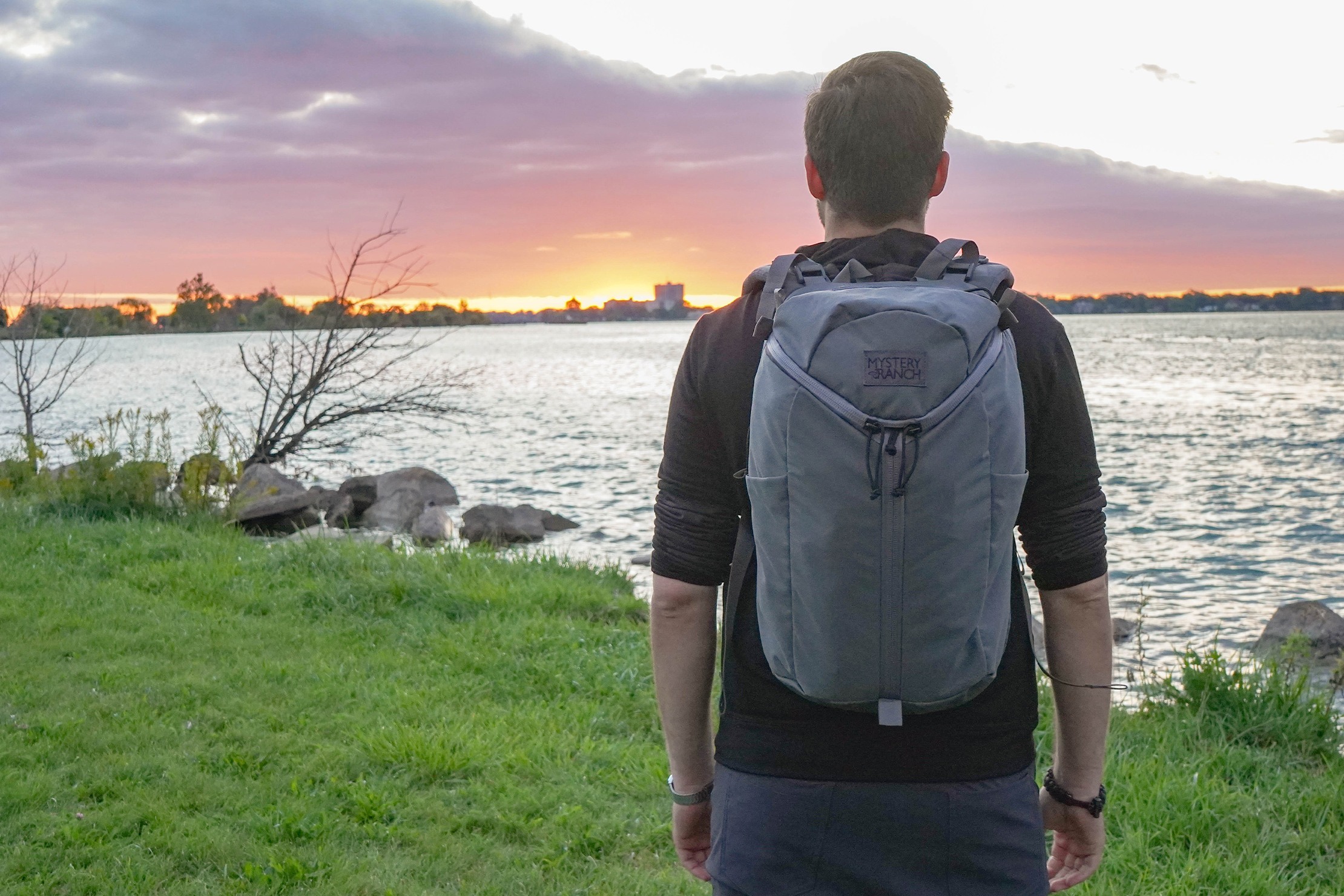 The slimmer profile and streamlined exterior make it great for both everyday use and travel—it even fits under an airplane seat. Plus, the unique 3-ZIP gives you full access to your stuff without needing a clamshell opening.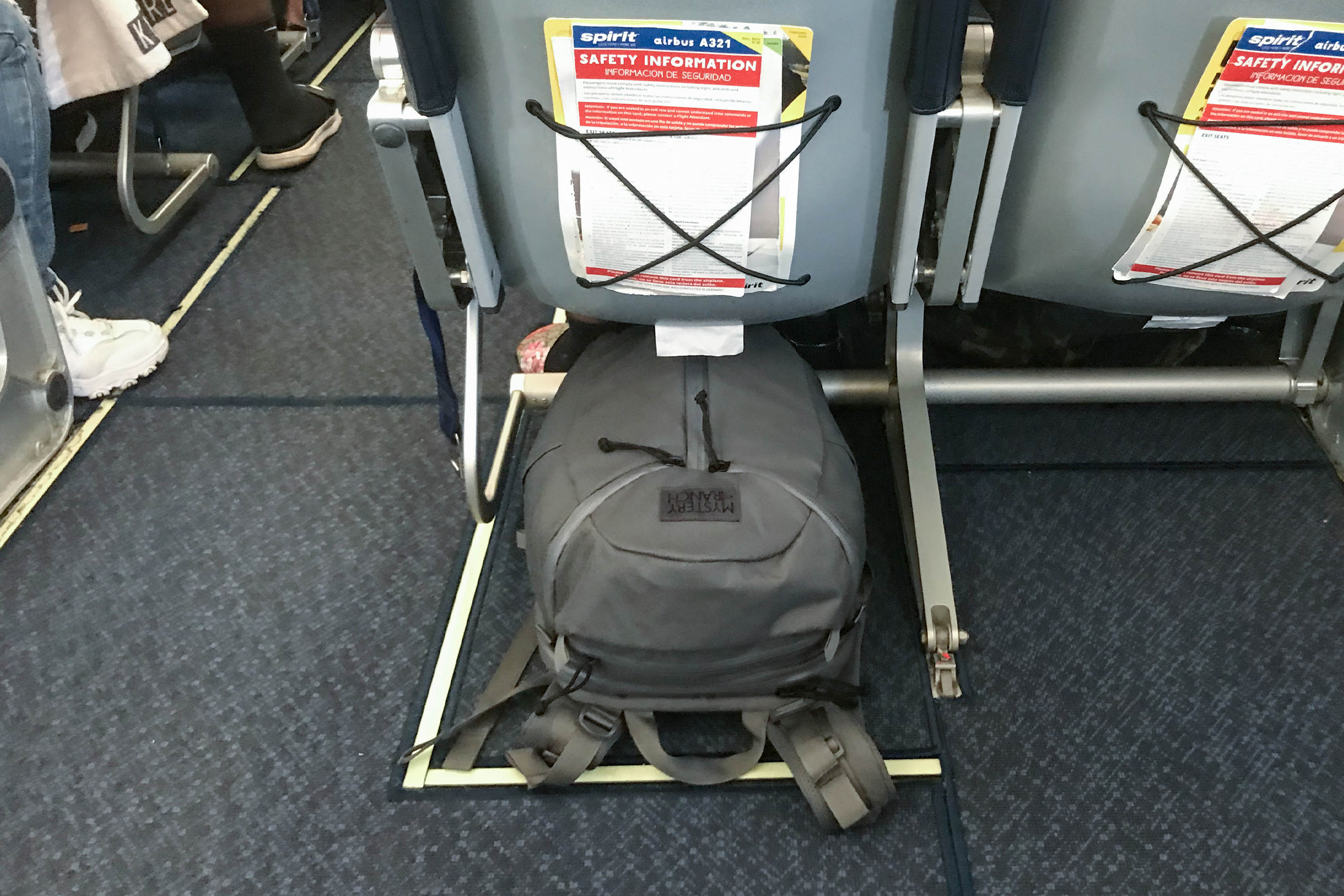 It does have a bit of a tactical look—which can be good or bad depending on your preference—but it's built with function in mind. And with the robust CORDURA, beefy YKK zippers, and dependable Duraflex hardware, we expect this bag to withstand the test of time.
Usage Timeline
Initial Usage
Condition: Excellent
Awesome harness system with dense padding on the shoulder straps and back panel
3-Zip design offers quick access to multiple parts of the bag
Internal and external water bottle pockets for either easy access or smaller profile
2 Weeks of Use
Condition: Excellent
Super comfortable and surprisingly sleek—it even fits under the airplane seat.
Access the Pro Community Discussion
Get your questions about the Mystery Ranch Urban Assault 24 (UA24) answered from our team and the Pro Community right here on the page. Plus, join discussions with other members about gear, guides, and more.
Other Bags & Luggage Reviews