TOM BIHN Side Effect Review
Simple, effective, and customizable, the Tom Bihn Side Effect makes a great sling bag and organizer pouch. Plus, it's built to last.
Our Verdict
Unlock the Pro Summary
Save time. Get access to brief summaries of our reviews so you can browse and make decisions more efficiently.
Pros
Made of quality, durable materials
Highly customizable in terms of carry, organization (with the O-rings), and materials
Holds a lot of stuff in a small package
Cons
Some people may not like the handbag vibes
Interior organization may be too simple for some
Strap gets twisted easily
Recent Pack Hacker Video
Technical Details
100 %
Carry-on Compliance
Capacity

1.5l

Weight (lb)

.45 lb (0.2 kg)

Dimensions

5.1 in x 8.7 in x 2 in (13 x 22.1 x 5.1 cm)

Notable Materials

Ballistic Nylon, Ripstop Nylon, YKK Zippers, YKK Buckles

Manufacturing Country

United States

Warranty Information
Full Review
Tom Bihn advertises the Side Effect as "a deluxe, tricked out, fully organizable 3D Organizer Cube." Really, it's a solid sling bag with simple, effective organization.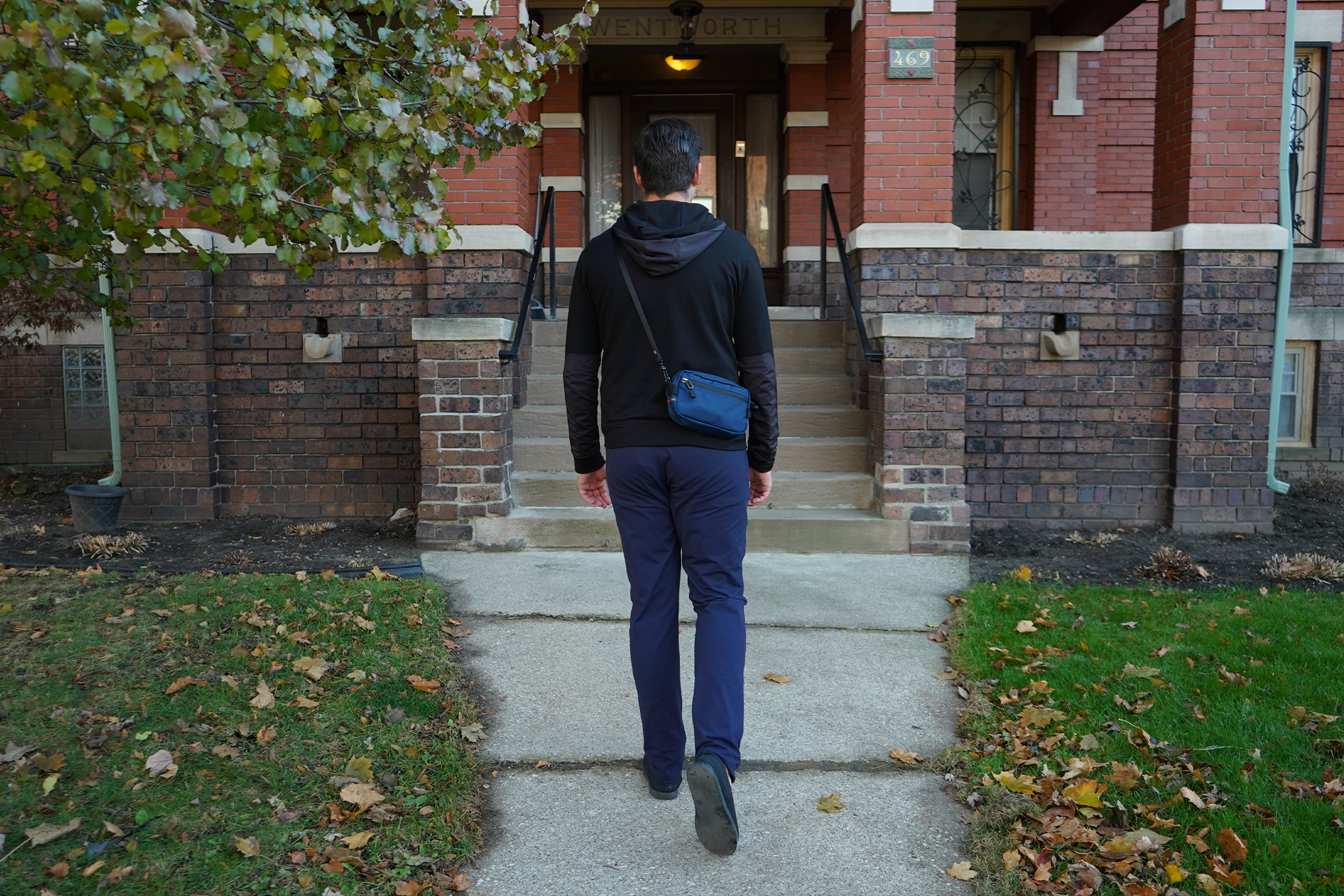 The Side Effect is a sling/crossbody bag, organizer pouch, and if you pick up the optional waist strap, is also a waist pack (or, as the dope kids call it, a fanny pack). You can also buy the optional handle loop and hang this pouch off of your wrist, or use it with key strap and tether it to the interior of a Tom Bihn backpack.
And—in typical Tom Bihn fashion—you also have a choice when it comes to exterior fabric…But we're getting ahead of ourselves. Let's go back to the beginning.
Materials & Aesthetic
Let's start with the elephant in the room—the Side Effect looks a little more like a crossbody bag or purse than a sling bag, which may be a deal-breaker for some of you. That said, we're digging the Side Effect's overall simplicity. And that handbag shape works really well in practice, which we'll discuss more later on.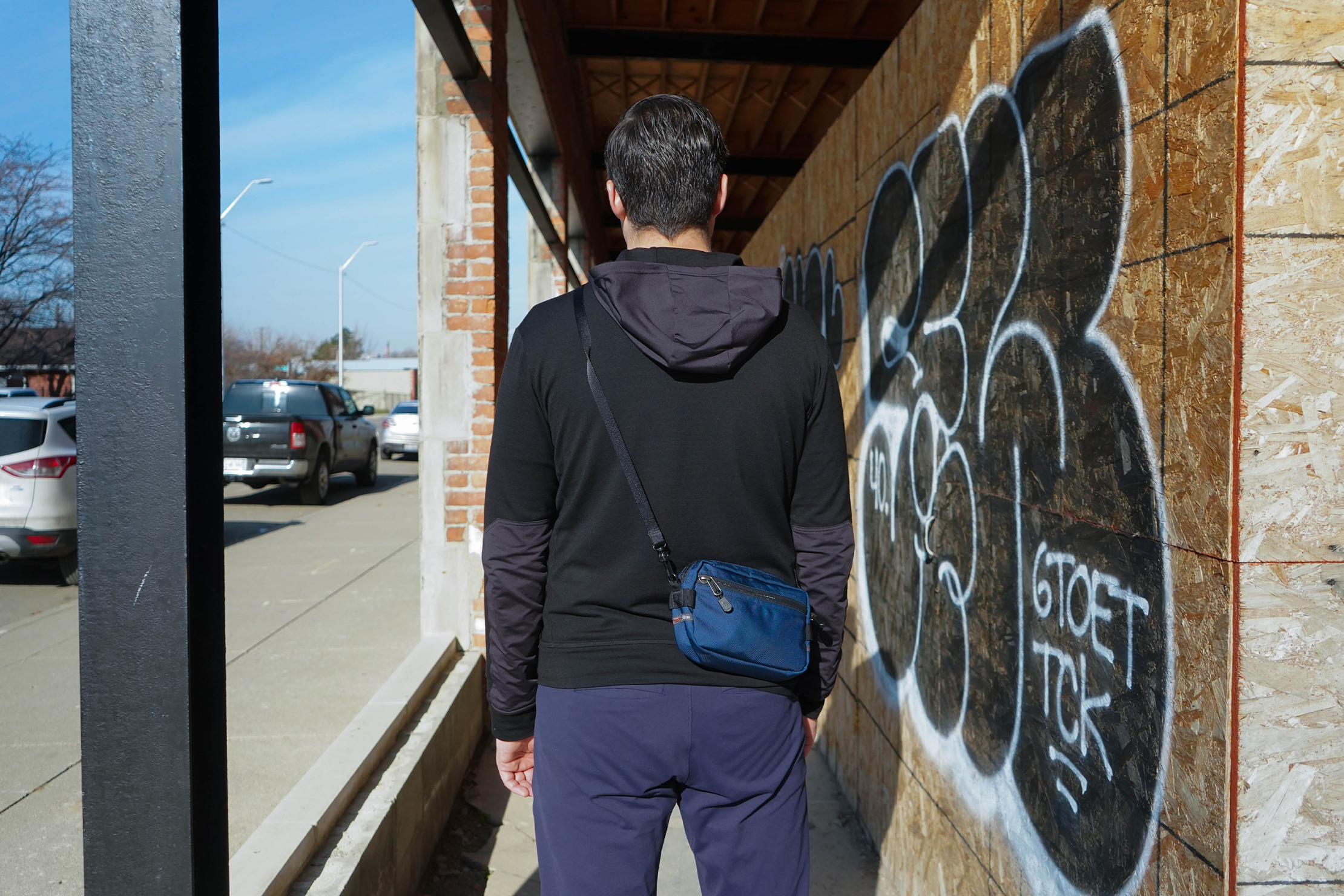 At the time of this review, The Side Effect is available in 10 colorways with five more in production. (Although, Tom Bihn is always switching out colorways, so that's probably changed by the time you're reading this.)
As we mentioned earlier, the folks at Tom Bihn are all about giving you exactly what you want…which is why they have three choices for the exterior fabric. (Note: not all of the fabric choices are available in all of the colorways.)
You can choose:
400D Halcyon: Lightweight and abrasion-resistant, although with a technical aesthetic (you see the ripstop squares on the exterior fabric). Some people like that technical look, others not-so-much.
1050D High Tenacity Ballistic Nylon: Extremely durable and equally as smooth. Its lack of texture means it will easily slide in and out of other packs, tends not to hurt clothing, and doesn't collect pet hair.
525D High Tenacity Ballistic Nylon: Lighter than the 1050D Ballistic Nylon, while simultaneously more luxurious looking. It's also made in a bluesign® certified fabric mill.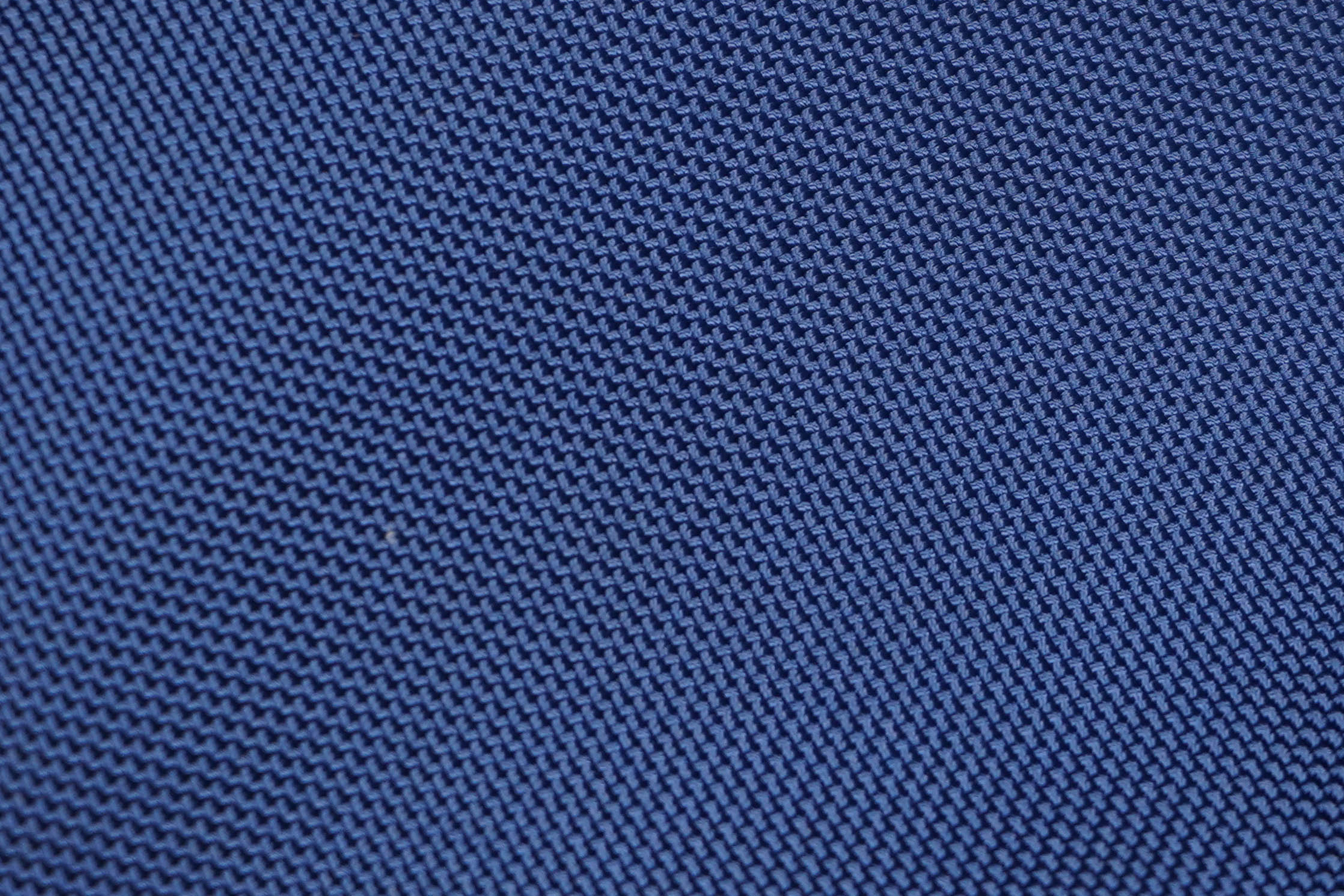 Honestly, you can't go wrong with any of the three choices. Particularly from a durability-perspective as they're all built-to-last. If you can't decide, you can always let the colorway dictate what you go with. The 525D Ballistic Nylon has the most colorway options, at least at the time of this review.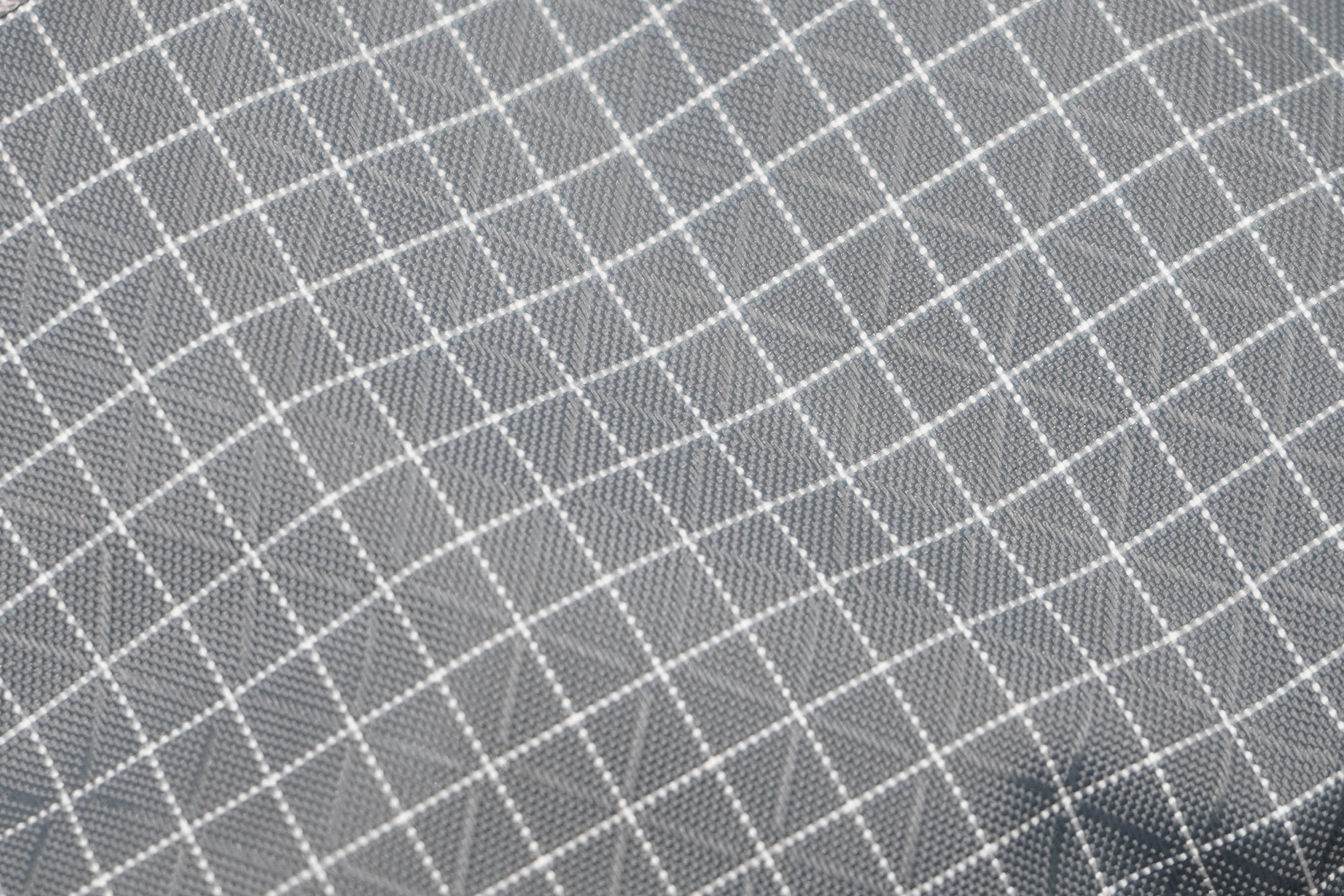 The interior fabric is 200D Halcyon, which is exceptionally tear-resistant. Plus, it feels smooth and rubbery. The color of the interior fabric changes, but it's always a juxtaposition to whatever color you choose for the exterior, making it easy to spot your stuff.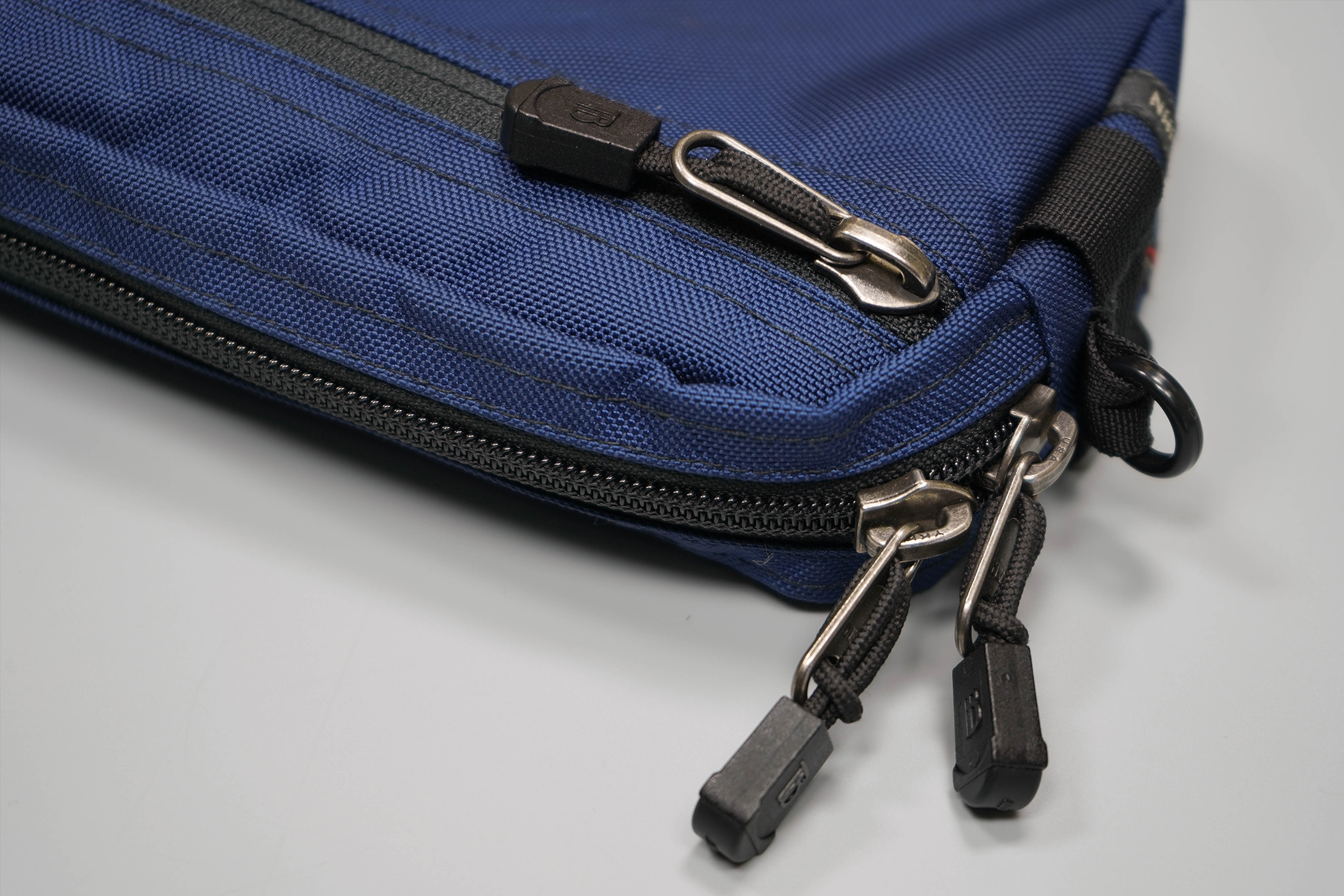 The zippers are all beefy #8 YKK coil zippers, which shouldn't give you any trouble. The Side Effect comes with black, plastic zipper pulls that you can attach to the zippers if you so choose. We really like the zipper pulls—they make getting in and out of the compartments that much easier.
External Components
Once again, you have a choice when it comes to external components. The Side Effect comes with a Tom Bihn Shoulder Strap, so we'll be focused on that in this section, but it's also been built to work with the Tom Bihn Key Strap, Waist Strap, and Handle Loop.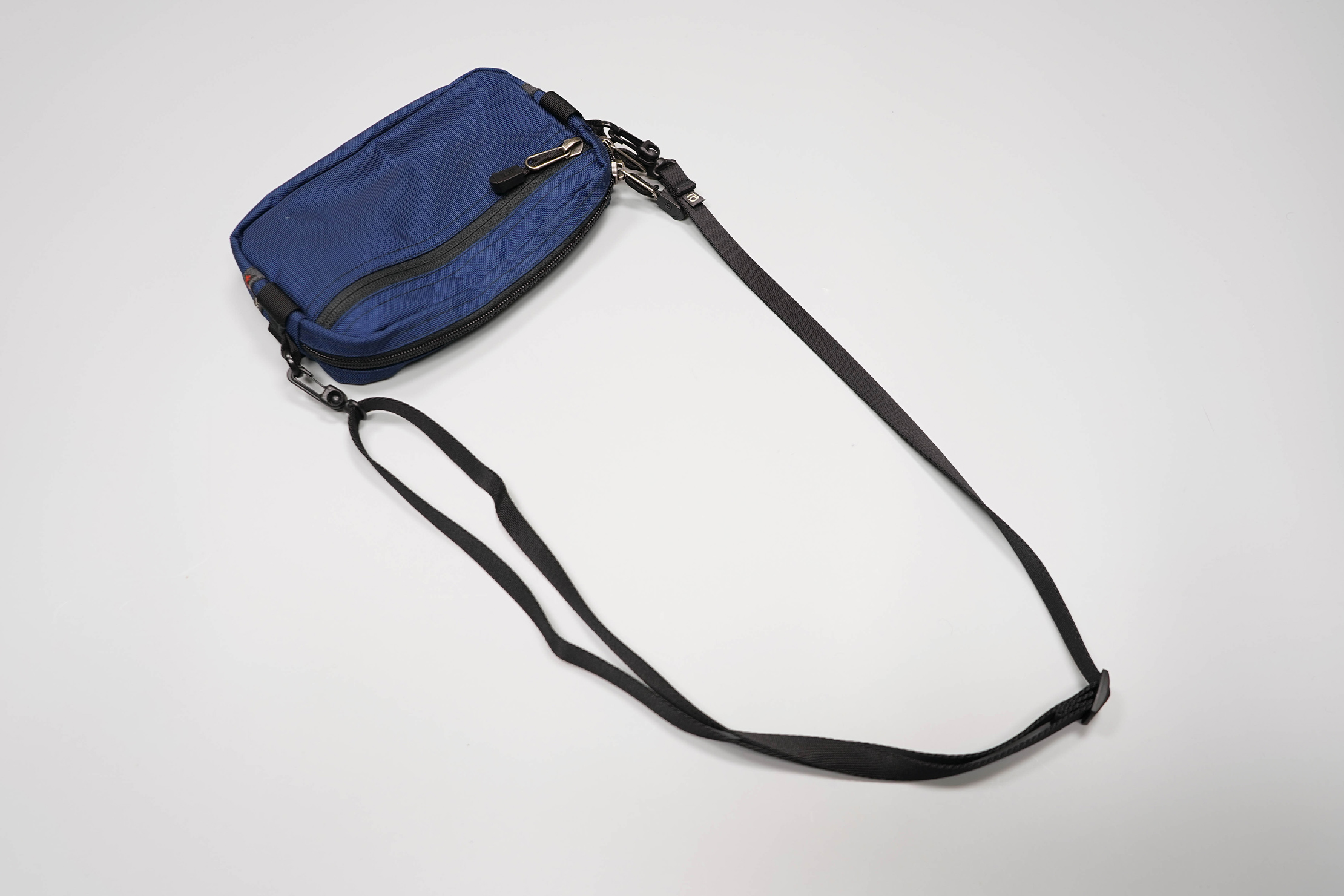 The shoulder strap is nothing special and we mean that in the best possible way—you don't need anything fancy for a bag of this size. The strap is smooth, adjustable, and, best of all, there are no flyaway straps, so you'll have that coveted #DangleFreeExperience.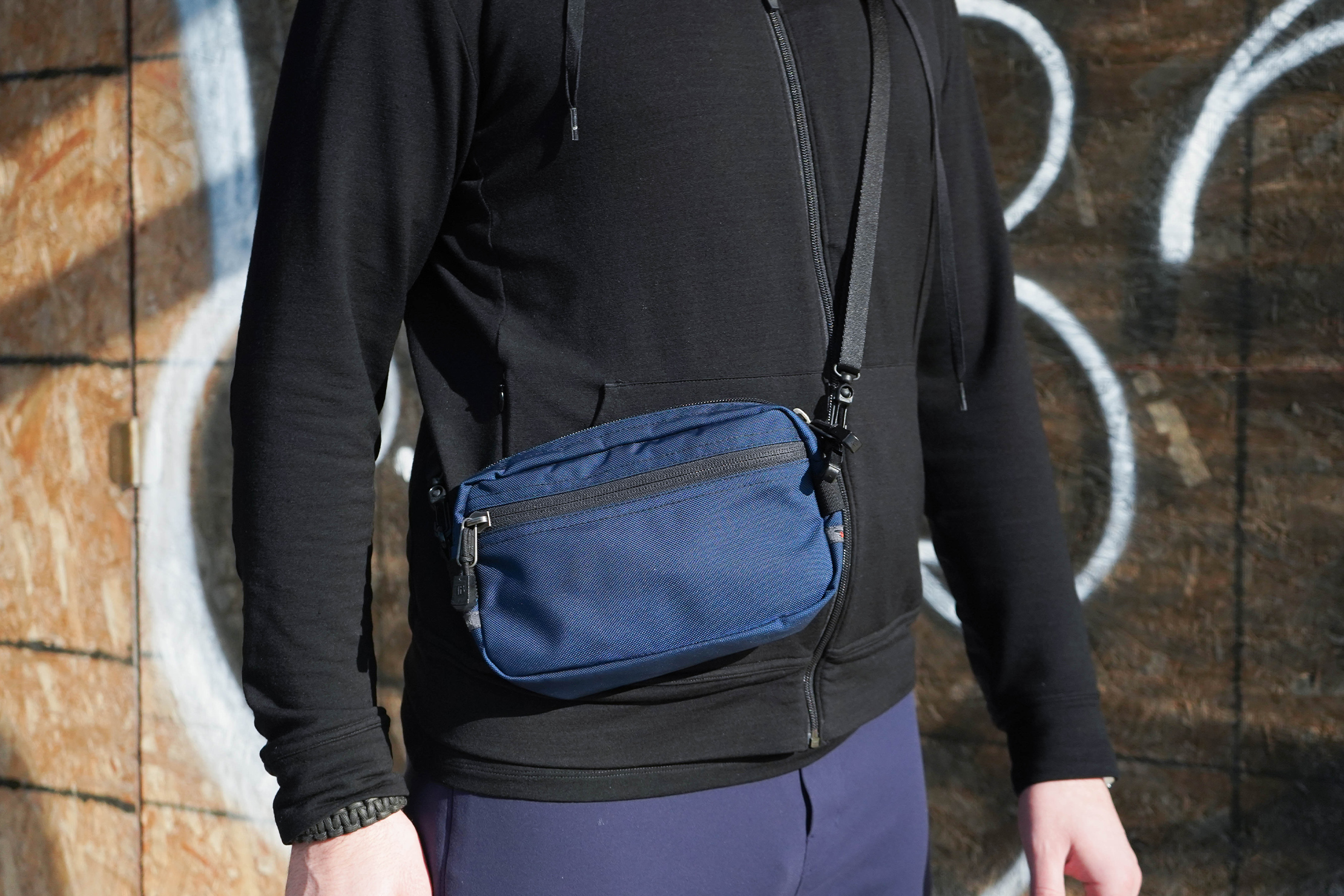 We've found that it's most comfortable to wear crossbody with the pack sitting off-center on the hip. That way, you can wear a backpack and access your stuff easily, but it's not in your way. Of course, you can tighten or loosen the strap to your personal preference.
The strap is also easy to remove if you want to use the Side Effect as an organizer pouch. We love this feature as you can use the Side Effect to organize your tech accessories or toiletries in your pack, and when you get to your destination, attach the shoulder strap, replace your toiletries with your everyday essentials, and voila, you have a day bag. Two birds, one bird feeder, folks.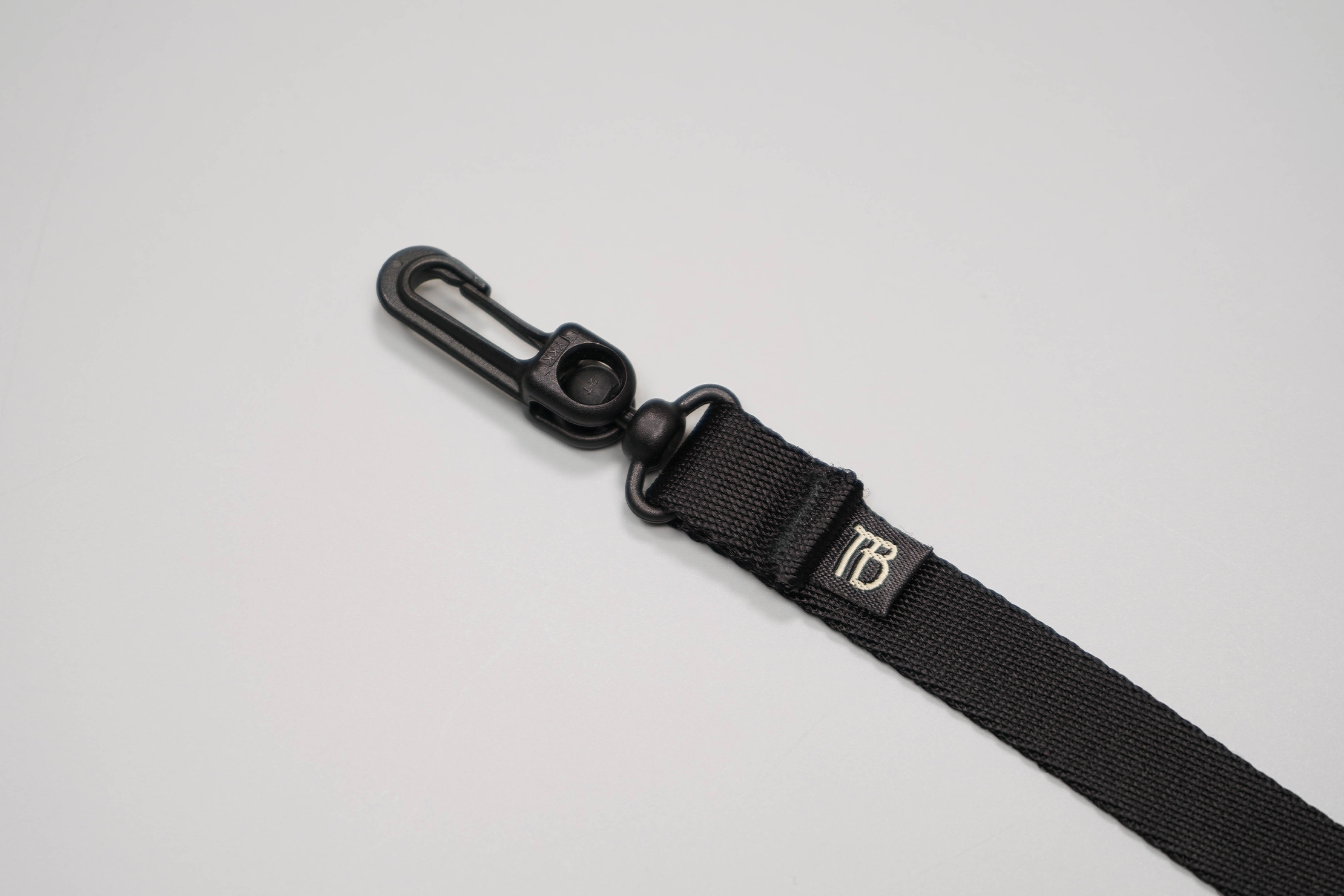 The strap does tend to get twisted up on your body—more so than we've found with other crossbody straps—but it's easy to fix as it's attached to the bag with ball-head spin-adjusters.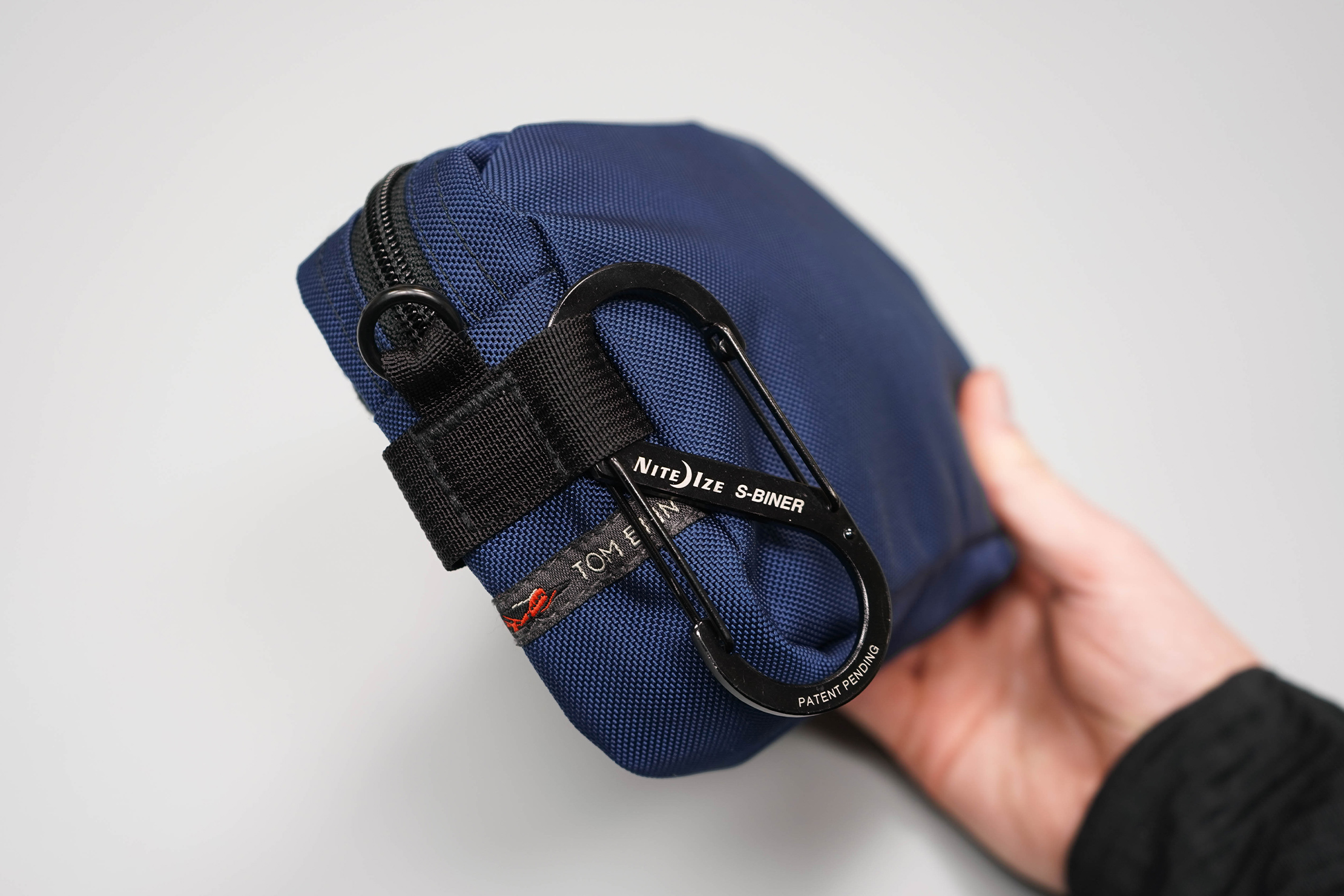 There are also two loops on the exterior of the pack that allow you to carry gear externally. We've attached a Nite-Ize S-Biner here (the #3 size). These attachment points stay out of your way when you're not using them, which is exactly what we like to see.
Inside the Bag
When you open up the front (or back—depending on how you wear the bag) zippered pocket, you'll be greeted with basically an empty space. We say basically because, while there is no internal organization, there is an O-ring. What you do with this O-ring is really your choice, but it's been designed for the included 8″ Key Strap.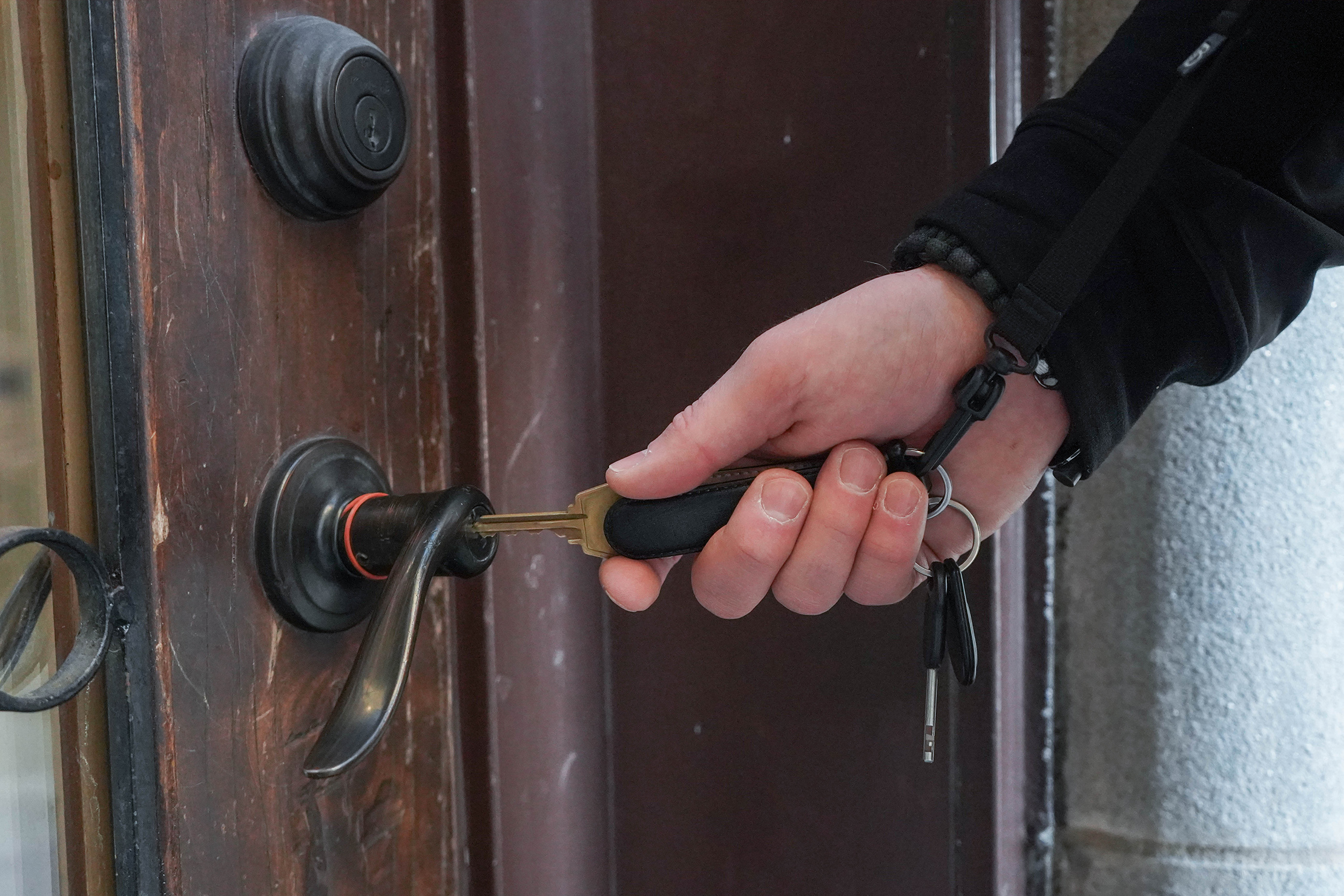 We often dislike key straps that seem to have been thrown into a bag last minute, so we appreciate the thoughtfulness of this one. This strap is plenty long—and the Side Effect sits closer to your hip than other sling bags that are usually across your chest or back—so you can unlock your door with your keys still attached to it and while you're still wearing the bag, which is super handy.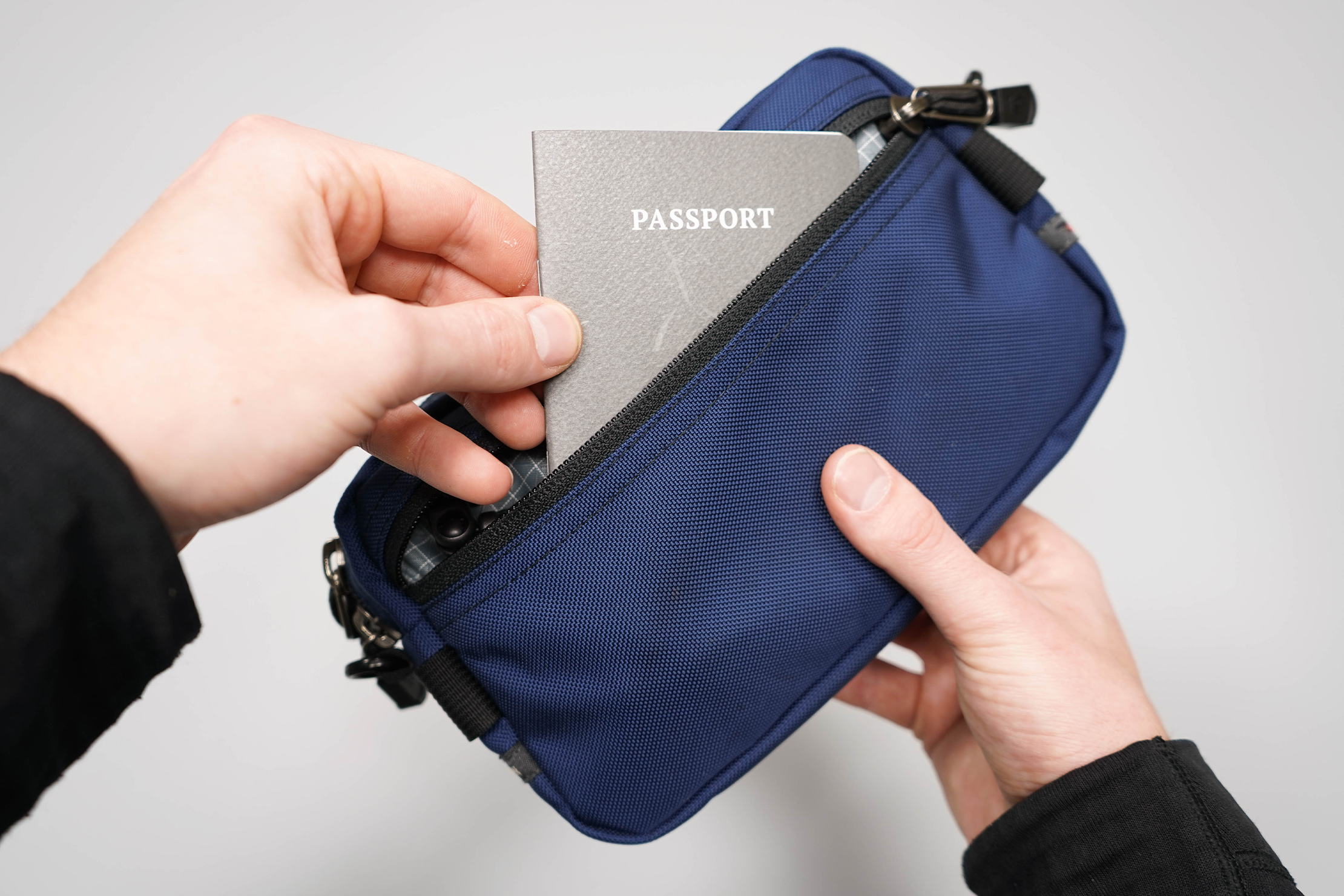 That said, you have to be careful with what you put in this pocket. Smaller items can be easily knocked out when you whip out your keys. We had an incident that involved almost losing a Baron Fig pen that would've been sorely missed (luckily, we found it before it could roll away).
This pocket will also fit a passport or two.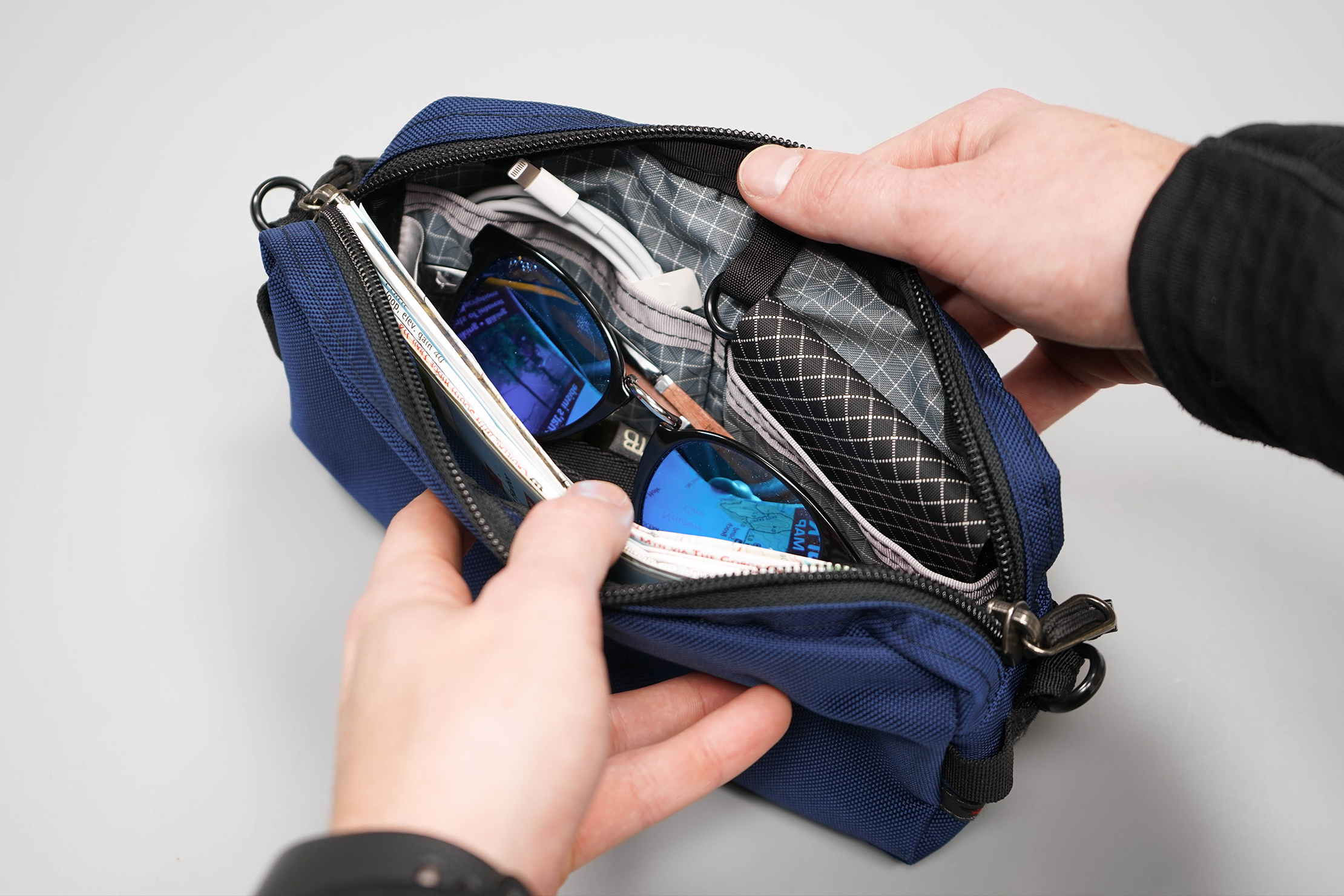 The main compartment is only slightly less simplistic. It has two open divider pockets to organize your small stuff: a wallet, phone, headphones, earplugs, lucky charms, all of that good stuff. We would've loved a third pocket but we understand that others would disagree, preferring to have more empty space.
You do have a lot of room to work within this main compartment. We've used it to carry gloves, a Buff, and a random assortment of receipts, but you can use it to hold whatever you need on a daily basis. A small camera, a notebook, a book of riddles, anything.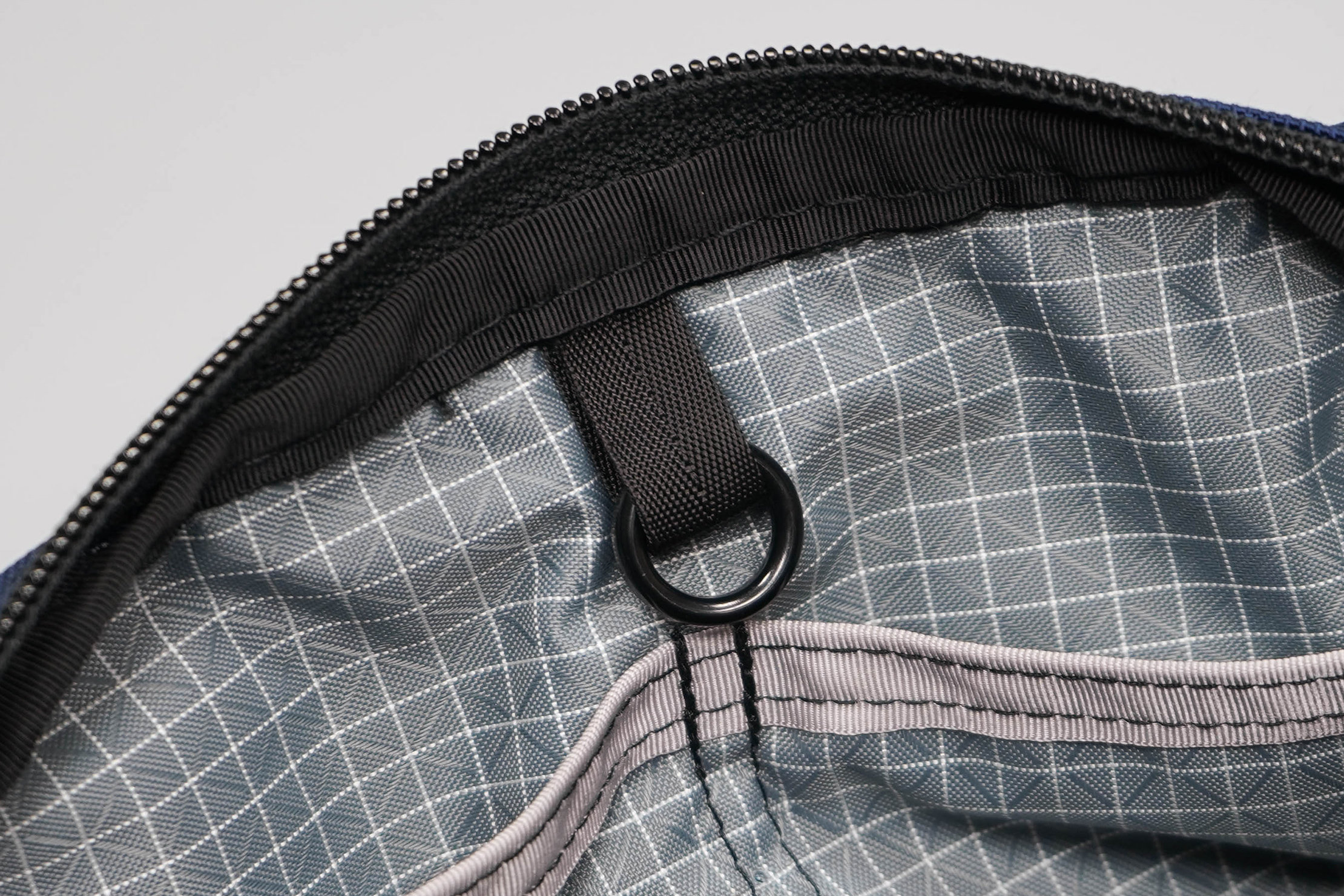 And, of course, this being a bag from Tom Bihn, you'll find four O-rings in this compartment. You can use the O-rings to attach small accessories or pouches. Tom Bihn sells approximately one-gazillion (give or take a quarter of a gazillion) different types of accessory pouches that you can attach to the interior of this bag for optimal, customized organization.
For example, if you ever carry anything fragile with you, you can pick up a padded organizer pouch, hook it to the O-ring in this main compartment, and not worry about said fragile thing breaking as you go about your life.
Durability & Testing
We've been testing the Tom Bihn Side Effect for two months in Michigan and Minnesota, including two roundtrip flights. It's still looking and feeling as good as new. Not a single loose thread to be found.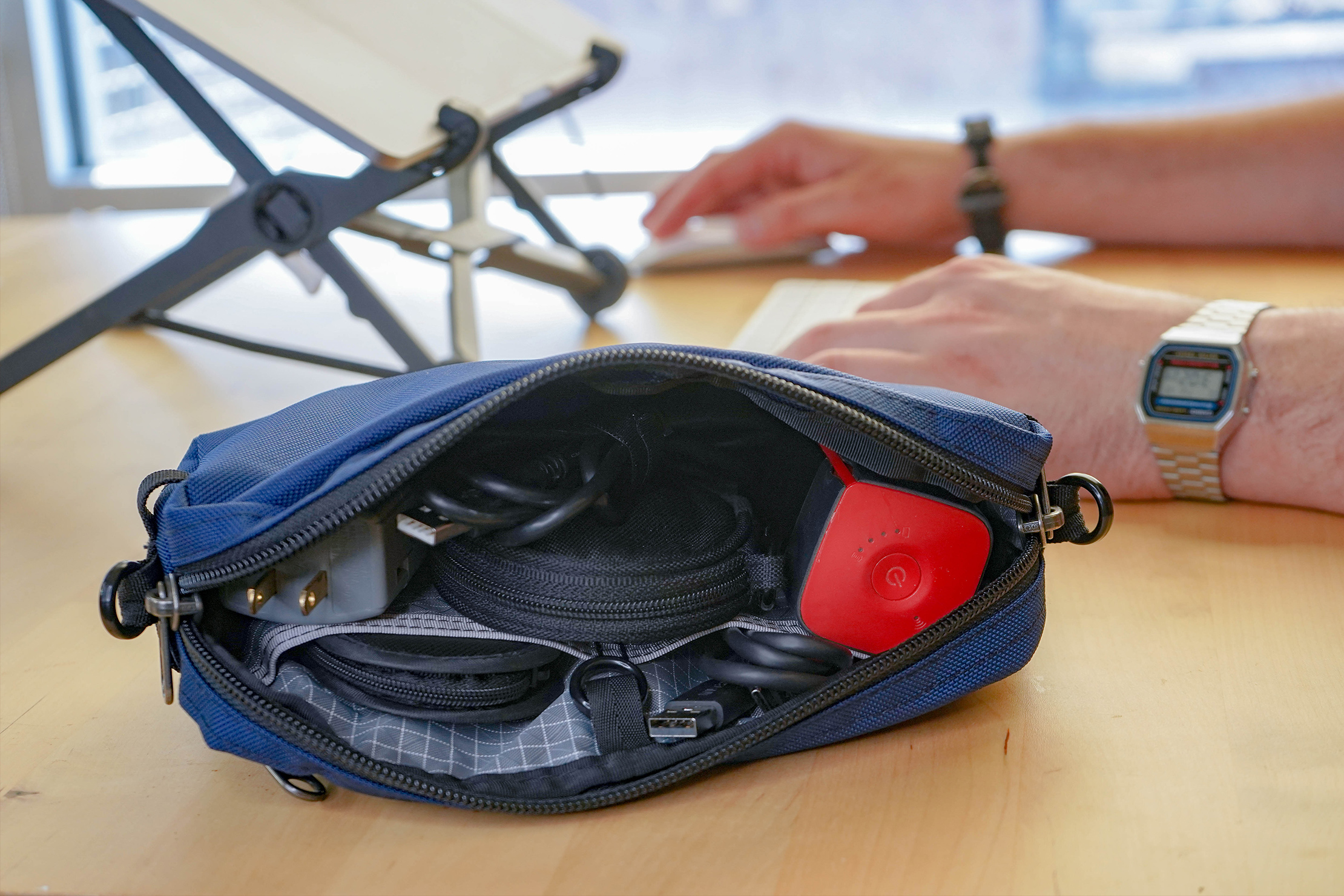 Overall, we've been digging this sling/crossbody bag/organizer pouch. It's simple, yet effective.
Usage Timeline
Initial Usage
Condition: Excellent
Kind of the shape of a mini toiletry bag, but can be worn cross-body
Nice divider pockets in the main compartment
Thoughtful O-Ring placement to attach additional accessories
2 Weeks of Use
Condition: Excellent
Digging the simple organization and comfortable crossbody carry.
1 Month of Use
Condition: Excellent
Used this thing on a flight—it's great for keeping your essentials handy on the plane.
2 Months of Use
Condition: Excellent
Still looks as good as new!
Access the Pro Community Discussion
Get your questions about the TOM BIHN Side Effect answered from our team and the Pro Community right here on the page. Plus, join discussions with other members about gear, guides, and more.
Other Bags & Luggage Reviews