TOM BIHN Cubelet Review
The Tom Bihn Cubelet is almost as useful as its name is cute. It's a great way to organize your smaller items traveling and doubles as a crossbody bag.
Our Verdict
Unlock the Pro Summary
Save time. Get access to brief summaries of our reviews so you can browse and make decisions more efficiently.
Pros
Made of durable, quality materials
Can wear crossbody
Available in a wide variety of colorways
Cons
No high-visibility interior fabric
Lacks interior organization
Not everyone will like the look when carrying it as a crossbody bag
Recent Pack Hacker Video
Technical Details
Capacity

0.6l

Weight (oz)

1.8 oz (51 g)

Dimensions

5.1 in x 5.1 in x 2.2 in (13 x 13 x 5.6 cm)

Notable Materials

YKK Zippers, Duraflex Hardware, Woojin Hardware

Warranty Information
Full Review
The Tom Bihn Cubelet may have the cutest name for a product that we've come across. Like, ever. It's also handy, which, we suppose, is important too.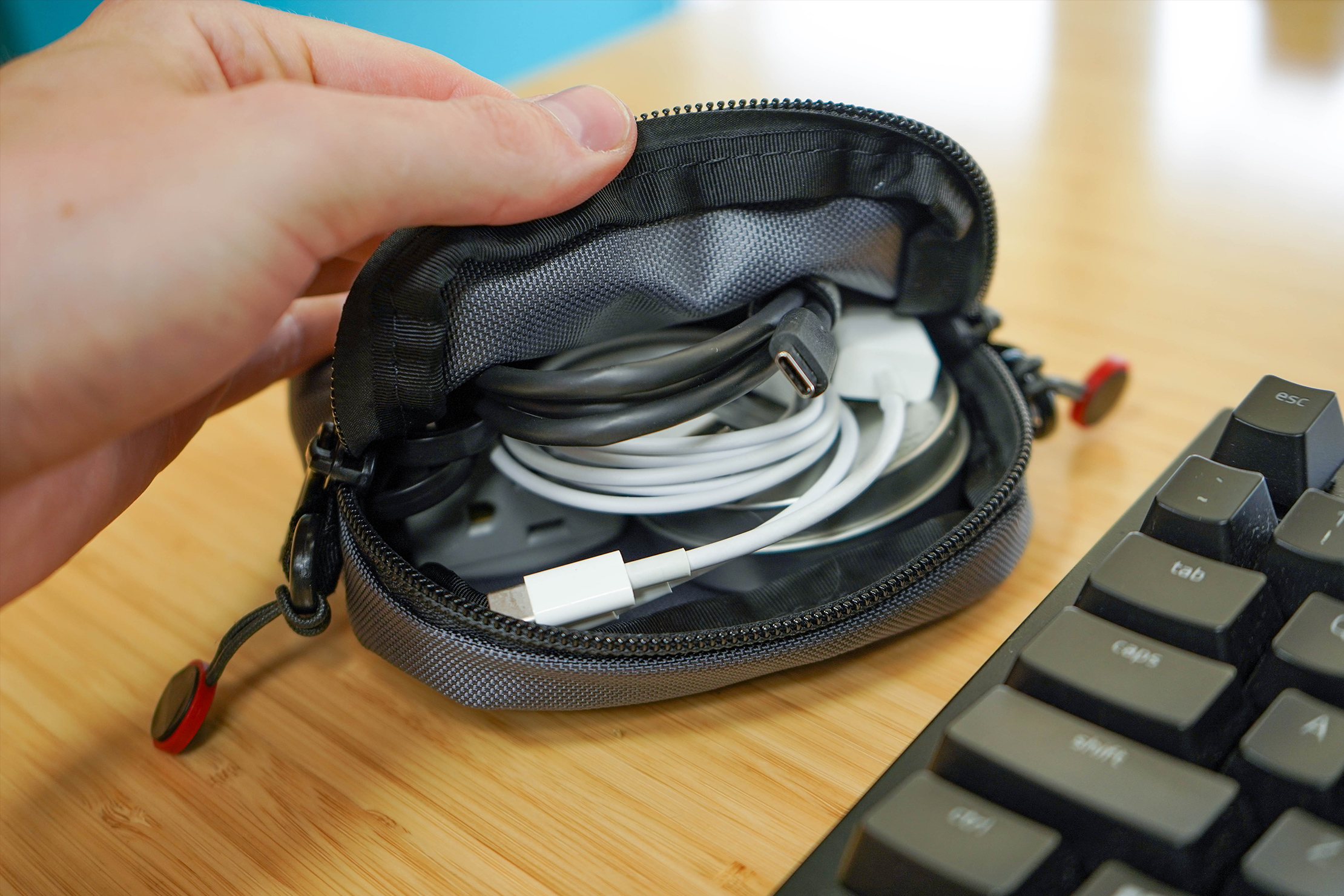 Tom Bihn offers a ton of different organizers and pouches. And all are made to be particularly useful within the Tom Bihn universe. If you're serious about organization, you can buy multiple organizers for multiple use-cases in multiple colors (to color code, of course) and strategically hook all of them inside your Tom Bihn backpack.
These pouches also work with all other carry goods— backpacks, duffels, roller luggage, messengers, purses, the best sling bags, etc (just not as well, since Tom Bihn backpacks are intentionally designed with places to attach said pouches). Now, we're not suggesting you go out and buy ten organizers from Tom Bihn right this moment, but we do think traveling with one or two of their pouches—or any pouch, for that matter—will make your life a whole lot easier on the road.
The Cubelet is one great option. It's a cube, so it has some more depth than other organizers out there, and can be carried as a crossbody bag should the need arise. So let's check it out.
Materials & Aesthetic
We have to say, Tom Bihn did a great job naming this little fella—it really does look like a cubelet (that is, a small cube). At the time of this review, it's available in five colorways with six more in-production, meaning they'll be available soon or are already available, depending on when you read this. We've been testing a gray colorway that is no longer available.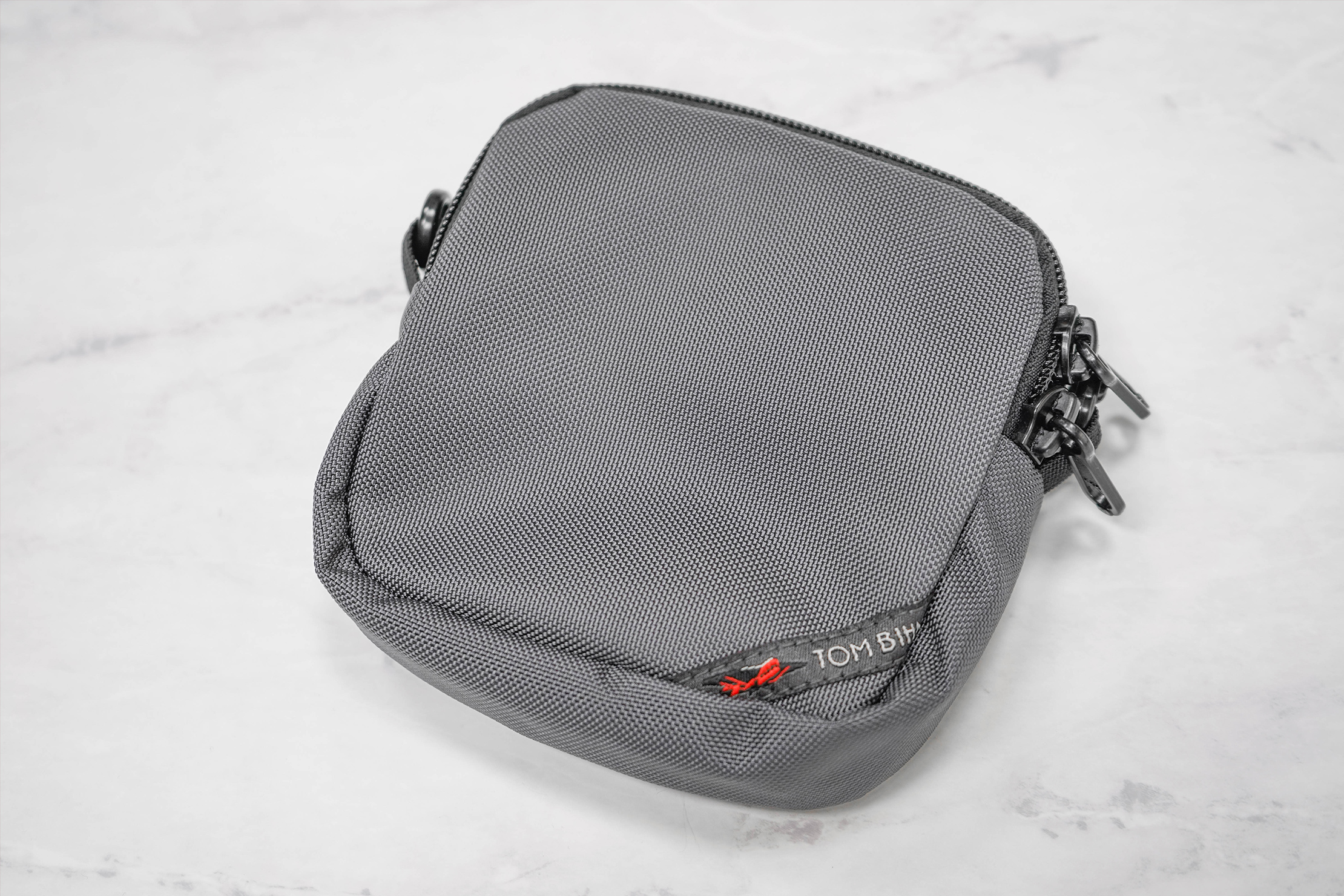 We love that there are so many colors to choose from. First of all, you'll likely be able to find a color that speaks to you. And, second of all, if you decide to buy more than one Cubelet, you can color-code everything—keeping your tech in the blue Cubelet and your toiletries in the red, for example.
The material changes slightly depending on the color you choose since Tom Bihn assembles its pouches using leftover fabric from the company's larger bags, which we think is very neat and eco-groovy of them. You'll either get a cube made of 210 denier or 525 denier Ballistic nylon, which are both high-quality and should treat you well. Denier is a measurement that refers to the weight and thickness of fabric (specifically yarn). For the most part, the larger the number, the more durable the fabric (especially when comparing the same fabrics).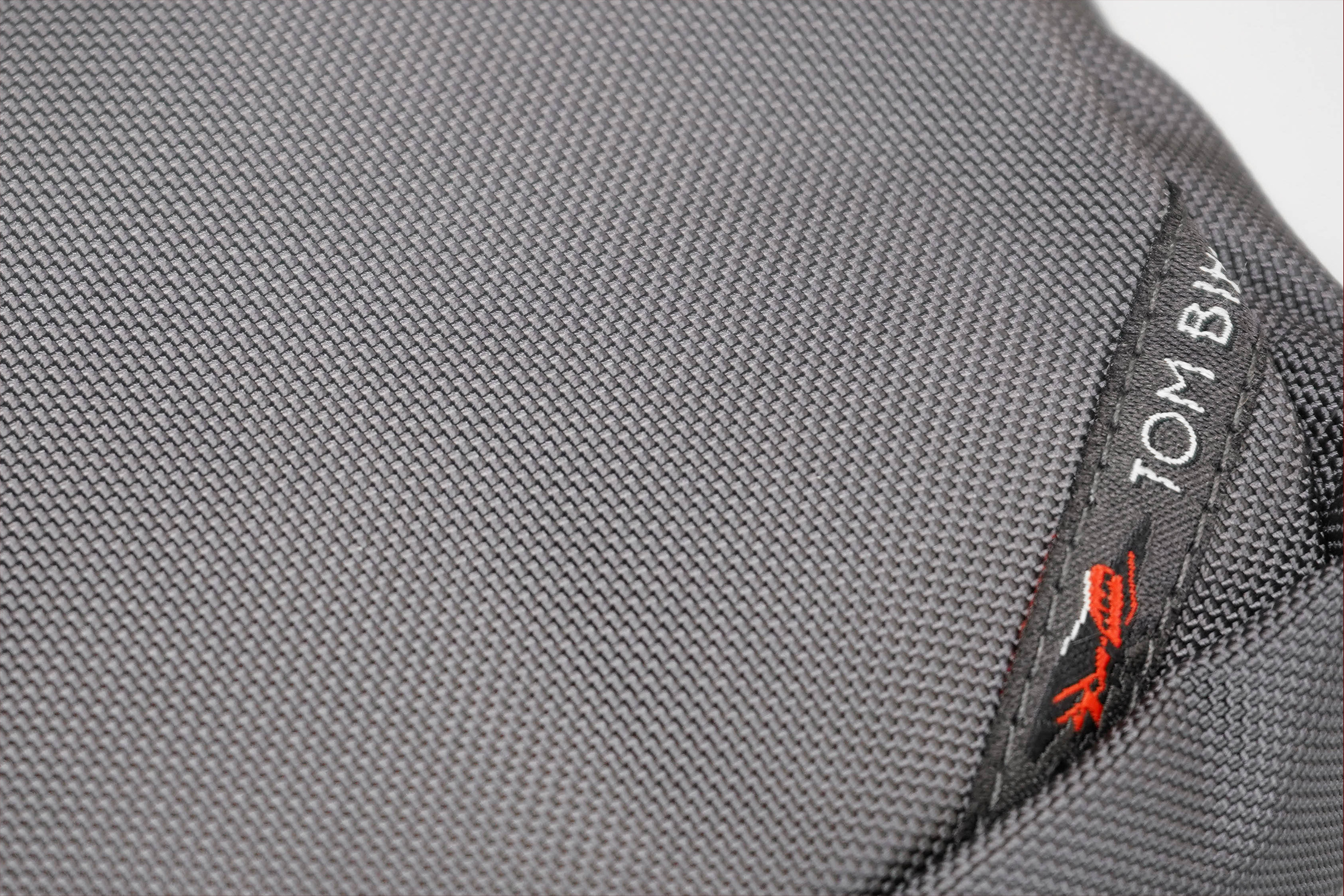 But that durability comes at a cost…a fabric with a higher denier also weighs more. Okay, that came off a bit more dramatic than we intended (we may need to lay off the crime shows for a bit…). What matters here is that the colorways with the 210 denier will weigh slightly less than their 525 denier counterparts, and they'll also be slightly less durable.
So you may consider choosing a color based on your use-case. If you'll be carrying the Cubelet externally, maybe you want it to be more durable. If you'll be using it inside your backpack, maybe you want it to weigh less. Or, since in this case, they're both durable and lightweight enough, you might just choose a color based on what you like (a wild concept, right?). The differences in terms of durability and weight are pretty negligible here, so the average traveler is fine going with whichever they prefer.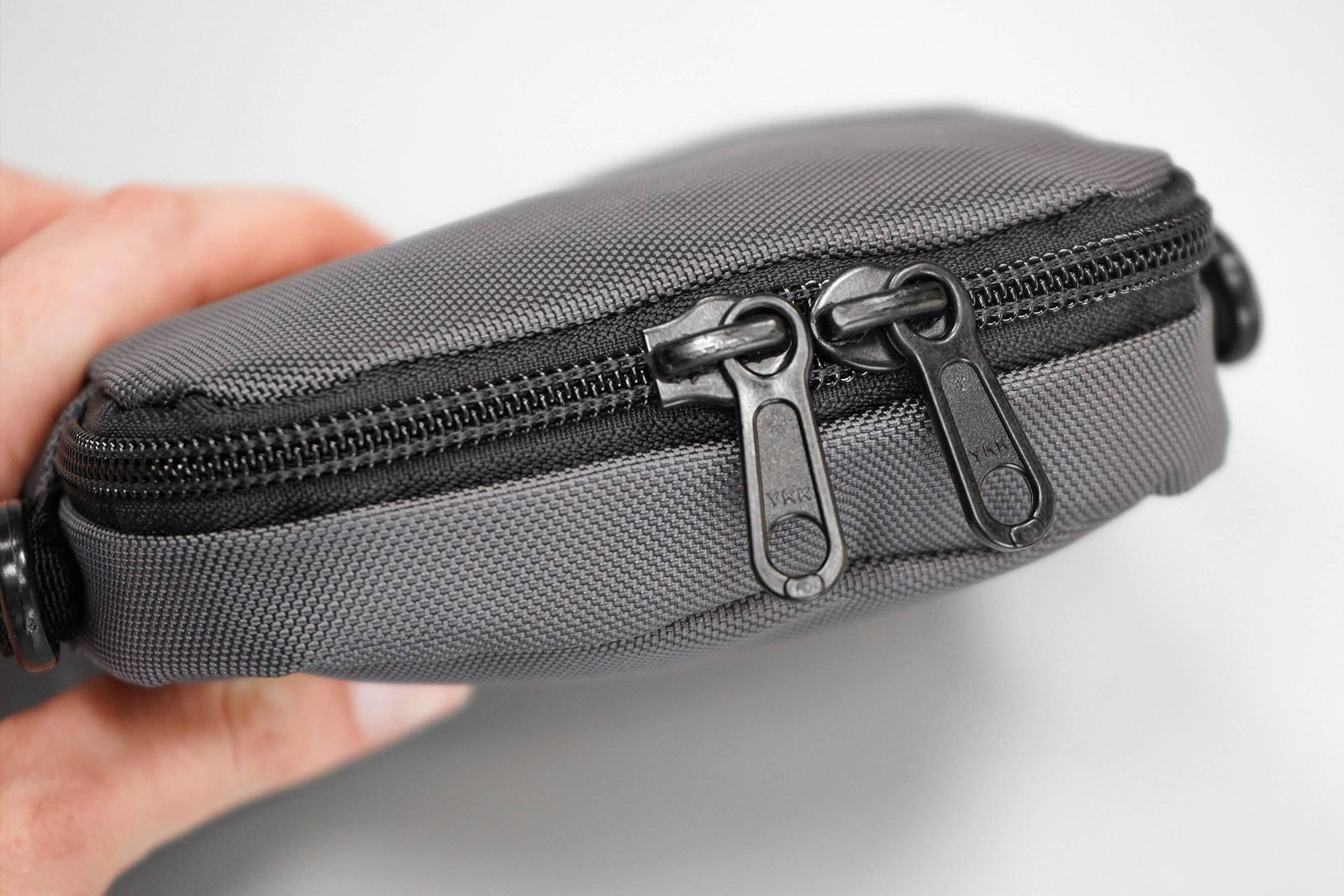 The zipper on this Cubelet is a #5 YKK coil zipper with a plastic slider. We think it's the appropriate size and bulk for this size Cubelet, although there's not much here in terms of weather-proofing. Not a big deal, but something to consider if you'll be carrying this Cubelet as a bag itself or attached to the outside of a larger pack.
External Components
While there's not much going on externally, there's more here than your average organizer. Let's start with the zipper. We love its placement, which is on top of the pouch and slightly forward. It makes it easy to pack the Cubelet with stuff and helps create that 3D cube look and function.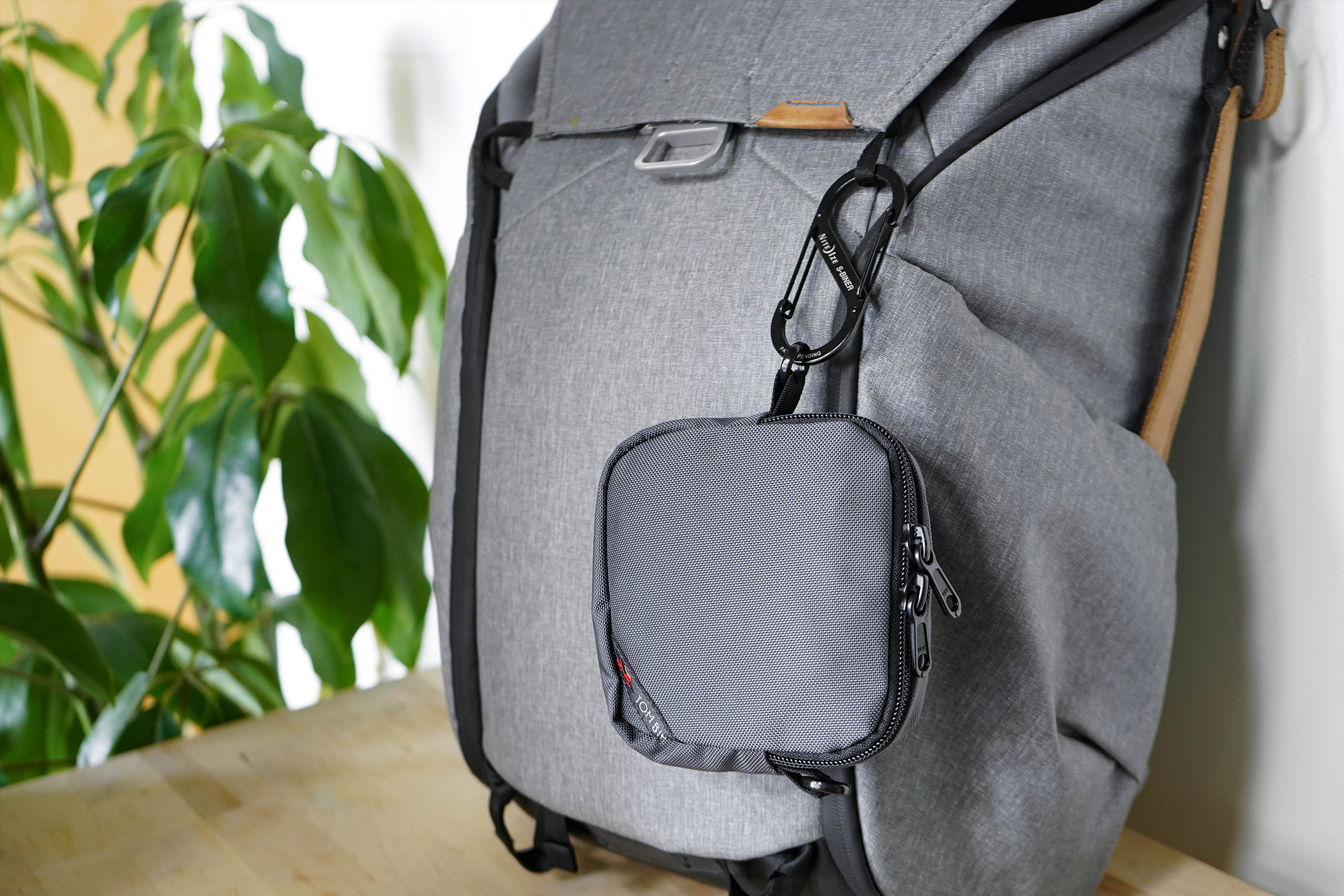 There are also two exterior O-rings, which allow you to both hang your Cubelet inside a larger bag or carry it as a crossbody bag. Tom Bihn sells a handle loop to help you with the former (though a carabiner would also work) and a shoulder strap for the latter.
We really like that you can attach a shoulder strap, which makes this pouch more versatile than some other pouches on the market. You can hook the Cubelet inside your Tom Bihn Synapse Daypack (or any pack, really), and when you only need the essentials, leave the Synapse at your AirBnb and bring the Cubelet along. It's a great system—props to the Tom Bihn team for designing it!
That said, not everyone will want to carry this Cubelet as a crossbody bag. It's on the smaller side, so it definitely isn't the epitome of fashion.
Inside the Cubelet
There is zero internal organization in this thing, which makes it great for stashing larger—but still relatively small—items. SD cards wouldn't be ideal, for example.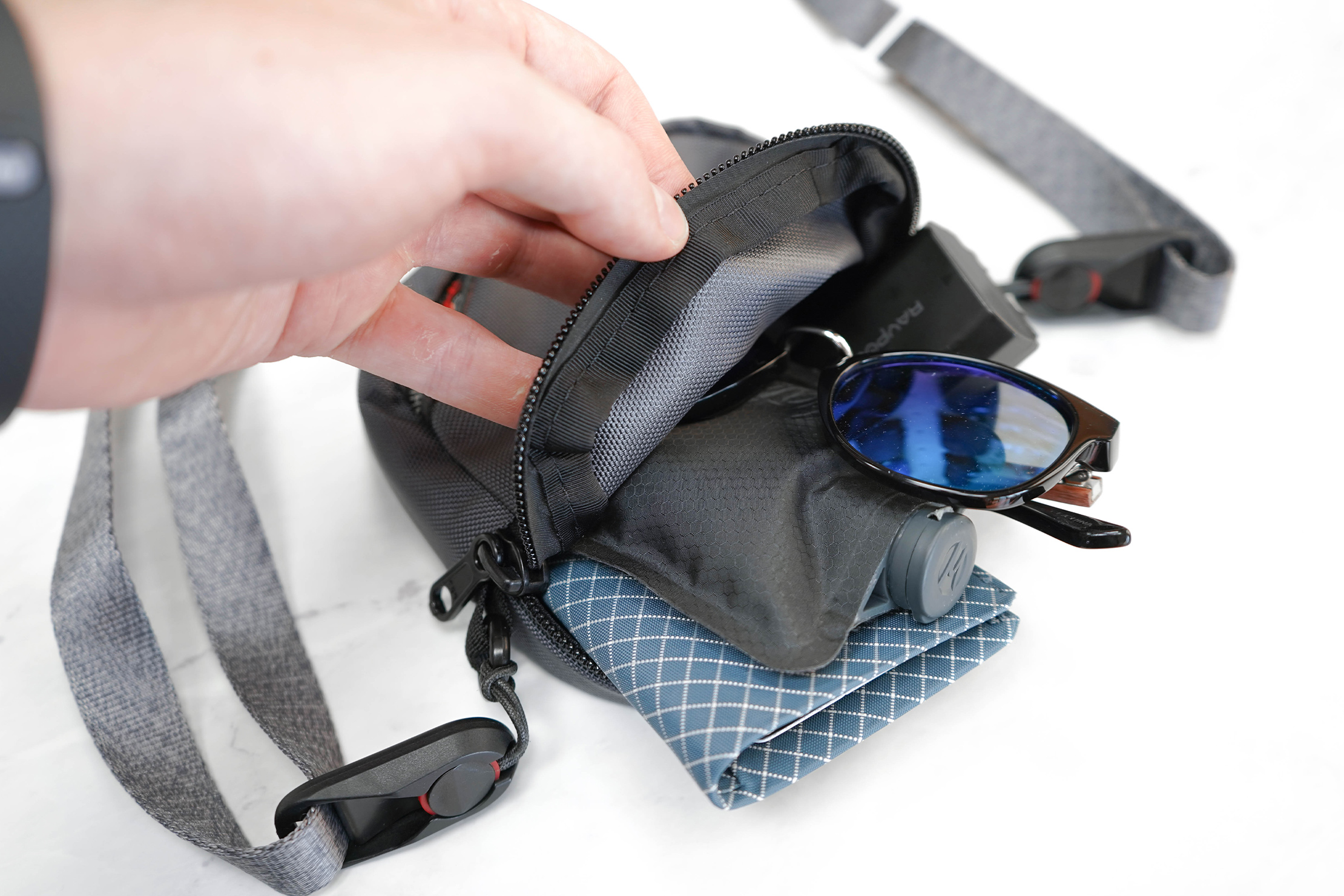 As a crossbody bag, the Cubelet is large enough to hold a wallet, keys, a small bottle of sunscreen, and even a pair of sunglasses. You could also carry an extra camera battery (or two) so you won't have to worry about your battery dying during that perfect vlogging moment in the south of France (we've all been there).
As a pouch, it's a great place for tech accessories, keeping chargers and the like neatly organized, and it's big enough for a laptop power brick. We've also found it makes a great place to keep your toiletries (as long as those toiletries are travel-sized) or some first aid supplies.
You may have noticed by now that you've got a lot of options when it comes to packing up this little pouch. And, as we mentioned earlier, you can easily use this thing for both internal organization and an exterior carry. Take the camera battery suggestion—you can hook the Cubelet in your backpack, with the camera batteries tucked inside, then quickly grab it when you go off to shoot.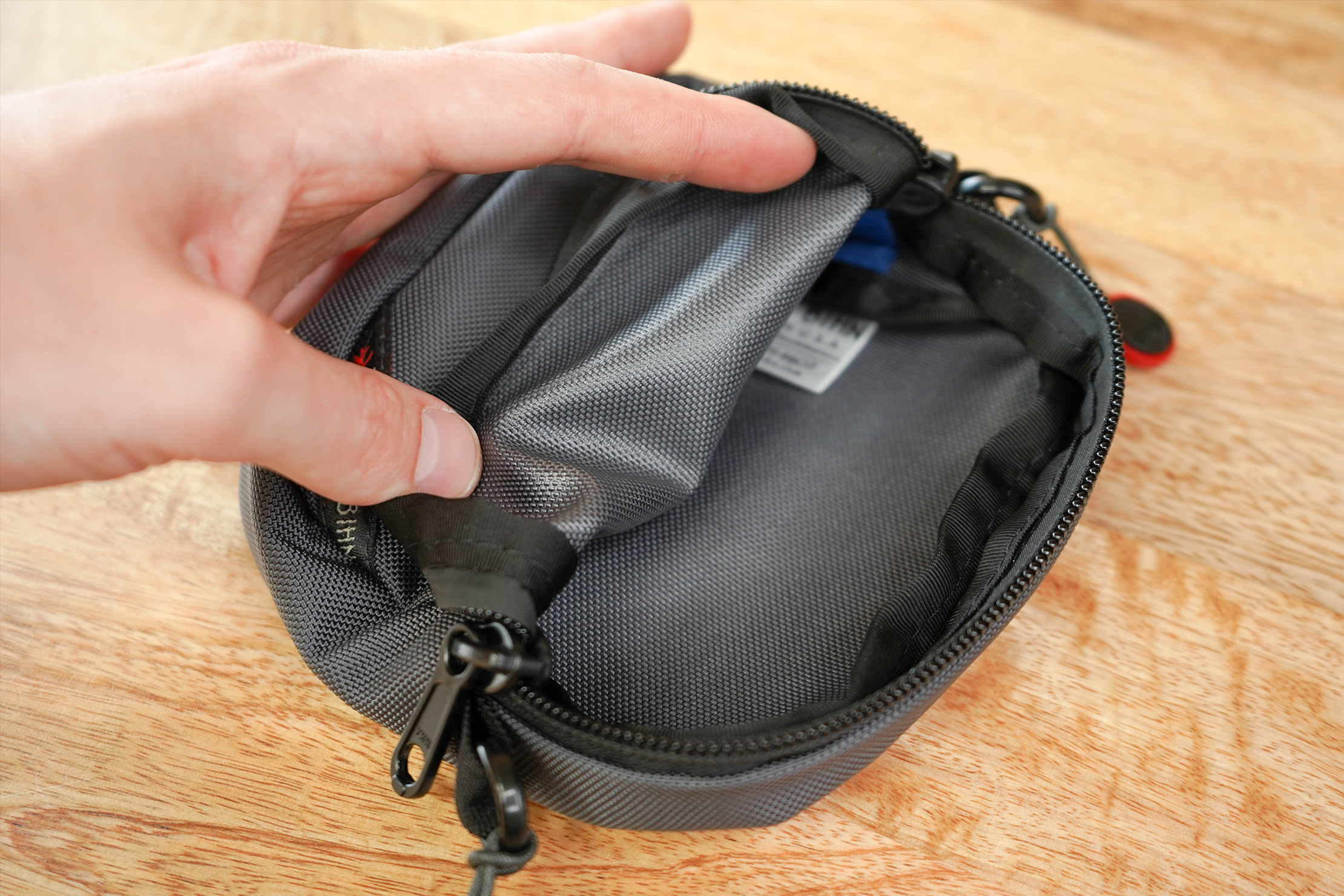 We have to say, though, it would be nice if the interior of the Cubelet was a brighter and different color from the exterior. We've found that pouches with high-visibility interiors, like the Topo Designs Accessory Bags, make it really easy to spot your gear.
Durability & Testing
After two weeks of testing, we're happy to say the Tom Bihn Cubelet has done us proud. We've enjoyed how it helps us stay organized on the road, and we're happy to say we've have had no issues regarding durability.
If you were to run into any issues, Tom Bihn offers a lifetime warranty for "defects in materials or workmanship." We haven't had a reason to test this warranty yet, but we always appreciate companies that are proud of their products and willing to put their money where their mouth is (so to speak—companies don't actually have mouths, at least none that we're aware of).
Usage Timeline
Initial Usage
Condition: Excellent
One of the cutest names we've ever heard of for a pouch
Plastic rings on the side could be great for strap attachment to wear crossbody, or for use inside of a bag
2 Weeks of Use
Condition: Excellent
Still looks as nice as it did out of the box.
Access the Pro Community Discussion
Get your questions about the TOM BIHN Cubelet answered from our team and the Pro Community right here on the page. Plus, join discussions with other members about gear, guides, and more.
Other Organizers & Pouches Reviews