Baronfig Squire Rollerball Pen (Stainless Steel) Review
A sleek and inspiring writing tool, the Baronfig Stainless Steel Rollerball Pen is a solid investment—if you don't mind its heavy weight and price.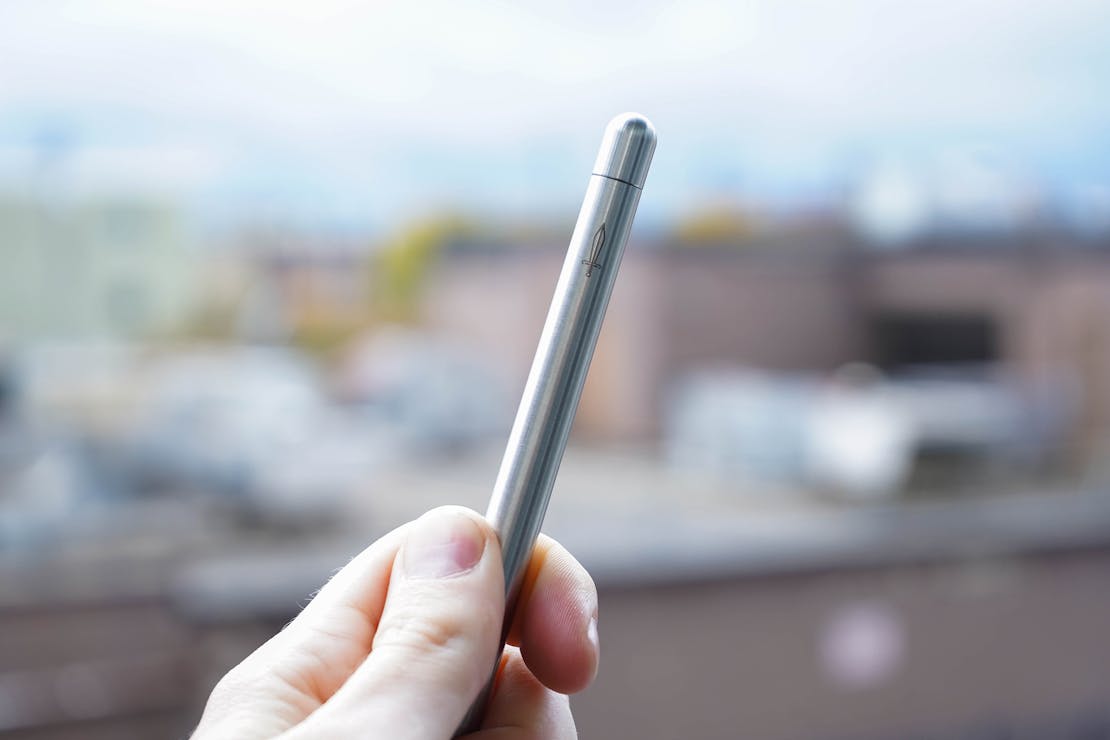 Our Verdict
Unlock the Pro Summary
Save time. Get access to brief summaries of our reviews so you can browse and make decisions more efficiently.
Pros
Sleek, sophisticated aesthetic
Ergonomic shape makes writing with it a joy
Ink writes smooth, dark lines that don't smudge
Cons
Its heavy weight takes some time to get used to it
It rolls
Having two logos on its small body detracts from minimal look
Recent Pack Hacker Video
Technical Details
Weight (oz)

1.7 oz (48.2 g)

Dimensions

5 in x .4 in (12.7 x 1 cm)

Notable Materials

Stainless Steel

Manufacturing Country

United States

Warranty Information
Full Review
Let's begin with the elephant in the room—yes, the Baronfig Squire Stainless Steel Rollerball Pen will cost you nearly $100.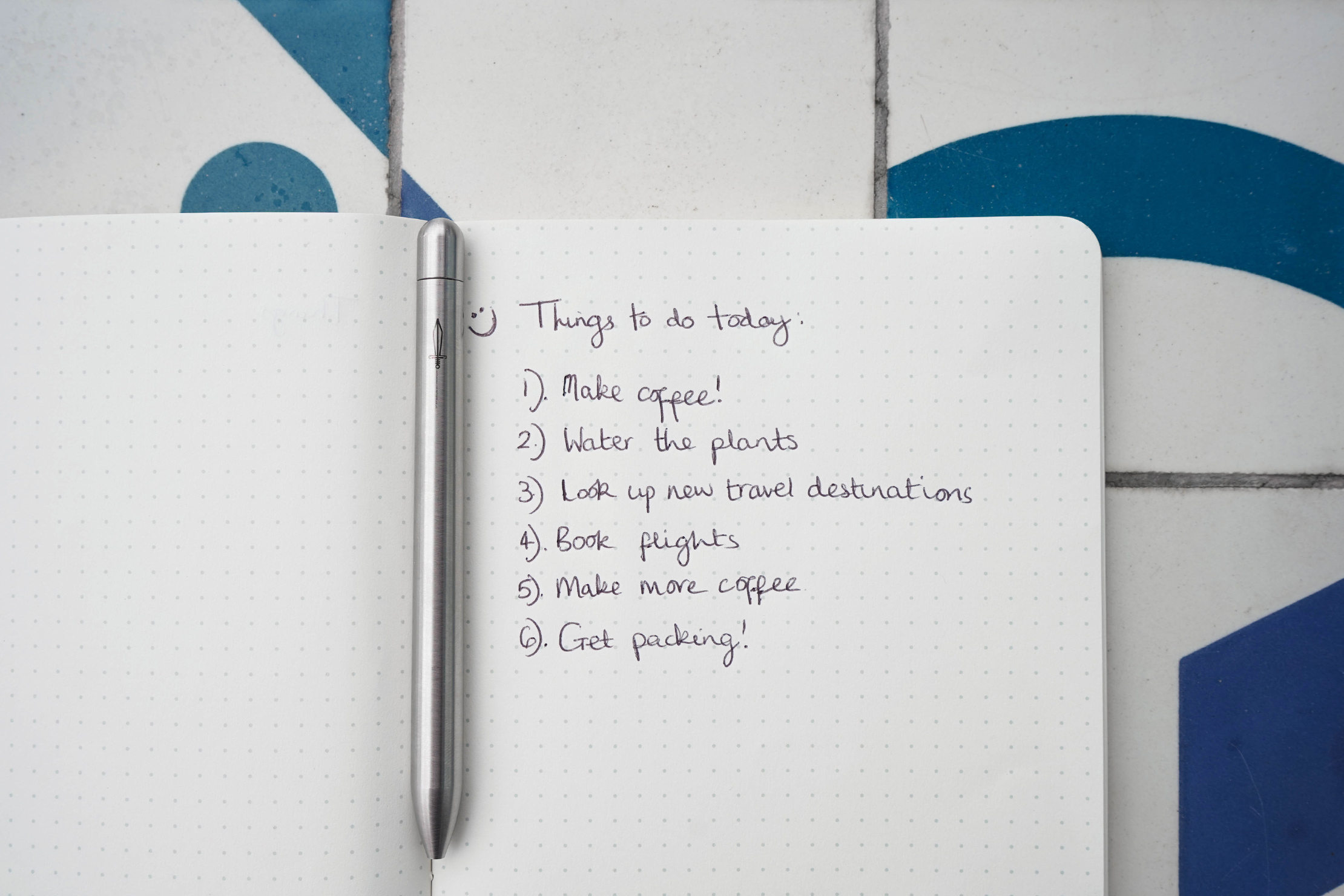 We're going to review it with that price tag in mind. We're going to nitpick and discuss details we wouldn't bother getting into with cheaper pens. Because let's be real—even if it's within your price range—you should expect a $100 pen to perform to a high standard.
If you get to the end of this review and find yourself thinking wow, the Baronfig Squire Pen is awesome and I would totally buy it if it was $55 instead of $95 then you're in luck! The company offers an aluminum version of this pen that's nearly half the price. It's not as durable or quite as sleek as the stainless steel version, but otherwise, it's basically identical.
So let's check it out.
Features & Usage
The word sleek was (probably) invented to be used to describe the Baronfig Squire Stainless Steel Rollerball Pen. It's beautiful with a polished silver body that tapers at the tip for a more comfortable writing experience. We love the overall look of the pen—it's the perfect accessory for writing the Next Great American Novel between the pages of a handmade leather notebook on the banks of the Seine while the sun paints the sky a deep amethyst…whoops, sorry, went off on a daydream there. This pen will do that to you.
Some people may not like the fact that this pen has no clip. But we're not bothered. We like that Baronfig has kept it simple and we're not stylish enough to rock the pen-in-the-pocket-protector look anyway.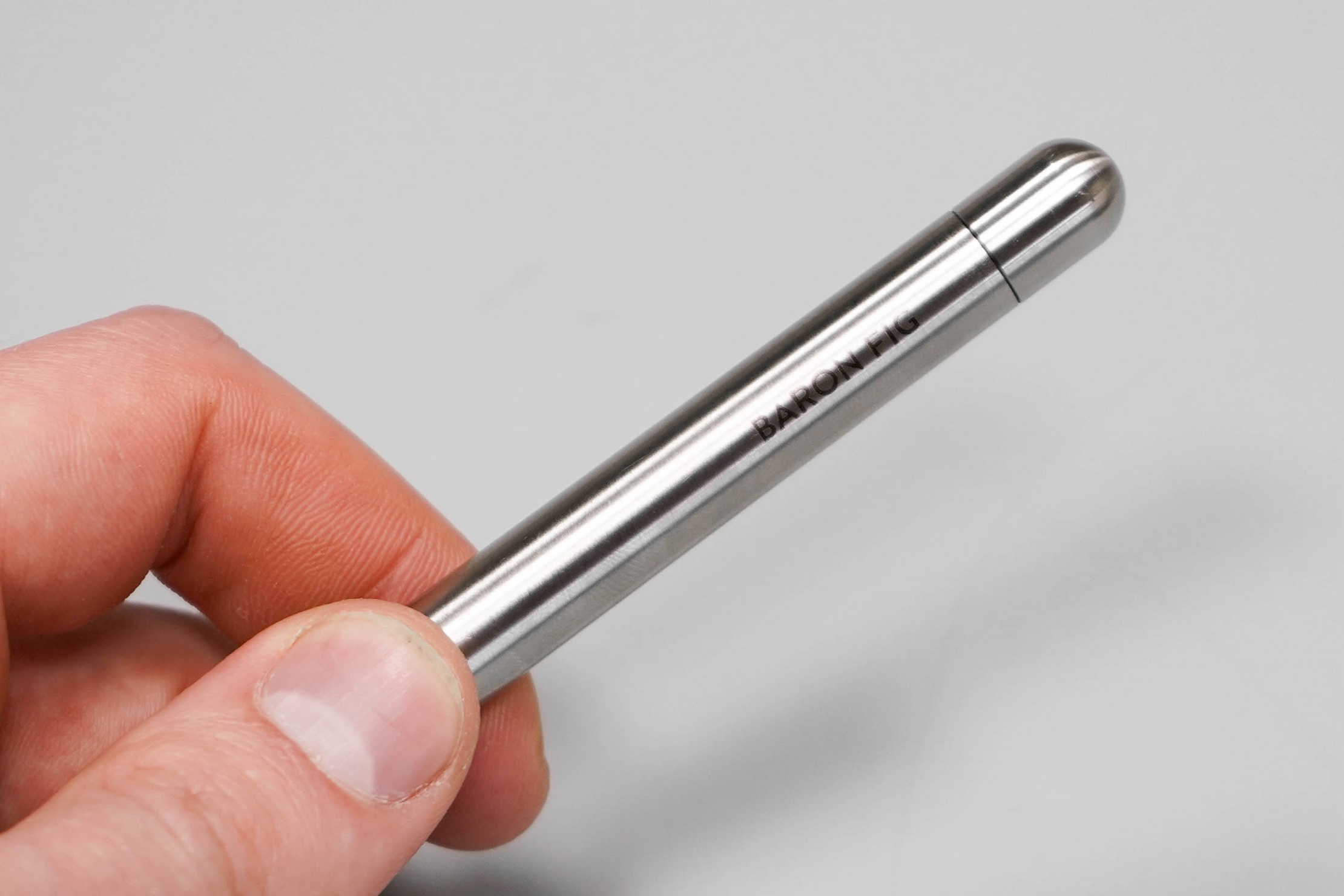 All that said, we're not fans of having two logos stamped on its side. It dampens that minimal look and cheapens the whole aesthetic. The sword logo is enough branding in our books. Having both that and "BARONFIG" feels like overkill.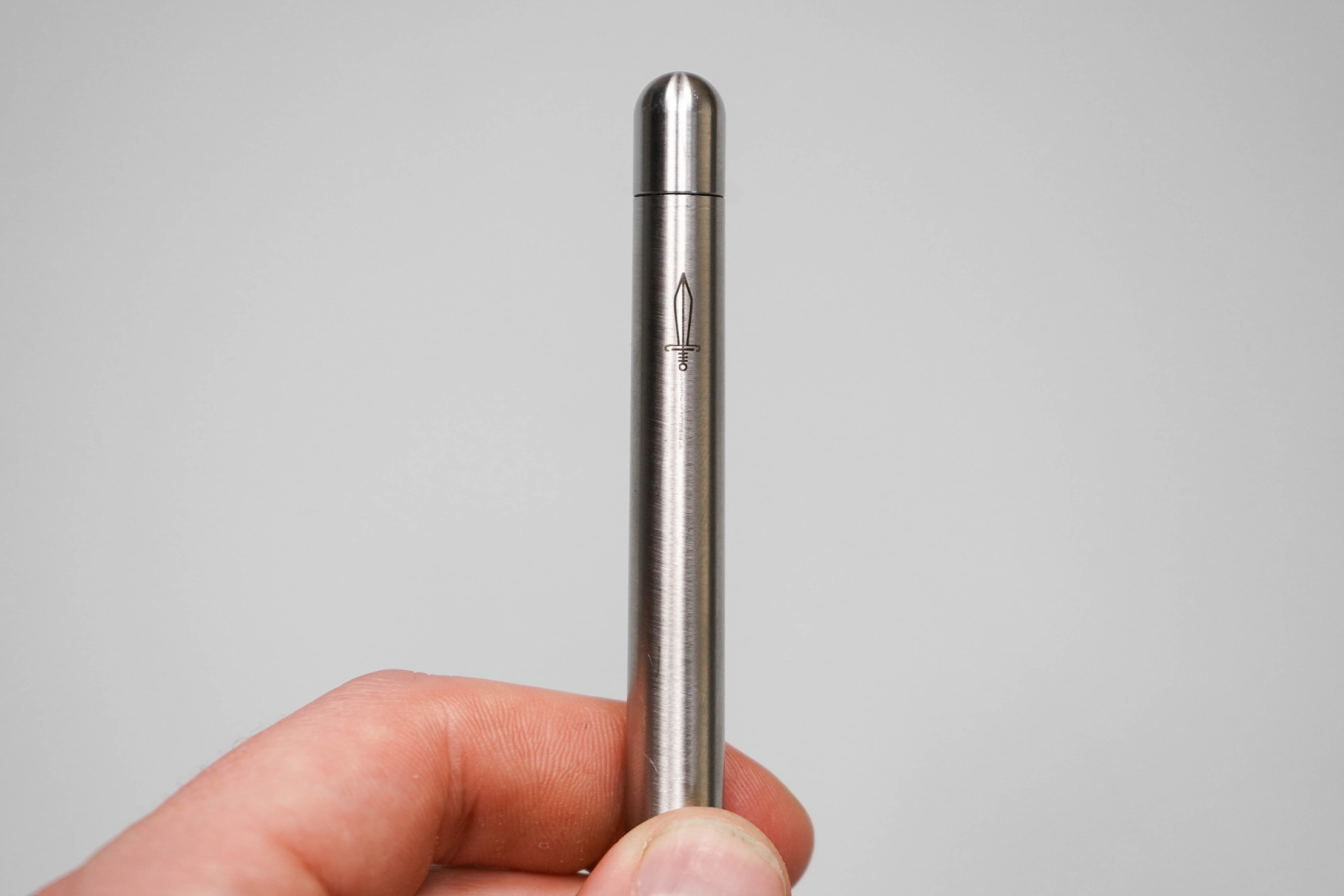 Speaking of that sword logo—we're huge fans of Baronfig's whole "pen is mightier than the sword" bit. Sure, they might lay it on a bit thick—the back of the box the pen arrives in says, "The pen is a mighty sword. It grants the power to move entire nations, to touch people's hearts and souls—to make something from nothing." Which is undoubtedly cheesy. But also kind of inspirational?
And the folks at Baronfig don't stop there. When you open the box, you're greeted with a card that says "The pen by which ideas become real." If you don't get goosebumps from that then you're obviously emotionless (or not much of a pen user).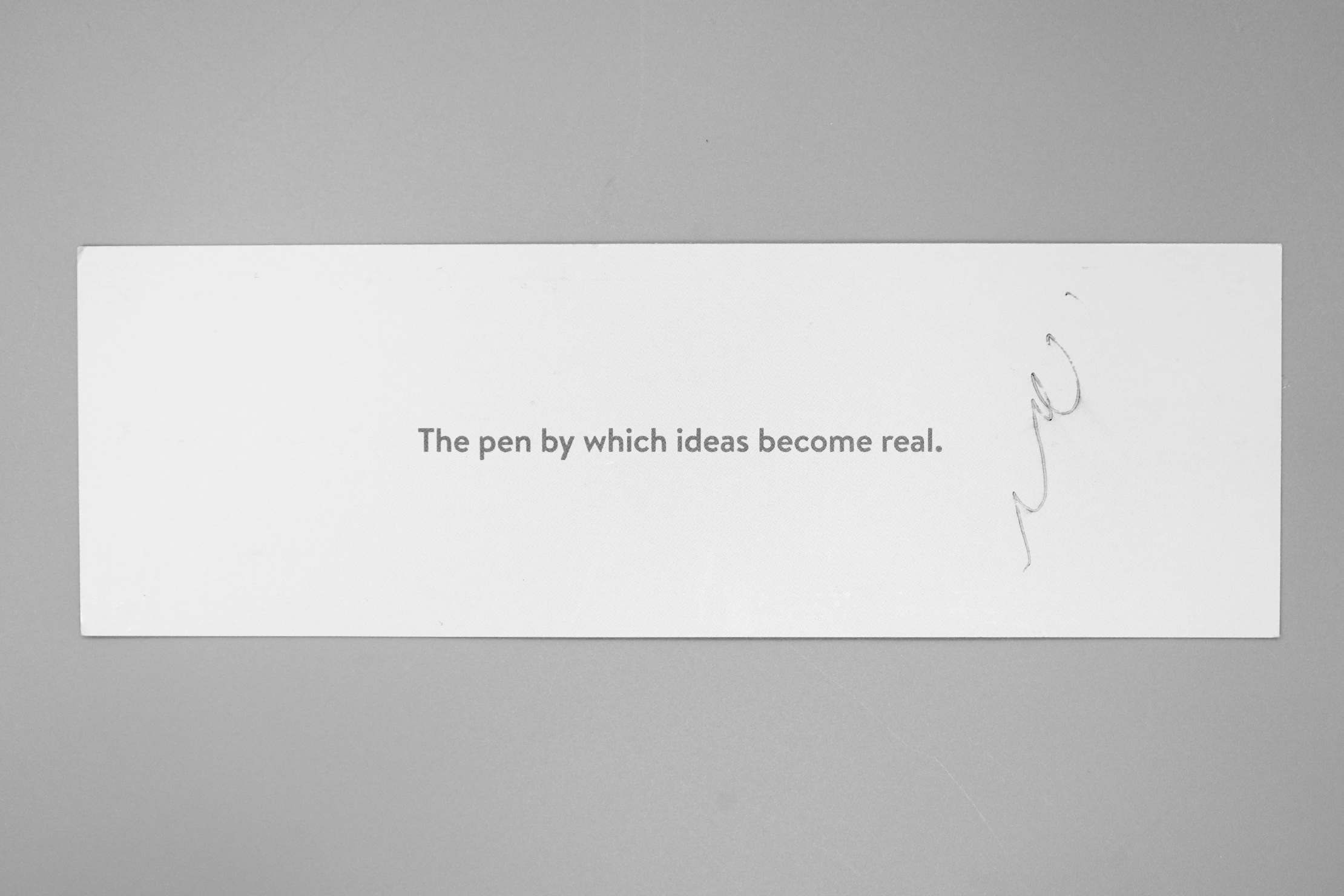 We're in the business of words here at Pack Hacker—we've written thousands and thousands on Sling Bags for crying out loud—so we can certainly be buttered up by quotes that celebrate how powerful words can be.
Alright, moving on. As you have probably intuited by this point, this pen is made from stainless steel, which is incredibly strong and resistant to corrosion. There aren't many other pens out there with this level of durability. As long as you stock up on some ink refills, this pen is apocalypse ready. (We also love that the marketing team at Baronfig ran with the stainless steel thing. They have copy on their website that says this pen has been, "Forged in Steel." It's very Superman-esque—some may say sword-esque—and, once again, we're suckers for it.)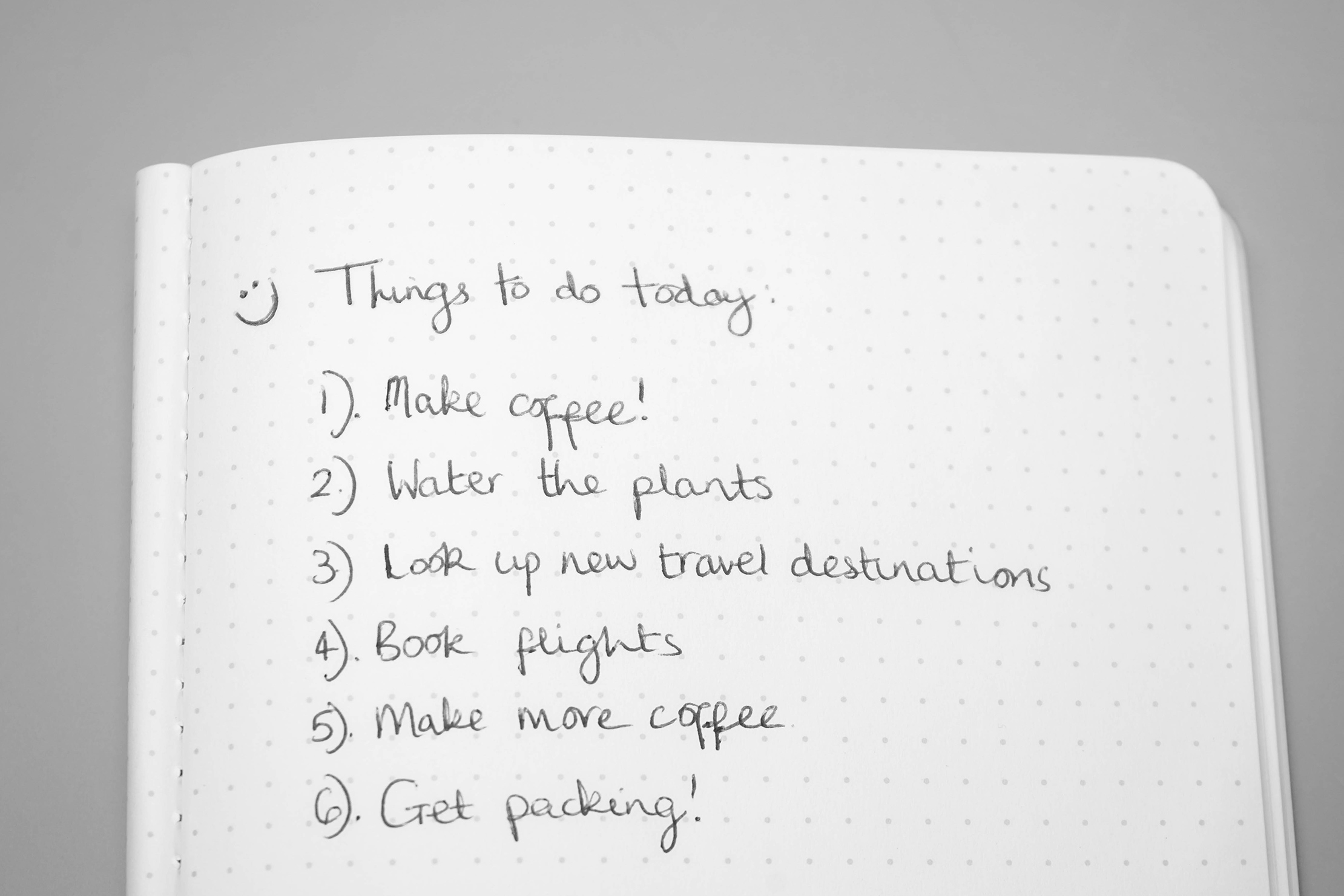 Baronfig doesn't specify what ink they use on the website, but from our research we've gathered it's a Baronfig branded Schmidt P8126 rollerball refill. It lays down thick, smooth lines that dry almost instantly (lefties—you know how big of a deal this is). The ink doesn't blob, smear, or smudge and only feathers slightly when confronted with water. And, unless you're drawing on seriously thin paper, it doesn't bleed much either. It's magical ink, really.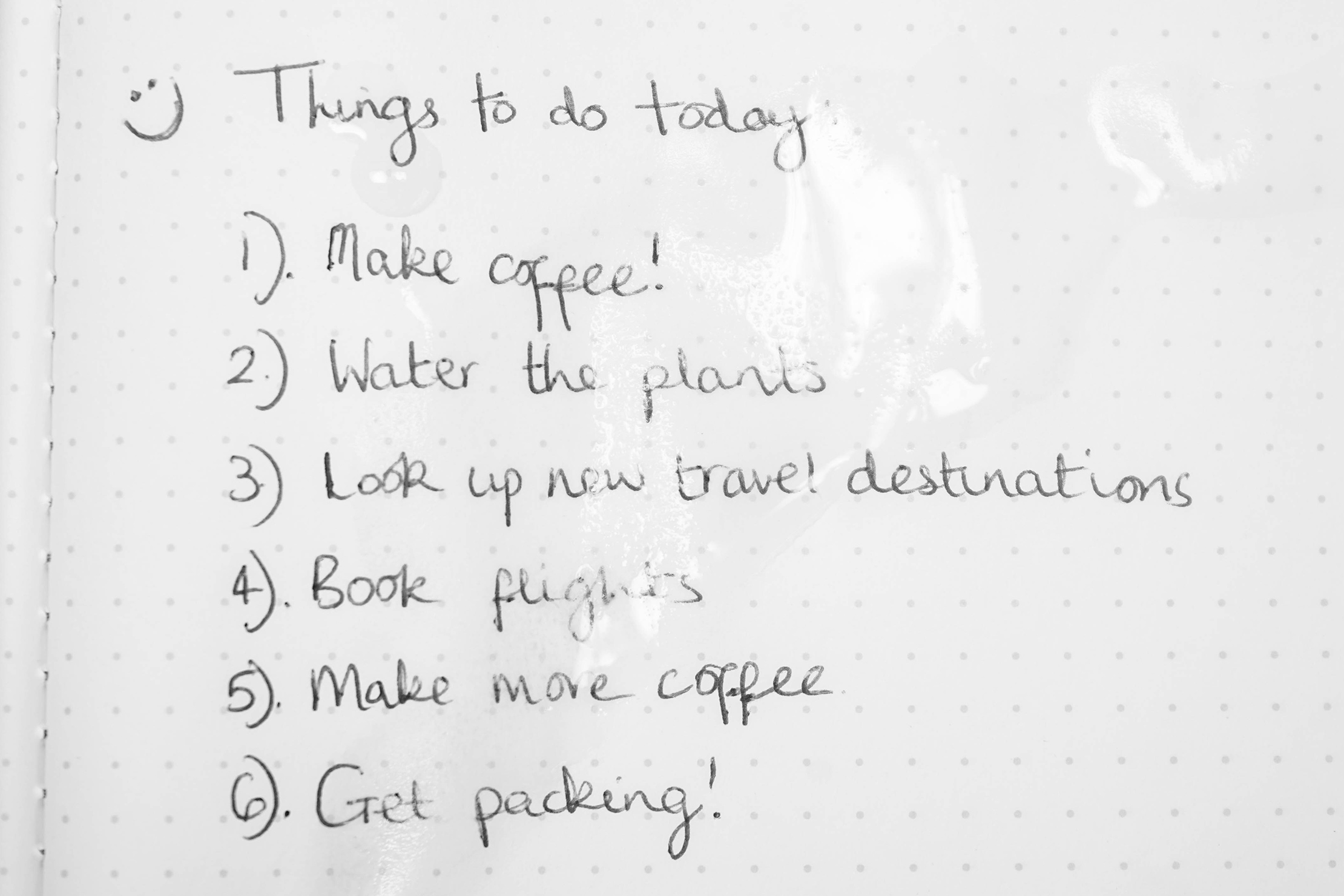 Due to this magical ink, the Stainless Steel Squire Pen is a joy to write with (for the most part). It's smooth and its ergonomic shape is pleasant to hold while scribbling down all those ideas you've gotten since purchasing such an inspirational writing tool. It subtly tapers to a narrow point from bottom to top, so your fingers will never slip. And it's slightly shorter than other pens, which we've liked. It makes it easier to pack.
But—and this is a big "but"—this pen is heavy. It weighs an astounding 1.7oz (!). Want to know what else weighs nearly 2oz? A Leatherman multi-tool, a Padded Organizer Pouch, and a hairbrush. Yes, this pen weighs as much as a hairbrush (okay, it's a travel hairbrush, but still).
For some, its weight will be a dealbreaker (as was the case for some members of our team). For others, it'll be a feature (you can feel it's durability). No matter what, it'll take a bit of time to get used to if you're transitioning from lighter pens. If you're not into the idea of a heavy pen—or are a one-bag traveler who has to pay attention to every single ounce—the aluminum version weighs way less and might be more up your ally.
This pen also rolls. It won't roll every single time you put it down, but enough that you can't just be putting this thing down willy nilly. If it rolls off your tray table on a plane and down the aisle, you might never get it back. Which is a huge deal for a $100 pen. Maybe Baronfig wants you to buy the stand or sheath? Or maybe its designers think comfort and sleekness outweigh not-rolling? We're not pen engineers here, so we're not sure why it's a cylindrical shape.
The last feature we'll discuss is the twisting mechanism that opens and closes the pen tip. We love this as it limits the likelihood of it opening in your pack and scribbling all over your wallet or whatever. Plus, it's super fun to fidget with, although we really should warn you against that. Fidgeting results in ink all over the hands.
Every once and a while, this mechanism will get off-track (or something—we're not exactly sure what's happening) and instead of twisting the ink out it'll start to open the back of the pen (which is how you change the ink). Not a huge deal, but something worth noting.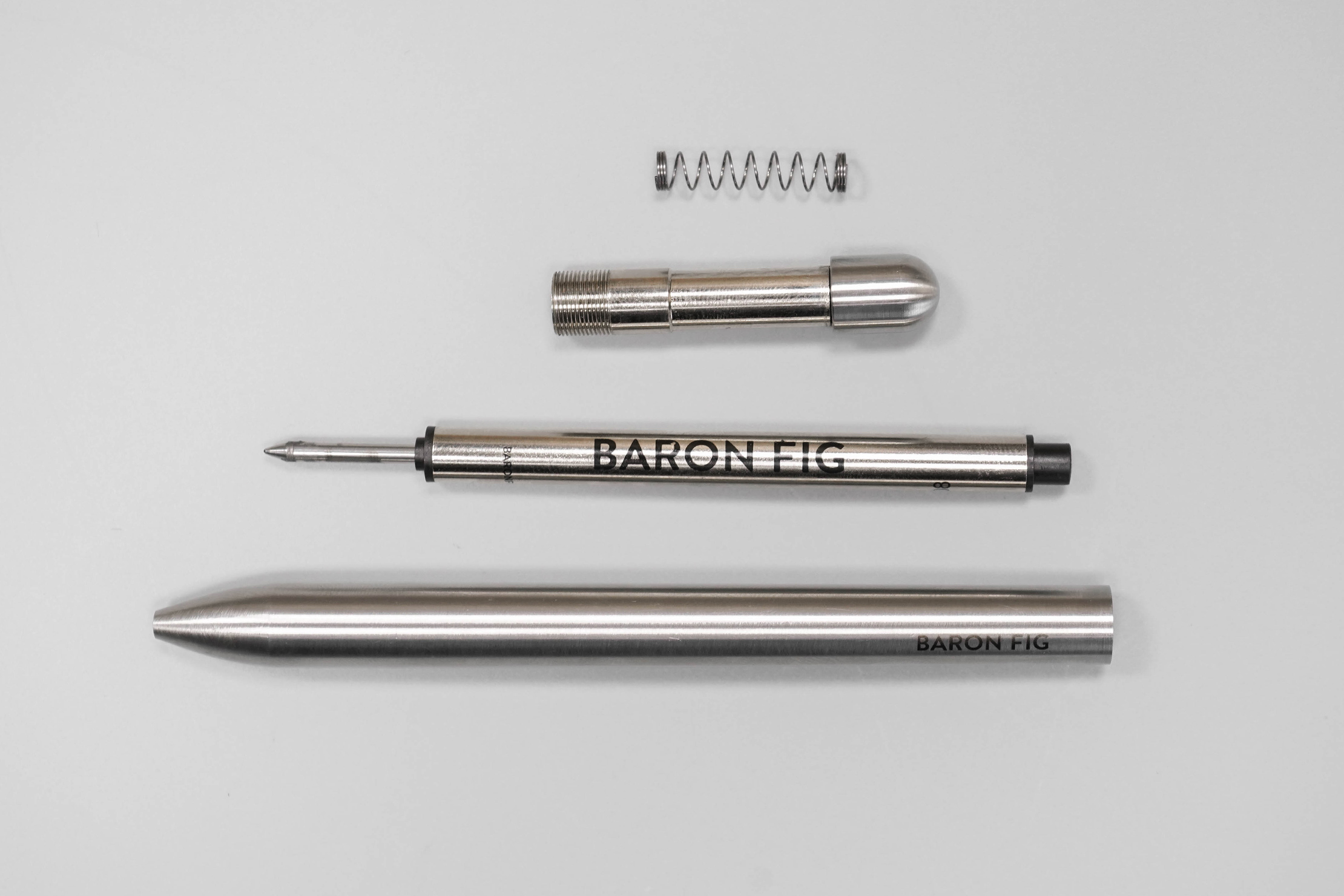 Durability & Testing
We've been testing the Baronfig Stainless Steel Rollerball Pen for three months now and are sad to report that this pen has started to skip, which we believe indicates it'll need replacement ink soon. To be fair, we've really been putting it to the test for three months—filling up notebooks with notes about gear, the beginning of gear reviews, lists of future gear we'd like to test, and so on (and doodling may or may not be an excellent procrastination tool). So, this probably won't be an issue for those of you who use pens a normal amount.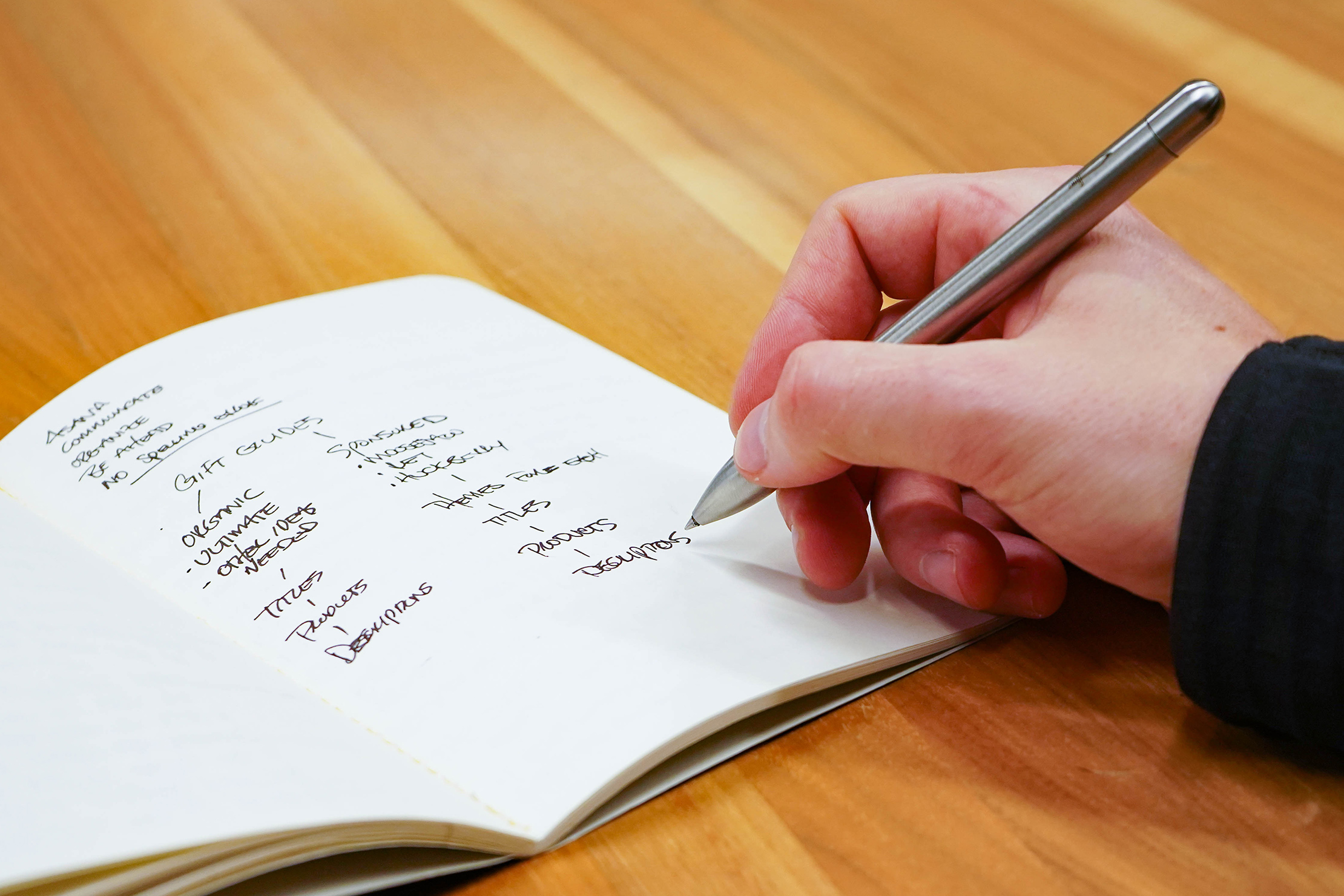 And in the spirit of full transparency, we have to admit that it's been stressful to test the Baronfig Stainless Steel Rollerball Pen. We've taken it with us on multiple trips and every time have been nervous we'd end up losing it. We've had to be vigilant to stop this pen from joining the hundreds of pens that have been sucked into the mysterious Void of Missing Mundane Things along with socks and bobby pins. (So. Many. Bobby. Pins.)
But if you're a person who's never lost a bobby pin or pen in your life, this will probably not be a concern for you (and, please, tell us your ways).
If this pen were ever to be sucked into the Void of Missing Mundane Things, we'd, of course, mourn it and then replace it with the aluminum version of the Squire. While we've loved testing the Stainless Steel, we're more comfortable with a lighter, cheaper pen. And the aluminum version has the same amazing ink and ergonomic shape.
But if you're looking for a pen with that takes sleekness and durability to the next level then the Stainless Steel Rollerball Pen is an investment worth considering.
Usage Timeline
Initial Usage
Condition: Excellent
We're really digging the super sleek design
This pen will roll if it's not on a completely flat surface
It's smooth and easy to write with
1 Month of Use
Condition: Excellent
Starting to get used to its weight, finally.
2 Months of Use
Condition: Excellent
No complaints—everything is looking good!
3 Months of Use
Condition: Good
Looks like the ink is starting to run out—hopefully, we can get another month or so of use before replacing it.
Access the Pro Community Discussion
Get your questions about the Baronfig Squire Rollerball Pen (Stainless Steel) answered from our team and the Pro Community right here on the page. Plus, join discussions with other members about gear, guides, and more.
Other Productivity & Tech Reviews