Leatherman Style PS Multi-Tool Review
An eight-in-one multi-tool, the Leatherman Style PS is nice to have on hand. But its size means it may get flagged at airport security if you travel with it.
Our Verdict
Unlock the Pro Summary
Save time. Get access to brief summaries of our reviews so you can browse and make decisions more efficiently.
Pros
All the tools work well
The pliers are especially useful
Small enough to hook to your keys or slide in your pocket
Cons
Tweezers can be tough to get to
More conspicuous than other airline safe multi-tools
The screwdrivers will only work on really small screws
Recent Pack Hacker Video
Technical Details
Weight (oz)

1.58 oz (44.8 g)

Dimensions

2.9 in (7.4 cm)

Notable Materials

Stainless Steel

Manufacturing Country

United States

Warranty Information
Full Review
The Leatherman Style PS is a multi-tool that fits in your palm and comes in handy for both traveling and everyday life.
Now we should mention, right off the bat, that this thing is a bit larger and more conspicuous than some other travel-friendly multi-tools out there—so you may have trouble getting through airport security. While we've been able to hold on to the PS so far, our Piranha 2 Leatherman was taken from us in Malaysia a couple of years ago. And, even if you're able to keep the multi-tool, you may still be stopped, resulting in a longer trip through security. Just something to keep in mind.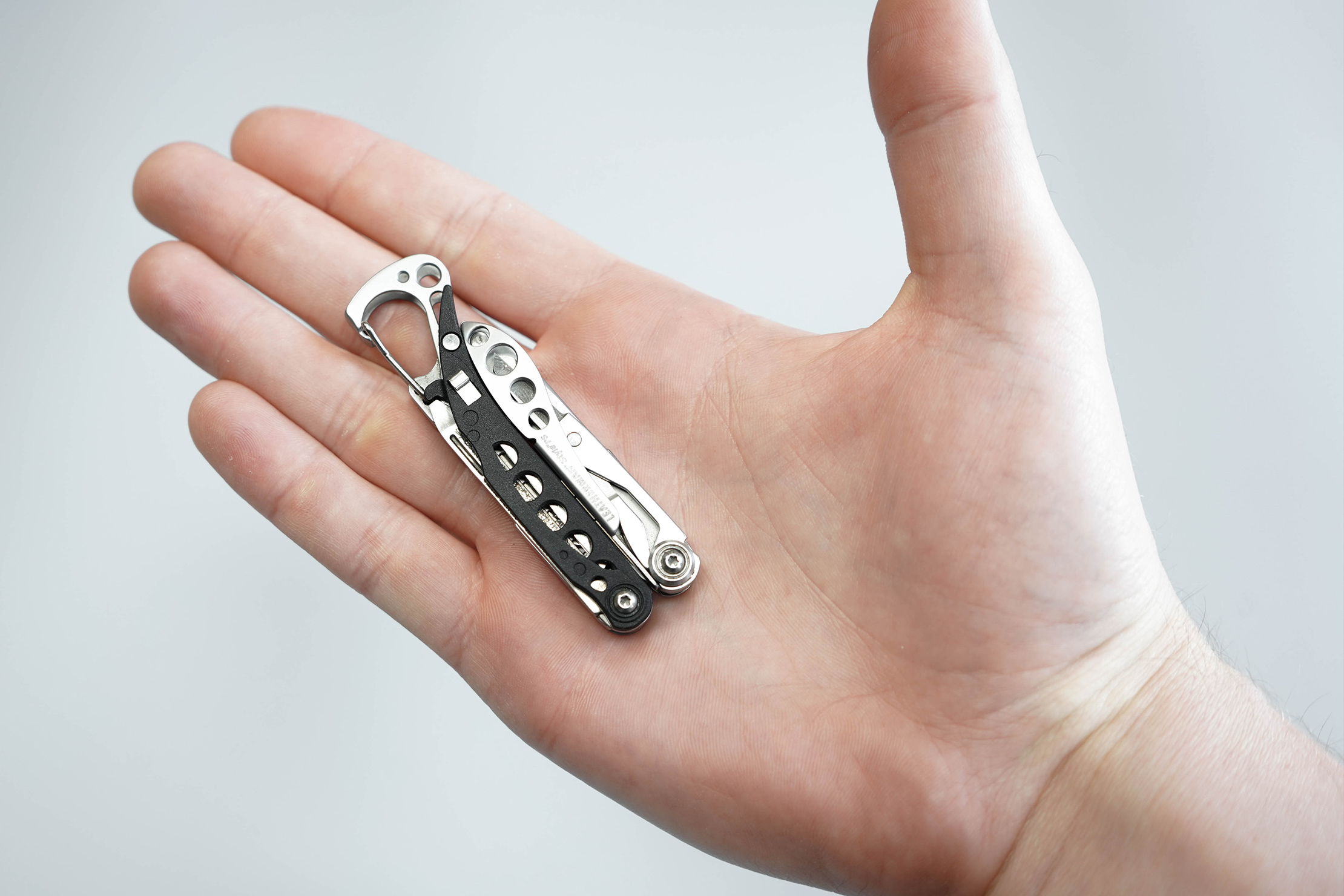 That being said, the folks at Leatherman have managed to squeeze eight tools into one with the Style PS. It includes needle nose and regular pliers, wire cutters, a file, scissors, tweezers, a bottle opener, and a mini-screwdriver. And unlike some other multi-tools out there, all of these features are actually useful.
We've been testing this multi-tool for about a month now, so you can bet it's been through the wringer. At the time of this review, it's available in two colorways—silver and black, and silver and red. We think both look pretty sleek, although in classic Pack Hacker fashion we've been testing the silver and black.
Let's stop mucking about and get into it!
Features & Usage
We'll start with the two kinds of pliers—needle nose and regular. They both work really well and have a solid grip on whatever it is you're gripping, from nails to wires. You can also use them to tighten up some nuts and bolts on any loose furniture at an Airbnb or coffee shop.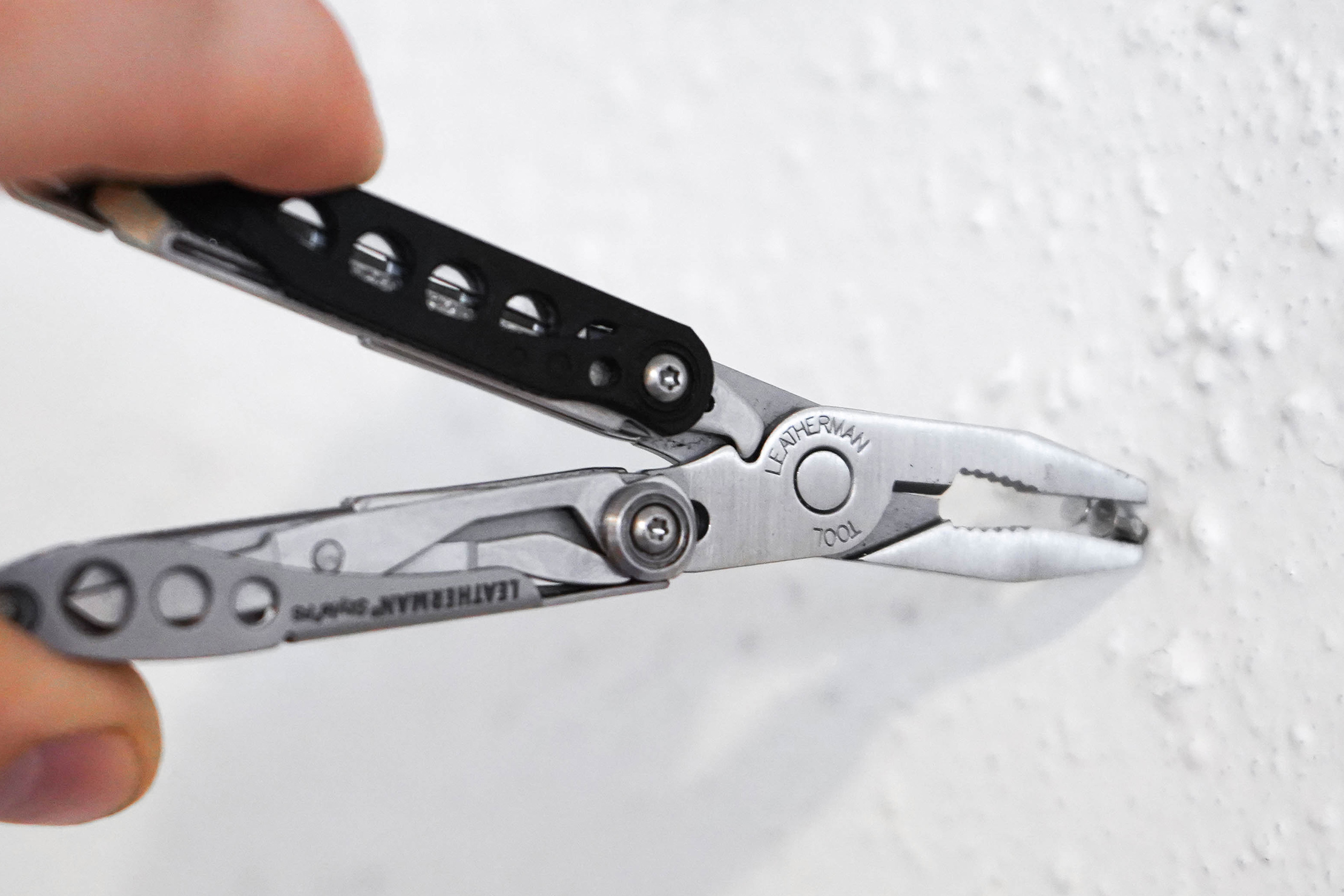 Tucked inside the pliers, you'll find the wire cutters. We haven't had a reason to cut any wires yet, but we've found it helpful for cutting through packaging. You know, the packaging that's basically just 500 layers of plastic. Plus, it's great for snipping any loose threads or pulls on your clothing so you stay looking sharp on the road.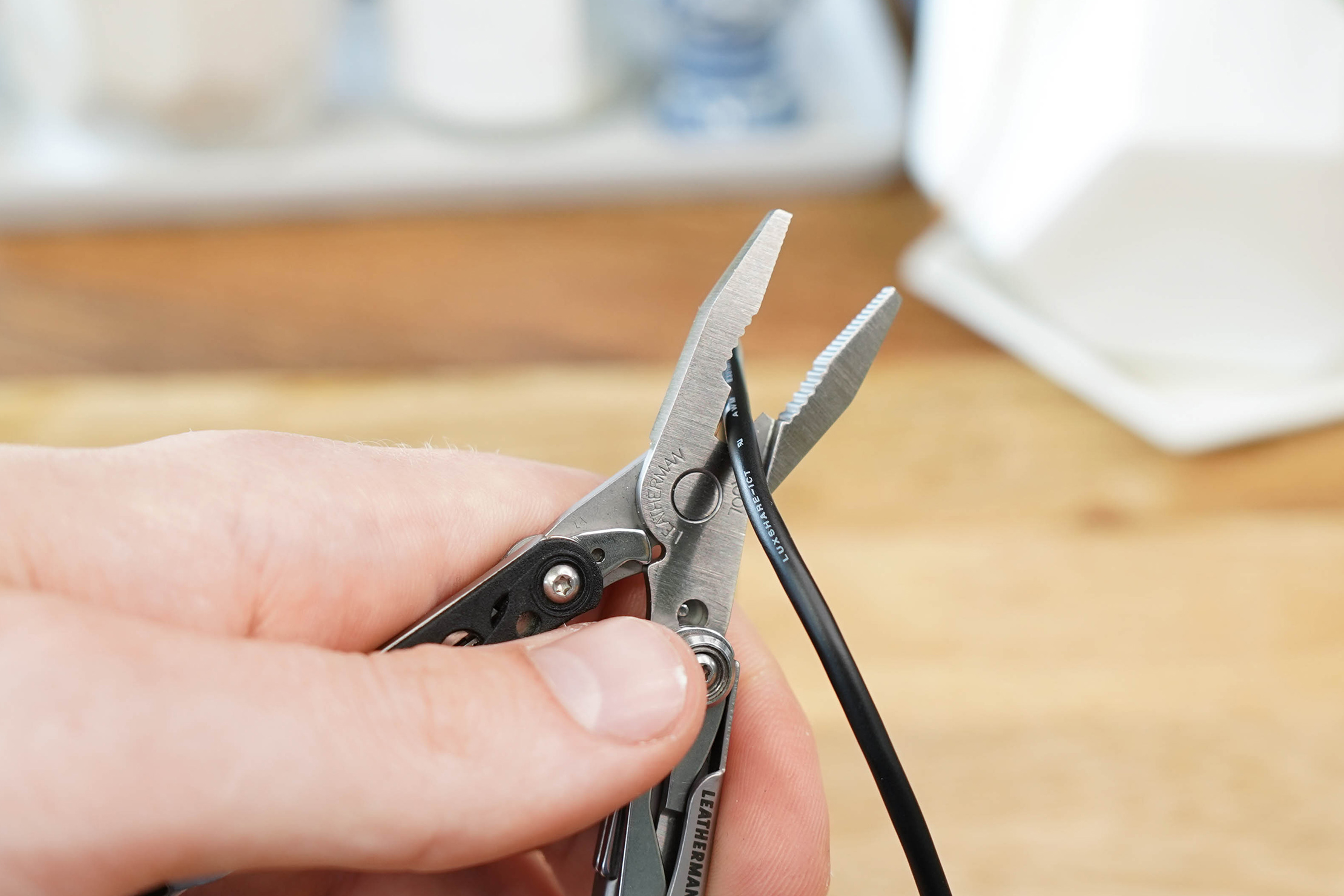 Next up, there are the spring loaded scissors. These scissors aren't super sharp, but they can cut paper if the need ever arises (maybe you want to make some crafts on the plane?) and, like the wire cutters, can help with loose threads on clothing and bags. You can also use them as a small knife for ripping open boxes and the like. This pseudo-knife won't be as helpful as an actual knife, but that's what you have to sacrifice in order to get that TSA compliance.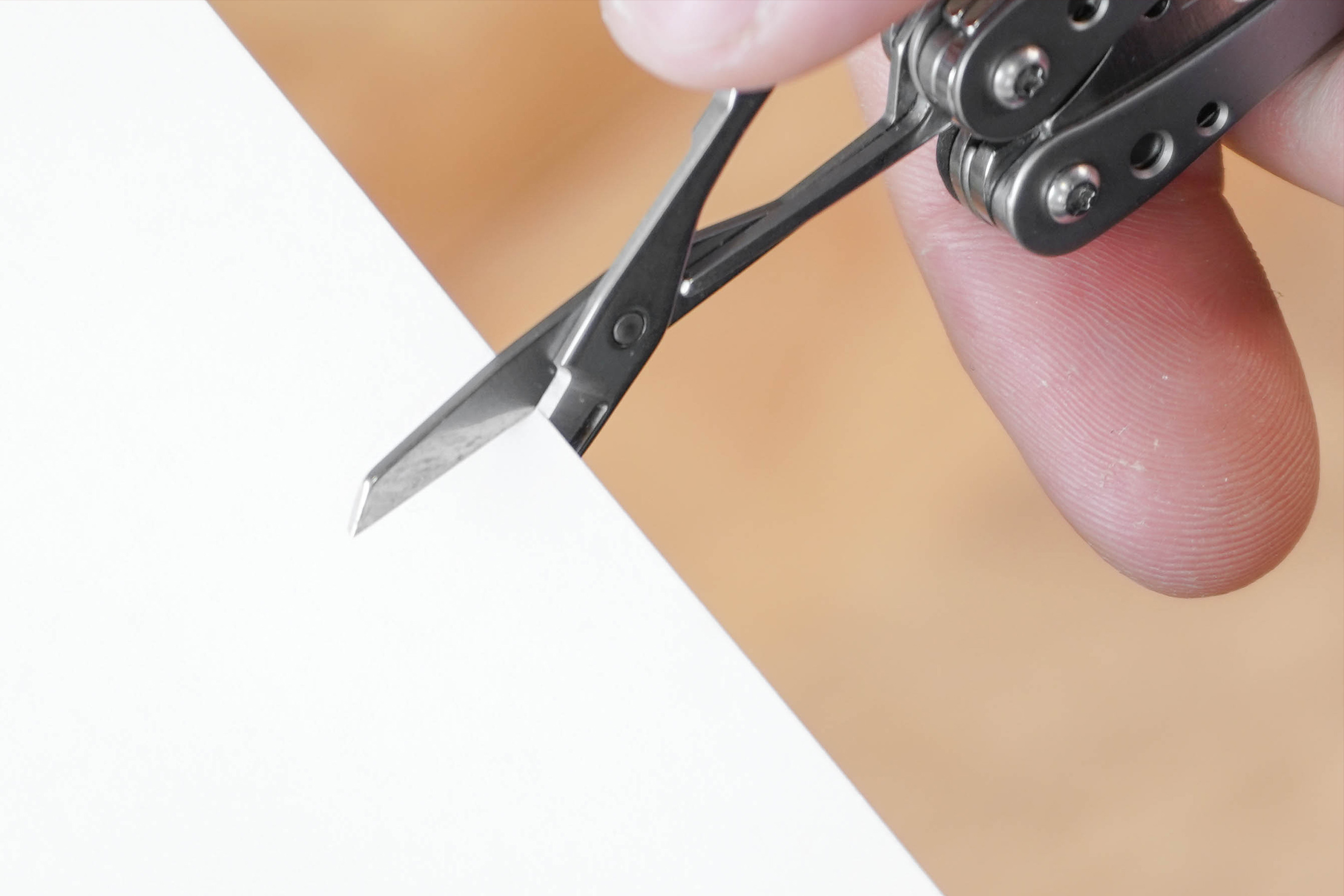 Then you have the file, which we've used after a classic rock-climbing-nail-breaking scenario and are happy to report this thing is super rough, so it files quickly and easily.
At the end of the file is the flat head screwdriver, which can be used as Phillips head in a pinch (Although, can't every flathead work as a Phillips head in a pinch?). The screwdriver works well, but the screw will have to be pretty small since the driver itself isn't very wide.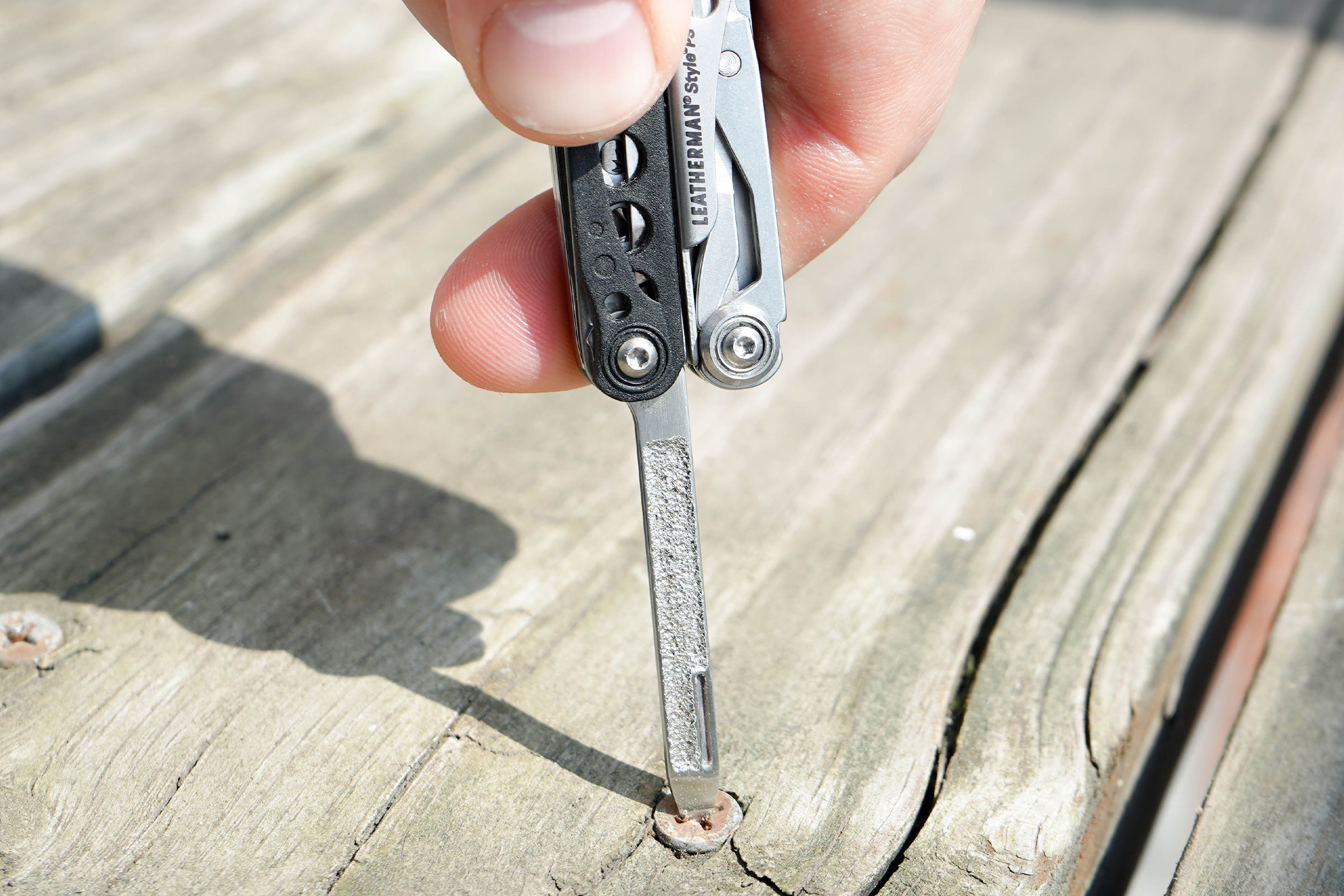 The tweezers, which you can access by pulling on the little tab near the carabiner, work surprisingly well. Although, we have to admit that when we first got our hands on this multi-tool, we struggled to pull the tweezers out. In fact, we had to use another multi-tool—the Nite Ize DoohicKey—to help us (some multi-tool inception for you!). But they've loosened up over time and now we can push them out with a finger.
They're also relatively sharp and work for keeping your eyebrows in check and dislodging splinters, both important while traveling.
Lastly, you have a standard bottle opener. It's basically law to include one of these on every single multi-tool out there, and we're not complaining. This one works really well and doubles as a carabiner.
But the carabiner is small, so it'll be a tight fit if you want to attach the multi-tool to your keys and then your keys to your bag.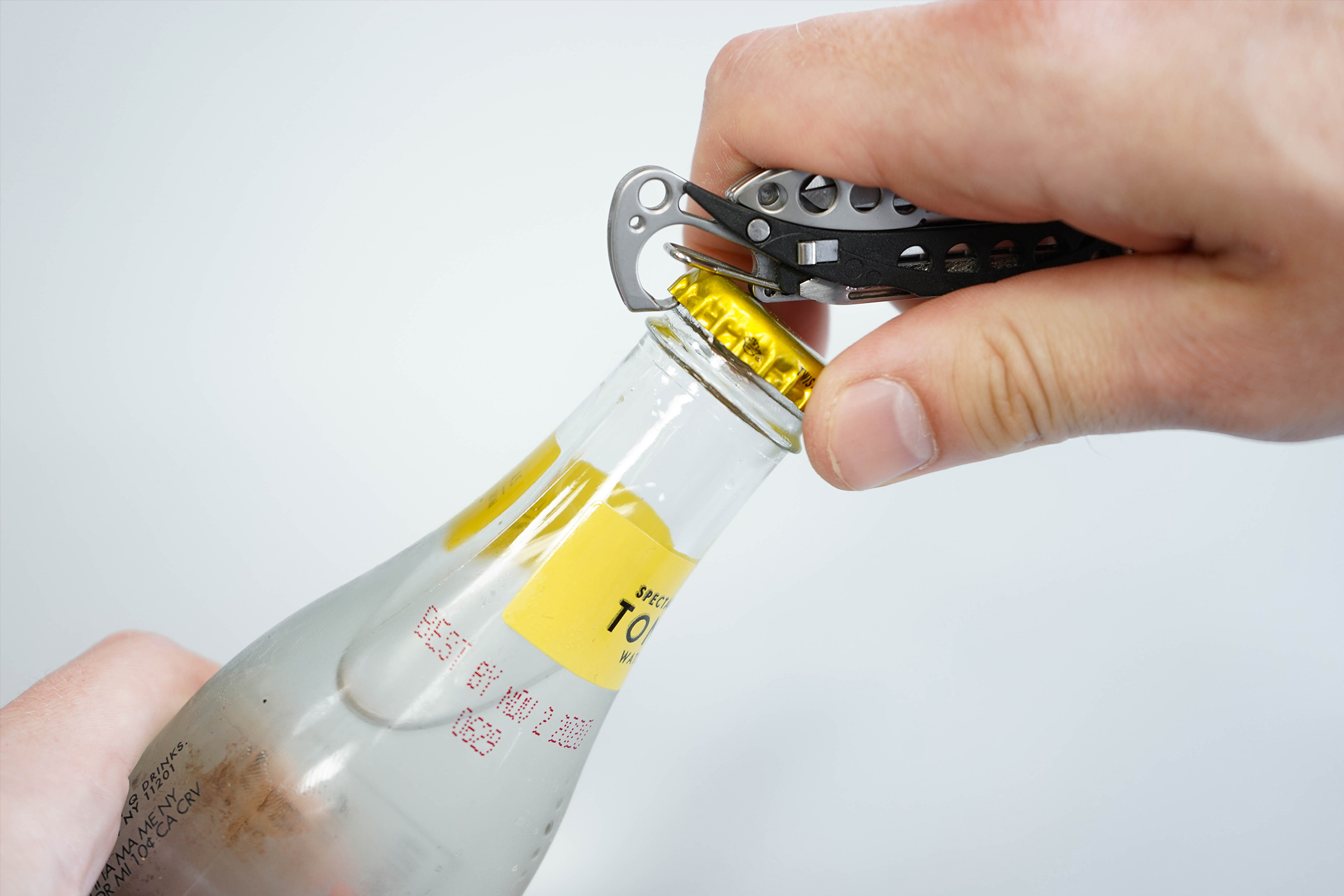 Durability & Testing
Like we mentioned above, we've been testing the Leatherman Style PS for about a month now. We have no blemishes—major or minor—to report and it's come in handy on numerous occasions.
And while it's a bit larger than some other airline safe tools out there and thus more likely to be flagged at security, we've really loved how useful and effective all of the tools are. It's definitely a solid choice to take with you while traveling or to have on-hand for everyday use.
Usage Timeline
Initial Usage
Condition: Excellent
TSA compliant, but we haven't tested it on a flight yet
Tools are small but still very strong
Tweezers are hard to get out
2 Weeks of Use
Condition: Excellent
The tweezers are difficult to pop out, but loving how useful every tool is.
1 Month of Use
Condition: Excellent
The tweezers have loosened up a bit—no more multi-tool inception going on.
Access the Pro Community Discussion
Get your questions about the Leatherman Style PS Multi-Tool answered from our team and the Pro Community right here on the page. Plus, join discussions with other members about gear, guides, and more.
Other Miscellaneous Reviews