Nite Ize DoohicKey Key-Tool Review
A handy, discreet multi-tool, the Nite Ize DoohicKey is nice to have while traveling, even though you likely won't use all of the tools.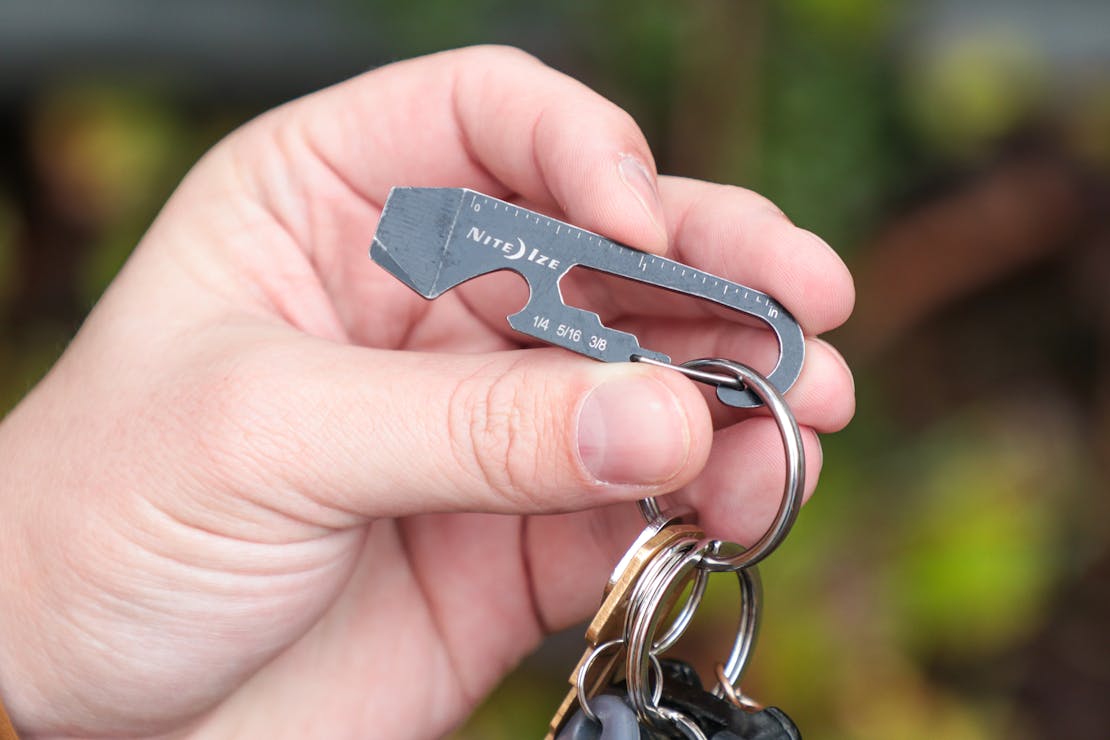 Our Verdict
Unlock the Pro Summary
Save time. Get access to brief summaries of our reviews so you can browse and make decisions more efficiently.
Pros
The carabiner is super useful
Small and lightweight
Five tools for the price and size of one
Cons
The screwdriver is too big to fit most screws out there
The wrenches aren't the most comfortable to use
There are already a few little scratches and dings after a month of testing
Recent Pack Hacker Video
Technical Details
Weight (oz)

.4 oz (11.3 g)

Dimensions

2.6 in x 0.7 in x 0.1 in (6.6 x 1.8 x 0.3 cm)

Notable Materials

Stainless Steel

Manufacturing Country

China

Warranty Information
Buying Options
$5.49
Full Review
Get up to 20% off Nite Ize • Join Pack Hacker Pro
The Nite Ize DoohicKey, pronounced "Night Eyes Doo-Hick-Key," is a convenient multi-tool you can clip to your keys or stick in your pocket as you roam the world.
While it's officially TSA-friendly, your mileage may vary as different airports—and even individual agents—have different rules. Luckily, this little guy will cost you less than 10 bucks, so getting it confiscated may not sting quite as badly as it could.
This multi-tool has five tools for the price and size of one (seven if you count all three wrench sizes). There is a box cutter, bottle opener, wrench (1/4″, 5/16″, and 3/8″), ruler (inches and centimeters), and flathead screwdriver.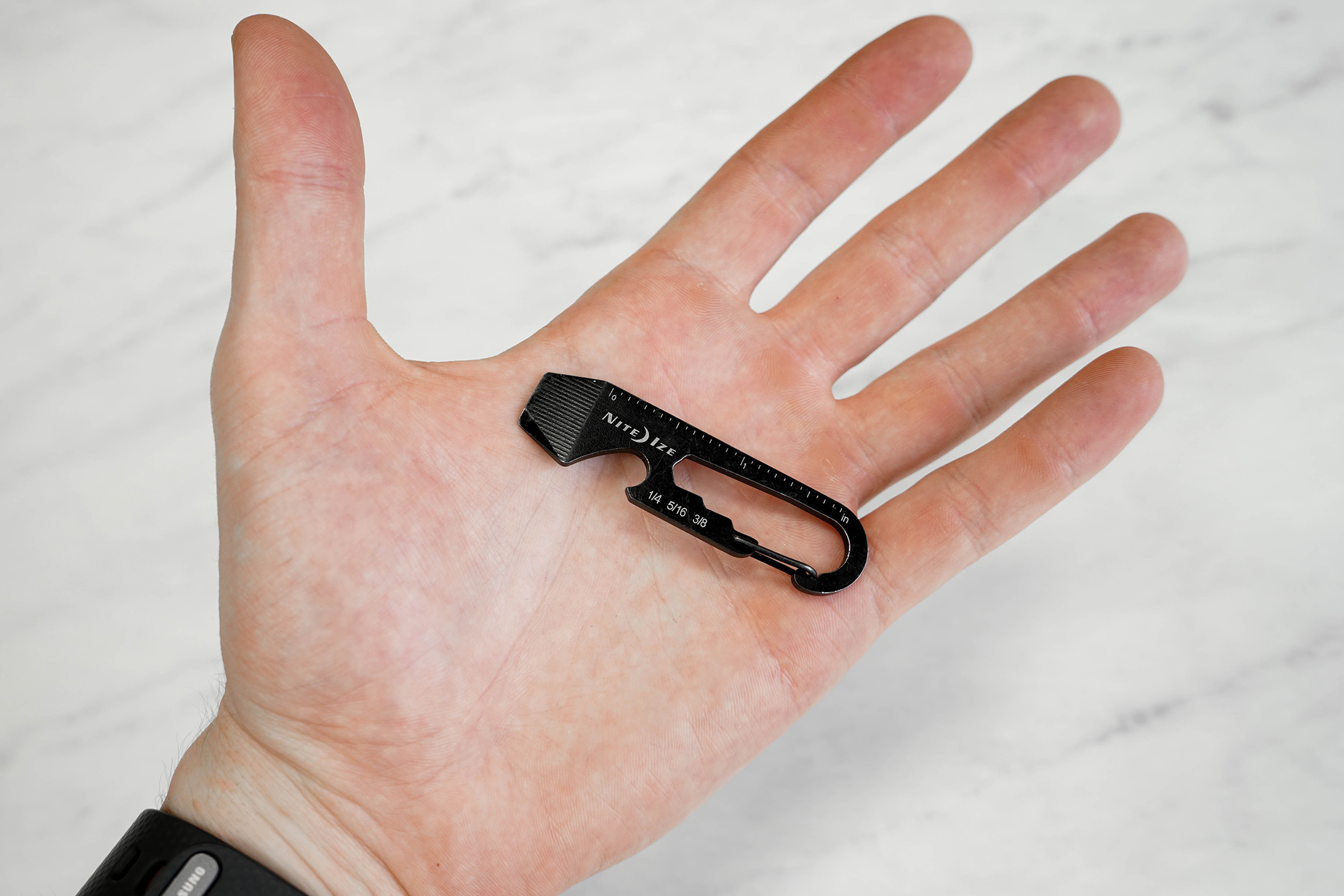 We've been testing it for about a month now, and while some of the tools have gone unused, we've been getting a good amount of use from the rest of them. Plus, its stainless steel body has held up nicely despite being tossed haphazardly around our pack. There are a few small scratches, but nothing major.
We've been testing the multi-tool in black, but it's also available in that classic stainless steel silver. And if you're feeling fancy, you can get it customized with your name or, you know, the Pack Hacker logo.
So without further ado, let's take a look at those tools.
Features & Usage
First up, we have the box cutter. We've been using this to open the nearly endless stream of packages we receive at the Pack Hacker headquarters. While it's not the sharpest box cutter around (remember, it's TSA compliant) it does a decent job. You likely won't be opening a lot of boxes while traveling, but if the moment ever arises the DoohicKey will have your back.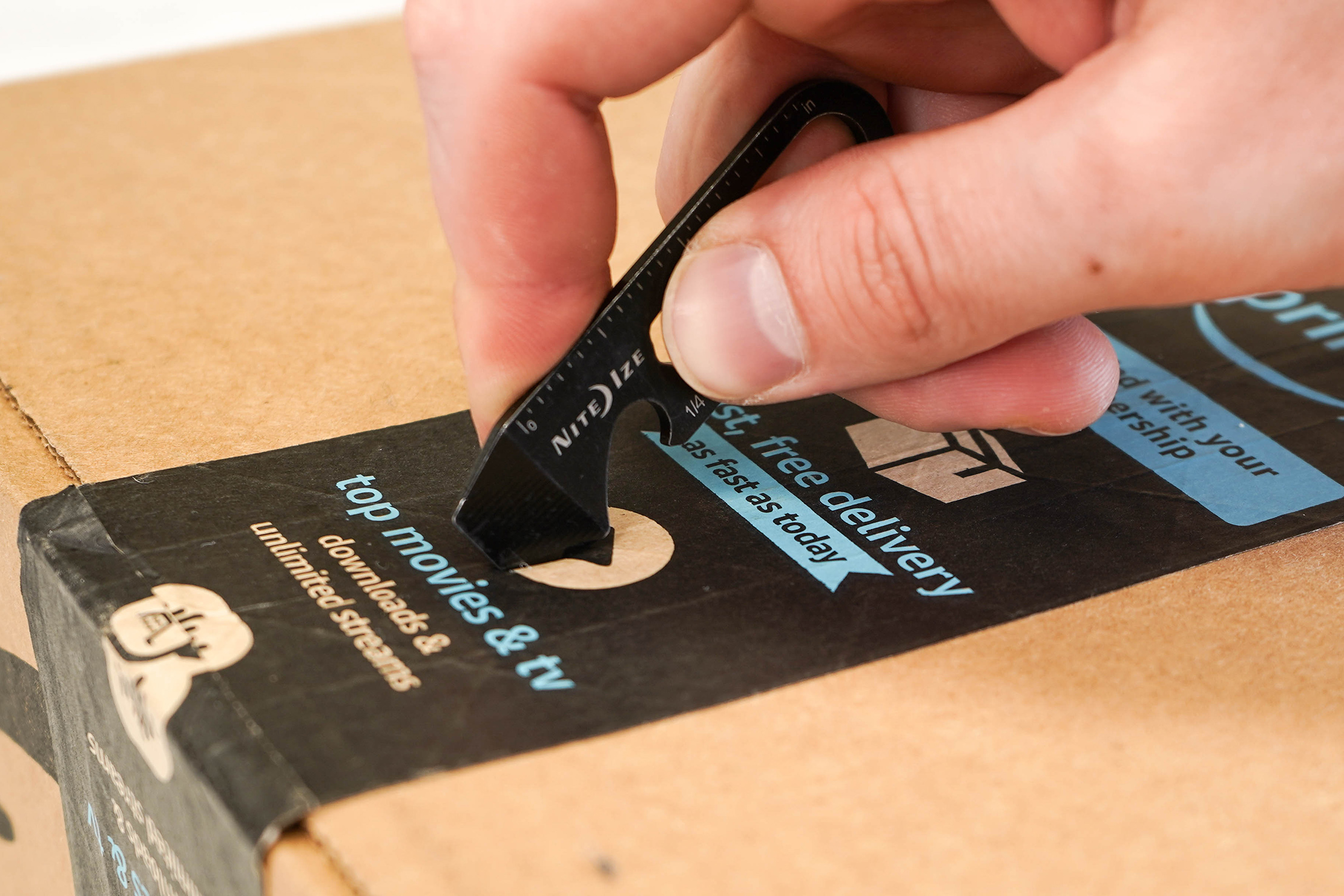 Next up is the large flathead screwdriver, which we've gotten the most use out of. It's great for the photographers and videographers out there since it fits perfectly into the screws on the bottom of a camera plate. When you're shooting all day, you'll likely whip this DoohicKey out multiple times. We certainly have been.
However, it's a bit too big to use on your normal everyday screws, especially if the screw is flush with the surrounding surface. You can get away with using the corner of the screwdriver at an angle, but it's not ideal.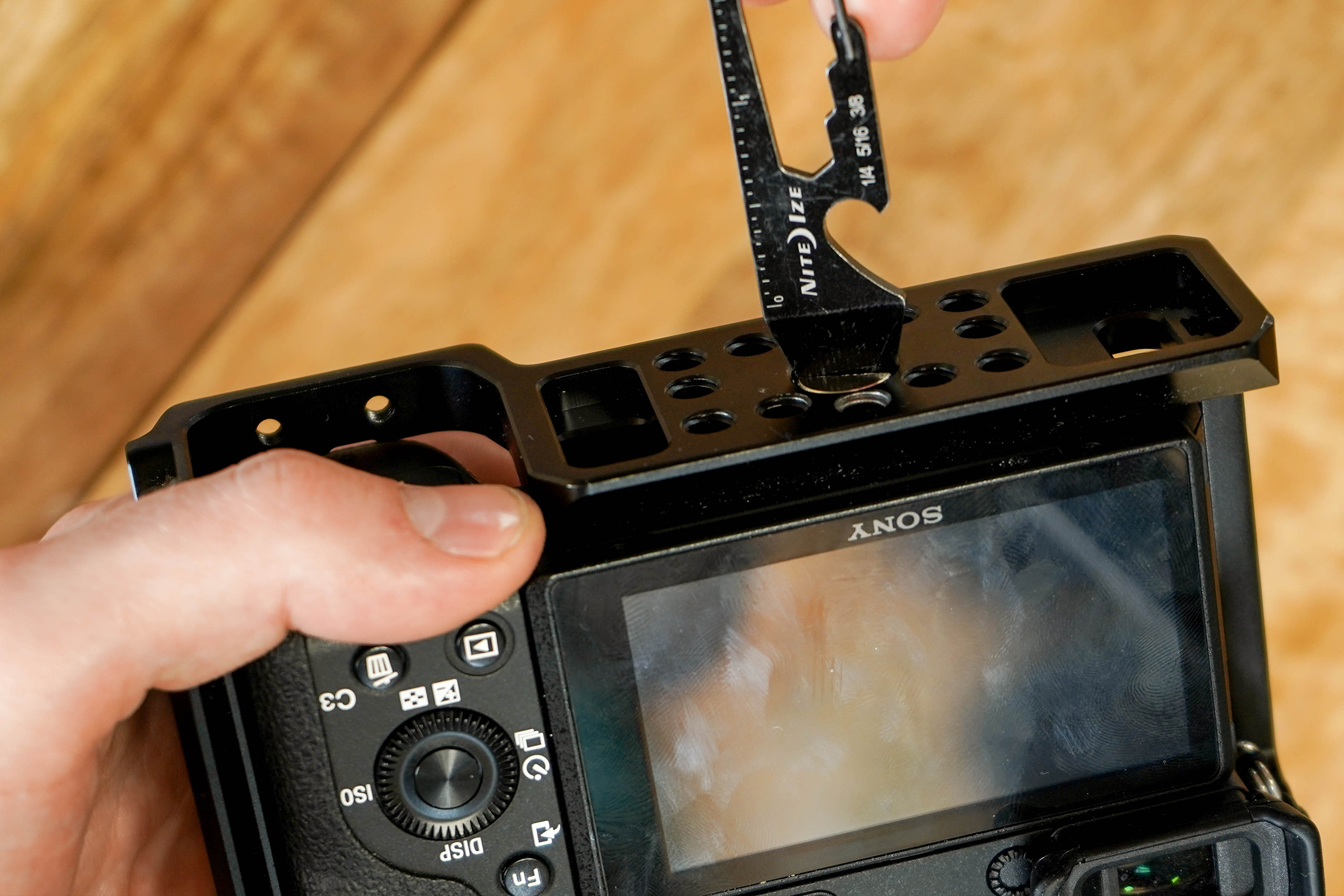 Moving on to probably the least useful tool: the ruler. The DoohicKey is pretty small, so the ruler only measures up to two inches. We haven't had a reason to measure anything less than two inches, but it's there if you need it and doesn't get in your way if you don't.

Then you have the three wrenches (1/4″, 5/16″, and 3/8″) you can use to tighten some different-sized bolts. These aren't the most comfortable to use, and it can be tough to get anything really tight, but they'll get the job done. Again, we're not exactly sure when we would use these wrenches while traveling, particularly because the three sizes won't work in every situation, but they're there.
And finally, there's the classic bottle opener. Is there a multi-tool out there that doesn't have one of these things? Anyway, this one works like a dream.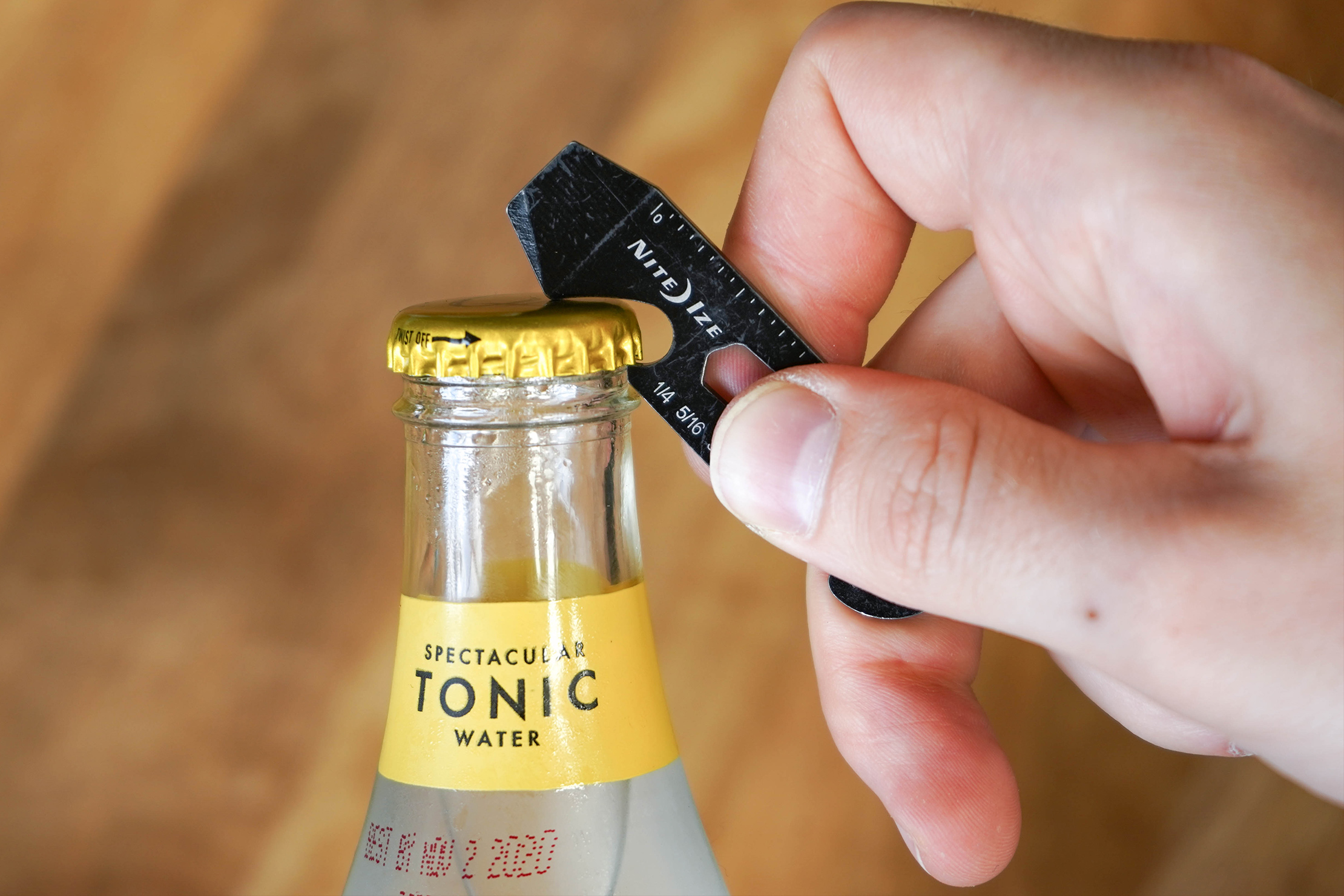 The last feature, which just so happens to be our favorite, is the keychain that basically acts as a mini carabiner. We've used this every day to hook keys to our bag or to our pants. Compared to the other tools, which we tend to use only a few days a week, this one is definitely the most useful.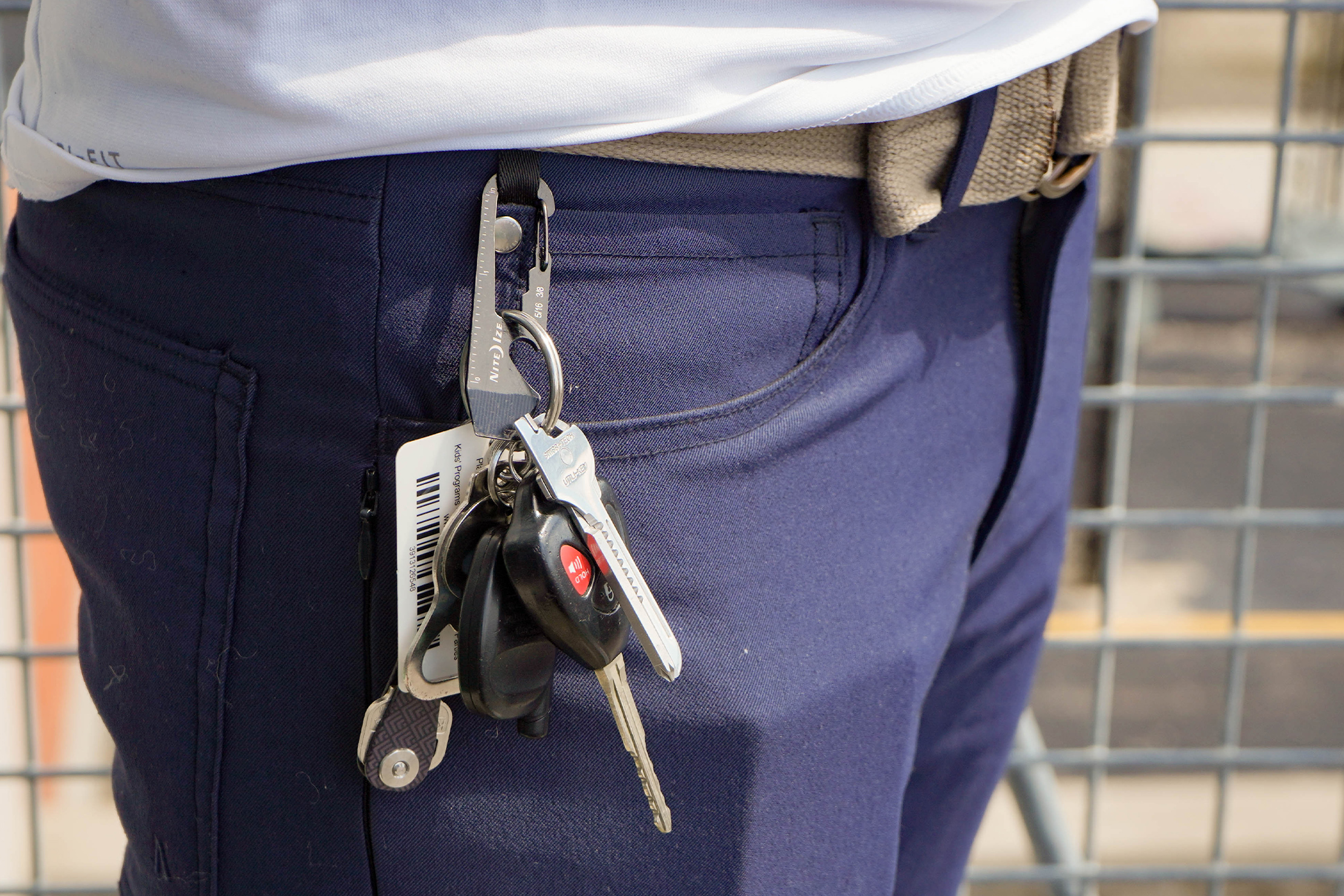 Usage Timeline
Initial Usage
Condition: Excellent
Perfect for tightening and loosening plate screws on cameras.
Doesn't add much weight or bulk to your key ring.
Strong sturdy design.
2 Weeks of Use
Condition: Excellent
Loving the screwdriver, it comes in handy when tightening up a camera plate.
1 Month of Use
Condition: Good
A few little scratches, but nothing major.
Access the Pro Community Discussion
Get your questions about the Nite Ize DoohicKey Key-Tool answered from our team and the Pro Community right here on the page. Plus, join discussions with other members about gear, guides, and more.
Other Miscellaneous Reviews