Final Co. FinalStraw 2.0 Review
Reusable, collapsible, and durable, the FinalStraw is a great alternative to disposable plastic straws. Though it takes some time to get used to.
Our Verdict
Unlock the Pro Summary
Save time. Get access to brief summaries of our reviews so you can browse and make decisions more efficiently.
Pros
Portable
A joy to use
Environmentally friendly
Cons
You have to remember to bring it with you
Cleaning it while traveling isn't the best experience
Doesn't neatly fit on a keychain (despite the company's claims)
Recent Pack Hacker Video
Technical Details
Weight (oz)

2.4 oz (68 g)

Dimensions

3.3 in x 1 in x 1 in (8.4 x 2.5 x 2.5 cm)

Inside the case

Notable Materials

Silicone, Stainless Steel

Manufacturing Country

China
Buying Options

$19.95
$23.95
Full Review
Get up to 10% off Final Co. • Join Pack Hacker Pro
You know how some eco-groovy alternatives end up being both better for the planet and more convenient for you? (Think Lush's Shampoo Bars—great for the planet and your hair.) The FinalStraw Reusable Collapsible Straw is not one of those things. At least, not when you first start using it.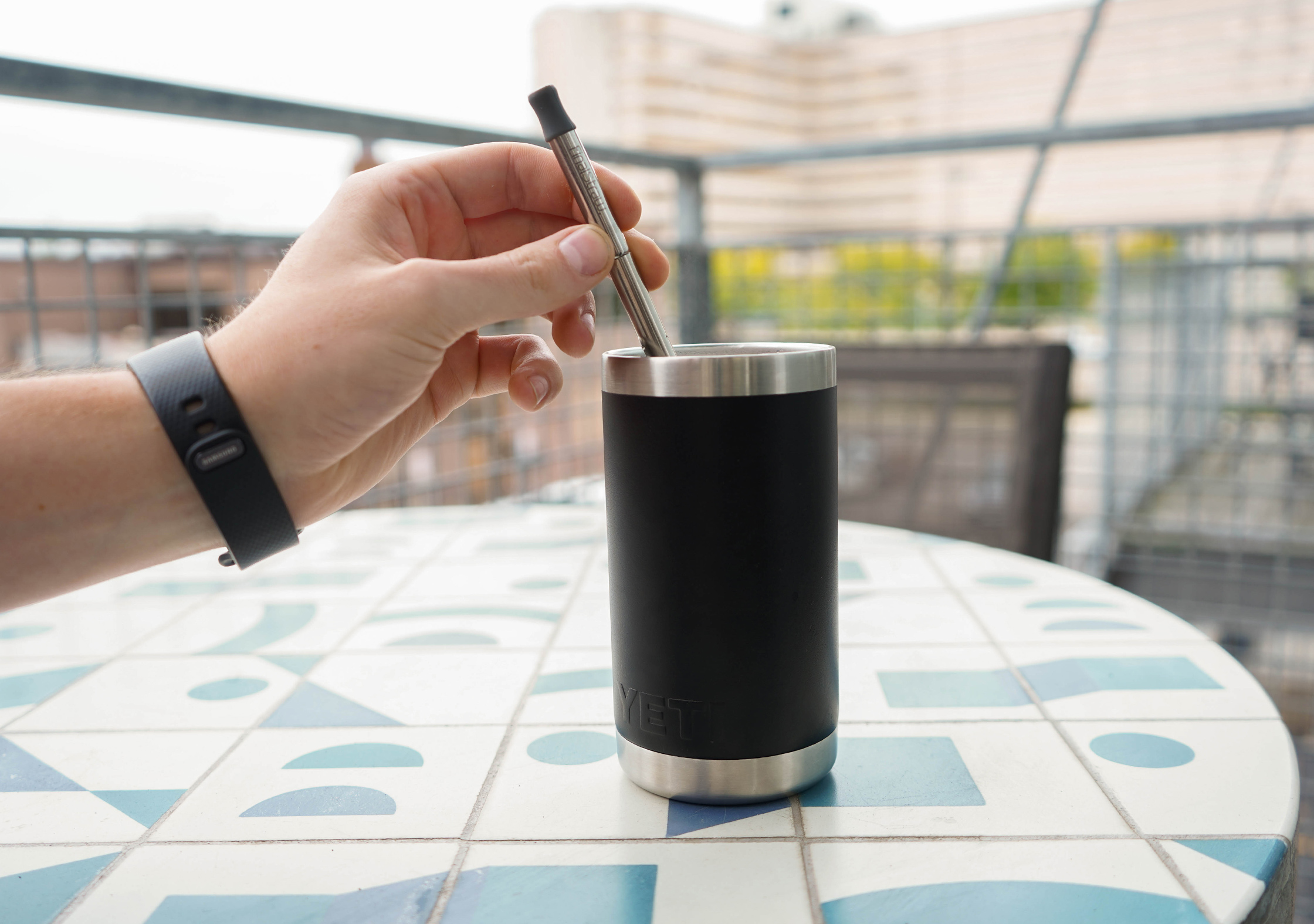 At first, you'll probably hate the FinalStraw (if you're anything like us, anyway). It took about two weeks of forcing ourselves to use it before—suddenly—some flip switched and we started loving it.
Three months later and we've decided we can't live without it. Cliche, yes. Hyperbolic, maybe. But we really do like it. So let's check out all this collapsible, stainless steel reusable straw has to offer (oh, and we promise not to use any "suck" puns).
Our Experience
Plastic straws have gotten a pretty bad rap lately. And while they aren't the only single-use plastic responsible for polluting our oceans—looking at you single-use plastic bags—that reputation is well-deserved. (Google plastic + oceans if you need some convincing and a good existential crisis.)
Reusable straws aren't going to save the planet, but they're a step in the right direction (at least in terms of plastic pollution). While the exact number isn't clear, Americans reportedly use 500 million drinking straws per day. Imagine if even a quarter of Americans stopped contributing to this number—that would be a huge win for the planet.
That's what we've had to remind ourselves time and again during the "rough period" of testing. There were two main reasons we didn't like the FinalStraw at first: cleaning and convenience.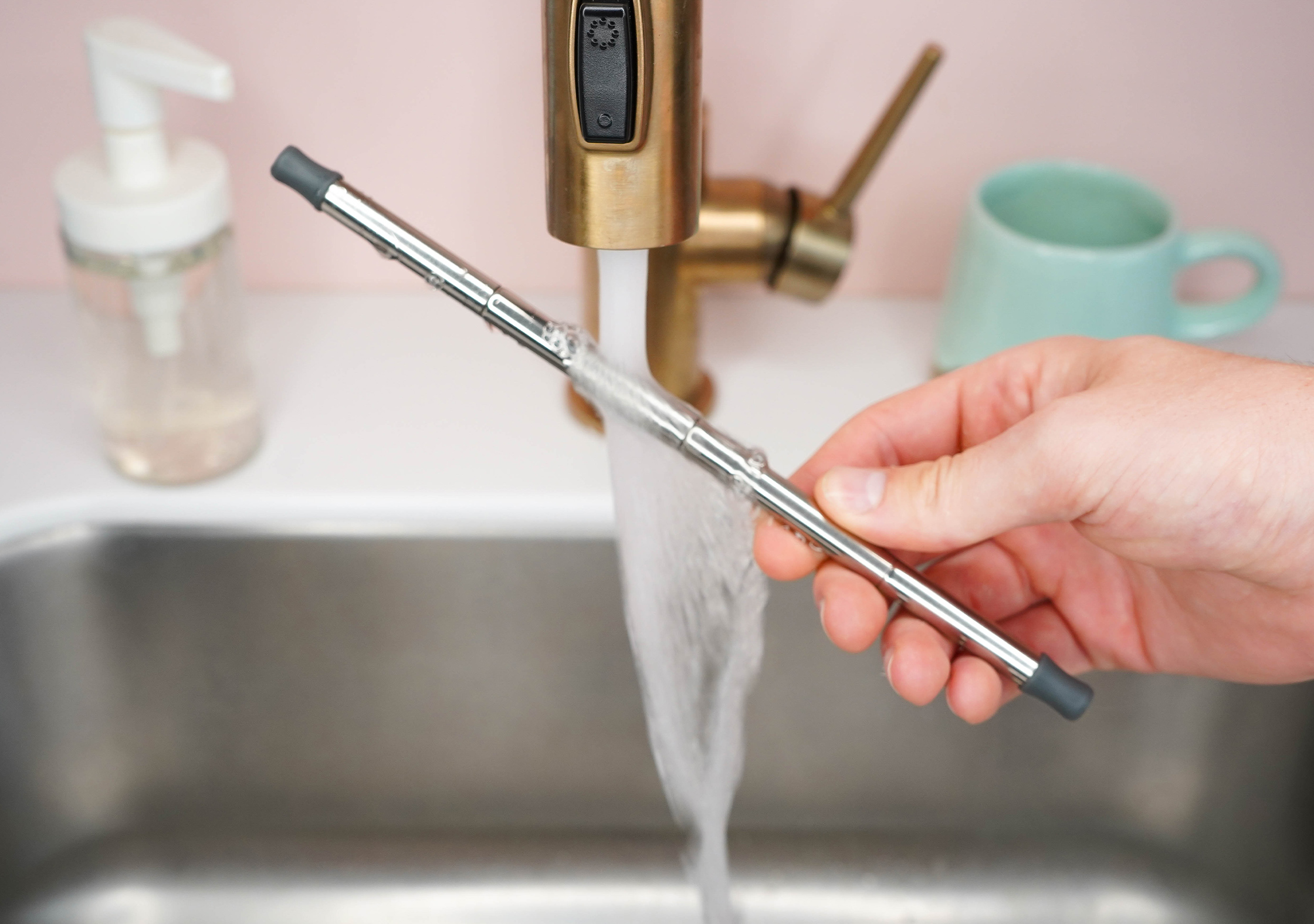 Let's start with what seems to be the biggest gripe against reusable straws—cleaning them. Seriously, everyone on the internet seems to lament how difficult it is to clean reusable straws. And—perhaps if we wrote this review a month and a half ago—we would've been one of them. But it's not that bad, people. Seriously.
Yes, it's less convenient than just throwing something out. It annoyed us at first too. But after a couple of weeks, you get used to the idea, and the 45 seconds it takes to clean becomes not that big of a deal. (And the folks over at FinalStraw have a fun video featuring a mermaid in a bubble bath explaining how to clean your straw. So make sure you check that out).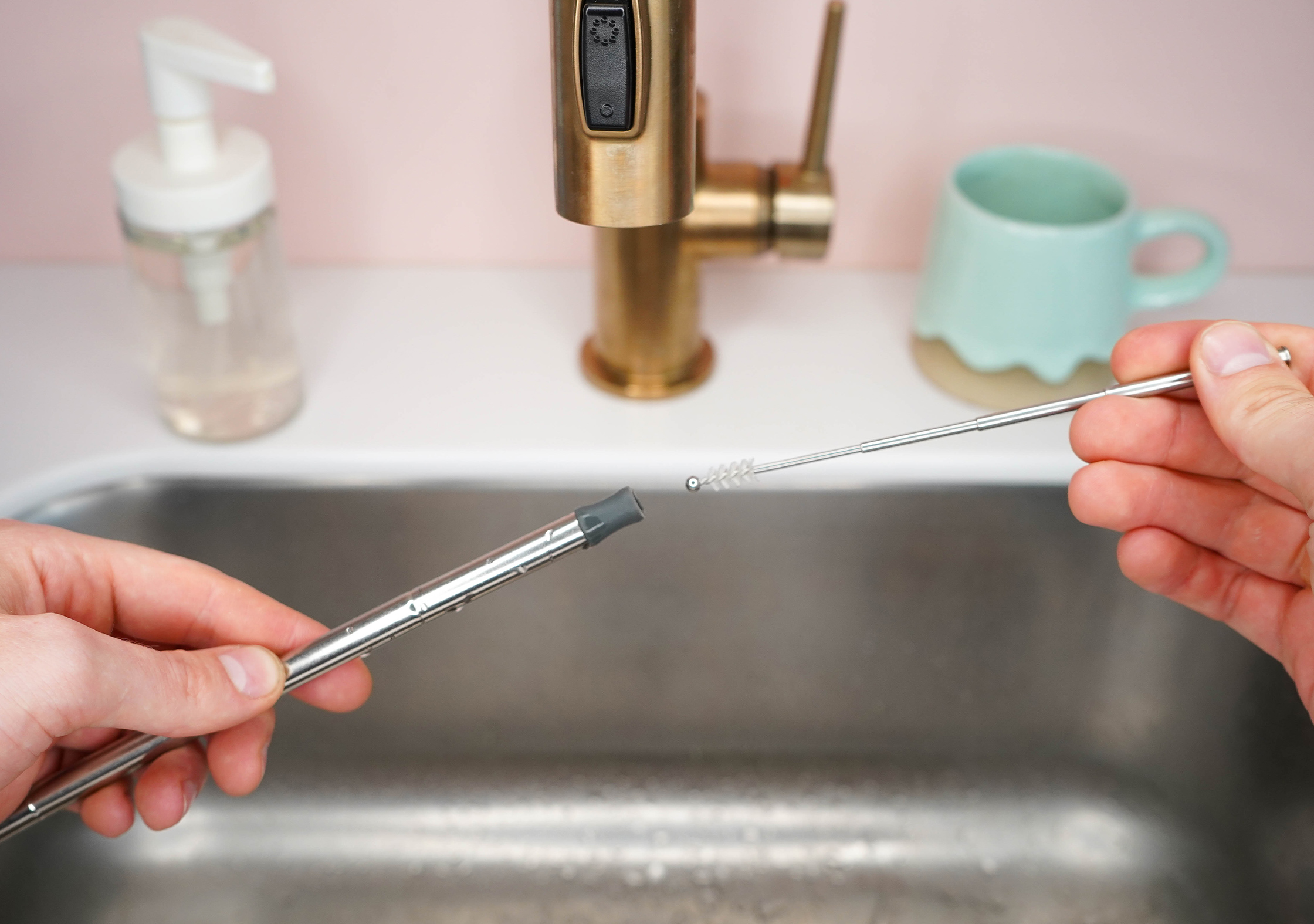 We've been testing the FinalStraw 2.0, which comes with an extendable mini brush. To clean the interior of your straw, simply put a dollop of soap on the brush and start scrubbing.
Whenever the option is available, we recommend cleaning it as soon as you can. That way, you can put it back in its case without getting the case all gross (you'll still need to wash out the case every once and awhile). And you don't risk anything drying out and getting stuck to the interior of the straw. Smoothies or other sugary drinks, especially.
Of course, cleaning it right away is always trickier when you're traveling. We've used coffee shop/airport/restaurant/rest stop bathrooms. If running water isn't available, we've found sucking out as much of the drink as possible and a quick wipe down the exterior with a napkin works in a pinch (with a plan to thoroughly wash it later).
On occasion, you'll also want to give your straw a deeper clean. Stick it in the dishwasher or, if you want to sterilize it, stick it in a pot of boiling water. After about three months of testing, the straw has started to smell a bit like coffee. We've soaked it in distilled white vinegar, and while the odor lessened, it's still there. We believe it'll disappear after another soak or two.
Whenever possible, we also recommend giving the FinalStraw proper time to dry before stashing it back in its case to prevent anything from building up. Just leave it out and let air-drying do its thing.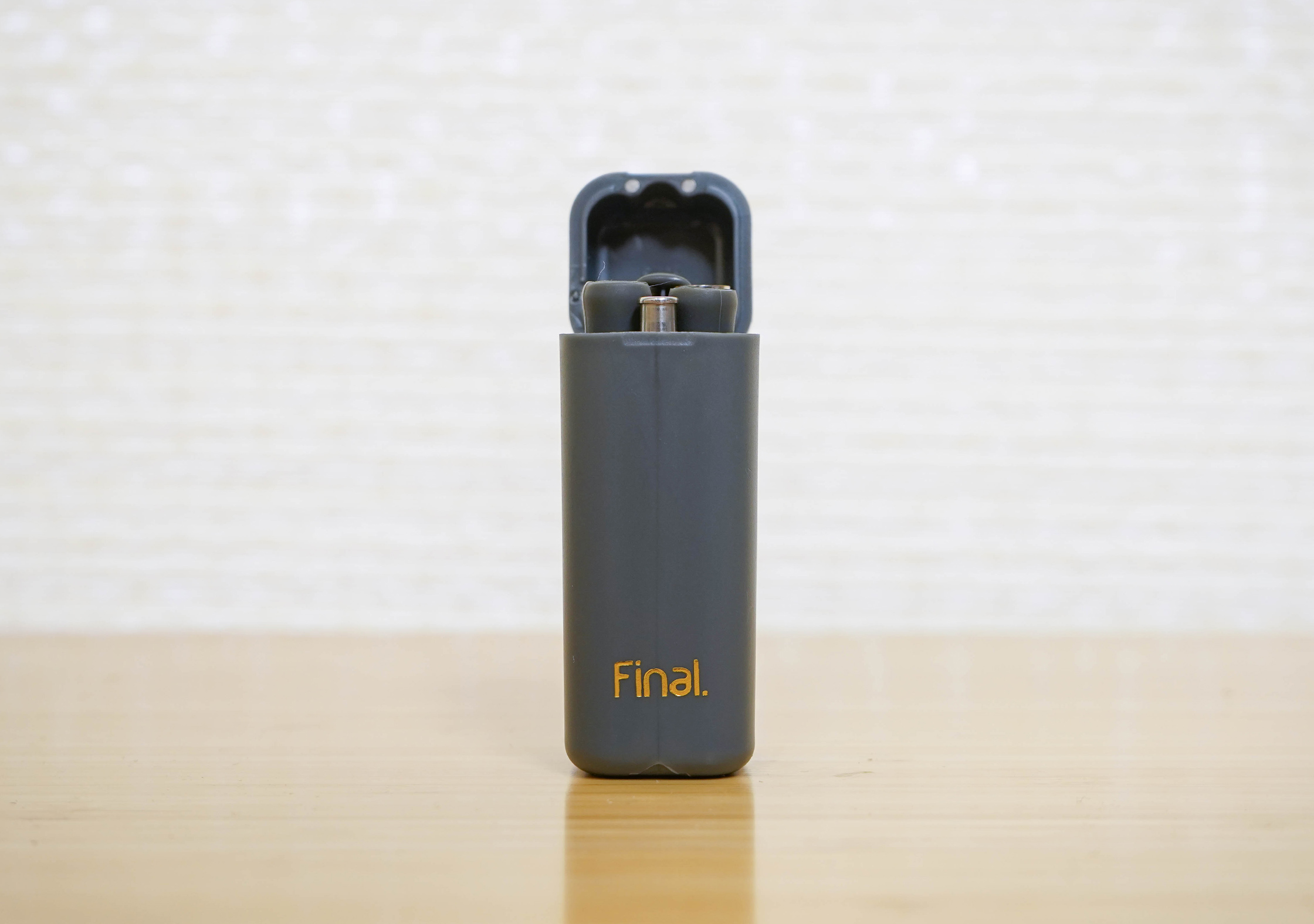 Now let's talk about convenience.
Before testing, we didn't realize how often spontaneous straw situations arise—random coffee runs, impromptu lunches, an inability to walk by smoothie stands without buying some strawberry-mango something-or-other (just us?). For the FinalStraw to be effective, you need to have it with you all of the time. Otherwise, it'll sit in some drawer somewhere and you'll think to yourself hmph, maybe I should've grabbed it before sucking down your piña colada with a plastic straw.
We can't emphasize enough how frequently that scenario happened to us in the first two weeks (minus the piña colada, sadly).
Always having your straw with you will take a while to get used to. You'll probably forget it more often then you'll remember it at the beginning—even though the FinalStraw is more portable than plenty of stainless steel straws out there. It's collapsible and folds neatly into its small carrying case. (Random aside—when you take the straw out of the case it unfolds on its own, which is very fun and reminiscent of magic wands.)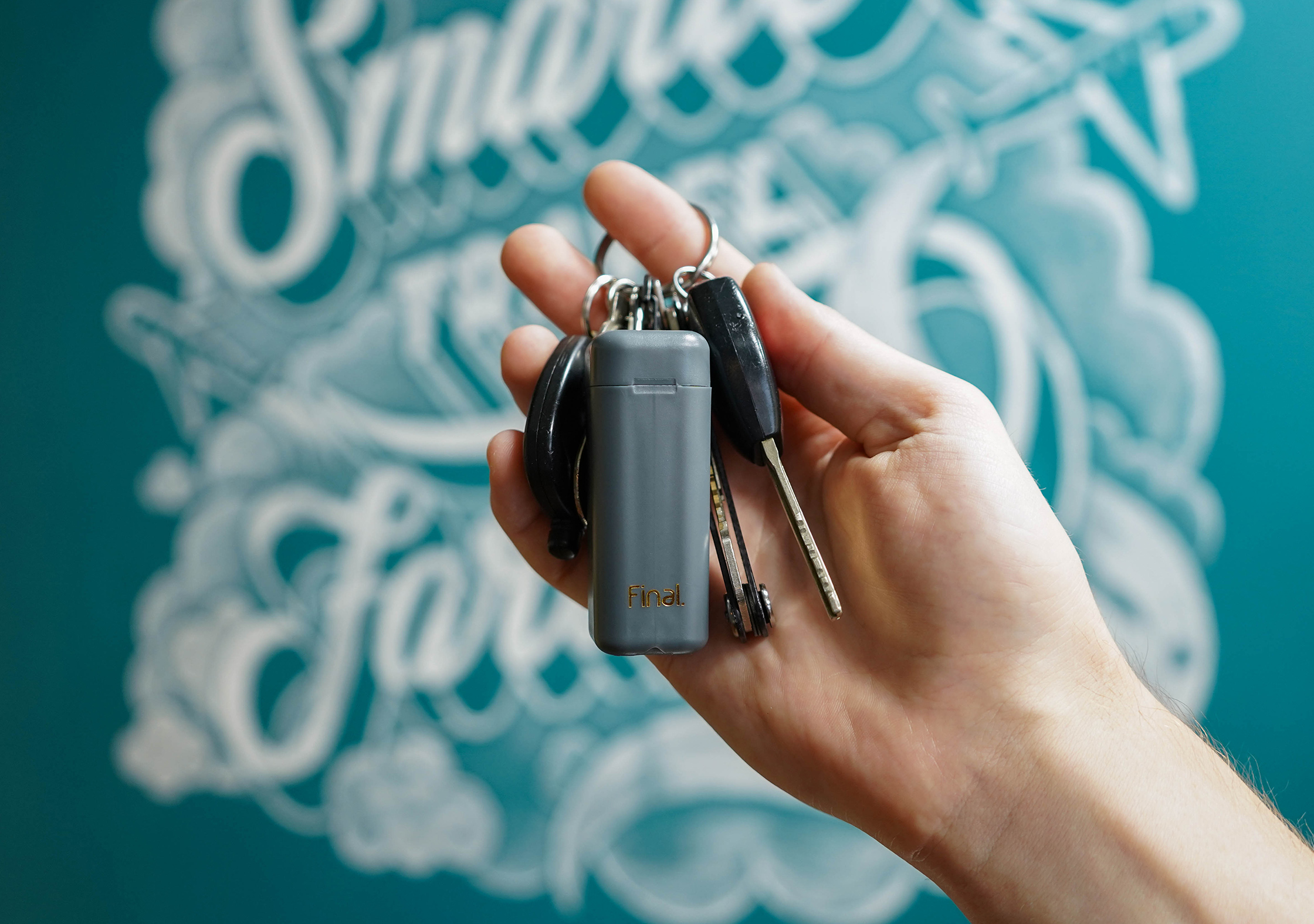 While the company says this straw is small enough to hook to your keychain, it's not really. The FinalStraw 2.0 case is more keychain-ready than the 1.0 version as it's 1 cm shorter, .2 cm thinner, and 1 oz lighter than the original. Even so—this case is bulky. If you're the type of person who carries a flashlight, pillbox, etc on your keys, you won't mind the bulk. But if you're like us and keep your keys as minimalistic as possible—the FinalStraw will not be a welcome addition.
But it takes up almost no room in your bag. Yes, it'll be even more of a burden to bring with you if you don't often carry a purse, sling bag, or daypack around—but it will fit in your pockets. Trust us. While we think it's too large for keychains, this straw is quite small.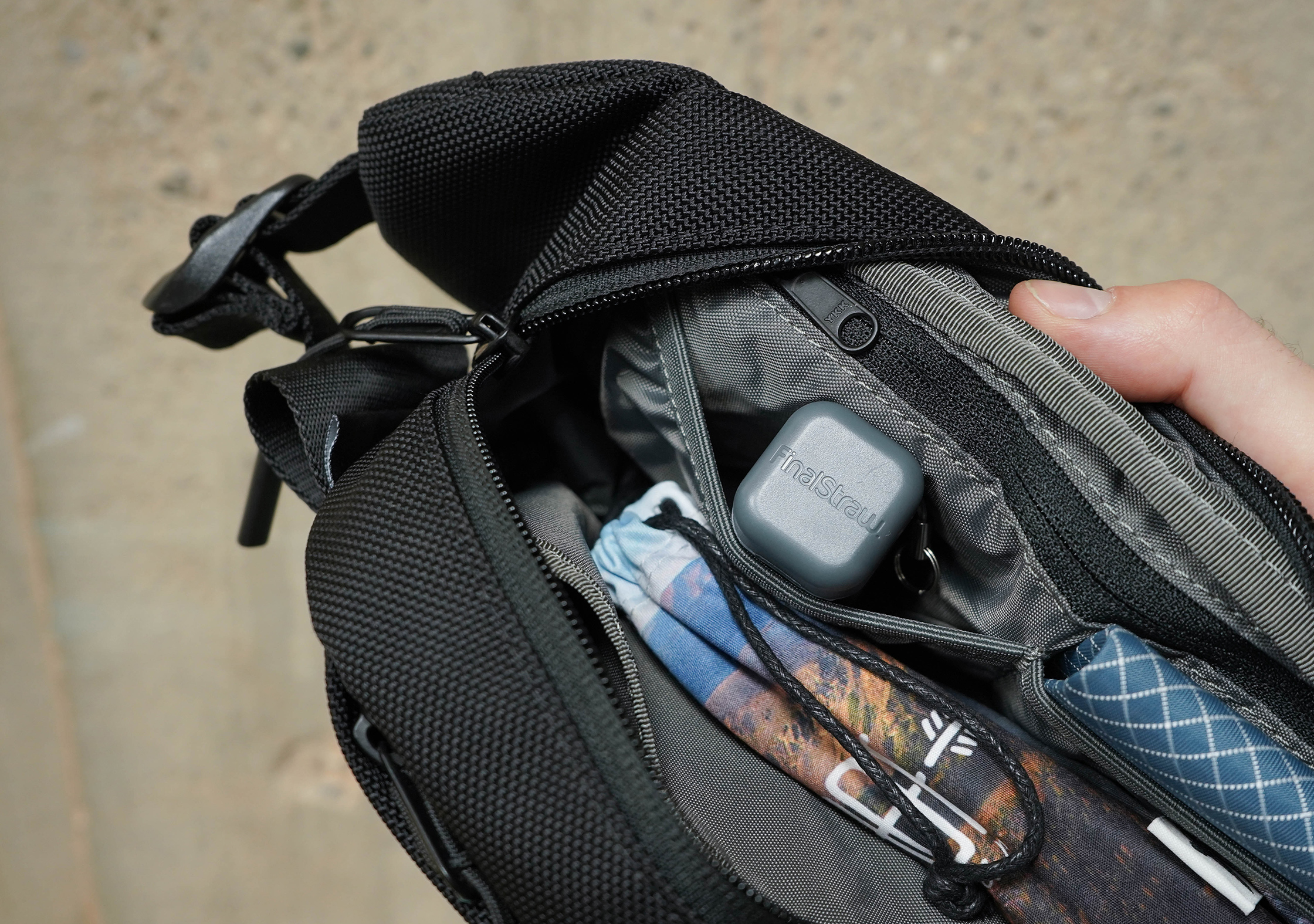 We suggest treating it like an "essential" item. You know that checklist you mentally run through before you leave the house and/or Airbnb every morning: wallet, keys, phone? Make it wallet, keys, phone, FinalStraw.
Of course, you probably won't be perfect. Sometimes, a straw moment will arise and you'll have forgotten your FinalStraw. It happens. But it'll happen less and less as you get used to using it. Especially since using the straw is a joy.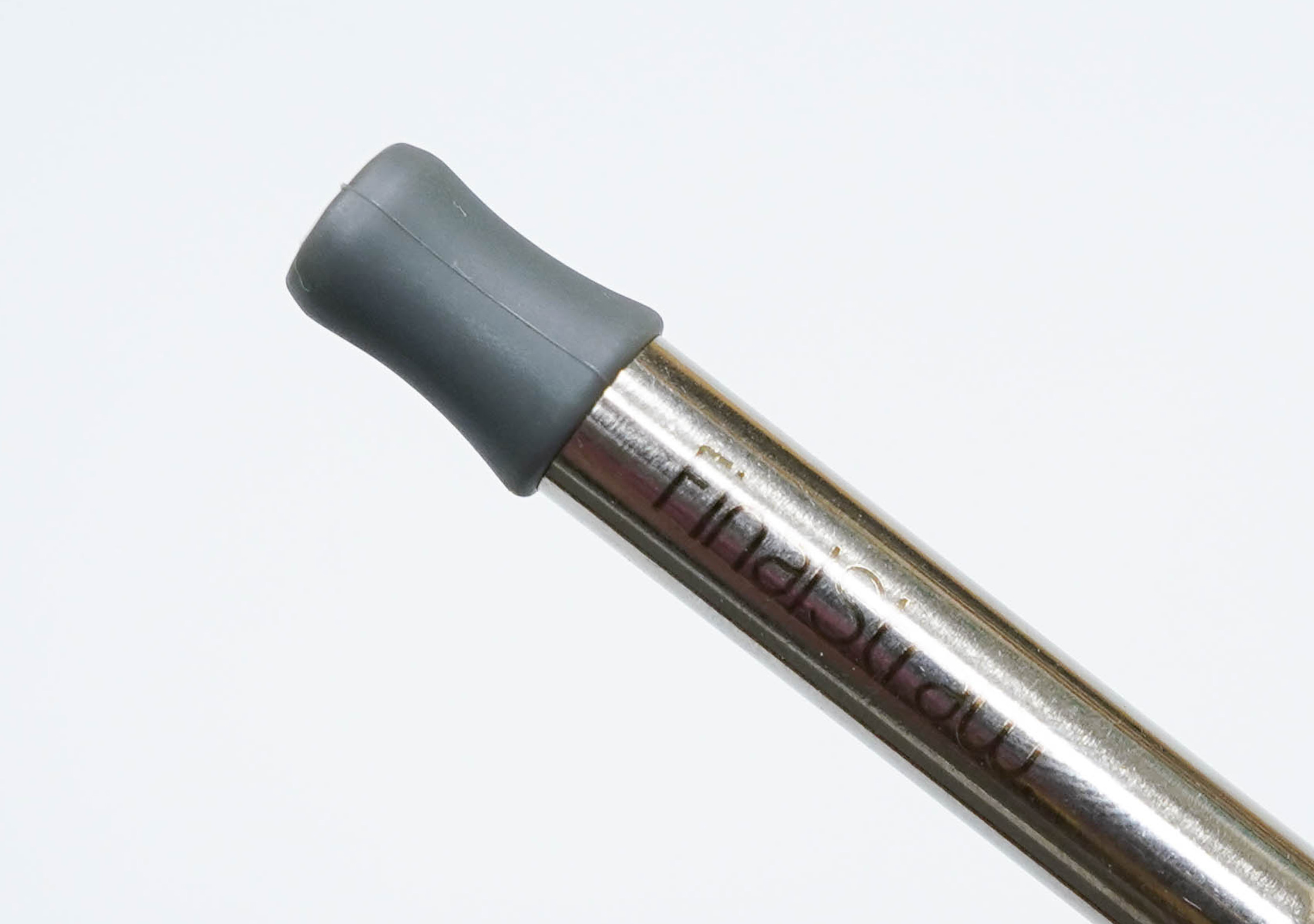 The interior is made from medical and food-grade silicone, which extends past the stainless steel exterior. Meaning, unlike some other reusable straws, you put your mouth on the silicone. You don't have to suck on bamboo or stainless steel, which is never a fun time.
And putting silicone in your mouth is much more pleasant of an experience than putting flimsy plastic in your mouth. Something we're reminded of whenever we accidentally have to use a plastic straw (while better for the environment, a paper straw is even worse).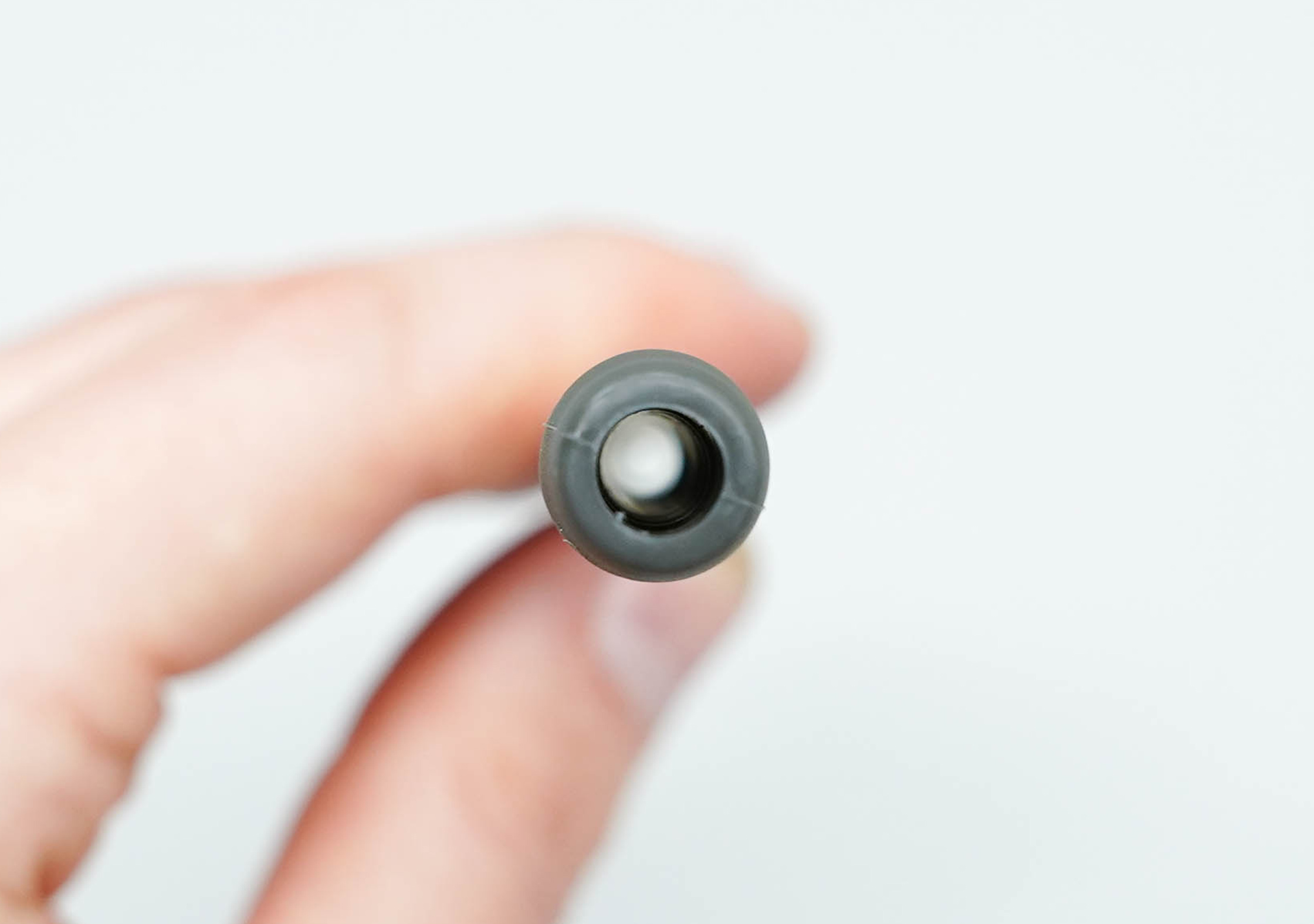 While we've seen other reviewers complain about its diameter and effectiveness to slurp up thick drinks, we haven't had any problems (and our team lives off of smoothies in the summertime). It doesn't get clogged easily, stirs just as nicely as a plastic straw, and is tall enough to fit most drinks.
Also, the FinalStraw is a conversation starter. People always comment on it—and usually in a positive way. We've had several conversations about plastic waste since we began testing this thing and have initiated none of them.
Finally, you'll feel good about mitigating your impact in regards to the plastic problem. Doubly so, because the company is a member of 1% for the Planet. Each year, they donate 1% of their sales to "environmental nonprofits that work to protect the environment, advocate for animals, educate youth, and empower women."
Final Thoughts
While it took a couple of weeks, we're now huge fans of the FinalStraw (if you haven't been able to tell). It's become one of those items we genuinely like to use and not only because of its eco-grooviness.
Speaking of eco-grooviness, there are a few arguments out there that we'd like to quickly address. Some people argue that the environmental impact of producing the straw outweighs the benefits of its reuse-ability, but we think that's not really the point. Of course, production will always have an impact on our environment, but we're talking about plastic pollution here and its effect on marine ecosystems.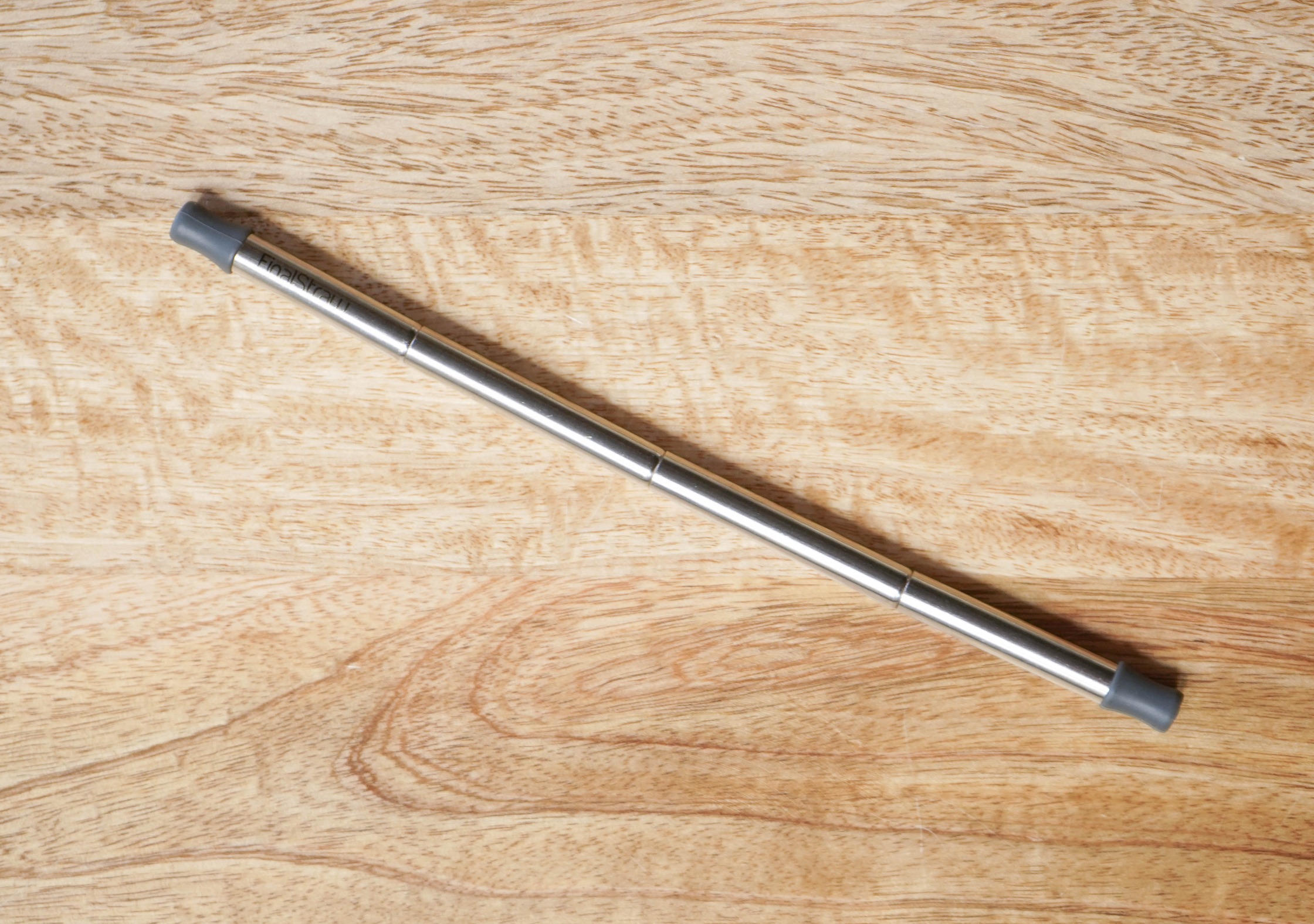 Plus, by using the FinalStraw you'll be more aware of how often you use straws—we've been blown away by it. Before testing, we didn't realize how often we'd been contributing to the plastic straw problem—now that 500 million number from earlier seems more realistic. And educating yourself on your consumption habits is always an environmental win.
Also, some argue that people should just stop using straws altogether. If you're the type of person where that works—then awesome. But that won't work for everyone for any number of valid reasons.
One final note about durability. Because this straw folds into quarters, it feels very not durable. We've been worried the silicon interior will rip or tear after being folded/unfolded multiple times a day and sitting in its case all stretched out. But we haven't had any issues yet. And the folks over at FinalStraw report that it'll last 12,000 cycles or "about two uses a day for 16 years." Hopefully, that's true. We've gotten used to having this thing around.
Usage Timeline
Initial Usage
Condition: Excellent
Fantastic design and a great idea we can get behind
The compact size makes it easy to throw on your keys or in your bag
2.0 version comes with a telescopic brush instead of the old squeegee
2.0 version does not have the drying rack and instead opts for a smaller case
2 Weeks of Use
Condition: Excellent
We keep forgetting to bring it with us, but we're not giving up.
1 Month of Use
Condition: Excellent
Starting to enjoy this thing—especially now that it's become a habit to bring it with us!
2 Months of Use
Condition: Excellent
Everything still looking good.
3 Months of Use
Condition: Good
There's a slight coffee odor, but it should come out with a few soaks in vinegar.
Access the Pro Community Discussion
Get your questions about the Final Co. FinalStraw 2.0 answered from our team and the Pro Community right here on the page. Plus, join discussions with other members about gear, guides, and more.
Other Miscellaneous Reviews