CODEOFBELL ANNEX LINER Sacoche Review
If you don't mind the techwear aesthetic of the CODEOFBELL ANNEX LINER, you'll love its clever design and versatile organization.
Our Verdict
Unlock the Pro Summary
Save time. Get access to brief summaries of our reviews so you can browse and make decisions more efficiently.
Pros
Expandable
Comfortable carry
Thoughtful interior organization and overall design
Cons
The fully expanded state has a bulky profile
The velcro on the interior pocket feels cheap
While we're digging the technical vibes, some people won't like it
Recent Pack Hacker Video
Technical Details
Capacity

9.7l

Fully expanded

Weight (oz)

13.8 oz (391.2 g)

Dimensions

12 in x 9 in x 8 in (30.5 x 22.9 x 20.3 cm)

Fully expanded

Notable Materials

X-Pac, YKK Zippers, Woojin Hardware, CORDURA® Nylon, Nylon

Manufacturing Country

United States

Warranty Information
Full Review
Get up to 10% off CODEOFBELL • Join Pack Hacker Pro
The CODEOFBELL ANNEX LINER may look simple—but looks can be deceiving.

This Sacoche (a French word for handbag)/ sling bag has a lot going on beneath the surface. So grab your beverage of choice, settle in, and let's get straight to it.
Materials & Aesthetic
Slings are polarizing, as far as looks are concerned. Usually, you either like them or hate them. That's especially true for the CODEOFBELL ANNEX LINER, which has a futuristic, techy vibe going on. We're digging it—and it seems to be on-trend at the moment—but it may not be for you.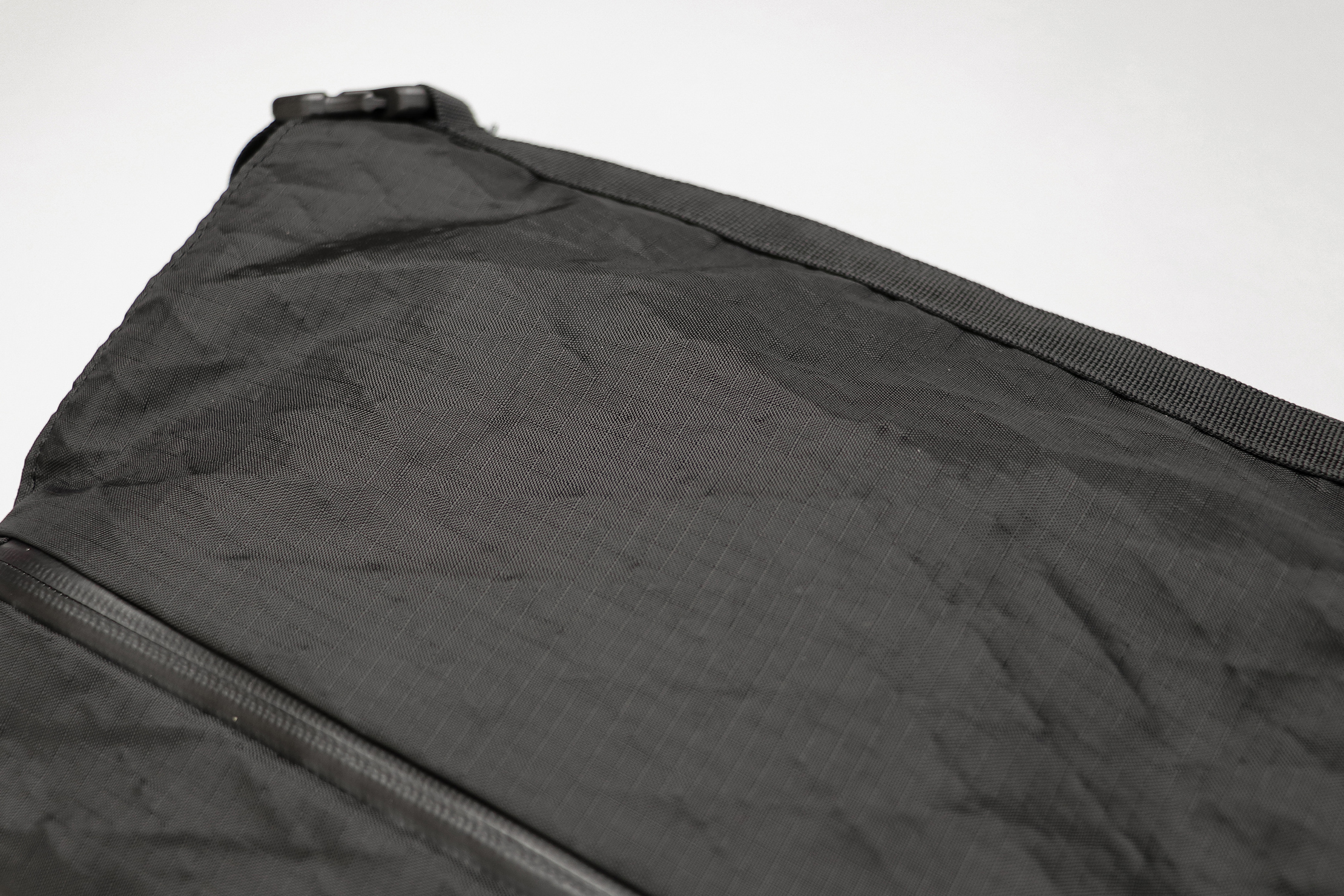 The sci-fi, tacticool feel of the sling is partially due to the X-Pac fabric from which it's made. Like slings, X-Pac is a polarizing topic. Proponents love its incredible weather-resistance, low weight, and glossy finish. Others argue that it's crinkly, easier to puncture than woven synthetics, and would describe it as shiny as opposed to glossy.
In this instance, we're liking the X-Pac. Plus, you'll find CORDURA® Nylon on the back and bottom of the bag, which are the places it's more likely to be punctured, anyway. And, if a puncture or a cut does happen, the diamond ripstop used on this sling should stop it from spreading (in theory).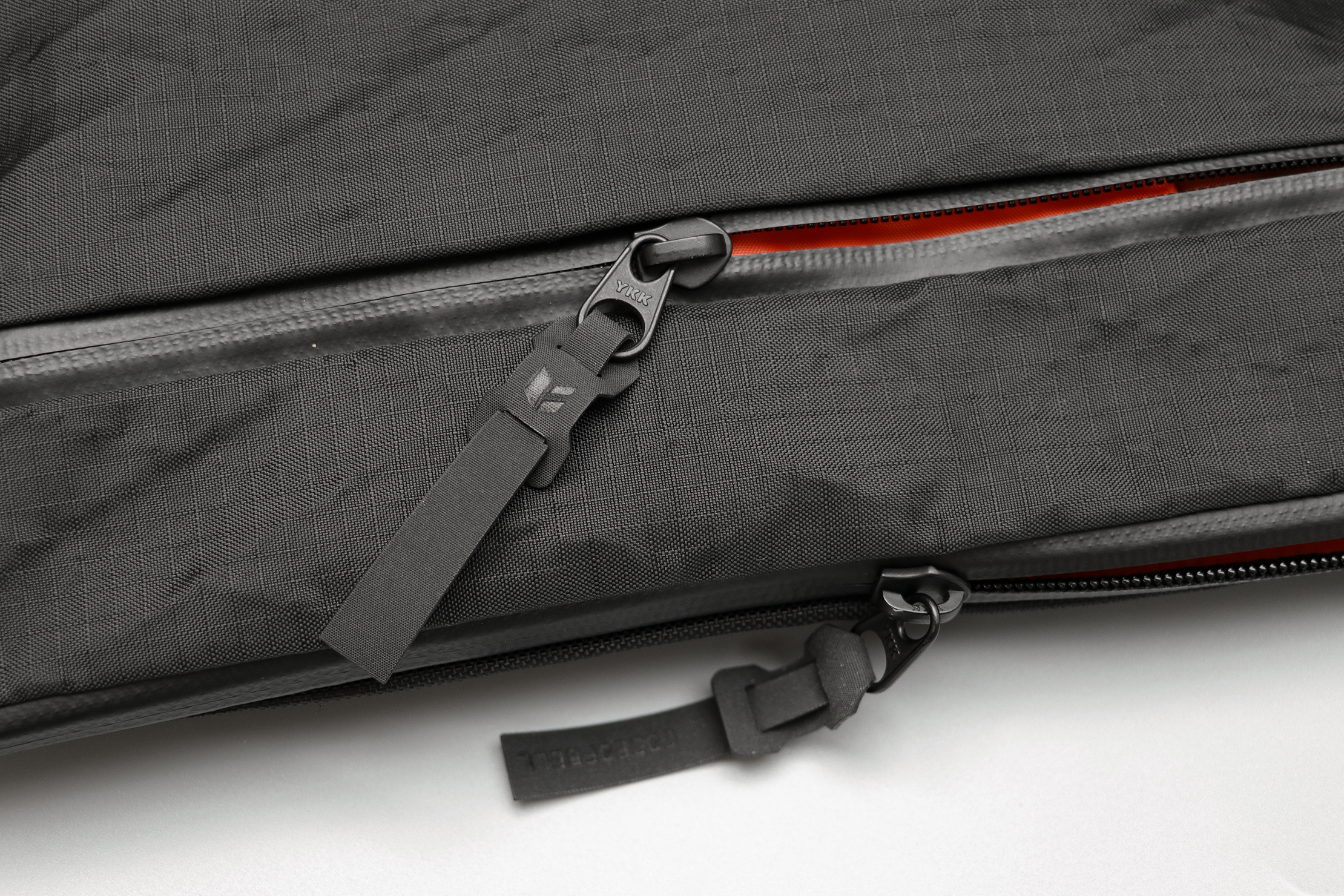 Coupled with the YKK AquaGuard zippers, the X-Pac gives this sling solid weather-resistance. It's not submersible, but you should be alright out and about on a rainy day.
Rounding out the materials, you'll find all Woojin hardware, which shouldn't give you any problems.
Before we move on, we want to point out one more polarizing feature regarding this sling's aesthetic (that's three now, if you're keeping track at home). Its shape and long, skinny strap are handbag-inspired. We like it. Handbags are popular for a reason—they work! But if you're looking for a bag that's more of the oblong sling style—and want all of CODEOFBELL'S signature features—check out the CODEOFBELL X-POD.
External Components
The strap on the CODEOFBELL ANNEX LINER is a great analogy for the sling itself. It appears simple, but there's actually a lot you can do with it.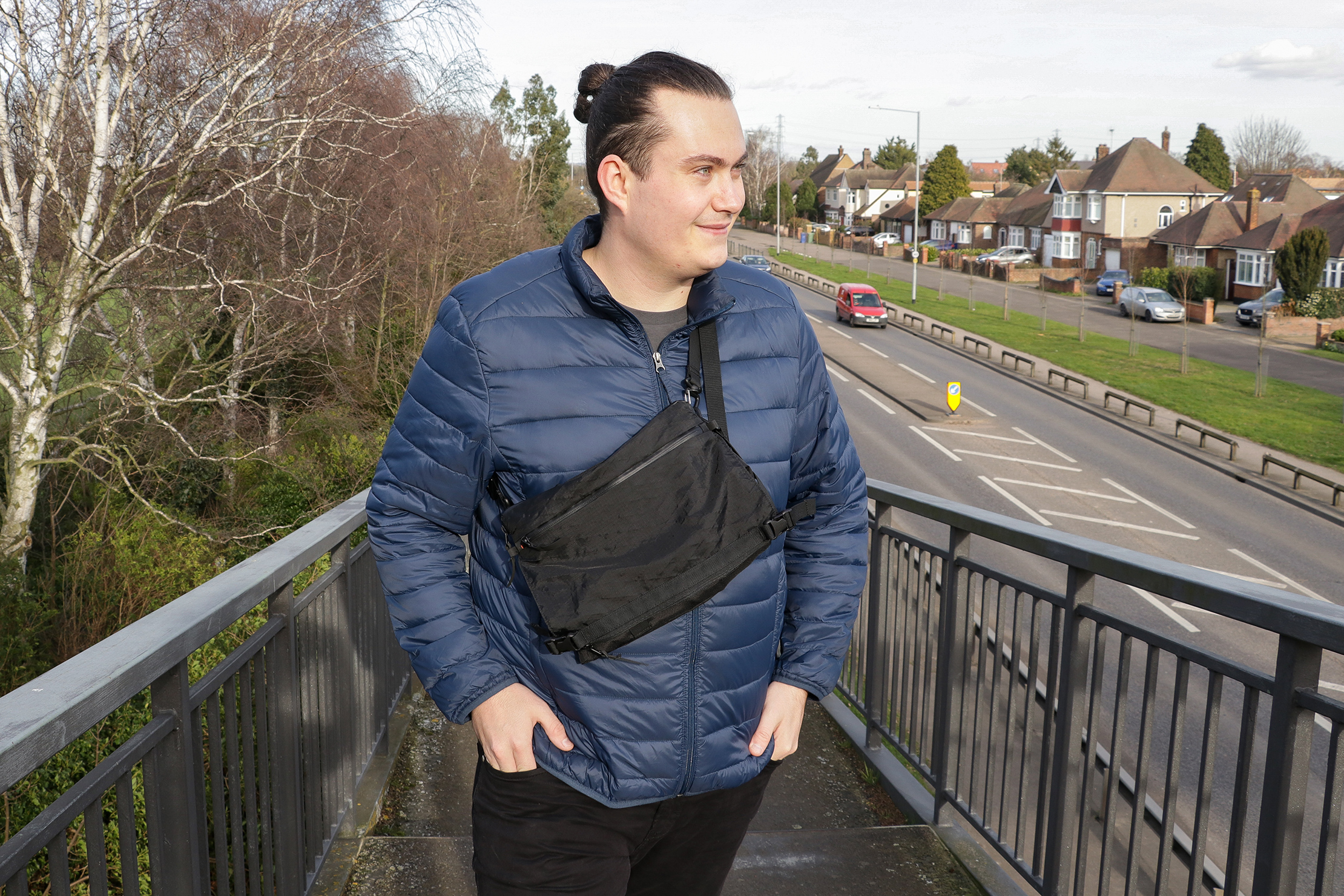 It's been designed so you can wear the sling in two ways: tight across your chest or back (think classic sling bag) or looser with the body of the bag at your hips (think crossbody or handbag).
We've preferred the latter, especially since the sling looks a little large on the chest—although it comes down to personal preference. Note that the strap can't be slung around your hips waist pack style.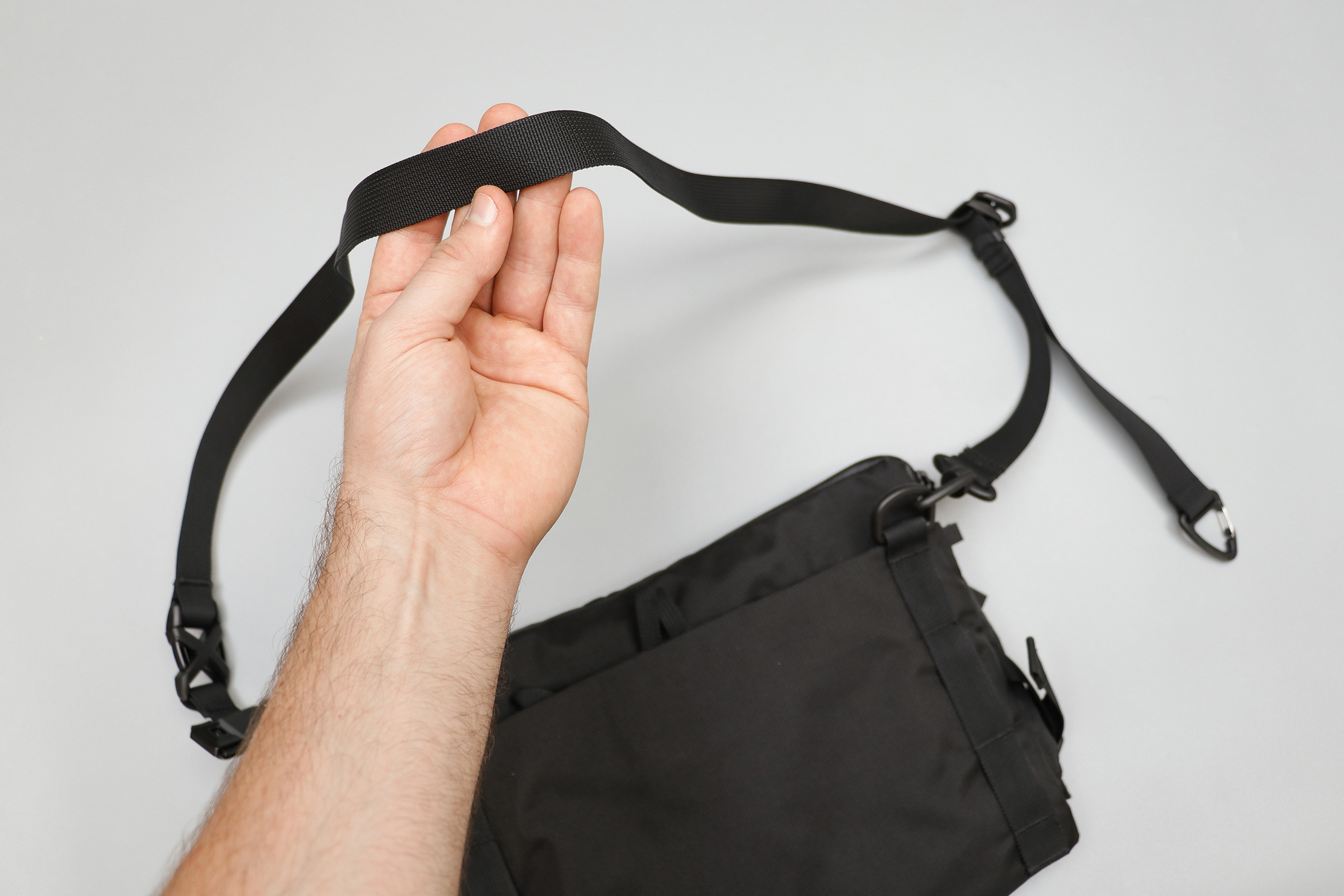 The strap itself is nothing fancy, at least as far as padding is concerned. It's a thin, nylon strap, which works in this case since you likely won't be filling up this sling with bricks of gold. (And if you are you can probably afford a masseuse to help with the pain caused by wearing a heavy sling bag with a barebones strap.)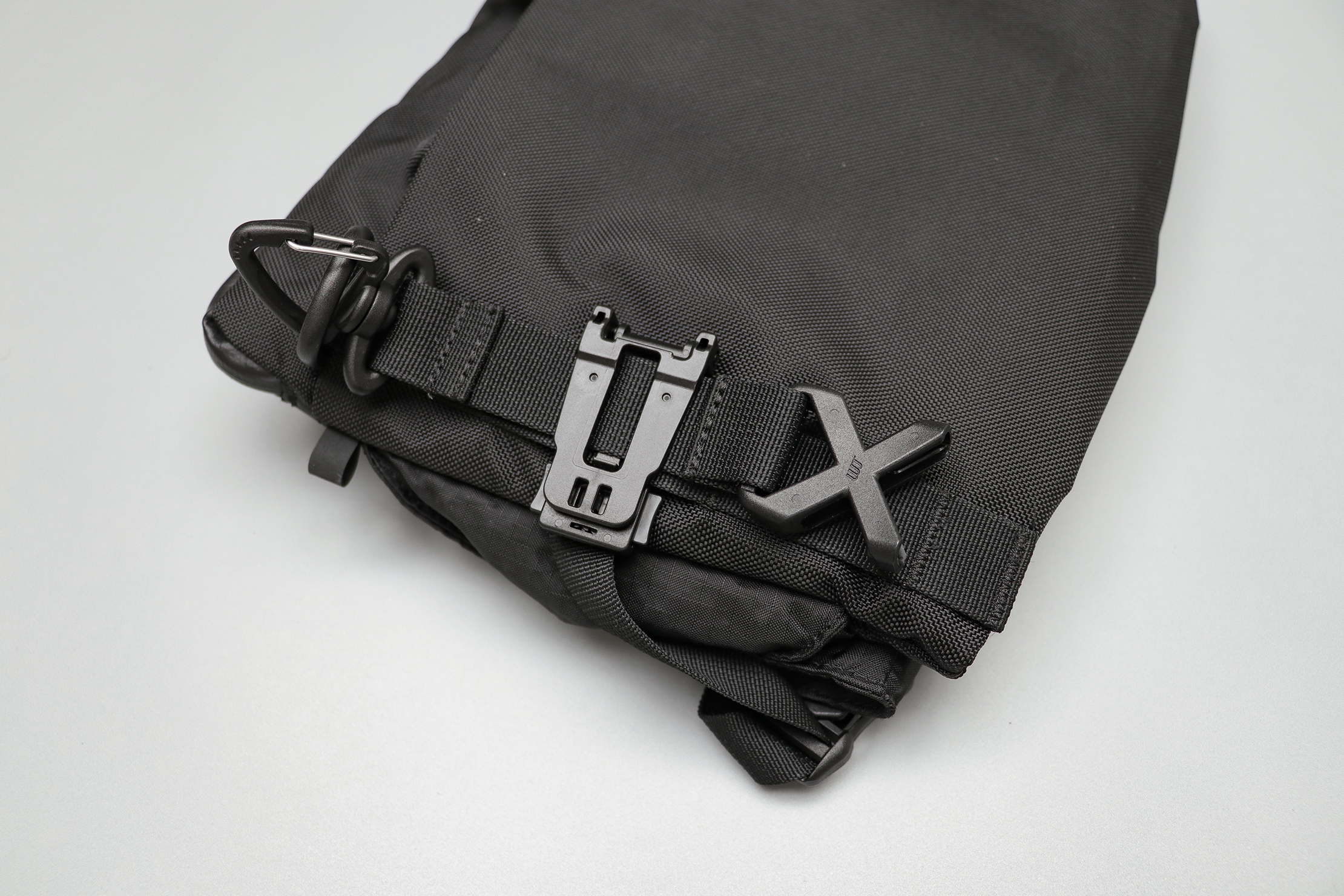 On one side of the strap, you'll find a clip to secure the strap to the body of the bag. It'll keep the excess strap from dangling when you detach the rest of it…but the other half of the strap on the other side of the bag will still be dangling. So we're not sure what the point is. Besides, you have the option to remove the strap completely. We haven't found the need to use this clip much. But maybe we're not clever or creative enough, who knows?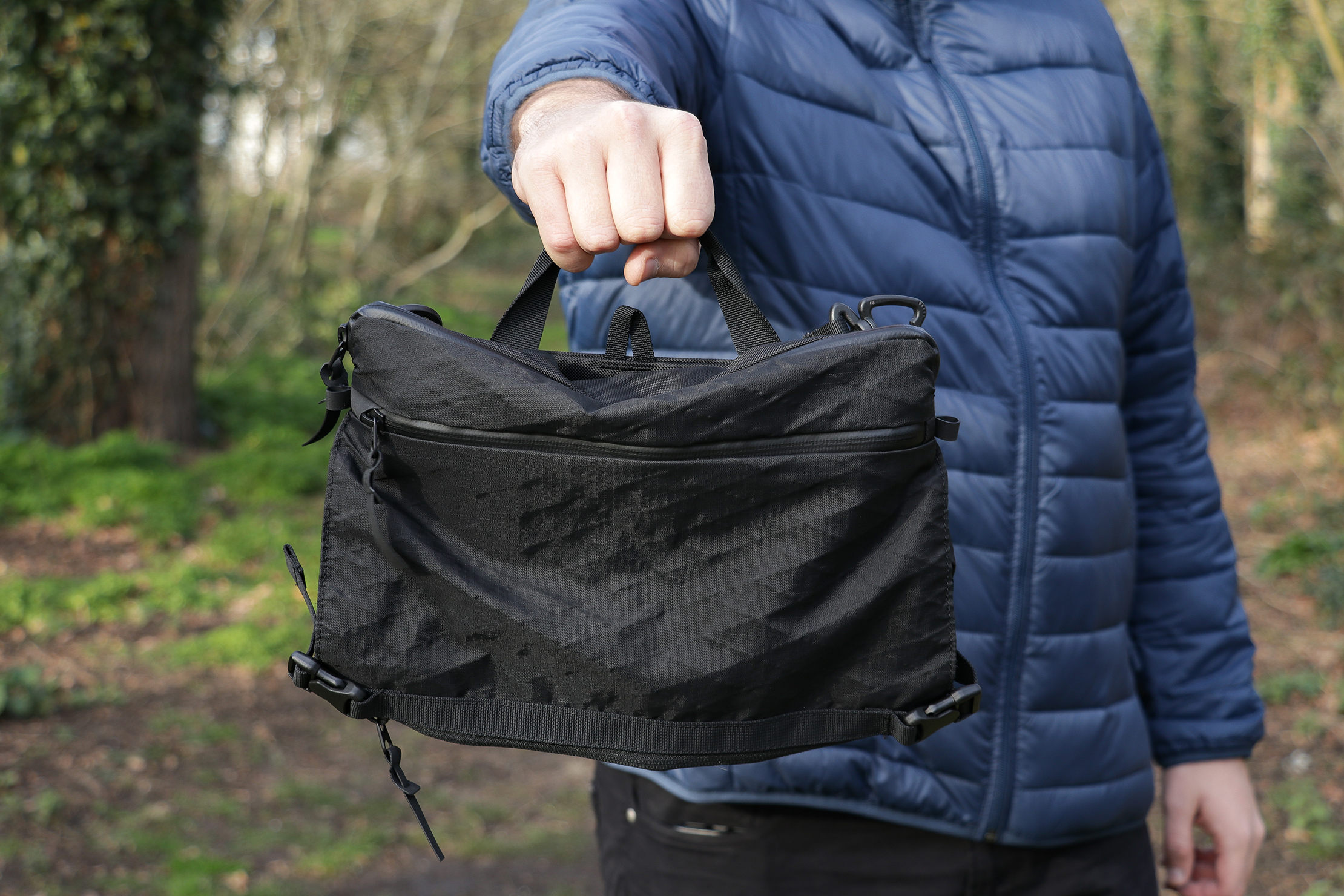 Anyway, we do like that the strap is completely removable. It allows you to carry the sling as a clutch or use it as an organizer/packing cube.
If you want to hide the strap, but don't like the idea of removing it altogether—we have some good news! You can also tuck the strap into the back pocket.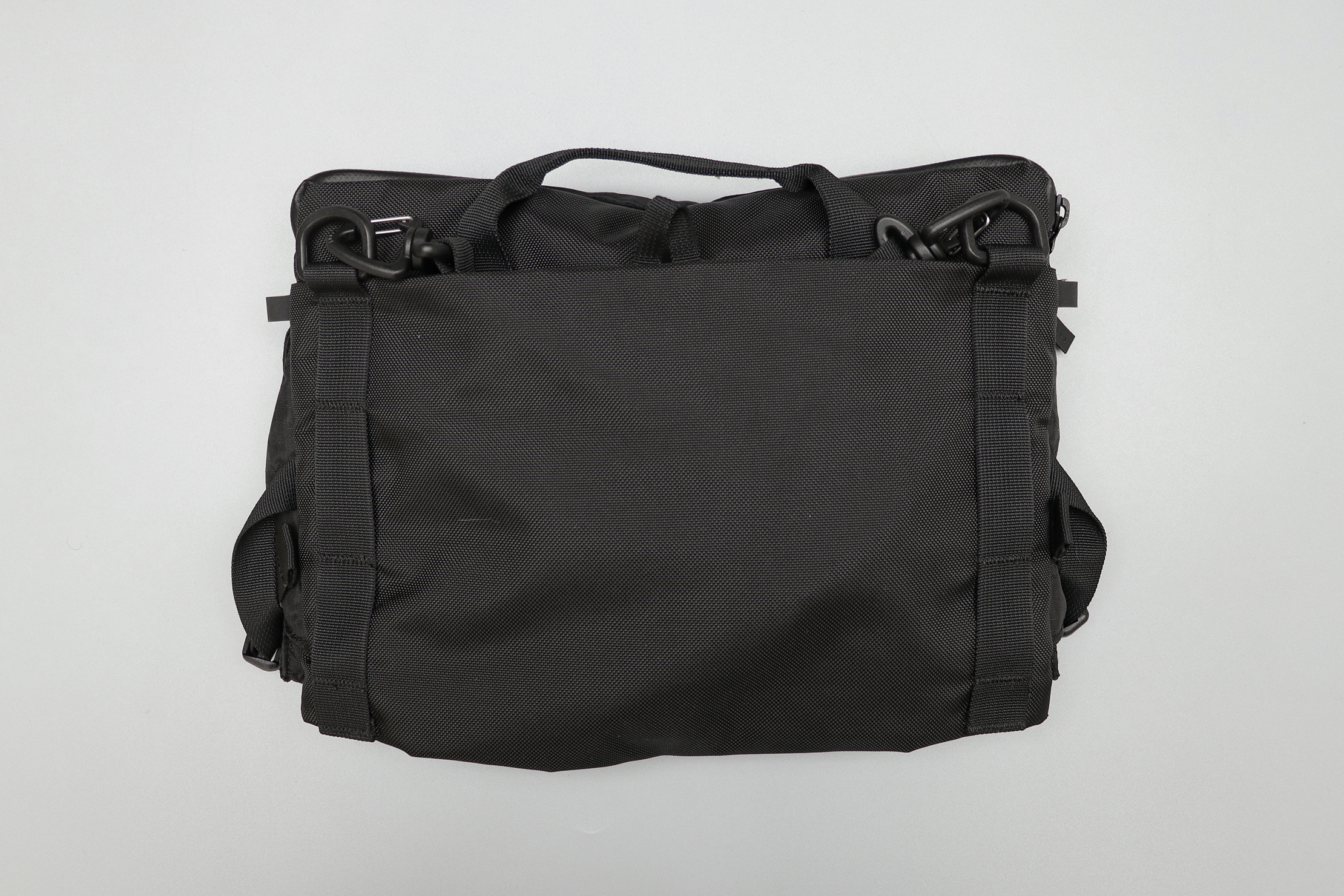 The top handle, which you can use to maneuver the sling or hang it up, is also designed to tuck into the back pocket for a cleaner look.
On the bottom side of the sling, you'll find two rows of daisy chains (each with four loops). So if you enjoy carrying gear externally, this is the sling for you. If you're less enthusiastic, these lash points stay out of your way when not in use.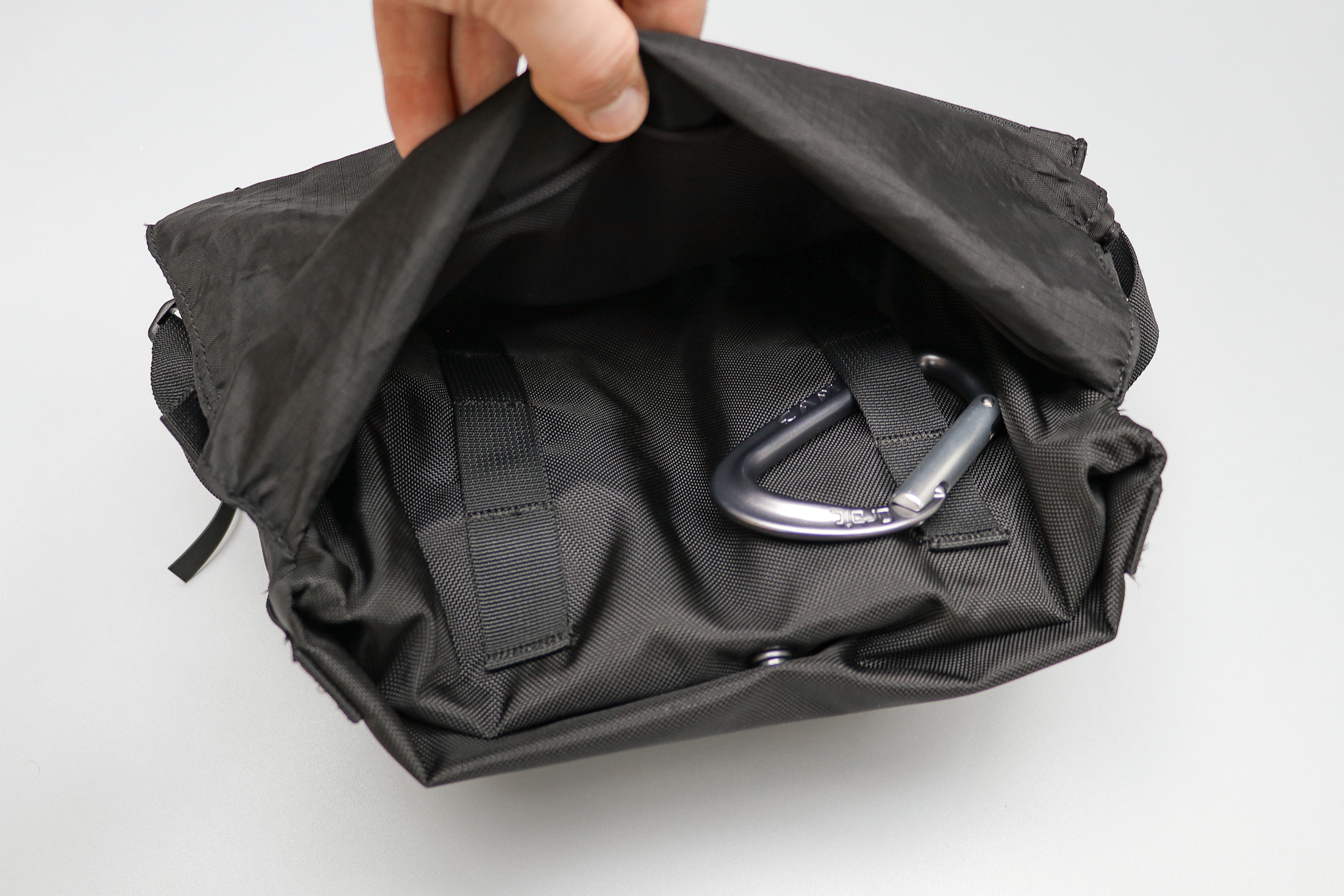 Inside the Sling Bag
Before we jump into any one pocket, we want to note the bright, orange liner, which essentially "turns on the lights," allowing you to see exactly what's going on inside the pockets. It's much easier to see black gear on orange fabric than black gear on black fabric. We're digging it!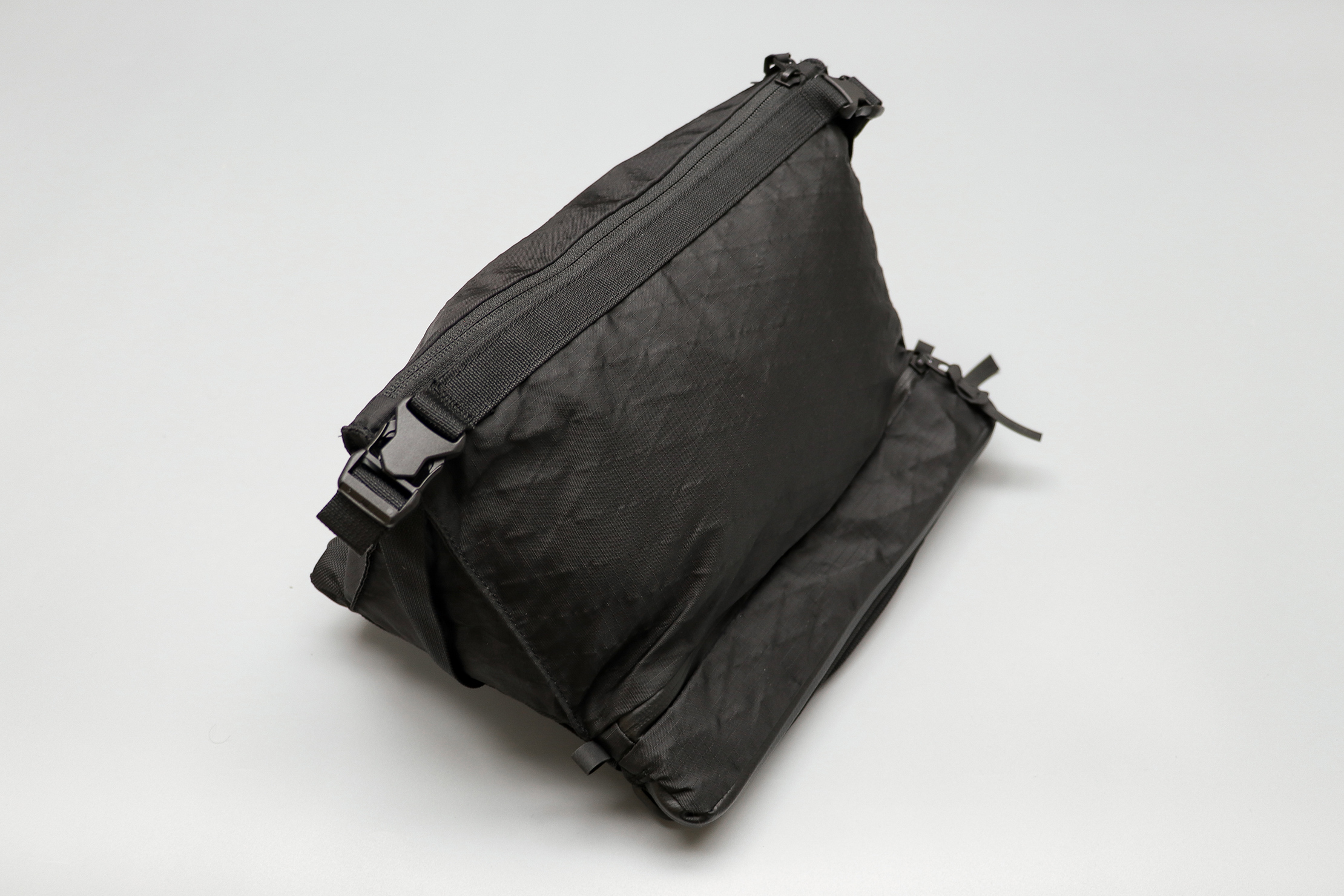 First up, there's the front pocket, which is expandable. Its expandability is on a sliding scale—it's not a pocket that's either "compressed" or "expanded." You can loosen the compression straps, tailoring the interior capacity to the stuff you've got inside, or unbuckle them for the most expansion.
Full transparency, we haven't used the sling's full, expanded capacity much. We haven't had a need to, but when full it will look a little bulky on your chest or back…because this thing gets massive. The interior capacity seems to double, if not triple, in size when it's expanded (to be clear, we haven't actually measured. This conclusion is based on how it looks).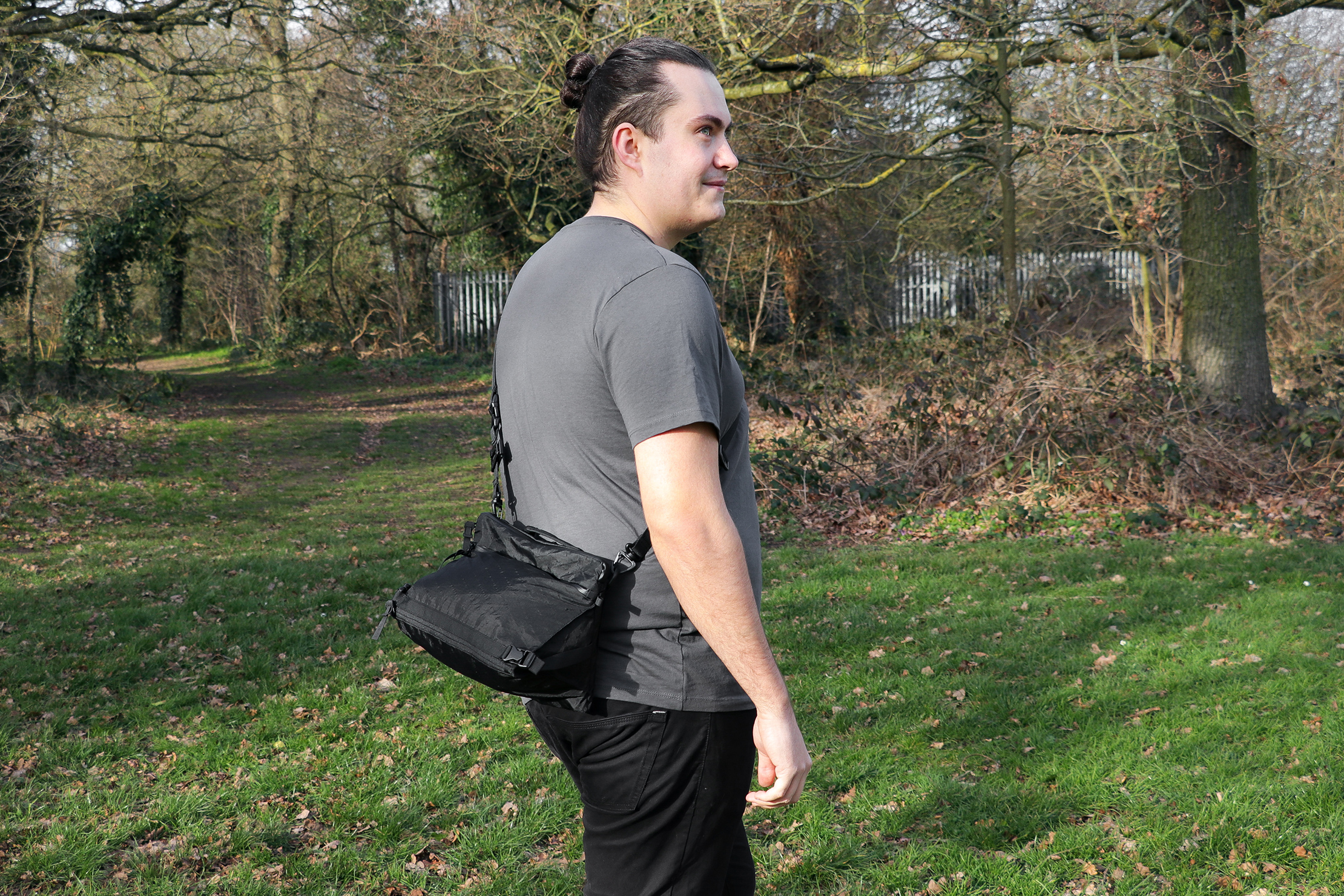 We like that it gets this large, so the space is there if you need it. If you're out and about in the winter, you can toss your hat and gloves in the expanded pocket when you go inside. Or you can carry a compressible rain jacket on day trips, so you don't have to worry about those suspicious-looking clouds closing in. And when you don't need the space, the sling lays flat, sitting nice and tight to your body.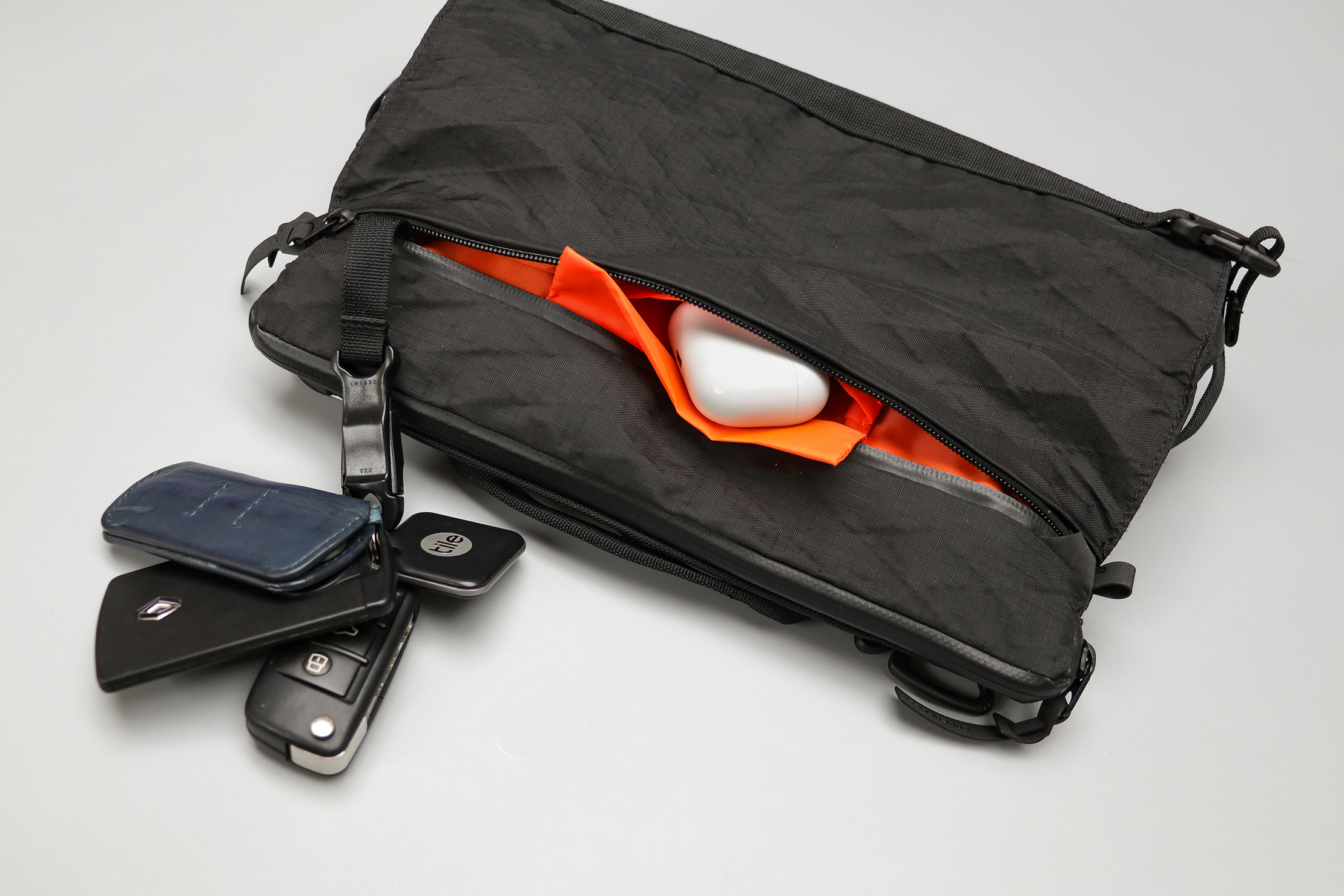 Inside the pocket, there's a little pouch for smaller items—coins, AirPods, etc—as well as a key clip. That's it as far as the organization goes, which is fine by us. We don't need too much compartmentalization.
There are two ways to access this front pocket: simply unzipping it from the front when it's compressed or unzipping it from the bottom when it's expanded.

Up next is the main pocket. Inside, there's a fair bit going on. There are three divider pockets and a pen pocket. There's also a tablet sleeve—designed to hold up to an 11'' tablet—which closes with velcro. The fact that it closes with velcro just feels wrong. Velcro doesn't fit with the rest of the sling. We know this is a small thing, but it's annoying enough to point out.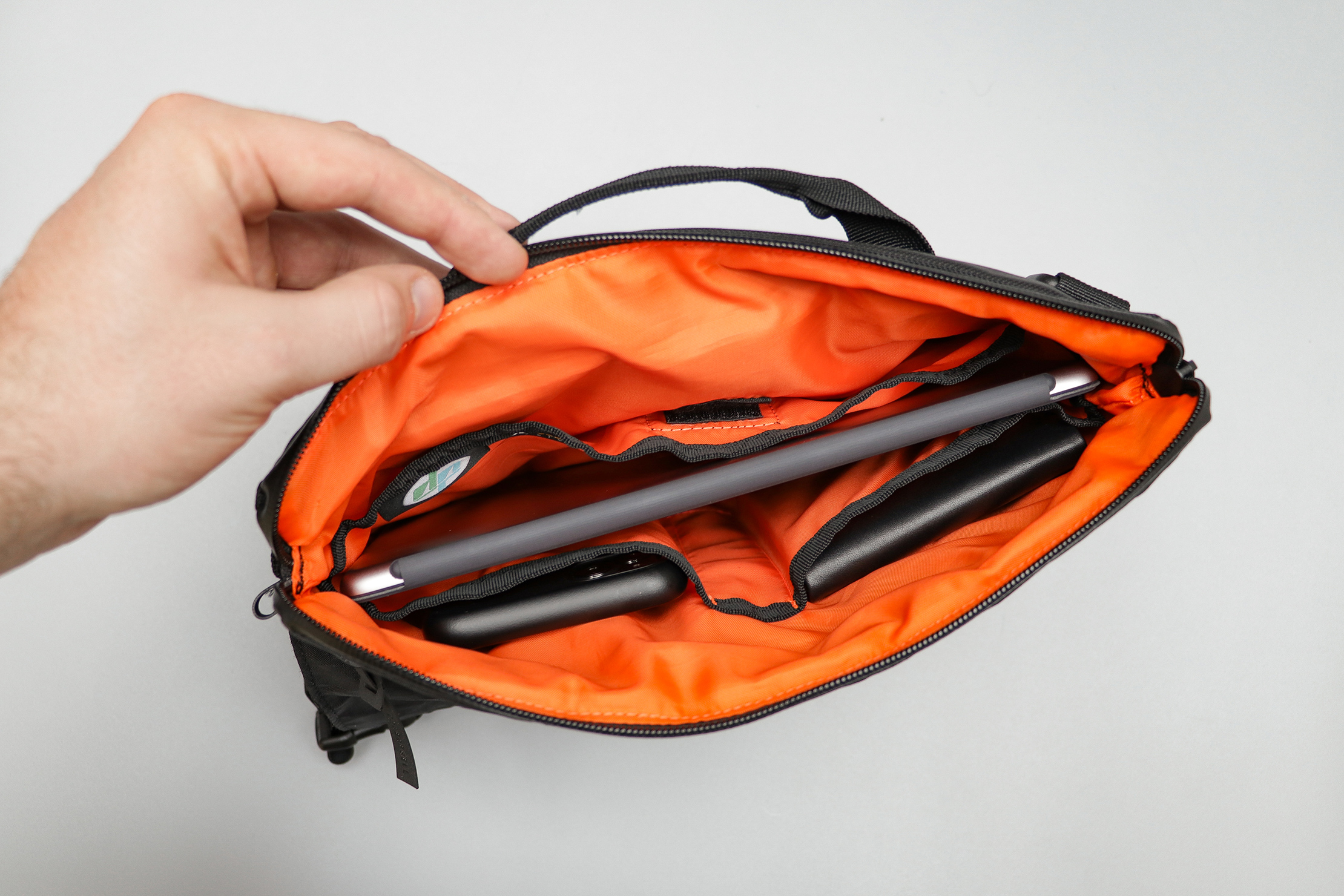 This pocket is also expandable. There's a snap at the bottom of the bag, simply undo it to expand this pocket. You'll notice the difference, although it doesn't expand nearly as much as the front pocket.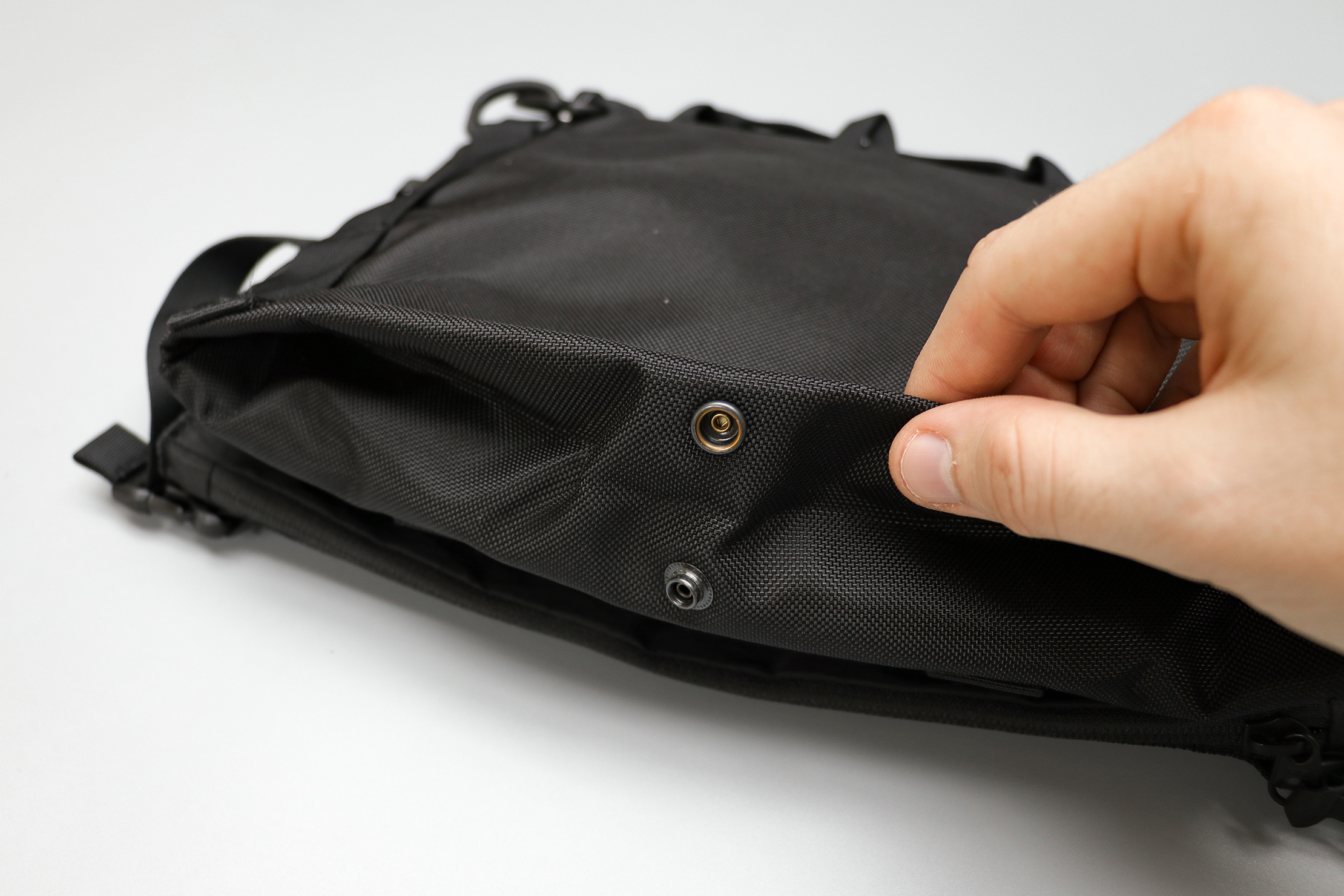 Finally, there's the back pocket that closes with a magnet. A very strong magnet that won't be going anywhere any time soon (most likely).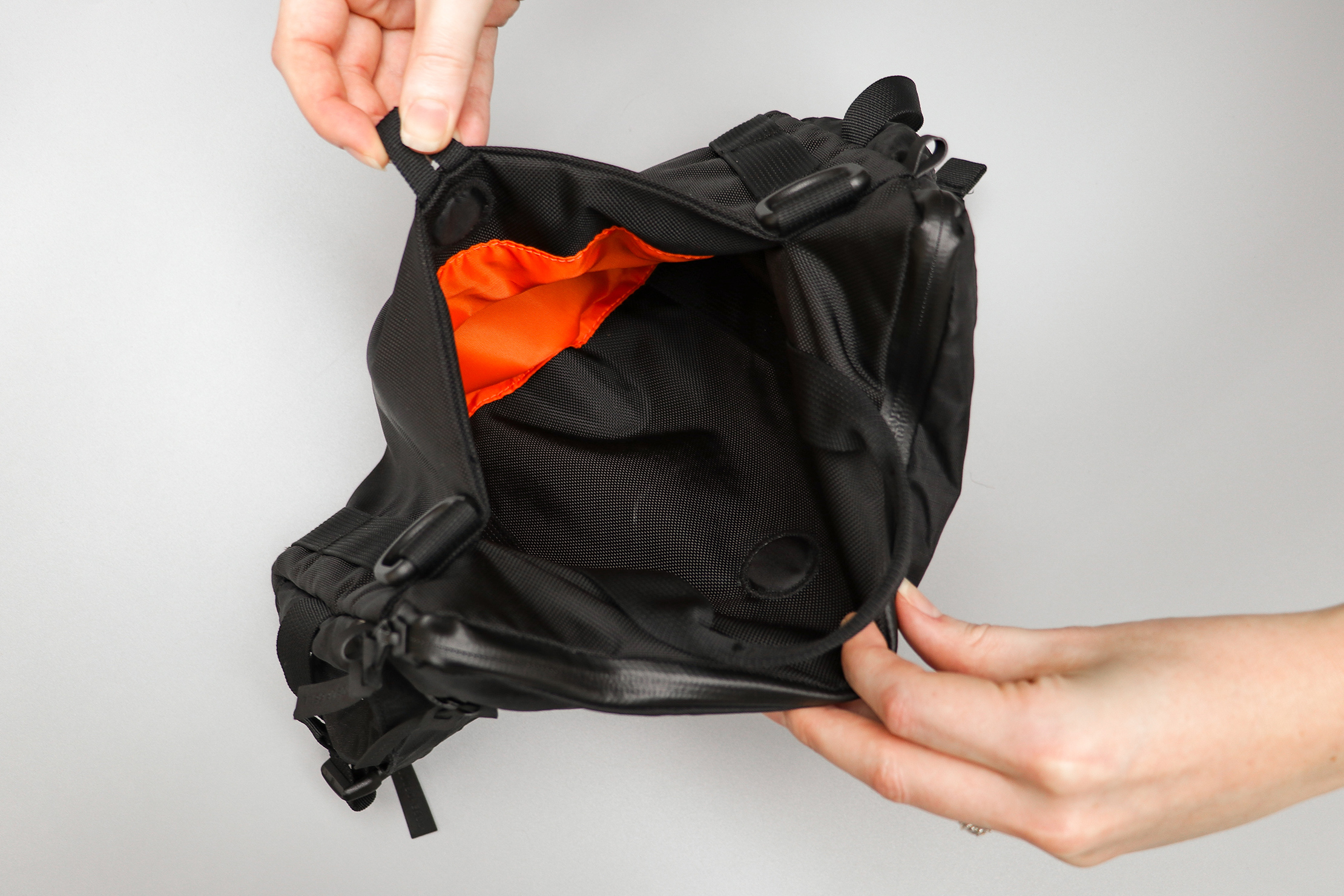 This back pocket is where you tuck the strap and handle into, but you can also throw whatever else you want in here. A small notebook, your passport, things of that nature.
Durability & Testing
At the time of this review, we've been testing the CODEOFBELL ANNEX LINER for one month in New York City and around the U.K. Overall, we love the look, feel, and functionality of this sling. It's nice to be able to customize its size based on your specific needs every day. And all of its features are hidden behind a sleek, nondescript exterior.
CODEOFBELL is known for making quality products and the ANNEX LINER is no exception. So far, we've noticed no signs of wear or tear. It's as good as new.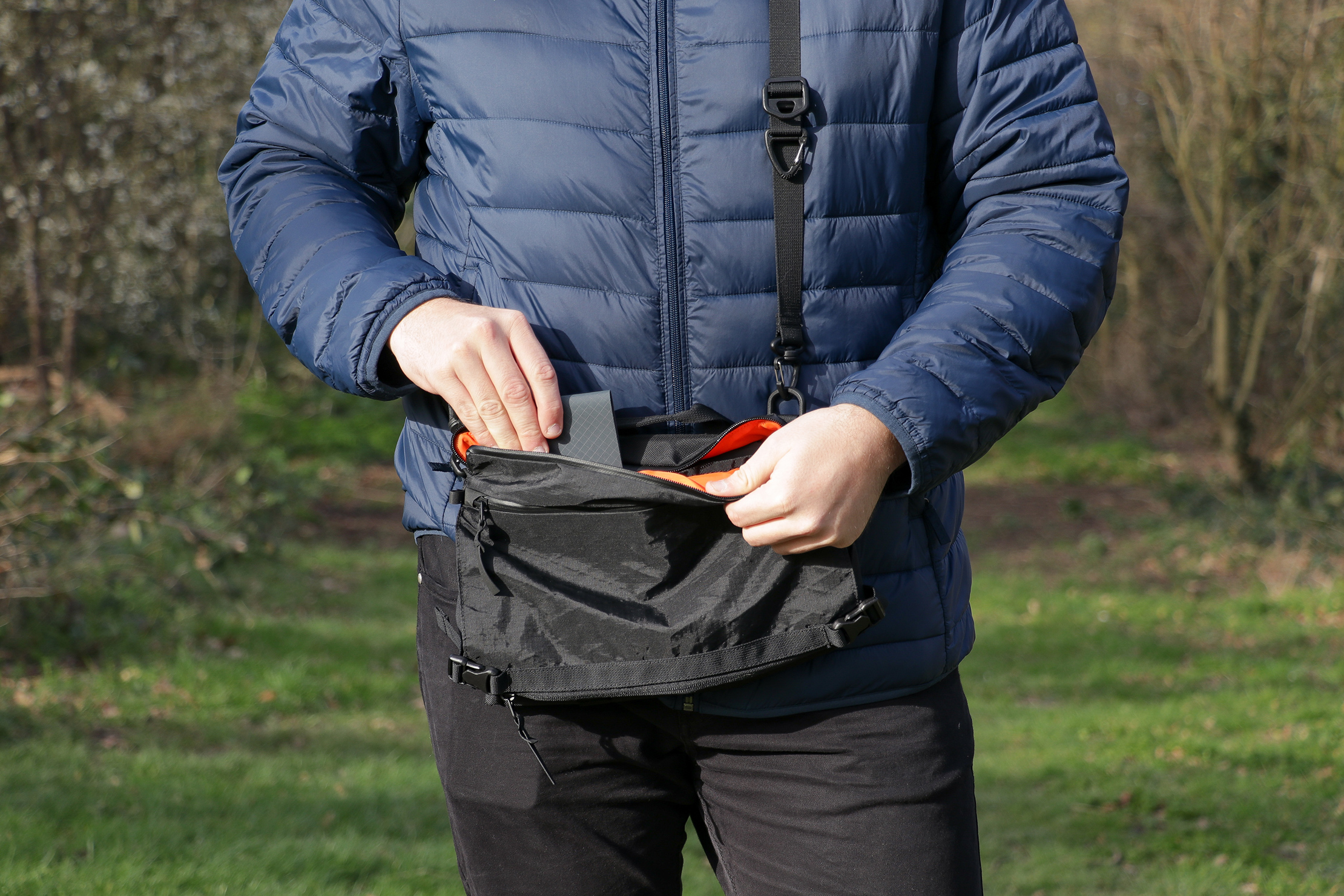 Usage Timeline
Initial Usage
Condition: Excellent
Expandable compartments make this sling very versitile
Good amount of organization including two separate compartments
There's a lot going on in this sling, we'll be interested to see if we even use all the features
2 Weeks of Use
Condition: Excellent
The bright orange interior makes it super easy to see what's going on inside
The expandable front compartment comes in handy when you need the space, but sits nice and flat when you don't
1 Month of Use
Condition: Excellent
This thing is still looking brand new, even after a month of solid testing
The velcro pocket in the main compartment feels at odds with the design of the rest of the bag—we'd have preferred a zipper or just dividers
Access the Pro Community Discussion
Get your questions about the CODEOFBELL ANNEX LINER Sacoche answered from our team and the Pro Community right here on the page. Plus, join discussions with other members about gear, guides, and more.
Other Bags & Luggage Reviews