Bellroy Classic Tote Review
The Bellroy Classic Tote's sleek, professional look fits in just about anywhere. Although, we've found it works best if you carry lighter loads.
Our Verdict
Unlock the Pro Summary
Save time. Get access to brief summaries of our reviews so you can browse and make decisions more efficiently.
Pros
Sleek, professional look
Ample space for daily accessories
Straps are grippy so they don't slide off our shoulders
Cons
No closure at the top of the tote
Really only comfortable for smaller loads and shorter wears
No false bottom on laptop compartment
Recent Pack Hacker Video
Technical Details
Capacity

15l

Weight (lb)

1.43 lb (0.6 kg)

Dimensions

12.8 in x 19.69 in x 3.35 in (32.5 x 50 x 8.5 cm)

Notable Materials

Polyester, Nylon, YKK Zippers, Leather

Manufacturing Country

Philippines

Laptop Compartment Size

15"

Warranty Information
Full Review
As the great Hamlet once (probably) said about gear—"to tote, or not to tote, that is the question." And the Bellroy Classic Tote is a possible answer for those trying to figure it out.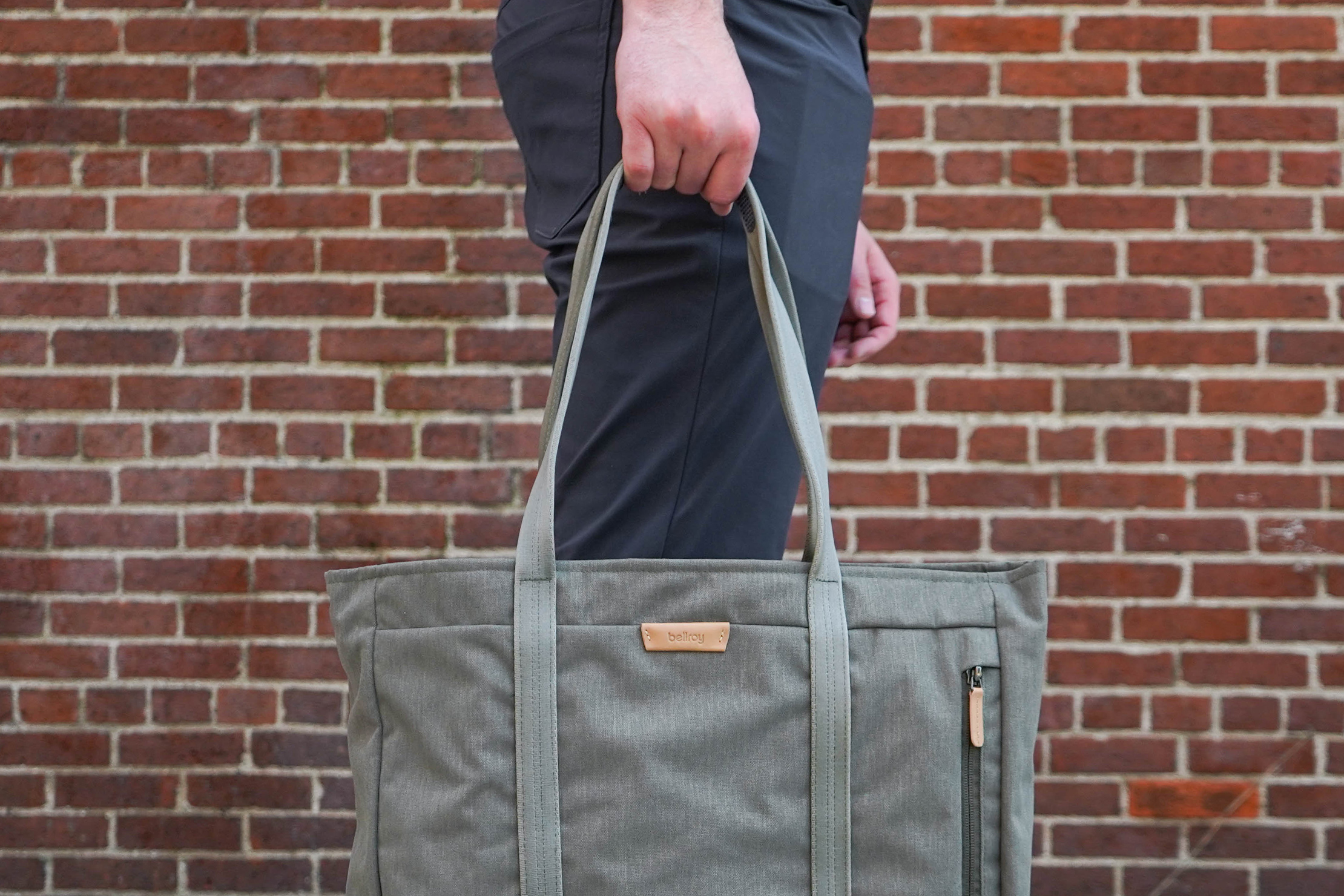 It's a standard-looking tote, with a classic Bellroy vibe—sleek, sophisticated, with leather accents and quality materials (except the key clip, but we'll get to that later). It's got ample space for your daily essentials and works for the office, out on the town, or a casual walk to the grocery store.
We've been carrying this thing around Detroit for about two weeks now—so let's talk about it, shall we?
Materials & Aesthetic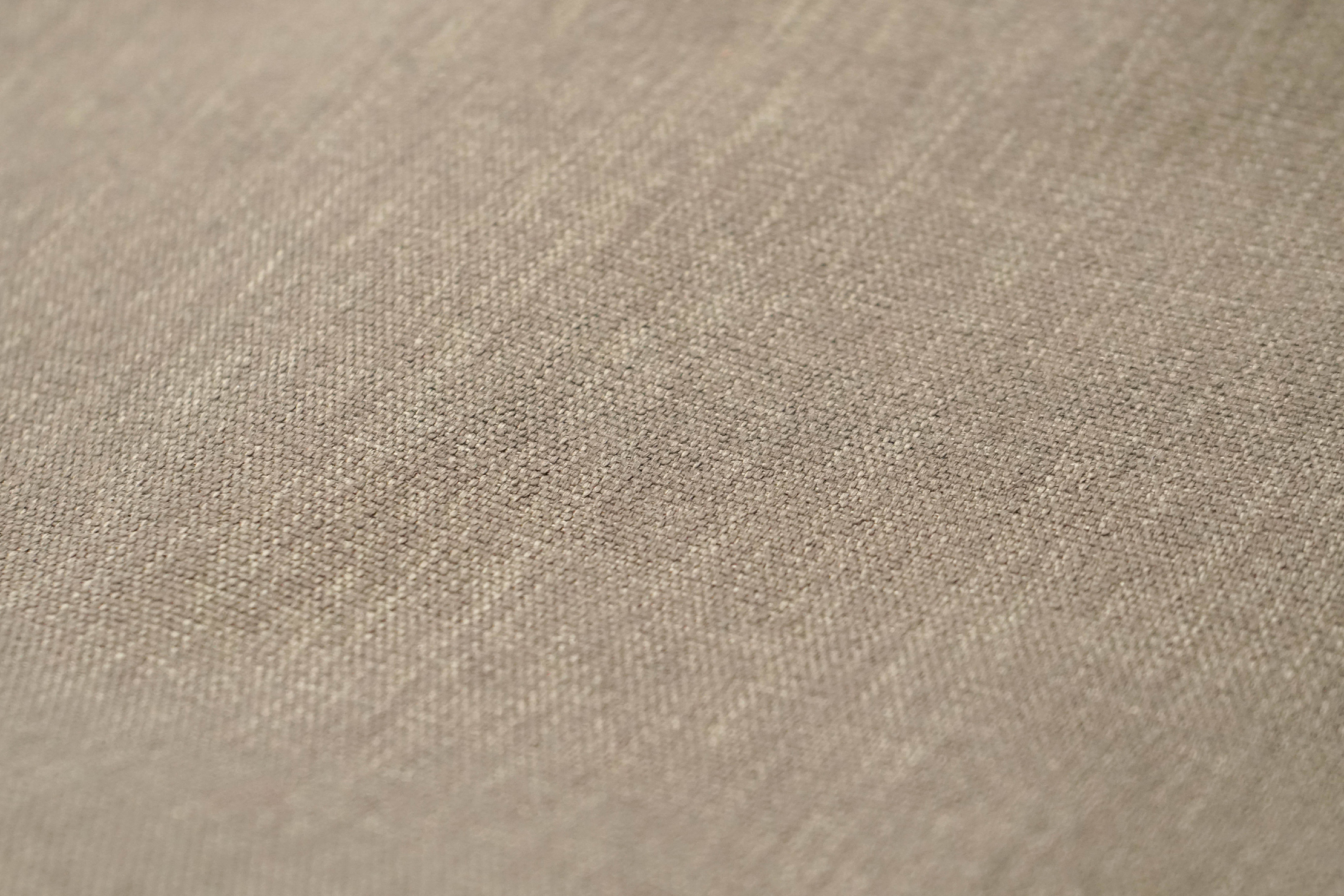 At the time of this review, this tote is available in eight colorways and various materials. The Olive colorway we've been testing is made of durable polyester canvas that's been holding up well so far. We've even tested its water-resistance by pouring water directly on the interior and exterior fabric.
The results? The exterior canvas absorbs the water almost immediately and takes a little while to dry, but doesn't soak into the interior of the bag. As for the interior fabric, we're happy to report that the water mostly beads up instead of soaking in. The little amount that is absorbed takes about the same time to dry as the exterior but doesn't sink into any of the inside pockets. Meaning your gear will be safe if you get caught in a light drizzle, however, since the top of the tote is open, there's still not a ton of protection on rainy days.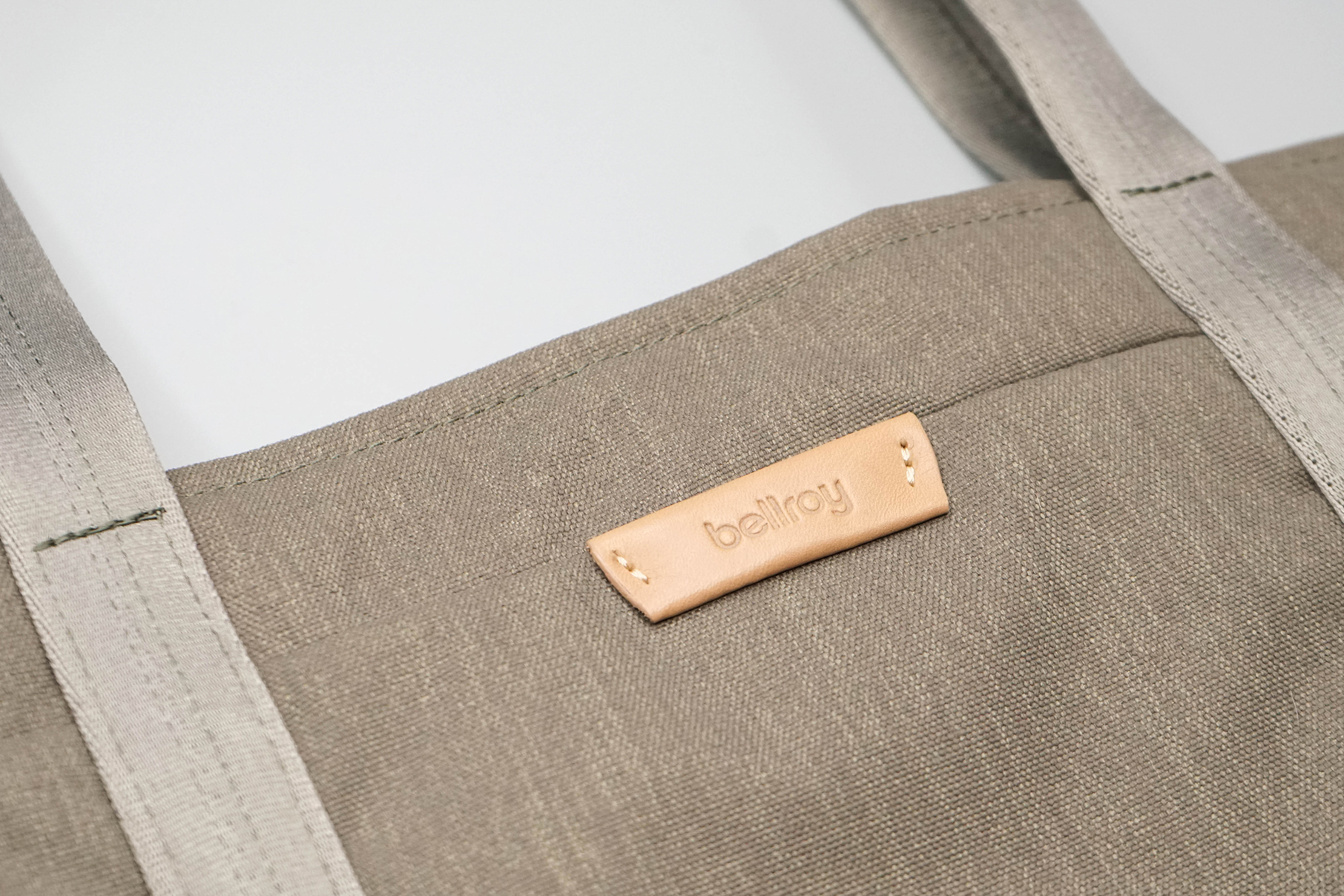 You'll find the Bellroy name is debossed on a leather accent at the top of this tote—it's subtle, sophisticated, and classic Bellroy. There's also a small decal on the back of the tote that displays the Bellroy owl (we thought it was some kind of button at first, but turns out it's just for decoration). You'll also find some branding inside the tote as well, including a tag on the laptop compartment with a message that reads, "this bag is designed to move with you—through your worlds and the little moments in-between. We hope you travel well together for years to come." We think this is a nice sentiment, and considering its durable materials, we're sure that this tote will be around for the long haul.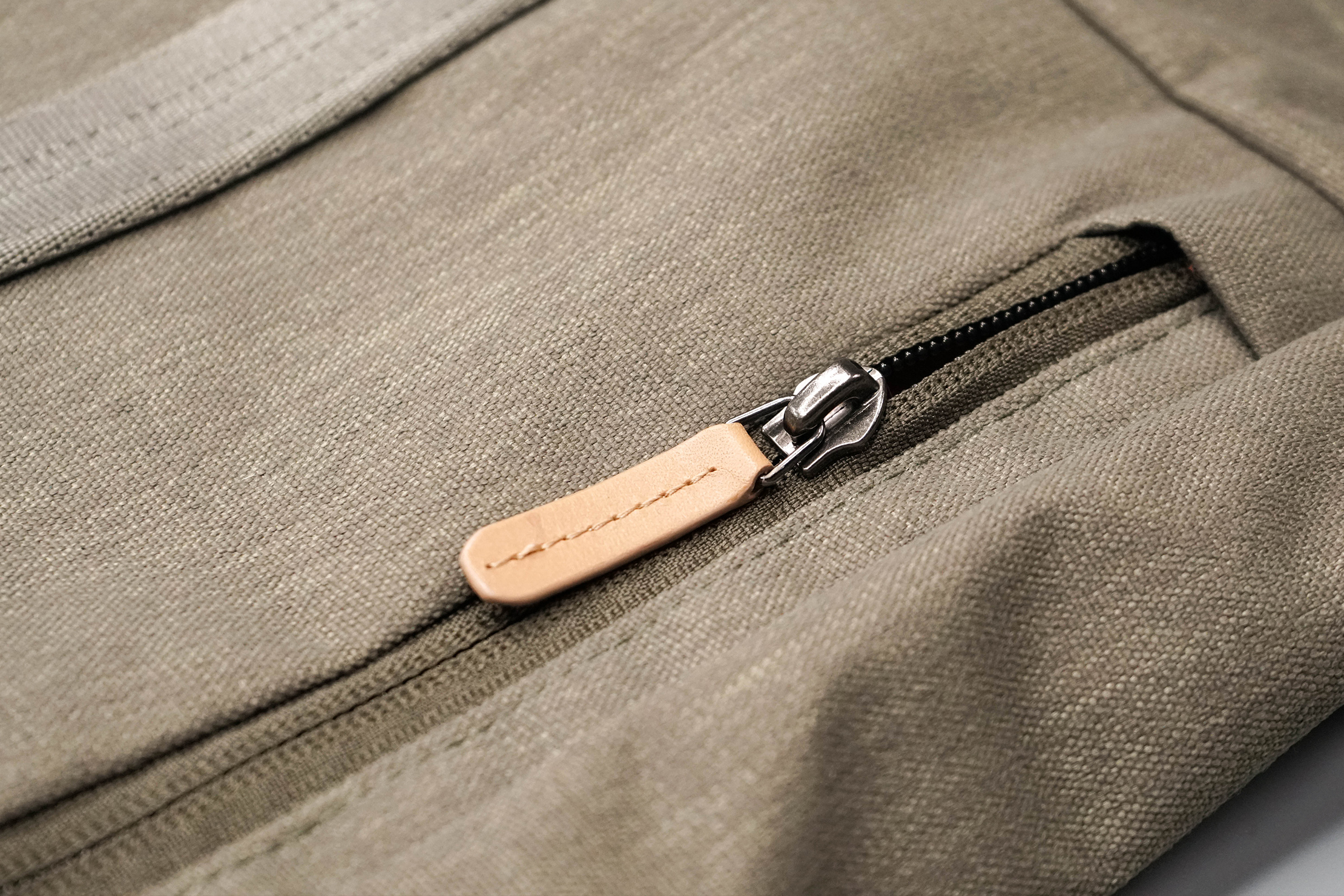 The zippers are from the trusted brand YKK, with a nice, tan leather pull featured on one of them. They've all been working smoothly, as expected.
External Components
The handles on this thing are made of nylon webbing that's pretty stiff—but in a good way. They have some structure to them, so they don't feel limp or flimsy. You can carry the tote by hand with these but they're also long enough to slip on your shoulders if you'd like. We always appreciate a more hands-free carry as it's convenient if we have other things to hold (like extra groceries or other gear we can't pack inside). The handles also lined with some grippy material to better grasp your shoulder—this way they're not constantly slipping down, and you're not constantly sliding them back up.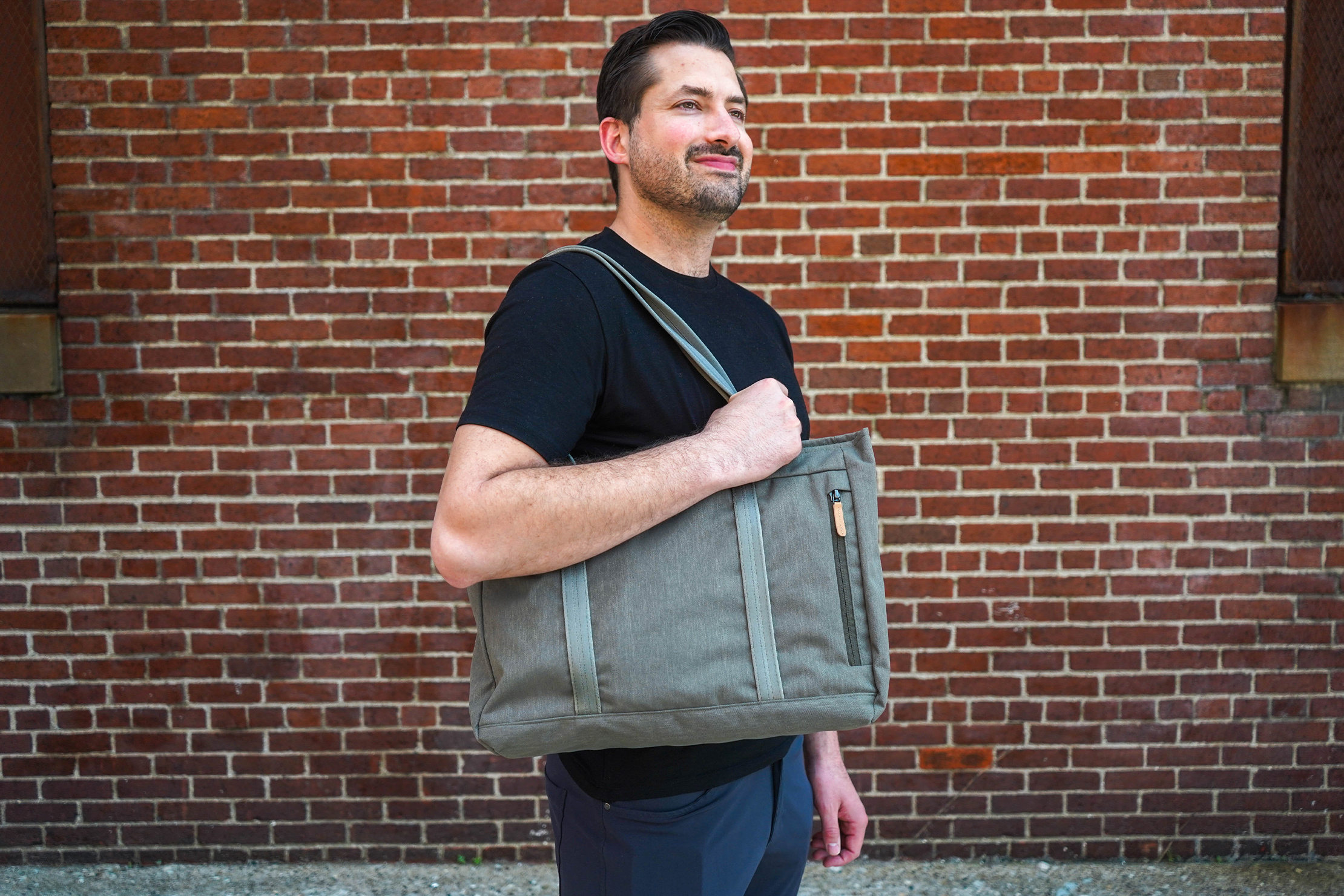 We've found that they carry pretty comfortably over the shoulder, but more so when we just have the basics inside and are using it for short trips—so a laptop, a couple of chargers, wallet, keys, and some small personal care items. When we start adding more gear, like a lunchbox, water bottle, and a book or are carrying this thing for an extended time (an hour or two), we find ourselves switching shoulders more often than we'd like to. While this is a common problem with totes (so it's not exclusive to this bag in particular), it's still something to note.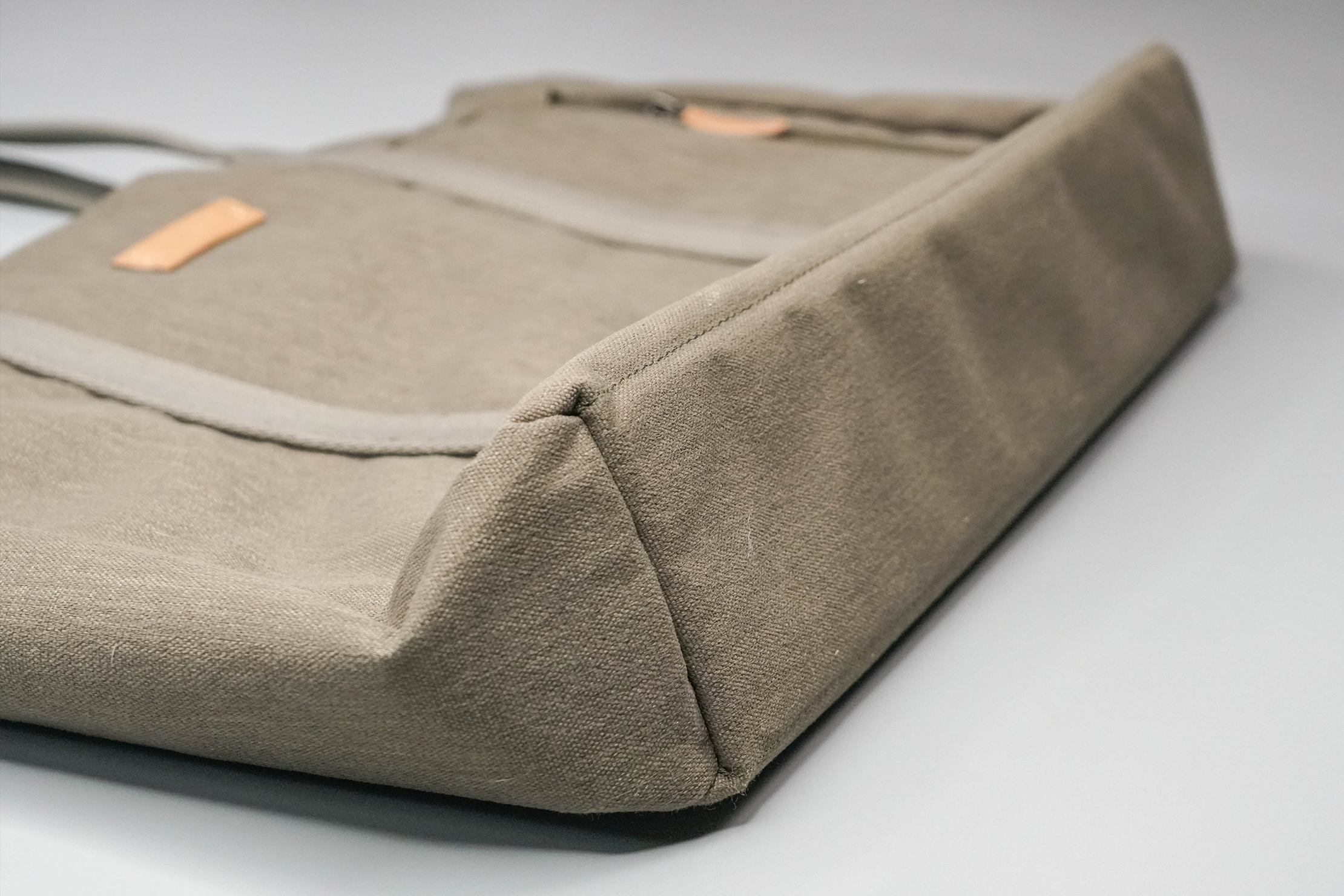 The bottom of the tote is structured which helps it stand upright. This has made it convenient to set down and grab stuff out, and there's less stress about our gear rolling out. Plus, the tote doesn't look like one big puddle of fabric when not in use. Something to note—if your laptop is all you've got inside, tucked in the dedicated sleeve, the tote will not be able to stand on its own. You'll need to pack some gear in the open space of the main compartment for it to stay balanced.
The bottom corners of the bag are also tapered for protection, as they're one of the higher-traffic parts of the bag—a thoughtful design choice, in our opinion.
Inside the Tote
At 15L, this is a pretty spacious tote. There's room to store your daily essentials (your wallet, chargers, a water bottle) and some extras—like a couple of books, extra tech accessories, etc. We've even been throwing our lunchbox in here to take with us to the office, and it's worked great. Although it fits best if it's turned on its side and not standing upward, as it sticks out this way. Also, your lunchbox will need to be on the slimmer side—anything too big and the tote gets bulky. And again, this is fine for quick trips, but if you have a mile walk to the office or wherever your destination is, it's not going to be as comfortable if you've got everything mentioned inside.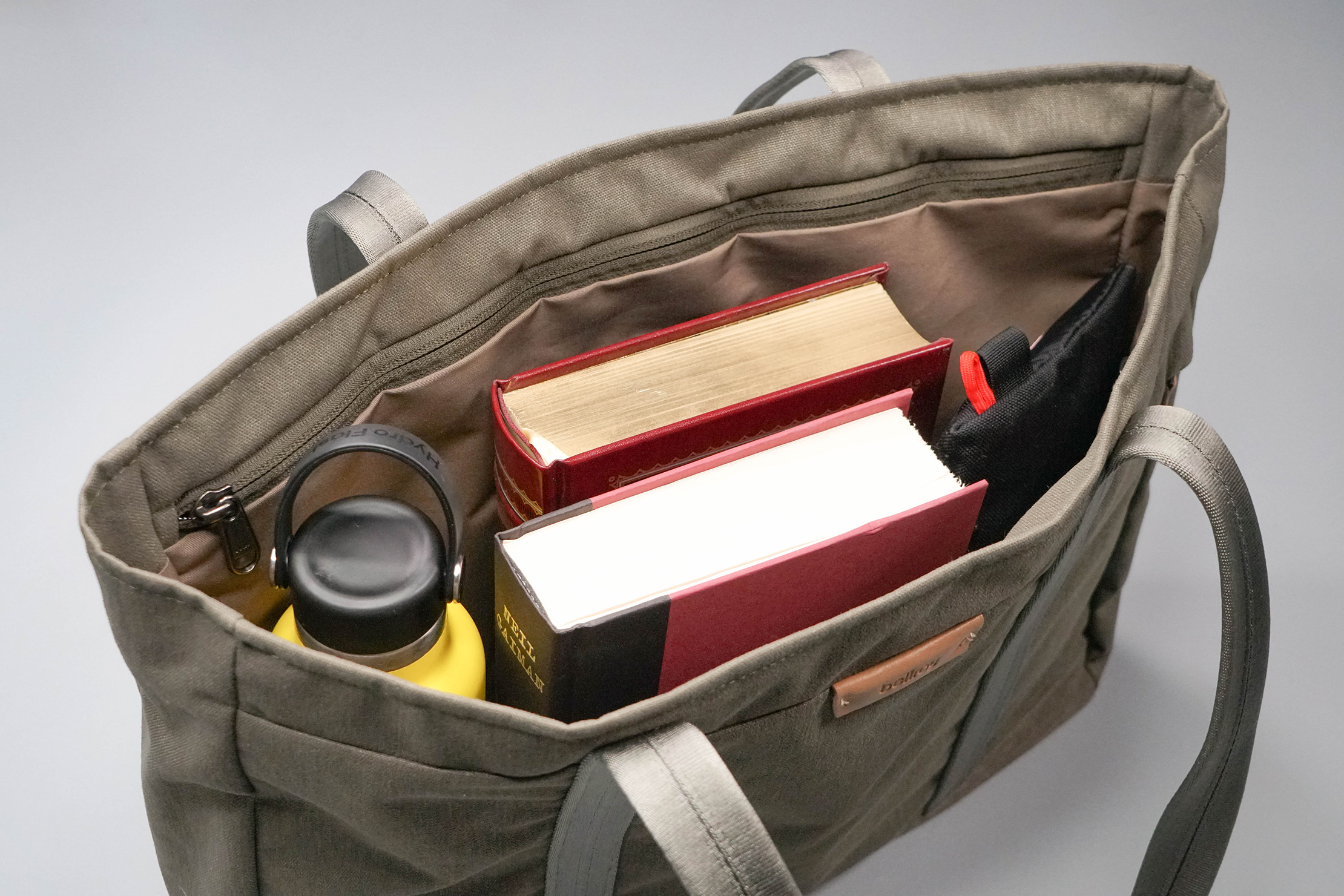 Now, as we mentioned before, there's no closure at the top of this tote bag. This can be an advantage if you're stashing taller items as they're not restricted by any kind of zipper—they can stick out no problem. And as long as you keep the inside organized, this also allows for quick access to your everyday gear. However, the downside here is that it only takes one slip for all of your stuff to be on the ground—so you're going to want to exercise caution.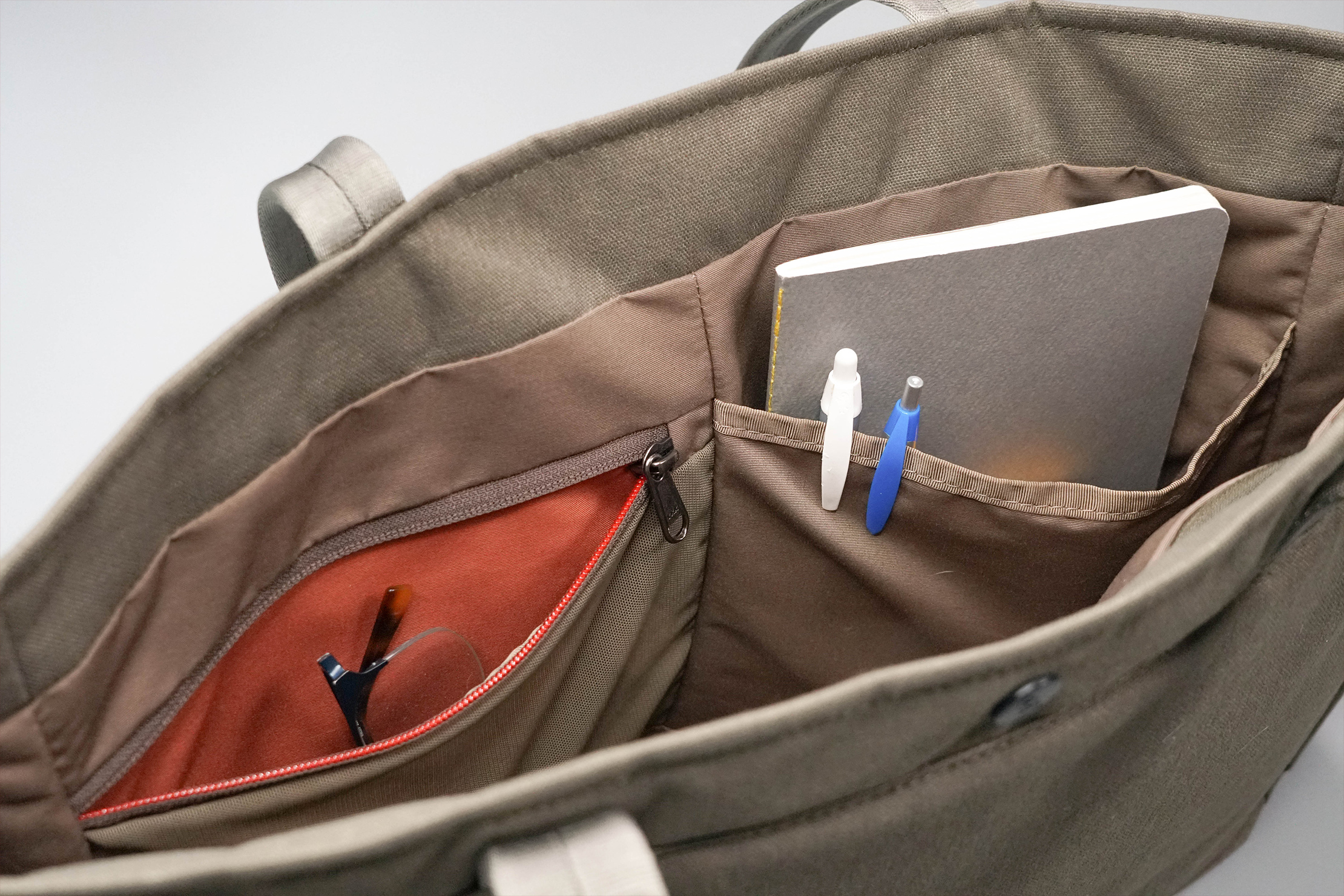 On one side of the Bellroy Classic Tote, you have two suspended vertical pockets—one open, and one zippered. The open pouch works well as a dump pocket—you can throw your smaller things in here so you don't have to go fishing for them at the bottom of the bag (your chapstick, pens, some travel-size perfume/cologne). There's not much elasticity to this pocket, so what you see is what you get in terms of space.
As for the zippered pocket, we've been using it to store things like our laptop charger, the Bellroy Zip Wallet, and glasses when we're not wearing them—our more valuable gear. The zipper keeps everything inside secure, so it's not falling out and getting mixed in with our other items. It's made with a mesh-like fabric that's nice and soft in the hand. It's also pretty stretchy so you have some flexibility with what you can store inside. We've experienced this mesh material on other Bellroy products we've tested and we're always fans. It just feels nice. This pocket also has a bright orange interior so we can easily see what's inside and find what we're looking for.

On the other wall of the tote is a zippered compartment that holds up to a 15" laptop—though we've also been able to slip a 16" MacBook Pro inside, as long as it's not in a case. Which, if you're anything like us, you prefer to keep your tech in a protective case when traveling (you know, on the off chance you slip on any unsuspecting banana peels and take a dive). We've mostly been testing with a 13" MacBook Pro with a case and found it fits comfortably (so no need to sacrifice that extra protection there). The lining of this pocket is soft to the touch, so we're not worried about our tech sustaining any scratches.
This pocket isn't suspended like the other two interior pockets—it stretches the full length of the tote. And because there's no false bottom, you don't have much protection from sudden falls or drops. As we noted there is a bit of a frame sheet on the bottom of the tote giving it some structure, but it's thin so it's not providing much protection either.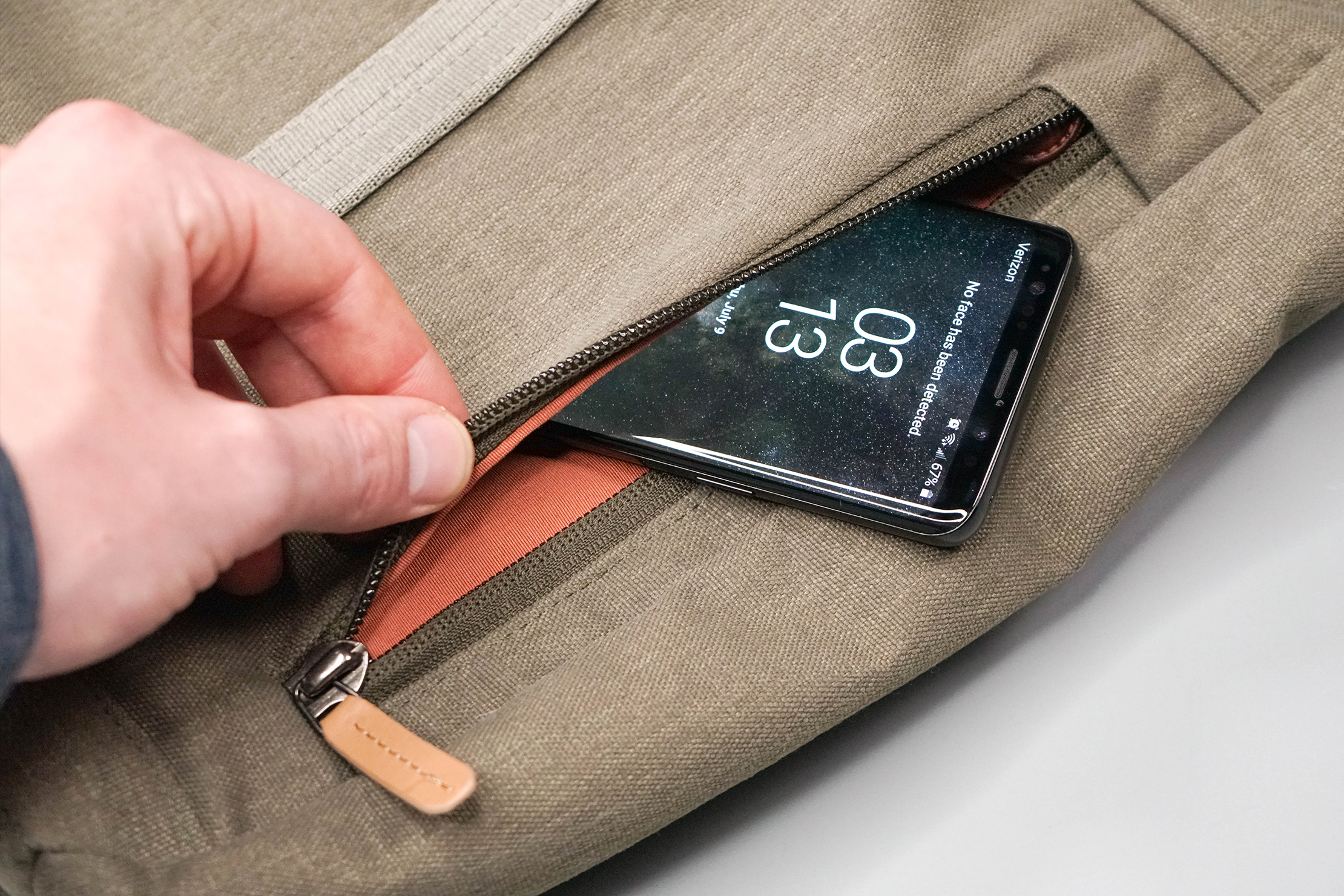 On the outside of the tote, you'll find a quick-grab pocket. It's secured with a zipper and has a garage that you can tuck said zipper into for added water-resistance. The interior is that same bright orange as the interior zippered pocket so we can always see what's inside. (During the day, that is) It's a great spot to store your phone when not in use as it's quick-access (you don't have to dig around in the main compartment). We were also able to fit an e-reader in this pocket, which is good news if you travel with one. Though there's not much protecting it in here—other than some slight foam padding on the sides—so we recommend using a protective case.

Inside the quick-grab pocket is a plastic key clip. While it gets the job done, the quality of the clip contrasts with the quality we see throughout the rest of the tote—it doesn't feel super sturdy in the hand. The good news is, we haven't had any issues with it breaking or keys slipping off so far. We will say that if you have bulkier keys, the pocket will look overpacked from the outside—so if you are going to store them here, we recommend keeping it light.
Durability & Testing
We've been taking the Bellroy Classic Tote with us on walks around town and to-and-from work for two weeks now. We like the air of professionalism around this bag—it fits in just as well as the office as it does at a casual outing with friends.
We can't say it's the most versatile tote when it comes to storage, though. We tried taking this thing on a quick trip to the grocery store and ended up leaving with our stuff in paper bags—it can hold slimmer boxes but gets bulky and bottom-heavy with produce and other larger food items. This tote doesn't have "grocery bag" anywhere in its product description by any means, but we're always looking for ways to put bags to the test.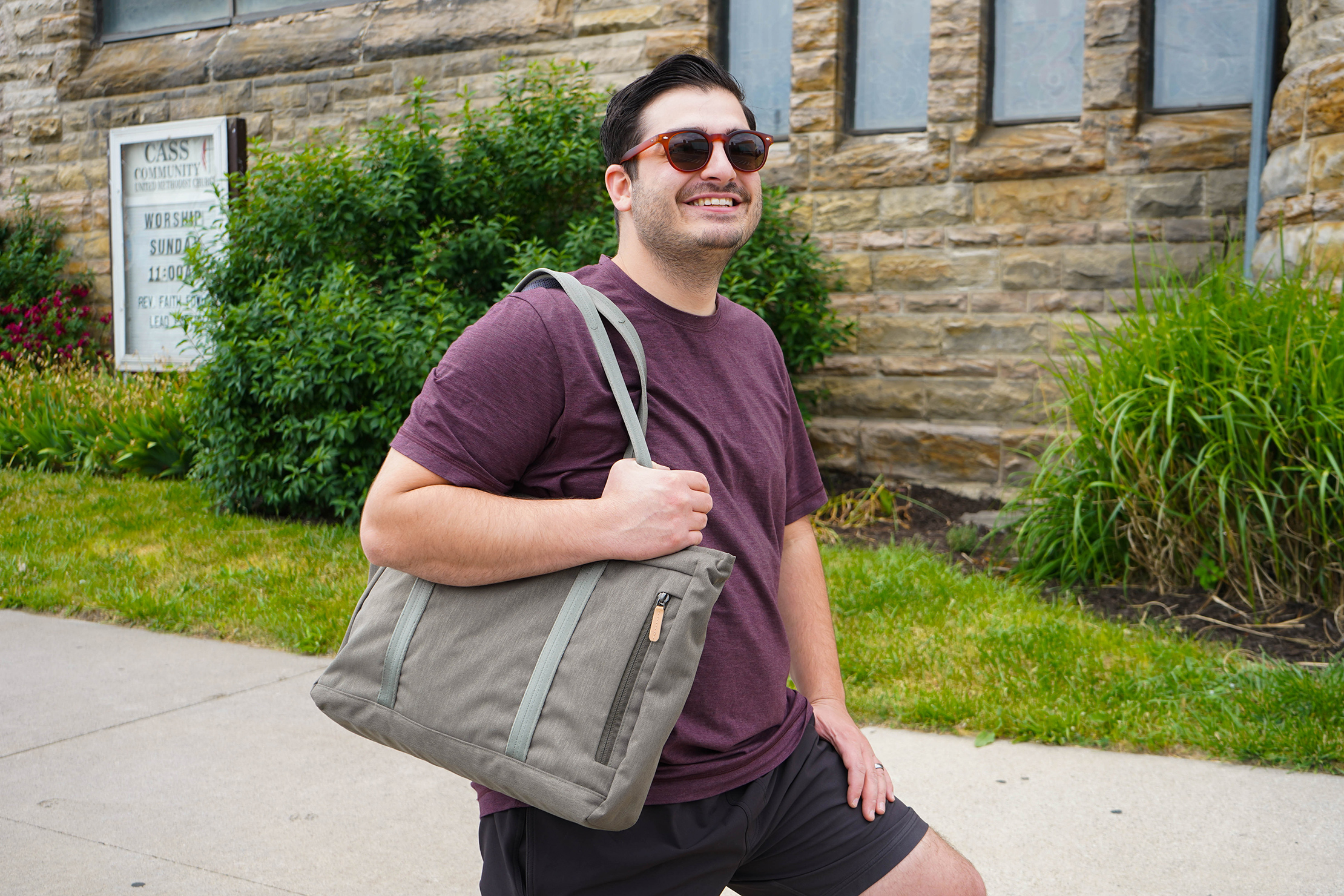 Also, we were initially pretty concerned about the lack of closure on this tote (being clumsy and all), but we're happy to report that we haven't had any issues with our stuff falling out so far in our testing. That said, you should still be cautious.
And durability wise, everything is in great condition—nothing out of the ordinary.
Usage Timeline
Initial Usage
Condition: Excellent
Sleek and professional looking tote
Straps are long enough so it can be carried over the shoulder
Main opening does not zip close so items can fall out if it tips over
2 Weeks of Use
Condition: Excellent
We've been taking this tote to-and-from the office and on some leisurely walks—still digging its sophisticated aesthetic.
The handles are more stiff but in a good way—they don't feel flimsy or unsupportive. The padding also makes them pretty comfortable, though we still need to swap shoulders every once and a while on longer wears.
Access the Pro Community Discussion
Get your questions about the Bellroy Classic Tote answered from our team and the Pro Community right here on the page. Plus, join discussions with other members about gear, guides, and more.
Other Bags & Luggage Reviews