KeySmart Key Organizer Original Review
KeySmart Original Key Organizer is a basic organizer that keeps your keys from jingling or damaging your pockets—but watch out for wear along the edges.
Our Verdict
Unlock the Pro Summary
Save time. Get access to brief summaries of our reviews so you can browse and make decisions more efficiently.
Pros
Slim profile
Easy to use
Lightweight
Cons
Paint has already started to scratch
Not the most sophisticated aesthetic
Black colorway could be easy to lose
Recent Pack Hacker Video
Technical Details
Weight (oz)

1.15 oz (32.6 g)

With two standard house keys.

Dimensions

3.5 in x .625 in x .125 in (8.9 x 1.6 x 0.3 cm)

Notable Materials

Stainless Steel, Aluminum

Manufacturing Country

United States
Full Review
If you've ever found yourself wishing for keys that were less bulky and less jingly then might we introduce you to the KeySmart Original Key Organizer.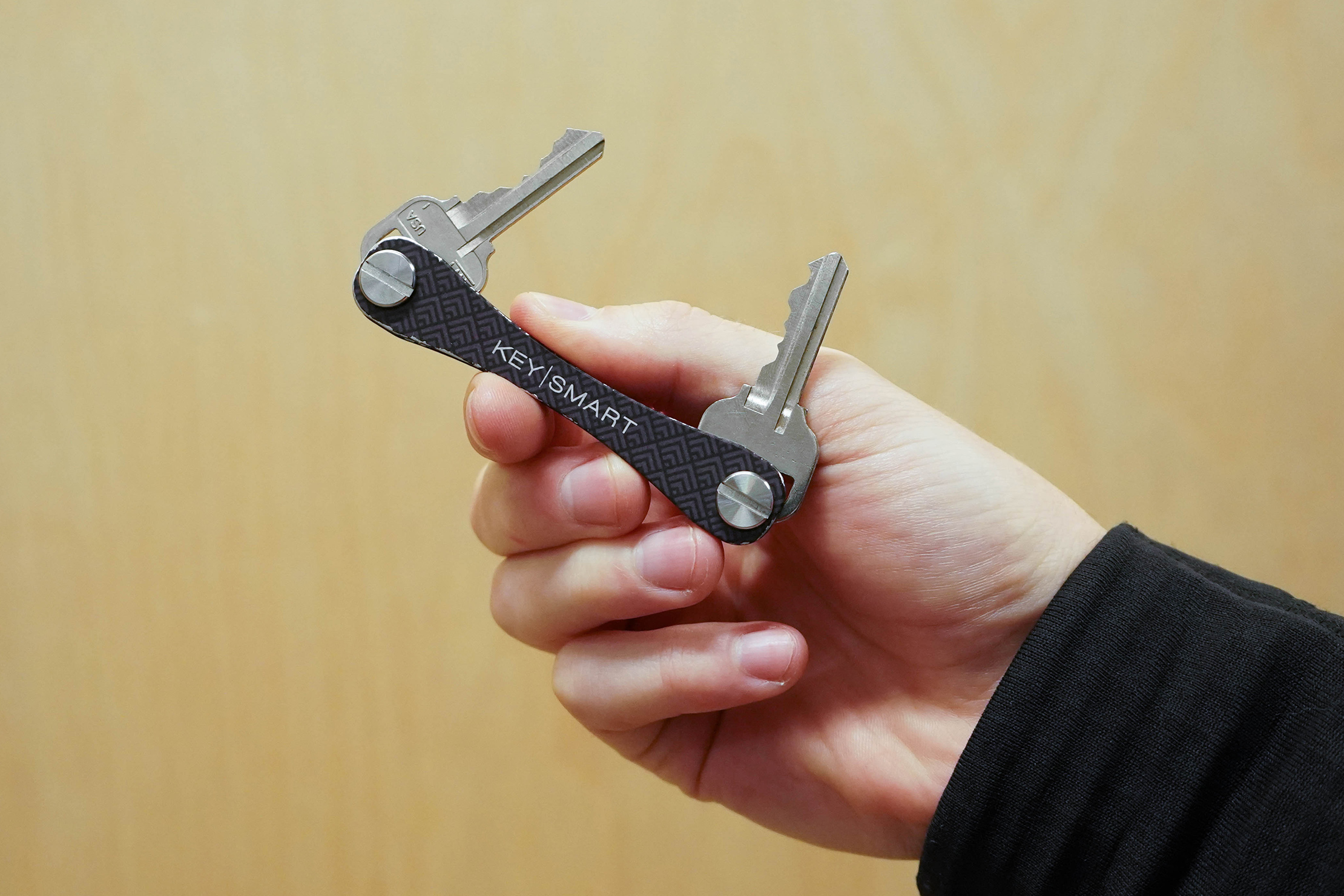 We admit it's a clunky name. But the product itself is smooth and minimal. As its name suggests, this key organizer organizes your keys tucking them away inside of a thin metal case. The case looks reminiscent of a Swiss Army Knife—you even swing your keys out in the same way you would swing out one of the tools.
KeySmart launched on Kickstarter in 2013 and received enough love (a.k.a money) to go to market. Nearly 9,000 people backed the project. Who knew messy keys were such an epidemic?
While KeySmart now offers a pro version—with a ton of extra special features—the Original doesn't have much going on, which is right up our ally. KeySmart also sells a number of extra accessories, including a bottle opener, screwdriver, and USB, you can pick up if you'd like.
With that said, let's jump into the review.
Materials & Aesthetic
The KeySmart Key Organizer has a simple, minimalistic aesthetic. It's not the most high-end-looking key organizer on the market, but it's sufficiently sleeker than leaving your keys as is. And its streamlined, S-shape body will easily fit inside most pockets—as long as you're not wearing skinny jeans—and the quick-grab pockets of basically every single sling bag and backpack out there.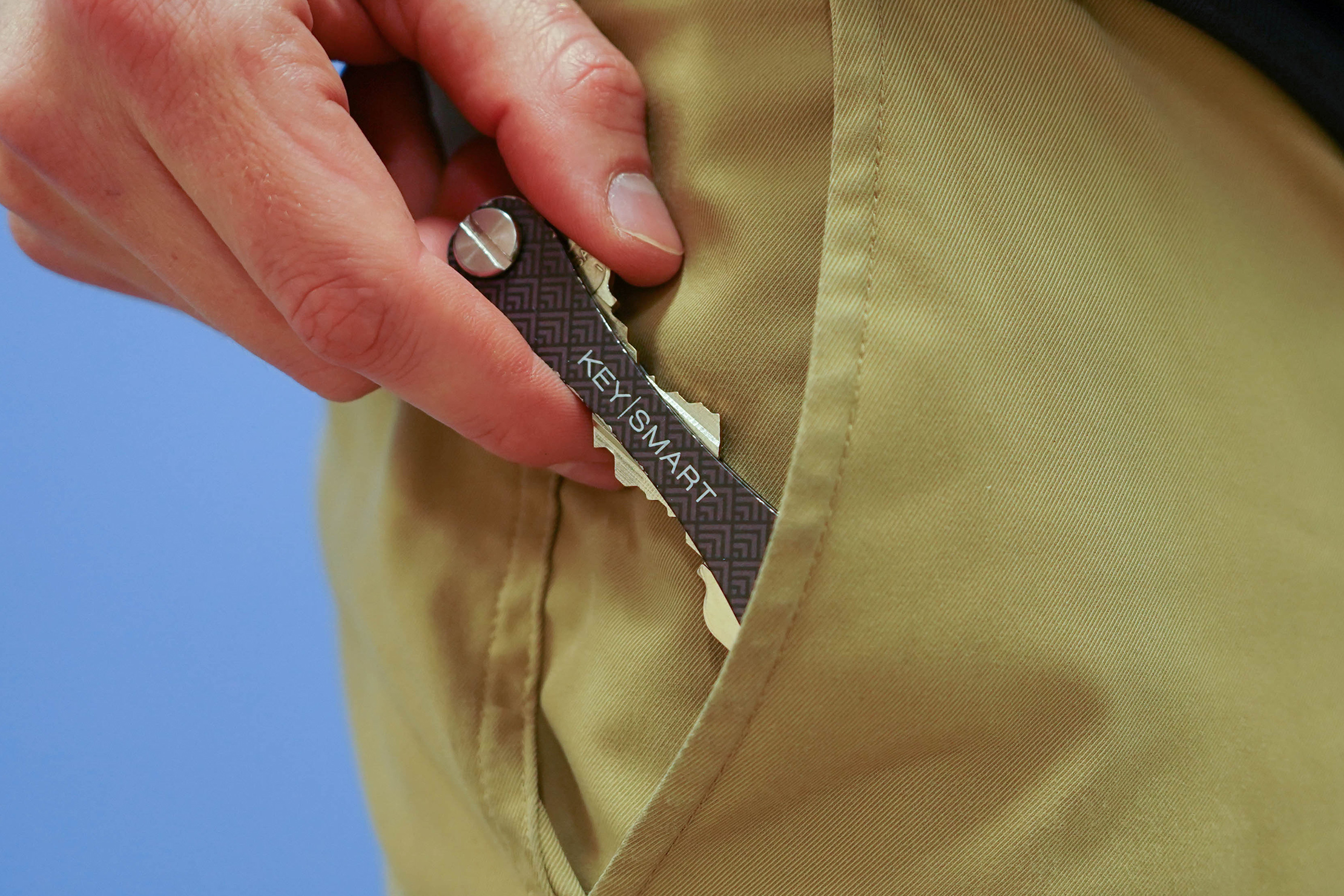 At the time of this review, it's available in four colorways: Blue, Red, Black, and Mossy Oak. Although the latter costs more. (We've been testing a special Bluffworks print that is no longer available).
While we're always a fan of black colorways for the additional sophistication factor it usually adds, be careful with the black colorway here. You could easily lose it inside of a backpack pocket or even on a table if you're not careful. Remember: this organizer is small. Smaller than a pack of gum.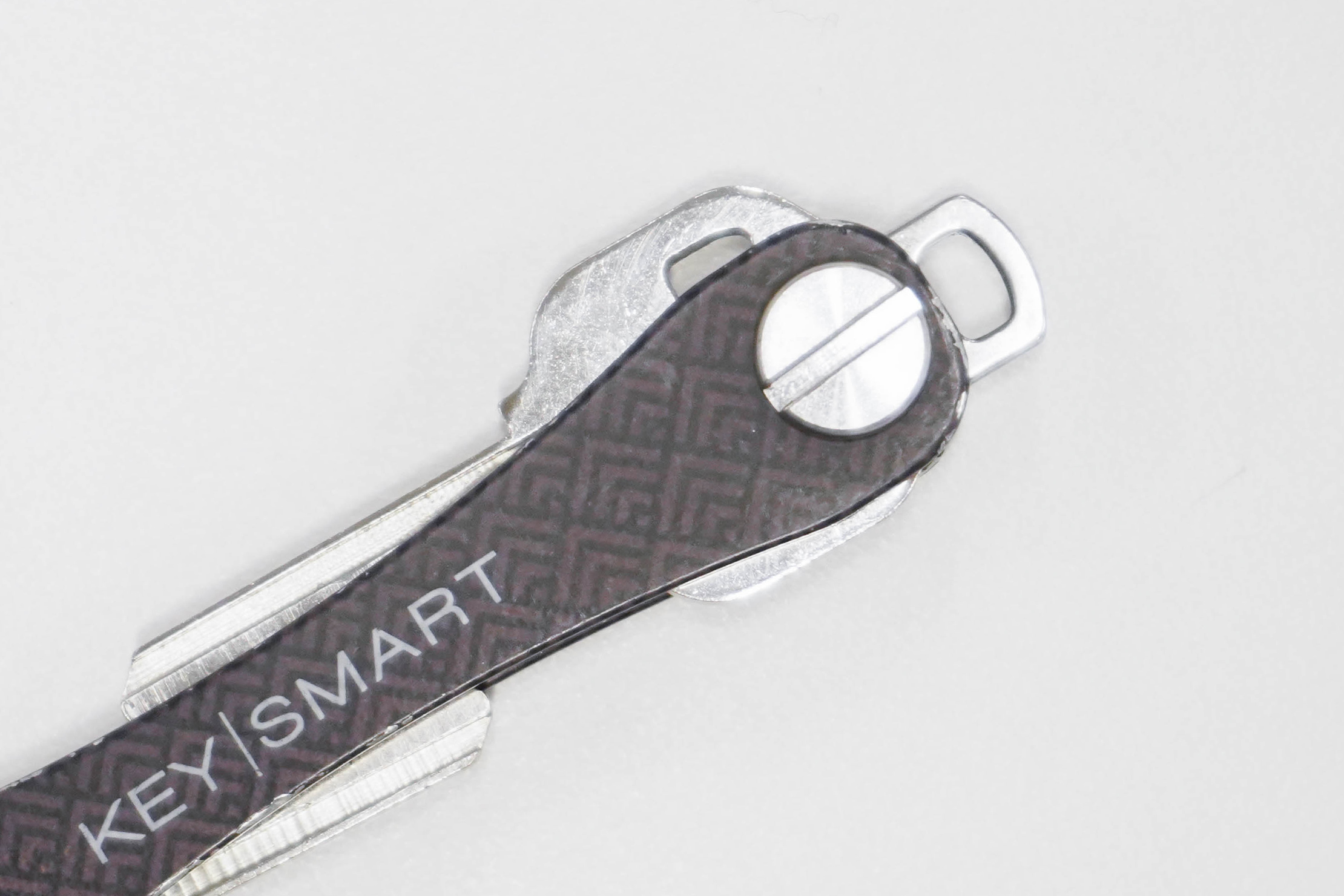 Made of anodized 6061 aluminum with stainless steel hardware, this organizer is lightweight yet strong. KeySmart advertises that it's scratch-resistant as well, though we've found otherwise (more on this later). You can also pick up a titanium version, although it costs more than the original.
How it Works
The way it works is simple: you simply stack your keys inside of the case. You can fit four on each side for a total of eight. If that's not enough room for you, you can also buy an expander to carry dozens of more keys. We've tested it with two keys, and while admittedly a keychain with only two keys isn't exactly bulky, we've still preferred keeping them organized inside of this case.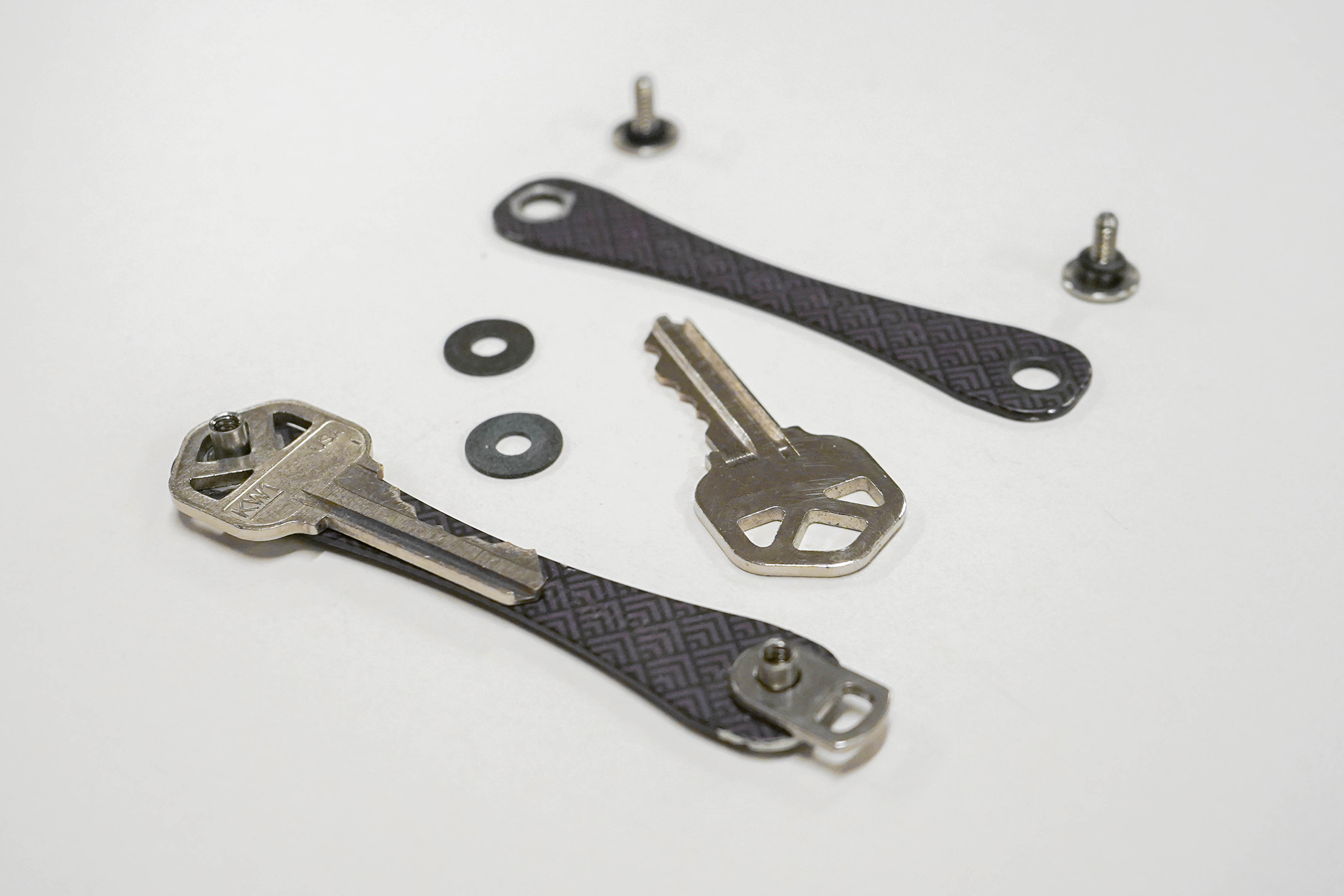 The organizer comes with plastic washers to stack in between your keys to keep everything working smoothly. You tighten the case with an oversized screw. You don't need any tools to work this thing—your fingernail or a coin work just fine—and it tightens pretty dang tight. Your keys never jingle or slide around. That's a huge plus, especially if your life involves a lot of sleuthing.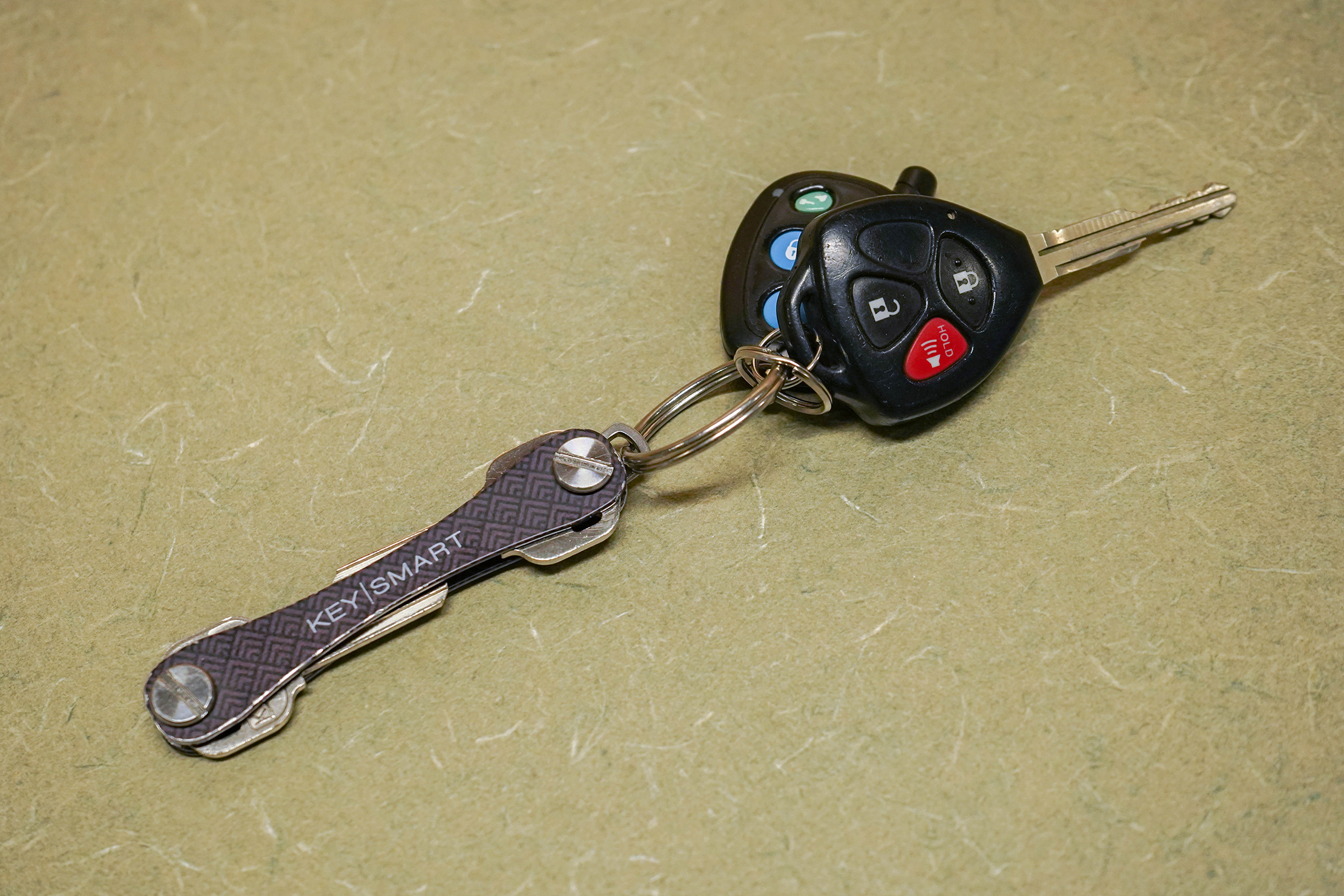 There's also a small ring so you can attach any larger keys—think a car key—to the exterior.
And that's it. Like we said, simple.
Durability & Testing
We've been testing the KeySmart Original Key Organizer for a month around Detroit, Michigan. And it does its job nicely. It keeps everything clean and tidy—preventing your keys from scratching up your wallet or phone, ripping the interior fabric of your pants, or stabbing you in the leg, which we can probably all agree is never a good time. There's a slight chance the organizer could do some damage to your fragile items—like a leather wallet—but the smooth, rounded edges mean it's a lot less of a risk than if you left your keys as is.

That said, it doesn't look the nicest after three weeks. The paint has started to chip, especially on the interior where the keys scratch it up and around the rim. We're a bit disappointed in this development, but it's not the worst issue we could be having. The shape has held, the attachment points haven't loosened. Overall, it's still solid.
Usage Timeline
Initial Usage
Condition: Excellent
Keeps your key ring minimal, neat, and tidy
Stops keys from poking in your pockets
Key spacers can take a couple tries to get even on both sides
2 Weeks of Use
Condition: Good
Paint has started to chip along the edges.
1 Month of Use
Condition: Good
The paint hasn't chipped any more and the tightness is still there!
Access the Pro Community Discussion
Get your questions about the KeySmart Key Organizer Original answered from our team and the Pro Community right here on the page. Plus, join discussions with other members about gear, guides, and more.
Other Organizers & Pouches Reviews