KeySmart Key Organizer Pro Review
The KeySmart Key Organizer Pro is full of features—you can even sync it to an app to ensure you never lose your keys again—but it can be frustrating to use.
Our Verdict
Unlock the Pro Summary
Save time. Get access to brief summaries of our reviews so you can browse and make decisions more efficiently.
Pros
Will help you find your missing keys
Will help you find your phone
LED light comes in handy
Cons
Plastic doesn't feel durable
Yet another thing to charge
Thicker, less sleek than the original
Recent Pack Hacker Video
Technical Details
Weight (oz)

.9 oz (25.5 g)

Dimensions

.75 in x 3.7 in x .5 in (1.9 x 9.4 x 1.3 cm)

Notable Materials

Plastic

Manufacturing Country

United States
Full Review
If "sorry I'm late, I lost my keys" is something you find yourself saying on the regular, the KeySmart Key Organizer Pro with Tile™ Smart Location may be a lifesaver.
All you have to do is pull up the app, click the green "find" button and the organizer will ring. Plus, there's a nifty graphic with circles that will grow or shrink depending on how close or far your keys are respectively. Not only is this helpful, but it's a fun, surprisingly-entertaining game (watch out, Netflix).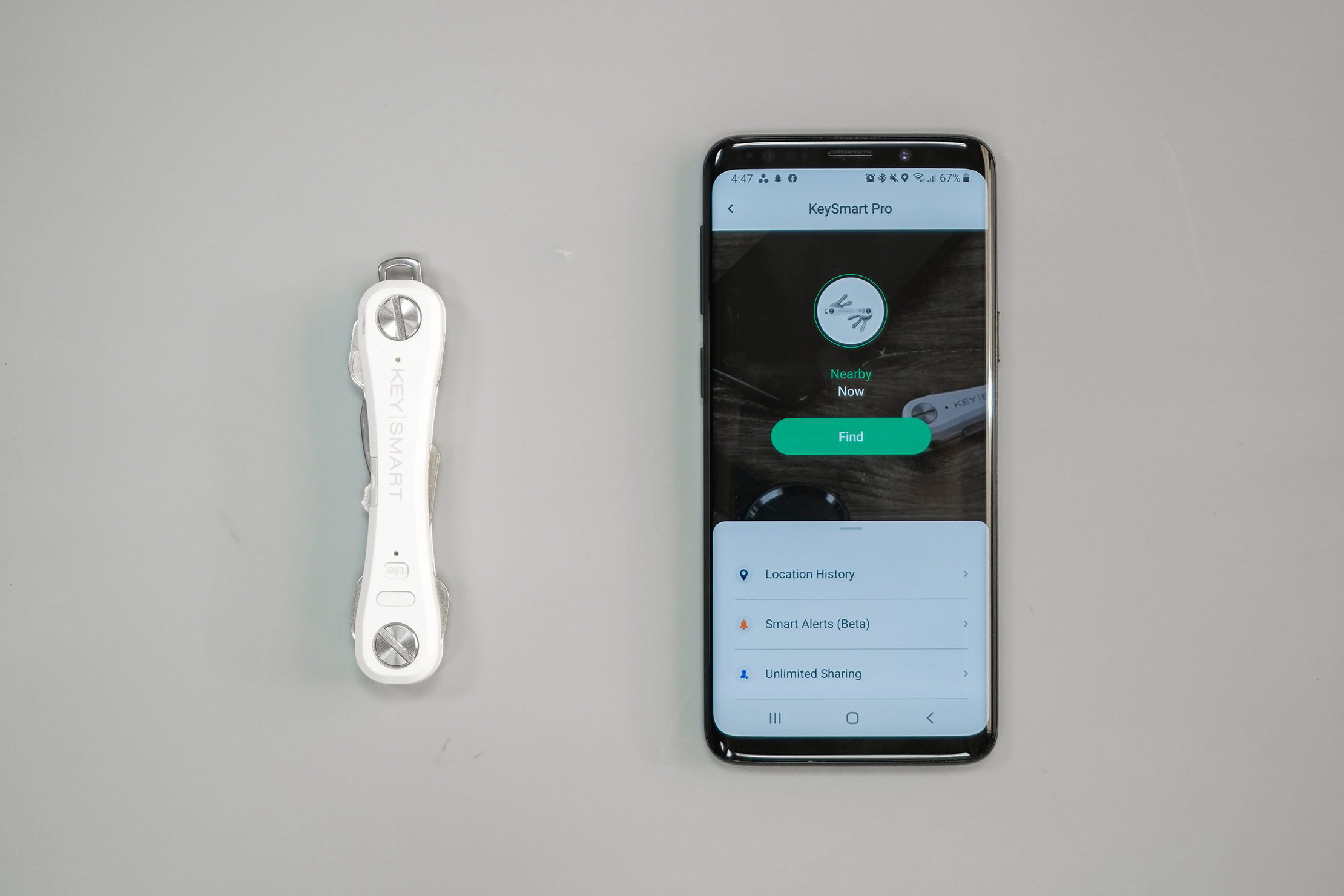 Plus, like the Original KeySmart Key Organizer, it does a solid job keeping your keys tidy.
All of that said, if you don't often lose your keys, you're probably better off with the Original Key Organizer. Some of the features on the Pro are more annoying than handy. Let's take a look.
Features & Usage
We already discussed the fun game of hot and cold you can play with the key organizer and the Tile app. But all is not lost if you've forgotten to charge the key organizer's battery. The app will show you the last place your keys were (that it has a history for), which should help nudge you in the right direction.
It also works in reverse. If you have your keys, but your phone is long gone, you can press the Tile button on your organizer to make your phone ring. It'll even ring if your phone is set to silent, which is a handy feature. We can't be the only ones who have been totally screwed with a lost phone set to silent (so many hours wasted).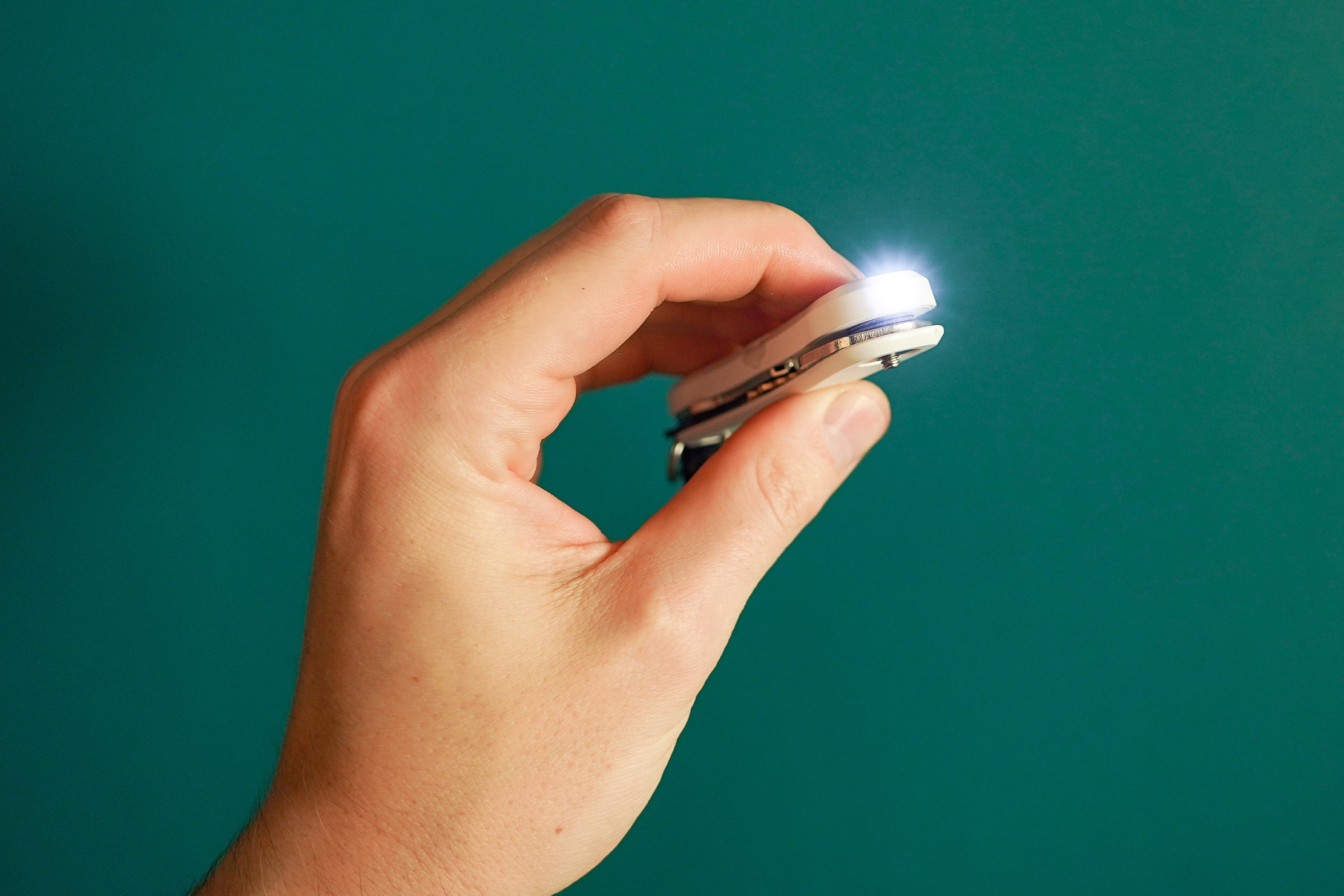 The KeySmart Pro also comes with a bright LED light, which is our favorite feature. It's super useful when you're unlocking your Airbnb door late at night, illuminating the lock so you don't spend a few minutes scratching up the deadbolt as you blindly search for the right place to slide your key into. And we like that the light automatically shuts off after ten seconds as to not drain the battery.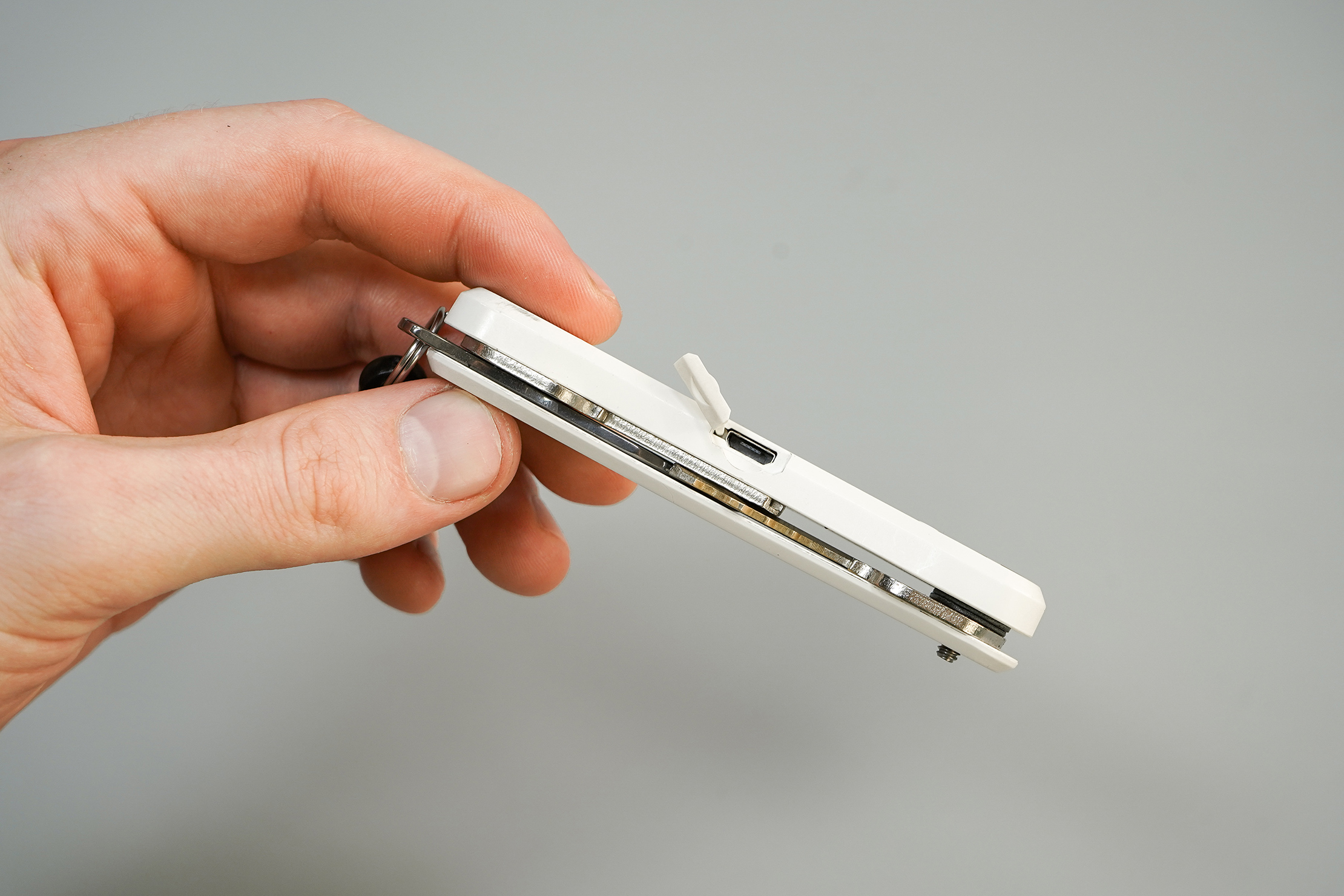 Speaking of the battery—we have to admit how annoying it is to have yet another thing to charge. (Let's take a moment to soak in how futuristic "I have to charge my keys" sounds. The people of the 1800s would have their minds blown). But seriously, what's next? A chargeable wallet?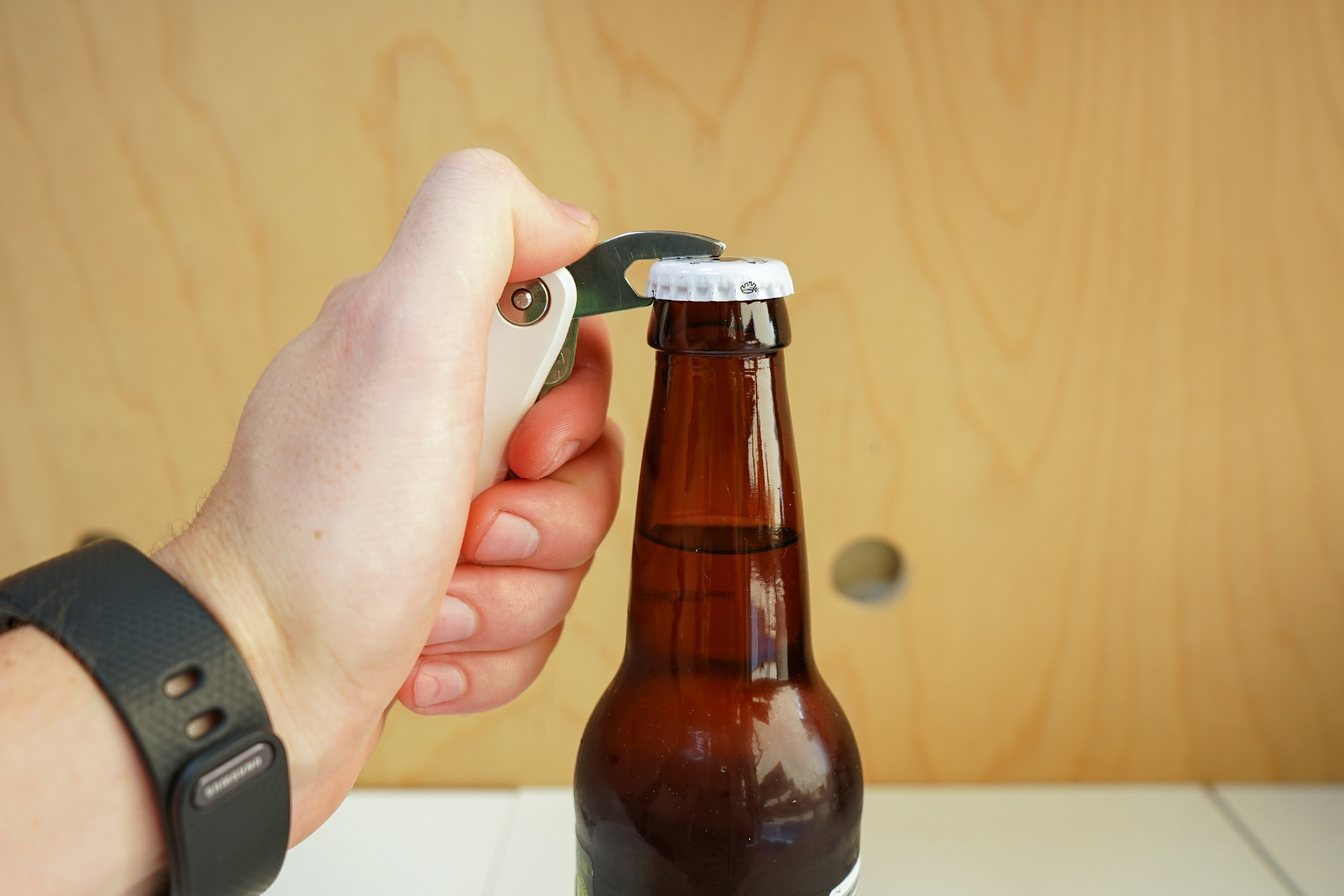 Anyway, a small bottle opener is also included with the KeySmart Pro. We're huge fans of bottle openers here at Pack Hacker—for obvious reasons—but we're disappointed with this one. It's designed in such a way that it doesn't open far enough for you to get any leverage. Plus, it feels flimsy and gets in the way while you're using your keys. It'll get the job done in a pinch, but we'd rather do without.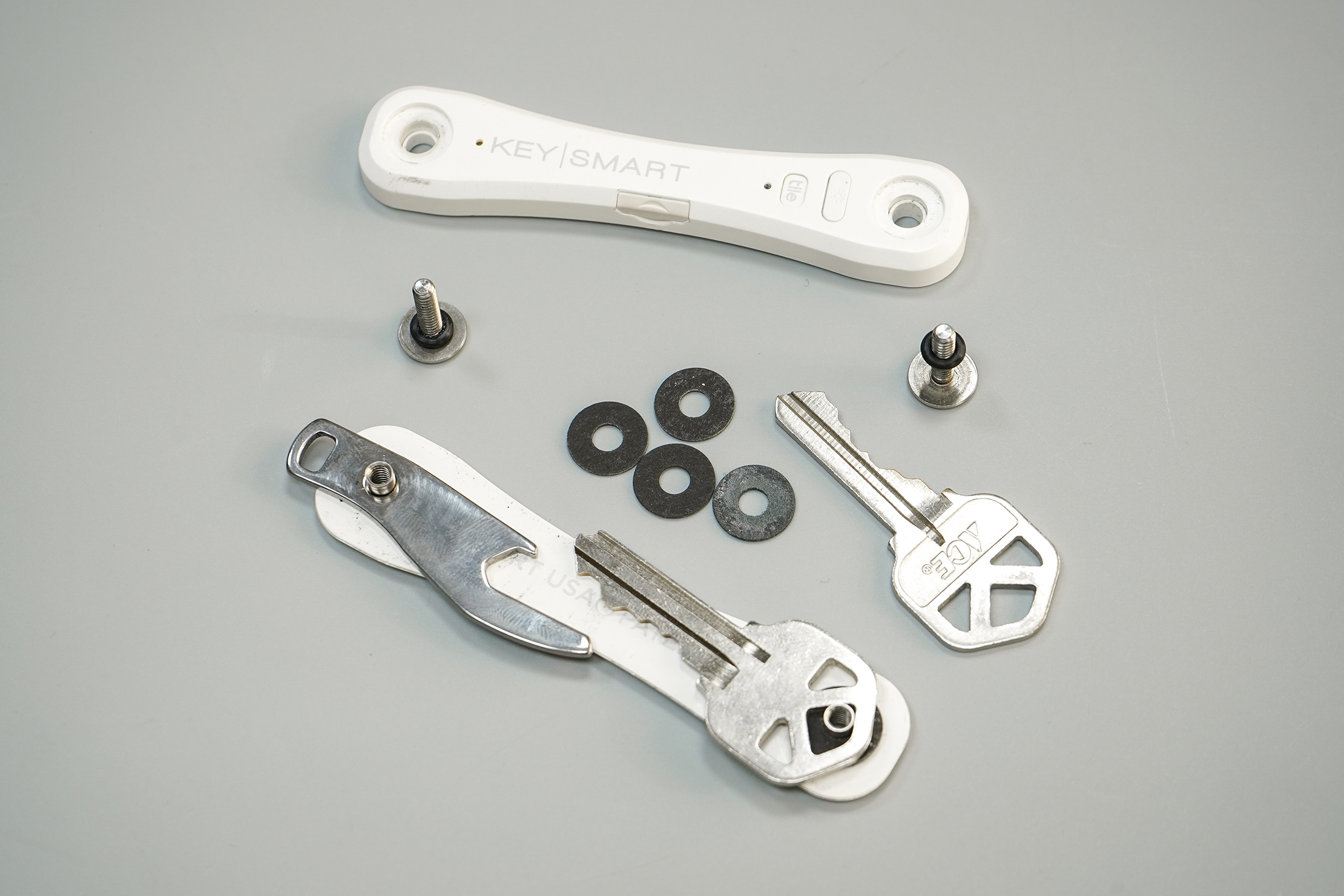 The last feature worth discussing is the organization this key organizer offers, eliminating the bulky, unruly, regular keychains of yesteryear. Instead of attaching your keys to a keyring, you tuck them inside of a thin, lightweight case. You stack your keys inside—you can fit up to eight—and it'll keep your keys compact and out of your way. It prevents your keys from jingling or damaging any of your delicate items. Plus, it'll easily slide into your pocket.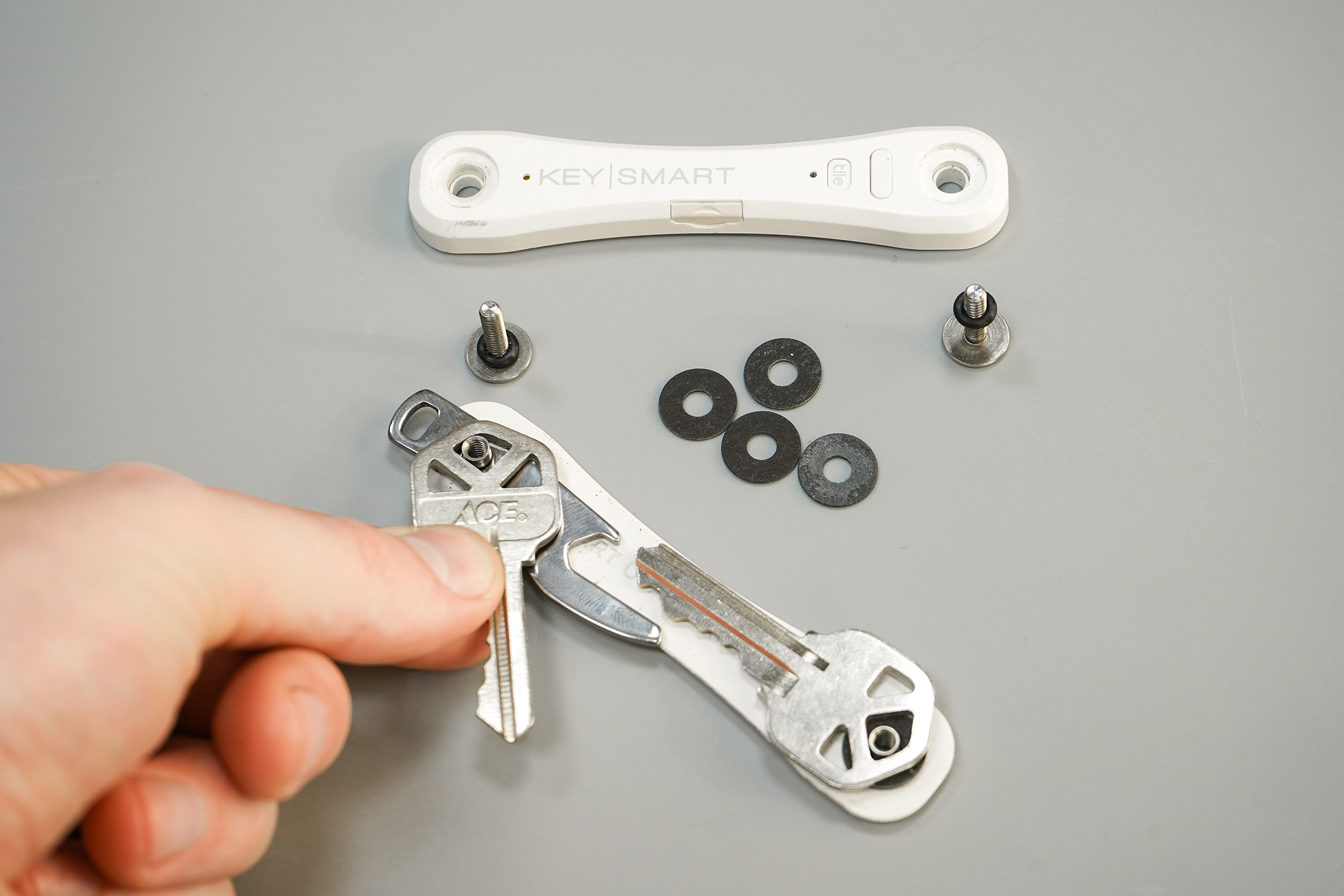 Unlike the Original, the Pro is made of plastic (the Original is made of aluminum). The plastic doesn't feel as sleek or durable. Plus, it's a lot thicker. It only cuts down on the bulk of your keychain if you carry five or more keys with you. Whereas, we suggest the Original even if you only carry two keys with you.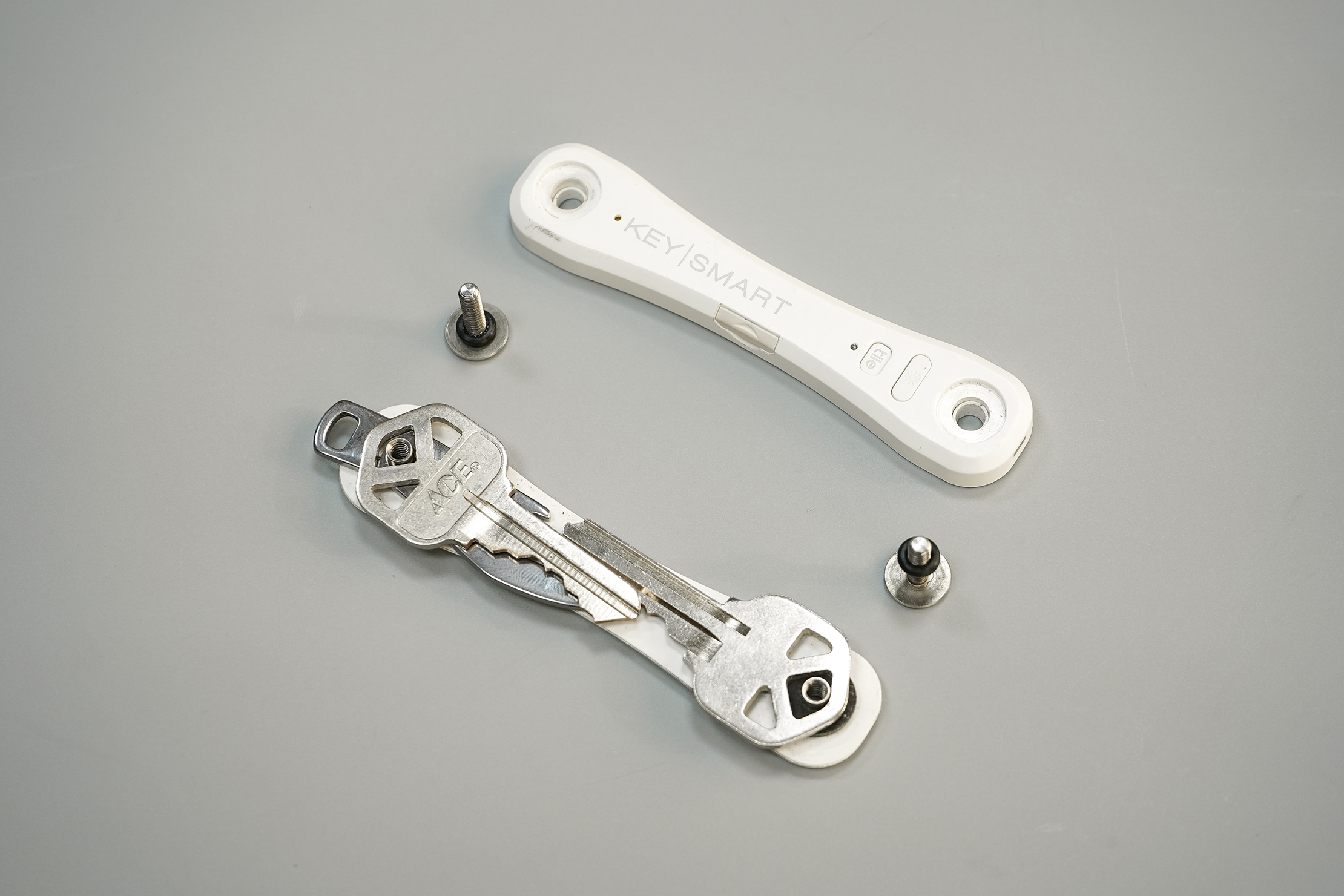 It comes with small disc spacers so you can make your keys more uniform. You can also decide how tight you want the case to be. If you tighten the screw, your keys will be stiff and secured, but slightly more cumbersome to use. If you keep the screw loose, it'll be easier to access your keys, but they're more likely to accidentally flick out.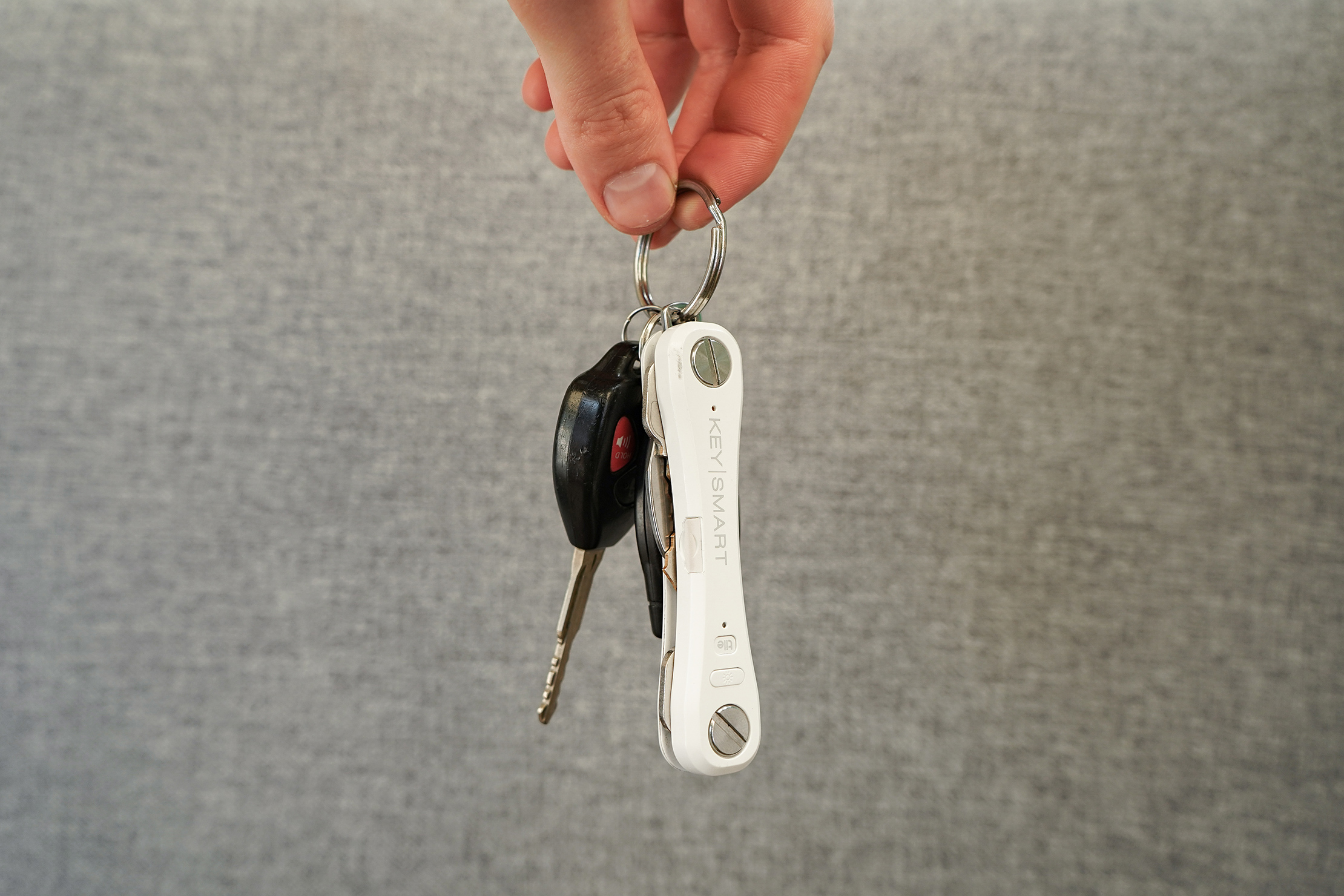 Not all keys can fit inside the case, which is why there's a small loop where you can attach fobs, car keys, or bike keys. We've opted for the additional Magconnect, which is a magnetic keychain designed so you can easily detach your extra keys. Say you're headed to the bars and plan to take public transportation. It's helpful to be able to snap your car keys off and leave them at home without having to twist off an entire keyring.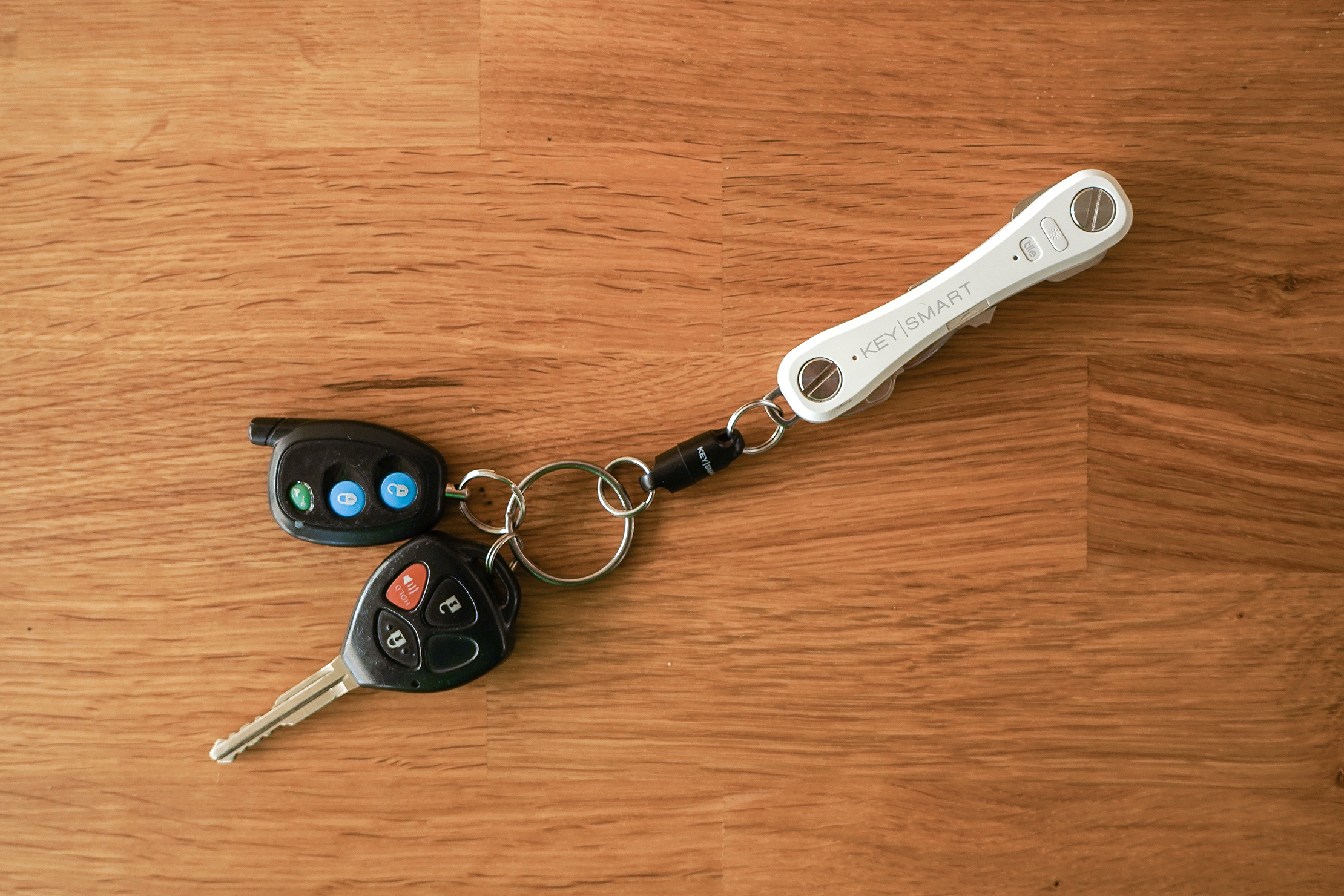 That said, we don't recommend the Magconnect. It easily comes apart with the smallest bit of jostling, which is obviously not ideal. It'd be a huge pain to realize it popped off at some point without you noticing, taking your car keys with it.
Durability & Testing
We've been testing the KeySmart Key Organizer Pro for three weeks around Detroit, Michigan. To be blunt, it's not been going all that well. We don't have any durability issues to report, but using it in the real world is frustrating.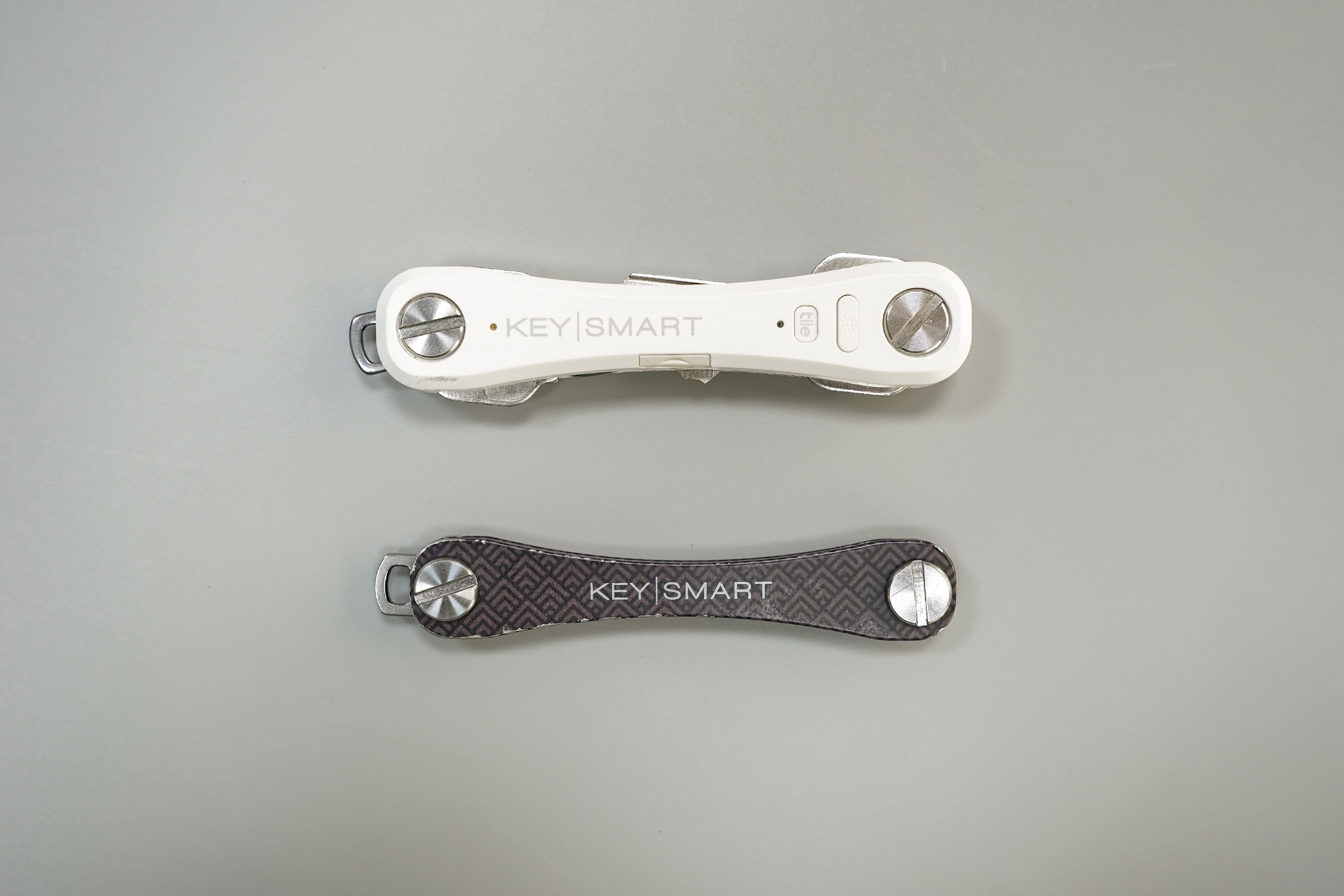 The features—particularly the bottle opener—tend to be more annoying than convenient. And we wish the body of the organizer was less bulky and more streamlined.
For us, the Original KeySmart Key Organizer is a better option. It's simple, minimal, and does its job well. But if you're always losing your keys then you may think the tradeoffs are worth it.
Usage Timeline
Initial Usage
Condition: Excellent
Great compact organizer for keys
Built in Tile to find your keys with your phone and find your phone with your keys
Built in flashlight pointing the same direction as keys really helps with locks in the dark
2 Weeks of Use
Condition: Excellent
Some handy features, but pretty frustrating to use in the real world.
Access the Pro Community Discussion
Get your questions about the KeySmart Key Organizer Pro answered from our team and the Pro Community right here on the page. Plus, join discussions with other members about gear, guides, and more.
Other Miscellaneous Reviews