Gravel Soft 3oz Liquid Bottles Review
Gravel's Soft 3oz Liquid Bottles pair a stackable form factor with durable materials, making them a great addition to your Dopp kit for any type of travel.
Our Verdict
Unlock the Pro Summary
Save time. Get access to brief summaries of our reviews so you can browse and make decisions more efficiently.
Pros
3 oz, just under the largest size allowed on most flights
Cap stays secure even under pressure
Stackable design
Cons
Can be difficult to clean
Only one blank window to write in your own title
Just one size, a little large for some toiletries
Recent Pack Hacker Video
Technical Details
Capacity

3oz

Per bottle

Weight (oz)

1.38 oz (39.1 g)

Per bottle

Dimensions

3.75 in x 2 in x 1.5 in (9.5 x 5.1 x 3.8 cm)

Both bottles packed into a square

Notable Materials

Silicone, Plastic

Manufacturing Country

China

Warranty Information
Buying Options
$14.00
$14.00
Full Review
Get up to 15% off Gravel • Join Pack Hacker Pro
On paper, the Gravel Soft 3oz Liquid Bottles are the perfect size for minimalistic travel and have a simple modular design. This landed them a spot on the second iteration of our Digital Nomad Packing List, which focuses on light products that are highly functional.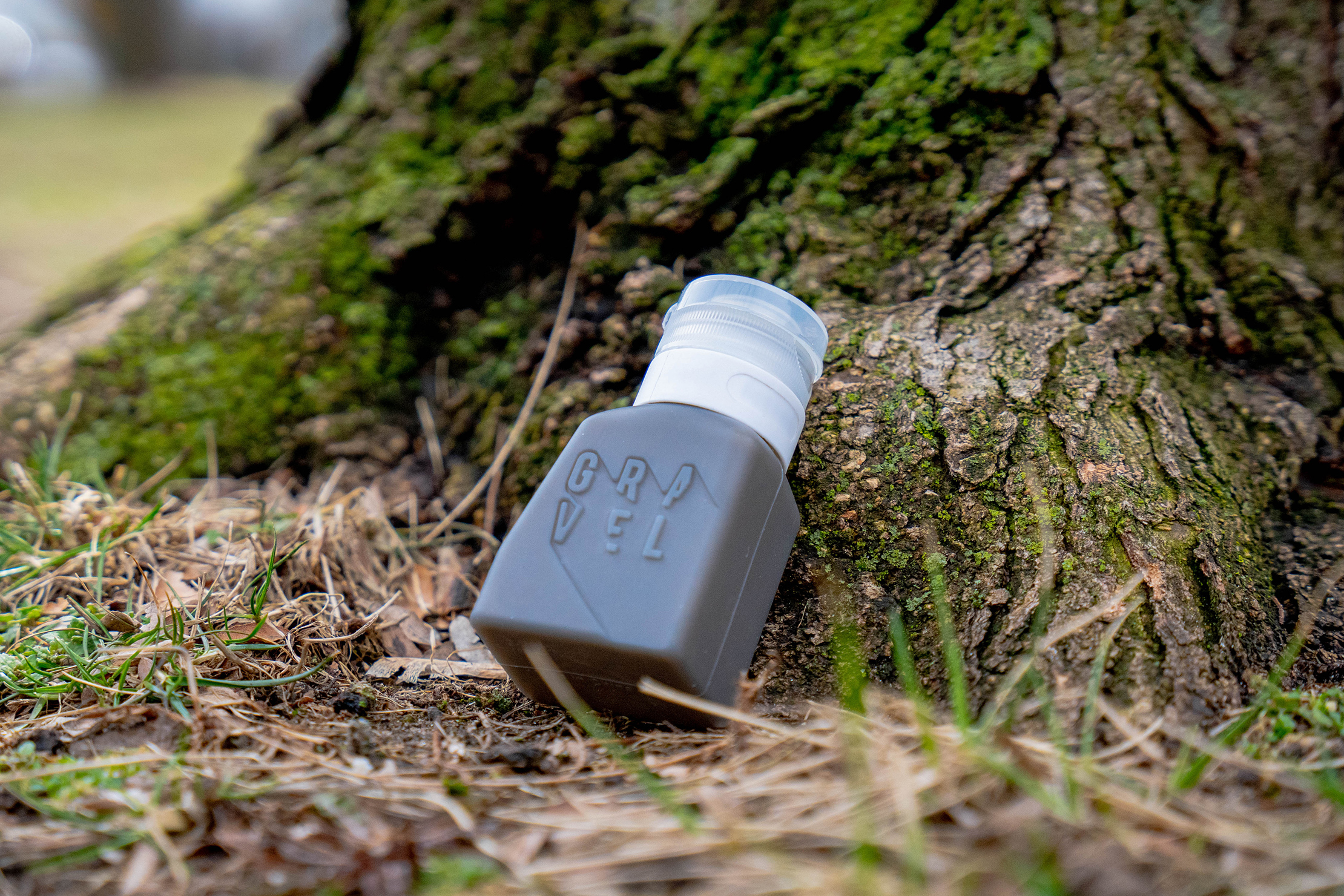 In true Pack Hacker fashion, we decided we needed to dive even furter into these bottles, and see how they performed over two weeks. Let's see if they live up to our expectations!
Materials & Aesthetic
These toiletry bottles are crafted from silicone and plastic. We'll dive into each of the materials shortly, but overall we're quite happy with the durability that we see in all areas of their construction. They aren't meant to be out in the elements, but the hardness of the plastic and thickness of the silicone allow them to go places other toiletry bottles might not.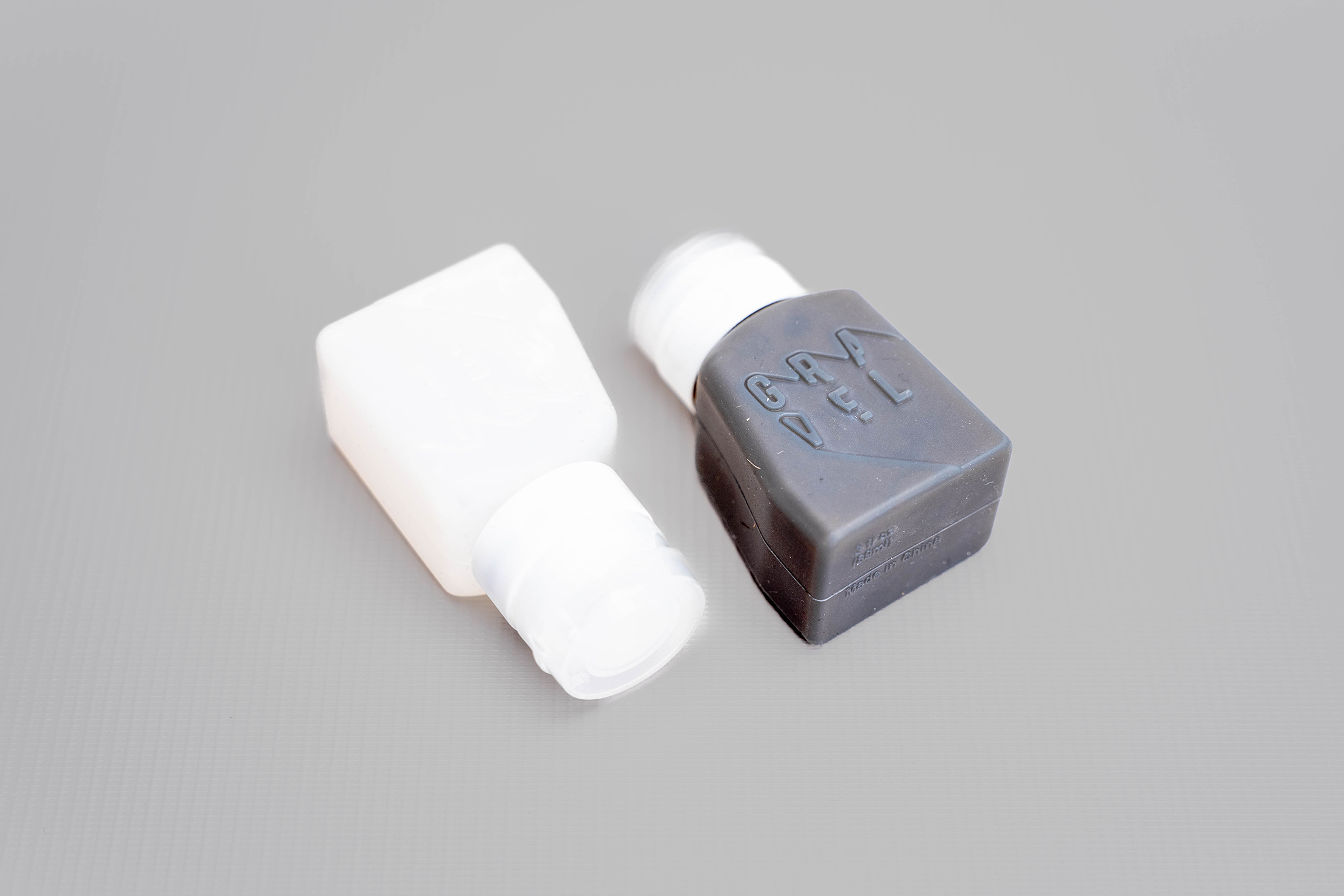 These bottles come in sets of two, and the ones we have on hand are Grey and Clear. At the time of writing, Gravel only has Speckled Clear and Speckled Grey options available. Although we don't have them on hand, we dig the speckles because it adds a little texture to the exterior. We like the plain grey and clear models, but the speckles add a little spice.
The logo on the exterior is imprinted onto the silicone and doesn't differ in color compared to the rest of the bottle. It's very minimalistic and is difficult to see from afar, but feels nice in the palm of your hand.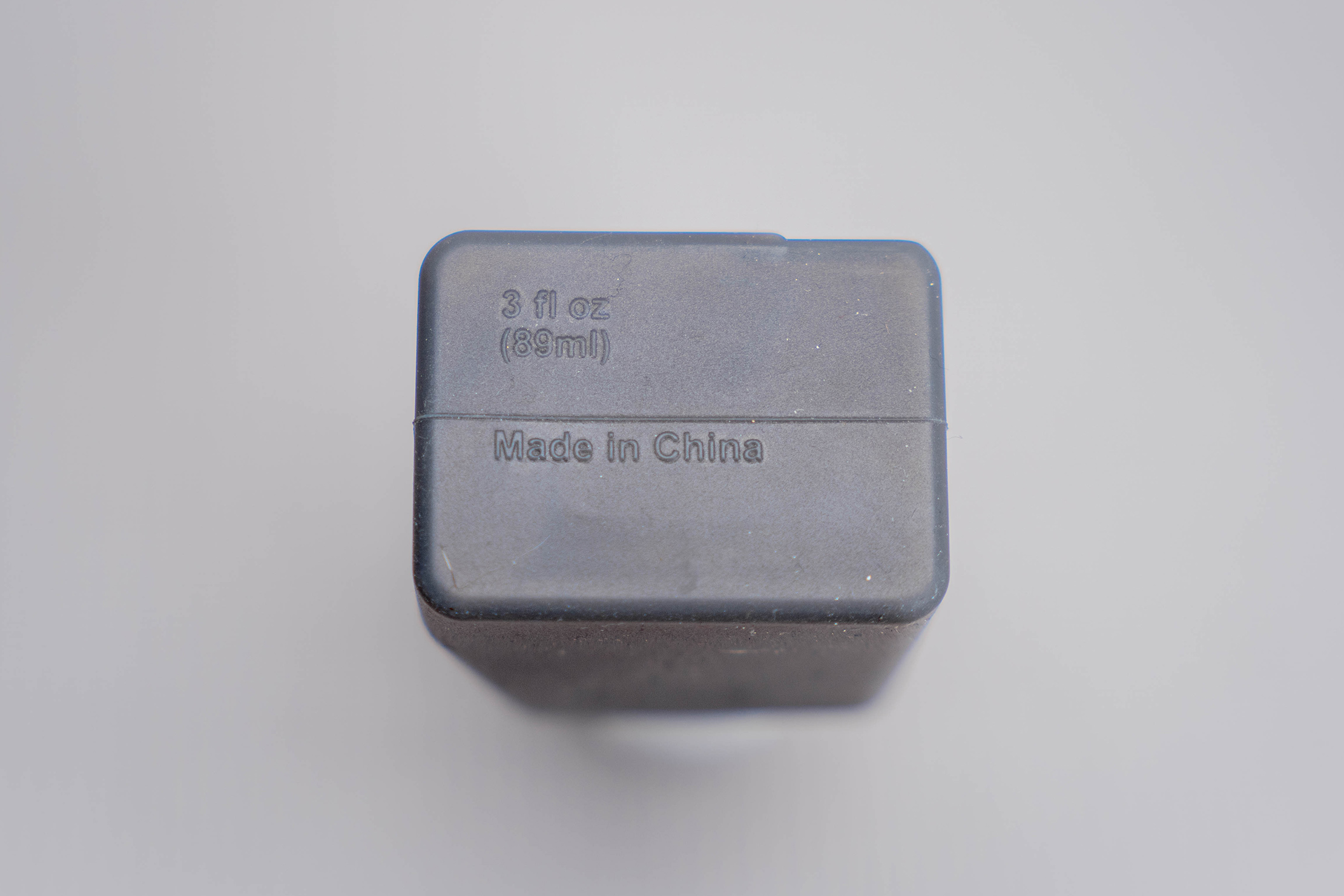 The bottom of the bottles has "3 fl oz" alongside "Made in China" imprinted, which is handy for the security line at the airport. If a TSA officer is questioning whether or not your toiletry is more than the legal limit, you can point them directly to the measurement. They also might like to know it's made in China, but that's probably not what they're looking for.
Three pieces come together to allow the bottle to function, so we will go into each of them individually before talking about the usage and features altogether.
The main part made with silicone. As we mentioned about the logo, it feels nice in your hand and has an inherent softness, almost like a stretchy workout band. The silicone holds whatever liquid you are storing, and it has enough give to squeeze nicely. When it starts to get empty, it can be hard to get the last bit of goop out of the corners, but it's manageable with a little elbow grease.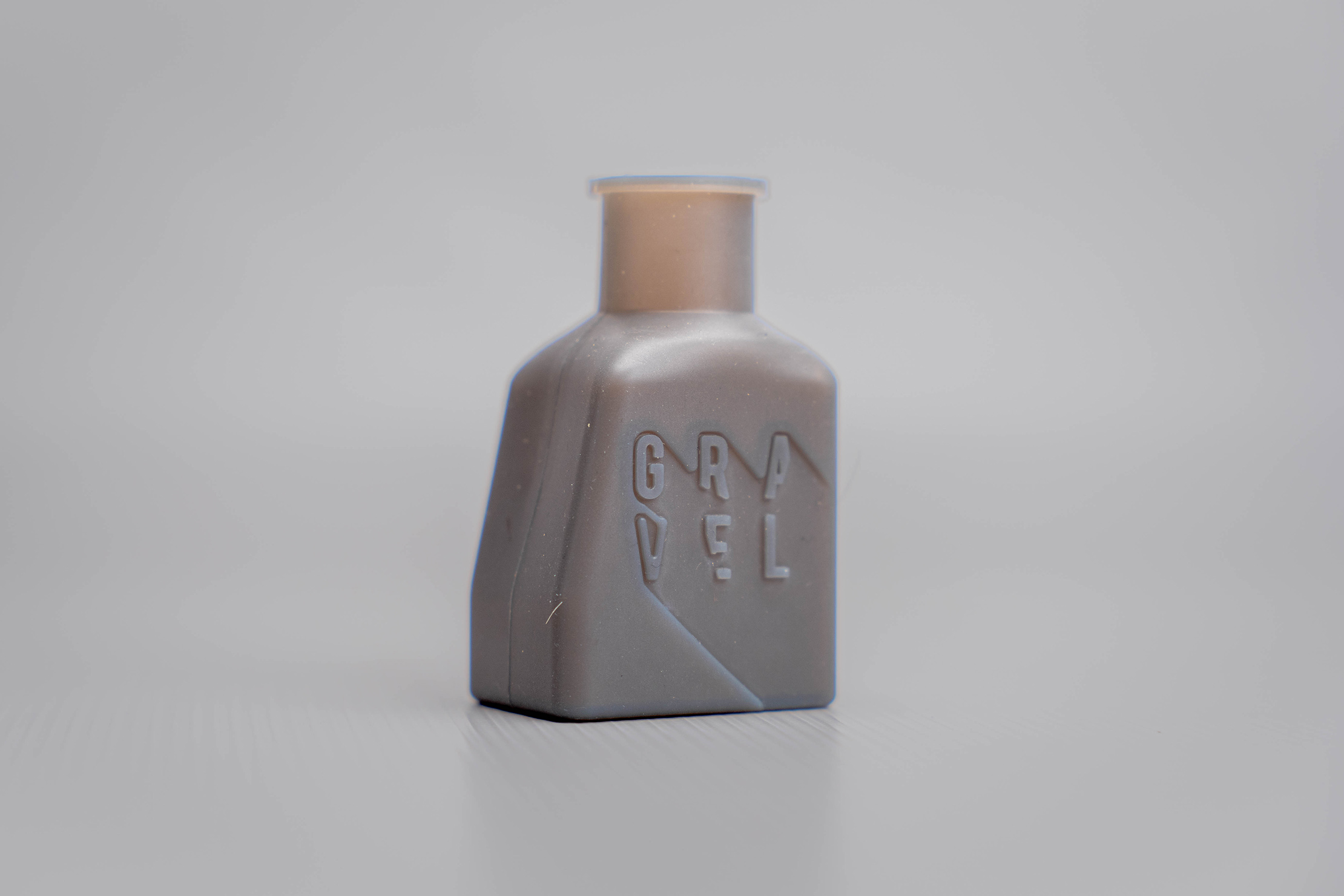 When it comes to cleaning, we see similar issues with the corners. It can be hard to get all the product out, but we found the best way to accomplish a full clean is to get your fingers in there to wipe it out. This might not be the most civilized way to do it, but in our trials and tribulations with paper towels, sponges, and brushes, our finger was the best and most versatile way to clean the bottle.
When compared to the humangear GoToob, the Gravel bottles were a bit harder to clean due to the corners. Although they're harder to clear out, they fit together much nicer and slot into a toiletry bag better, too. The rounded edges of the GoToob waste space when in the corner of your toiletry bag, whereas the Gravel bottles can slide nicely into them, given the angle isn't too acute.
The top of the silicone has a little lip on it, which is where the next piece attaches. It's crafted from plastic and reminds us of a washer or a nut for a screw. You have to manipulate the silicone a little, but the lip snaps over the top of the hard plastic washer pretty easily. It has a male screw thread, which is how the final piece attaches, but we aren't ready to dive into that yet.

The washer piece has a little window that displays what's inside the bottle. There are plastic tabs on a fixed wheel inside the washer, which can be spun to change what's displayed within the window. There's shamp. (shampoo), sun (sunscreen), cond. (conditioner), lotion (don't eat this), soap (probably not this, either), and an empty window you can leave it blank or write your own in.
The last piece is a simple hard plastic topper that we have come to affectionately call the "squeezer." Believe it or not, this piece doesn't squeeze anything, but it is where the contents will come out when you squeeze the silicone.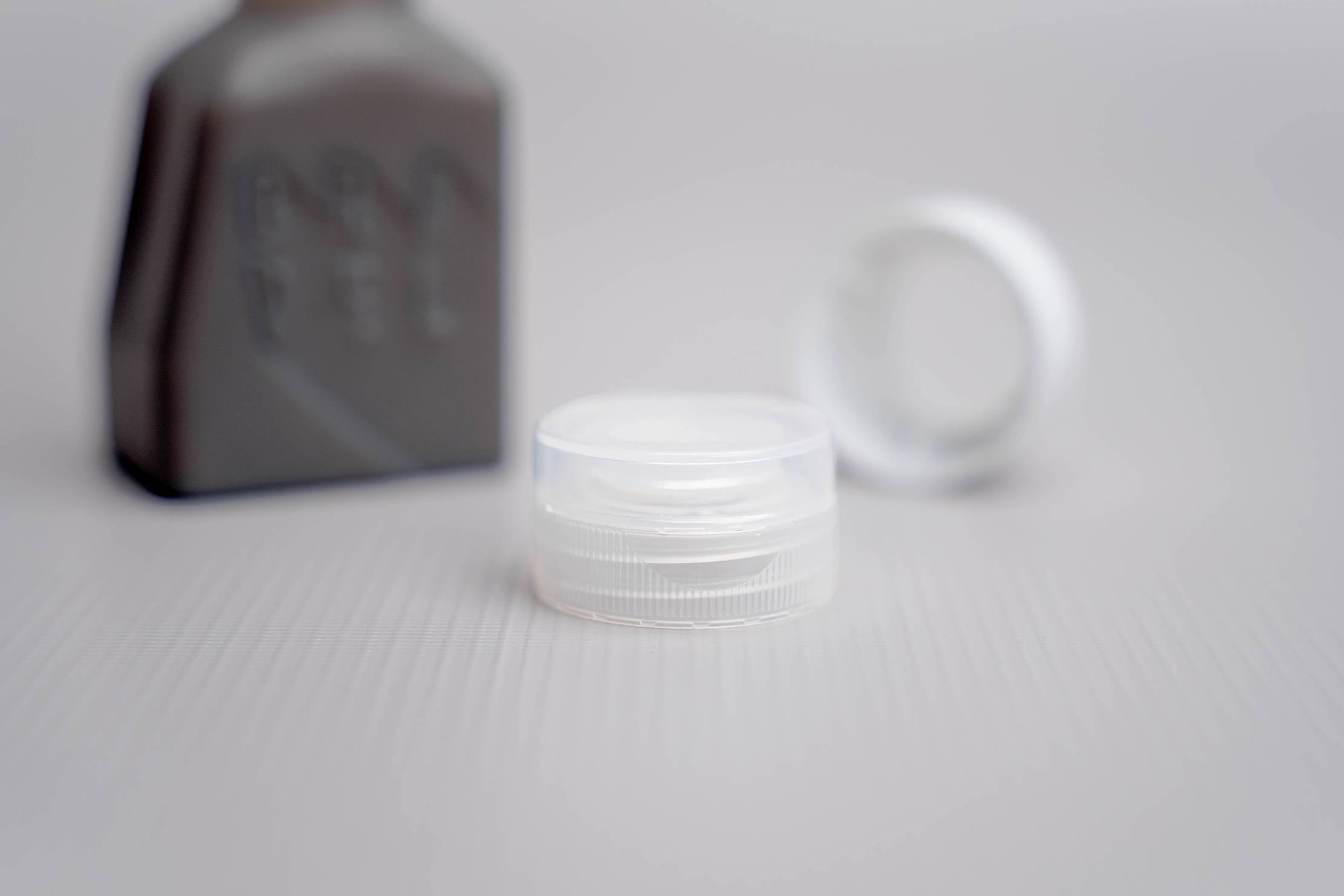 The squeezer has a female screw thread to attach to the washer piece. The cap snaps off reasonably quickly, but not easy enough to worry that it will come open in transit.
The opening is a thin layer of silicone with a slit in it. It doesn't let too much out at a time but isn't hard to manipulate when squeezing, which we dig. There isn't much worse than a toiletry bottle that is super hard to squeeze or lets far too much out at a time. In the wise words of Goldilocks, the amount the squeezer lets out is "just right."
Usage & Features
As we mentioned before, these bottles come in packs of two at the time of writing. This is because they slot together nicely. They are identical shapes, but the logo is on opposite sides of the bottle. This is because they fit together inversely, for lack of a better term, with one standing up straight and another upside-down.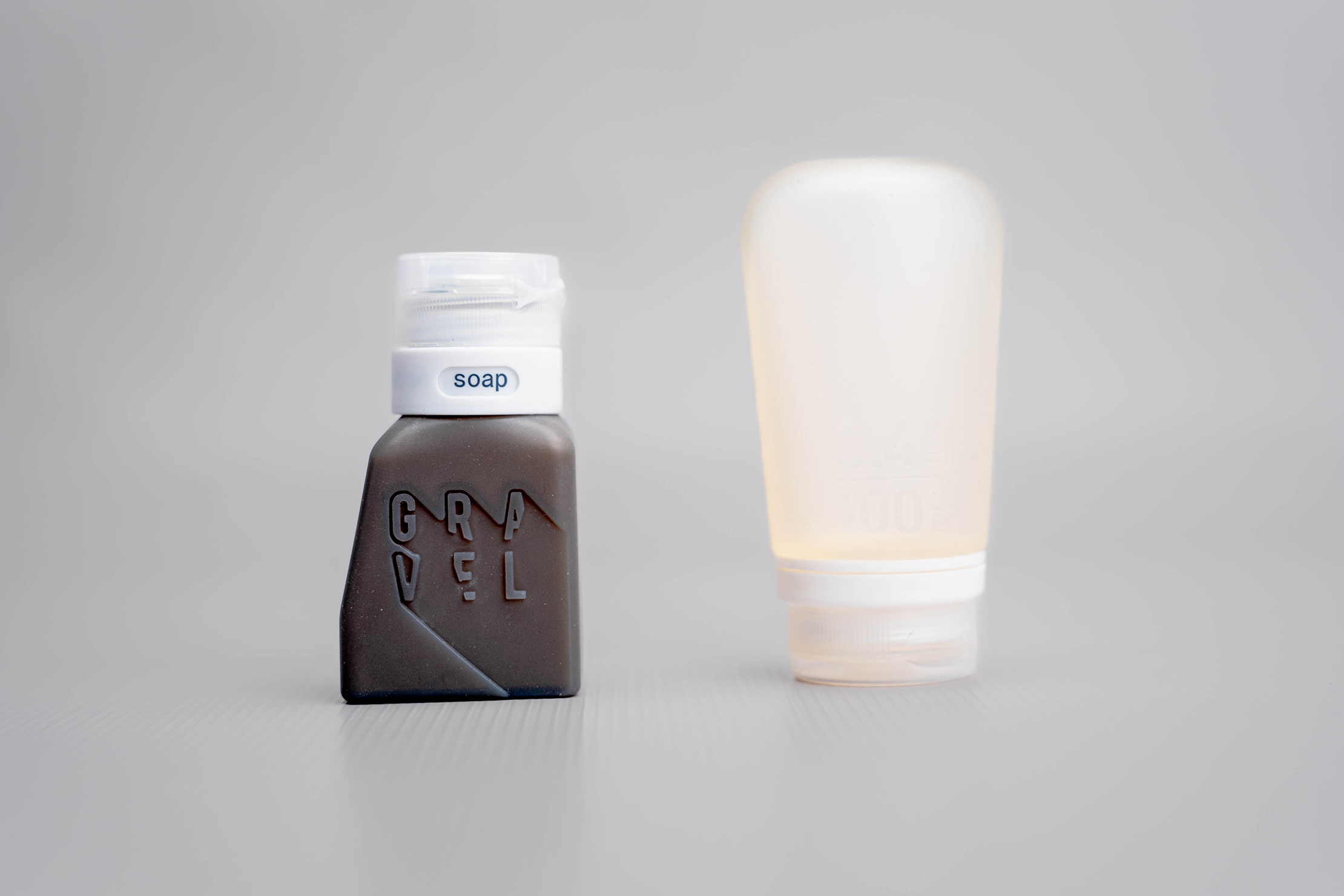 Once together, the Gravel bottles resemble a brick and slides nicely into a toiletry bag or loose, so long as whatever the container is doesn't have too rounded edges. Each bottle is a quadrilateral prism, so it doesn't fit nicely against a rounded surface even with its rounded corners.
We're big fans of being able to tell our bottles apart, both by color and with the windows. If you only have two bottles, it's pretty easy to keep things straight, but it can be tricky to discern one from the other with four or six, especially if you have product that looks, or smells, similarly to other goop.
Another aspect of the Gravel bottles is that the top stays on very tightly so as long as everything is assembled correctly, the top should stay on in transit. We tried pulling on the top at varying strength levels to test this, and it takes a lot of gusto to get the lid off. We think this is far more than it would ever be pulled inside a toiletry bag inside your pack, but we don't know how you, or your toiletry bag, roll.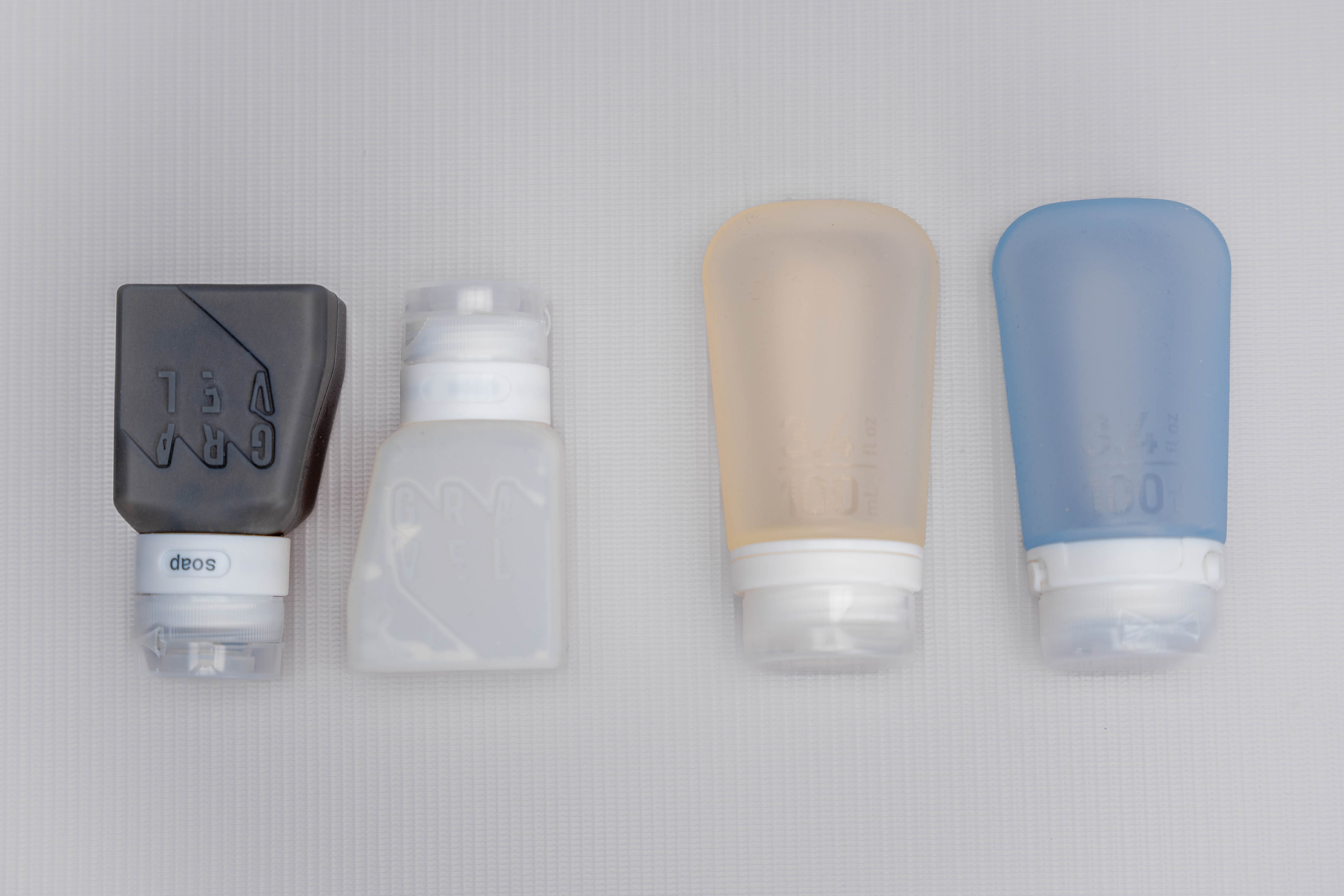 Overall, we love using the Gravel Soft 3oz Liquid Bottles, and that's saying something. It isn't a travel item you're supposed to enjoy using, but these things are fun. In addition to being a joy to use, they're useful and fit into a toiletry pack nicely.
We are excited to see how Gravel expands this product line in the future, especially if they accept our suggestion of adding a "PB" as a window option. We'll let you figure out what that stands for!
Usage Timeline
Initial Usage
Condition: Excellent
Perfect for carry-on tolietries
Built-in label twists and can be be cycled through six different words
Uniquely shaped so they can be packed next to each other into a square for no wasted space
2 Weeks of Use
Condition: Excellent
Parts don't come apart when you don't want them to
Hard plastic remains in good shape
Fairly difficult to clean
Access the Pro Community Discussion
Get your questions about the Gravel Soft 3oz Liquid Bottles answered from our team and the Pro Community right here on the page. Plus, join discussions with other members about gear, guides, and more.
Other Organizers & Pouches Reviews