Gravel Explorer PLUS Toiletry Bag Review
The Gravel Explorer PLUS Toiletry Bag has a clever interior layout tucked inside a sleek, water-resistant body—but we're having issues with one of the zippers.
Our Verdict
Unlock the Pro Summary
Save time. Get access to brief summaries of our reviews so you can browse and make decisions more efficiently.
Pros
Comes with a TSA-compliant, removable, water-resistant pouch
Plenty of organization
Hangs up
Cons
Concerns about long term durability
Only available in one colorway
Not ideal for bulky items
Recent Pack Hacker Video
Technical Details
Weight (oz)

12.43 oz (352.4 g)

Dimensions

10 in x 7 in x 3 in (25.4 x 17.8 x 7.6 cm)

Notable Materials

Tarpaulin, Polyester, Thermoplastic Polyurethane (TPU), Thermoplastic Elastomer (TPE)

Manufacturing Country

China

Warranty Information
Full Review
Get up to 15% off Gravel • Join Pack Hacker Pro
Since the dawn of humanity, people have been trying to figure out the best way to travel with toiletries. Okay, that's an obvious exaggeration, but deciding how and where to pack everything you need to keep yourself smelling fresh and looking good while traveling isn't easy.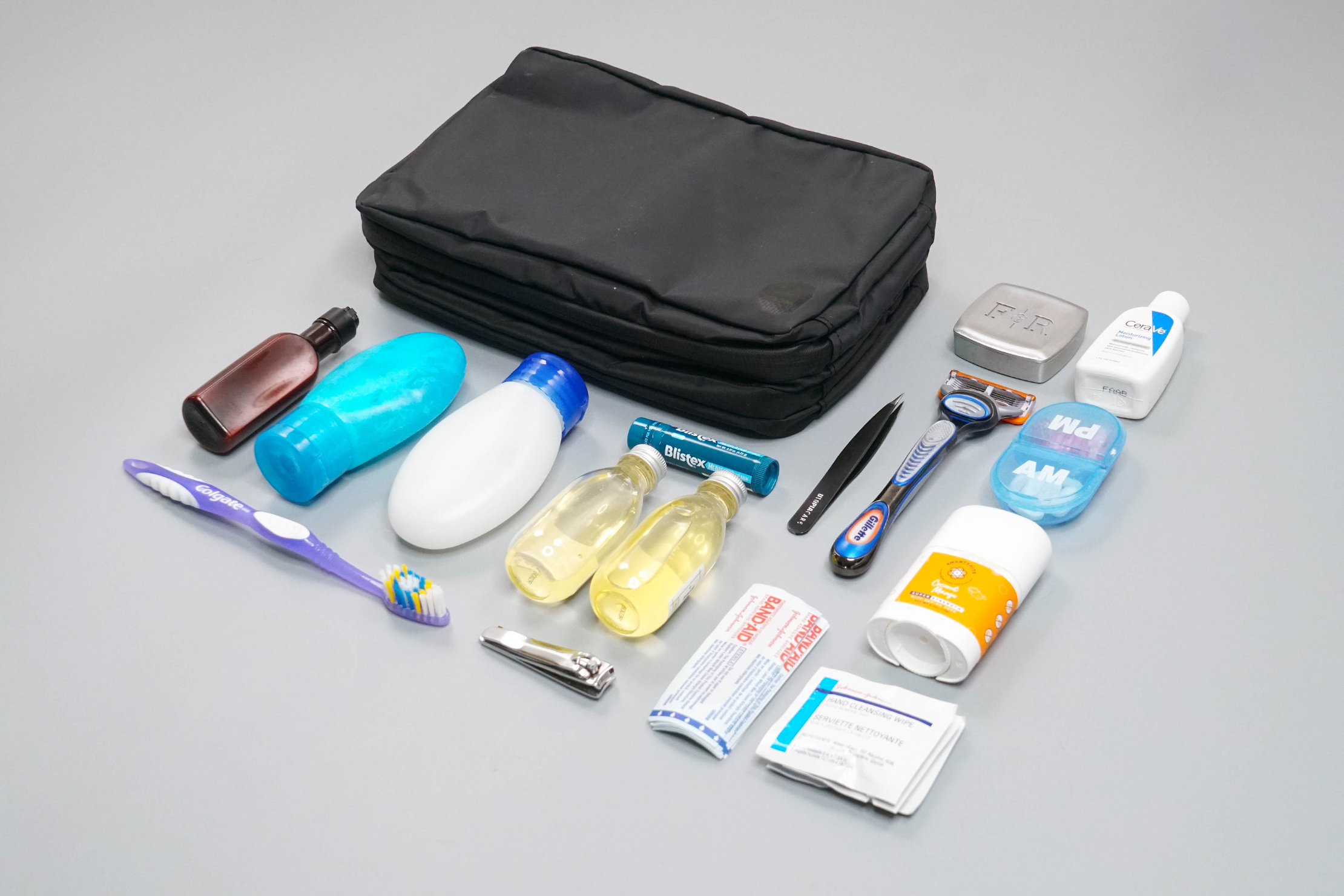 This is why Gravel received upwards of 8,000 backers on Kickstarter to fund the Gravel Explorer PLUS Toiletry Bag. (Gravel also offers a Slim version of the Explorer Toiletry Bag if you have less stuff to pack.)
Now, if you prefer to dump all your toiletries into one big pouch, the Gravel Explorer PLUS Toiletry Bag may is probably not ideal. But if you're looking for a toiletry kit that has a ton of organization tucked into a sleek, water-resistant package, then this bag may be a solid pick.
Let's check it out.
Materials & Aesthetic
We're digging the overall, sleek look of the Gravel Explorer PLUS Toiletry Bag. From the black-on-black logo on the front of the bag to the rubberized black zipper pulls.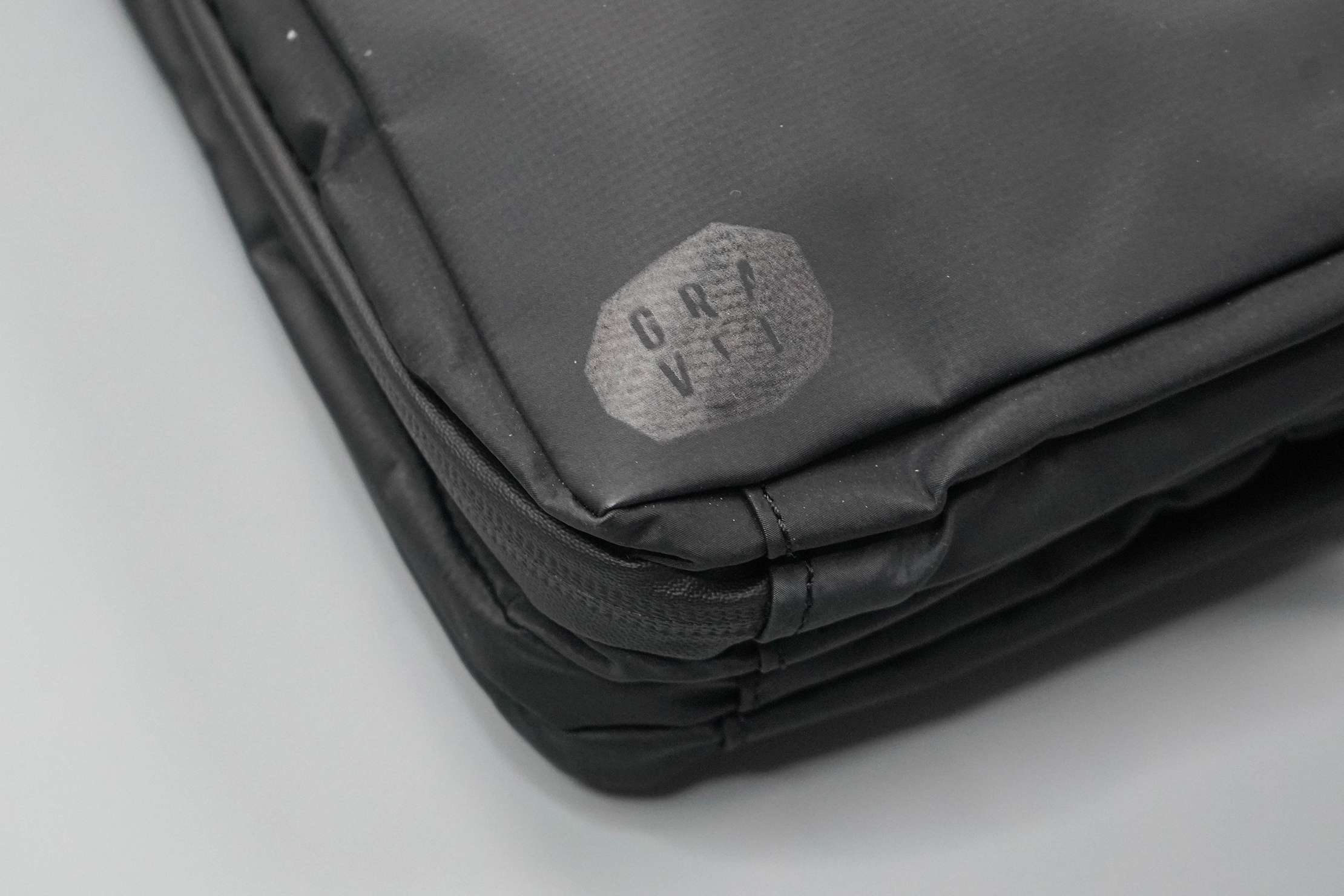 At the time of this review, it's only available in one colorway—black. If you're familiar with us here at Pack Hacker then you'll know that we're fond of black gear (just take a look at our Digital Nomad Packing List). But if you want your toiletry kit to be as vibrantly colorful as your personality, you'll be disappointed with this (lack of) choice.
The shell is made from Tarpaulin PVC, which is durable, although easily susceptible to aesthetic blemishes (i.e. small scuffs). These scuffs don't impact functionality, but if you're the type of person who will be disappointed in some visible wear, this may not be the bag for you.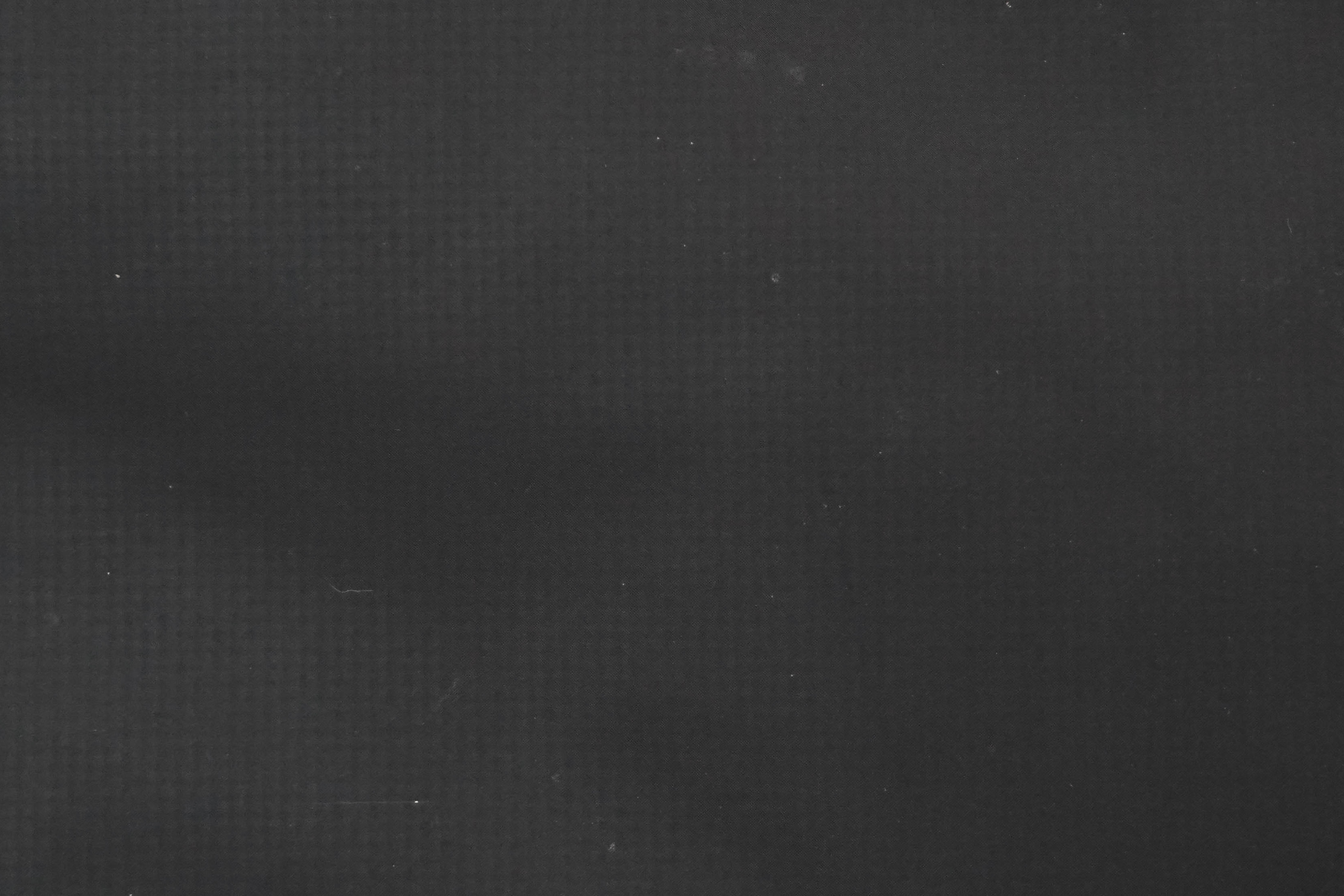 Tarpaulin is also swishy. If you cringed just reading the word swishy, you're probably going to want to opt for another toiletry kit. On a more positive note, tarpaulin is lightweight, easy to wash, and quite water-resistant—a nice touch for a toiletry kit.
The interior lining is made from Thermoplastic Elastomer (TPE), while all the mesh featured inside the bag is made from Poly and PVC. Finally, there are a couple of places that have TPU (Thermoplastic Polyurethane) for more water-resistance.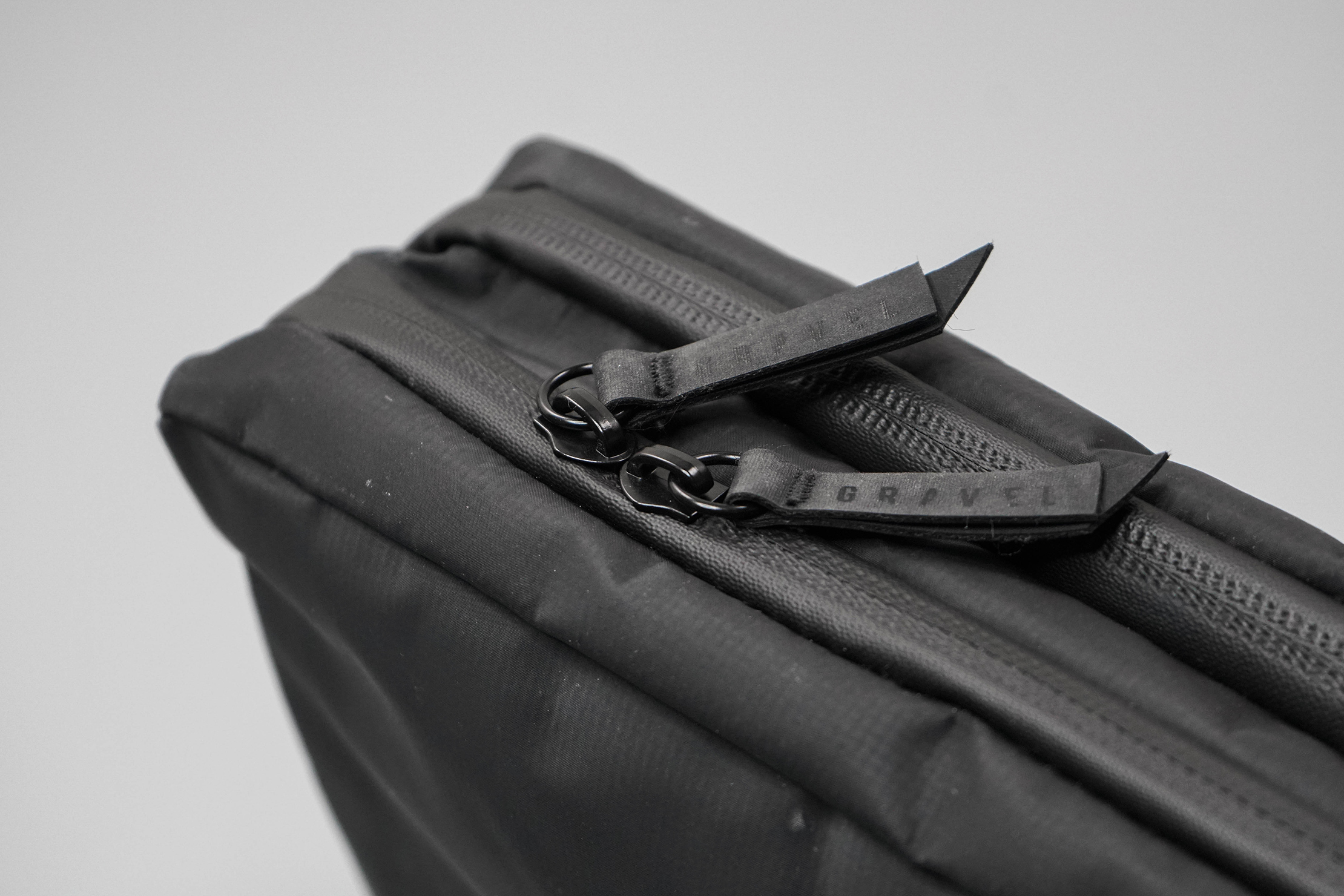 We haven't been able to identify the brand of zippers, which has made us wary…and for good reason. We've already experienced an issue with the zipper of the back compartment, which we'll talk about later on in this review.
Features & Usage
Alright, it's time to open this thing up and take a look inside. The main compartment has a clamshell-style of opening, meaning it opens all the way up (laying flat like a book). This is definitely convenient for access and you can lay it out on a bathroom counter, the top of a toilet tank, or other flat surfaces.
There's a lot of organization going on, which may be a pro or a con depending on your style. Gravel's marketing copy disses giant "catch-all" toiletry bags—you know, the ones where you throw everything into a giant bucket, zip it up, and go. But if you like that type of Dopp kit, all the more power to you (and you also aren't going to love the interior of this bag…you've been forewarned).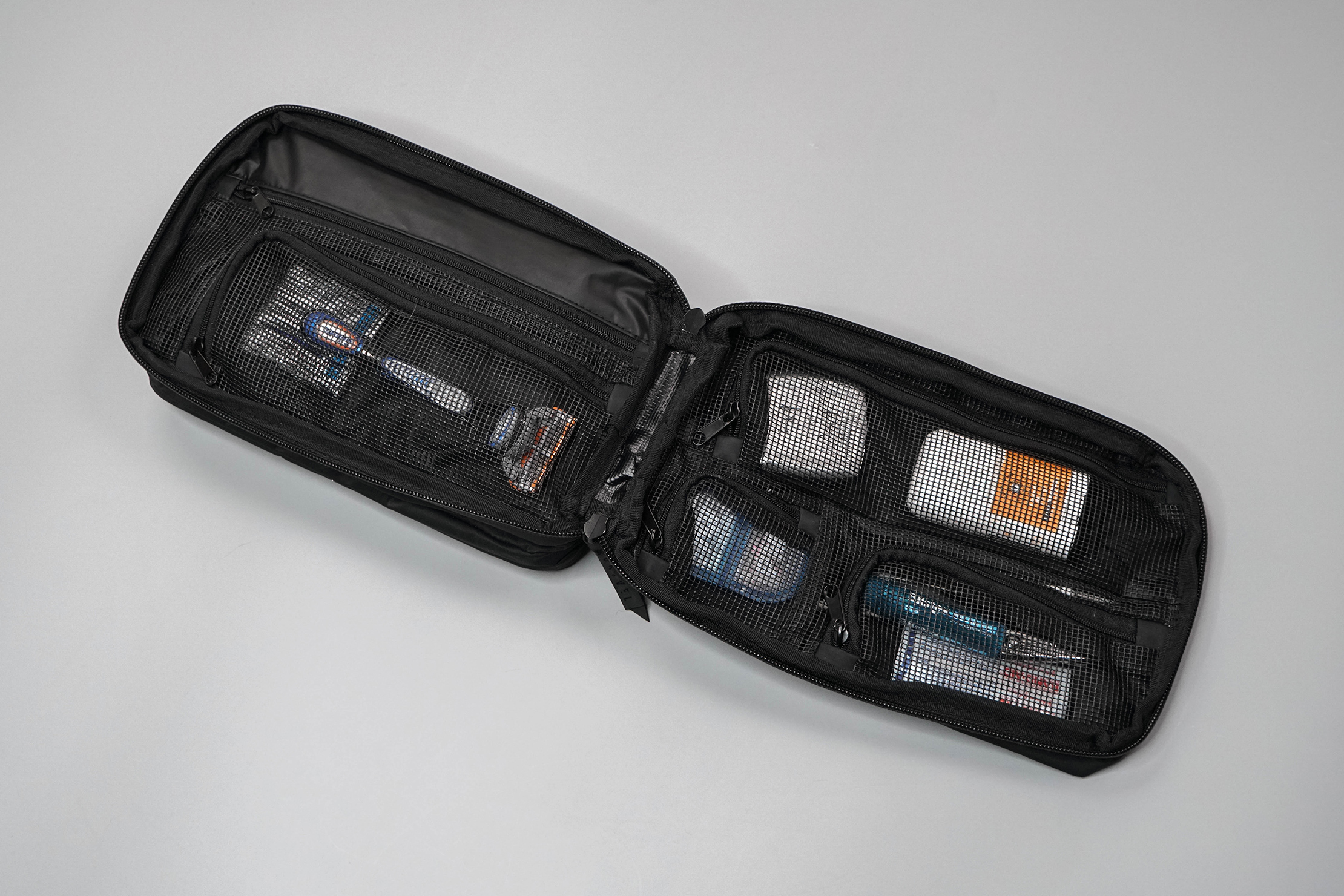 During testing, we've actually enjoyed this organization and being able to compartmentalize all of our stuff. Particularly because most of the pockets have more depth than it seems they would. Most of them are also made from mesh, making it easy to see what's going on (you won't have to go digging for your nail clippers when you desperately need to clip off that hangnail). The mesh feels rubbery (which is good for water-resistance) and is also a little stiff but in a good way.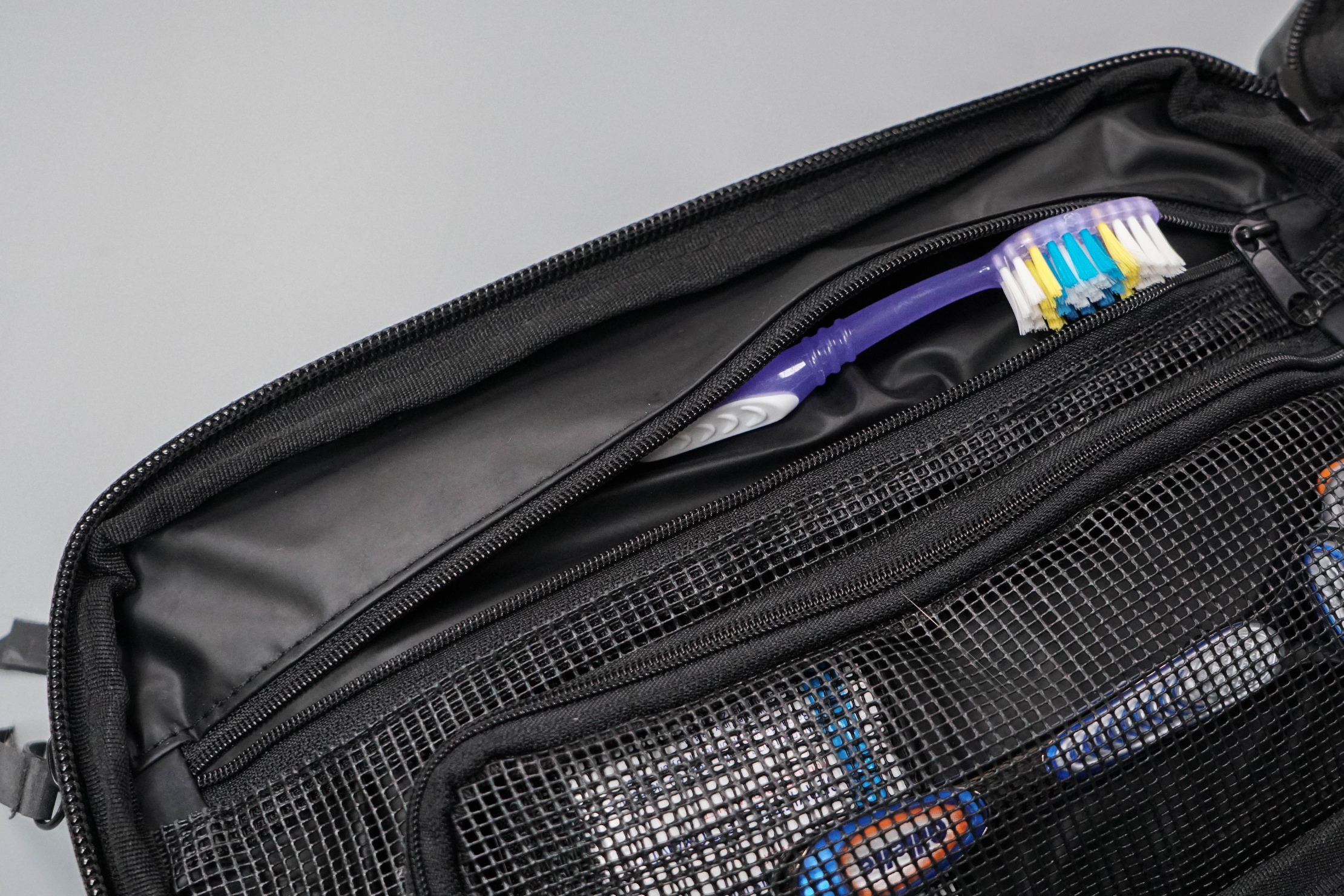 On the left side of the compartment, you'll see the only pocket that is not mesh. The folks at Gravel say this pocket is for your toothbrush (it'll even fit an electric toothbrush) and toothpaste. The pocket is made from waterproof TPU because, as the folks at Gravel say, "no one likes their toothbrush juices getting all over the rest of their stuff." Doesn't "toothbrush juices" paint such a pretty picture? Anyway, you could also use this pocket for other long and skinny items—makeup, a comb, etc. You do you.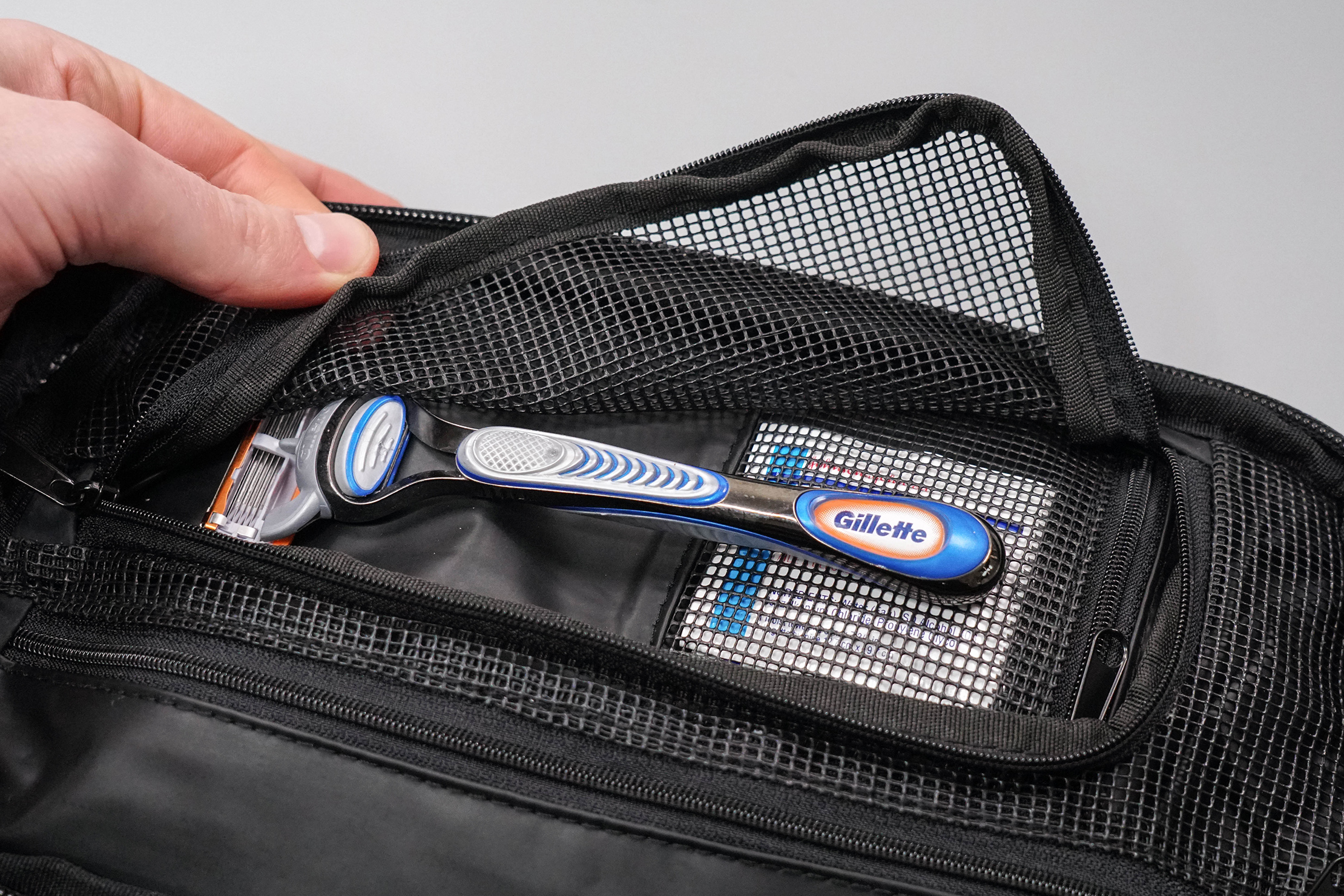 Beneath that pocket is a large, mesh pocket with a curved zippered opening for easy access. The pocket has been specifically designed for electric razors or regular razors and shaving cream. There's actually a good amount of space here for other larger items.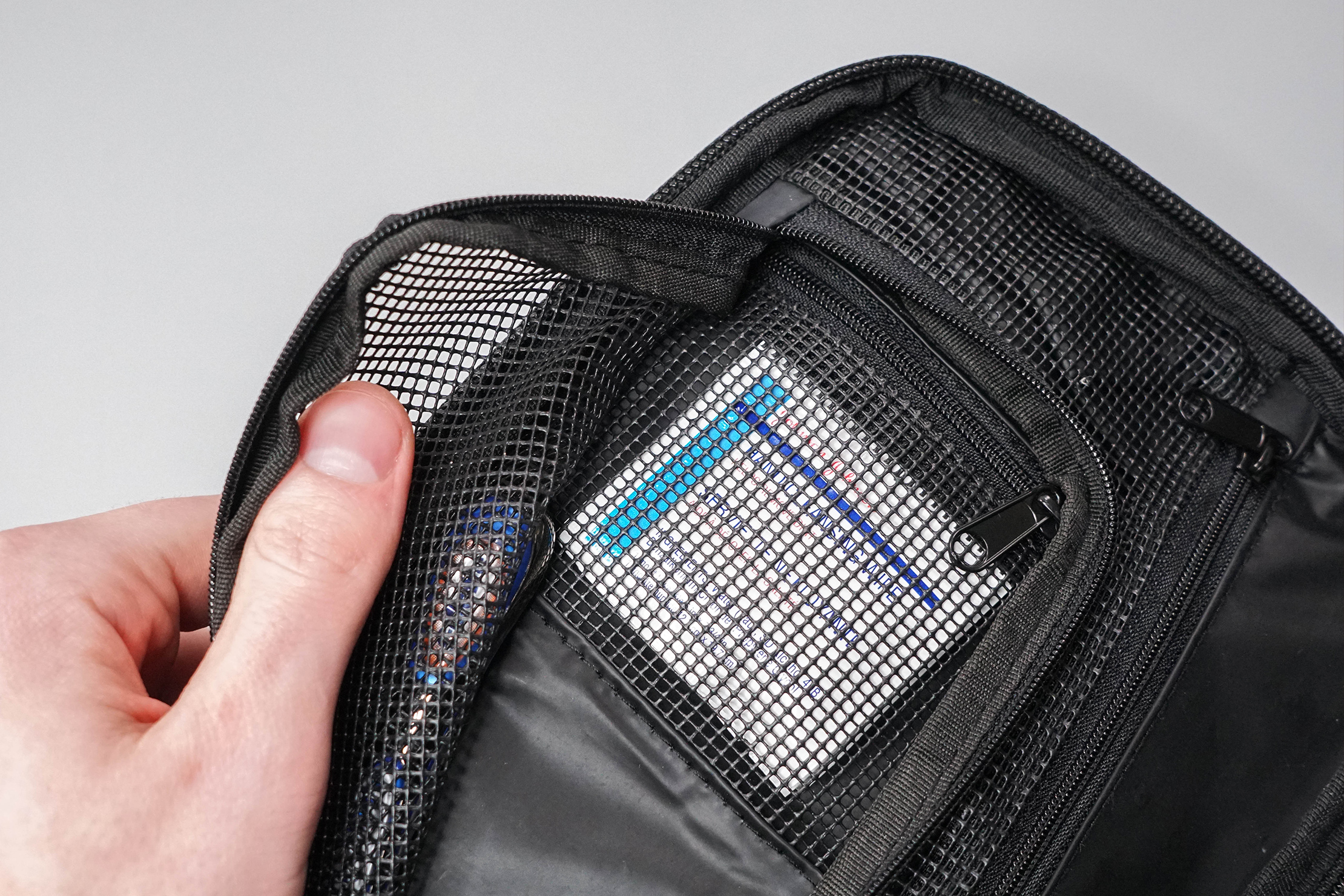 Tucked inside of this pocket, you'll find a small, flat pocket. There's not much depth to this one. It's a good spot for things you want to keep safe—since it's secured behind two zippers—or small items you don't want to lose. Say jewelry, medicine, etc.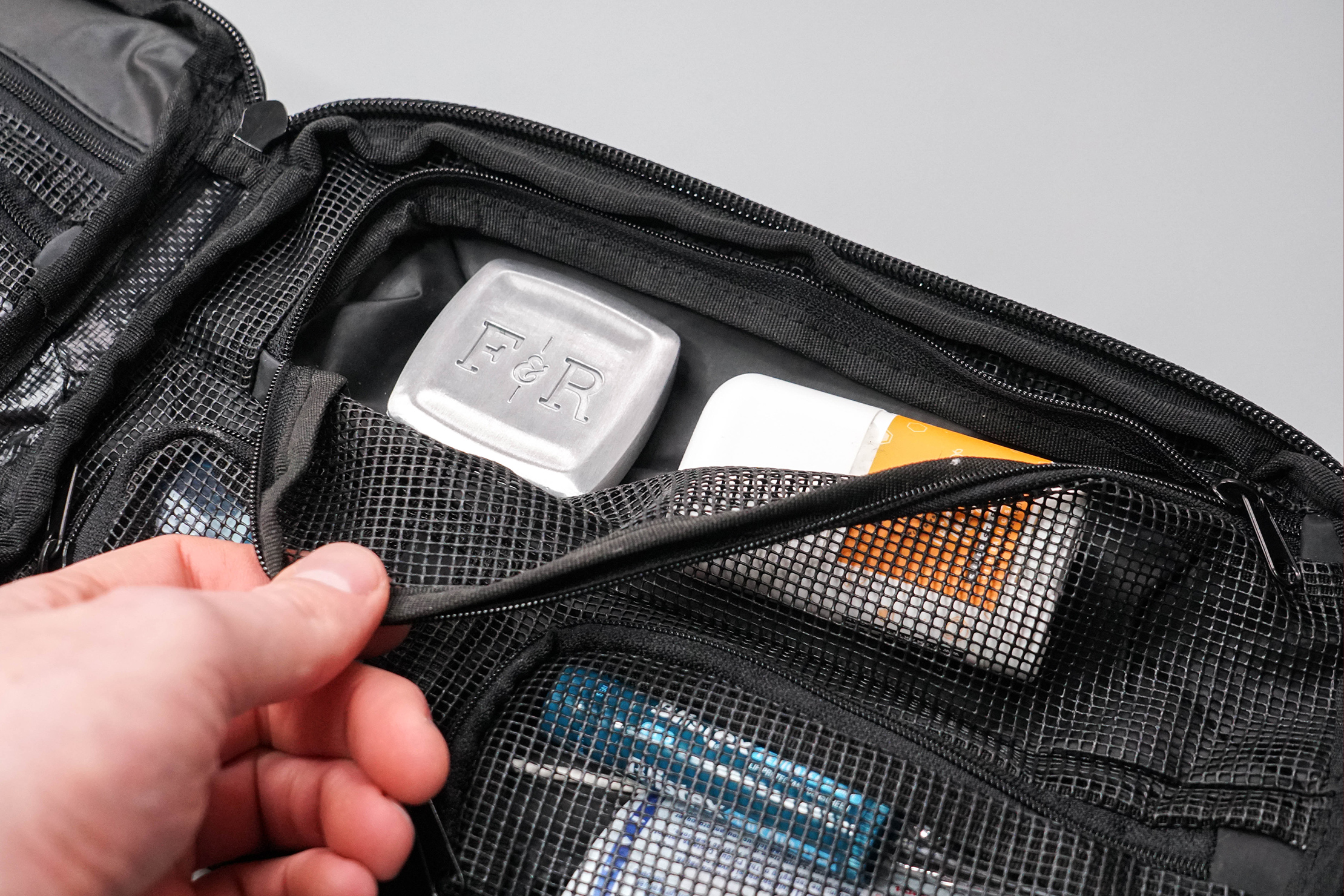 On the top right side of the compartment, there's a long, skinny mesh pocket. As you might expect, long, skinny items will fit best here—deodorant, makeup brushes, etc.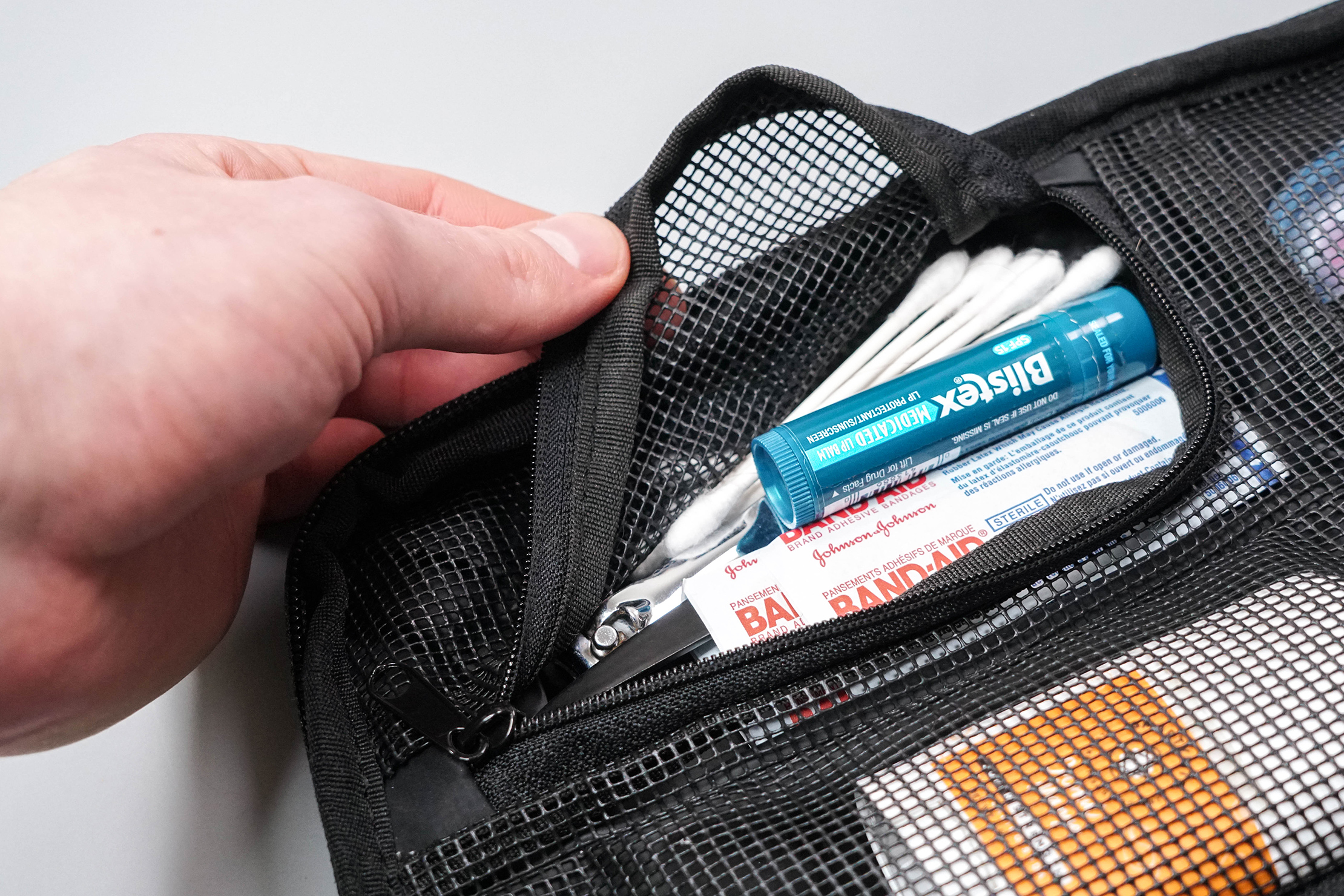 Below that, there are two smaller mesh pockets (the one on the right is approximately double the length of the one on the left). They're for organizing the other random components of your toiletry routine—contact lens case, towelettes, nail clippers, chapstick, q-tips, and so on. They're two different sizes to better fit a variety of smaller gear.
One thing to note here is that these pockets work quite well when you hang this pouch up (yes, you can hang it up. We'll touch on this more later). All your stuff is easy to access, so you can efficiently wash your face/brush your teeth/clip your toenails when the time comes.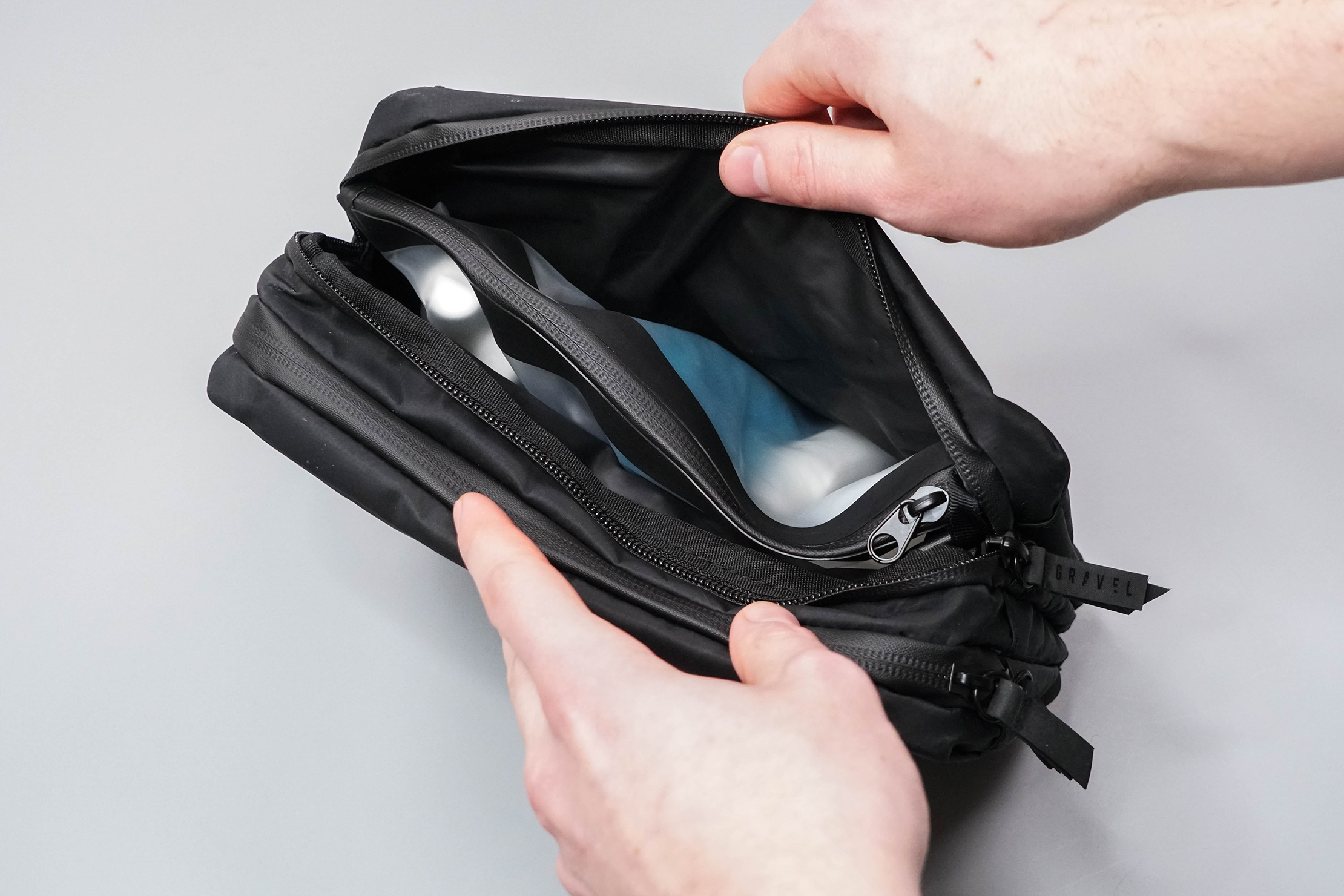 Moving on to the backside of the bag, you'll find another compartment that opens in a horseshoe style. This one is touted as highly water-resistant by the folks at Gravel. Inside, there's an included clear, removable, water-resistant pouch.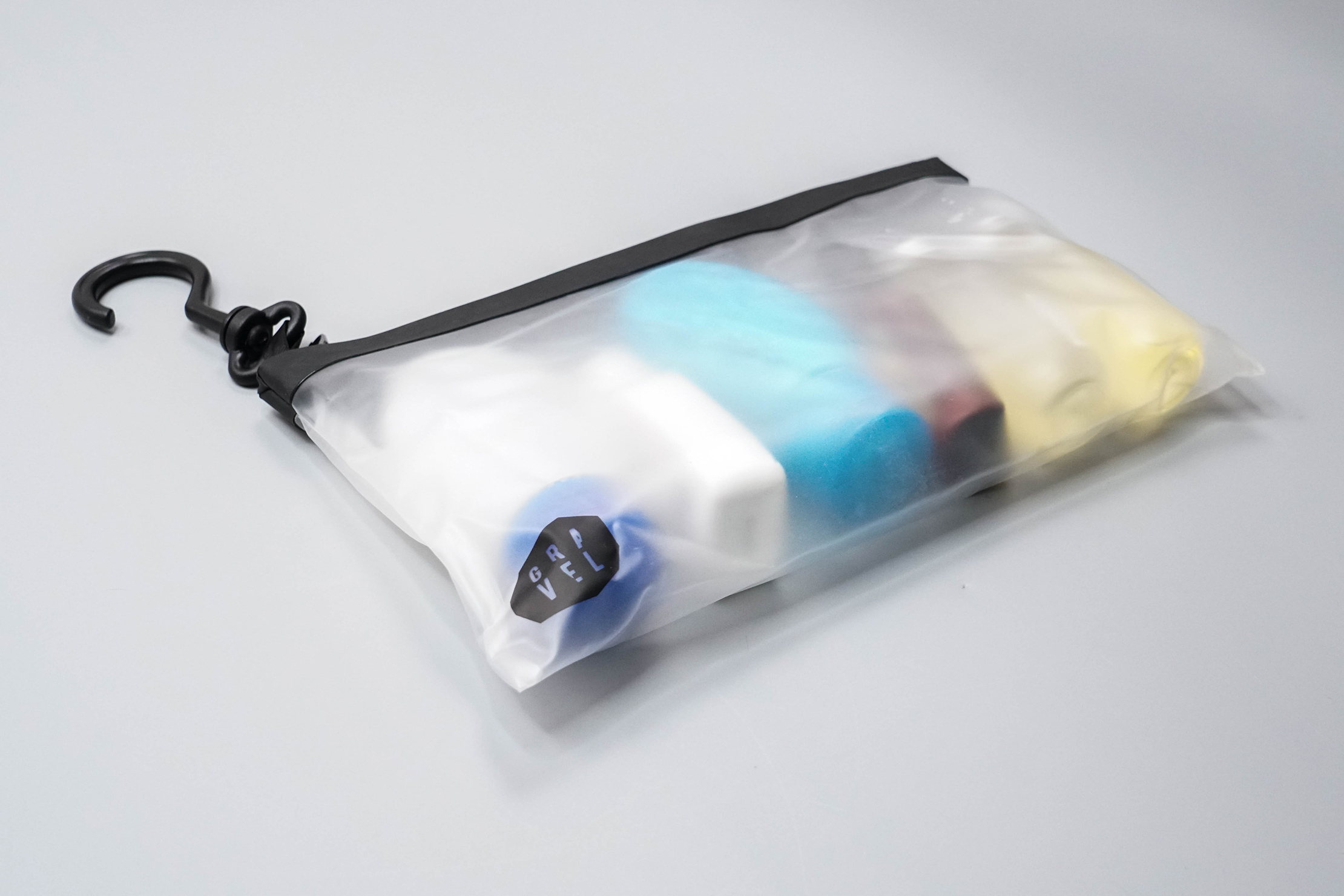 The idea here is that you can put your most-likely-to-spill toiletries—we're looking at you, shampoo—inside the water-resistant pouch inside the water-resistant compartment. That way, if your shampoo leaks somewhere over the Atlantic, it won't spill all over the rest of your stuff. Anyone who has ever had a shampoo situation inside their travel bag knows how much of a feature this truly is. (It may seem like we're being unfair to shampoo in this paragraph, but c'mon, it deserves it.)
You can also remove the clear pouch when you're passing through security (just ensure all of the toiletries inside are of the approved size). Of course, you can also carry the pouch separately and use the back pocket for more stuff if you need the extra space.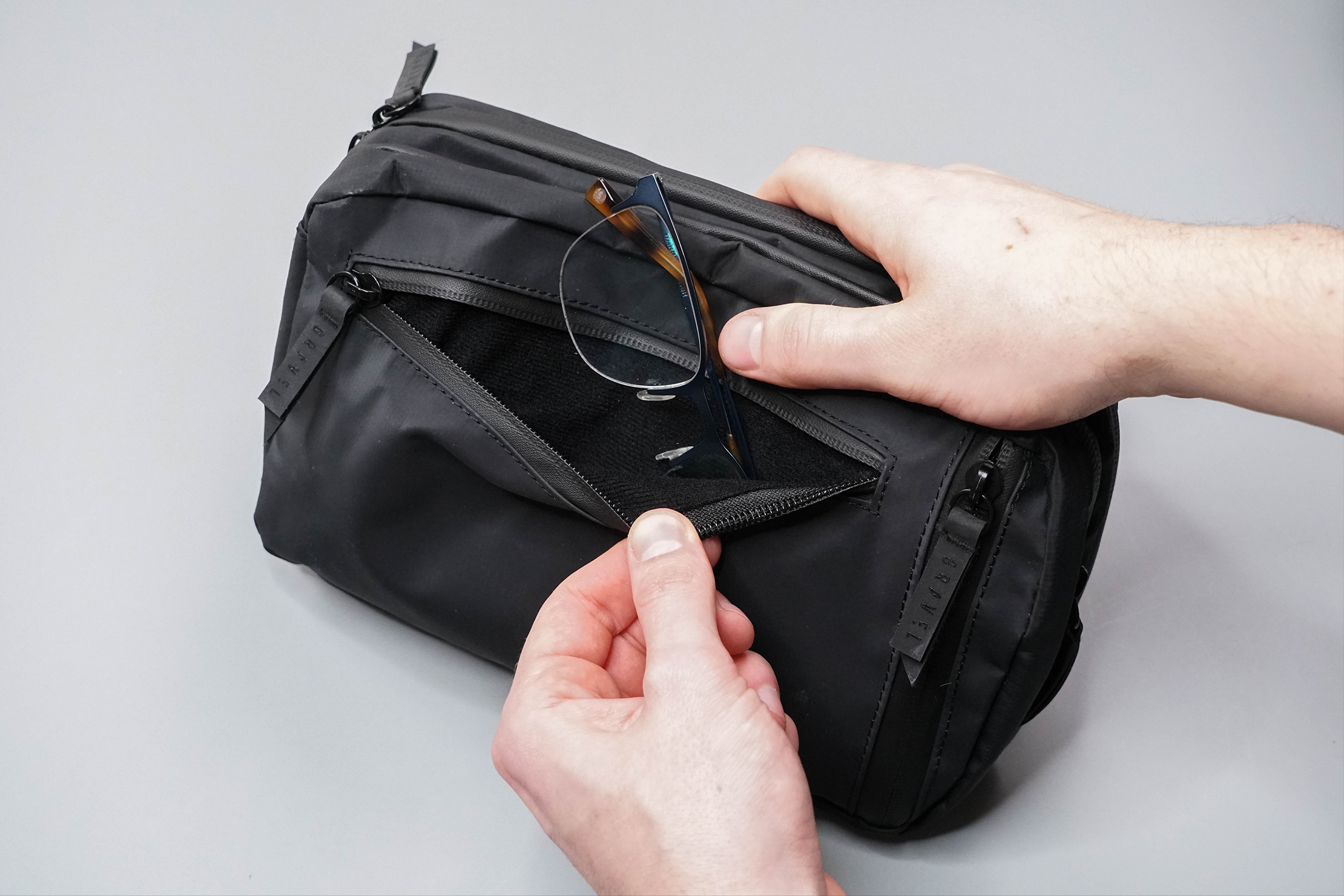 The last compartment features a soft, fleece lining to protect your fragile items from getting scratched up. It's not the softest fleece we've ever felt, but it'll get the job done. It's also a good spot for items you'll want to be able to access quickly, say a small first aid kit. (Trust us—you never want to go digging for your first aid kit.)
Overall, there's plenty of space and organization to fit all we need for a week-long trip. That said, the number of pockets can feel overwhelming. It can also feel like you have to use and fill every single pocket up. Moreover—as we've discussed throughout this section—the pockets have been designed for specific functions, which may feel limiting or—if you choose not to use the pockets for their intended purpose—like you're using the bag incorrectly. But, of course, you can put your stuff wherever it makes sense to you (we've put a comb in the toothbrush pocket, for example).
Also note that bulkier items, say a tin of pomade, may not fit too well. But you can combat this by squeezing your pomade or whatever into a smaller container like a humangear GoTubb.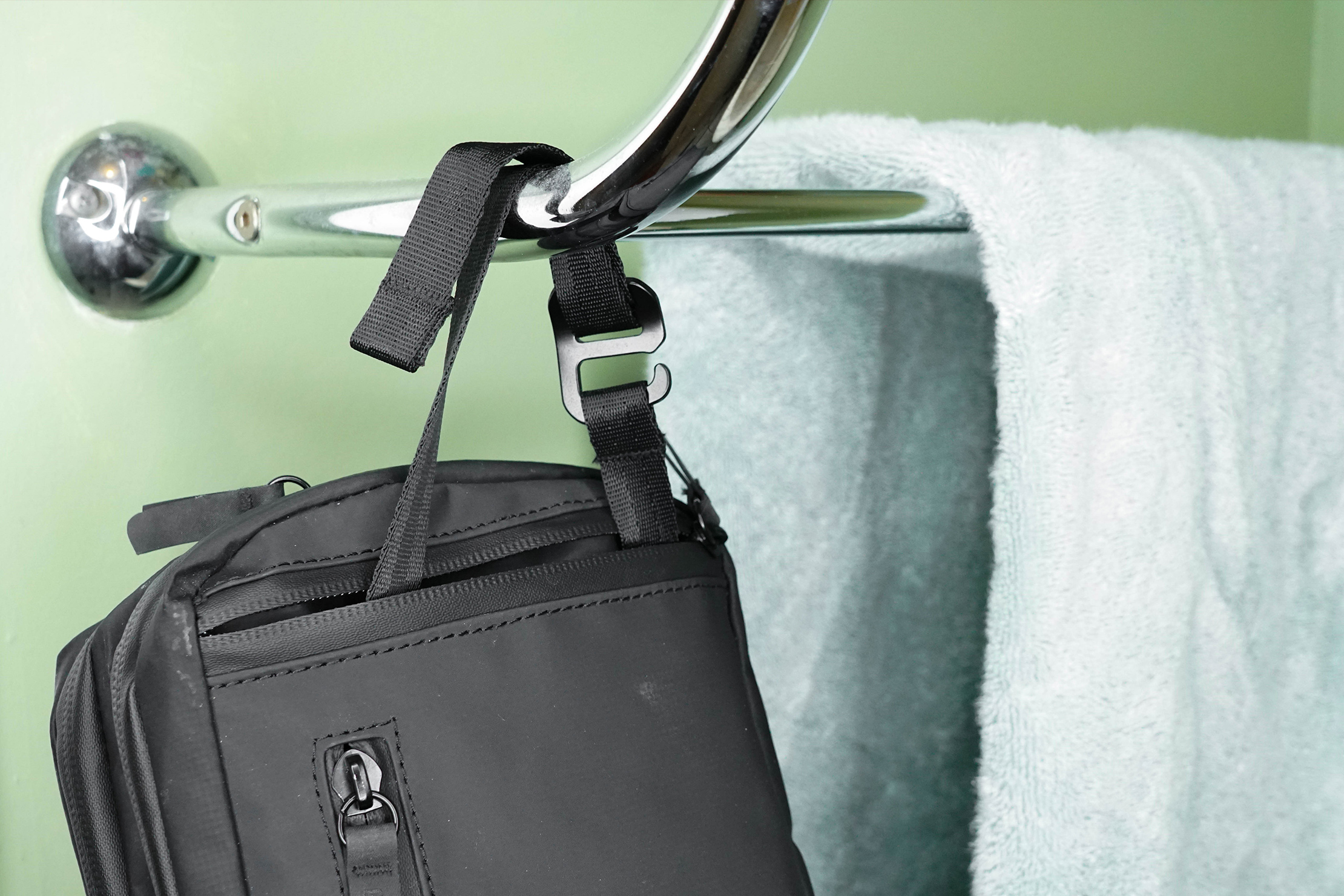 As we alluded to before, this toiletry bag hangs up (!). There's a strap and aluminum G-hook that allows you to hang this thing off of pretty much anything. It's quite convenient to be able to hang your toiletry bag inside hostel bathrooms, Airbnbs, campsite showers, etc, so we've appreciated this feature. Particularly, because as we said earlier, the layout of the main compartment allows for easy access, even when the pack is hanging up. Just note that the pockets will be turned sideways.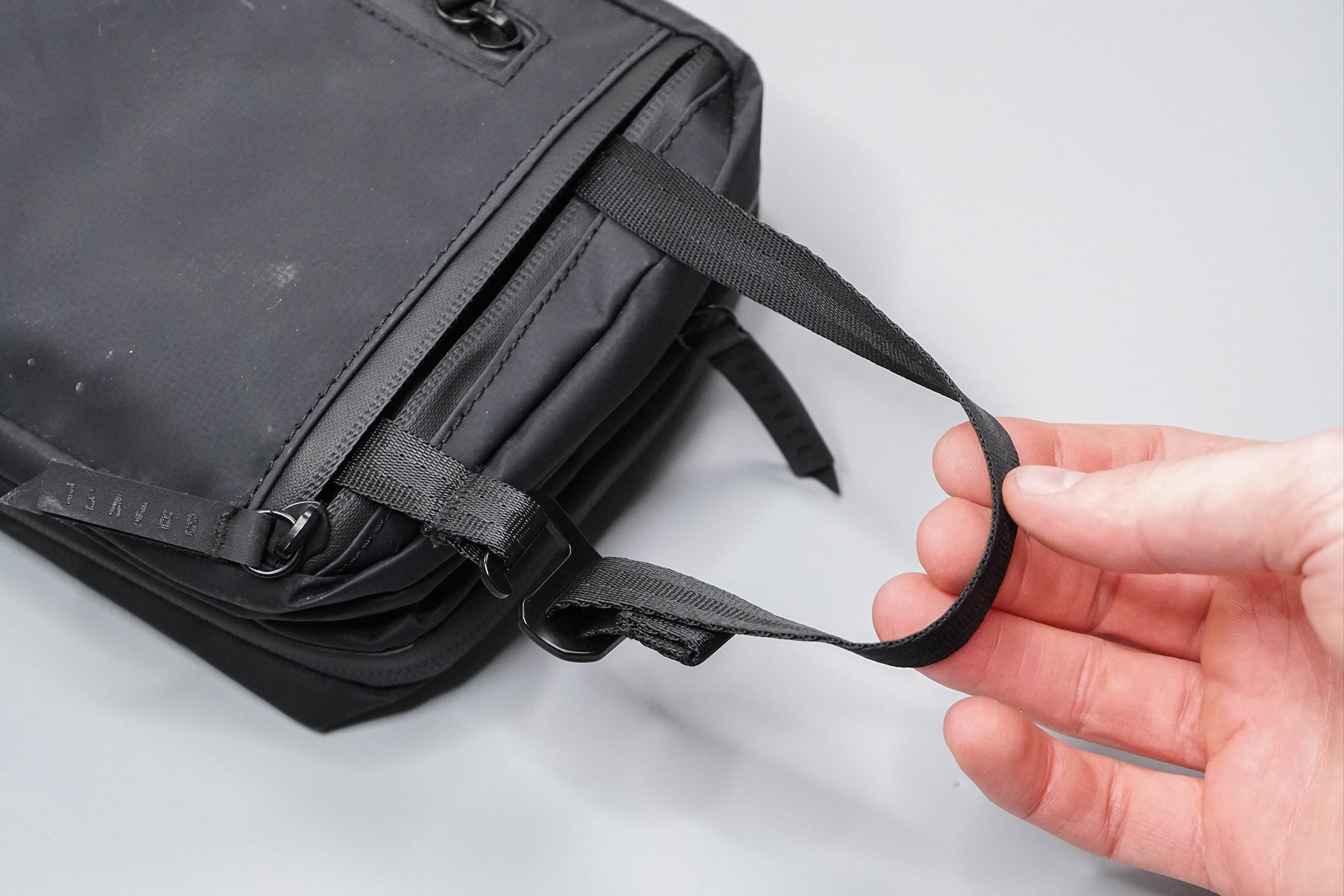 The strap stows away into a stash pocket, which is a nice touch. It maintains the pack's sleek look and doesn't get in your way when not in use.
The removable pouch also hangs up. You can hook it to your pouch when you need all of your toiletries in one spot or hang it up separately—say in the shower to protect the rest of your stuff from getting wet.
Durability & Testing
We've been testing the Gravel Explorer PLUS Toiletry Bag for two weeks, including on a week-long trip to Cabo San Lucas, Mexico. Overall, we've enjoyed using it. The organization is solid and we've enjoyed the mesh pockets for great visibility. Of course, this bag is not for you if you enjoy simplicity as far as organization is concerned.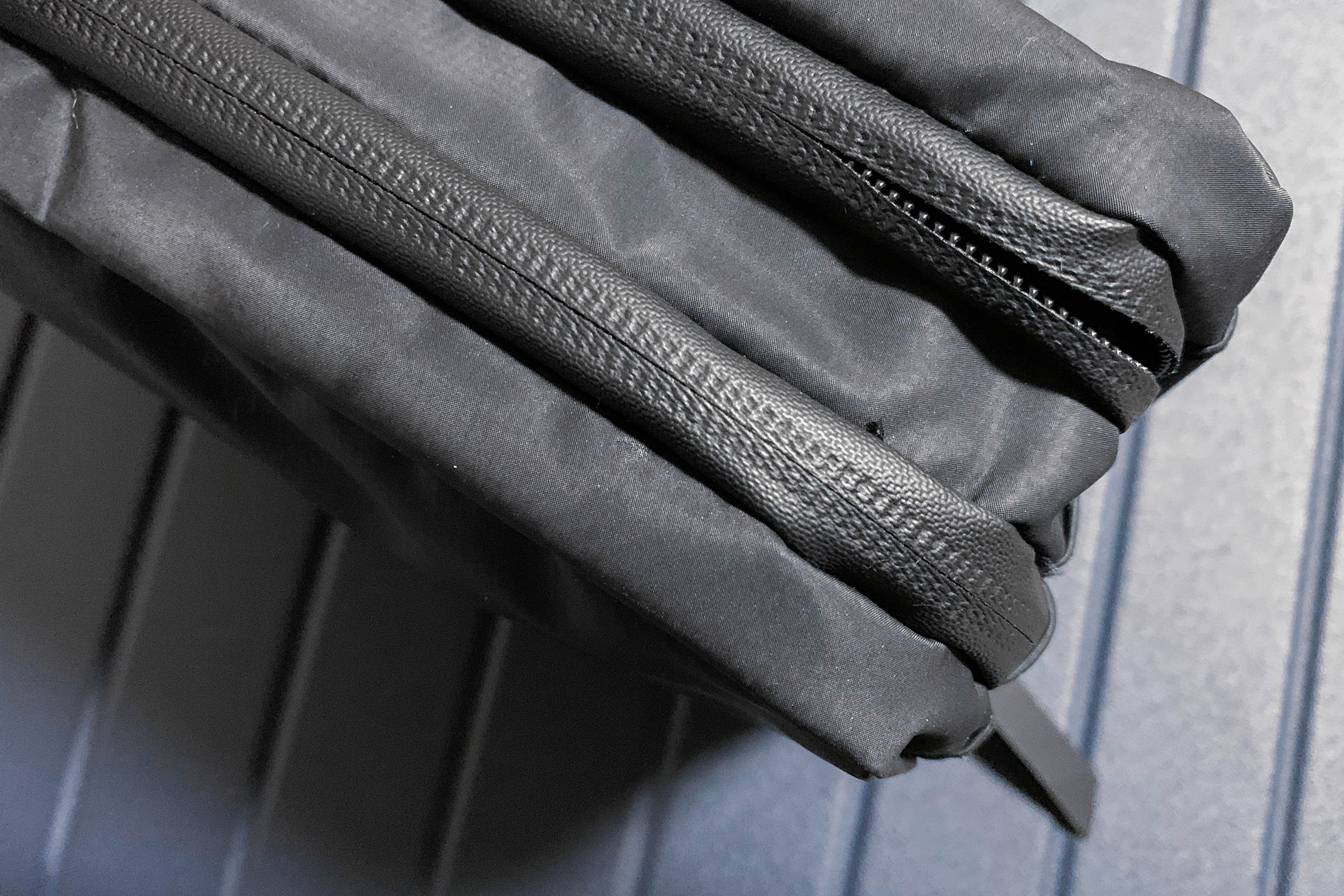 Unfortunately, we have a durability issue to report. The zipper track on the back compartment has pulled apart around one of the corners. You can fix it by zipping and unzipping it a couple of times. That said, it keeps breaking and has only gotten worse with each break. Frankly, it's disappointing after only a couple of weeks of testing.
We do want to point out that Gravel does offer a lifetime warranty when a "product doesn't hold up for what it was designed for because of a manufacturer error." However, we haven't tested this ourselves yet, so your mileage may vary.
Usage Timeline
Initial Usage
Condition: Excellent
Smart organization—a perfect spot for every one of your toiletries
We're really digging the removable, waterproof TSA pouch for easy travel
Pack-away strap allows this bag to be hung up for easy access to everything
2 Weeks of Use
Condition: Good
Plenty of organization options and everything is easy to find thanks to the rubbery mesh pockets in the main compartment. But the zipper has come apart a few times around the corner of the liquids pocket—not a good sign after this short testing period.
Access the Pro Community Discussion
Get your questions about the Gravel Explorer PLUS Toiletry Bag answered from our team and the Pro Community right here on the page. Plus, join discussions with other members about gear, guides, and more.
Other Organizers & Pouches Reviews