Aer Tech Folio 16″ Review
The Aer Tech Folio 16 packs in your laptop and its accessories comfortably, though we wish we could attach a strap to carry it messenger-style.
Our Verdict
Unlock the Pro Summary
Save time. Get access to brief summaries of our reviews so you can browse and make decisions more efficiently.
Pros
Has a diverse set of pockets for organization
Good quality materials and build
Laptop compartment is well-padded on all sides
Cons
Front can bulge out if packed with bulky items
No D-rings in case you wanted to attach a strap
One-sided handle can feel unbalanced
Recent Pack Hacker Video
Technical Details
Weight (lb)

1 lb (0.5 kg)

Denier

1680D

Dimensions

15.5 in x 11 in x 1.5 in (39.4 x 27.9 x 3.8 cm)

Notable Materials

CORDURA® Ballistic Nylon, YKK Zippers

Manufacturing Country

China

Laptop Compartment Size

16"

Warranty Information
Full Review
Get up to 10% off Aer • Join Pack Hacker Pro
Working from a remote setup is a good way to challenge your packing skills. You'd ideally want to bring everything you need with a couple of extras without ending up carrying your entire office with you. For us, one of the key tools on our list would be our laptop; thus, a lot of the stuff we carry around is related to it.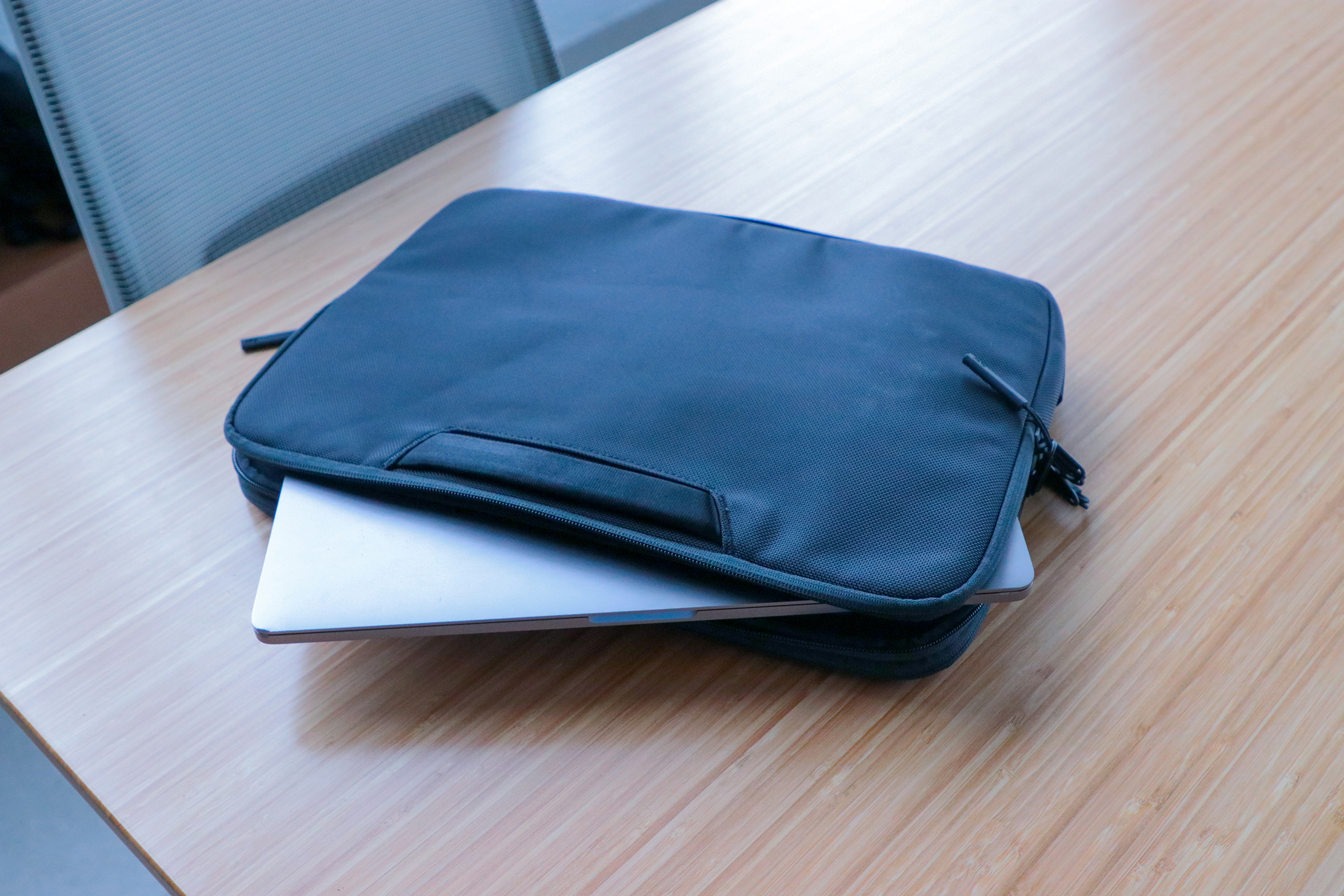 This is where Aer's Tech Folio 16" performs really well. It's the right size for a 16-inch MacBook Pro, and it fits all the necessary accessories we need to get to work. That would be a laptop charger, trusty mouse, and an assortment of cables. There's more to say about how it carries and where it can be even better, so scroll on down if you're ready.
Materials & Aesthetic
The vibe of the Tech Folio 16″ is like any other product by Aer—that is to say, this is one quality-feeling and sleek laptop bag. It doesn't look particularly eye-catching, with its all-black color scheme (the only available colorway) and rounded rectangular profile. There are no visual features that are in-your-face, nothing that attracts unwanted attention. Aer keeps the branding to a minimum, opting for a small and narrow tag at the bottom right side. The Tech Folio 16″ is not bland by any means; it just keeps the frills at a tasteful level. We dig how Aer pulls off this sleek and minimalist look, and the Tech Folio 16″ does, indeed, pull it off.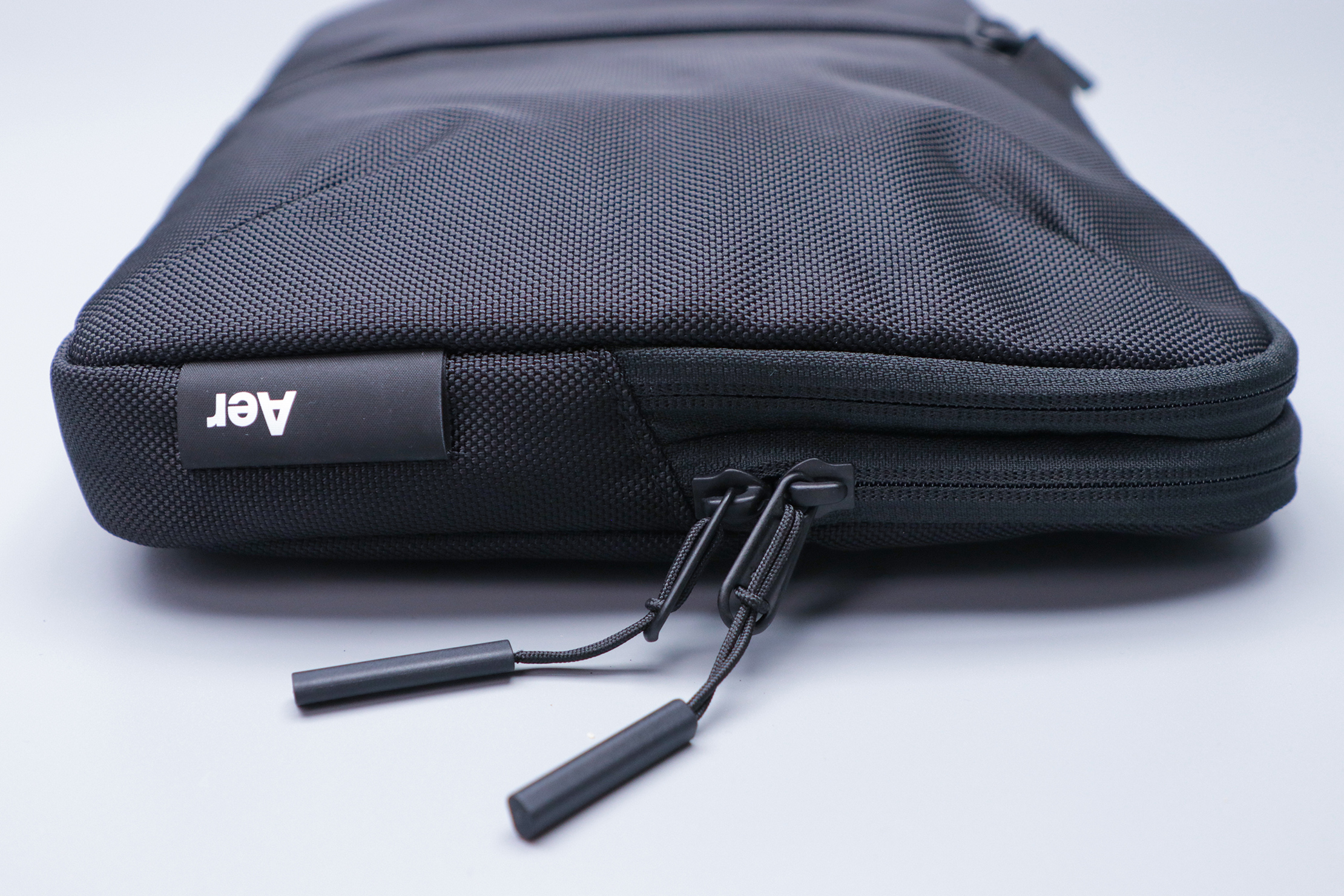 Once you get your hands on it, the quality is immediately apparent. The Tech Folio 16″ is made out of Aer's fabric of choice—1680D CORDURA Nylon. It's the same fabric you'll find on the Sling Bag 3, Fit Pack 3, Gym Duffel Pack 3, and many others in Aer's lineup. The fabric feels durable, and the heavy denier plays a big role in conveying that feeling. Equally important are the chunky-looking YKK zippers, which now feature Aer's new and less jingly pulls. Aer's zipper pulls are usually long, and they jingle when they bunch up, but we're glad that they're more silent now when things get jostle-y.
Improvements like this based on feedback from their previous products greatly benefit the Tech Folio 16″. Despite being in its first iteration, it already looks and feels refined due to careful considerations and good design. However, that doesn't make it perfect, and we found one or two things they can still add.
External Components
Despite how slim laptops have gotten over time, it's still one of the heaviest pieces of gear you can carry with you. It's one of the many reasons why we're fond of well-padded straps and handles—something that the Tech Folio 16″ thankfully has.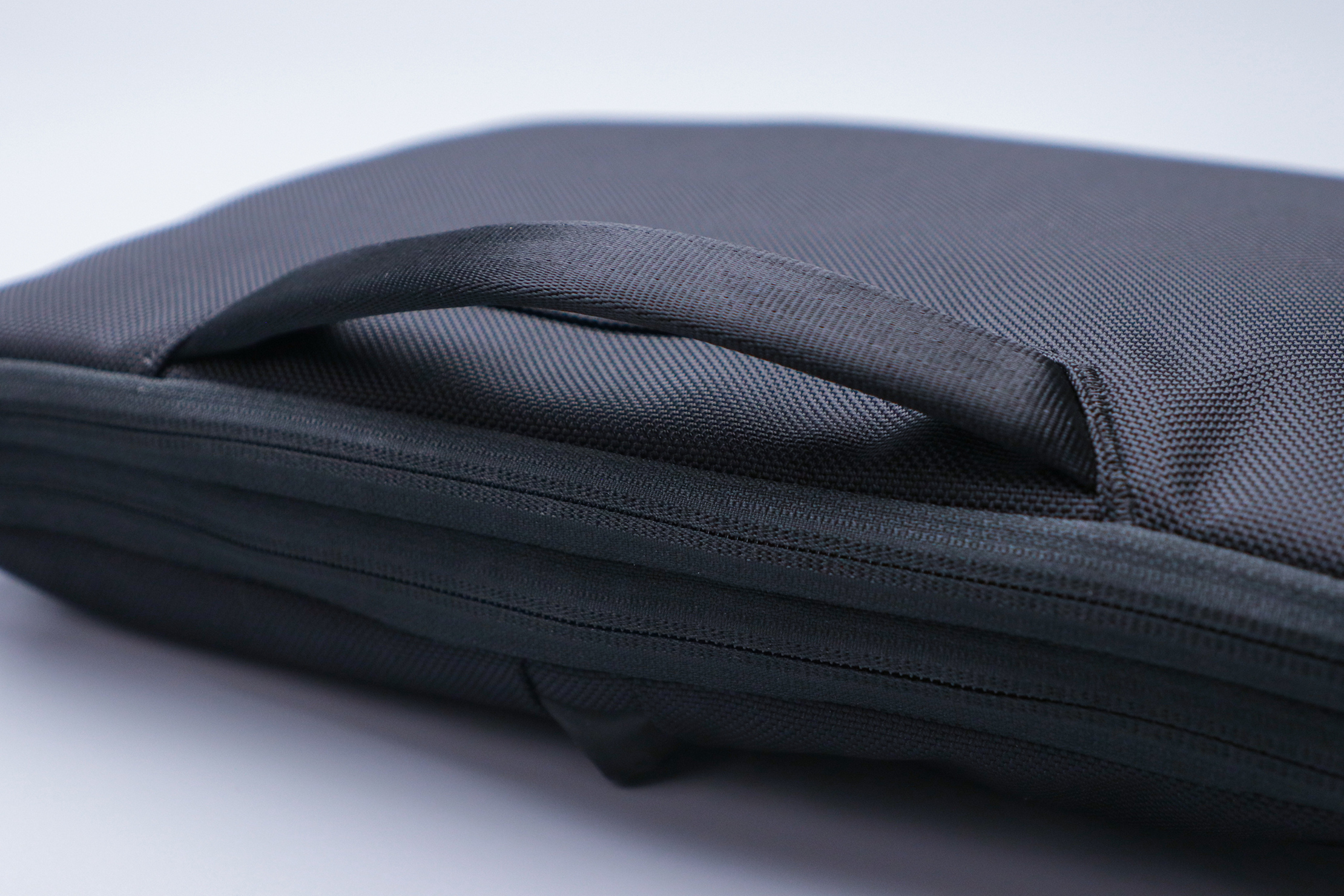 At the top is a padded handle for carrying. It's similar to nylon handles that you typically find on most bags, but Aer has stitched some padding to make it a lot more comfortable to carry. What's interesting about this handle is it's at the back. This way, it can also be used as a luggage pass-through, convenient for taking the Tech Folio 16″ around an airport without having to stuff it inside your suitcase.
Since it's one-sided, it can feel a little unbalanced, but the way it's stitched in slanted on the fabric helps. Using this handle is the way to go for carrying the Tech Folio 16″ around, and we found ourselves using it all the time.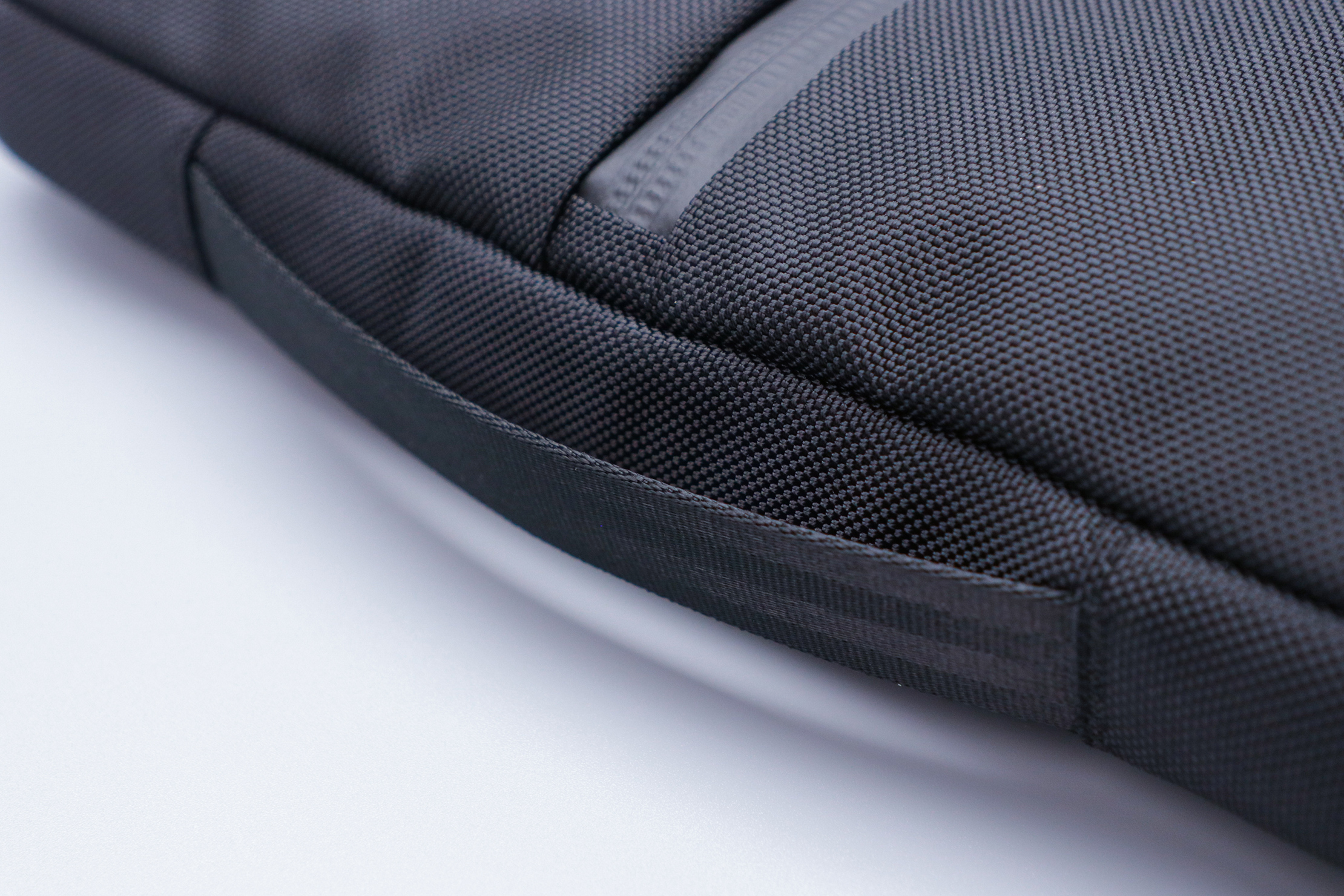 But if you want a straighter and more balanced way to bring the Tech Folio 16″ around, there's also a bottom handle. This one's more simple; it's just a flat nylon webbing. You can use it as a handle, but you can also slip your hand in when you're carrying it like a clutch. We usually carry simpler laptop sleeves clutch-style, but since the Tech Folio 16″ has a well-padded dedicated top handle, we still prefer using that most of the time.
Carrying the Tech Folio 16″ by the handle was fine, but we couldn't help but wonder how it would feel to carry it as a messenger bag. Unfortunately, there are no D-rings or similar mounting points at the edges to attach a strap. At a diagonal size of a little over 16 inches and with tons of organization inside, the Tech Folio 16″ has potential as a decent messenger bag. With this in mind, we think having those extra D-rings would be nice to have for extra flexibility.
Inside The Pack
At the front of the Tech Folio 16″ is a wide zippered pocket for your quick-grab everyday carry items. The actual space of this pocket is on the right side of the bag. We made a mental note of this during testing to avoid having the pocket pointing downward and spilling its contents whenever we opened the compartment. The pocket itself has a decent amount of space, covering roughly half the surface area of the Tech Folio 16″.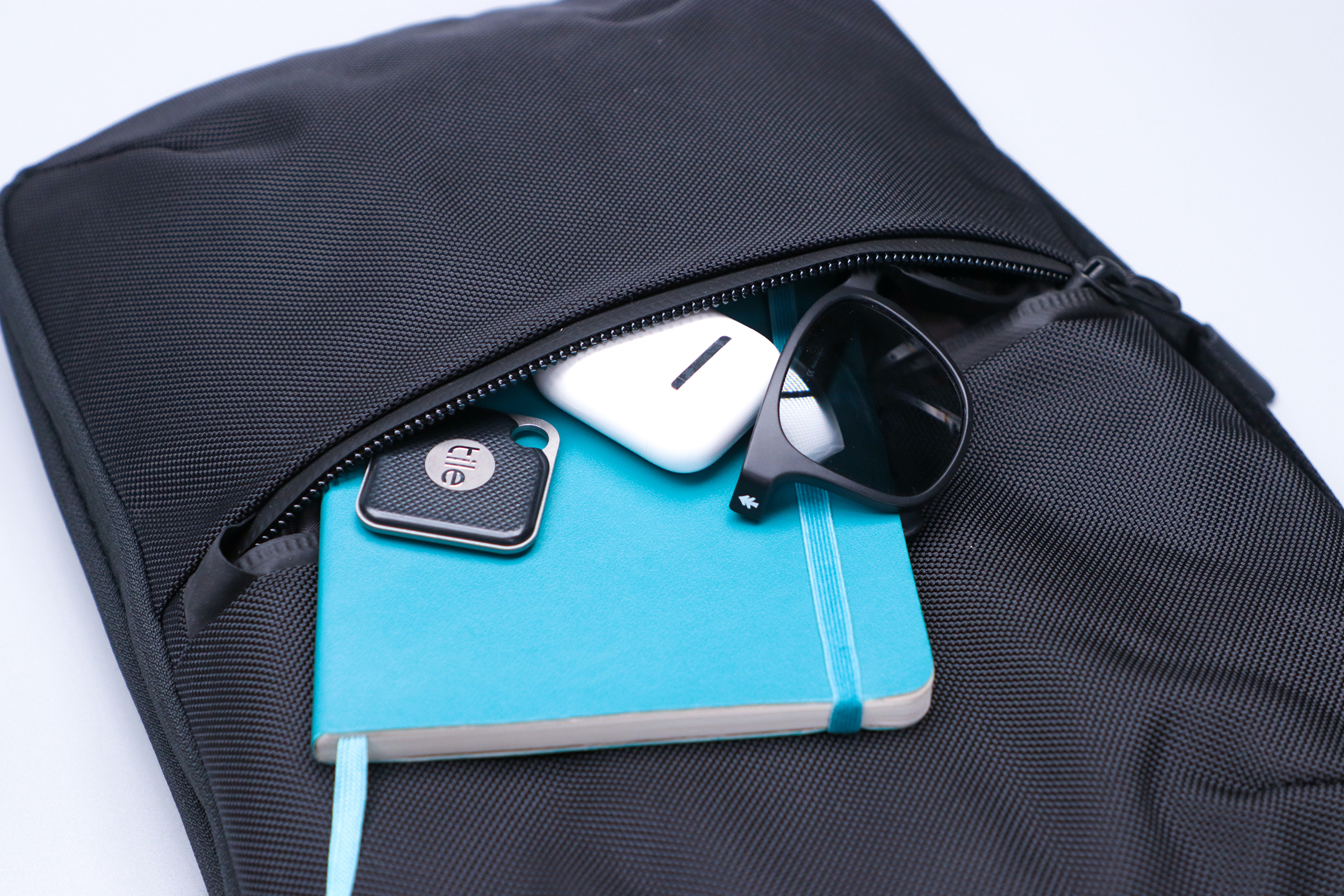 Access is relatively easy thanks to the wide opening, but it can get a bit tight depending on how tightly packed the main compartment is. We refrained from putting anything too bulging or bulky in this pocket to avoid having them jut out unnecessarily. This pocket is most suitable for the previously mentioned EDC items like wireless earphone cases, a pack of wet wipes, slim eyeglasses cases, or small field notebooks.
Now for the front compartment, where we think Aer has done an excellent job. Accessibility-wise, it gets good marks. The zippers go halfway down the sides, giving you a great view of all the stuff you've slotted inside the pockets—of which there are plenty.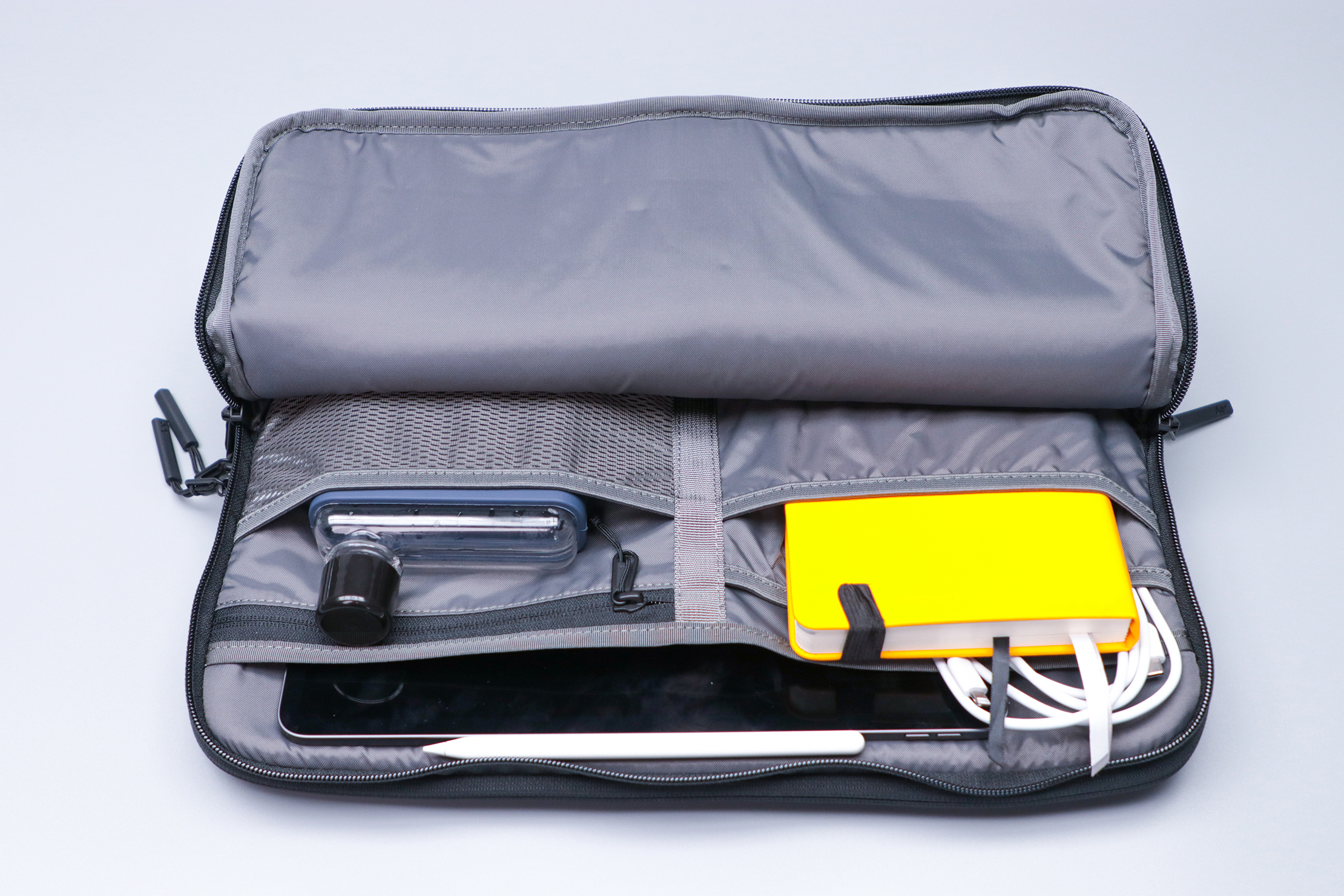 The amount of organization is great, and there's a decent variety with the types and sizes of pockets. On the right is a wide and stretchy mesh pocket that can fit our MacBook Pro's chunky charger, in addition to our wireless mouse with a built-in trackball. Those two items are each beefy on their own, so it was impressive to see them fit inside the mesh pocket. At the pack of this mesh pocket is a zippered one, acting as a security pocket of sorts for more important items you want to keep hidden away. Things like a passport, some cash, receipts for expensive purchases all fit inside, but nothing too bulky.
On the left side of the front compartment are liner pockets. There are two pen silos for pens or styluses, and right next to them is a liner pocket wide enough for a Nintendo Switch. You'll have to remove the Joycons so it will fit in vertically, but otherwise, the portable console fits in nicely. Below those is the widest liner pocket in the Tech Folio 16″, where we placed our cables and dongles.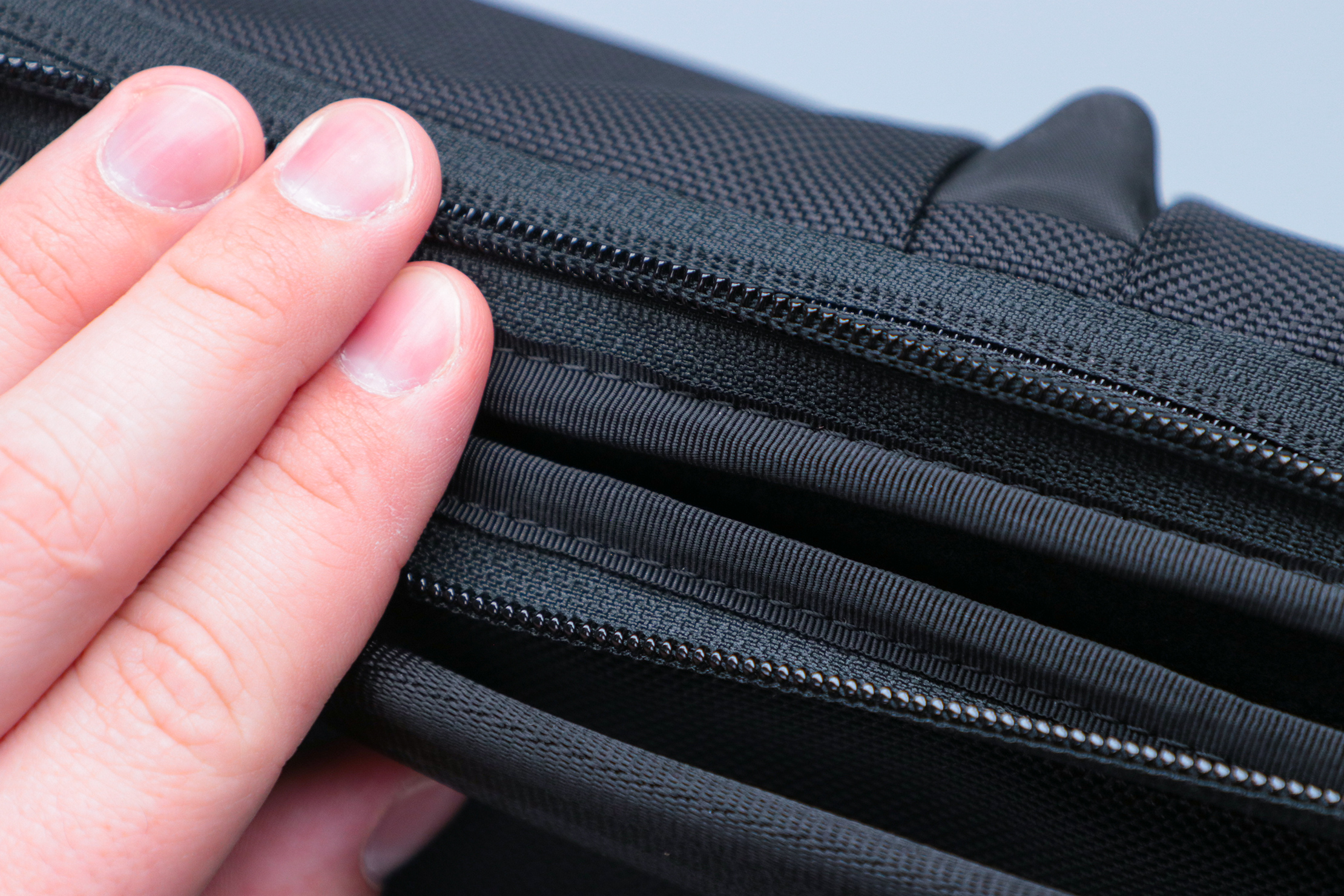 To top things off, the front compartment also has a tablet/document sleeve at the rear. Given the size of the Tech Folio 16″, even large tablets like the 12.9-inch iPad Pro will fit inside without issue, nor do A4-sized documents and folders. All in all, you'll have little trouble bringing your laptop's accessories with the Tech Folio 16″, and there's even some room for extras.
Finally, we arrive at the laptop compartment. It has dark fabric inside, but that's not a big deal since a laptop won't be too hard to find here—not even if it's a small 13-incher, though they do make a variant specifically for that size. The whole compartment is nicely padded on all sides. There's no false bottom—there usually isn't one in bags of this form factor—but we did notice something in its place.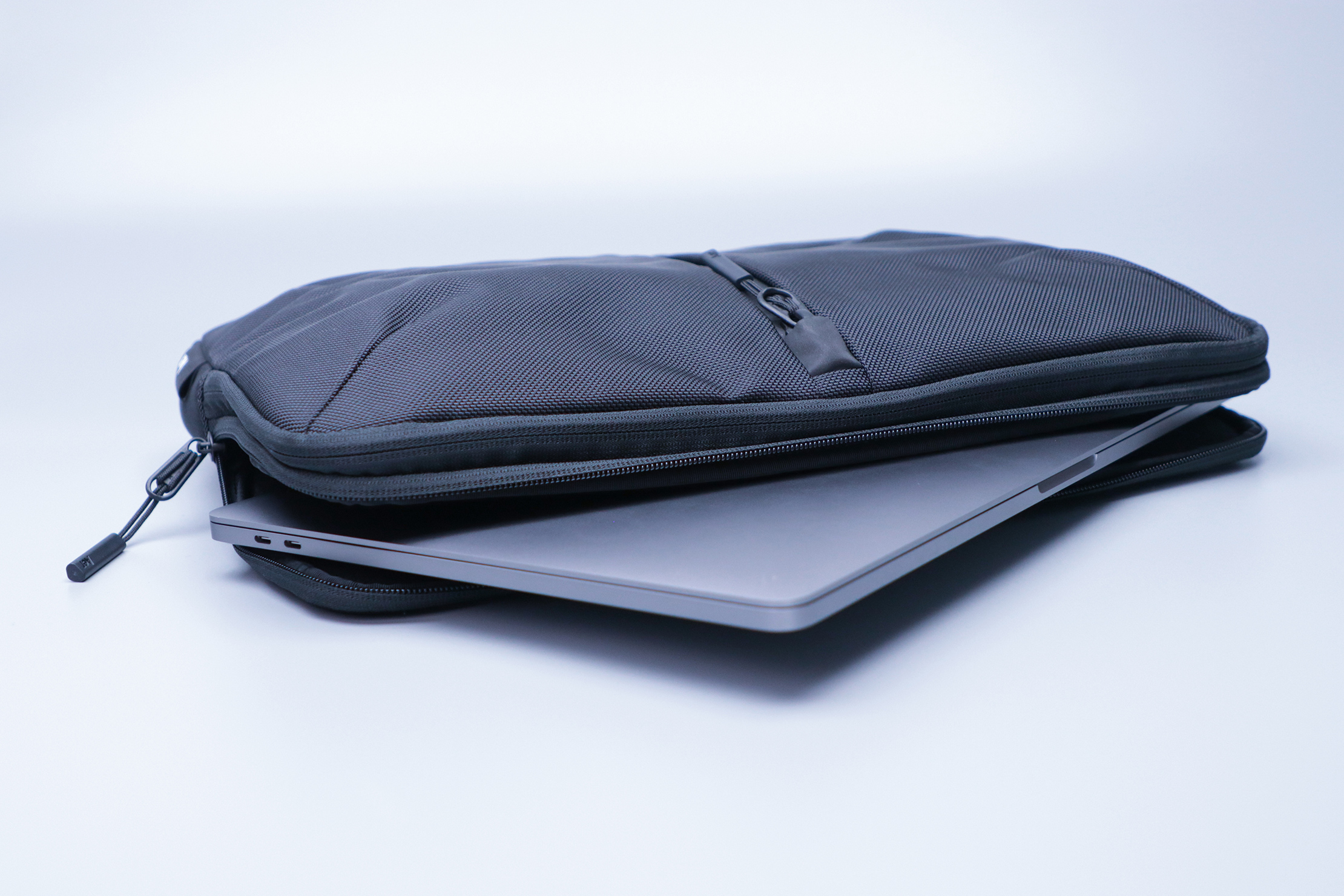 Directly underneath the zipper elements, you'll find that the edge of the laptop compartment is lined with thickly padded nylon that seals when you close it up. This padding goes all the way around the compartment, giving it an added layer of protection at the sides. It's a subtle but reassuring feature that made us comfortable with placing our precious MacBook Pro inside the Tech Folio 16″.
The Tech Folio 16″ has the basics covered with a laptop compartment that's well-protected, but the accompanying features are really good as well. The organization didn't leave us wanting more pockets or compartments for our laptop's accessories. The lack of attachment points for a strap would have boosted versatility, but it's far from a deal-breaker since we were able to carry it around comfortably with just the handle. It's a solid option for the laptop-centric user worthy of a good hard look.
Usage Timeline
Initial Usage
Condition: Excellent
There's a top handle, but it's one-sided, so it can tilt
Laptop compartment is well-cushioned
If you put all the zippers to one side, the paracord pulls can bunch up
2 Weeks of Use
Condition: Excellent
This is an ideal bag traveling with tech essentials and not much more. It has all the solid and durable materials that we've come to expect from Aer. The sleek and slim design looks very professional and we would have no problem pairing this with a suit at a business meeting. Looks aside, the organization feels just about perfect for a day at the office. It provides some good padding for our 16in Macbook, there's plenty of space in the elastic sleeves for chargers, adapters, pens, and notebooks, and the front dump pocket was great for throwing in miscellaneous gear, cords, and receipts. It's comfortable to carry with a thick, well-padded handle but we really wish it had some D-rings on it to attach a messenger strap for people commuting by bike or just to get an extra hand to hold your coffee.
Access the Pro Community Discussion
Get your questions about the Aer Tech Folio 16″ answered from our team and the Pro Community right here on the page. Plus, join discussions with other members about gear, guides, and more.
Other Organizers & Pouches Reviews