Aer Fit Pack 3 Review
The Aer Fit Pack 3 offers a nice balance for work and gym use, but space can be limiting if you need more than the basics.
Our Verdict
Unlock the Pro Summary
Save time. Get access to brief summaries of our reviews so you can browse and make decisions more efficiently.
Pros
Well-balanced features for work and gym use
Lots of organization at a compact size
Shoe compartment can be compressed if not in use
Cons
Not the most spacious bag for gym use
Quick grab pocket's black interior fabric can be hard to see into
Balancing space between the shoe and clothes compartment can be tricky
Recent Pack Hacker Video
Technical Details
Capacity

18.7l

Weight (lb)

2.5 lb (1.1 kg)

Denier

1680D

Dimensions

17.5 in x 12.5 in x 8 in (44.5 x 31.8 x 20.3 cm)

Notable Materials

CORDURA® Ballistic Nylon, YKK Zippers, Duraflex Hardware

Manufacturing Country

China

Laptop Compartment Size

16"

Warranty Information
Full Review
Get up to 10% off Aer • Join Pack Hacker Pro
We all have our ways of relaxing after work, and some of us choose to do it with a good and exciting workout to release our stress healthily. And no, we're not talking about the afternoon jog to catch the train or the bus; we're talking about hitting the gym straight after work. But where do you put all your gym clothes?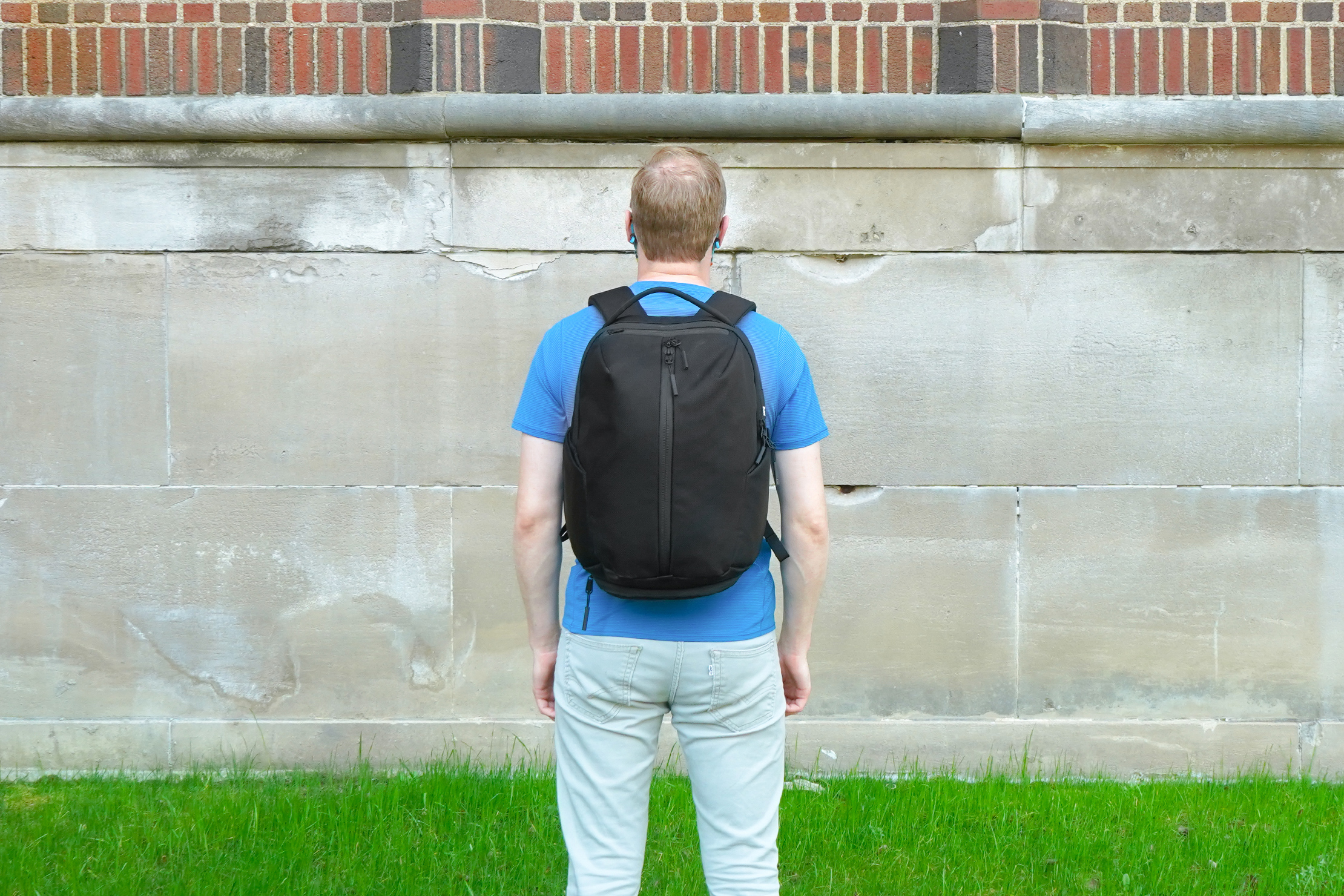 The thought of bringing two bags is probably the practical solution, but Aer has a two-in-one answer: the Fit Pack 3. It acts as a hybrid between a daypack and a duffle bag, with a separate compartment for your shoes and gym clothes. It's not a one-size-fits-all solution, but it does feature water bottle pockets, unlike its predecessor. We'll be diving more into the details, so let's get to it.
Editor's note: check out our detailed comparison video on the Aer Fit Pack 3 and the Aer Fit Pack 2.
Materials & Aesthetic
Much like other Aer bags, the Fit Pack 3 carries on with the signature style they do so well: discreet black. In this iteration of the Fit pack, the design doesn't stray away from the previous one. Side by side, it will probably take you a minute or two to tell which is which just by looking.
There are functional differences, although aesthetically, the most notable is the addition of the external water bottle pockets. Regardless, we had no complaints about the looks of the Fit Pack 2, and we don't have any gripes with Fit Pack 3's either.
If black's not your thing and you're looking for something easier to see in the dark, there are two other colorways to choose from: Olive and Gray. Not the most extensive selection of colors, but all three share the same sharp and modern aesthetic you get from Aer. While we respect the black colorway as the safe choice for anyone on the fence about which color they should pick, we can't help but dig the grey and its speckled pattern. It's an eye-catching color for those who want it, and you'll be able to see the Aer logo easier (it's on the shoulder strap and the right side of the body).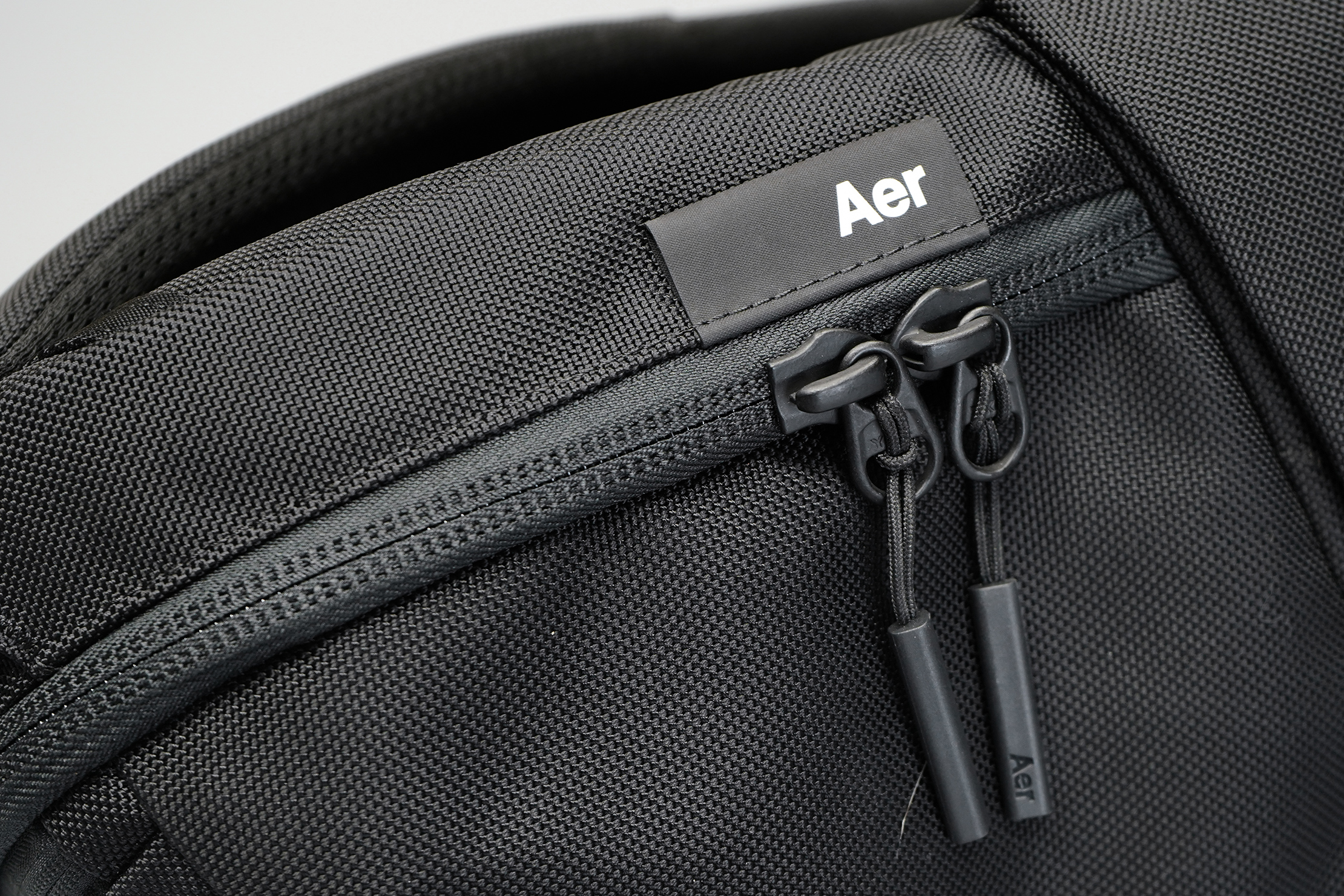 That's the looks and style out of the way; what about the materials? You'll be taking this to work and to your workouts, after all, so you'd naturally be curious if it can keep up with your active lifestyle. You'll be glad to know that the Fit Pack 3 comes with some of the most well-regarded names around: 1680D CORDURA Ballistic Nylon, Duraflex hardware, and YKK zippers.
We made an interesting observation regarding those YKK zippers. We've always found Aer zipper pulls a little jingly; that's not the case here. We shook the Fit Pack 3 and found that they're a lot quieter than on the Fit Pack 2. It was a very minor nitpick from before, but this small improvement is a welcome one.
External Components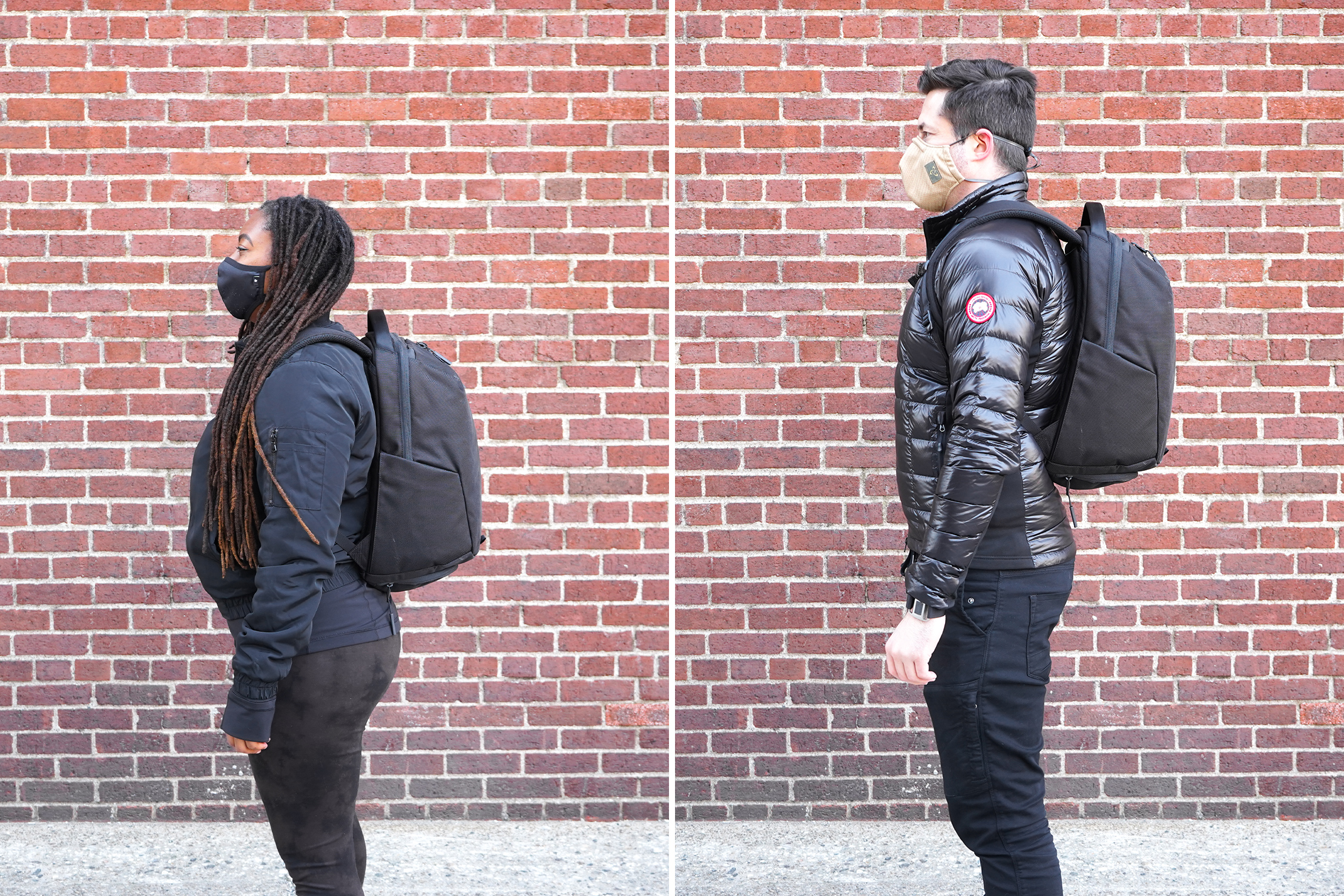 Carrying the Fit Pack 3 was a comfortable experience thanks to the well-padded back panel and shoulder straps. We noticed that compared to the Fit Pack 2, the shoulder straps on the Fit Pack 3 are a tiny bit wider though the thickness remains the same. This wider surface does help distribute the weight better, and it's something you might notice if you're upgrading straight from the Fit Pack 2.
One thing you might notice if you're coming from the Fit Pack 2 is that Aer switched the position of the D-ring to the right side shoulder strap. It's a subtle change that primarily affects those coming from the Fit Pack 2, but it's worth mentioning for those whose muscle memory is already trained for the previous position.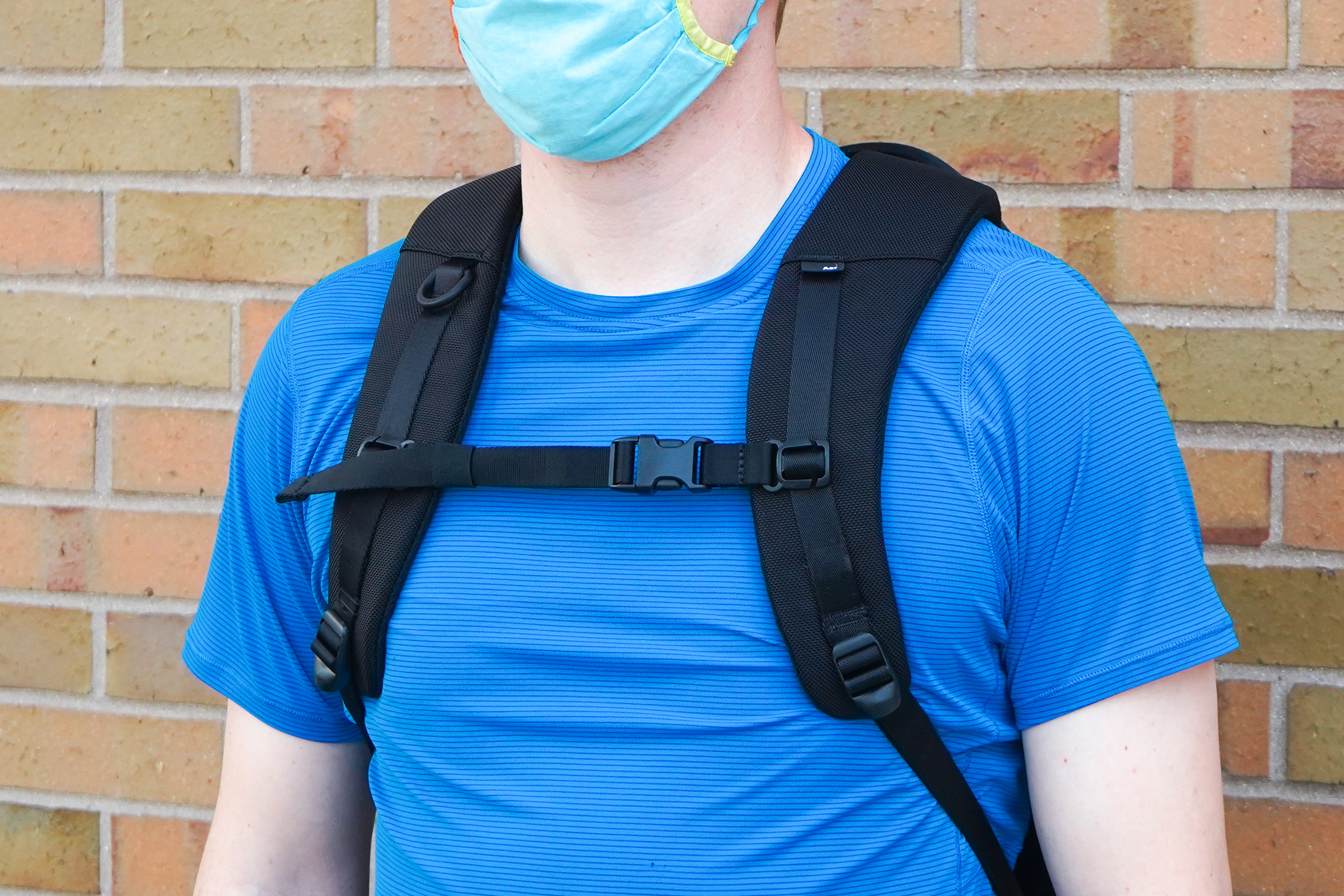 If you plan to get more enthusiastic with your walks to and from the gym and the office, there's a handy sternum strap provided. It clips on via a side-release buckle and slides to adjust, giving a great amount of granularity when it comes to positioning. You can also remove the strap entirely if you feel that it gets in the way too much.
Aside from the fair amount of mesh and foam padding, the back panel also features a luggage pass-through. The simple nylon strap should be wide enough to fit most rolling luggage handles, and it's a thoughtful inclusion nonetheless for those who carry on their workout even during out-of-town trips.
Another improvement is the top handle. It's another "blink, and you'll miss it" subtle change from the Fit Pack 2. What's different? The handle is now stitched wider, and it should help the weight distribution and is easier to grab.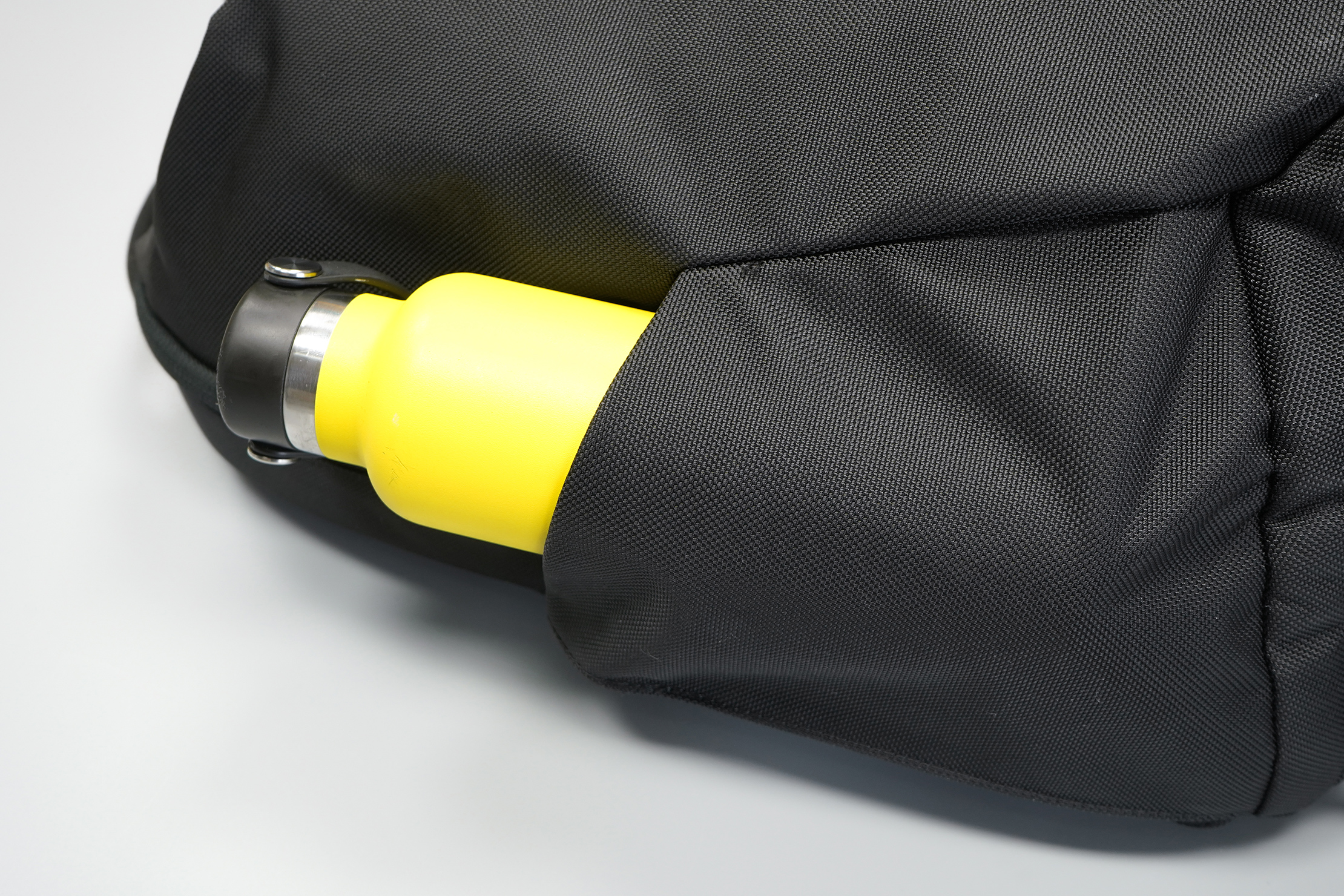 Inside The Pack
Up at the top, you'll find a quick grab pocket for your everyday carry items like earphones, wet wipes, power banks, charging cables—whatever you need to get to quickly, those can go inside. It's secured by a locking YKK zipper, which means it stays in position when the zipper pull is pushed down. It helps keep a slim profile this way, and we like the clean look it gives.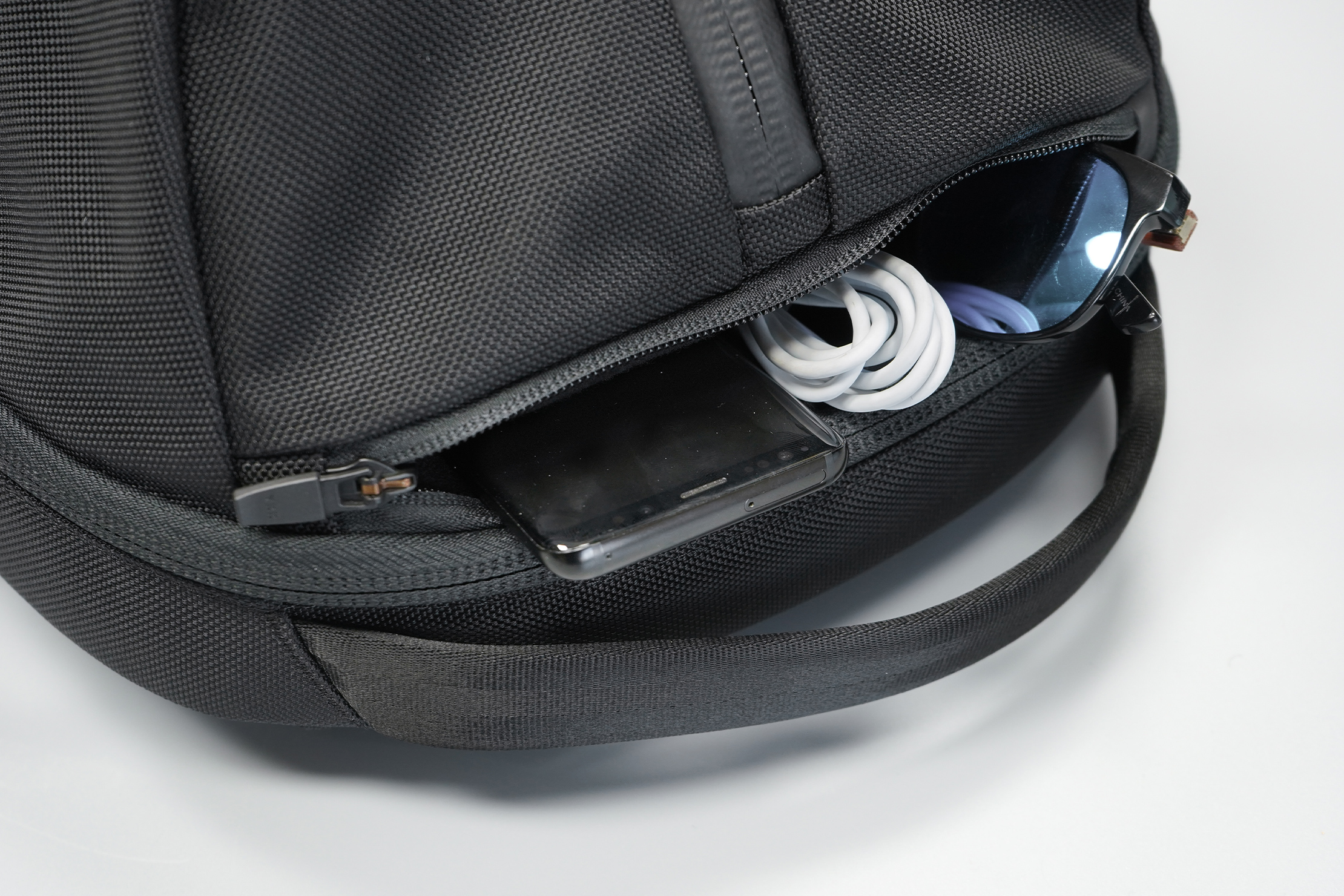 If you check from the main compartment, you'll see that this pocket has a good amount of space. You'll also notice how soft and cushioned it is, making it suitable even for easily scratched sunglasses and clip-on smartphone lenses. Unfortunately, the fabric is black, so internal visibility for this pocket isn't excellent. Small pouches will come in handy if you want to keep things from getting lost in there.
On the opposite end of the bag—the bottom—is the shoe compartment. This feature is found in many of Aer's bags, such as the Gym Duffel 3, Duffel Pack 3, and Sling Bag 3. The shoe compartment eats up space from the clothes compartment where your gym stuff goes, so we suggest putting in your workout shoes first, then stuffing the clothes compartment. As for size, we were able to fit men's size 10 sneakers with room to spare.
The hatch has small holes for exhaust, although they're smaller than those found on the Fit Pack 2. The trade-off is that the shoe compartment can now compress and stow away into a small pocket on the hatch itself if you're not carrying any shoes. Once compressed, you can still use it as an extra pocket if you need to.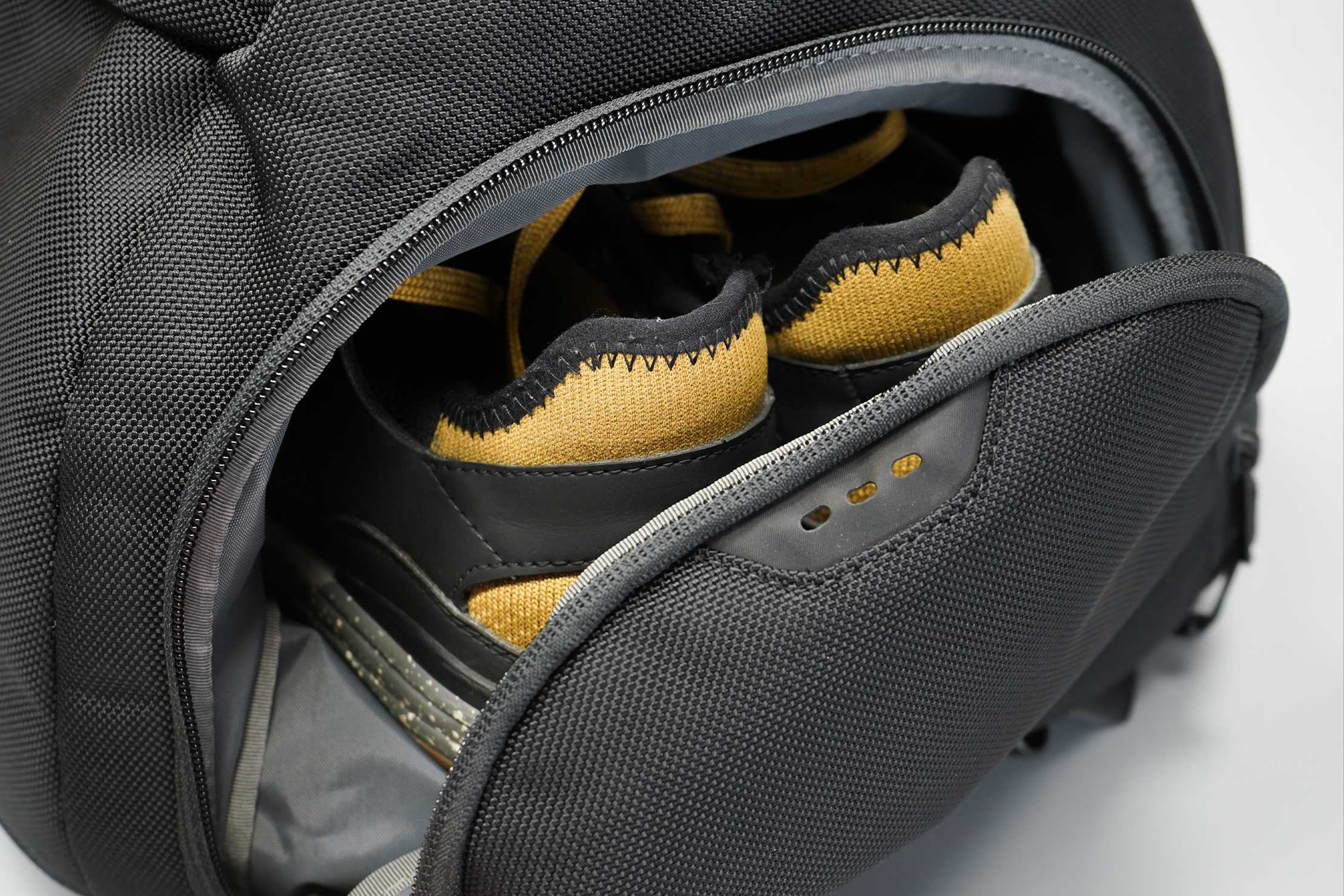 The clothes compartment opens up nice and wide via the zipper running down the entire length of the bag. Accessibility is great, and you shouldn't have any issues packing the Fit Pack 3, even with bulky items like hoodies or sweatpants. There's a lone partition pocket at the back if you need to separate some items like dirty socks or used towelettes, though we'd still recommend using an airtight container for those.
When the Fit Pack 3 is on its back, it acts like a typical duffle bag, albeit shallower. Space can feel a little tight when the shoe compartment is filled, but we could comfortably fit in two small packing cubes. If you're not using the shoe compartment and you stow it away, the space is big enough for three packing cubes, depending on what size packing cube you use.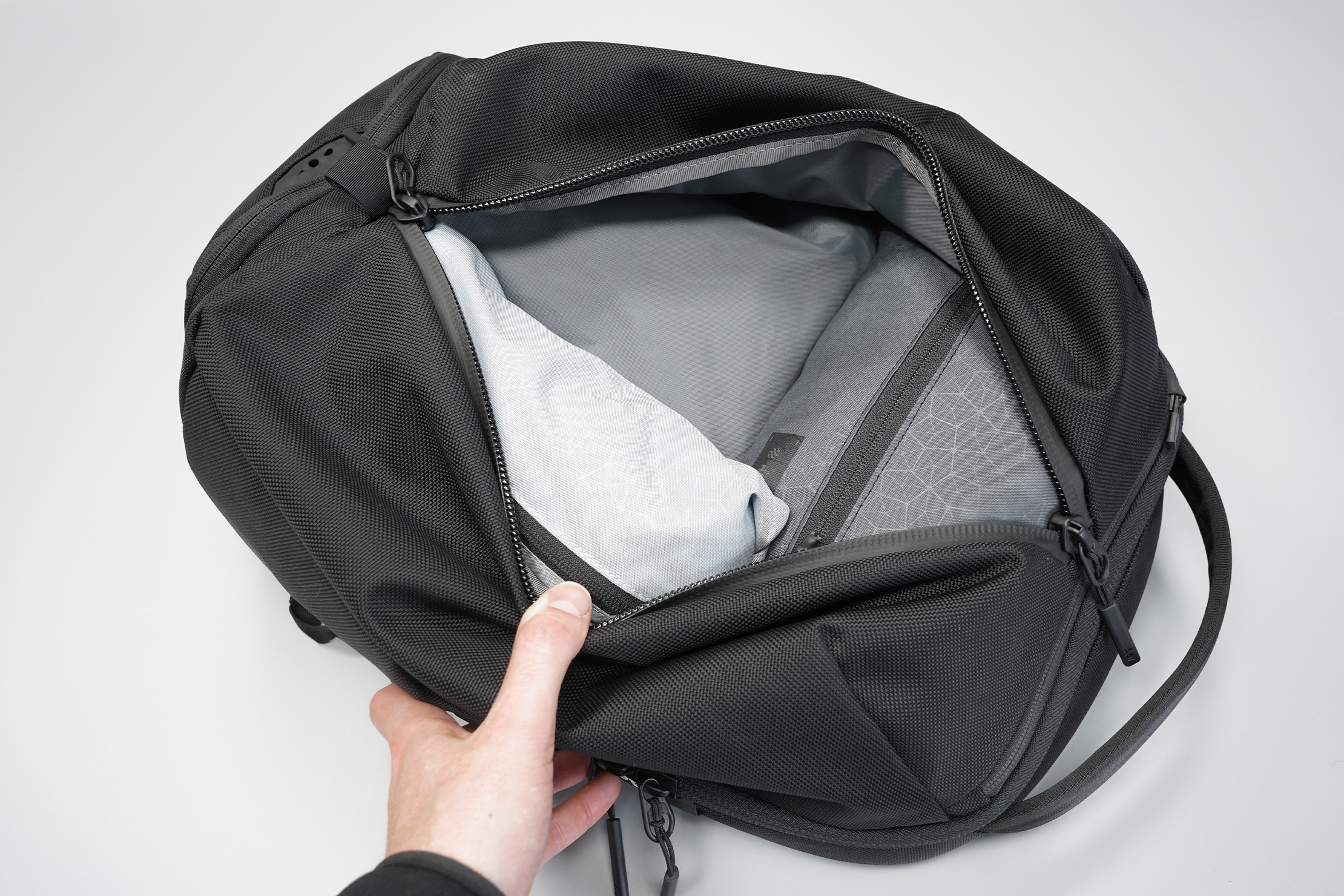 Switching gears from the gym to work, we arrive at the main compartment. It opens horseshoe-style via water-resistant YKK zippers. That latter part's an important feature because the main compartment is where all of the more sensitive items will go (i.e., your work stuff).
There's a lot in terms of organization. Towards the back are two sleeves, one for your laptop and another one for your tablet or documents. Our 16-inch MacBook Pro fits in with room to spare and with a false bottom measuring about an inch. A noticeable improvement over the Fit Pack 2 is the thicker padding at the back, which better cushions your laptop and gives the Fit Pack 3 more structure. Not that the Fit Pack 2 felt lacking in structure, by the way.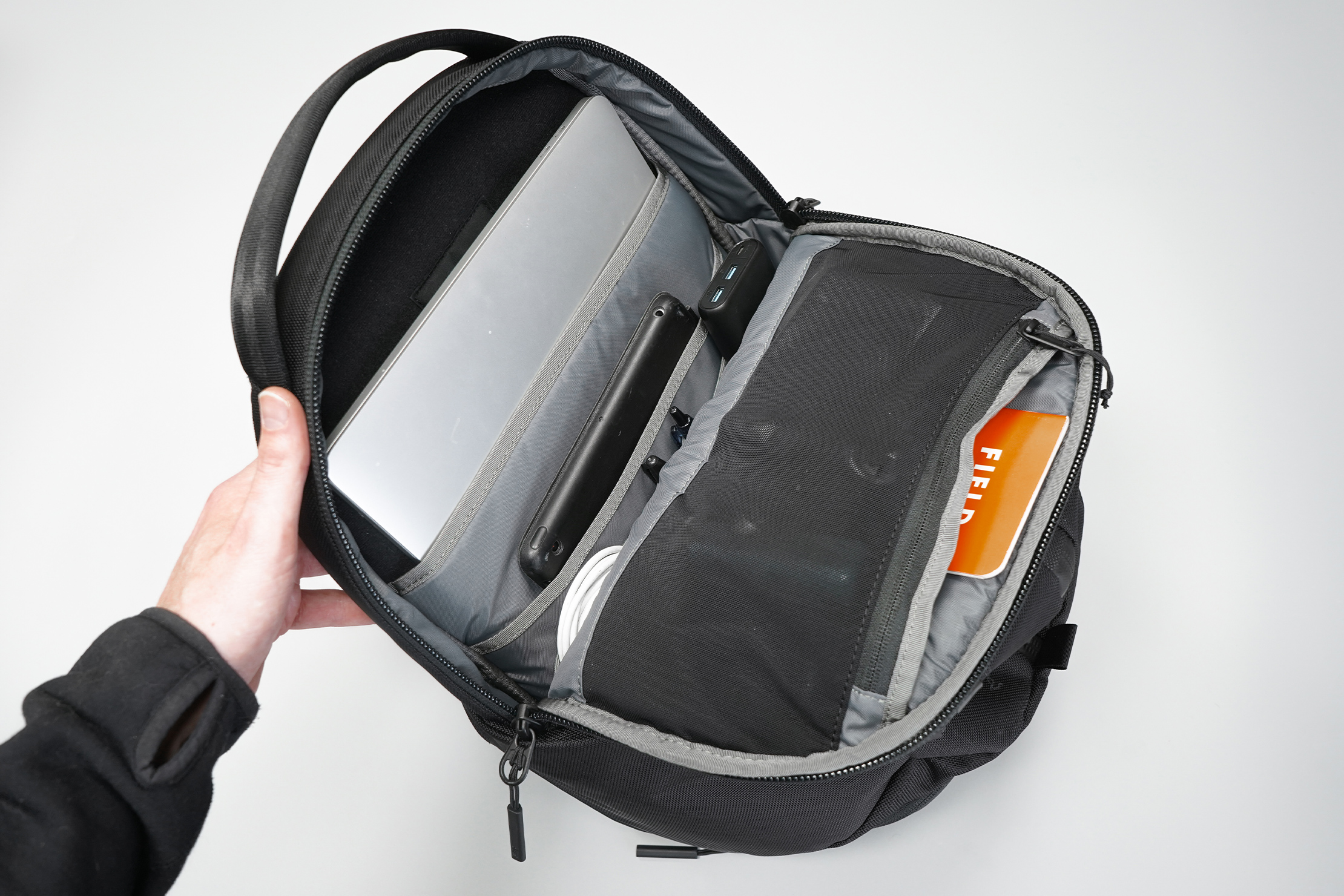 Towards the front of the main compartment is a stretchy zippered mesh pocket. It's less see-through than it was on the Fit Pack 2, but the added stretchiness will give you more flexibility with what you can fit inside. You also get a slit pocket behind it, suitable for small travel documents like transit tickets, passports, or small field notebooks. Below those are two pen silos and two liner pockets for chargers and travel mice.
There's not much space left for anything else in the main compartment. You can fit in tall and slim items like a textbook or folders of documents, but nothing too bulky.
Wrap Up
Coming in at 18.7 liters, the Aer Fit Pack 3 isn't the most spacious backpack out there, and it can feel a bit tight once you load it up. But considering the bag's two-in-one nature, Aer was able to find a nice balance between work and gym use. However, it's not a perfect solution if you lean heavily towards one activity or the other.
Those who do will benefit more from either a duffle bag or a daypack. But if you need a bag for use at work and the gym, you get a nice mix of both in the Fit Pack 3. You have separate compartments for shoes, clothes, and work-related items, all at a manageable size.
Usage Timeline
Initial Usage
Condition: Excellent
Comfortable to wear, even when filled with gym and office gear
Has a well-padded floating laptop compartment
Also has a ventilated shoe compartment like the Gym Duffel 3
2 Weeks of Use
Condition: Excellent
Overall this bag is a nice step-up from the Fit Pack 2. It still performs great as a gym-tech hybrid but it steps it up a little more with some thoughtful design including quieter zippers, a compressible shoe compartment, and softer mesh. The organization and padding both feel great for a bag of this size and we have really appreciated the wide-open main compartment for just tossing everything in. It's a solid bag overall and a sturdy companion for those office-to-gym trips.
Access the Pro Community Discussion
Get your questions about the Aer Fit Pack 3 answered from our team and the Pro Community right here on the page. Plus, join discussions with other members about gear, guides, and more.
Other Bags & Luggage Reviews