Aer Fit Pack 2 Review
Versatile and durable with solid organization and ample space, the Aer Fit Pack 2 is a great commuter bag—but the zippers can be frustrating to use.
Our Verdict
Unlock the Pro Summary
Save time. Get access to brief summaries of our reviews so you can browse and make decisions more efficiently.
Pros
The perfect amount of organization
High-quality, durable materials used throughout
Comfortable carry
Cons
The zippers are frustrating to use—they get in each other's way
Tech compartment doesn't work for bulkier items
Lacks water bottle pockets
Recent Pack Hacker Video
Technical Details
Capacity

18.8l

Weight (lb)

1.9 lb (0.9 kg)

Denier

1680D

Dimensions

18.5 in x 12.5 in x 8 in (47 x 31.8 x 20.3 cm)

Notable Materials

CORDURA® Ballistic Nylon, YKK Zippers, Duraflex Hardware

Manufacturing Country

China

Laptop Compartment Size

15"

Warranty Information
Full Review
Get up to 10% off Aer • Join Pack Hacker Pro
If you've got your life together and visit the gym/boxing ring/yoga studio/trail/favorite place to exercise either before or after work, then you have come to the right review. The Aer Fit Pack 2 has been designed to be part gym bag, part laptop bag. No more trying to make a duffle work for your laptop and tech gear. No more trying to shove your gym clothes and shoes into an EDC backpack. No more having to lug two bags around.

We've been testing the Aer Fit Pack 2 as intended for the past month, taking it from work straight to the gym. And it's performed really well.
But you can always be a rebel and use this pack for whatever else. A minimal travel pack for short trips? Sure. An EDC backpack? Absolutely. The pack you take when you decide to quit your job and join a traveling circus? Why not?
Before we jump into the review, we want to note that we've been testing a limited edition of the Aer Fit Pack 2 that's no longer available. It's nearly the same as the regular Fit Pack 2, except it's made of a different fabric, has a bright interior color, and an extra handle, all of which we'll discuss in detail later.
With that said, let's get to it.
Materials & Aesthetic
The Aer Fit Pack 2 looks like a regular ole backpack…in the best way possible. It has a minimalistic exterior and a round, almost teardrop shape.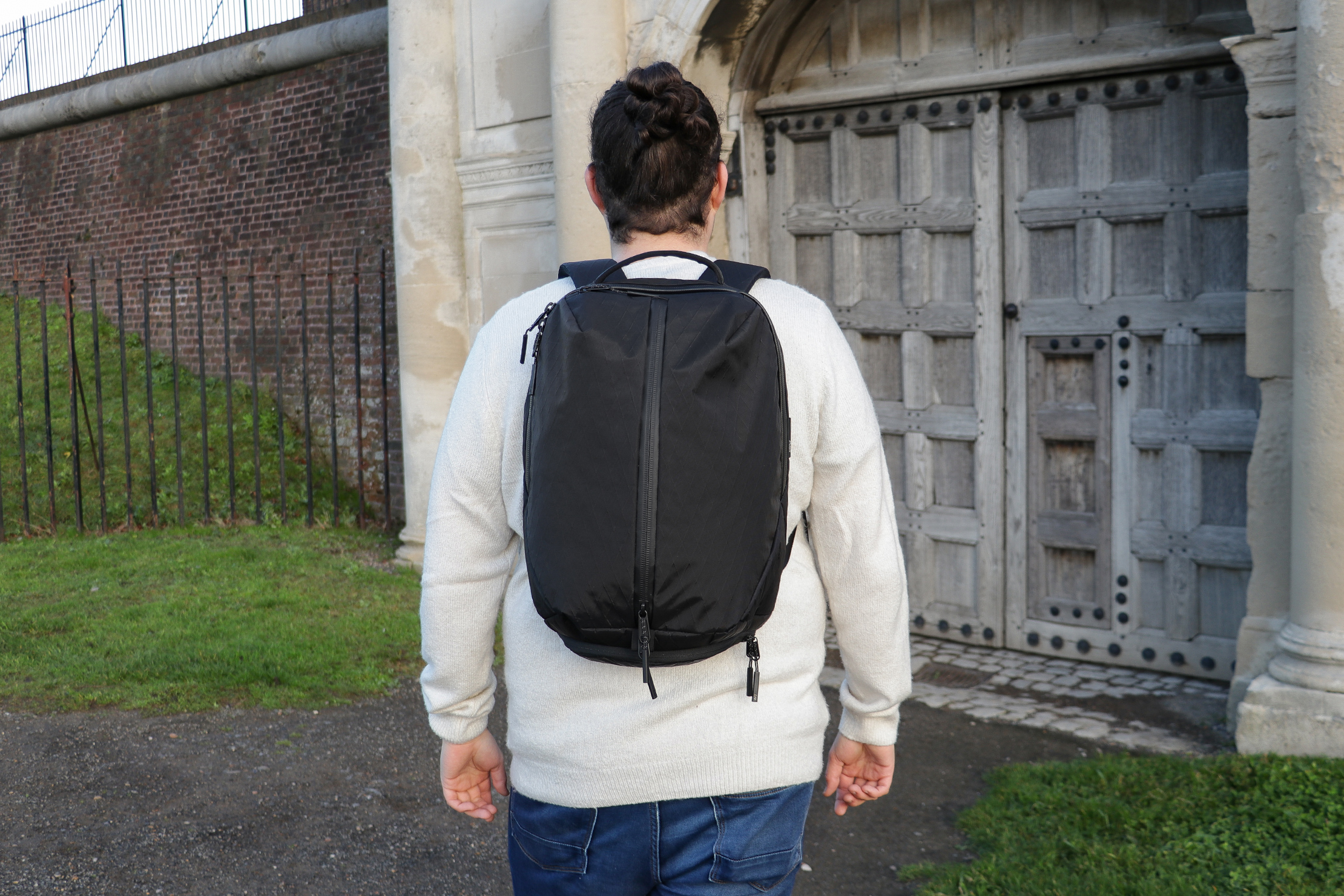 We're digging the black colorway that we've been testing—no surprise for those of you familiar with us—but you can also pick it up in such daring colorways as Gray, Navy, and Black Camo. And, yes, that daring was sarcastic. Aer likes to keep it classy and subdued. We're fans, but if you like bright colorways we'd suggest checking out Topo Designs or Cotopaxi.
The aesthetic does change slightly as you fill the pack up. The more stuff you shove inside the main compartment, the more it will stick out, which can end up looking kind of funny. Nothing too bad, but worth pointing out.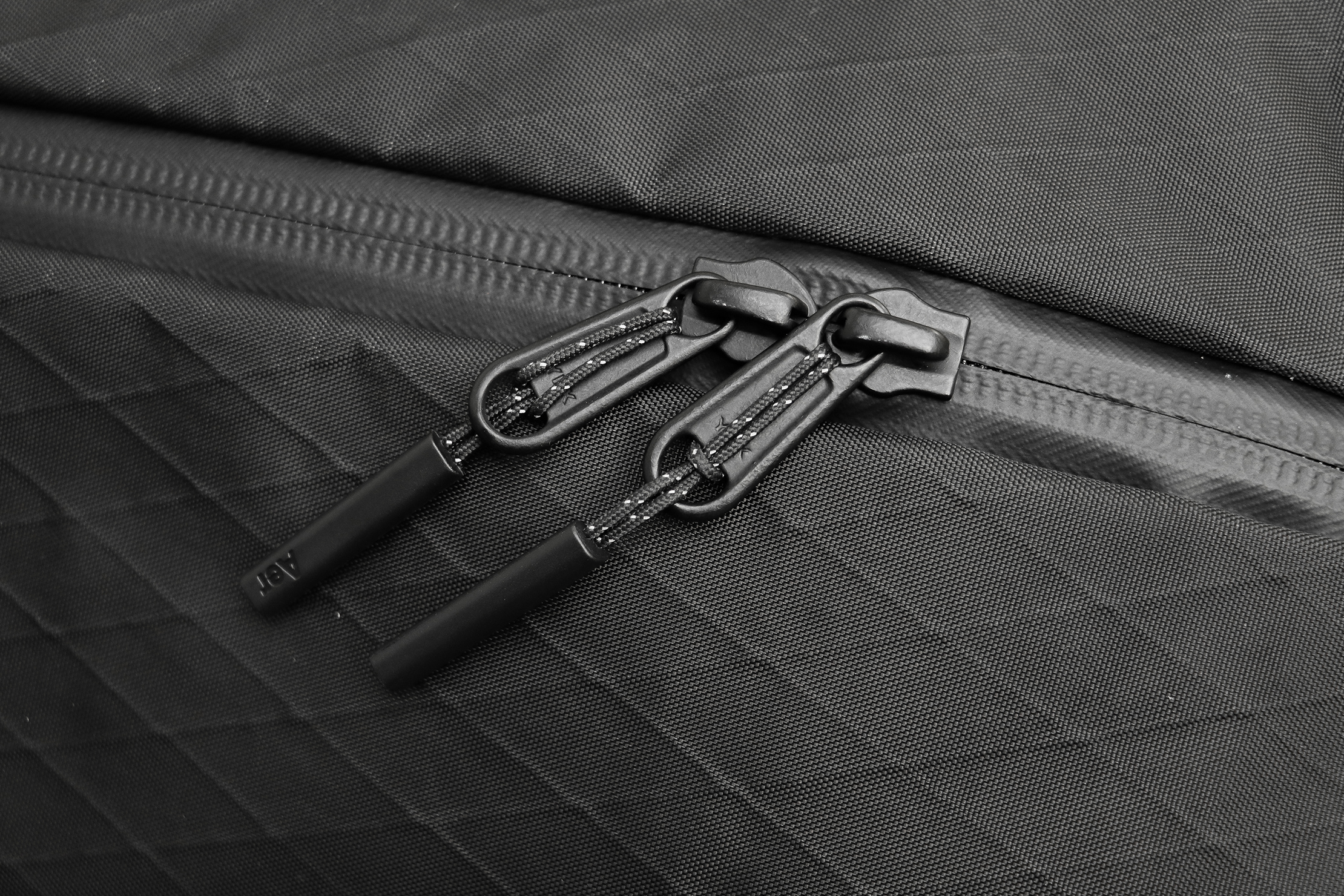 The chunky, YKK® AquaGuard zippers basically go hand-in-hand with Aer's logo at this point. Nearly everything they sell features these beastly zippers, which can be polarizing. Some people like that pop of style, while others hate how jingly the zipper pulls are. (We don't mind the jingly-ness, but we have a different bone to pick with these zippers, which we'll discuss in the External Components section below.)
Either way, these zippers do add some solid water-resistance, which is always nice.
As we mentioned earlier, we've been testing the limited edition version of the Aer Fit Pack 2. This edition is made of an X-Pac material that we're really loving.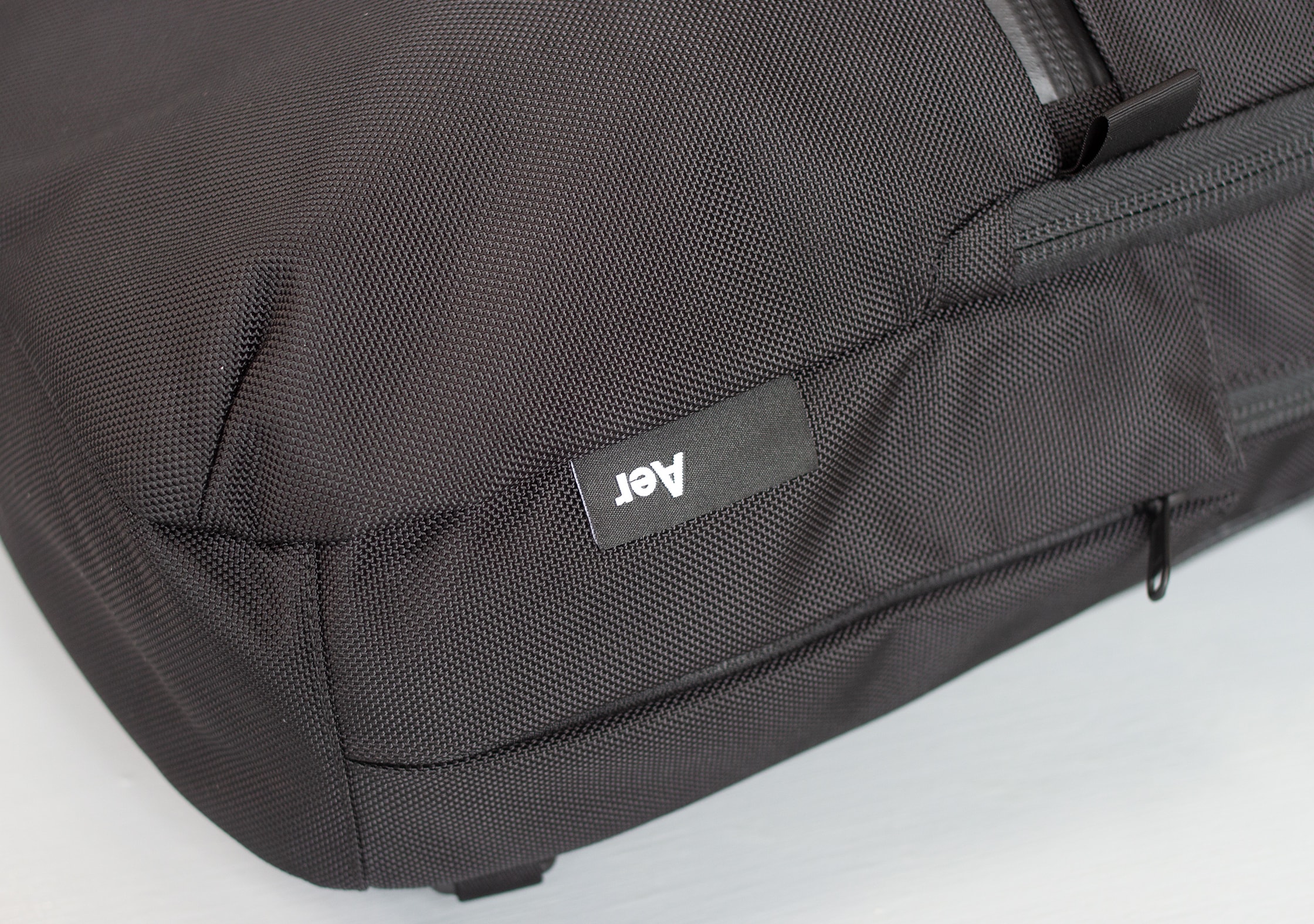 The regular edition of the Aer Fit Pack 2 is made of 1680D CORDURA® ballistic nylon, which is classic Aer. Like the chunky YKK zippers, you can expect to find this durable fabric on most of Aer's products. We're comfortable speaking to it in this review because we've tested numerous Aer bags, including the Aer Travel Pack 2, Aer Travel Duffel, and Aer Day Sling 2, all of which feature this ballistic nylon.
1680D CORDURA® ballistic nylon is seriously tough. We've never had issues with any of those aforementioned bags—and we've put them through the wringer for years. Plus, it's water-resistant, so you don't have to worry about getting caught in the rain. When push comes to shove, we generally prefer 1680D CORDURA® ballistic nylon over the X-Pac material (there's a reason it's Aer's go-to fabric).
Finally, you'll find Duraflex hardware throughout this pack, which should see you through years of hard use.
External Components
The Aer Fit Pack 2 is a simple bag, so it's no surprise that there's nothing wild going on externally.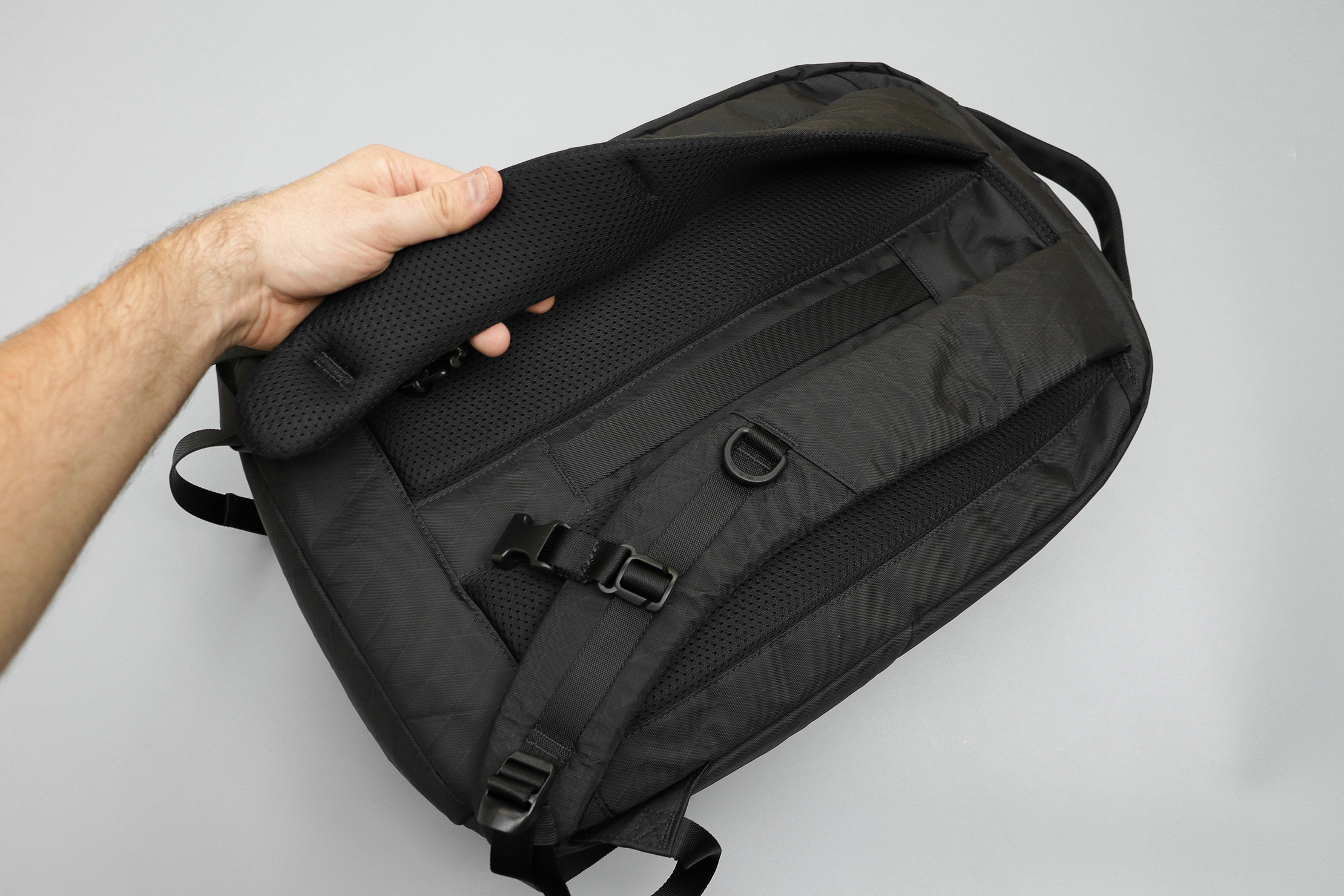 The harness system is nothing too fancy, but it doesn't need to be. The padded straps are comfortable to wear—even when the bag's fully packed out—and the back panel has a little bit of mesh and air channels for breathability. There's also a nice sternum strap. Again, there's nothing particularly awe-inspiring going on, but it's a small pack, so it doesn't require anything awe-inspiring.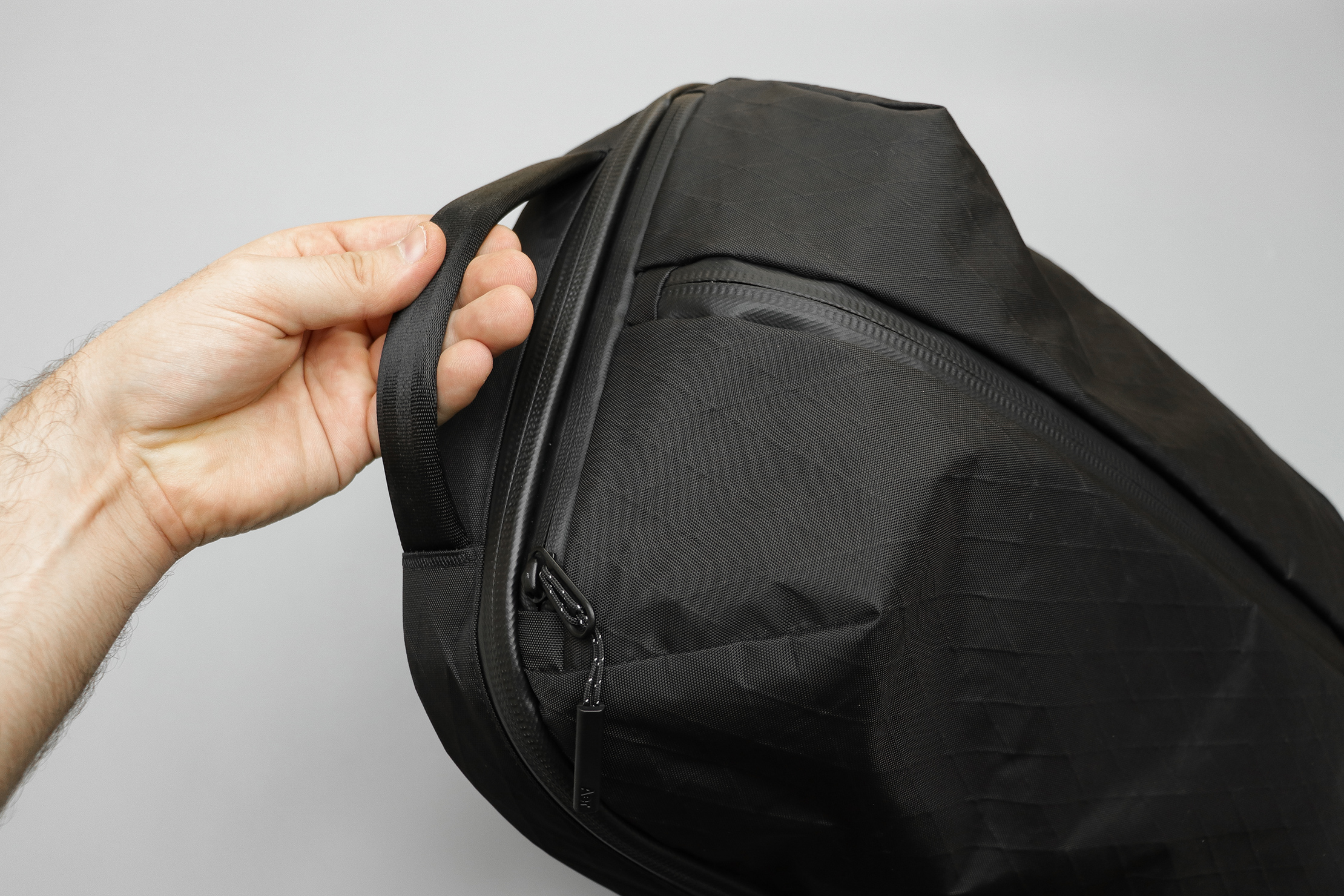 There is a D-ring on the wearer's left shoulder strap, so you can attach something externally if you'd like to. You'll also find the standard top handle for easy maneuvering. (The X-Pac version we've been testing has an additional handle on the back panel.)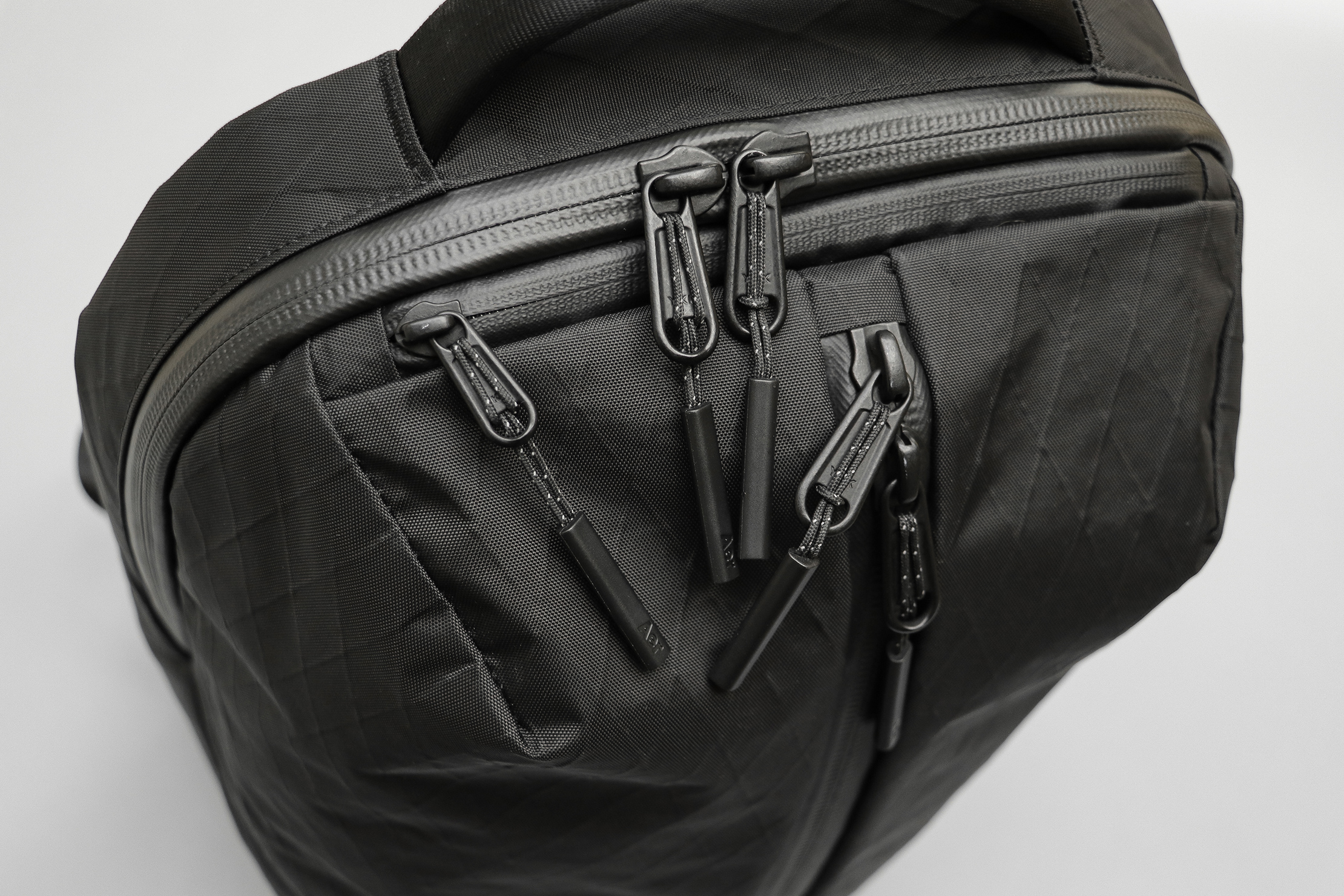 And that brings us to our least favorite part about the Fit Pack 2—the zippers. While we don't normally mind the beefy zippers—Aer seems to love them and we can usually hang—they don't work on this pack because they get in each other's way. When you're trying to unzip one pocket, the beefy zipper from another obstructs easy access. Plus, they're all identical, which is annoying for figuring out which zipper to unzip to get you where you want to go. It's a huge pain.
Alright, before we zip this sucker open, we want to note that there are no water bottle pockets on this bag, which is an odd decision for a gym bag. It helps keep the exterior of the pack looking sleek, but pounding away on a treadmill does usually make you thirsty, so yeah…We'd rather have function over style here. That said, we've been able to stick a water bottle in the main compartment, especially since we keep our tech stuff in a separate compartment and don't have to worry about spills frying our expensive equipment.
Inside the Pack
Before we dive in, we want to point out that the edition of the Fit Pack 2 we've been testing has a bright orange interior. The regular edition has a light gray interior that's become standard issue inside Aer's packs. We always appreciate a lighter, brighter lining as it makes spotting your stuff a breeze.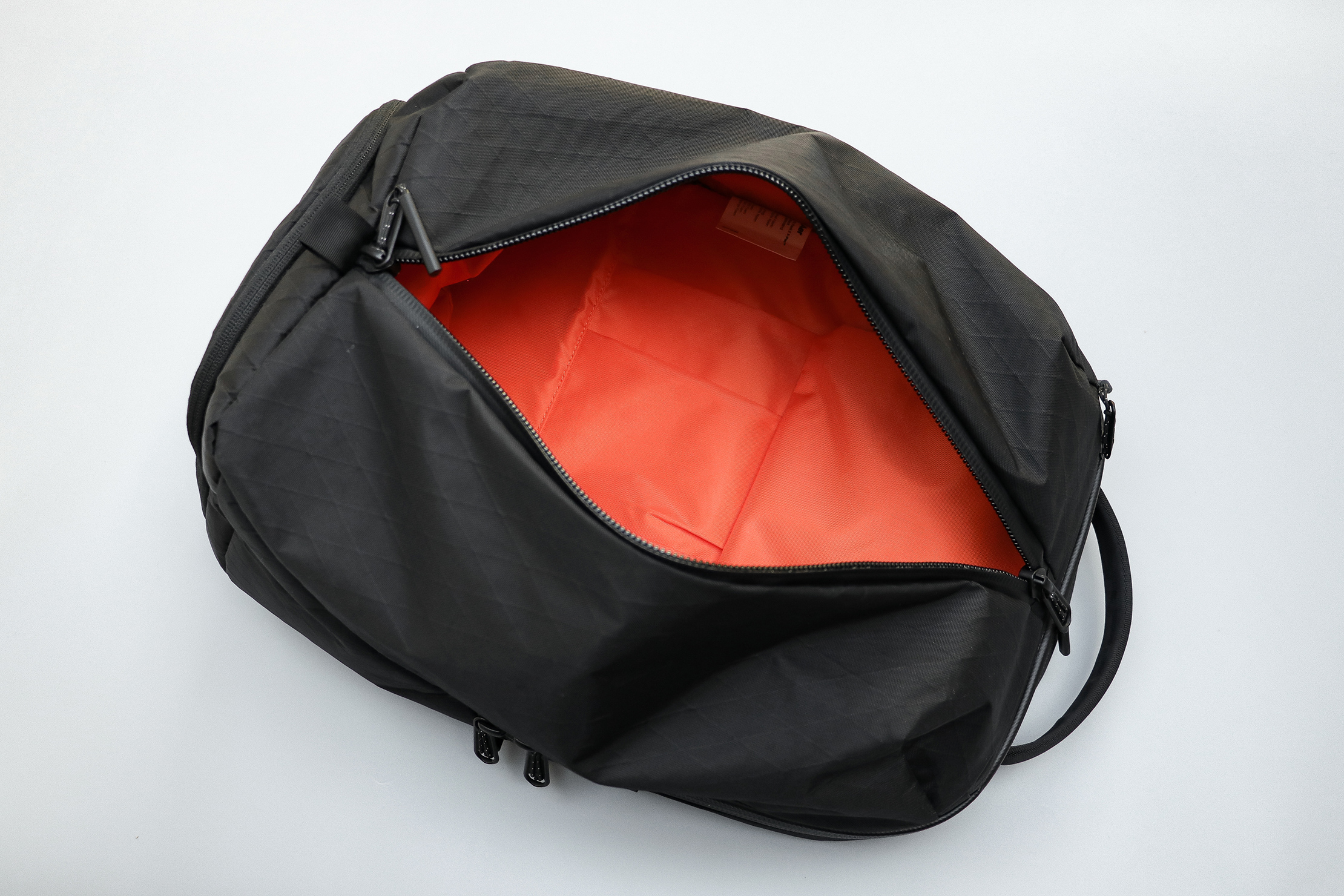 Starting with the main compartment, which is front-loading and opens with a zipper down the length of the pack. This is the spot for your gym stuff. While it lays flat when not in use, or when minimally packed, it expands and should hold everything you need for a good time at the gym—an extra pair of clothes, an organizer pouch with makeup/soap/deodorant if you'll be heading to work straight after, and other things of that nature. It's basically a cavernous space with an elasticated sleeve against the back to help you stay a little bit organized.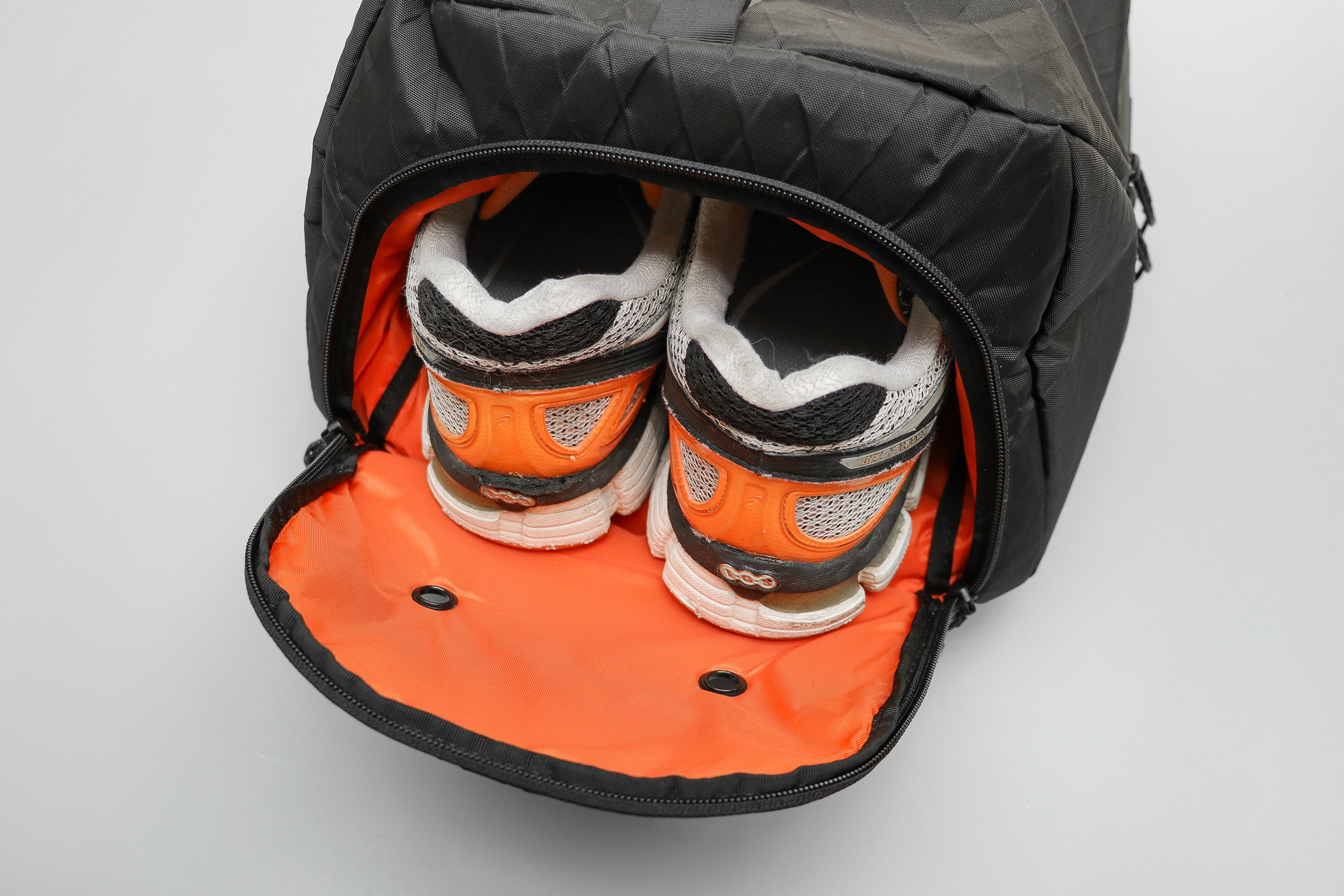 The shoe compartment opens into this main compartment. It will eat into the available space, but you should still have plenty of room. The shoe compartment has two holes to help your sweaty sneakers air—or should we say aer—out, as well as to expel any dirt or dust that falls off the outsoles.
Behind the main compartment is the tech compartment, which has been designed to hold the stuff you need for a successful day at the office (or coffee shop, co-working space, etc.). It opens in a horseshoe style. This compartment is pretty tight (depth-wise), so if your job involves a plethora of textbooks or other bulky equipment, it may not work for you.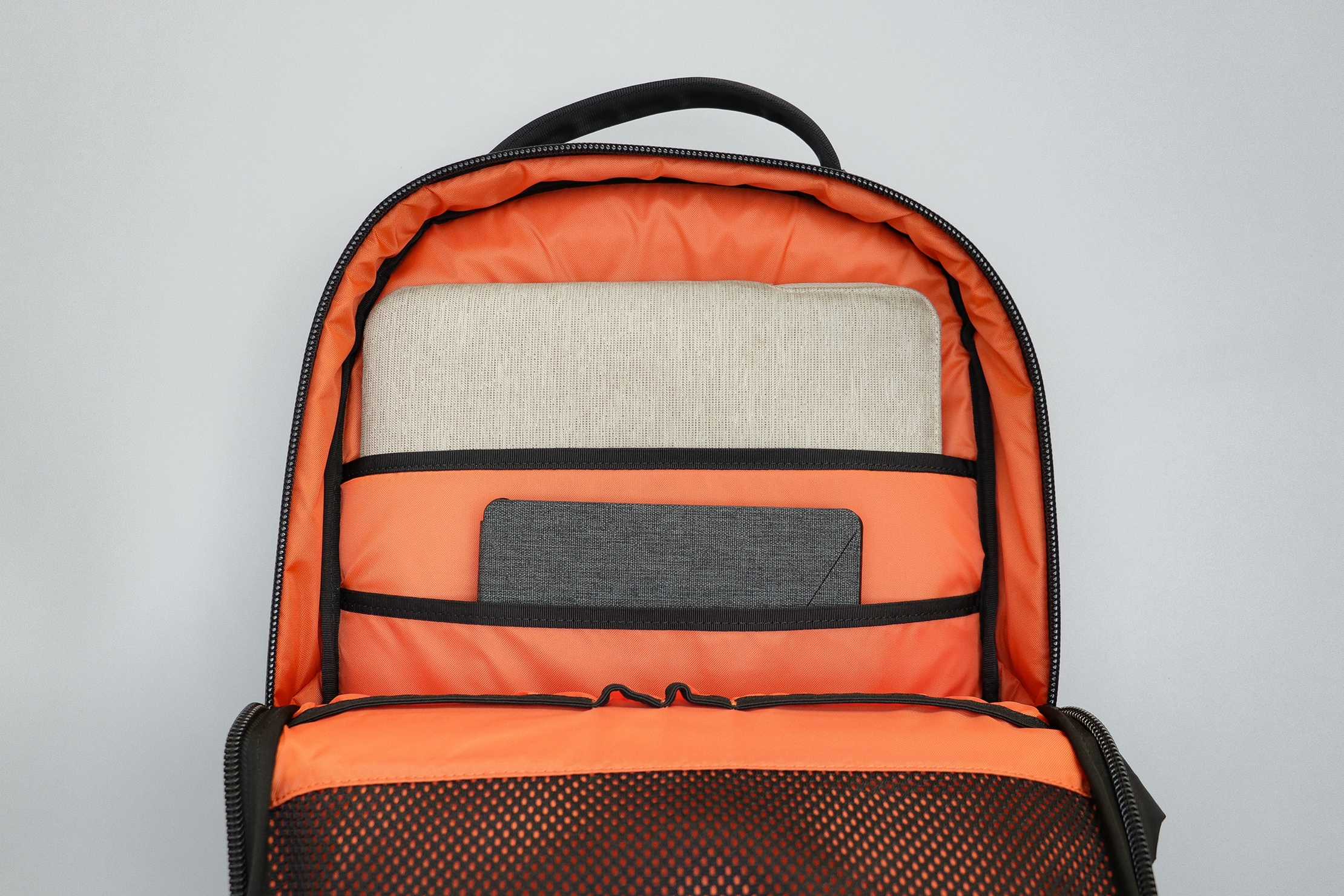 It has a laptop sleeve against the back that fits a 15'' laptop with a case. In front of that is an additional sleeve for a tablet, notebook, documents, or other flat items.
On the other side, you'll find an organization panel that has two divider pockets and a couple of spots for pens/pencils/styluses (styli?). We've found the divider pockets work great for a mouse and wireless headphones, but obviously, you do you. They also lay flat when not in use, so you don't have to use them if you don't want to.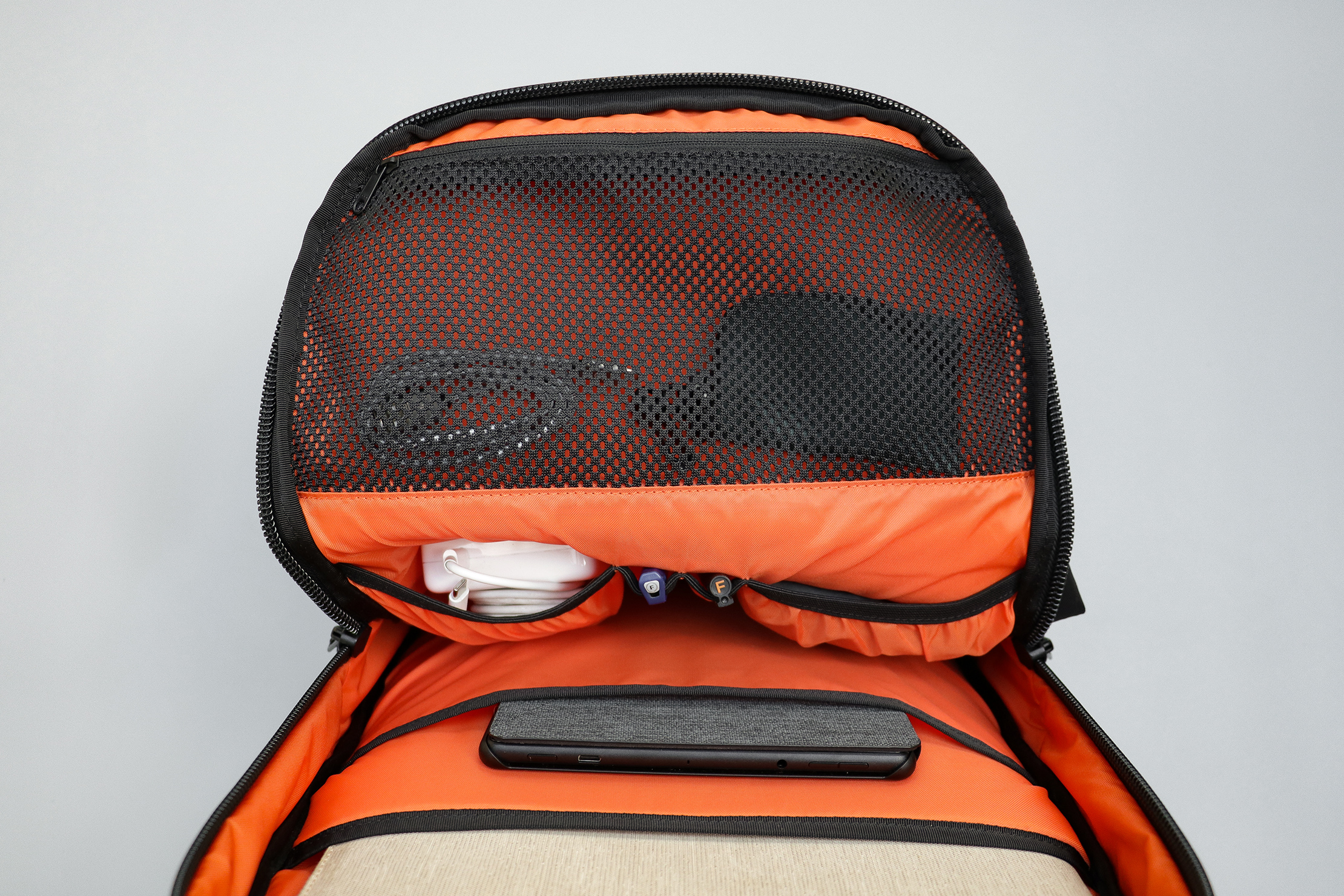 Above that is a zippered mesh pocket for small things that might otherwise get lost in the ominous bottom of the backpack black hole.
We think this is the perfect amount of organization for a tech compartment. It's enough to help you stay organized, but isn't overkill.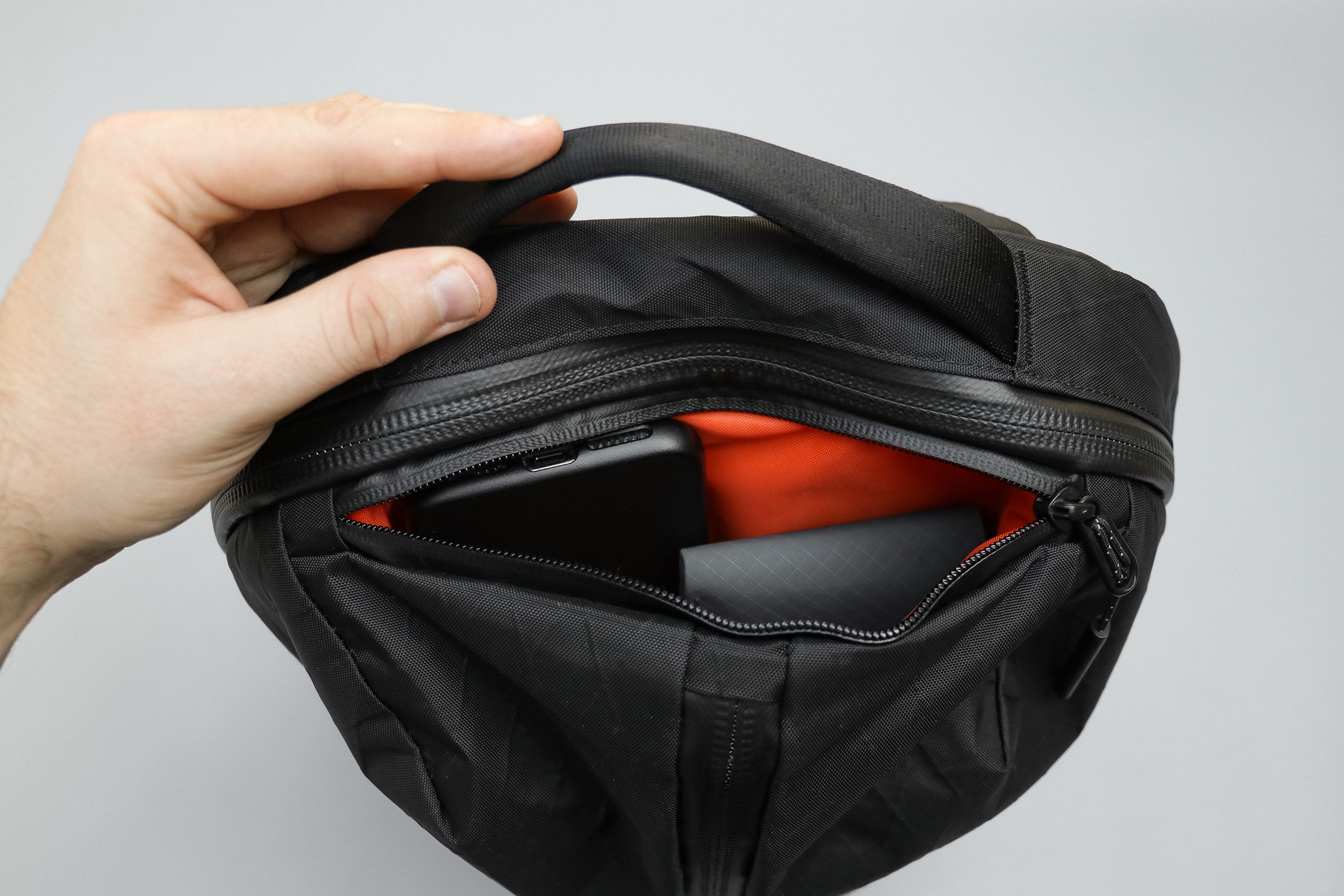 The third and final pocket on this pack is the quick-grab pocket that sits at the top, which we love. It's the perfect spot for your phone, wallet, keys, maybe even a post-workout snack.
Durability & Testing
We've been testing the Aer Fit Pack 2 around Detroit, New York City, and on a transatlantic flight to England—where we've been testing it some more. All together we've been using this bag for about a month and it's been one of our favorites so far (and that's saying something because we test a lot of bags). We love it because it does what's advertised—it's the perfect combination of a gym bag/laptop bag.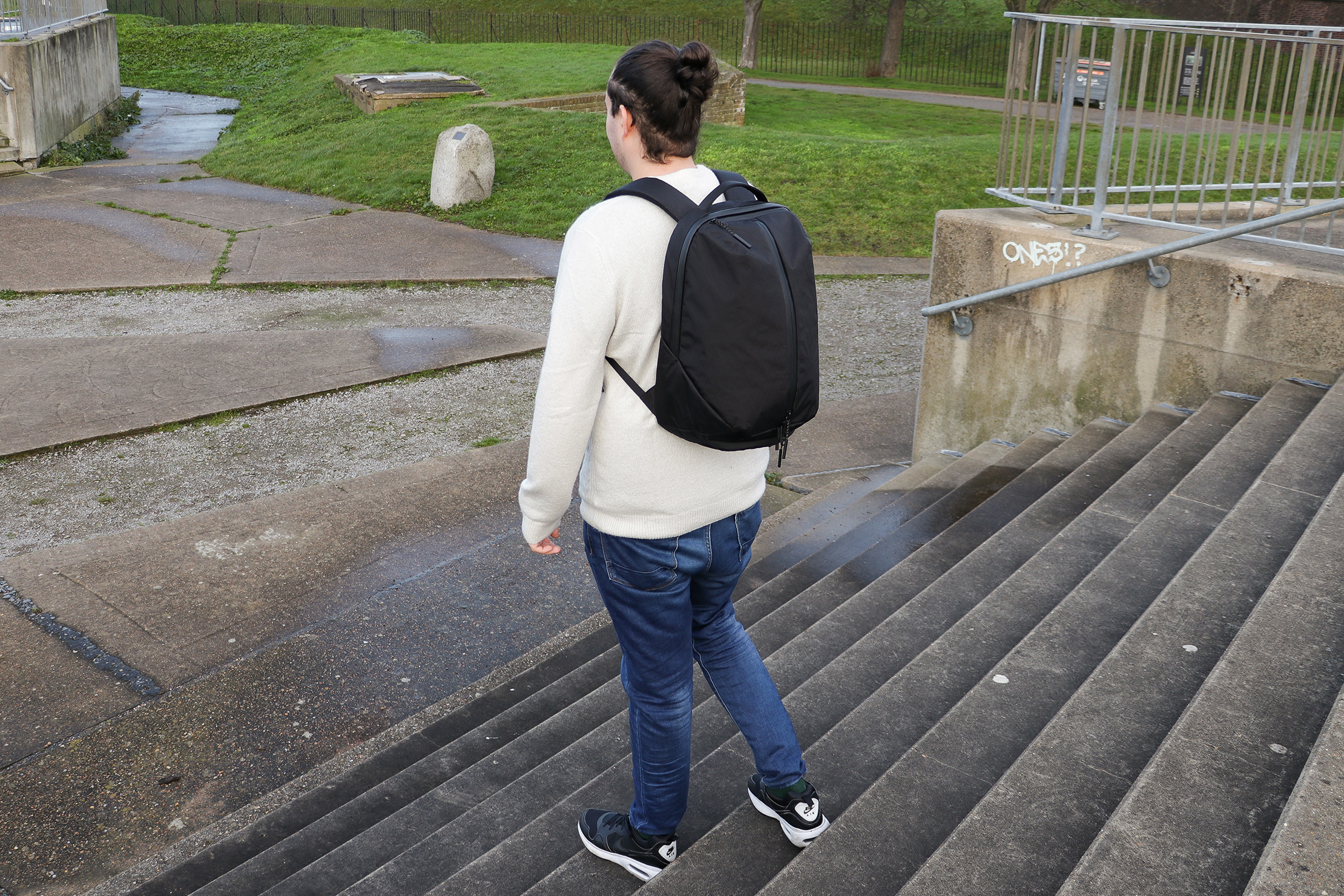 And it's been holding up flawlessly. Of course, we're speaking to the X-Pac version, but we expect that the ballistic nylon should treat you just as well (if our experience with Aer's other packs made of ballistic nylon is any indication).
Usage Timeline
Initial Usage
Condition: Excellent
Very well thought-out commuter bag with separate work and gym areas
Interior makes everything easy to see
Really like the ventilated shoe compartment
2 Weeks of Use
Condition: Excellent
The zippers are super annoying. Usually, we don't mind Aer's beefy zippers, but they're cumbersome on this pack.
1 Month of Use
Condition: Excellent
Just enough room for gym clothes and daily tech gear. Plus, it's holding up flawlessly!
Access the Pro Community Discussion
Get your questions about the Aer Fit Pack 2 answered from our team and the Pro Community right here on the page. Plus, join discussions with other members about gear, guides, and more.
Other Bags & Luggage Reviews