Aer Travel Duffel Review
The Aer Travel Duffel is a sleek travel bag made of quality materials that should last a long time, though it gets uncomfortable to carry at capacity.
Our Verdict
Unlock the Pro Summary
Save time. Get access to brief summaries of our reviews so you can browse and make decisions more efficiently.
Pros
Sleek, sophisticated styling
Made of durable materials
Intuitive pocket layout
Cons
Lacks great laptop protection
Uncomfortable to carry when full
The quick-grab pocket doesn't have any additional lining for fragile items
Recent Pack Hacker Video
Technical Details
Capacity

35l

Weight (lb)

2.5 lb (1.1 kg)

Denier

1680D

Dimensions

21.3 in x 12.6 in x 9.1 in (54.1 x 32 x 23.1 cm)

Notable Materials

Duraflex Hardware, YKK Zippers, CORDURA® Ballistic Nylon, EVA Foam

Manufacturing Country

China

Laptop Compartment Size

15"

Warranty Information
Full Review
Get up to 10% off Aer • Join Pack Hacker Pro
It's no secret we've been fans of Aer from the beginning. Both their Travel Pack 2 and Day Sling 2 scored quite high on our rating system, which is not an easy feat. Naturally, we've been excited to get our hands on the Aer Travel Duffel and put it through the wringer. And that's exactly what we've been doing for the past four weeks in Detroit.

Certain features of the duffel—like its internal organization and durable materials—have impressed us, while others—like its size and lack of laptop protection—have left us wanting a bit more.
But we're getting ahead of ourselves. First, let's check out how this thing looks (spoiler alert: we're big fans).
Materials & Aesthetic
We think the Aer Travel Duffel looks sleek and professional in Aer's signature "tech-y" kind of way. We've been testing it in black, but it's also available in an equally polished gray colorway.
At 35L, it's a massive duffel. It's like someone took a growth ray (enlarger ray?) to a traditional soft-walled briefcase—but not in a bad way. You get all the sophistication with a ton of extra room and organizational features. That's a true win-win.
Aer suggests pairing it with a backpack or roller luggage when traveling, but we think it's large enough that you don't need to.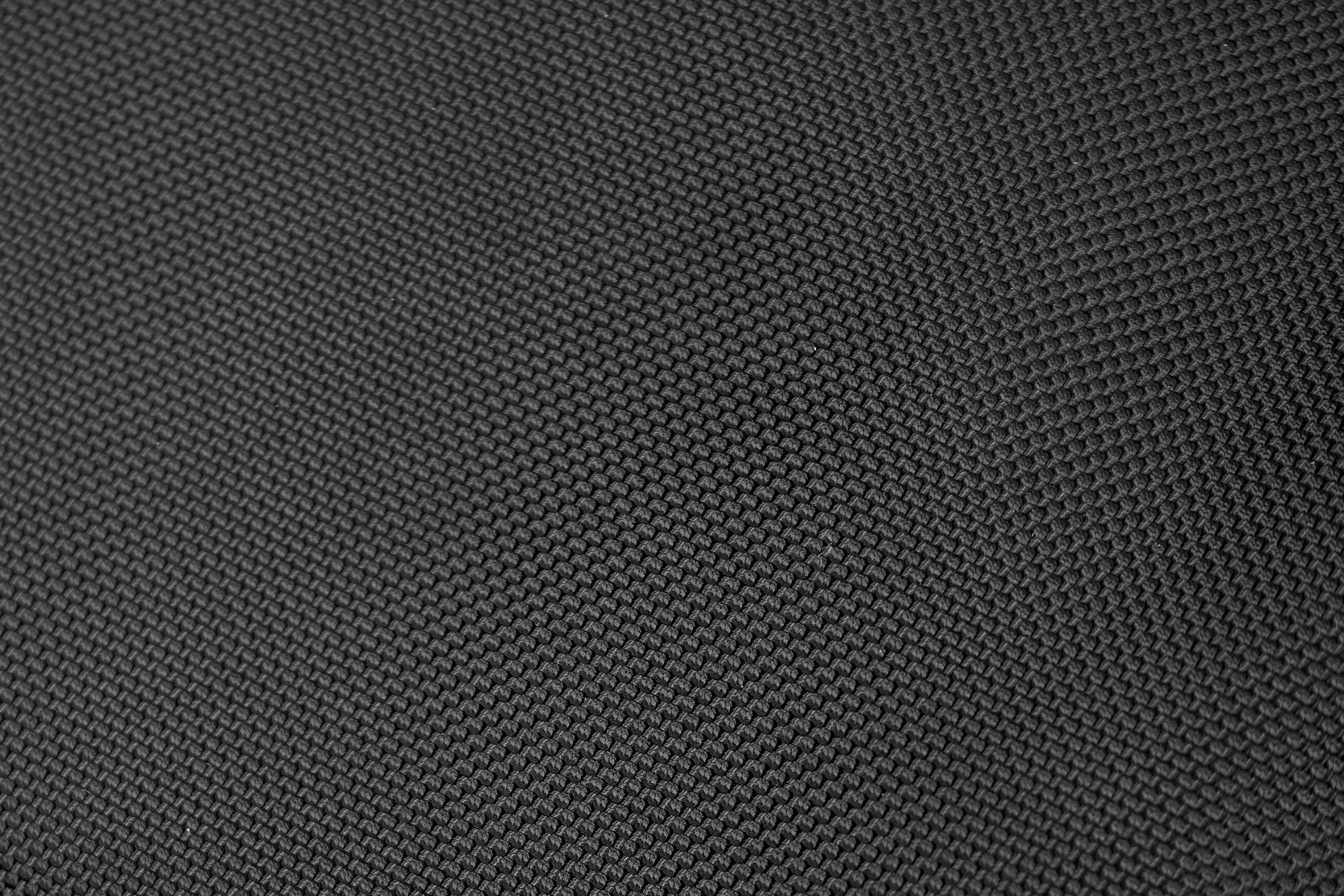 Now, if you're familiar with Aer then you'll know materials are their pride and joy. The exterior of this bag is made with a 1680D CORDURA® ballistic nylon, which we talked about on our review of the Aer Travel Pack 2. And we'll echo what we said then: this material is super durable and should last you a long time. As Aer likes to say, this nylon was originally developed for military body armor. Need we say more?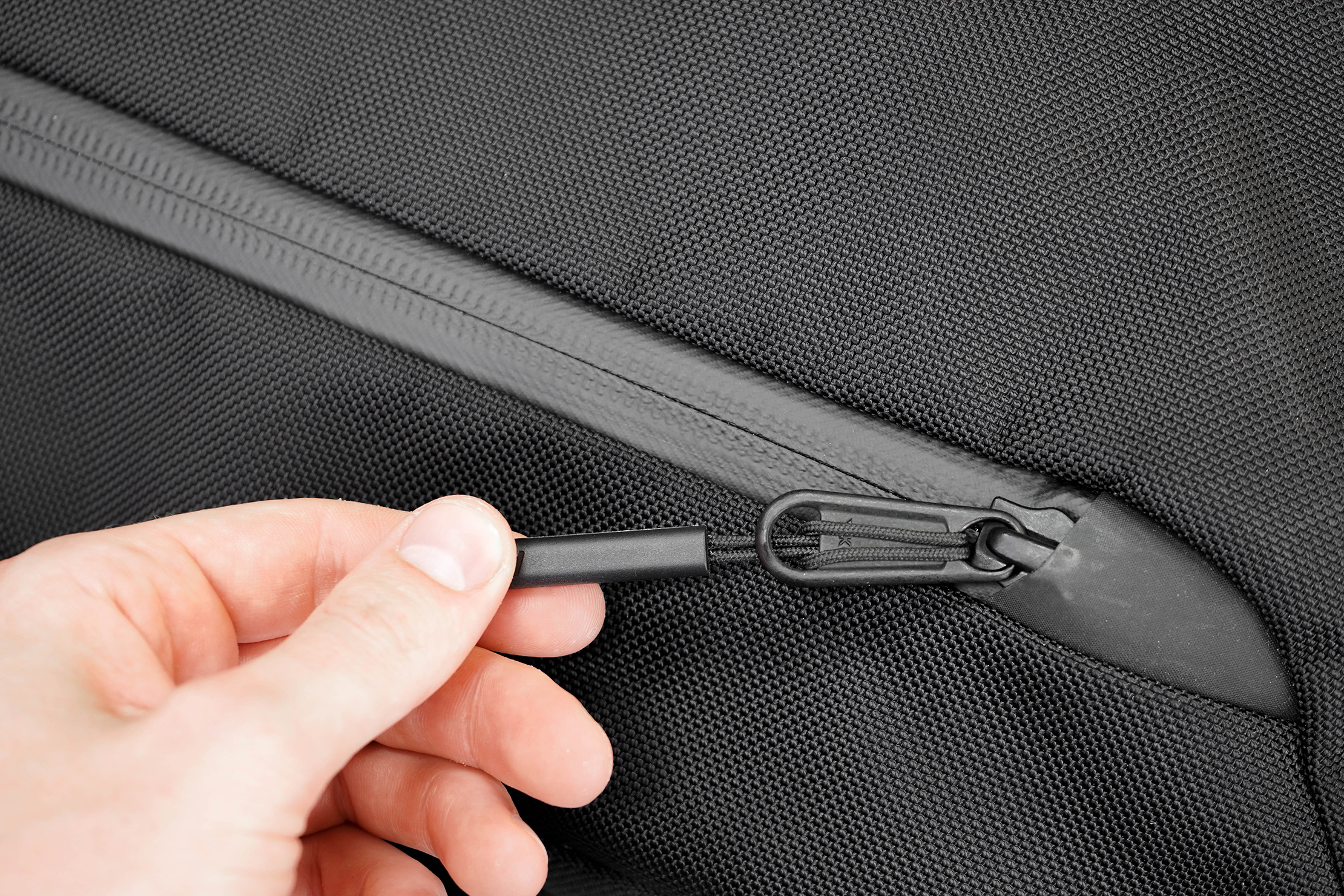 The internal and external zippers are all YKK RC with YKK AquaGuard® zippers on the laptop and front compartments, which we think is a nice touch. If any pocket needs additional weather protection it's the one that carries your laptop. The zippers on the main compartment are also lockable for additional security—a huge plus when it comes to travel.
And the plastic hardware is all Duraflex, so you can, in theory, trust them to get you through plenty of use.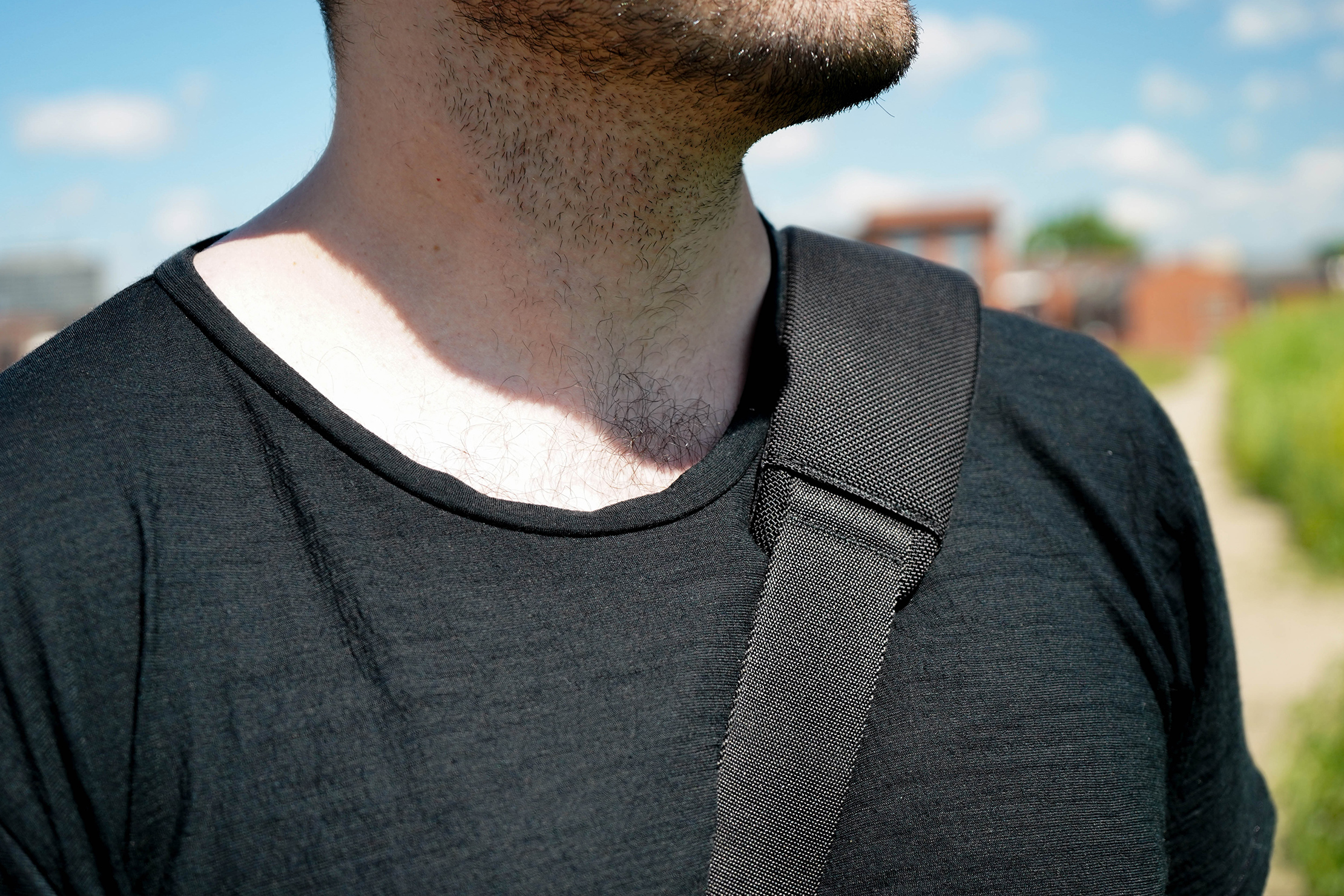 Last but not least, there's some nice foam padding on the handles and the shoulder strap that make for a comfortable carry. (Is it just us or does talking about a singular shoulder "strap" feel wrong after so many backpack reviews? Just us? Okay, cool.)
External Components
The exterior of this duffel has everything you need, but still manages to look nice and tidy. No surprise, we're digging it.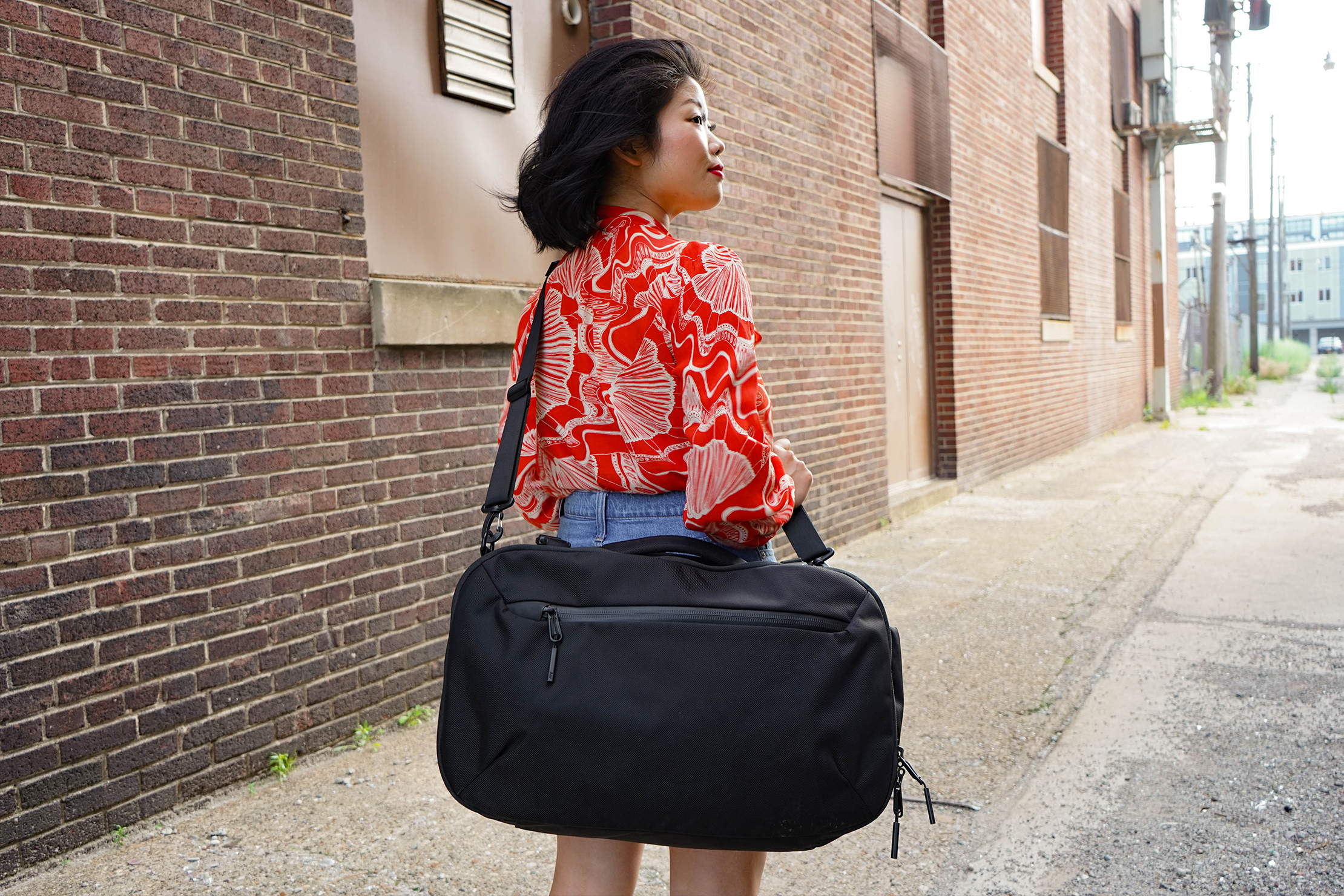 First up, we've got the detachable shoulder strap, which allows you to wear the duffel over one shoulder or across the body like a messenger bag. It's nicely padded and wears comfortably, as long as you aren't carrying too much weight (more on this later). Plus, it's really easy to attach and detach so you can toss it inside of the duffel or leave it at home when you don't need it.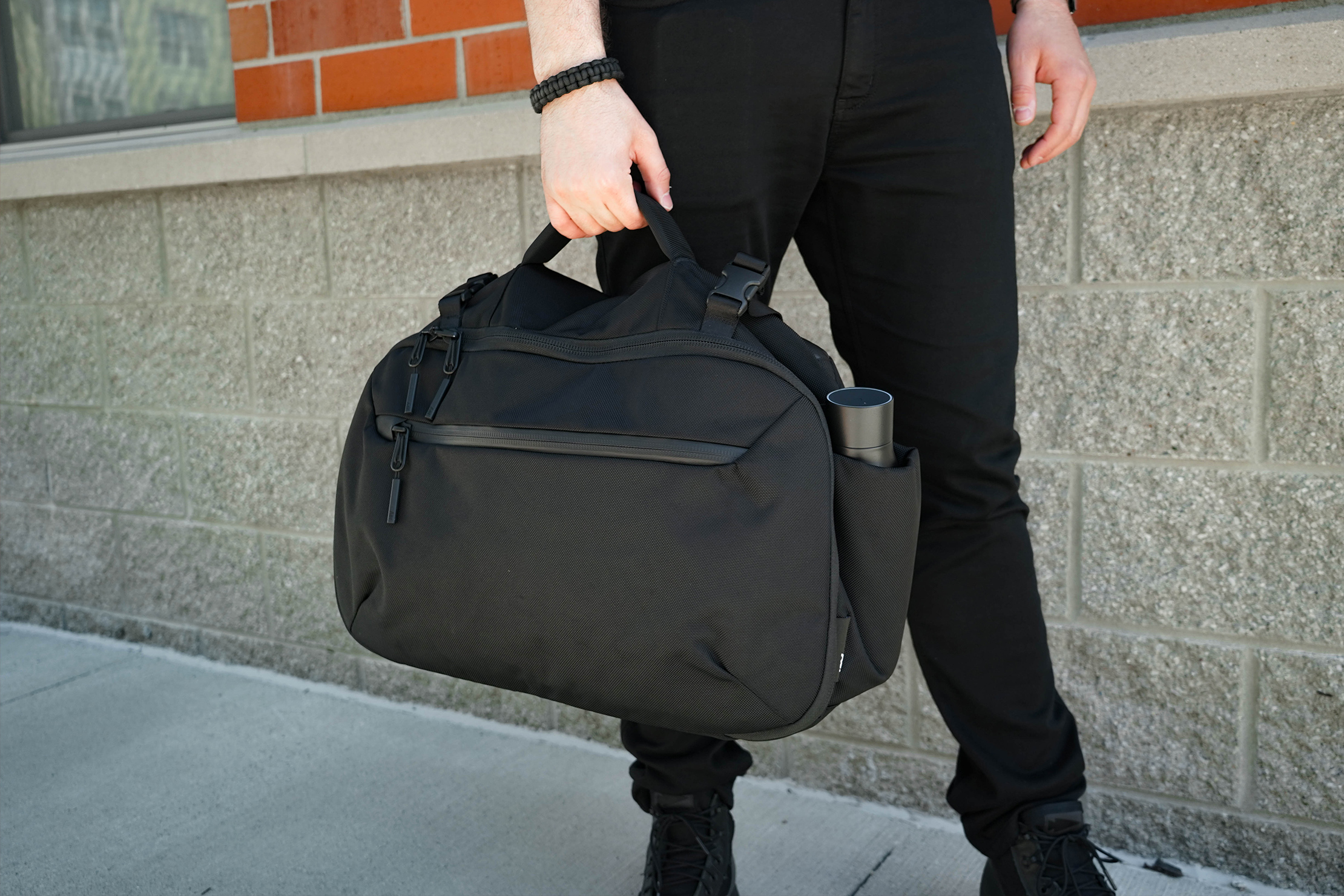 Then there are the two exterior handles, which are both strong and nicely structured. The top one allows you to carry the bag like a briefcase, while the side one helps you easily handle the duffel. We didn't really use the side handle much—or at all, really—but it's there if you need it. Plus both handles tuck into the interior nicely so there are no extra doodads to get in your way, which we always appreciate.
Next, we've got the luggage handle pass through. This is where you can attach the duffel to your roller bag if you choose to travel with one. We don't have much to say here other than it feels nice and durable, it works, and when not in use, it doesn't get in your way.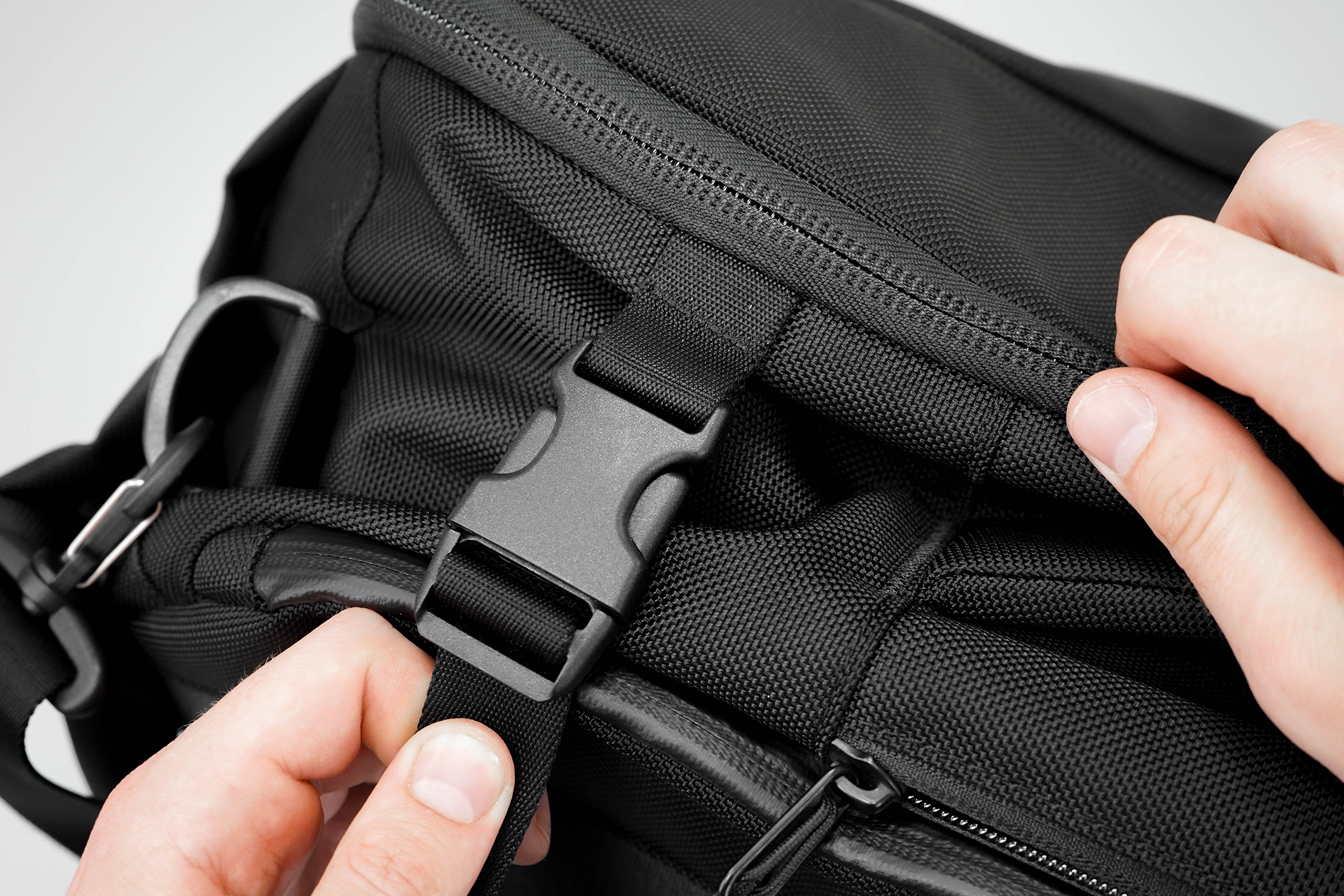 Now—if you haven't already gathered—this duffel is huge. Luckily, the Aer team decided to throw on some compression straps, which allow you to tighten everything up when you're not fully utilizing the entire duffel. But, wait, there's more! The compression straps double as extra storage for softer items like jackets that you want to strap onto the exterior. Even if you don't need the extra space, it's a handy spot to tuck a drying rain jacket or if you just don't want to bother getting in and out of a pocket.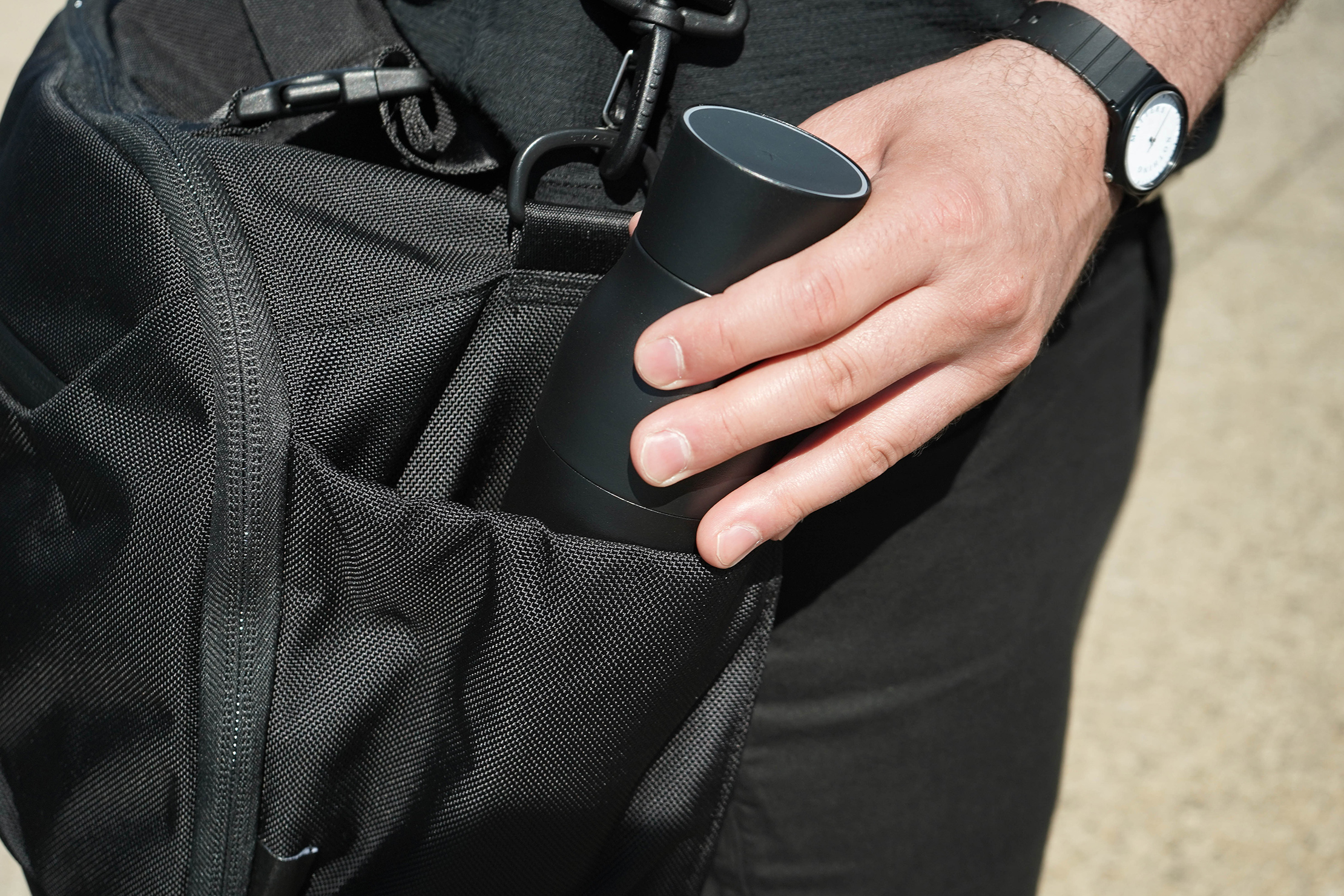 Finally, we've got the water bottle pocket, which we've been utilizing frequently. It's a standard design—nothing special going on—and we have no complaints. It's a great place to stash not only water bottles, but also thermoses and other small items. We've tucked an umbrella here during a particularly rainy month and it worked out quite well.
Inside the Duffel
Aer's internal organization is probably the best part about this duffel, as it's designed in a very intuitive way. Every pocket is exactly where you'd want it to be. It's almost like the folks at Aer have studied how people interact with packs or something. (Wait a minute…)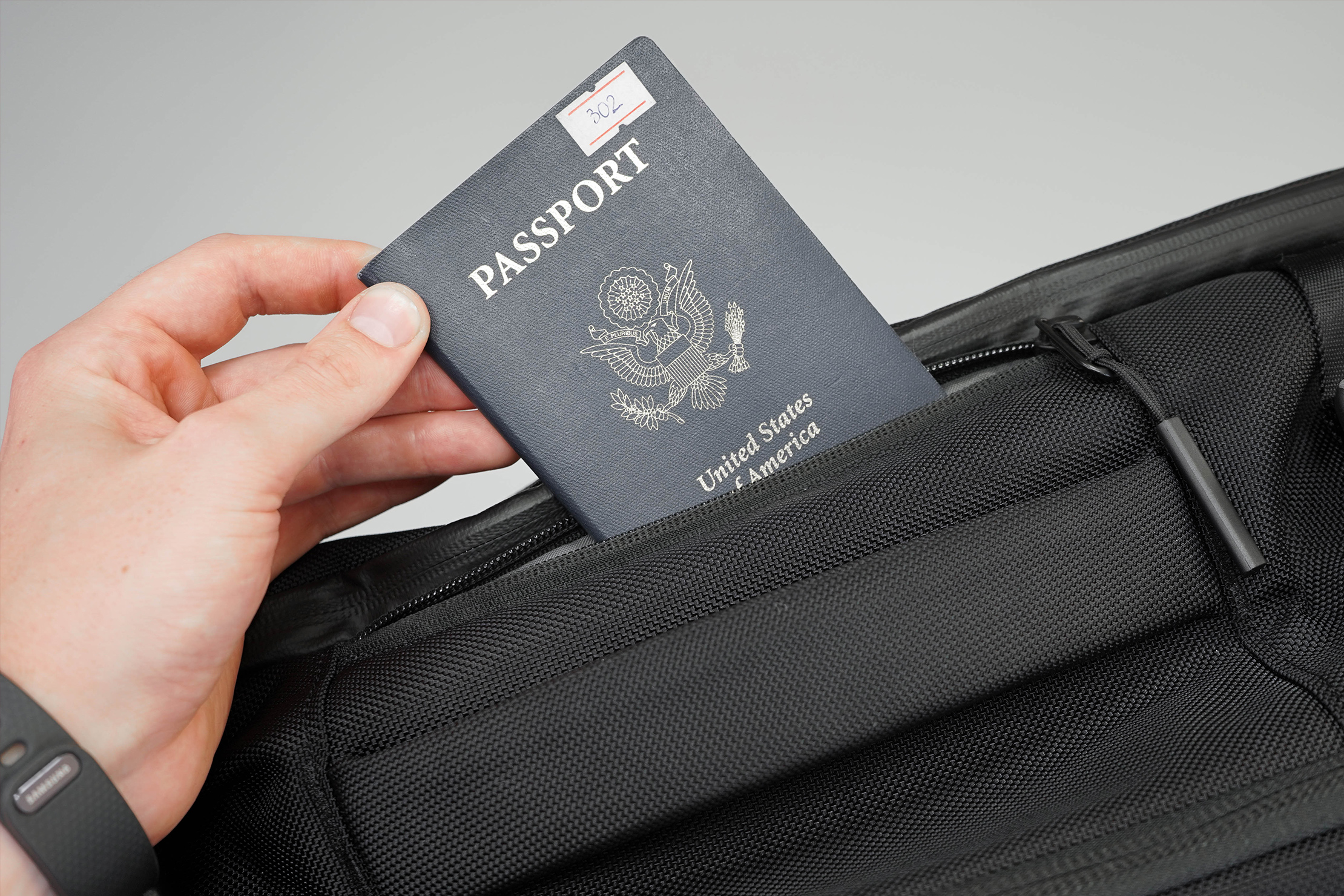 Anyway, there are a total of four pockets. First up is the quick-grab pocket on the top of the duffel. We've really been enjoying it, despite our disappointment that there's no extra padding or soft lining here for fragile items like sunglasses. It's a great size, it'll fit your passport, keys, phone, wallet, and a few other little items, plus it's super convenient to get in and out of. It's exactly what you want out of a quick-grab pocket.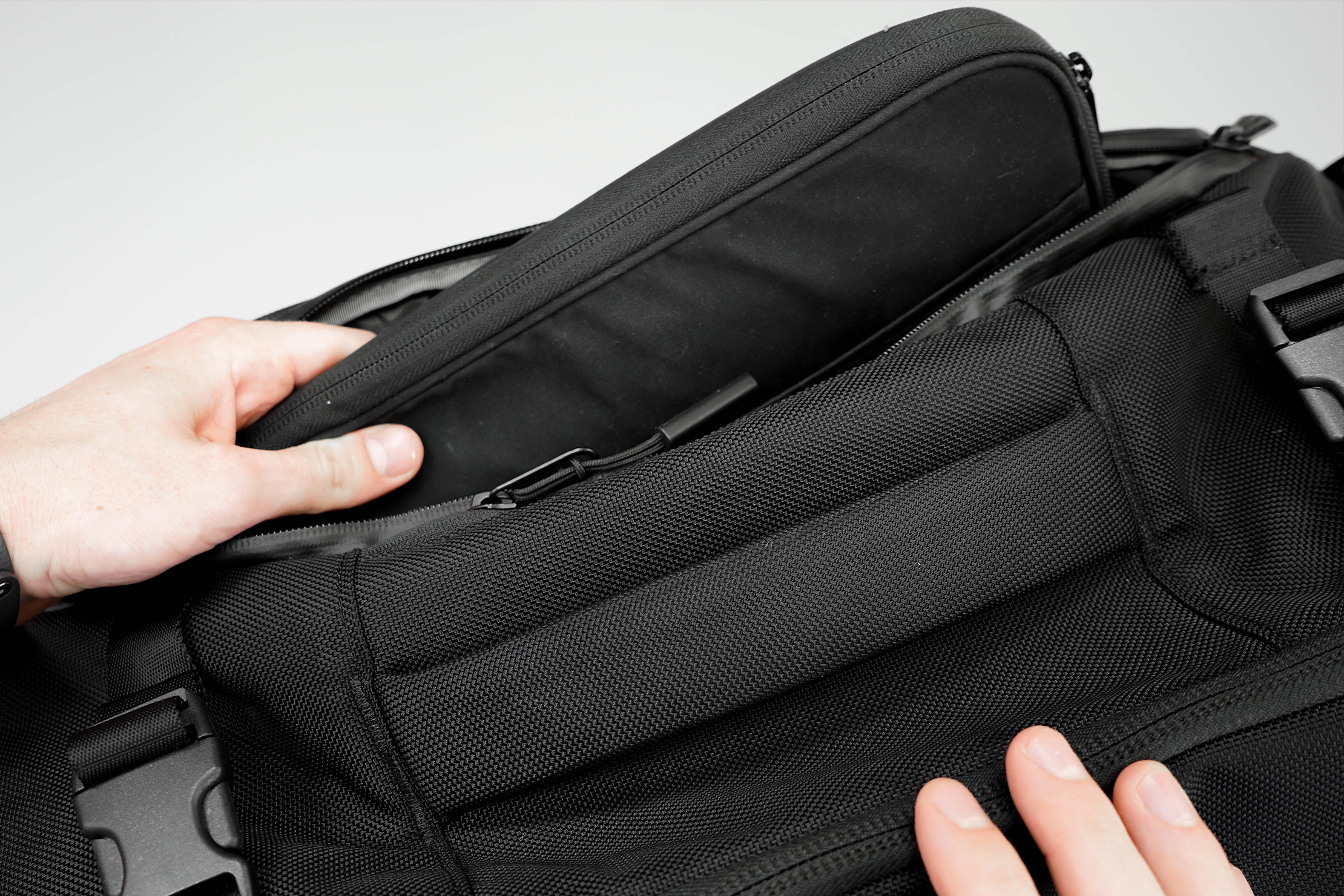 We always love to see separate compartments for laptops on bags and Aer has not let us down with this duffel. Their laptop pocket, which sits on one side of duffel and fits up to a 15.6'' laptop, has a good amount of padding. And the Aquaguard zipper is a nice touch. However, there is no false bottom to further protect your laptop and nothing to keep it from moving about during transit. We'd suggest a laptop sleeve or case to ensure that you're truly keeping your laptop safe.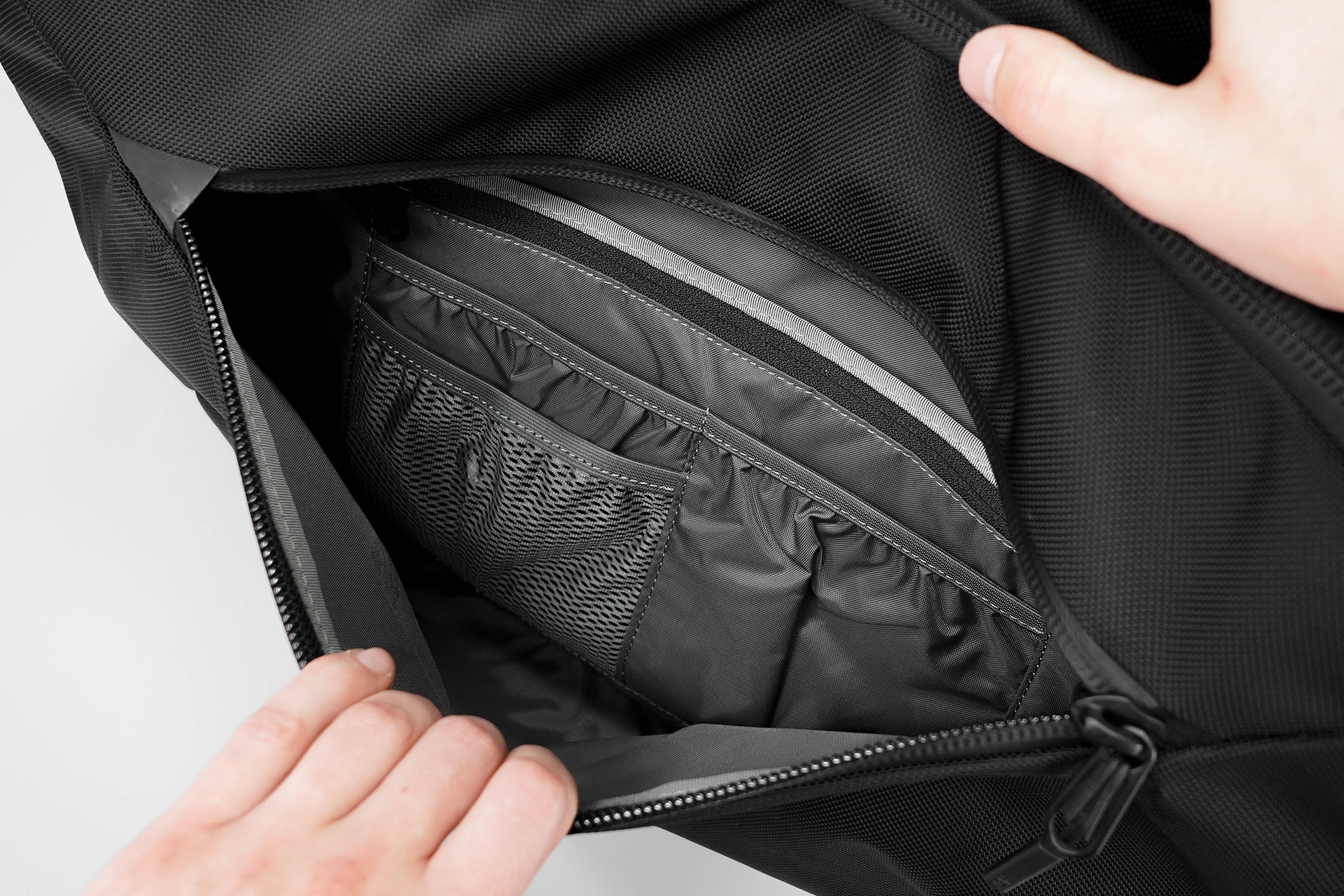 On the opposite end of the duffel, there is a front organization panel, which is a great spot for notebooks, e-readers, battery packs, pens, those kinds of things.
And that brings us to the main compartment. It opens completely flat, allowing you to better see and organize all of your gear, which is super convenient. We definitely suggest using packing cubes here, otherwise your stuff will get all jumbled up. Seriously, there's no getting around it—you're going to have a mess on your hands.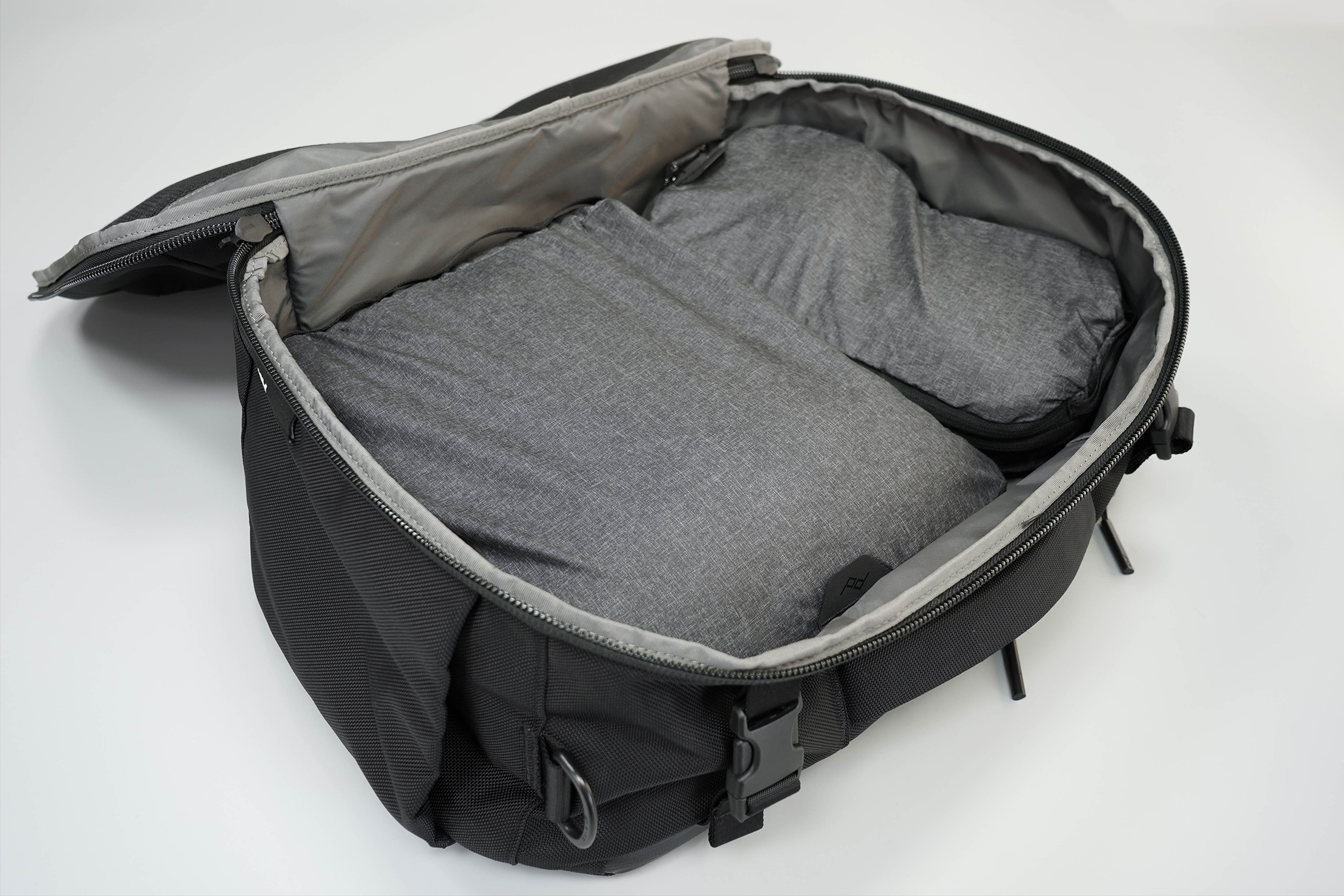 Within the main compartment, there's a mesh pocket to store items like computer chargers or even a Dopp kit. We always appreciate mesh pockets because they let you see your stuff easily, and this one is both functional and convenient.
Aer really found the perfect amount of pockets and organization for a duffel of this size. Like we mentioned earlier, everything we wanted, we got (cue Arianna Grande). And everything felt like it was in the exact right spot on the bag—so hats off to the Aer design team!
Durability & Testing
We've been testing the Aer Travel Duffel for about a month now as a daily driver around Detroit, Michigan. Despite getting banged up on bus rides and long walks to said bus rides, its held up well and we don't have any complaints regarding durability. Four weeks later and it still looks brand new.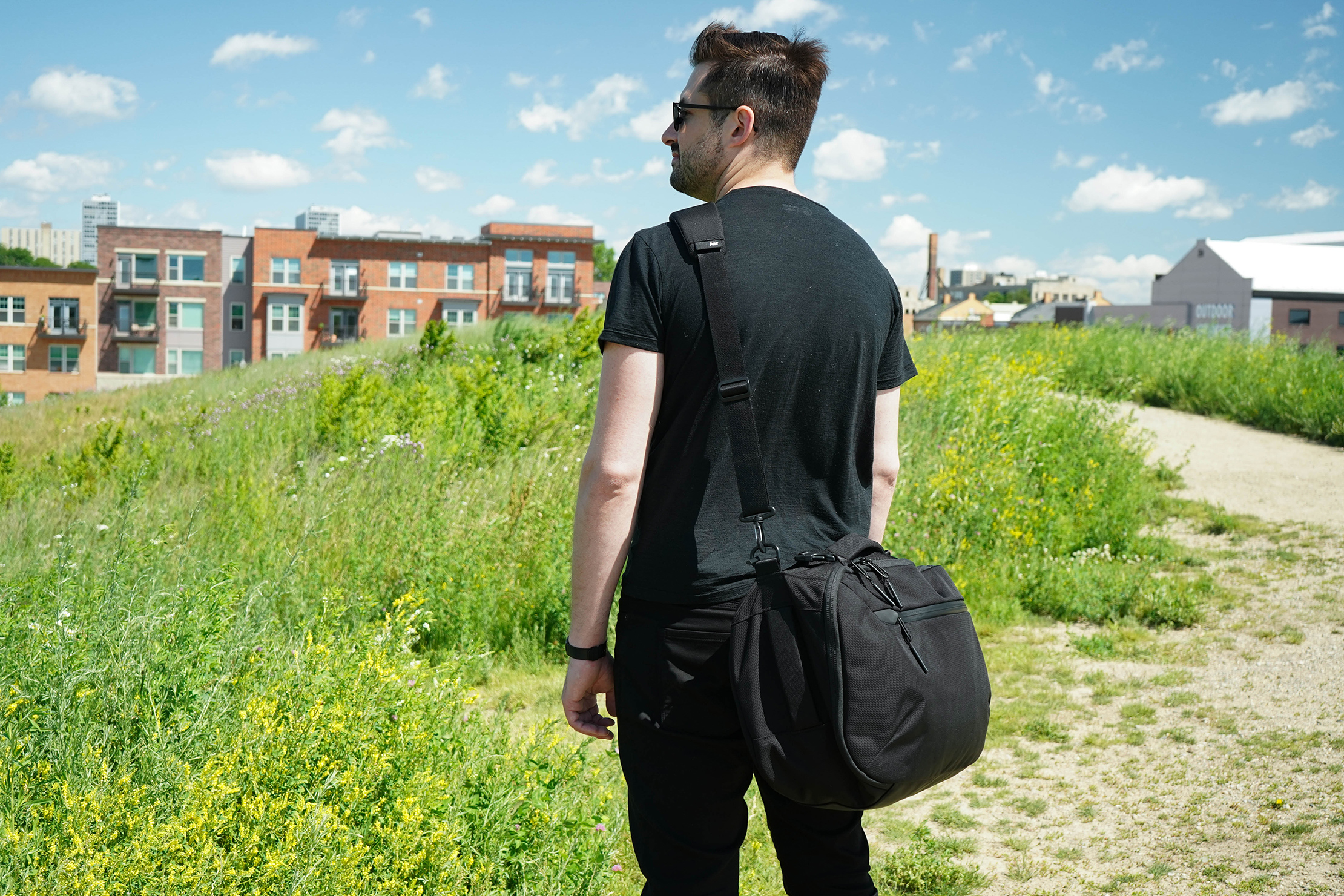 Probably the biggest downside is its size. It can hold about a million things and those things get heavy (no kidding, right?). Backpacks help distribute the load between both of your shoulders (and, at this size, usually your hips too), while a duffel dumps it all into one. When it's really full, you can end up walking kinda funny to help balance this weight; we like to call it the duffel shuffle. But if your use-case doesn't require carrying your fully-loaded duffel far distances, you probably won't care how heavy it can get.
Moreover, because the duffel is so wide, it's not the best for public transit. You may end up accidentally bumping it into people as you traipse down the aisle to your seat. And it definitely crowds your seat neighbor's space.
That being said, we don't knock off too many points for this because those issues are pretty consistent for duffels across the board. And you can't knock a duck for not being a swan, you know?
Usage Timeline
Initial Usage
Condition: Excellent
Digging the lockable zippers.
Top flap design for a duffel is interesting and we're curious to test further. It's densely padded as well.
Seems like a low enough profile to comfortably travel with cross-body.
2 Weeks of Use
Condition: Excellent
Gets uncomfortable to carry when full, but otherwise the shoulder strap feels nice
1 Month of Use
Condition: Excellent
Access the Pro Community Discussion
Get your questions about the Aer Travel Duffel answered from our team and the Pro Community right here on the page. Plus, join discussions with other members about gear, guides, and more.
Other Bags & Luggage Reviews