Aer Sling Bag 3 Review
The Aer Sling Bag 3 is a mini backpack in disguise. It's big enough for a laptop and gym clothes, but we've got a bone to pick with the carry strap.
Our Verdict
Unlock the Pro Summary
Save time. Get access to brief summaries of our reviews so you can browse and make decisions more efficiently.
Pros
Big enough to fit a 13" laptop
Device sleeve keeps tech accessories organized
Aquaguard zipper on front pocket provides extra weather resistance
Cons
Carry strap can cut into your neck and chest while wearing
Internal organization gets tight when you're using the shoe compartment
Bag's bottom tends to stick out away from the body
Recent Pack Hacker Video
Technical Details
Capacity

13.5l

Weight (lb)

1.3 lb (0.6 kg)

Denier

1680D

Dimensions

16.75 in x 10 in x 6 in (42.5 x 25.4 x 15.2 cm)

Notable Materials

CORDURA® Ballistic Nylon, YKK Zippers, Duraflex Hardware

Manufacturing Country

China

Laptop Compartment Size

13"

Warranty Information
Full Review
Get up to 10% off Aer • Join Pack Hacker Pro
Slings can be such a polarizing piece of gear. Love them or hate them; there's no denying their convenience when going through TSA or carrying your essentials day-to-day. But what about when you have more to carry and don't want to wear both a backpack and a sling? What if there was one product that could somehow function as both? What if we told you the Aer Sling Bag 3 may be precisely what you're looking for?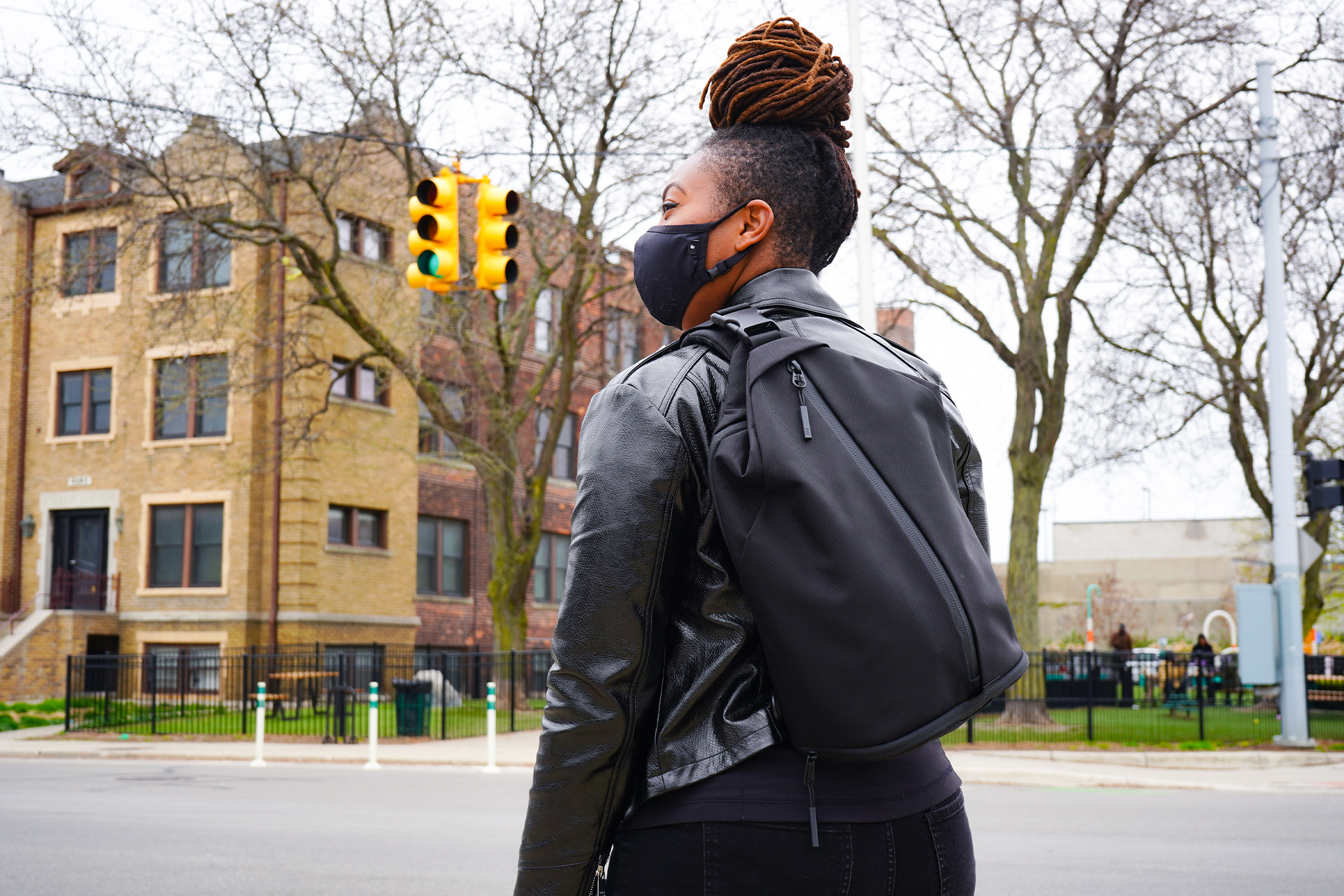 The Aer Sling Bag 3 was designed for the busy person on the go who's knocking out their morning cardio before work. It's part of Aer's Active Collection 3.0, which includes a whole host of duffel bags and daypacks for those of us trying to balance the fit life and work life. The Sling Bag 3 is spacious enough for a laptop, has a compartment for shoes, and excellent internal organization for tech gear. We used it for two weeks while biking between the office and yoga and had high hopes for it as a contender to bridge the sling, backpack divide.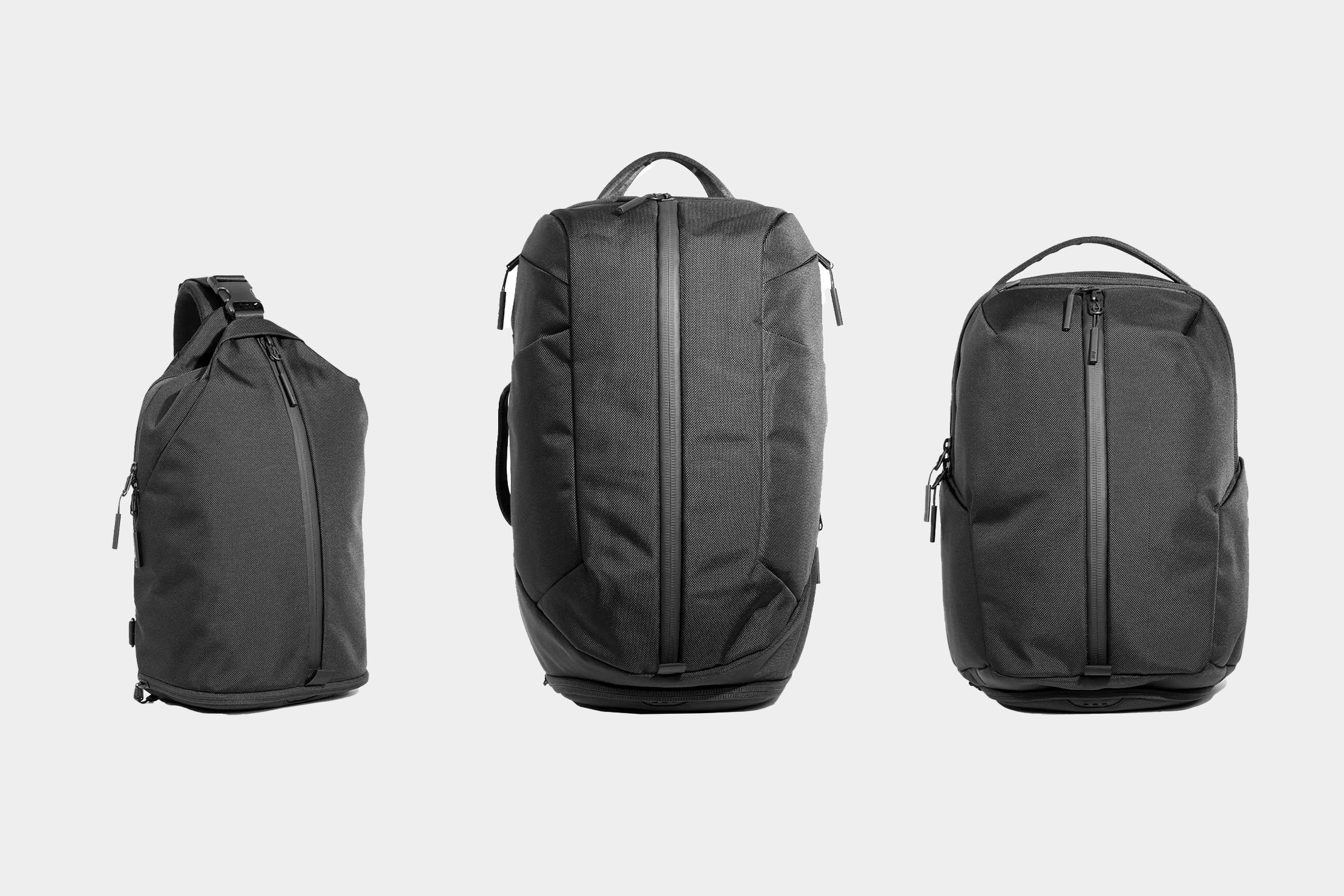 Unfortunately, we just couldn't find a way to get comfortable with the carry strap. We found that it can cut into your chest at an awkward angle, and the bottom of the bag tends to stick out away from your body. Several members of our team who vary in height tried it out with similar results. And we know a thing or two—we literally wrote the guide on slings. We'll get into the nitty-gritty of that later. First, let's check out the materials.
Materials & Aesthetic
Like most of the products in their Active Collection, the Aer Sling Bag 3 is made of a sturdy 1680D Cordura Ballistic Nylon. It's rough and tough and ready for some heavy stuff. By heavy stuff, we mean dusty gym floors and light rain—the thick material is reasonably resistant to both scuffs and water. Apparently, Cordura was initially developed for military body armor. Sounds extreme, but we guess there's a reason it's called "ballistic" nylon. Regular old nylon just won't do.
YKK zippers are used throughout the bag. The front pocket has a chunky reverse coil YKK #10, while the main compartment has a slightly smaller #8. These are the bad boys of zippers, and we haven't had one break on us to date. Aer's zipper pulls tend to be long and jingly. They are still long and a bit jingly on this sling, but they aren't as loud as some previous Aer bags. That front pocket zip also has YKK Aquaguard for some extra water protection for your tech accessories or essentials.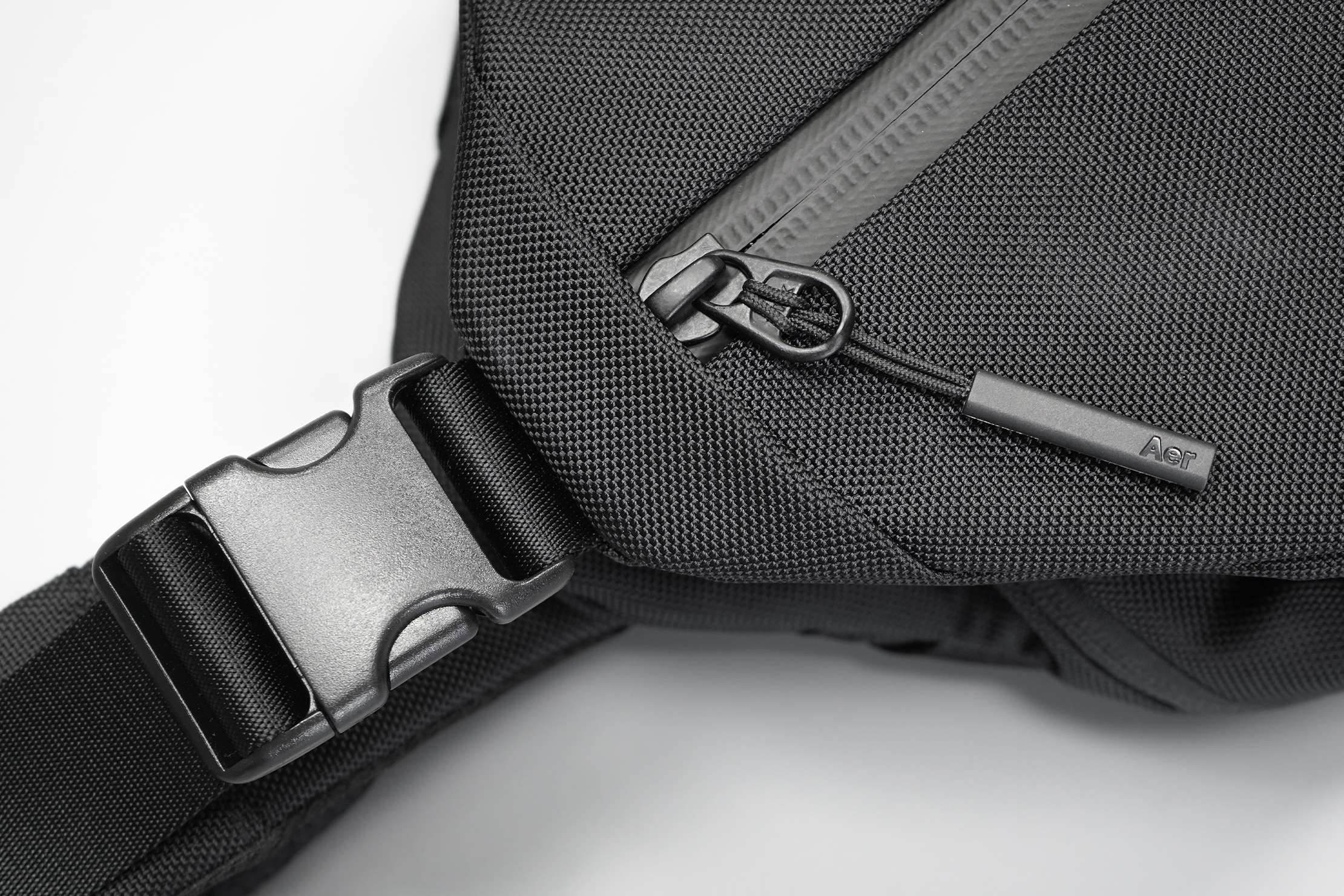 With the combination of YKK zippers and Duraflex hardware on the strap buckles, we can confidently say that this sling is made with premium materials all around. Quality hardware, robust fabric, and expert construction make it highly durable. So if you do choose to buy it, it'll basically be with you forever.
All of those serious materials may sound a bit rugged, but Aer puts them together with a minimalist aesthetic that looks clean and modern. It's versatile too, so even if you're not as hip as the models on the Aer website, you can still rock this sling with ease. We went with all black, but there's also a grey version made with an eco-dyed polyester instead of Cordura. We have used other Aer products in that colorway, but this review will focus on the Aer Sling Bag 3 in black. The black version is pared down and easy on the eyes, but there are actually quite a few notable features once you get into it.
External Components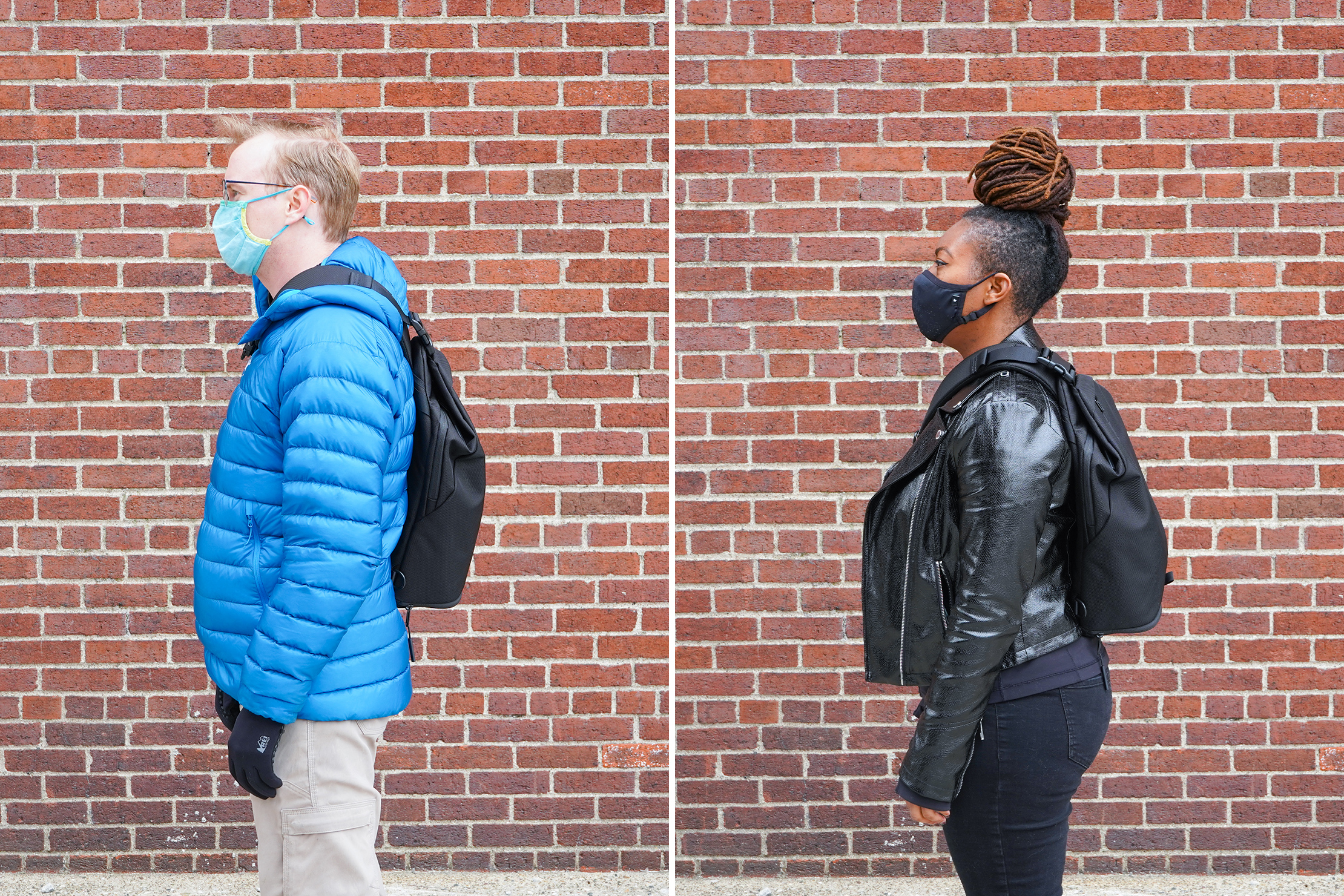 At the bottom of the Aer Sling Bag 3 is a shoe compartment if you have a special pair for running or weight lifting to bring along. So far, we haven't had a sling with a dedicated place for shoes, and it was pretty exciting to carry our gym gear without the need for another bag. There's a little strip of Hypalon with three holes punched in it for ventilation to let out funky smells. We didn't notice whether it made that much of a difference. But we also didn't notice any odors, so maybe it was working after all.
As it typically goes with shoe compartments, the caveat is that it will take up space from the other compartments when in use. It's supposed to fit up to a men's size 12, but with the women's size 8.5 we used, the internal pockets were already feeling cramped. On the inside, there are several small pockets where you can put snacks, cables, or anything you'd like. When you have shoes packed in here, though, those pockets can be hard to access. The shoes are almost in the way, and the front pocket is affected similarly.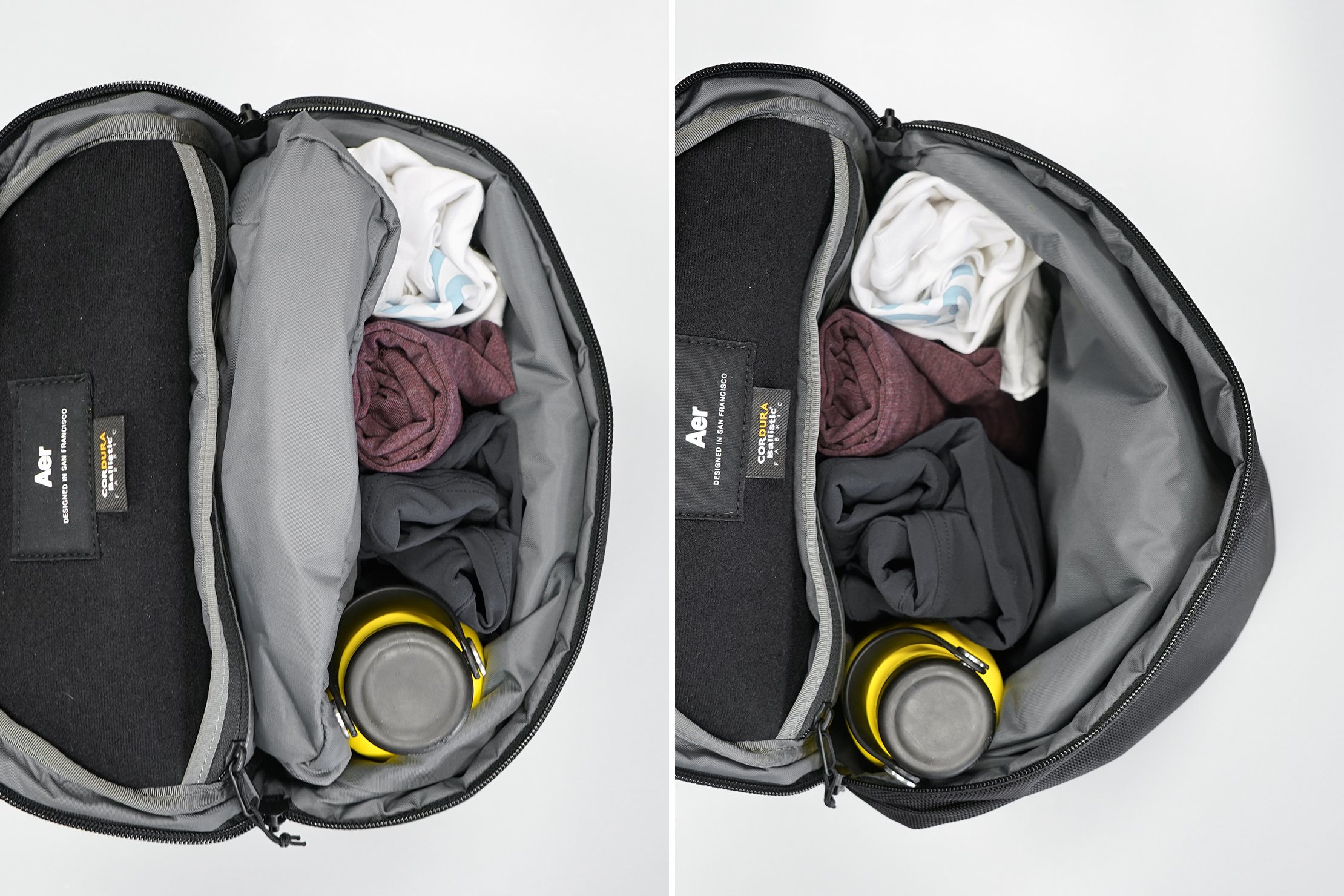 When you're not using it, you can also roll the shoe compartment up and stow it in a little flap, so it's out of the way. This will free up space inside the bag, so the lining isn't just floating around when not in use—a clever and considerate design feature.
Now to address that shoulder carry strap we mentioned earlier. It's well-padded, has breathable mesh, and looks like it would be comfortable. Our issue, however, is with the fit rather than the materials used. No matter how much we adjusted it, the sling just did not sit right. If we left the strap a bit loose, it hung down too low. That's probably obvious, but tighten the strap, and it'll cut into your chest at an odd angle or dig into your neck. Not even the load lifter on the very top of the strap helped, and this fit issue persisted whether the bag was completely full or empty. Of course, when full, it gets worse as the bag weighs down on your shoulder.

The additional D-ring on the opposite side of the bag is so you can wear it either to the right or left. At first, we thought this was to attach a stabilizer strap, as we found ourselves wishing we had one. The sling tends to stick out at the bottom in an odd way without anything to anchor it down. Almost as if it's a rocket pack with a mind of its own that wants to jet off away from you but can't because it's stuck to your back.
This doesn't seem to be specific to height or torso size either. Several team members tried it on with similar issues, and we vary in height between 5'4", 5'10", and 6'2". Even with the height differences, no one seemed to be able to adjust the strap so that it sat comfortably across their body. It's a real shame because we're huge fans of the internal organization.
Inside The Pack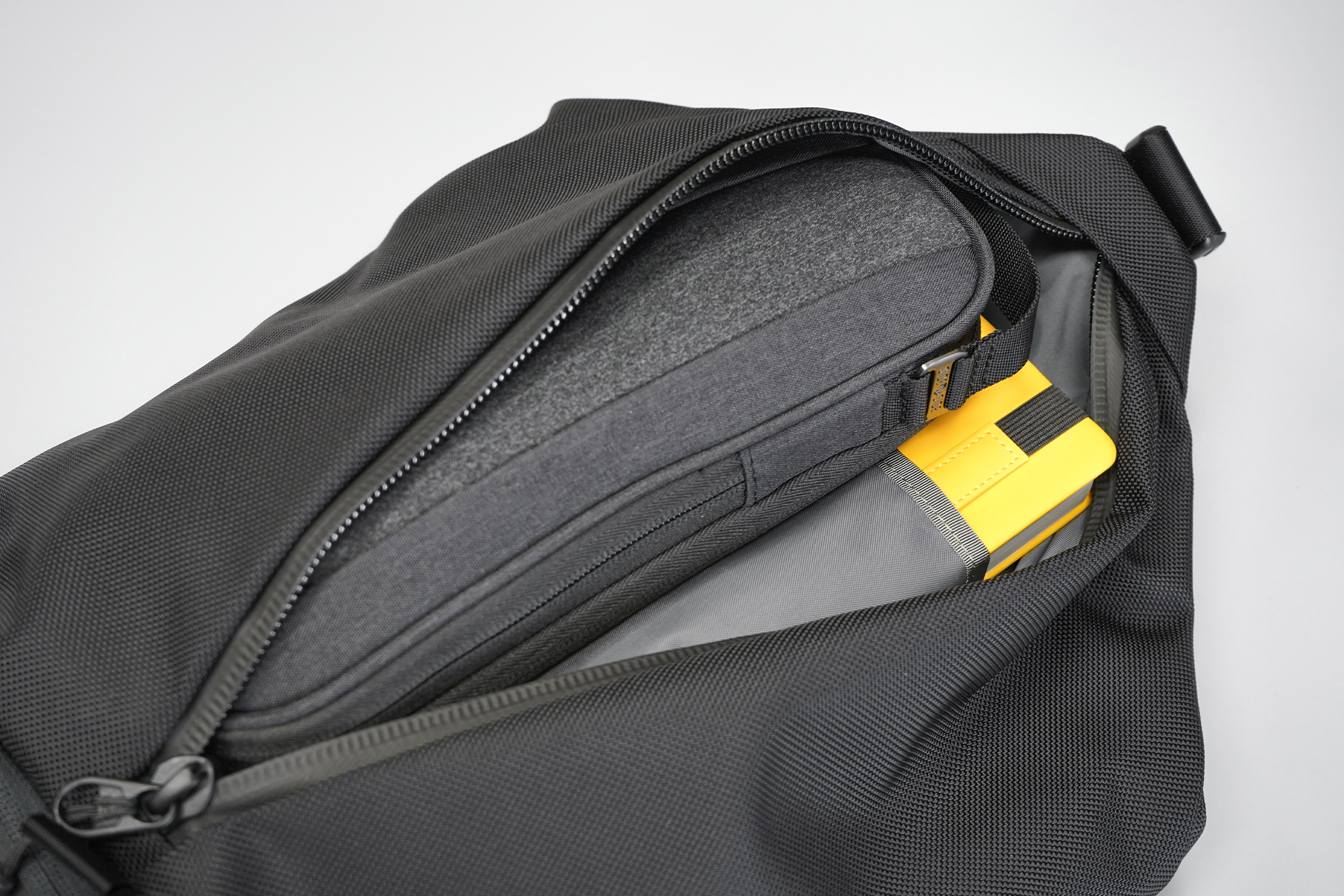 The front pocket opens up to a decent amount of space and a simple sleeve for quick-grab items. This is where your wallet or keys would go, and as we mentioned earlier, the YKK Aquaguard zipper keeps it airtight. This chunky boy can be sticky to open (and loud), but at least if someone tries to open it up and steal your stuff, you'll hear it. If you're going to utilize the shoe compartment, we recommend mainly putting flat items in here. This pocket worked well for a notebook, which is long and thin, so easy to pull out even if the bag is crammed.
We were really delighted to be able to fit a laptop inside the main compartment. The laptop sleeve in here can fit up to a 13" device and is lined with a thick felt that's extra soft and cushiony. In front of that is a padded device sleeve that zips close. You could put a tablet here, but we mostly used it for our magic keyboard. Finally, there are two long, stretchy pockets in front of that which we used for cables and other tech gear. All of these pockets combined make for a great way to keep your electronics organized. It's like a laptop sleeve with a built-in tech kit, and we like how they work together seamlessly.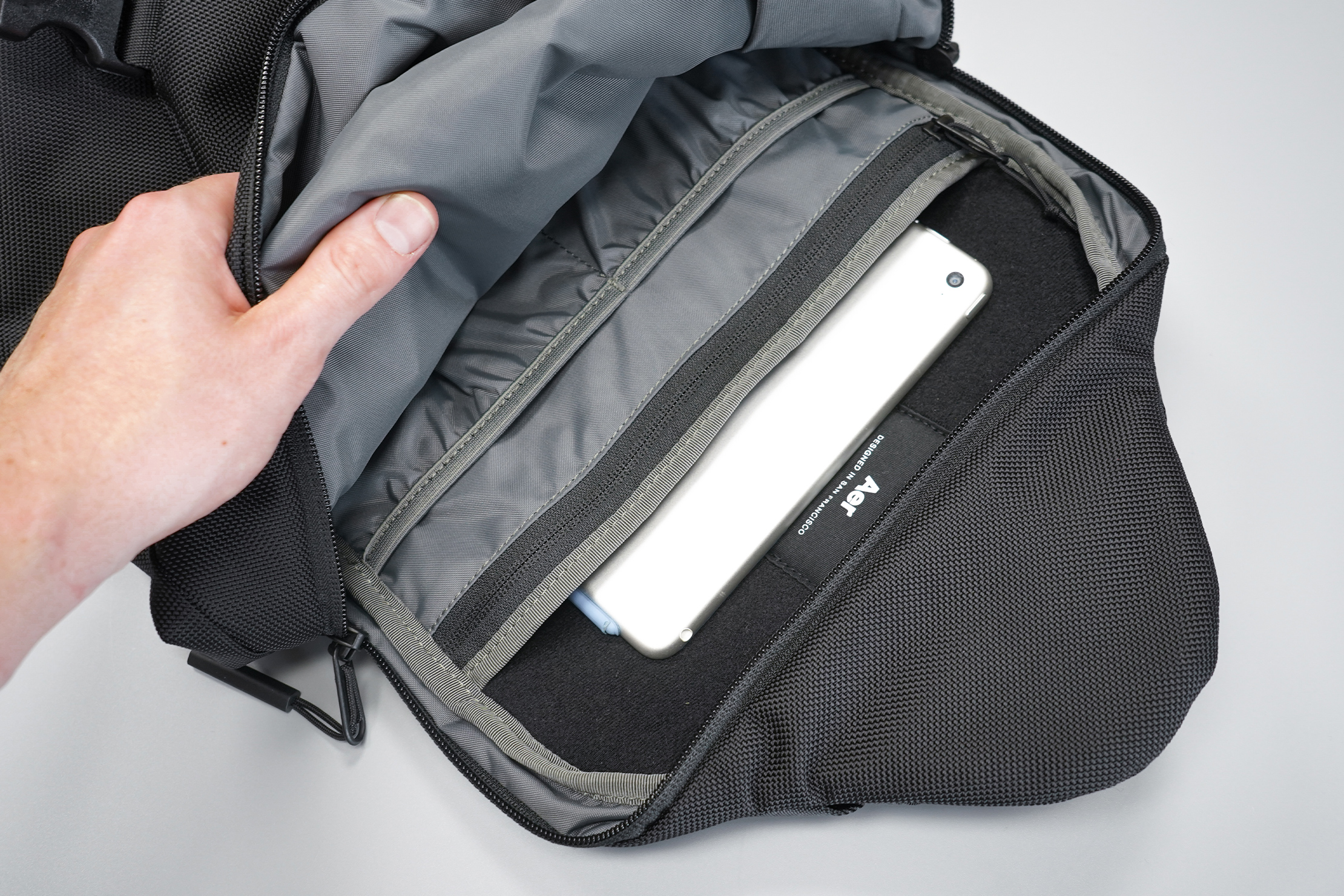 The rest of the main compartment is open space, and to be honest, what can fit inside comfortably depends primarily on whether you've packed shoes or not. A 20oz blender bottle and a change of clothes fit fine for us. Luckily it was all we needed to head over to the yoga studio after work. If you have more exercise gear to carry to the gym, you may find yourself needing more space.
Overall, the Aer Sling Bag 3 really shines when it comes to internal organization. The thoughtful layout and device sleeve that keeps all your tech organized in one place is excellent. Oh, how we wish the fit issues with the carry strap didn't dull this sling bag's shine.
Usage Timeline
Initial Usage
Condition: Excellent
The strap has a convenient quick-release buckle
Works as a gym bag because of its shoe compartment
Excellent tech organization inside
2 Weeks of Use
Condition: Excellent
Carry strap can cut into neck and chest and be uncomfortable
Convenient for biking between work and the gym
Main compartment is big enough to fit laptop, gym clothes and daily essentials
Access the Pro Community Discussion
Get your questions about the Aer Sling Bag 3 answered from our team and the Pro Community right here on the page. Plus, join discussions with other members about gear, guides, and more.
Other Bags & Luggage Reviews