Aer Duffel Pack 3 Review
The Aer Duffel Pack 3 has the space and flexibility for work and hitting the gym, but a significant change to the front pocket may leave some on the fence.
Our Verdict
Unlock the Pro Summary
Save time. Get access to brief summaries of our reviews so you can browse and make decisions more efficiently.
Pros
Has two large water bottle pockets
Tons of space for clothes and a pair of shoes
Padded quick-grab pocket
Cons
Loses the wide front pocket from the previous version
Duffel-backpack packing style takes some getting used to
Quick-grab pocket has an all-black interior (low contrast for darker gear)
Technical Details
81 %
Carry-On Compliance (Beta)
Capacity

21.4l

Weight (lb)

2.9 lb (1.3 kg)

Denier

1680D

Dimensions

20.5 in x 11.75 in x 8 in (52.1 x 29.8 x 20.3 cm)

Notable Materials

CORDURA® Ballistic Nylon, YKK Zippers

Manufacturing Country

China

Laptop Compartment Size

16"

Warranty Information
Full Review
Get up to 10% off the Travel Collection Aer with our Deals Vault • Join Pack Hacker Pro.
Aer's been on a roll with a wide range of bags that aims to hit the sweet spot between office use and an active lifestyle. Much like the people who can balance work and play, it's a delicate balancing act to develop a solution that satisfies both needs. We're always looking for two-birds-one-stone approaches to things, and it's interesting to see what Aer has going on here.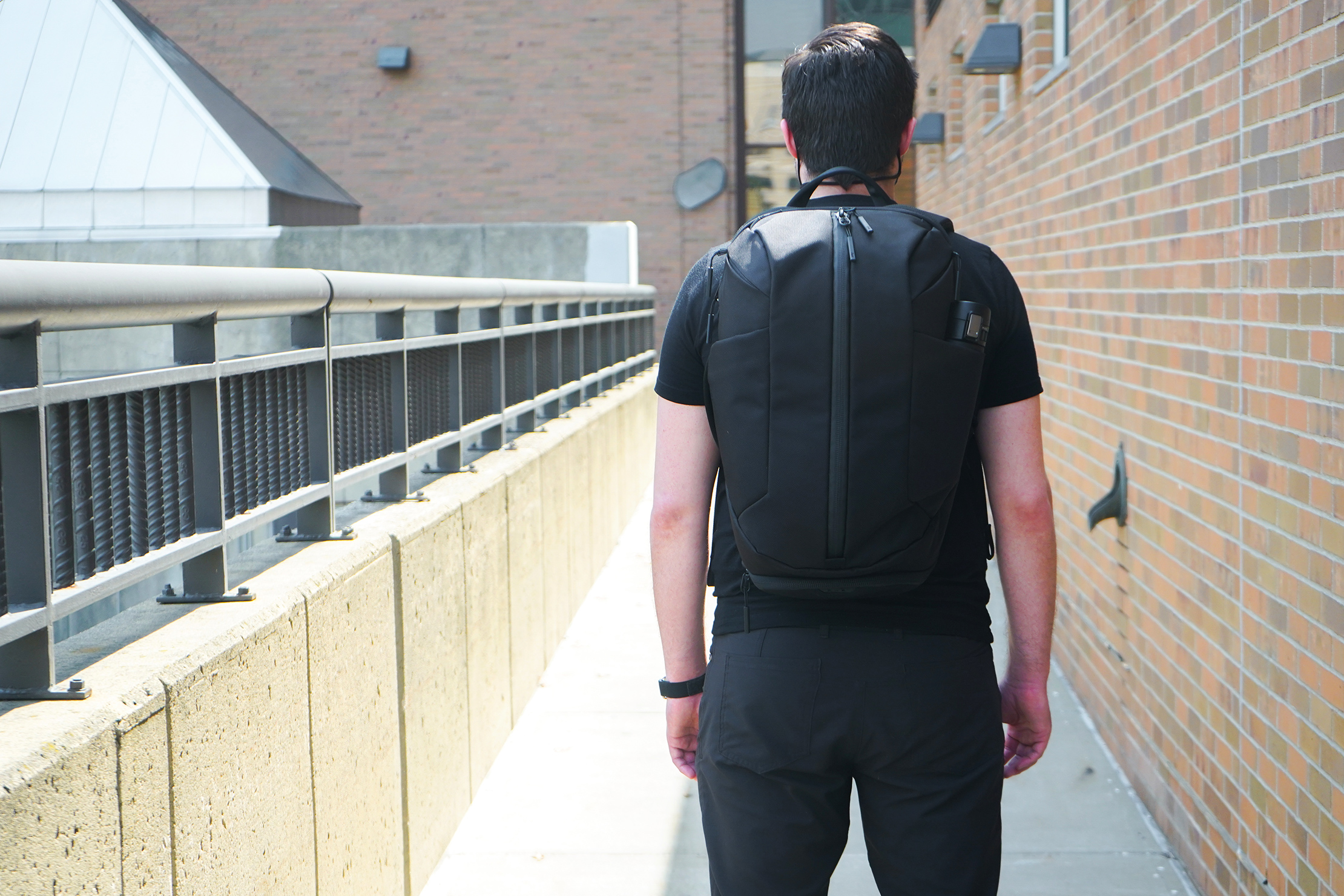 In this review, we'll be taking a closer look at the Duffel Pack 3. As the "3" implies, Aer's been at it for three iterations now, so it's interesting to see what they changed and what they retained over the previous version. Duffel Pack 2 owners will want to pay attention to the changes on the front, and newcomers are more than welcome to come along with us in this review, so let's head in.
Editor's note: check out our detailed comparison video on the Aer Duffel Pack 3 and the Aer Duffel Pack 2.
Materials & Aesthetic
The Duffel Pack 3 features Aer's signature modern styling. The shape and profile are rounded at all corners, with lines crisscrossing to give the facade a touch of personality. It's on the tall side of the spectrum, so those with a taller frame will feel much more comfortable wearing the Duffel Pack 3. But if you're looking for something more manageable, Aer's Fit Pack 3 is a worthwhile option.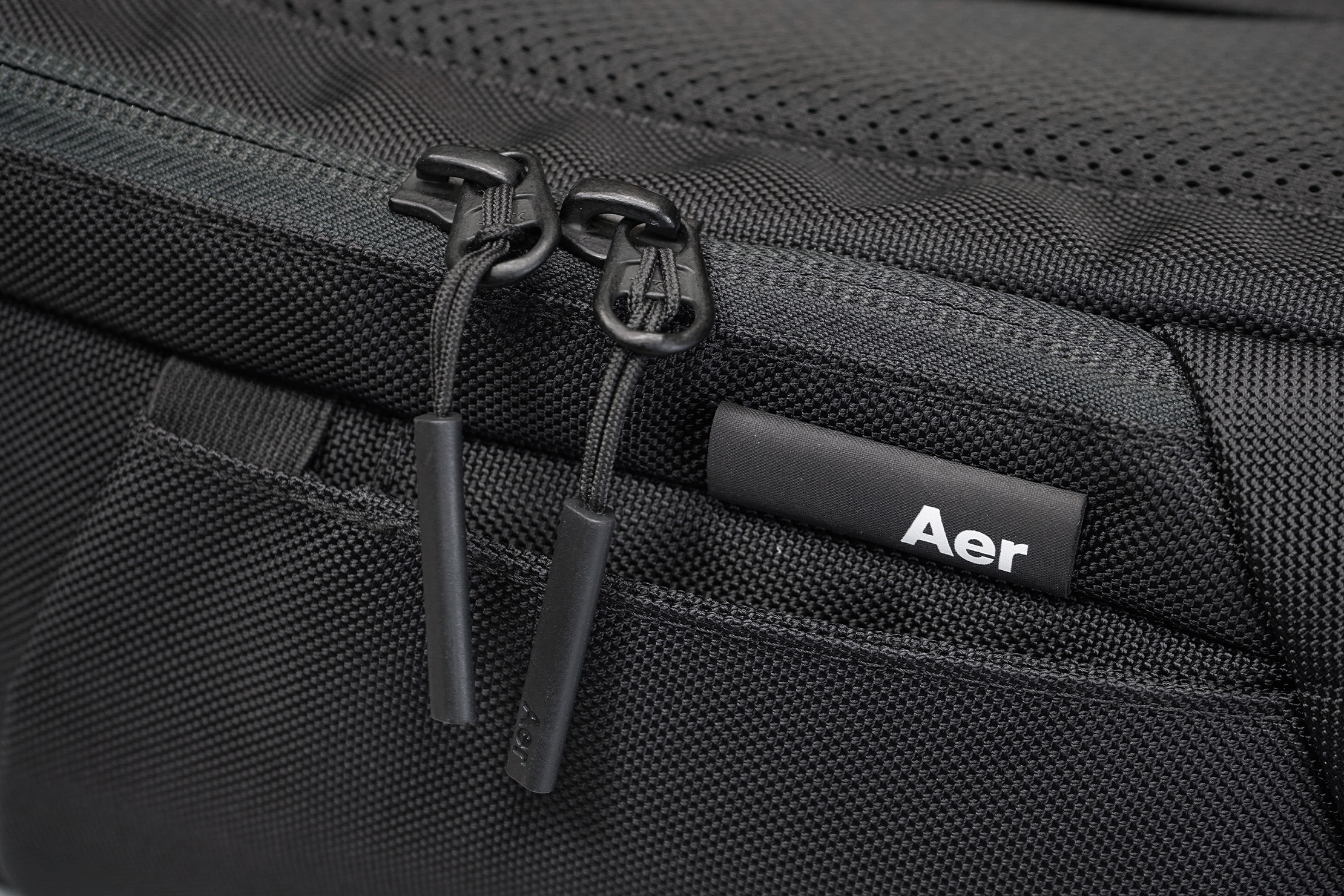 Aer has currently kept the colorway options to three: Black, Olive, and Gray (with a speckled pattern). We have no problem rocking the Black version as it's our usual go-to option for colorways, and the Olive has a certain air of classiness to it, but we feel that the Gray version with its speckled pattern is the most eye-catching of the three. To each their own and it'll be up to you to pick out which one suits you best.
Despite the large size and regardless of which colorway you choose, it's still very minimalist. Aer made changes to keep it that way, with fold-flat water bottle pockets, fewer zippers, a more symmetrical design, and just two logos (one on the shoulder strap and one on the right side)
The Duffel Pack 3 also looks like a duffle bag pulling double-duty as a backpack, adding a do-it-all aesthetic to the sharp-looking bag. And it has the stuff to back it up: 1680D CORDURA Ballistic Nylon, YKK Zippers with paracord pulls, and Duraflex hardware. You've heard us rave about this trio before, and it's no different in this review. We just don't take high-quality ingredients like these for granted. Aer deserves extra credit in this iteration of the Duffel Pack because the zippers are not as jingly as before.
External Components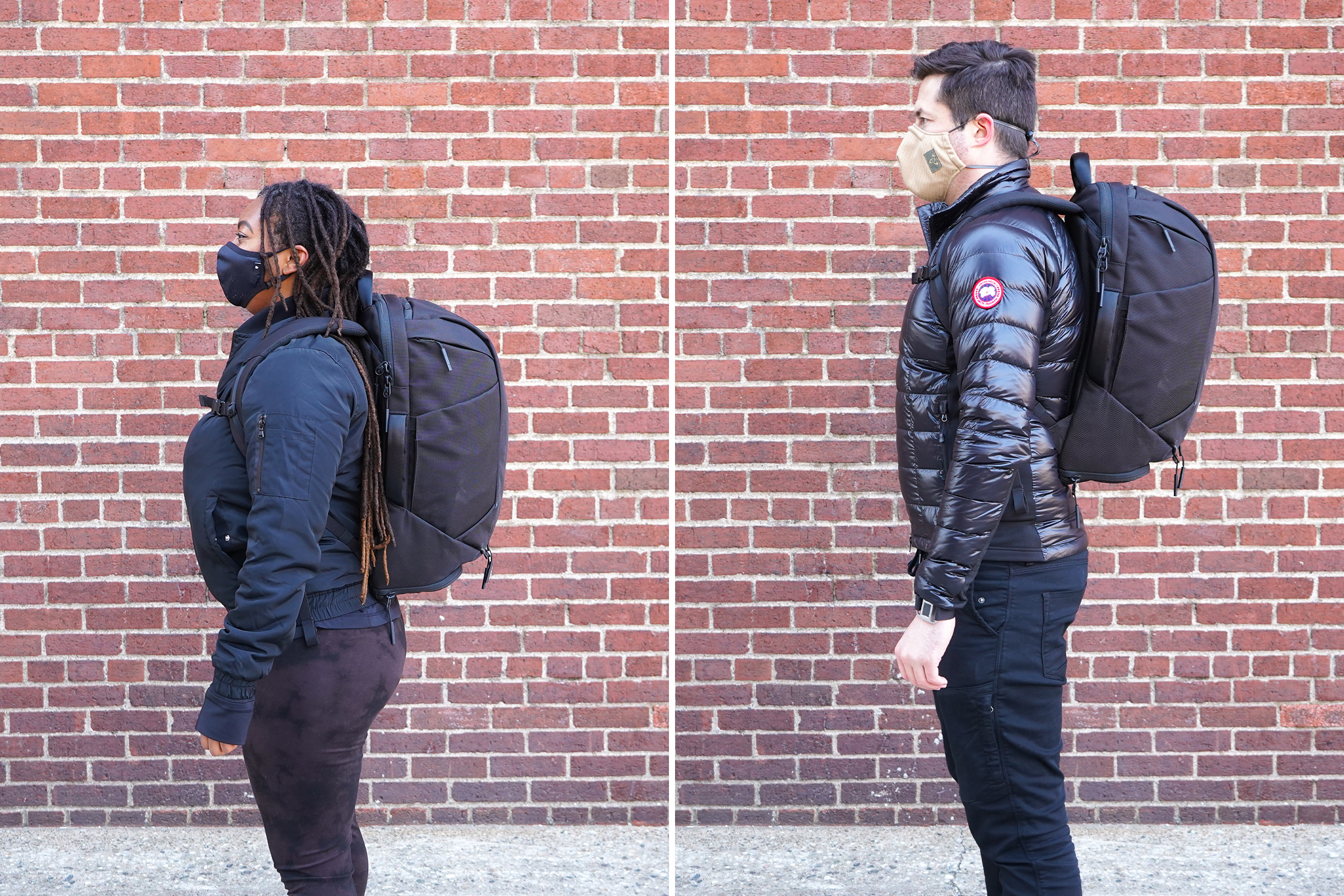 We can't help but draw comparisons between the old and the new since it's a good metric of how things have improved. We'll start with what Aer has kept from the Duffel Pack 2: handles. You still get the handy side handle on the right side of the bag, plus a handle up at the top. These both worked well on the Duffel Pack 2, but we sort of wish that Aer also made the top handle wider like they did for the Fit Pack 3 since the Duffel Pack 3 might benefit more from it due to its larger size. Perhaps there's a more technical reason for it we aren't aware of, but it's something we noticed between the two sets.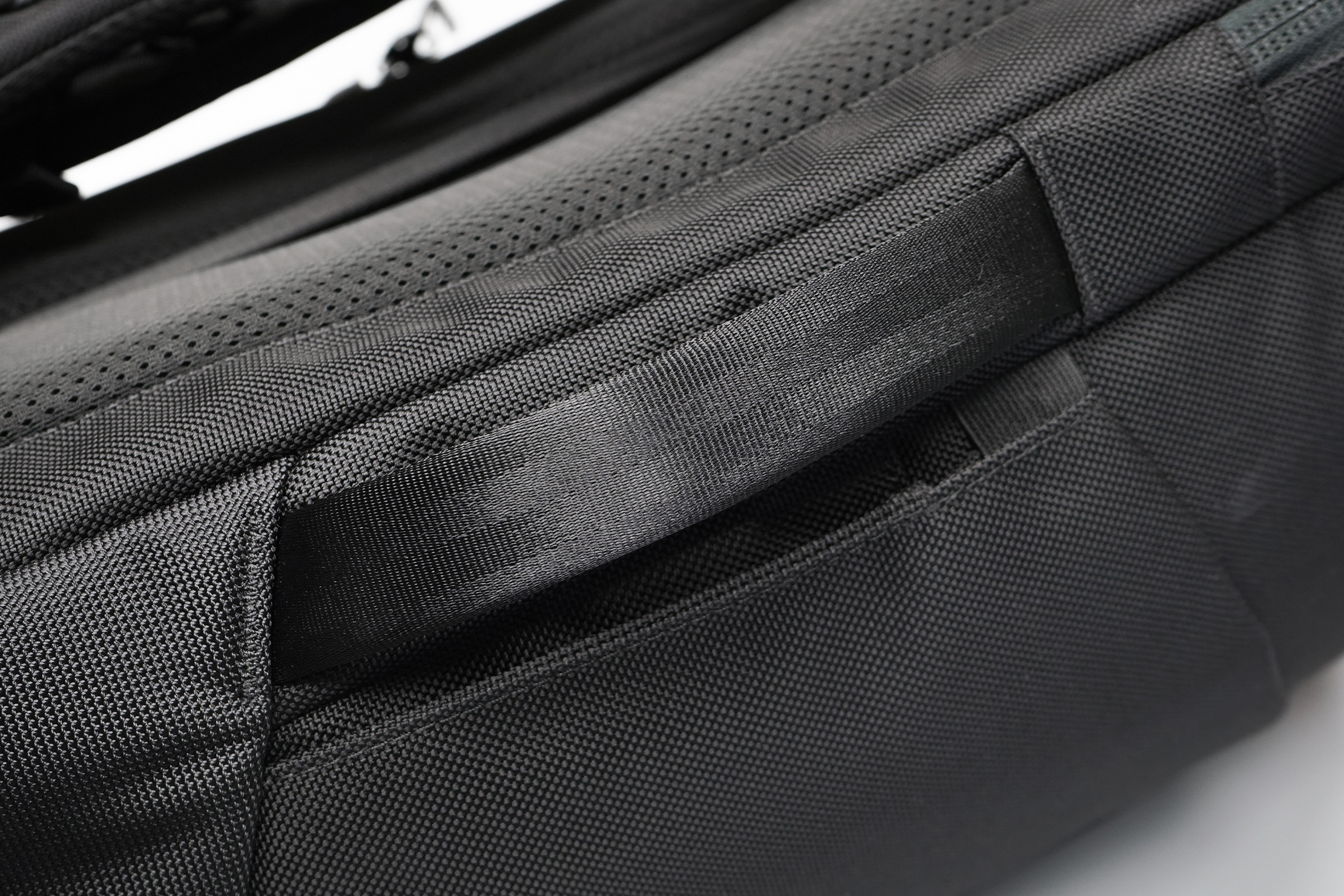 That's a minor nitpick at best, but what about the harness system? It's still mostly the same good stuff from the Duffel Pack 2. The shoulder straps look wider, but a direct comparison reveals that they are the same width, thickness, and even shape. The Duffel Pack 3's feel a bit stiffer, but we'll chalk that up to it not being as broken in as the one on the Duffel Pack 2. As for the sternum strap, that's also unchanged from a simple clip-on and slide adjusting type.
So where are the improvements? One notable difference is that Aer switched the D-ring's position from the left shoulder strap and onto the right shoulder strap. Not a major difference unless you're coming from the Duffel Pack 2 and have used it extensively.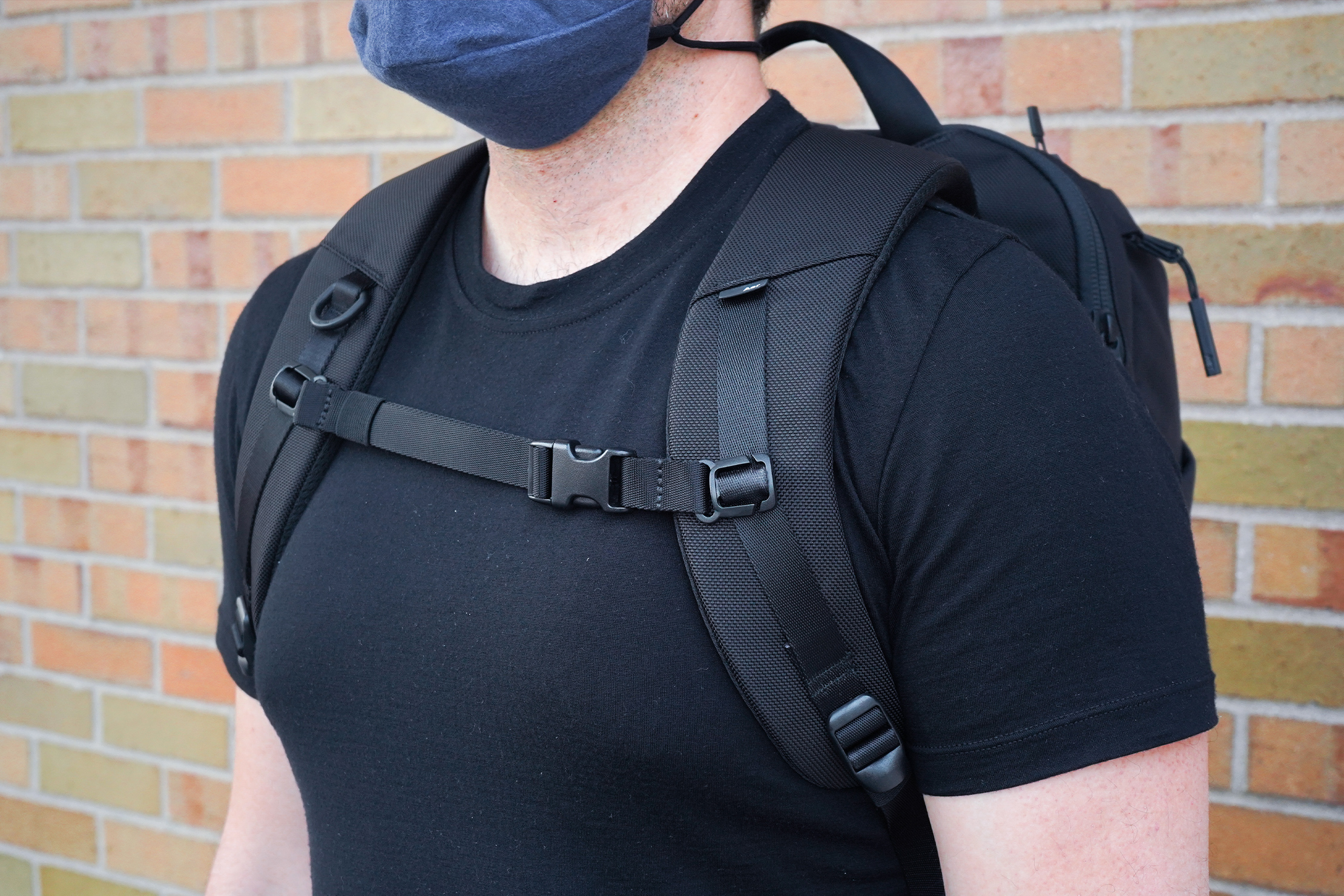 The improvements are extended over to the back panel, where you'll find that the foam channels are a tad longer to complement the Duffel Pack 3's taller profile versus the previous version. Another addition is the nylon strap that acts as a luggage pass-through. The harness system on the Duffel Pack 3 is great, don't get us wrong. But given the amount of stuff you can fit inside the Duffel Pack 3, we're glad we can put it on rolling luggage to give our shoulders a rest while waiting for a flight.
The biggest revision Aer has made to the Duffel Pack is the water bottle pocket, or should we say pockets. Yes! You get two of them now instead of one. Not only does this mean a more symmetrical design, but it also means you no longer have to choose between carrying a compact umbrella and a water bottle. You'd still have a dilemma if you also need to bring a compact tripod, coffee, or pre and post-workout beverages, however.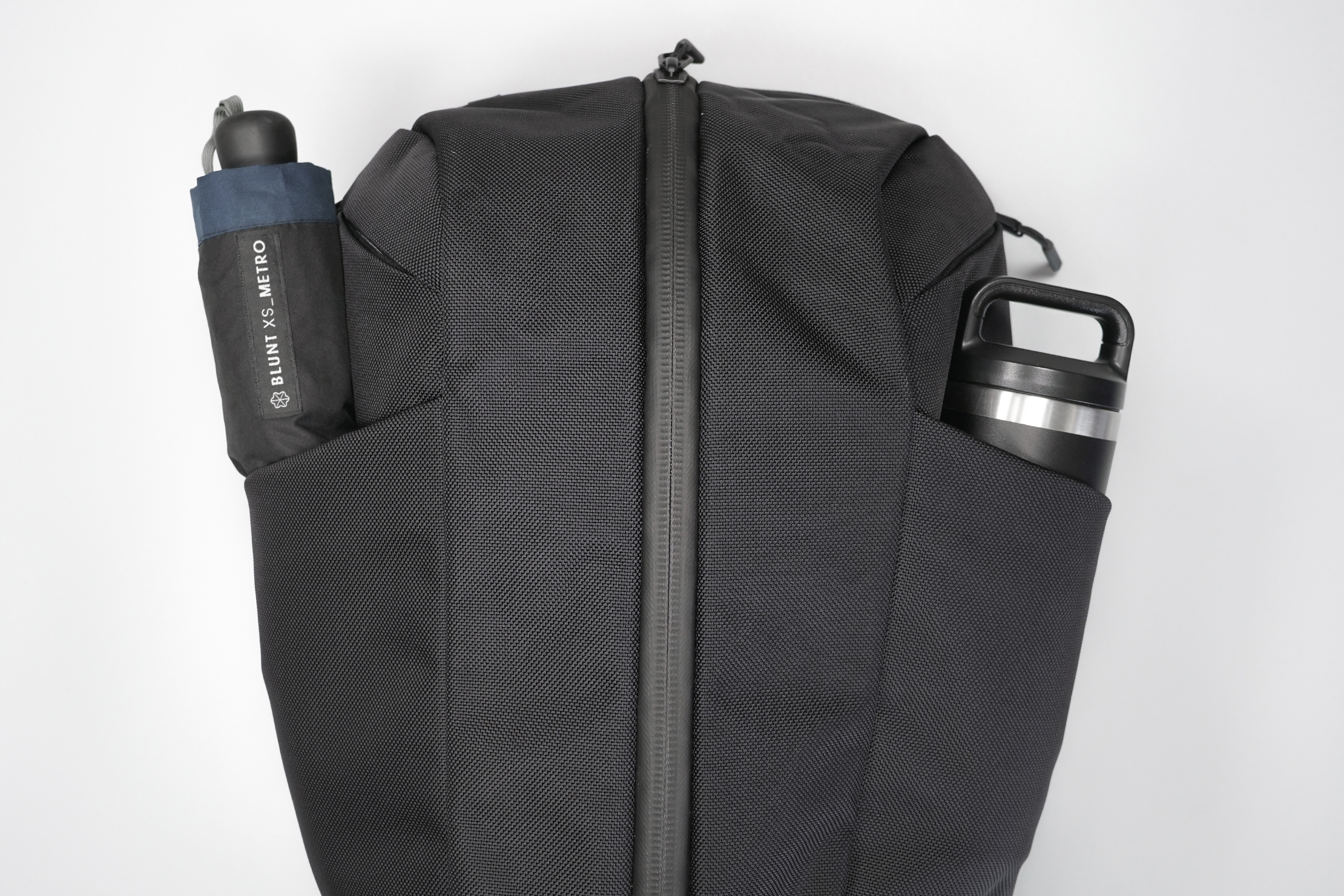 The pockets fold flat and remain well-disguised when not in use. When you do need them, you'll find them very spacious, and they easily swallow our 18-ounce YETI Rambler. But there is a trade-off from the Duffel Pack 2.
On the right side of the Duffel Pack 2 was a side-opening front pocket with two liner pockets inside. That's omitted on the Duffel Pack 3 in favor of another water bottle pocket. In its place are two flanking top pockets (which the Duffel Pack 2 had one of), though they're not as accessible as the side-opening front pocket on the Duffel Pack 2. This is one aspect where the old and the new each have something in their favor, and it will be up to you which you prefer.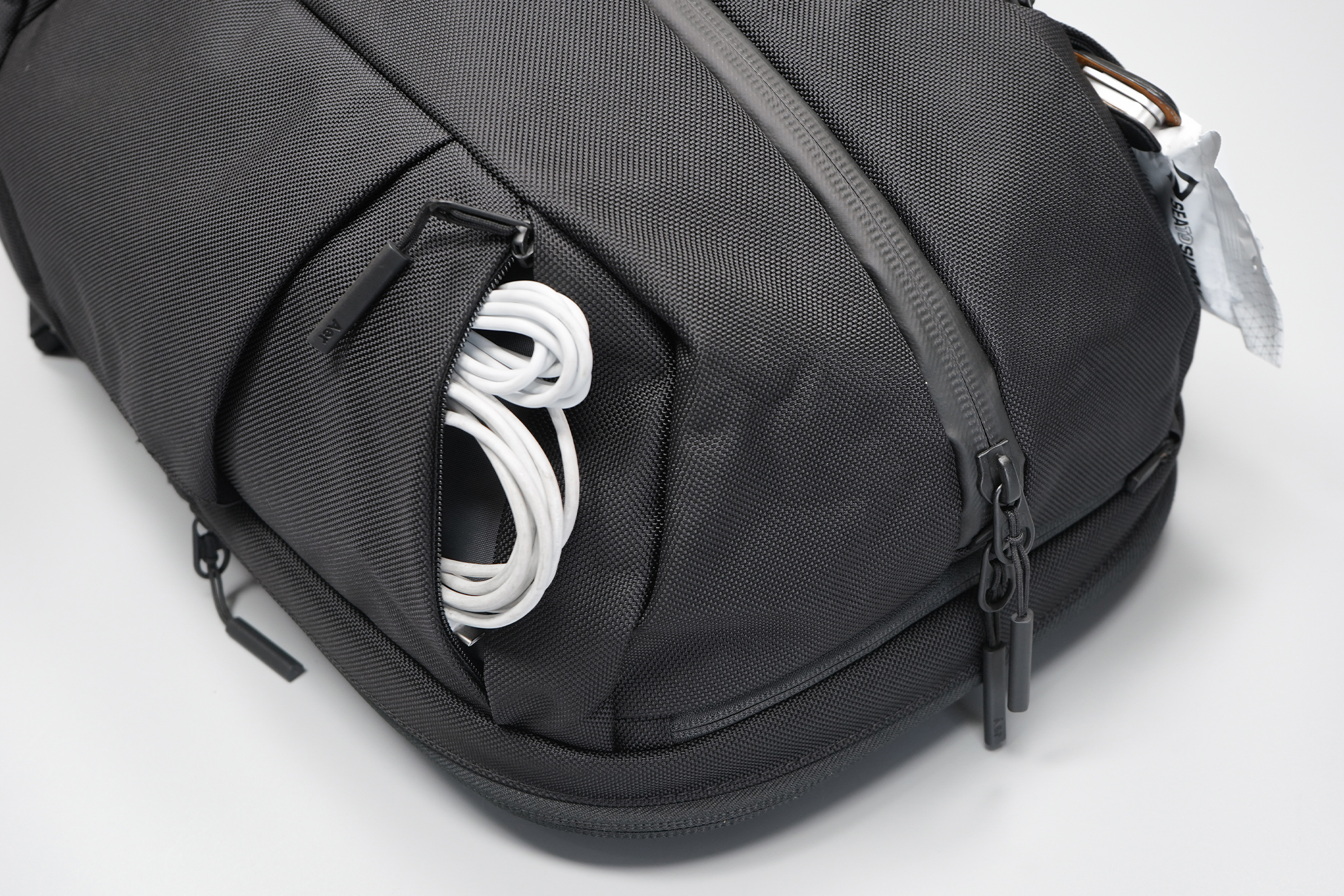 But before you make your decision, there are plenty of other compartments to consider in the grand scheme of things.
Inside The Pack
For one, the main top pocket on the Duffel Pack 3 is well-padded with soft fabric—a major upgrade from the Duffle Pack 2's thin liner fabric. However, it's an all-black fabric, so be careful not to toss anything too small and dark. This pocket also features a locking YKK zipper, which means it remains in place once the zipper pull is folded down. So if you wanted to keep just a tiny portion of the pocket open to route a cable through from your power bank, you could do it.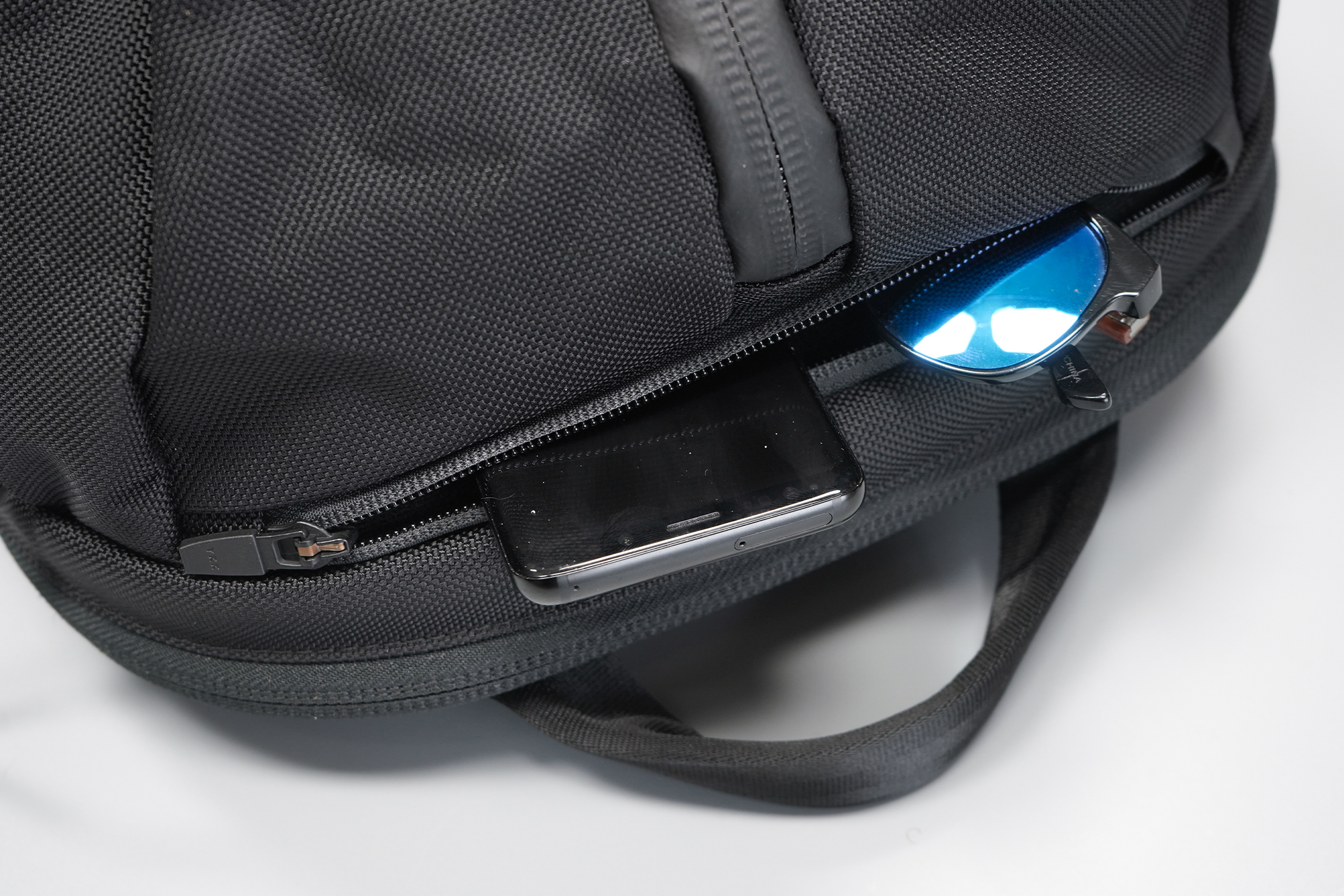 We've already touched on the two flanking top pockets in the previous section. They have a good amount of depth, reaching and overlapping the water bottle pockets below them, with the left side pocket featuring a built-in key clip so you can easily fish out your gym locker keys.
That's a total of three zippered pockets on the outside of the Duffel Pack 3, giving you a lot of options in terms of quick-grab options. This is a duffle bag aimed towards active use like going to the gym and sports activities, so one idea we had was having those two flanking top pockets as granola bar holsters to go along with the two sports drinks on each of the water bottle pockets below.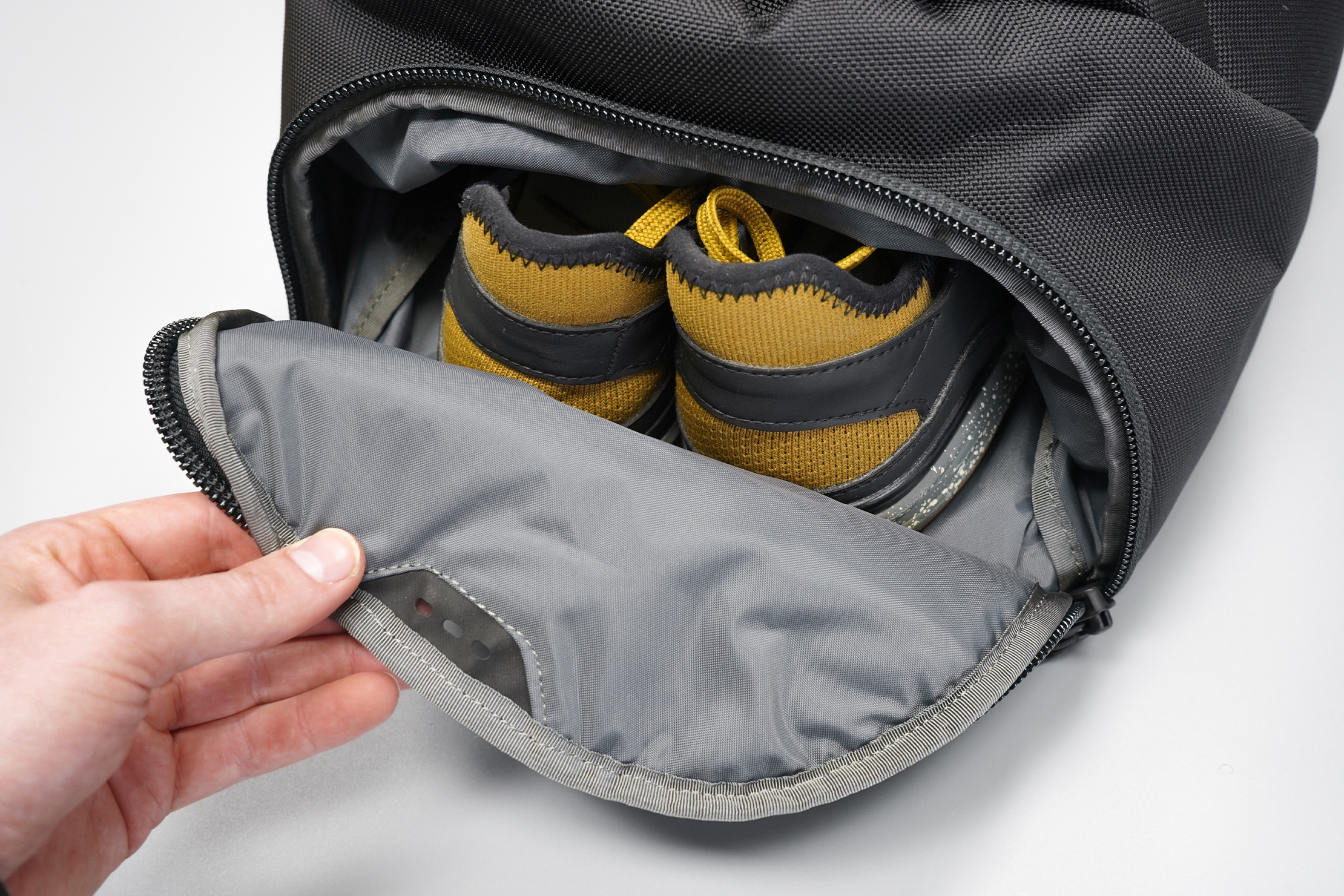 On the opposite end of the Duffel Pack 3 is the shoe compartment. It's vented via a laser-cut Hypalon outlet, so foul odors have the means to escape. The inside is very roomy as well, and you'll have no problem fitting in even men's size 12 or 13 shoes. Similar to the Fit Pack 3, Aer's made this compartment compressible to maximize all available space. Take the slack and fold it into the pocket found on the bottom hatch. This way, you don't have extra fabric obstructing the clothing area.
AquaGuard YKK zippers protect the clothing area to keep your spare clothes dry before you hit the gym. Open them up, and you're greeted by a ton of space. Depending on whether you use the shoe compartment or what size of shoes you put in, there's a lot of room to play around, especially if you use packing cubes and/or pouches. Along with our men's size ten shoes, we could get two medium-sized packing cubes inside without a fuss and with a bit of wiggle room to spare. If you need to keep something separate, there's also a sleeve at the rear.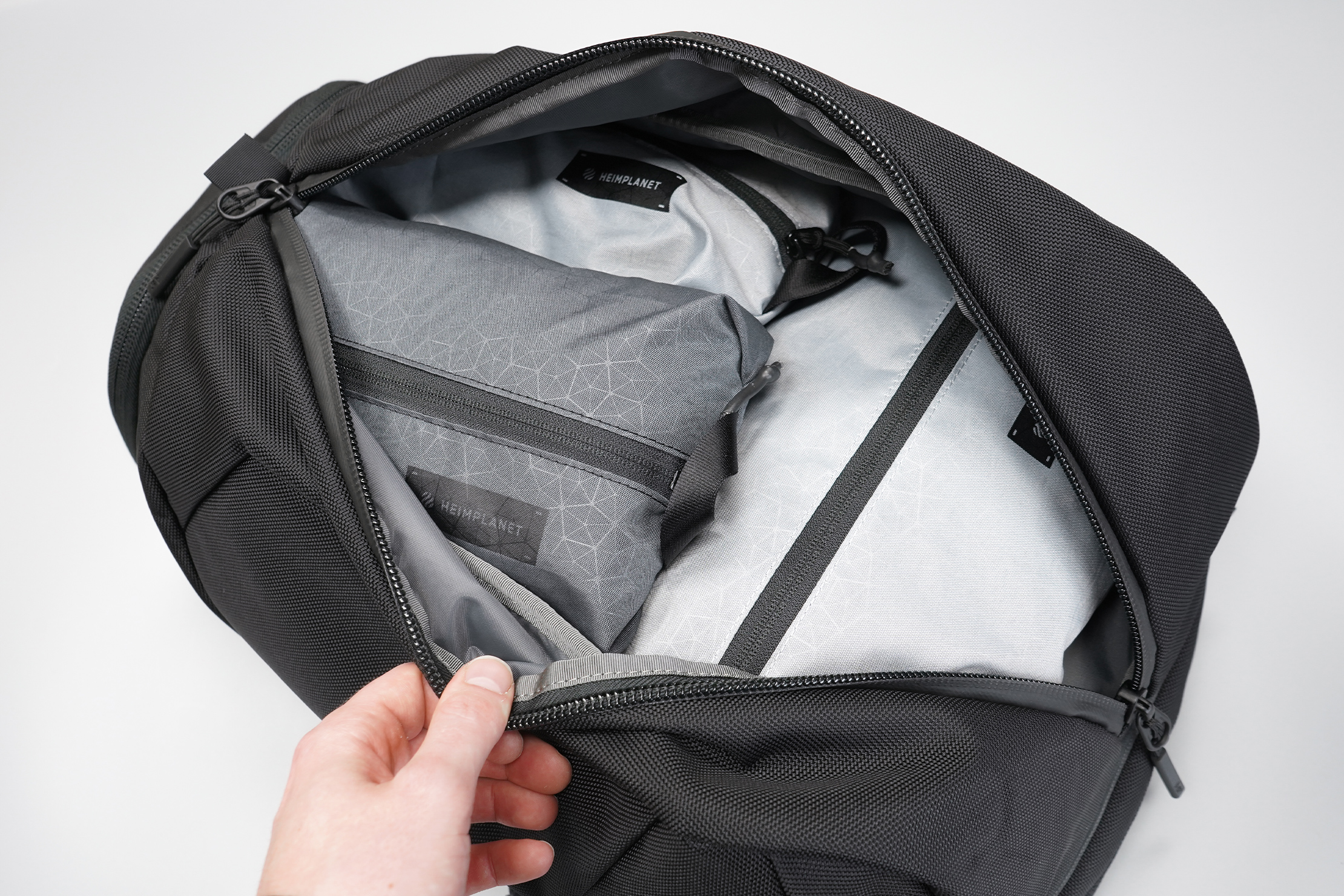 The main compartment is also protected by AquaGuard YKK zippers—rightfully so since this compartment is a really nice tech compartment courtesy of the organization options you have inside. But before we get to the organization, we have to commend the generous amount of foam padding on the back panel. Side by side, it's a noticeable step up from the previous version. When coupled with the taller profile and larger false bottom, overall device protection is improved, and we had no doubt our 15-inch MacBook Pro was safe inside the Duffel Pack 3.
Apart from the laptop sleeve, there's also a separate slot for a large tablet or long-form documents. On the opposite side are two liner pockets for power adapters and travel mice, plus a stretchy zippered mesh pocket. It's no longer very see-through compared to the one on the Duffel Pack 2, but you get a slit pocket behind it in return—handy for keeping travel documents like passports and tickets just a bit more out of reach and plain sight.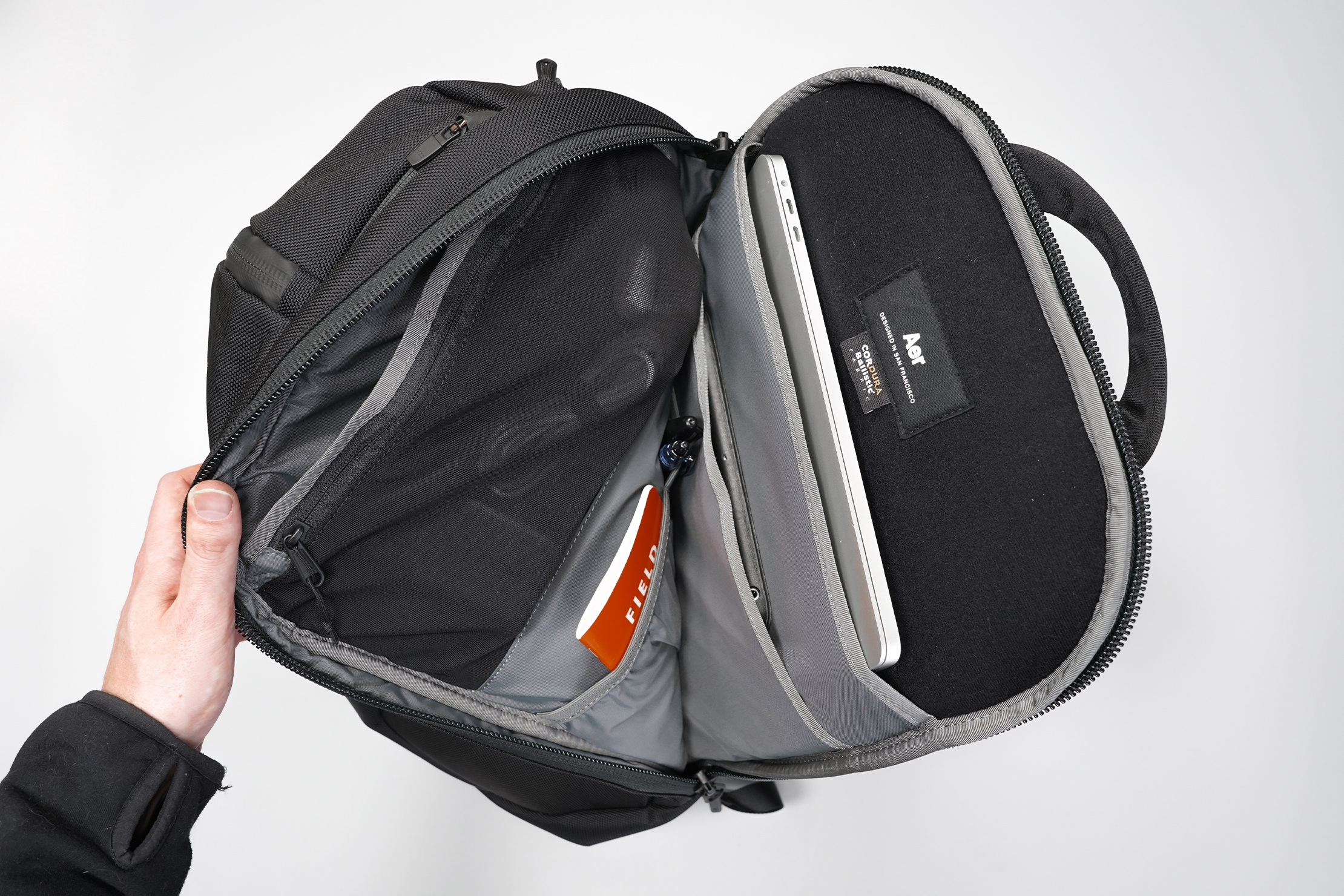 There's not a ton of extra space between the two halves of the main compartment. The most suitable items for the existing space are textbooks, a slim laptop cooling pad, or slim cable organizers/pouches. The key term there being "slim" as most of the real volume of the Duffel Pack 3 has been allocated more towards the clothes and shoe compartments.
Wrap Up
Aer has made some excellent improvements to the Duffel Pack. Tiny details like the less jingly zippers and more foam padding, coupled with the major ones such as the compressible shoe compartment and extra water bottle pocket, add up to a good leap forward for the Duffle Pack 3.
Those with the Duffel Pack 2 might hesitate due to the big revisions for the front pockets. But for those on the lookout for a new backpack to take to the office and the gym, the Duffel Pack 3 has space and flexibility to meet the challenge.
Usage Timeline
Initial Usage
Condition: Excellent
Deep shoe compartment can cut into the main compartment
Duffel bag-stlye opening makes it super convenient for gym use
Water bottle pocket blends in well when not in use
2 Weeks of Use
Condition: Excellent
Comfortable fit on a taller frame
Duffel-style front compartment can take some getting used to
Zippers seem less jingly than previous Aer bags
Great amount of organization and everything has a place
Back pocket & divider pockets can feel a little cramped and requires some strategic packing
Two bottle pockets are great for the Active use case
Access the Pro Community Discussion
Get your questions about the Aer Duffel Pack 3 answered from our team and the Pro Community right here on the page. Plus, join discussions with other members about gear, guides, and more.
Other Bags & Luggage Reviews