Trakke Pencil Case Review
The handmade Trakke Pencil Case is simple in form and function. Solid materials & metal hardware—with the price tag to match—make it stand out from the crowd.
Our Verdict
Unlock the Pro Summary
Save time. Get access to brief summaries of our reviews so you can browse and make decisions more efficiently.
Pros
Solid craftsmanship
Premium materials feel satisfying in the hand
Small footprint thanks to minimalist size and design
Cons
With premium craftsmanship comes a premium price
No interior liner fabric
Soft body not ideal for fragile pens, pencils, or items
Recent Pack Hacker Video
Technical Details
Capacity

.35l

Weight (lb)

.09 lb (0 kg)

Dimensions

2.36 in x 7.87 in x 1.18 in (6 x 20 x 3 cm)

Notable Materials

Canvas, YKK Zippers, Metal

Manufacturing Country

United Kingdom

Warranty Information
Full Review
Get up to 15% off Trakke • Join Pack Hacker Pro
Ah, the humble pencil case. It's one of the few pieces of school gear we geeked out about when we were younger. You'd brandish one as a statement of who you are, whether it's a colorful pouch embroidered with your favorite cartoon character or the ones that resembled an aircraft carrier more than it did a pencil case (you know the one). Then there were the pragmatic ones that had a pencil case that just got the job done without a second thought for appearances. Regardless, it was as much about personality as it was about its function.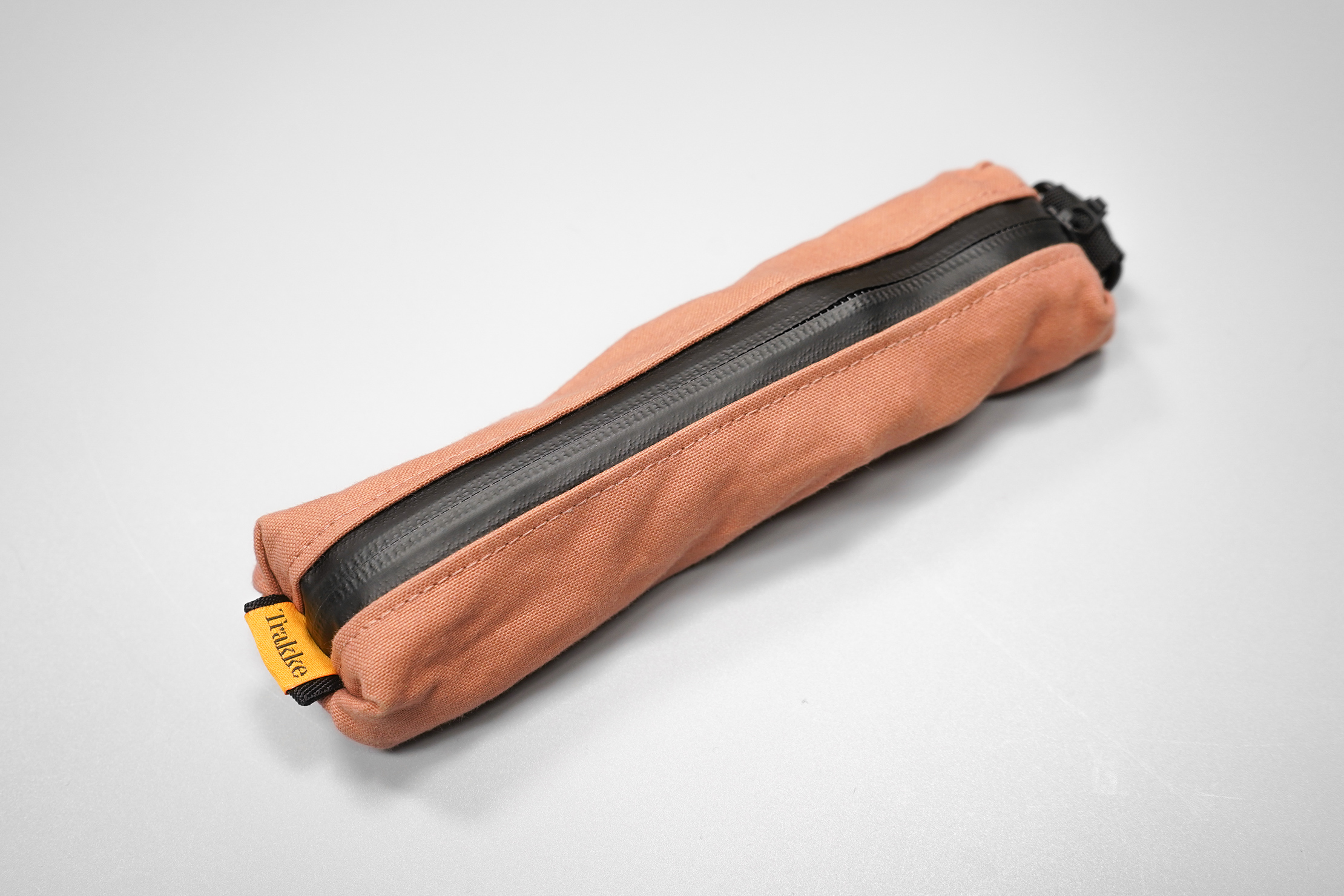 Preferences change, and you've more or less settled into adulthood today, but your pen & pencil storage needs have stayed the same. For that, meet the Trakke Pencil Case. It has the signature Trakke look, build quality, and personality. Despite this, it's also quite slim and straightforward in function—enough to do the job, but in style.
Materials & Aesthetic
As ubiquitous as pencil cases come, the Trakke Pencil Case takes a very familiar form. In fact, it strikes a close resemblance to the Bellroy Pencil Case, a pencil case we've also taken a look at previously. It's a simple design that we can best describe as sausage-like, with a zipper running down the entire length of the case for access.
Where Trakke and Bellroy differ is in the choice of materials. Trakke has opted for their signature dry-finish waxed canvas. If you've ever felt or used a Trakke product before, then the fabric here is no different. It still retains that nice squishy texture that we've come to expect from their lineup. Furthermore, the stitching along the material is reassuringly robust and shows no sign of coming loose during our time with it. Trakke usually has the "Handmade in Scotland" subtitle in its logos. Though it's absent here, that doesn't mean the Trakke Pencil Case does not deserve it.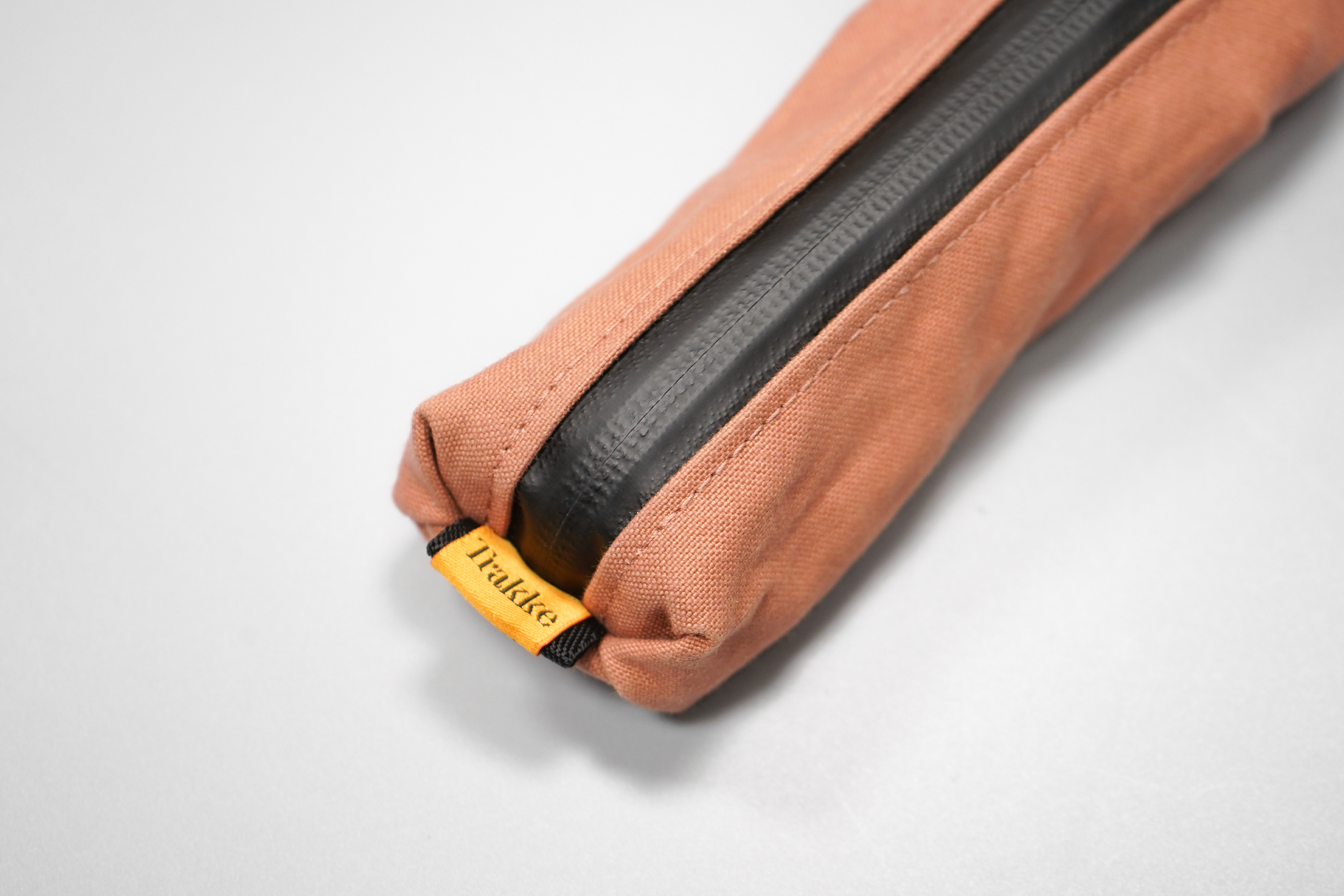 The Pencil Case comes with the following choices of colorways: Olive, Black, Whisky, Cumin, and Pink. We have the pink one for this review, but in case you're wondering, Olive is a dark brown-grey, Whisky is a yellow-brown, and Cumin is yellow. Yes, these are the same colorways as the ones available for the Trakke Bannoch; thus, you can match—or contrast—your Pencil Case with your Bannoch if you have it.
The dry-finish wax canvas comes with the usual bonus—or caveat—of having a worn-out look as part of the overall aesthetic. Be warned, however, that the interior has no separate fabric lining, so writing materials with no cap (i.e., pencils) can mark up the insides fairly easily.
But back to the outside, the No. 5 YKK zipper is of the AquaGuard variety, giving the Trakke Pencil case almost overkill protection for a "mere" pencil case. The zipper itself has a metal ring pull, meant to be used in conjunction with the metal D-ring located on one end of the case opposite the lone "Trakke" branding.
Usage
The first thing we noticed the moment we picked up the Trakke Pencil Case was the metal ring pull and the D-ring. They certainly lend to the overall premium feel of the case. Again, these are features also present in Trakke's lineup, and we highly approve of them. Of course, they serve a function as well, making it easier to unzip the case even when it's fully packed and bulging against the zipper.
Simplicity is the name of the game for Trakke's Pencil Case. With that, there's not much more to it than simply putting your pencils, pens, markers, and other writing materials inside then zipping it up. As previously mentioned, there's only one layer of fabric. The good news is that the pink canvas makes for good internal visibility. Not that it's a big enough space that anything would get lost in there anyway, but a bright interior is still a plus in our books. The bad news is that this pink canvas is prone to accidental marks from pencils, crayons, or anything uncapped. Then again, we've yet to see a pencil case that hasn't worn in its interior fabric in this way.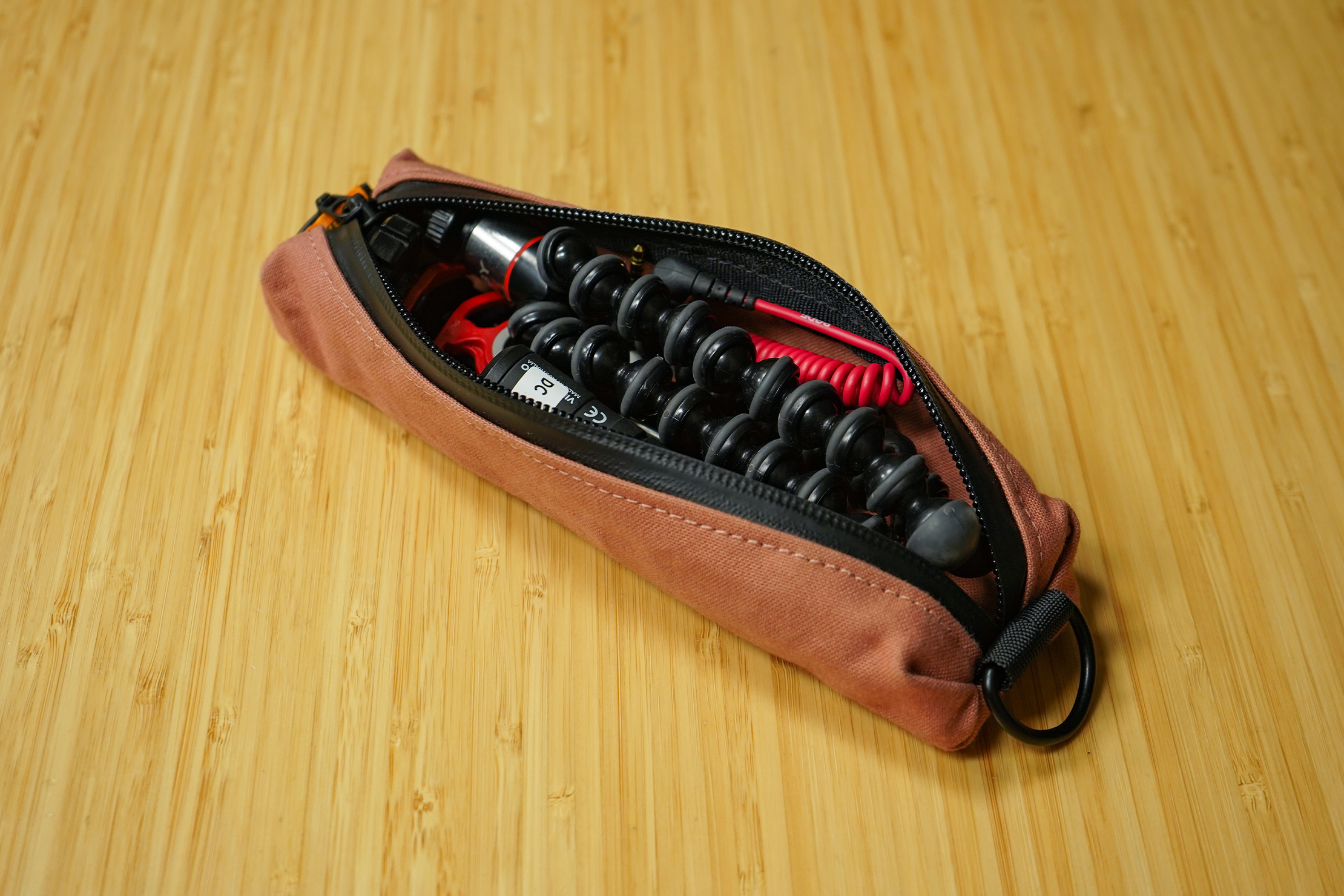 We'd be lying if we said that we'd used the Trakke Pencil Case exclusively as a pencil case. Instead, our techy side immediately jumped to the idea of using the case as a mini tech pouch. Blame it on our "less is more" mentality. Still, there's something oddly satisfying about fitting an entire content creator kit into something with more or less the capacity of a soda can. You can jump into our Quick Hit video above to get an idea of how much gear we got into the case. It's not a lot, but enough for the minimalist vlogger.
Wrap Up
The Trakke Pencil Case is simple in its function, but it's a well-executed one. Trakke set out to make a case where you can stow away your pens and pencils, plain and simple. But they've done it in their own style, which separates it from your run-of-the-mill pencil case. Simply put, it has its own personality, one that we dig.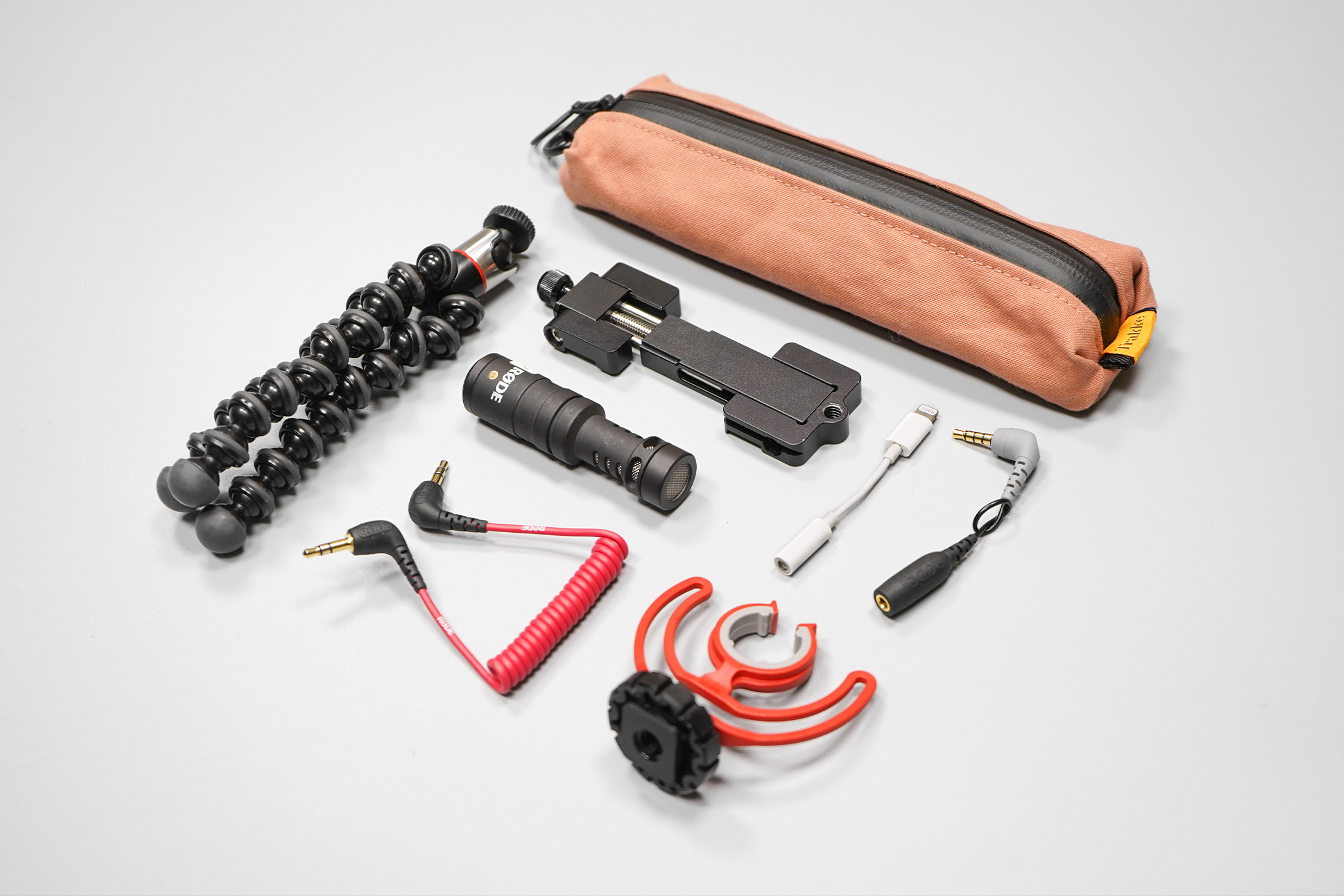 It's far from the most feature-rich piece of gear we've tested, so those looking for more than one compartment will be dismayed by the lack of complexity. But if you're looking for a slim, minimalist pencil case that's solidly put together from premium materials and a touch of personality—both in color and in texture—then the Trakke Pencil case is a strong contender.
Usage Timeline
Initial Usage
Condition: Excellent
Slim and compact size fits easily in almost any bag
Minimalist style with no internal dividers or pockets
Durable materials and construction
2 Weeks of Use
Condition: Excellent
We like that this simple pouch is handmade in Scotland, and it has the price tag to match
This ended up being the perfect size for our mobile video creator kit gear (check out the video for more info on this)
It's a small detail, but the metal zipper pull and metal D Ring are nice, functional touches that add to the premium feel
The Dry-Waxed Cavas is almost a bit squishy in the hand (in the best way possible)
Access the Pro Community Discussion
Get your questions about the Trakke Pencil Case answered from our team and the Pro Community right here on the page. Plus, join discussions with other members about gear, guides, and more.
Other Organizers & Pouches Reviews