Trakke Bannoch Backpack Review
The Trakke Bannoch is a well-executed, heritage-style backpack with an incredible feel in hand, but it can be slow to access, and there aren't many exterior pockets.
Our Verdict
Unlock the Pro Summary
Save time. Get access to brief summaries of our reviews so you can browse and make decisions more efficiently.
Pros
Well-executed heritage styling
Excellent internal visibility
Premium build quality and materials
Cons
Lacks a quick access pocket
Slim water bottle pockets that don't stretch
Shoulder straps are a bit thin
Recent Pack Hacker Video
Technical Details
Capacity

17l

Weight (lb)

3.75 lb (1.7 kg)

Dimensions

17.23 in x 11.02 in x 5.51 in (43.8 x 28 x 14 cm)

Notable Materials

Canvas, Cotton, YKK Zippers, Stainless Steel

Manufacturing Country

United Kingdom

Laptop Compartment Size

15"

Warranty Information
Full Review
Get up to 15% off Trakke • Join Pack Hacker Pro
"Heritage styling" is a popular aesthetic, and nostalgia is a powerful emotion that can be easy to invoke. Many products try to pull off the heritage look, but they fall short of the goal in some way or another.

In this review, we'll be taking a look at the Trakke Bannoch, a backpack with heritage styling. They've nailed the aesthetics, the choice of materials, and the fit & finish are commendable by all accounts. However, this bag comes with a sacrifice of function in some areas. Let's dig in and see what we think is good & not so good with the Trakke Bannoch.
Materials & Aesthetic
Trakke has an excellent track record—no pun intended—of using heritage styling for most of their products, and the Bannoch isn't any different. It's a knapsack-styled bag with its front flap that's kept secure by a pair of cotton straps running from top to bottom. The said flap brandishes the Trakke logo, subtitled "Handmade in Scotland" It's not subtle, but we dig the classic typeface used here, and it goes well with the overall aesthetic.
It's the dry-finish waxed canvas that dominates and completes the heritage aesthetic. Many backpacks ape the knapsack style, but using the right materials is equally as important.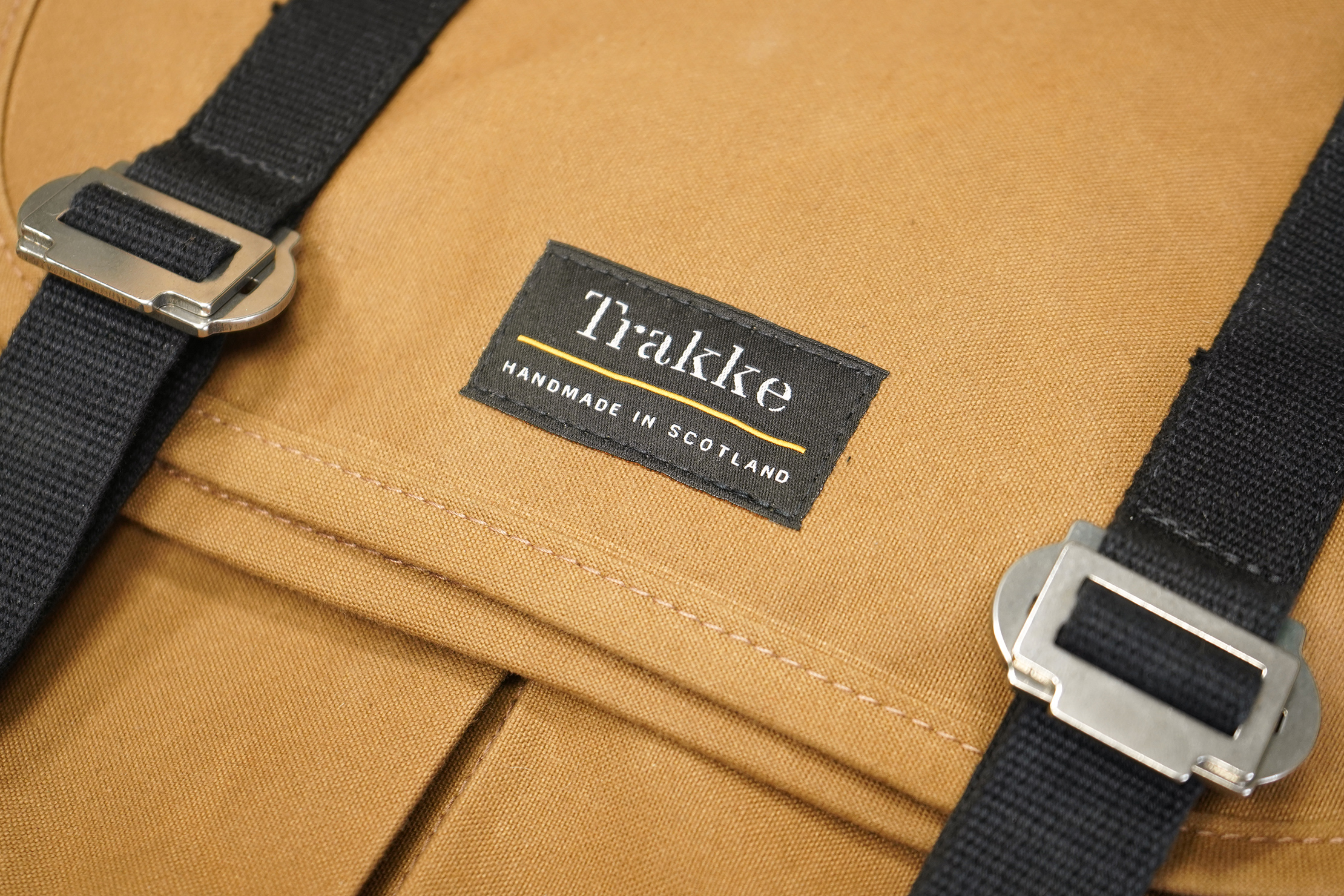 On top of the looks, we dig the feel of the Bannoch as well. The dry-finish waxed canvas feels really good to the touch. That said, this material is prone to accumulating scuffs and marks over time, which is kind of the point with these types of canvas materials. It contributes to the heritage styling and doesn't affect durability compared to other nylon & TPU backpacks. If scuffed and worn looks don't appeal to you, then the Bannoch might not be the one for you.
Despite the heritage styling, there's a healthy number of colorways to choose from for the Bannoch. We're sampling the "Whisky" one for this review—we can best describe it as a light brown color with a yellow hint. There's also Black, Olive, Cumin, and Pink. Oh, and Olive is a semi-dark, greyish brown, while Cumin is a bright yellow. All of these come in the dry-waxed canvas material, of course.
The metal hardware is equally impressive. There's the expected high-quality YKK zipper for the inside pocket, metal buckles that hold the front straps in place, and D-rings to aid you in pulling and adjusting straps to your liking.
External Components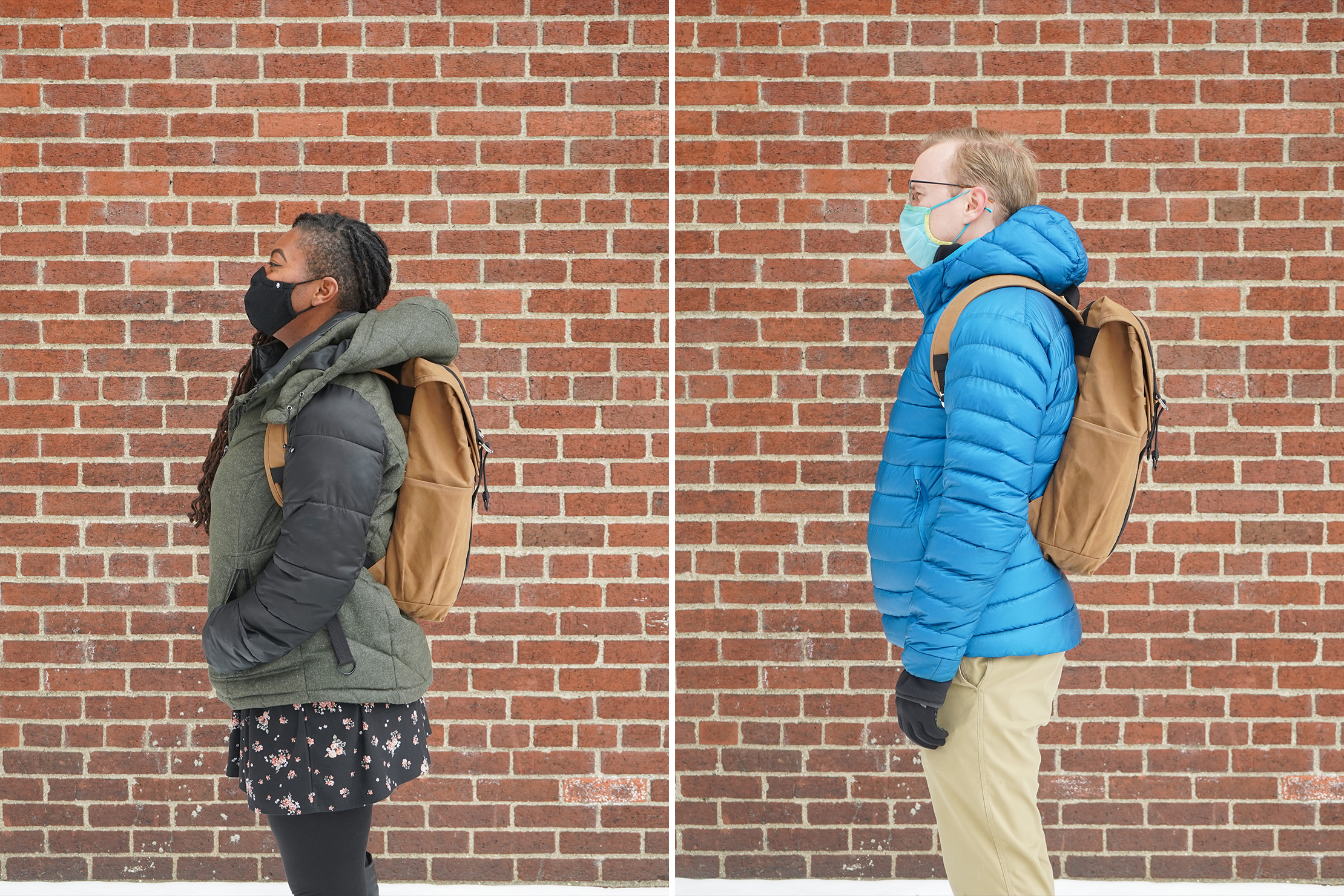 These metal buckles lend more premium-ness to the Bannoch's look and feel. The shiny metal finish and belt buckle shape are just the cherries on top for the heritage styling, but they also function well. Check out our Quick Hit to see them in action, but, essentially, one end threads through the other, and the shape locks it in place. The buckles can make jingling sounds, but tightening up the straps prevents them from doing so.
Moving on to the back, we'll find a straightforward harness system, complete with a complimentary top handle. The shoulder straps themselves are densely padded and comfortable to use, given the 17 liter capacity of the Bannoch. However, comfort can be a bit lacking due to how thin they are once you try to carry heavier loads.
Adjustment is a bit tight due to the metal buckles used, but there are also the D-rings mentioned above that you can pull on for easier adjustment.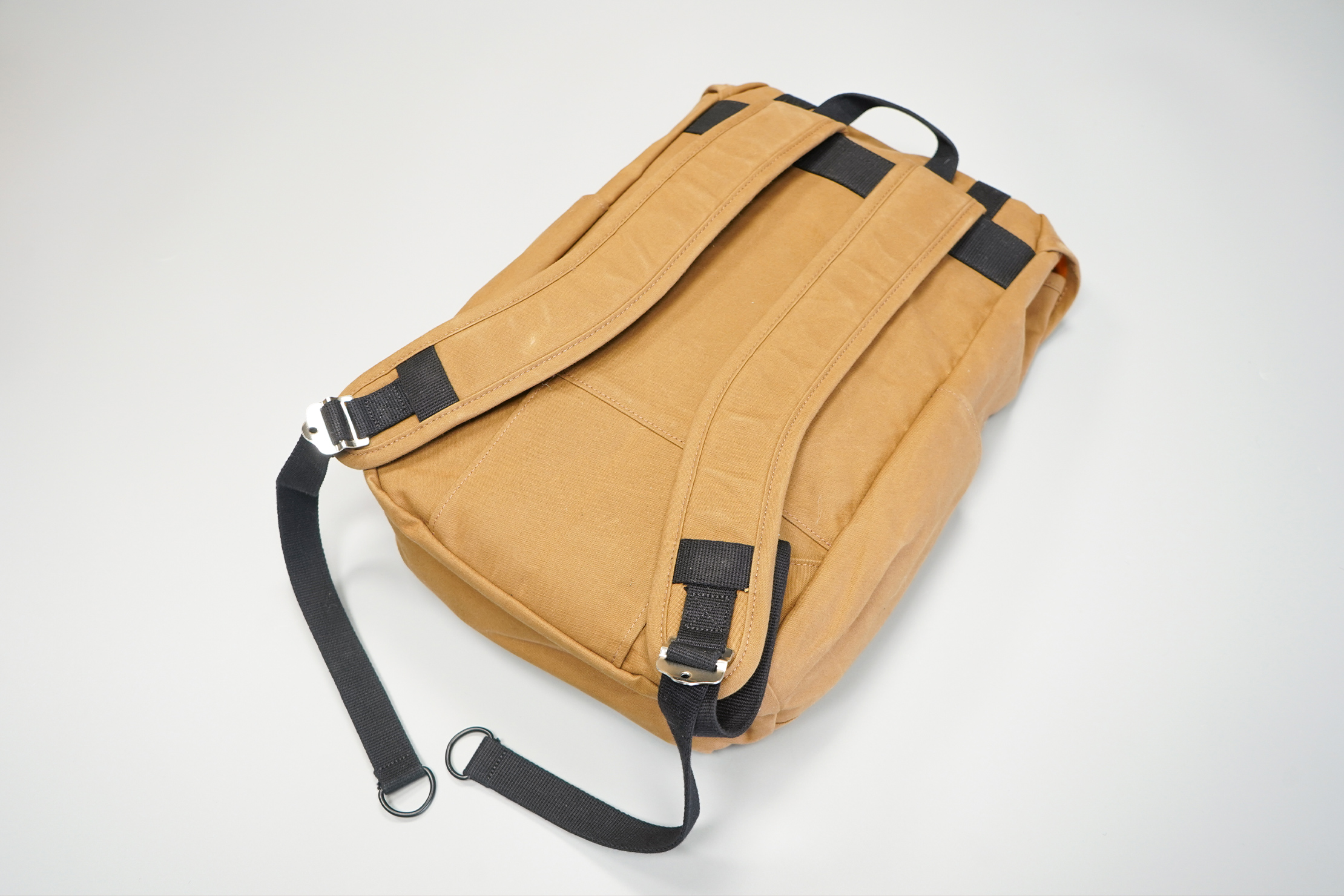 There's a separate sternum strap and hip belt accessory available if you need additional support. A pass-through near the back panel's bottom has velcro inside for attaching the hip belt accessory. As the Bannoch isn't a large-capacity travel backpack by any means, these two accessories are not must-haves.
No fancy padding or air channels for the Bannoch's back panel means this isn't the most comfortable daily carry if you live somewhere tropical. The lack of dedicated padding wasn't as big an issue as one would expect since the laptop compartment and internal cushioning were able to keep things comfortable.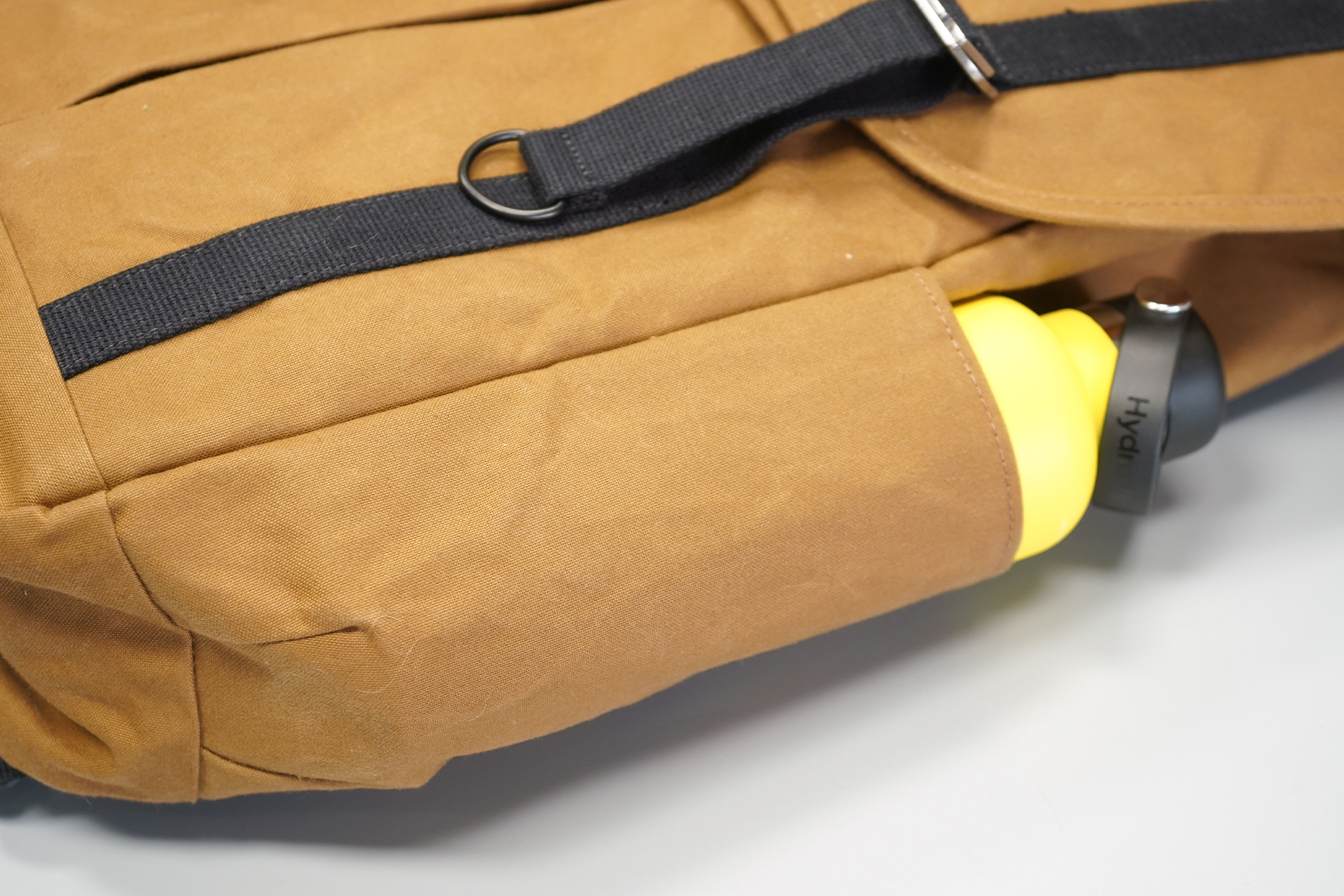 On each side of the Bannoch are bottle pockets that are fairly tall but slim. They use the same canvas material as they do the rest of the pack, which means they don't have any elasticity. Our 21-ounce Hydro Flask Bottle fits in here perfectly, though anything bigger won't.
Inside The Pack
Once you undo the metal buckles and open the top flap, you'll find, well, another flap. This smaller flap covers the front pockets that fold flat and flush against the main body when not in use. The Bannoch we have here today still has some stiffness left in its fabric, so more break-in is needed for them to fold completely flat.
Like the water bottle pockets, these front pockets are also quite deep—since they expand, you can easily slip your hand inside to grab your stuff. On the subject of space, these twin pockets can fit long and chunky laptop charging bricks or long pencil cases without a problem. Trakke also demos these pockets to be fit for storing headphones. But that only works if the headphones in question have ear cups that swivel or if they're small enough so that they each slip into the left and right pockets.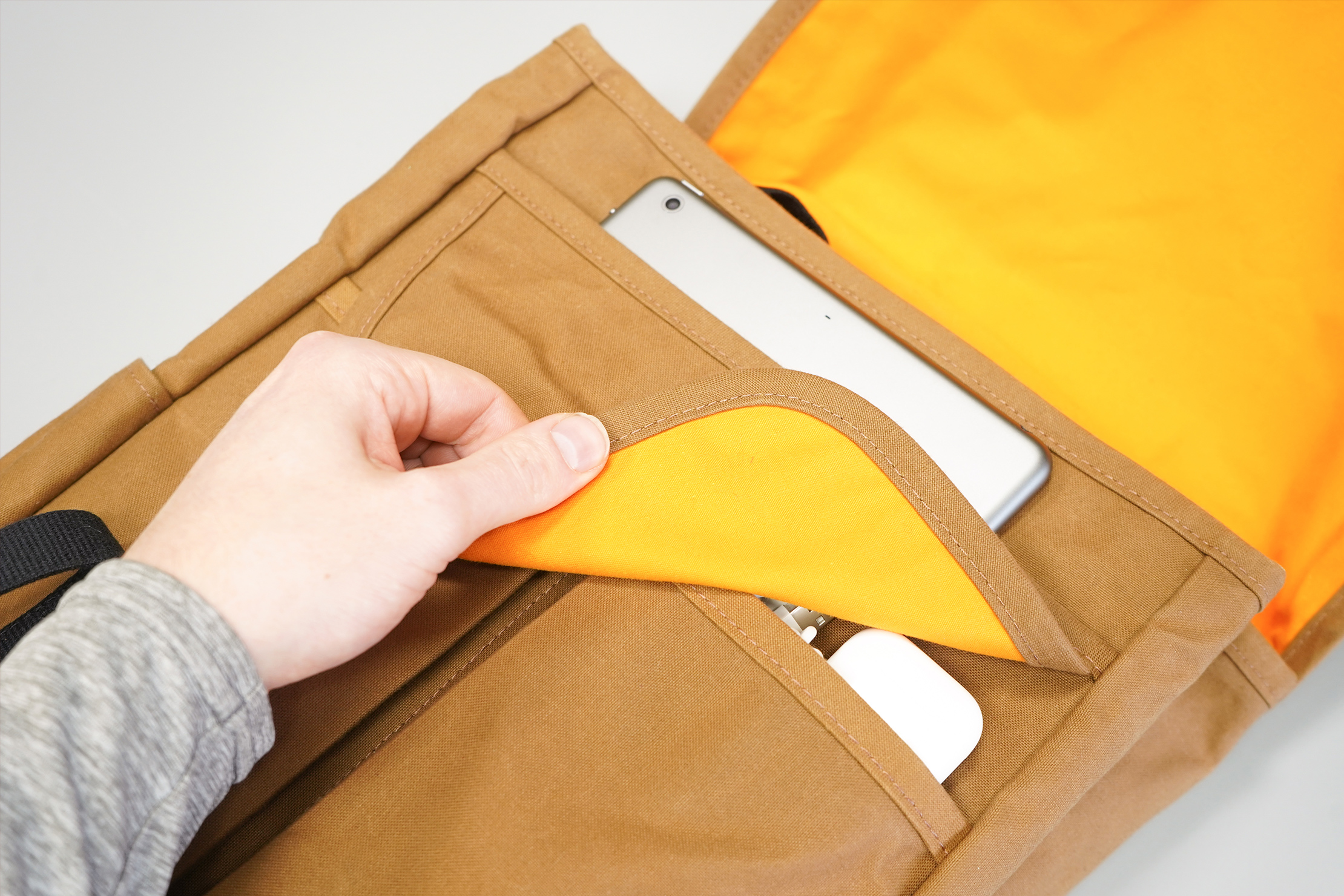 Behind the duo of front pockets is a document sleeve. It's a nice inclusion if you don't like the idea of your laptop sharing a space with your papers. Worst case scenario, you have to evict one of them into the main compartment. A dedicated document sleeve solves that, though you're still going to have to use a folder or envelope to avoid creases on your papers.
Open up the main compartment, and the bright orange interior immediately greets you. Visibility inside the compartment is excellent, and you'll have no trouble finding your stuff unless they're super small or similarly orange.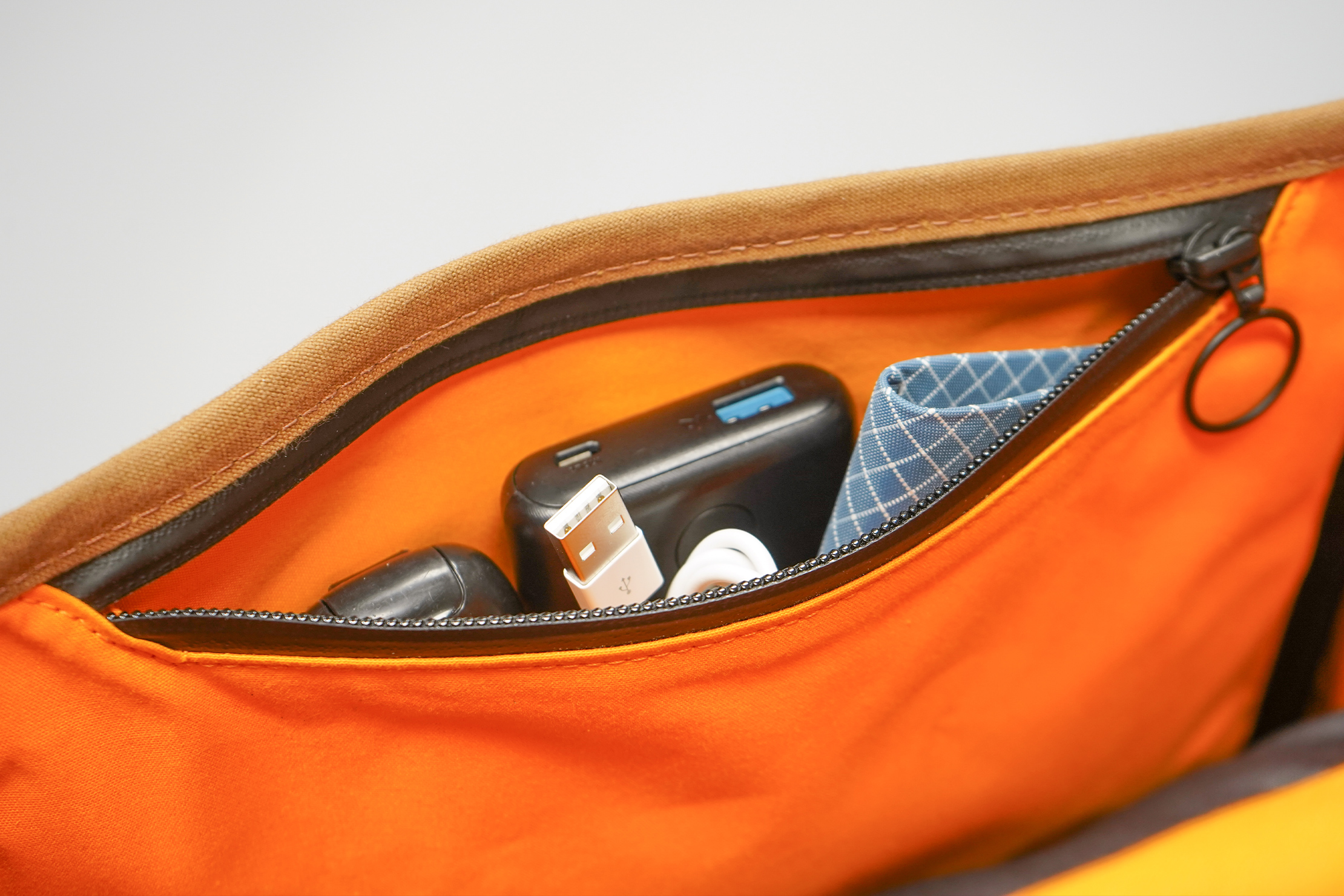 Before that, we'll first start with the zipper pocket at the top since, at this point, you're probably getting anxious with the lack of sealed compartments on the Bannoch. Indeed, this is the only compartment you'll find on the bag with a zipper, and this is where your smaller EDC items will go, such as smaller smartphone adapters, earphones, house keys, or a small bottle of hand sanitizer. Water-resistant fabric is present along the YKK zipper, so even though the pocket's located near the edge and just under the flap, it still has additional protection from the elements.
On the opposite side is the laptop compartment, which fits up to a 15-inch laptop. We were able to get away with putting in our 16-inch MacBook Pro, so a 15-inch laptop plus a fairly thick dedicated laptop sleeve will fit no problem. You'll probably want to use one as well, as there's not much in the way of padding for this laptop compartment, though it has a false bottom to absorb some impact whenever you set the Bannoch on the floor.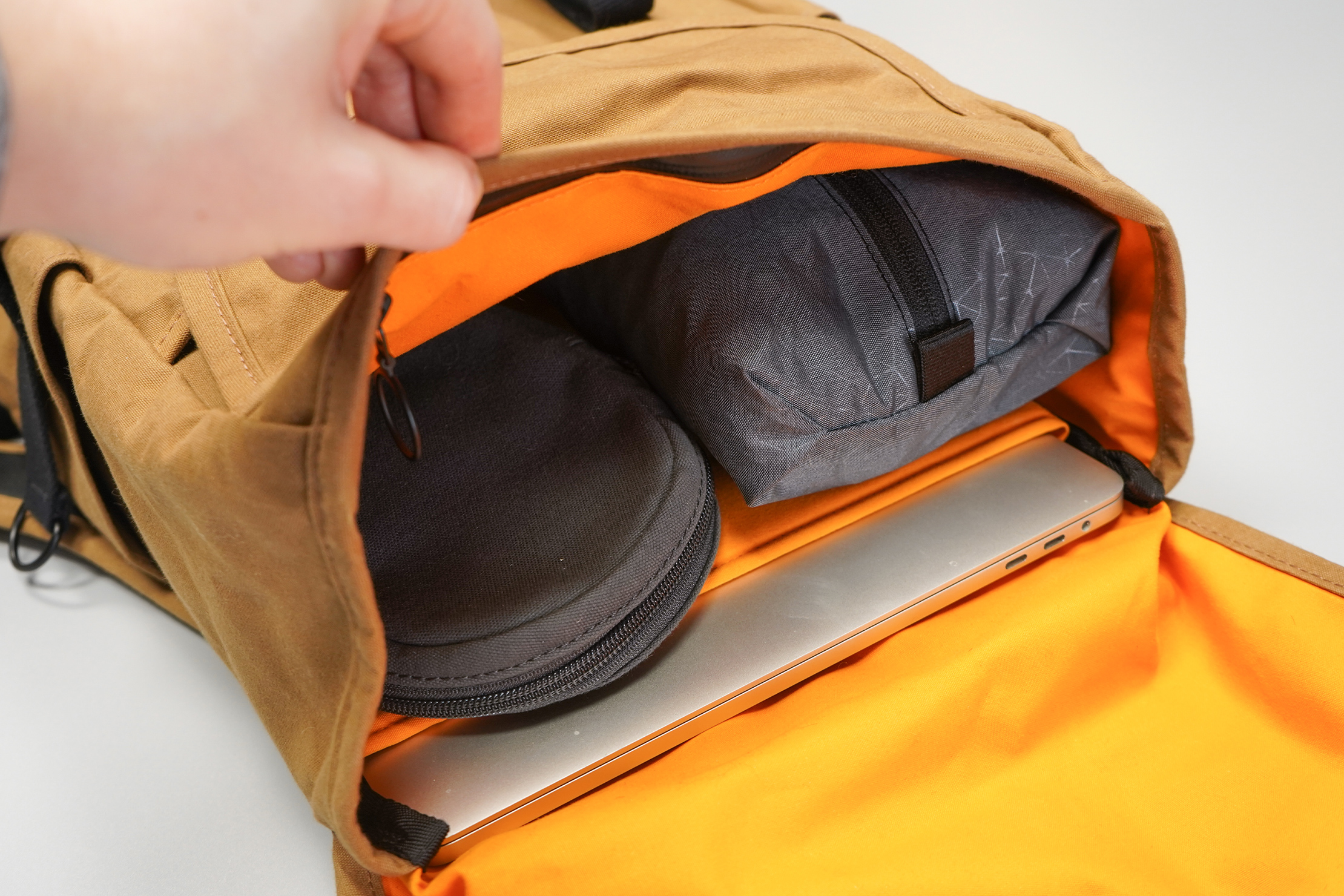 Lastly, we arrive at the main compartment. There's plenty of space if you want to use the Bannoch as a day pack. Large textbooks and notebooks will feel right at home here, along with one or two pouches. The rectangular profile outside translates directly inside, so using packing cubes is an ideal solution to prevent irregular bulging if you want to use it as a short-term travel backpack.
The Bannoch's organization is quite rich, with a total of six pockets and compartments. Unfortunately, it's the omission of a quick access pocket on the outside that caught our attention—a significant factor to consider if you're going to use this as a daypack.
Wrap Up
Trakke went all-in with the heritage styling here, and we've probably lost count of how many times we've mentioned it in this review alone. That's a testament to how well the design and build quality of the Bannoch is. All the materials used are excellent, and they've nailed the look.
As a daypack, the Trakke Bannoch does have its highlights: a good amount of organization for use at work, ample space for short-term travel, and superb internal visibility. But, it's the omission of a truly quick access pocket that makes it a hard sell for those who yearn for efficiency and convenience.
Usage Timeline
Initial Usage
Condition: Excellent
Heritage look and feel
Great amount of organization
Minimalist style organization with large spacious main compartment
2 Weeks of Use
Condition: Excellent
This bag is stylish and simple, and we've really enjoyed using it. All the materials feel premium and great in the hand. The "handmade in Scotland" craftmanship is holding up great with no loose threads, rips, or tears. We've been really liking the front expandable pockets that lie flat when not in use, it's a great way to add some additional space to the bag without it looking too bulky or weird. The metal hardware that secures the top can take a minute to get used to but it holds tight and provides a luxury look. The only downside of this bag is that the water bottle pockets are pretty slim. If you have anything bigger than a Hydroflask 21 oz Bottle, you might have a hard time fitting it in.
Access the Pro Community Discussion
Get your questions about the Trakke Bannoch Backpack answered from our team and the Pro Community right here on the page. Plus, join discussions with other members about gear, guides, and more.
Other Bags & Luggage Reviews