Peak Design Travel Backpack 30L Review
The Peak Design Travel Backpack 30L is a good example of the brand's attention to detail, packing the same innovative features of its 45-liter sibling.
Our Verdict
Unlock the Pro Summary
Save time. Get access to brief summaries of our reviews so you can browse and make decisions more efficiently.
Pros
Compression system is simple, clean, and works well
Structured sides and clamshell opening makes packing a breeze
Has plenty of attachment points inside and out for camera gear
Cons
Back panel ID pocket is easy to miss
Hook-on sternum strap not as simple as we'd like
Main compartment's zippered mesh pockets lack accessibility
Recent Pack Hacker Video
Technical Details
Capacity

30l

27L Standard | 33L Expanded

Denier

400D

Weight (lb)

3.17 lb (1.4 kg)

Dimensions

13.4 in x 20.9 in x 7 in (34 x 53.1 x 17.8 cm)

standard | Expanded: 20.9 in x 13.4 in x 7.9 in

Notable Materials

Nylon, Aluminum, Hypalon®, Polyurethane, DWR Coating, YKK Zippers, Zoom Zippers

Manufacturing Country

Vietnam

Laptop Compartment Size

16"

Warranty Information
Full Review
Get up to 10% off Peak Design • Join Pack Hacker Pro
When we first took a look at Peak Design's 45-liter Travel Backpack, we noted that it was well-executed with innovative features. It was by no means perfect, with some concerns regarding the Zoom zippers, sternum strap, and side handles. Nonetheless, it's still a travel bag that's pleasant to use whether you're lugging camera gear, clothes, or tech goodies for that digital nomad lifestyle.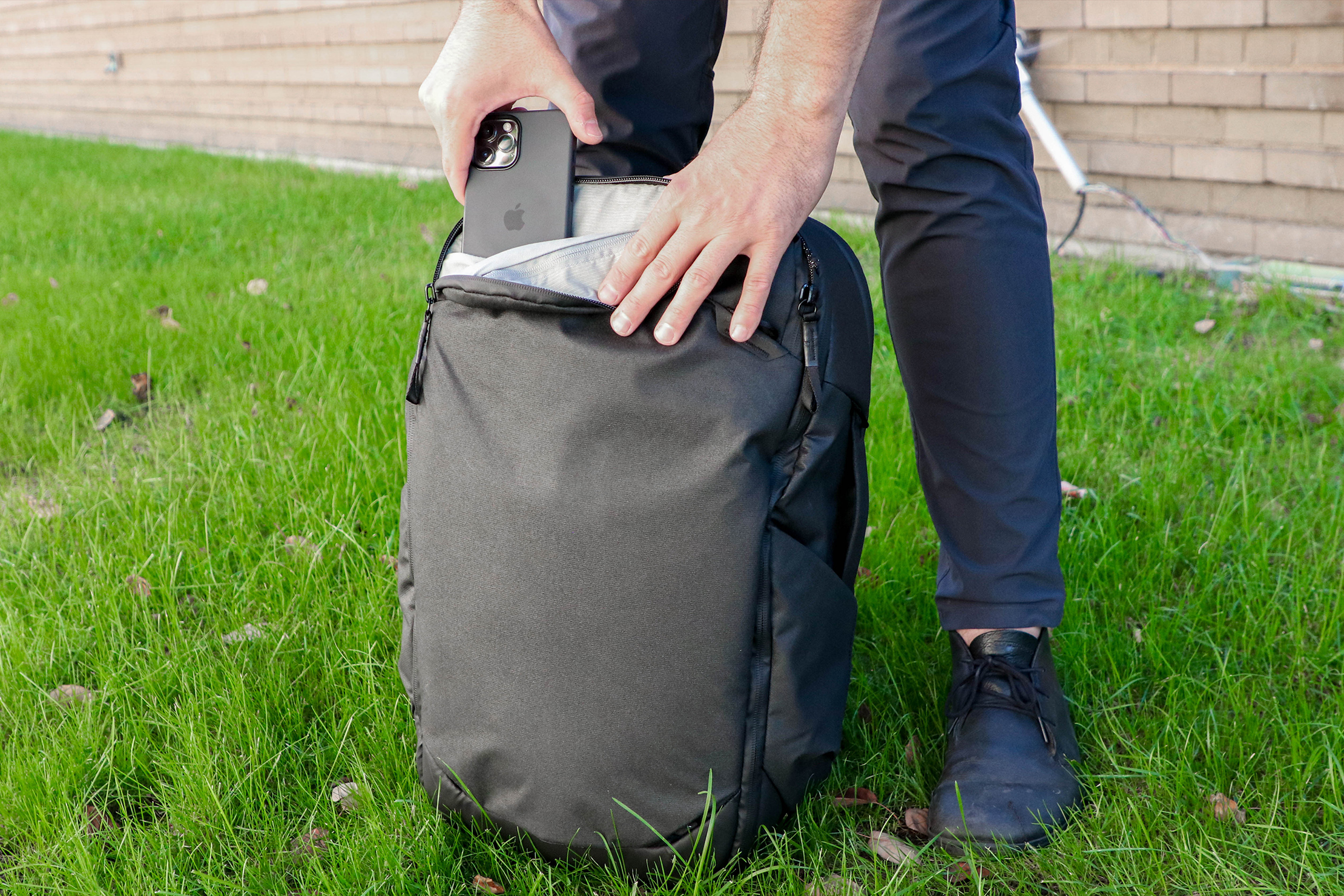 However, 45 liters might be a bit too much for some, and we were definitely curious to see it in a smaller form. Thus, here we are with the Travel Backpack 30L. It's the same backpack for the most part; a bit shrunken down, a few revisions here and there, but still classic Peak Design all throughout. You get solid materials, a clever harness system, a spacious interior, diverse pockets for organization—really everything you'd want on a travel backpack. It's not all smooth sailing, however. With a bag this packed to the gills with features, it's almost unavoidable that some will feel less stellar than others. So which are they? Join us as we go through them one by one.
Materials & Aesthetic
Okay, the Travel Backpack in this 30-liter version doesn't necessarily look like it breaks the mold. In fact, with enough toying of a camera's settings, you could probably fool someone into thinking that this is the much larger 45-liter version. If we put it side by side with its bigger sibling, the similarities are more apparent; there's nothing major to report in terms of aesthetic changes.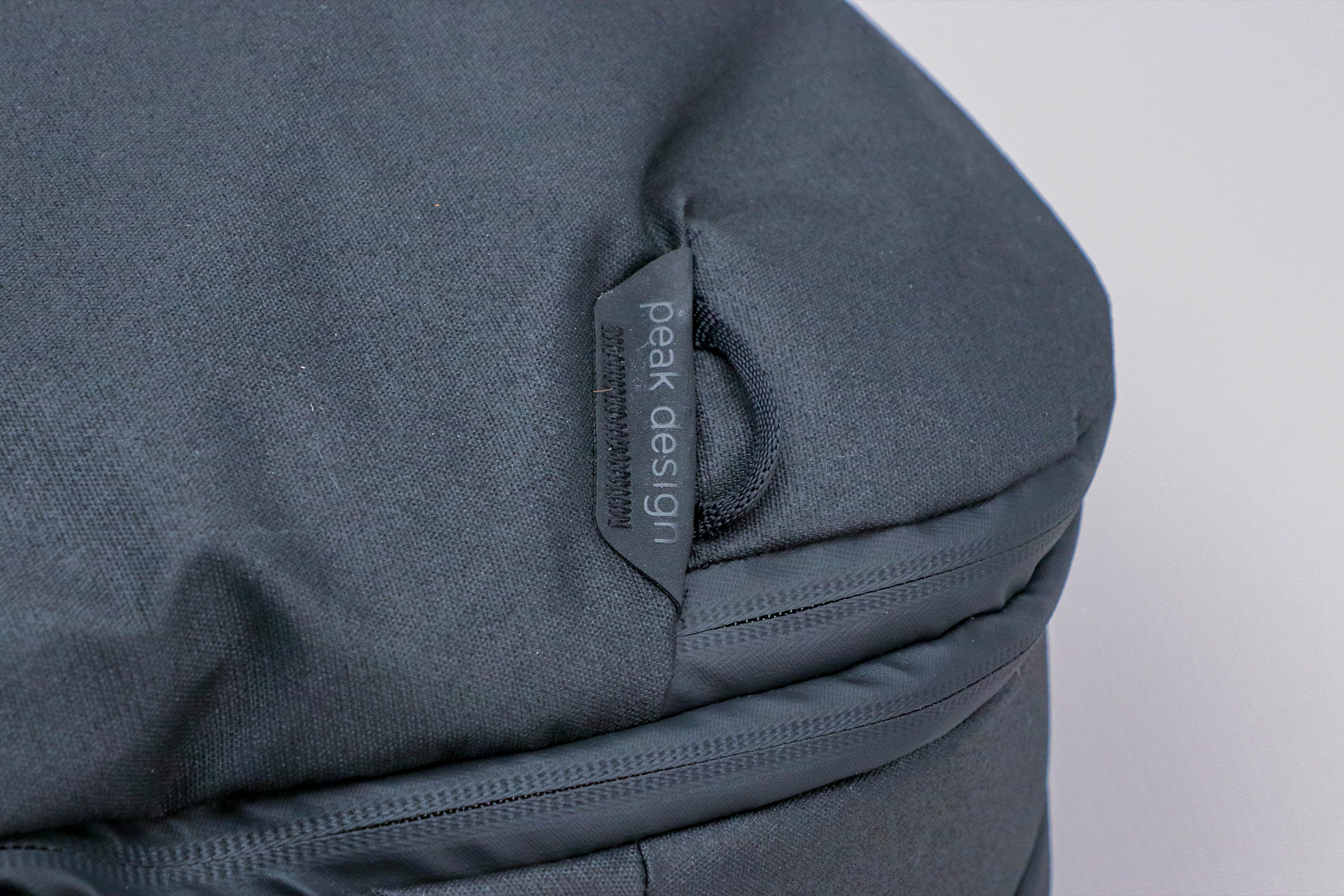 Of course, the absence of drastic change isn't an inherently bad thing. In our eyes, Peak Design has always been on point with their aesthetics. Whether it's their Field Pouch V2 or their Everyday Totepack 20L (V2), they blend just the right amount of opposing lines and curves to for distinctly good-looking Peak Design gear. If you want a concrete example, check out downward-sloping lines at the front, one of which has the logo; you can find similar design cues in their other bags, too.
We particularly dig this Black colorway that really doubles down on the sleek looks of the Travel Backpack. It even gets a nice sheen thanks to the DWR coating on the 400D nylon fabric, which, by the way, still has the same durability. We noted on the 45-liter version that the base has a heavier 900D nylon canvas fabric, and that seems to be the case with the 30-liter version since there's a noticeable difference in texture—so far, so familiar. There's also a Sage colorway, which looks more heritage, with small leather tabs replacing the Hypalon ones on the Black model.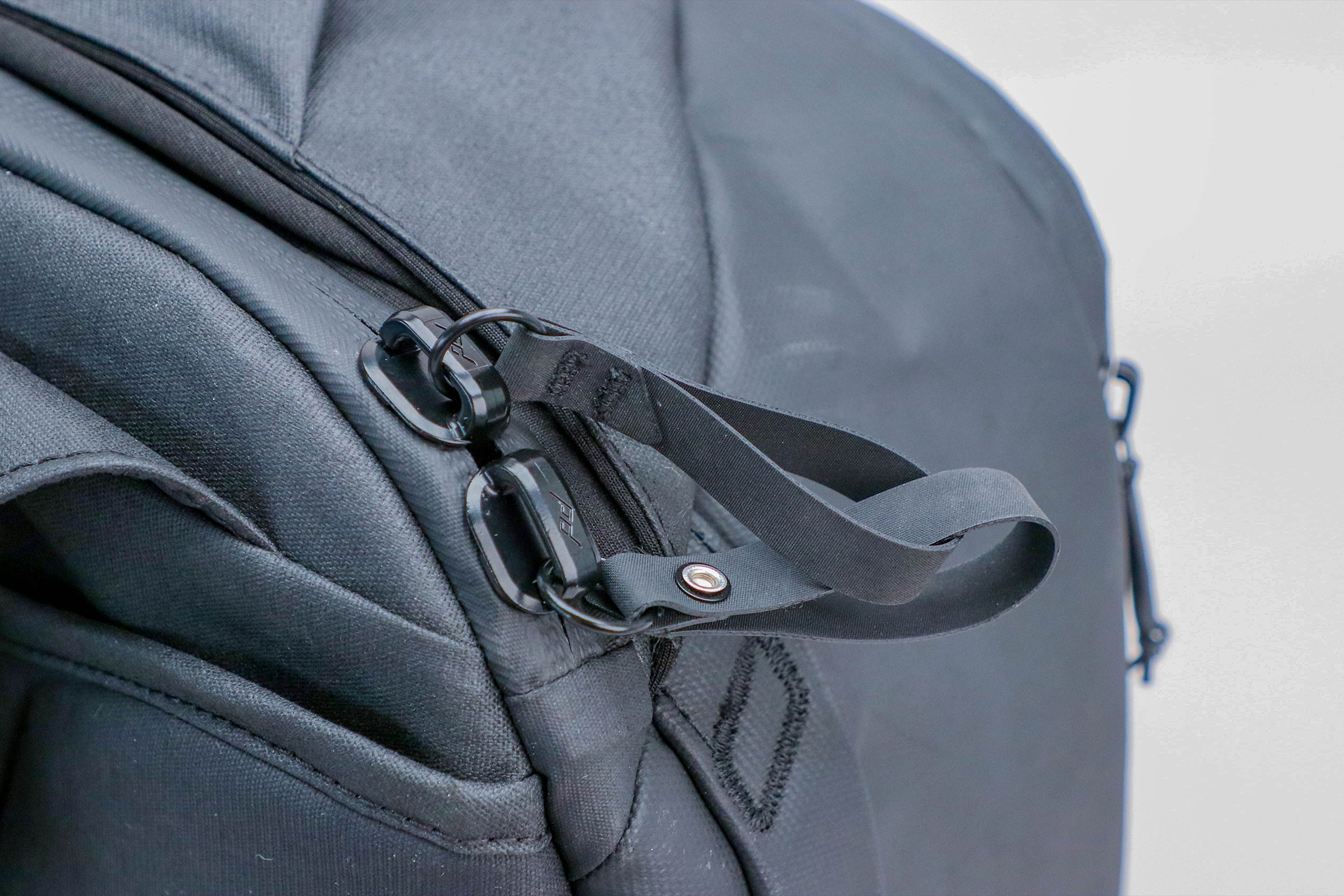 One big leap in this version is the zippers. All of them are now Zoom ones, with no YKKs in sight. We're skeptical about Zoom zippers since we have experience with them breaking. However, Peak Design says they've developed a close working relationship with Zoom for custom-made zippers and insist that they meet their standards. Only time will tell how well these zips will perform. That said, we're happy to report that none have jammed or broken in our testing so far.
Apart from the looks, the Travel Backpack 30L's robust build and structuredness still feel very confidence-inspiring. Aluminum hardware adds a nice premium touch whenever you adjust or fiddle with the bag. Additionally, bits of Hypalon are scattered around, most notably around the main compartment's zipper pulls, making them nice and grabbable.
External Components

The Travel Backpack 30L is a bit on the conservative side when it comes to capacity, however that's just one of the many aspects that makes a travel backpack a travel backpack. One other important thing to consider is the harness system.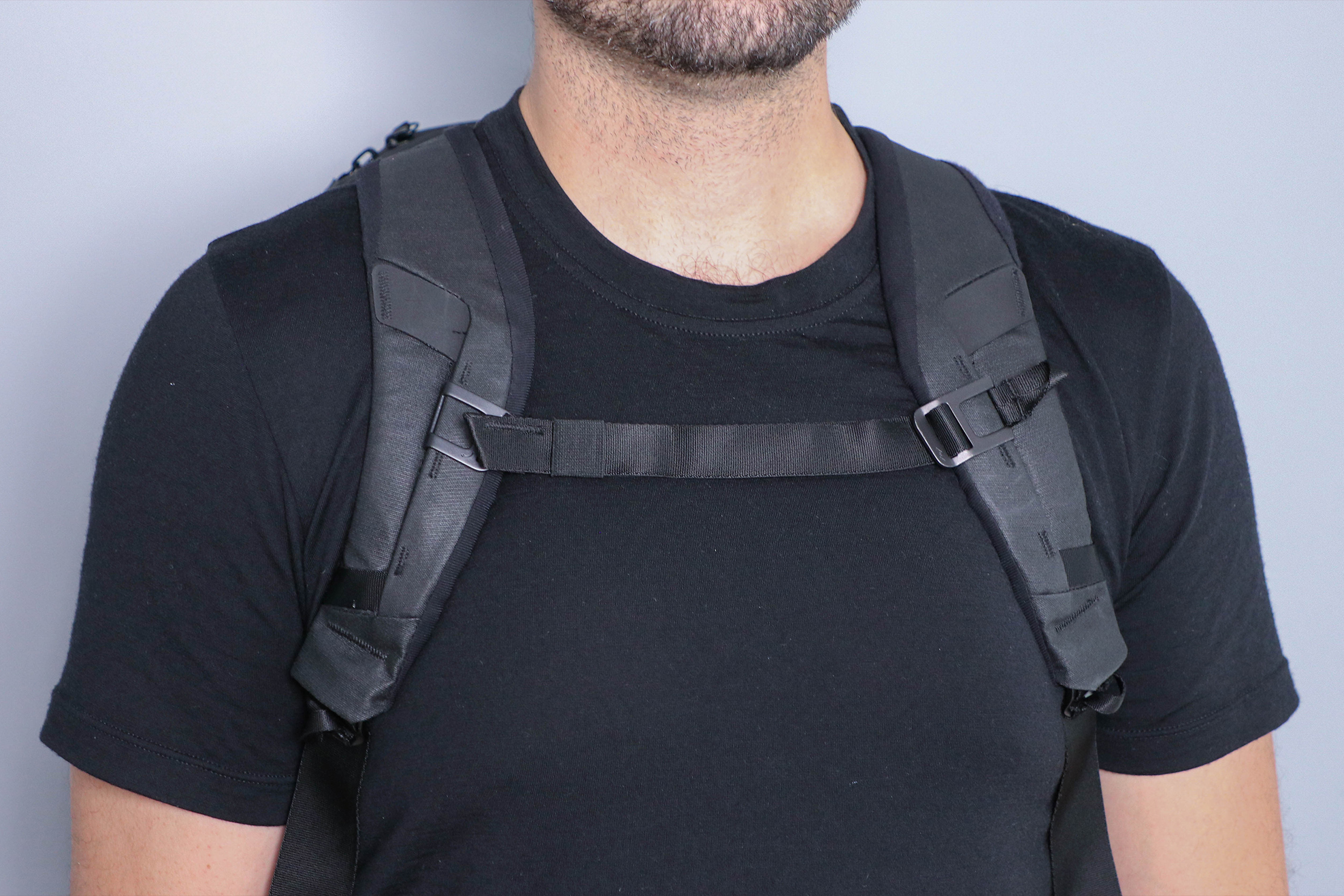 Again, Peak Design applies the same harness system they designed for the larger 45-liter version of the Travel Backpack. The shoulder straps feature thick and dense padding—a staple characteristic of any comfortable backpack. Both straps are anchored on rivets at the top of the back panel, and this allows them to swivel easily without the awkward buckling and stress more typical straps experience. Swinging the Travel Backpack around is easy thanks to these rivets, even when fully packed with clothing and supplies needed for a wedding trip.
The shoulder straps themselves have some nice touches that show Peak Design's attention to detail. Each strap has a Hypalon loop at the top of the sternum strap rail, then one nylon loop at the bottom as well. You can attach a decent amount of accessories to these loops, and there's even one on each of the aluminum adjusters in case you need more. On that note, aluminum adjusters always come with the risk of being too slippery since metal is smooth. Fortunately, these ones have enough grip that they stay in place after we've adjusted them.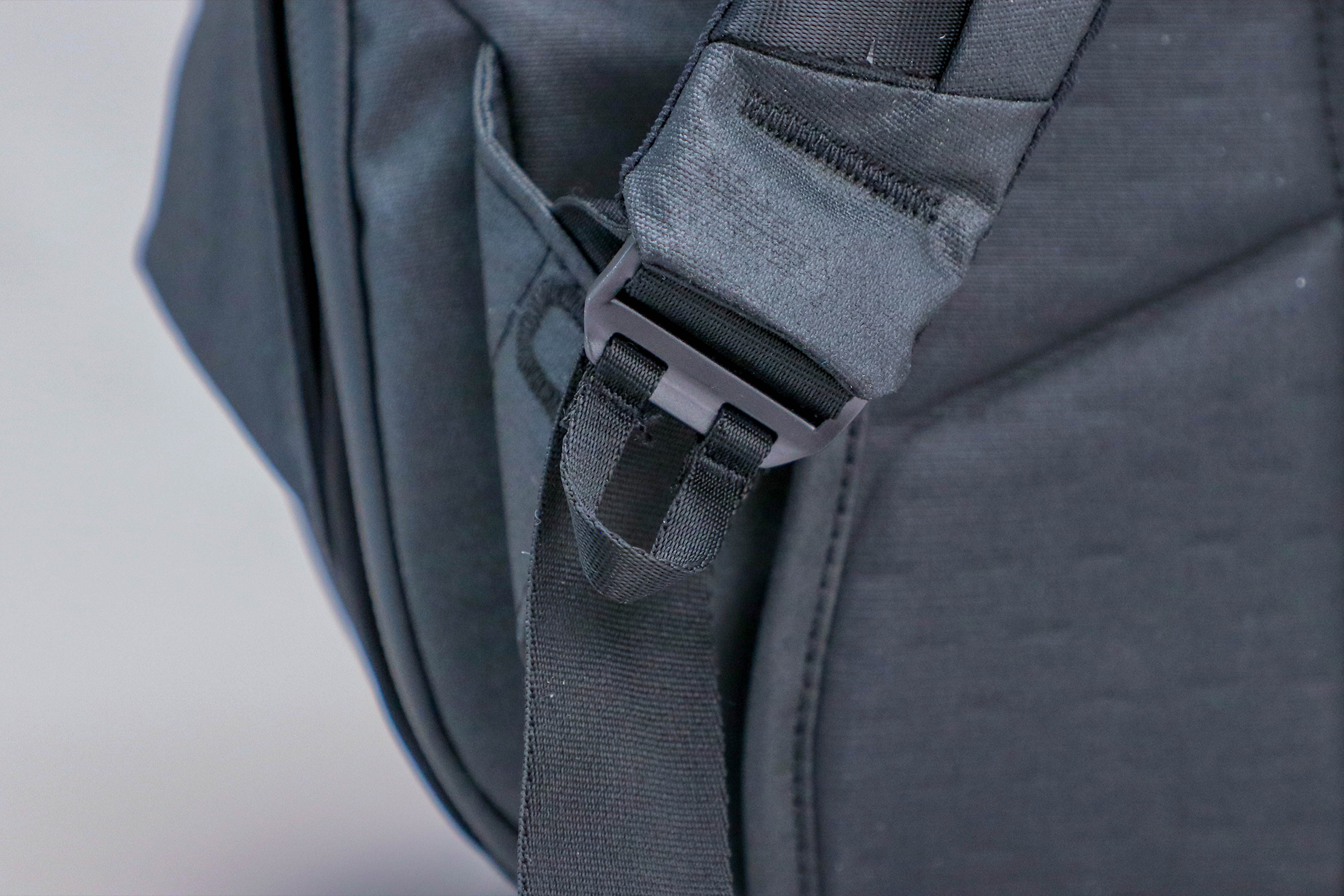 Before we forget, we also appreciate the tiny bit of fabric at the tips of the padded portion of the shoulder straps that shrouds the aluminum hardware. It's a particularly easy-to-miss feature, but we feel they're worth mentioning since they add more protection for the aluminum. The very ends of the straps are even stitched into triangular tips, so they're easier to re-thread through the aluminum hardware. Lastly, the straps are anchored to the bag's base via bartack stitching, just for good measure. As we said, it's this attention to detail that sets Peak Design's gear apart. It's not quite as perfect, though, as we'll now see.
Don't get us wrong, this sternum strap gets the job done in aiding carrying comfort. It has aluminum hooks on either end of the strap, which in turn attaches to rails on the shoulder straps. We encountered an issue with the hooks' tightness on the 45-liter version, where one felt noticeably grippier than the other. Fortunately, that's not the case here, and the sternum strap remained firmly in place where we positioned it.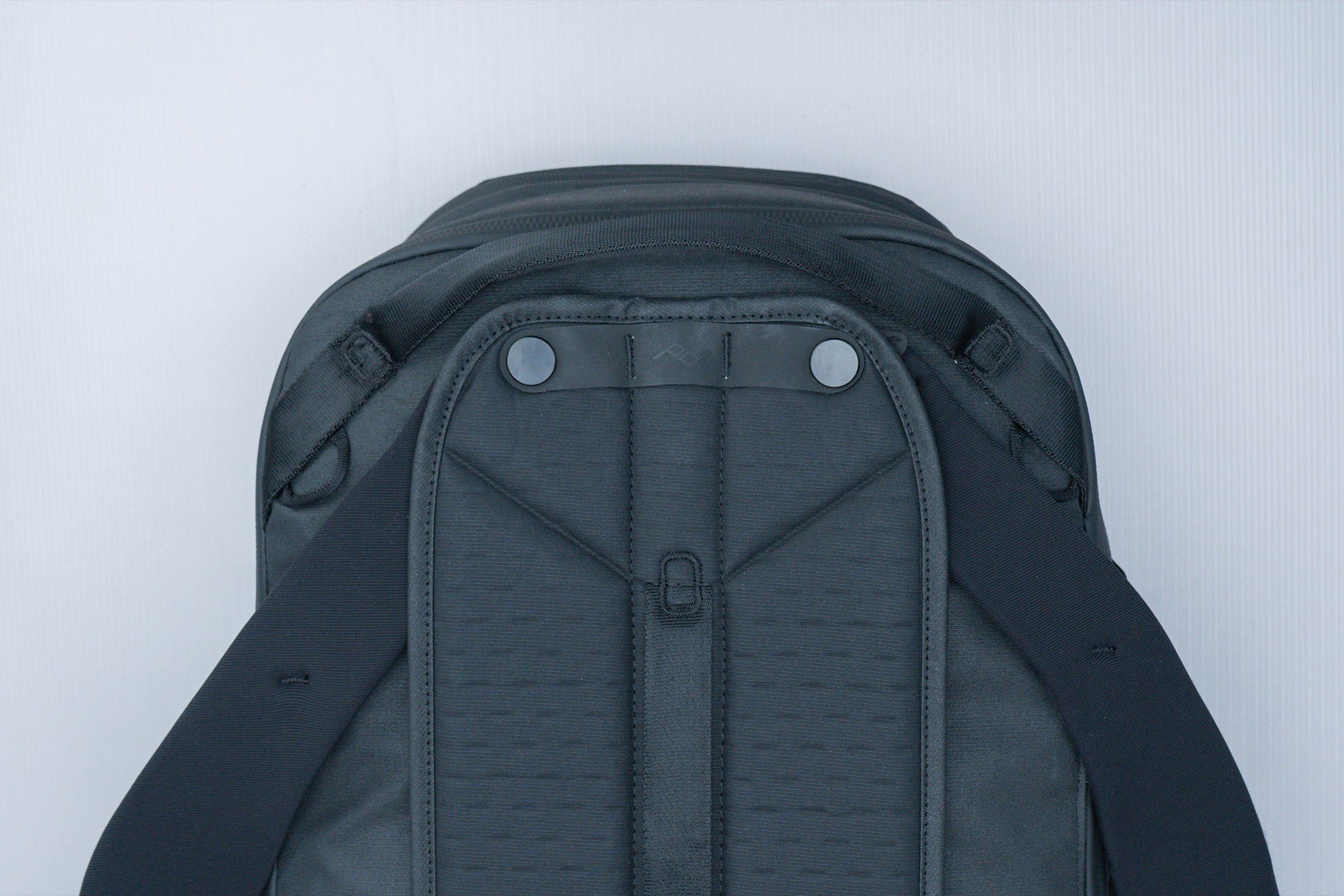 That said, we still think a simple buckle arrangement is much simpler and easier to use than this hook-on system. Another nice touch is the elastic strap keepers that keep the extra slack in check. You can also hook both ends to one rail when it's not in use, or you can detach the sternum strap altogether.
There's also an optional hip belt if you need a more secure way to carry the bag. Underneath the main back panel, there's a small pass-through that's lined with loop and hook fasteners. We don't have the hip belt accessory on hand to test, but honestly, we didn't find a need for it. One scenario where it could prove useful is if you're taking the Travel Backpack while biking; we tend to get move-y when we're cycling uphill.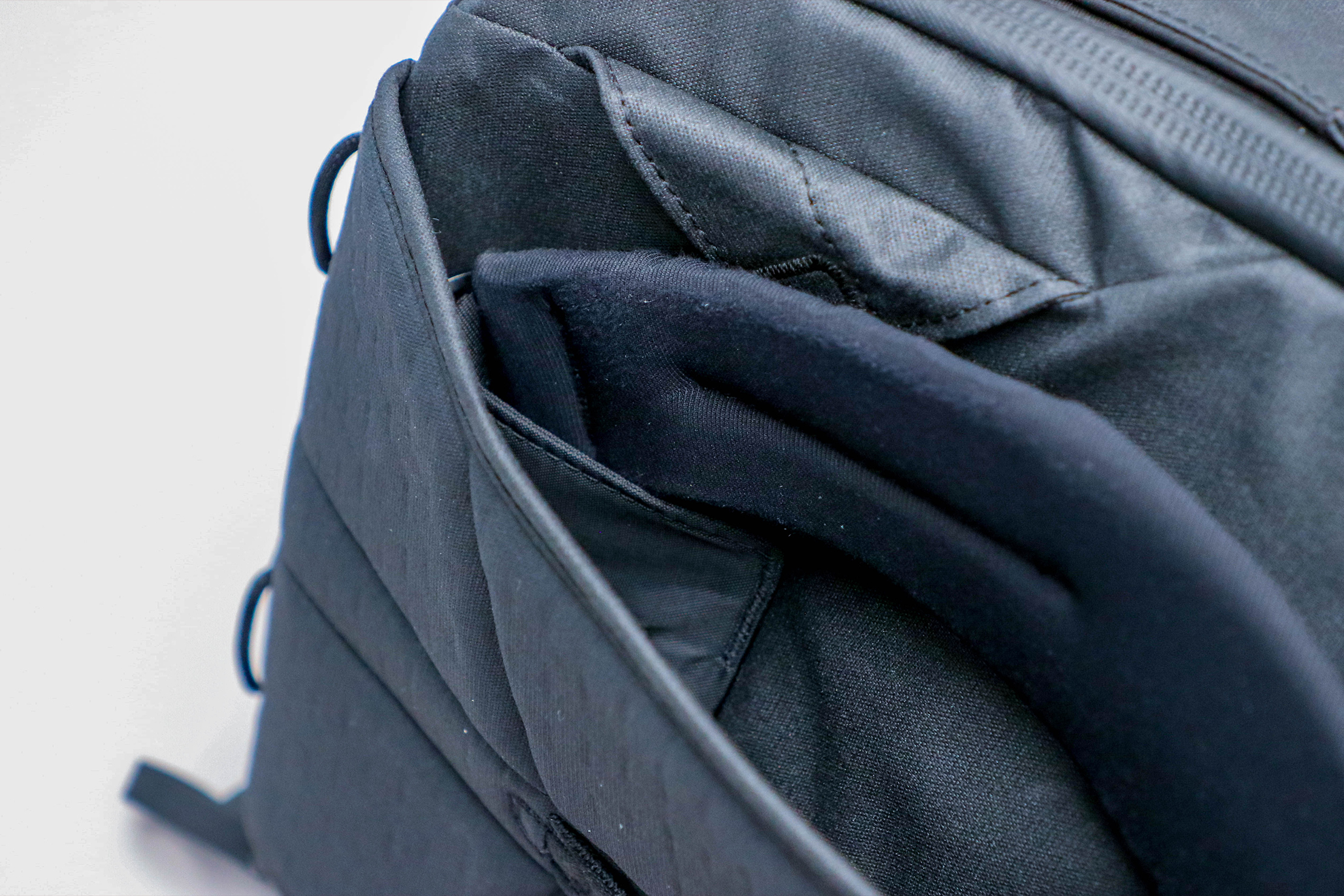 The Travel Backpack wears as fluently as we expect, that is to say very comfortably. Most of the back panel is made up of a floating island that forms the spine. It helps keep things nice and cool by raising the backpack just a bit away from your back, but it also allows you to stow the shoulder straps away neatly and easily behind the flaps.
The space behind the back panel is rather generous, about as deep as half our hand's length. As deep as that is, though, it's not a sealed compartment like what you'd find on the Osprey Arcane Duffel, so there's always the potential for the shoulder straps to slip out. For the most part, we don't have too much trouble keeping the straps stuffed inside. This lets us carry the Travel Backpack comfortably via the handles sans any dangling shoulder straps.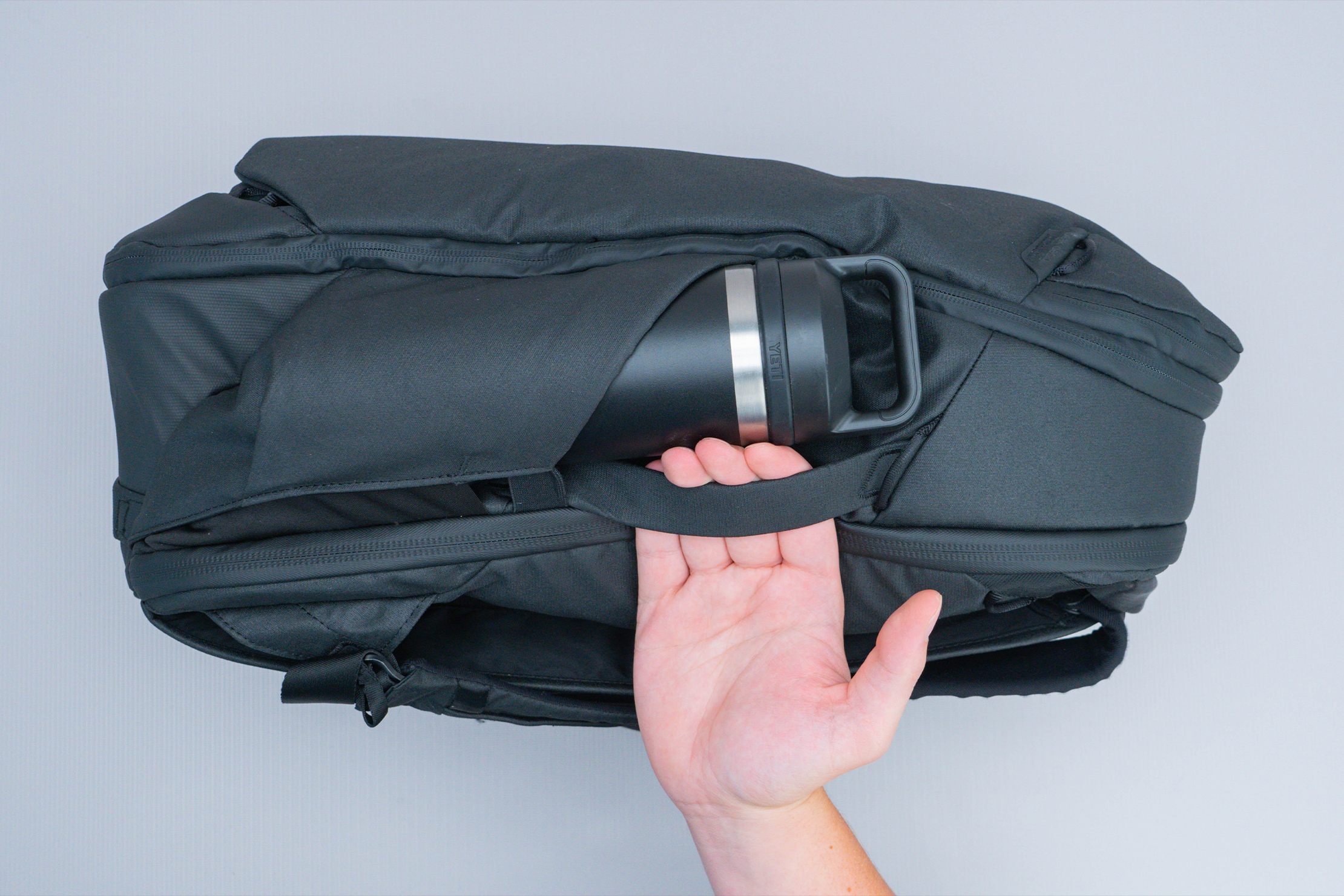 There's actually quite a lot of options in terms of secondary means of carrying the Travel Backpack. First, there are handles at the top, bottom, and sides of the backpack. All of them are well-padded, and the ones at the sides even get the same texture that blends well with the body. One small nitpick we have with the top handle is that since it sits below the top edge, it's hard to use for hanging the bag on something like our pegboard. It sits on hooks just fine, however.
We noted in our review of the 45-liter version that the side handles felt unbalanced at times; that's not the case with this one, though. Because it's much smaller, the handle is in an ideal position, and it never felt imbalanced; quite remarkable considering that Peak Design had to fit these side handles alongside the water bottle pockets.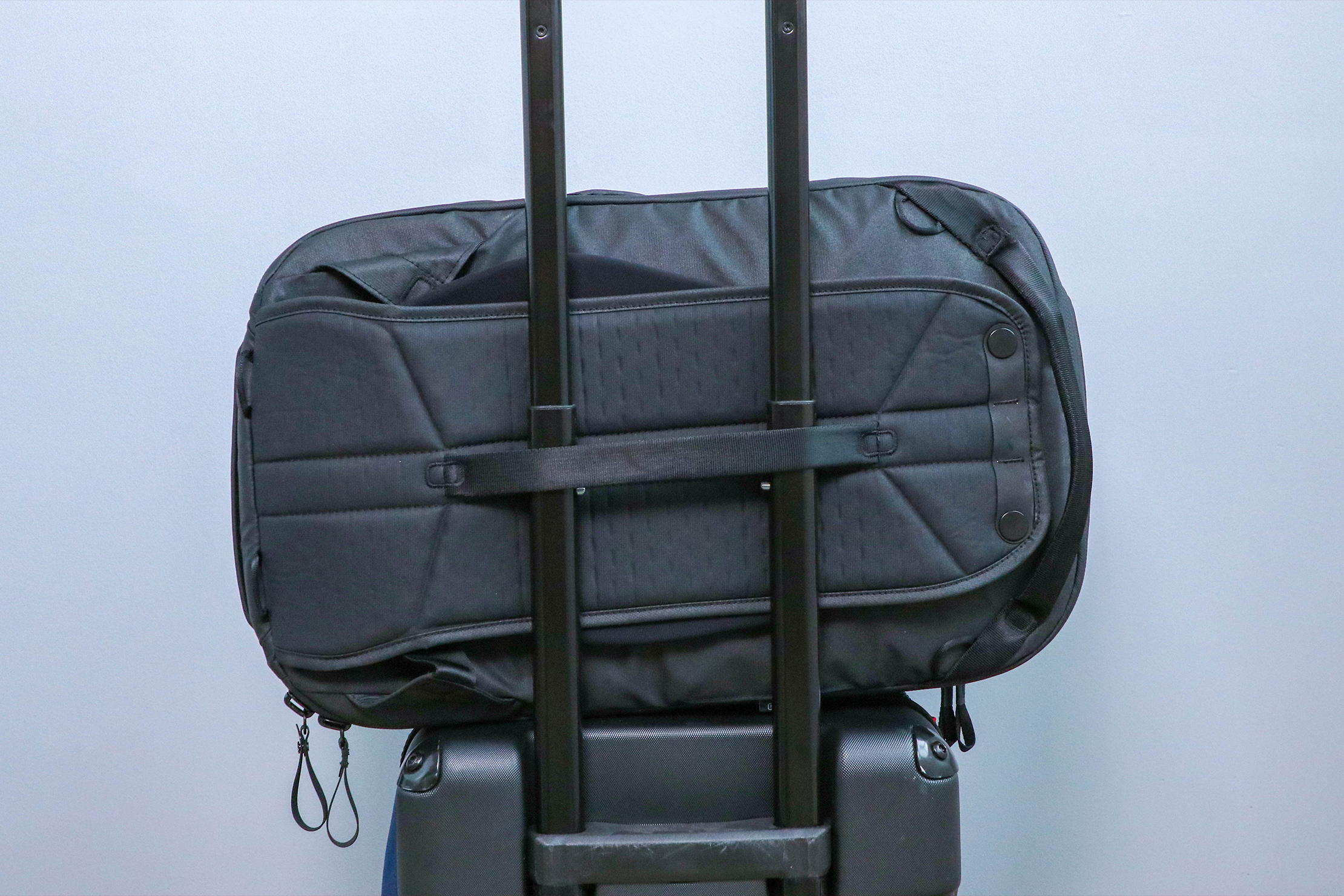 But what about those times you're sitting around at the airport? Like most travel backpacks, Peak Design's also has a luggage pass-through on the back panel. Note that this is a vertical-style pass-through, which means that the Travel Backpack will sit horizontally on your rolling luggage. This can negatively impact the balance depending on how you loaded the pack. Also worth noting is that opening a sideways backpack is a lot trickier than opening one that's sitting vertically.
Speaking of sitting around at the airport, on the upper left side of the back is an ID or luggage tag pocket; the same one is featured on the larger 45-liter Travel Backpack. We weren't the biggest fans of it since it's fairly easy to miss, which kind of defeats the purpose of an ID. We wish it had a window cut out as other travel bags with a similar feature do; that would make it more reassuring that someone will find the bag's owner rather than consign it to a lost and found.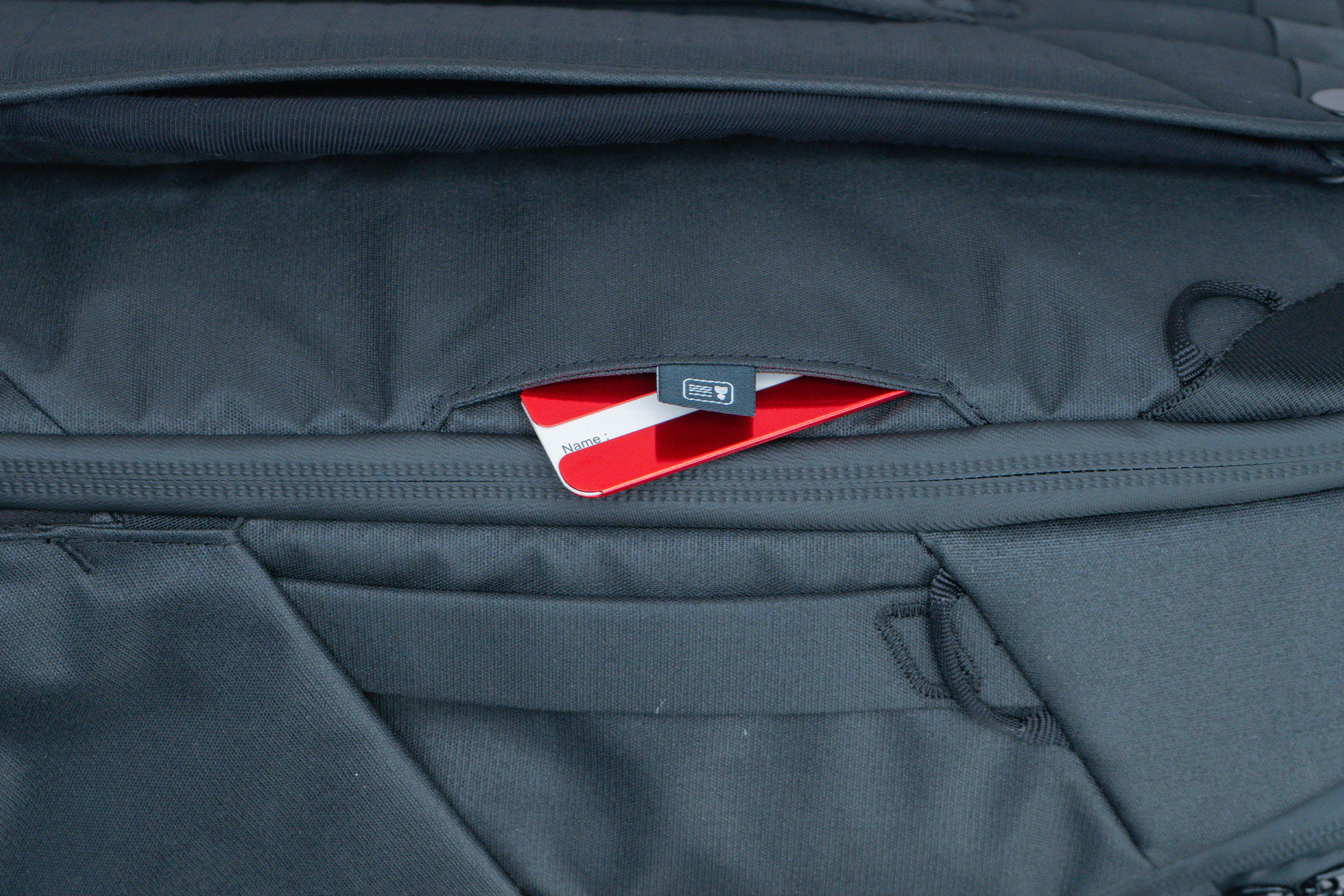 If the built-in handles and luggage pass-through isn't enough, the Travel Backpack also has a number of attachment points for accessory straps. There are four at the corners of the back, plus four at the front. You can get creative with how you use these straps; maybe attach a sling strap for a duffel-style carry. However, they're primarily there for accessory straps that you can use to secure camera gear. For example, you can use a pair of straps to attach a tripod to the bottom-most loops at the front and back of the bag.
Accessory straps attached to the bottom front loops can be stuffed inside a bottom-opening pocket at the front. Interestingly, this pocket is quite deep and spacious—too spacious for just a pair of accessory straps. The opening is bottom-facing, but it's also magnetized for security. But hey, at least the option's there in case you need to stow away something bulkier than a pair of straps.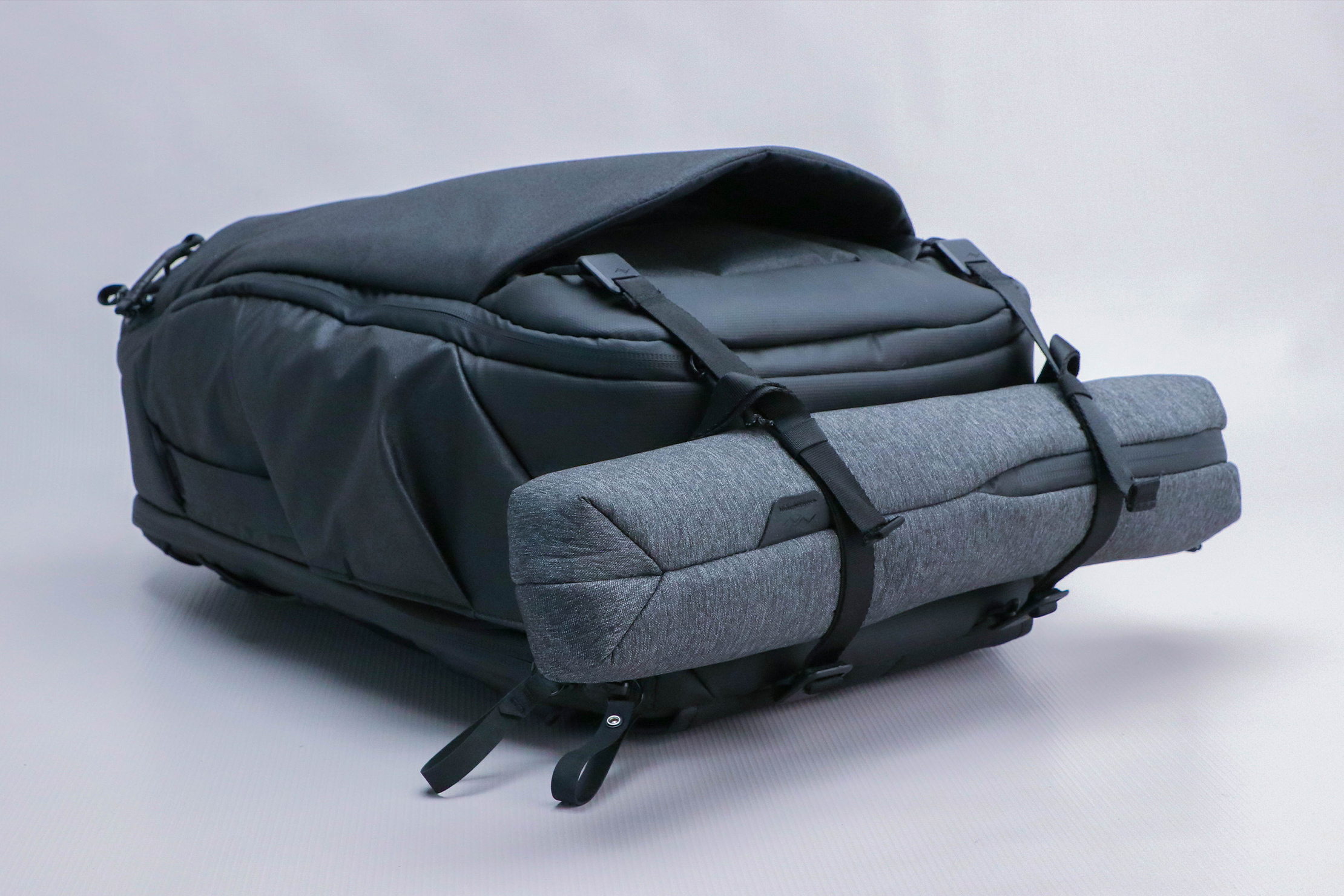 Lastly, just below the side handles on the outside are low-profile water bottle pockets. We just dig how well they fit and blend into the fabric of the Travel Backpack; you probably wouldn't notice them right away. But they're definitely there, and they can hold a bottle firmly thanks to some built-in elastic and gusseted sides.
Inside The Pack
Surprise! We're actually not quite done with the outside of the bag—what's that lone zipper at the bottom left? It's the compression zipper that allows the Travel Backpack to go from 27 liters to 33 liters. Yes, at its standard form, the Travel Backpack 30L isn't actually 30 liters; it's 27 liters. We'll let that little detail slide since it all averages out to 30 liters anyway. Besides, the compression system Peak Design has here is really clean and subtle. Some bags handle compression and expansion features less elegantly, so we're glad to see something as neatly integrated as this because it does lend the interior a fair bit of extra space.
Near the top of the Travel Backpack is the front compartment that acts as the sole quick-grab pocket of the bag. The good news is that it's quite accessible thanks to its wide horseshoe-style opening (with water-resistant reverse coil zippers) and easily navigable white liner fabric. Everything apart from the inside of the zippered pocket is readily visible.
Two wide liner pockets are flanking a small narrower one towards the back of the compartment. Volume for these pockets is great since they're made from a stretchy mesh material. They are a bit loose from the start, which is a little concerning, but they're still pretty okay for our purposes. The bigger downside is that the zippers hit passport-sized items that are in the liner pockets near the sides. Alternatively, you can put your passport in the middle of the compartment instead.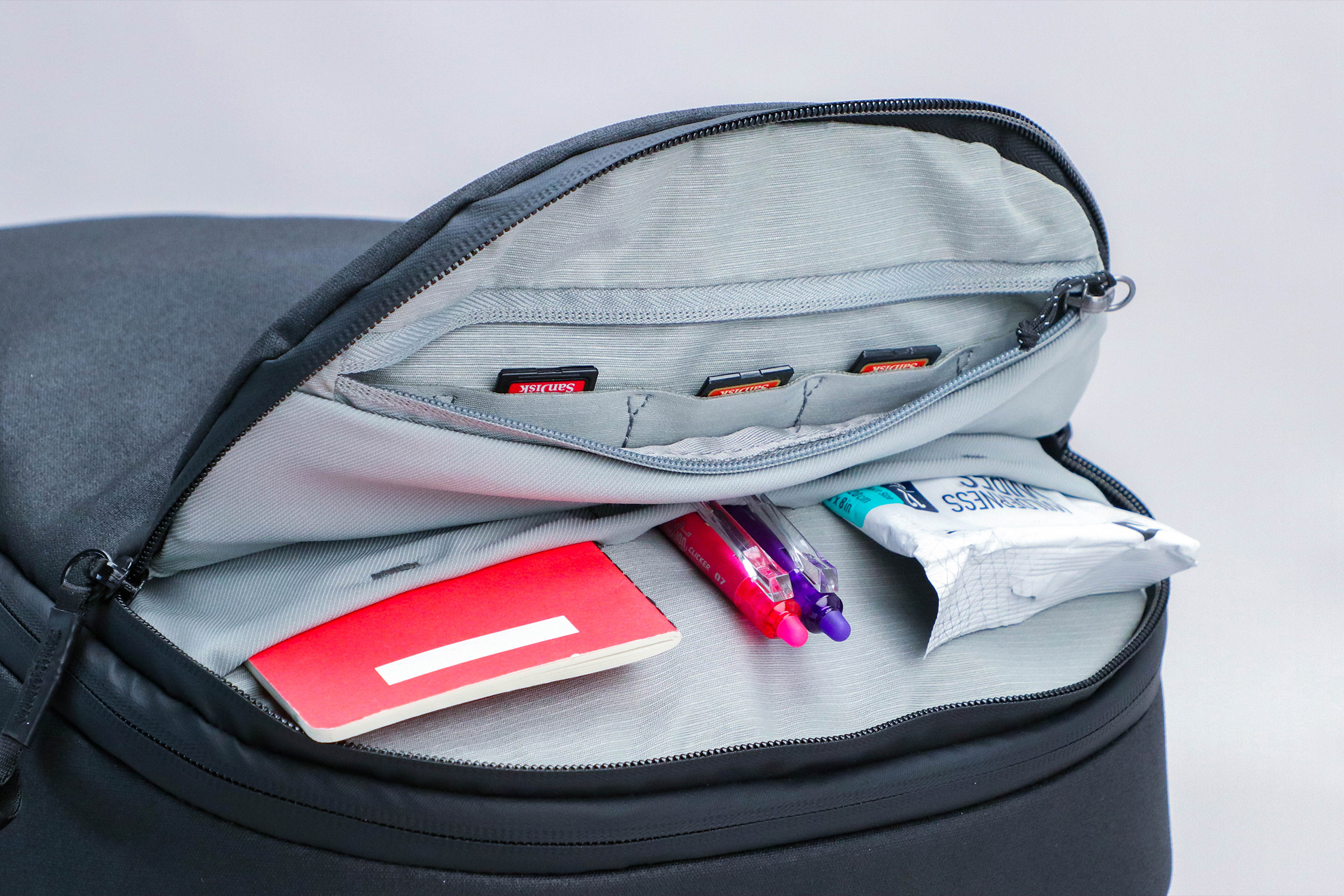 You can also put it inside the zippered pocket at the front side of the compartment. However, this pocket is really more for accessories like dongles, adapters, thumb drives, and, yes, memory cards. There's a set of five memory card slots stitched into this pocket, highlighting the camera-focused nature of Peak Design.
The main compartment is guarded by Zoom zippers that are quite beefy and feature Hypalon pulls on O-rings. You can lock the O-rings together with a travel lock, or you can loop the Hypalon pulls together. It's fairly easy to do since the Hypalon pulls are attached via snap fasteners. Our technique is to zip both zippers all the way down below the bag and to interlock the pulls to the bottom handle. It's not quite as secure as a travel padlock, but it's more secure than having them loose and visible like usual.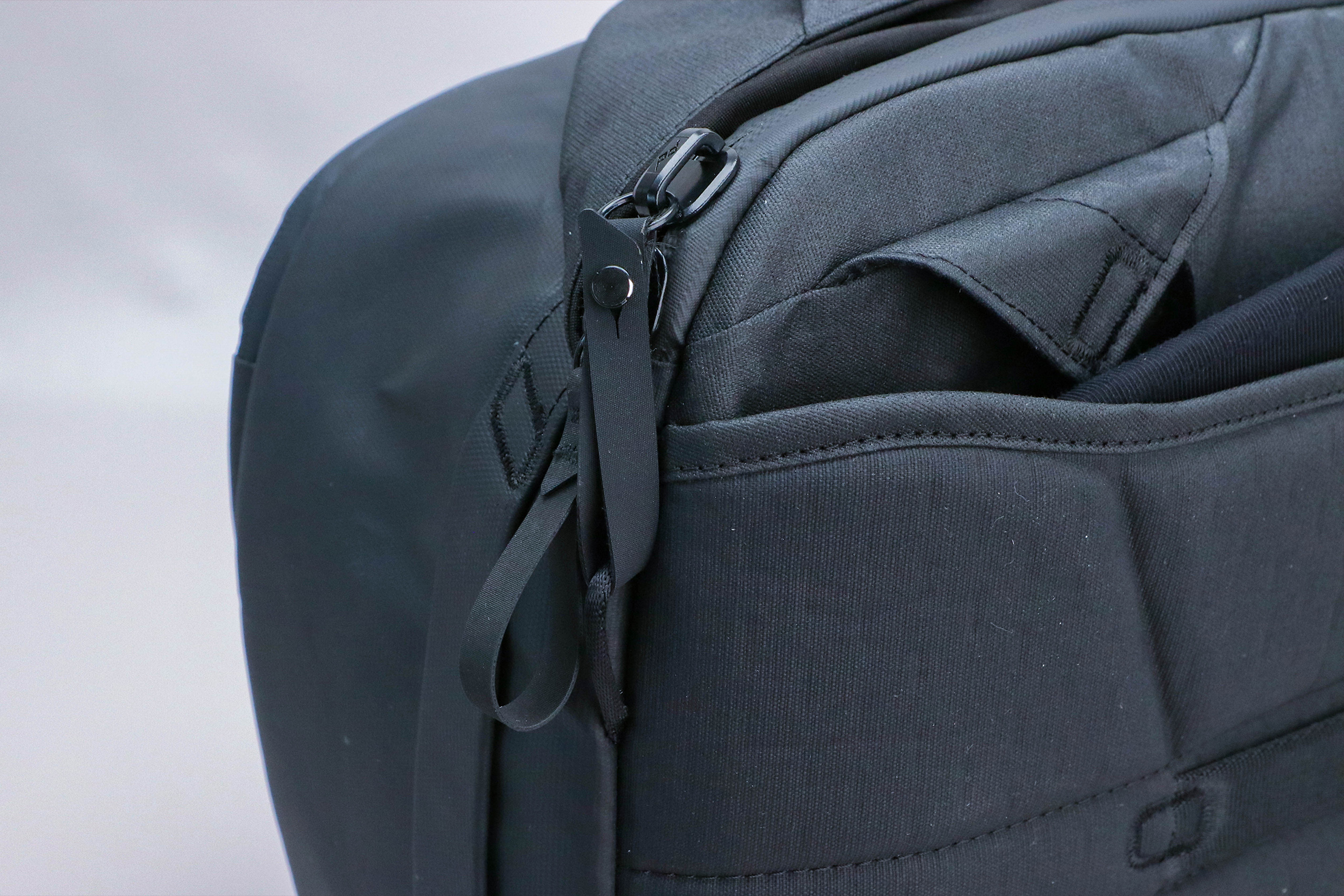 The full clamshell opening gives you access to the bucket-style main compartment, our favorite style for travel bags. It makes packing so much easier since the available space is laid out and ready for packing. As usual, our go-to hack is to use packing cubes to make the most out of every inch of space available. Equally important is how well-structured the sides are. They stay up like the sturdy walls of a suitcase, and even the back panel is quite rigid on its own. Mind you, all of this structuredness is achieved without compromising carrying comfort.
One tradeoff with this clamshell opening is that you need to have the bag laid down to open it. This, in turn, makes it tricky to access the front compartment. Not really a huge deal; it just means we have to access the front and main compartments independently and not at the same time.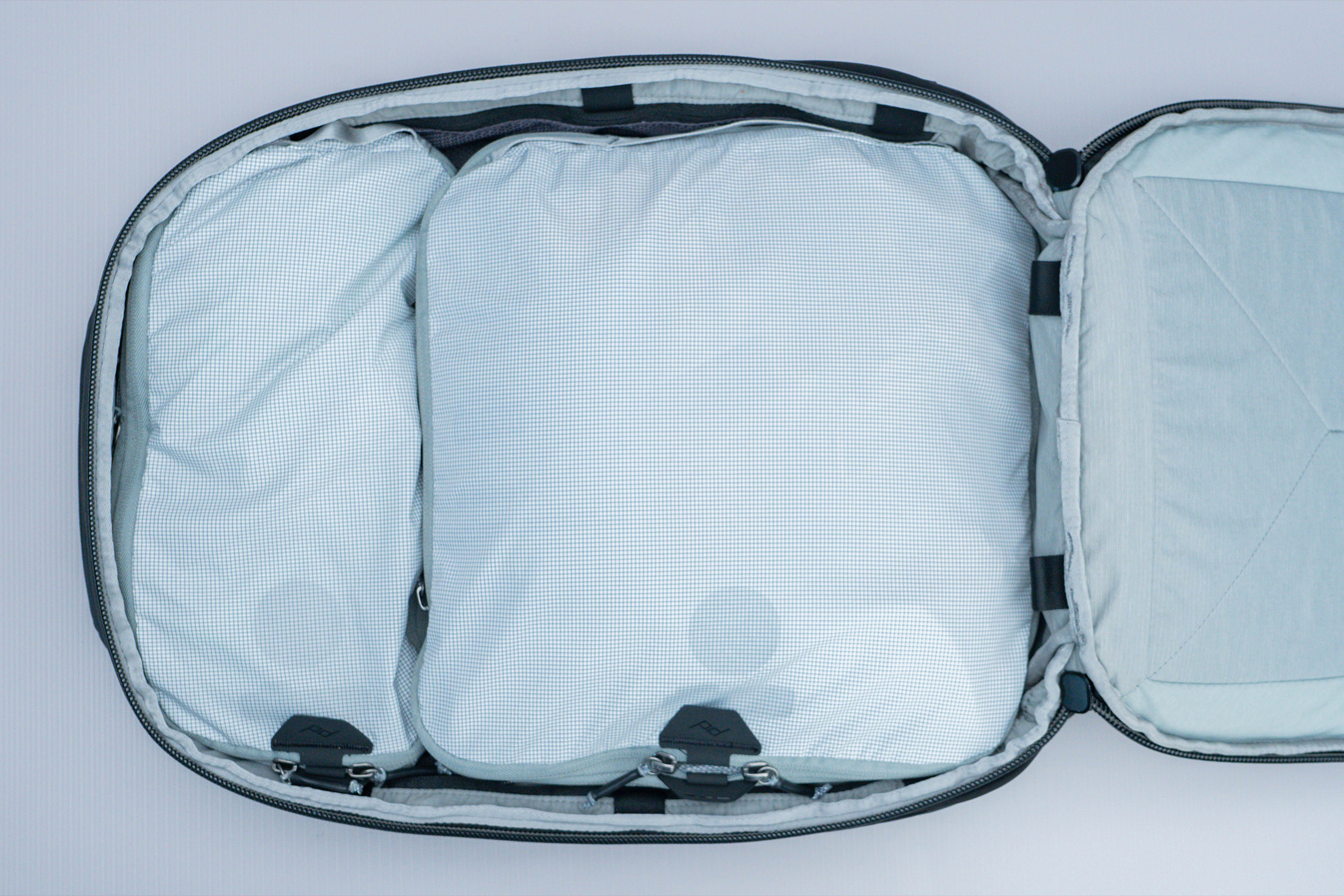 We're able to lay a medium Peak Design Packing Cube alongside a small one. With the front expanded, it's possible to stack another layer of cubes. Your mileage may vary, of course, depending on what clothes, cubes, and pouches you're rolling with. Regardless, there is plenty of space, plus there are pockets all around in case you need more granular organization.
Towards the front of the main compartment are two zippered mesh pockets. We dig that these are see-through mesh because it means everything inside of them is easily visible. Plus, the mesh gives them some room to expand. These could be great for tech accessories, but they're located in a tricky spot. Once they're buried behind packing cubes and other gear, they're pretty much inaccessible; not ideal if you have your charger back there and you're sitting at just 5% battery level. A more practical role for them would be as built-in toiletry pouches for when you're already unpacked at your hotel room or as security pockets for important travel documents.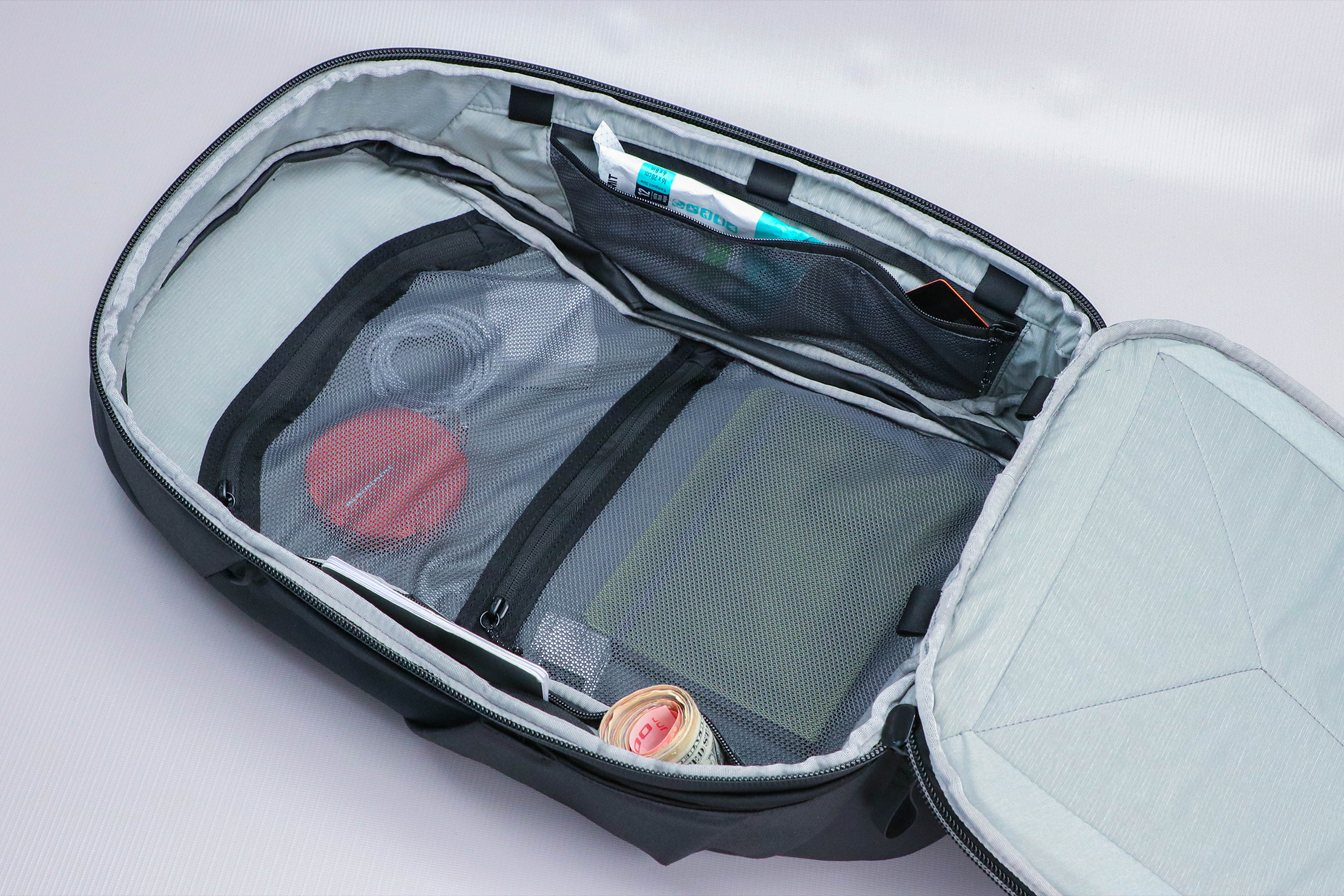 For other smaller gear, there are side pockets built into the walls of the main compartment. They're zippered and low-profile, so they won't rob much space from the main compartment. Each pocket is divided into a small and wide segment, with the former able to fit a standing credit card while the latter fits a passport sideways. Use these pockets as needed, to each their own. In our case, we used the pockets to store our handy Cold4ged Forkanife Travel Set, plus some souvenirs.
Even at this smaller size, the Travel Backpack 30L's laptop sleeve is still pretty large. It easily swallows our 16-inch MacBook Pro with tons of room to spare. It's well-padded at the front and the back, and there's a false bottom to absorb impacts from setting the bag down on a surface. As a nice little bonus, there's also a tablet sleeve inside in case you're also traveling with an extra device.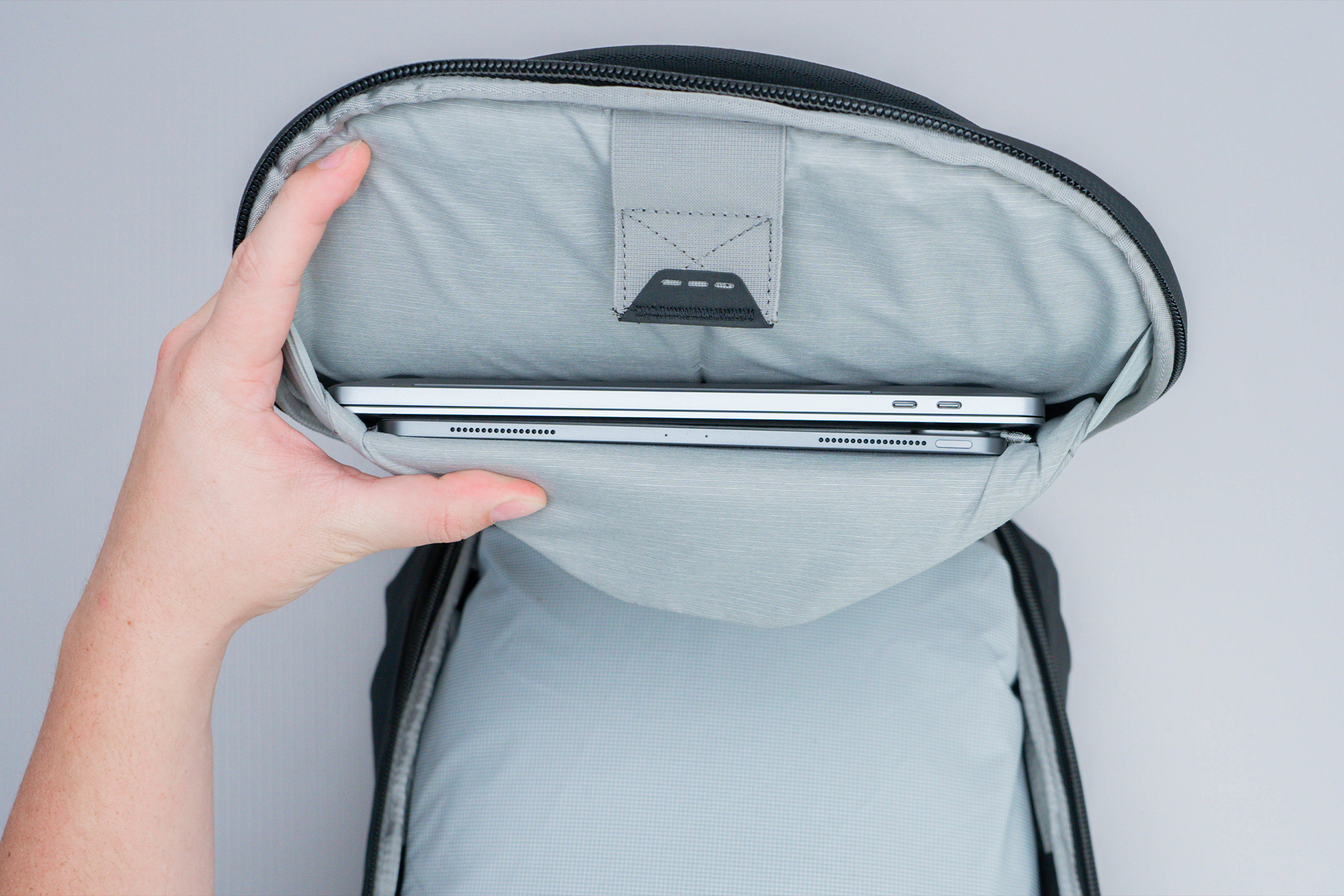 If we have any nitpicks with this laptop sleeve, it's that it can feel a bit deep for smaller laptops. We've seen Peak Design use adjustable ones on other bags like the Everyday Backpack Zip 20L (V2) and Everyday Backpack 30L (V2), so we would have liked to see the same here. We also noticed that the loop and hook fasteners on the tablet and laptop sleeve feel a bit small and somewhat easy to miss. Again, these are just nitpicking from an otherwise very capable backpack.
Last but certainly not least, the main compartment has a set of attachment points. The immediate idea that comes to mind would be to use these for hold-down straps to keep clothes from sloshing around. However, the ideal use for these is to secure one of Peak Design's Camera Cubes inside, further highlighting the company's camera-focused philosophy.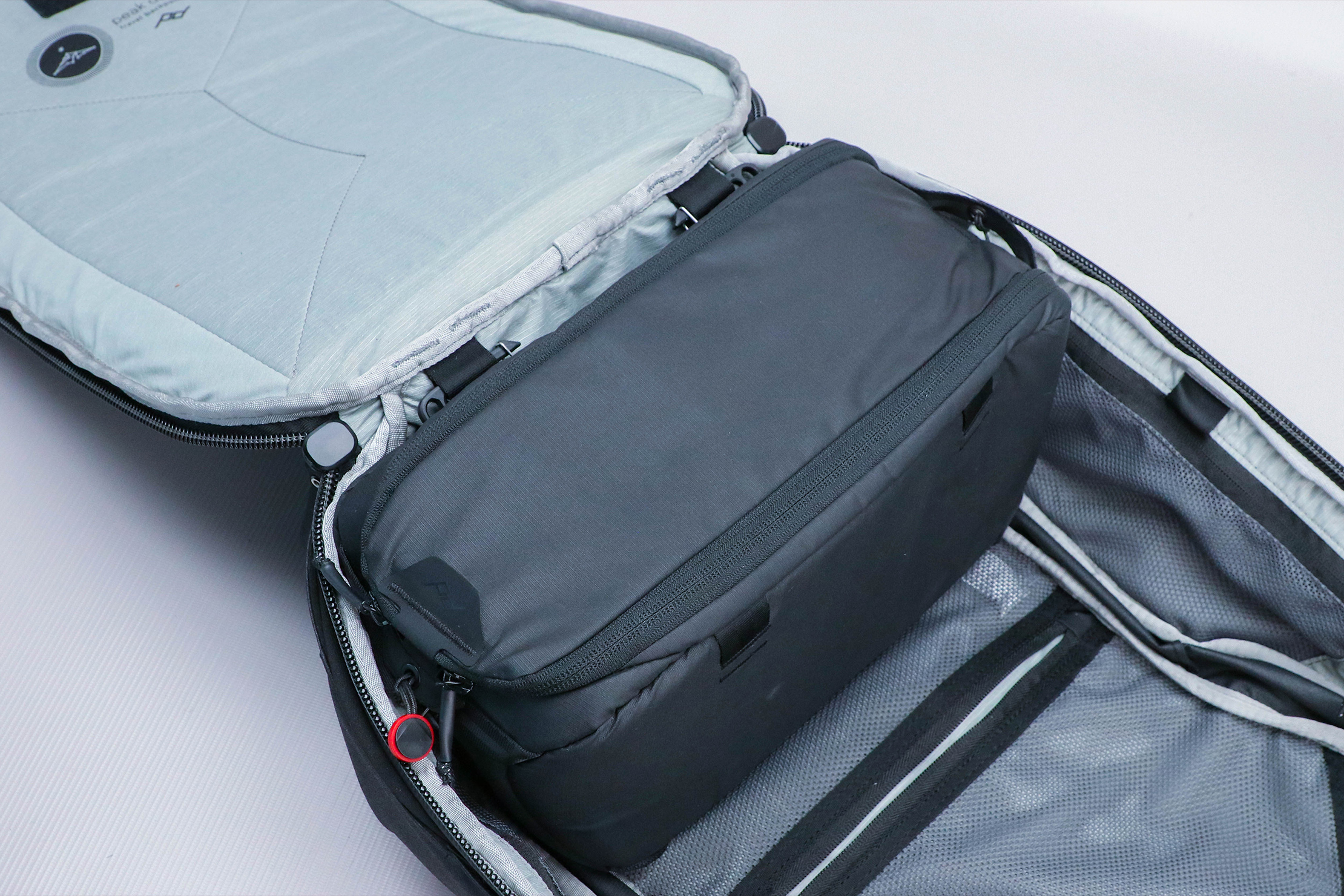 That was a lot to go through; no surprises there since it is a feature-packed travel backpack. Yes, there are a few misses, but most of them are nitpicks, and there's so much more to like than to dislike about the Travel Backpack 30L. Most features feel neatly integrated and well-considered; much the same story as with the 45-liter version, but now in a much more manageable 30-liter form.
Usage Timeline
Initial Usage
Condition: Excellent
Basically a scaled-down version of the 45L Travel Backpack
Has tons of pockets for organization
Can expand to take in more gear
2 Weeks of Use
Condition: Excellent
We like that the main clamshell is structured
Mesh pockets in the main compartment can be hard to access when full
Comfortable harness system with just-right bag structure makes a comfortable carry
Optional exterior straps keep a clean look when tucked away but add a ton of exterior storage versatility when needed
Access the Pro Community Discussion
Get your questions about the Peak Design Travel Backpack 30L answered from our team and the Pro Community right here on the page. Plus, join discussions with other members about gear, guides, and more.
Other Bags & Luggage Reviews