Cold4ged Forkanife Travel Set Review
For impromptu meals on the go, the Cold4ged Forkanife Travel Set is credit card-sized cutlery that will let you chow down confidently—as long as it's not soup.
Our Verdict
Unlock the Pro Summary
Save time. Get access to brief summaries of our reviews so you can browse and make decisions more efficiently.
Pros
Slim, low-profile design fits inside a card slot
Stainless steel construction is sturdy
TSA-compliant (though still dependent on the TSA officer's judgment)
Cons
Lacks spoon functionality
Needs washing before folding to store
Knife's rounded tip doesn't cut in as easily as a pointed one
Recent Pack Hacker Video
Technical Details
Weight (oz)

1.87 oz (53 g)

Dimensions

4.5 in x 2.7 in x 0.2 in (11.4 x 6.9 x 0.5 cm)

Notable Materials

Stainless Steel, Plastic

Manufacturing Country

China
Full Review
The cards one keeps in their wallet can serve multiple functions and purposes. From identification to payments, transportation access, unlocking a door when you've left your keys inside, and now, eating meals. The subject of this review is Cold4ged's Forkanife Travel Set, a credit card-sized fork and knife duo.

We've studied every aspect of this handy little tool, even putting it through a tortilla cutting test against a regular knife. Its build quality, portability, ease of cleaning, usage, and unique features make the Forkanife one interesting tool to include in your packing list. Yes, you might have already guessed from the name that it lacks a spoon. However, that con comes with a corresponding pro in terms of size, as you'll see later on.
Materials & Aesthetic
The Forkanife is probably one of the more unique-looking card-tool hybrids you can pull out of a wallet. The concept isn't new, as we've definitely seen more and more brands take on the challenge of creating tools that fit the credit card form factor over the years. That said, we're not here to discredit the Forkanife's looks; it's actually aesthetically pleasing to look at.

The shiny stainless steel pieces contrast nicely against the black plastic frame. There is a blue model available at the time of writing, but that's the Sport version, which has slightly different functionality. The two stainless steel utensils slot in from opposite sides, leaving the plastic frame to form a sleek "S" that snakes around—we're guessing the S stands for hope on the Forkanife's home planet.
Each of the stainless steel utensils gets its own not-so-subtle Cold4ged branding. The logos sort of blend in against the shiny surface, but they're far from invisible. We don't really mind since the Forkanife will mostly reside inside a card slot. You won't be seeing them during usage either because the logos are on the handle, i.e., the portion your hands will be covering.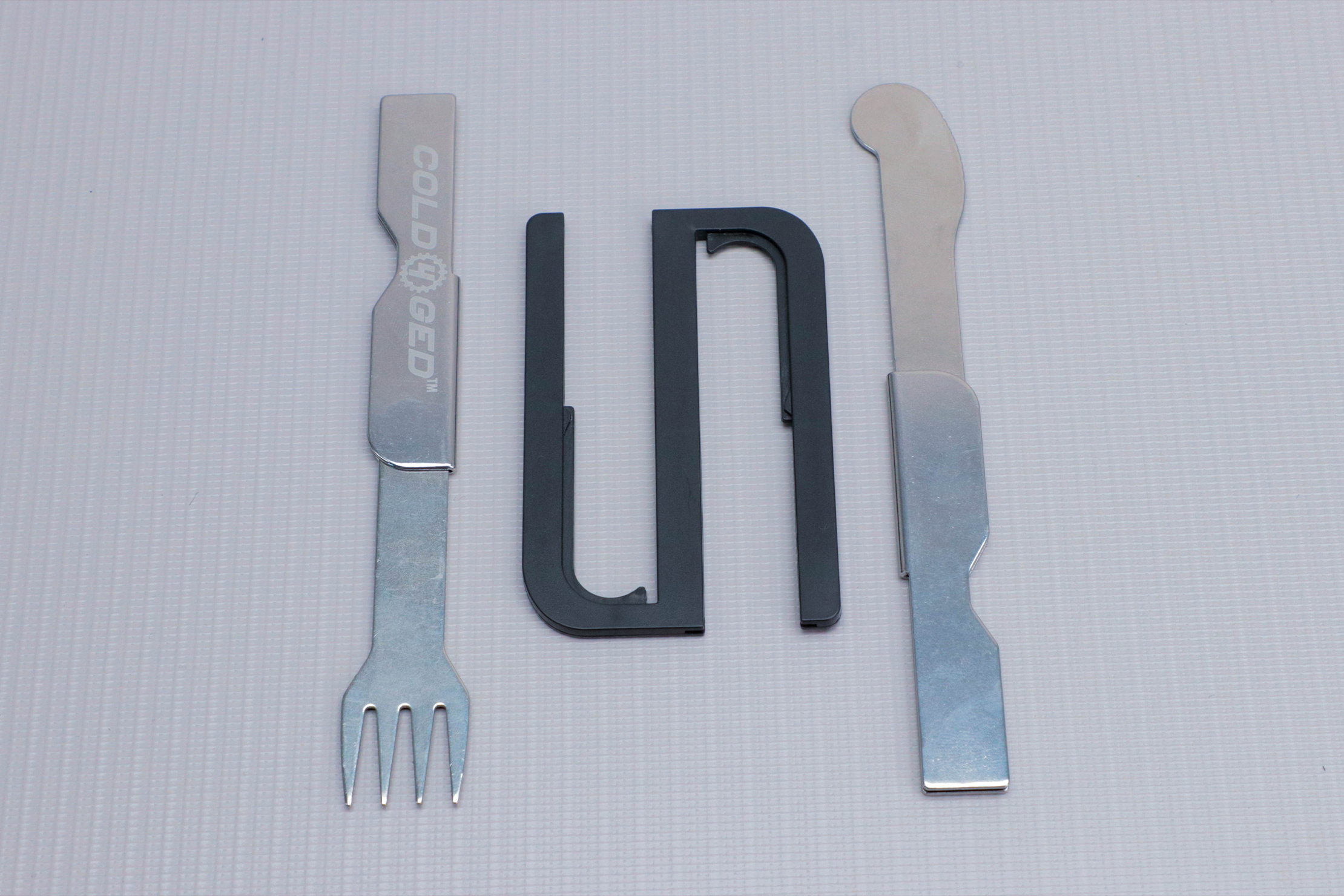 The overall build quality and construction of the Forkanife is reasonably robust. Once you have the knife and fork separated from the frame, it immediately loses its rigidity. That's to be expected, though, since the frame is made out of relatively thin plastic. The knife and fork are about as strong as you'd expect stainless steel to be (that is to say, very strong), and it's a joy to use because of this, as you'll see later on.
Usage & Features
Now, we've tried a lot of travel-sized cutlery over the years. Solutions like the Final Co. FinalSpork, humangear GoBites Quattro, and lengthy-named Life Without Plastic Stainless Steel Folding Spork all fall into the same category. But, one feature all three of those have that the Forkanife doesn't is a spoon. This notable absence may take some aback, especially if you heavily favor food that requires it, like ice cream or soup.

However, this makes for an interesting tradeoff that gives the Forkanife an edge over others: a flat profile. Because it lacks any curving spoon, the Forkanife packs easily into small spaces. It must be said that while it is roughly the footprint of a credit card, the thickness is about four of them stacked together. Indeed, one of the first challenges we encountered was fitting the Forkanife into a tight-fitting wallet.
Where you may encounter an issue with fitting the Forkanife largely falls into two categories: jam-packed wallets that already have a lot of cards inside and wallets whose card slots are designed for only one card each. We rarely come across the latter type, and the former can be solved with a little decluttering. By far, our most favorite way of carrying the Forkanife around has to be using the CODEOFBELL ANNEX 360, a wallet that's basically a mini sling and offers plenty more space. So, if you're using larger wallets like that, you're pretty much in the clear.

To deploy the fork and knife, simply slide them out of their slots. Then pinch the indents on the side with your finger to swivel the knife and fork heads out. The indents are quite small, and they can be tricky to pull out if you have short fingernails or wet hands. Fortunately, a portion of the fork and knife heads stick out from the handle, and you can push them from one side to make pulling them from the other much easier. We've got a handy GIF below to illustrate this technique better.
Once the fork and knife are unfolded, they lock into place with a slightly audible click. From there, you're ready to chow down—and chow down you will.
One of the key benefits of this stainless steel design is its strength. We never really had to worry about them bending or warping, which allows us to poke and cut as hard into our food as we want. We first tried out the Forkanife by facing it off with a formidable opponent: the tortilla. It's a good test to begin with because tortillas require you to fork it down before you can cut it with a knife. The soft bread also has a tendency to buckle and fold if the knife is too dull.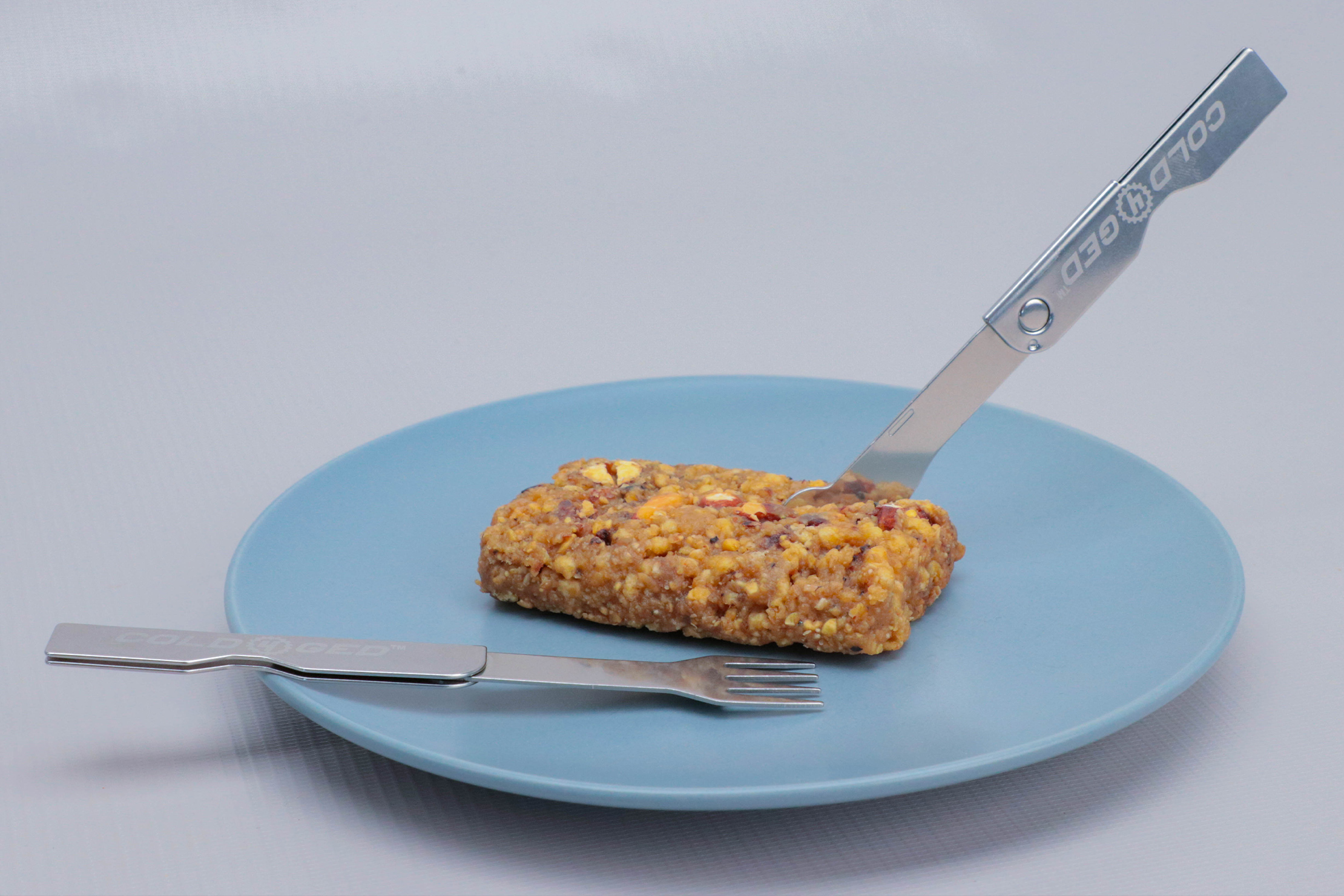 The Forkanife is able to cut through a tortilla with relative ease but not as fluently as a dinner knife and fork. The edge of the knife piece is serrated like most dinner knives. However, perhaps in a bid to be more TSA-friendly, it's not as sharp as its full-fledged counterparts. This is also why the knife isn't pointed and is instead rounded at the tip. That said, we can't guarantee that all TSA officers will give this a pass and allow you to carry it on board. Your mileage may vary in that department, and the ultimate say will always rest with them.
It's worth noting that if TSA compliance isn't something you're too particularly worried about, the Sport model has a sharper-looking knife with toothier serrations, but we can't say for sure if it cuts better since we haven't tested it.

Because of the Forkanife's compact size, it's not an outright replacement for regular-sized cutlery. With bigger hands, there's definitely some getting used to working with smaller tools. For example, because the fork is relatively small with shallow prongs, we have to be extra careful not to stick it too deep into, say, spaghetti—that goes double if you're wearing a white long sleeve.
One drawback of the way the Forkanife stores in your wallet is that it needs thorough cleaning after each use. The utensils themselves have spaces in between the handles that are prone to buildup if left unattended, let alone a wallet's card slot. Fortunately, the Forkanife is relatively easy to clean and is dishwasher safe. We always took the time to wipe these clean with a napkin or do a quick rinse at a nearby sink.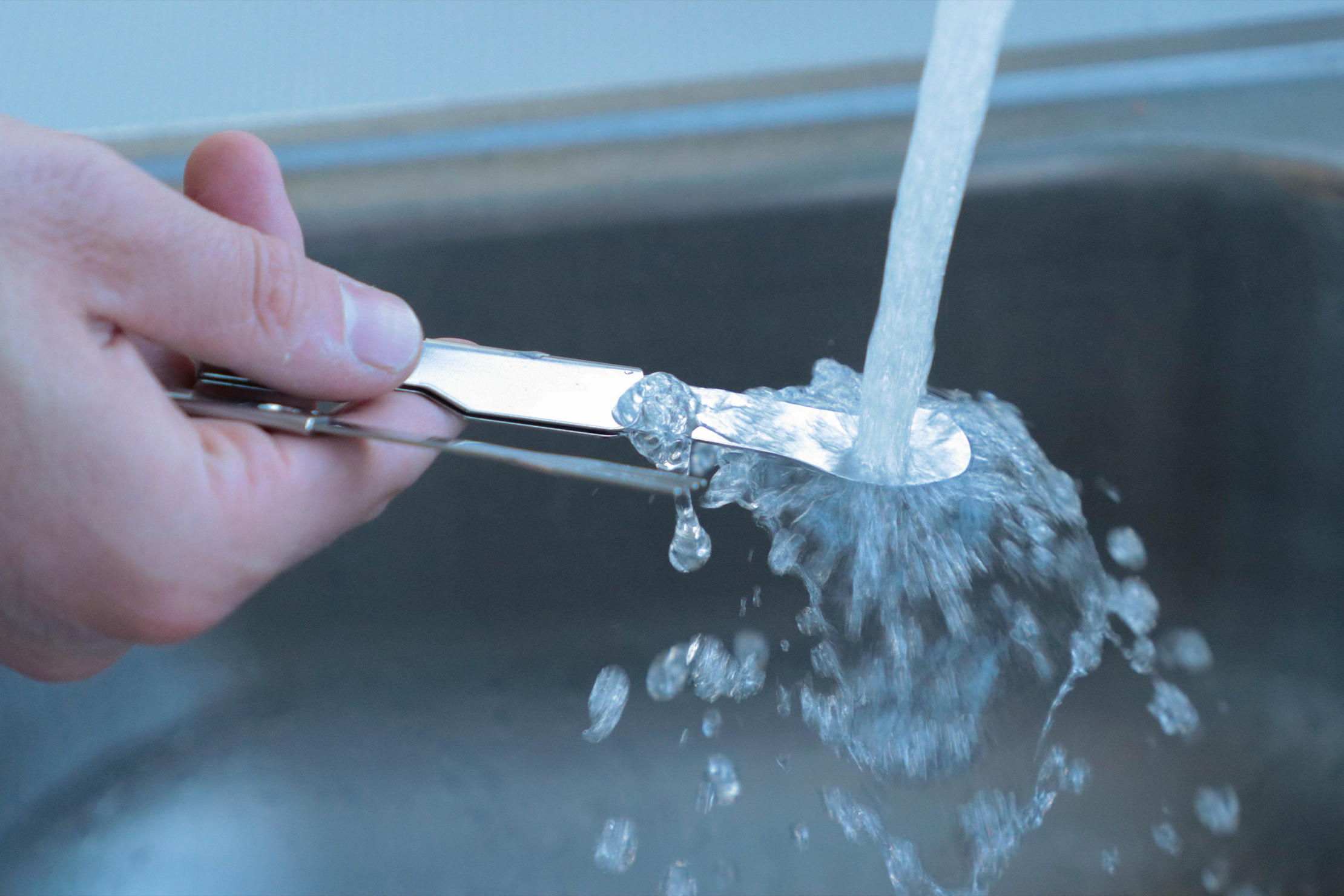 For impromptu meals on the go, the Forkanife is a handy tool to have in your pocket. We enjoy using it whenever we have a chance to. It's far from a novelty, and it performs well enough that we're able to chow down on our meals with gusto. Now, if only Cold4ged can whip up a Forka-spoon-nife version as well.
Usage Timeline
Initial Usage
Condition: Excellent
Substantially thicker than a regular credit card
Knife has a circular end, but it works
Compact size takes some getting used to
2 Weeks of Use
Condition: Excellent
Super compact and easy to carry around
Flat form makes for easy packing
Knife isn't really serrated – it sort of just has little ridges in it – this is good for TSA, but not for cutting food
Works surprisingly well for the small size & foldable design
Easy to place into a pack and forget about until you need it
Access the Pro Community Discussion
Get your questions about the Cold4ged Forkanife Travel Set answered from our team and the Pro Community right here on the page. Plus, join discussions with other members about gear, guides, and more.
Other Miscellaneous Reviews