Life Without Plastic Stainless Steel Folding Spork Review
The Life Without Plastic Stainless Steel Folding Spork is a great, packable alternative to plastic cutlery—we just wish it was sturdier.
Our Verdict
Unlock the Pro Summary
Save time. Get access to brief summaries of our reviews so you can browse and make decisions more efficiently.
Pros
Folds down to a packable size
Comes with a handy carrying case
Works well as a fork and spoon
Cons
Shorter than your average spoon or fork
Locking mechanism may come undone with enough force
Spoon isn't very deep, so it's not ideal for liquids (but it still works fine)
Recent Pack Hacker Video
Technical Details
Weight (oz)

1 oz (28.3 g)

Dimensions

3.5 in x 1.5 in x 0.3 in (8.9 x 3.8 x 0.8 cm)

When folded.

Notable Materials

Stainless Steel

Manufacturing Country

China
Full Review
While the word spork doesn't really roll off the tongue (is Fpoon better? No?) it's definitely one of the most useful items to travel with. It's surprising how many situations are vastly improved by a spork—at the airport, in a plane, camping, road tripping or any time you would typically reach for plastic cutlery.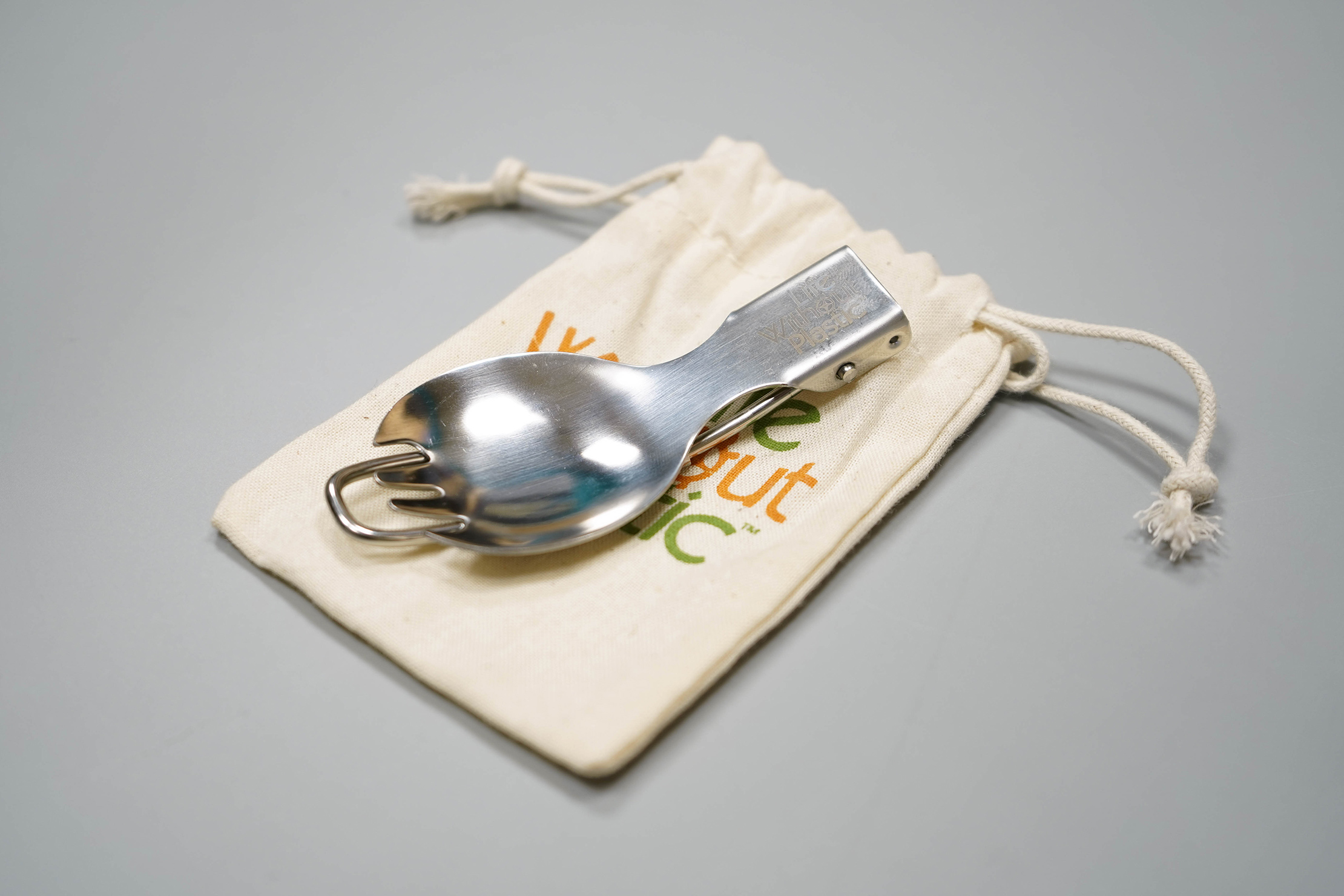 And the Life Without Plastic Stainless Steel Folding Spork is particularly handy. It folds down to 3.5 inches and comes with a nifty carrying pouch. We've been testing it for three weeks in Detroit, Michigan and have a lot of good things to say. Of course, this wouldn't be a Pack Hacker review without a few nitpicks as well.
But before we dive in, we want to mention that a major benefit of traveling with a reusable spork is limiting the amount of plastic you throw away. When you opt to use the spork in place of single-use utensils, you're preventing a plastic spoon and/or fork from ending up in a landfill or, worse, the ocean.
If you're passionate about plastic waste then you'll be happy to learn about Life Without Plastic, which sells all sorts of single-use plastic alternatives from toothpaste to soaps to straws on its website. We also suggest you check out our Earth Friendly Packing List, which has all sorts of eco-groovy gear designed for travel.
Alright, all that said, let's hop into the review.
Features & Usage
Probably the best thing about this spork—and what sets it apart from the crowd—is that it folds down to a packable size (a little bit bigger than half of its extended length). When folded, it easily slides into the quick-grab pockets on sling bags, backpacks, and even pants' pockets.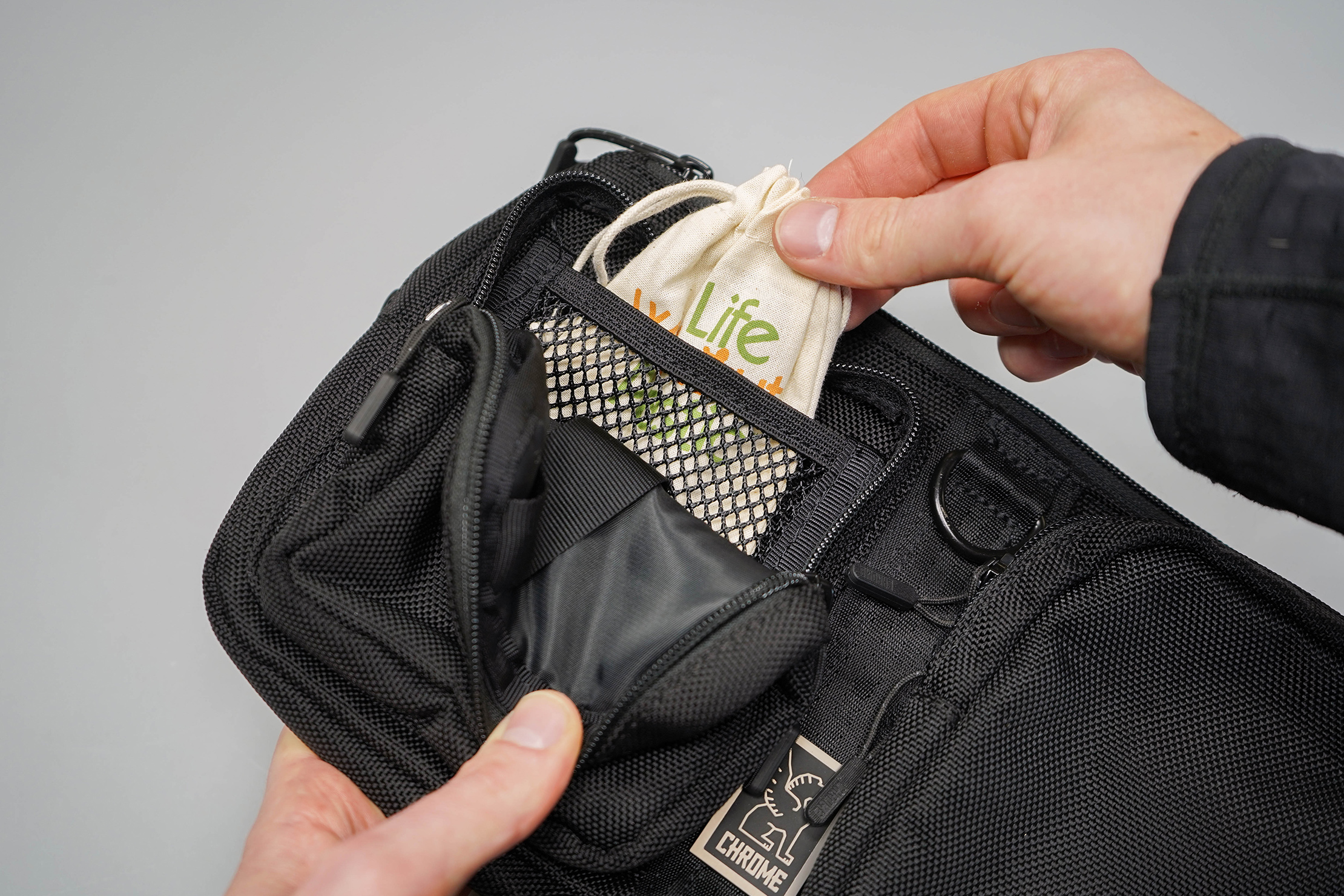 And, when extended, it's actually comfortable to eat with. Mini sporks are great for packing, but not so great for eating. The Life Without Plastic Stainless Steel Folding Spork is the best of both worlds. That said, even extended it's a fair amount shorter than your average spoon or fork. This isn't a big deal…until you're eating something that requires that length, like a big ole cup of soup or peanut butter straight from the nearly empty jar…just us?. This doesn't come up too frequently, though.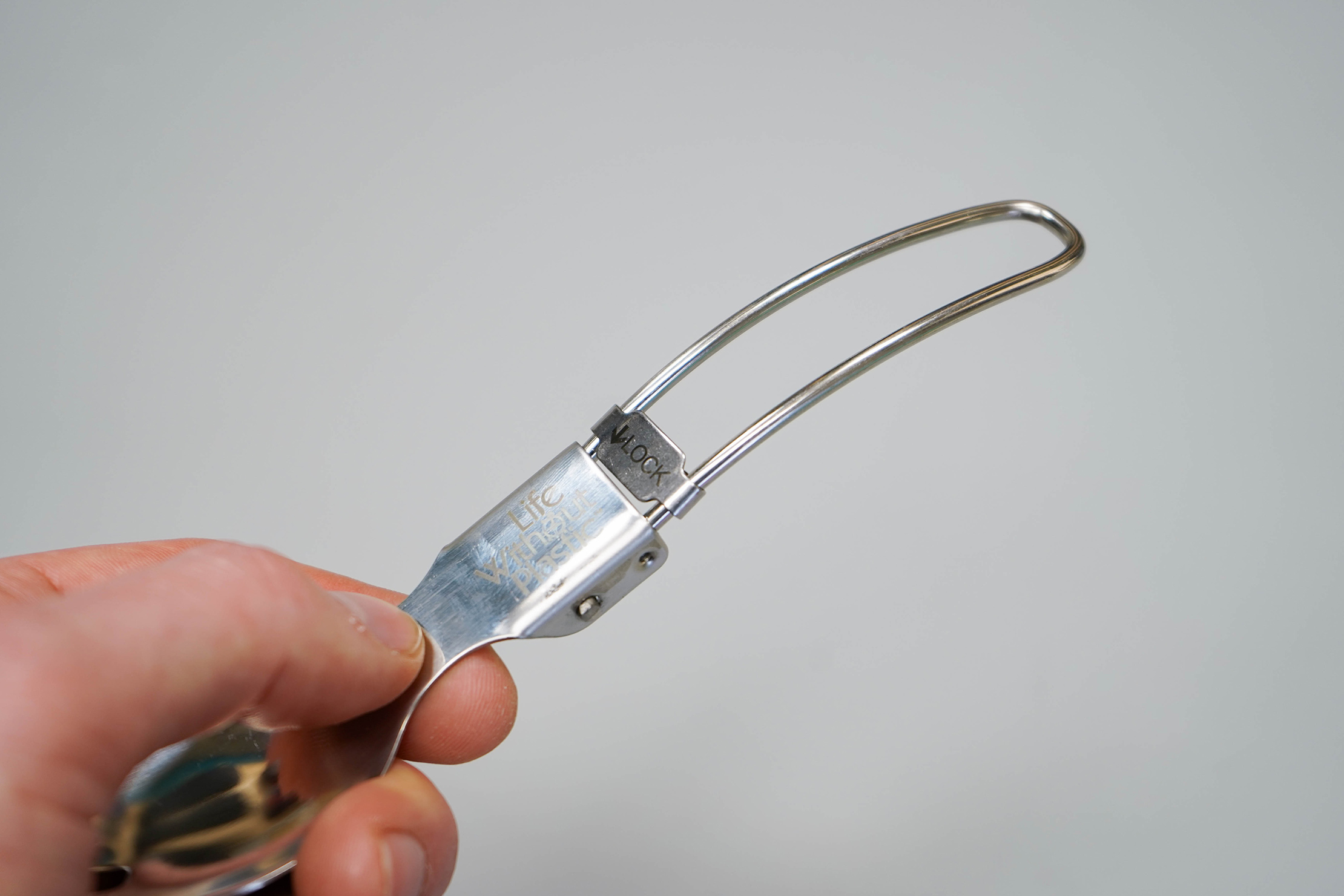 To lock it in its extended position, slide the locking mechanism down the length of the handle (toward the head of the spork). While this does the trick of keeping it locked, it only takes a small amount of pressure to bend the handle back, which certainly isn't ideal.
A member of our team tested this spork mashing avocado on to toast (we know, it's very millennial of us) and the force of the mashing not only disengaged the locking mechanism, folding the handle back, but bent the part of the spork between the head and handle a small amount. We were able to bend it back in place, but it goes to show that this spork isn't indestructible or as sturdy as other sporks on the market.
Since that incident we've learned 1) the closer you slide the locking mechanism to the head of the spork, the more secure it is and 2) it's not ideal to go wild with your sporking.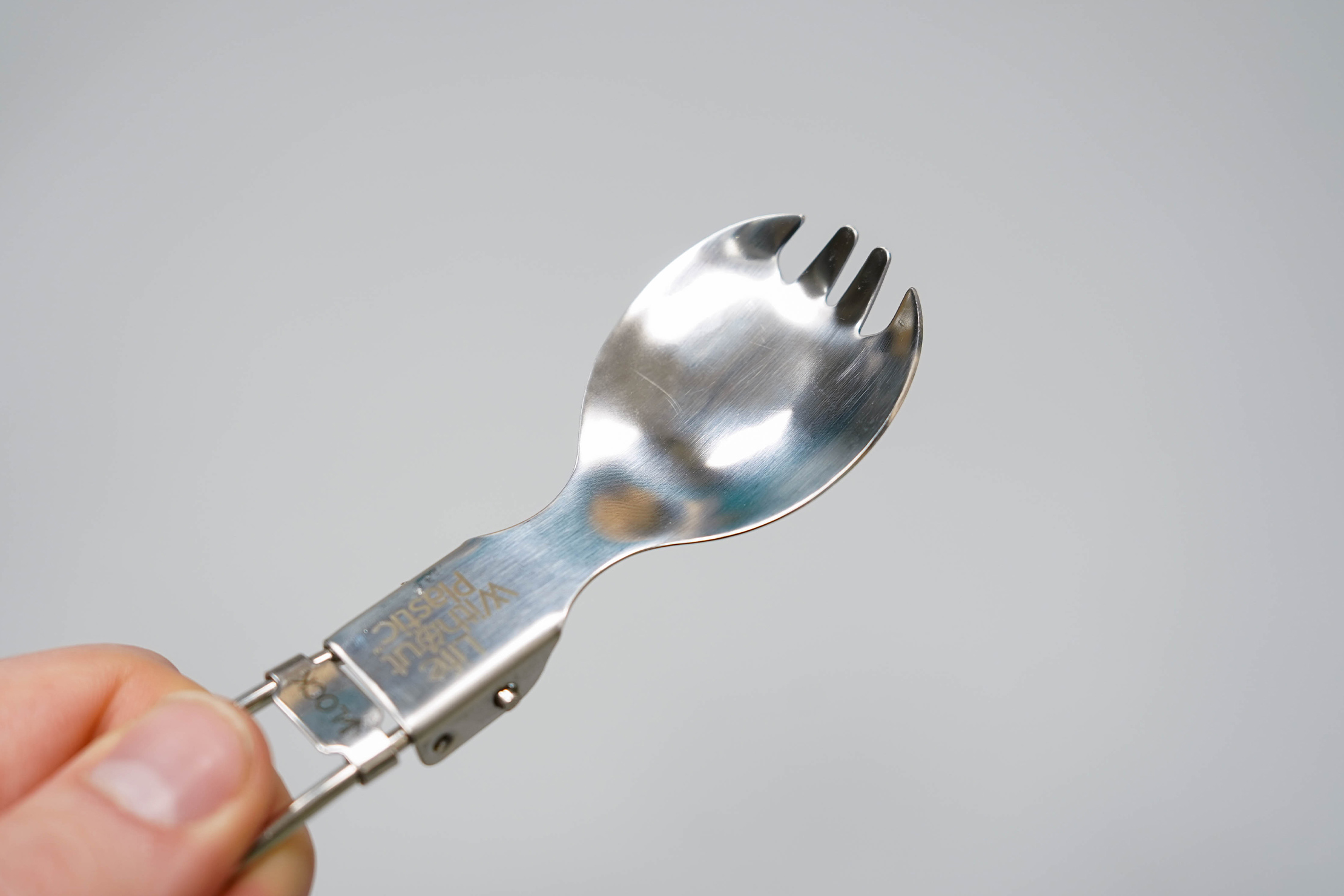 The tines on the Life Without Plastic Stainless Steel Folding Spork work really well at spearing food, while the curvature of the spoon is enough that slurping up soup is…pretty enjoyable. It's certainly not as great at spooning as an actual spoon, but it gets the job done. And we've found it's better at slurping than a plastic spoon, which is what you're likely replacing, anyway.
Like sporks in general, this spork really shines when you're eating a meal that requires both a slurping and spearing action (think ramen).
Some sporks on the market have a sharp edge, allowing you to also use it as a pseudo dinner knife. That's not the case here. This isn't a huge deal—the spork isn't advertised as a Sporife (spoon/fork/knife, duh)—but it's worth noting. If you're eating something that needs to be cut up, this spork is only going to help so much. Again, though, it's better than plastic.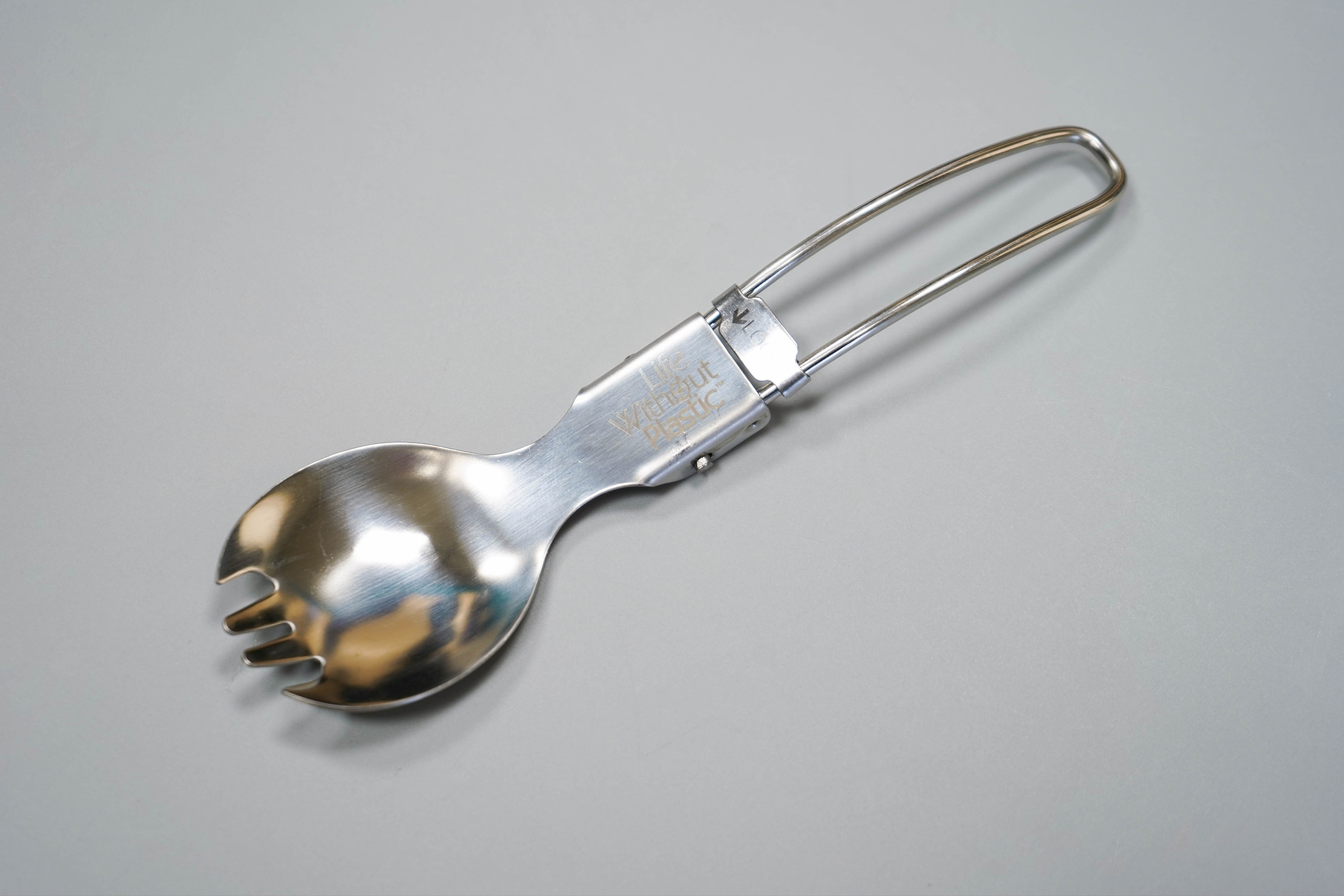 It's made of 8-8 food grade 304 stainless steel, which is quite easy to clean. If you don't have access to soap and water, you can easily wipe it down with a reusable napkin or, let's be real, lick it clean, so it's clean enough to stow in its carrying pouch (with a plan to actually wash it later). And the spork is dishwasher safe, which is always nice.
To close the spork to its compacted form, pull the metal locking mechanism toward the end of the handle and fold the spork in half. For the best travel experience slide it into its carrying pouch.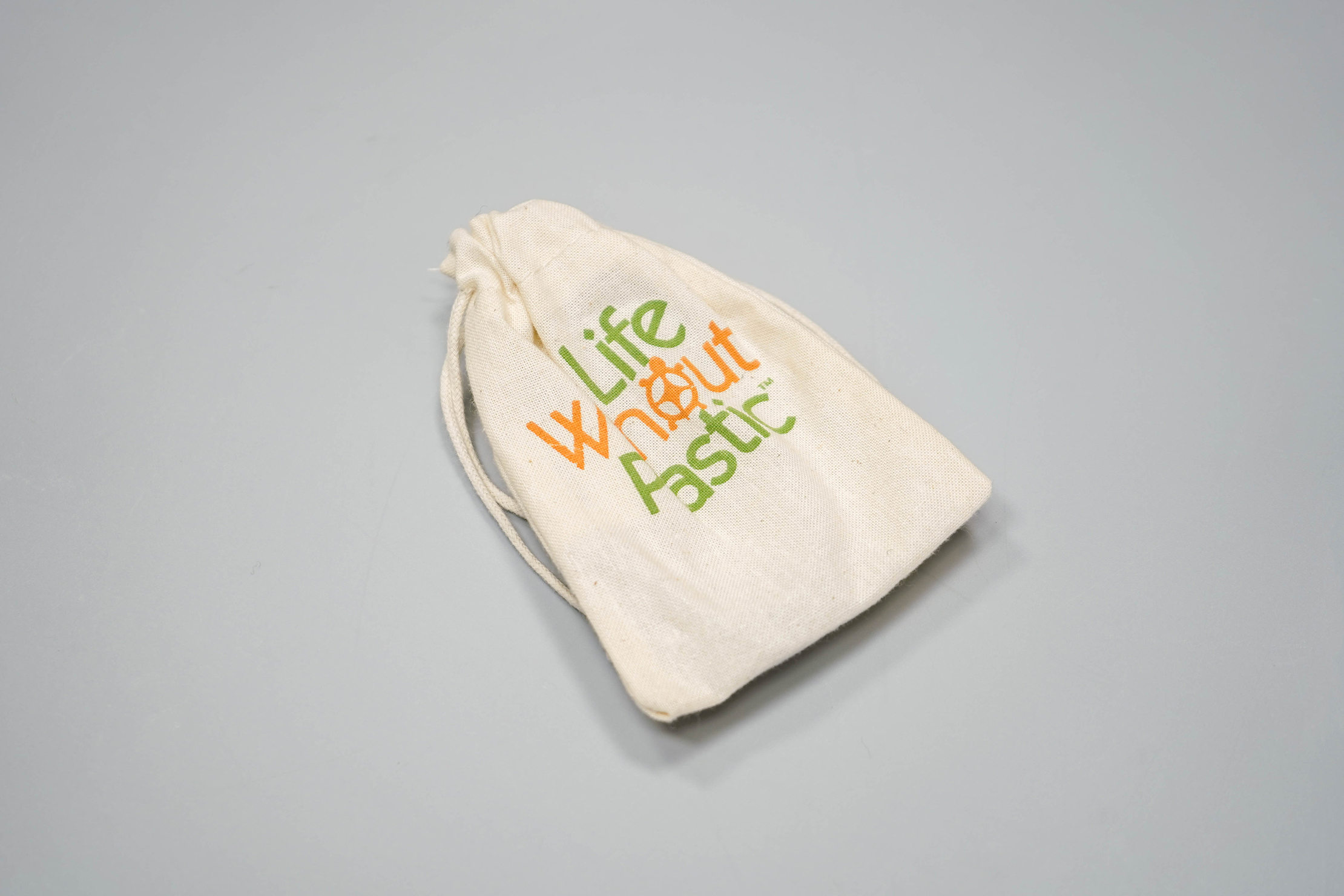 We're huge fans of its carrying pouch, which is made of certified organic cotton and printed with vegetable-based ink. It protects your bag and/or pocket from getting scratched up by the spork's tines. Plus, it keeps your spork clean and ready to go (be honest, how clean is the interior of your bag and/or pockets?).
And you can toss the pouch in the washer or hand wash it to keep any food particles from building up.
All in all, the Life Without Plastic Stainless Steel Folding Spork is a nifty utensil that we've enjoyed putting to the test. It works well enough as both a spoon and a fork and its packability is not only great for travel but for everyday life too.
Usage Timeline
Initial Usage
Condition: Excellent
2 Weeks of Use
Condition: Excellent
There's been an incident involving a slightly underripe avocado on toast that caused the locking mechanism to disengage and the spork to bend a little bit. Everything is fine now and we've learned that we should be a little gentler this spork.
Access the Pro Community Discussion
Get your questions about the Life Without Plastic Stainless Steel Folding Spork answered from our team and the Pro Community right here on the page. Plus, join discussions with other members about gear, guides, and more.
Other Miscellaneous Reviews